There is nothing more exciting than an amazing trip to Europe! You've spent months planning and detailing the perfect itinerary and now it's time to start packing!
Out of everything that is going in your luggage though, I would argue that there is one essential, often overlooked item that can really make or break your long days of sightseeing: Having the best walking shoes for Europe!
Whether you want the best European walking shoes to blend in with the locals or just need something comfy and practical, you are, no doubt, going to need walking shoes for Europe, as you are going to find yourself on your feet for longer than you might expect.
Therefore, I've put together this ultimate guide to help you figure out what's the best shoes for a European trip, no matter where in Europe you might be heading to or what you might be exploring!
These shoes will look great also with a nice long travel skirt and one of these best jackets for travel. Put on a cool travel hoodie under if it gets chilly!
Best Shoes for Europe & My Favorite: Tom's Classic
No time to go through the whole process of what all to consider and how to pick the best walking shoes for European travel? My choice no. is the Tom's Classic canvas shoe.
There's more info about these in the Review section, but I've traveled with these shoes extensively and can highly recommend them.
CHECK THE CURRENT PRICE OF TOM'S CLASSIC CANVAS SHOES
Best European Walking Shoes Overview
Scroll further down to see a complete review of these shoes.
| Name | Category | Picture | Material | More details |
| --- | --- | --- | --- | --- |
| TOMS Classic Canvas Shoes | Classic | | Canvas | Check prices |
| Skechers Women's Go Walk 5-Honor | Comfortable | | Textile and Synthetic | Check prices |
| Forever Link Combat Boot | Boots | | Synthetic Leather | Check prices |
| Minnetonka Anna Ballet Flats | Flats | | Leather or Synthetic | Check prices |
| Hey Dudes Lace-Up Loafers | Cute | | Canvas | Check prices |
| Dr. Scholl's Ankle Boot | Fashionable | | Fabric or Textile | Check prices |
| TOMS Mesh Shoes | Summer | | Mesh | Check prices |
| Birkenstock Gizeh Thong Sandal | Sandals | | Synthetic | Check prices |
| AKK Sneakers | Sneakers | | Mesh and Synthetic | Check prices |
| TOMS Men's Classic | Men's | | Canvas | Check prices |
What To Consider When Choosing The Best Walking Shoes For Europe
When considering shoes for European travel, there are quite a few things to take note of. The last thing you need is to sprain an ankle on your first day as you wander the cobblestoned alleys or to get a huge blister from poor planning! Here are some of the things you'll want to know and consider when choosing your best shoes for walking Europe.
Practicality
You are most likely going to be walking long hours and on uneven surfaces. Be sure that what you have is practical for that type of travel. Heels may FASHIONABLY be the cutest option for that dress, but it's not going to be practical for walking around all day. Which ties into…
Comfort
Above all else, you should really put comfortable walking shoes for Europe at the top of your priority list. This isn't to say that stylish walking shoes for Europe don't exist (they do!) but if your feet are causing you misery, then worry about comfort, not fashion!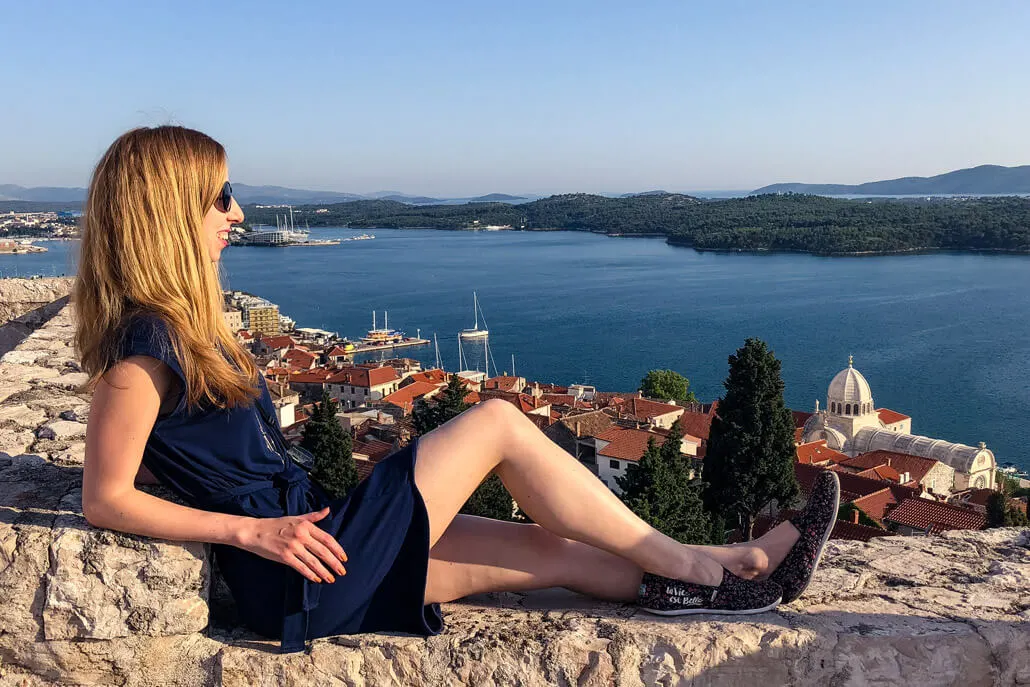 Waterproof
Depending on where you go in Europe, you never know when you will be caught in the rain. E.g. Poland can be shrouded in rainclouds from November through May and if you are planning on going to Ireland, England or the Netherlands, you better just have an umbrella with you at all times!
Therefore, no matter the comfort and practicality of your shoes, if they get wet, it is amazing how quickly you will get cold and miserable.
Tip: While actual waterproof shoes are the best bet, other materials are still good at keeping out the wetness. Open mesh shoes that haven't been weather treated, however (like many sneakers) are going to let the rain soak right through.
Bonus Tip: Did your shoes still get wet? Find some newspaper and stuff inside overnight to help get them dried out faster!
Terrain
Another major thing to consider when packing your shoes for your trip is the terrain you are going on.
Are you going to be walking cities? Consider a sneaker style shoe, like the AKK Sneakers.
Are you planning a beach holiday in Spain? These sandals are comfy and ideal for the seaside.
Are you going to be hiking the mountains? Sturdy hiking boots, like these, are a good option.
Material
There are a few things to think about when considering materials for shoes for European travel. Here are a few materials of shoes to keep in mind:
Waterproof: As mentioned above, waterproof material is something you are going to want to look into, almost no matter where you travel to in Europe. Goretex is a great waterproof material
Mesh: If properly rain and weather treated, mesh shoes offer good ventilation and are more lightweight than many other shoes for those watching weight limits. However, these are prone to wetness when not pre-treated.
Leather: Leather shoes are sturdy and hold up well, but can be quite bulky.
Canvas: Many popular shoes, like the TOMS, are now in canvas styles. These are lightweight and easy to wash. As you'll see below, canvas is often present in the best walking shoes for women in Europe below.
Season
Obviously, if you are going to Prague in the summer, you are not going to need boots! However, if you are going to be skiing in Switzerland in December, then that pair of winter boots is probably a necessity!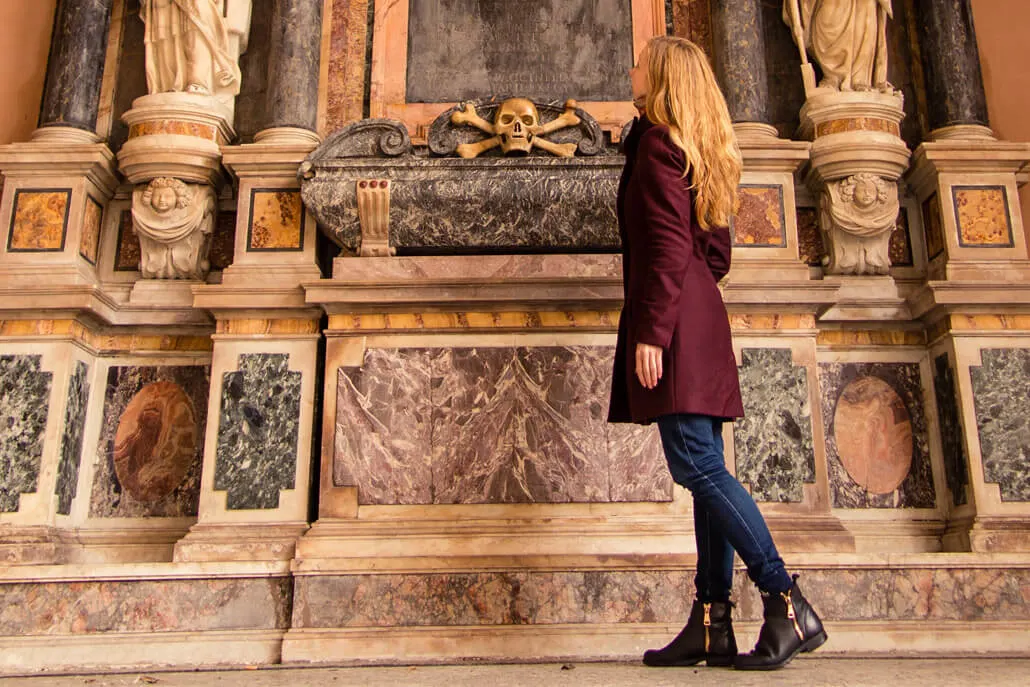 Weight
Depending on the kind of travel that you are doing, you may strongly need to consider how much your shoes weigh. If you are doing carry-on only luggage, there are often weight limits with some European budget airlines.
But also consider the weight on your actual foot. If you are sightseeing all day, you probably don't want something too heavy, creating more fatigue in your feet and legs than you are already going to get simply from walking all day.
Special Foot Considerations
Make sure that if your feet are finicky that you pick the best shoe for walking based off of YOU. For example, consider the following when picking a walking shoe:
Bunions
High Arches
Flat Feet
Wide Feet
Style and Fashion
This one is low on the list for a reason. Don't get me wrong, there is absolutely nothing wrong with looking your absolute best for all those Instagram photo ops! However, no amount of style is going to make up for a miserable attitude because your feet are killing you. :)
Another part of style to consider is that while sneakers, tennis shoes and name brands are seen more and more often today, Europeans don't often wear a ton of clothing with brands displayed. In fact, the first time I traveled around Europe, you could spot a tourist a mile away from their shoes. While this isn't as prominent anymore, choosing shoes that are more "plain" will help you if you want to blend in.
Let's now look at types of best women's walking shoes for travel in Europe: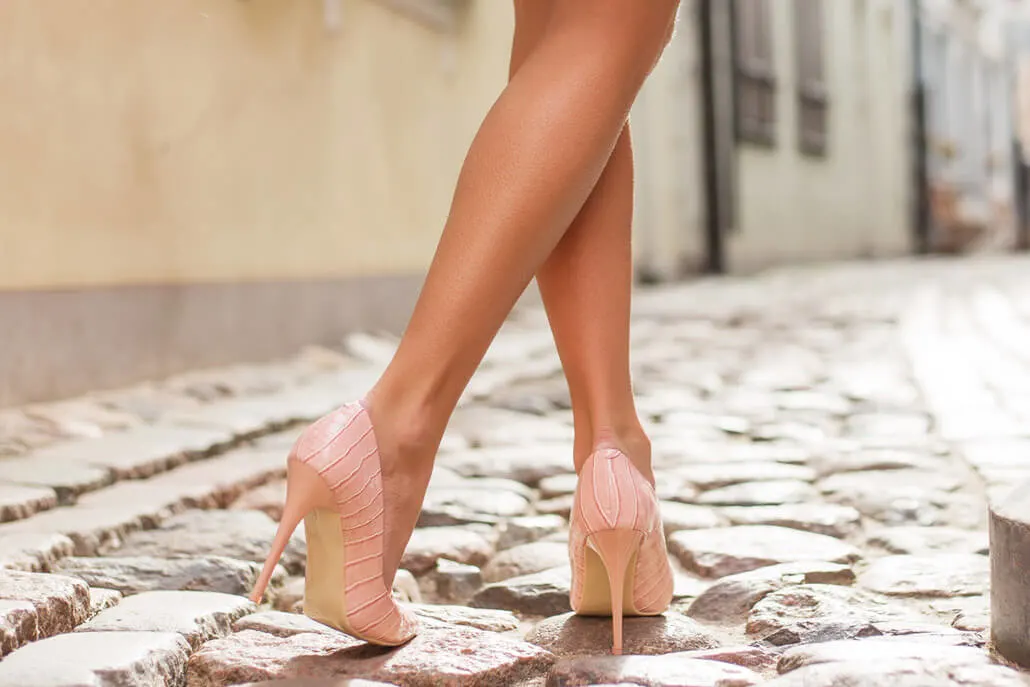 Best Shoes For Traveling Europe: Shoe Types
Now that you know everything that you need to consider before jumping into a pair of travel shoes for Europe, you can start to narrow down the style of shoe that will meet your requirements for your own comfort, style, and destination.
Sneakers and Activity Shoes
You simply can't go wrong with a stylish, plain style of sneaker. These are going to give you the most support, comfort, and diversity of use.
Great for: All day sightseeing and cobblestone streets (a good chunk of all of Europe!)
Why I love them: They are one of the most comfortable and reliable shoe options and when choosing a simple design, they can go with a multitude of outfits. However, if you're looking for the best shoes for walking in Europe's cities specifically, make sure the style is not too overly sporty and cheap-looking.
Not ideal for: Unless you are having a strict beach trip, I almost always recommend everyone have a sturdy pair of sneakers and activity shoes in their luggage when traveling Europe.
Best Walking Sneakers For Europe: AKK Sneakers
Boots
Ankle Boots
Pick an ankle boot that has good support and a strong, thick heel. Of course, heels that are lower to the ground are more practical than higher ones.
Great for: Shoulder seasons where rain or keeping warm is a consideration. Also good for colder or more temperate countries in Europe, such as Germany and France.
Why I love them: They are diverse and can be worn with a lot of outfits and still look super stylish. Waterproof ankle boots also help keep feet dry while looking great.
Not ideal for: Summer travel, backpackers and those watching weight limits.
Rider Boots
Knee high boots are another great option for long days. Look for boots that have lower heels and are waterproof.
Great for: Shoulder and winter seasons in locations that might see snow but not enough for heavy duty boots, such as the Czech Republic or Poland.
Why I love them: You can look fashionable and still be comfortable!
Not ideal for: Summer months or warmer climates such as Croatia, Spain or Sicily. Also, not good for people with limited baggage space.
Hiking Boots For Europe
If you can get a sturdy pair of hiking shoes that double as walking shoes, you will have the best of both worlds. Shoes like Merrells and Keens are great for people wanting to do a few day hikes and nothing too long term as far as hiking is concerned. You have two shoes in one and these types of shoes are much lighter than full-on hiking boots.
Great for: Hikers and middle of the winter travel or for destinations such as Iceland or Lapland.
Why I love them: They are sturdy, tough, waterproof and comfortable
Not ideal for: People watching their weight limits.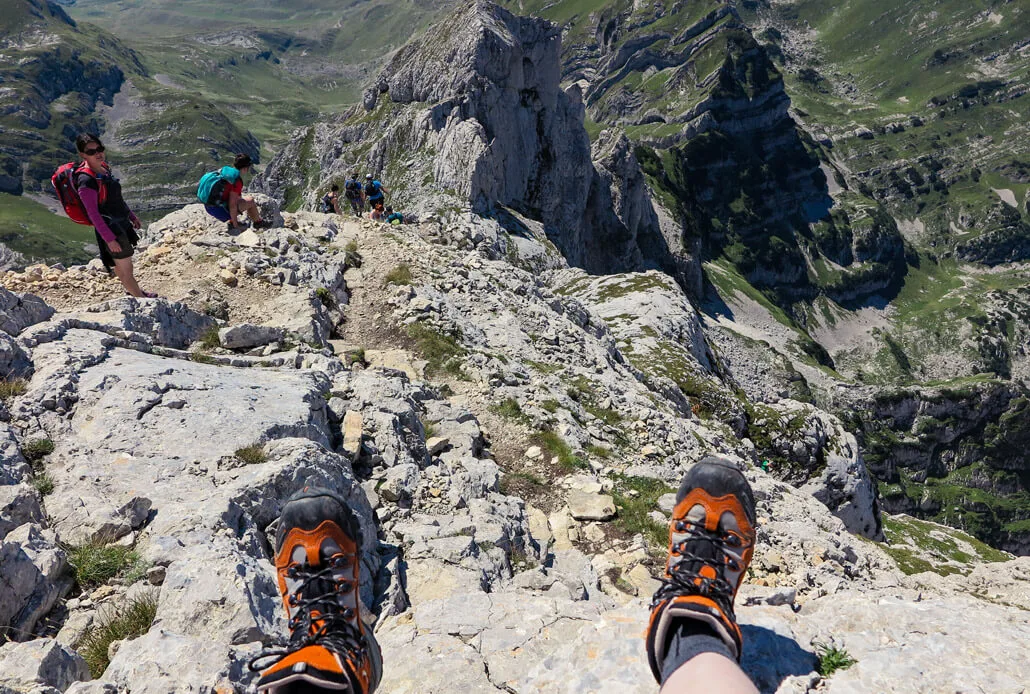 Check out also my other reviews of travel-related products:
Sandals
Activity, Athletic and Travel Sandals
If traveling in the summer, especially to hotter countries, such as Greece, having a pair of THE best sandals for traveling Europe can be a great option for comfortable footwear.
Great for: Long days of sightseeing and summer months.
Why I love them: The right travel sandals can not only be really fashionable but also extremely comfortable. No need to give up one for the other!
Not ideal for: Cold weather climates and people who need extra foot support.
Best Sandals For European Travel: Birkenstock
Flip Flops
If you plan on sitting in the sand and soaking up the sun, a comfortable pair of flip flops is a must to pack in your bag.
Great for: Anyone staying in hostels ANY time of the year as well as for beach holidays.
Why I love them: They are lightweight and so easy to shove in a bag without needing much space.
Not ideal for: Long days of sightseeing and walking as well as cold climates.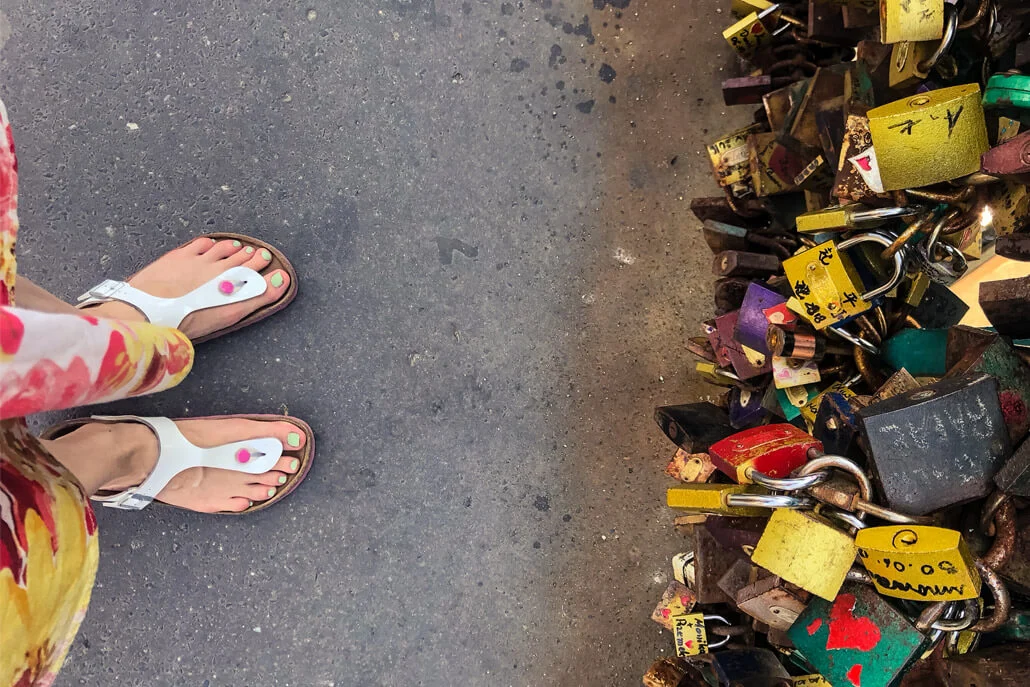 Flats
Flats are a tricky shoe for European travel. They are incredibly easy to pack and go with a lot of outfits. However, most don't have great inside support and cushion, making them painful to be in for long hours of walking on hard and uneven surfaces.
If you do opt for flats, look for THE best travel flats for Europe – ones that have good padding, and the backs don't rub your heels.
Great for: Short excursions or for pure aesthetical looks (i.e. out for dinner in Paris)
Why I love them: They are lightweight and pack so well!
Not ideal for: Long days of walking, cobblestone streets and wintery weather.
Best Walking Flats for Europe: Minnetonka Anna Ballet Flats
Best Travel Shoes For Europe Reviews
As someone who has done extensive travel in Europe and walked just about every type of terrain the beautiful continent has to offer, I've made some mistakes on walking shoes in the past, but also learned my lessons!
Here are my top recommendations of women's walking shoes for Europe for any type of travel and terrain for your feet (and attitude!) to stay comfy and happy so that you can have the best trip possible!
Best Shoes For Europe Top Pick: TOMS
I love the TOMS for travel and think they are one of the best shoes for walking around Europe. I brought them on a trip to Transylvania in summer, to Croatia… and have also loved them for flying.
Pros:
Lightweight
Come in a variety of colors and styles
They break in nicely and even start to conform to your own fit (great for bunions!)
Are cute and versatile with clothing with better support than flats
Can machine-wash
Cons:
Need to be broken in a few times before you really get the good comfort
Start with a new pair (after being broken in), as ones with the soles already starting to wear thin will have you feeling all the uneven European pavements.
Not ideal in wet conditions with smooth pavements, as they don't have a ton of grip
They can start to smell if your feet sweat a lot. You can wear slip-on socks to prevent this from happening
Many people claim they run very small, so be sure to read sizing reviews before purchasing
Check for signs that you have legit TOMS, as there are unfortunately knock offs out there
Click here to read more reviews about my top pick for best walking shoes for travel in Europe – the TOMS.
CHECK THE CURRENT PRICE OF TOM'S CLASSIC CANVAS SHOES
If you are wanting comfortable European walking shoes, you know Skechers are always a great option.
Pros:
Lightweight
Neutral colors making them great for diversity with clothing
Decent arch support
Easy to clean and wipe off
Super comfy walking shoes for Europe – you'll love the way they feel!
Cons:
They are not as sleek and as streamlined as flats (more loafer like, therefore slightly bulkier than a typical flat)
Inconsistent sizing reports. Sizing can be all over the board. Some say they run way too small, while just as many people complain of being too big!
If you are looking for comfortable shoes for Europe, consider these Skechers.
CHECK THE CURRENT PRICE OF THE SKECHERS SNEAKERS
Boots are a great shoe for European travel. These combat-style boots are practical, can be cute and are totally in style.
Pros:
Does well in wet conditions (some extra waterproofing spray would never hurt though!)
Laces allow for tightening or loosening depending on calf size
Looks great with leggings and jeans
Perfect style for the weather of shoulder seasons for travel in Europe
The heel isn't too high
Cons:
Not made of real leather (in terms of durability)
Not heavy duty for very cold and snowy weather
Comfortable walking boots for Europe can be a tough find. Add some insoles to these boots to give even extra comfort and support
Read more reviews on the Forever Link comfortable walking boots for travel here.
CHECK THE CURRENT PRICE OF FOREVER LINK BOOTS
Ballet flats can be good travel shoes for Europe because they are so packable and cute. Just don't put them on for the heavy-walking days.
Since ballet flats can be paired with anything, be it a cute dress or a pair of jeans, I consider them to be the best stylish walking shoes for Europe that'll look awesome in any photo.
Pros:
Minnetonka brand is known for comfort
Ballet flats come in a wide variety of colors
Real leather
Quality and durable materials
Elastic band in the back prevents the back from slipping (aka no blisters)
Cons:
As with most ballet flats, these do not have a ton of support
Needs a few wears first to be properly broken in
See current pricing of these great ballet flats for travel here.
CHECK THE CURRENT PRICE OF MINNETONKA FLATS
Cute Walking Shoes For Europe Top Pick: Hey Dude Lace-Up Loafers (Women's)
Cute and fashionable aren't always interchangeable. If you love quirky and cute, THESE are your go-tos for good walking shoes in Europe! This is as cute as it gets.
Pros:
Lightweight canvas material
Machine washable
Memory foam
Cons:
May run small
The laces don't tighten
Click here to check out all the designs of these loafers. There are nearly 30!
Best Fashionable Walking Shoes For Europe Top Pick: Dr. Scholl's Ankle Boot
Just because you are traveling doesn't mean you can't look great too. Right now, ankle boots are totally in, making them a great, fashionable choice to wear while traveling.
And, Dr. Scholl is a well-established "healthy" shoe maker from Germany. So you can count on the quality.
These are the best ankle boots for walking in Europe.
Pros:
Cons:
See the newest reviews of the Dr. Scholl's Ankle Boot here.
CHECK THE CURRENT PRICE OF THE DR. SCHOLL ANKLE BOOT
Best Walking Shoes For Europe In Summer Top Pick: TOMS Mesh
For all of the above reasons, I obviously love TOMS, but these shoes in the mesh version are truly the best shoes for traveling Europe in the summer months.
Pros:
Lightweight
Thin and breathable
Durable
More foot coverage than sandals
Cons:
Again, be wary of fakes. Do a thorough check immediately when receiving before wearing
Can smell if your feet get too sweaty (but just toss in the wash to help with stink)
Click here to see the reviews and check the shoes.
CHECK THE CURRENT PRICE OF THE TOMS MESH SHOES
You know with the name "Birkenstock" that you are guaranteed a European style sandal with the backing quality of German made products. I own a pair of Birkenstock myself and they are definitely better for my feet than simple flat flip flops.
I find them to be the best sandals for cobblestone streets.
Pros:
Quality and well-known brand
Extremely comfortable sandals for Europe (great arch support and a good, deep heel cup)
Waterproof
Very diverse as they can be worn as water flip flops but also out for the day sightseeing
Wide variety of colors
Cons:
With high quality comes a high price tag
Needs a few wears to break in and get used to the thong straps
Can make some unfortunate noises when walking if they are wet
Click here to read why so many people love the black Gizeh Birkenstock sandals.
CHECK THE CURRENT PRICE OF BIRKENSTOCK SANDALS
Best Sneakers For Europe: AKK Sneakers
If you are looking for the best walking shoes for traveling Europe, sneakers are often your best choice. Again, with a brand like AKK, even though a lower cost one, you know you will be getting a good product.
These are the rare cute sneakers for walking in Europe, which you can pull of even with a dress.
Pros:
Lightweight and breathable
Memory foam insoles create extreme comfort
Easy to slip on
Fantastic price point
Cons:
Don't LOOK expensive
Run small
Click here to read more AKK Sneakers reviews, in my opinion the best sneakers for walking in Europe.
CHECK THE CURRENT PRICE OF THE AKK SNEAKERS
Men's Travel Shoes For Europe Recommendation: TOMS Men's Classic
If you are also looking for the best men's walking shoes for Europe, you could do the same selection tips as we did above to narrow down the absolute best walking shoe for men. But if you are just looking for a good, all around walking shoe, then I have to, yet again, recommend TOMS.
(See above reviews of TOMS for the majority of the pros and cons, as they are true across the board for men and women's)
Pros:
Can be worn comfortably all day
Can be dressed up or down
Great for summers
Durable
Cons:
Assess for fakes when initially received
Can run small
Click here to see more pros and cons of the men's TOM's Cassic Slip On.
CHECK THE CURRENT PRICE OF TOMS MEN'S
Other Tips for Picking, Packing and Wearing the Best Shoes for European Travel
Before Your Trip
Test Them out
Right when you get your new shoes, do some testing to make sure these shoes will be ideal for YOU:
Find an incline to walk down: Your toes should just slightly start to touch the top of the shoes when at an incline.
Walk around the house: Walk around for a full day and see how your feet feel. It isn't as authentic of a test as being outside, but at least you can return them if they don't work out at this stage.
Walk some stairs: Walk up and down several flights of stairs. How do your feet feel? Are your heels moving around? If so, expect blisters.
Waterproof Them
Even if you chose a shoe that is waterproof, consider buying a waterproof spray, like this one, just so that you have some extra protection.
If your shoe wasn't waterproof, then absolutely do this step before leaving.
Break Them In
Once you know that those are the shoes you want, start breaking them in slowly. Wear them for a few hours here and there until they have started to conform to your own foot. Even some of the most comfortable walking shoes still need a little breaking in before long and extensive uses.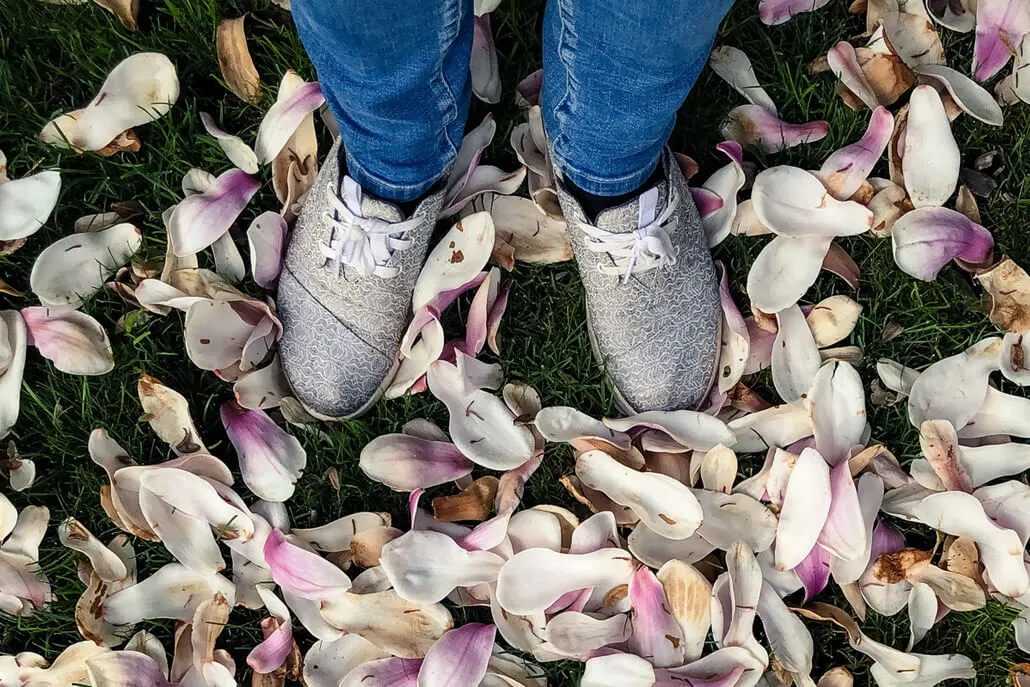 Choose 2-3 Pairs
Unless you are packing ultralight, consider bringing two pairs of shoes for your European travel. Maybe you choose one dressier pair and one quality walking shoe. Or, consider bringing one walking shoe and one specific to a special excursion you might be doing (beach, hiking etc).
Or, if you know you are going somewhere with the potential for rain, bring along two good walking shoes so that you can always have a backup!
Moral of the story though? ALWAYS have a good walking shoe for Europe.
Use Your Shoes To Help Efficiently Pack
If you are bringing along sneakers to wear in Europe or shoes of similar bulkiness, don't waste valuable packing space. Stuff socks or other small garments inside your shoes when packing.
Another option is to put more breakable type items into the shoe for more protection.
Don't Get Your Clothes Dirty
Even if your shoes are brand new before your trip, remember that they might get wet, muddy, or dirty on your vacation. The easiest and cheapest way to keep my shoes separate from my clothes is to actually just put them in a cheap, disposable shower cap! Easy and affordable!
Wear Your Heaviest Shoes on Travel Days
If you are bringing along boots or another pair of heavy shoes, consider wearing them on your travel day. This drastically cuts down on luggage weight that you won't have to, well, lug around.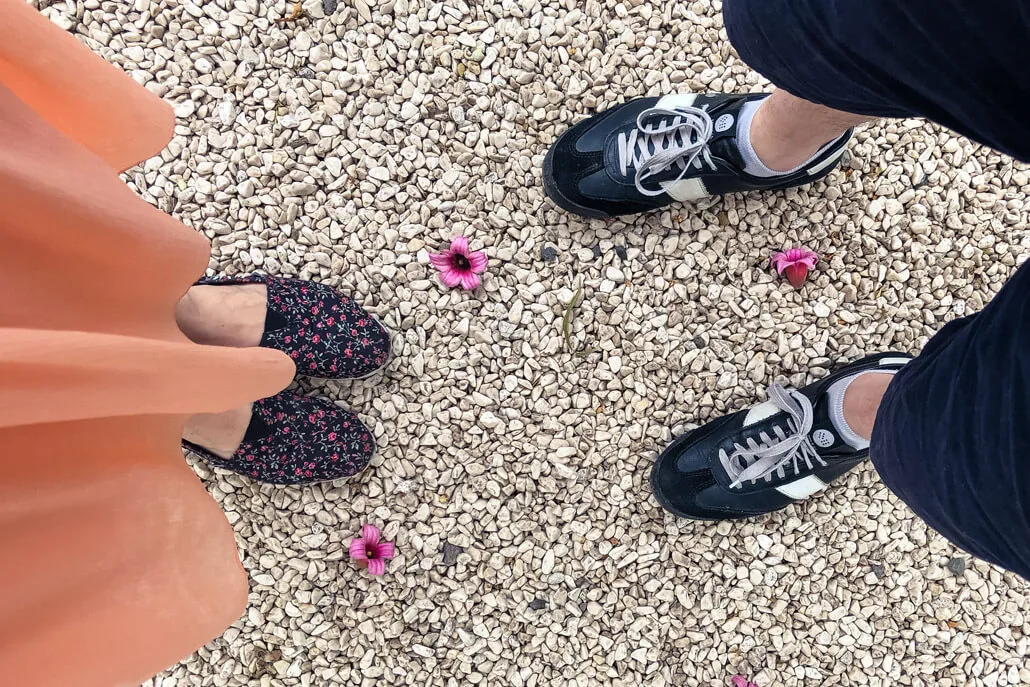 So there you have it! There are obviously quite a few things to consider when buying the best European shoes for travel, but hopefully, I've helped you figure out the best ones for your particular trip.
What are your personal favorite walking shoes for travel?
Pin this post for later: