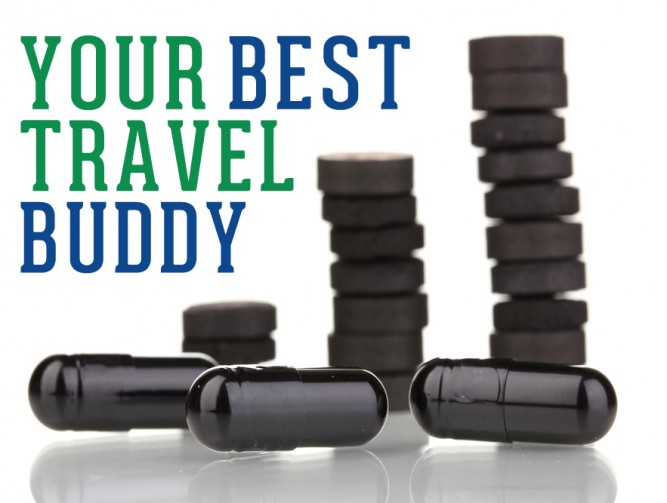 This article may contain affiliate links.
You won't want to leave home without it! Activated charcoal should become a regular part of your luggage.
It happens to all of us at one point or another. You travel somewhere exotic, drink only bottled water, pay attention to not having any ice in your drinks, and even resist most of the delicious-smelling street food… And still, the stomach bug appears.
Going to a local pharmacy and visiting a doctor can be difficult sometimes, but fortunately you can be prepared by bringing your best travel buddy with you! Welcome to the new and improved world of travelling with Activated charcoal.
So what is this miraculous substance and does it mean you'd have to eat coal?
Activated charcoal is a form of carbon that's been treated to increase its adsorption effect by populating its surface with lots of tiny micro pores. Basically, it is a type of coal made for medicinal use.
Its main job is to absorb toxins. Unless your stomach issues are too serious, you can treat almost any gastrointestinal pain with it. As it passes through your system it collects all the toxins and other villains responsible for your discomfort, and removes them from your life.
Activated charcoal is perfect for:
Diarrhoea
Flatulence
Any form of food poisoning / digestive distress
It comes in the following forms:
Powder: Mix with water
Capsules: Swallow with water
Pills: Chew before drinking water
Any of the above forms is fine but the pills will make your mouth especially black before you flush it off with water. That's the fun part :)
Activated carbon is odorless, non-toxic and tasteless. If there's any taste, it'll be a slightly sweet taste that has been added for a nicer flavor.
Check out highly rated activated charcoal capsules here.
Personal experience
I've used activated charcoal a few times. In Morocco, it totally saved me and I was fine again after a couple of days, while not dieting very much. In Iran, the effects were not strong enough and I had to take some more pills to treat an upset stomach.
I always take the charcoal with me on my travels, especially outside Europe. It's an easy way to get rid of milder stomach bugs. But of course, in many cases it's not enough!
Instructions for use
Generally speaking, activated charcoal should be used before eating or at least 1.5 hours after having a meal. It shouldn't be eaten with vitamins or other oral supplements. Women who are pregnant or breast-feeding should stay away from it.
There are only 2 types of food to be avoided while digesting activated charcoal: ice cream and chocolate. I know, they are great vacation delicacies, but you better refrain from having them or they will reduce the charcoal's effect.
It goes without saying that prior to use you should consult the product instructions. This article is just a collection of personal experience with activated charcoal and collected information online. It's not medical advice.
Sources:
Pin this article for later :)