This post is also available in:
Čeština
I must say I didn't know much about Azerbaijan before going there. I barely remembered Baku was the capital and that they had rich oil reserves… That was it.
But a trip to Baku Azerbaijan and surrounding areas opened my eyes and I discovered a multi-faceted country with rich culture and history.
I went on a trip to Azerbaijan and Georgia with JayWay Travel, an American boutique travel company, focusing on making their clients' travels smooth and easy. I've cooperated with them for 2 years now.
Visiting Baku is, in my opinion, one of the best things to do in Azerbaijan. While there are a lot of other Azerbaijan tourist attractions, Baku is clearly no. 1 in Azerbaijan tourism.
Still, though, Baku tourism is nowhere near its full potential. The city remains largely undiscovered by tourists coming from the West. Are you wondering what to do in Baku? Read on.
2022 update: I went to the country again and wrote about the most beautiful places in Azerbaijan.
Where is Baku?
Baku is the capital of Azerbaijan. It is located in the very East of the country, right by the Caspian Sea. Azerbaijan's neighboring countries include Georgia and Armenia to the West, Russia to the North, and Iran to the South.
The whole Eastern part of the country is washed by the Caspian Sea (also Baku location). Azerbaijan shares access to the Caspian Sea with Russia, Kazakhstan, Turkmenistan and Iran.
Baku is also world's lowest lying national capital – it's located 28m below sea level!
Things to do in Baku Azerbaijan
Let's see what there is to do in the Azerbaijan city and what you absolutely must do when you visit Baku.
Get lost in the streets of Old City Baku
Azerbaijani: İçərişəhər
It might not have crossed your mind, but Baku actually has an Old Town. Lined by fragments of a wall that once protected the whole city, the Old Town has been inscribed as a UNESCO World Heritage Site in 2000. It was the first location in Azerbaijan to appear on the List.
Right in the heart of the Old Town lies a Medieval Market Square. It's now an open-air museum showcasing archeological findings and there are even friendly stray cats to watch it dutifully.
You should dedicate at least an extra hour and lose yourself in the winding narrow streets of Baku Old Town. The charming stone-built houses open in unexpected little squares, lead you around cute shops and restaurants and uncover how locals live in the very center of the city.
Some of the buildings stand out due to their unexpected architecture such as gothic or baroque. Those were built during the Russian ruling in the 19th century.
Icheri Sheher, or Baku inner city, contains also other gems such as mosques, caravanserais and ancient fortifications.
The Kings of the Shirvan Dynasty were responsible for the first development of Icherisheher. Since their original seat was destroyed in the 12th century during an earthquake, the capital of the state was moved to Baku.
The inhabitants lived within the Old City walls until the 19th century, when Baku started expanding well beyond. The oil industry's success rapidly sped up the development of Baku and more and more people began moving in. Still, though, it was considered prestigious to live within the Inner City walls.
An enthusiastic guide named Kerim showed us around Baku's Old City. To hear him talk excitedly about Baku and Azerbaijan history in a dramatic British accent certainly made quite an impression on us. :)
The Old Town is an absolute must and one of the first things to do in Baku.
In Baku's Old Town, you shouldn't miss:
Maiden Tower
Azerbaijani: Qız qalası
Maiden Tower is a tower built probably in the 12th century, whose purpose has remained unknown until this day. Perhaps it was built to serve as an astronomic observatory, or a building of the Zoroastrian religion or for defense purposes.
There's, however, a legend tied to the tower:
A king requested his daughter to marry a man of his age. She didn't agree but made a deal with her father – if he builds a tower, she'll honor his request and get married. But secretly she hoped he'd never finish.
But he did and she, with the prospect of a forced marriage, jumped off the top of the tower and the river carried her body to the Caspian Sea. That's why, according to the legend, the tower is called the Maiden Tower.
As one of the oldest structures in today's Baku, the tower now functions as a museum as well. Apart from presenting further research on the possible origins of the Maiden Tower, there are ancient artifacts to be found on display there.
On the day we climbed to the Maiden Tower the sky was grey and it rained heavily. Still it was cool to see Baku from the top of the tower, with the thick, grey, low hanging clouds above.
Juma Mosque
Azerbaijani: Cümə məscidi
With Azerbaijan's 98% Muslim population there's no shortage of mosques in Baku and Azerbaijan.
The Juma Mosque, also known as the Friday Mosque, is located in the center of the Old Town. It was built in the 12th century on the site of a former Zoroastrian temple. Its current appearance is a result of the last big reconstruction that was carried out in 1899.
You're welcome to visit Juma Mosque if you do so respectfully. That means taking of your shoes by the entrance and covering yourself. Ladies should wear a scarf on their head.
We actually took a break in the mosque, from sightseeing in the rain, and had a great discussion on Islam and world religions.
Shirvanshahs' Palace
Azerbaijani: Şirvanşahlar Sarayı
The Palace's construction started sometime in the 12th century and was officially completed in 1441. The whole complex is closely tied to the Shirvans Dynasty. The Dynasty ruled over the feudal kingdom of Shirvan, extending to the Northeast of Azerbaijan during the Middle Ages.
Now a museum, the Palace underwent a large reconstruction in 2003. It houses many relics from Azerbaijan's history and thus functions as a Museum of History, focusing especially on the era of the Shirvanshahs and on Azerbaijani culture as a whole.
Pay a visit to the barefoot artist
Ali Shamsi Studio is located on the Kichik Qala Street. You can't miss it since it's uniquely decorated on the outside.
If the artist Ali Shamsi is not away travelling at the time of your visit, you'll find him painting away in his little gallery.
What you will notice at first sight is his bare feet. You'll also notice the same in all the photographs from around the world, with world leaders, which decorate one part of the wall.
The artist doesn't mind being observed and you can just look around. If you're in a buying mood, invest in a painting of his or a small magnet.
Taste all the food you can
Unlike in other parts of Azerbaijan, in Baku you'll find everything your taste buds might need – from traditional Azerbaijan cuisine to vegan options.
Of course, vegan options are not as plentiful, but you'll have it a lot easier than in the countryside. Trust me – I was on the trip with several vegans.
By the end of your Azerbaijan holidays, you might even weigh a couple kilos more. :)
For our lunches and dinners, we always looked at the best restaurants in Baku. We visited these two famous ones and were extremely happy with the food and the service.
Btw. for those of you who also can't stomach coriander (cilantro), you should know that half of Azerbaijan meals contain it. I just picked the damn herb out.
Dolma serves traditional homemade Azerbaijan cuisine. And it's amazing!
We tried staples such as dolma (leaves stuffed with minced meat), mushrooms grilled with cheese, pomegranate mayonnaise salad and various soups and meat dishes.
Everything was absolutely delicious. Including the pomegranate wine, yum!
Another amazing traditional restaurant, in which you can get nearly anything your heart desires.
Similar to Dolma, Firuza too is located in a former cellar, so you'll need to go underground. The atmosphere will easily compensate for any lack of daylight, though.
Firuza's menu is ample and features things like traditional pancakes (we went to Firuza twice for them), eggplant and meat dishes…
Plus, you can choose easily since the menu contains photos.
Qoc Et
If you have a local guide and crave a real local experience with zero tourists around you, head to Tabriz Street 10. Without a local guide/friend, you'd have difficulty communicating with the staff, though.
Qoc Et serves only purely traditional meals. You can find all kinds of meat kebabs, wonderful salads and more.
The highlight for us was their salty frothed yoghurt Ayran. If you've been to Turkey, you might be already familiar with the beverage.
Mingle with locals at Fountain Square
Azerbaijani: Fəvvarələr meydanı
The Fountain Square is the real downtown of Baku. It's right here where you'll find many restaurants, both traditional and modern, as well as designer shops.
Unique-looking street lamps light up the tiled Square, and a large fountain is to be found there.
Look up to the Flame Towers
Azerbaijani: Alov qüllələri
One of the most memorable symbols of modern Baku stands on a hill overlooking the Baku Bay and the city. Made up of 3 towers resembling flames, the building houses a luxury hotel, apartments and offices.
The towers were finished in 2012 and with their height of 190m have become the tallest skyscrapers in the whole Azerbaijan.
Flame Towers can best be observed from afar. They peek at you from various angles in the Old Town or pretty much anywhere you go in Baku. Once the dark sets in, the light show may begin.
The Flame Towers are covered with 10,000 LED diodes that flicker and shine into the night. They change colors from those of the Azerbaijani national flag to the fierce shades of burning flames.
It's a wonderful showcase and I strongly encourage you to stay close and watch until after it gets dark.
Take in the views… with or without the funicular
For the best views of the city, take a funicular from Neftchilar Avenue to the Martyrs' Lane in Baku's Upland Park. Located right by the famous Flame Towers, this is a spot to just stroll, take it easy and enjoy the peaceful environment.
The Upland Park is the highest point in Baku Azerbaijan.
Pay respect to victims of Black January at the Martyrs' Lane
Azerbaijani: Şəhidlər Xiyabanı
This memorial is dedicated to victims of a violent crackdown on Baku inhabitants by the Soviet Army in January 1990.
It serves as a burial site too and it's estimated that around 15,000 people are buried there.
At the end of the lane there's a shrine (Shahidlar Monument) with an eternal flame torch.
Black January is seen as a major event contributing to Azerbaijan Republic's regained independence.
Relax and have a shisha
Since smoking shisha is a popular pastime activity in the region, why not try it in Baku too? Your Baku travel can be elevated into another dimension. :) We did just that at the Dağüstü Park Café located just in the Upland Park near the Flame Towers.
We had some good coffee, tea, snacks and sweets and even real shisha. The waiters were extremely helpful and kept our shisha burning properly.
Also, the whole front wall of the cafe is made of glass, so it's highly recommended to visit late in the afternoon and observe the sunset from there.
Stroll along the Baku Boulevard
Azerbaijani: Dənizkənarı Milli Park
The best way to enjoy Baku's seafront is to take a leisurely stroll along its promenade – the Baku Boulevard.
Running from Baku's Freedom Square to the National Flag Square, the promenade keeps being extended year after year.
As of 2018, it runs even 2km more to the East of the Freedom Square. Its current length is thus 5 km, but there are plans to extend it even further, possibly to a total length of 26 km.
Locals come to the promenade to stroll, cycle, roller blade and gather. It's apparently a popular spot for watching the New Year's fireworks too.
The promenade has existed for over 100 years. Along it, apart from opulent mansions, you can come across a large shopping mall Park Bulvar, Baku Crystal Hall (which hosted the Eurovision contest in 2012), and the Baku Ferris Wheel.
Fall in love with carpets at the unique Carpet Museum
Azerbaijani: Azərbaycan Xalçası Muzeyi
Have you ever seen a building shaped like a rolled carpet? I bet you haven't! Me neither. :) So do yourself a favor and while visiting the Baku Boulevard, pay a visit to Baku's unique Carpet Museum.
As you might expect, it's all about Azerbaijani carpets in the museum. There are examples of carpets and rugs made with a different weaving technique, from different eras of Azerbaijan history…
Plus ceramics, handicrafts, jewelry and other small decorative items from times gone by.
Embrace the tea culture
Typically between lunch and dinner, similarly to the British 5 o'clock, Azerbaijani sit down for tea and sweets.
Tea is served everywhere. All over Azerbaijan teahouses prevail, while cafés exist pretty much just in Baku city. Indulging in tea ceremonies thus becomes essential when you visit Azerbaijan.
The sweets eaten during teatime range from fruits to little cookies to sweet jams and condiments. One of the most interesting and unusual was a jam made of young walnuts:
Walnuts are harvested while they are the size of a cherry, and put into a compote. The result is a sweet thick sauce containing wonderfully soft walnuts. Yes, even the nutshell becomes soft and tender!
Admire the architecture of Zaha Hadid at the Heydar Aliyev Cultural Centre
Azerbaijani: Heydər Əliyev Mərkəzi
Your eyes will instantly be drawn to this structure designed by the recently deceased world-class architect of Iraqi origin, the late Zaha Hadid. The cultural centre contains a gallery and a museum where you can find many examples of Azerbaijan architecture, crafts, traditions etc.
The Centre was named after the former president Heydar Aliyev.
A few feet away in front of the building, you can also…
Take a photo with I love Baku sign
Cheesy, I know… But it should be done, especially if you'll love Baku as much as I did.
Uncover the roots of Baku's oil industry
Azerbaijan runs on oil and it's mainly visible in Baku, especially in the new areas. Luxury boutiques, high-end cars speeding away.. you name it.
We were not too interested in the oil industry, but still paid a quick visit to Bibiheybat Field, since we were passing by. Apparently, it's also here that the world's first industrially drilled oil well was dug in 1846.
I guess that fits, given the world's first hand-dug wells were in Gorlice in Poland. Actually, it seems oil might have been discovered in Baku even earlier, as there's evidence pointing to oil being collected from surface wells already in the 15th century.
Modern-day Baku has been founded on oil. At the beginning of the 20th century, half of the oil traded worldwide was extracted in Baku.
The boom of the oil industry contributed to Baku's massive growth. It is said that at the onset of the 20th century Baku grew faster than Paris, London or New York.
Click to read an example of a cultural 7-day Azerbaijan itinerary.
Things to do outside Baku Azerbaijan
These are the most noteworthy things to do around Baku, from the closest to the furthest:
Visit Bibi-Heybat Mosque
Azerbaijani: Bibiheybət məscidi
Right on the outskirts of Baku across the road from a cemetery stands the Bibi-Heybat Mosque. While the interior is a bit unusual with its rich green decoration and a series of tombs placed in the middle, this place allows history to speak.
There used to be another mosque in this location from the 13th century. However, in 1936 it was destroyed by the Soviets as a part of their anti-religious campaign. The current structure comes from the 1990s.
The site that it's built upon houses the tomb of a daughter of Prophet Muhammad's descendant. It is said that infertile women who'd come here and pray would conceive a child within a year.
At this mosque you should cover up especially well, they are strict. A friend of mine who had a dress ending below her knees had to put on a provided large robe to cover up. The local caretaker also wasn't happy when he'd seen our hair escape from under the scarf.
Contemplate at the Zoroastrian Temple of Eternal Fire Ateshgah
Azerbaijani: Atəşgah
Ateshgah is one of a few temples in Azerbaijan believed to belong to the Zoroastrian places of fire worship.
But the Ateshgah Temple might have been a place of practicing Hindu religion, since the area had a large Indian community. With the decline in their population, the temple was abandoned in the late 19th century.
Until 1952 the Fire Temple had a constant fire burning from a natural gas deposit underneath. Since that pocket of gas emptied out, it's been replaced a pipe transporting the gas to feed the flames.
The Ateshgah Temple is a wonderful and peaceful place to visit and to admire.
We almost missed it, since the temple closes at 6pm and we arrived just a few minutes before that. Thanks to our driver Rafael, who used all his negotiating powers, we got in and had it nearly to ourselves.
It's a pity the temple closes so early since it looks the most impressive once it gets dark.
Marvel at the eternal fire at Yanar Dag
Azerbaijani: Yanardağ
A miracle. That's what might come to your mind when you arrive at Yanar Dag. Here, flames lick a few meters of rock. They are 'eternal'. They've been burning for 4,000 years! And will continue to do so for a few hundred, or perhaps a thousand, years more.
Methane gas leaks from the ground and in combination with oxygen creates ideal conditions for the continuous flame to stay lit. Even in times of heavy rains or snowfall.
The best thing to do in Yanar Dag is to simply sit down and watch the flames. Strangely enough, you won't hear any cracking of wood, as I have come to naturally expect with a fire. It's a beautiful marvel of nature to experience.
Just remember, it's best to arrive after dark for optimal flame gazing!
For me, Yanar Dag was one of the highlights of our trip.
Discover ancient inscriptions in Gobustan
Azerbaijani: Qobustan Milli Parkı
In the heart of Gobustan National Park (Gobustan State Reserve) located just an hour away from Baku, you will come across ancient carvings on rocks and inside caves. There's around 6,000 of them!
Gobustan has been inhabited since the Upper Paleolithic Era (40,000 years ago). The petroglyphs found here cover all major periods of human history until about the Middle Ages.
The carvings depict the people of the time, animals, everyday objects, planets and such. There are hunters, pregnant women, boats… The petroglyphs (carvings) and pictographs (drawings) are truly fascinating to see.
Gobustan was also a site of an ancient Roman settlement. The Roman Army was in the area repeatedly throughout history. The oldest Roman writing comes from about 90 AD.
Before going to check out the actual rock carvings outside, stop at the local museum, where you'll get all the information about the settlement of the area. Also Azerbaijan's furthest history is well depicted at the Museum.
The whole Qobustan National Park has been proclaimed a UNESCO World Heritage Site in 2007 under the official name Gobustan Rock Art Cultural Landscape. See its listing here.
Also, the Gobustan National Park is very popular among tourists. It was the only place we visited in Azerbaijan where it was crowded.
Have some fun at mud volcanoes in Gobustan
When you pay a visit to the mud volcanoes located near the Rock Art site, you'll have a double dose of fun:
First, getting to the volcanoes and back:
There are exclusively old Lada cars taking curious tourists to see the mud volcanoes. The dirt road leading there is not made for fancy modern cars, that's why.
We had a fun local grandpa giving us a lift and we really enjoyed the bumpy ride! And he did too, as his toothless grin would suggest. :)
And then there are the volcanoes.
They are small cone pyramids and flat muddy lakes, which excrete mud. Some bubble constantly, some throw mud in the air in little eruptions.
In any case it's entertaining to watch it all. The mud is cold here, so the only danger would be taking an involuntary mud bath. An unlucky hat, belonging to my Czech friend, did just that. :)
Azerbaijan has, in fact, more muddy volcanoes than any other country – about 400! That's a half of all the world's mud volcanoes.
Most of the volcanoes we visited in Gobustan are cold. There are a few, however, which can emit flammable gas and erupt in flame explosions.
Such an explosion made headlines in 2001 when a large pocket of gas exploded into giant flames 300 meters high and lasted for several days.
It happened again in September 2018, just a month before we visited. The eruption left cracks more than 40m deep.
Climb through Diri Baba Turbesi Mausoleum
Azerbaijani: Diribaba türbəsi
About 1.5 hours away from Baku you can visit a unique mausoleum built into a rock cliff.
It was constructed in the 15th century. There are many legends connected to the place and it is believed that a Saint named Diri Baba was buried here.
You can enter the unique 2-storey building from a staircase, climb the stairs inside, seeing its hall and the main room, and come out through a small doorway just below the dome. That will lead you above the actual structure, on top of the cliffs.
From there you'll see a nice view of the surrounding landscape, including a town and a cemetery not far away.
Baku and its surroundings can be easily visited on a 3-day trip. I certainly hope you have longer time for the country, though! See this weeklong itinerary for Azerbaijan.
Where to Stay in Baku
I'd strongly suggest you stay in the Old Town, like we did.
One of the best Baku hotels, and one that I tried, is Two Seasons Boutique Hotel Baku.
The hotel has bright and comfortable rooms. There are just a few rooms in the building, so it feels nice and private.
If you've been following my blog for a while, you know I'm obsessed with hotel breakfasts.
The breakfast at the Two Seasons Hotel was based on the traditional Azeri breakfast, but much more ample.
The variety was great and the many little bowls they served with all sorts of condiments made it hard to choose. I never had extra eggs, since the 'basic' breakfast was more than enough. :)
Getting to Baku
Baku International Airport, officially called Baku Heydar Aliyev International Airport, is a modern flight hub connecting Baku with the Caucasus region and its surroundings. The main carrier, Azerbaijan Airlines, flies to many cities in Europe and even to New York.
While I reached Baku by land using a transfer from Georgia via the Azerbaijani town of Sheki, I flew back to Prague from Baku airport with a stopover in Kiev (with Ukraine International Airlines). It was all part of my Caucasus Trip with JayWay Travel.
Baku is an exciting modern metropolis with a historic heart. I hope you've enjoyed reading about Baku and seeing all my Baku pictures and that you're now enticed to visit Baku yourself.
Let me know what you think of Baku and share this post with friends who might find it useful.
Pin this post for later: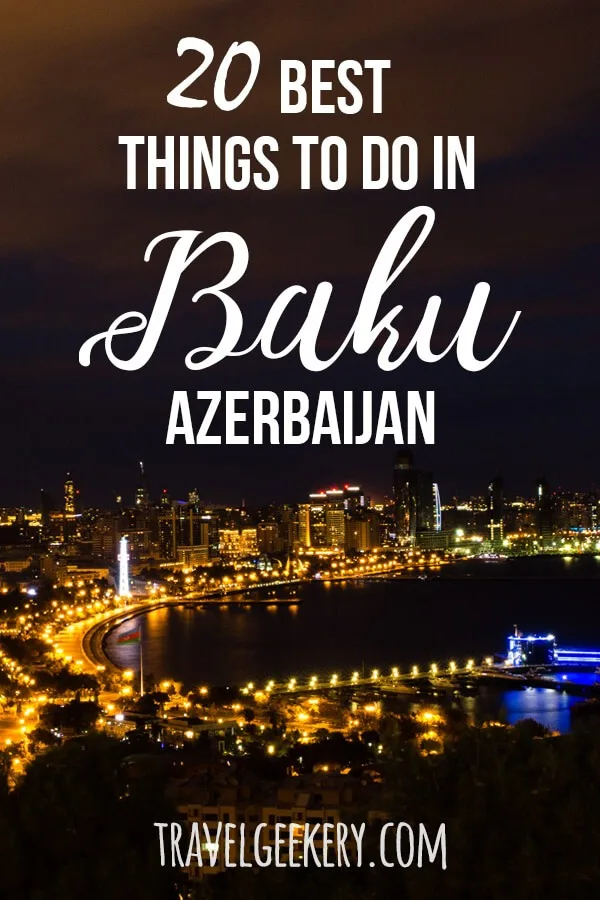 Disclosure: Veronika of TravelGeekery visited Baku on a sponsored trip organized by the boutique tour company JayWay Travel. The opinions presented here are, as always, her own and unbiased.