This post is also available in:

Čeština
There are so many diverse and beautiful places in Azerbaijan that one would need a month to become fully immersed in the country and fully explore it. I had two trips to do that, over four years, and I must say this country is a real hidden gem. My second trip recently only solidified my admiration.
The top places to visit in Azerbaijan mentioned below encompass the best cities in Azerbaijan, Azerbaijan UNESCO sites, mountains and mountain villages, as well as other Azerbaijan country points of interest and landmarks, both nature- and manmade.
I will cover Azerbaijan top tourist attractions but fear not – these are not touristy in the international sense. Azerbaijan still remains largely off the beaten path and you're going to encounter, above all, local tourists. Sightseeing of Azerbaijan can thus be done in quite a solitary way.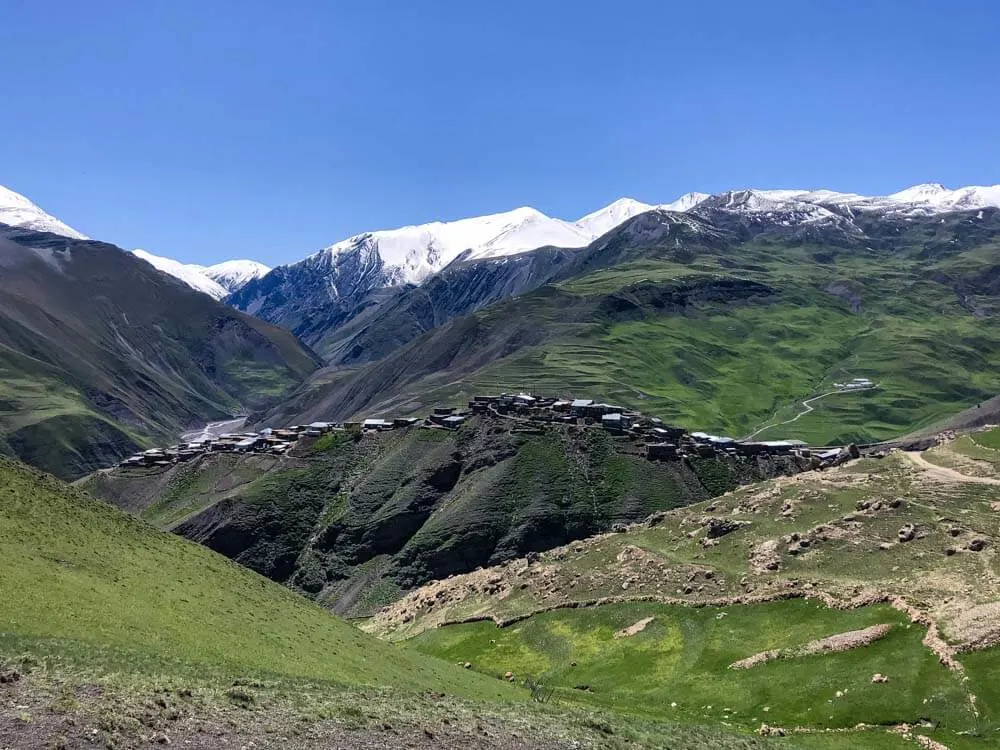 Let's dive right into what to see in Azerbaijan:
Baku / Bakı
When covering the Azerbaijan tourist spots, one cannot leave out its amazing capital on the Absheron Peninsula. Baku is like no other city in the area – it's rich and poor, it's cosmopolitan, it's packed with historical landmarks, and so so attractive.
Baku's ancient heart, the walled-off Old City called Icheri Sheher (Azerbaijani: İçərişəhər) is the no. 1 area to visit and ranks high among the most beautiful places in Azerbaijan. It's UNESCO-listed, too. With its Shirvanshah's Palace, the Maiden Tower, Juma Mosque and more, there's an abundance of historical sights to admire.
Don't miss out on seeing Baku's Flame Towers, which stand as one of the most famous landmarks in Azerbaijan. Strolling along Baku's seaside promenade is another must-do.
You can also opt to see Baku with a guide. While walking in the Old City near the Maiden Tower, you'll be approached by several offering their services. I suggest you organize a highly-rated tour in advance instead.
Of course, there are tons of things to see and do in Baku. That's why I wrote a standalone post on the best things to do in Baku Azerbaijan. Check it out.
It's nothing short of amazing to see how Baku developed from a medieval settlement into the vibrant metropolis it is today. Since you'll be most likely flying into and out of Baku, there's no reason to skip this glamorous city – it's a real Azerbaijan must-see.
Quite a few of Azerbaijan tourist attractions lie just outside Baku: Qobustan with its ancient petroglyphs (UNESCO), the Fire temple Ateshgah in Suraxani town, and the eternal fire at Yanar Dag.
You can see Baku, the Fire temple, and the eternal fire on this highly-rated full-day tour.
Where to stay in Baku Azerbaijan
I can recommend two Baku hotels where I personally stayed during my two trips to Azerbaijan:
Two Seasons Boutique Hotel – a small boutique hotel located within the Old City walls, just a stone's throw away from the Maiden Tower.
Ganjali Plaza Hotel – a nice hotel with a pool and sauna, tucked away in an otherwise busy area near Baku Boulevard, about 30 min walk from the Old City. Parking is possible in front of the hotel.
Besh Barmag / Mt. Beshbarmag / Beş Barmaq
Right by the road between Baku and Quba lies this mystical piece of rock in the shape of five fingers. Thus, the name: Beş Barmaq = five fingers.
Besh Barmaq is believed to be sacred. It belongs among Azerbaijan beautiful places not just for its mysticism but also for its natural beauty. The exact meaning of the place is a mystery as many of the sources state different things.
Lonely Planet refers to the mountain as a place reminiscing about not just five fingers due to its shape but also of a man's organ (you know which one). That's apparently why women climb the many stairs to the top, in order to ensure fertility. Supposedly, there are dervishes, monks living in mountains, who can give a blessing to the cause.
However, I didn't find any confirmation of this on Azerbaijan's official sources or any other sites. It's mostly mentioned as a place of worship and a pilgrimage site – one where people climb to make a wish and believe in its fulfillment. There can also be women sitting on the top, offering to give a blessing and to pray for whoever needs it.
But, for the purpose of our article, it's enough that the place is beautiful, right? And Besh Barmaq truly is that. In one direction you can admire peaceful views of grassy hills, in the other, a dazzling sight of the Caspian Sea opens in front of you that will leave you speechless.
Bird-watchers will also enjoy the fact that Besh Barmag is one of Azerbaijan's top birdwatching sites. The mountains and the sea act as natural barriers and channel the birds through here. If you're patient enough, you can observe many different bird species flying over your head.
You should know that there's no peak with a gorgeous view to climb to as the path ends in a small room where locals pray. Just before the end, there are a few spots where you can stop and admire the views.
Personally, I loved how revered the Besh Barmag mountain is among locals too. In fact, it's one of Azerbaijan tourist places when it comes to domestic travel. The area below the mountain is a popular picnic spot. While many families come with meat to prepare and eat on the spot within their circle, there should also be at least one open-air stand, where you can buy something delicious and meaty to eat.
Even though Besh Barmaq is rarely listed among the best places to visit in Azerbaijan, I think it's so beautiful and interesting that it should be on everyone's to-do list! Especially those who enjoy observing local life.
Where to stay near Besh Barmaq
Since it's only an hour-long drive from Baku, your best option is to stay in Azerbaijan's capital. As I mentioned in the Baku section of this post, I can highly recommend Two Seasons Boutique Hotel and Ganjali Plaza Hotel.
Sheki / Shaki / Şəki
The historical capital of Sheki is one of the best Azerbaijan tourist cities – I think it's a clear no. 1 if you don't count the capital. Whichever guidebook you open, it's always recommended as what to visit in Azerbaijan. It's also Azerbaijan's third and final UNESCO site.
But still, you're not likely to experience crowds everywhere you move. You're in Azerbaijan, after all, still a largely off-the-beaten-path destination.
Sheki Khan Palace is the number one thing you must see there. The unique palace from 1792 has intricate interior decorations. It cannot be photographed, so your only chance to see it is to actually visit the Palace yourself.
The beautiful stained-glass windows, which adorn the Sheki Khan Palace, are typical for Sheki. The art of making them can be observed in the nearby bazaar within the Palace grounds.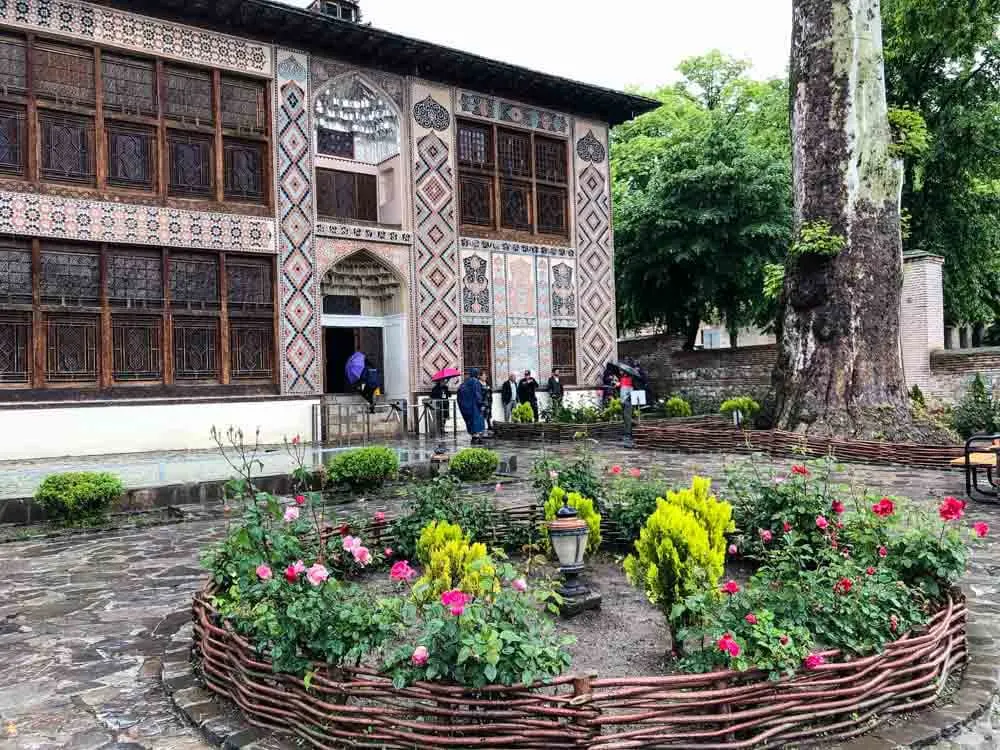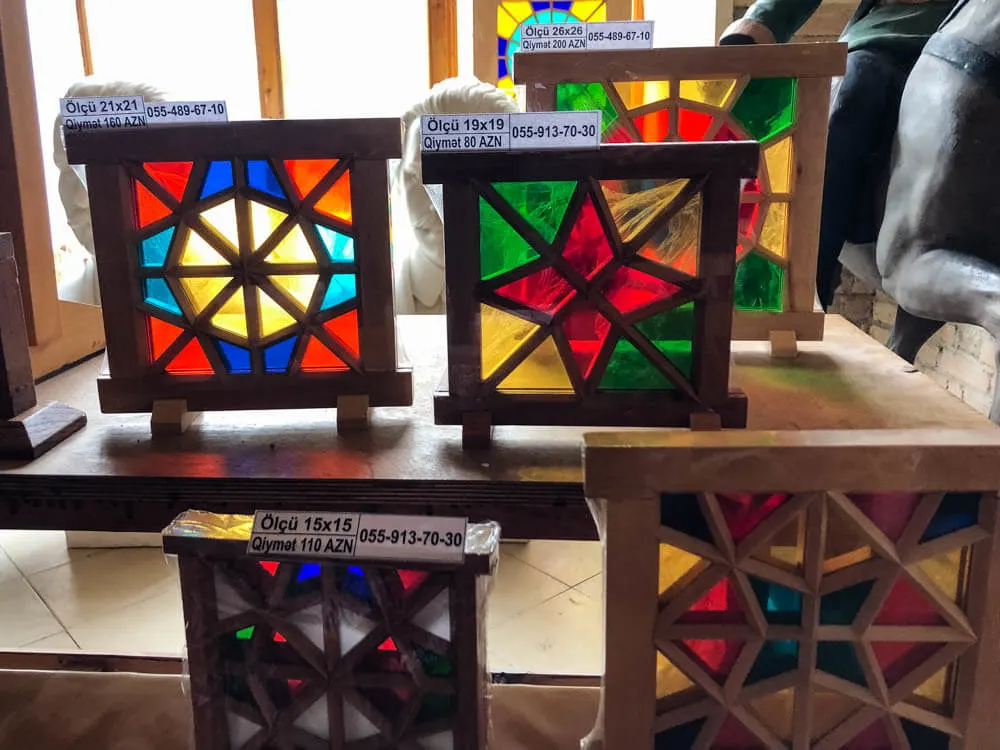 Sheki's caravanserai easily qualifies as another of the top tourist attractions in Azerbaijan. A caravanserai is a type of traveler's inn typically along the Silk Road.
You can visit the caravanserai freely, walk around, and relax. It's usually pretty quiet there. It's funny how the minute you step out, you're in one of the most bustling parts of the town. The outer walls of the caravanserai are full of souvenir shops, stores selling sweets of all kinds, and a few cafés.
Don't forget to try a typical Azerbaijani meal that originates in Sheki – piti. For meat-eaters only! We had it at Sultan House Restaurant and can highly recommend it despite the higher service fee of 16%.
You can visit Sheki and Kish also on a day trip from Baku using this tour, which also makes a stop in the ancient city of Gabala.
Where to stay in Sheki Azerbaijan
For the best experience, consider staying at the Caravanserai Sheki. Yes, right in the Caravanserai! The rooms have recently been renovated. However, don't expect much luxury – it's all about the atmosphere there. It's perhaps the only place in the world where a historical caravanserai still serves its purpose today.
I haven't stayed at the now-called Yukari Karavansarai Hotel but have heard only good things about it. Do give it a go and let me know how it was. Here's a guide on how to go about booking.
For a more luxurious experience, stay at the Sheki Palace Hotel. I almost stayed there a few years ago but there was a problem with the booking.
On the other hand, for a low-cost accommodation option, choose Ilham Mustafa Houses. It's almost like a homestay, with breakfast. My friends and I were accommodated there a few years ago and enjoyed it, except it was quite cold at night (in October).
Ganja / Gəncə
Ganja city is, in fact, the second largest city in Azerbaijan. Its amusing name doesn't have anything to do with the plant. The name is derived from Persian, meaning "treasure".
It's tied to a local legend of founding the city in the 9th century. Ganja actually belongs among the oldest cities not just in Azerbaijan but the whole Caucasus.
While Ganja town can be quite a bustling metropolis, it has large areas that are peaceful and beautiful including:
The central area bordered by the Roads of Heydar Aliyev and Atatürk. You can find the old Juma Mosque (Shah Abbas Mosque), a medieval Hamam, a local theatre, a City Hall.. and a lovely green area to hang out.
The winding pedestrian street Cavadxan lined with shops, tea hangouts, and a lot of benches. At the end of it, by the river, you'll find a bizarre-looking Soviet-style hotel and a statue of the poet Nizami.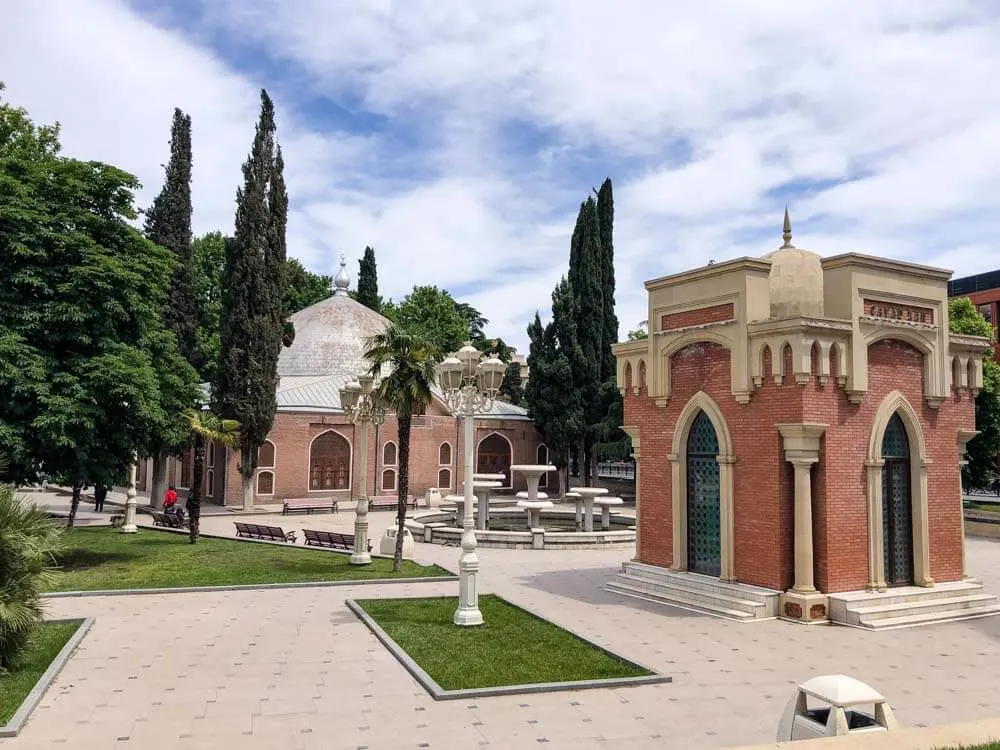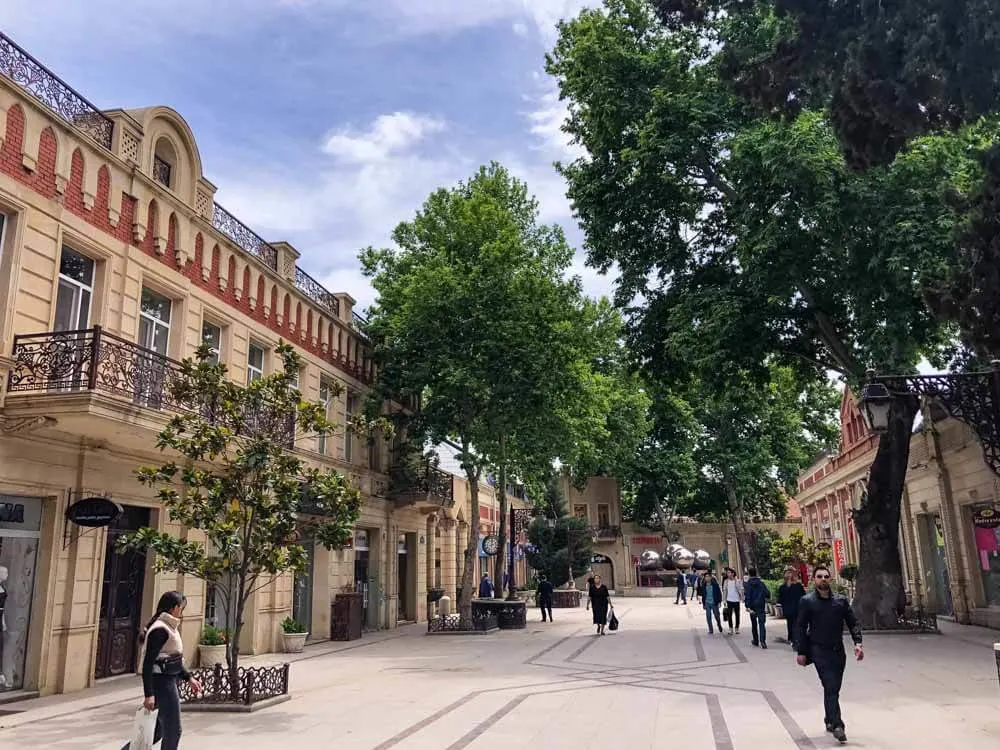 There's one landmark in Ganja that's not that well known, yet it belongs among the most unique things to see in Azerbaijan. It's called the Bottle House.
The Bottle House is a private residence in Ganja built out of bottles and other materials. A Russian officer Ibrahim Jafarov, stationed in Ganja, had it built from the bottles he drank throughout his life. He apparently enjoyed beer, vodka, and champagne. 48,000 bottles were used in the construction!
Actually, the house was built in the 60s in memory of his brother who went missing in WW2. Portraits of both brothers can be seen on the facade below the roof.
If you're lucky, you may even run into Jafarov's relatives and have a chat.
When looking at Azerbaijan places to visit, Ganja and its surroundings shouldn't be left out. Spend at least a day exploring all the diverse things to do in Ganja, which absolutely belongs among the most interesting places in Azerbaijan.
Where to stay in Ganja Azerbaijan
So where to stay in one of the best cities to visit in Azerbaijan? The Vego Hotel has great ratings and is located right in the heart of the town near the Juma Mosque.
I stayed in nearby Mingachevir, which is about an hour-long drive away. The Agsaray Deluxe Hotel was not expensive and pretty luxurious!
Quba / Guba
Quba in Azerbaijan is like no other place in the country. Where else could you find Jewish architecture?
Quba is located in the northeast of Azerbaijan, near the border with Russia (Dagestan). It's a real gateway to the stunning Caucasus Mountains and its charming mountain villages, which makes it one of the top places to see in Azerbaijan.
The Jewish settlement is in a part of the city called the Red village or as it was known in Russian, Krasnaya Sloboda. It lies on the other side of the River Kudyal, connected by the historical Stone Arch Bridge from the 19th century.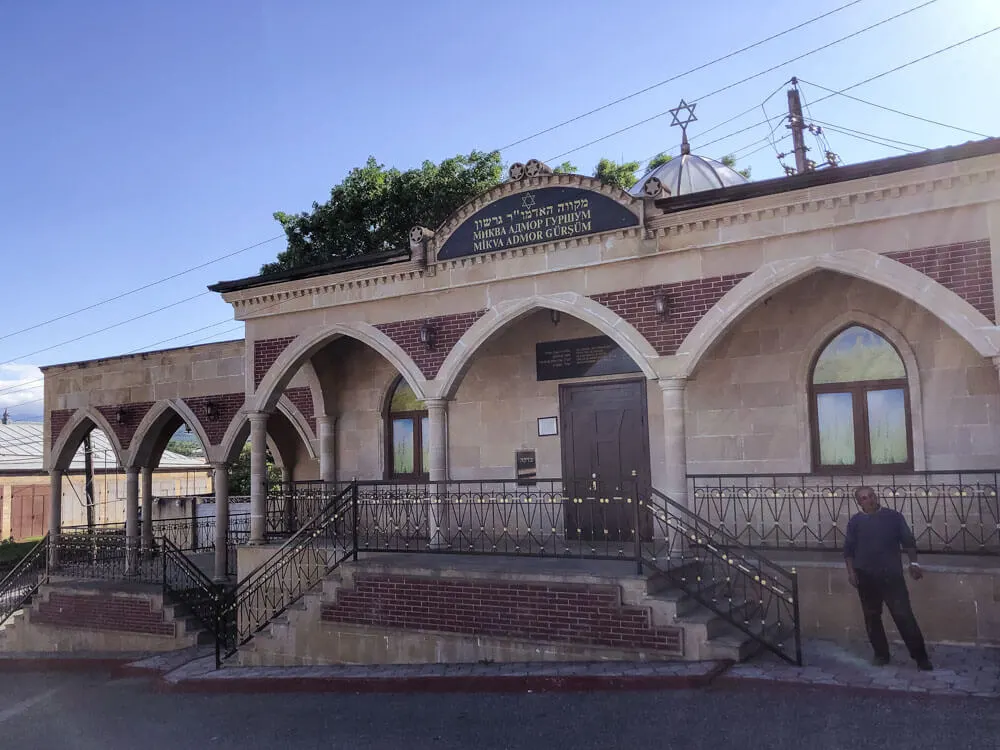 There are three synagogues, of which one was turned into a museum while two remain active. Elaborate merchant houses showcase the former riches and glory of local Jewish residents.
Because of the large Jewish population – in fact, the highest in Post-Soviet states, Quba is sometimes referred to as Azerbaijani Jerusalem.
The old heart of Quba can be found around the brick-laid Juma Mosque and the Hadji Jafar Mosque. There's a Hamam too, which was reconstructed with the financial help of the US Embassy.
The new part of Quba is not as interesting but I recommend strolling through the extremely peaceful Nizami Park.
When in Quba, you must taste the local sweet called bukme. It's available in the many sweet shops you can find around town lining the Road of Heydar Aliyev.
Quba is beautifully green and its setting in the proximity to the Caucasus makes it an ideal base for trips to the mountains. Such magical place follows. ⬇️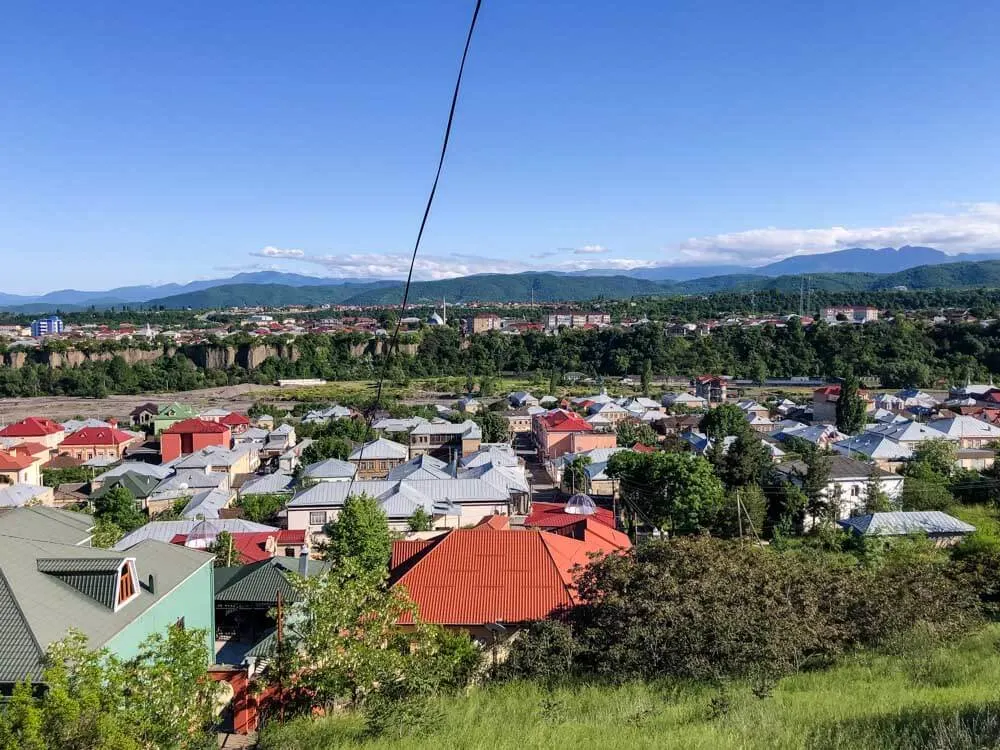 You can visit Quba and Xinaliq also on a day trip from Baku – check out this well-rated tour.
Where to stay in Quba Azerbaijan
A good Quba hotel is Gold Hotel. It's located a few blocks from the Nizami Park and about a 20-minute walk to the modern town center.
Xinaliq / Khinalig / Khinalug
You can visit this amazing mountain village from Quba. It takes about an hour to drive there on a winding asphalt road.
Xinaliq lies in the Quba district, just southwest of the city. However, it couldn't be more different.
The setting of the village is extraordinary. Featuring views of the Caucasus, Xinaliq sits atop a rocky formation and is as picturesque as you could imagine.
It's one of the most remote villages in Azerbaijan and certainly the highest one – at 2,350 meters! It's often touted as the highest in Europe.
While at the village, wander around, enjoy a cup of tea at the only teahouse there is (combined with a store and a basic accommodation), and stop to respectfully observe the locals and their houses with manure-made bricks for heating. Don't hesitate to buy a handmade pair of socks or slippers from the villagers. But other than that, it's all about the surroundings.
You can take a hike out of Xinaliq to chase the views of the Caucasian peaks. Among them, you can sneak a peek at the highest mountain of Azerbaijan – Bazardüzü (4,466 m).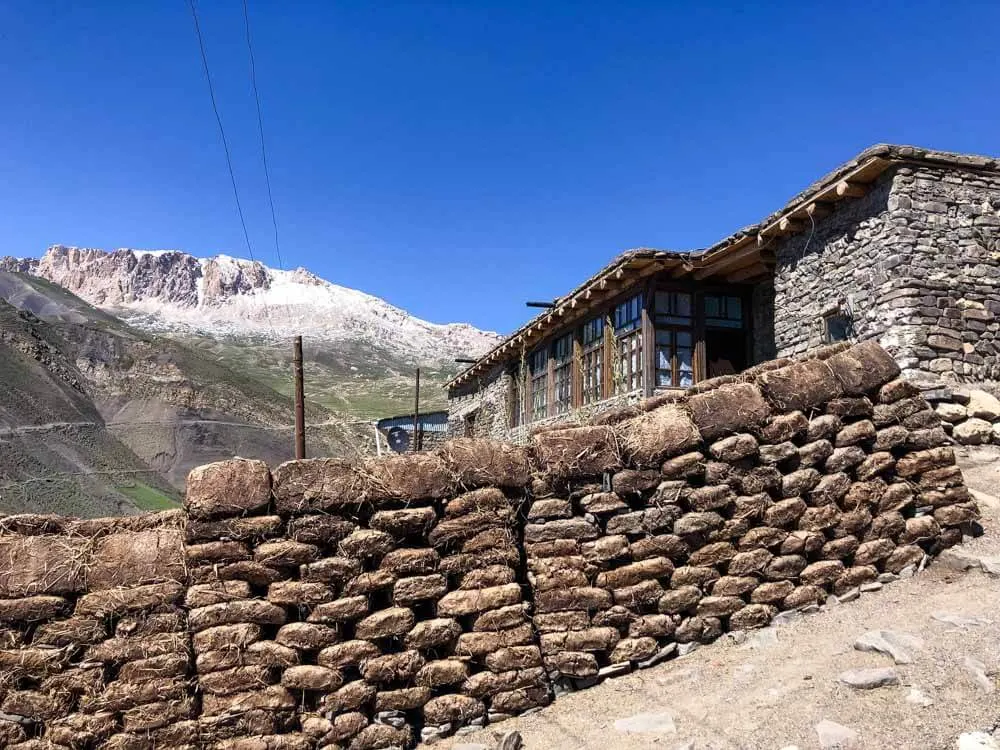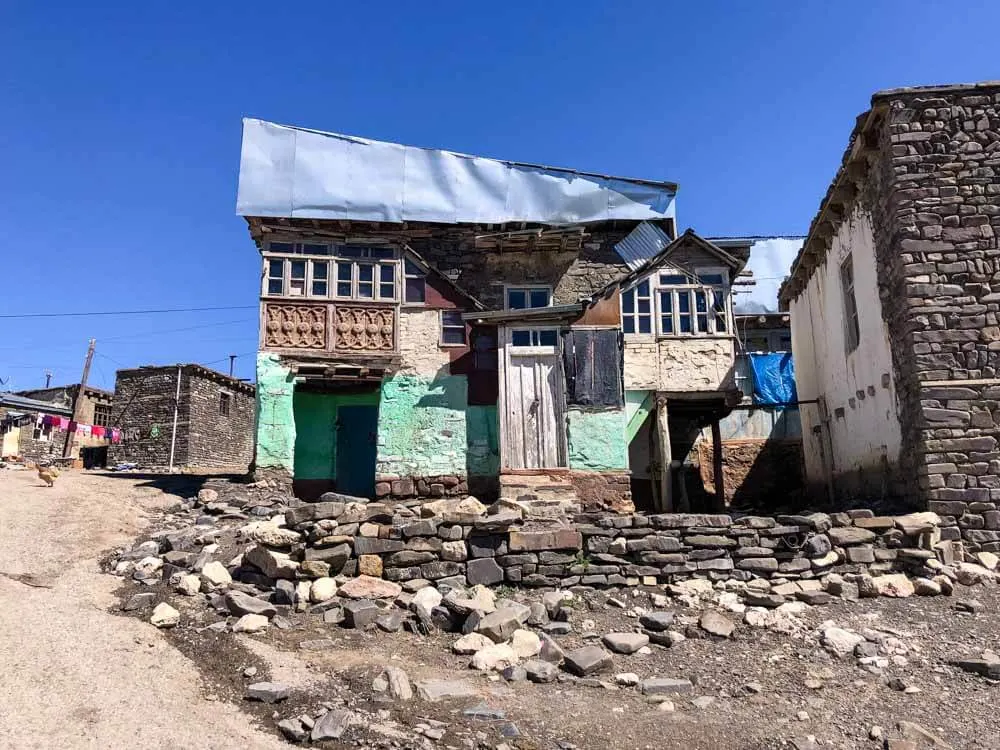 Due to its picturesqueness and the unique mountainous setting, this village is in danger of overtourism in the future. It's even been included on a watch list of endangered sites by the World Monuments Fund in 2008. When you visit, be respectful and don't photograph the locals and their kids without their permission. Simply enjoy the beauty all around you.
The villagers still live traditionally, breed sheep, and live off their herds. Traditional weaving, honey making, and collecting herbs for sale are a few other ways of earning a living in the mountains.
Inhabitants of this village, which is supposedly 5,000 years old, speak their own language and practice Sunni Islam, unlike the majority of Azerbaijan, which is Shiite.
Xinaliq is exceptionally beautiful. One of the best things to do there, after hiking to your heart's content, is to simply sit down with a pot of tea and enjoy it with the gorgeous views.
Xinaliq has the potential to turn into one of the best tourist places in Azerbaijan. Fortunately, it's not there yet and let's hope the development will be gradual and sensible to both the people and the pristine nature.
If you're itching to spend some time in nature, Xinaliq and its surroundings are the best place to visit in Azerbaijan.
There's an option to visit Xinaliq and Quba on a day trip from Baku – check out this well-rated tour.
Where to stay in Xinaliq
The most convenient option is to stay in Quba (e.g. in Gold Hotel) and take a day trip to Xinaliq and the mountains.
However, if you don't mind the basic conditions, you can stay in a local guesthouse. This option is for the more adventurous types since you can't really arrange it in advance. You can only show up and ask if there's a space. The guesthouse is in the same building where the central teahouse and a shop is.
You may also make use of a homestay but you'd have to run into the right person.
Actually, in the lower part of the village, you can arrange a stay at a local guest house – via Booking.com!
Lahij / Lahich / Lahıc
If you still have time to venture out into a small village on the southern side of the Caucasus, include Lahij in your itinerary of where to visit in Azerbaijan.
Since Medieval times, the village located in the Ismayilli region is famous for craftsmanship. There are still many coppersmith workshops lining the main cute cobbled street of Lahij. You're welcome to enter, observe the master coppersmith, and purchase any item you like.
At first glance, this village is far more developed than Xinaliq – it's not so remote after all. You can visit a small local museum, various shops, and teahouses too.
Lahij is situated in the mountains, and you can go on hiking trips into the green pastures northwards of the village, where you'll encounter the incredibly picturesque Caucasian peaks again.
The lush green meadows and hills provide a welcome green escape, where your only companions will be occasional horses and herds of sheep. You'll also come across apple trees since this area has a few scattered orchards.
Where to stay in Lahij
I can highly recommend Rustam's Guest House in Lahic. It's like a private homestay and Rustam's family is warm and welcoming. Plus, Rustam's English is impeccable.
Getting to all these most beautiful places in Azerbaijan
With all these amazing places to go in Azerbaijan, you also need to know how to get around, right?
You'll basically have three options:
You can rent a car, navigate the sometimes chaotic traffic and depend on your own skills and luck. Here's a guide on driving in Azerbaijan.
You can work out the public transport system, which involves buses, trains, and marshrutka minivans. To visit the places where public transportation doesn't go, such as to Xinaliq, you can usually find locals offering a ride. Use your negotiation skills and it won't cost much. In Baku, you can additionally use the subway. Uber and Bolt are largely used in Baku, easy to book, and cost next to nothing.
You'll use Baku as your base and will just take day tours with a local travel agency.
If you've never considered Azerbaijan as a tourist destination, I hope that after reading this post, you're intrigued enough to start to plan a trip to this mesmerizing country!
Let me know what you think and whether you have any questions when it comes to Azerbaijan points of interest. I'll be happy to answer them!