With travel getting back on track, I, too, am ramping up travel plans again. And one of the most essential things I'll be taking with me on every trip is peace of mind. For me, that's SafetyWing Travel Insurance which, in my opinion, is the best health insurance for digital nomads and travelers, both long-term and short-term.
While dealing with arranging new trips and travel insurance, I felt inspired to give a shoutout about my go-to company and do a SafetyWing insurance review.
Accidents are an unfortunate part of life and they do happen on the road too. Nobody's standard home-country insurance covers mishaps that might occur while abroad, so you too might find the info about SafetyWing Travel Insurance useful.
What is SafetyWing and Who It's for
SafetyWing takes care of medical coverage globally. Throughout this text, I'll be talking about SafetyWing travel medical insurance, which means staying insured abroad, while possessing your home country's health insurance.
SafetyWing also provides medical insurance for nomads with no home country coverage, and also for remote teams. I don't have experience with those types of insurance.
No matter what nationality you are, SafetyWing Insurance has got you covered. It's great for short- or long-term stays, easy to purchase even if you're already abroad, and easy to extend if you decide to stay abroad longer than you originally planned.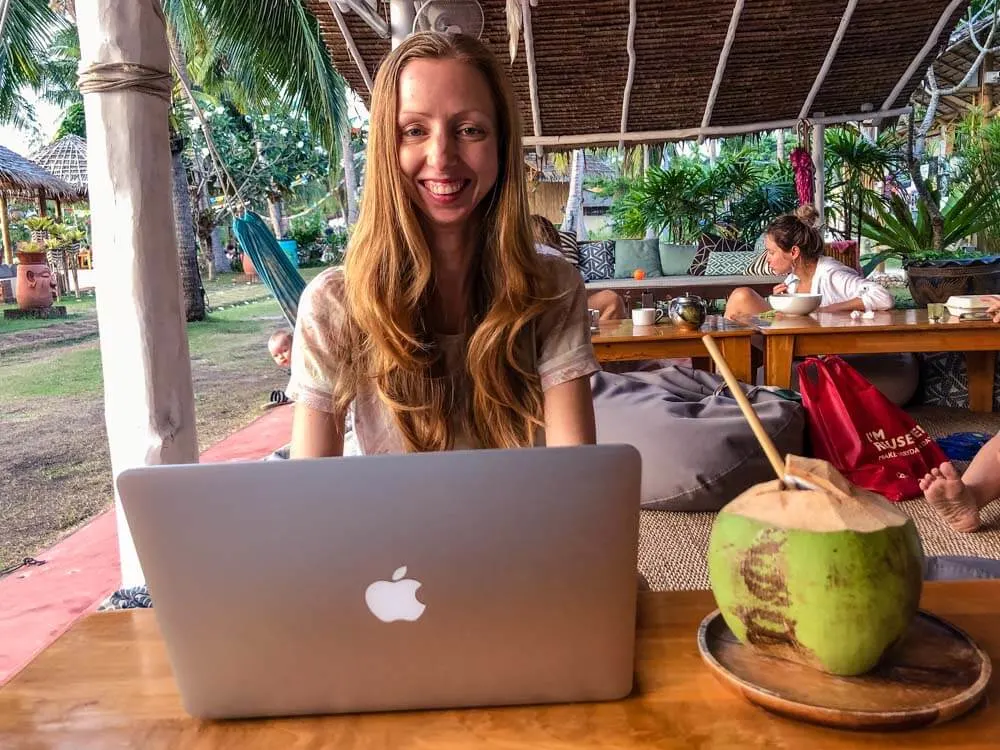 SafetyWing digital nomad health insurance option suits me perfectly and it covers both medical and "general" travel mishaps.
Also – while SafetyWing is the go-to for digital nomads, any travelers can use it for trips of 5 days or longer.
Nomad Insurance – Medical incidents
Their medical insurance takes care of me if I get into an accident or if I get sick while I'm abroad. SafetyWing Travel Insurance will payout up to $250,000 on medical care in case I need it with a deductible of only $250. That covers ambulance, hospital stay, and even intensive care.
If I were to have some kind of dental emergency while I'm abroad, SafetyWing Travel Insurance will nicely cover that too. They payout up to $1,000 for any dental-related emergencies with no deductible. So those are some things I don't have to worry about while I'm kicking it abroad.
Nomad Insurance – Travel-related incidents
In addition to covering medical emergencies, SafetyWing Travel Insurance also covers travel-related issues, all deductible free, like lost checked luggage, incurred travel delays, emergency response, natural disasters, and personal liability in case I accidentally hurt someone else. As much as I try to never hurt anyone, it could happen by accident, you never know. 🤷‍♀️
If I'm subject to a travel delay that causes an unplanned overnight stay, SafetyWing Insurance will cover $100 per night with a maximum of 2 nights. And if the travel delay is caused by a natural disaster, then they'll cover me for up to 5 nights.
So much luggage is handled every day by airlines and sometimes a bag might get lost. If this happens, SafetyWing Travel Insurance has got my back and will cover up to $500 per item. Oh, how I wished this existed ten years ago!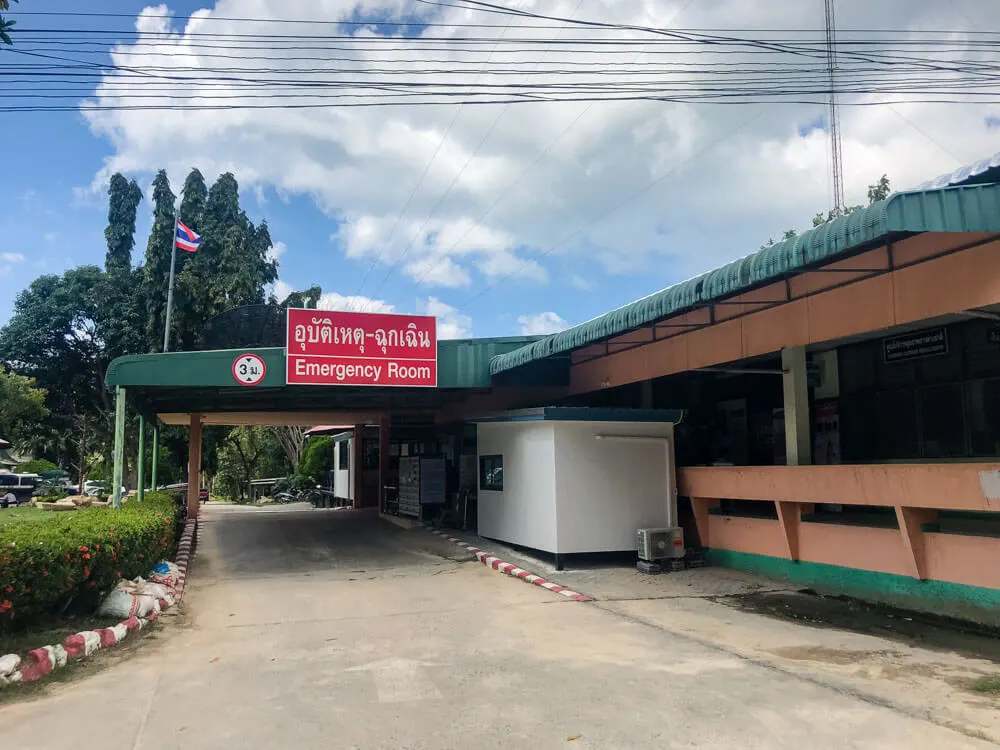 If things get out of hand politically, and I need to be evacuated from the country I'm staying in, SafetyWing will pay up to $10,000 to cover evacuation costs. And if I need to be evacuated for medical reasons, they'll cover me for up to $100,000.
And finally, if I happen to accidentally injure someone, SafetyWing Travel Insurance will cover them for up to $25,000. So not only am I taken care of while abroad, but those around me can breathe a sigh of relief knowing that they're also covered.
Nomad Insurance–Covid-related incidents
In keeping up with our modern concerns, my SafetyWing Travel Insurance also covers Covid if I happen to get it during my travel. Covid-related care is covered under the same terms as their medical insurance, and they also cover Covid testing if deemed necessary by a physician (but not antibody tests as those are not a medical necessity).
If I have to be quarantined while abroad they will pay up to $50 a day for up to 10 days. It's important to note that quarantine coverage is only applicable once within 365 days, but who wants to be quarantined more than that anyway, right?
Why I use SafetyWing
To be fully transparent with you, for most shorter stays I use travel insurance by a Czech company, since I'm Czech, have my standard medical insurance in the Czech Republic, and it's simply more affordable for me.
However, for some countries and all longer stays, I always go for SafetyWing travel insurance. Especially now when my Czech travel insurance covers Covid only in selected countries.
I especially love the ease of use of SafetyWing. The user interface is straightforward. I can pay for set dates or choose a pay-as-you-go option by simply flipping a switch on in my profile. It's as easy as that.
My Experience with SafetyWing
I used SafetyWing travel insurance during my winter (2019/2020) stay in Thailand. I didn't expect to immediately test it in the highest caliber possible.
My husband and I planned to return to the Czech Republic at the end of March 2020. Yes, exactly at the time when Covid-19 hit.
Towards the end of our stay, we wanted to explore Vietnam. Of course, SafetyWing covers you in multiple countries, so that wasn't an issue. Once we moved to Ho Chi Minh City for a weeklong stay, we received the news that our flight back was canceled.
Well, not exactly canceled. Only the second leg of it, which would mean we'd end up in St. Petersburg with no way to get back to the Czech Republic. Aeroflot, the airline we had our flights booked with, simply canceled the second flight. Well, as you may remember, Covid caused wreaking havoc in the industry and many airlines were a mess.
I quickly got in touch with SafetyWing to see what our options were. I called the line and spoke with a nice gentleman who walked me through all the options. They'd look for a new flight for us to get us safely home from Vietnam to the Czech Republic. We agreed they'd be in touch with our flight info by the next day.
Well, as we watched flights being booked out, the prices of the remaining ones going sky-high… I simply caved in and bought us flights with Emirates myself. I was too anxious and decided to go for it.
Two hours later, I received an email from SafetyWing offering to buy exactly the same flights I got. Have I waited a little bit, they'd purchase the flights for us and we'd be good to go.
My impatience meant that there was slightly more paperwork to do afterward. SafetyWing assured me that our flights would be reimbursed because we qualified for a special evacuation clause. So during the whole Covid madness, we flew back home comfortably (well, more or less with all the chaos), knowing we didn't just lose valuable cash.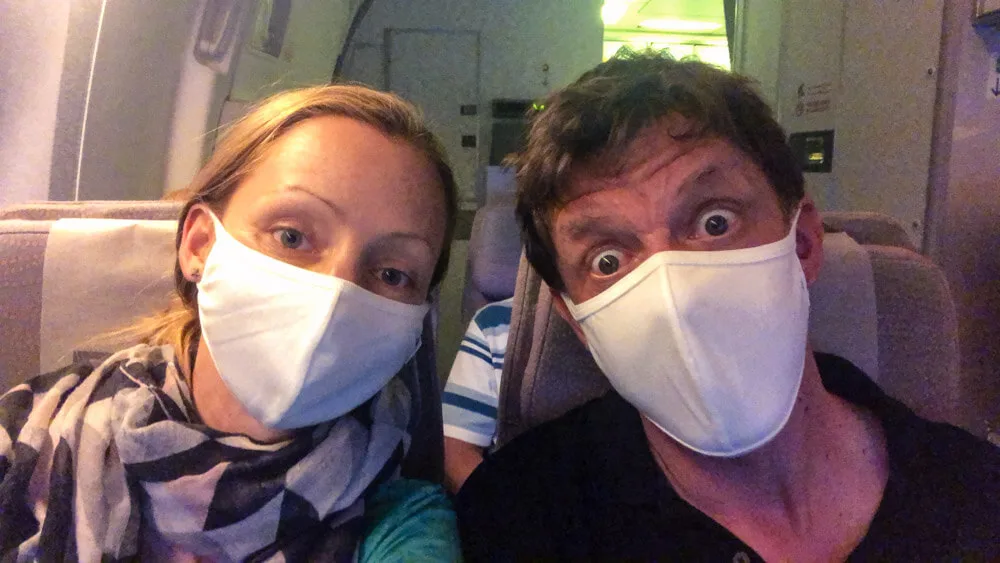 I submitted the claim right away, still amidst all the Covid craziness. We were reimbursed in full within 2 months, which is slightly longer than the official 45-day limit. SafetyWing representatives were quick to reply to emails and we had access to an online interface to watch the status of our claim.
I feel so fortunate to be able to write this Safetywing Travel Insurance Review just for the reason of a canceled flight instead of some more serious cause!
My Other Medical Mishaps on the Road
I've been quite fortunate and didn't have to use travel insurance too many times on the road. But that's the thing – you never know. And once it happens, it's too late.
Once many years ago before SafetyWing was born, my husband and I were enjoying the French Riviera, riding around on a scooter a lot, going on day trips from Nice. I had to wear pretty petite dresses (for the photos, duh!) and ended up with bladder inflammation, a.k.a. cystitis. A visit to a French doctor was an experience on its own. 😅
Another time, another small accident. Yet on a scooter again! In Koh Phangan, Thailand, the scooter is basically the only means of transportation. We explored most of the island including remote areas. In such one area, when following a road's bend, our front wheel went into a hole in the road, which was covered by greenery and thus invisible. We slowly fell to the side and it would be nothing if only I was wearing long pants. My shin was scraped quite a lot.
After a few days, I learned that wounds heal differently in a humid tropical environment. The tissue needs to rebuild itself from the inside. Not through a scab like normal. Since my wound wasn't healing on its own, I had to pay a visit to the local hospital. And then again every day. To treat the wound (not a nice experience) and dress it anew.
The bill for a simple scratch? About four hundred dollars. And I tried to keep the costs down by learning to treat the wound myself after a few days, so the cost included only about 5 hospital visits.
You can also check out other people's reviews of SafetyWing on Trustpilot.
Do You REALLY Need Travel Insurance?
It's a legitimate question. Still, I'm begging you, never EVER travel without insurance! Even when you're a healthy individual, young and strong, and ready to take on the world.
While living in Koh Phangan, Thailand, I overheard a few conversations among young backpackers saying they didn't have any insurance… oh my. On the same island, many people were riding scooters and motorbikes, often with small children, with no helmets on. Needless to say, the insurance probably wouldn't cover an accident if one weren't wearing a helmet. During my 6 months there, I saw several accidents and heard of even more. It's a risk not worth taking, trust me.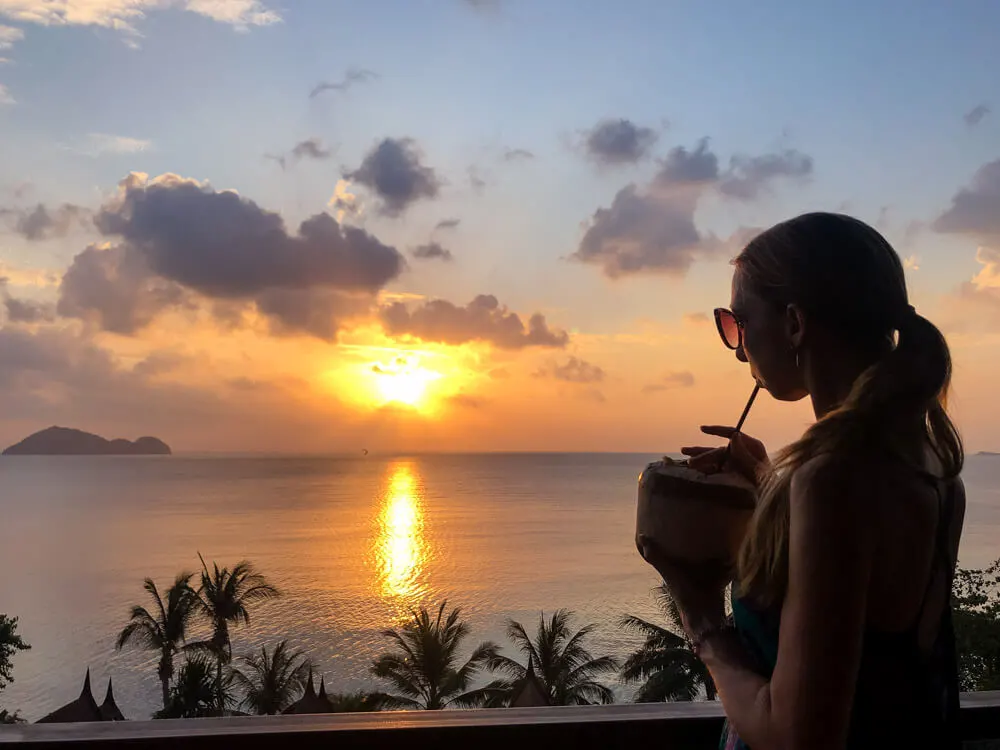 One of the accidents I saw happened to a guy who was on his way from a store, just walking on the side of the road. A confident young scooter rider slipped on a road that was wet after the rainfall, his scooter did a clock-like turn on the ground and knocked the poor pedestrian down. He was absolutely shaken, and, from what I saw, his elbow got scraped quite a bit.
In Koh Phangan specifically, there are many stray dogs who often get in the way. Often out of nowhere. Sometimes they may chase you, sometimes they just run onto the road. Accidents like that can happen any day.
SafetyWing Pros and Cons
No proper Safetywing insurance review should come without a list of pros and cons. As with anything, you should consider all the points below to decide whether this travel insurance is the best match for you too.
Pros
As you could probably tell from my text above, I love SafetyWing Insurance. For me, it's mainly about trust and ease of use. However, there's a lot more to it:
Affordable pricing
Backed by the insurance giant Tokio Marine so there's no dealing with multiple insurance agencies
Easy subscription model with monthly payments and no limit on travel duration
Autopay so that your monthly payments are collected automatically
Pro-rated policies if you'll be traveling for less than 1 month
You don't need to declare which countries you plan to travel to
24 / 7 assistance
Easy-to-download proof of insurance – needed for visa applications, etc.
Filing a claim is easy – you fill in a form, include your receipts and submit it via email or offline through snail mail
Great Covid coverage
Death benefits
Emergency evacuation coverage
Coverage for travel delays and lost checked baggage
Border entry protection
(Limited) coverage in your home country
Family-friendliness: a child under 10 is automatically included in a parent's coverage
A wide range of coverage (see details here)
Cons
Although SafetyWing Travel Insurance is the best health insurance for digital nomads it does have some limitations. Let's now have a look at those so that you're fully informed.
Their maximum payouts may be considered lower than what other insurance companies provide.
They don't cover baggage that was lost by you or any items that get stolen, so you'd have to keep a close watch over your belongings.
The older you are the more you'll be required to pay for your SafetyWing Travel Insurance and they don't offer coverage for individuals over the age of 69.
Coverage excludes travel within North Korea, Cuba, and Iran with the exception of US citizens who have government permission to travel to Cuba.
Kidnappings within any country sanctioned by the US are not covered, for example, Afghanistan, Iraq, Nigeria, Pakistan, Somalia, or Venezuela.
Express kidnappings are not covered, meaning a kidnapping where an immediate small ransom is demanded, often when the victim is forced to withdraw money from their ATM account.
As it's standard with other insurance companies, cancer treatment and pre-existing chronic conditions (exemptions apply) are not covered.
Some high-risk activities are not fully covered. You can find the list on my page here.
How Much Does SafetyWing Travel Insurance Cost?
It depends, of course, but SafetyWing Insurance is much more affordable than what's the standard. The price starts at $42 for 4 weeks. Use a calculator on my SafetyWing page to find out your exact quote.
The price differs by age and increases in case you want to travel to the US.
SafetyWing Company Background
Located in Palo Alto, California, SafetyWing was founded in 2017 as a hugely popular Norwegian startup by Sondre Rasch, Sarah Beyahte Sandnes, and Hans Nyvold Kjellby, funded by Y Combinator.
Their mission is to provide a safety net for remote workers, digital nomads, and travelers like you and me.
SafetyWing is actually a fully remote company, with a team of digital nomads distributed across three continents.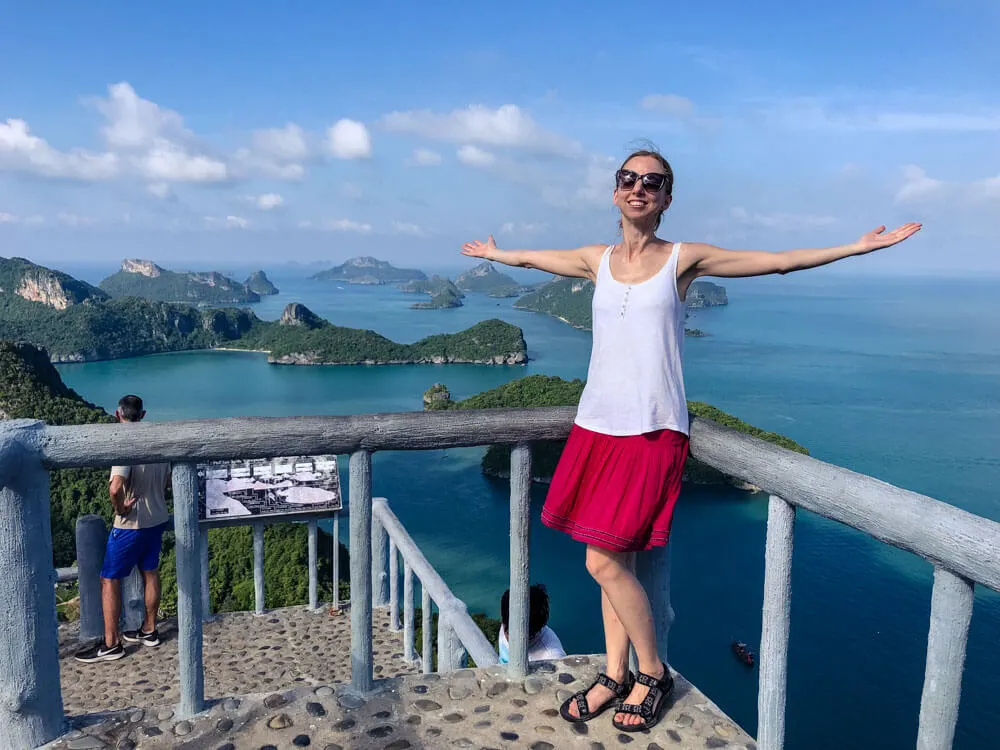 A few more FAQs:
What does SafetyWing cover?
Most of travel-related activities, including adventurous ones. Check out my full list of SafetyWing coverage. Personal belongings, such as electronics or lost baggage, are not covered.
How much is SafetyWing insurance?
As stated above, the price starts at $42 for four weeks. If you travel to the US or are of a higher age, the price increases. You can find the calculator on SafetyWing's site.
How to Cancel SafetyWing insurance?
It's easy. Either you get your insurance for preset dates, or, if you plan to stay longer, you simply let your travel insurance with SafetyWing run until you're ready to leave. Then you simply flip a switch on the website.
Is SafetyWing insurance good?
I honestly think so. I've only had good experience.
Is SafetyWing legit?
Yes! They are an established company. I've used them and have had great experience.
I hope this SafetyWing travel insurance review didn't scare you too much but rather put you at ease that if anything were to happen to you on the road, you'd be safely covered with SafetyWing.
Do check out SafetyWing's website to find further details you may need.
If you have any specific questions, feel free to ask away in the comments section below. I'll be happy to help if I can.
Safe travels!