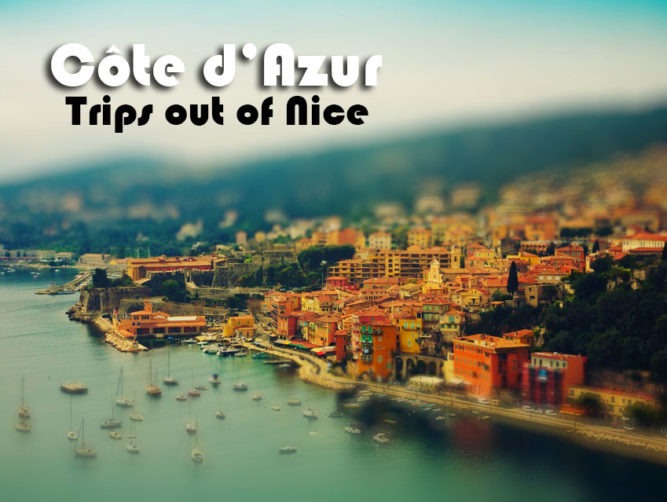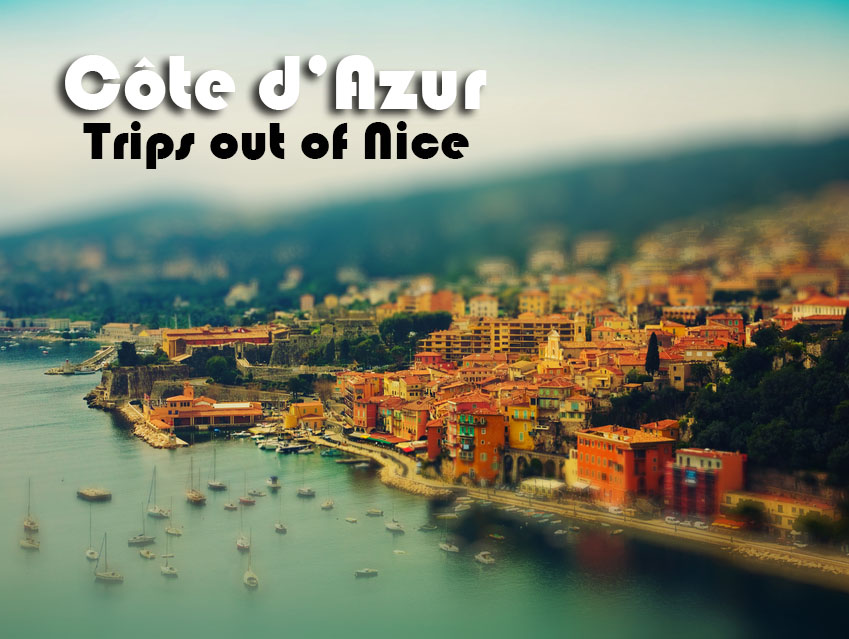 This article may contain affiliate links.
Last updated Dec 22, 2017 @ 11:54 am 
Are you planning a trip to Nice, France? Congratulations on your decision, you're going to have an awesome time! Elton John and Brigitte Bardot have homes in the area for a reason!
The whole region Provence – Alpes – Côte d'Azur, however, features some other amazing cities that you shouldn't miss! I'd suggest that you dedicate 3 days for Nice and use the rest of your time to exploring the surrounding areas.
You'll be driving by the coastline a lot so if you're visiting in warmer months, you might consider renting a scooter instead of a car. The rides are incredibly scenic and you can enjoy the views much better if you're riding on a scooter, like a real French person 🙂
Here is my list of possible day trips from Nice. Many of the towns are accessible by public transport. It's possible to get by bus anywhere too, but the bus routes are long and take so much longer than trains. So if you're not driving, use the convenient train network.
I'll also suggest some highly rated tours, in case you like exploring places that way. Tours covering several cities (always out of Nice) are in a map at the end of this post.
Villefranche-sur-Mer
The charming little village of Villefranche neighbors with Nice. The ride is short and many residents of Nice come here for Villefranche's pebble beach, with pebbles much smoother than Nice's rocks. You can have a delicious lunch at a classy restaurant with a view of the sea, then enjoy walking up and down the charming streets while you digest. There's a 16th-century Citadel with a great lookout points also, and it's usually quite empty. You'll be able to get grand views of the sea, with frequent cruise ships anchoring in nearby waters.
The distance from Nice is even walkable, if you feel up for it you should manage the hike in under an hour.
You can also take this 4 hour tour, during which you'll get a tour of Villefranche and will be able to see some villas from up close.
Monaco
The ride to Monaco is beautiful! If you're on a scooter, don't forget to stop often on the way and take photos 🙂 Monaco definitely cannot be missed. Not only because it's the second smallest country in the world, but also because of the grand casinos and unbelievably luxurious yachts. You should definitely spend some time at the port just admiring the gorgeous polished yachts and thinking what a burden it would be to own one (kidding!) If you're an F1 fan, schedule your trip for the time when the Grand Prix takes place in Monaco.
Walking up to the royal castle and strolling around the area is not a bad idea either. This upper part of town is the nicest in the late afternoon when shadows become long.
As Monte Carlo is a multi-level city, everybody uses elevators to get up and down the hills, so if you want to experience how locals navigate around their city, this is something you should definitely try out.
Stop on the way in Eze, another beautiful coastal village.
Cannes
Even if you're a hardcore backpacker and hate glamour and flashy style, you should allow yourself to be seduced by Cannes. Le Suquet, the old town elevated on a hill above the city offers the finest views and the waterfront avenue lined with palm trees is pleasant to stroll. The city itself is a labyrinth of small winding streets and the overall ambiance is welcoming. Beware of the Film Festival, though! That's when Cannes turns crowded and chaotic.
Antibes
Perhaps you'll find Antibes as inspirational as the French writer Guy de Maupassant did! Even today, this city by the sea is infused with history. The archeological museum housed in a 17th-century fortress and Picasso's museum housing one of his two biggest collections, are the best examples of what art and history has meant for Antibes.
Juan les Pins is a town in the commune of Antibes and the beaches around it will convince everybody to get a soak.
Menton
Menton became famous mainly for its yearly lemon festival, or Fête du Citron. The festival celebrates locally grown lemons, and is indeed a showcase of creativity – you wouldn't believe what giant statues and designs one can make with lemons!
Outside the February festival time, the city is quite relaxed. However, there can still be all kinds of events going on – we witnessed a meet up of old American cars & Harley Davidsons during our visit.
Old French buildings breathe magic like almost every city on the French Riviera. Walk the streets, don't try to resist the numerous candy shops and finish the day off at the little beach, preferably with an ice cream! An impressive Basilica St. Michel towers over the beach and guess what…it offers great views 🙂
Grasse
Grasse is a special place thanks to its perfume making tradition. Have you seen the movie Perfume: The Story of a Murderer? The scenes are set here! Even though the actual shooting was done in many other places. I wrote about it here. The streets are beautifully winding around nice little squares with a large number of galleries and perfume shops. The famous Fragonard perfumery is located here. Pay a visit to this big one or any of the smaller perfumeries – for example Galimard or Molinard. The art of perfume making is indeed fascinating and they have perfected the craft right there, in Grasse.
St. Paul de Vence
St. Paul de Vence is a little medieval town sitting on top of a hill. It does look picturesque. It has a lot of smaller art galleries and museums, but I found just strolling with an ice cream cone in hand to be the best pastime there. Many French artists lived in the area, such as Chagall. Oh, and former Rolling Stones bassist has one of his homes there! That does justify a visit, doesn't it 😉
Sa
Of course there are many more places you can visit if you decide to drive further away from Nice. For example, Saint Tropez, Aix en Provence, Marseille are all worth exploring.
In case you're interested even in the Italian Riviera, it's not far from Nice either and can be easily visited in a day. Especially if you take this tour, in which they'll take you through the picturesque spots. It's a group tour and you'll share a minibus with people.
Here's a map of the area around Nice and 5 selected tours covering more than one town, but always departing from Nice. Click on each mark to learn more.
Would you rather indulge in a private tour that could be fully customized to your needs? Here's a high-rated one.
And finally, French Riviera and the neighboring Provence are beautiful any time of the year. If you long for photos in purple lavender fields, head there in the summer. Anytime from spring to autumn is going to be ideal. Early summer is my favorite time of year to visit, and it's just perfect for touring on a scooter!
Have you ever visited the South of France? If so, what places did you go to and what was your favourite one?
Do you love Pinterest? We do, too!