This post is also available in:

Čeština
If you're looking for things to do in Villefranche sur Mer, a lovely town just outside Nice, then I've got you covered.
My goal is to provide the most complete information about what to do in Villefranche-sur-Mer so that you make the most out of your trip.
I invite you to read on, daydream about your trip to the French Riviera and, most importantly, know before you go thanks to this Villefranche sur Mer guide. 😉
For a map of Villefranche-sur-Mer, scroll to the end of this post.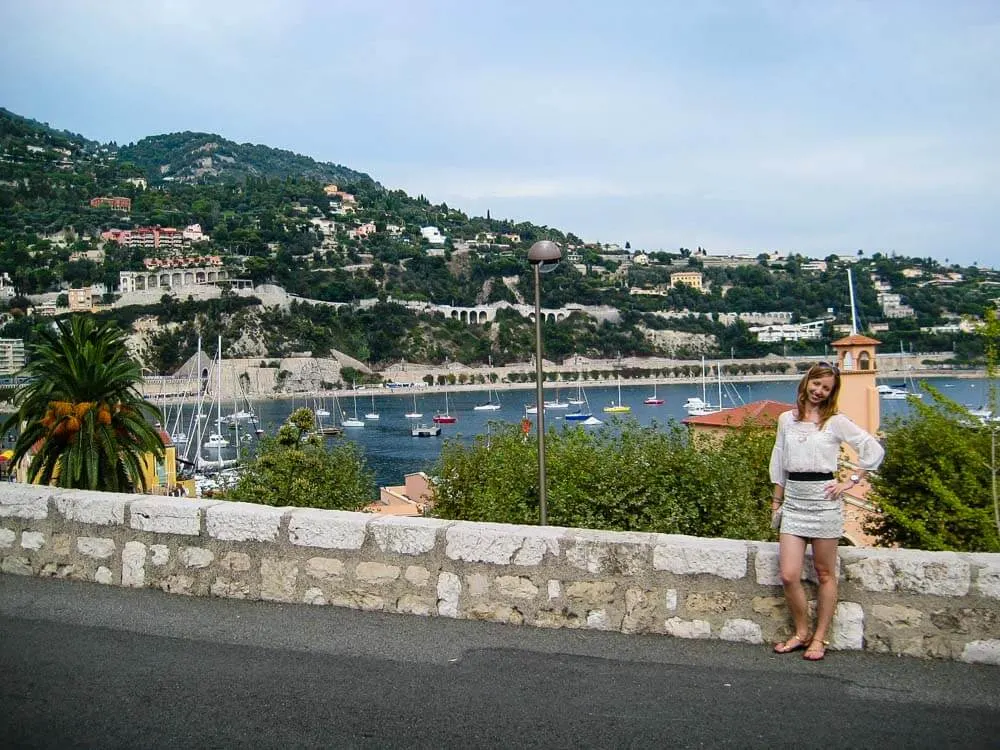 Why Visit Villefranche-sur-Mer
Villefranche sur Mer is a cozy seaside town in France, located between Nice and Monaco.
It's the most charming fishing village in the heart of the Côte d'Azur Villefranche sur Mer and should definitely be on your itinerary when traveling in the south of France.
Founded in the 14th century Villefranche belonged to a region known as the County of Nice. During this time it was the most prominent maritime port but its role decreased once the Nice harbor was built in the 18th century.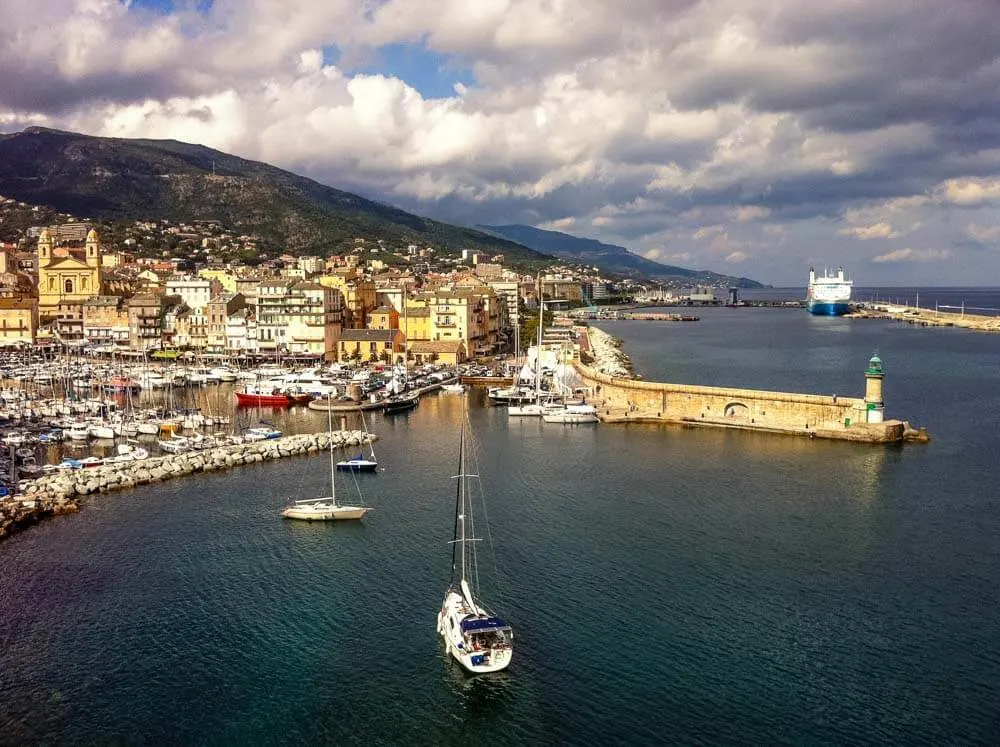 In this ancient hillside town, you can experience history, culture, incredible cuisine, and beautiful views of the Mediterranean. It feels like a secret corner nestled within the busy and glamorous French Riviera.
You'll feel it the moment you enter the Villefranche Old Town – perfect winding alleys lined with colorful houses and flowers everywhere, you'll feel like you're walking in a real-time fairytale.
We visited Villefranche repeatedly because a while back we spent a few months in Nice and it was just the most beautiful place, only a stone's throw away.
Let's see all the Villefranche sur Mer things to do. But first:
Getting to Villefranche-sur-Mer
Getting from Nice to Villefranche sur Mer is easy and convenient. In fact, it's one of the easiest day trips from Nice. Keep reading for details on how to make the journey.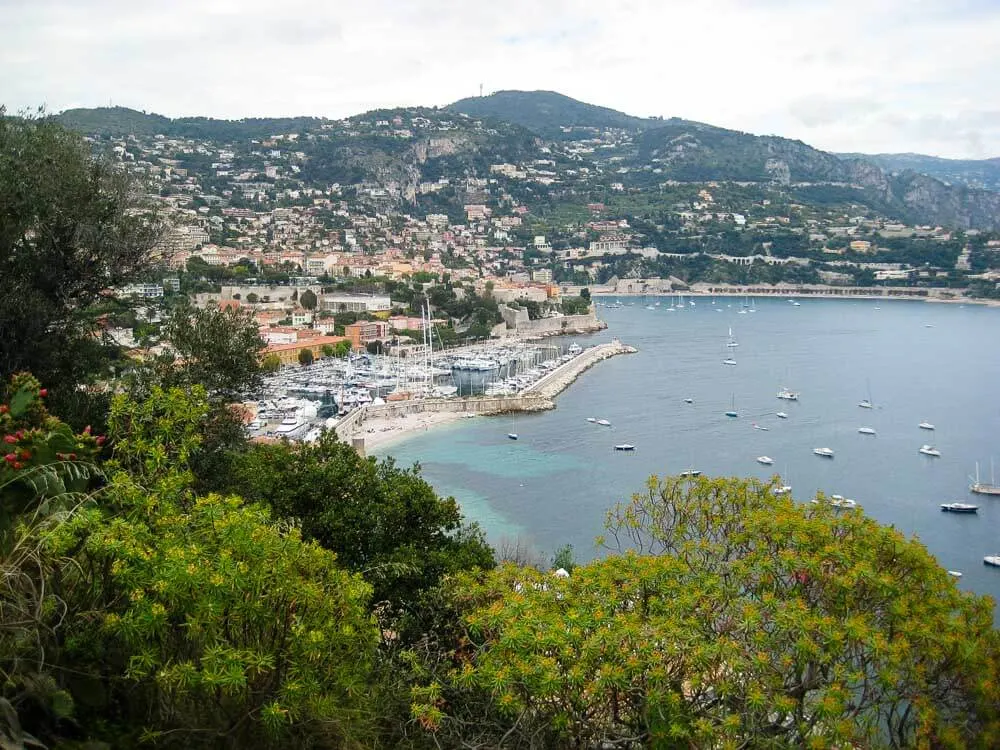 Take a Bus From Nice to Villefranche sur Mer
You can catch the 100 bus from Nice to Villefranche departing every 15 minutes during the week and every 20 minutes on Sundays and French holidays.
A one-way ticket will cost approximately €2 and you can buy your ticket from the driver as you enter the bus. Your journey from Nice to Villefranche sur Mer should take about 12 minutes.
On your return from Villefranche sur Mer to Nice please note that the bus 100 stops running at 8pm, afterwards you'll have to take the train, which runs until 11pm.
Ride the Train From Nice to Villefranche sur Mer
The average journey by train from Nice to Villefranche sur Mer is 11 minutes and there are around 68 trips per day.
Villefranche sur Mer train station is located conveniently right by the beach and walking to the Old Town will take only a few minutes.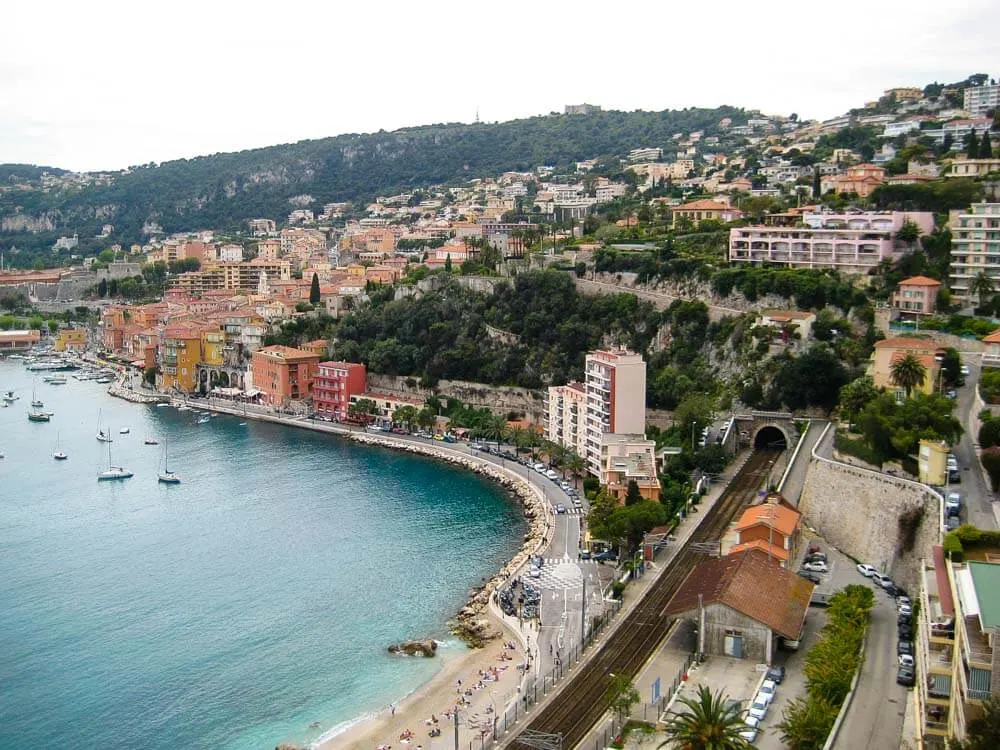 Ticket prices start at approximately €1 if you book in advance and are usually more expensive if you book your ticket on the day. If you'd like to book your tickets in advance you can do so by visiting here.
Driving from Nice to Villefranche
If you're coming from the town of Nice, taking a bus or train is the most convenient and cost-effective way to travel to Villefranche France.
However, if you are not coming from Nice but rather the outskirts or further away and you consider driving to be your best option then you'll need to know where to park.
Unless you decide to fully go the French way and take a scooter. 😊
Parking in Villefranche sur Mer
Villefranche sur Mer is a small town and parking is limited. There are 3 good options for paid parking, which are explained below:
Parking Wilson
The Car Park Wilson, right in the heart of Villefranche, offers one of the most convenient places to park your car. It can be found on 11 Place Wilson. Parking here is free for the first 30 minutes and afterwards the cost should run about €1.80/hour. There is even a space for scooter parking.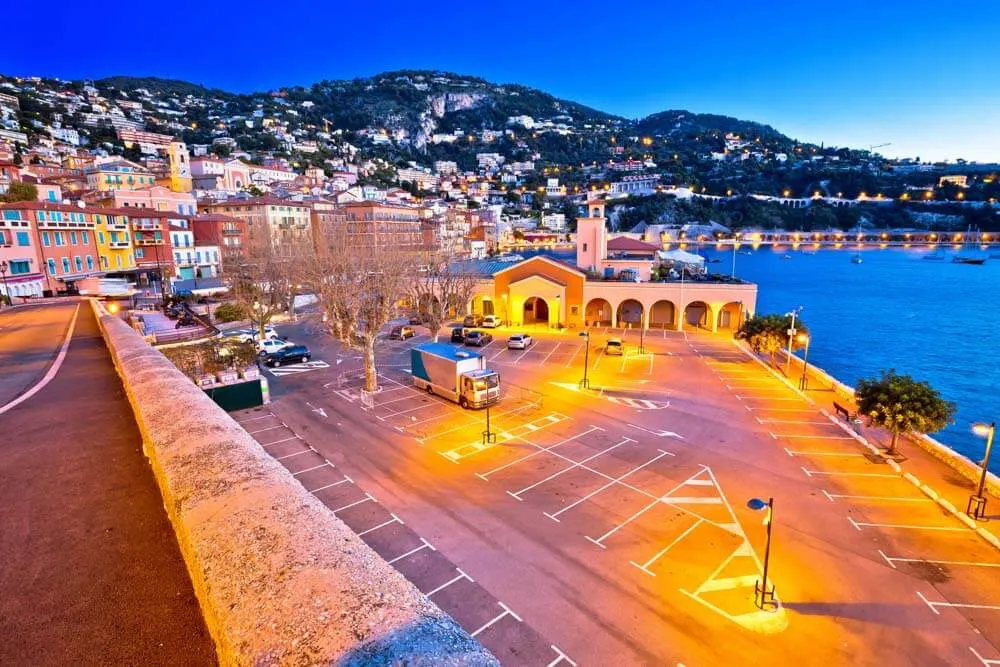 Parking de la Barmassa
The Parking de la Barmassa is located within the old town, on 6-12 Avenue du General Gallieni, and offers underground parking. In this space the parking is free for the first hour with prices at about €1.80/hour afterwards.
Parking des Marinières
If you're looking for beachside parking next to the Plage des Marinières then this is the place to go. Parking here is free from December 1st to March 31st. Outside of these dates, the price should be the standard of €1.80/hour.
Visit Villefranche on a Bike Tour
If your main priority is to see the stunning coastal views and just a little taste of Villefranche-sur-Mer is enough for you, then you can join this electric bike tour from Nice.
You'll ride through Villefranche, will check out the Fort Mont Alban, and will stop for a drink in town. You won't have time for sightseeing, though.
Top Villefranche sur Mer Hotels to Stay at
If you decide to spend the night in the charming Villefranche, you'll have several options. I'll list just one pick per category:
Welcome Hotel is a 4-star hotel with rooms featuring balconies with the most amazing views of Cap Ferrat. You'll love the cute orange building the minute you'll see it!
Luxury: Welcome Hotel
Mid-Range: Hotel de la Darse
This hotel takes pride in its great location, offers wonderful views of the Villefranche Bay, and is a good value for money.
Budget: Hotel la Regence
This budget hotel is located a 10-minute walk from Villefranche's historical center and the beaches. It's still a nice hotel with breakfast service.
Things to Do in Villefranche-sur-Mer, France
But let's get back to what you came here for – all the awesome things to do in this lovely seaside village:
Bask under the Sun on the Best Villefranche sur Mer Beaches
The bay of Villefranche sur Mer is one of the most majestic sites in Europe and there is no better way to enjoy it than from the town's beaches.
Unlike in most Rivera cities, all Villefranche sur Mer beaches are free and open to the public.
Going to the beach belongs to the best tips on what to do in Villefranche sur Mer, and both locals (even from Nice) and tourists are well aware of that.
Plage des Marinières
The Plage des Marinières (Sailors' Beach) is located next to the Old Port just a few minutes' walk from the Old Town. Being the longest Villefranche sur Mer beach curved around the bay for about a kilometer, it's everyone's favorite spot for basking in the sun.
Some maps, e.g. Google Maps, refer to this beach as Plage de Villefranche-sur-Mer and the start of it as Plage Les Bains Déli Bo after a restaurant of the same name. And the actual Plage des Marinieres as the small cove towards the end of the Promenade des Marinieres.
On the Plage des Marinières you'll find plenty of cafes, ice cream kiosks, snacks, and refreshments along with free showers and toilets.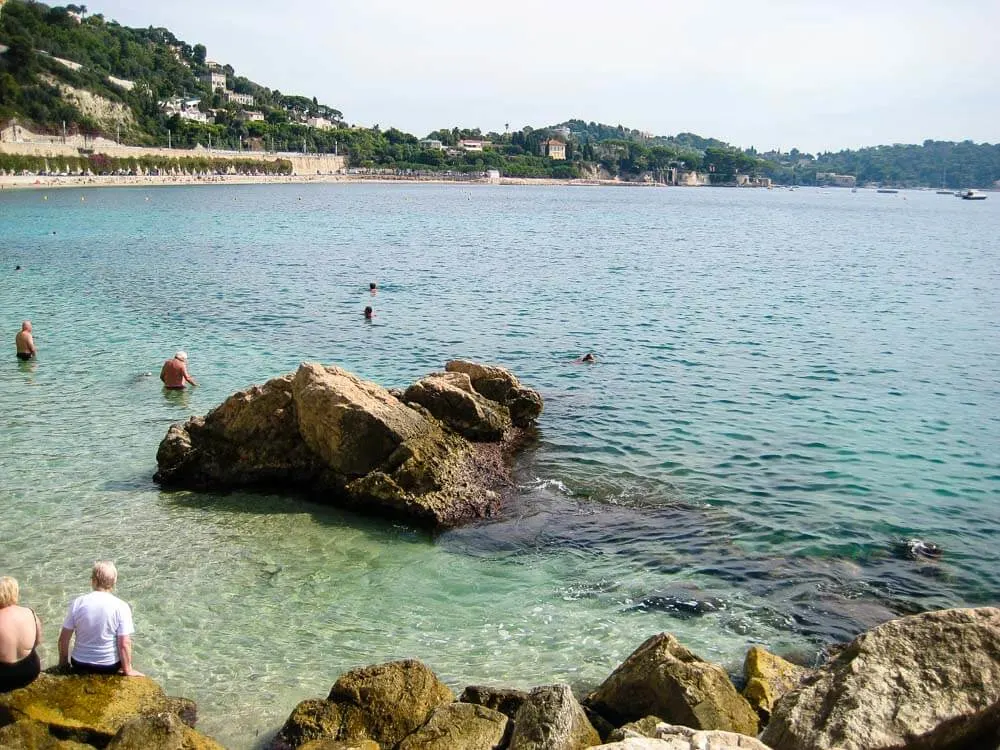 Unlike the beaches of Nice, this Villefranche sur Mer beach has sand! And fine pebbles, which are comfortable to lie on.
It has everything you need for an ideal day in the sun. In the summer months, however, the Plage des Marinières can get pretty crowded, in which case you might want to try one of the other beaches mentioned below.
Plage de l'Ange Gardien
Passing Plage des Marinières further away from Villefranche, next to the old harbor, you'll find the Plage de l'Ange Gardien (Guardian Angel Beach), which offers a more peaceful setting.
A portion of this beach is even dog-friendly to accommodate all those who want to enjoy the beach with their furry friend.
Plage de la Darse
The Plage de la Darse is then on the other side near the port and offers a much different experience. It's advisable to go on foot or by bike as there is no parking there.
Here, the water is the most consistently clear of all the Villefranche sur Mer beaches.
It's quite undisturbed and not heavily frequented. The beach is covered with large and sometimes pointy rocks, making good footwear a requirement.
On this beach, you'll find a shower but there are no other facilities, snack stands, or lifeguards.
Take in All the Sights in the Villefranche sur Mer Old Town
The Villefranche sur Mer Old Town is full of ancient, winding streets, which provide hours of pleasurable strolling and sightseeing.
They are lined with colorful houses richly decorated with flowers and plants. It feels like a manicured jungle of sorts, where the local life is abundant and cats roam around freely.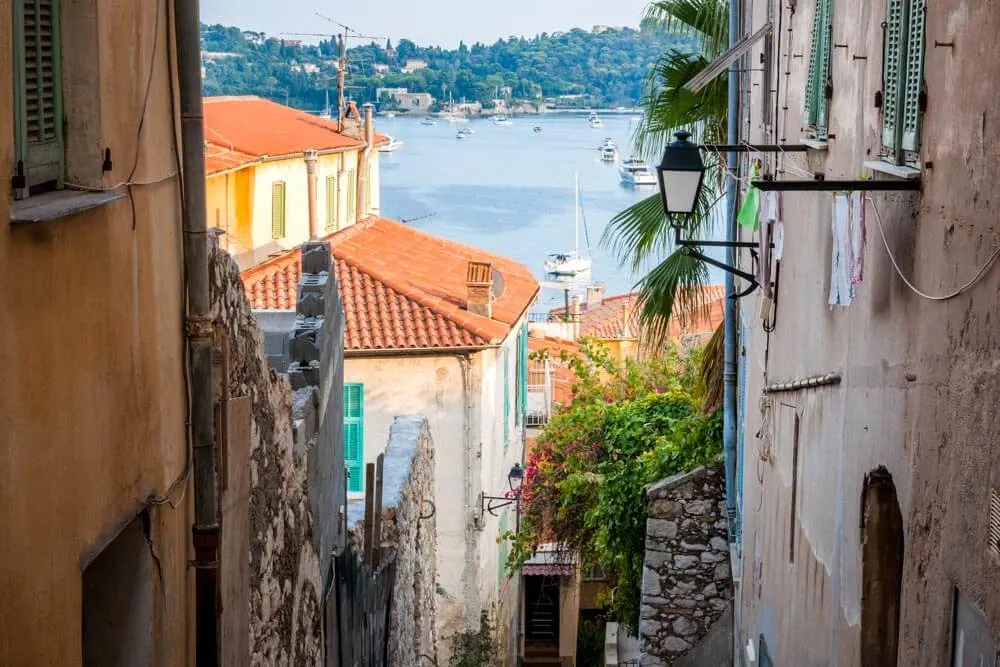 Away from the glamorous and busy surrounding cities, you'll get more of an old European feel in Villefranche.
Saint-Michel Church
When strolling through the Villefranche sur Mer Old Town the Église Saint-Michel located above the harbor is definitely worth stopping into. This Baroque church dates back to the 18th century and was built on the site of what was originally a 14th century church.
Inside the walls of the Saint Michel Church, you'll find a stunning church organ built in 1790. The organ was fully restored in 1982 and is classified as a historic monument, being among the oldest organs in the Alpes-Maritimes.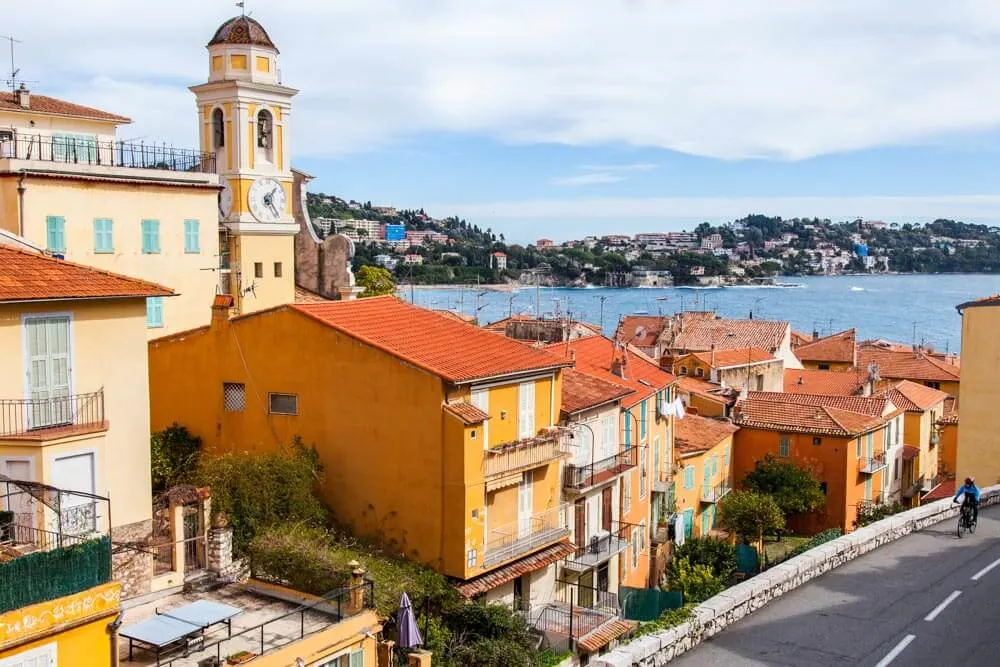 Another unique point of interest in the Saint Michel Church is a life-size carving of a recumbent Christ. The carving was created from a single piece of fig tree wood by an unknown galley-slave in the 18th century and remains as one of the major attractions of this beautiful church.
Saint Elisabeth Chapel
Just a few blocks away from the Saint Michael Church you'll find Saint Elisabeth Chapel with its uniquely striped exterior.
This chapel was built in the 16th century and originally housed the Brotherhood of the Holy Spirit (that's why there's a dove above the door). In the 18th century, a sisterhood under the patronage of Saint Elizabeth of Hungary took possession of the chapel and gave it its current name.
From the 20th century the chapel served various municipal purposes including a place for a market or a meeting room. Nowadays it's used mainly as an exhibition venue. The entrance is free, so take a peek inside and see what they have on display.
Saint Pierre Chapel
The Chapel of St Pierre des Pecheurs (=fishermen), which can be found on the port of Villefranche sur Mer, dates back to the 14th century. In time it fell to ruin and during most of the 19th century was used by local fishermen for storing fishing nets and boating equipment.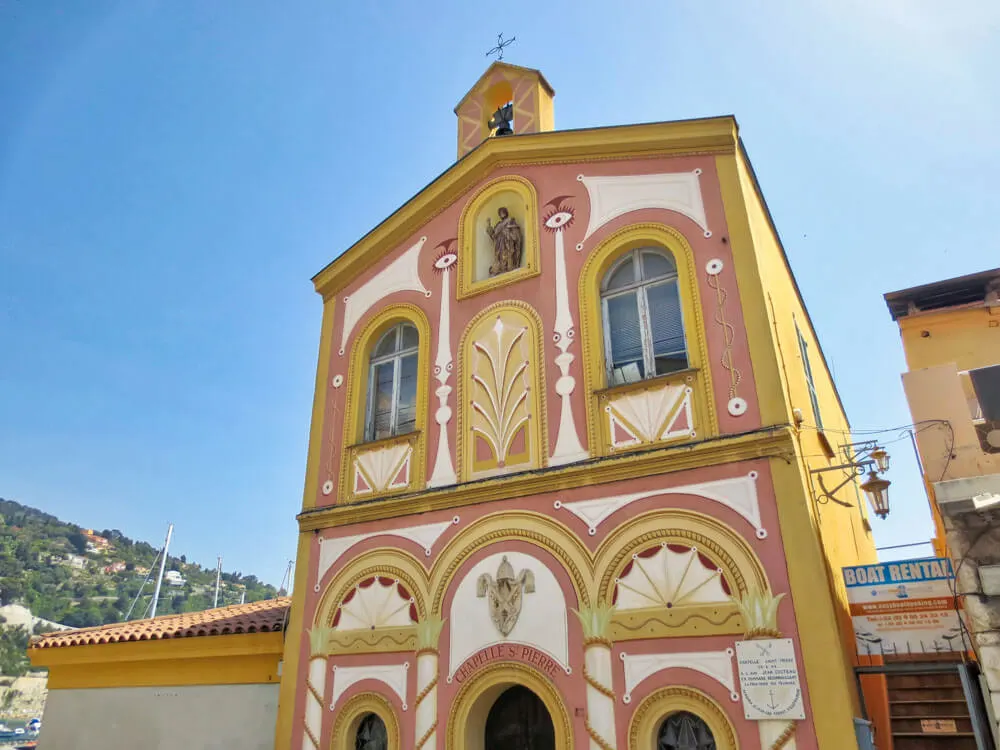 In 1957 Jean Cocteau convinced locals to let him paint the neglected church. He completely renovated the interior with mystical frescoes representing an outstanding creative fusion between art and spirituality. The St Pierre Chapel is one of the most unique and beloved landmarks in Villefranche and should not be missed.
Rue Obscure
The medieval Rue Obscure is located in the heart of Villefranche Old Town and overlooks the Port de la Sante. It runs underneath the city for over 100 meters and remains as it was in historical times.
This ancient street was built in 1260 for military purposes, allowing soldiers to easily manoeuver through the town.
Originally it was constructed as a normal street but as urbanization continued, with minimal space, houses were built over it turning it into a tunnel-like passageway, now only illuminated by lanterns.
Through the ages, it's been used for many makeshift purposes such as wine cellars and even a place for the locals to shelter their donkeys and goats.
Recommended Travel Insurance
When planning travel, make sure you never forget to set up your travel insurance.
If you're unsure, check out my review of SafetyWing travel insurance. It's great for any trip longer than 5 days!
It can be arranged even if you're already on the road. It's affordable, too – the price starts at $42 for 4 weeks.
Explore outside of the Villefranche Old Town
Seaside Stroll
From the entrance of the Rue Obscure if you head directly towards the sea you'll find the starting point of the Villefranche Promenade. It's not like the promenade in Nice but rather a walkway along the coast.
You can stroll all the way to Plage des Marinières while enjoying the sea on one side and the beautiful town on the other. The whole promenade walk takes 15 – 20 minutes.
Port de Villefranche sur Mer
From the Plage de la Darse you can walk along the Promenade de Professeurs that'll lead you on a pier towards the lighthouse of Villefranche sur Mer.
Along your walk, you'll have an unobstructed view of the sea and can gaze across the port at all of the luxury boats that park there.
Open-Air Markets
When it comes to things to do in Villefranche sur Mer one of the best ways to enjoy is by getting lost in the Jardin Francois Binon amongst the chaotic rhythm of its open-air market.
During the Saturday market, you'll find produce stalls offering a wide selection of locally grown fruits and vegetables along with cured hams, cheeses and wines, olive oils, and other local delicacies. You'll also find stalls selling pottery, fabrics, handmade crafts, and jewelry.
A food market is organized at the same place on Wednesdays from morning until noon, just at a smaller scale. You can buy fresh produce and seafood.
On Sundays, the Jardin Binon transforms into a flea market and antique bazaar where people from all over the region come to find good bargains on the vast variety of unique treasures.
Citadelle Saint Elme
Located on the seafront, the Citadel of Saint Elme was built in the 16th century to defend the port of Villefranche with its large harbor and generally the County of Nice, which Villefranche used to be a part of.
It was originally built to guard against attack from the sea after Nice encountered a siege in 1543 where the famous pirate Barbarossa (Red Beard) along with his fleet of over 100 ships raided, burnt, and destroyed everything in their path.
The Citadel is an early example of a bastioned fortification. Nowadays, it houses the town hall and a few museums.
There are wonderful views of the Villefranche Bay from the Citadel. Because of the depth of the Bay, large cruise ships can stay anchored quite close to the shore and you can observe them easily from the Citadel.
Fort du Mont Alban
The Fort du Mont Alban was also built in the 16th century as a defense for the County of Nice after the siege in 1543. It's one of the most striking military defenses from the 16th century and has remained amazingly intact.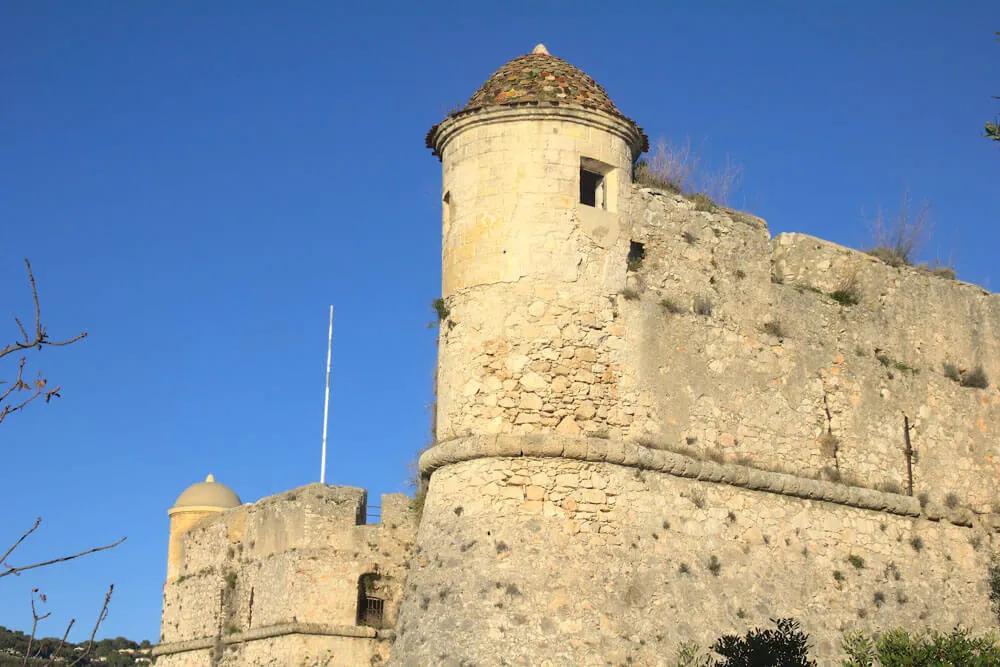 There are no tours but it's still worth visiting as it offers one of the best views in the French Riviera. From the main viewpoint, you can see across Villefranche towards Italy and from the other side of the fort, you'll be able to look over the city of Nice.
From the Villefranche sur Mer old town, it's an uphill hike that takes about 40 minutes. In the last part of the journey, you'll find a narrow rocky trail so make sure you wear some good walking shoes.
Get the Adrenaline Pumping
You can even enjoy some adrenaline activities in Villefranche-sur-Mer. For me, it's enough riding the scooter around. :)
To take it a notch further, consider parasailing!
You can hop on a parasailing tour from Villefranche and enjoy the view of its shores from a bird's eye view.
Dining Out in Villefranche-sur-Mer
You'll be in foodie heaven in Villefranche. The restaurants in Villefranche sur Mer have been around for many years and the chefs take great pride in their dishes.
Don't forget to order a house wine, which almost every restaurant has. Locally made olive oil is delicious too – I even ordered a box of it for home!
And if you're in the mood for a snack, there are dozens of Boulangeries, Patisseries, and Ice Cream shops dotted everywhere throughout the city.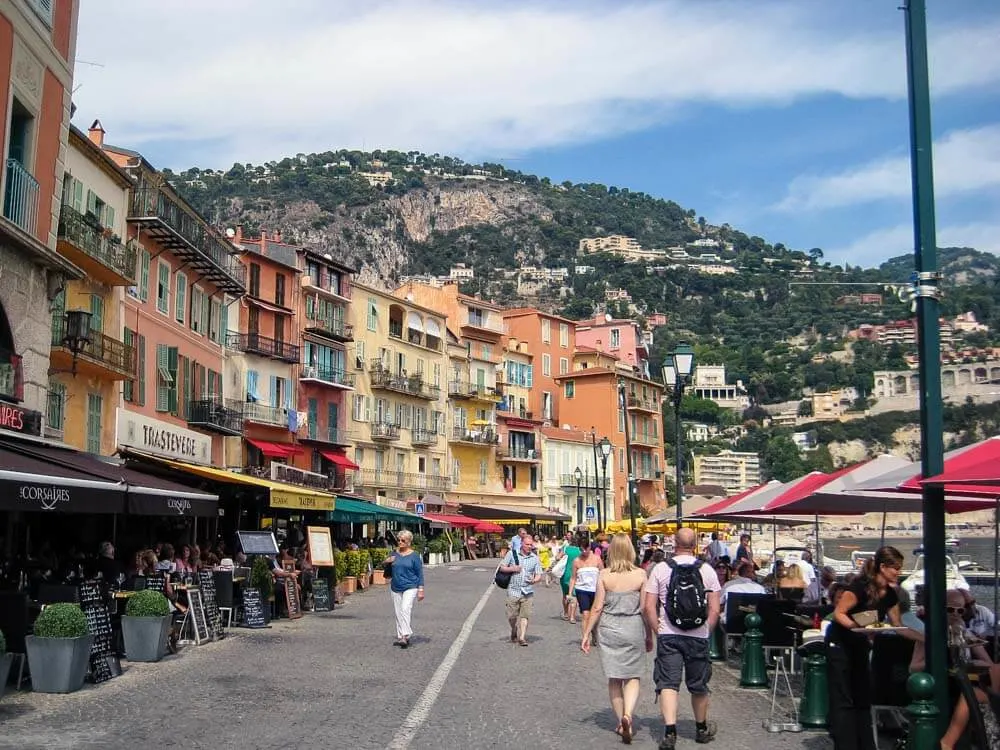 Experience Gourmet Bliss at these Best Restaurants in Villefranche sur Mer:
L'Aparte
This charming backstreet bistro specializes in serving fresh seafood and vegetables. It's operated by a two-woman team who provide award-winning cuisine and excellent service in a modern interior setting.
Address: 1 Rue Obscure
Hours: 7-10pm Tuesday – Sunday
Les Garcons
Located within the ancient Villefranche sur Mer Old Town, Les Garcons is a foodie treasure. The cuisine here is creative and driven by seasonal fruits and vegetables along with the local fisherman's catch of the day.
Address: 18 Rue du Poilu
Hours: noon-2pm & 7:30-10:30pm Thursday – Tuesday
La Belle Étoile
This high-class restaurant located in a quieter street cannot disappoint even the most demanding of gourmets. At La Belle Étoile, they focus on French cuisine served in a top-notch environment. Vegetarian and gluten-free options are available too.
Address: 1 Rue Baron de Brès
Hours: 7-9:30pm
Map of Villefranche sur Mer
Below you can see all the places mentioned above on a map. Villefranche-sur-Mer is a compact enough area and you can comfortably walk between the individual points of interest.
The map below is only a picture. For a fully interactive version on Google Maps, click here or on the image itself.
I hope you've enjoyed reading all about things to do in Villefranche sur Mer, France and that you make the trip to experience all the beauty this ancient town has waiting for you.