Have you been to Marrakech, Morocco? I have and it was overwhelming, to say the least. However, I'd do it all again! Since I'm not an expert enough on Marrakech, I invited Sam from MyFlyingLeap.com to give us a lowdown on the ideal itinerary for 2 days in Marrakech.
When you think of Marrakech, your mind probably conjures up images of crowded marketplaces, towering mosques, and the scent of exotic spices. And that's exactly what you get in this exciting city.
If you're looking for the best tour of Marrakech, check out this highly-rated full-day tour covering all the highlights. It's private, yet affordable.
Marrakech is a former capital of the Kingdom of Morocco and one of the four imperial cities in the country, always holding an important place.
It's one of the most heavily touristed cities in Morocco and very popular with travelers. As the fourth-largest city in the country, there's a lot to see and do.
There are many reasons to visit Marrakech. It's such an interesting place to see! Here's the best itinerary to spend two days in Marrakech to take in the sights and see the best of this exhilarating city.
Marrakech 2-day itinerary – ready, set, go:
2 Days in Marrakech – Day 1:
Koutoubia Mosque
Saadian Tombs
Bahia Palace
Jemaa el-Fnaa
2 Days in Marrakech – Day 2:
Jardin Majorelle
Ben Youssef Madrasa
Moroccan hammam
You can see most of these places also on a 3-hour guided tour – a private one or a low-cost one. If you'd like to cover them all with a guide, opt for this highly-rated private full-day tour.
Let's now dive into the details of what to do in Marrakech in 2 days:
Day 1 in Marrakech
Wake to the sound of the call to prayer in the many mosques around the city. The mosque must be the tallest building in a Muslim city, and Koutoubia Mosque is the tallest in Marrakech.
It's located in the medina, or old city. The Marrakech Medina is a UNESCO World Heritage site, recognized for its artistic masterpieces and its role in the region.
You can still see the 20-foot walls (around 6 meters) encircling the old city in certain areas. Many of the top tourist attractions are in this area.
Koutoubia Mosque
Start day one of your tour of Marrakech at the landmark Koutoubia Mosque. It's the largest mosque in the city, and the minaret rises 250 feet (70 meters). Though only the faithful are allowed inside, the outside is worth visiting. Its grandeur and splendor make it one of the best places to visit in Marrakech.
It was built in the 12th century by the founder of Rabat, the current capital of the Kingdom of Morocco. Koutoubia has an interesting history as mosques are rarely destroyed as they are considered sacred.
However, it was said the minaret didn't line up exactly with the direction of Mecca, as is the tradition, so the original mosque was razed and the current one built.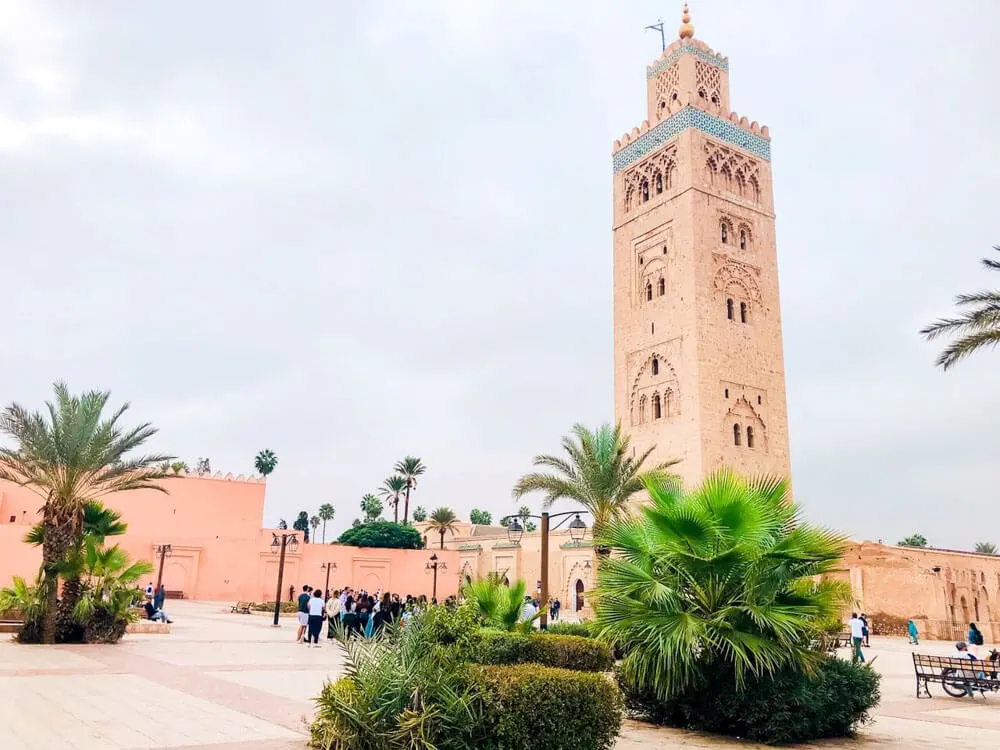 You'll likely see the colorful Water Men outside the mosque in their bright red robes. Historically, they were water sellers helping those in need in exchange for food. Today, they play more of a theatrical role for tourists, and you can take the Water Men's picture for a fee.
Just outside of the mosque, you'll see a small but interesting white building with a domed roof, Koubba de Lalla Zohra.
This tomb is where Lalla Zohra is laid to rest, daughter of a slave who converted to Islam. A prince fell in love with her, and when she refused to marry him, he imprisoned her. According to legend, she could perform miracles and remains an important figure for women and children.
Saadian Tombs
Next, head to the Saadian Tombs. These are the mausoleums and sepulchers where more than sixty of the most important members of the Saadi Dynasty were laid to rest. They ruled Morocco from 1549 to 1659.
The tombs were sealed off and hidden after the dynasty fell, and they were forgotten. Then, in 1917 they were found from an aerial photograph and later restored by the French.
The main tomb has three ornately decorated rooms with cedar and stucco carvings. There's also intricately detailed tilework called zellige.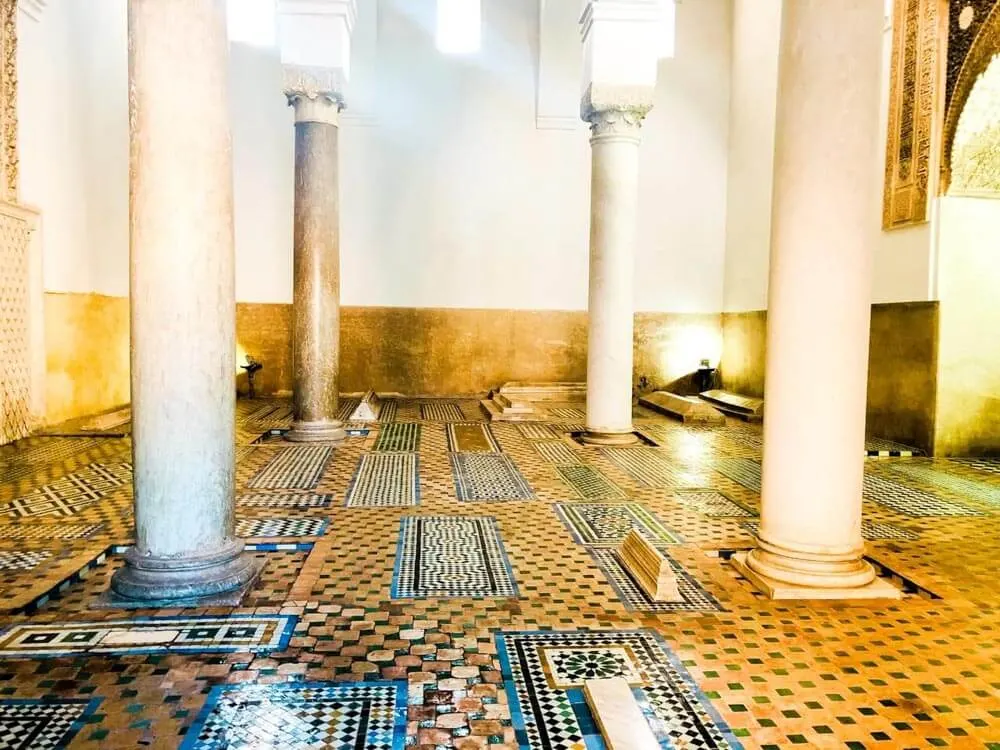 Monuments throughout this area are made from Italian Carrera marble, showing the importance. The graves outside of the buildings are for the soldiers and servants.
Bahia Palace
One of the top sights in Marrakech is Bahia Palace. It was built for a Grand Vizier in the late 19th century and is a stunning example of blending Moroccan and traditional Islamic styles.
You'll see similar intricate detailing in stucco, cedar, and tilework as at the tombs along with some painted wood ceilings.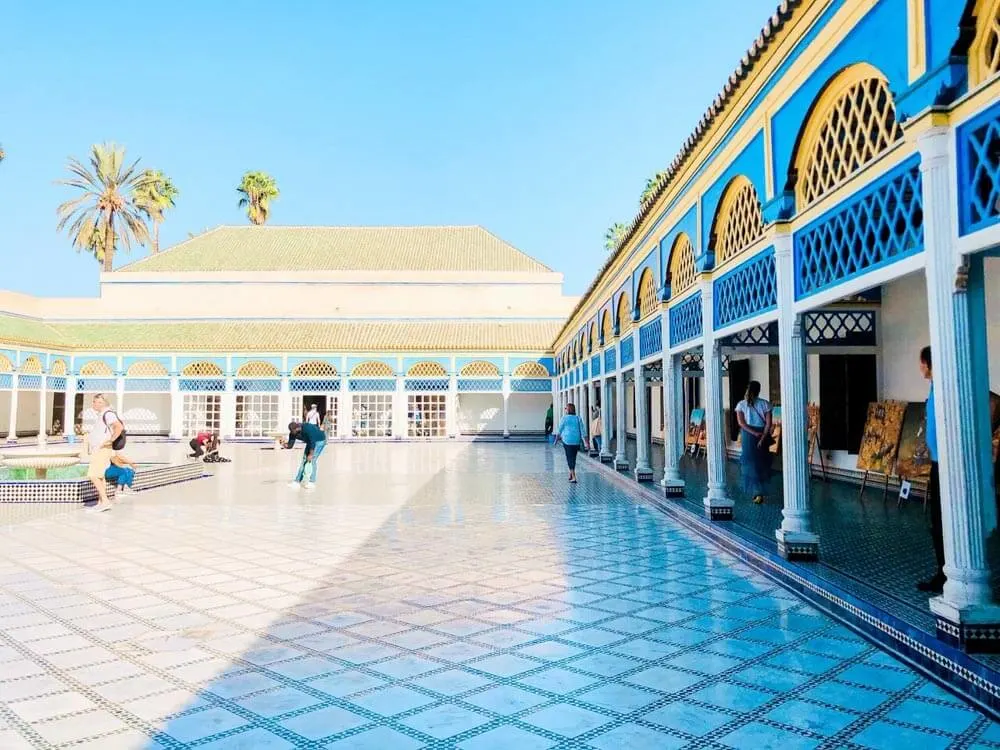 This palace was named after the king's favorite of his four wives. There are over 150 rooms, including a harem that housed 24 women. There's also a 2-acre garden, and the rooms open onto the courtyard.
The women weren't allowed to leave the palace as no men (except for the king and eunuchs) could lay eyes on them, so it was essentially a stunning prison. But, it's incredibly beautiful and a top thing to see in Marrakech.
Jemaa el-Fnaa
Your last stop for the day is the marketplace, Jemaa el-Fnaa. It's a chaotic, loud, and frenzied place but also really fascinating and exhilarating. Take a deep breath, hold your bags close to you, and head on in.
You'll see stall after stall of shops selling everything from clothing to appliances to crafts and gorgeous items made by artisans. Everywhere you look, people will be haggling over their purchases until coming to an agreement.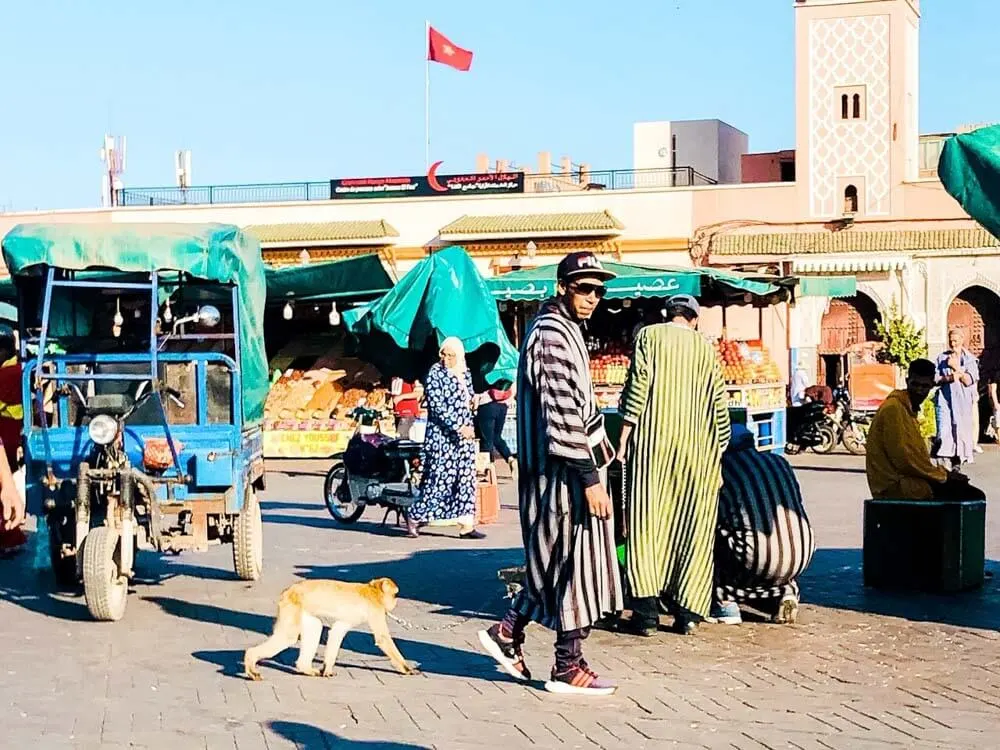 You'll see snake charmers, and don't be surprised to see a monkey walking on a leash. Some areas are covered, but others are completely open. If (or when!) you get a little overwhelmed, simply step outside and away from the activity for a bit.
Jemaa el-Fnaa is at its liveliest once dusk falls. You can experience it best with a local guide, who will stroll around with you and lead you through the medina.
This famous square cannot be left out when considering what to see in Marrakech in 2 days. Covering it on the first day is a good idea so that you get familiar with Jemaa el-Fnaa and revisit it in case you fall in love with its crazy charm.
Recommended Travel Insurance
When planning travel, make sure you never forget to set up your travel insurance.
If you're unsure, check out my review of SafetyWing travel insurance. It's great for any trip longer than 5 days!
It can be arranged even if you're already on the road. It's affordable, too – the price starts at $42 for 4 weeks.
Day 2 in Marrakech
Your second day in Marrakech will be a slightly quieter side of the city, but no less enjoyable!
Jardin Majorelle
This stunning garden was designed by talented French painter, Jacques Majorelle. It's a work of art in its own right and perhaps one of his greatest works. Though, it wasn't always that way.
Majorelle completed the garden in 1962 then fell into disrepair at the end of Majorelle's life. Yves Saint Laurent and Pierre Bergé purchased it in 1980 when they learned it was to be demolished and dedicated years to lovingly restore it.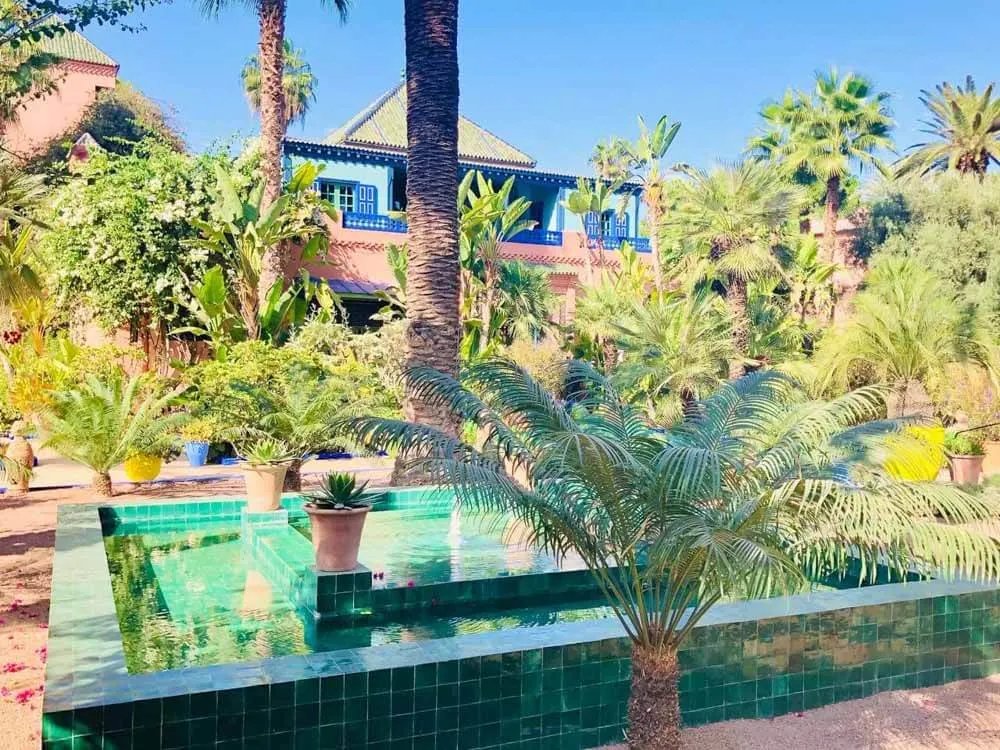 Wander through the bamboo grove, fountains, and marble pools. Visit the lily-filled ponds with brightly colored accents in "Majorelle blue." It looks like it could be straight out of a painting, and it's magnificent.
In 2011, the Berber Museum was opened on the grounds dedicated to the arts of the native people of North Africa, the Berber.
If you're interested in Yves Saint Laurent's life in Marrakech, check out this tour that includes also a visit to the Majorelle Garden.
Ben Youssef Madrasa
This was once the largest Islamic college in Morocco and all of North Africa.
It was established in the 14th century and later updated during the Saadian era in the mid-16th century, with the ornate decorations paying homage to Andalusian design. It features fountains, lush gardens, and intricate tile and stucco designs.
Above the front door, the inscription reads, "You who enter my door, may your highest hopes be exceeded." This sets the stage for this beautiful structure.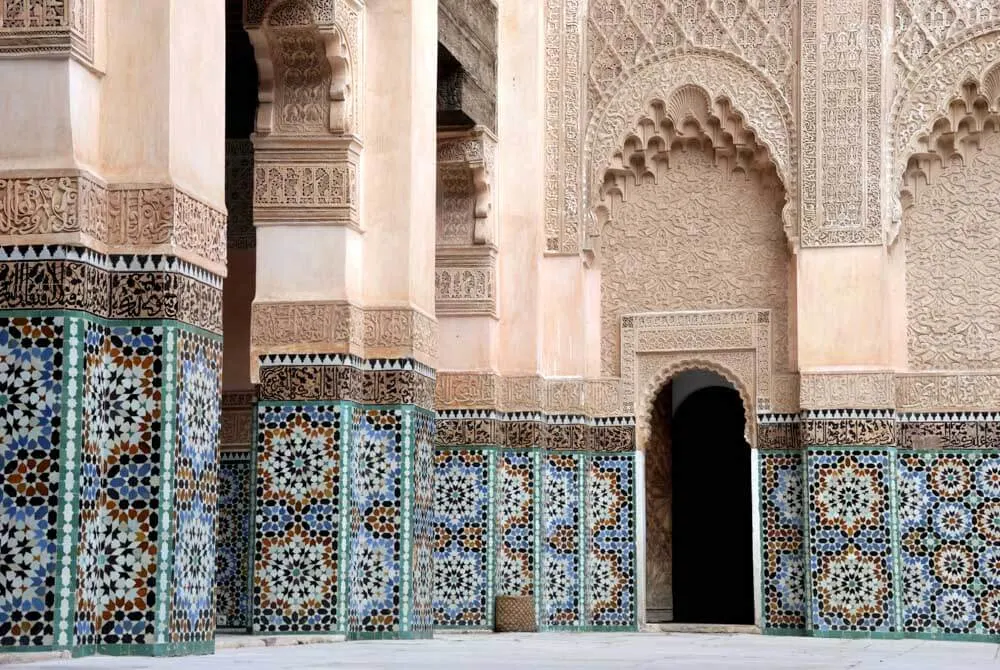 Wander around the main courtyard with a reflective pool. There are two open-air galleries and student dorms.
Ben Youssef Madrasa was closed as a college in 1960. It was renovated and opened to the public around 20 years later for all to enjoy.
Moroccan Hammam
Wind down to end your day with a traditional Moroccan hammam. Back in the days when people didn't have running water in their homes, they bathed in a public bathhouse or hammam. They played a cultural role as a social gathering place as well as a functional one.
Traditional hammams have three connecting rooms: a hot steam room, a warm room for bathing, and a cold room to rinse. You'll find them ranging from this type of place to more of a spa-like atmosphere.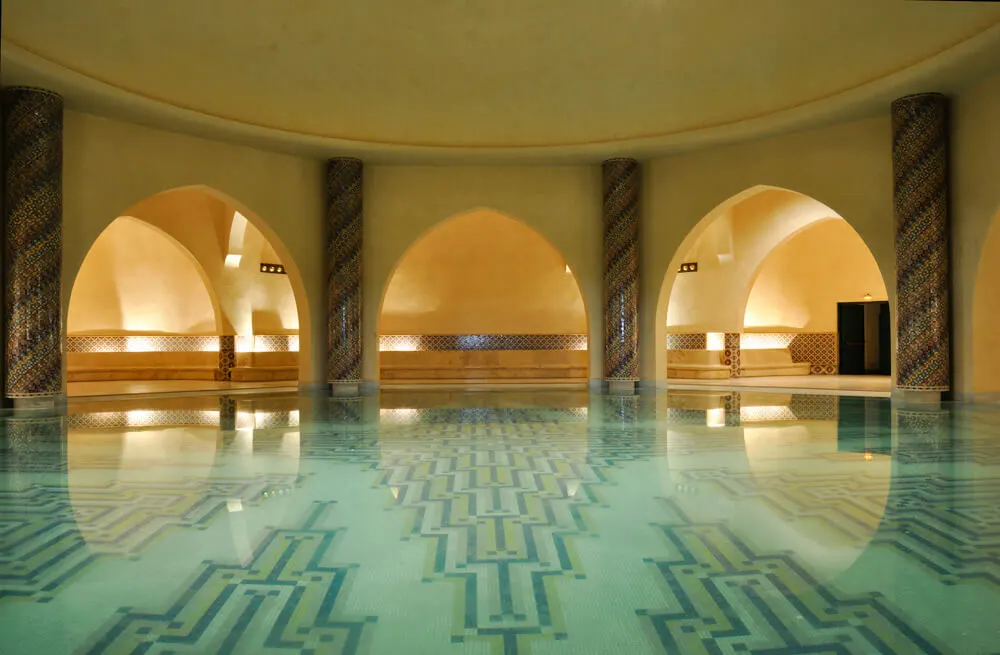 In traditional hammams, you can scrub and shampoo yourself or pay someone to tend to you. Be prepared to be scrubbed and hard. They use black soap with a rough glove, and it's exquisite bordering the edge of pain. But when you're done, you'll feel polished and relaxed.
Hammams have gender-specific rooms, so men and women don't intermingle. You'll find full nudity in the hammam, surprising for this area where modesty is expected, and every inch of you will be scrubbed. Just lean into it and enjoy.
Of course, while Marrakech in two days is perfectly manageable, if you want to take things slower and see more e.g. from the modern side of Marrakech, you should plan for about two days longer.
Where to Stay in Marrakech
Where in the city you choose to stay will depend if you want the busy and noisy areas in the old medina, or something a little quieter.
Regardless of the location, consider staying in a riad. It's a traditional Moroccan home featuring a garden, a water feature like a fountain or a pool near the center, and an area that opens to the sky.
You'll find a riad at any budget.
When to Visit Marrakech
Spring and fall are generally the best times to visit Marrakech due to the weather. You'll find daytime temperatures are in the low 70s to low 90s Fahrenheit (21 to 33 Celcius). At night, temperatures are generally in the 50s and 60s (10 to 15°C).
Popular Day Trips from Marrakech
If you have more than two or three days to visit Marrakech, consider a day trip. There are a number of popular places to visit, each offering a special view of Morocco and its extensive history.
Essaouira
Essaouira is an 18th-century fortress on the Atlantic coast and a UNESCO World Heritage site.​​ If Jemaa el-Fnaa was overwhelming for you, head to Essaouira for a more laid-back market experience.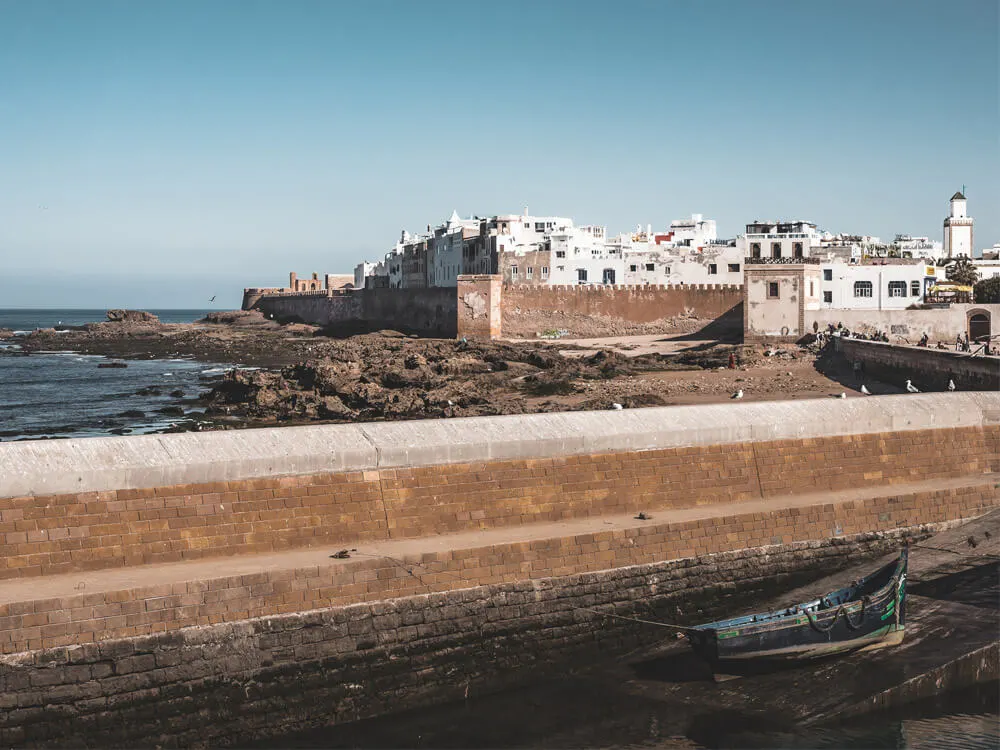 Wander the maze of the medina, walk on the walls of the ramparts, and appreciate the bright blue fishing boats in the harbor. If you want to try parasailing, surfing, horseback riding on the beach, or riding a camel, Essaouira is a great place to visit.
Ait Ben Haddou
Ait Ben Haddou is another popular day trip. It's a 17th century ksar, or fortified village, and also a UNESCO World Heritage site.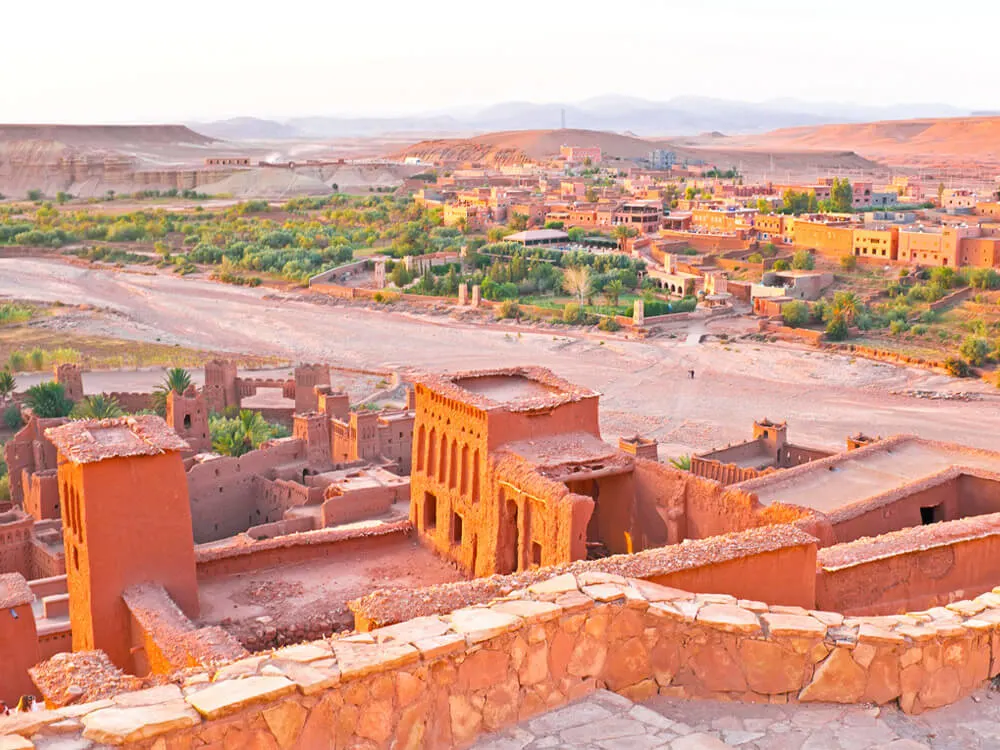 It's located in the Atlas mountains and if it looks familiar, that's because it has been featured on several movies and tv shows including Gladiator and Game of Thrones.
Four families still live there, though you can visit and walk around this small but impressive settlement.
Your 2 Days in Marrakech Itinerary
Marrakech can easily keep you busy for two days or more. In truth, two days in Marrakech may not be enough to see this incredible city, but you can see a lot and find many reasons for a return visit.
---
About the Author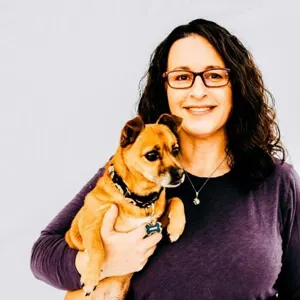 Sam is a travel-obsessed animal lover on a quest to create a life of travel with her dog. She loves learning new things, snuggling a dog, architecture, hiking, and bold red wine. Join her in creating a life to dream about! Check out her blog My Flying Leap.
Pin this post for later: