On the hunt for the top things to do in Madrid, Spain? Look no further than this guide outlining the 10 best things to see in Madrid!
I absolutely love Madrid. I visited it only for a couple of days and spent them intensively hanging out with friends since it was a reunion with my classmates from the University. That being said, I didn't explore the city enough. That's why I have Marco from www.travel-boo.com give us the lowdown of the best things to do in Madrid.
Madrid, a vibrant city filled with charm and character wherever you look makes it that much more difficult to describe in a paragraph or two.
Regardless of whether you are planning to visit the Spanish capital for a day or two or even a week, you'll no doubt be able to fill your itinerary thanks to the incredible array of Spanish landmarks, attractions, sights, and top things to explore throughout this sprawling city!
If you're planning a visit to Spain's most populous city, then be sure to not miss out on these exciting things to see and do whilst there.
10 Exciting Things to See in Madrid:
Royal Palace of Madrid
A part of the official residence of the Royal Family of Spain, the massive Palacio Real with its 3418 opulent rooms is considered to be one of the most spectacular buildings in all of Europe.
Each of the rooms, which are accessible to the general public, showcases the lavish lifestyle of the country's royalty, strongly influenced by King Philip V's French taste as well as influences from other rulers, through the ages.
Walls adorned with priceless works of art, rich and lavish wall coverings, ceiling frescoes from which magnificent chandeliers hang down, and rooms full of ornaments and historic artifacts galore, bear testimony to the innumerable treasures found in this fairy-tale palace.
Add to it the mirrors and gold-gilded detail of the exquisite throne room and the stunning light effects they create and you have one of the most visually breathtaking sights to see in Madrid.
The gardens, too, have their own distinctive lifestyle that provides a fitting landscape to the palace.
Gran Vía for Shopping & Nightlife
If there is one place in Madrid where shopping, sightseeing, and entertainment go hand in hand, then it has to be the bustling main street of Gran Vía.
Dubbed as the Madrid Broadway, this famous urban esplanade dates back to 1862, when parts of the city center were being renovated, but the final blueprints of the boulevard were completed only by 1929.
Said to be 'the street that never sleeps' Gran Via enjoys the reputation of having the most prolific nightlife in all of Madrid.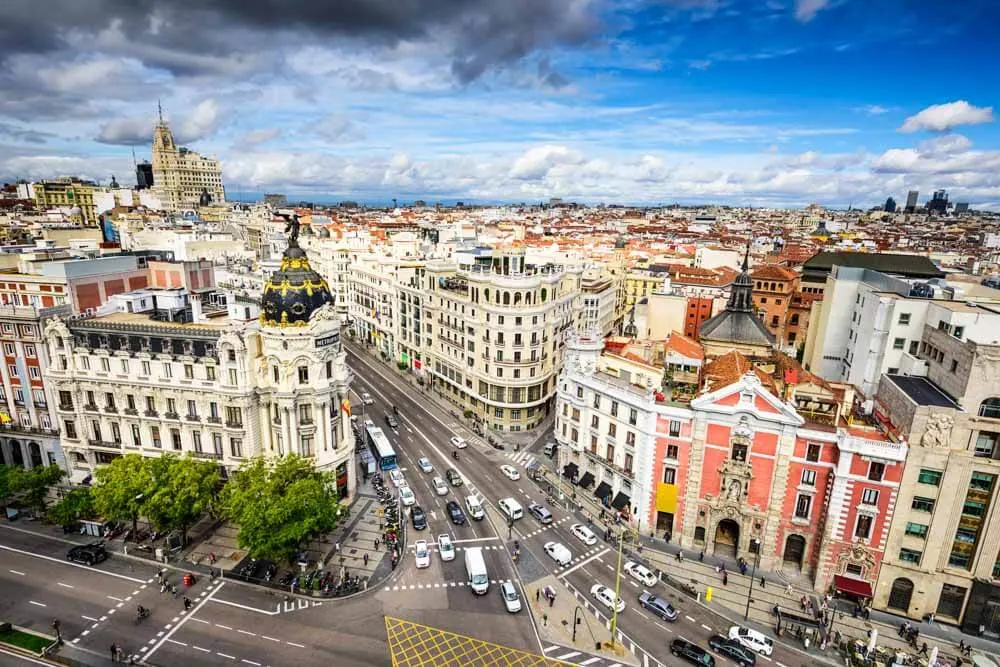 Gran Via is located barely 300m from the iconic Puerta del Sol mentioned later. Apart from the famous buildings like the Metropolis, Capitol, and Telefonica lining the street, the most obvious reason to visit it is for shopping.
It is recommended to walk along the street and look up towards the buildings as most of them are decorated lavishly and are adorned with fine statutes hanging precariously from their rooftops.
This strip is also where you'll find various theatres showcasing world-renowned shows including the Lion King spectacular. Do take note, though, that the production is in Spanish, but even if you don't speak the language, it's still a fun outing to enjoy!
Recommended Travel Insurance
When planning travel, make sure you never forget to set up your travel insurance.
If you're unsure, check out my review of SafetyWing travel insurance. It's great for any trip longer than 5 days!
It can be arranged even if you're already on the road. It's affordable, too – the price starts at $42 for 4 weeks.
Relax and Picnic in El Retiro Park
Home to the 400-year-old Mexican Conifer, Madrid's oldest tree, the El Retiro Park (Parque del Buen Retiro) is a 125 hectares oasis in the heart of the city.
The park has an artificial lake where boats are available for rent, and also has two impressive buildings on the grounds, namely the 1887 Glass Palace and Velázquez Palace, both of which serve as halls for exhibitions by the Reina Sofia Museum.
The Retiro holds annual events like the Book Fair and a fireworks show in honor of San Isidro, the patron saint of Madrid.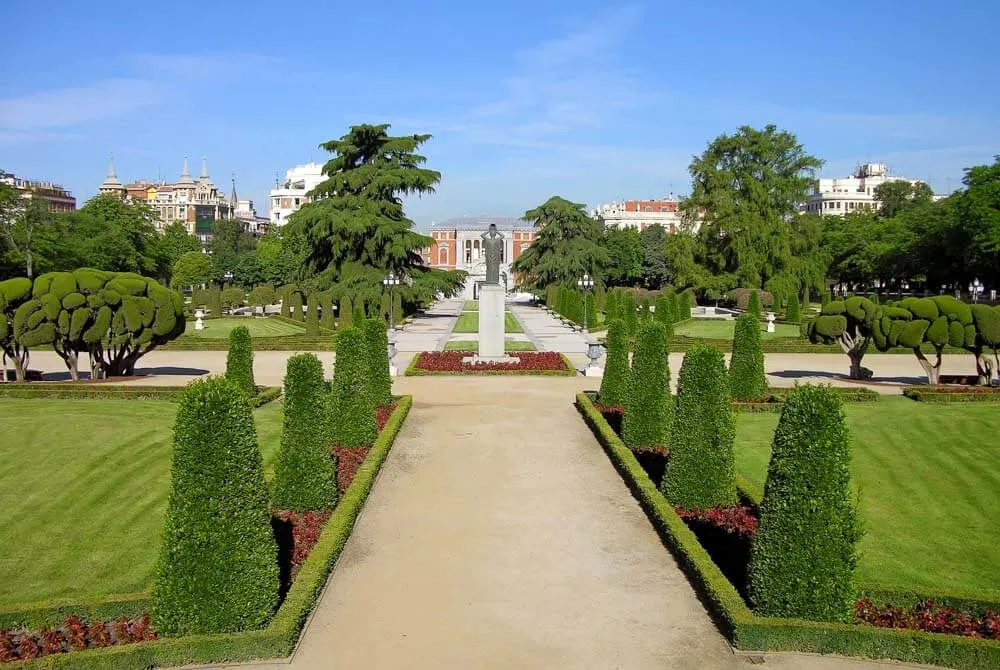 While El Retiro's role as a green lung for the city of Madrid is undisputed, the observation deck offering wonderful vistas provides relief to the visitors looking to escape from the heat and noise of the city.
Another spot worth visiting is the Teatro de Títeres, the only theatre in Europe, which holds puppet shows every weekend.
A visit to El Retiro is a great way to unwind in the lush green surroundings after a long day of sightseeing in Madrid. Grab a drink at one of the kiosks scattered throughout the park, rent a boat for a romantic paddle on the lake, or grab a spot on the grass and enjoy a lazy picnic.
Plaza Mayor – Madrid's Most Famous Square
Surrounded by cafés and bars in the heart of Madrid, the Plaza Mayor square literally reaches out to tourists to take a seat on the sidewalk, grab a glass of wine, and watch the world go by in one of Madrid's most iconic squares.
An experience not to be missed, hordes of visitors are continuously entertained by multiple street performers who perform all over the square. From mid-afternoon, the plaza begins to get busy and remains so until late in the night.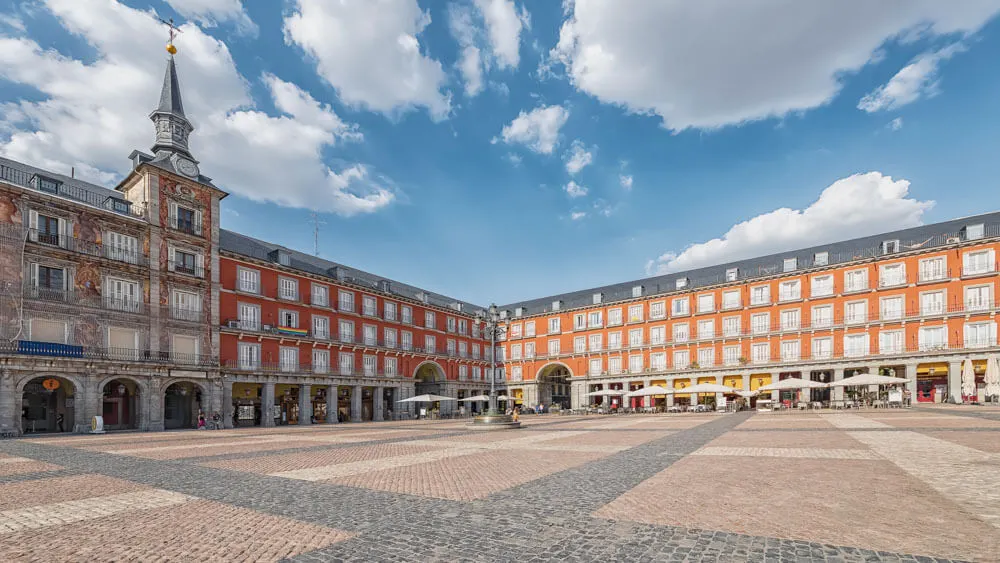 Sign up for a walking tour if you want to learn more about the history of the Plaza which goes back to 1617.
Lined by beautiful and vibrant red-colored buildings, Plaza Mayor may be a touristy hangout, but still worth visiting, even for a quick photo-op on your visit to the capital.
Delight in Madrid's Tapas Scene
Spending a night bar crawling in Madrid looking for delicious tapas is the best way to experience the food scene like a local.
Since Madrid is the melting pot of people from around the world, this is the best city to enjoy classic tapas. These bite-sized snacks, which come free with most drinks, are a culinary tradition dating back to the thirteenth century.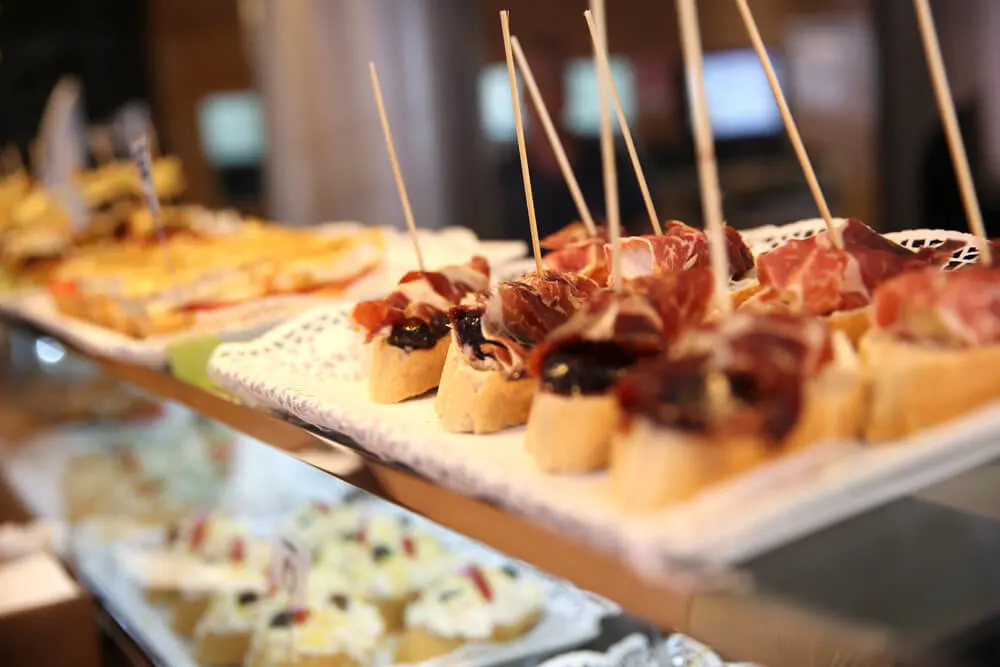 Today's tapas are far more sophisticated. In addition to the tapas which come free, you can order at a charge some Madrid classics like patatas bravas, Spanish omelet, croquettes, aged cheese, or Iberico hams and sausages.
Some household names which have been serving for decades are Casa Labra, Lhardy, and Bodega La Ardosa among others. For a truly authentic experience, wander down bar-lined streets of the Chamberi neighborhood, where the crowd consists of mostly locals.
Attend a Flamenco Performance
Whilst Spain is known the world over for its unique architecture and delicious tapas, the classic Flamenco dance performances showcase the true talent of Spanish dancers.
Although this beautiful dance form originates from the southern Andalusia region, you can still enjoy a stunning performance while visiting Madrid.
This solo dance is highly expressive and is characterized by precision footwork and constant handclapping. The captivating rhythm of the dance pulses is not to be missed at any cost when on a visit to the city. The dancer is usually accompanied by a guitar player and a singer.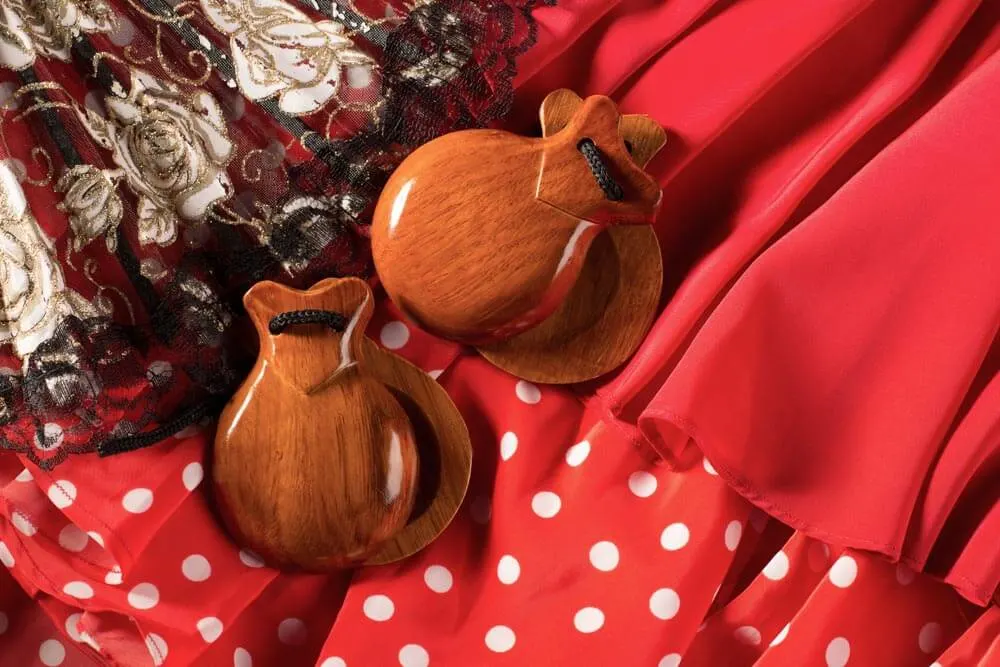 Madrid has some of the oldest flamenco venues known as "tablaos" in the world, of which Corral de la Moreria is the most famous for holding regular shows at the city center since 1956, even featuring a Michelin-starred fine dining restaurant.
If you are lucky you might spot celebrities like the King of Spain in the audience. This fiery performance of flamboyance, passion, and drama is easily one of Spain's greatest cultural icons.
Spare a Sunday for El Rastro
The El Rastro flea market is one of the largest in Europe and an institution in its own right in Madrid.
One can easily spend the entire morning, or in fact, the whole day, inching up and down the maze of streets hunting for bargains like old photos, household goods, clothes, and other pieces of junk (or treasures) in which you can stumble on a masterpiece.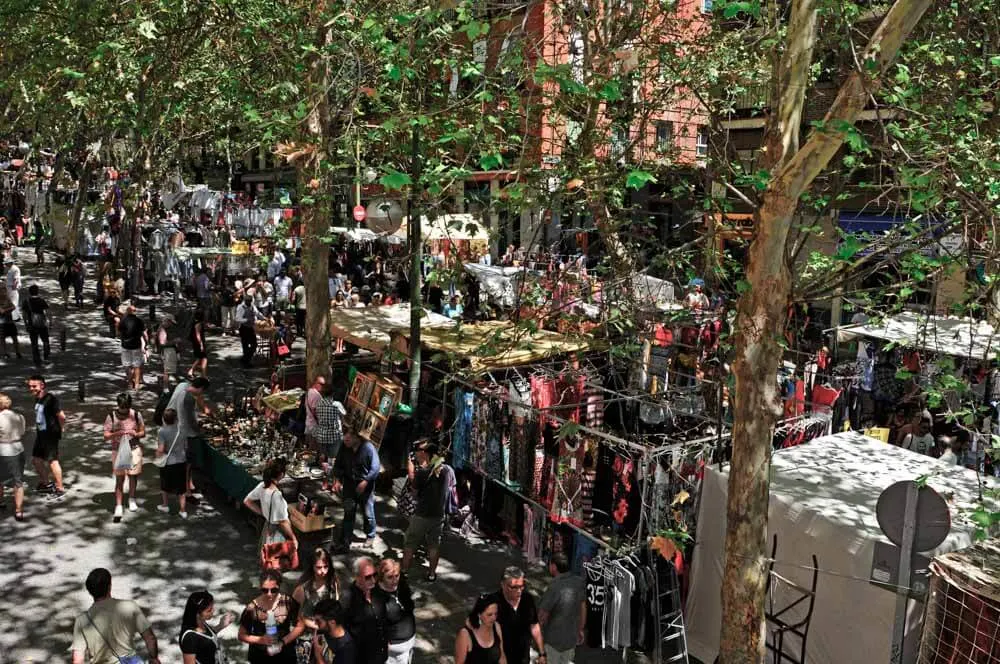 The market dates back to the 17th century and gets extremely crowded on Sundays. Madrid can be scorching hot in summers, so do remember to add some lightweight clothes to your Spain packing list.
Antiques are a major draw at this market, with a large concentration of outlets located especially on Galerías Nuevas and Galerías Piquer.
Stroll down Plaza de Cibeles
If you are looking for a crash course in Spanish architecture, head to the epicenter of municipal grandeur at Plaza de Cibeles.
This is the place where three of the most exclusive neighborhoods of Madrid are located – namely Retiro, Centro, and Salamanca.
The ornate Palacio de Cibeles occupies center stage here, as do the two smaller palaces of Buena Vista and Linares.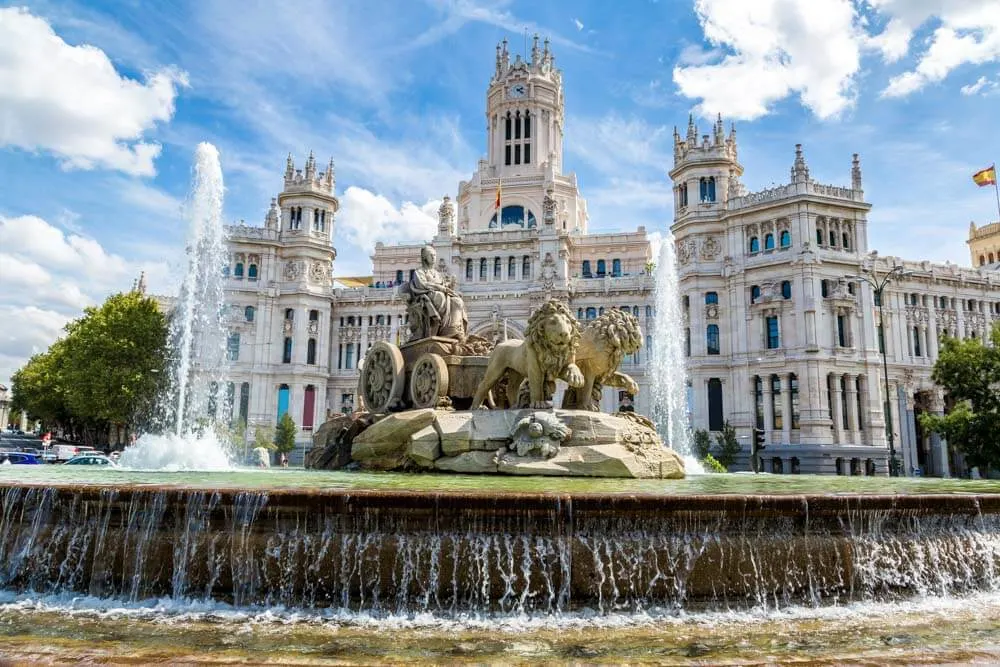 The Plaza is also home to the cultural center, CentroCentro, the town hall, and the Fountain of Cybele, one of Madrid's most defining landmarks. It depicts a lion-drawn chariot ridden by the Roman goddess of Earth.
Top Tip: Art lovers may want to wander 10 mins down the road to two of Madrid's most famous art museums, the Prado and the Thyssen-Bornemisza National Museum. A further 10 mins out you'll find the Reina Sofia National Art Museum rounding out the 3 most prolific art museums of Madrid, nicknamed 'the Golden Triangle'.
Bond with nature at Casa de Campo
Casa de Campo is the largest park in Madrid and a haven for nature lovers. Its size can be gauged from the fact that it is roughly over five times larger than Central Park in New York.
Complete with biking and hiking trails, picnic tables, not to forget the diverse wildlife Casa de Campo is a unique sanctuary of its kind.
The park is home to an aquarium and a zoo complex but also to some wildlife and animals roaming free. No surprise then that you'll likely feel you've stepped into a forested area rather than a city park.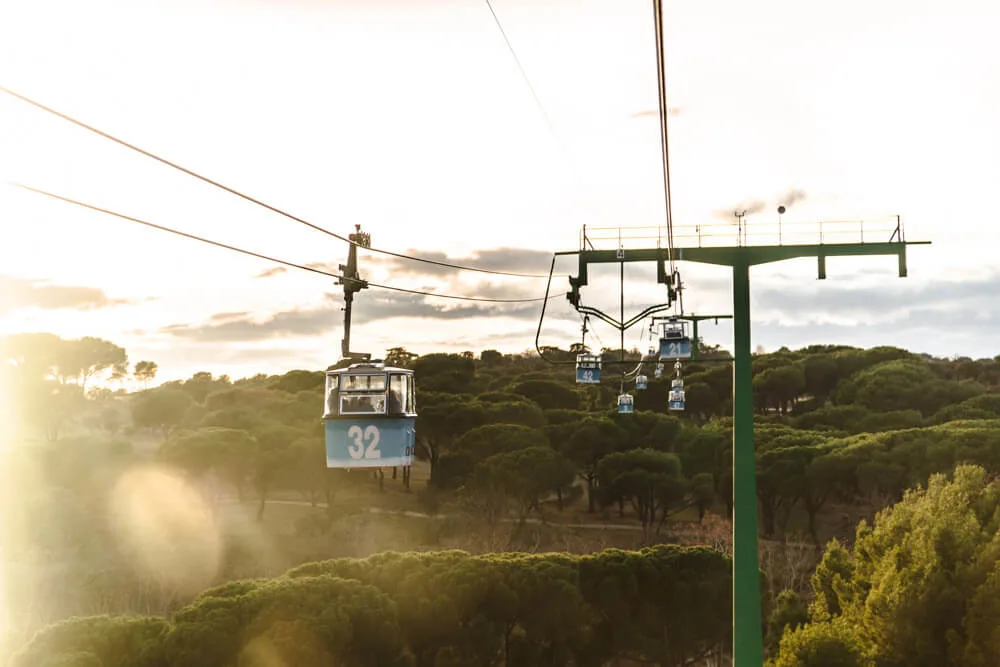 You may come across foxes or red squirrels and see hawks flying overhead.
During the summer months, the park also plays host to free concerts as a part of the Veranos de la Villa series that is held here.
You can reach the park by cable car too – it connects Casa de Campo with the Parque del Oeste park.
Visit the bustling Puerta del Sol
This bustling semicircular plaza is one of the most happening places in Madrid, where friends and families gather, bar crawls begin, and where the New Year is ushered in with great gusto each December at the clocktower.
Its famous chime marks the traditional eating of the Twelve Grapes and the beginning of the new year. To say the Sol never sleeps is an understatement, as the underground train services run 24×7 throughout the year here.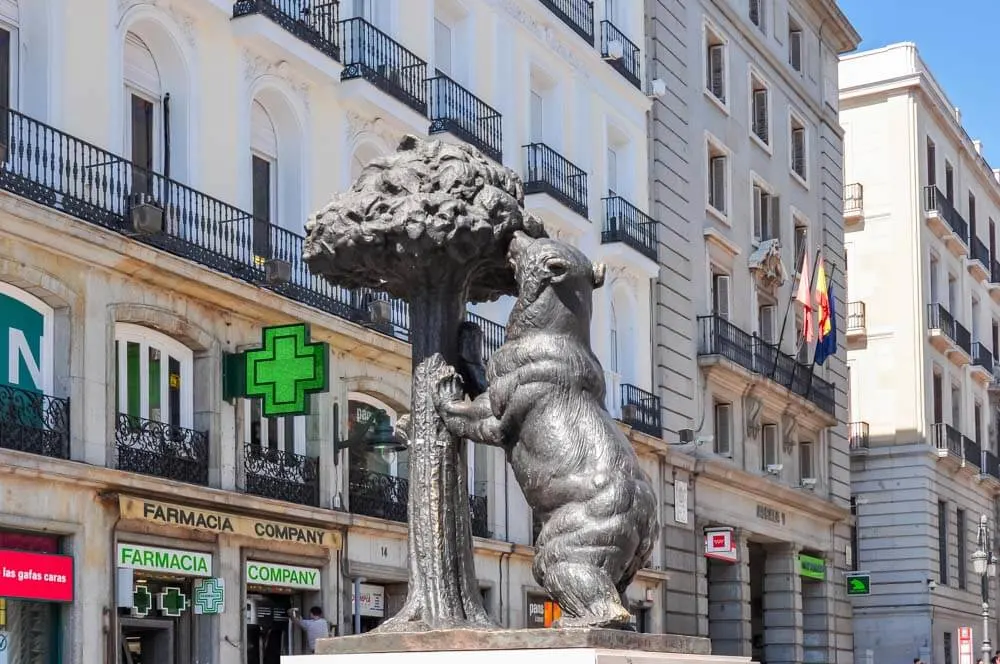 The constant footfall of visitors has kept the most coveted accessory outlet in Madrid, the Casa de Diego, in doing non-stop business since 1858. They are noted for their excellent souvenirs, such as the traditional hand-painted fans.
Puerta del Sol square is also where you'll find the iconic The Bear and the Strawberry Tree statue which is a symbol featured on the city's coat of arms.
Would Madrid win if you were deciding between Madrid and Barcelona?
If you're planning your first visit to the Spanish capital, you cannot leave out these 10 things to do in Madrid. You can manage to see them all in 3 days, but best is to take things slow and soak it all in.
---
About the Author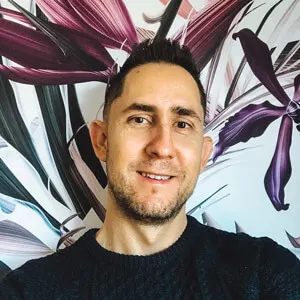 Born and raised in South Africa, Marco Santos from Travel-Boo currently resides in sunny Lisbon, Portugal. With an absolute love for Europe, he is on a mission to rediscover his own Portuguese & European heritage along the way. Marco has set out to blog and share his passion for traveling through exploring Spain, Portugal, and other parts of Europe, sharing what he's learned through his travel blog Travel-Boo.