This post is also available in:
Čeština
Images of the best beaches Corsica has to offer always show beautiful white sand.
Well, guess what – you can visit Corsica beaches and see only dark brown sand that's not as appealing to the eyes as the pure whiteness of the sand grains.
While everyone flocks to the best beaches in southern Corsica, there are quite a few amazing ones in the North too.
Below, we'll look at the best Corsica beaches that feature beautiful white sand – all over the island.
For a map of the best white sand beaches in Corsica, scroll to the bottom of this post.
Getting to Corsica
You'll be probably staying close to one of the cities that have airports or ferry connections.
You can fly to Ajaccio in the Southwest, Bastia in the North, or to one of the smaller airports in Calvi (Northwest) and Figari (South).
Ferries from France or Italy would take you to Ajaccio, Bastia, Calvi, and additionally to Ile-Rousse (close to Calvi) and Propriano and Porto-Vecchio in the South.
Below is a list of the best beaches in Corsica around these ferry ports and airports. I left out the not-so-white ones.
Let's start from the North:
Bastia
The beautiful white-sand Bastia beaches are all quite hard to access, as they are surrounded by desert – Désert des Agriates.
Lotu Beach & Saleccia Beach
Plage du Lotu & Plage de Saleccia
The two most famous Corsican beaches there are Plage de Loto (Plage du Lodu/Lotu) and Plage de Saleccia, located next to each other.
And they couldn't be more perfect. The beaches feature pristine white sand and mildly sloping seabed.
Corsican maquis (or macchia) grow around freely – a typical Corsican wild shrub made up of different plants. Cows may occasionally show up too.
There are no amenities on these two Bastia beaches, so bring all your food and drinks with you and don't count on any sunshade.
You can even walk between the two beaches, but it would take nearly an hour.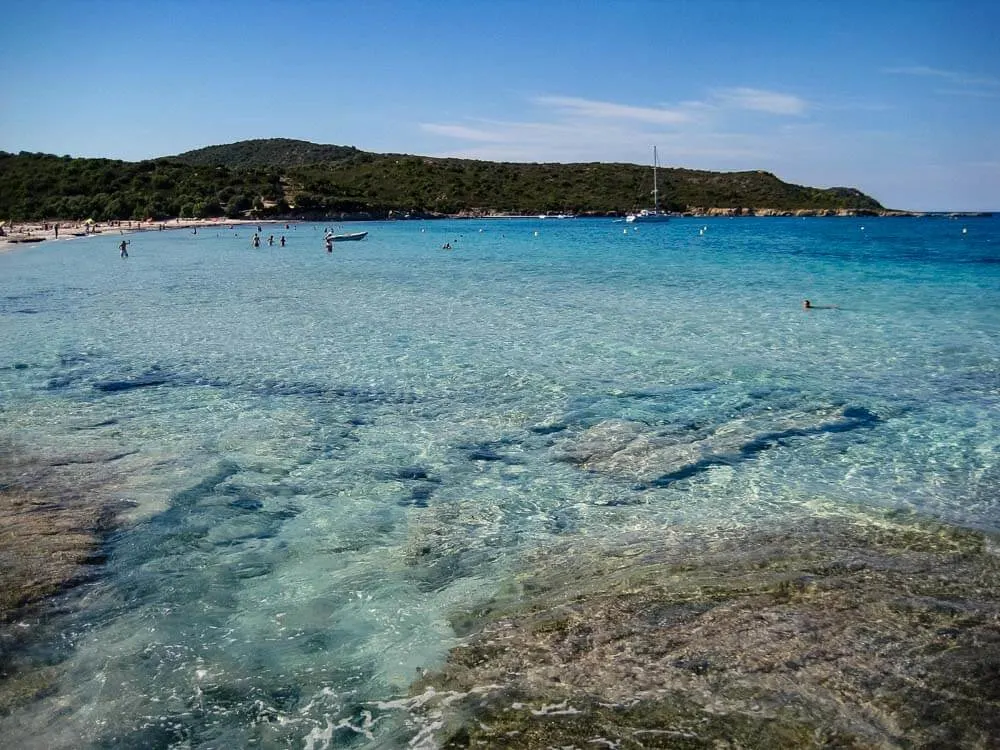 Getting there
You can get to these two best beaches near Bastia either by hiking for a few hours from Saint-Florent or on a 4×4 vehicle.
The more convenient option for the lazier among us is to take a ferry. Boats to both Lotu and Saleccia depart from Saint-Florent's port.
Btw. the village of Saint-Florent is a beautiful one, not to be missed on the way to/from a Bastia beach!
You can also make use of this day tour from Calvi.
Calvi
Calvi Beach
Plage de Calvi
The city of Calvi has one of the best white sand beaches just a short (15-20 minutes) walk from the city center. It's called simply Plage de Calvi. The sand is not as white as in the Agriates, but it's still very close to the perfect white mix, especially when the sun is shining.
The water there is pretty shallow, without any big waves, so it's perfect for families. However, thanks to its easy accessibility, it does get busy in the summer months.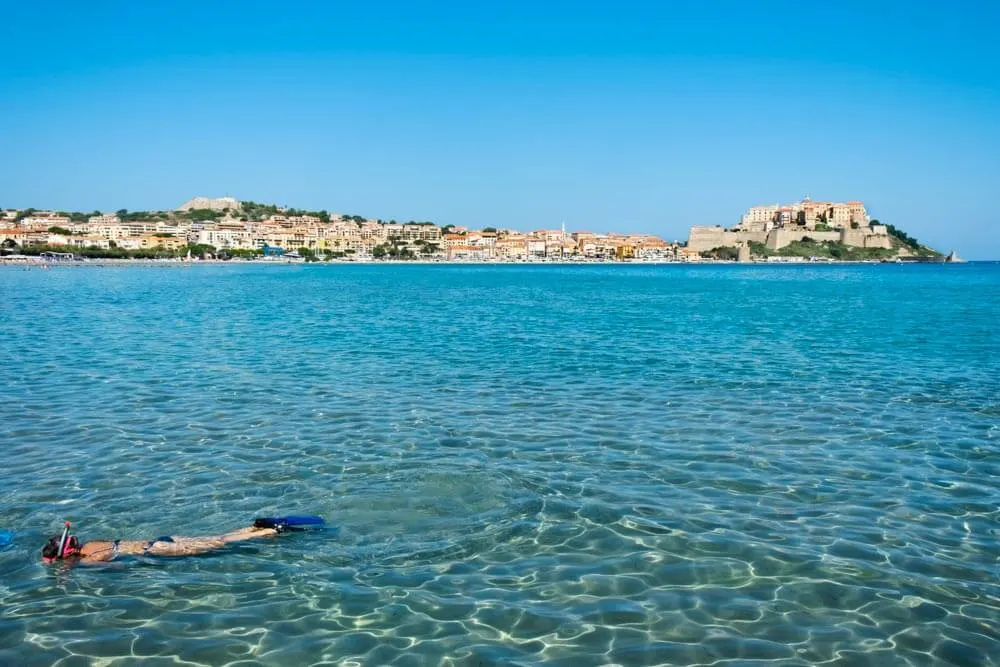 L'Île-Rousse
Once in Calvi, it's only a 30-minute drive to Ile-Rousse for a few more beaches with white sand. There too, you can find a pretty beach right in the city:
Ile-Rousse Beach
Plage de l'Ile-Rousse
The Plage de l'Ile-Rousse typically gets less crowded than the one of Calvi. Btw. I've seen this beach being referred to as Plage de Napoléon or Plage de la Marinella too.
If you like beaches with amenities, this is the right one for you. It's encircled by Promenade de la Marinella.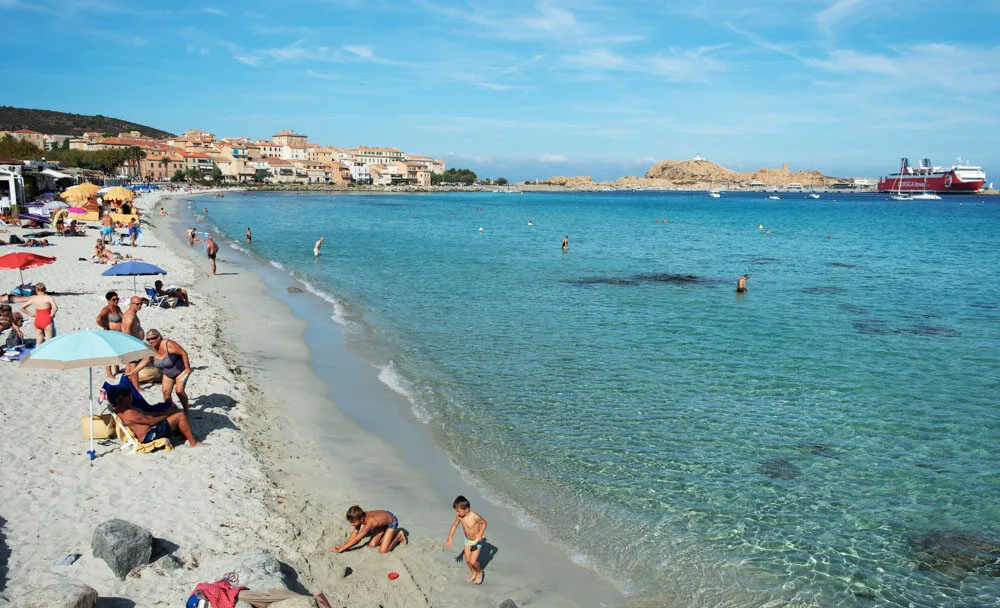 Ostriconi Beach
Plage de l'Ostriconi
This beautifully wild Corsica Beach called Ostriconi is located North of Ile-Rousse. As it's quite off the beaten path, expect no amenities other than a safeguard (in summer).
You need to hike for 10-15 minutes to reach the beach from the parking lot, but it's quite pleasant.
This beach is not suitable for families, since the water becomes deep quickly.
It's only a 20-minute drive from L'Ile-Rousse.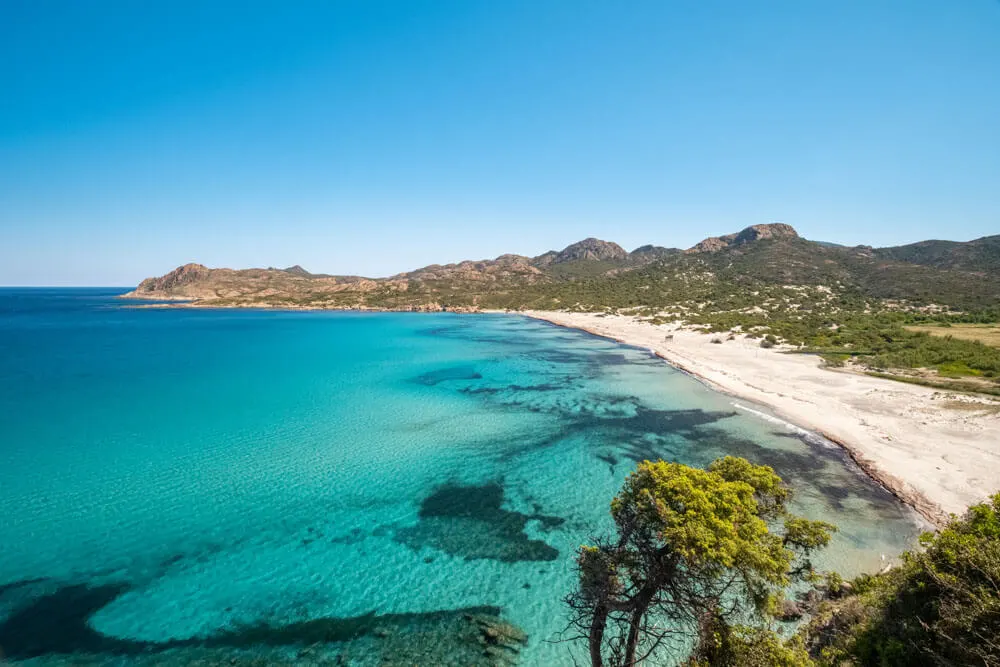 Bodri Beach
Plage de Bodri
Another natural beach, this time slightly smaller, Bodri Beach can be found South of Ile-Rousse.
Bodri Beach becomes too wild when the winds are blowing. Other times, it's picture-perfect. Facilities are limited, but you can count on a bar, and often you can rent things like SUPs or kayaks. There is not much natural shade.
A big plus is that you can reach this beach even by train! It takes just 8 minutes from Ile-Rousse. Bear in mind that the Bodri stop is only on request. Once catching the train back, you have to wave, otherwise the driver won't stop. 😅
Driving from Ile-Rousse takes only 10 minutes. If you feel like walking, there's a coastal path – it takes about 40 minutes. I haven't done it myself and heard mixed reviews (there might be some slightly dangerous sections near a railroad).
There's a campsite right by the beach – if you're keen to stay overnight, check out Camping Le Bodri.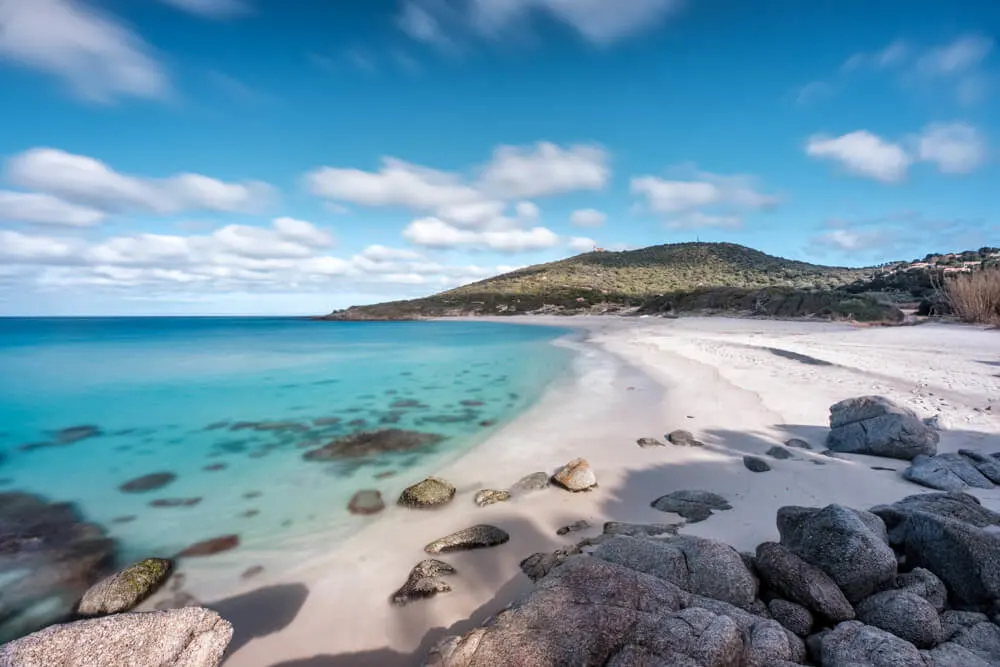 Ajaccio
Ajaccio is the capital of Corsica and the birthplace of Napoleon Bonaparte. The town itself offers palm-lined boulevards, quaint cafés, and stunning mansions.
While the city does have its own Ajaccio beach (called Plage de Saint François) but its sand is of the standard brown shade.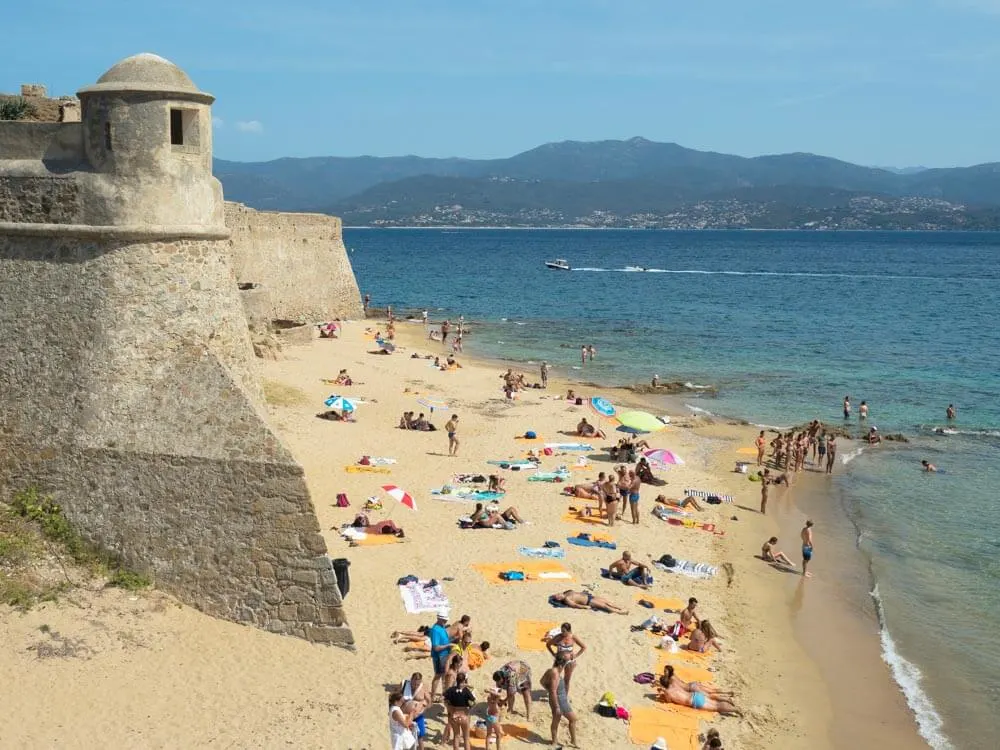 On the outskirts of the city, there are many little white-sand Ajaccio beaches, many of which belong to private resorts.
There is also the famous Marinella beach with fine whitish sand and crystal-clear water, which is often touted as the best beach in Corsica.
Marinella Beach
Plage de Marinella
Marinella is easily accessible from Ajaccio by car or bus and is undoubtedly the most famous beach in the Ajaccio area. It's also one of the top 10 beaches in Corsica.
It became famous thanks to a French comedy Marinella (1936) and, especially, a song by the same name from the movie sung by Tino Rossi.
There are many restaurants, small cabins, and watersports to enjoy. The water is shallow for several meters making it an ideal destination to take children.
To get there by car from Ajaccio take the D11 in the direction of the Sanguinaires Islands. It's located right by the Route des Sanguinaires that runs alongside.
You can see a few pictures of the beach here.
Propriano
The small seaside town of Propriano can be easily accessed from Ajaccio or Bonifacio Airports. Propriano's own beach is not white enough for us, but fortunately, there's this gem:
Roccapina Beach
Plage de Roccapina
Driving from Propriano to Bonifacio on the N196, there's the Roccapina beach. The 2.5 km long dirt track that leads to the beach is not an ideal driveway if you don't have a four-wheeler.
It's walkable, though, and well worth it. It's one of the best beaches Corsica has to offer. Count with 30 to 45 minutes of walking time, constantly avoiding cars that are making their way (or trying to) to the beach.
The water is quite shallow and ideal for kids. There's a famous granite rock formed in the shape of a lion overlooking the beach. As with most hardly accessible Propriano beaches, there are no amenities, neither a sunshade.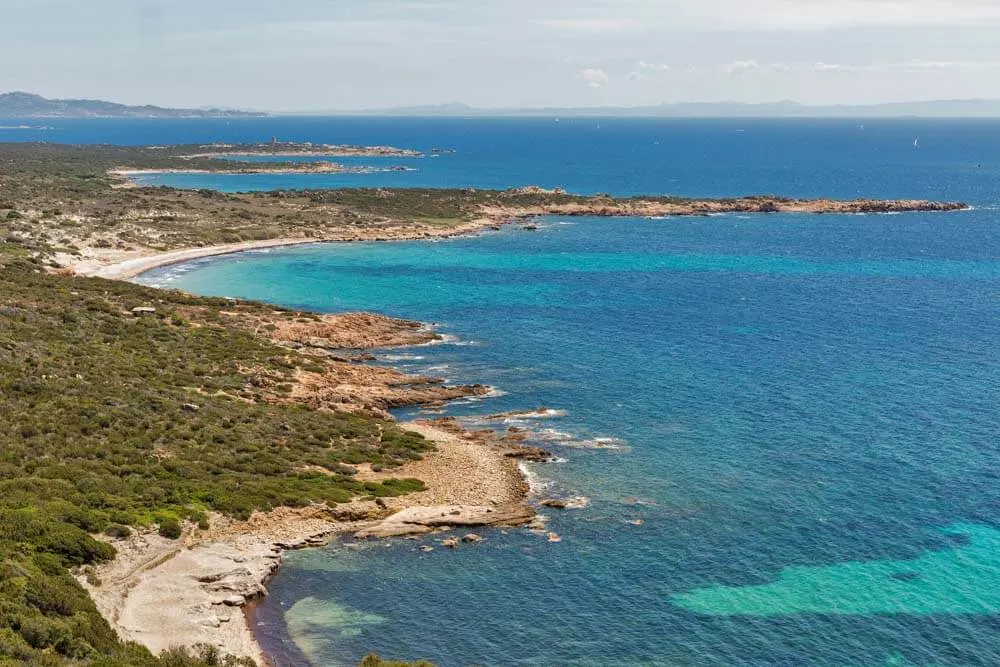 Figari, Bonifacio, Porto-Vecchio
Most of the best white sand beaches in Europe are in this area located in between Porto-Vecchio and Bonifacio. It's full of beautiful white sand beaches there!
Among the most notable beaches in Southern Corsica are:
La Palombaggia Beach
Plage de Palombaggia
This beach aspires to be the best on Corsica and one of the Top 10 in Europe. It's not just about the white sand, but also about the pink granite rocks scattered around, which make it especially beautiful.
Its popularity makes it often too crowded, especially in the high season. Arrive early and secure a good spot, ideally by the pine trees that line the beach.
There are water sports and lifeguards, so this beach is good for families with kids as well. Snorkeling is definitely a good idea!
You can get to Palombaggia Beach easily by car from Porto-Vecchio – it takes only 20 minutes.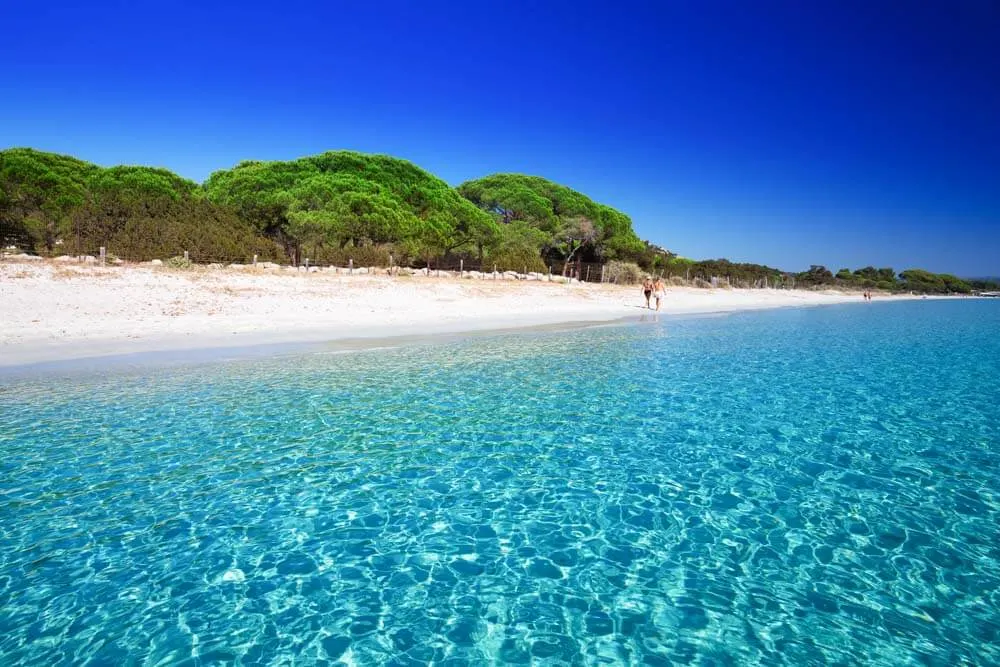 Santa Giulia Beach
Plage de Santa Giulia
Santa Giulia is of a similar nature to Palombaggia Beach. It's beautifully white, guarded in the high season, and busy with families. There too you can seek some natural shade thanks to the pine trees.
The beach features beautiful big boulders that add another level of picturesqueness. Behind the beach, there's a large freshwater lagoon called Étang de Santa Giulia. Birds love it there.
Boats often park here, but that's not a problem as the area for swimming is well cordoned off.
Even though it's geographically further from Porto-Vecchio than Palombaggia, you can get to Santa Giulia Beach in only 10 minutes, since most of the drive is on a speedroad.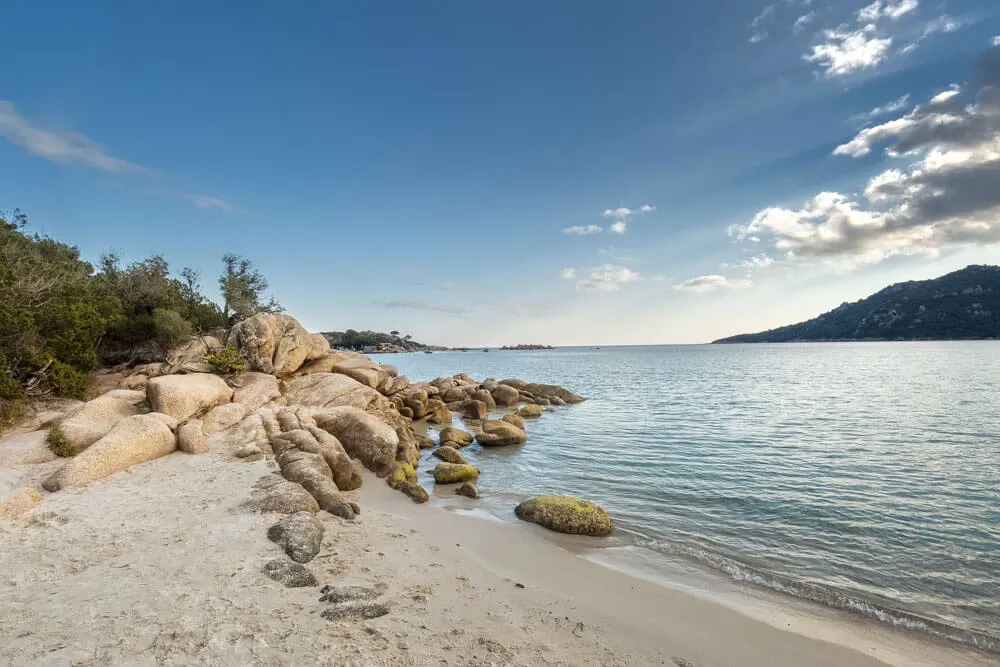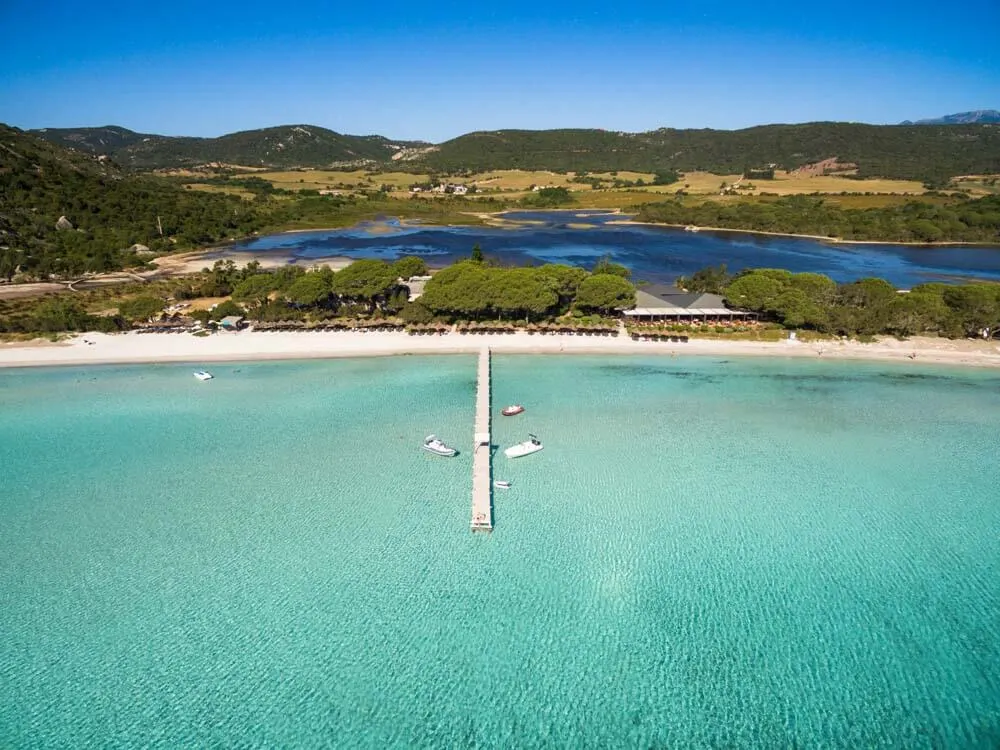 La Rondinara Beach
Plage de Rondinara
The Rondinara Bay is a long strand of beautiful white-sand beach. The bay is in a protected nature reserve and its postcard-like shape makes it an ideal target for aerial photos.
Cows can often be seen walking around the beaches here, even in summer. There's a campsite only 400 meters away – check out Camping Rondinara if you're interested in staying overnight.
Whether you drive from Bonifacio or Porto-Vecchio, it takes about 30 minutes to get to Rondinara Beach. It's just about 10 minutes longer from Figari.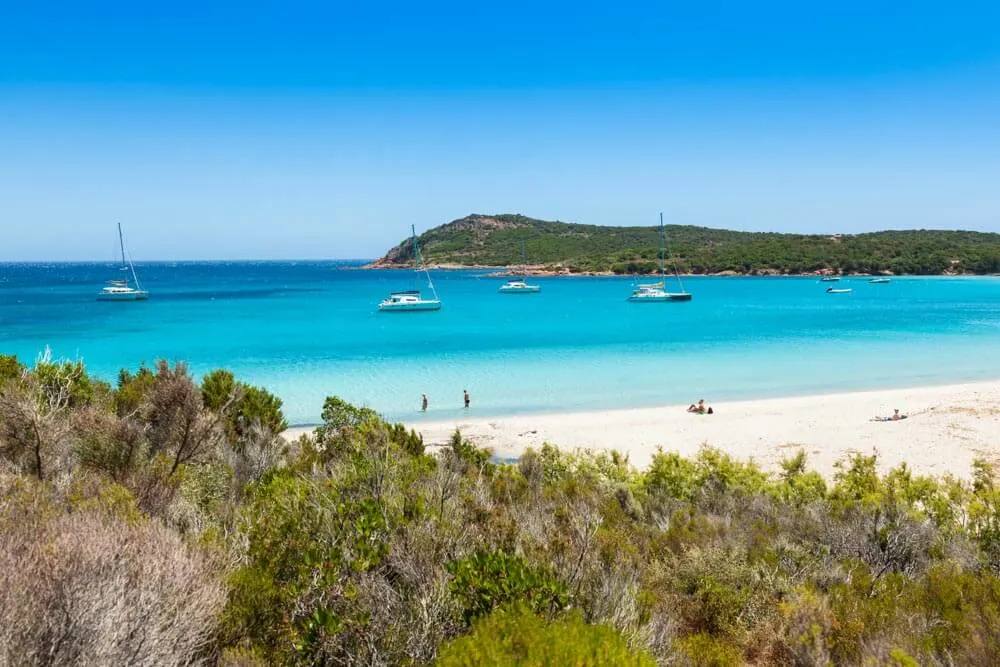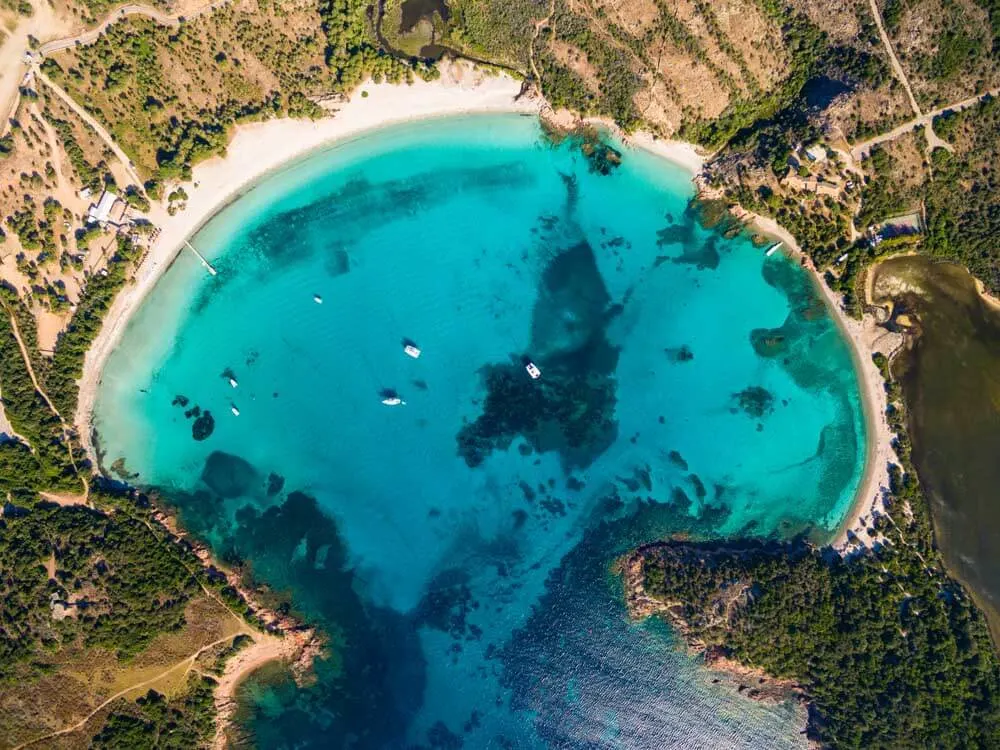 Pinarellu Beach
Plage de Pinarellu
North of Porto-Vecchio, the Plage de Pinarellu is not to be missed. Situated in a bay and surrounded by a pine forest, it definitely should be on your list if you're in the area.
Occasionally, seagrass gets washed up on the beach but simply stepping over it will not inhibit your experience. The beach is family-friendly too because the water is quite shallow.
It takes half an hour to reach this beach from Porto-Vecchio by car.
See a few photos of the beach on Google.
White-sand Corsica Beaches on a Map
Below is a map of the prettiest white-sand beaches of Corsica. Click here or on the image to go to the interactive version of the map on Google.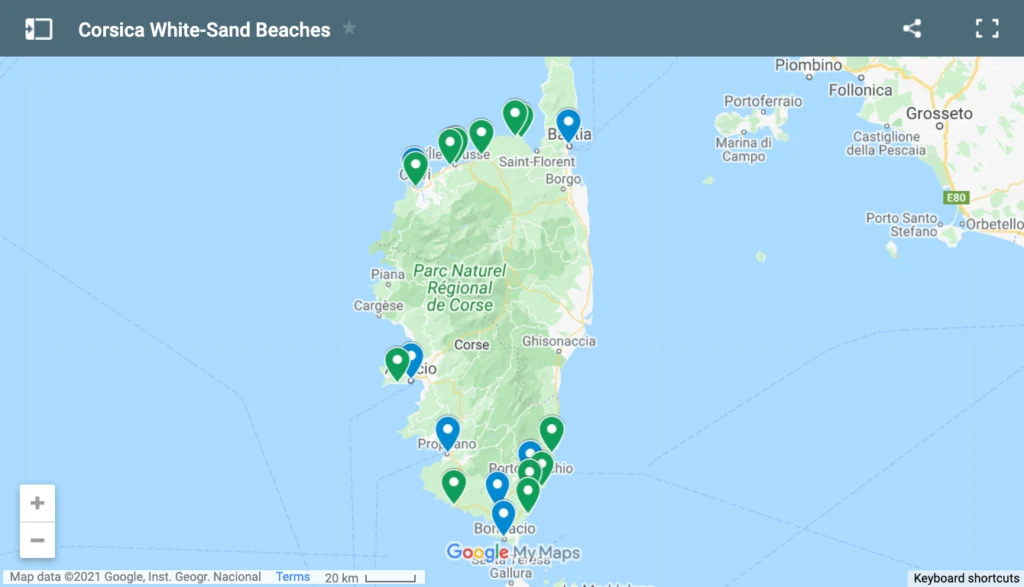 If you've got a few days in Corsica, it pays off to go see at least one of the beautiful white sand beaches. It doesn't happen very often that you'd go to a beach in Europe and feel like you're in the Caribbean!
Have you been to any of the beaches of Corsica on this list? What was your experience like?
This post was originally published in 2014 and fully redone in 2021.