This post is also available in:

Čeština
If you came here looking for recommendations on the most beautiful places in Costa Rica, you've come to the right place.
I spent a little over 2 weeks traveling around the country, seeking the best places to visit in Costa Rica. Let me tell you – there are so many!
Below I recommend where to visit in Costa Rica if you're looking for spectacular nature. Costa Rica truly is one of the rare paradises on Earth.
Most Beautiful Places in Costa Rica: What Are They?
The nicest places in Costa Rica can be found all over the country. They materialize in large national parks, unspoiled beaches, and even charming cities and villages.
National Parks of Costa Rica
Did you know that Costa Rica doesn't have any zoos? Instead, the animals stay in their natural habitat – in national parks. There are nearly 30 national parks and even more protected areas.
Thus, visiting a national park in Costa Rica is a wonderful experience not just for the amazing lush nature, but also for animal spotting opportunities.
Most of Costa Rica's national parks are crisscrossed by well-maintained hiking trails. A trail is called a sendero.
Another Spanish word to know when exploring the national parks in Costa Rica is mirador. It stands for a viewpoint.
Costa Rica national parks are administered by SINAC, the National System of Conservation Areas.
Costa Rica Beaches
The prettiest places in Costa Rica include beaches too. After all, the country has nearly 1,300 km (800 miles) of coastline. I experienced beaches on the Pacific side as a lot calmer, but that changes if you go e.g. to Tamarindo, which is quite a surf spot.
The Caribbean side, which includes Cahuita and Tortuguero described below, has stunning volcanic beaches that are pretty to look at and feature ferocious waves.
Cities in Costa Rica
As for cities, I didn't see enough to really recommend any. Surely there are pretty ones such as La Fortuna, but everybody comes to Costa Rica primarily for nature. And thus all these Costa Rica places to visit revolve around nature.
It's hard to say which is the most beautiful part of Costa Rica. They're spread all over. The country is lush and green and wonderfully dotted with forests, volcanoes, beaches, and picturesque areas. It's a real paradise on Earth.
Let's explore these beautiful places in Costa Rica one by one:
Arenal National Park
Parque Nacional Volcán Arenal
This national park wraps around Arenal volcano, one of the most active volcanoes in Costa Rica. It's a large park and there are quite a few beautiful places to see within its borders:
Arenal Volcano
Volcán Arenal
The Arenal volcano was thought to be dormant but then erupted greatly in 1968, resulting in three craters and wiping out two towns as the hot lava flowed down the slopes.
Even nowadays it may happen that ashes are excreted from the volcano's throat and volcanic rocks might come flying out.
That's why you cannot climb the actual volcano. But there are still plenty of lovely hiking trails around, often offering sneak peeks of the volcano. It looks better from far away anyway. :)
Arenal NP has four main hiking trails going through the forest and on lava fields: Sendero La Península, Sendero Las Heliconias, Sendero Las Coladas (this is the main one), and Sendero El Ceibo.
Not all of them might be open, depending on the volcanic activity. You definitely shouldn't leave out walking Sendero Las Coladas and once it diverts to Sendero El Ceibo, take it.
While hiking the Sendero El Ceibo, you'll come across a 300 y.o. ceiba tree, a.k.a. a kapok tree. Don't forget to check out the viewpoint too – el mirador – at the end of Las Coladas. That's where you can usually see the volcano from the best possible angle. On the other side, you can admire the Arenal Lake (more below).
Arenal Volcano hikes are easy and there's nearly no climbing involved. When walking around, keep your eyes peeled on tree branches around you – you could spot some colorful birds.
Sadly, when we visited, the tip of the volcano was most of the time shrouded in persistent clouds. Once, though, they were blown away for a moment and we could see the tip for just a little bit. You have to love Mother Nature playing her games.
Arenal National Park truly is one of the best places to go in Costa Rica. There's a lot more to see:
Arenal Lake
Laguna del Arenal
If you drive to another entrance to the park, you can enjoy hiking to Arenal Lake. Laguna del Arenal is a partially manmade lake.
Originally there was a smaller lake there but it was expanded into three times its size and made into a dam. Nowadays it's Costa Rica's largest lake.
A circular hiking trail leads to the lake from the entrance to the park. It's an easy hike and a beautiful one too.
Crocodiles inhabit the lake and swimming is therefore prohibited. Boats, kayaks and such are permitted. We didn't see any cocodrilos, but still enjoyed seeing other animals such as coati, squirrels, and plenty of leaf-cutter ants.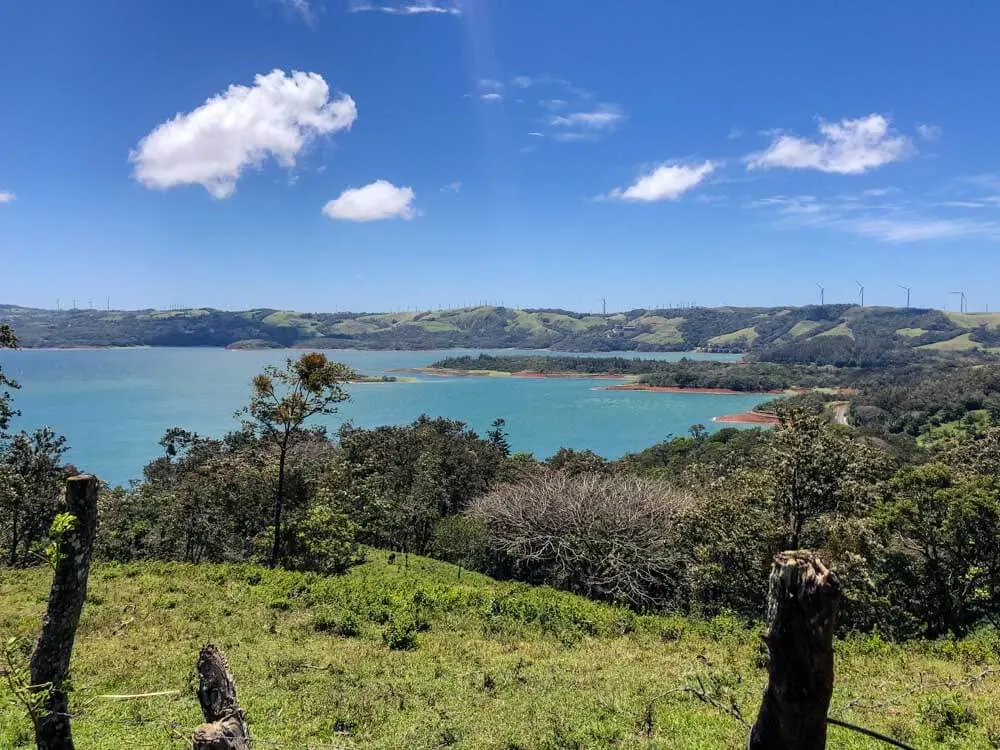 But that's still not all. The national park hides yet another must-see in Costa Rica:
La Fortuna Waterfall
Catarata La Fortuna
Still within the Arenal National Park, just using yet another entrance, this time on the other (eastern) side of it, you can admire a stunning waterfall. Catarata La Fortuna, with catarata meaning a waterfall.
The waterfall is located on a river of the same name, is quite narrow, and falls for good 70 meters (230 feet). It's surrounded by lush vegetation and is a real balm for the soul.
The way to the waterfall is rather easy – you just descend 500 steps. The way back is a little more strenuous. :)
It's possible to jump into the pristine turquoise lake, which the waterfall flows into. The water is cold, though! You cannot go too close to the waterfall – a ranger is always watching for your safety.
Just around the corner from the actual waterfall, the river calms down and there's a lovely spot to bathe and watch some fish.
There's also an orchid garden near the entrance/exit. Depending on when in the year you visit, you can come across quite some beauty. Nothing blossoming in March, though.
I hope you're not getting bored with Arenal National Park because there's one more location to recommend:
Thermal Springs of Arenal
Aguas Termales Arenal
Since the river La Fortuna goes through volcanically active areas, it gets nicely heated. It creates a series of pools where you can chill. We did so when it was raining and it was absolutely wonderful. Bring your own beverage for the ultimate chill experience.
You can do so at Tabacon Thermal Resort & Spa, or, for free near there – following a path near the road's bend – it's hard to explain but just look for where all the cars are parked and ask around.
You can manage to see everything in Arenal in a day, but you'd end up rushing around like a crazy tourist.
A better way is to spread it all into several days or focus just on one or two parts of the whole national park. We divided it into two days and saw it all.
Tour options in Arenal
If you don't have a car and want to explore everything Arenal offers, you can do so with one of the local tours. There are many to choose from. This full day tour from La Fortuna is one of the most popular ones.
Accommodation near Arenal Volcano
It's best to stay in or near the city of La Fortuna. We stayed at Villas Vista Arenal and can highly recommend it.
Monteverde & Santa Elena Reserve
Reserva Monteverde, Reserva Santa Elena
Just south of Arenal, you can find the reserves of Monteverde and Santa Elena. These are the best places to travel in Costa Rica if you're keen to see the famous cloud forest.
A cloud forest (bosque nuboso) is essentially an evergreen tropical forest, in which moisture stays high and there's often a low-hanging cloud cover. It's wonderfully green and mossy. It can be found in higher altitudes and is thus a lot cooler than a tropical rainforest.
There are several ways to enjoy the cloud forest in both reserves. Either via hiking or with an extra dose of adrenaline.
The Monteverde Reserve features more than 10 easy hiking trails, all in the length of 17 km (10.7 miles). It doesn't really matter which of the senderos you pick – just go with the flow and don't forget to pay a visit to the viewpoints on the way.
The lush forest is so pretty to walk through. It's a great place to find yourself when you just want to be in nature. Since the climate in the cloud forest is usually colder, it provides a welcome escape from the heat.
One of the nicest viewpoints is at the end of the Sendero Camino/Nuboso/La Ventana. It's called La Ventana too, which means a window in Spanish.
From there, you'll be looking at a continental divide. Water from the hills feeds into the Atlantic Ocean on one side, while on the other, it rushes into the Pacific.
The thick green cover makes it a little hard to spot animals, but there are quite a few, especially birds. Above all, the rare quetzal can sometimes be seen. We didn't get the chance, though.
There's a part of Monteverde known for its adventure activities: la Selvatura. The least you should do there is to walk on the suspended bridges. They hang in different heights and offer yet another amazing view of the cloud forest. At times you'll be even above the tree crowns, as high as birds.
Adrenaline seekers should make use of the opportunity to do canopy tours – a series of 18 ziplines! I did ziplines before, but this was the best experience ever.
A bunch of friendly guides makes sure you're safe and have the time of your life. The individual ziplines range from shorter ones among the trees to long ones suspended high above the treetops. It's beyond amazing.
As part of the canopy experience, you can do a Tarzan jump, which is scary but highly recommended. For an extra fee, you can fly on the last zipline like Superman, looking straight down.
Especially if you visit in busy times, Santa Elena Reserve might be a better option. It's more off the beaten path. There too you can come across several hiking trails – 5 senderos at Santa Elena take you through a beautiful cloud forest too.
Whether you pick Monteverde or Santa Elena, this is the best place to go in Costa Rica if you want to experience the unique cloud forest. In both reserves, it's possible to hire a guide so that you can spot more animals.
Tour options in Monteverde
You can take a day tour from San José to Monteverde, if you like. There's a small mixture of different tour options including adrenaline-filled ones.
Accommodation in Monteverde
Monteverde is a lovely little town where you can stay with most amenities. Check out e.g. Santa Elena Resort Hostel. The rooms are basic but comfortable.
National Park Rincón de la Vieja
Parque Nacional Rincón de la Vieja
Meaning 'Corner of the Old Woman', this volcanic national park in the Guanacaste province shouldn't be missed either since it also belongs to the top places to see in Costa Rica. This is the only site on this list that's even inscribed on the UNESCO World Heritage List.
It encompasses two active volcanoes and a dormant one. The volcano that gave the park its name last erupted in 2017.
The whole area is volcanically active and just a thin layer of soil protects you from the lava and hot mud that bubbles underground.
We visited the Las Pailas sector, which is more popular. If you're looking for a more off-the-beaten-path experience, head to Santa Maria instead.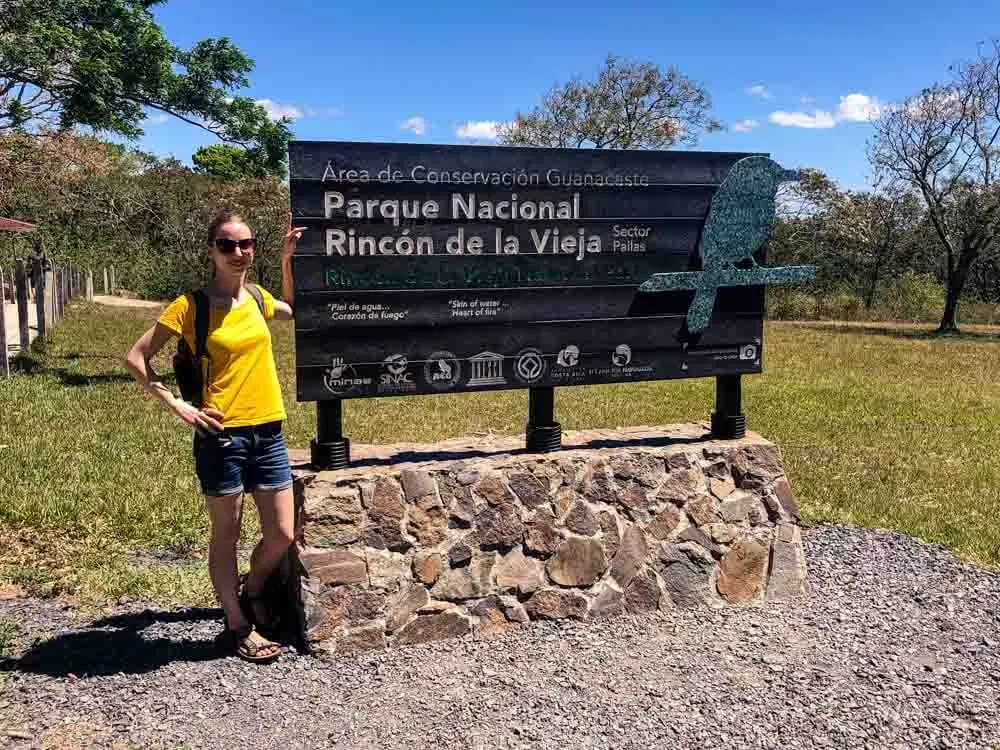 La Cangreja Waterfall
Catarata La Cangreja
If you enjoy hiking, you can do so to the waterfall La Cangreja. The trail is about 5 km or 3 mi. long (one way!) and of medium difficulty, with lots of tree roots growing freely on it.
You'll hike through a forest and also on some drier exposed areas where the sun gets intense. Alas, your efforts will be rewarded by the sight of the gorgeous waterfall. La Cangreja falls into an emerald lake. You can even jump in it if you don't mind cool water.
Another waterfall called Catarata Escondido, is even further away, and apparently is not as pretty.
Boiling Mud Pots
Pailas de Barro
At Las Pailas, you can also explore a unique volcanic side of the Rincón de la Vieja Park. Follow a 3 km (2 miles) long loop called Sendero Las Pailas around all interesting volcanic spots.
You'll watch mud bubbling and shooting out of mud pots, you'll hear water boiling… So many incredible sights to observe. I bet you don't see Mother Nature spitting mud too often. All the splashing and the fragrant sulfuric fumes add to the experience.
The first part of the walk is exposed to the sun quite a bit, but then you'll find solace in the forested part, which nicely keeps you shaded.
In the National Park Rincón de la Vieja, you can often spot monkeys (such as the capuchin monkeys) or at least hear them (howler monkeys!). Iguanas and all kinds of birds abound too. There should be some bigger cats in the area as well, but they are sure to keep their distance from you.
There is also a trail leading to the top of the Rincón de la Vieja crater. As of 2021, it's closed since the volcanic activity is relatively high.
Hot Springs Río Negro
Aguas Termales Río Negro
On the Santa Maria side, you can enjoy some thermal springs at the Río Negro River. There's also a short and easy hike to a waterfall, but the thermal springs are the main attraction.
Several pools of different temperatures – mostly very hot – await you. You can also do a mud mask and cover yourself head to toe with mud as if you were by the Dead Sea in Israel.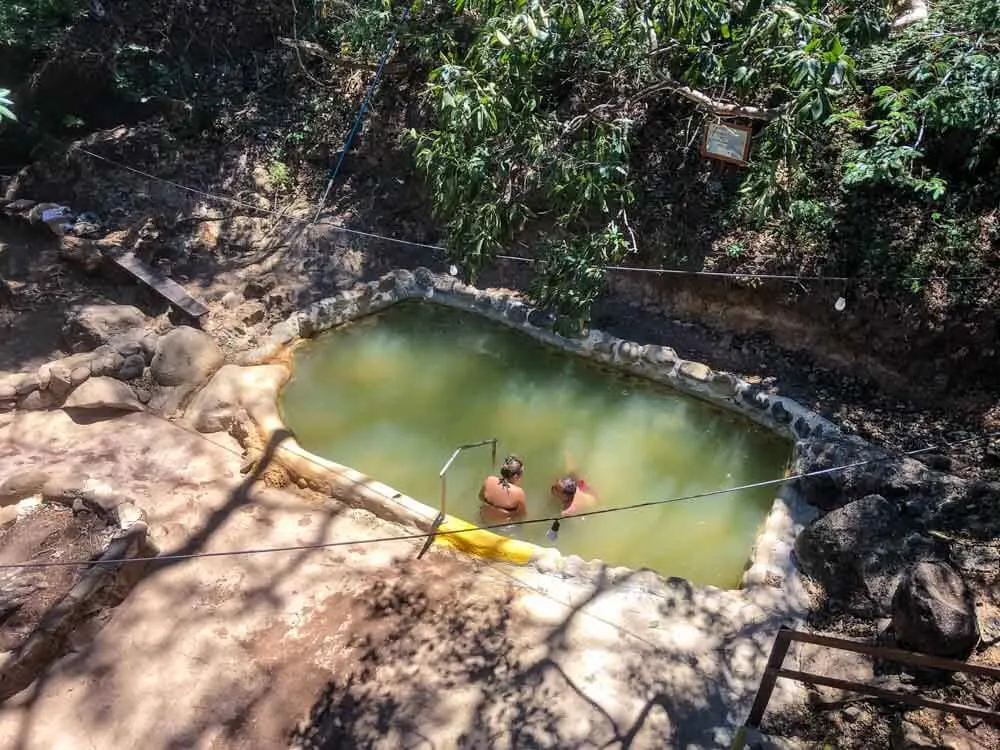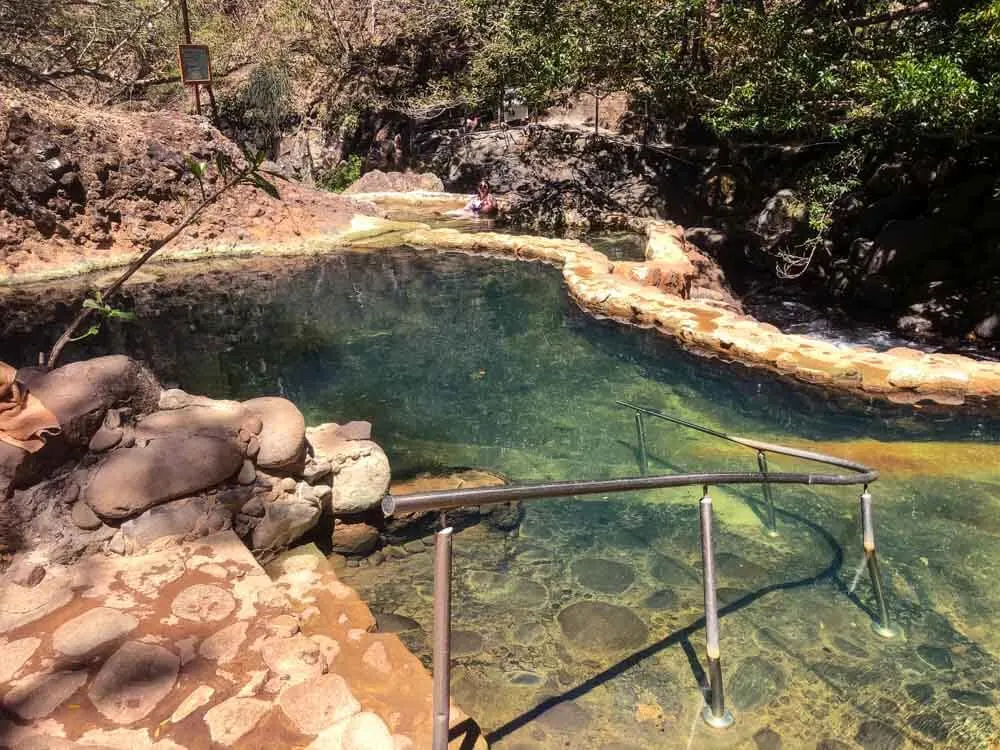 Tour options in Rincón de la Vieja NP
This tour from Liberia takes you on a hike through the mud lagoons and steamy ponds, while this one focuses on waterfalls in the area.
Accommodation near Rincón de la Vieja Park
The national park can be easily visited from the city of Liberia. We stayed at Hotel El Bramadero, which was pretty good and even had a pool.
Poás Volcano National Park
Parque Nacional Volcán Poás
Continuing this list of nice places in Costa Rica, I must mention Poás too. Another volcano, but this one is so unique!
In Poás, you can actually look straight inside the volcano's crater from a viewing platform. It's a beautiful sight. There's a blue milky lake in the middle and it constantly lets out sulfur gases (imagine the smell).
Poás belongs to Costa Rica's most active volcanoes. Since the last major eruption in 2017, hiking trails within the National Park have been closed.
As of 2021, you can only visit the main viewing platform, which is just a 10-minute walk from the main entrance.
Once fully reopened again, the hiking trails will lead you across lava fields and through a unique cloud forest full of miniature trees that adapted to constant exposure to sulfur.
Tour options in Poás
This full-day tour from San José is available and includes not just a visit to Poás but also to a coffee plantation and a waterfall.
Accommodation near Poás Volcano
Since Poás is only 37 km (23 mi.) away from Alajuela, you can stay there. The town is located just outside San José. We stayed at Hotel Pacandé and enjoyed it.
Irazú Volcano National Park
Parque Nacional Volcán Irazú
The last of the volcanoes on this list, Irazú is officially the highest active volcano in Costa Rica. You can comfortably drive all the way up and then it's just about walking around the magnificent dark lava fields.
We had the worst weather when we arrived but waited for about an hour and the sky cleared.
From the highest points, there are two craters to observe. You'll see the landscapes around including a green crater lake.
If you get especially lucky, you can observe both the Pacific Ocean and the Caribbean Sea both at the same time.
Tour options in Irazú
Currently, there's only this day trip from San José available as a tour option.
Accommodation near Irazú
Irazú is located only an hour-long drive from San José. Stay either in the city of San José or I can recommend Hotel Pacandé in Alajuela, which is only 20 minutes further away.
Manuel Antonio National Park
Parque Nacional Manuel Antonio
Manuel Antonio is probably the most popular national park and for many the best place to visit in Costa Rica. It's quite small, but indeed beautiful.
Since it's on the Pacific coast, you can combine hiking with the beach. Who doesn't like that?
The humidity is high in this jungle-y park and if you do decide to hike to one of the viewpoints, you're going to sweat a lot. That's when the refreshing ocean comes in handy.
The beaches in Manuel Antonio National Park feature perfect white or grey sand and are great for swimming. The most beautiful beaches in Costa Rica don't get much better than this.
Playa Manuel Antonio is by far the most popular. Playa Espadilla Sur just on the other side is a lot less crowded, slightly on the wilder side, but still stunning. Playa Gemelas is perfect when there are not many people around since it's quite small.
Spending a full day at the park is an easy thing to do. There are so many different things to do in Manuel Antonio!
There are several different hiking trails going through bushes and forests, rising to viewpoints, and running along the pretty coast. Definitely don't leave out the Sendero Perezoso Trail (no. 11) – it's called a sloth trail for a reason.
You can count on seeing quite a lot of monkeys, especially capuchin monkeys, but often even squirrel monkeys. Iguanas roam around freely too. If you get lucky, or if you pay for a guide, you can see a sloth or two as well.
The national park is popular with local families who swamp it on the weekends for some well-deserved beach time. If you can, visit during the week and as early in the day as possible since the number of daily visitors is capped on a first-come-first-serve basis.
Because of cheeky monkeys, you cannot bring your own food into the park.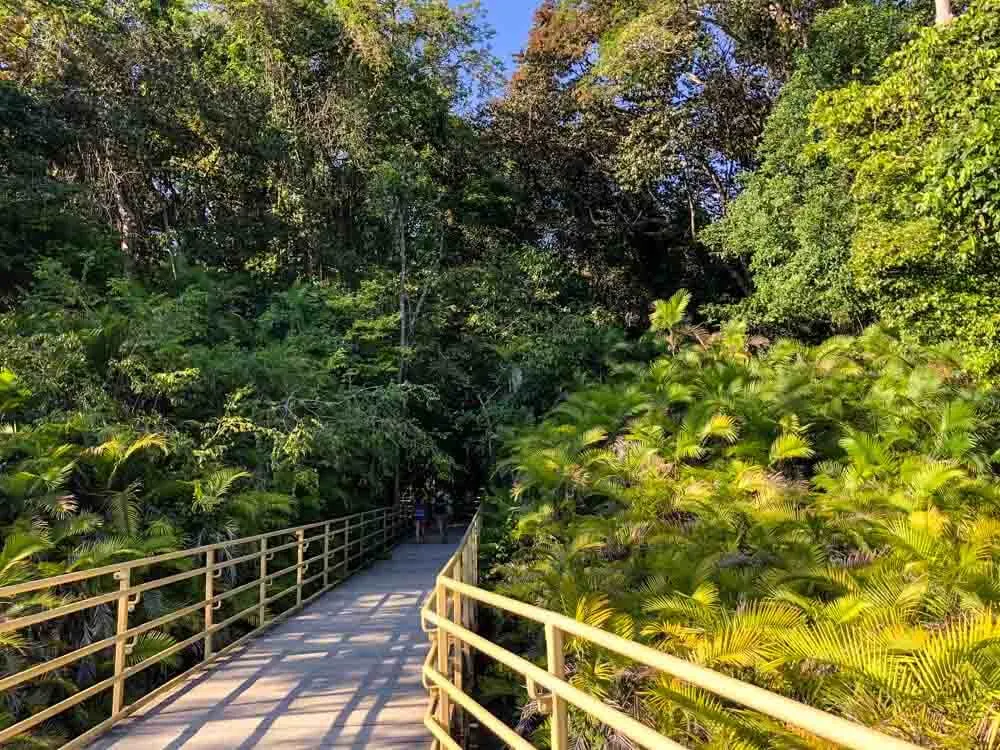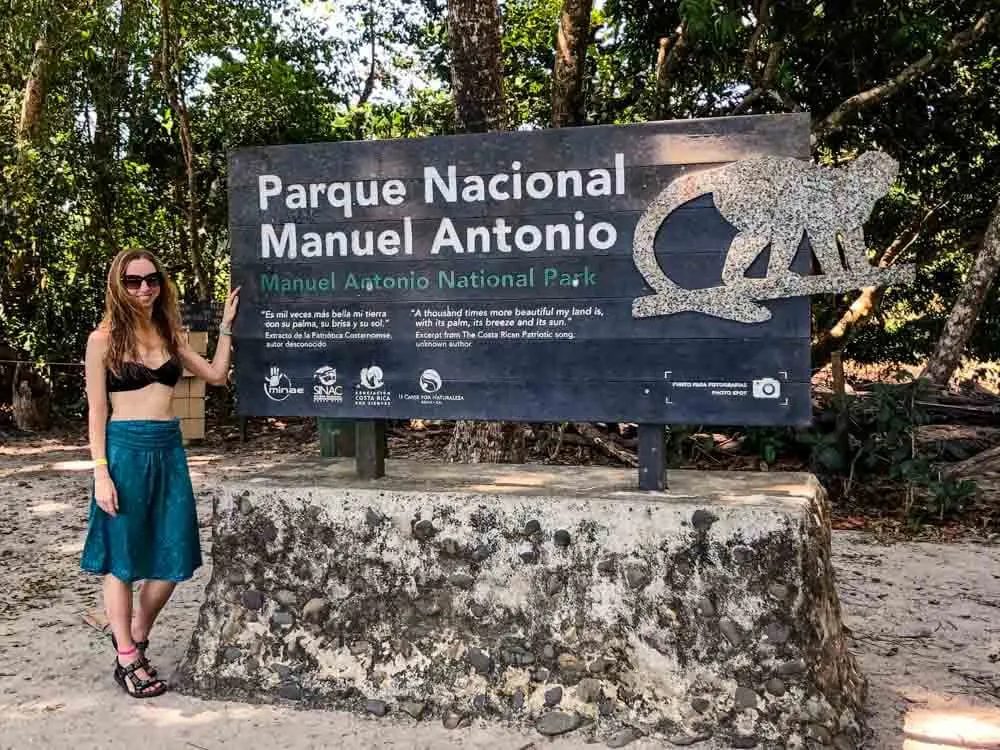 Tour options in Manuel Antonio Park
This 3-hour tour of the national park is the best-rated one. You can also come on a day trip from Jaco or San José.
Accommodation near Manuel Antonio National Park
Quepos is the closest town to Manuel Antonio Park and it's a nice one to stay in too, especially for its beautiful seaside sunsets. We booked Hotel Le Priss and it was awesome, just the wifi didn't really work. There's even a pool on the top floor.
Cahuita National Park
Parque Nacional Cahuita
The whole village of Cahuita and the national park that lies right there are so lovely. Definitely one of the top destinations in Costa Rica.
It helped that only a 5-minute walk into the park, we came across a sloth hanging so low we could take close-up photos of him/her.
Cahuita National Park extends along the Caribbean coast in a noodle shape. The paths going through the park take you through the tropical rainforest and on the beach as well. Oftentimes you can choose. The longest you can walk is 8.3 km (5 miles) to the end of the park.
I found the rough beach incredibly beautiful. The weather was acting up when we visited and the dramatic clouds only added to the experience.
White sand, palm trees and pieces of wood scattered around, seashells, mangroves… This beach is as alive as it can be.
Raccoons wander about freely and scout for things to eat. Capuchin monkeys can be often seen too. There are many different birds including pelicans.
Cahuita NP is one of the best places to see wildlife in Costa Rica.
A large coral reef forms part of the marine national park and, weather permitting, you can even go snorkel in the area. Additionally, boat trips are available that'll take you along the coast to see some cliffs.
Due to the weather, we didn't do any of the water activities, but still enjoyed Cahuita NP immensely.
Outside the national park, but still in Cahuita, you can also admire a black sand beach. Called simply Playa Negra (Black Beach), this large beach features relatively strong currents and is good for surfing. If you enjoy jumping in waves, you'll have a lot of fun. Swimming is not really possible, though.
Tour options in Cahuita NP
Most day tours to Cahuita NP start in Puerto Limón and take you along the canals as well. This one includes Puerto Limon's city highlights while this one focuses on sloth-spotting.
Accommodation in Cahuita
As you see from the tour options, you can just take a day trip to Cahuita, but it's such a pretty place to be that I highly recommend you spend a night or two in Cahuita. We stayed at Cabinas Arrecife and loved it. It's right on the shore and you can have breakfast with the view of the ocean.
Tortuguero National Park
Parque Nacional Tortuguero
Oh, Tortuguero… I fell in love. The small area that Tortuguero comprises can be found in the Northeast of Costa Rica near the border with Nicaragua.
It's a piece of paradise. Long beaches with dark volcanic sand and wild waves provide the best environment for turtles to lay their eggs. That's how the area got its name too.
To me, Tortuguero is one of the most beautiful places in Costa Rica.
Swimming can't really be done due to the waves and strong currents, but taking a quick dip fighting the daring waves is actually a lot of fun.
The whole village of Tortuguero is full of little restaurants and shops. There's a turtle conservancy center, which you can pay a visit to in order to learn all about turtles, their life cycle, and the local conservation efforts.
If you still long for a forest walk, there's a 2 km (1.2 miles) long trail leading through Tortuguero's forested area.
Since Tortuguero is not easily accessible, to get there you need to either fly or take a boat ride through Tortuguero's canals.
The closer port in La Pavona is just an hour away by boat, while the further boat terminal in Moín is nearly 4 hours away.
It's a long ride but one during which you can see incredible sceneries along the canal, as well as quite many animals. We spotted several sloths, caimans, monkeys, turtles, iguanas, and countless types of birds.
Tour options in Tortuguero
Most tours to Tortuguero are just day trips – such as this one. Tortuguero Canals can also be explored from Puerto Limón with a combined visit to Cahuita – see the tours here.
Accommodation in Tortuguero
If you can fit it into your itinerary, I think it's well worth spending at least one night in Tortuguero. You'll get to enjoy it without the day-trippers and the beach is just at its most serene early in the morning.
We stayed for 2 nights at Hotel Icaco in simple rooms. It was only a few steps to the beach and you could even chill in hammocks. Plus, they have the cutest puppy named Chuflas.
Did these beautiful places in Costa Rica inspire you enough to visit? I certainly hope so. In fact, I do plan to go back myself one day. It's not often you come across such a paradise on Earth like Costa Rica.
And btw. if you're looking for a great resource on all things Costa Rica, check out the blog My Tan Feet packed with up-to-date local travel info.