Florida is famed for its beautiful beaches, marine life, offshore islands, exciting cities, and tropical climate. Vacationers might, however, be surprised to learn that there are some really cool Airbnbs in Florida.
The Sunshine State offers travelers some one-off properties – truly unique places to stay in Florida that include a quirky treehouse, some tiny homes, an over-water suite, a houseboat, and even an open-air farm glamping experience.
These are some super cool places to stay in Florida, so why not check out the following list for some vacation inspiration? Almost every unique Airbnb in Florida that's listed here is run by a Superhost, so you can be confident of being in a safe and experienced pair of hands.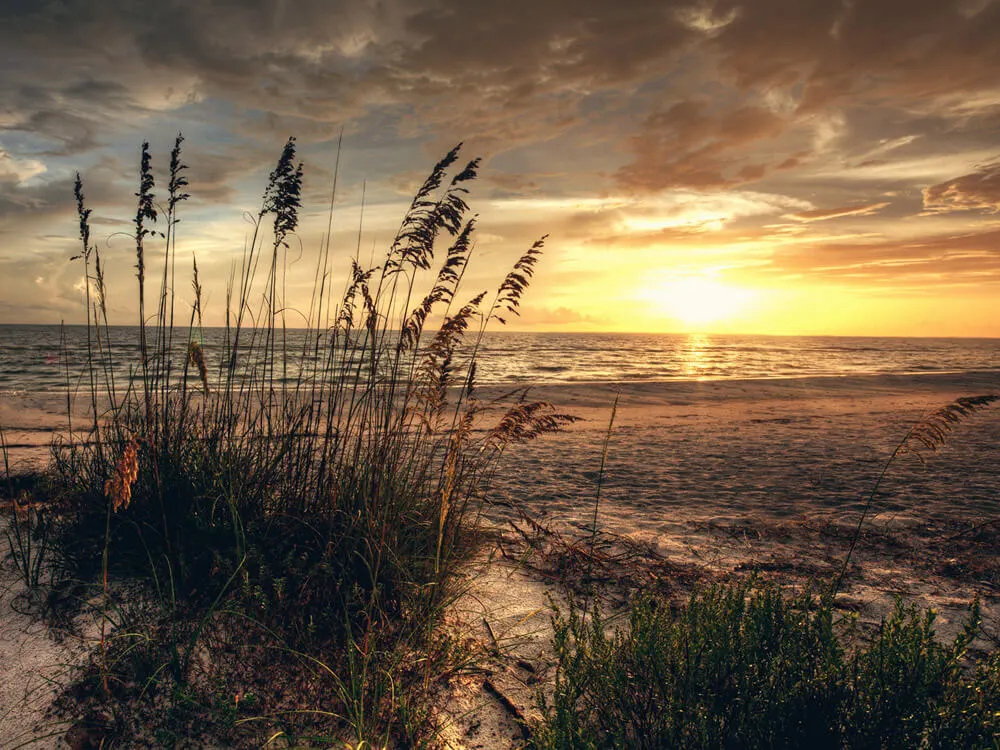 Overview of Cool Airbnbs in Florida
These places to stay are just the coolest. They're all over Florida and in beautiful and unique surroundings. They are all worth traveling for!
For a map of all these unique Florida Airbnbs, scroll to the end of this post.
The following Airbnbs are ordered by their price, from the most expensive per night to the cheapest (at the time of writing).
The Treehouse at Danville, Geneva
This treehouse is surely one of the coolest Airbnbs in Florida – it not in the entire United States.
It comprises an 18-foot yurt that is positioned at 15 feet above the ground, between two huge oaks.
Occupying a five-acre plot, the property even has an elevator (!) to transport you up to the treehouse, which is disguised as a large tree trunk. Feel free to bring that heavy suitcase even to this treehouse. 😉
The accent lighting within gives the appearance of a starlit night, while large, panoramic windows give scenic views over the surrounding oak and magnolia trees.
Modern conveniences like air-conditioning, a shower, and a proper toilet ensure a comfortable stay.
There is also a Queen bed, flatscreen TV with Amazon and Netflix, fast WiFi, full bath, and a kitchenette with a mini-fridge, microwave, and a sink.
Outdoors, there are some superb facilities to ensure a memorable stay, including a gas fireplace, BBQ, and seating on the yurt deck.
At ground level, there is a fire pit, tiki hut, and tree trunk seating. The mid-deck has a hot tub and double outdoor shower, and the upper deck a swing seat and table.
The treehouse can accommodate two adults, and the Superhost owners of one of the most unique Florida vacation rentals provide a golf cart for guests' use during their stay.
Amazing, right?
The Tiki Suite, Key West
Anyone interested in floating homes for rent in Florida should check out the Tiki Suite.
Its owners may well be right when they say it will soon be 'a Key West icon' – they have taken great care to combine the best of boat living with home comforts to create one of the most unique stays in Florida.
Outside, the over-water deck with thatched roof provides protection from the sun and rain. Snorkeling equipment and stand-up paddleboards are provided as well as a hammock.
Guests may spot various species of birds plus sea life including dolphins, manatees, and stingrays.
Inside the suite, a vaulted ceiling and polished hardwood floors add a feeling of space, while Alexa-controlled lighting, a King-sized bed, and a K-Cup coffee machine provide little moments of luxury while living over the water.
Perfect for a couple, this romantic getaway provides the vacation experience of a lifetime. Not exaggerating!
Poolside Log Cabin in Largo
Located close to Largo's beaches, this log cabin also provides its guests with unique vacations in Florida.
It is positioned on a very peaceful road, on a Fell Pony farm with convenient access to downtown St Petersburg, restaurants, and beaches.
Peacocks and chickens are strutting about the two-acre site, and the large, curving swimming pool provides guests with a great place to cool off. Literally, since it's not heated.
This property can accommodate up to four people seeking unique Florida rentals. It has cable TV, a patio with BBQ, WiFi, and a full kitchen as well as air conditioning, heating, and a cozy fireplace.
Modern Houseboat in Stuart
Vacationers considering Airbnb boats in Florida should definitely take a look at this houseboat.
Anchored at the Sunset Bay Marina in Stuart, it is located close to the great range of eateries and shops downtown.
Two bicycles are provided with the property, so you can ride six miles to the lovely beaches of Martin County. There are a coffee shop and a restaurant right there at the marina, too.
Book a houseboat and you can experience the cozy ambiance of one of the most unique Airbnbs in Florida.
This one has a TV, air conditioning and heating, WiFi, and workspace. There is a fully equipped kitchen inside and a BBQ grill outside, making a self-catering holiday simple.
This houseboat in Stuart, Florida sleeps up to two guests.
Surf Shack on Treasure Island
Step into this surf shack and you could be forgiven for thinking you're in South East Asia – but this property is actually perfect for anyone looking for tiny house rentals in Florida.
Decorated in a Balinese style, this small but perfectly formed holiday home is just steps from beautiful Sunset Beach.
This fun-filled, arty area is popular with anyone who loves the surf lifestyle. Beach bars, restaurants, and even a craft brewery are just moments away.
A cozy corner sofa, well-equipped kitchen, and TV within are perfect for relaxing evenings.
Outside, guests will find an outdoor shower, BBQ, and yard with a picnic table for al fresco dining and socializing.
Made for two – or a sociable solo traveler – this is one of those unique Florida getaways that makes for a perfect vacation in the Sunshine state.
Lakefront Tiny House in Orlando
Are you searching for a cool and cozy Airbnb? This tiny house in Florida should fit the bill.
Its proportions may be small, but this one-off property offers a big experience. From the kitchen area, a roll-up garage door fitted with windows opens out onto a covered, lakeside patio.
A vacation in this tiny home allows guests to kayak, fish, or paddle on the lake, using equipment thoughtfully provided free of charge by the Airbnb Superhost owner.
Despite the diminutive dimensions, the tiny lakefront house offers a range of amenities.
There is heating, air conditioning, and a fireplace, plus a washing machine and dryer. The kitchen even has a dishwasher, and outside there is a BBQ for guests' use.
Free parking, direct lake access, and a private entrance make this the ideal hideaway for a solo traveler or a couple.
Barn at an Equestrian Center in Middleburg
This private loft is another prime example of a property worth traveling for. Located above a barn, it is one of the most unique vacation rentals that Florida has to offer.
The space can be found at the Grand Landings Equestrian Center, on the edge of Jacksonville.
It's heaven for fans of horses, as guests can take a ride out on the owner's animals if they wish.
A daybed and an extra pull-out bed, as well as the main bedroom, can accommodate four in comfort.
The loft is fully equipped with a TV, high-speed WiFi, games console, washing machine and dryer, air conditioning, and heating.
The full kitchen has a dishwasher and coffee maker, and there is free parking as well as plenty of outdoor space to enjoy.
Beyond the barn, guests can also visit the local beaches and natural springs of the area.
ManCave in Geneva
When it comes to unique houses in Florida they don't come much more different than this. The Geneva 'ManCave' is housed in an airplane hangar!
If that's not quite quirky enough for you, then check out the interior, featuring what anyone would describe as an eclectic mix of artifacts. There is even a bar.
In terms of equipment, there is a Queen bed in the loft and a wood-burning stove. Basic kitchen kit includes a microwave, refrigerator, and a gas grill. Air conditioning, WiFi, and satellite TV are also provided.
Outside, there are goats, chickens, and alpacas roaming the grounds, and guests can take the opportunity to milk a goat or take a horse ride during their stay.
The man cave can accommodate up to three guests, and the host will provide a cot if required.
Glamping in Live Oak
Anyone looking for truly unique Florida vacations should check out the experience offered by this farm stay Airbnb.
It consists of a King bed on a private porch in the open air, surrounded by curtains and louver doors.
Various facilities shared with other glampers and the farming family ensure a comfortable stay. These include a large BBQ grill and fire pit in the gardens, plus cooking and coffee-making areas. There is also a hot shower and a hot tub for guest use.
Encounters with wild animals and livestock are all part of this organic farm stay. You can expect to see frogs, chickens, owls, geese, and horses, as well as hearing coyotes in the distance at night.
A stay here is all about nature – seeing the starlit sky from the open-air bed, and wandering the trails, grassy areas, and garden.
This Florida farm stay experience is ideal for a couple who want to experience farm life and open-air glamping first hand.
Tiny House in Melbourne
When it comes to Florida vacations, rentals like this tiny house in the Melbourne area are very popular. This particular one is like a miniature barn on small wheels, situated among oak and orange trees.
Despite its size, this tiny vacation home offers as many facilities as many larger Airbnbs in Florida.
The kitchen is equipped with a Keurig coffee machine, full-size refrigerator, gas hob, oven, microwave, and sink, and the bathroom has a shower enclosed by a glass screen.
Guests have full use of the outside space around the tiny house and sleep in the loft by night.
The property even has a washer and dryer, cable TV, air conditioning, heating, WiFi, and workspace.
Ideal for two, this one-off Airbnb in Melbourne offers guests the chance to experience tiny house living for a reasonable price.
Map of Cool Airbnbs in Florida
Here are all the amazing places to stay shown on a map. The map is an image, click through to Airbnb for the fully interactive version.
So which is the coolest Airbnb in Florida – for you? For couples seeking Airbnbs in Florida on the beach, it might have to be the Balinese style Surf Shack by Sunset Beach.
Those with a horse-mad teen may prefer Equestrian Centre loft living, while there are several tiny house options listed here too.
Then there's the glamping farm stay, overwater suite, poolside log cabin, houseboat, airplane hangar, and even a treehouse.
Pin this post for later: