This post is also available in:
Čeština
Brandnertal Austria may be unknown to travelers far and wide, but local adventurers have long been aware of the beauty of this region.
The stunning alpine character has given Brandnertal a few aces up its sleeve and it's guaranteed to wow you.
The views – from the valley up to the peaks and from the mountains down to the gorge – are stunning. You'll be spinning your head around like an owl, trying to take in all the beauty.
From early morning, cows roam the incredibly steep pastures and fill the air with the ringing of their bells. You could hardly imagine more idyllic alpine scenery.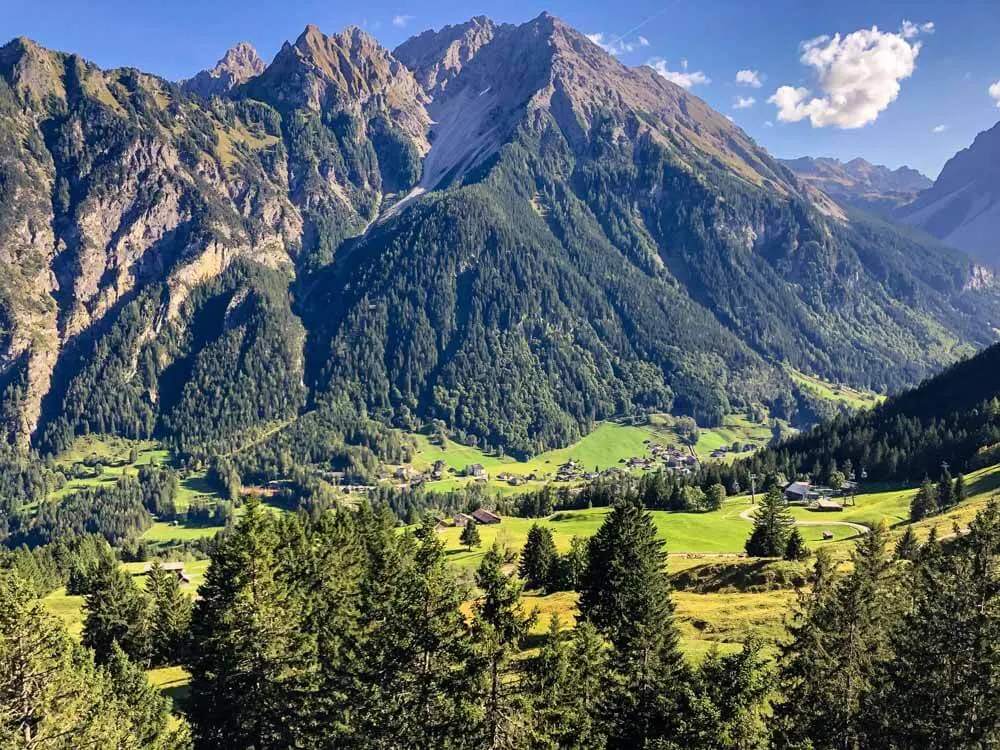 Brandnertal essentially means Brand village valley and it encompasses the picturesque village of Brand and Bürserberg hemmed in by sky-high mountains on both its sides.
You'll find Brandnertal in the south of Vorarlberg, Austria's westernmost province, which borders Switzerland, Lichtenstein, and Germany.
What's so amazing about the region is how diverse a variety of activities there are to do in such a small area. It's ideal for a weekend getaway, but you'll be happier if you choose to stay longer.
I visited in autumn (September), however, the information in this post is relevant from spring to autumn.
You can also watch my 3-minute video about Brandnertal. 😊
What is there to do in Brandnertal? Here are the best picks:
Best Sight in Brandnertal: Lünersee
If the valley, located about 1,300 meters above sea level, feels a little too low to your liking, ascend 600 meters up to the most gorgeous spot in the area: Lünersee (1,970 m).
Seeing the beautiful turquoise water of the lake will knock your socks off. It's seriously that breathtaking.
In 2019, even the Austrian TV station ORF proclaimed Lünersee as the prettiest place in Austria.
Today's Lünersee is a dam for a hydroelectric power plant. Its origin, however, lies in a glacial lake.
Majestic peaks line the picturesque Lünersee on all sides. The pyramid-shaped Schesaplana peak of the Rätikon mountain range is with its 2,964 m (9,725 ft) the highest of them all.
There are several hiking paths and you can mount to a lot of the peaks you see around you including Schesaplana. You'll find a great overview of hikes from Lünersee (incl. a map) here. From October on, you're advised to pay attention to the snow conditions (a webcam is here).
The most simple activity you can do is to walk around the lake on an easy circular trail, which takes about an hour and a half to finish and is easy for any family member unless there's a snow cover. In such a case it's recommended only for experienced hikers.
I only did the circular hike around Lünersee but couldn't stop staring in all directions in absolute awe.
I spent at least half of the time looking up. I just couldn't help it. The barren grey peaks majestically rise from the friendlier-looking grass-covered hills like they're bracing for something. While the sun may make them look benign, their sharp shapes create ominous shadows on the lake's surface.
Rocks and boulders have broken off and dotted the walking path, as an example of how rough yet fragile nature can be.
And then there are the necessary gazes towards the lake. Under the sunrays, it changes its color depending on what angle you observe it from. Sometimes the surface is as smooth as glass, other times gentle waves, ripples, and white water bring it to life along with an occasional trout splashing about.
The shoreline is unique too – since the water level keeps changing, it has created wrinkles in the rocks all along the edges, similar to how the salty shorelines of the Dead Sea look.
The path leads above the lake, with shores steeply sloping down. There's a spot that fishermen use, where you can walk to the lake surface and see from up close how perfectly clear the water is. Swimming is forbidden, though.
The area around the lake is rich with alpine flora that calls for frolicking. You can come across heather, mountain pine including the local endemic type of pine referred to as the Spirke (Pinus uncinata), various bushes, and alpine flowers.
Even though the enormous peaks look like they'd shelter you from anything, you may experience quite harsh winds. And from October on, snowfall is common.
A hut on the lake's shore was built in 1871. It's called Douglashütte after its builder Douglas. You can even spend the night at Douglashütte – they have a capacity of around 150 guests.
There's no need to spend the night, if you don't plan on doing much hiking in the area. For all day-trippers to the Lünersee, the Douglashütte serves as the best refreshment spot. The meals are delicious and you can even have a fillet of trout caught in the lake.
The hut stays open from May to October.
The cable car to Lünersee called Lünerseebahn runs from May to October. You can see up-to-date opening times here.
The Lünerseebahn relies on state-of-the-art engineering and was constructed in 2020. An older version has been operational since the 1950s when the power plant was established. The panoramic views and the steep incline make for an adrenaline-filled experience, especially on the way down.
Go on the Panorama Bahn
If you like gorgeous views (and who wouldn't?), the Panorama cable car is a must.
Since it doesn't actually originate in Brand, you need to take another cable car to reach it. 😁 Hop on the Dorfbahn from Brand center, near the Gemeindezentrum and Hotel Sarotla, and a short ride will take you to the entry point of the Panoramabahn.
But even the Dorfbahn offers magnificent views. You'll cruise close to the ground, yet above the treetops, and glide along the incredibly steep green hills where cows roam easily while managing not to roll down to the bottom.
If you take a stroll around the upper Dorfbahn station, you'll see not only the cows, but also some exposed landslides in between dense forests.
The Panorama cable car is the real cherry on the cake. Since it's all about the views, make sure you stand near the glass. The ride is incredibly scenic and you'll be able to admire the whole valley of Brandnertal.
Once at the top, called Burtscha, you won't see the most incredible views immediately. For that treat, you'll need to hike a little further.
Quite a few trails start at the Burtscha and if you have enough time, you can dedicate it to some pleasant hiking. An easy route leads to the top of the Palüdbahn on the outskirts of Brand. The hike is about 5.6 km long and should take about 2 hours.
Just like the Lünerseebahn, these cable cars also stay operational from May to October (and additionally during the winter season). Find updated information here.
In autumn, the last cable car ride departs at 4pm, and it's just at that time when the sun emanates a warm caring glow. The cows are mostly relaxing after eating all day, and you can just feel the peace of the day winding down.
Test Your Abilities at the Adventure Park
If you'd like an extra dose of adrenaline, head to the climbing park, a.k.a. Kletterpark Brandnertal.
You'll be equipped with a full-body safety harness and a helmet, shown a few instructions and off you go. There are four courses differing by their difficulty and height.
Start with the beginner level and work your way up to the difficult. Each of the routes is ended by a zip line and it's great fun.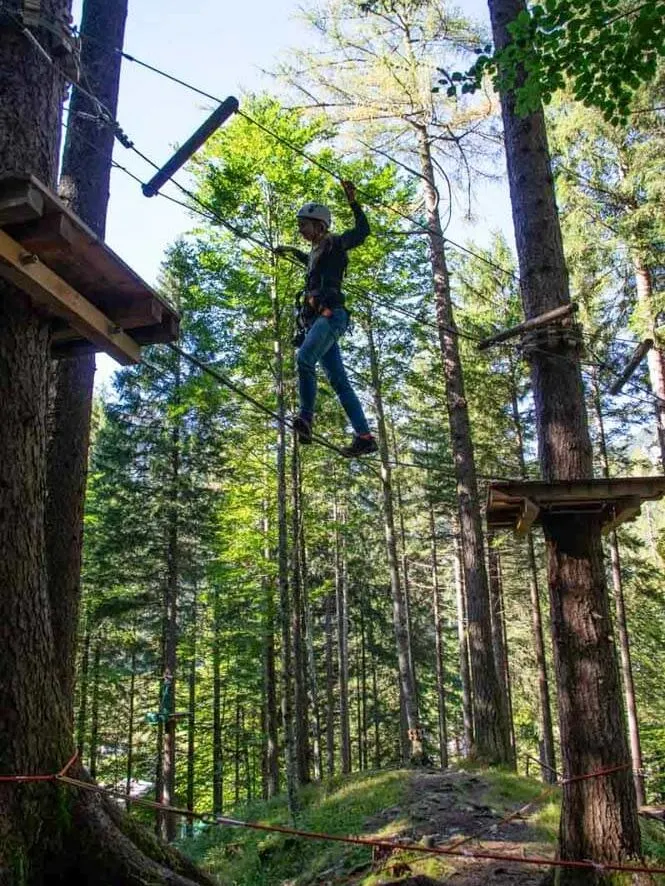 I thought I could skip the beginner course but it turned out to be way better to complete the levels one by one. I'm not sure what your adrenaline tolerance is, but mine's pretty low. 😅
Allow for 2-3 hours for the fun, otherwise, you might run short on time.
The park also has a special section for small children (age 4 and above).
Before you go, check the current opening times and pricing info. At the time of our visit at the end of September, we had the whole adventure park to ourselves, so it definitely pays to visit in autumn!
Hike, Hike, Hike..!
Hiking along the lush alpine pastures, admiring the breathtaking views of the peaks around you, as well as the valley below is an amazing experience… Brandnertal is just the most perfect hiking destination.
It is said there are around 400 km of marked hiking trails. Four hundred!
Most of them start at the top of a cable car station. You won't want to waste your energy by climbing the incredibly steep slopes.
Also, it helps to understand the trail marks since in Vorarlberg they are different from the rest of Austria:
A yellow one (white-yellow-white) stands for a simple tourist trail, typically the easiest one (e.g. the walk around Lünersee)
A red one (white-red-white) marks a mountain hiking path, and good footwear is necessary.
A blue mark (white-blue-white) signifies a steep alpine trail. It's recommended for experienced hikers only with no fear of heights.
While the area is covered densely in hiking paths of all levels, I quite liked the sound of the following three hikes that I found on a pinboard at Hotel Sarotla and then unearthed from the depths of the Alpenregion Vorarlberg tourism website.
Pamper Yourself
If you get to stay at Hotel Sarotla, like we did, you're in for a treat. A local family owns the modern hotel and they will make you feel very welcome and cared for.
The rooms themselves are beautiful and comfortable, but, above all, it's about the lovely staff who are always ready to tend to your needs.
The food at Hotel Sarotla is excellent. At breakfast, you even have the egg counter, where you can have your eggs done the exact way you like them. At dinner, there's always a choice of 3 main courses (incl. a vegetarian one) with extraordinary wine pairings.
For the ultimate relaxation and pampering, visit the wellness area. The adult wellness features saunas and a steam room. During our stay, little bowls of honey body peeling were provided to anybody wanting to exfoliate. :) You can also book various massages and facial treatments.
The family wellness area then provides a few saunas including an infrared sauna and a swimming pool. At the family spa, all amenities are made with children in mind, so you can feel safe taking your little ones to the sauna too since they're kept at a lower temperature.
Brand Village
Since you'll be based in Brand, the mountain village in the heart of Brandnertal, it pays to know about it too and explore it on foot since there are quite a few things to see too.
Brand has only 747 inhabitants, but thanks to tourists, the number of people rises by 2,000 in the busiest months.
The village stretches out for about 3 kilometers. Naturally, a church sits at its heart, with an adjacent museum and a community center. Close by the center you can see the oldest houses, which border patrols used to live in – they all have green shutters, so look around closely and try to pick them out.
Twelve Swiss families settled the village in the 14th century, after making a journey across the daring Rätikon mountain range. They called themselves the Walser, based on the name of the Swiss Canton they came from – Valais.
While they first lived in higher altitudes, they later descended into the valley. Walser settlers inhabited a number of villages not only in Austria but also in Lichtenstein and Northern Italy. You can read more about the Walser in this article. The unique local dialect owes its origin to the Walser settlement.
By the main road, just opposite the picturesque Romantik Hus, you'll find the Alte Säge, the Old Sawmill. Historic records indicate there was a sawmill in the village as early as the 1600s. Water was the main source of energy back then.
The origin of this establishment is from the early 1900s and you'll be able to recognize it by the watermill outside. Currently, the interior is occupied by a cute designer store selling handmade crafts and decorative items.
Watermills for milling flour were a normal occurrence too. Until the end of the 19th century, there were many types of grains cultivated in Brand, such as barley, rye, oats, flax, hemp, and potatoes. Unfortunately, their yields were rather mediocre. From the sixty farmers back then, nowadays only fifteen remain and none of them work on their farm full-time as it's not financially sustainable.
Brand's history includes some precarious moments too. In the 1920s a large swimming hall was located where today's natural pool Alvierbad can be found. Its popularity reached as far as Germany. "Scandalous" women from Berlin wearing bikinis would go there for recreation. At the time these women were considered quite a threat to the innocent local boys because they could easily corrupt them, of course. So the authorities had a fence built around the area as a preventive measure to keep their youth pure and honorable.
Other Things to Do in Brand and Brandnertal
But there's more to do in Brandnertal. Here are a few ideas that I didn't get to try personally:
Go Horse Riding
You can go horseback riding in Brand. Sporthotel Beck keeps a couple of horses and one can enjoy any riding adventure imaginable there.
A friend of mine ended up going riding and she absolutely loved it. They have a special breed of horses with beautiful blonde manes.
Find more info here.
Golfing, Anyone?
If Alpine golfing sounds like a good idea to you, you're in luck. Right by the center of Brand, just off the main road, there's a beautiful 18-hole golfing course featuring many natural obstacles.
Golfers, refer to this page (in German only).
Swim in a Natural Swimming Pool
During my visit, the swimming pool of Brand called Alvierbad was already closed, even though it typically closes only at the end of September.
Still, if you happen to catch it while it's open and if the weather permits, it's a wonderful activity to do right at the center of the village.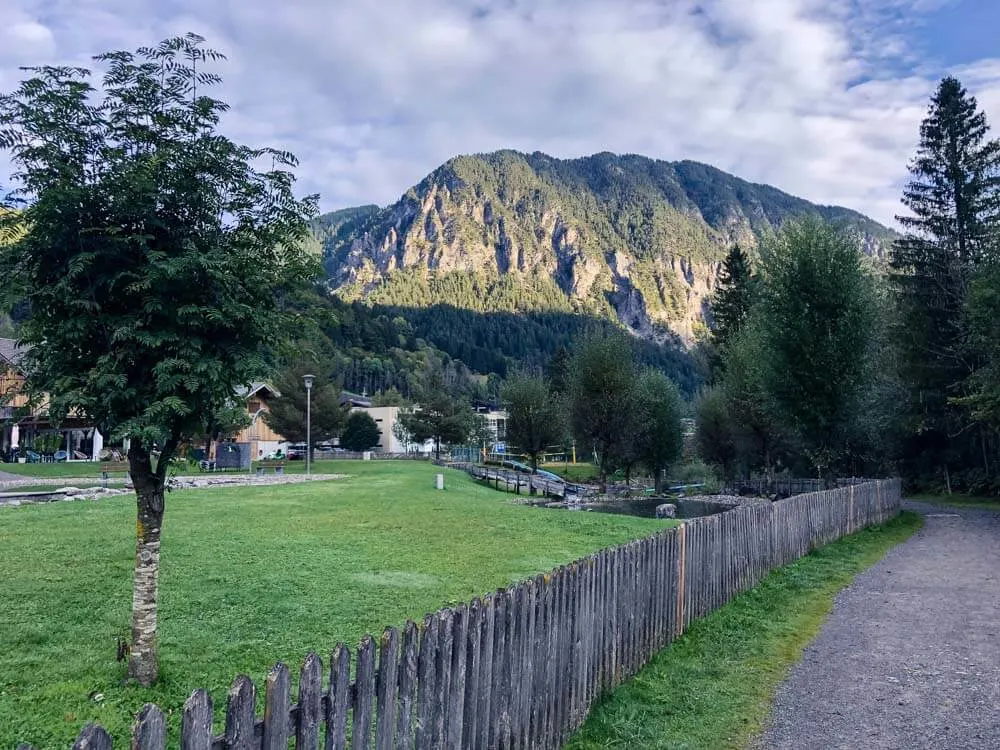 The entrance is free if you have a Brandnertal Guest card (more on the card below). Find more info here.
Enjoy the Thrill of Mountain Biking
You can even take your mountain bike for a ride in Brandnertal. Many of Brand's cable cars are ready to transport you with your bike up to the mountains so that you're free to enjoy a thrilling downhill ride or let the adrenaline pump on one of the many trails.
See an overview of bike trails here.
Do Some Real Climbing
There are many climbing spots in the area, apparently for all levels of climbers. Even Lünersee has a few climbing routes and via ferrata (up to D difficulty). Find more information here.
Practicalities of Visiting Brandnertal Austria
If you've been fully inspired and can't wait to visit Brandnertal, here's how to go about doing that:
Getting Around Brandnertal
Brand and its surroundings are well covered with all the transport infrastructure you might need. So, if you'd like to leave the car at home, you can comfortably do so.
Bus no. 81 goes through Brand several times a day and connects all the main points of the valley. Cable cars then take you up into the mountains.
To plan public transport connections, simply use the app "cleVVVer mobil", which is available in English too.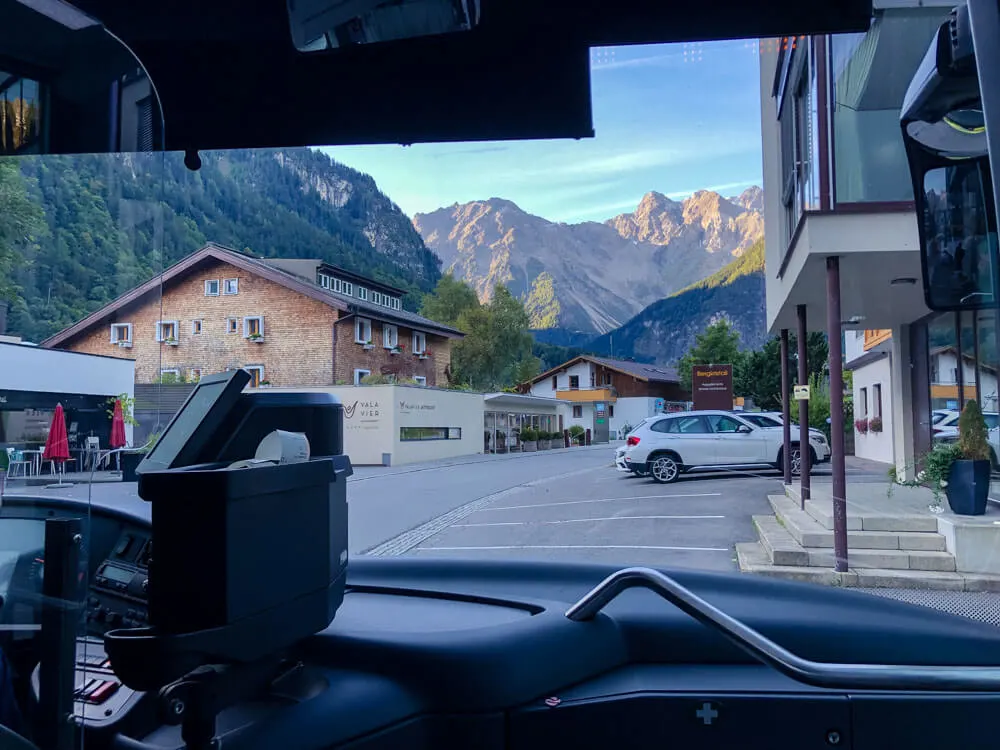 If you're staying at a local hotel, you're eligible for a guest card that'll make the transportation free for you. A new pilot project, the Gästekarte Premium, covers all types of transport including cable cars if you stay in one of the partner accommodations of the Gästekarte Premium.
You can even get your guest card in advance and arrive by free public transport from the border stops. You need to fill in a form and state your booked accommodation here and then use an app called Clara.
Getting to Brandnertal
Whether you prefer flying or you're close enough to travel by train, you need to make your way to Zurich, Switzerland first. Zurich is the main transportation hub in the area. Innsbruck Airport in Austria is located a little further away and can be an option too.
You can then easily take a train to Bludenz (via Feldkirch), the biggest town near Brand and Brandnertal. Then it's just a short 30-minute ride by bus to Brand itself.
Going by car is convenient too if you're in Europe. Just bear in mind that some roads are especially narrow and full of serpentines.
Where to Stay in Brandnertal
I've stayed at the Hotel Sarotla. The 4-star hotel scores high on all the important points – location, comfort, food, and hospitality. I can highly recommend it!
Check out the website of the Sarotla Hotel, and read its reviews on TripAdvisor.
I hope you've enjoyed the post as much as I enjoyed writing it. I wrote it not just with you in mind, but also for my future use because I need to go back to Brandnertal and spend some more time there. I fell in love with the valley and the mountains and can't wait to return and do some real hiking.
Do let me know what you think of Brandnertal, whether you've visited it or if it reminded you of another place in Austria that's similarly beautiful.
Veronika of TravelGeekery explored Brandnertal on a sponsored trip with the Brandnertal Tourism Board and Vorarlberg Tourism Board as part of the Propel Conference in Vorarlberg. All opinions are her own and unbiased.