This post is also available in:
Čeština
I've been lucky enough to call Koh Phangan my winter home. At least in the winter of 2019/2020.
In this time I've researched and tested all the things to do in Koh Phangan, even though for my daily life sitting at the laptop and staring at sunsets would quite suffice. Hey, I'm not complaining!
Since my parents will be visiting soon, I've been even more eager to scout ALL the Koh Phangan things to do, in order to make their first trip out of Europe as memorable as can be.
What is Koh Phangan island like?
To many, it's the smell of sweaty painted bodies and the deafening music blasting from speakers at the Full Moon party.
Others have found a unique spiritual connection practicing yoga and meditation. And some travel to Koh Phangan to make it their ideal digital nomad base for a while.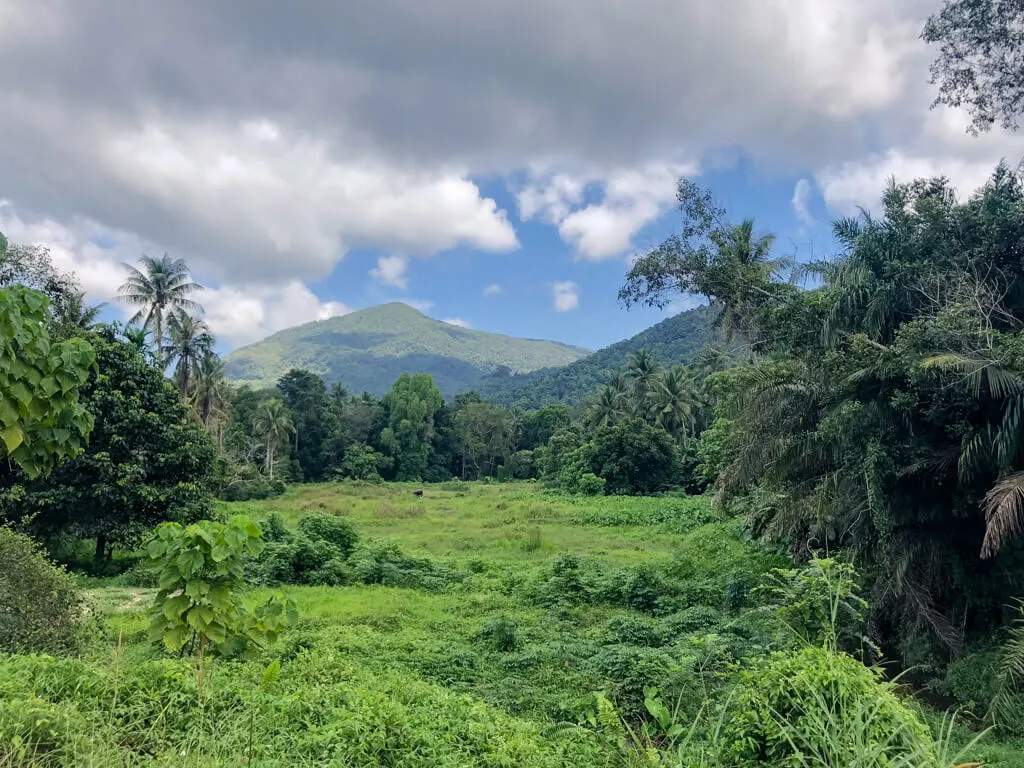 Where is Koh Phangan?
In Thailand, Koh Phangan Island lies off the eastern coast of the mainland, in the Gulf of Thailand, which is a part of the South China Sea.
It officially belongs to the Surat Thani municipality. So the full geographical positioning is Ko Phangan Surat Thani Thailand.
The Islands near Koh Phangan include the larger Koh Samui to the South and the smaller Koh Tao to the North.
Koh Phangan location makes it uniquely less susceptible to typhoons and tsunamis, which wrecked the Western islands badly in 2004.
How to Get to Koh Phangan
The fastest route would be to fly to the nearest airport in Koh Samui and take a ferry from there. However, it's typically the priciest option.
Most people, who stay on the island long-term, fly in to Surat Thani, the closest city with an airport on the mainland, and then take a ferry.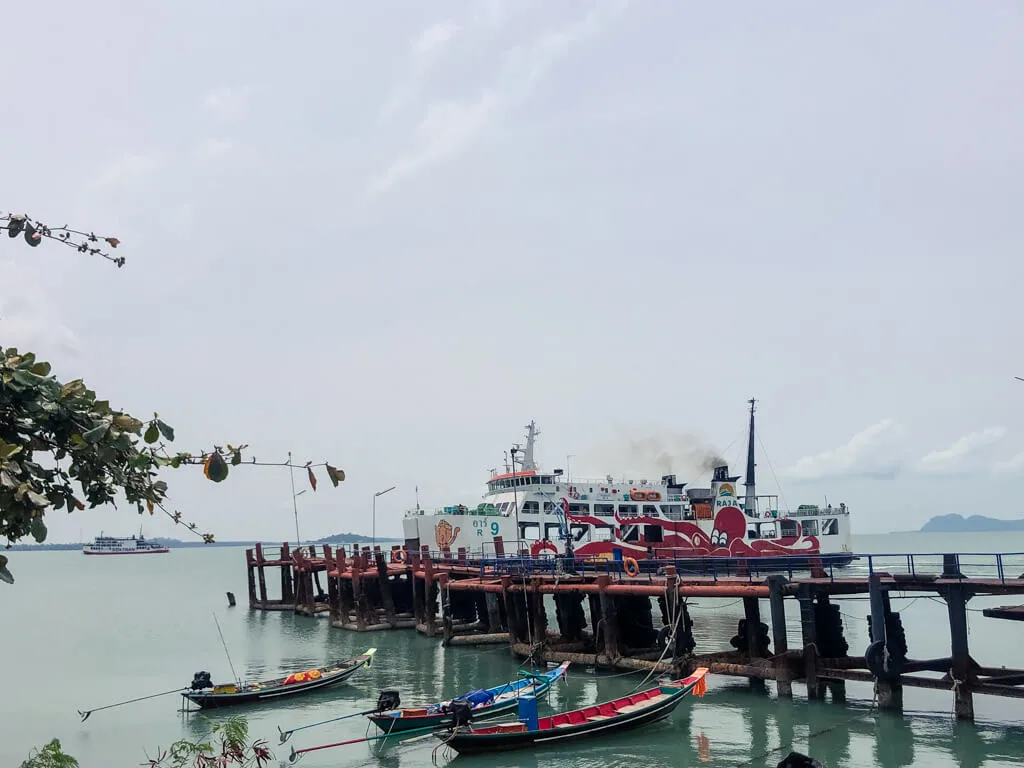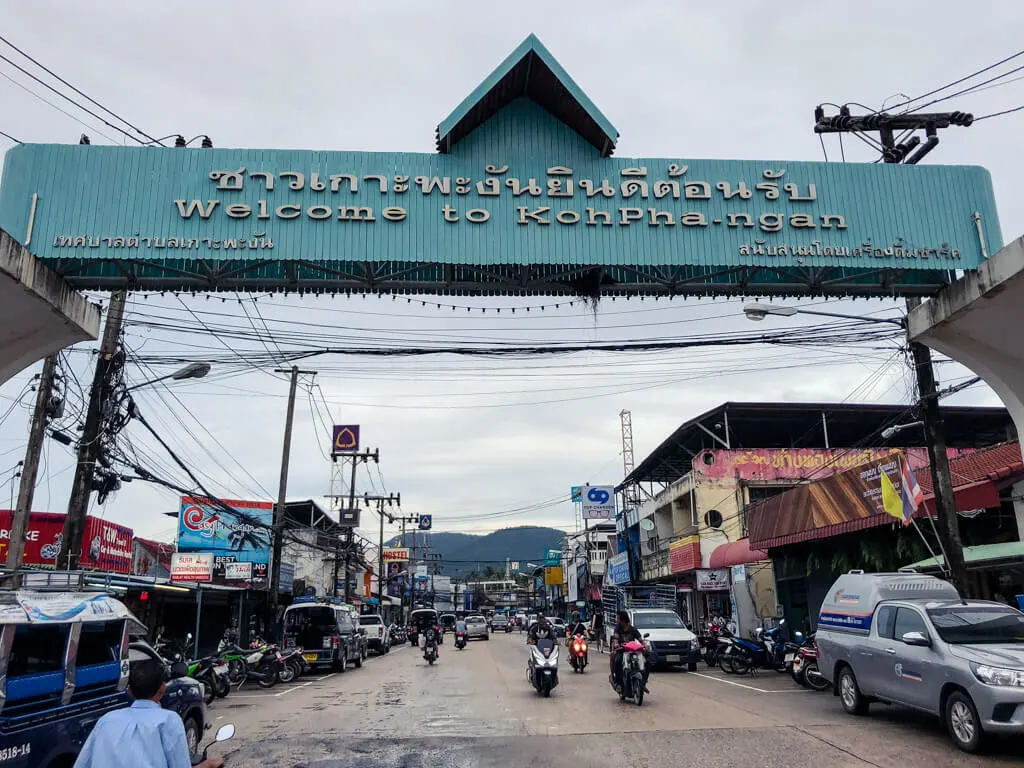 Where to Stay in Koh Phangan
I wrote a separate article on that, in which I cover the highest rated accommodation options on the island from the lavish luxury to mid-range comfort to low-cost huts.
See for yourself: Best Koh Phangan Resorts and Hotels for All Budgets
The hotels and resorts mentioned in the article offer the best comfort for a fraction of the price you'd pay outside Southeast Asia.
Best Things to Do in Koh Phangan
If you're wondering about what to do in Koh Phangan, I have you covered! Here you go:
1. Watch sunsets
The whole western coast of Koh Phangan offers stunning sunsets, almost daily! I usually enjoy watching them from the beach. The western beaches from Haad Yao till Hin Kong are all great for sunset watching.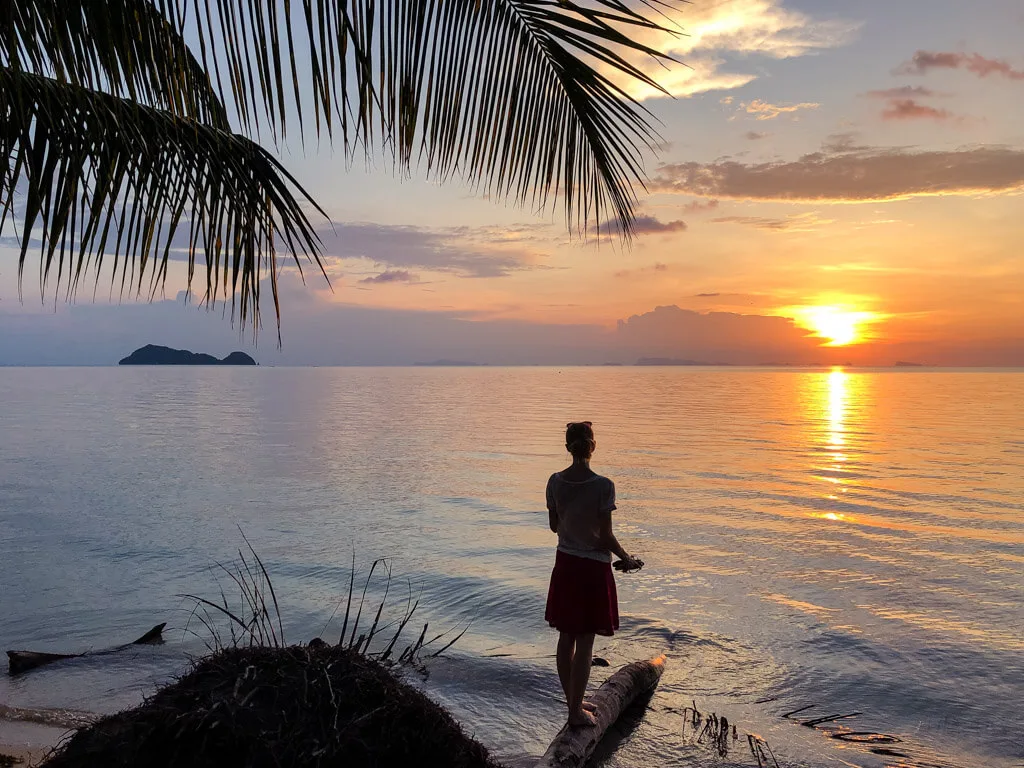 But the paradise island also offers a plethora of cool sunset bars. Some of the best ones for watching an amazing Koh Phangan sunset include:
Amsterdam Bar – a popular hangout spot and bar complete with 2 floors of viewing decks, and a pool.
Secret Mountain – a restaurant and a bar with a pool with views that are hard to beat.
Top Rock Bar – 150 steps to walk up to the bar, but a stunning view makes it well worth it.
Three Sixty Bar – a unique bar high atop a hill offering, you guessed it, 360°
Blue Rama – adult-only pool bar where you can watch the sun set from their little infinity pool.
A proper sunset viewing certainly belongs on your bucket list of what to see in Koh Phangan (and what to photograph).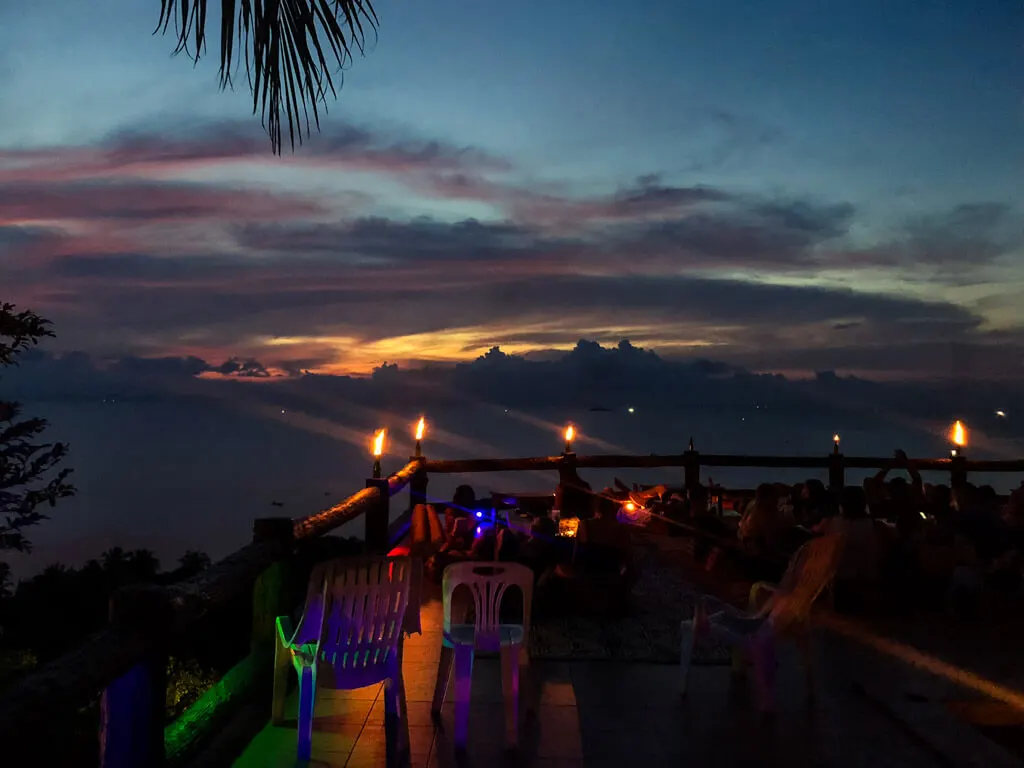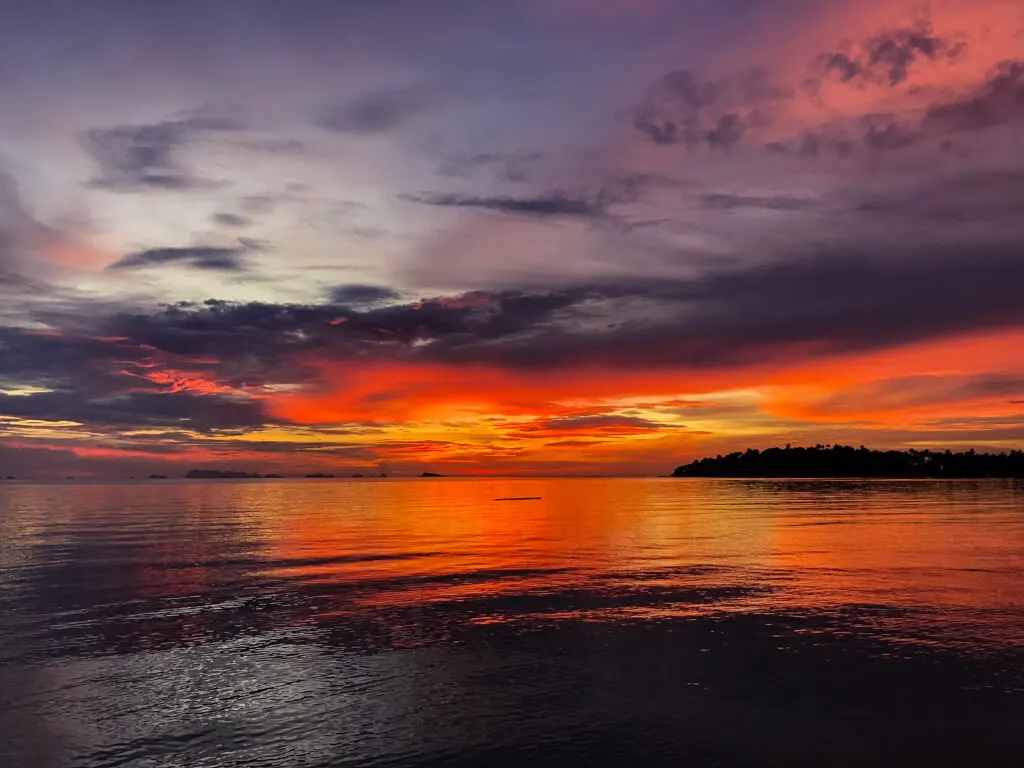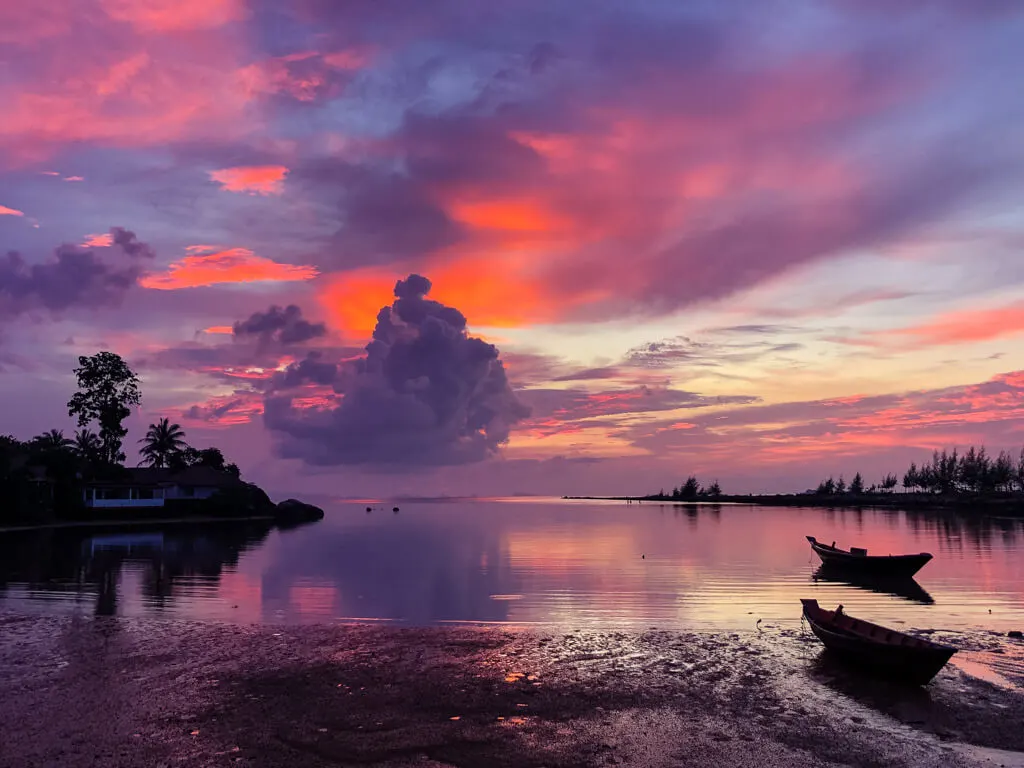 2. Immerse Yourself in Yoga
Yoga has become the main reason for many to visit Koh Phangan. If you just want to practice yoga, there are many classes to choose from. However, full-on yoga immersion courses and retreats are the main deal here.
If you plan to become a yoga teacher, you can count on an abundance of options. Just be aware that teaching on the island is a saturated career path. It's said there's more yoga teachers than students in Koh Phangan.
Still, if yoga plays a powerful role in your life, you'll find many like-minded people to hang out with. Make sure to book your accommodation in Sri Thanu, the yoga center of the island.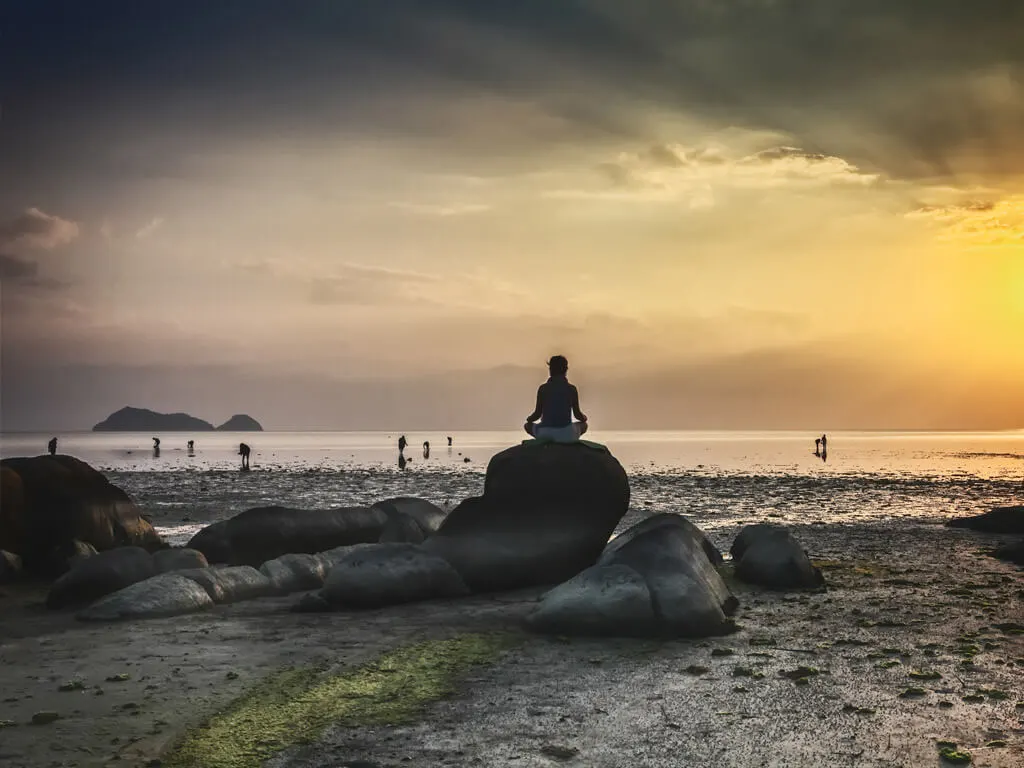 3. Party Like There's No Tomorrow
The Full Moon parties are what made Koh Phangan famous. Thus Haad Rin, the Full Moon party location, becomes the clear destination of where to go in Koh Phangan for most people.
Every month when the moon grows to its largest size, swarms of young party-goers rush to Koh Phangan to have the night of their life. Bodypaint sales shoot up, many more inexperienced scooter riders crowd the roads and the tourist numbers triple in size for a few days.
For long-term dwellers on the island it's a good time to stay at home and not travel anywhere.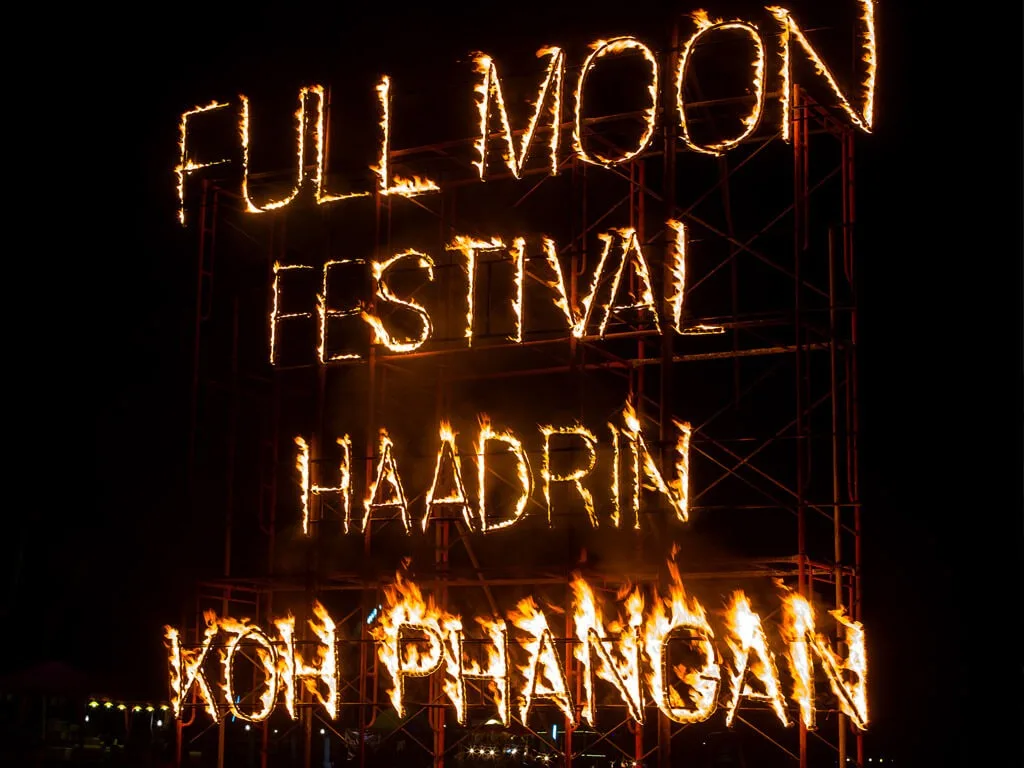 Apart from Full Moon, there are also Half Moon and Black Moon parties and numerous other ones, like a Waterfall party, a Jungle party…
A multitude of parties are also scheduled nightly, right before and after the Full Moon date, so that the Full Moon is not people's only Koh Phangan party that's available. :D
In addition, most bars get lively on Friday and Saturday night, especially at what's called "The Strip" along the Baan Tai Road between Thong Sala and Haad Rin.
4. Go Vegan
Have you ever considered going vegan? There can hardly be a better place to at least try it than Koh Phangan.
Young coconuts sell on every corner and vegan restaurants abound. Even local Thai restaurants often have vegan options.
Vegan cheese and chocolate can easily be found on Koh Phangan too. Try e.g. Deli Devi on the Middle Road.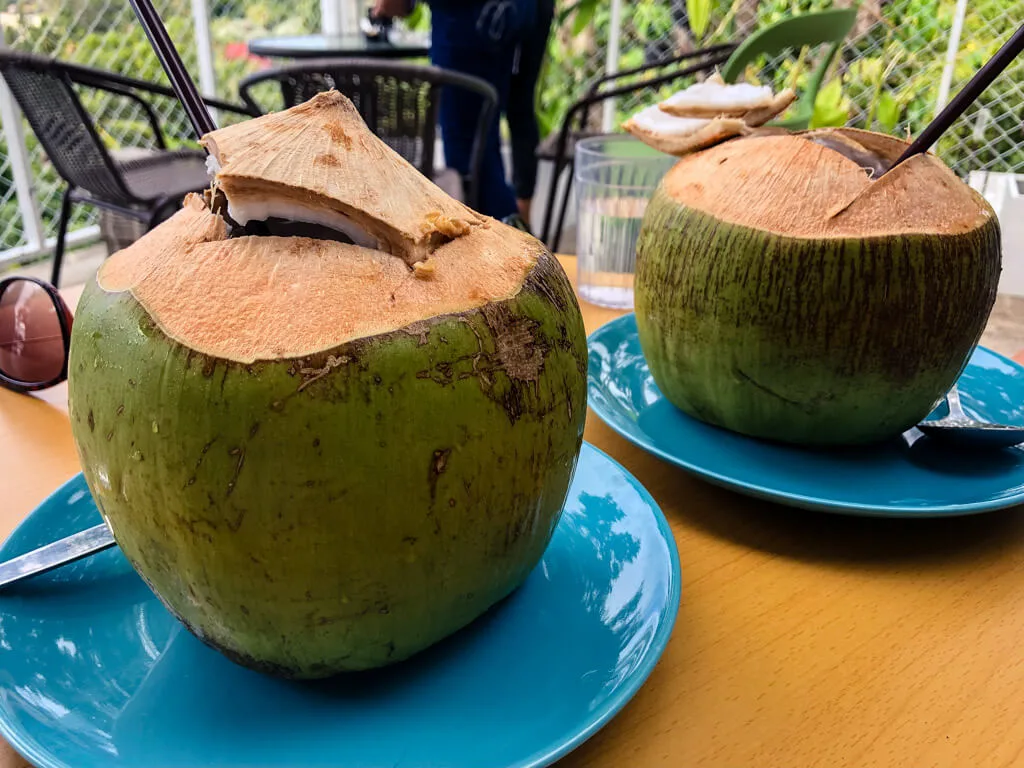 5. Take a Boat trip
Apart from taking a ferry to the neighboring islands of Koh Samui and Koh Thao, you can also enjoy some day trips by boat:
Ang Thong National Marine Park
The most popular boat trip is to the Mu Koh Ang Thong Marine Park, one of the natural wonders surrounding Koh Phangan with vibrant coral reefs. Boats depart every day and there's usually snorkeling, kayaking and hiking included.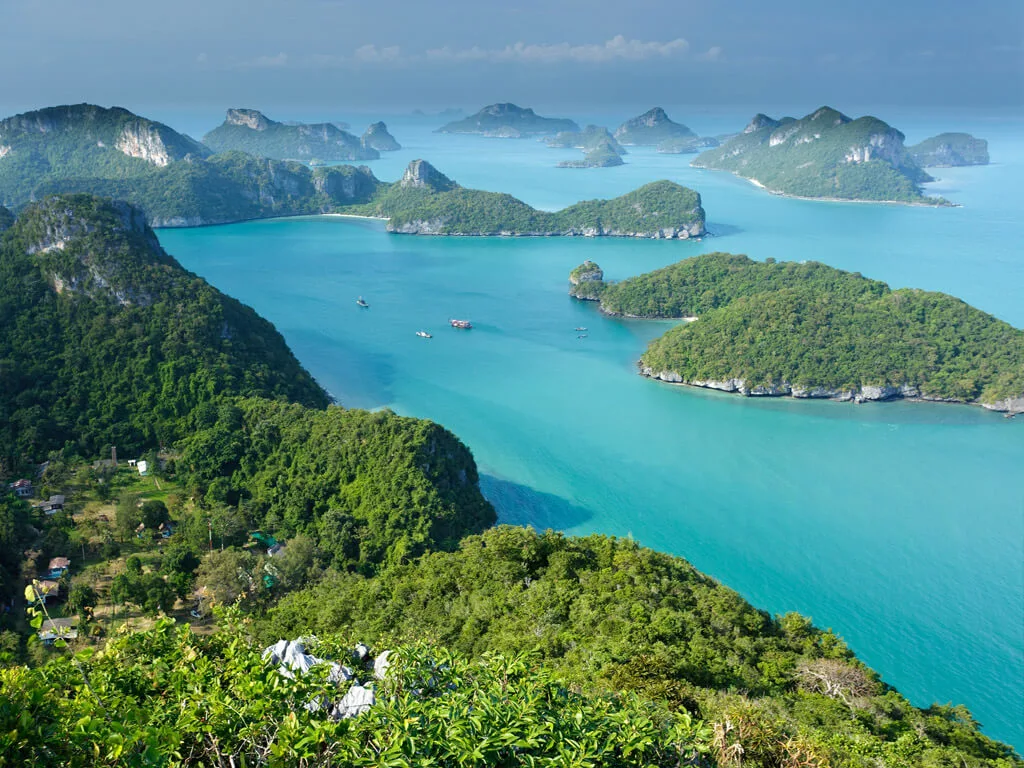 This type of tour can be booked through your hotel or with any of the local operators. On Klook, which I recommend booking though, the price is the same (in low season even a bit cheaper), so if you'd rather secure your spot in advance, book via this link.
Be aware that the National park closes every year from the beginning of November until December 5th. I learned by trying to book at this exact time period – two years in a row. :D
Koh Tao & Koh Nangyuan Snorkeling trips
If snorkeling in shallow reef waters and hiking to a viewpoint is what you're mainly after, this tour can satisfy you as well.
When going on such a trip, use a good dry bag and a waterproof smartphone case. Drybags can be bought easily on the island. As for waterproof cases – it's a risk to buy just any.
6. Get a Massage
There's barely a better way to relax on your holidays in Koh Phangan than getting a full-body massage.
If you're a bit of a masochist, get the real deep-tissue Thai massage. It hurts like hell, but you'll feel amazing afterwards.
And no, you can't just ask your masseuse to do it more softly, since the main characteristic of this massage is to get to the deeper layers of your muscles. Without the pressure, a Thai massage loses its purpose.
Massage parlors can be found all over the island, even on most beaches. Haad Yao Beach features several, and Sri Thanu and Thong Sala villages both have their fair share of massage places too.
I am currently on the lookout for a milder type of massage, so I'll report on that once I find a good one.
7. Go Hiking
Koh Phangan offers some excellent hiking opportunities. Pretty much the whole middle part of the island is a protected Forest Reserve and any construction is prohibited. Some stats say this most pristine part of the island makes up 90% of its size!
So a trip to Koh Phangan wouldn't be complete without some outdoor fun. A few of the best hikes in Koh Phangan are:
Than Sadet National Park
The only national park covering the island, Than Sadet spreads from the middle of the island to its Southeast.
Phaeng Waterfall hike taking only about 20 minutes covers the largest waterfall on the island. Beware that the waterfall itself is impressive just during the rainy season.
Another 15 minutes uphill and you're at the Dom Si La viewpoint with astonishing views of the forests around and the ocean in the distance.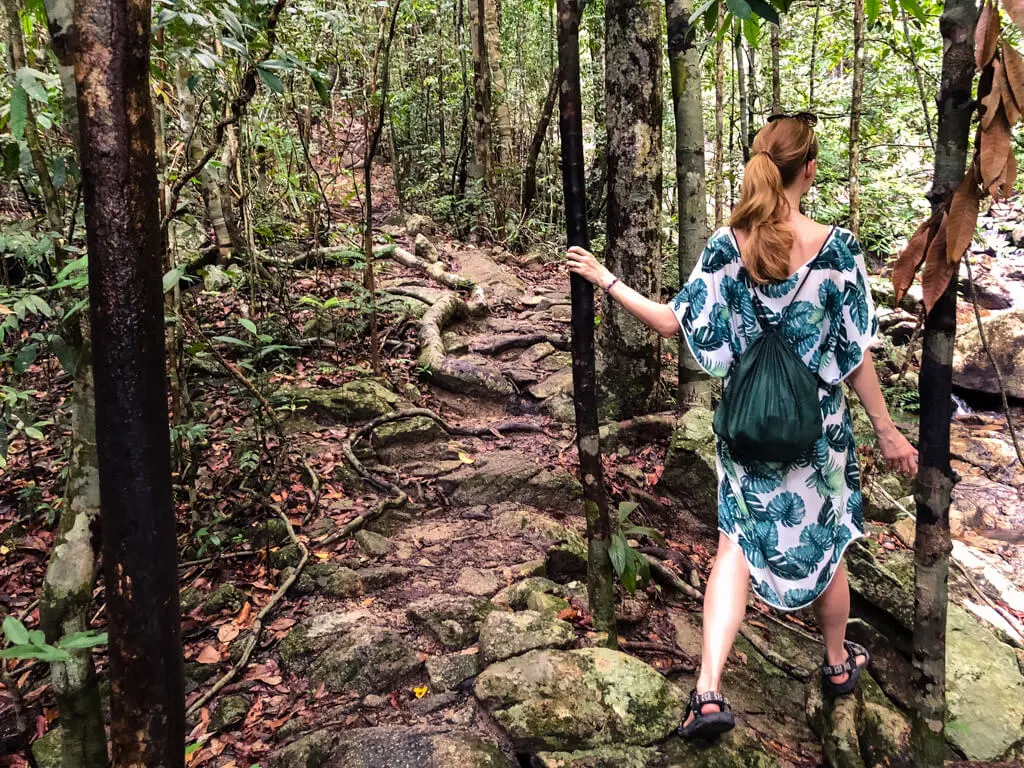 In the east of the park, towards Than Sadet Beach, a series of waterfalls can be found, all connected by a 2.5km long trail. The site is famous for King Rama V visits from 1888 to 1909.
Bottle Beach Hike
One of the most famous hikes will take you to the beautiful secluded beach of Haad Khuad. However, you won't be alone there, even if you're one of only a few who voluntarily undergo the 2-hour strenuous hike.
If you choose to do the hike, download the app maps.me to your smartphone to help with directions. Google Maps app doesn't work well on the trail (so I was told by local expat friends).
There are actually two hiking trails leading to Bottle Beach. See my article on the Bottle Beach hike in Koh Phangan.
Because of the remoteness of the beach, boat taxis take people from Chaloklum to Bottle Beach and vice versa. This is a preferred, and a much easier, way to get there. The scenic ride only takes about 15 minutes and should cost 150 baht per person.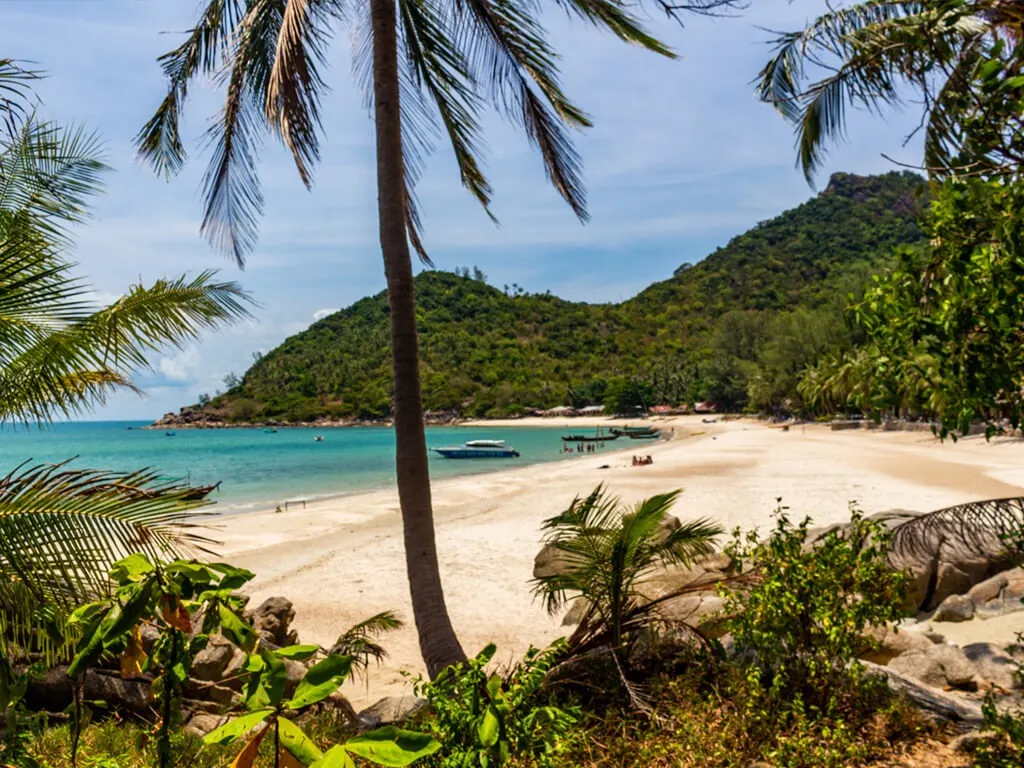 Recommended Travel Insurance
When planning travel, make sure you never forget to set up your travel insurance.
If you're unsure, check out my review of SafetyWing travel insurance. It's great for any trip longer than 5 days!
It can be arranged even if you're already on the road. It's affordable, too – the price starts at $42 for 4 weeks.
8. Enjoy Koh Phangan Beaches
Small islands have the advantage of long seashores with numerous beaches and Koh Phangan is no exception to that rule.
You can find beaches all around the island since no cliffs line the seashore. There are only a few private beaches belonging to resorts with the majority fully accessible to public.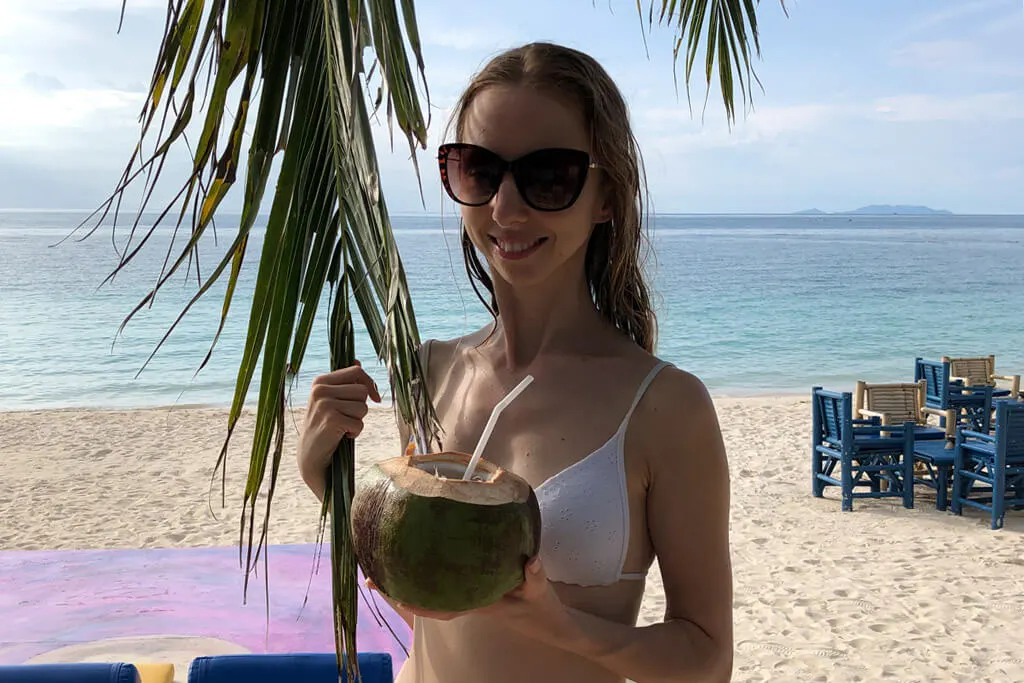 The West has amazing, easily reachable beaches from where you can see the sun set. The North is, except from the Chaloklaam Beach, quite wild and beach access is a bit more difficult.
The South of Koh Phangan, especially the long Ban Tai area, features a long stretch of nice beaches. That cumulates in Haad Rin, with the most famous beach for Full Moon parties.
Koh Phangan's Eastern shore boasts beaches that are out of this world, especially in the Thong Nai Pan area. They are located quite far away, but are well worth the trip.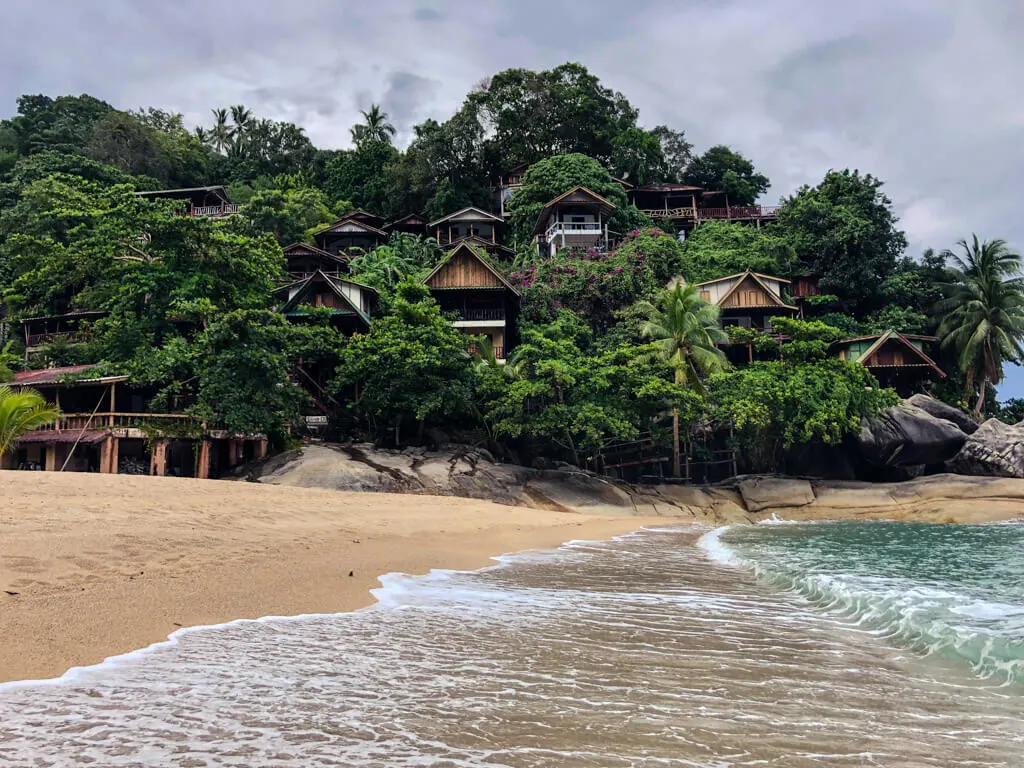 If you enjoy Koh Phangan's hippie vibe, you'll love Zen Beach at sunset. People come together to watch the sun going down accompanied by the sound of drums and other instruments that are on hand.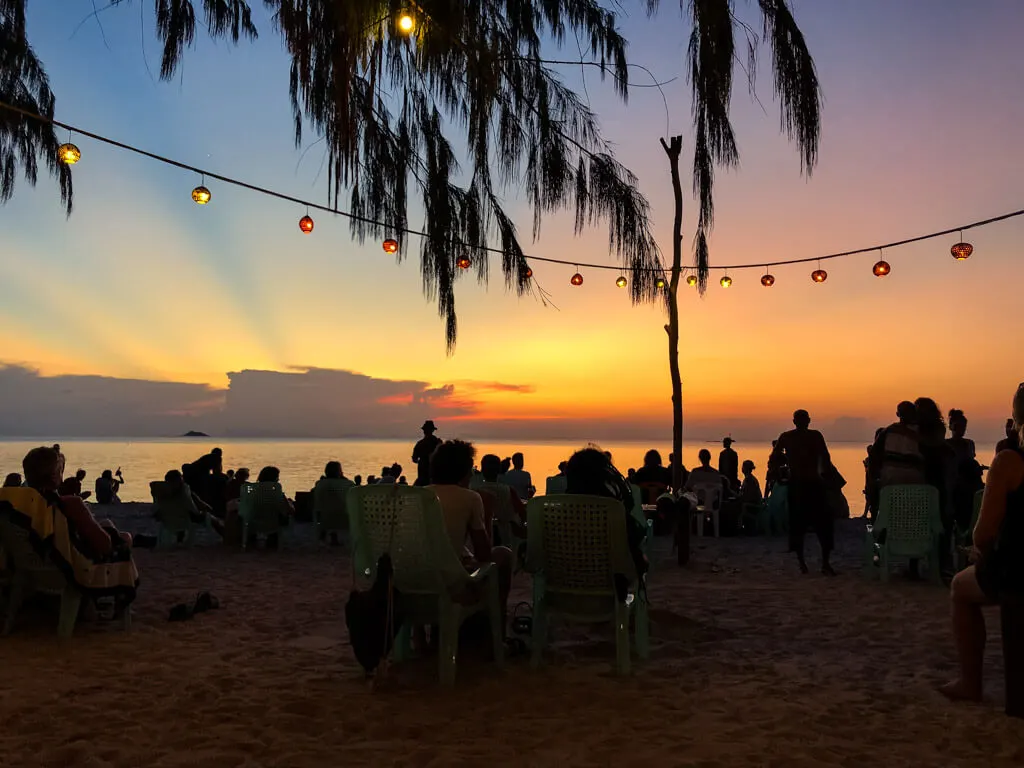 Haad Yao, sometimes also called the Long Beach, is my favorite Koh Phangan Beach.
The long stretch of white powdery sand and plenty of fun beach bars only complements the excellent swimming conditions and snorkeling opportunities just a few meters away from the shore.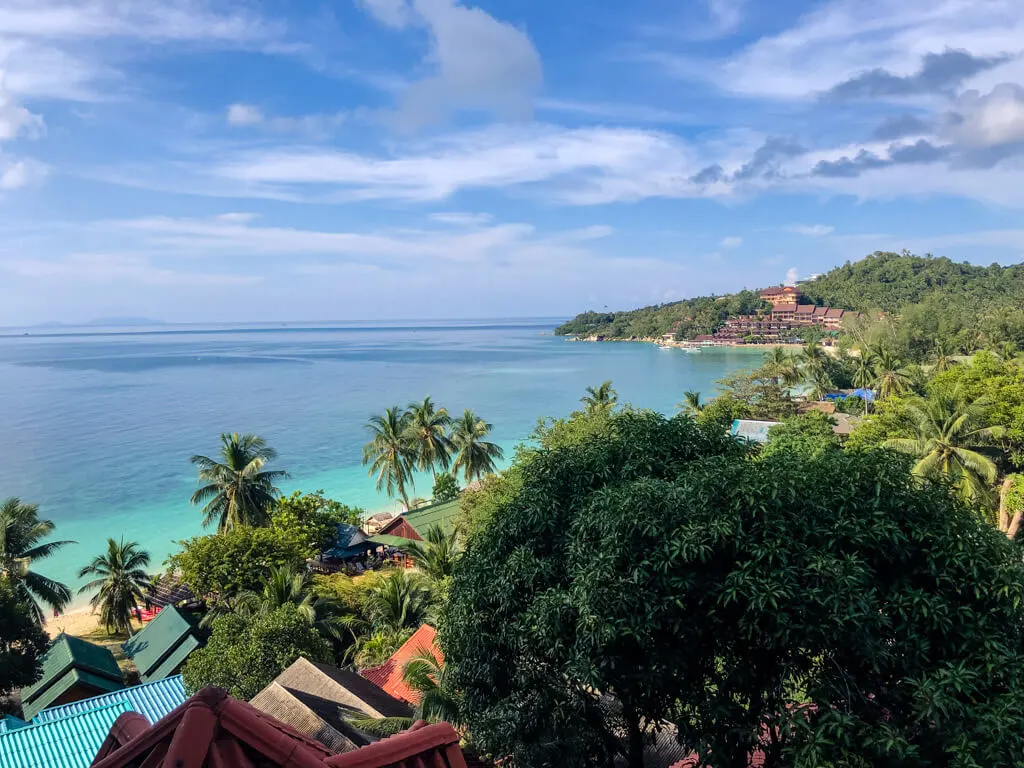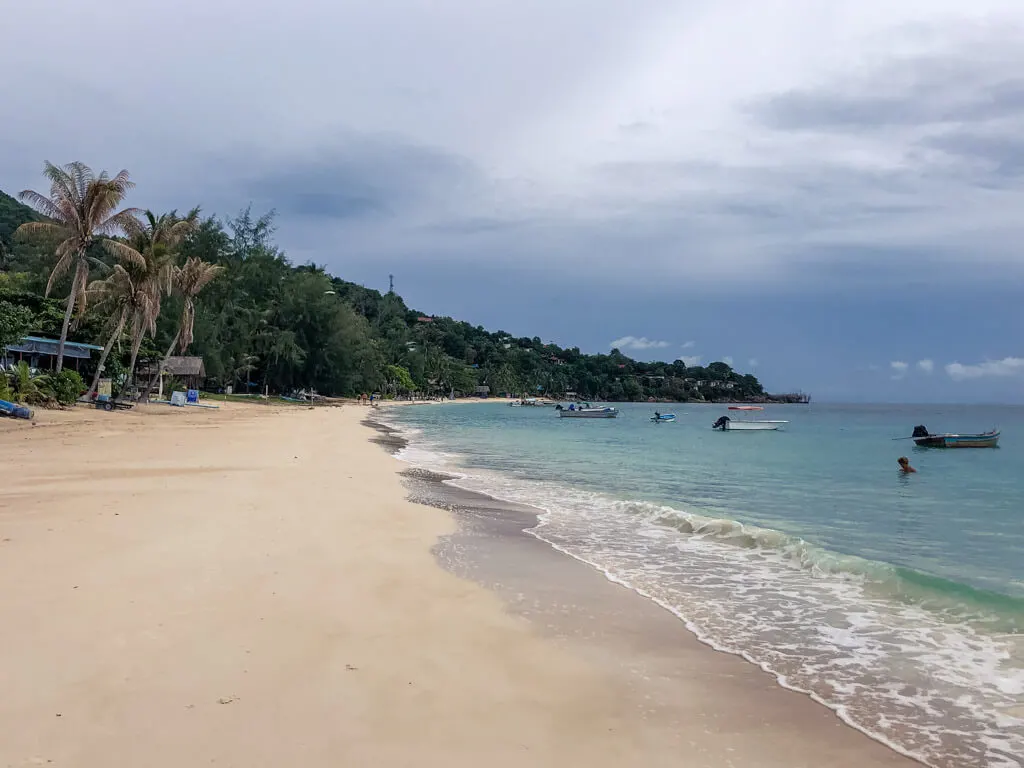 These beaches should be the best places to visit in Koh Phangan for you and your travel buddies.
9. Engage in Water Fun
If you'd like to explore the island and its waters from another perspective, go for the fun water activities. While many resorts and beach-located businesses provide rentals, you can also turn to these hotspots:
Ban Tai
In Baan Tai, you can find the so-called Get Wet Phangan, which is a collection of local providers of water fun and sports. Every water activity imaginable can be done through one of these operators, even kitesurfing or flying in a boat!
See more info on their Facebook page.
Haad Yao
Kayaks, jet skis, SUPs – all can be rented at the Haad Yao beach easily, just pick any resort located there.
Chaloklum
The best wakeboarding on the island happens in the Chaloklum Bay. You'll find the "Wake Up" wakeboarding office opposite Malibu Resort in the village of Chaloklum.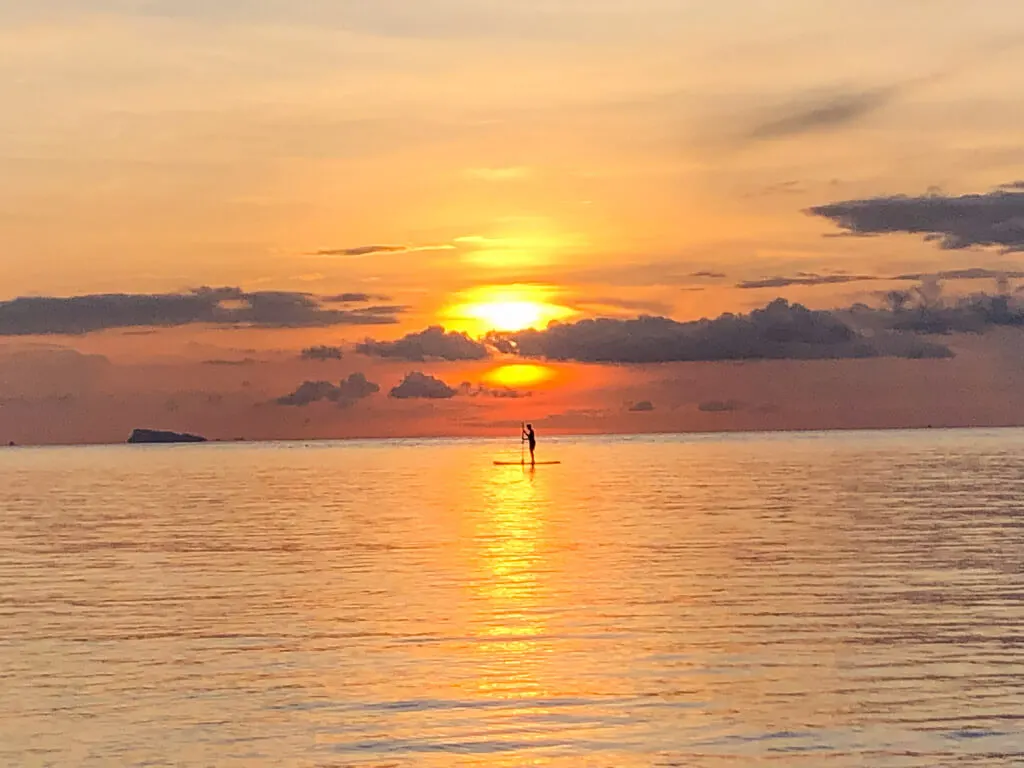 On and off, Slip n Fly parties are held at a water park in Koh Phangan. If crazy slides that plummet adventure seekers up in the air sound good to you, it may well be your ultimate water fun escapade. See the next opening dates here.
Don't forget to get a waterproof case for your smartphone.
10. Swim in a Pool
If you're not staying at a resort with a wonderful pool, you can still get your daily dose of swimming at a few places around the island.
The Sea Garden 2 is one of those – a nice infinity pool with a full view of the ocean. It takes about 10 laps to cross the length of it, but that's as large as pools get on the island. The entry fee for visitors is 100 THB per person.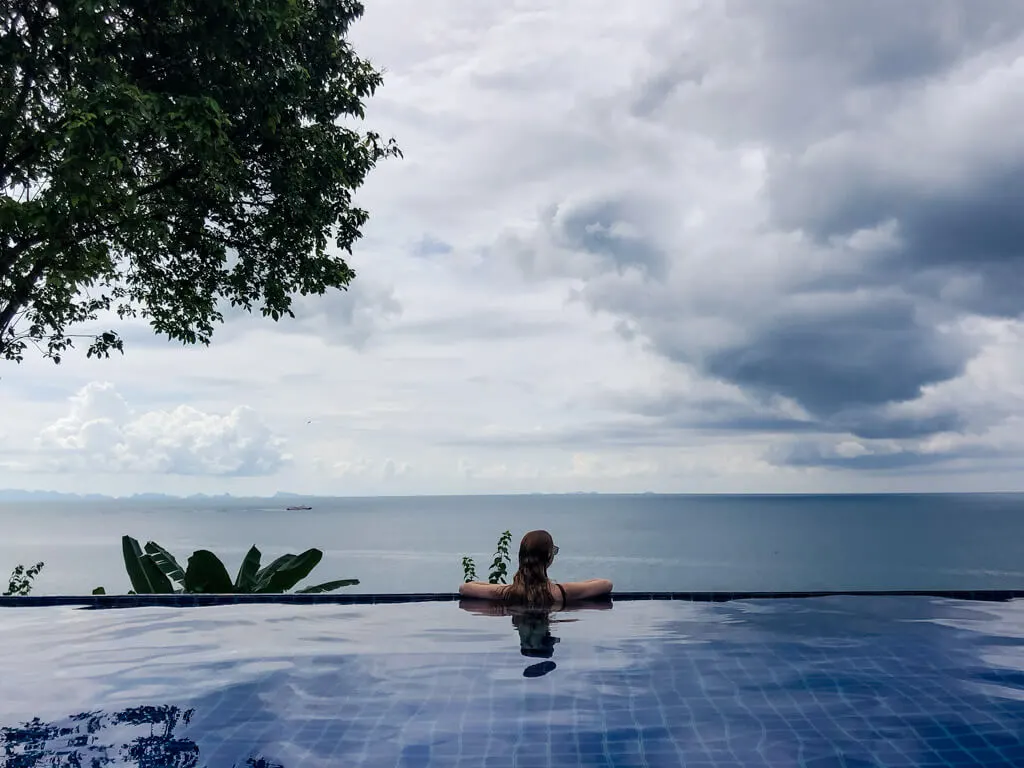 11. Eat Local and International
Indulge in Thai food and eat at any little roadside restaurant to get mouthwatering dishes for only a few baht.
Masaman Curry, Pad Thai and fried rice are staples that you can find anywhere. The lowest price for a meal like that is 50 THB for a meatless version.
My favorite Thai restaurants are Pum Pui on the Middle Road or pretty much anything from the Pantip Market in Thong Sala.
Learn more about Thai cuisine here.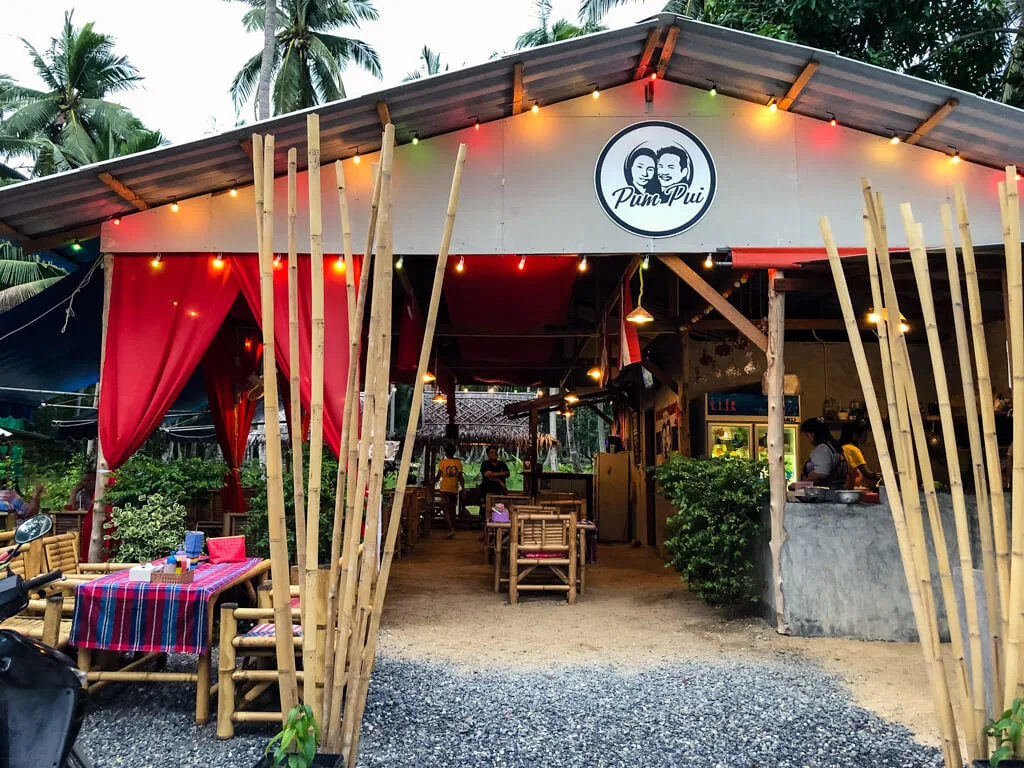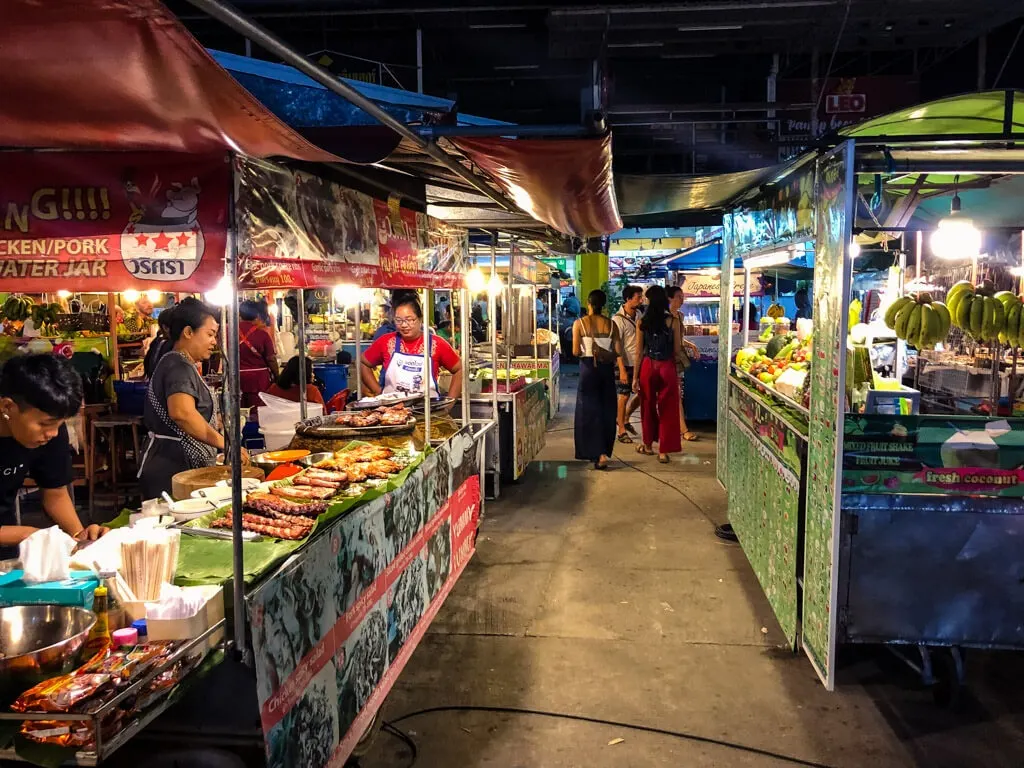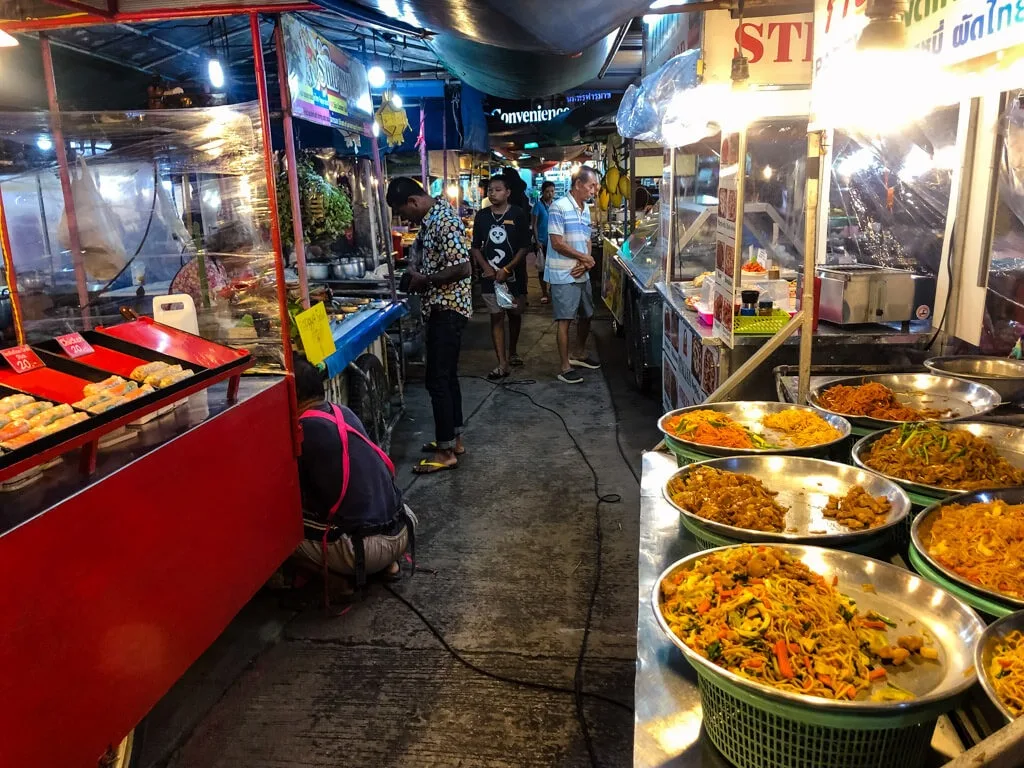 Once the excitement of Thai food wears off a little and you'll start craving some western food, there are still plenty of options. It'll just cost you more.
We enjoy going to Pizzeria Romanza (Italian) and Sati Pot (Iranian) in Hin Kong, The North Restaurant up in Chaloklaam, or Locco's in Haad Yao.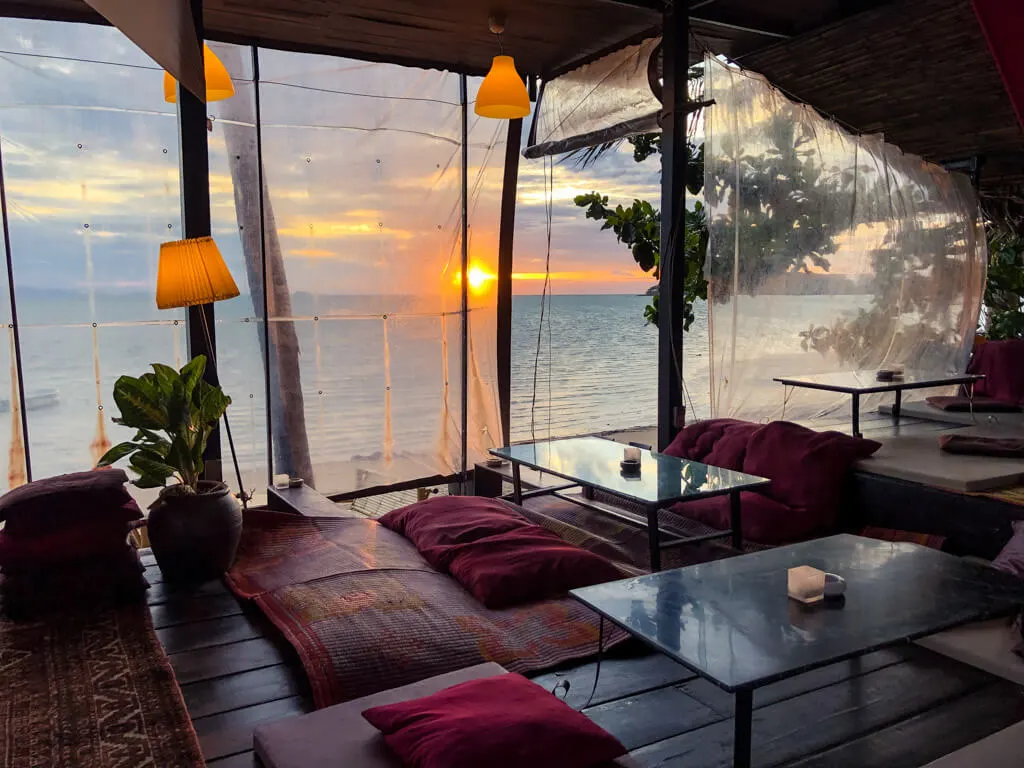 12. Explore Local Temples
Perhaps they'll first strike you as you'll be riding around the island. Or you'll feel drawn to one upon hearing a mysterious chanting ritual… In any case, the temples are abundant on Koh Phangan.
You are welcome to visit them (unless signs say otherwise), but keep in mind you shouldn't do so in shorts and a crop top. It's respectful to have shoulders covered, ideally legs too. Using a scarf is well sufficient.
Men can wear shorts, just not the shortest kind.
Visit for example these two temples:
Chinese Temple (Temple of Goddess Guan Yin)
This Chinese Buddhist temple is one of the most colorful ones in Koh Phangan. Located on a hill on the way to the fishing village of Chaloklum, it was founded by a local lady who was given the task by the Goddess Guan Yin herself.
The temple protects local fishermen. It was built following the teachings and visual aspects of the Chinese Buddhism.
You can find a golden statue of a Chinese Buddha, Chinese characters adorning the walls, as well as one of the most important ancient Chinese books of all – the Book of Changes.
The whole temple complex includes 3 buildings, each positioned on a different level. The views from there are extraordinary. Not only you can admire the greenery and the ocean in the distance, on a clear day you can see as far as Koh Tao.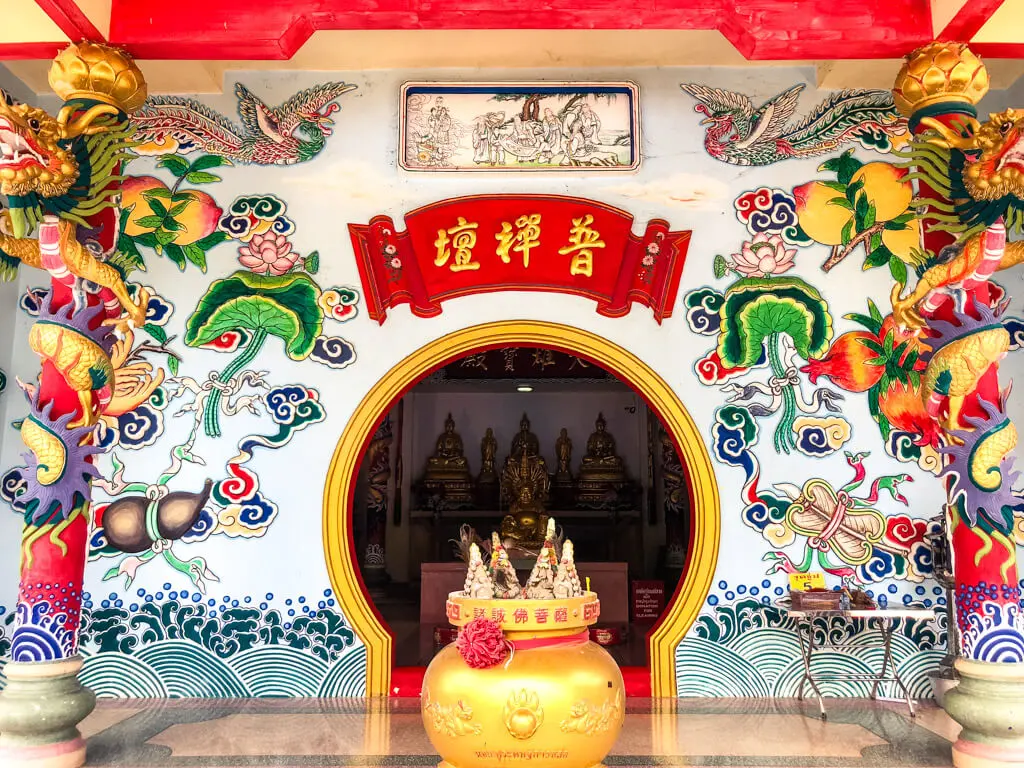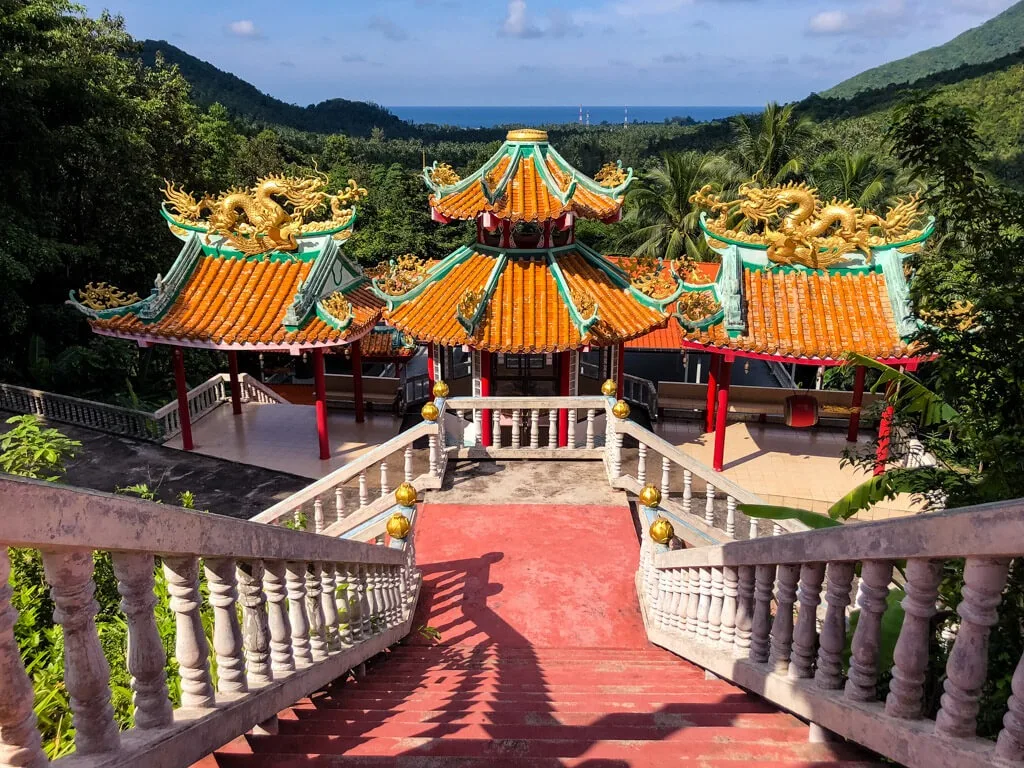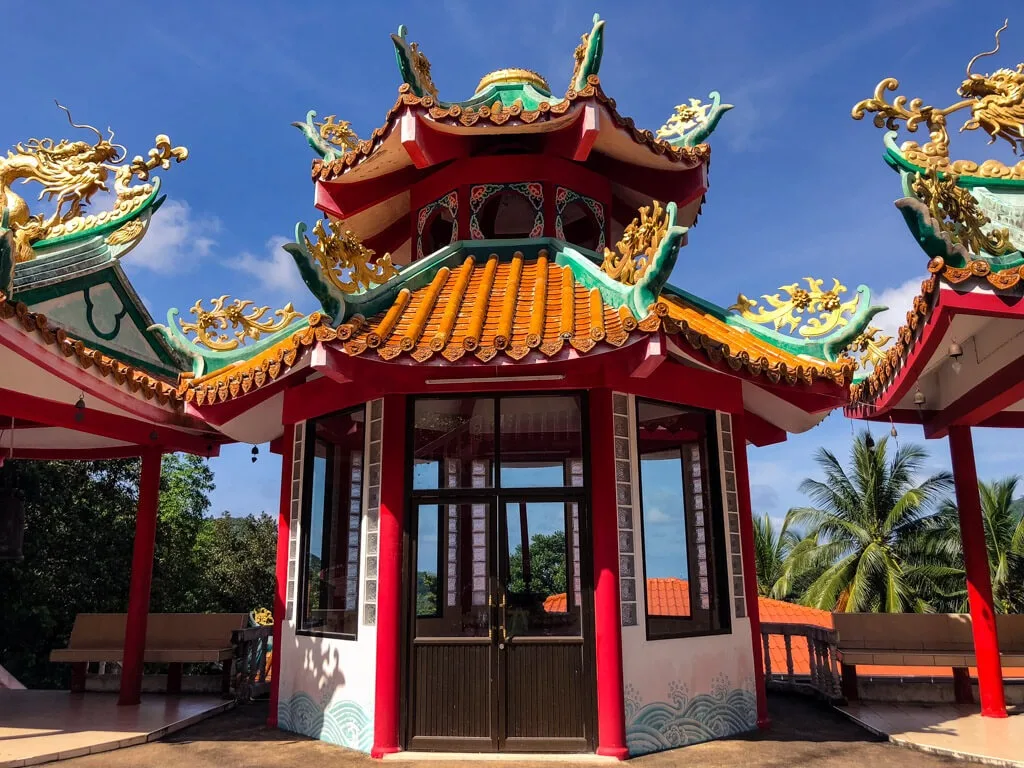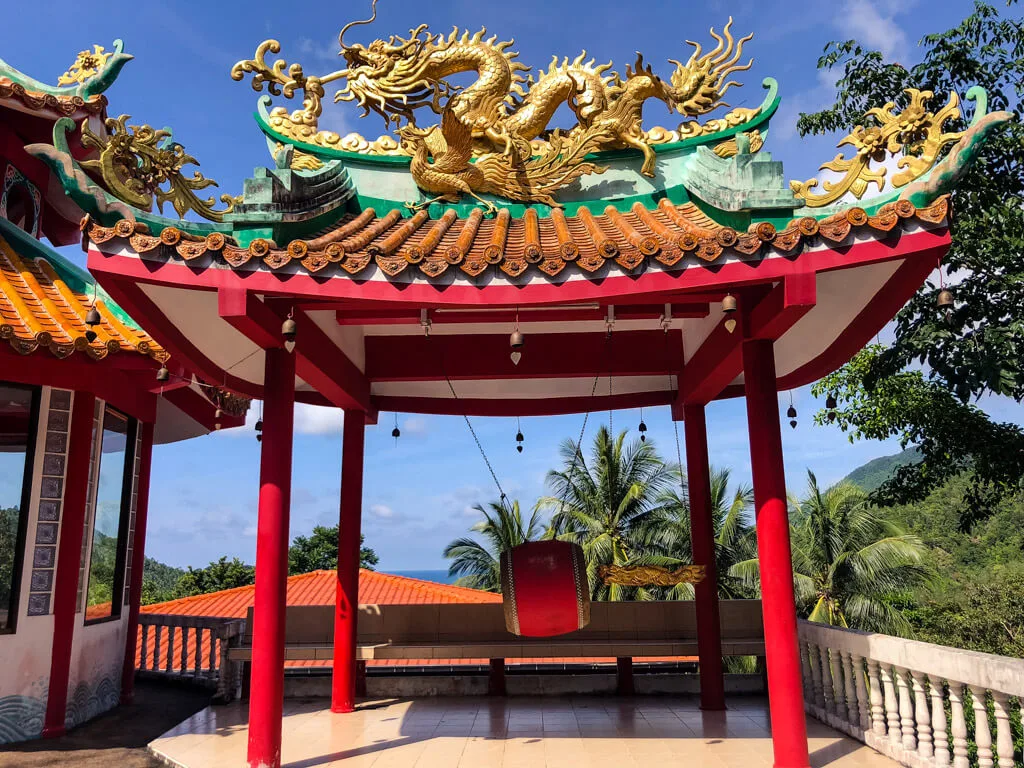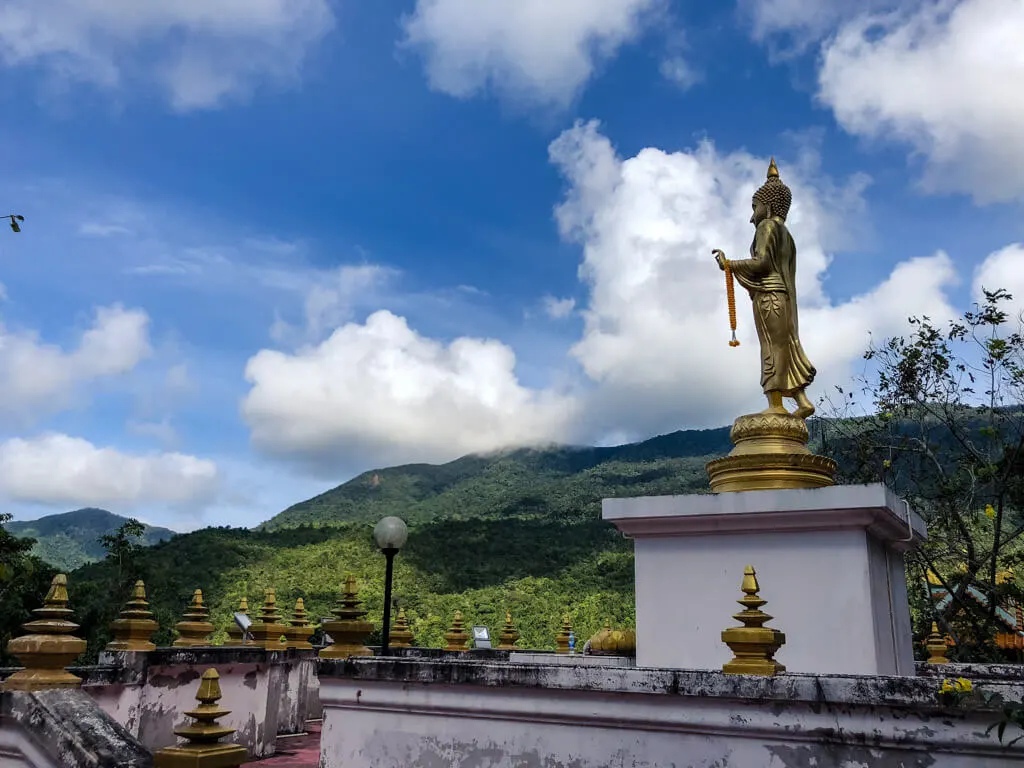 Wat Mudea Wan
The temple Mudea Wan is located not far from the Phaeng Waterfalls, just on the western border of Than Sadet National Park.
The temple grounds consist of two levels. On the lower one, you'll find a few buildings, including a crematorium. I've never seen one this beautiful.
Long stairs lined with serpents lead to a small chapel with a statue of Buddha and a lookout point. You can't see much because of trees blocking the view, but it's still quite an experience to climb up a staircase as special as Mudea Wan's.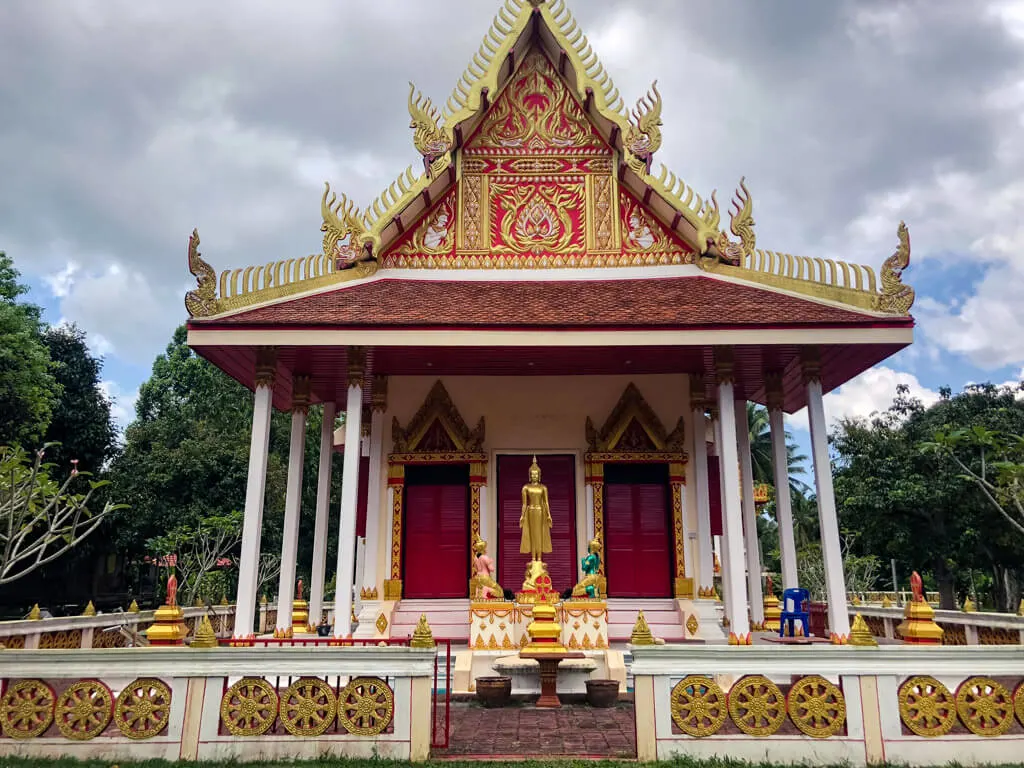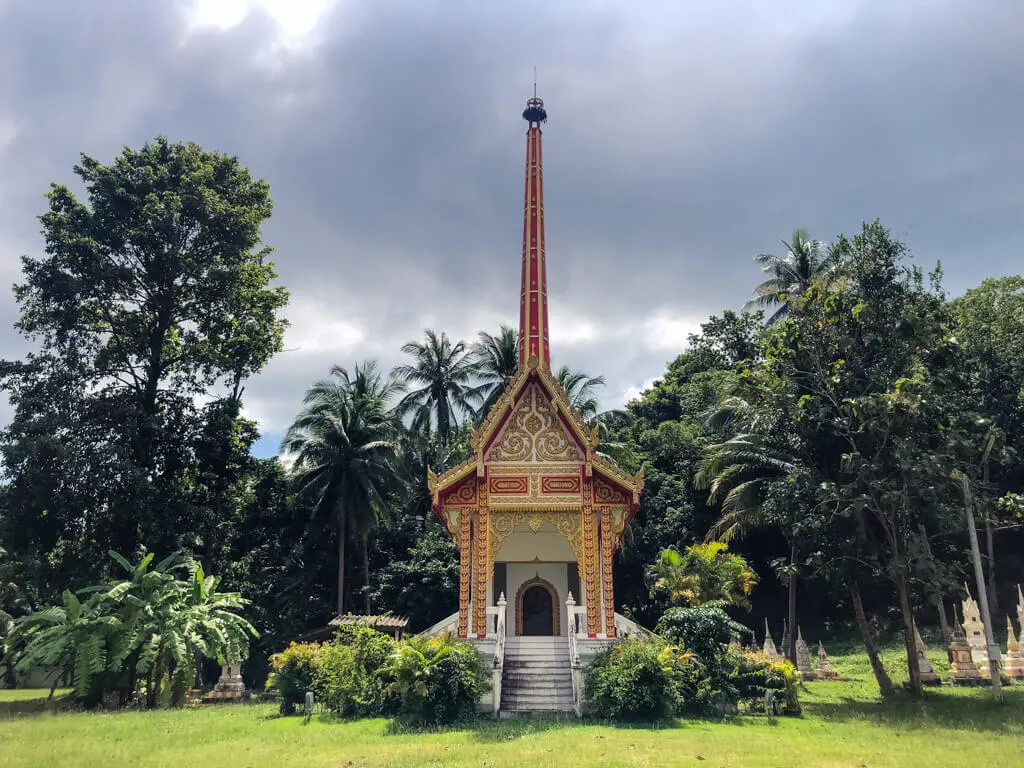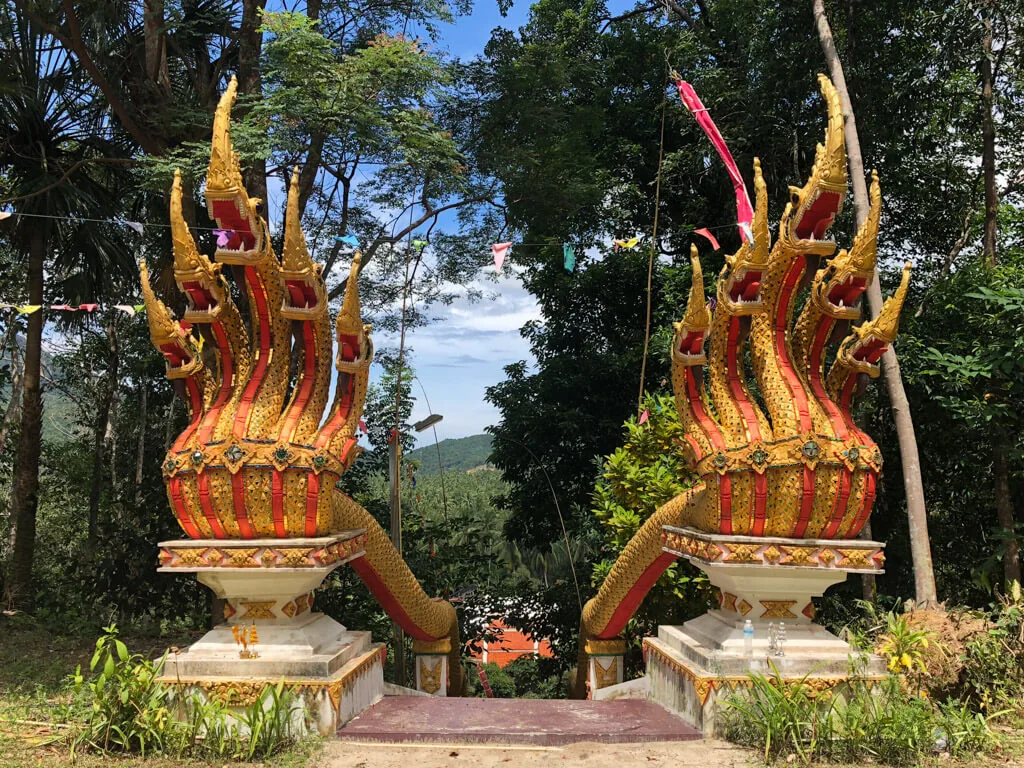 13. Scout for the Best Viewpoint
Apart from the amazing sunset spots mentioned above, there are many other wonderful lookout points, only without the sunset view.
These include e.g. the Dom Si La viewpoint in the Phaeng Waterfall site.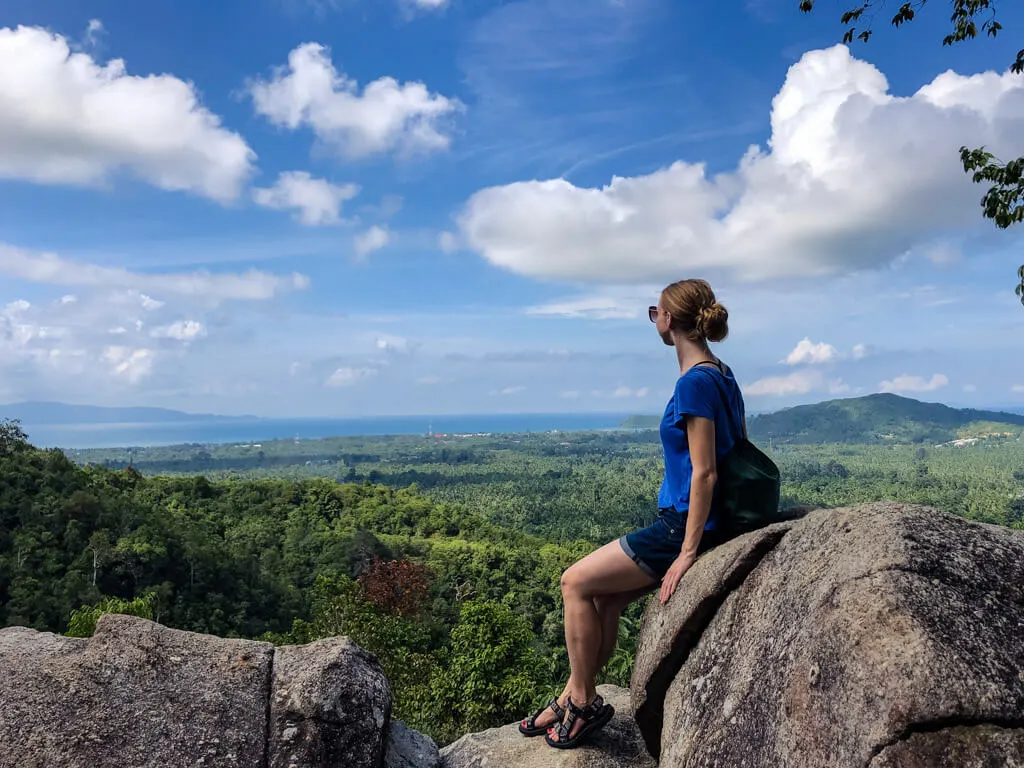 Or the What's Cup Café which offers a full view over Haad Yao beach.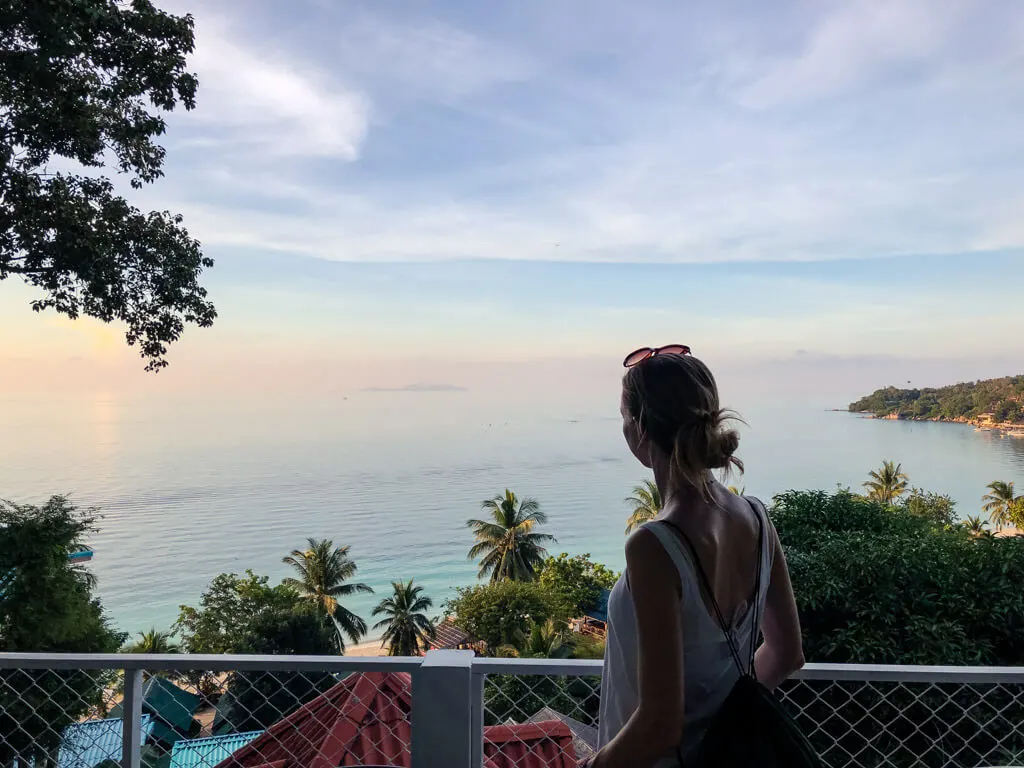 14. Trace the Largest Tree
In the Baan Tai area in the South of Ko Phangan, you can find the largest tree in Thailand – the so called Yang Na Yai Tree. In English it's commonly known as the Resin tree.
It stands 53.5 meters tall and is around 400 years old!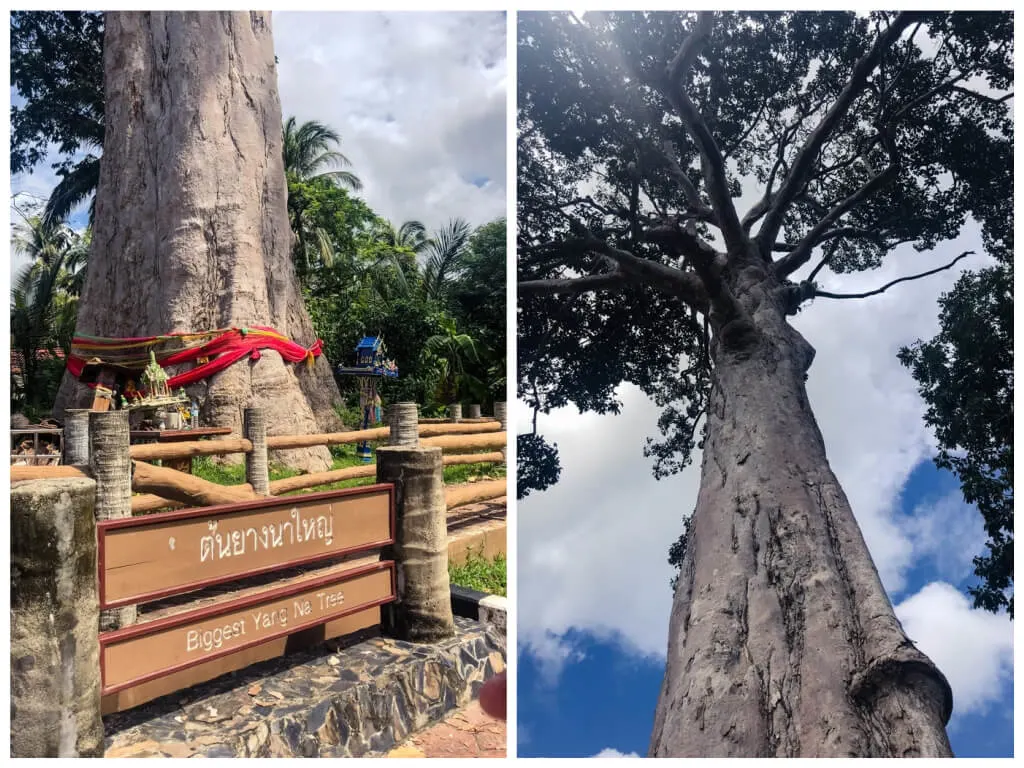 15. Ride a Scooter
Depending on where you choose to stay on the island, you might do a lot of driving, or next to none.
Even if you're located conveniently where all the buzz is, I encourage you to rent a motorbike or a scooter at least for a day and go explore. It's great fun. :)
Don't forget to wear a helmet and drive only with enough experience & paperwork.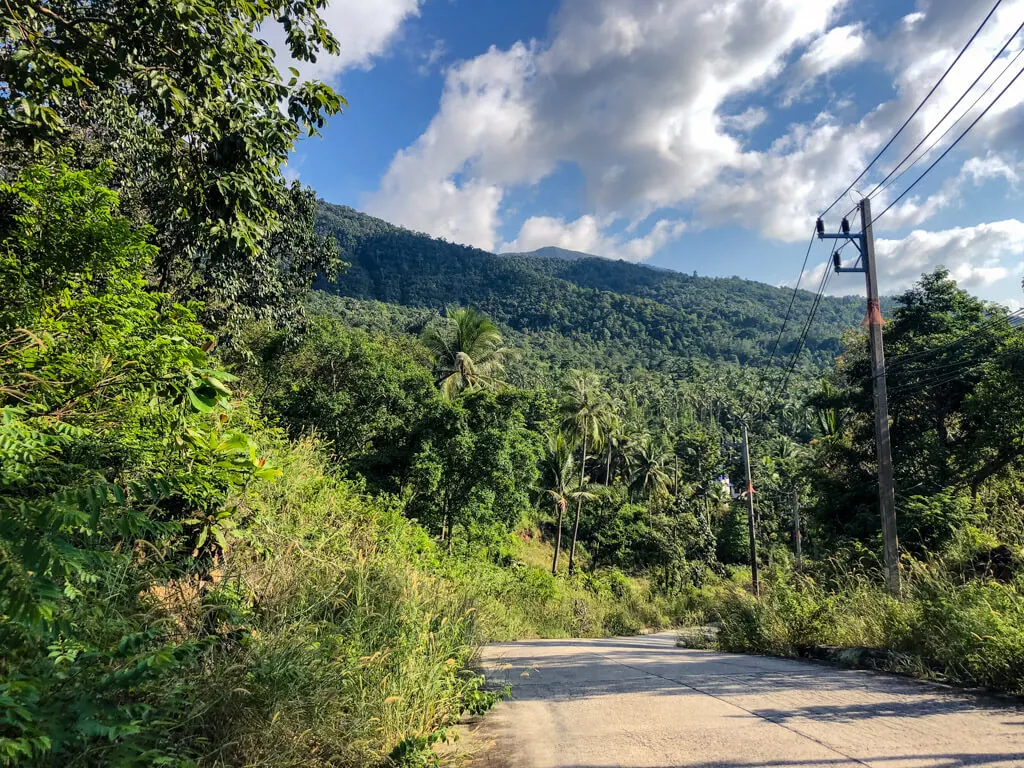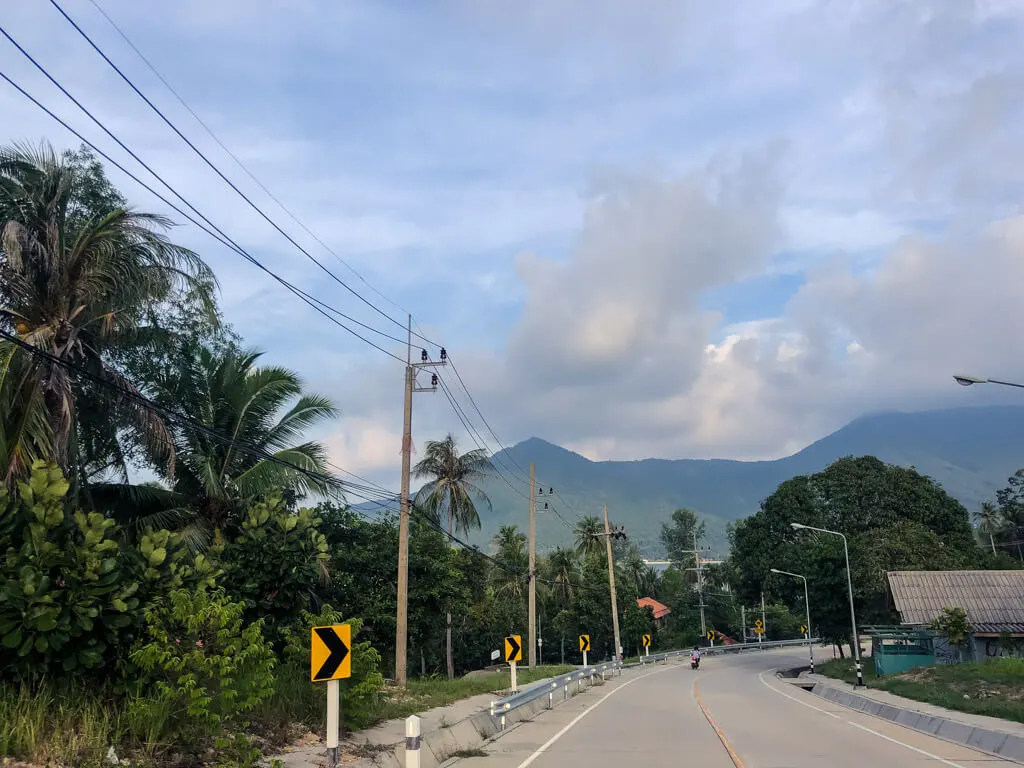 16. Sample on Coffee
Koh Phangan has developed so much that you'll have no trouble finding high quality gourmet coffee. The main roaster on the island is Bubba's, where they roast beans from Thailand's Northern region.
Bubba's has 2 cafés on the island. A cozy one in Baan Tai and a modern one in Haad Yao, where you can even settle in and work for a bit. A Dutch expat who gained his coffee skills in Australia is the brains and soul behind the project.
Bakesense is another quality roaster on the island. These local guys operate a lovely little café in Hin Kong, just by the seashore covered in mangroves.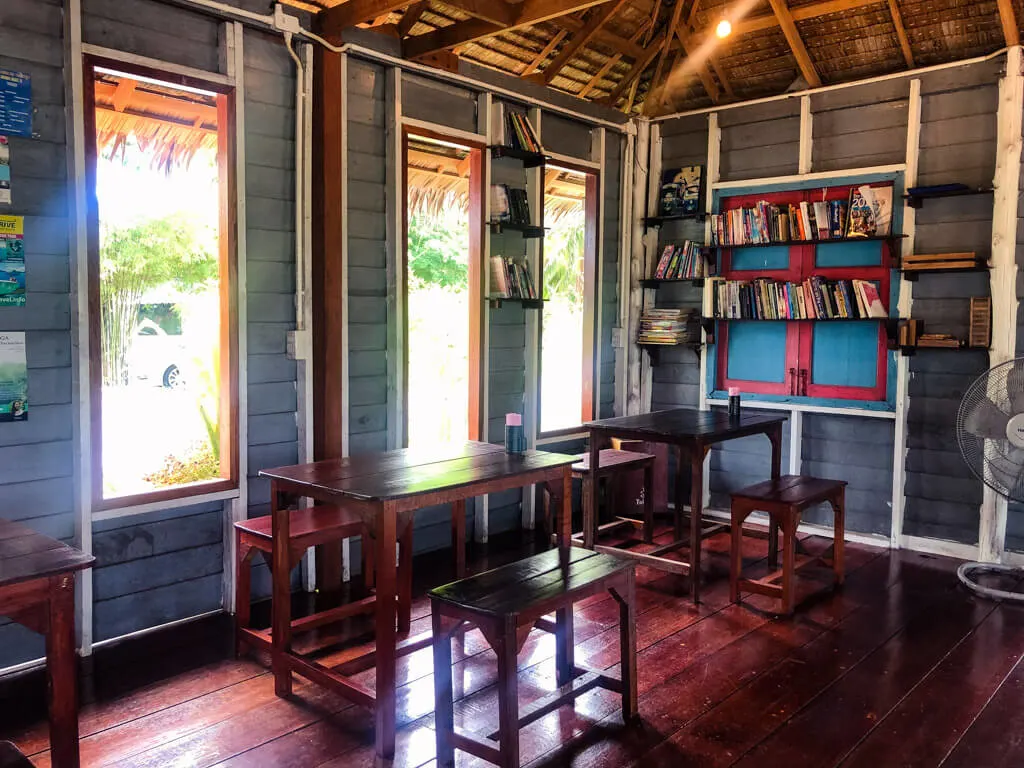 Other popular cafés in Koh Phangan include Cookies (and its sister Little Cookies) in Sri Thanu or Dots in Thong Sala.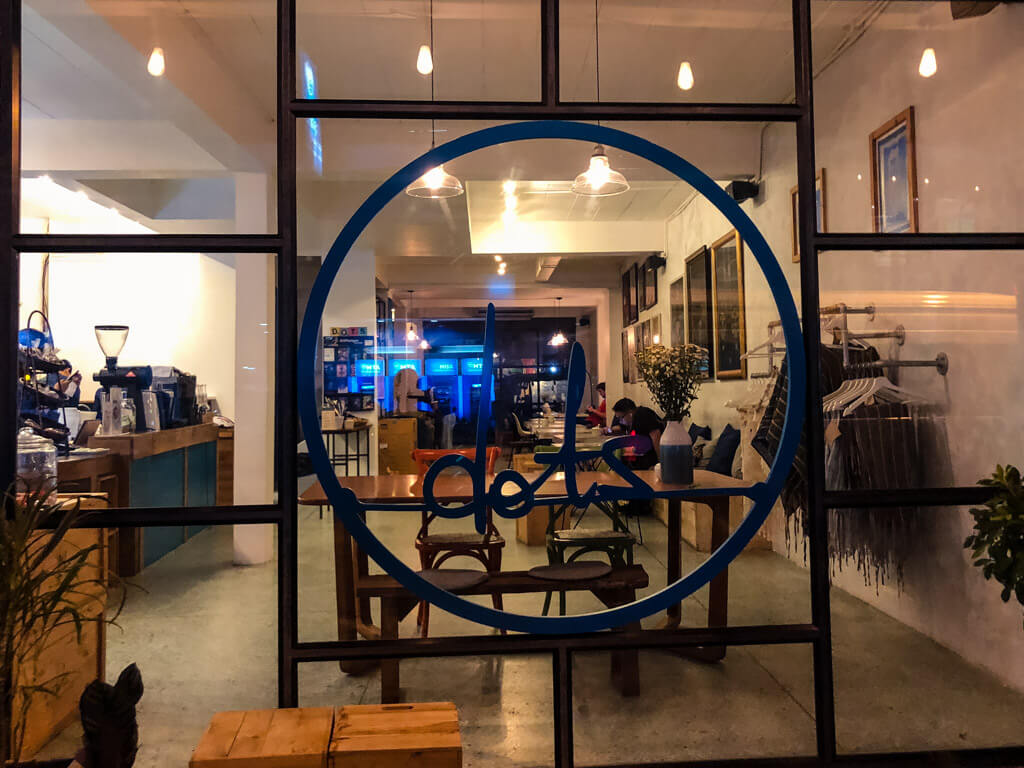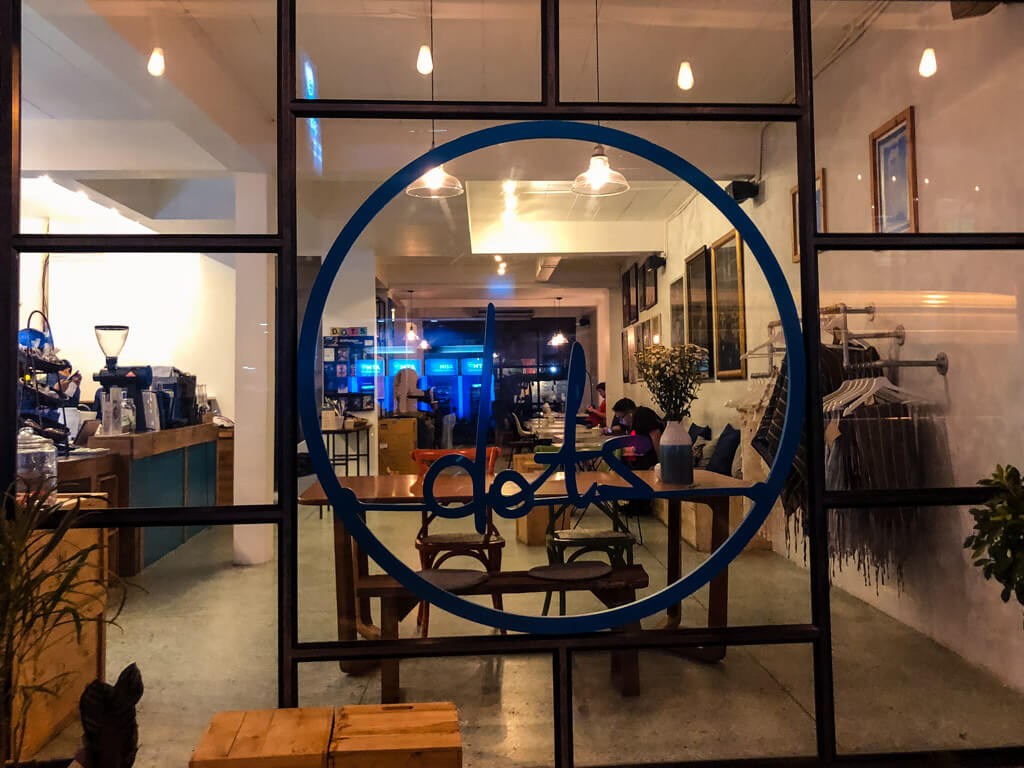 17. Spot Wildlife
Aside from many stray dogs running around and the occasional cat, you'll mostly notice the mosquitoes. Shy geckos that appear near sources of light upon dawn will happily snack on the bloodsuckers.
Monitor lizards can also be spotted often, as well as birds, lizards and, depending on how close to the jungle you live, even monkeys. :)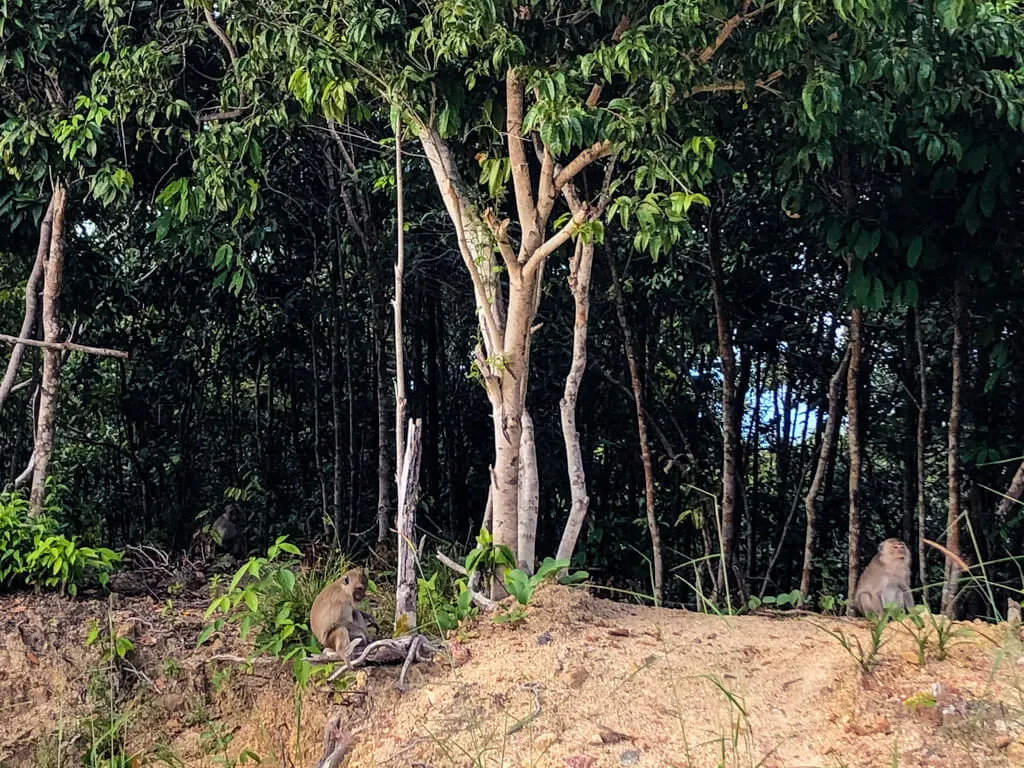 There are also many snakes on the island, including pythons, but you're quite unlikely to get anywhere close to them. We once spotted a green vine snake, a non-poisonous fluorescent green beauty.
Cockroaches will usually not wander into your home, if you don't leave scraps of food lying around.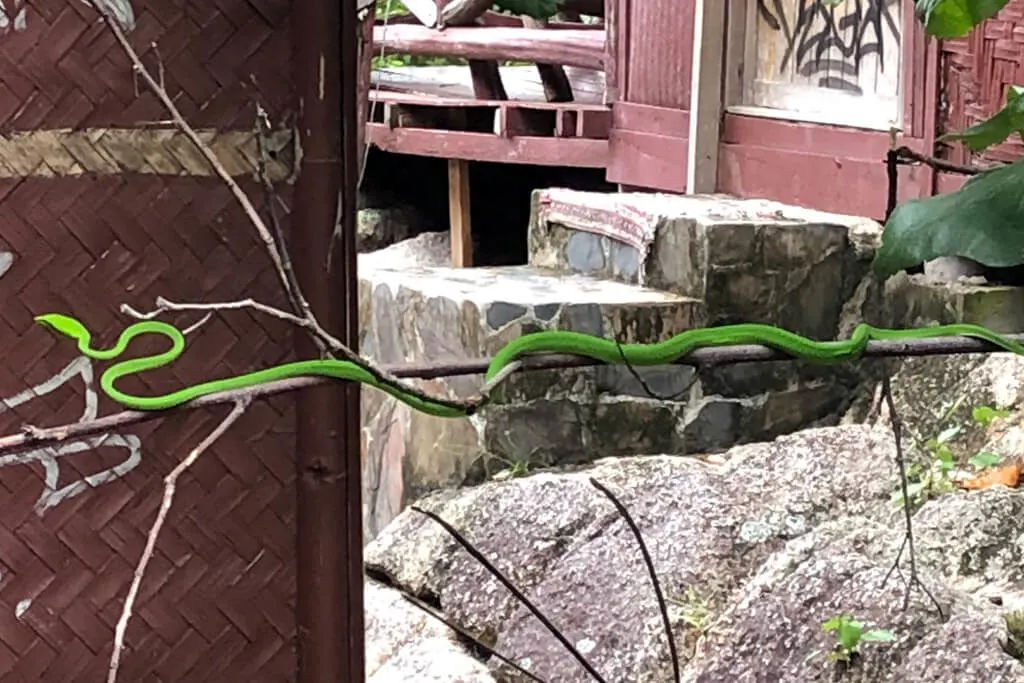 18. Make a Difference
If you have enough time on your Thai-cation and want to leave a positive trace behind, there are numerous ways how you can help the island.
Help Animals
For the high number of stray dogs and kittens and other animals who have been left on their own, there's PACS. Phangan Animal Care for Strays. They help by feeding stray animals and attending to their injuries.
You're welcome to visit every day from Monday to Friday from 10am to 3pm. You can just come to cuddle the dogs and cats, take some for a walk, or take part in a bathing day (Thursday).
There's a small shop on the premises too, where people donate their items and the proceeds then go towards the non-profit organization.
Find PACS current info on their Facebook page.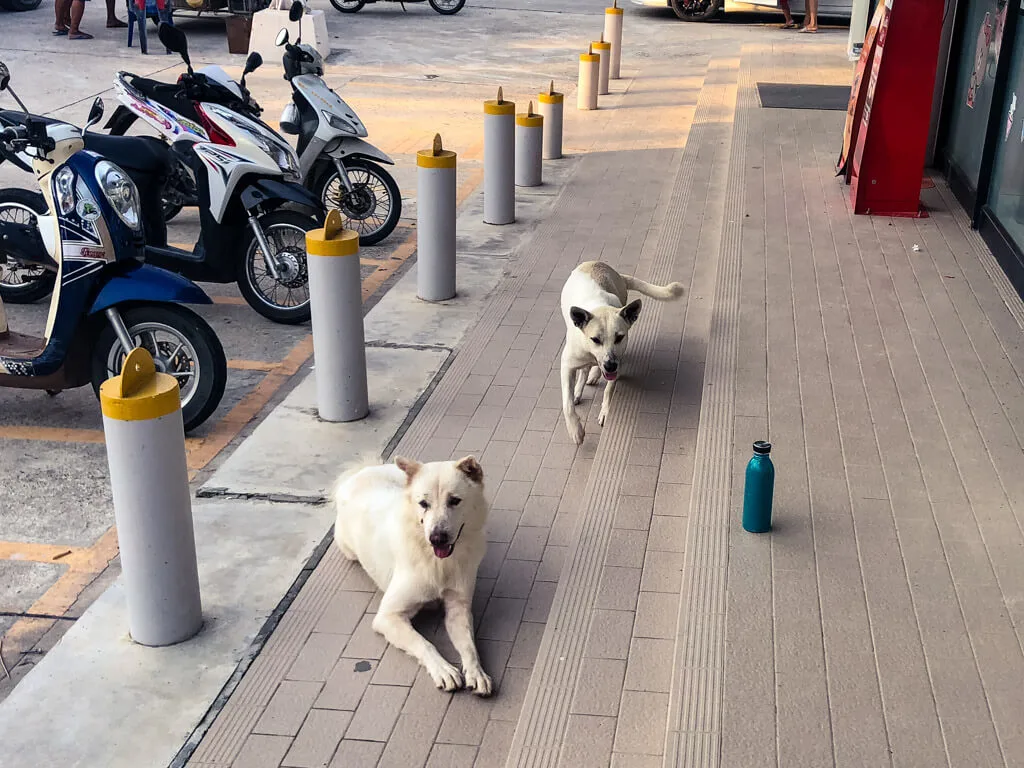 Volunteering
Helping the environment is another great way to give back to the paradise island. Check out TrashHero's Facebook page for info on their organized cleanups of beaches.
They happen about once a month and last just an hour, so it's easy to commit to and you can meet some great and caring people this way.
You don't even need to participate in organized volunteering. Just grab a bag and collect trash near where you live, be it on a beach or not. Every little bit helps.
19. Dive into Diving
Since one of Thailand's most praised dive sites, the Sail Rock, lies just a few kilometers away from the shore of Koh Phangan, you can count on having plenty of scuba diving businesses here.
Getting the PADI certificate is also possible on Koh Phangan.
Some of the main diving schools include:
Blue Horizon and Haad Yao Divers in Haad Yao Beach area
The Dive Inn and Chaloklum Diving in Chaloklum area
France Plongée in Haad Salad area
In the fishing village of Chaloklum, you can also engage in Free Diving. Apnea Koh Phangan is the only freediving school in Koh Phangan.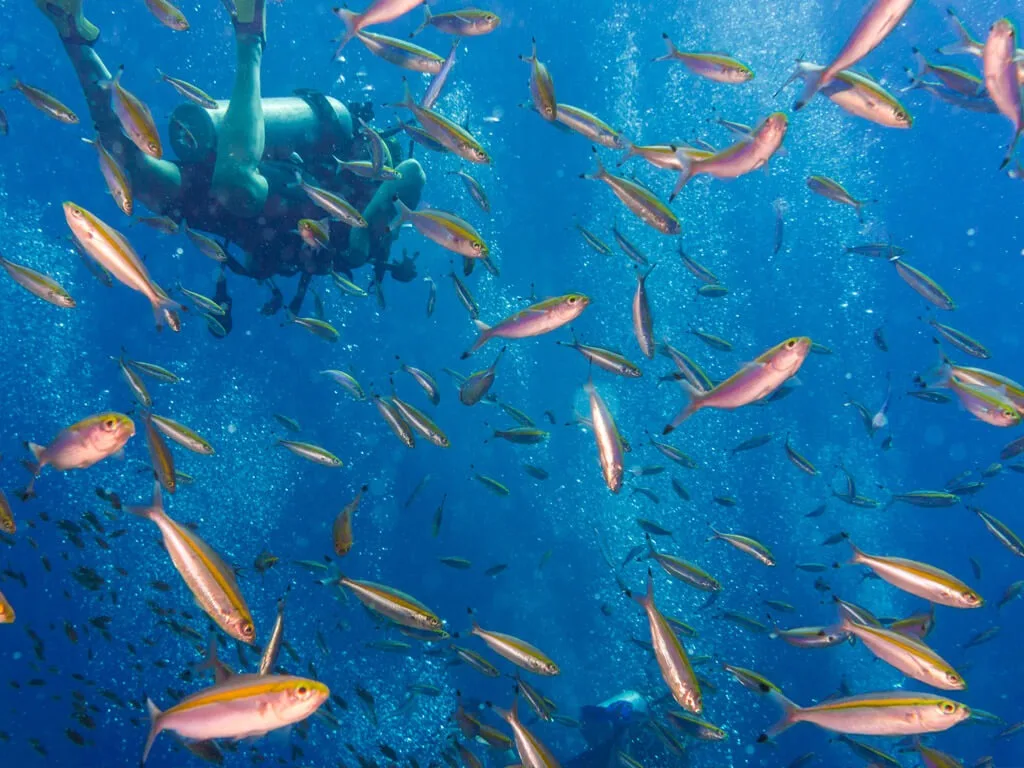 20. Practice (or Watch) Muay Thai
Going to a Muay Thai gym is possible on the island! Most of the outdoor gyms where you can practice Muay Thai are centered in or near Thong Sala. They are e.g.:
Phangan Muay Thai & Fitness Gym
Diamond Muay Thai
Kobra Muay Thai Boxing Stadium, where they frequently hold also Muay Thai boxing matches.
Watching a Muay Thai match can be quite entertaining too, if you like that sort of performance.
21. Get a Tattoo
For a life-long memory of your trip, have something tattooed. :) You can go for the standard tattooing method with a tattoo gun or the native Thai version using a thin bamboo stick to get the ink in.
Sak Yant is a spiritual tattoo style you've surely seen around. If you'd like to have one like that, do some proper research on the meaning first.
One of the best tattoo salons seems to be Triangle Ink in Hin Kong, where they can do the Sak Yant tattoo for you.
And there are many, many more to choose from! There may even be as many tattoo salons as there are yoga studios in Koh Phangan.
If you're serious about having a tattoo done on Koh Phangan, make sure to visit a few studios and see for yourself, paying attention to how you like the artists' work as well as their vibe.
22. Learn Thai
Learning Thai beyond the hello's and thank you's is a wonderful way how to show interest in Thailand and its culture.
There are 2 language schools in Koh Phangan. Both provide long-term courses, for which you can even get a study visa.
C&M Cultural Center located in Sri Thanu provides both long-term and short-term courses, the shortest being a weeklong course of 6 hours in total.
KPT Language School located in Wok Tum area offers only longer term courses.
23. Geet Cookin'
Cooking a Thai meal can be a lot of fun, especially on a rainy day. There are many cooking classes spread around the island. Some of them are:
The C&M Cultural Center (mentioned above for learning Thai) offers cooking classes – both one-off courses and longer term ones.
The Phangan Thai Cooking Class in Thong Sala with Chef Oy is highly rated and involves even a fresh market visit (on a bike).
Other good ones seem to be Proud Home Cooking (near Wok Tum pier) and My Wok and Me (Chaloklaam).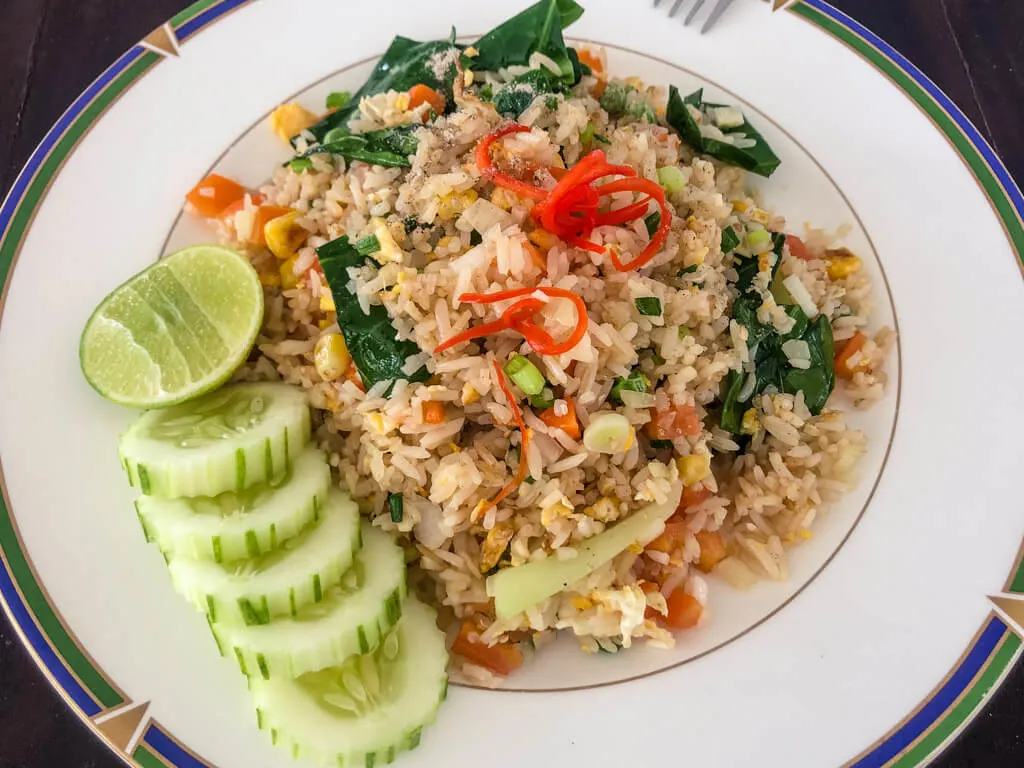 24. Go to Local Events and Festivals
Koh Phangan, and the whole Thailand actually, host a number of festivals each year. Besides, there are regular events for you to check out.
Regular events in Koh Phangan
Every Saturday evening, there's a walking street market in Thong Sala. Just go to the main pier and you'll notice a large number of vending stalls stretched out towards the direction of Baan Tai. The hours are usually from 4pm to 10pm.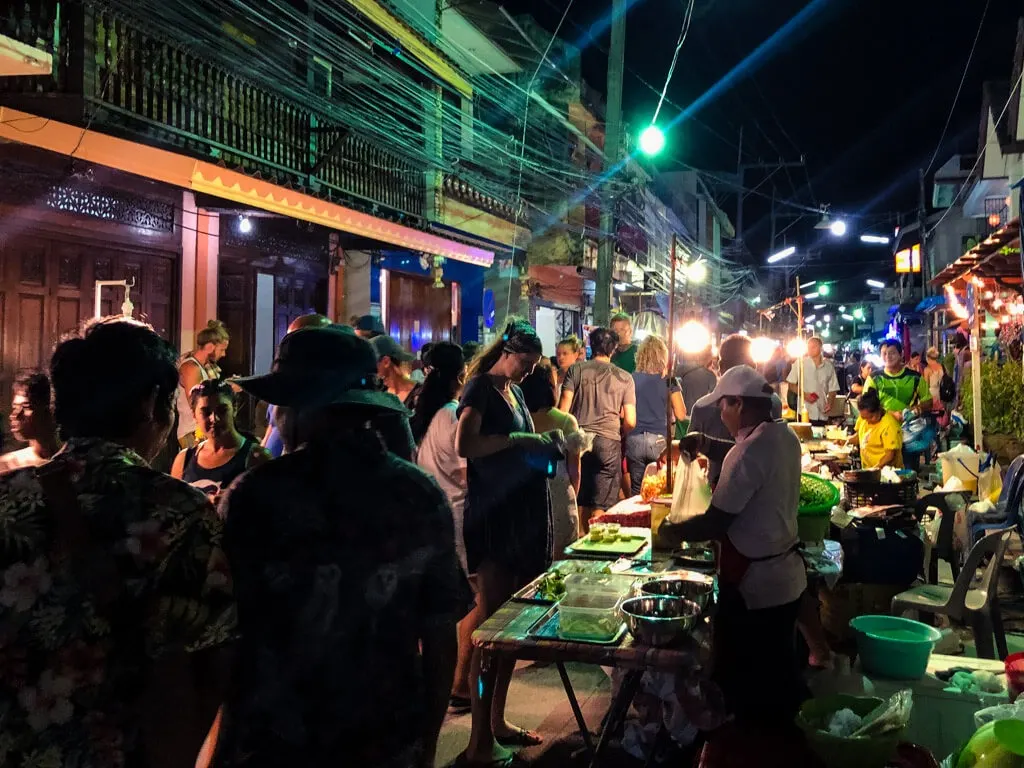 Every Sunday afternoon and evening, the fishing village of Chaloklaam gets lively with their local market. Food stalls, a relaxed community vibe and often times live music make this for a great local experience. The market officially starts at 5pm.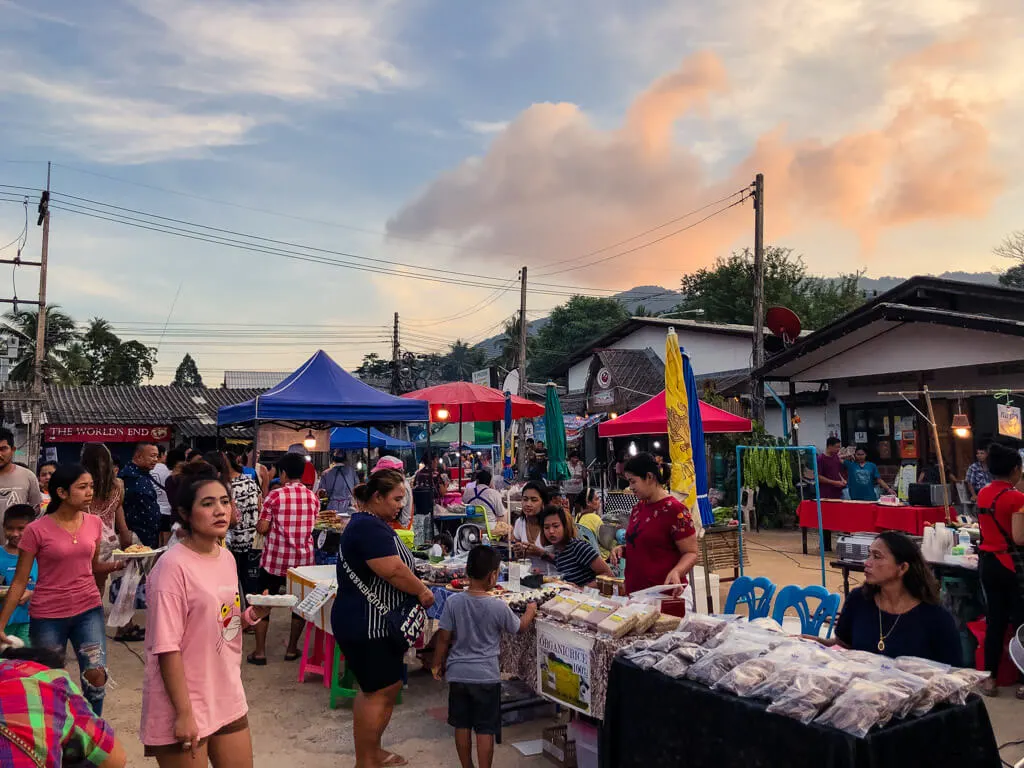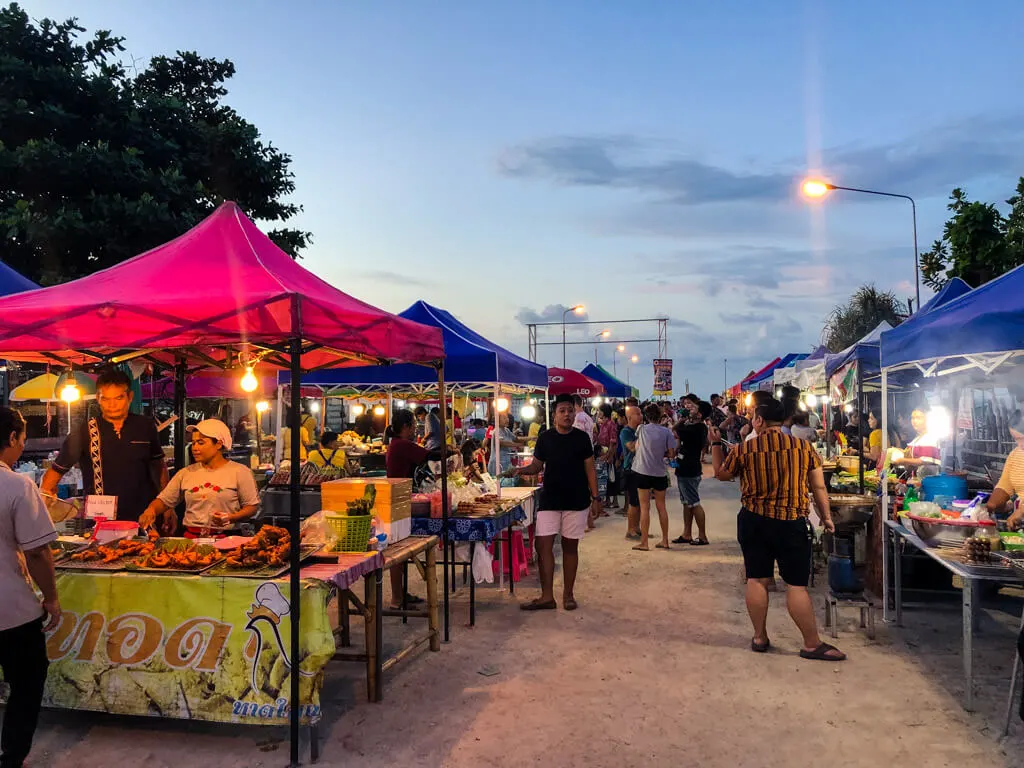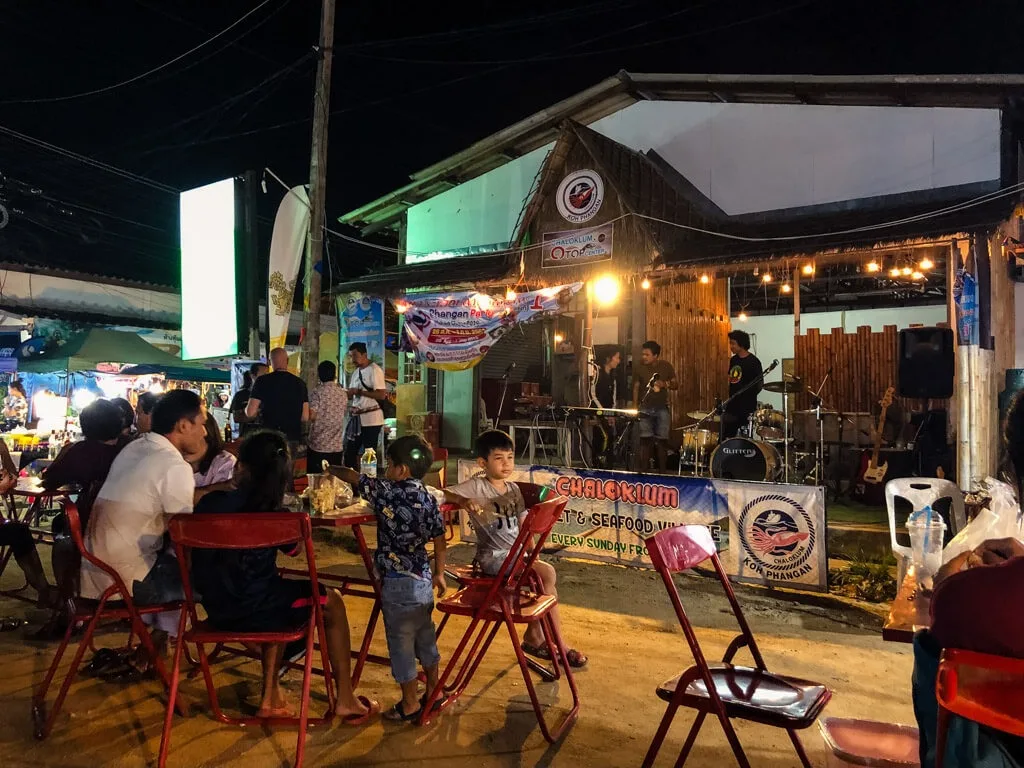 Thai Festivals in Koh Phangan
April: Songkran, the Water Festival
November: Loy Krathong, the Festival of Lights
My favorite Koh Phangan festival is Loy Krathong. Everybody buys (or makes) a little floating basket (=krathong) containing flowers and a candle. Upon dusk, locals light up the candles and send their baskets out onto the sea while making a wish.
The ceremonies are held in many places around the island, but the safest bet is to go to the beach in Thong Sala. The vibe is amazing. Everybody hangs out at the beach, there's often food, and then the beautiful glistening baskets crowd the bay.
When buying a flower basket, opt for one made out of traditional materials with the base out of bread or banana leaves. Not Styrofoam that hurts the environment.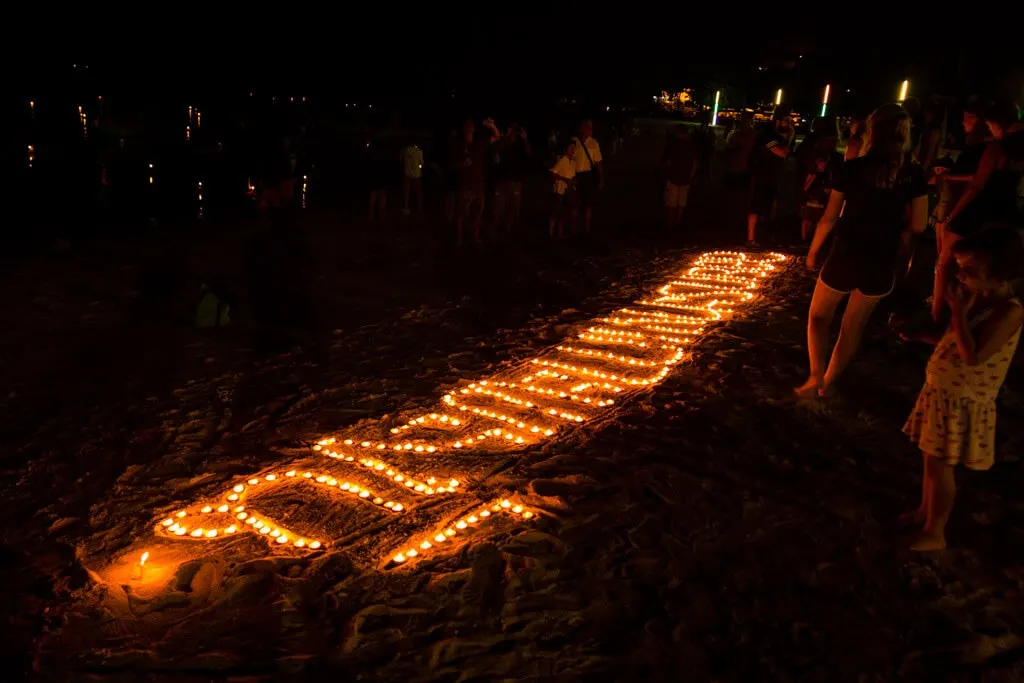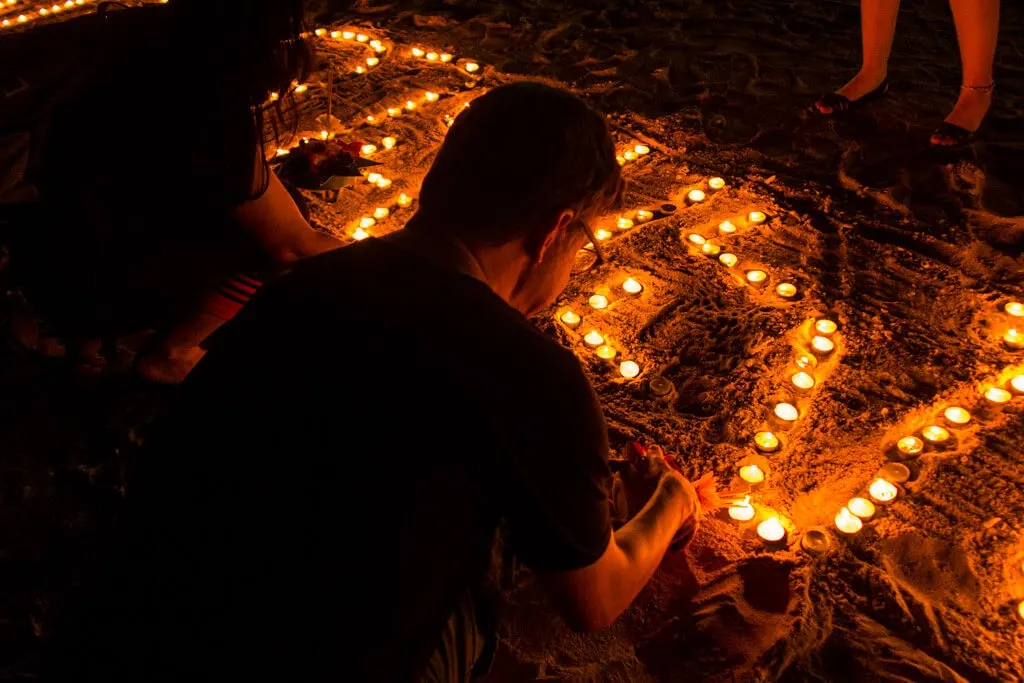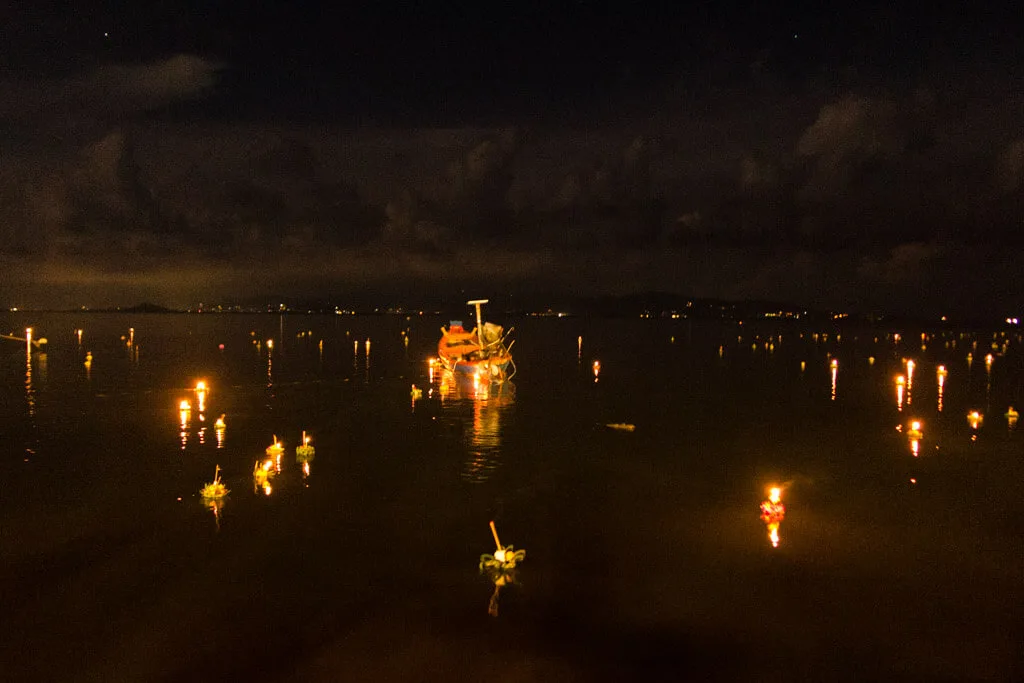 25. Work
If you need to get some online work done while in Koh Phangan, you'll have plenty of places to go. Whether you prefer a coworking center or just enjoy the buzz of a busy café, Koh Phangan has it all. Internet connections are generally great.
Coworking spaces
At Beachub, the main coworking space on the island located right next to Zen Beach in Sri Thanu, you can choose between working outside with a sea view or inside with air conditioning. It's the priciest coworking option on the island.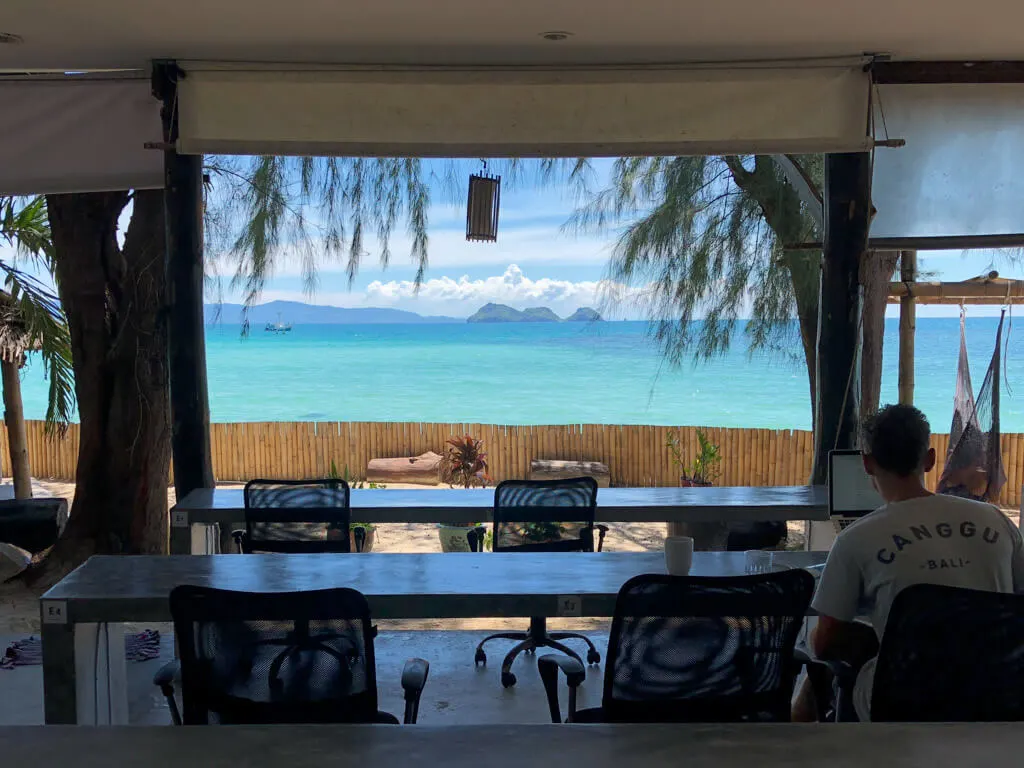 La Casa Tropicana is a restaurant/bar with recently added coworking facilities in Baan Tai.
Genesis in the Hin Kong area is primarily a yoga center, but recently they've started a coworking space too.
Secret Place is a small resort in the North of Haad Yao beach. Their bar functions as a coworking space during the day. There's no A/C.
Cafés, bars and restaurants for work
Apart from the actual coworking spaces, many places around Koh Phangan offer good enough facilities for getting work done and at the same time are nomad-friendly. :)
My most favorite Koh Phangan cafés to work at include Dots and Doppio in Thong Sala, Bubba's and What's Cup at Haad Yao, and Seaside Café near Wok Tum pier. Also Vagga Bar right at the Haad Yao beach is great for working.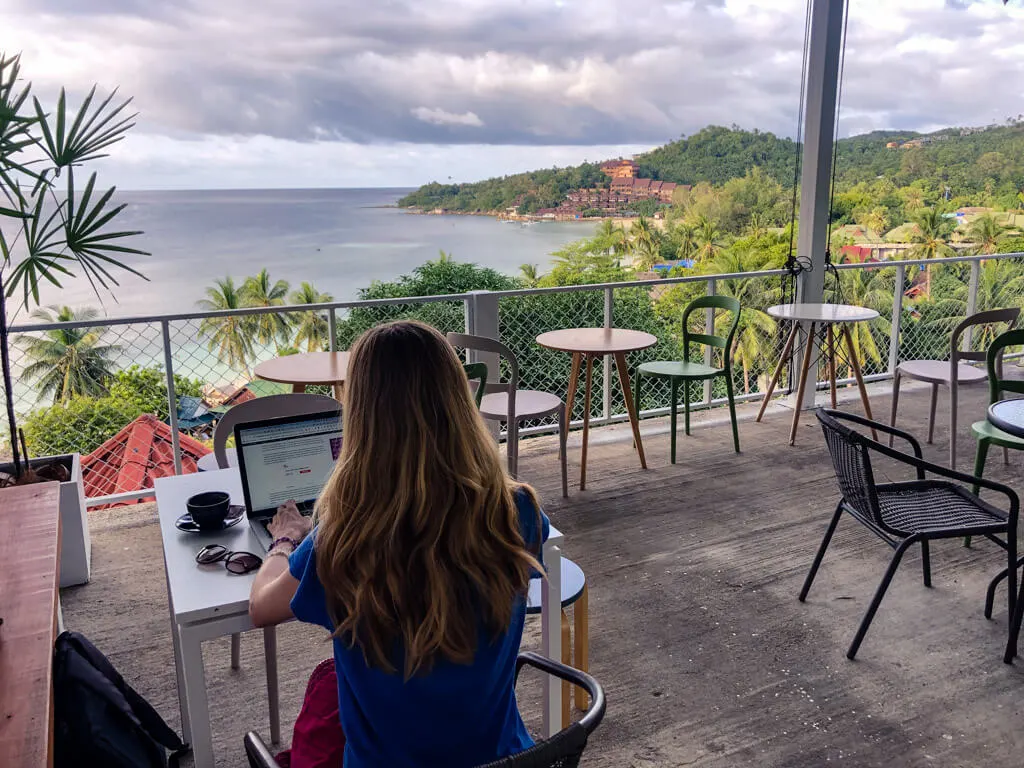 26. Experience a One-of-a-kind Sauna
I was so surprised to find such a large number of saunas on this tropical island! But it actually only adds to the cleansing effect that Koh Phangan has on many visitors.
The 2 most unique sauna experiences on the island are:
The Dome
The Herbal Steam Sauna at The Dome not only steams the body, but also heals the soul. Open every evening, the place is a magical hangout for the conscious crowd.
Drop any prejudices and immerse yourself in a once-in-a-lifetime experience. Perhaps the open fire, ambient music and starry sky will help you with that.
The Dome is located in the North near Chaloklum. You can expect to pay 200 THB for the entrance.
Wat Pho Sauna
I bet you've never experienced a sauna at a Buddhist Temple! Amirite?
The traditional Thai herbal sauna here is set up in basic conditions, but the temple proximity only adds to the authentic experience.
Men and women do sauna in separate rooms and nobody's nude. You'll receive a sarong to cover yourself with.
You can find Wat Po in Baan Tai area, in the South of the island. The fee is 100 THB.
There are many other sauna options on the island, usually in conjunction with a yoga center.
What NOT to do in Koh Phangan
Contribute to Plastic Pollution
If you can avoid plastic, please do so in Koh Phangan as the island doesn't have any recycling facilities. I'm currently working on how to be ecological on the island, but you can do one little gesture right away:
Buy a TrashHero bottle and keep refilling it at the many refilling stations around the island, instead of continually buying plastic bottles of water.
For extended stays, you can purchase a large plastic container of water at any 7-11 and refill it cheaply at the self-service refilling machines.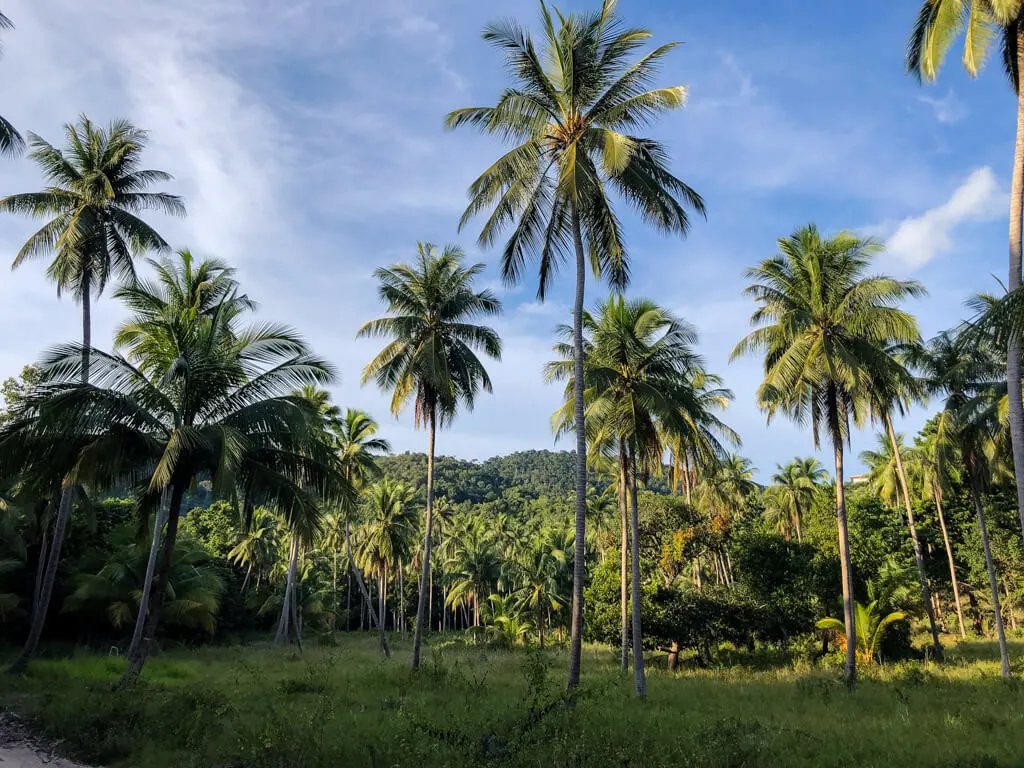 I hope that's been plenty of inspiration of things to do in Koh Phangan to keep you entertained for days! I happily stayed for the whole winter and never ran out of things to do.
If you love Thailand as much as I do, you can also check out another wonderful Thai Island – Koh Lanta. And, of course, when travelling through Bangkok, don't forget to stop over and eat your heart out!
I'll be beyond happy if you'd like to subscribe to my monthly news, so that once more (Thai) content is out, you'll know about it right away. Khob khun ka! (çthat's "thank you" in Thai)