This post is also available in:

Čeština
As low key as Koh Phangan still is, the amount of resorts and hotels in Koh Phangan keeps growing rapidly.
While staying for a few months on the island, I was able to experience that firsthand. What looked like abandoned patches of land have filled up with fancy bungalows within months! All rushing to cash in on the high season in January and February.
At first it seems overwhelming to pick the best hotel in Koh Phangan. That's where I come in – based on reviews from Agoda and Booking and on my personal research on the spot, I've compiled the best of the best Koh Phangan resorts and hotels for you to book during your vacation in Thailand.
First, I'll give you a quick rundown of all the recommended hotels in Koh Phangan. That'll come in handy if your time is limited and you just want a few pointers on where to stay in Koh Phangan.
Then, I'll tell you about the best area to stay in Koh Phangan depending on what you're looking for on your holiday. The areas around the island do differ majorly.
In between, you'll find photos and anecdotes from when I visited the mentioned places personally. Many of these best hotels in Koh Phangan are my favorite for their cafés, restaurants or 'just' amazing views. Such as the views and viewpoints that I also recommend in my article about the best things to do in Koh Phangan.
For a map of Koh Phangan hotels mentioned in this article, scroll all the way to the bottom.
Note on Hotel Selection
When putting together the best hotels and best resorts in Koh Phangan, I went mostly after the reviews given online (on both Agoda and Booking), my own opinion of the places is secondary.
The Ko Phangan hotels included have the highest ratings – always above 8 and often above 9 (out of 10). In the mid-range and budget options, I've listed the hotels, resorts, huts and bungalows based on the ratio of rating to price. That means so that you'd get the most bang for your buck.
Why I recommend booking on Agoda for your Koh Phangan Stay
The general understanding is that Agoda has, in comparison to other booking sites, better offerings in Asia, or so I've heard.
While I can't generally vouch for that, through my research I did find that in all cases (but one) the price on Agoda was a lot cheaper than on Booking.
That's why I recommend booking your accommodation in Koh Phangan through Agoda, other than that Agoda is trustworthy and has all functionalities you might need. I often use it myself and used it also on the island when I booked a night in the best resort in Koh Phangan. More on that soon. :)
Best Koh Phangan Resorts: Luxury
All the Koh Phangan resorts mentioned in this section have 5 stars and belong to the absolute best that can be found on the island. Additionally, I've included a villa option, which doesn't have a star rating, but also belongs to the luxury category and has amazing reviews.
Many of the luxury resorts on the island, such as the Anantara Resort Koh Phangan, the Koh Phangan Panviman Hotel or the Santhiya Koh Phangan Resort and Spa, are located at Thong Nai Pan Noi in the Northeast, the larger of two bays located in Thong Nai Pan.
It's no wonder, since it's a sparsely populated area with heavenly beaches and big plots of land able to accommodate large luxury resorts.
I stayed at Santhiya and consider it to be one of the best Koh Phangan luxury resorts.
BEST LUXURY HOTELS IN KOH PHANGAN
Hotel
Location
Stars
Picture
Description
More Details
Somewhere Only We Know
Baan Tai
5*
This extremely highly rated (9.7!) resort offers the utmost luxury in its 2 private villas, each with their own private beach. It's ideal for the most demanding guests who value privacy above everything and are ready to pay for it. The level of service manifests in a private concierge included in each booking.
Check prices and availability
Anantara Rasananda Koh Phangan Villas
Thong Nai Pan Noi
5*
Anantara Koh Phangan offers luxury villas and suites in a modern Thai design with a beach view restaurant serving Thai and Western dishes, and a Japanese fine dining restaurant. A private pool, an Apple TV or an espresso machine are just some of the amenities the rooms have.
Check prices and availability
Kupu Kupu Phangan Beach Villas & Spa by L'Occitane
Haad Pleayleam
5*
Kupu Kupu Koh Phangan is the only resort from all the 5 star ones mentioned here, which directly faces the sunset. The private beach, infinity pool, and the individual pools that each villa has, are just a few of the many reasons why guests love this resort, located just a short ride from Thong Sala town.
Check prices and availability
Panviman Resort Koh Phangan
Thong Nai Pan Noi
5*
Hotel Panviman Koh Phangan is built on a hillside, so you can count on magnificent views. An outdoor bathtub and second floor terrace are some of the most loved amenities. While there's no on-site restaurant, there are plenty of them within walking distance. A private beach is just a short walk down.
Check prices and availability
Santhiya Koh Phangan Resort & Spa
Thong Nai Pan Noi
5*
Koh Phangan Santhiya is an upscale resort opened in 2018. A beachfront pool with private beach access, modern villas built from teak, a gym, an on-site water sports center and the option to use golf carts to get around, make Santhiya one of the best Koh Phangan resorts.
Check prices and availability
Le Palais Hotel
Haad Rin
5*
The only luxury option to stay near Koh Phangan's Full Moon party, Le Palais Hotel will strike you at the first sight with its resemblance of the Angkor Wat. A private beach and two outdoor swimming pools, together with a sun terrace and tastefully decorated rooms are the best features of this hotel.
Check prices and availability
The Joy Beach Villas
Hin Kong
Joy Beach Villas are one of the most highly rated medium-luxury options in Koh Phangan. Located on Hinkong Beach, you can enjoy wonderful sunsets from there. The beach itself is not good for swimming because of its shallow water, but you can enjoy a dip in the onsite pool.
Check prices and availability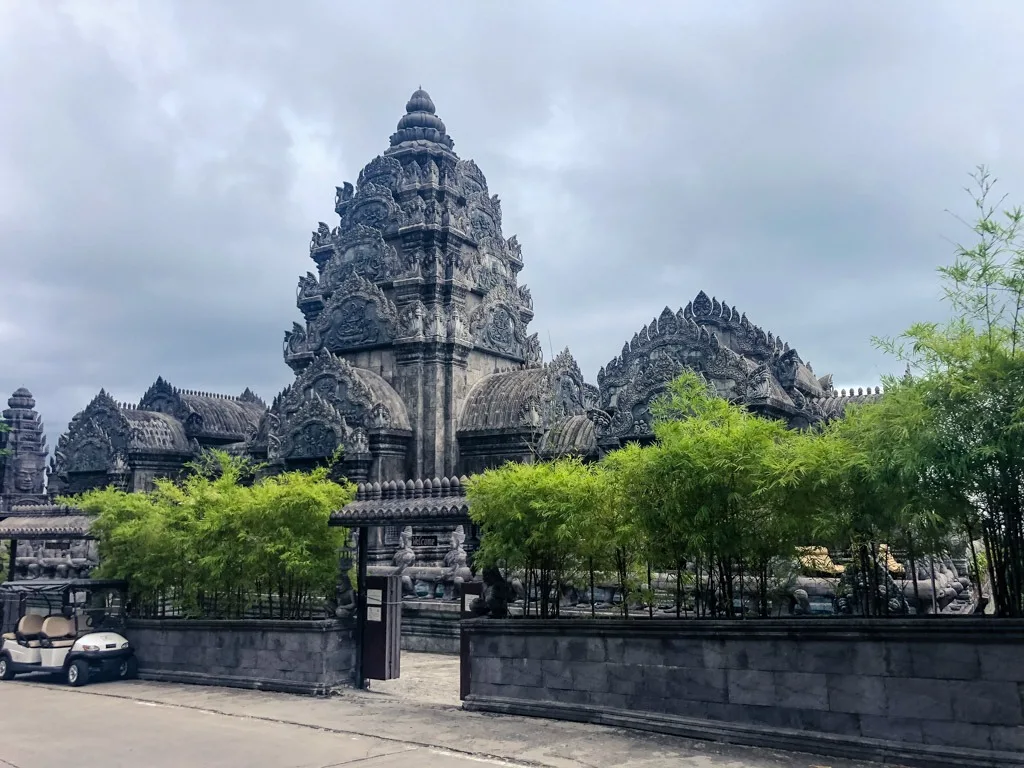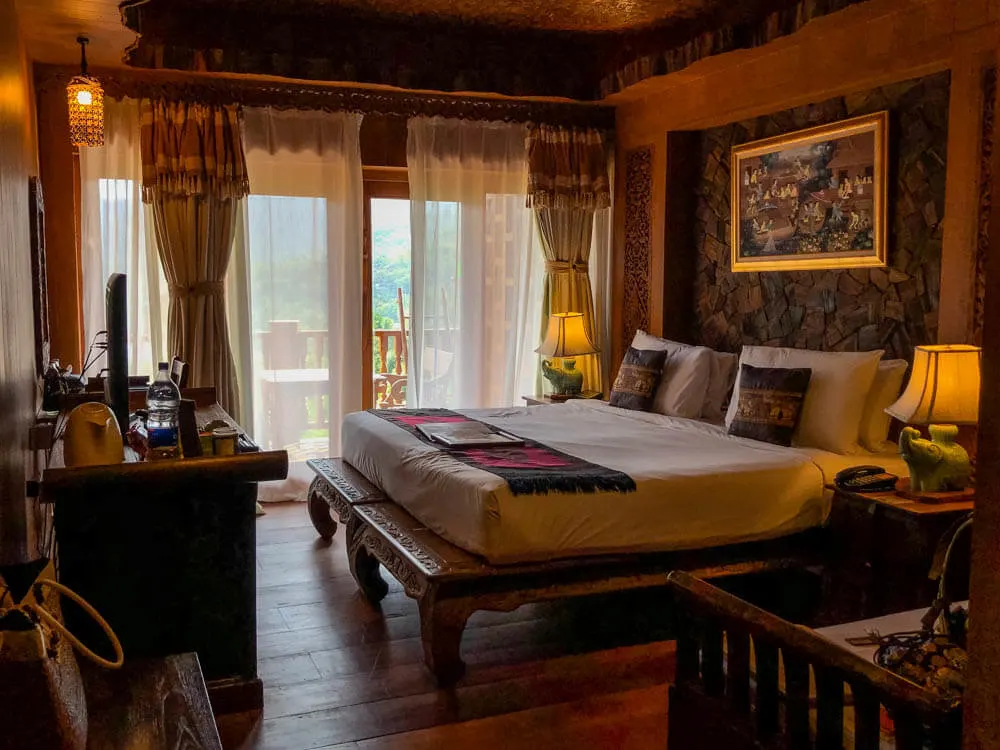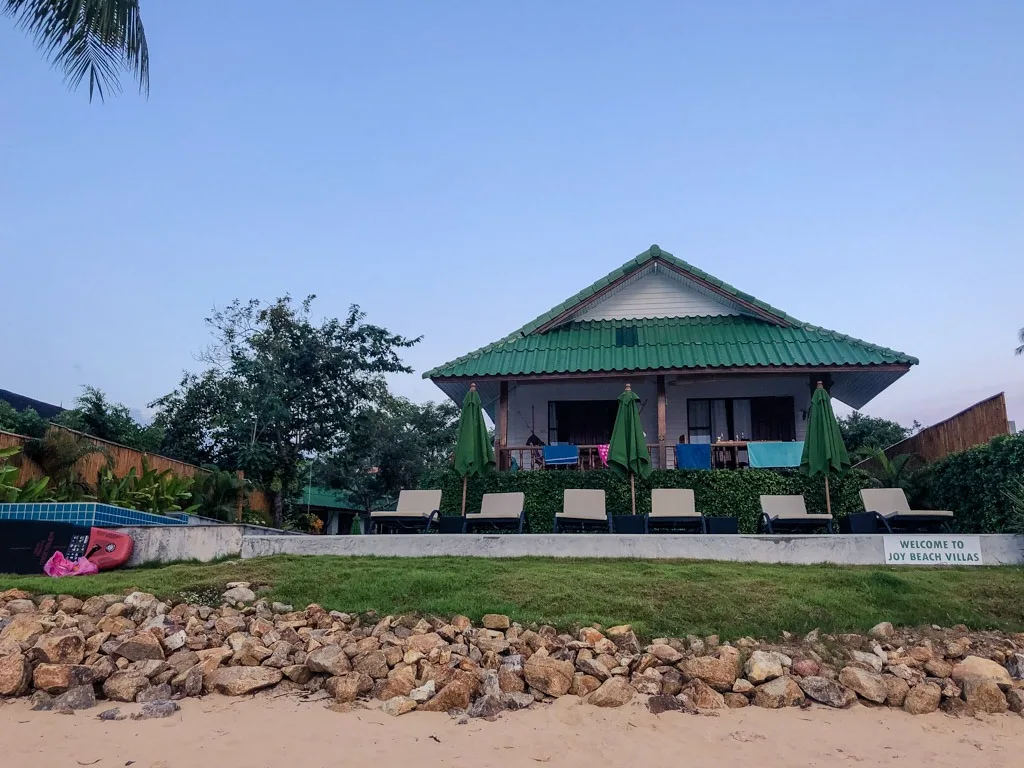 Best Koh Phangan Hotels: Mid-range
Most of these mid-range hotels in Koh Phangan give you comfort for a very affordable price. Their star rating goes from 4 stars to 3 stars, with the addition of a lovely little resort I know personally.
The Koh Phangan resorts mentioned below all have ratings above 8, some even 9 (out of 10).
There are plenty of mid-range accommodation options on the island. So whether you're looking for the best place to stay in Koh Phangan's yoga village Sri Thanu or near the party area in Haad Rin, you'll have enough to choose from.
The list below is ordered by the number of stars and the price (I compared them all for the same date). Many of the places mentioned have a range of options from basic rooms to deluxe units with a sea view.
Some of the mid-range options, such as the Bayshore Resort Koh Phangan, Palita Lodge and others are located just a stone's throw away from the ultimate party location, Haad Rin.
If you come for the Full Moon festivities, these are your Koh Phangan places to stay in total comfort. Just make sure to book well in advance.
BEST MID-RANGE HOTELS IN KOH PHANGAN
Hotel
Location
Stars
Picture
Description
More Details
Sunset Hill Resort Koh Phangan
Haad Chao Phao
4*
The boutique resort Sunset Hill Koh Phangan is a wonderful hillside resort with a gorgeous infinity pool overlooking the sea. The sunsets from there are heavenly! Its location is convenient, even though it's a short and steep ride up from the main coastal road. Free shuttles will take you to the nearby Secret Beach.
Check prices and availability
Koh Phangan Bayshore Resort
Haad Rin
4*
The newly renovated Bayshore Hotel Koh Phangan is located conveniently in the party capital Haad Rin, but still offers peace and quiet. The private beach and an outdoor pool are a must, too. Bayshore Koh Phangan features a restaurant serving Thai and Western dishes right on the beach and a beach club!
Check prices and availability
Zama Resort Koh Phangan
Haad Chao Phao
4*
Located right between the beaches of Haad Chao Phao and Haad Yao, Zama Resort offers even a yoga room. From there one can watch amazing sunsets, ideally from the outdoor swimming pool or straight from the bungalow. The on-site restaurant provides a range of Thai and Western dishes.
Check prices and availability
Koh Ma Beach Resort Koh Phangan
Koh Ma
4*
This resort is located at the Koh Ma beach Koh Phangan, which has the best snorkeling opportunities on the island. The slightly isolated area makes it convenient if you prefer to stay put in one place or if you don't mind driving a lot. A large pool and an on-site restaurant will help make your stay comfortable.
Check prices and availability
Seaflower Koh Phangan
Haad Chao Phao
3*
Seaflower Bungalows are a comfortable option in the popular Haad Chao Phao area. The rooms range from the more basic bungalows to luxury ones next to their beautiful pool. There's a quiet on-site restaurant serving Canadian-Thai fusion cuisine, as well as a lovely beachfront bar to watch sunsets from.
Check prices and availability
Long Bay Resort Koh Phangan
Haad Yao
3*
Long Bay Koh Phangan is right at one of the nicest beaches in the West, so you can count on great sunset views. The location is convenient with a lot of amenities nearby. A pool, massage treatments and daily BBQ at the on-site restaurant keep Long Bay's guests happy.
Check prices and availability
Palita Lodge Koh Phangan
Haad Rin
3*
One of the better accommodation options in Haad Rin is the mid-range Palita Lodge. Swim in their private pool or dine in the beachfront restaurant, which serves Thai and Western cuisine. The location right on the beach is this property's main draw. And it's a great value for money.
Check prices and availability
The Seaside Resort Koh Phangan
Wok Tum
The relatively new Seaside Resort may have no stars (yet), but it's a wonderful mid-range option in the area. Located in Wok Tum next to Hinkong, you have quite a few amenities within walking distance. The small but cozy bungalows include a terrace and there's a nice pool on the property.
Check prices and availability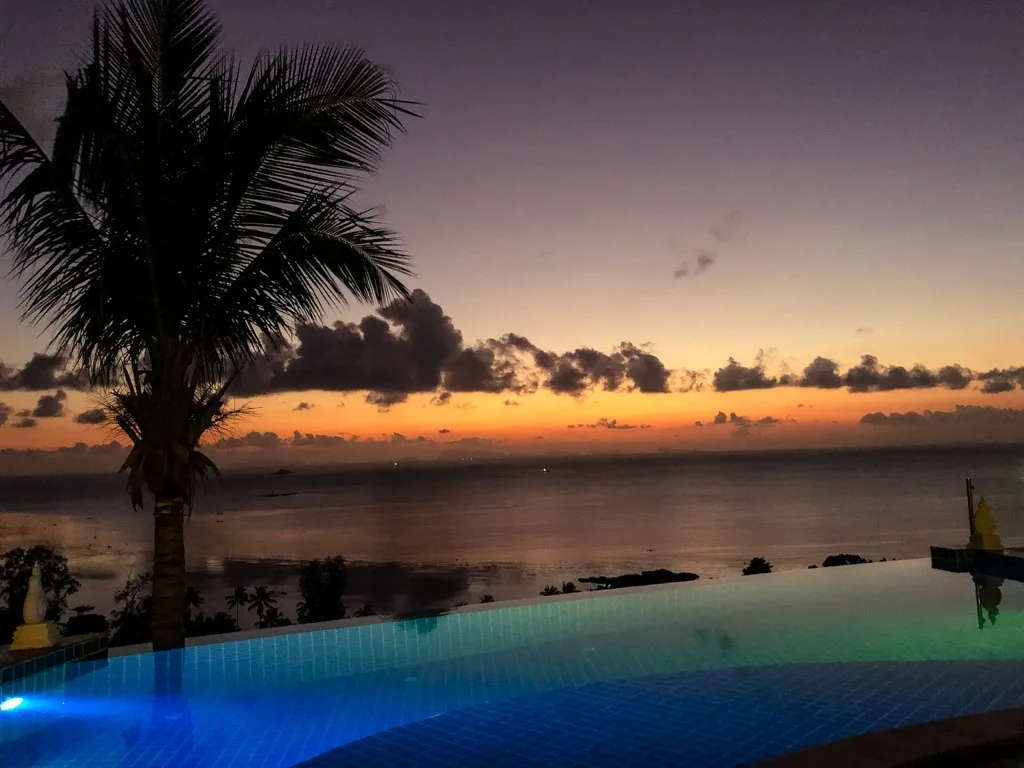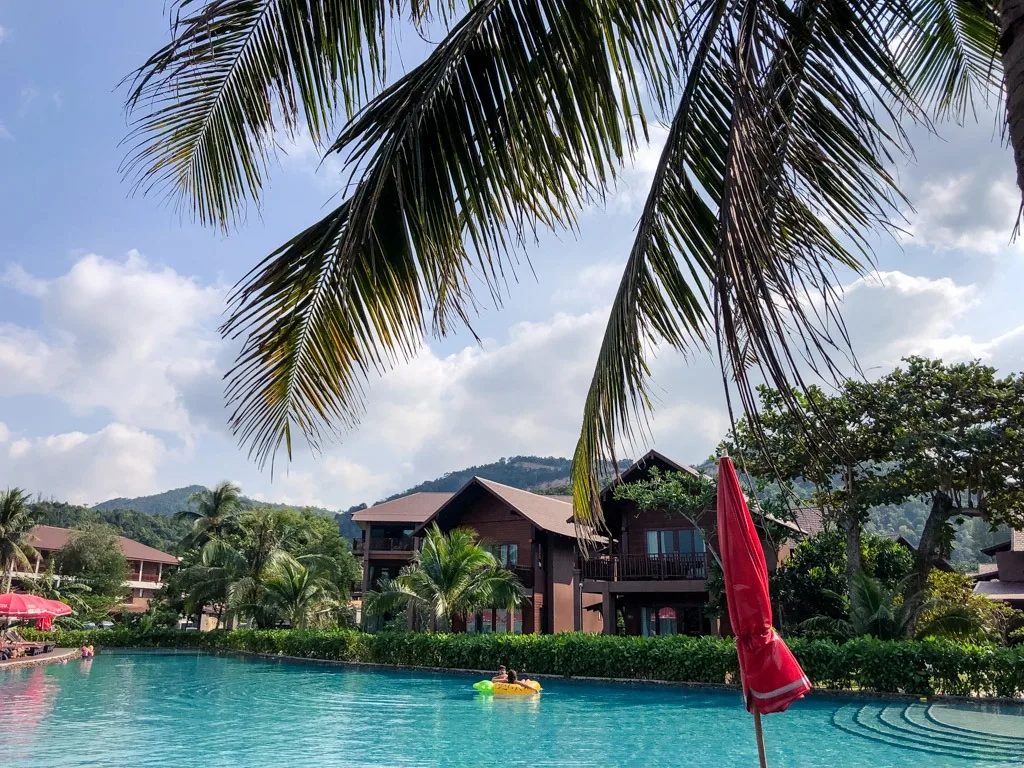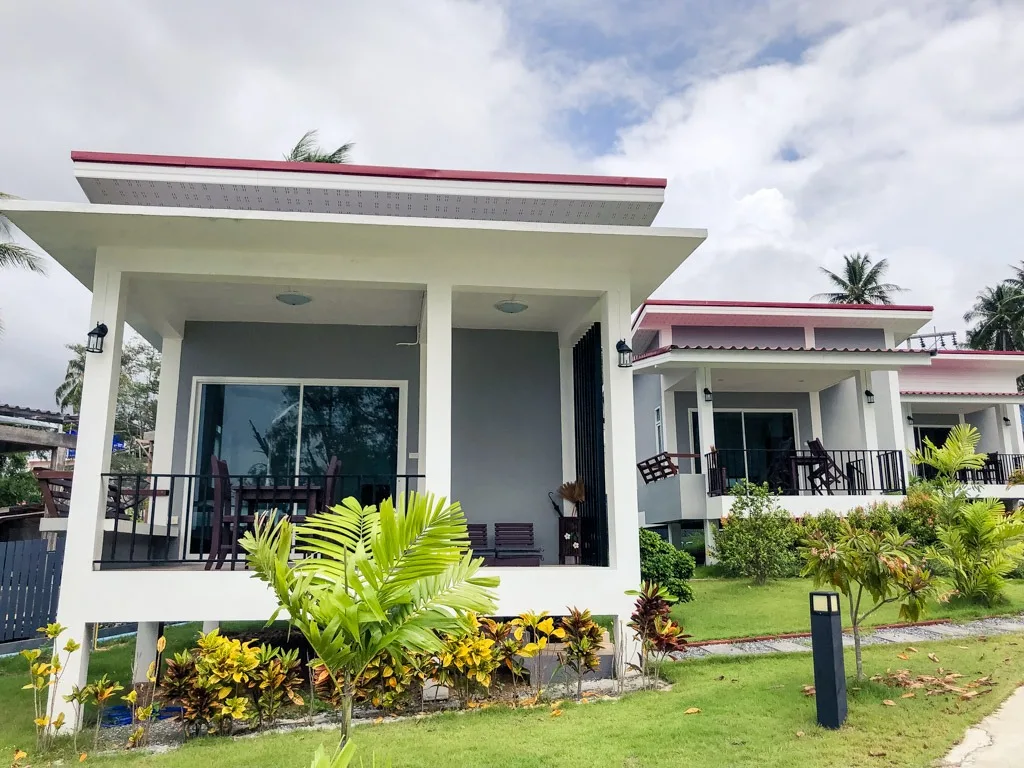 Budget Accommodation Options in Koh Phangan
You'd be surprised to see how far your money can go on Koh Phangan when it comes to getting nice accommodations. The island has its fair share of cheap hotels. Koh Phangan bungalows of the basic type without A/C are especially the most popular low-cost option.
With a modest budget, you can often still stay in a three-starred resort! In this list, there are 4 such resorts and their bungalows can be rented for only $20 to $40 per night (in the low season).
There are not too many hostels in Koh Phangan, though. You can find plenty of places offering cheap rooms, but those usually don't score too high on the ratings.
In Haad Rin especially, since most backpackers coming for the Full Moon party don't care much about the quality of the place where they'll spend a few hours passed out, there's a lot of cheap crappy options. That's why I list a few simple Haad Rin bungalows.
In the overview below, I list the low-cost hotel options in Koh Phangan, which are still rated highly. All have a rating above 8 (out of 10).
BEST BUDGET HOTELS IN KOH PHANGAN
Hotel
Location
Stars
Picture
Description
More Details
Sunset Cove Resort Koh Phangan
Haad Chao Phao
3*
Koh Phangan Sunset Cove has a wonderful sunset location right on the Haad Chao Phao beach. You can watch the sun go down from their infinity pool. With the natural building materials used and the authentic decoration of the huts you'll really get the local feel. You can also enjoy their gym, a restaurant and even a library.
Check prices and availability
High Life Koh Phangan
Haad Yao
3*
With bungalows contained in a garden-like setting, High Life sits atop a cliff overlooking the long Haad Yao Beach. Narrow stairs lead all the way down to the water and can be comfortably accessed during low tide. The resort also has a nice restaurant with mostly Thai dishes, where you can observe sunset.
Check prices and availability
Munchies Resort Koh Phangan
Haad Rin
3* (or 1*)
This resort has an inconsistent star rating, as well as customer reviews, often even dropping below 8. It could be because of the wide range of accommodation options from simple dorms with metal beds to beachfront bungalows. Located in Haad Rin, it's a popular pick for Full Moon party dates.
Check prices and availability
Delight Resort Koh Phangan
Haad Rin
3*
In the Koh Phangan Delight Resort all rooms come with A/C, which is not a standard in low-cost resorts. It's located in Haad Rin, so a great base for the Full Moon party. A location within a minute walk to the beach and a large swimming pool are the best features. It's one of the best value for money options.
Check prices and availability
Benjamin's Hut
Haad Chao Phao
2*
Benjamin's Hut tagline says it all: A simple place for a simple life. These little bungalows lack nothing, but don't expect any lavishness. The huts with or without A/C line a path leading towards an on-site restaurant, a beach bar and a pool, as well as the actual beach. Awesome for sunsets!
Check prices and availability
Phanganist Hostel
Ban Tai
Phanganist belongs to the best Koh Phangan hostels. Choose a bed in a dorm or a private room and enjoy the amenities Phanganist provides, such as an outdoor pool, an open-air bar, a restaurant and a chillout lounge. It's in an area with the highest concentration of bars and not far from Haad Rin.
Check prices and availability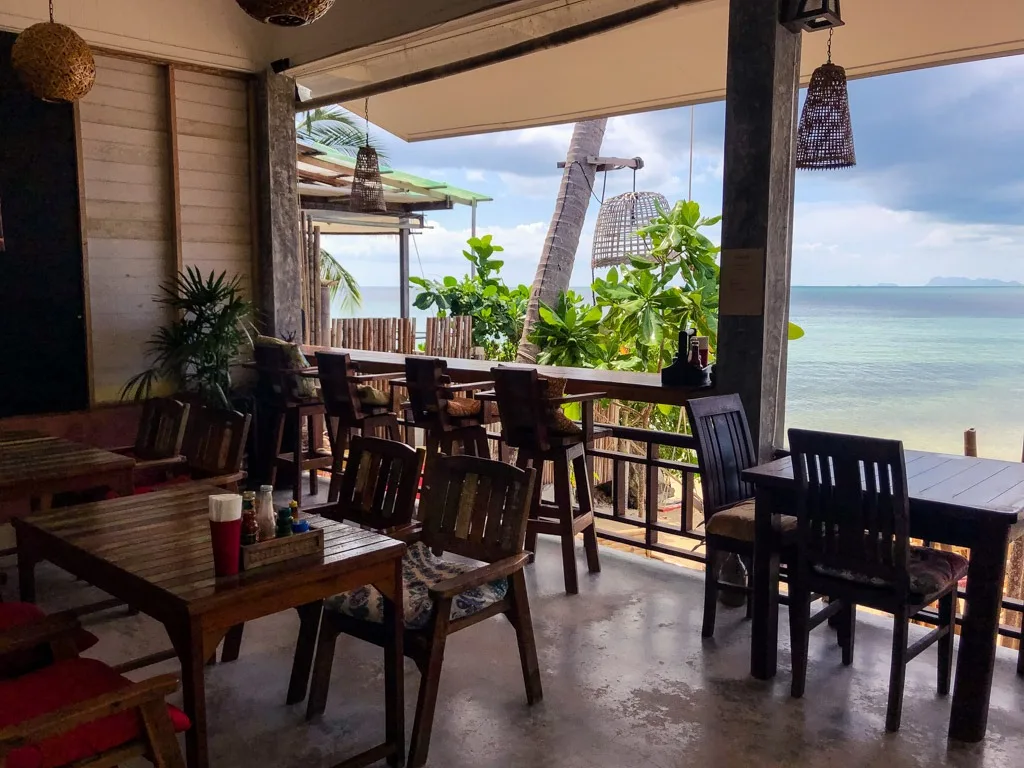 Where to Stay in Koh Phangan: Areas and Their Typical Features
Koh Phangan's North: Chaloklum (Chaloklaam)
Ideal if you want a more authentic Thai experience
Even though the number of foreign-owned business has exploded in recent years, Chaloklaam still keeps the authentic feel of a local fishing village.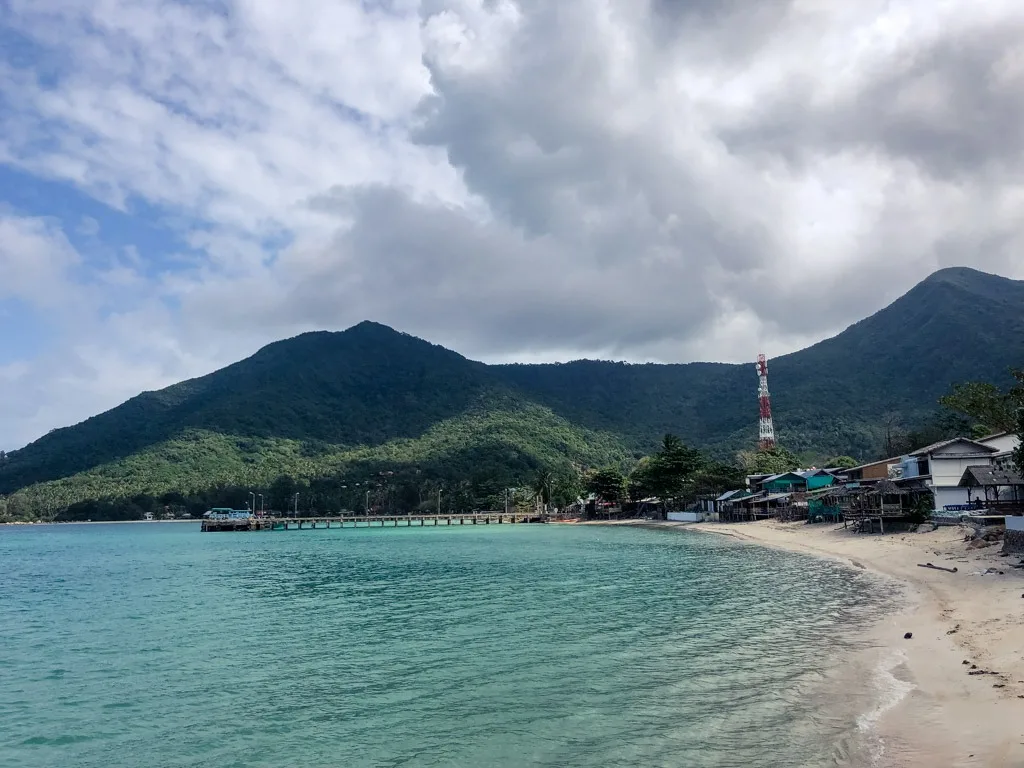 Koh Phangan's Northwest: Koh Ma / Mae Haad
Ideal if you want to be secluded, but just a little
Koh Ma is a tiny islet connected to the land by a sandbar that fully appears with low tide. The adjacent beach called Mae Haad has a few resorts and is far from being undiscovered.
Still, to get to the nearest village, Chaloklaam, you'll need 5-10 minutes on a scooter.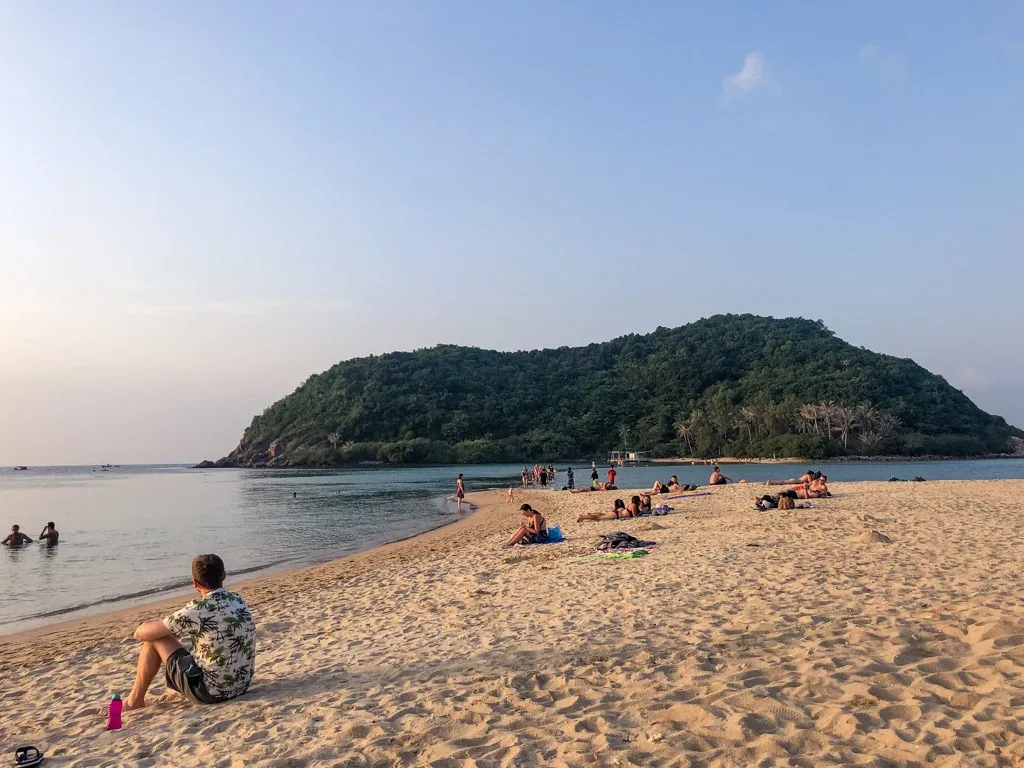 Koh Phangan East Coast: Thong Nai Pan
Ideal if you're after absolute peace and quiet
Koh Phangan's East features the least populated areas where one can stay. That's why most of Koh Phangan luxury hotels and resorts are located right there.
It's ideal if you want to enjoy a resort-oriented vacation and don't care about seeing much more of the island other than on a day trip or two.
Boat taxis are often used to transport guests in and out, as it's a faster means of transport than riding on the windy roads.
Thong Nai Pan features two bays, the longer Thong Nai Pan Yay, which is quite developed, and the more secluded and quiet Thong Nai Pan Noi.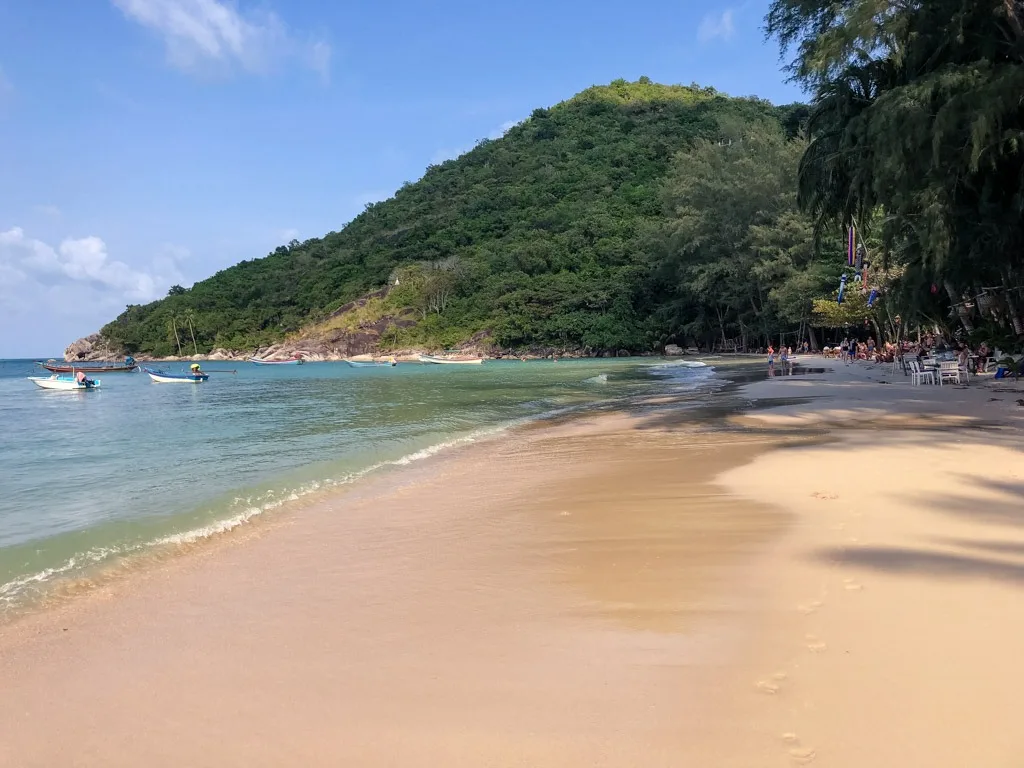 Koh Phangan's Southeast: Haad Rin
Ideal if you came for the Full Moon party
If the Full Moon Party is what you're mainly after, stay right where the action is – in Haad Rin. Fortunately, there are many different Haad Rin hotels and resorts to choose from. You can find a few above.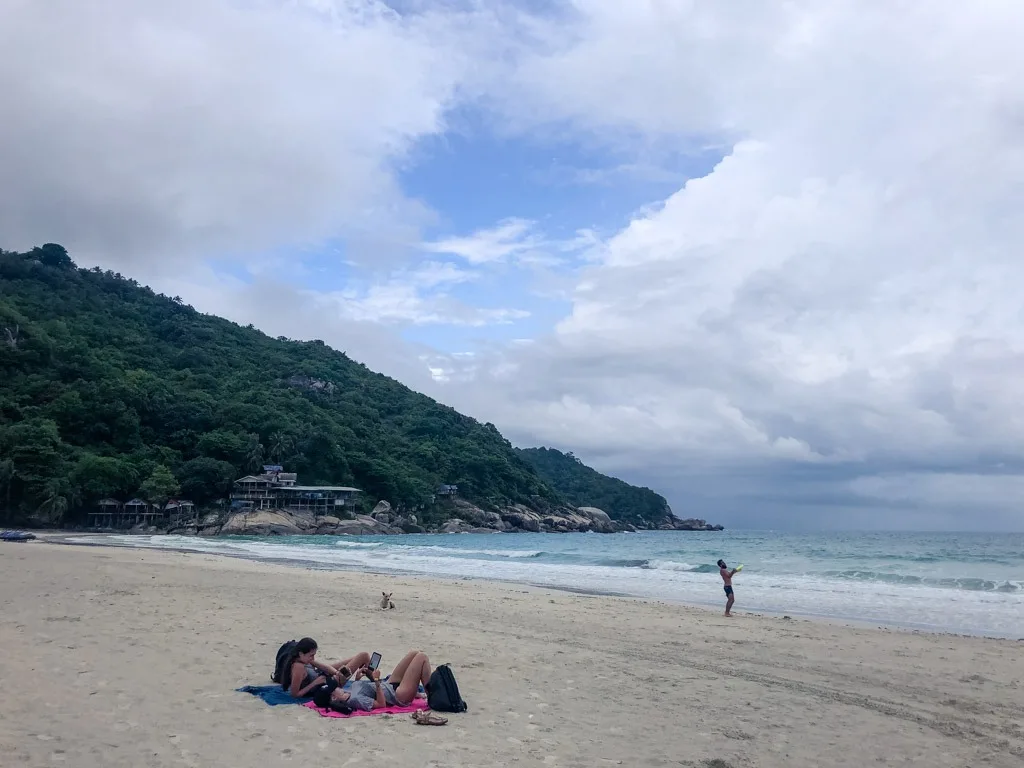 Koh Phangan's South: Baan Tai
Ideal if you like being close to bars
Baan Tai is a long road going between the main town Thong Sala and the Full Moon destination Haad Rin. It's mostly lined with bars and a few supermarkets can be found here too. The beaches are decent.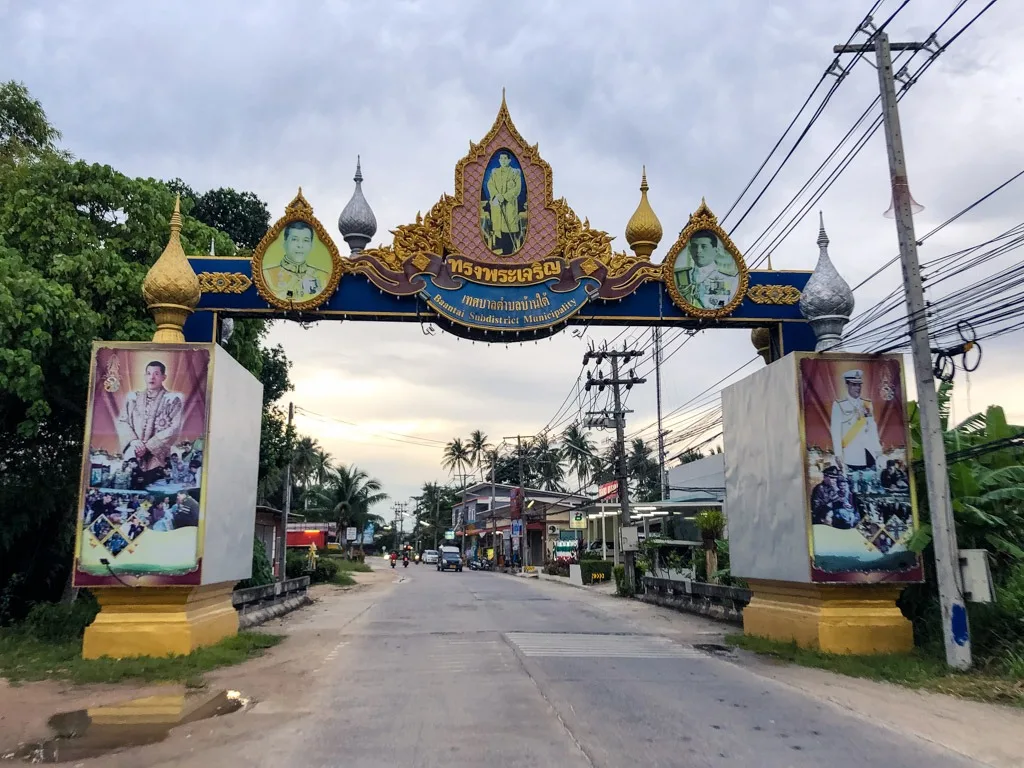 Koh Phangan's Southwest: Thong Sala
Ideal if you enjoy the buzz of an island town
Thong Sala is where you can find the best street food markets and the highest number of shopping opportunities, be it souvenirs, clothes or electronics. Diverse restaurants abound too.
However, it's not the nicest area to stay, in my opinion. That's also why there are not particularly many Thong Sala hotels. They're more concentrated along the coast in Baan Tai as mentioned above.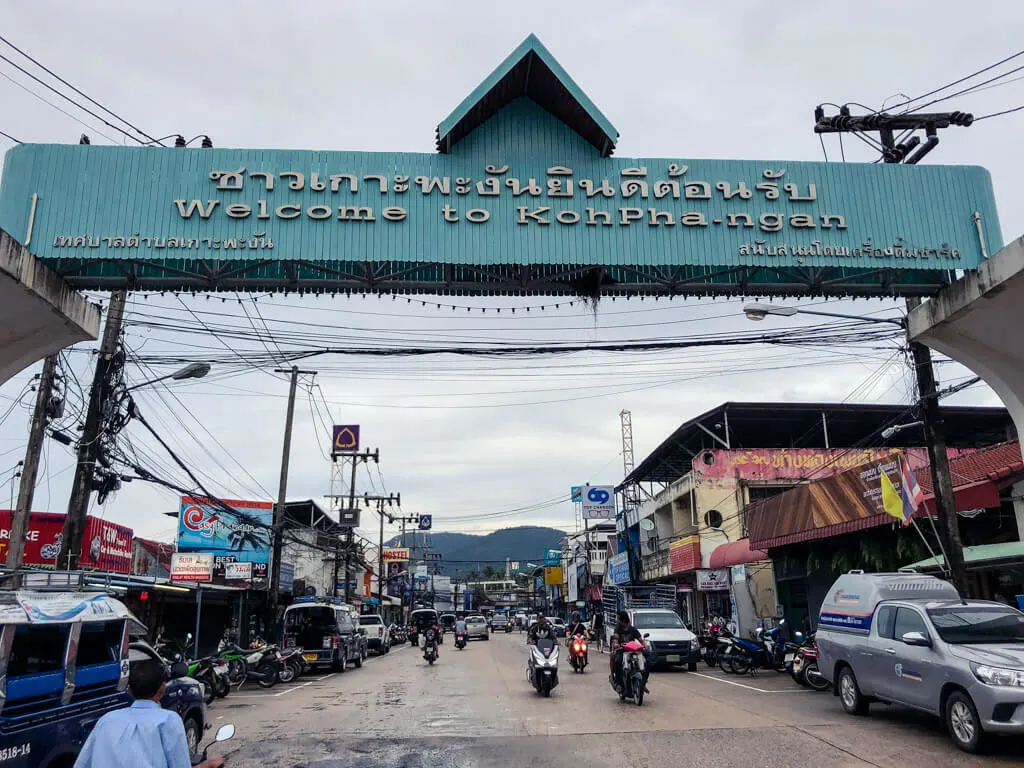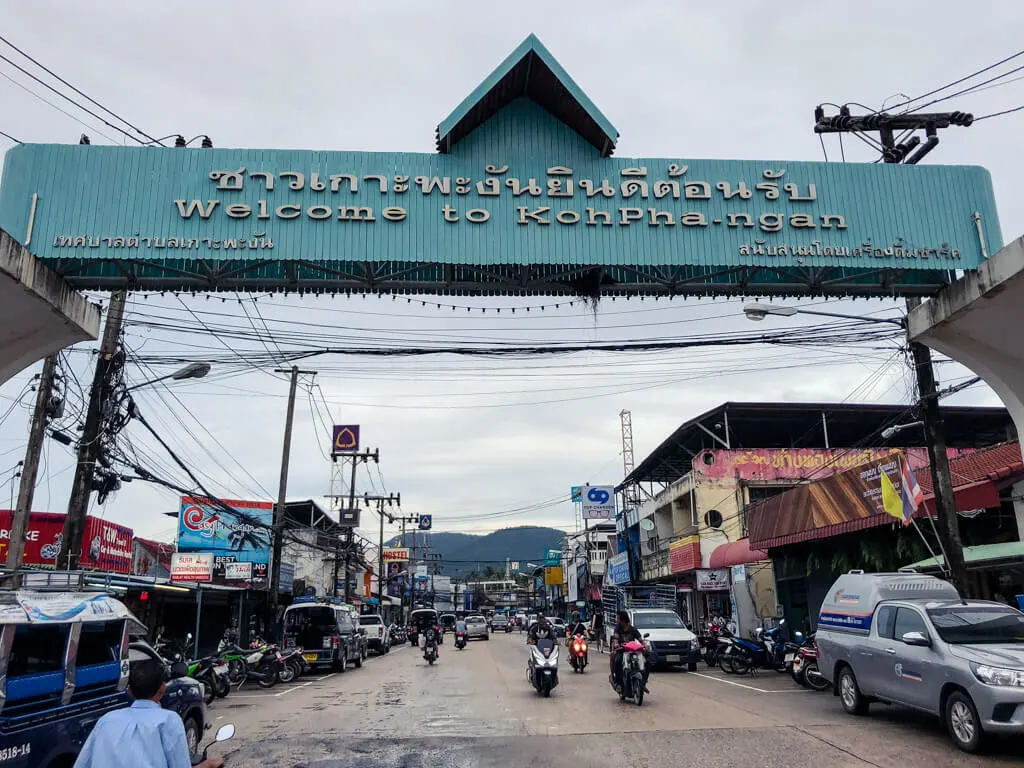 Koh Phangan West Coast: Sri Thanu
Ideal if you're into yoga
To stay in the heart of Koh Phangan's yoga capital, choose Sri Thanu. As a bonus you'll enjoy an abundance of vegan places to eat and some very nice beaches.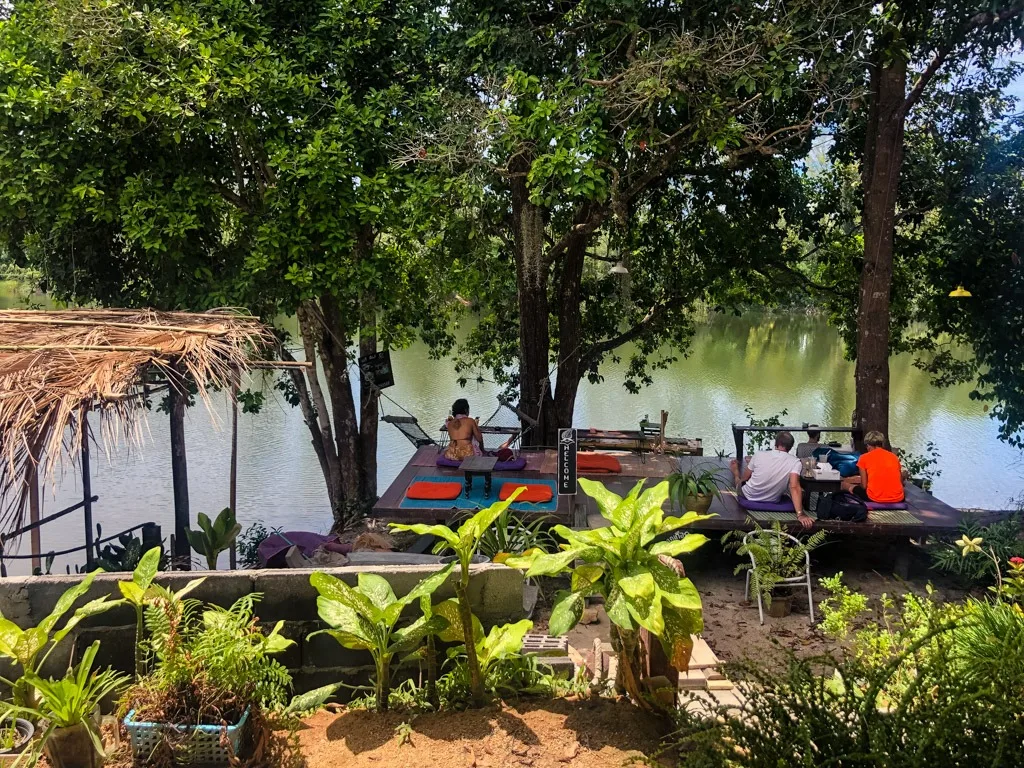 Koh Phangan West Coast: Haad Chao Phao, Haad Son, Haad Yao, Haad Salad
Ideal if you need a good beach close to you
'Haad' means a beach in Thai so if you stay in these areas, you'll be right on the beach or at least near it.
From Sri Thanu, the beaches go in this order: Haad Chao Phao, Haad Son (Secret Beach), Haad Yao (Long Beach) and Haad Salad. There are a lot of Koh Phangan beach resorts located right there.
While the Long Beach offers the longest stretch, it doesn't have too many Haad Yao hotels. There are a few dispersed ones but more can be found e.g. in Haad Chao Phao.
Haad Chao Phao is also the closest to Sri Thanu.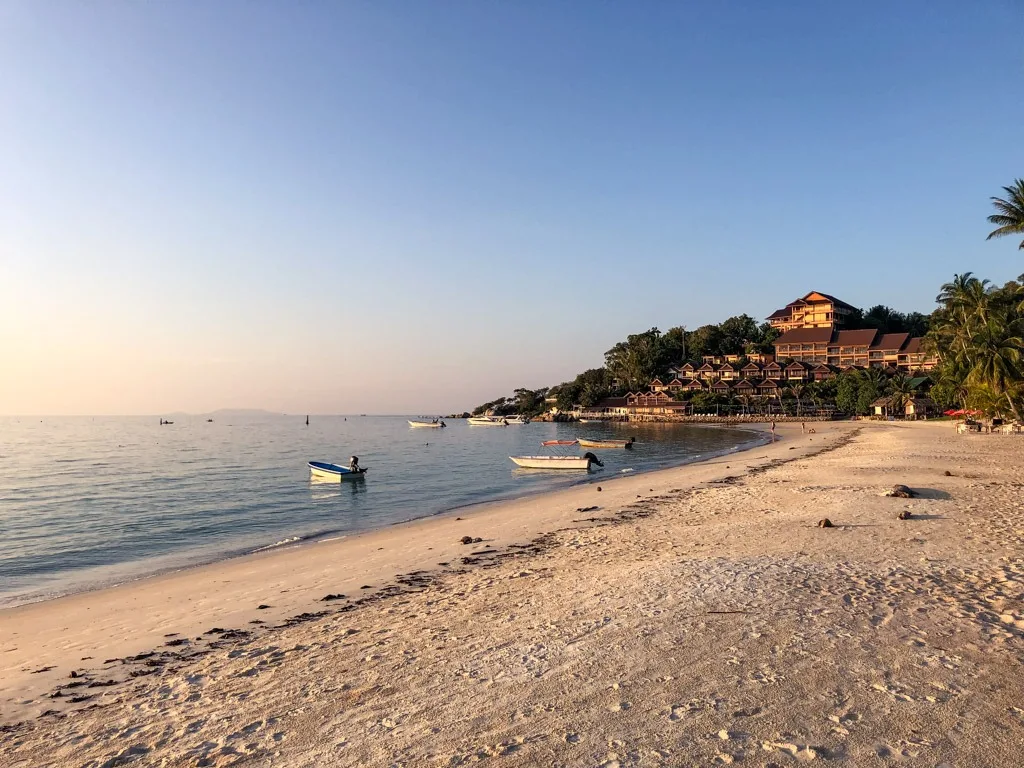 Koh Phangan West Coast: Hin Kong
Ideal if you don't care about any of the above
If you just want a nice place where you'd be close to everywhere, choose Hin Kong. While the area is located right by a beach, this one is too shallow for swimming. That's why most resorts in Hin Kong have a pool at their facility.
Still, the sunsets on Hin Kong belong to one of the nicest on the island and the central location makes it easy to travel to either direction.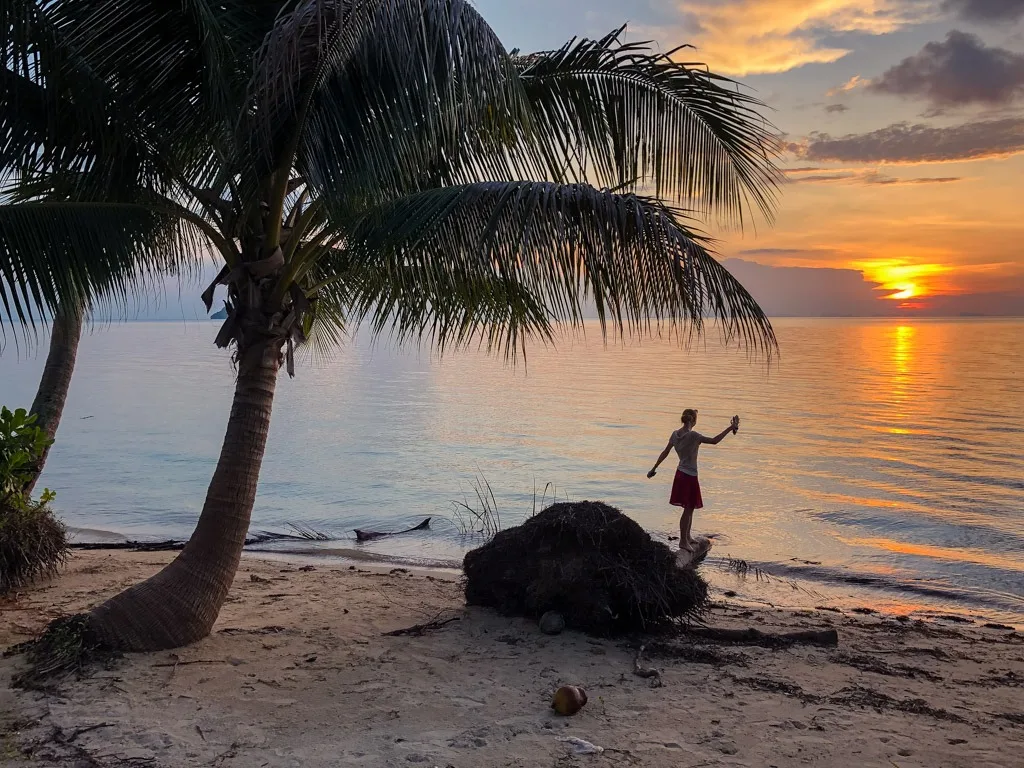 Map of the Best Koh Phangan Hotels
Below you can see all the Koh Phangan resorts and hotels on a map. For an interactive version, click this link or the image – it will take you to Google Maps.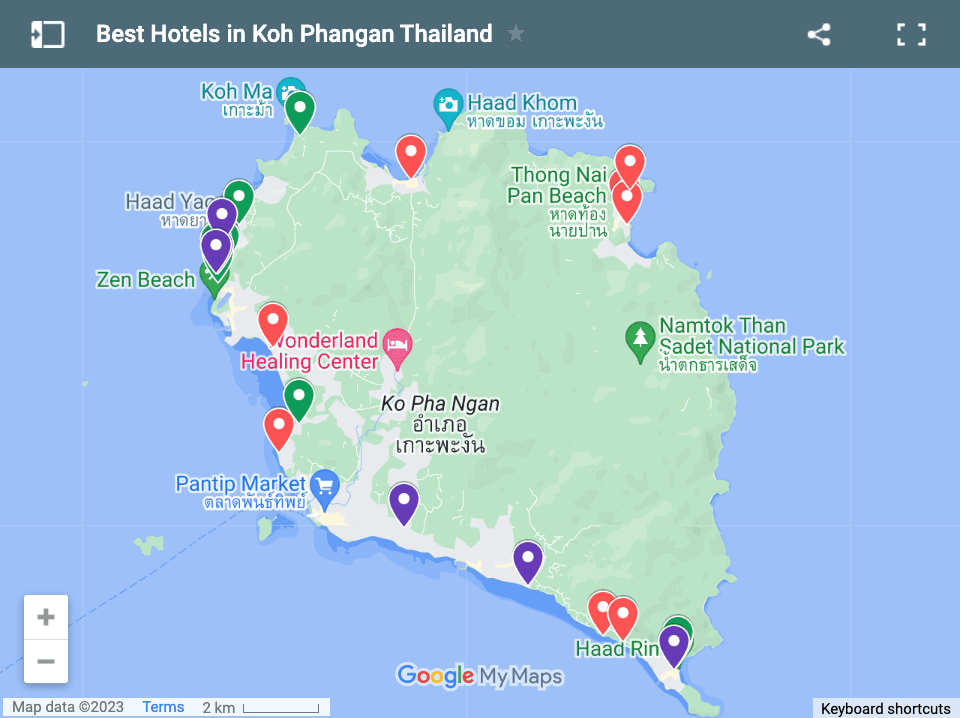 Ok, that's all for all the nicest hotels and resorts in Koh Phangan, my favorite Thai island.
In case you'd rather stay longer and in a house with a kitchen, you can easily rent a house in Koh Phangan too.
You could get one from the island by riding around and calling numbers on the many signs lining the roads.
An alternative option is to join all possible Facebook groups where Koh Phangan house rentals are advertised. Just search for Koh Phangan groups on Facebook.
Have you stayed at any of these resorts? What was your experience? Any other place you'd recommend?
Pin this post: