This post is also available in:

Čeština
If you have one week in Sicily like my husband and I did, you might want to read on to find out how we went about it!
Our Sicily itinerary of 7 days, however, covers only the East and partially Southeast of Sicily.
Even with only a week in Sicily, you can comfortably explore several charming cities in Sicily, check out the mighty Mount Etna, enjoy some beach time, and immerse yourself in local cuisine, history and culture.
Sicily East coast is a wonderfully diverse region with lots to offer within a relatively small area, making it easy to explore during your 7 days in Sicily.
So if you're wondering where to go in Sicily, I can highly recommend the Eastern coast.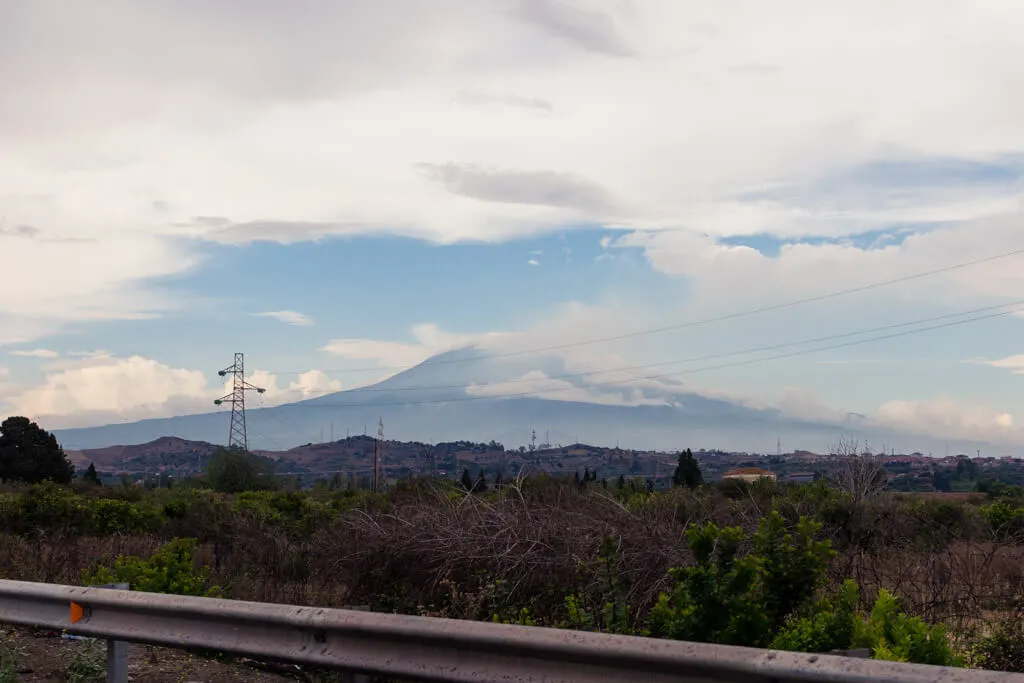 We'll also take it relatively easy. Not just because a slower pace means getting more in tune with the local way of life, but also because you can take a lot more in while still focusing on all the Sicily must sees.
For a map of all the places mentioned, scroll to the bottom of this post.
To get into the right mood before visiting, check out my post about the best Sicily quotes.
Day 1: Arrival, Discovering Your Base (e.g. Milo)
I strongly suggest basing yourself in a small town when you visit Sicily. The cost of accommodation becomes a lot more feasible and at the same time you get to experience real Sicilian authenticity without too much touristy 'fluff'.
When looking at the best places to stay in Sicily, we chose Milo, right at the foot of Mount Etna. I admit the choice was rather accidental, but we couldn't have picked a better place.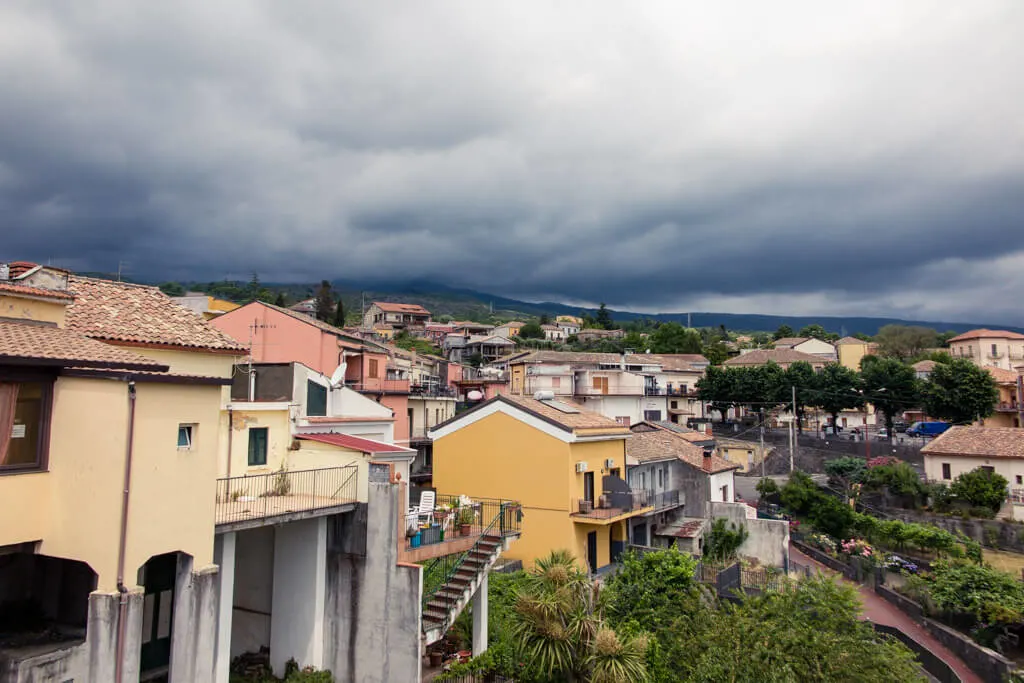 Milo is a quaint village with a church, a café always packed with locals and a few restaurants, of which at least two would please even the most demanding foodies.
Our favorite was the restaurant 4 Archi Osteria. Another awesome local restaurant that comes highly recommended by locals (but we didn't have the chance to eat there) is called Al Braciere dei f.ll Leonardi.
We stayed at Hotel Milomax and for most of the time, we were the only guests there. Can you imagine?
Milomax was indeed budget-friendly, even though breakfast was charged extra. The main reason behind us loving our stay there was the caring hotel manager Raffaele. And the fact that we practically had the whole hotel to ourselves. :)
Milo is fully walkable and you just need to watch for cars speeding by as you walk the narrow roads. Sidewalks are not a thing in Milo.
You'd never find Milo on a list of best places in Sicily, but it's tiny villages like this one that truly make up the Sicilian life. It's not just what you see in tourist brochures and at tourist sites.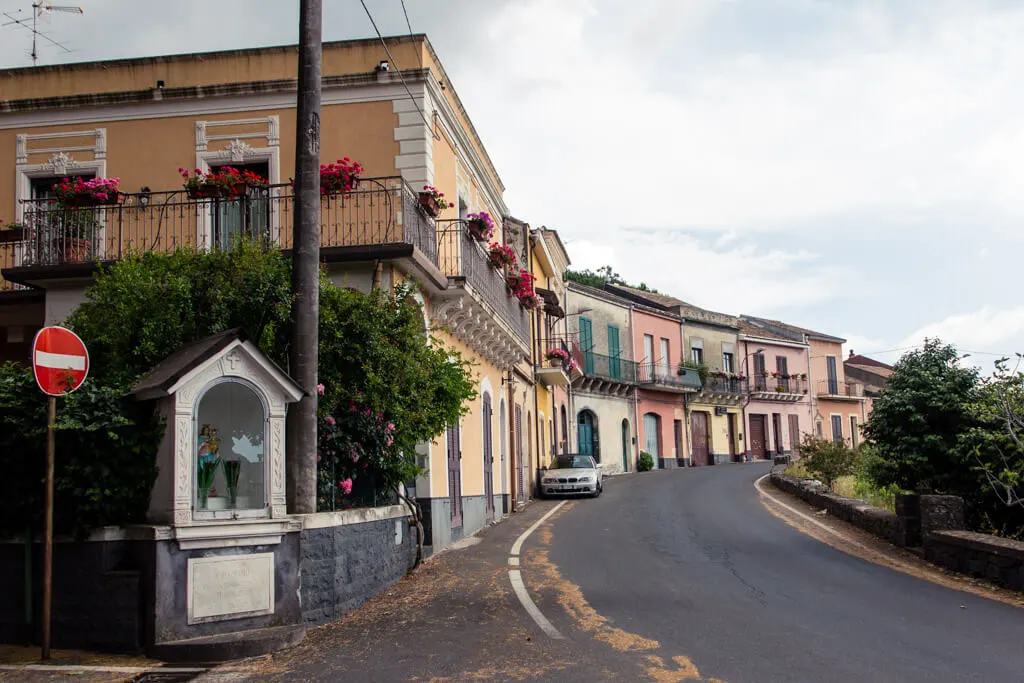 Needless to say, you need a car to get anywhere out of Milo. The buses are sparse and the railway connects only major cities.
(We got our car via Sixt since I was hesitant to trust any local providers after reading some horrible reviews online. See some car rental options here and choose carefully.)
When it comes to other towns in the region to base yourself in, I would suggest the slightly bigger Zafferana Etnea.
Day 2: A Cute Town or Two Nearby: Zafferana Etnea
Wherever you ultimately decide to stay, you'll surely be based in a region where there are a lot of picturesque towns nearby. Right? Check with your hotel and find out what other small towns in the area are worth visiting and then make them a part of your Sicily itinerary.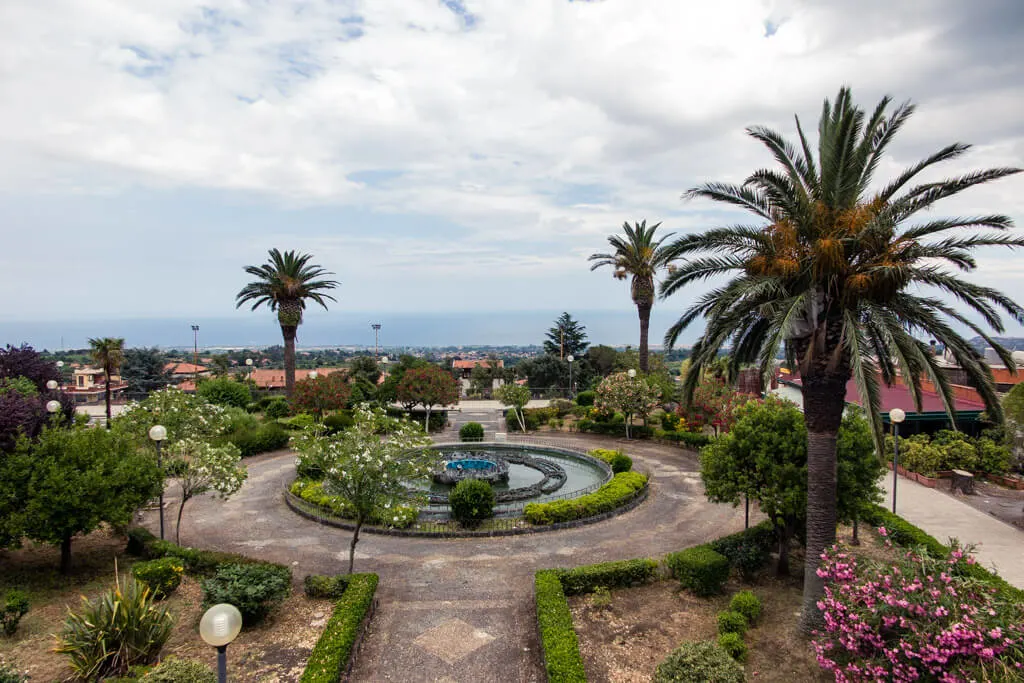 Just make sure you know all about the transportation there and back!
We discovered Zafferana Etnea that way. Unfortunately, since we didn't have our rented car yet and there was absolutely no bus to get us back to Milo, we ended up walking. It turned into a fun 1-hour adventure with pockets of drizzling rain, breathtaking views, barky dogs (behind fences, fortunately) and sweet cherries picked straight from the trees.
Zafferana is a lovely town of a larger size than Milo, but still retaining the small town feel. A church with stairs made from volcanic rock occupies the city center and offers a spot for locals to meet up and discuss their days.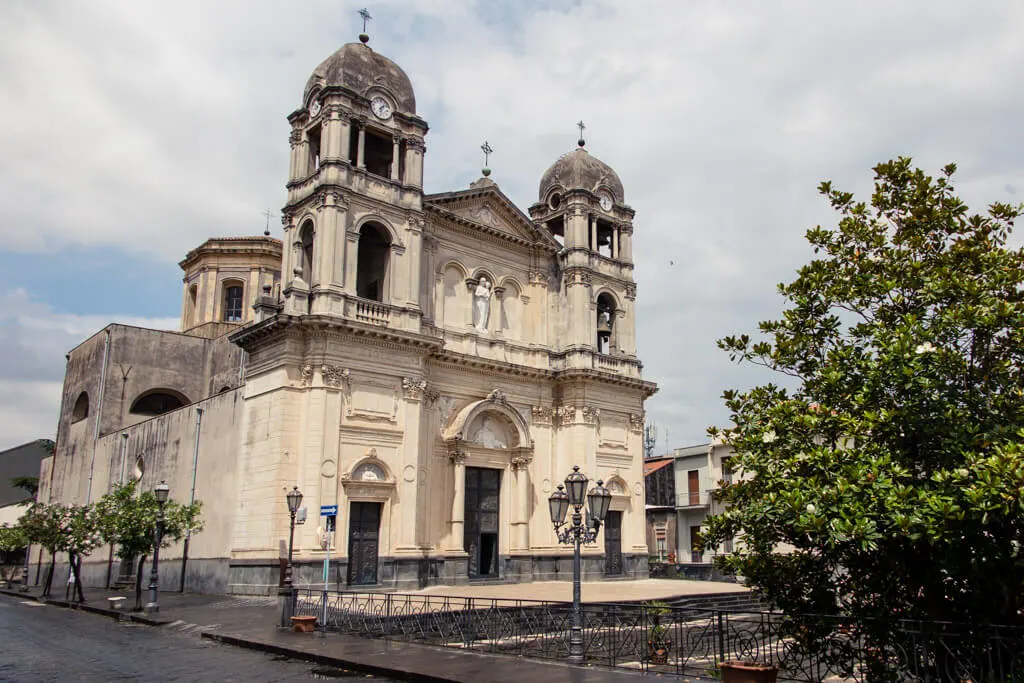 The main square adjacent to the church houses a wide range of cafés. Most of them are of the combined variety meaning you can get your coffee fix, eat a little savory something like Pizza Siciliana and top it off with a nice local dessert.
You can admire more of the local architecture also by strolling along the main 'boulevard' Via Roma.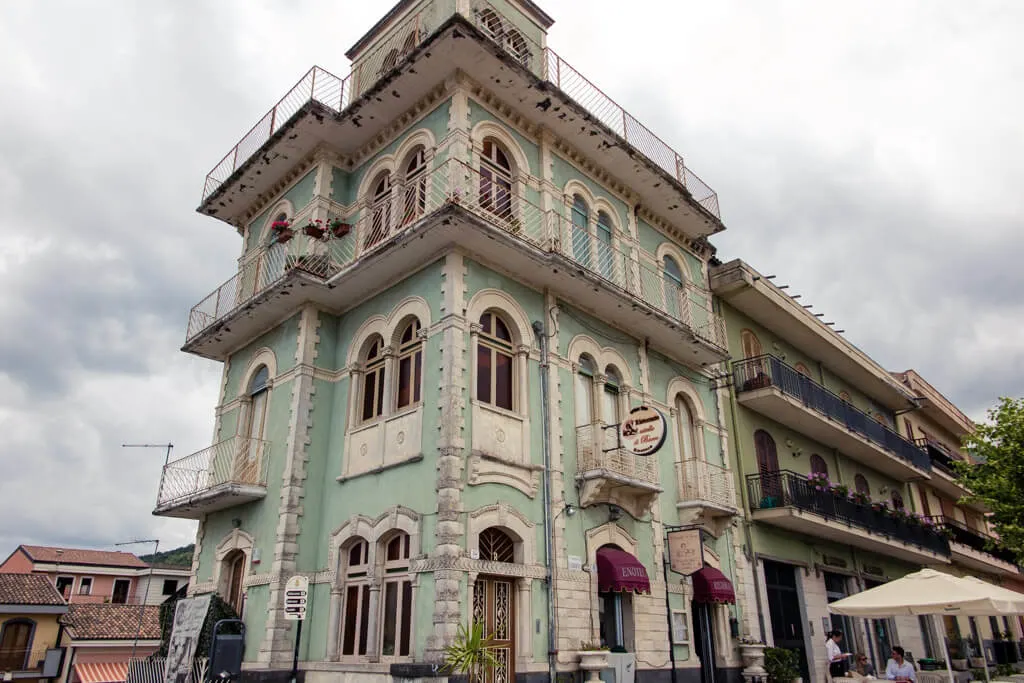 For tasting local delicacies, I can highly recommend Le Gioie del Grano – especially if you like to eat at places where they don't rely on tourists but primarily cater to locals.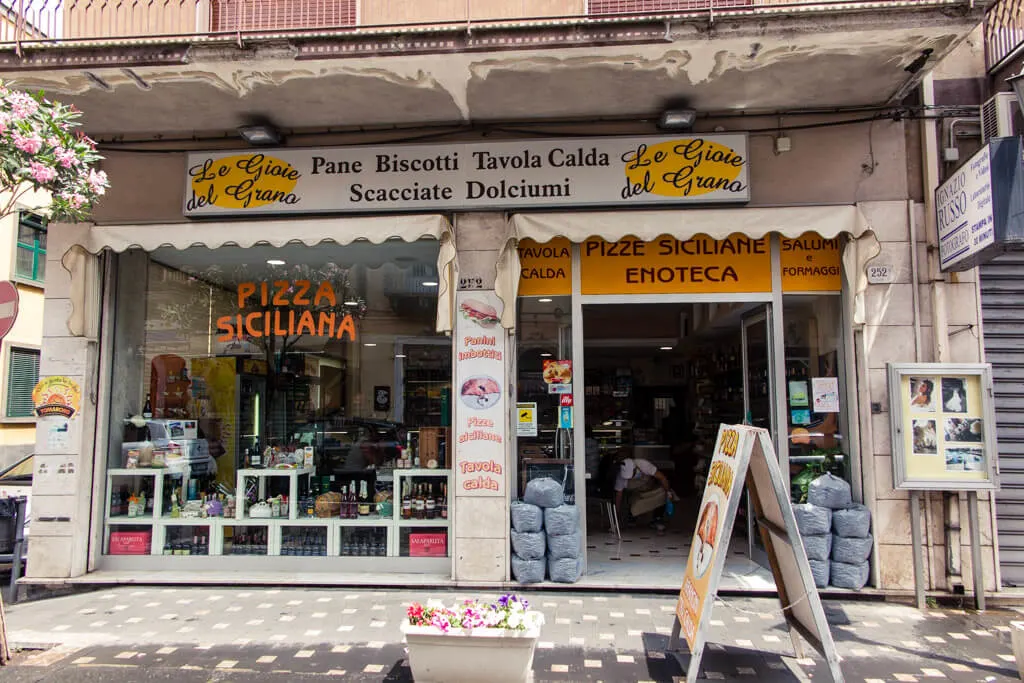 Day 3: Catania
Catania is quite a large metropolis and without a doubt the largest city on Sicily East Coast. With its myriad of diverse attractions, it becomes one of the main places to visit in Sicily.
In Catania don't forget to check out the remnants of the Roman city. This is Catania's number one attraction.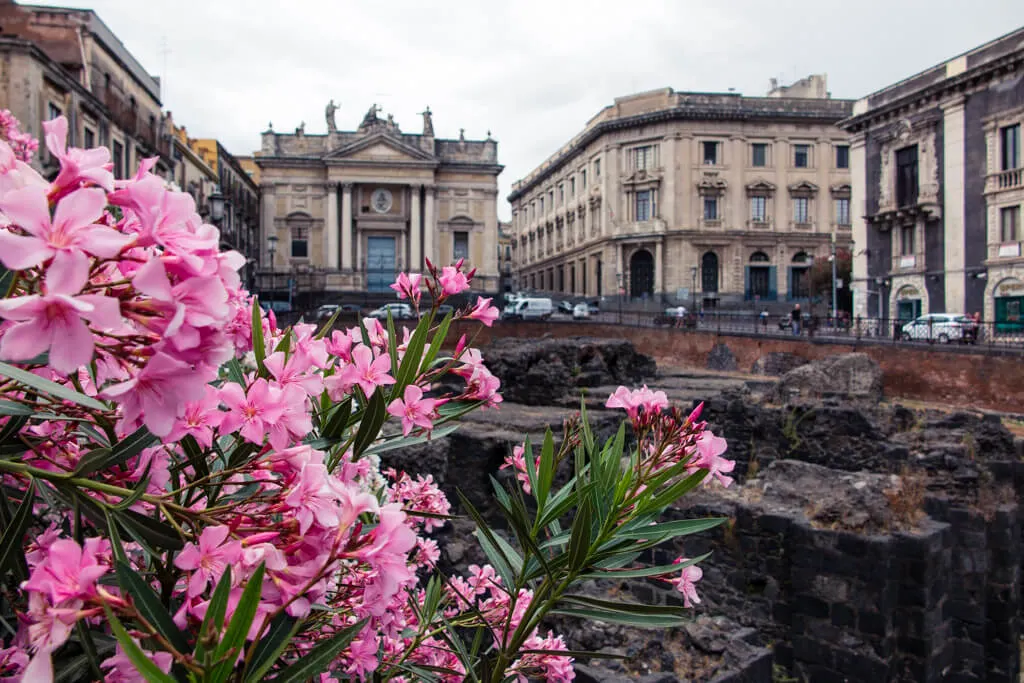 Piazza Duomo is a vast square featuring several churches and historical buildings. Impressive fountains can be found here too.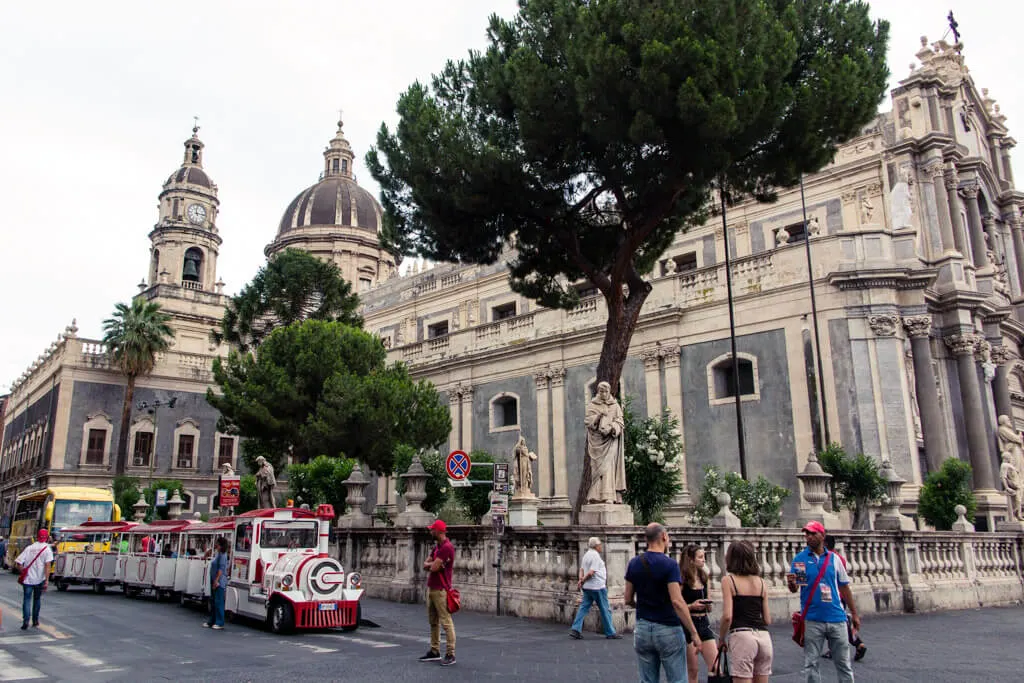 And, if you need a green escape, the Botanical Garden (Orto Botanico di Catania) is a peaceful enough corner. As for parks, we only managed to explore the beautiful Giardino Bellini (La Villa Bellini).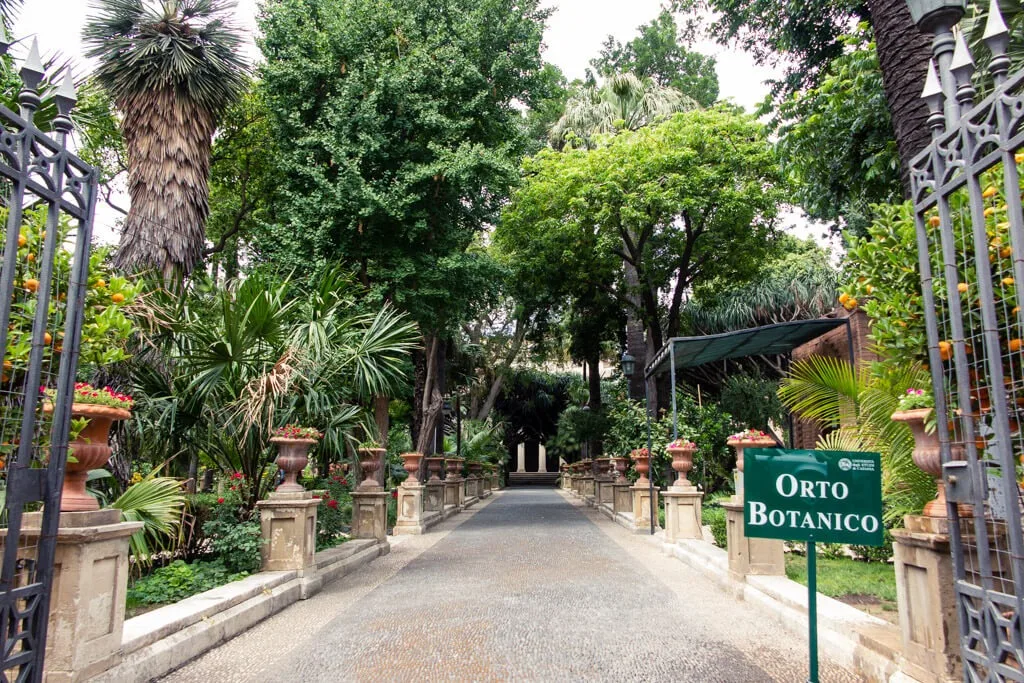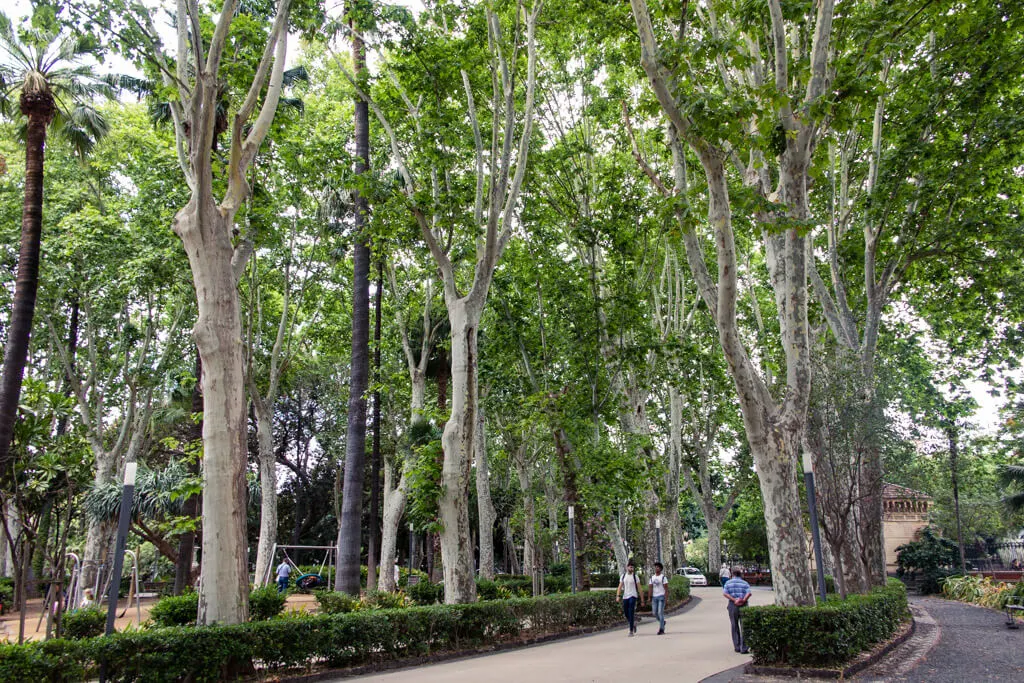 For a little local bite to eat, try an authentic Sicilian granita and a brioche. Scardaci Ice Café is a good place for that.
Catania Fish market is one of the most interesting attractions in the city. They keep it real there! The smell of fish, the cleaning and filleting done right at the spot – you see it all in its raw essence.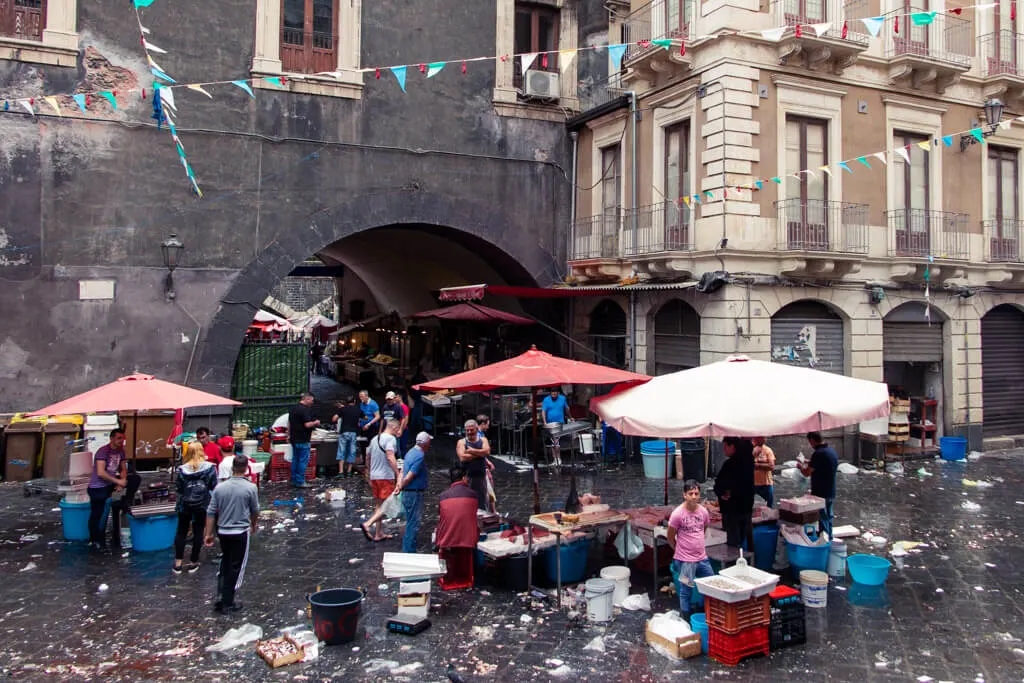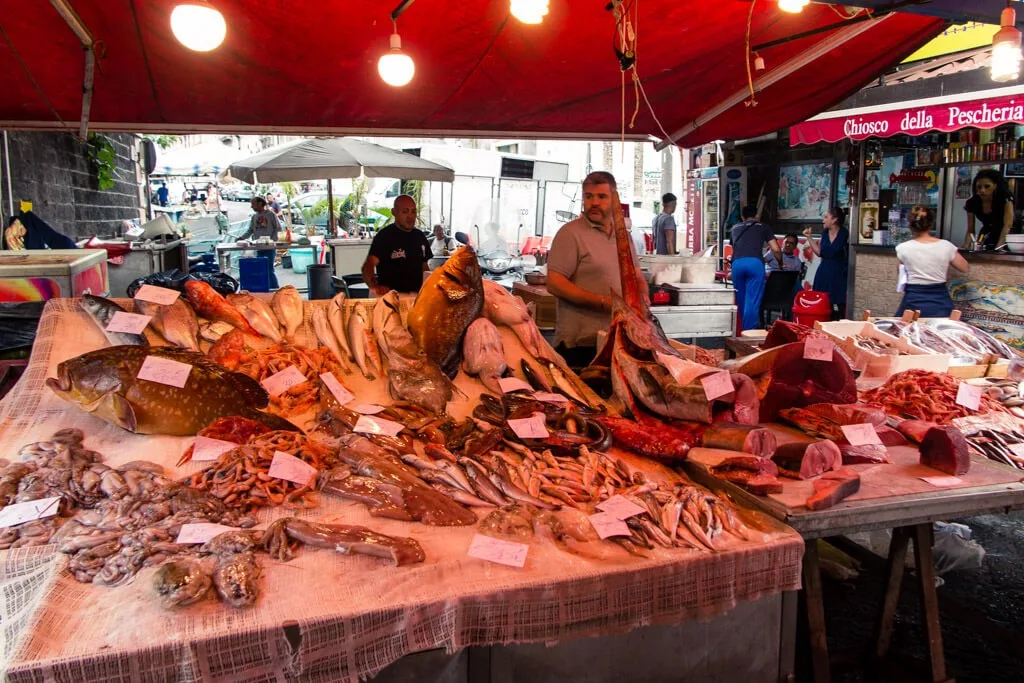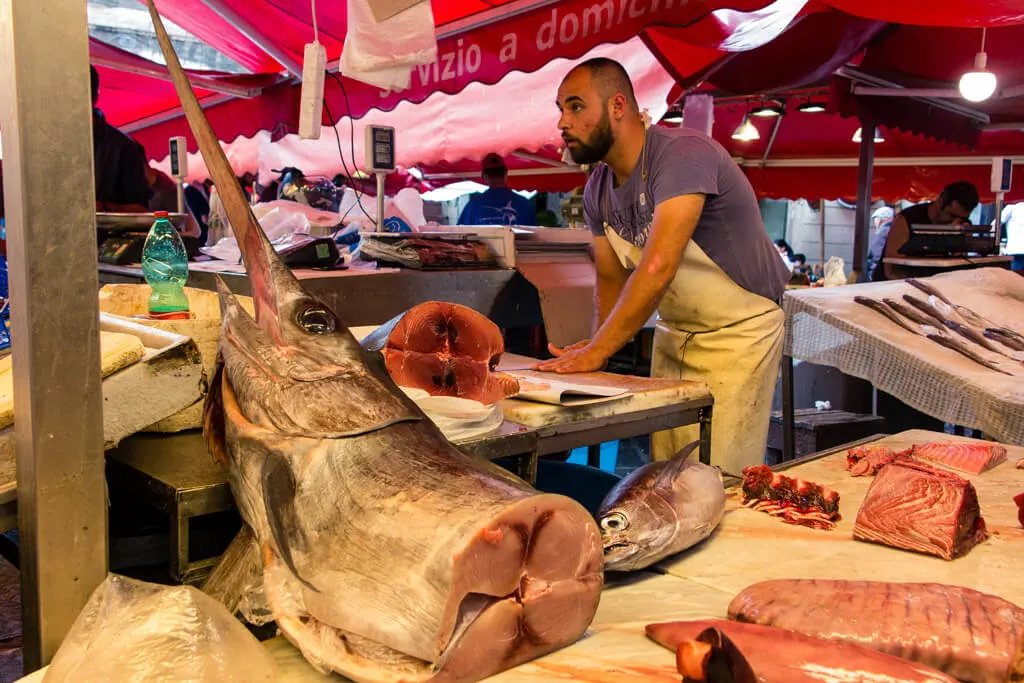 You can also eat fresh fish at any of the restaurants around. This whole area is located just a stone's throw away from the harbor, so you can be certain the catch is as fresh as can be.
We ate at a little popular seafood stand Scirocco Sicilian Fish Lab. Our fried calamari was beyond delicious!
Such Catania street food exposure means barely scratching the surface. If you'd like to dig deeper and truly discover Catania's street food scene, join this highly rated tour.
If you don't mind the fast pace of big cities and busy traffic doesn't bother you, Catania will be one of the best places to visit in Sicily. We didn't care for it as much as for the smaller towns and villages, but we still appreciated the cultural richness and the number of historical sightseeing opportunities.
But – if you want to be extra strategic, Catania is a great base for exploring the Eastern half of Sicily. Have a look at this selection of the best Catania apartments on Airbnb. Then you can visit all of these places on day trips from Catania.
Day 4: Siracusa (Syracuse)
Now we're getting to the smaller towns in Sicily that are highly popular among tourists. And for good reasons!
Siracusa, or Syracuse in English, is a city rich in ancient Roman and Greek history. Archimedes, the Greek mathematician, physicist, astronomer (and many more titles), was born here.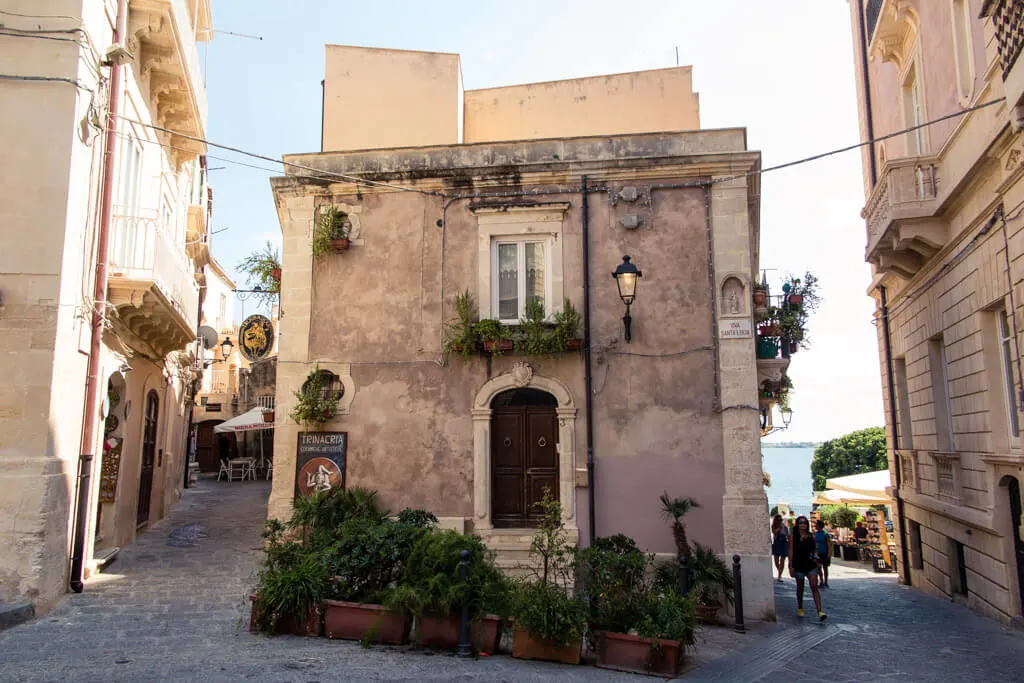 What'll strike you first when walking towards the city center is the Temple of Apollo, or rather its remnants. The ancient Greek temple dating from the 6th century BC belongs to one of the oldest in Sicily.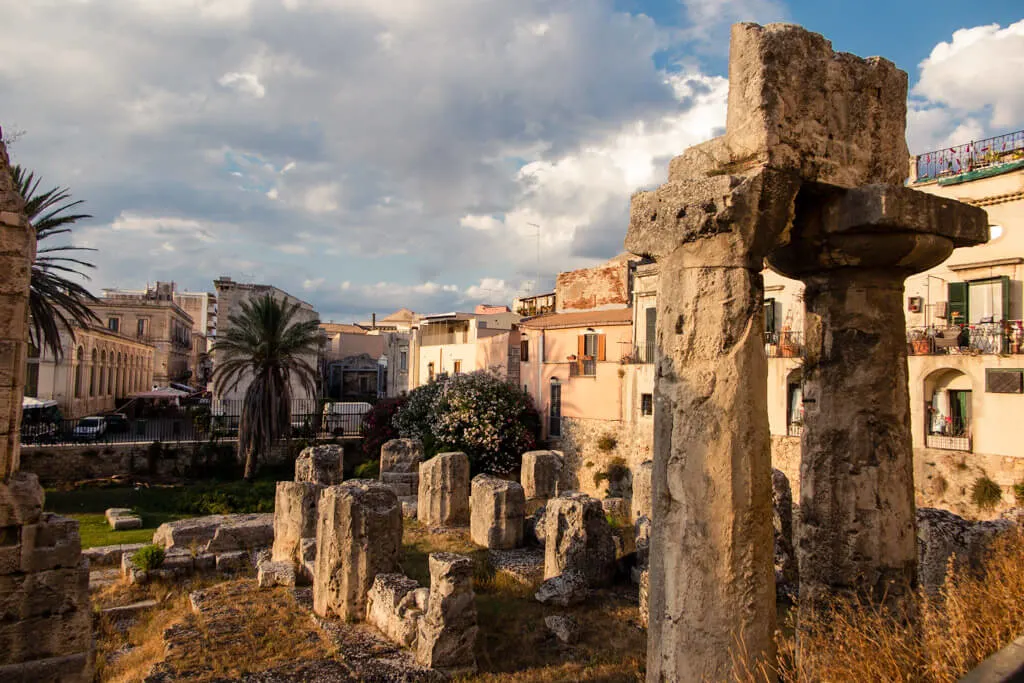 Just before you reach the temple, you'll cross over a bridge, which marks the start of Siracusa Old Town called Ortigia. Ortigia is, in fact, an island and the old part of Siracusa is located there. At the end of the small island you can find Castello Maniace, a castle and a fortress in one.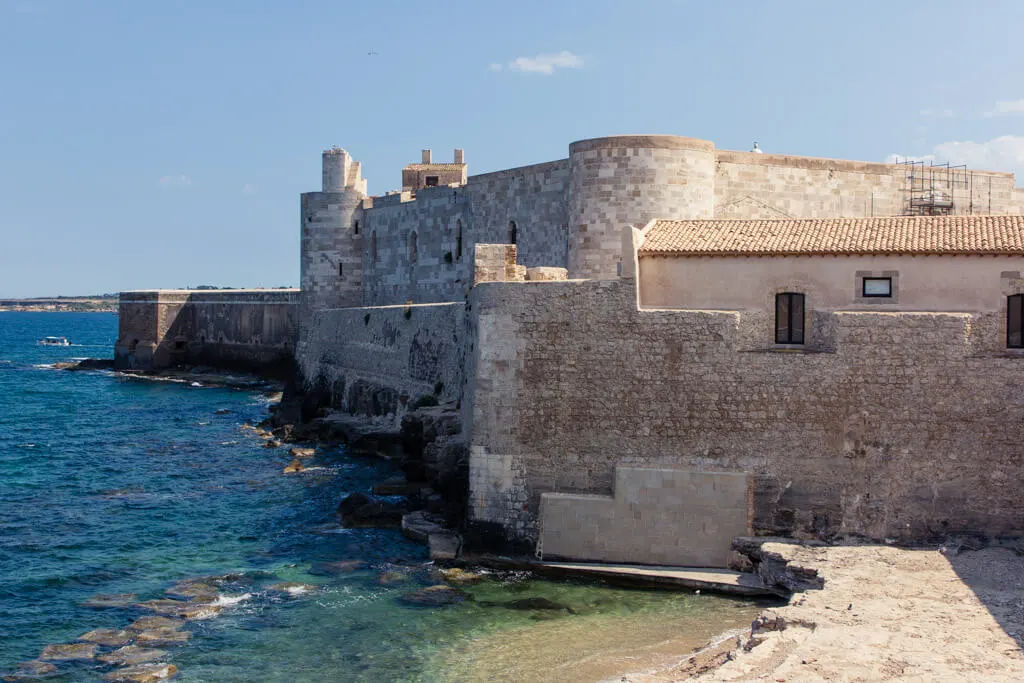 As it often is the case with many Italian cities, the center square is called Piazza del Duomo. It's here where you can find the magnificent Cathedral of Syracuse from the 7th century, with the long Italian name of Cattedrale metropolitana della Natività di Maria Santissima.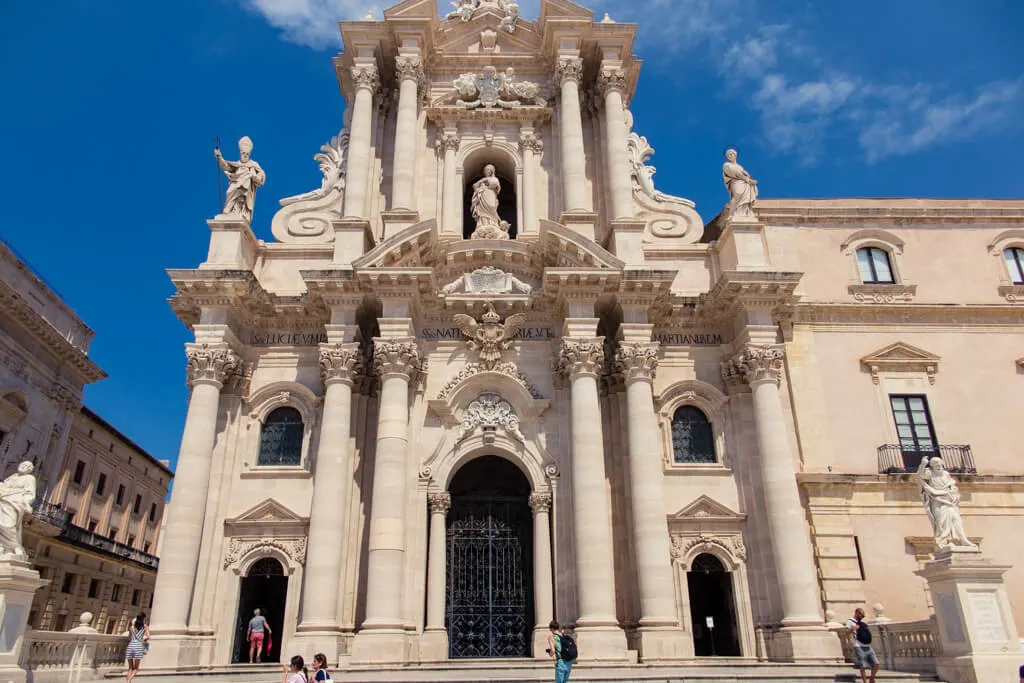 If you like people watching, this is the place to do it. And if you wait long enough, you might even witness a wedding like we did. :)
In the vicinity of the Siracusa Cathedral lies a number of other notable buildings – e.g. the local City Hall Municipio di Siracusa or the Church of Saint Lucia Chiesa di Santa Lucia alla badia. Both are well worth exploring.
Are you getting hungry yet? For amazing local pasta, I can recommend Enoteca a Putia. My pistachio pasta was out of this world! Yum!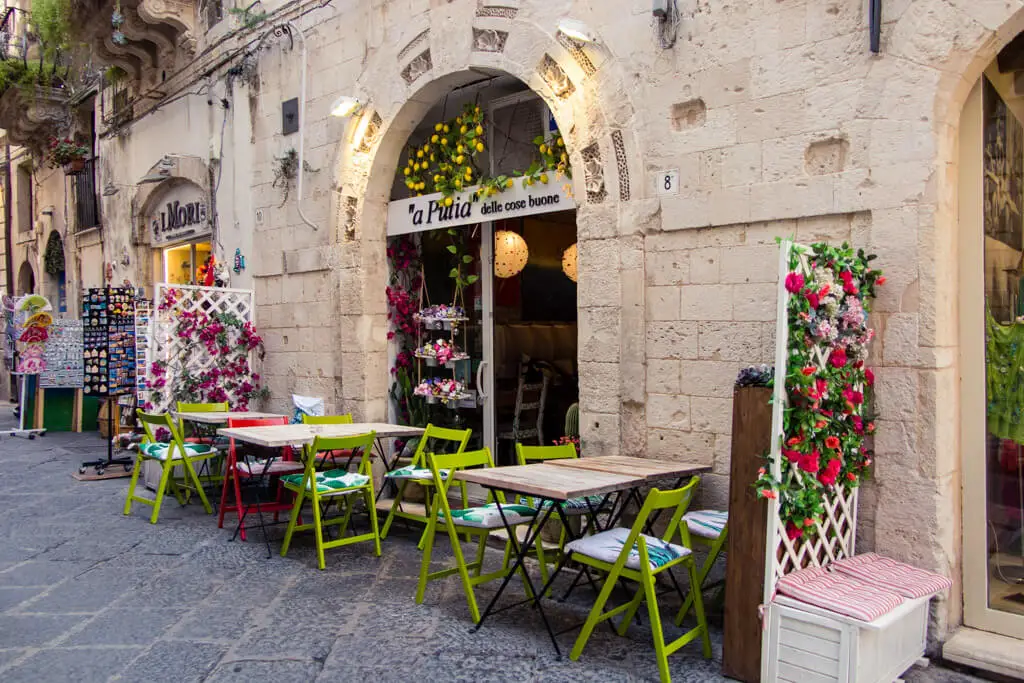 In my opinion Siracusa is one of the most beautiful places in Sicily.
Day 5: Taormina
Another small-ish town where you can easily spend a day and have a well-rounded experience. That's Taormina, my favorite town and one of the best places to go in Sicily.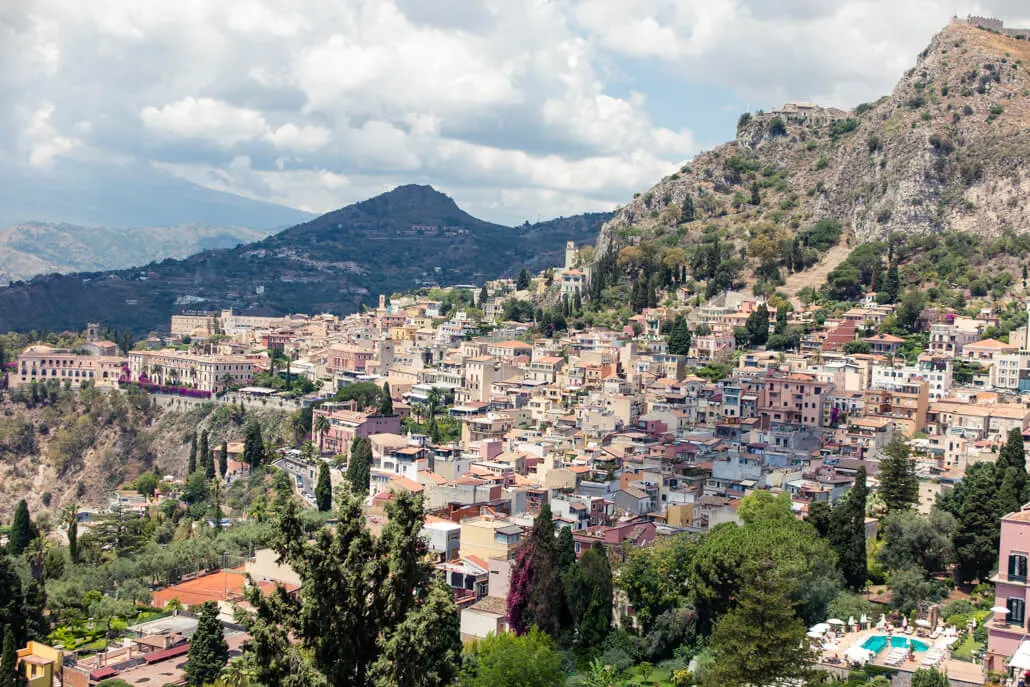 Not only you can explore wonderful historical monuments such as the ancient Greek Theatre, you'll also see a lively town, will be able to ride a cable car, go to the beach or even hike up to a nearby castle.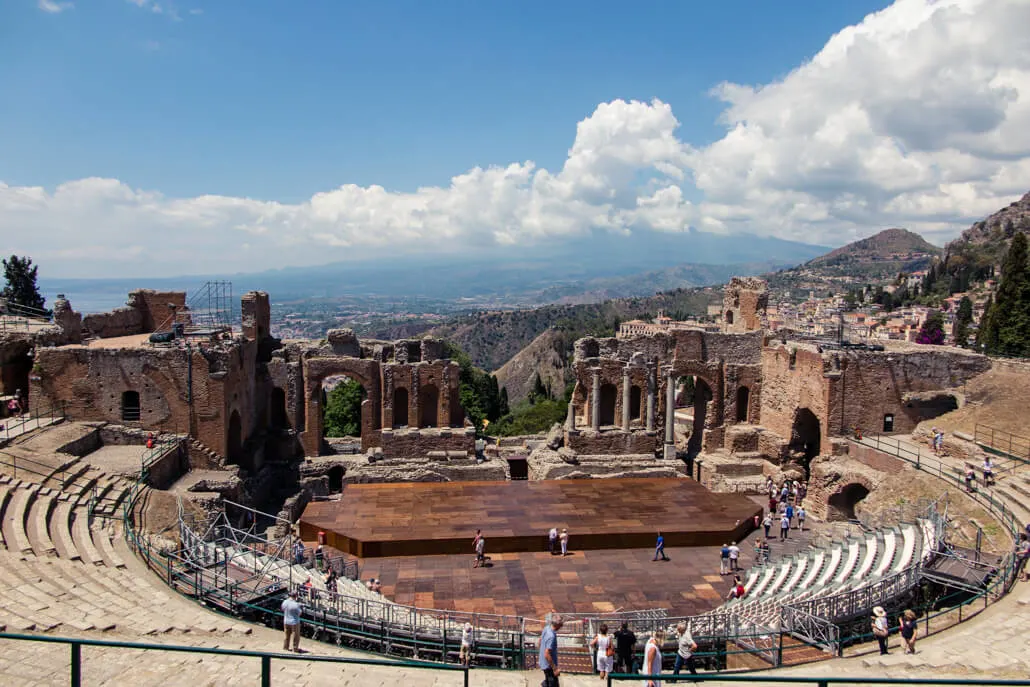 See my full-on article on what to do in Taormina in a day and read all about why this is one of the best cities in Sicily.
If you're considering spending the night at more places around Sicily, I can highly recommend you do so at Taormina. For more info, read my guide on best Taormina villas and apartments on Airbnb.
Day 6: Mount Etna & Beach time
This day is going to be packed, but oh-so-memorable. It combines the best of what to do in Sicily:
You can't spend a week in Sicily and not attempt to hike Etna! Not even when the weather seems to be against you. The Etna volcano belongs inarguably to one of the main Sicily highlights.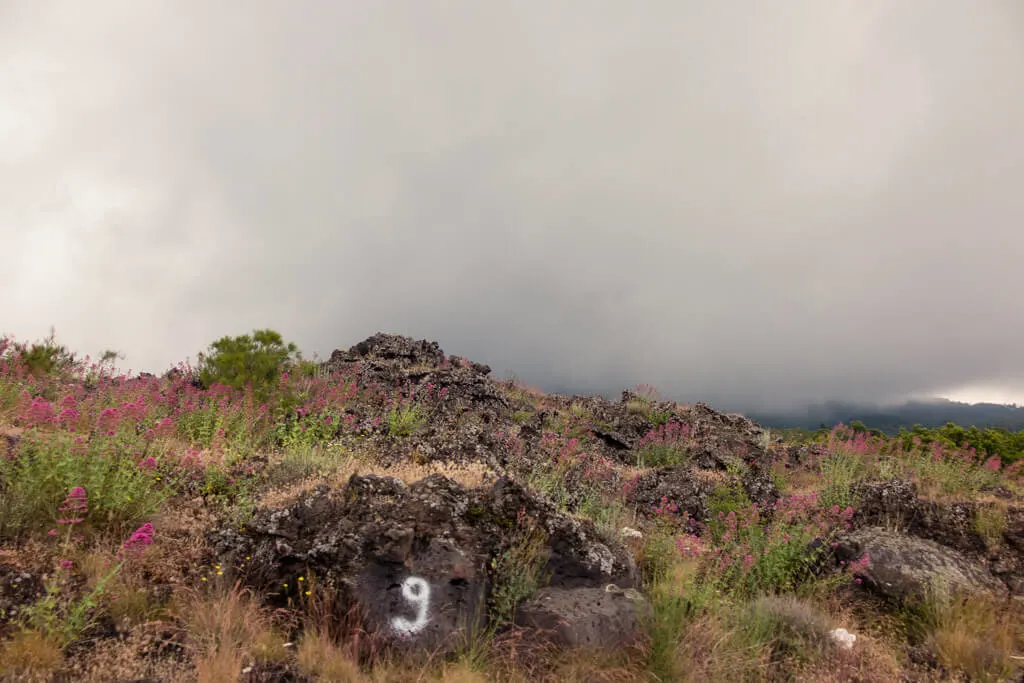 The long drive up is already interesting enough, but the main fun awaits after you park your rented car and attempt to hike one of the sites of eruption.
There's a cable car that can take you a lot further up (to 2,500m elevation), which costs €30. Instead, we chose to hike to the summits of a few of the lower craters nearby, since it was a bit cold and rainy.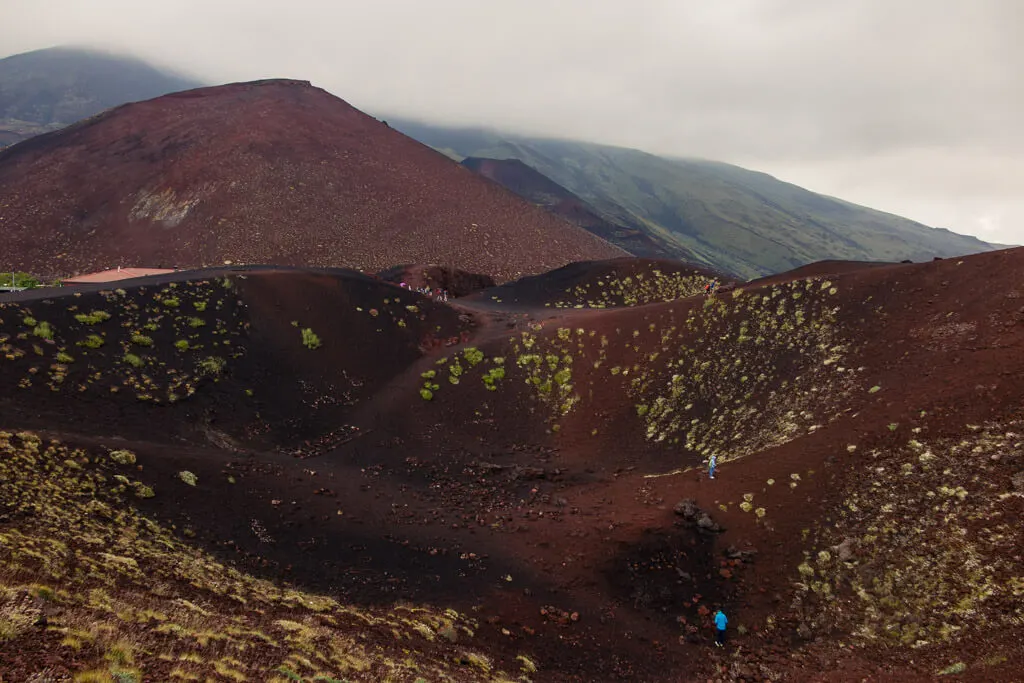 You can find a large parking lot on the southern side of Etna (follow the signs to Rifugio Sapienza, which is a hotel). From there, several lower craters are within walking distance – craters originating from 1983, 1986 and 2001.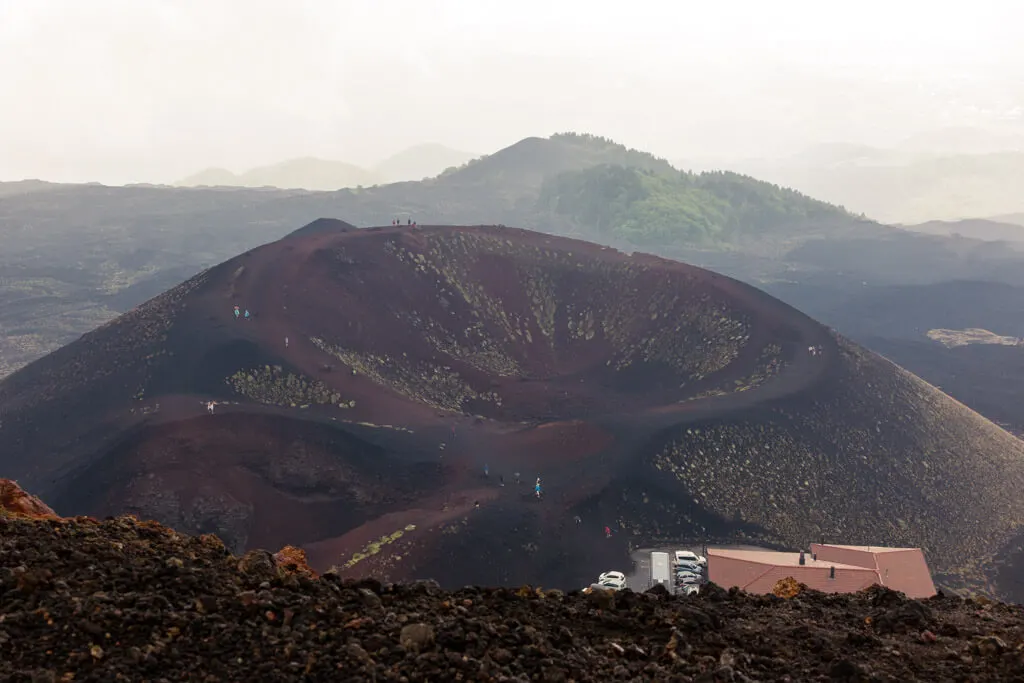 Once you step on Etna's black sand and gravel, climb to one of its peaks, take in the views and realize what power the volcano has, you'll have no trouble considering Etna as the best of Sicily.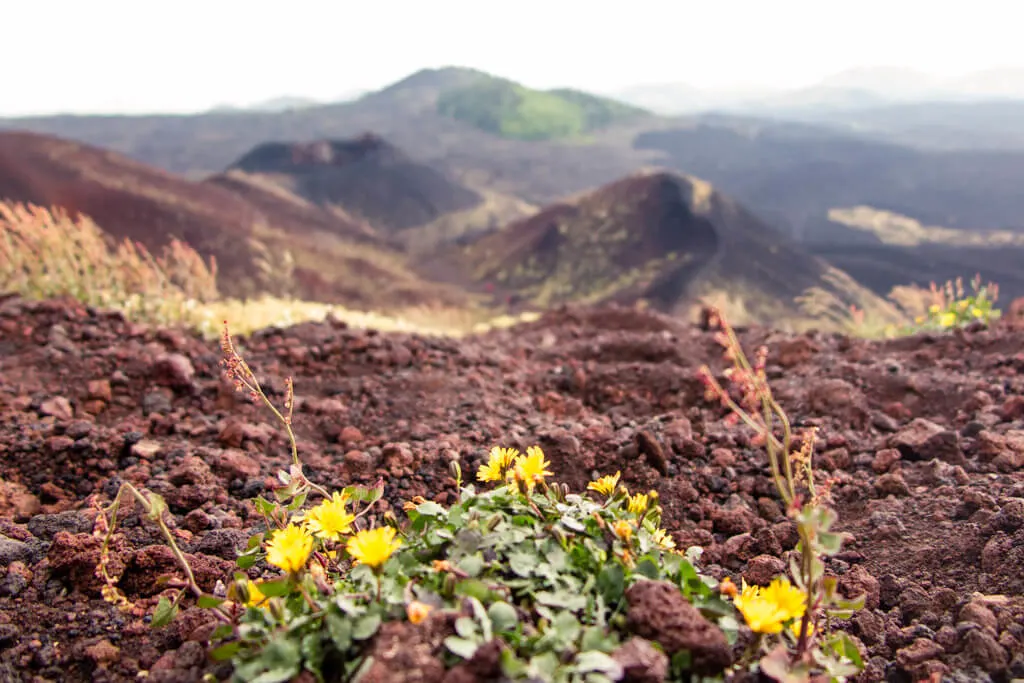 Mount Etna is unpredictable and the weather near its summit can differ majorly from the seaside.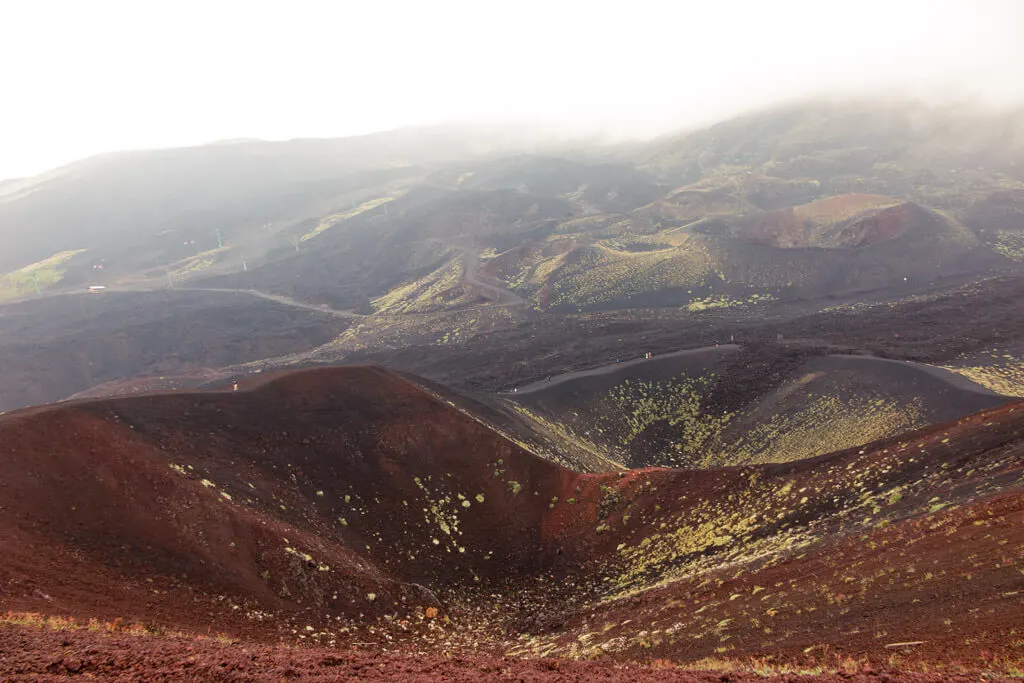 A little word of caution – if you do not want to 'bake' your rental car's brakes on the way down, use the engine to slow the car down by switching to a lower gear.
It's also possible to visit Mount Etna on a tour from Catania. Choose between a half-day excursion or a full-day hike with wine. :)
In the afternoon reward yourself with some relaxing beach time. We chose Giardini Naxos and ended up enjoying the little beach town vibe a lot more than the actual beach.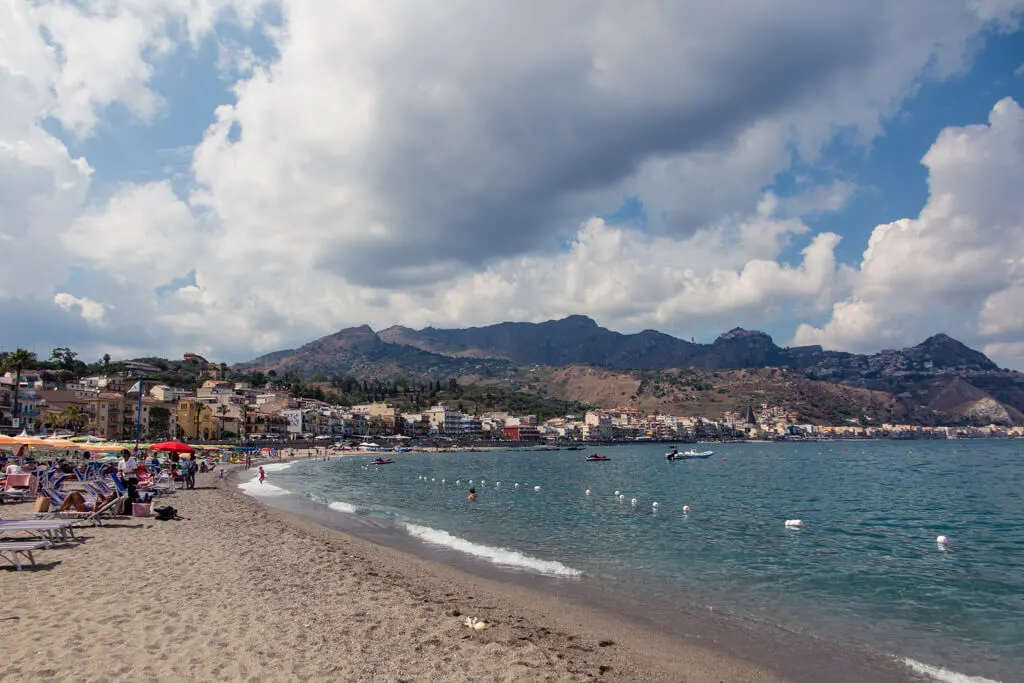 Interesting Art Deco houses line the main road and there are statues of various gods scattered near the beachfront. E.g. Silenus, the God of Wild Nature, who was always drunk. :)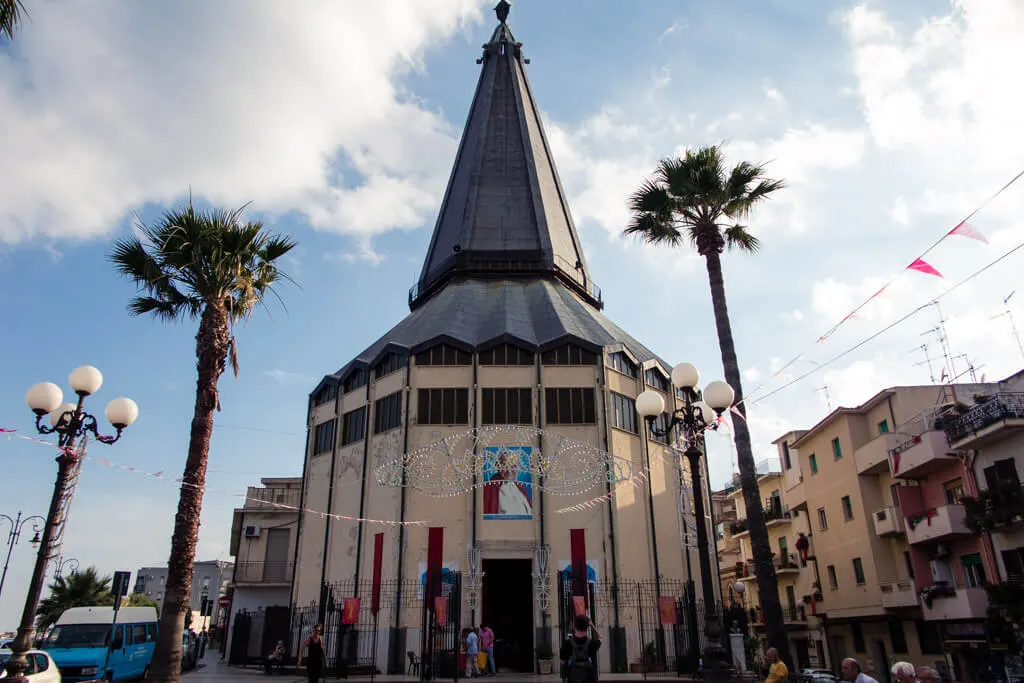 Many people swear by the beach as being one of the top things to do in Sicily. I dare to digress, but that's a matter of personal preference only. The water was too cold to my liking!
Day 7: Noto & A Local Experience
Let's take the last day easy. Revisit places nearby you fell in love with, give goodbyes to your cute town and relax before a trip back home.
Noto is an ideal city to visit for a few hours in the morning, as one last new place to add to your Sicily itinerary.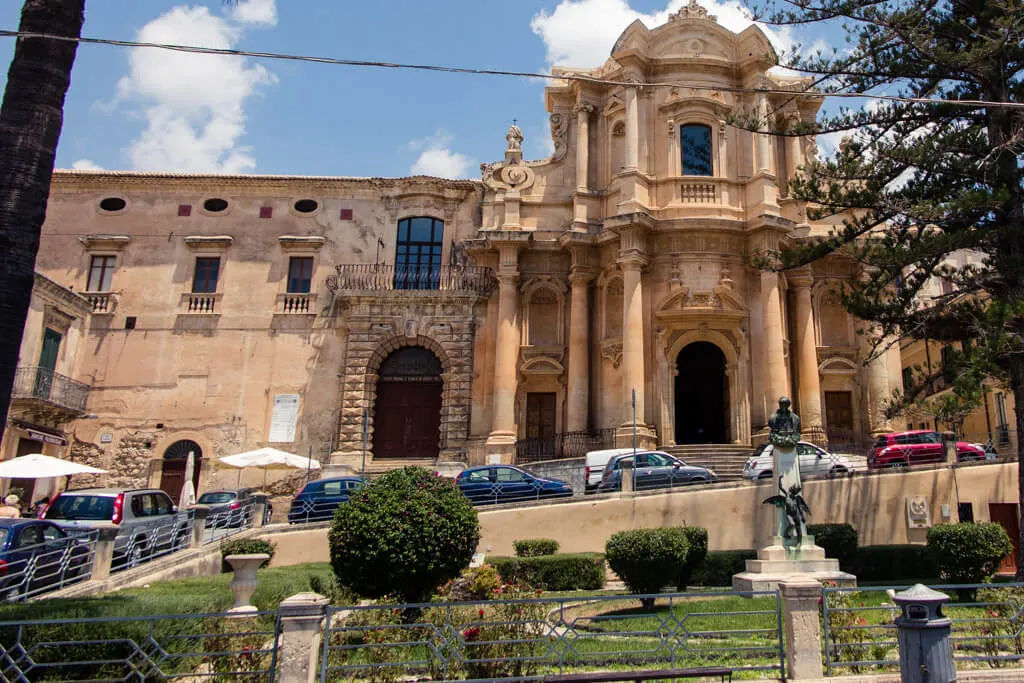 With the Noto Cathedral topping the list of amazing churches in the city, there's such a high concentration of churches for its small size like you can't usually see elsewhere.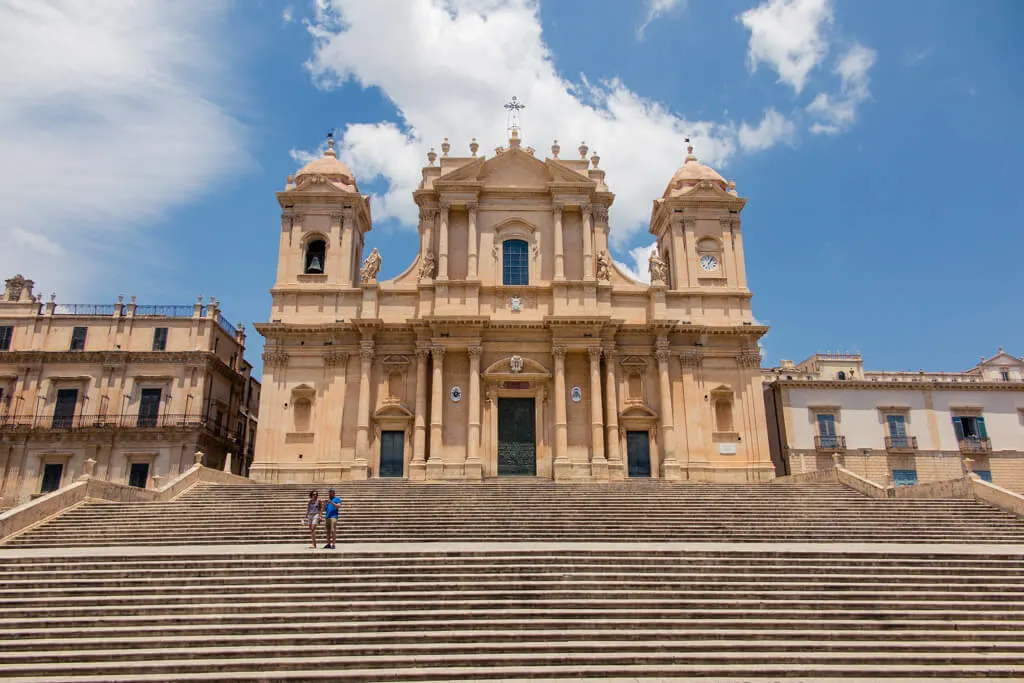 The wide streets of Noto clad in white tiles can get quite hot on a sunny day. That's when it's time to head to Café Sicilia.
We first heard of Café Sicilia from a show on Netflix. The family run business makes the best granita in the area and truly cares for having only the best local ingredients.
The almond granita especially comes from locally grown almonds, which were hard to find a decade ago. The owners have actually helped revive the Sicilian almond industry.
We were a bit worried that Café Sicilia might have become a little too snobbish since they were featured in a TV Show.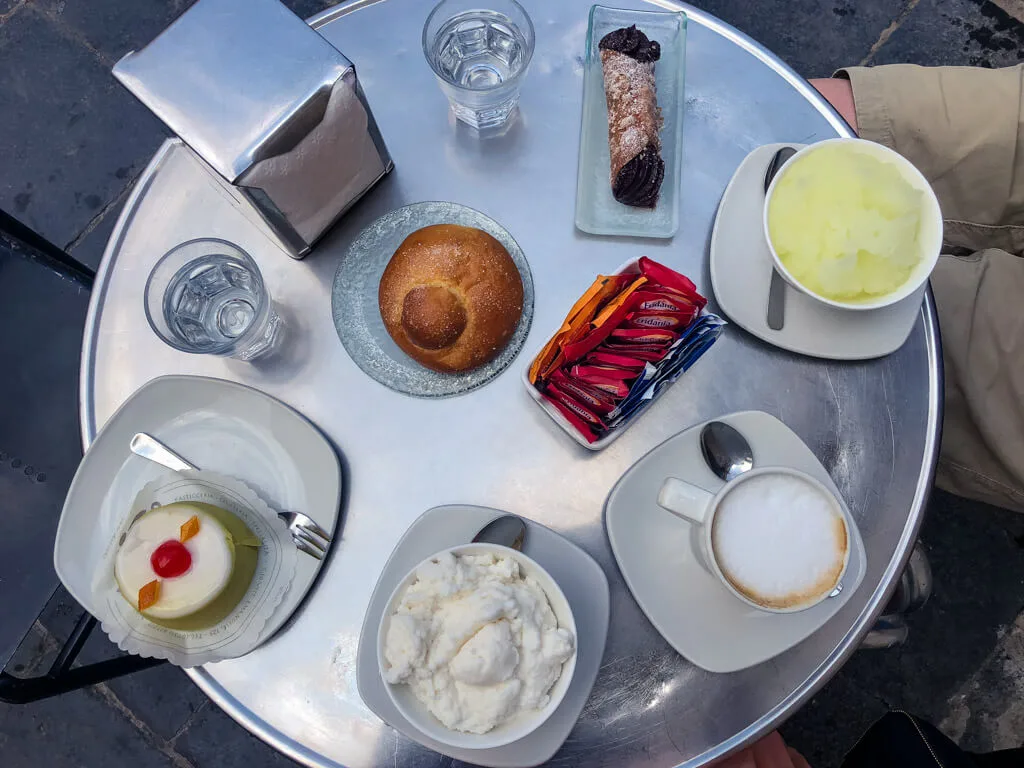 But our concerns turned out to be unfounded and we tremendously enjoyed not only a few proper granitas with brioche, but also cannoli and a few other wonderful Sicilian sweets.
Eating artisan granita and brioche rocked our world and became one of the best things to do in Sicily for us, as we scouted the best granita place in every city we visited.
Noto's beautiful architecture and the low number of tourists make this town one of the most wonderful places to see in Sicily.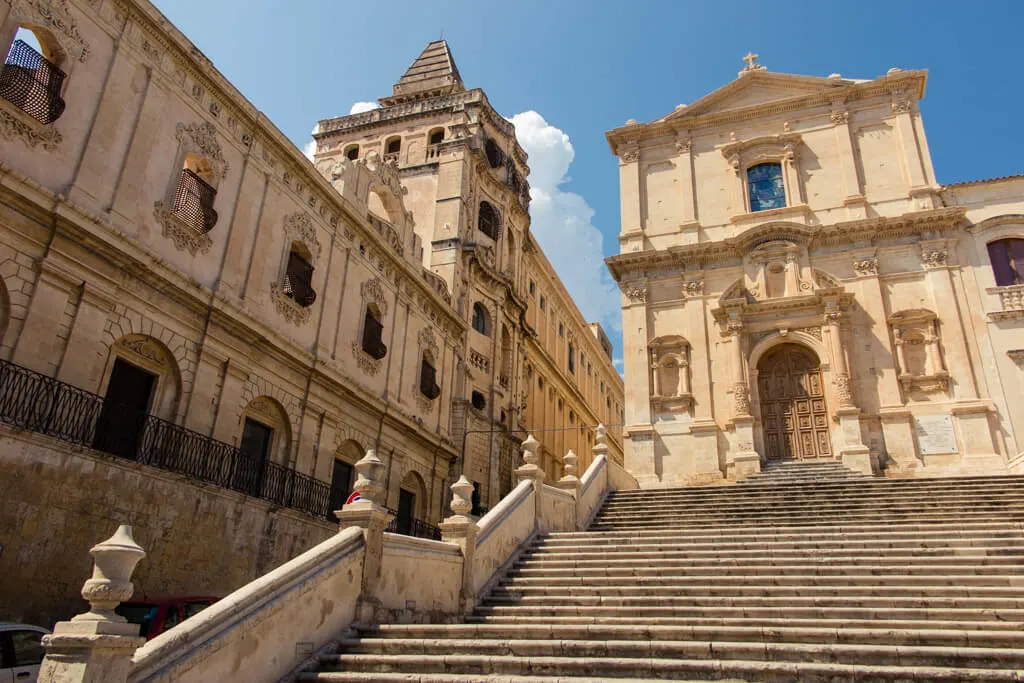 Here's a map overview of all the places mentioned:
Is a Week in Sicily Enough?
It depends. For us, one week in Sicily was enough to explore Sicily East coast and a bit of the Southeast. Of course, if you'd like to also see the West on your trip to Sicily, including Palermo, you'd need at least another week for that.
So, this is an ideal weeklong Eastern Sicily itinerary. I hope you found enough inspiration for the best places to go in Sicily.
Find all my Italian articles here.
How about you? Have you been to Sicily? What did you manage to see?
Pin this article: