This post is also available in:

Čeština
Taormina is one of the most beautiful cities in Italy and is the full package for a one-day trip. It's got all the best elements an ancient Italian city could offer.
I visited Taormina on a trip to Sicily's East and Southeast – you can see my Sicily itinerary here.
The city and its surroundings are an absolute must-see when you're in the region and it's considered one of the best places to visit in Sicily. Even quite a few famous and notable people have fallen in love with Taormina – see my article on Famous Quotes about Sicily.
In this post, we're going to discover what to do in Taormina as we go from the top of the mountain right down to the sea with a refreshment break and some sightseeing in between.
Getting to Taormina
Driving is the best way to get to Taormina. Once you arrive to the outskirts of the city, you'll want to park at the Lumbi parking deck and take the free shuttle bus to the center. We didn't have to wait for more than 5 minutes for our shuttle bus, either to the center or returning to the parking deck.
You cannot get any closer than that with a car, as Taormina city is a "ZTL zone", meaning traffic is limited and only allowed to residents with permits.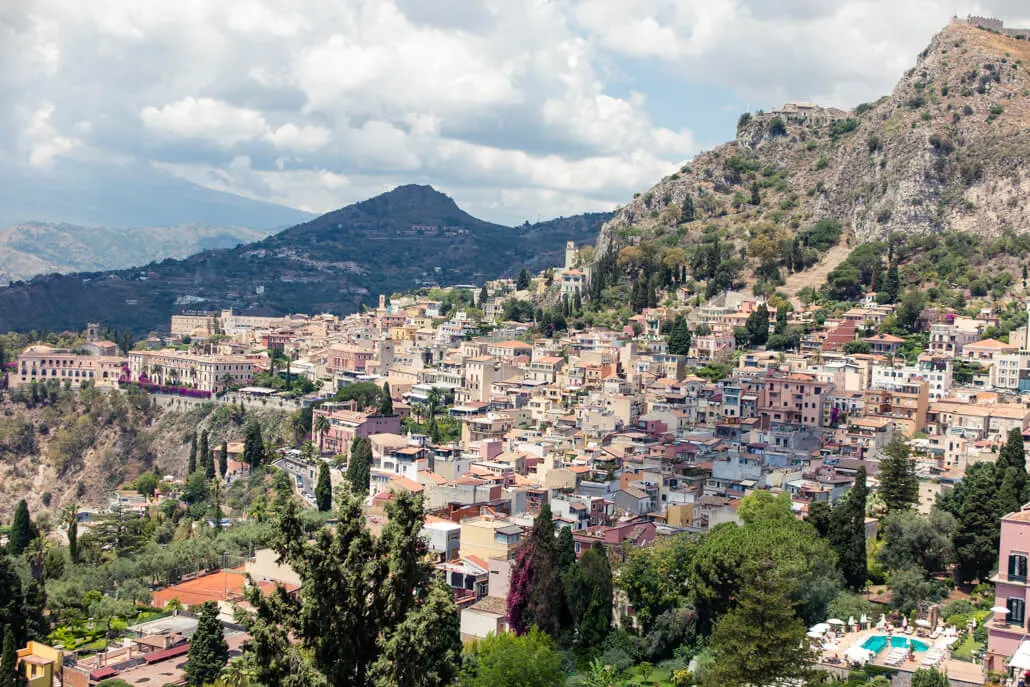 I can also highly recommend that you spend the night (or two) in Taormina. Here's an overview of the best Airbnb apartments and villas in Taormina.
Taormina Things to Do
Here are the things you shouldn't miss when visiting Taormina Sicily:
The Ancient Greek Theatre
Once you arrive to Taormina, take a relaxed stroll up via Teatro Greco to the Ancient Theatre of Taormina to feast your eyes on both the ancient theatre and the stunning panoramic views over the town, across the Ionian sea, and towards the Calabrian coast.
The Ancient Theatre of Taormina is remarkably well preserved and still used today for musical and opera performances. The building site was originally carved right out of the rock and the theatre was constructed to accommodate around 5000 spectators. It's the second largest theatre of its kind in Sicily, after the Theatre of Siracusa, and is globally known and admired.
Construction of the theatre was started by the Greeks around the 3rd century BC for the purpose of hosting dramatic and musical performances. The theatre was later renovated by the Romans around the 2nd century AD, at which time statues and columns were added, and it was then utilized for hosting gladiator battles and other games.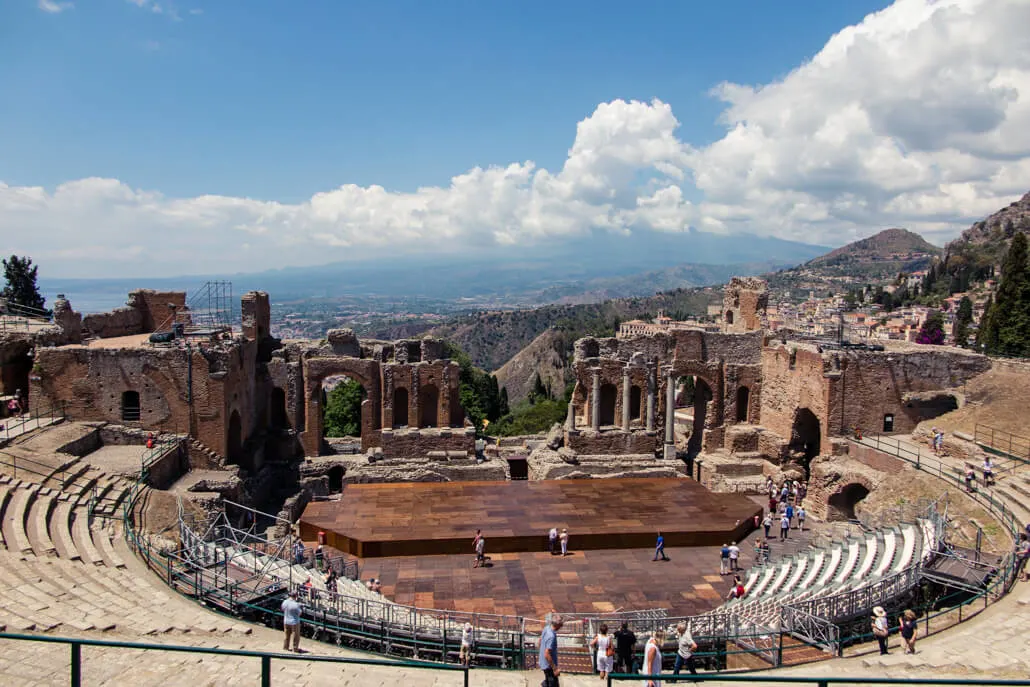 What an amazing experience it must have been to attend a drama or a gladiator battle in ancient times, surrounded by such incredible views. I imagine there was some amazing wine and food provided to complete the experience too.
For the modern visitor on a typical day, you won't see a performance or feast yourself on food and drink amongst thousands of other Greek or Roman attendees, but you can fully enjoy taking in the beautifully preserved theatre and the amazing views that surround it.
Nowadays concerts and theatre performances are occasionally still organized at Teatro Greco. In 2018, Brit Floyd or Sting will be performing at the unique venue.
Visiting the Ancient Greek Theatre is the no. 1 of things to do in Taormina, so don't miss it! And don't get discouraged by crowds by the ticket booths. They will disperse around the theatre.
The entrance costs €10.
You can visit the theatre with a guide too. Click here to check out a pleasant guided tour of Taormina's Ancient Theatre.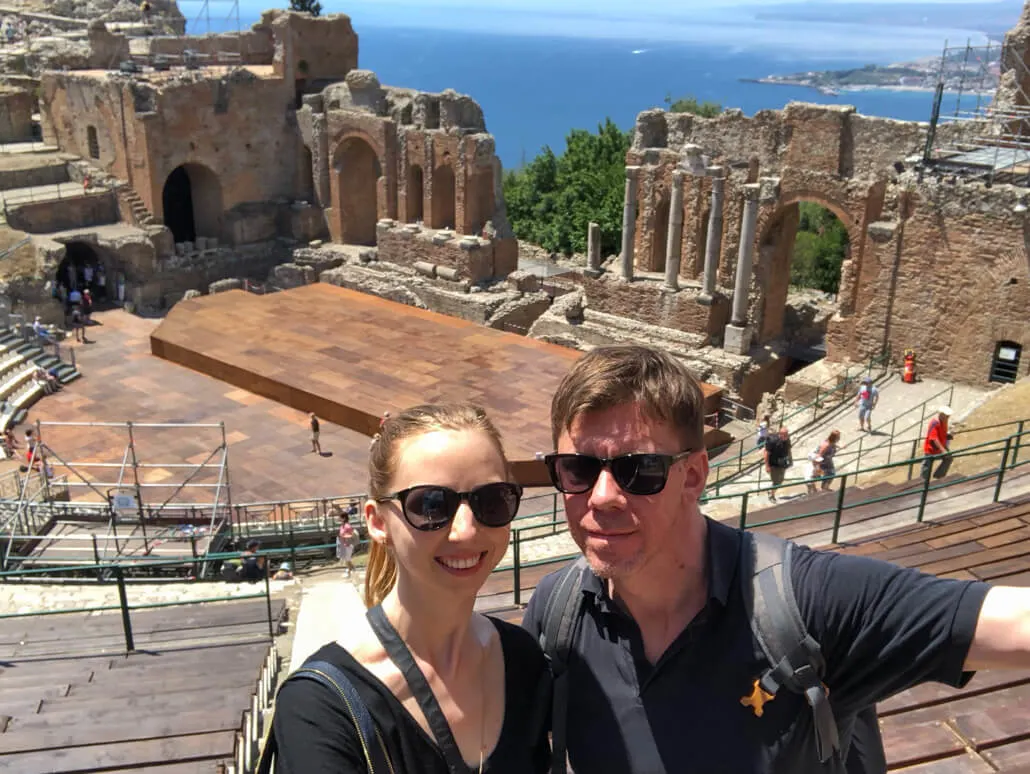 Granitas at Bam Bar
Bam Bar is famous and touristy but it doesn't matter because the interior design is very cool and the granitas and brioche are some of the best you'll find in Sicily.
What is a Granita?
Well, that's a very fair question because if you haven't been to Sicily, chances are that you've never heard of them. A Granita is essentially a semi-frozen dessert made with ice, water, and flavoring, kind of like a snow cone, but it's typically served in a short glass and eaten with a spoon.
It's one of the most beloved desserts in Sicily and it comes in a variety of flavors, Lemon and Almond being some of the most typical flavors that you'll find.
This frosty treat, along with a tasty brioche, is actually a common breakfast for Sicilians, and it's a bit different from the typical Italian breakfast. I did not happen to have a Granita and Brioche for breakfast but I'm certainly not opposed to that refreshing idea.
At Bam Bar they make their granitas with real ingredients instead of with only artificial flavoring, which is a common method.
You can mix and match the flavors too, I got strawberry and chocolate and my husband got almond and apricot. Both were top class and we fully enjoyed them along with a few delicious brioche buns.
Bam Bar can be found at Via Giovanni di Giovanni, 45.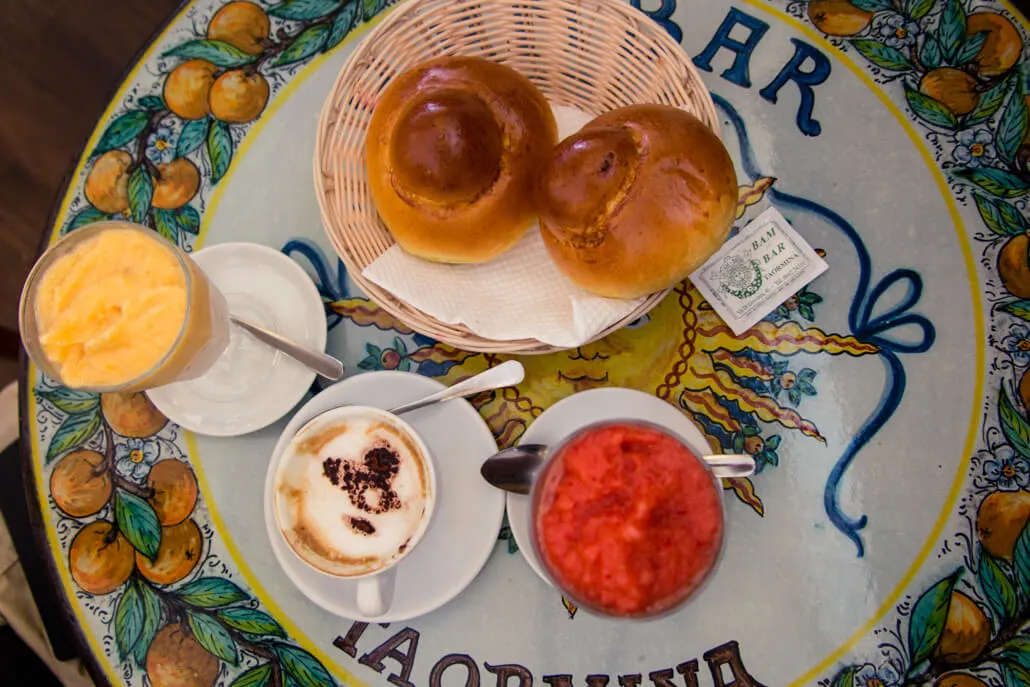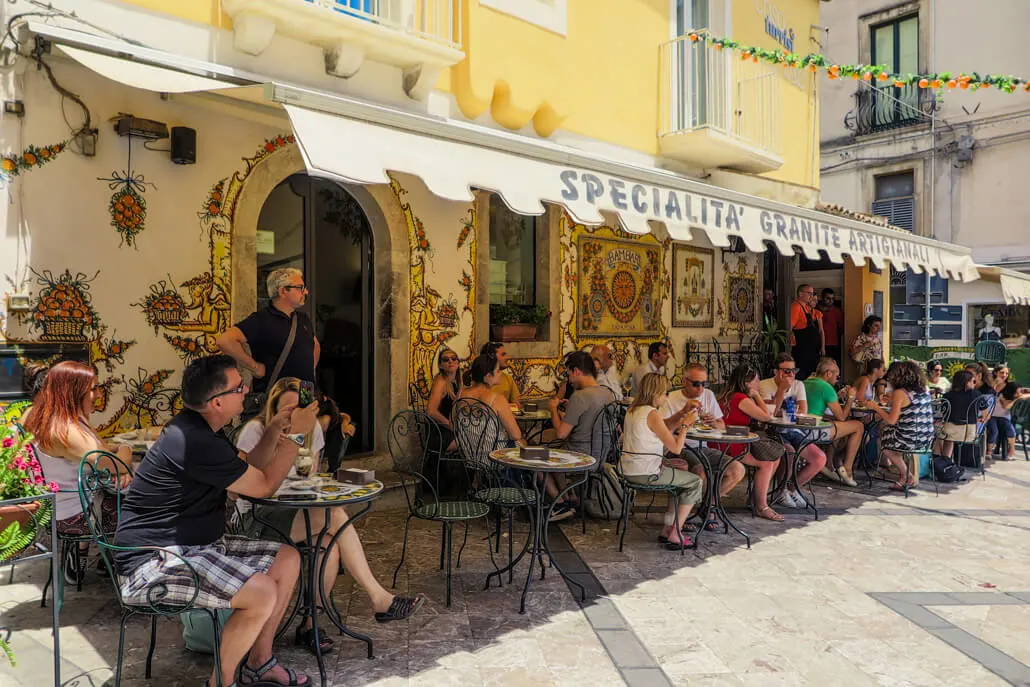 Alas for those hardcore foodies who want to experience the culinary scene of Taormina on a deeper level, I recommend trying the Food and Wine Walking Tour. The tour lasts 2.5 hours and includes stops at 3 popular venues where you'll get insider knowledge from your local guide, meet local chefs and be provided with a variety of regional foods as well as a selection of 5 different wines and 3 liquors during the course of the tour.
Things To Do In Taormina Around The Town: Corso Umberto
After a simple and refreshing snack or a full-on culinary experience, you'll surely want to take a nice stroll through the city center, so with that, we're going to make our way over to the famous Corso Umberto.
Stretching from the city gates Porta Messina to Porta Catania, the Corso Umberto is the most vibrant street in the city. There you'll find many shops, boutiques, cafes, and restaurants as well as plenty of people-watching opportunities. There are art galleries, of which at least one is run by a cute french bulldog who loves belly rubs!
At the beginning of Corso Umberto, not far from Porta Messina, you'll come across Santa Caterina Church and a medieval palace Palazzo Corvaja with a courtyard.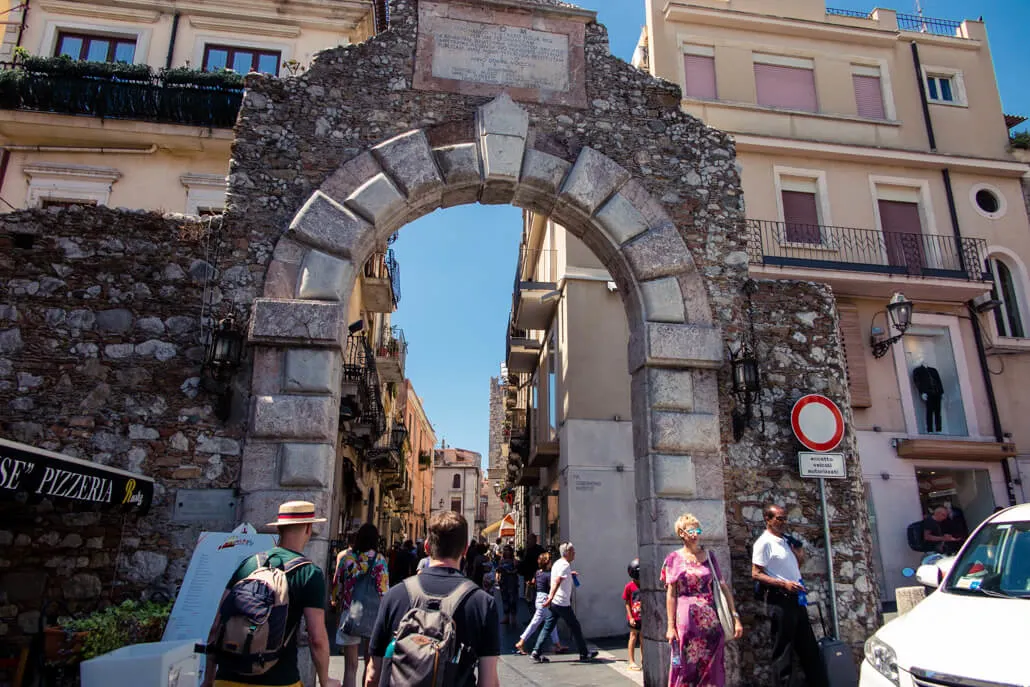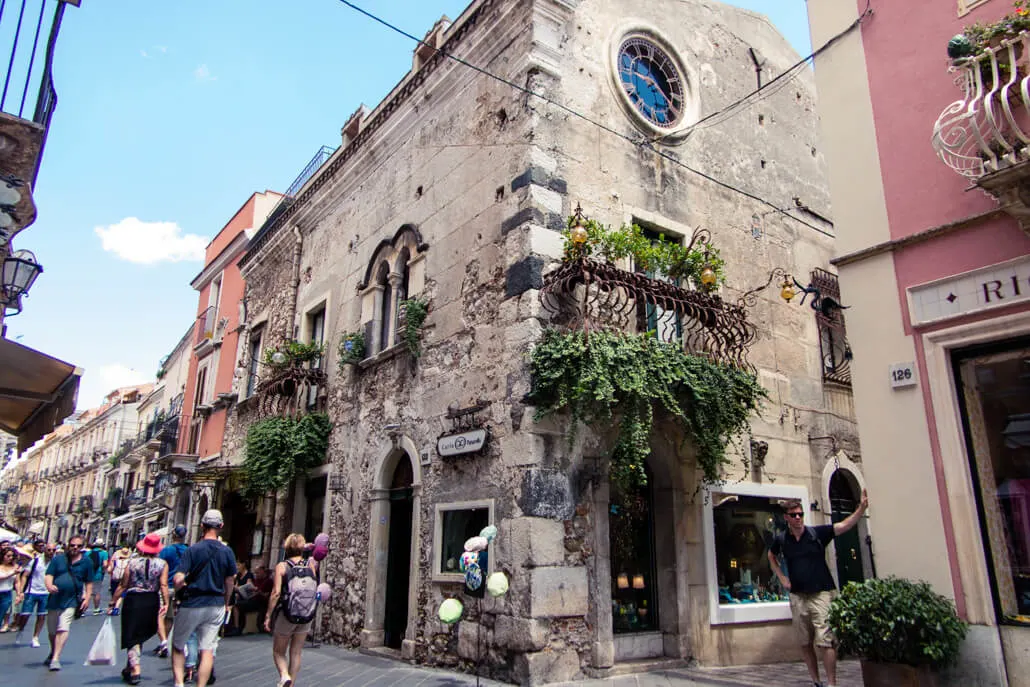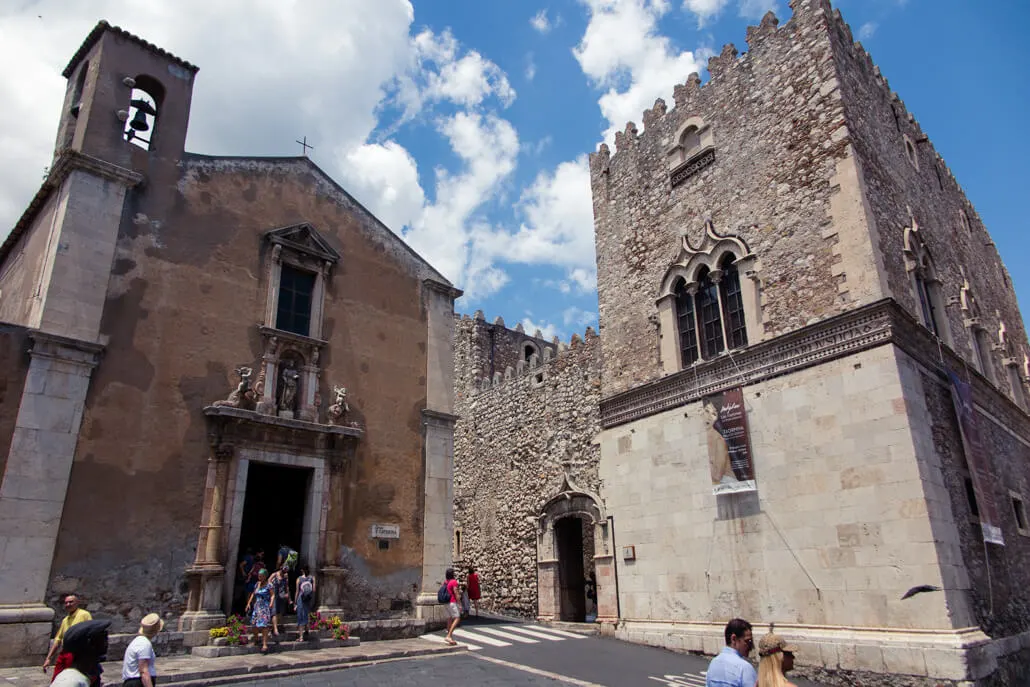 It's also on Corso Umberto that you'll find the Piazza IX Aprile which is the main square of Taormina. The Square is enclosed by two churches – Chiesa di Sant'Agostino on the seaside and Chiesa di San Giuseppe on the other. You can also find a low-key castle right next.
From Piazza IX Aprile you can enjoy more amazing views as you gaze at the natural beauty of the sea and Mount Etna in the distance.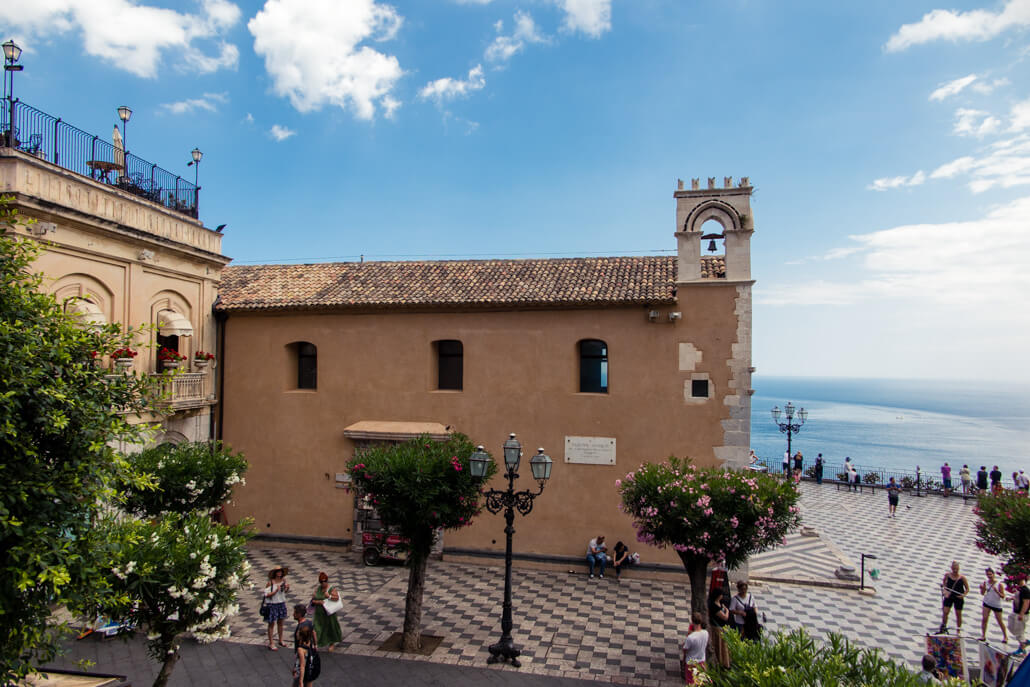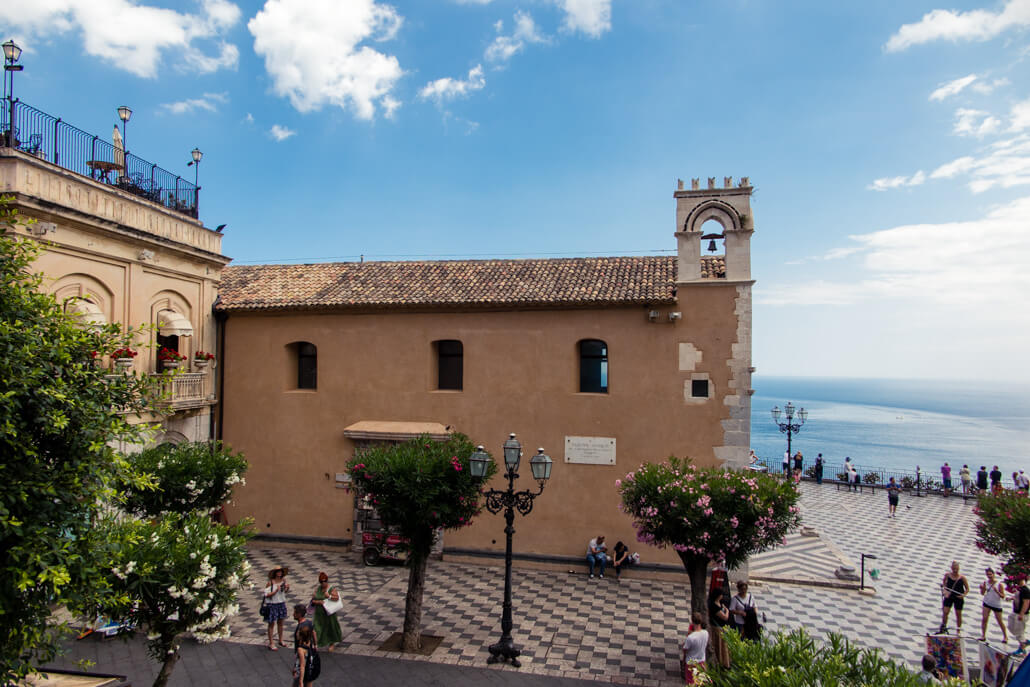 If a casual stroll is not quite enough for you, then you can learn and explore even more on a Half Day Private Tour. The tour will provide you with a uniquely authentic and educational experience where you can discover the city's best kept secrets from a local guide.
Finally, once you have sufficiently explored the beautiful and ancient city of Taormina it'll be time to leave it all behind to head to the beach.
The Taormina Beach Experience
There are 2 main beaches for you to visit in the Taormina vicinity, Mazzaro and Isola Bella, which are both pebble beaches.
Being that the city is high atop a hill and the beaches are set below, the best method of transportation is definitely to take the Taormina cable car which you can access on via Pirandello.
From there you'll be transported along the cables and through the air down to the shores awaiting you below. On arrival, with the theatre and city far above you, both out of sight and out of mind, you'll find yourself fully immersed in the beach scene.
A single ride on the cable car costs €3.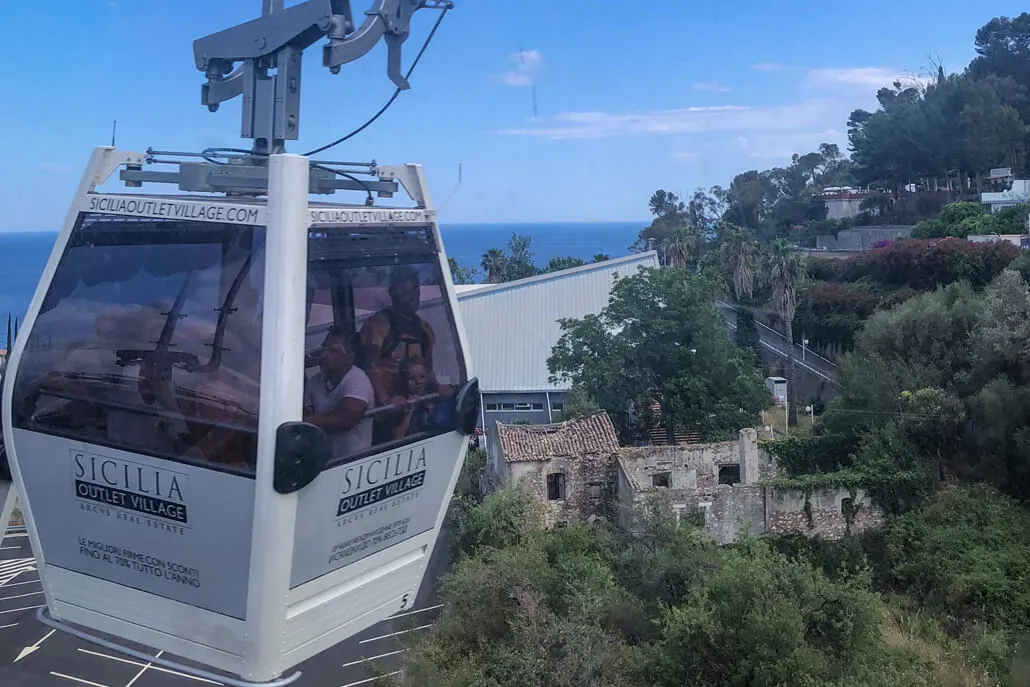 Mazzaro Beach
The first beach you'll come to is Mazzaro. This beach is settled in a bay just North of Isola Bella and is the smaller of the two beaches. It's also one of the most popular beaches in the area and it'll probably be full of beach goers under rows of umbrellas on a nice day.
One of the most outstanding features that you'll notice immediately are the cliffs directly offshore where some of the more brave inhabitants like to dive into the sea.
There are also a few nice little beach bars from where you can enjoy some refreshing beverages and watch all the sun bathers, swimmers and divers from a cool shady view point.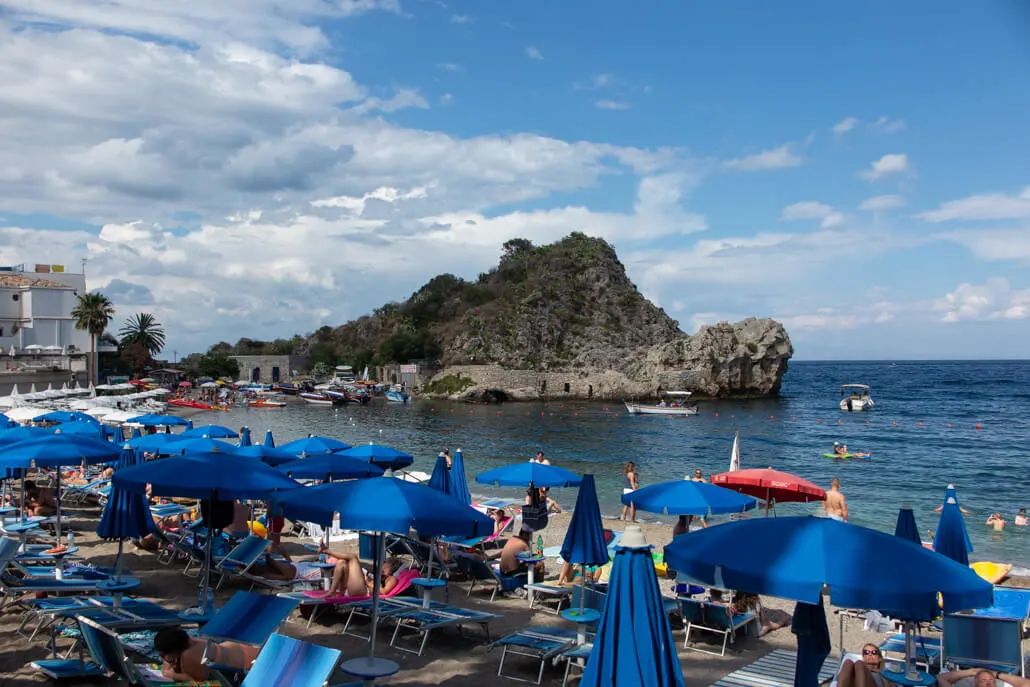 Isola Bella Beach
The second beach, Isola Bella, is a lot larger and more spread out. Here you're more likely to find a comfortable space to lay down some blankets and relax because in addition to rows of umbrellas it also has more free beach areas.
Instead of finding cliffs off the shore, from this beach you'll find a small island or 'islet' which you can access by walking to, during low tide, for an exploring adventure.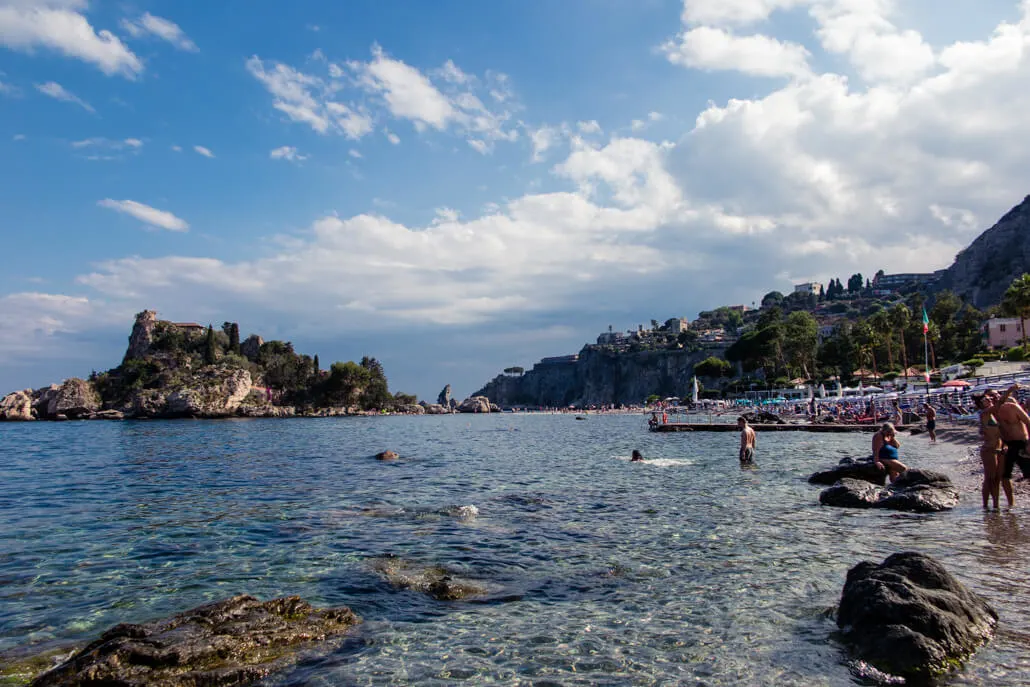 Little history of Isola Bella Island
Back in 1890 the island was bought by a wealthy english noblewoman named Lady Florence Trevelyan. She built a home there and as a passionate horticulturist she covered the small island with exotic trees, shrubs and plants.
After Lady Florence Trevelyan and her husband died in 1907 the town of Taormina prevented any construction on the island and thus it laid dormant for almost 50 years until it was purchased in 1954 by the Bosurgi family who owned a large citrus processing factory in the region.
The Bosurgi family was able to negotiate the lifting of the construction ban which allowed them to build a lavish home there. Hard times fell in 1982, and the failure of the citrus processing factory caused all of the Bosurgi family assets to be auctioned off.
Afterwards the island was left abandoned and it became the target of vandalism which destroyed much of its beauty until 1990 when the island was purchased by the Department of Cultural Heritage. It was turned to a nature reserve in the same year and has since been open to the public.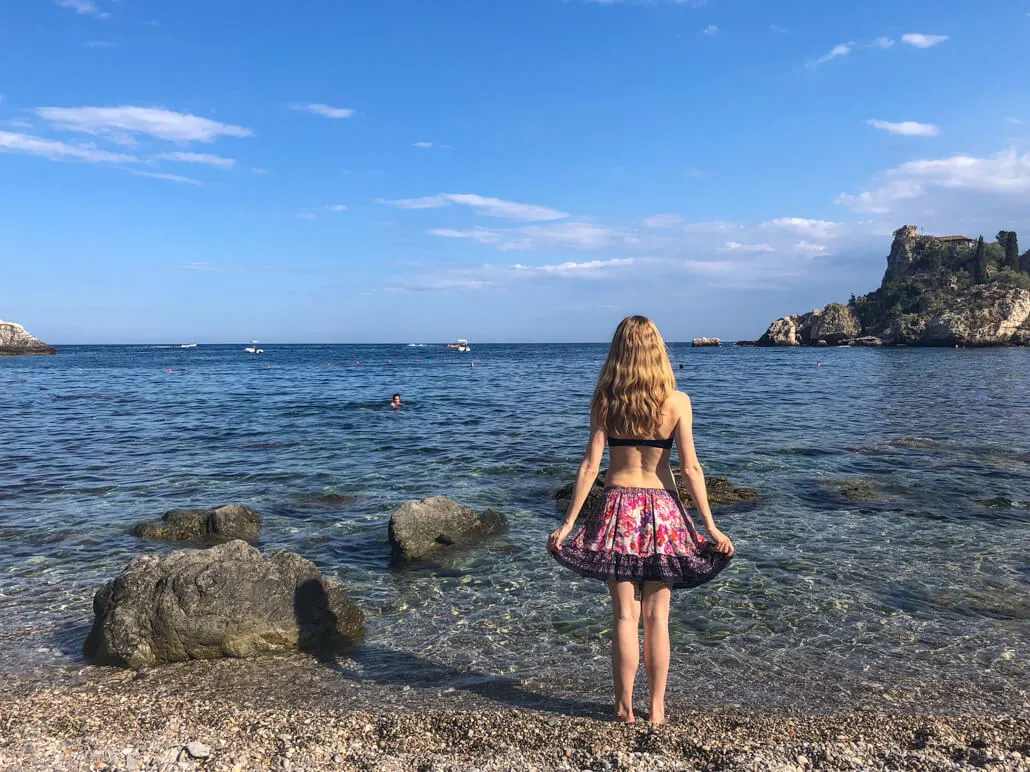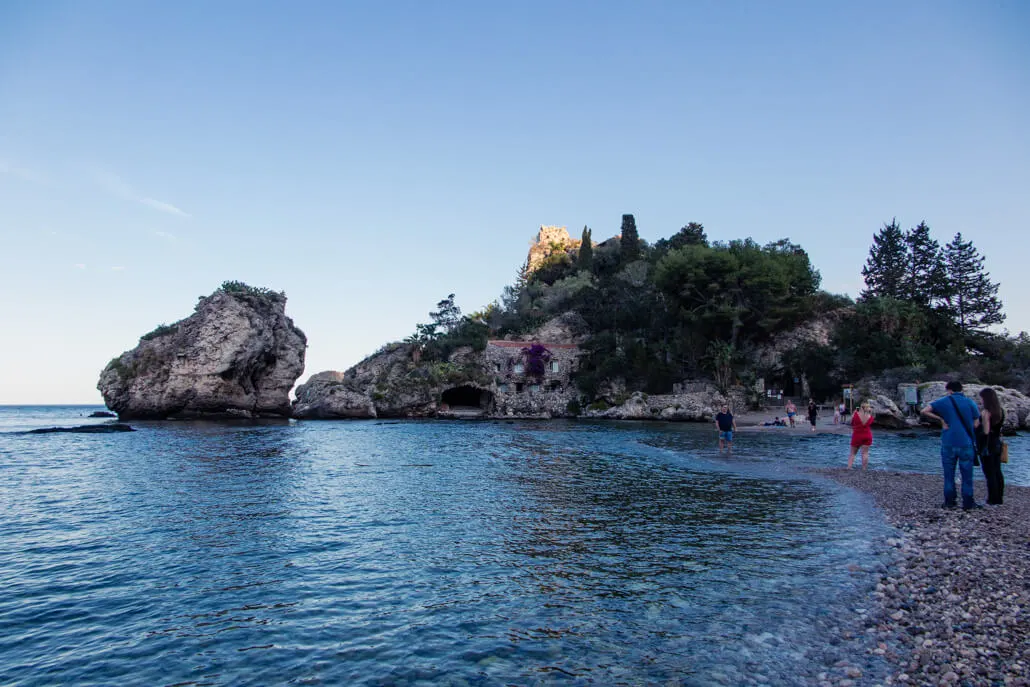 You can visit the island by crossing over from the Isola Bella beach. If you wish to explore it, you'll need to pay a small fee. In my opinion it's worth it! But some TripAdvisor reviews suggest the opposite. Up to you :)
The entrance costs €4.
Now you can see that Taormina really is the full package, right? And it's arguably one of the most important places to see in Sicily. We absolutely loved it there and still have incredible memories and a big desire to get back to Bam Bar for another granita. We have no immediate plans to return just yet so in the meantime please go enjoy a refreshing granita and brioche for us and let me know what you think.
If you don't feel like travelling to Sicily on your own, a company I often work with runs small group tours to this part of Sicily – check them out.
Find all my Italian articles here.
For your Pinterest: