The island chain known as Turks and Caicos is a top tourist destination for so many reasons. Not only is this area so rich in culture, it is home to some of the world's most beautiful beaches.
The clear waters here offer perfect conditions for snorkelling, SCUBA diving, paddleboarding, kayaking, and there is no shortage of marine life surrounding the islands.
Check out the 8 best beaches here – don't be surprised if you get a sudden urge to book a Turks and Caicos beach house and flight today!
1. Grace Bay Beach
Grace Bay Beach is often referred to as the no.1 beach in Turks and Caicos, and even as one of the top beaches in the world.
This 12-mile long beach stretches along from Leeward to Thompson Cove, and is known for its calm waters perfect for snorkelling and swimming. The main reason for this is that the bay is surrounded by a barrier reef that protects it from large ocean swells, keeping the waters calm and clear.
If you're interested in a day of snorkelling at Grace Bay, there are two spots close by that should not be missed: Smith's Reef and Bight Reef. Both of these lively reefs are home to hundreds of species of marine life.
So if beach time is your main goal for your Turks and Caicos getaway, stay in one of the many hotels along Grace Bay Beach. One of the most popular is Alexandra Resort and Spa, along with the Grace Bay Club.
2. Malcolm Beach
If you are in search of a more secluded area with less tourist activity, check out Malcolm Beach. Fewer tourists make their way to Malcolm Beach, mostly because it is not easy to get to.
People that choose to venture here often have to rent a 4×4 to deal with the bumpy roads, so you definitely need a sense of adventure if you want to spend the day here.
Although it may seem like quite the journey, you won't be disappointed once you arrive here. You'll be able to kick back and relax, soaking up the sun without any noisy distractions.
You can choose to snorkel right off the beach, or if you wear decent footwear take a hike to the nearby Northwest Point Pond Nature Reserve, a protected area of mangrove forests.
3. Grand Turk Island
The best place to learn about the rich culture and history of Turks and Caicos is Grand Turk Island, which is home to the capital, Cockburn Town. The interesting architecture of the area features colonial style buildings of the past.
The main tourist spot to visit here is the Turks and Caicos National Museum, a great place to learn about the interesting history behind the islands.
As far as beaches go, Grand Turk Island is home to the stunning Pillory Beach. You could easily spend a full day snorkeling here, or check out the nearby SCUBA diving attraction, Bohio Resort.
Grand Turk is one of the best places to learn how to dive due to its clear and calm waters, so sign up for a course to get certified. If you are already an advanced diver, you won't be disappointed with the impressive visibility and colorful life found around Grand Turk Island.
4. Pine Cay Island
Pine Cay is another great spot if seclusion is what you're in search of. This privately owned island is 800 acres of pure beauty, and the only thing found here is a luxury resort called The Meridian Club.
Guests of this resort get the chance to experience Pine Cay to the fullest, with all-day access to snorkeling, SCUBA diving, kayaking, sailing, and biking throughout the island.
5. Sandy Point Beach
Although Sandy Point Beach does not offer the best swimming conditions in Turks and Caicos due to some rocky sections, it is the ideal spot for bird watching and enjoying a peaceful beach getaway. If you're feeling especially adventurous, there are nearby caves to explore.
If you like cruises, read about a special cruise here.
6. Providenciales Island
Providenciales is one of the largest islands in Turks and Caicos, and many tourists flock here for some beach time. Grace Bay is actually located on Providenciales, but the island is home to several beautiful beaches in addition to Grace Bay. But the main tourist draw here is the world-class diving opportunities.
There are a number of top-rated dive shops here, including Aqua TCI, Provo Turtle Divers, and Flamingo Divers.
You can't go wrong with any of these dive establishments, and you're pretty much guaranteed to see some incredible marine life under water. You'll be surrounded by colorful corals and tropical fish. You might even get the chance to see nurse sharks, reef sharks, hammerheads, and lemon sharks.
7. Long Bay Beach
Long Bay Beach is also located on Providenciales Island – if you head east from Grace Bay, you'll eventually find yourself at Long Bay. Long Bay offers a much more relaxing atmosphere than Grace Bay, mostly because there are no hotels or resorts lining the waters here.
This area is the ideal spot for a romantic getaway, since you won't be bothered by tons of tourist activity. Explore the crystal clear waters or go for a horseback ride along the beach.
8. Chalk Sound National Park
Another Providenciales hotspot, Chalk Sound definitely offers an experience different from most beaches. It is actually a lagoon that is home to two warm-water coves, Sapodilla and Taylor Bays. This is a great spot for kayaking and paddle boarding, especially since powered boats are prohibited here.
There are tons of opportunities to explore here, both on land and in the water. On land don't be surprised if you come across some large iguanas, especially in the area surrounding Chalk Sound. Swimming in the shallow waters you might see barracudas, stingrays, and even lemon sharks.
If you'd like to see more of the Caribbean, this post will help you choose the perfect Caribbean island.
You won't make a mistake by choosing any of these 8 beaches in Turks and Caicos, each has their own unique features but all are absolutely stunning.
Have you been to Turks and Caicos? Which beach did you like the most?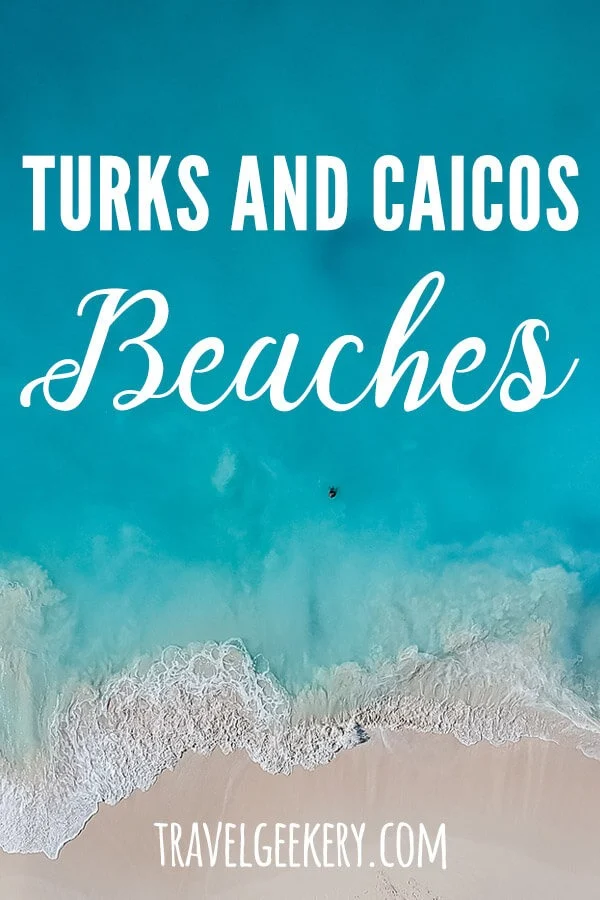 Big thanks to Luxury Retreats for sponsoring this post.