If you feel like exploring the real Catania and not just mingle with tourists at a hotel, I've prepared a list of the best Catania apartments currently available on Airbnb.
I won't go into how staying at an apartment is so much better to get to know a city. On your holidays to Catania, you'll see how the real charm stays in the local neighborhoods filled with hearty Sicilians.
Just like in most cities in Italy, Airbnb Catania has some true gems on offer, which can be yours often for a lot less than you'd pay at a hotel.
I read all the descriptions, checked carefully all the photos, and went through pages and pages of reviews to make sure the following selection of apartments in Catania is top notch and nothing less.
All highly rated, all hosted by Superhosts, all located within a walking distance to the city's main sights. These are the best examples of accommodation in Catania Sicily you could find.
Making Catania your base for further exploration of Sicily's Eastern part comes highly recommended. From the metropolis, you can go on awesome day trips from Catania into all directions incl. Mount Etna and e.g. Taormina.
Btw. I also have a post on Taormina villas to rent and other nice accommodation options in the lovely town.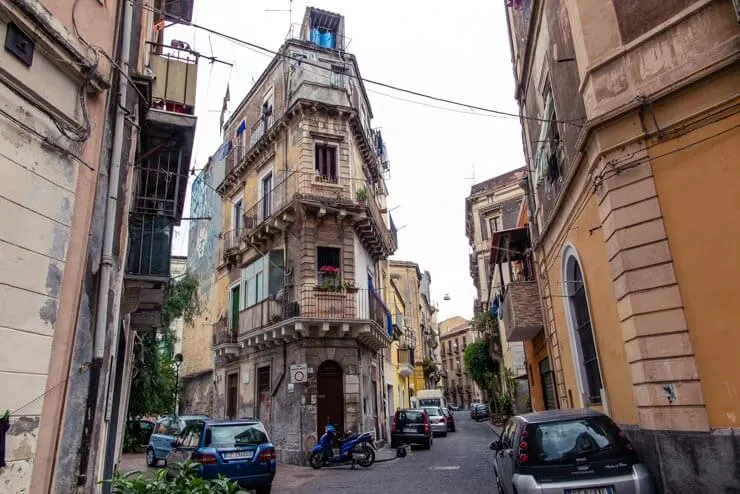 Let's get right to it and explore these magnificent Airbnbs!
See also a handy map of all these apartments to rent in Catania Sicily at the end of this post.
Are you looking for something special on your holidays in Catania? Look no further than this unique gem of an apartment with a winter garden / green room.
While located on a quiet street, it's still within a few minutes' walk to Piazza Duomo and most of Catania's attractions. The clean spacious apartment features a breezy minimalist design.
Not only does Lorenzo the host enjoy the "Superhost" status, like all other apartments in this selection, but this one is marked as an Airbnb Plus stay.
That means that it has all the possible amenities you might need, special care is taken of every detail and the host shows an exceptional level of hospitality.
The two-bedroom apartment can accommodate 4 – 6 people.
If it gets rainy or you just feel like staying in, you can make use of their Smart TV with all streaming platforms. Or, even better, in winter months you can cozy up by a fireplace. The apartment is children-friendly too.
And if you're concerned about parking – you can leave your car on the street.
The best feature of this attic apartment is the rooftop terrace with an amazing view of Catania's old terracotta roofs. You could spend hours there enjoying breakfast or dinner, or just sitting down with a book, watching the sunset… Fairytale lights only add to the experience.
I absolutely love terraces like that so for me this feels like the best place to stay in Catania!
It has one bedroom and comfortably houses two. Nice decorations and cleanliness are one of many features guests rate highly about this place.
Should you feel the need, you can easily go for a Netflix & chill on the provided Smart TV, running on high-speed internet.
The raving reviews show Luca is an attentive host who is always ready to help.
Even though it's located in the hustle and bustle of Catania's Old Town and its historical sights, the place feels calm and secluded.
Since this apartment is located on top of a building, on the third floor with no elevator, skip it if climbing stairs is a problem.
Another thing to note – the apartment is not suitable for children under 12 and pets are not allowed.
It's easy to get to the apartment from the airport since the bus stop is located only a 5-minute walk away. If you rent a car, you can park on the street.
Are you visiting Catania with your extended family or a group of friends? This is the perfect house for you – especially since there are no villas in Catania Italy.
The house has two floors, on top of which rests a beautiful large terrace. You can relax there even in the heat of the day since it's nicely shaded. There's still a part that's exposed to the sun in case you'd like to work on a holiday tan.
Dinners take on another level at this exquisite terrace full of local plants and large succulents. A swinging bench is at your disposal too, so you can have an especially romantic experience or let the children have fun with it. :)
The terrace is especially well equipped – there are even things like a Fussball and a few bouncy toys.
Since this place has a Jacuzzi in one of the bathrooms, this is as close you can get when searching for Catania villas with a pool.
The house is laid out in the following way – on the first floor, there's a large living room complete with a fireplace, two large bedrooms, and one small bedroom. The second floor contains another large living room, a kitchen, and two bathrooms (one with the Jacuzzi). The third floor features a small annex with a sofa, a bathroom, a kitchenette, and the terrace.
The décor of the house falls under classical Sicilian, with traditional furnishing and handcrafted furniture. There are a few simple-looking items mixed in, creating the ultimate hodge-podge that Italians cherish. It comes equipped with much-needed air-conditioning.
Simona is a Superhost too and super quick to respond. Even though the house description on Airbnb is in Italian mostly, she does speak English too. The location is close to the Old Town as well as the park Giardino Bellini.
For an extra charge, you can even bring your pet. Parking on the street is free. Additionally, you can opt for paid parking a few blocks away.
I don't know why this accommodation option is referred to as an apartment when it's basically a 2-story house with a private entrance! This is what I'd imagine when looking up holiday villas in Catania since in a metropolis like that you can't come across a typical Sicilian seaside villa.
This 'apartment' features two bedrooms (called Etna and Mare) – each on its own level, each featuring a bathroom. That makes it ideal for two couples staying together.
The best perk, however, is the large terrace, from where you can even see Mount Etna! On a clear day, of course.
While located close to Catania city center, this place is also not far from Catania's best park – the Giardino Bellini. A botanical garden is in the vicinity too.
Sebastiano is a helpful host who keeps his place sparkling clean. Air-conditioning is a must and so is a Smart TV, which this apartment has as well.
If climbing stairs is a problem, look to other properties. Here moving between the bedrooms and the kitchen involves taking the stairs. Also, the ceiling in the kitchen might feel low if you're especially tall.
You almost won't need to leave this apartment and yet you can spend your days admiring Catania's architectural gems, the dark blue sea, and the majestic Mount Etna fuming in the distance.
Yes, you can see all that from this penthouse! How crazy is that? This is the only of the well-rated Sicily Catania apartments I've searched through, which provides that.
It's perfect for two couples or a couple with older children because the bedrooms (named Playa and Etna) are separate and each has its own bathroom.
You enter the apartment on the 5th floor (no elevator) and it goes up to the 8th floor! You read that right – the apartment occupies 3 floors. The views are well worth it, though. Unfortunately, if you have bad knees, this is not the right place for you.
The apartment has everything you could need, including a Nespresso machine for the perfect morning cup on the terrace.
The area is special too – you'll find yourself in a quiet residential neighborhood to the southwest of the historical center, just a 10-minute walk away.
Sara and Ruben (well, especially Sara) will assist you with anything you might need. Even check-in is easy with the keys locked in a code box.
Parking is usually possible on the same street, in the worst case you'll have to leave the car around the corner or a block away.
If you'd like to enjoy a balcony with stunning views, yet don't want to climb stairs all the time, this studio is perfect! Uniquely, the building it's located in has an elevator. That's not so common in Catania! Being on the 5th floor, you'll find yourself above most buildings in the surroundings.
The studio apartment is perfect for a single traveler or a couple. Especially if you plan to spend your days mostly outside, you wouldn't need anything bigger than that.
There is just one room in the Airbnb. It's bright and tastefully decorated. It's best for a summer getaway to Catania when you can make full use of the spacious terrace.
The host, Santo, will be personally available to attend to any needs and requests you might have. Since he's a salsa dance instructor, you can ask him for a private class too. :)
While small, the place has everything you could need including an A/C unit, a TV, a microwave, and a small stove.
Located just on the outskirts of the Old Town, it has a good position for walking everywhere on foot while enjoying a stay among locals.
If you'd like to stay in Catania and pretend you're a local, this apartment serves as a great base for it. It's housed on the first floor of an old building (i.e. one floor above the ground), nicely renovated and with modern equipment. Still, the traditional architectural features, such as especially high ceilings, show.
The bright and spacious apartment also has typical Sicilian flooring that only adds to its character. Two tiny balconies overlook a busy street, which makes you feel like you're a part of the local lively vibe.
You'll have plenty of shops at your disposal and a cool street full of restaurants right at your fingertips. Plus, Catania's main park Bellini is located just a few blocks away.
The apartment is ideal for a couple, but it can accommodate up to 5 guests.
The host Claudio takes pride in helping you in any way, making sure your stay is as awesome as can be. You'll feel especially safe since you'll be protected by 3 locked doors.
The location is very central – you're right in the historical center. While convenient for walking everywhere, it's not as quiet as in the other accommodation options provided on this list. The windows and shutters do the trick but in case you're too light of a sleeper, pick another place or bring earplugs to be sure.
Parking can be arranged in a garage nearby, which will save you some stress of having to park on the street as Sicilians do.
A small apartment for two on a quiet street near Catania's center. It sounds like a great combination, doesn't it? Add an affordable price to the mix and you have an ideal base for exploring Catania.
The coziness of the apartment is only aided by the unique ceiling and calm design. Two large windows give just the right amount of light.
Serena and her husband Tato are Superhosts too. Uniquely, they provide breakfast for their guests! They leave a few items in the apartment for you to enjoy in the morning (or actually whenever you please). A good coffee machine will satisfy your caffeine cravings.
Smart TV with Netflix is available and you can use the aircon if you need.
If you have a car, you can park it on the street. If you prefer a guarded garage, the host can arrange it for you for about €15/day. You can also make use of other modes of transport easily since the bus/train station is only a 15-minute walk away.
This studio apartment is perfect if you don't want to climb any stairs since it's located on the ground level. It comfortably accommodates two persons.
The apartment owes its cave-like interior to the historical walls that were restored and kept uncovered. It gives a unique medieval feel. But fear not, everything else is modern.
Guests praise the cleanliness and attention to detail. The hosts are, however, the real highlight of this centrally located apartment, since they go well beyond what's expected. Andrea and Baiba will gladly show you around the neighborhood and give you some insider tips for your best stay in Catania.
A coffee maker and a Smart TV will keep you entertained if you don't feel like enjoying the nightlife.
You can even arrange for a pickup from the airport for an additional €10. Also, a bus stop is within a walking distance from the apartment, so you don't even need to rent a car on your visit to Sicily.
If you're traveling alone or in two and long for the ultimate cultural immersion, you have to stay in a private room at Andreina's apartment!
Andreina and Vito are a lovely couple who've opened their apartment to travelers and enjoy pampering them with food. Yummy breakfast with a delicious cappuccino is included in the price! You can often find Andreina in the kitchen and she'll be happy to involve you in the process if you wish so.
The lovely couple simply loves making their guests feel at home. To stay at their place is just like staying with family.
The room itself features a large bed and an en-suite bathroom, which will be for your private use only. A large built-in wardrobe is a nice touch too.
You have access to the living room too, of course. And to the terrace, with a stationary bicycle to work out with the views of Mount Etna!
The apartment is located just outside the Old Town, near the beautiful Bellini Park.
Map of 10 Best Catania Airbnb Apartments
On the map below you can see all the apartments listed above on a map. Click on the image to see the fully interactive map with prices on Airbnb.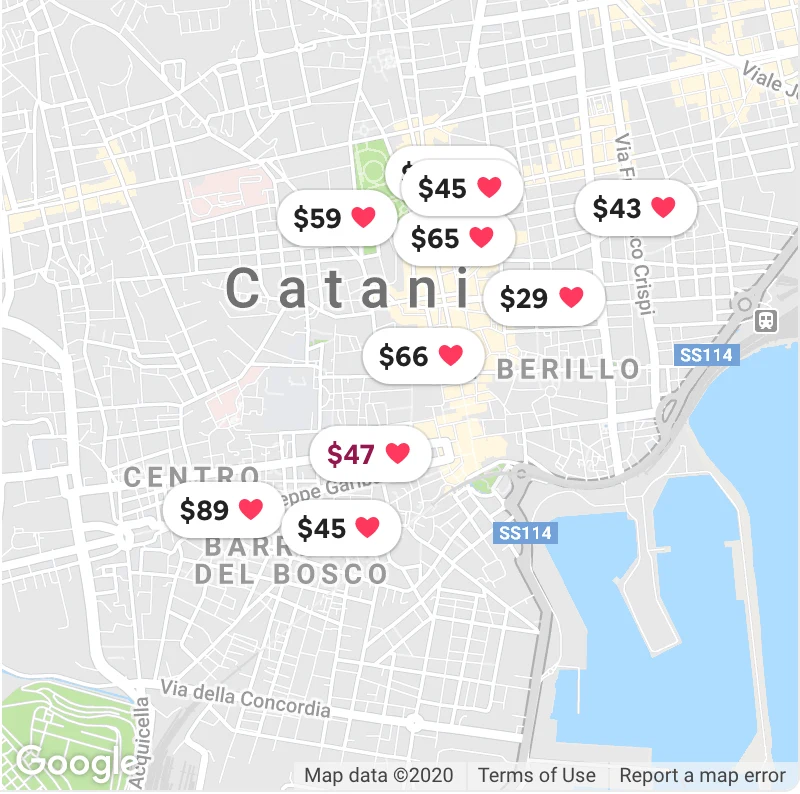 I hope you've found your ideal Catania apartment among these Airbnbs.
Enjoy the bustling city and eat some granita on me!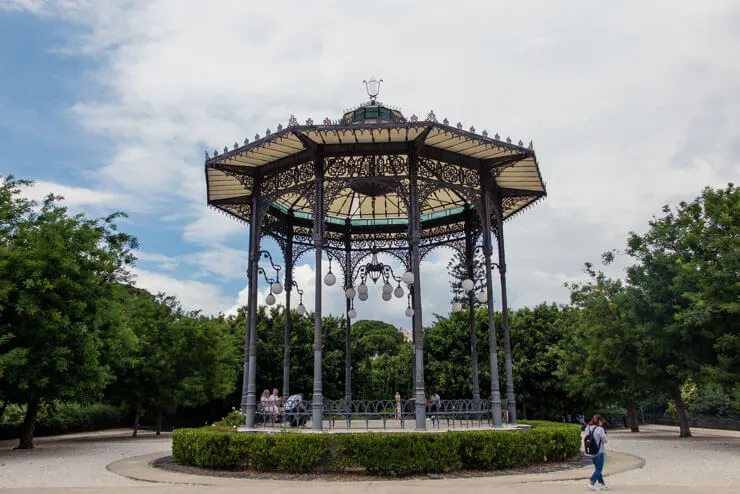 Pin this post for later: