This post is also available in:
Čeština
Brittany, the beautiful coastal region in the Northwest of France, can boast one of the prettiest shorelines of the old continent.
And they all feature well-developed trails, making Brittany hiking a piece of cake. Their common denominator? Jaw-dropping cliffs!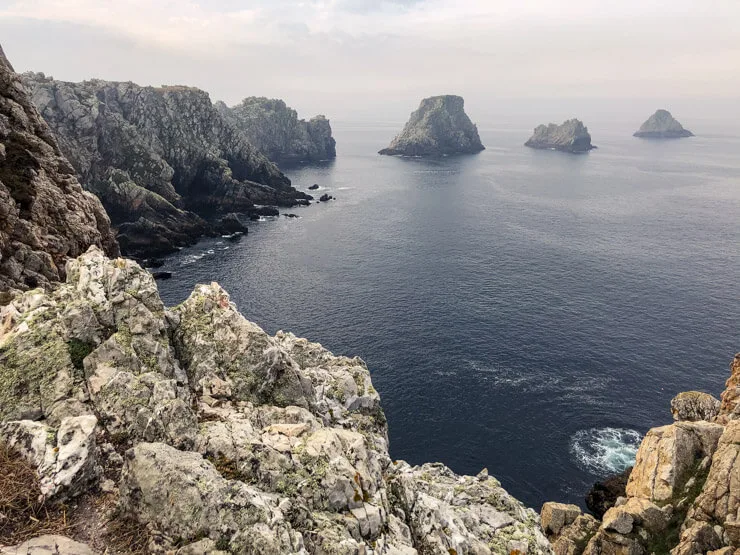 The trails will show you the best of Brittany. I was honestly taken aback by the rugged beauty of the seaside landscapes.
I hiked them in mid-September and got extremely lucky with the weather. Warm days and moderate sunshine made it a wonderful experience.
The following trails are easy and anybody can manage them, no matter the age and fitness level. Since this area of France is mostly flat, I can guarantee hiking Bretagne can be done by anyone.
Sounds intriguing?
But before we jump into the details of each hike, I need to introduce you to a special trail that connects them all:
GR 34: Sentier des Douaniers – Customs Trail

Also known as the Customs Officers' Path or Chemin des Doaniers, this unique coastal path circles the whole western shore of Brittany all the way from Mont-Saint-Michel to Saint Nazaire Bridge.

It was created in 1791 for the purpose of preventing and uncovering any seaside crime – think smuggling, looting of shipwrecks etc. Customs patrols would walk it constantly, no matter the weather.

With the onset of the 20th century, the trail was left abandoned, only to be revitalized in 1968 by a group of hiking enthusiasts. Thanks to them, hiking in Brittany has become a favorite pastime for many locals.

The red-and-white marked trail belongs to the most scenic hiking routes in France and even the whole of Europe. The following hikes all form a part of the GR34 coastal path.
For a map overview of all these 3 hikes, scroll to the bottom of the post.
Emerald Coast (Côte d'Émeraude)
Brittany's Emerald Coast, located in the Côtes-d'Armor department in the North of Brittany, features wild cliffs plummeting as low as 70 meters (230 feet) down into the deep waters of the Atlantic.
This area around Cap Fréhel forms a part of a nature reserve called Landes de Cap Fréhel, together with nearby uninhabited islands. The whole area is protected moorland.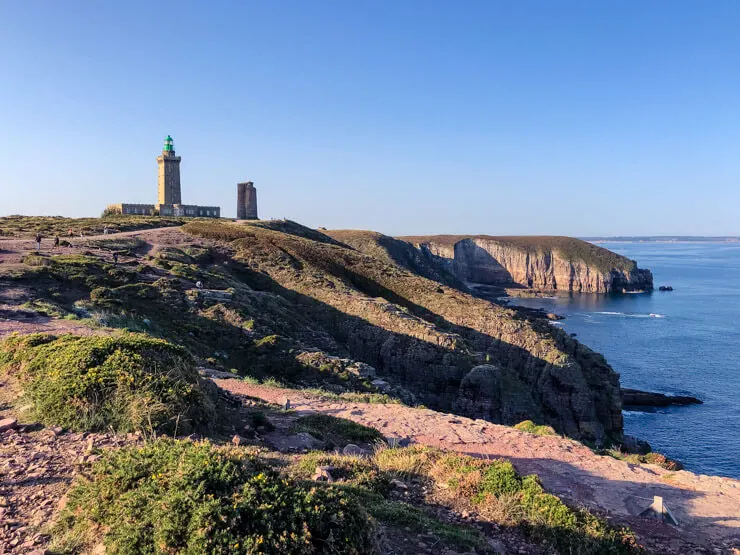 The hiking trail is part of the legendary GR34 Coastal path also known as the Customs Trail (Sentier des Douaniers).
You can start your trek at Cap Fréhel, a cape with two lighthouses located at its tip. The older, smaller one was built in 1685 by an architect who worked for Vauban, France's famous engineer who's behind many fortification structures along the coast.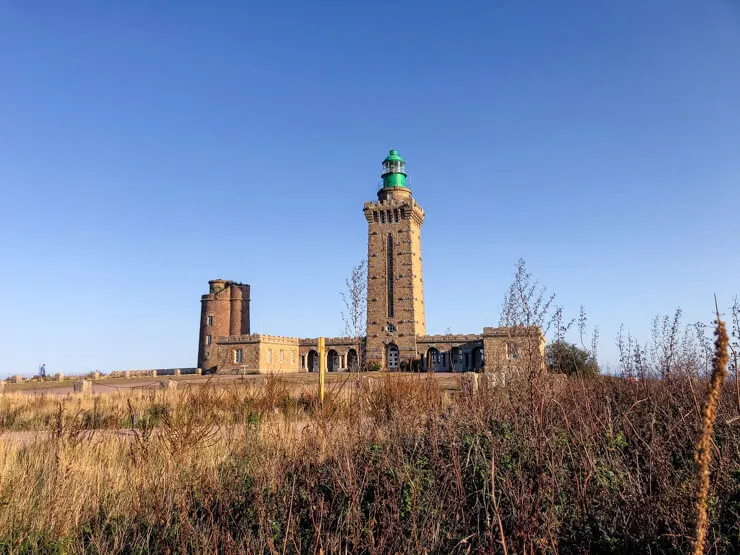 The taller lighthouse was built in 1950 and is still in operation today. Its beam is the 5th strongest in France and can reach as far as 110 km (68 miles). You can visit it from April to November, but it was closed on the day I was there.
On a clear day, you can spot the British Channel Islands on the horizon – Guernsey and Jersey.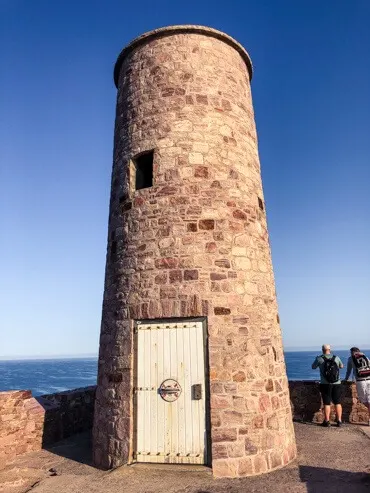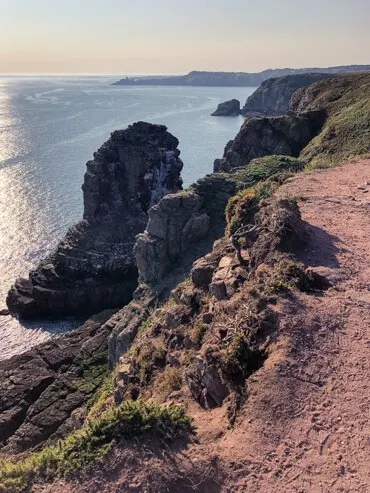 This part reminded me of Iceland's Snaefellsnes Peninsula, mainly thanks to the dramatic cliffs.
The heather that grows all around the trail displays a range of colors that beautifully complement the stunning sea views. I just couldn't get enough.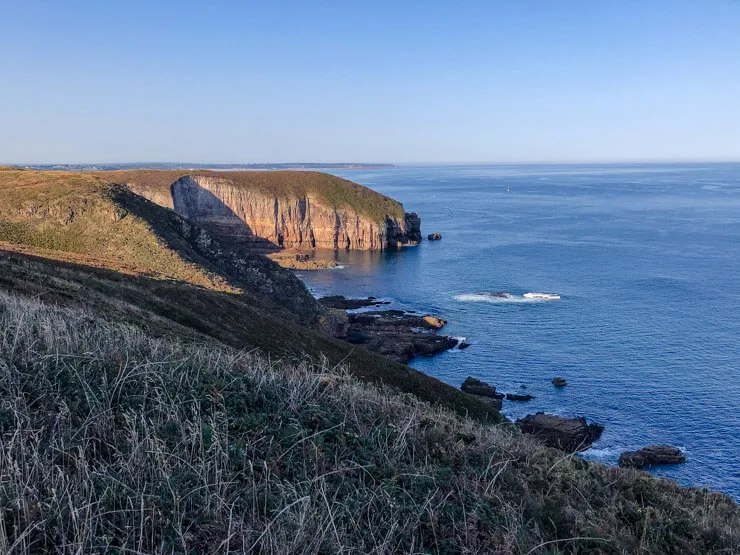 On a sunny autumn day, the brown/orange/purple heather amazingly contrasted with the dark blue hue of the Atlantic Ocean and with thorny bushes (called gorse) with tiny yellow flowers that were covered in spider webs. Actually, as lovely and spooky as it looked, these were spider mites, i.e. pests.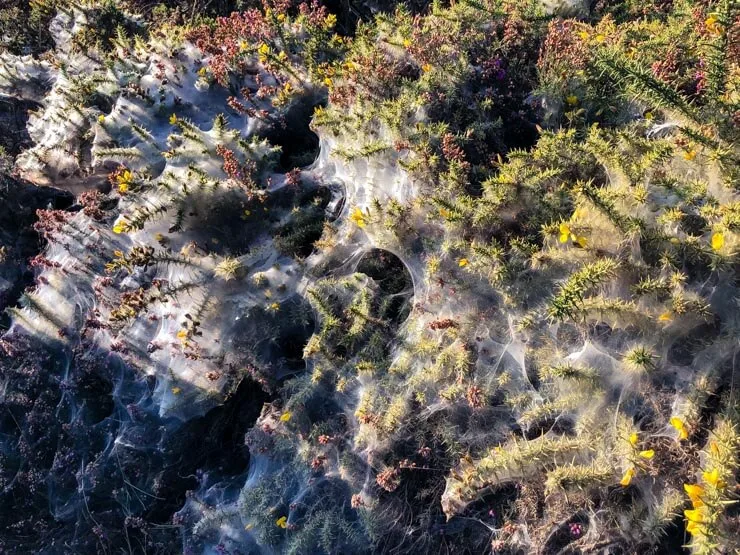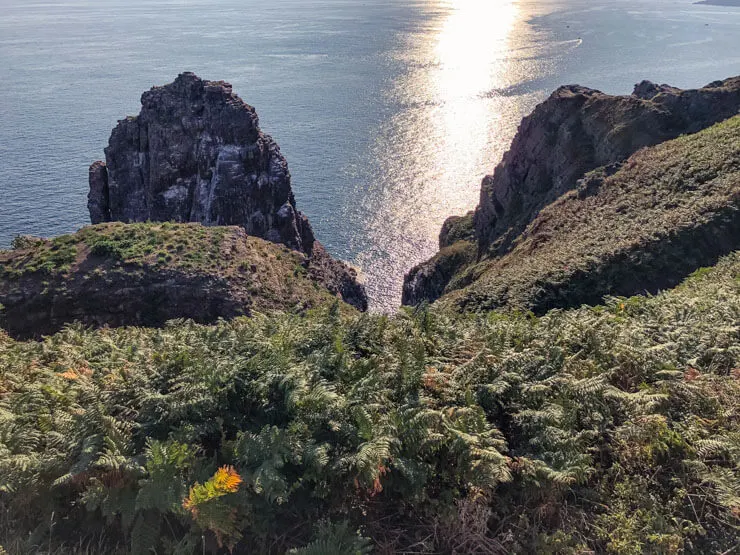 Enchanting lush ferns took care of covering every last bit. And since the sandstone itself has a bit of pink hue, the trail color only added to the rainbow palette.
You can clearly hear seagulls, but it's not just them living in the cliffs of Cap Fréhel. It is said that over 700 pairs of marine birds are nesting in the cliffs. Fulmarine petrels and razorbills are among the most frequent ones.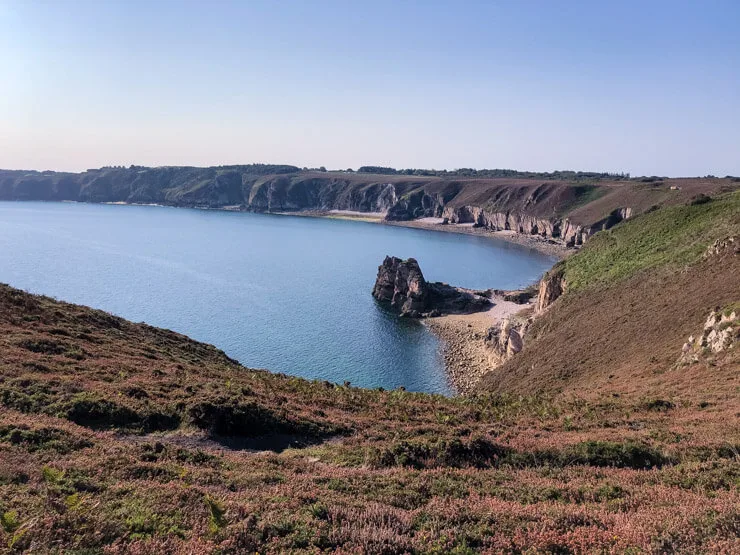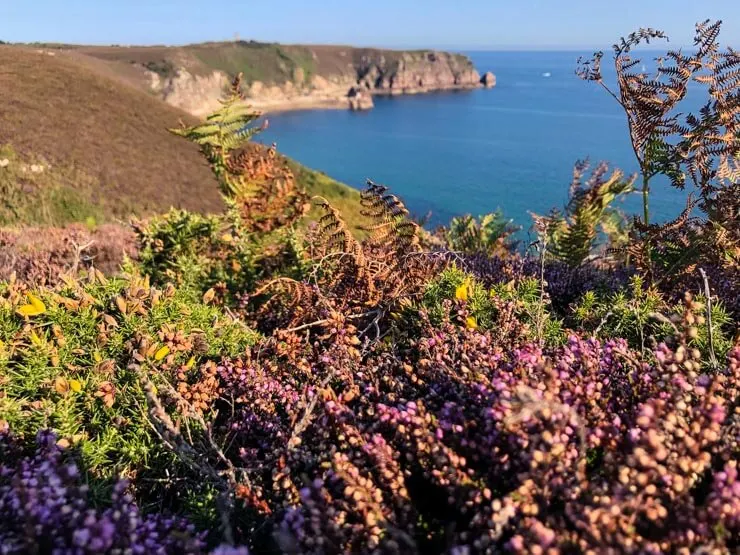 The destination of your 2-hour hike will be the fortress La Latte. While originally built in the 14th century as a castle, following a devastating fire in the 16th century, it was majorly rebuilt and fortified in the 17th and 18th centuries under Louis XIV of France.
The fortress no longer serves its military purpose and is in private hands today. You'll need to pay €6.60 for entry. It's well worth it, though. Especially thanks to the stunning views from the top of the fortress tower.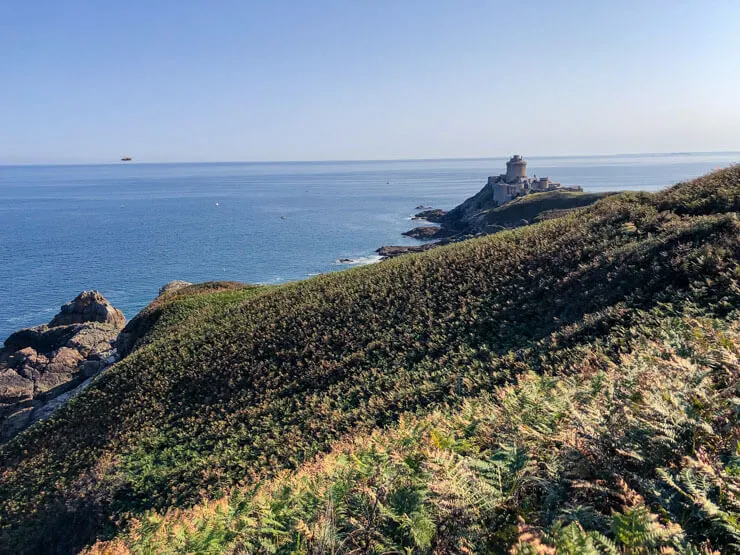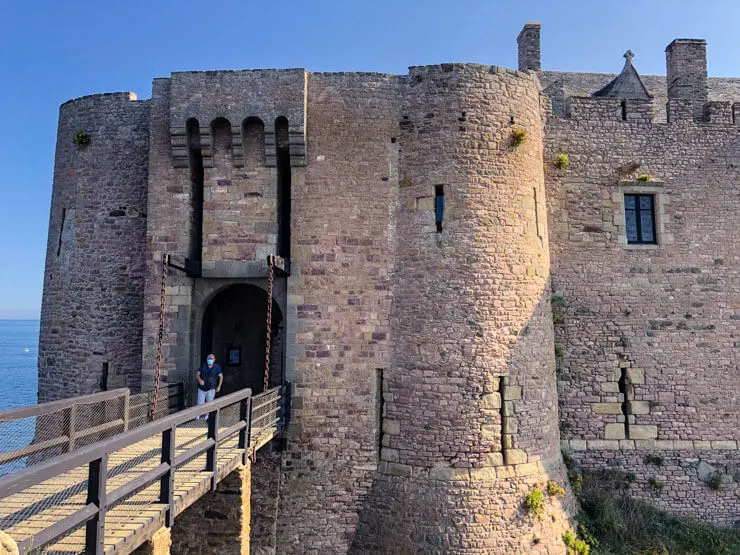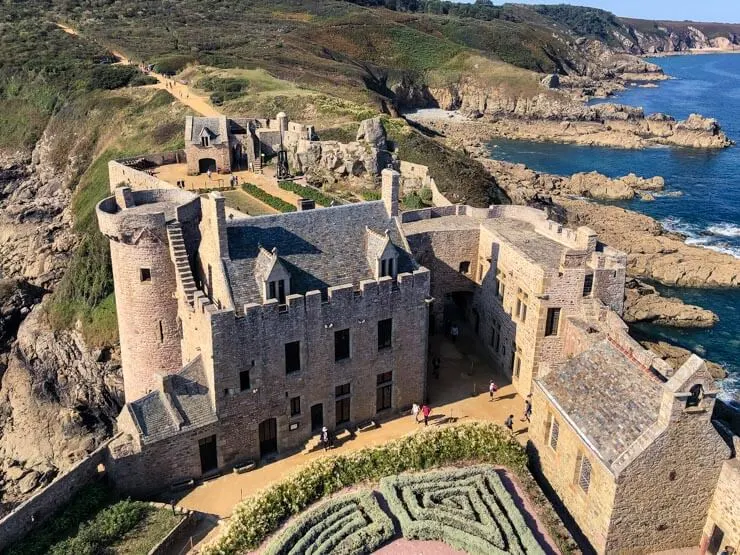 Read more about Fort La Latte on the local tourism website.
Once done with sightseeing of Fort la Latte, you can walk down a small path, just to the left when exiting from the fortress. It will lead you to a little rocky beach, where you can even go for a swim if you dare.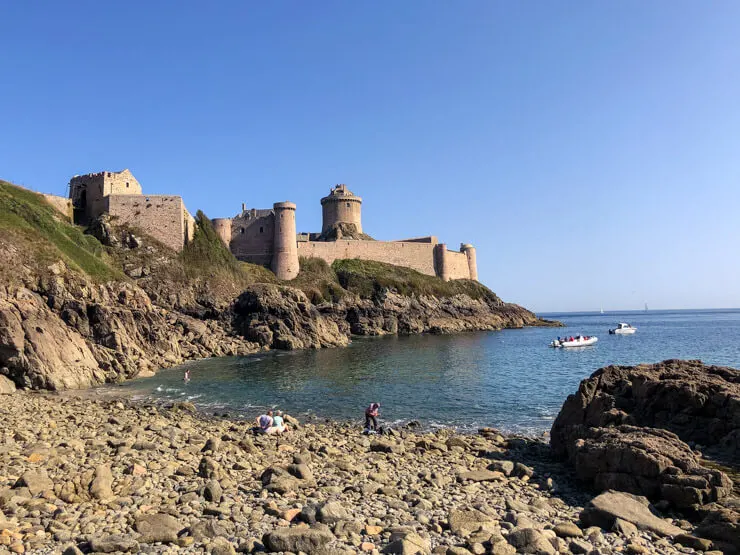 The Emerald Coast path surface has anything from sand to gravel or it turns into a boardwalk carrying you over the marshes. In any case, it's good to wear shoes with closed tips (see these women's), since random rocks in the trail reveal their presence at the last moment and you don't want to stub your big toe.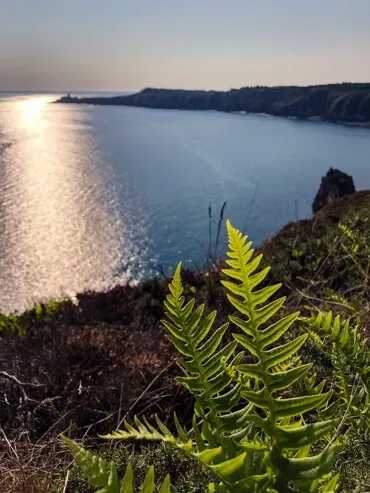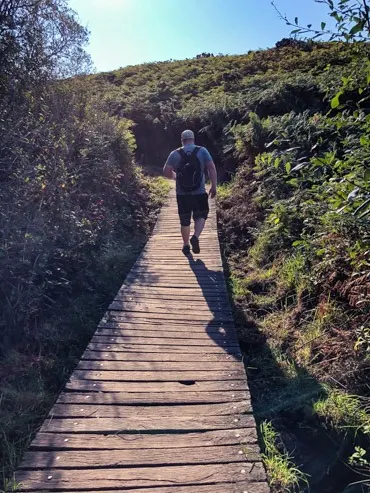 You'll be exposed to the sun most of the time. There are only a few points when nearing the Fort de la Latte that are shaded by trees. Wear sunblock if visiting in summer.
---
Starting point: Cap Fréhel Parking
End point: Fort la Latte Parking
Distance: 4.8 km (3 miles)
Time needed: 2 hours (one way)
Getting there: You will need a car (search for a car rental) – still, you'll need to hike the trail both ways
Tours: There are a few tours that include this hike, together with towns nearby. The big benefit is that you can walk the trail just one way and the driver picks you up. However, as of 2022, the tours are not available online.
Where to eat: There are no immediate eating options at either end of this hike, so it's highly advisable to bring your own lunch. Plévenon is the closest town nearby with plenty of bistros and restaurants.
Where to stay nearby: We stayed at a lovely campsite called Camping de Pen Guen. It's only 30 minutes drive to Cap Fréhel from there. The camp features comfortable mobile homes, a natural swimming pool, and is even within walking distance (about 20 minutes) from a beach. I can highly recommend it, in my opinion it's one of the best campsites in Brittany. See current prices here.
Find also a selection of hotels nearby.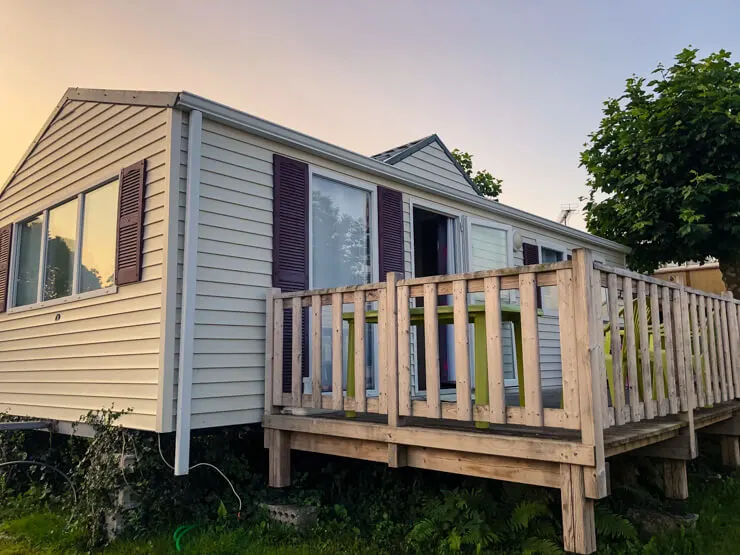 Pink Granite Coast (Côte de Granit Rose)
If rocks splattered with bright pink paint come to your mind when you hear about pink granite, you'll need to reset your expectations. Still, the pinkish hue, which the granite formations of the coast naturally take on, is bedazzling.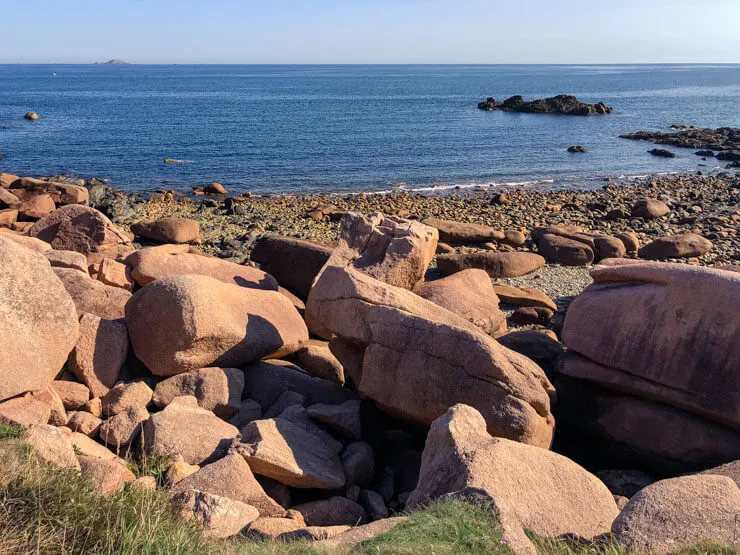 It is said that granite of this color can only be found at two other locations in the world – in Corsica and in China.
Large boulders, the color of rosé wine, have formed into unique shapes thanks to the powerful forces of wind and tide. If you let your imagination run wild, you might see shapes of animals, everyday objects, or even human body parts…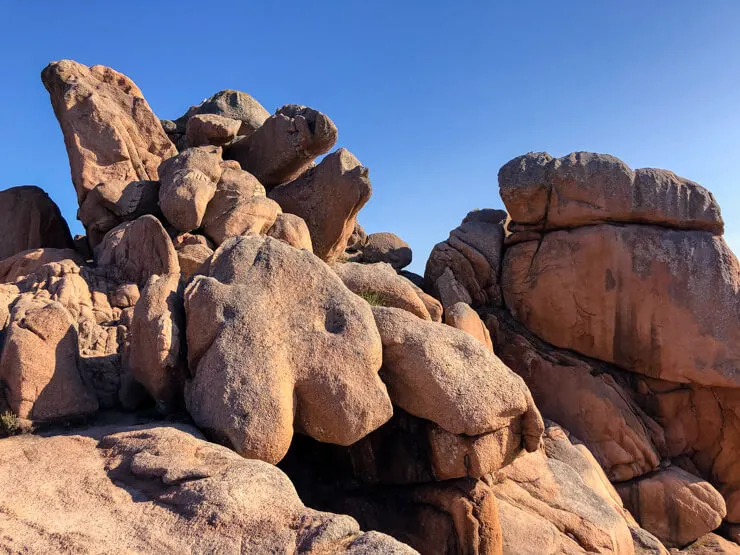 The unique pink granite formed about 300 million years ago. I am no geologist, but based on my research, the color is the result of feldspar mineral being exposed to magnum.
Since granite here is made up of said feldspar mixed in with mica (dark hues) and quartz (translucent grey), the resulting color has just a slight pink tint. You can read more about the process on the French Wikipedia.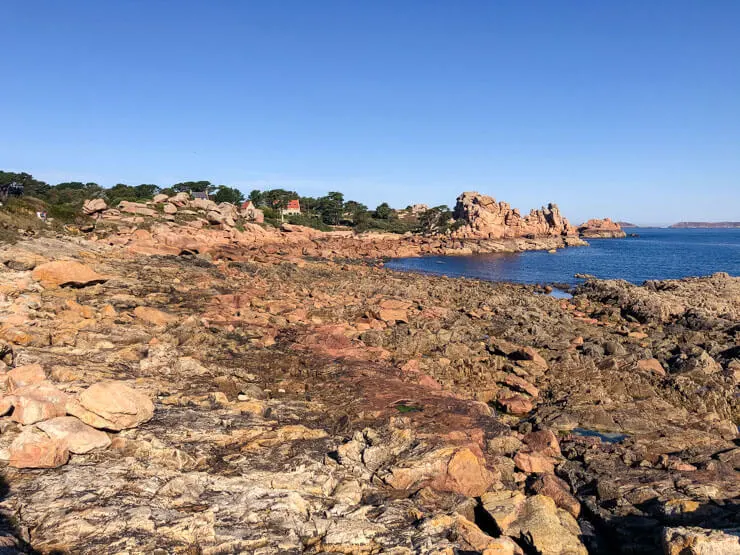 The whole area bearing the name of Pink Granite Coast Brittany stretches for about 30 kilometers from the village of Louannec to Plestin-les-Grèves in the department of Côtes-d'Armor in Northern Brittany. We'll hike only the most popular section of it, though.
The winding path takes you on a journey of lovely coves. Each time a new one opens in front of you, it'll make you wonder whether you found yourself on Mars or in Seychelles (not that I've been to either).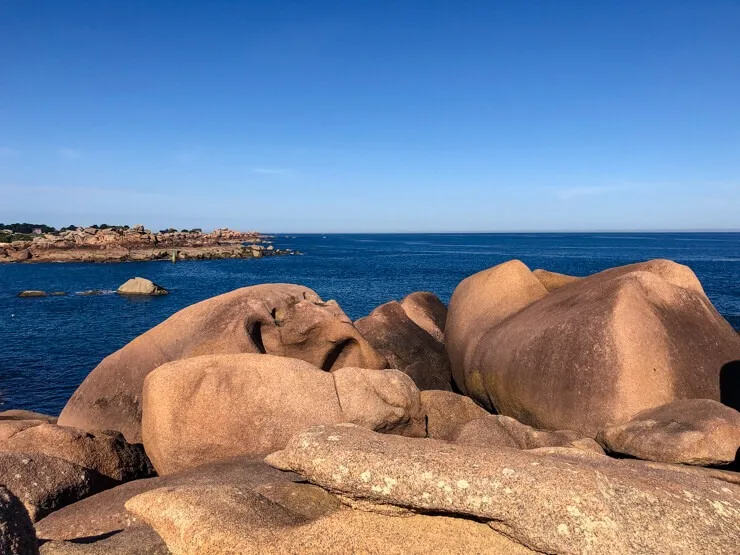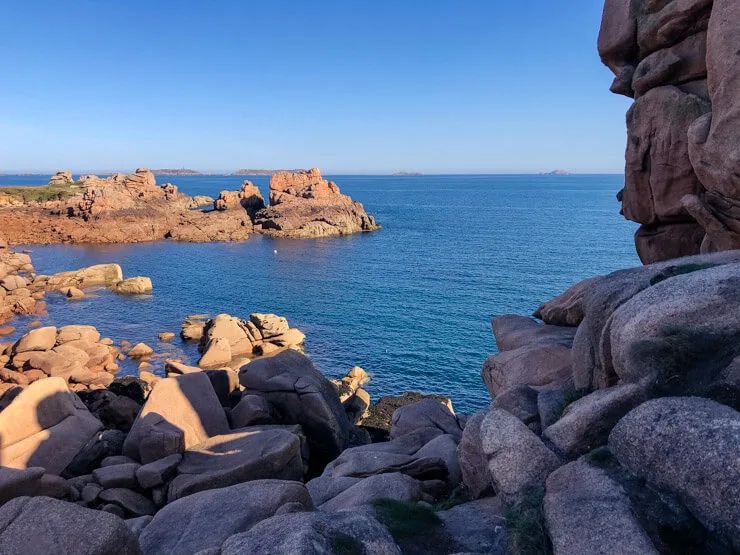 This trail, too, is a part of Brittany's famous GR34 trail. And it is popular. Even on a Monday (in September), parts of the trail were quite busy, mostly with local tourists.
We started the hike in the town of Perros-Guirec with a wide beach called Plage de Trestraou. The path connecting to the GR34 trail took us through some shaded spots with abundant greenery but once directly on the Customs trail, the area is in direct sun.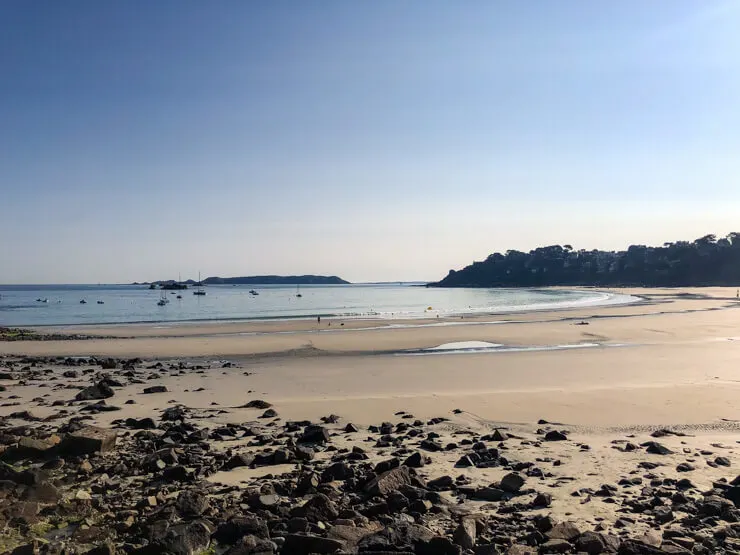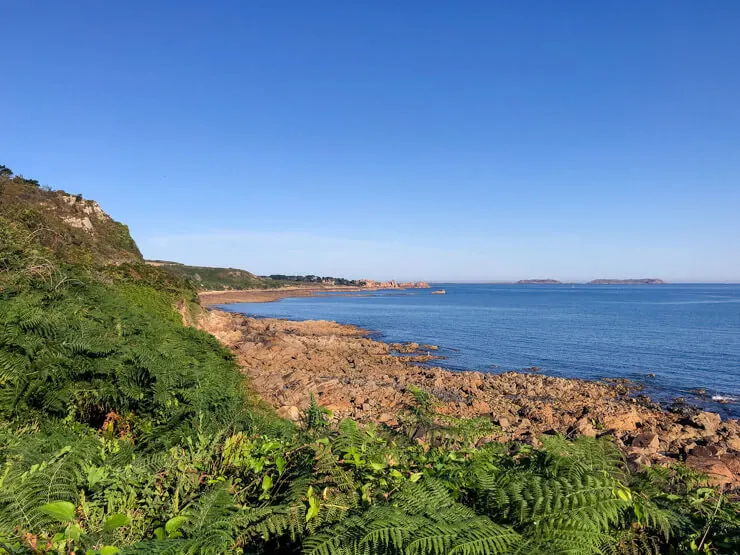 Here the paths are very easy and anybody can manage them. We met quite a few old people who were barely walking, yet managed to see a bit of the path and the unique boulders.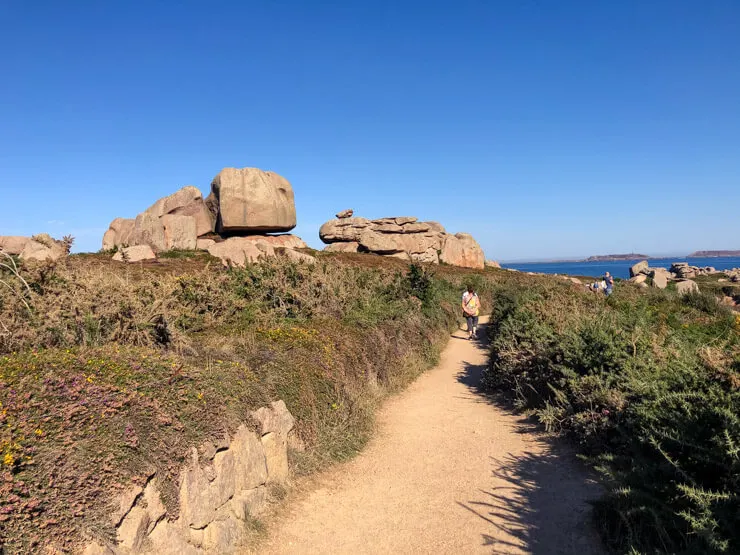 Amazingly, many of the large granite rocks are fully accessible and you can climb them freely, be it in search of a hidden view or for the perfect photo opp. Only some are closed off as protected bird nesting grounds.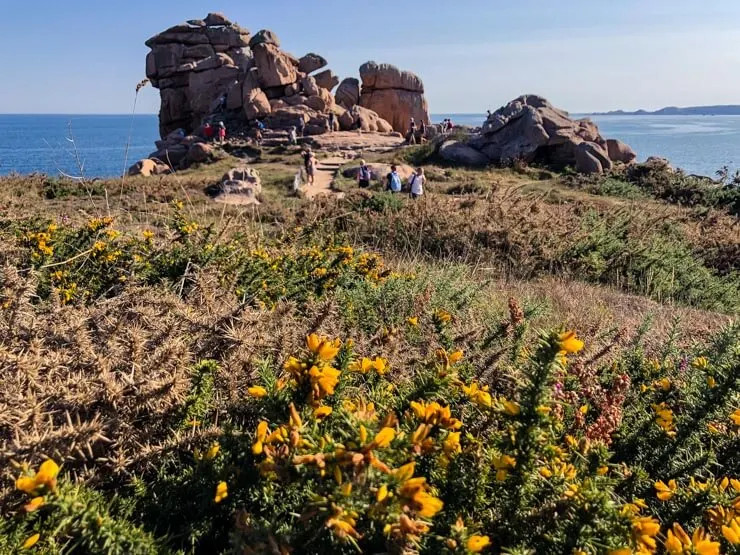 About halfway, you'll come across a long boat ramp serving to slide first-aid boats onto the sea. Right next to it there's also a small active lighthouse, called Mean Ruz, built out of the pink granite rock. It's closed to the public, though. So is the impressive mansion overlooking the shore.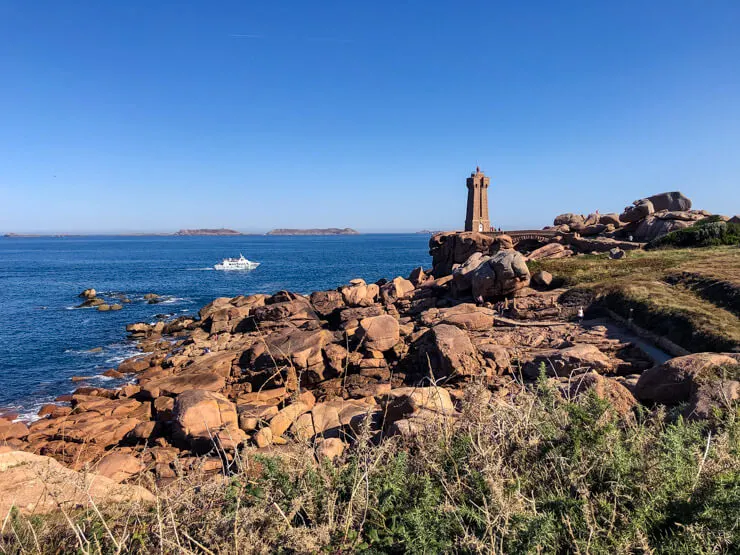 From there you can see the Sept-Îles archipelago with a lighthouse of its own. This group of islands is a protected national nature reserve and a bird sanctuary in one and can be visited on a boat trip during summer months. Apparently, there are colonies of puffins, gannets, and cormorants, among other bird species.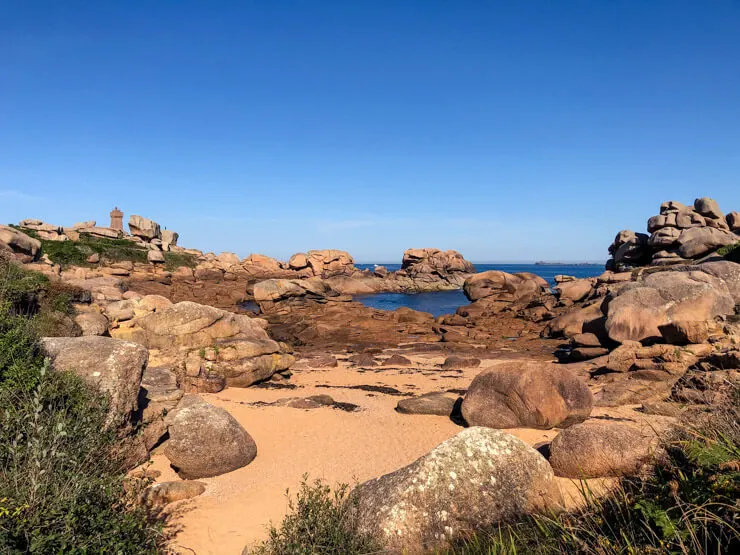 Finish at a lovely fishing port town of Ploumanac'h, or rather its Saint-Guirec part. You can go for a dip in the water if you'd like, however during low tide, you'll have to walk quite far out.
If you wait for the high tide in the afternoon, you'll enjoy a lovely crescent beach with calm water.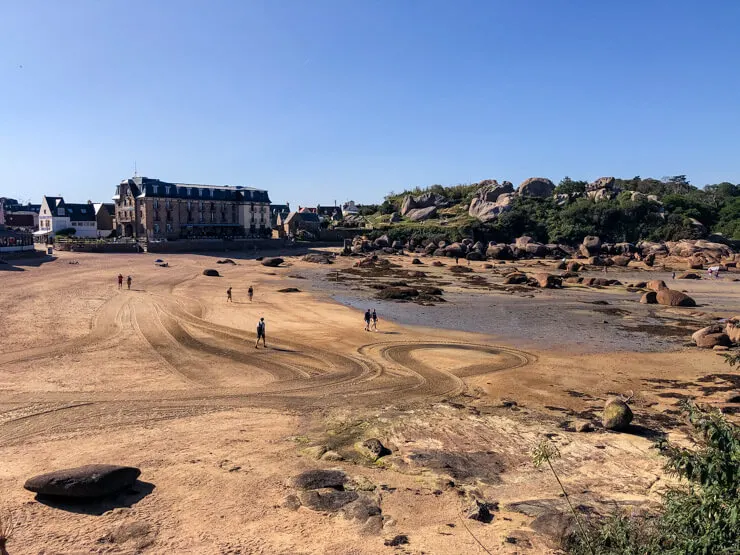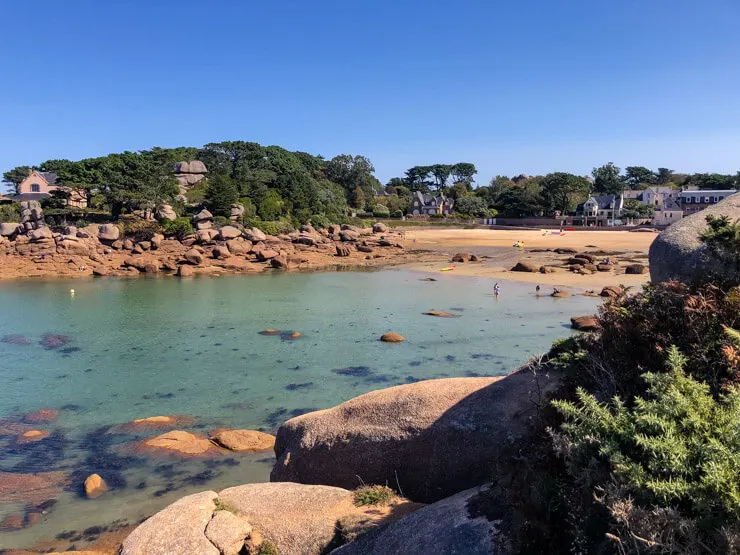 Right on the Plage Saint-Guirec you can also come across a small oratory with a stone statue of Saint Guirec himself, who was a Welsh monk. You might wonder why his nose is missing and instead, there's just a lot of tiny holes.
Legend has it that young women would come to the monk statue and pray for finding a husband – to help make that happen within a year, they'd put a pin in his nose. The original wooden statue didn't last long, the current one built in 1904 is still holding strong, except for the nose.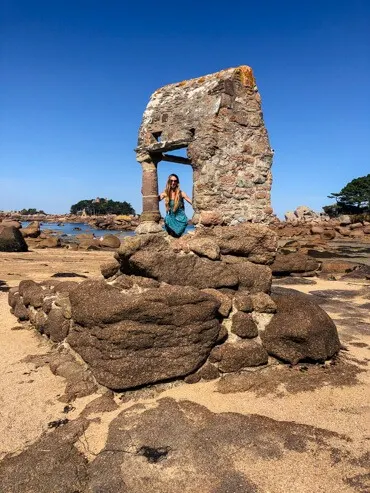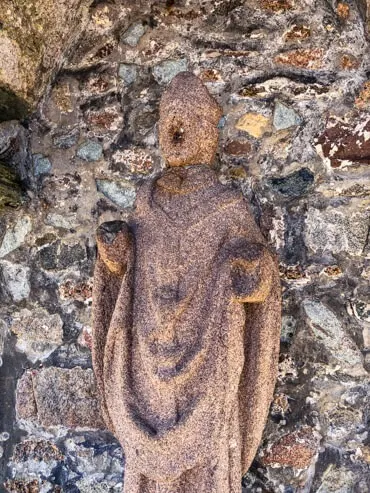 We walked further out towards the tip of the coastline on a path that lead us to Plage de la Bastille, an even smaller and calmer beach. It was rocky but beautiful. Since we were there at the tide turning, the water level kept rising quite quickly.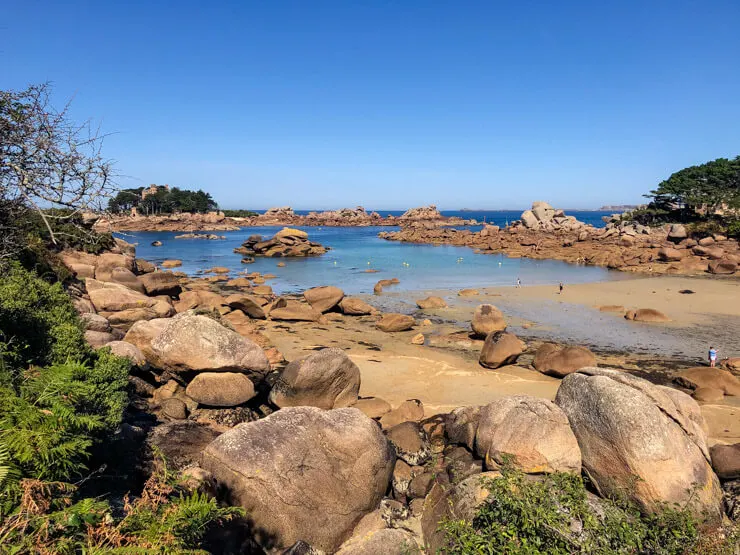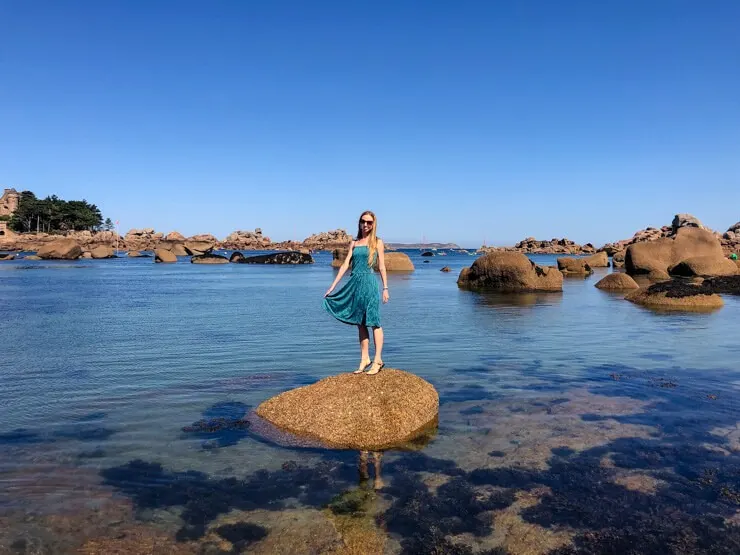 Once in Ploumanac'h town, I can highly recommend stopping for ice cream at Glace Artisanale, near the Coste Mor Restaurant recommended below.
---
Starting point: Trestraou Parking in Perros-Guirec
End point: Plage Saint-Guirec, Ploumanac'h (Parking at Rue Saint-Guirec)
Distance: 4.4 km (2.7 miles)
Time needed: 1 hour 40 minutes (one way)
Getting there: You will need a car (search for a car rental) – there is an option to hike back to the starting point using a shorter route than along the whole coast.
Tours: None that I could find as of 2022.
Where to eat: Coste Mor Restaurant right by the Saint-Guirec beach serving all possible French food including fish and seafood dishes like stingray. An array of sweet/savory crepes is on the menu too.
Where to stay nearby: The night before hitting the Pink Granite Coast, we stayed at the Camping de Pen Guen mentioned above. It's 1 hour and 40 minutes drive away.
After hiking along the Pink Granite coastline, we drove for a bit over 2 hours (with a stopover at Locronan) and spent the night at a beachside campsite Camping de la Plage de Treguer – again, in comfortable mobile homes. Highly recommended too! The beach proximity was a real plus.
If you'd prefer more upscale accommodation, see a selection of hotels in Perros-Guirec.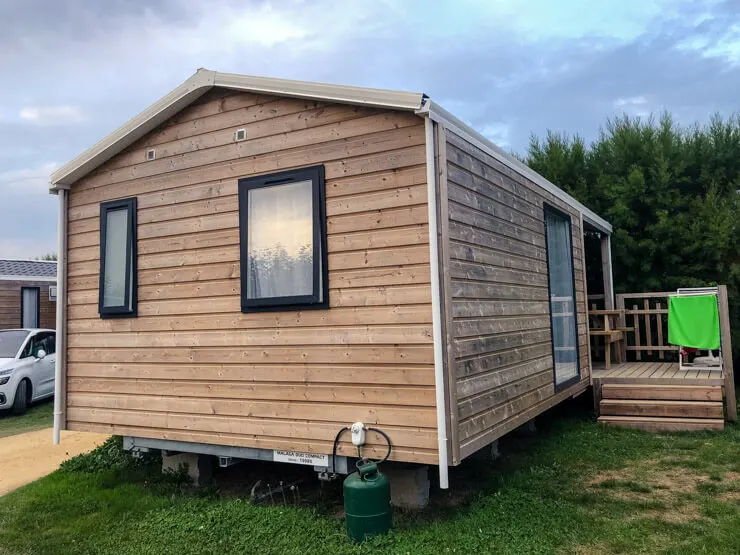 Crozon Peninsula – Cape Pointe de Pen-Hir
It's hard to pick a favorite of these three Brittany hikes, but if I must do so, I'd go for this one. Perhaps it's because we encountered wonderfully misty weather upon our arrival, which made the cliff-side views even more magical.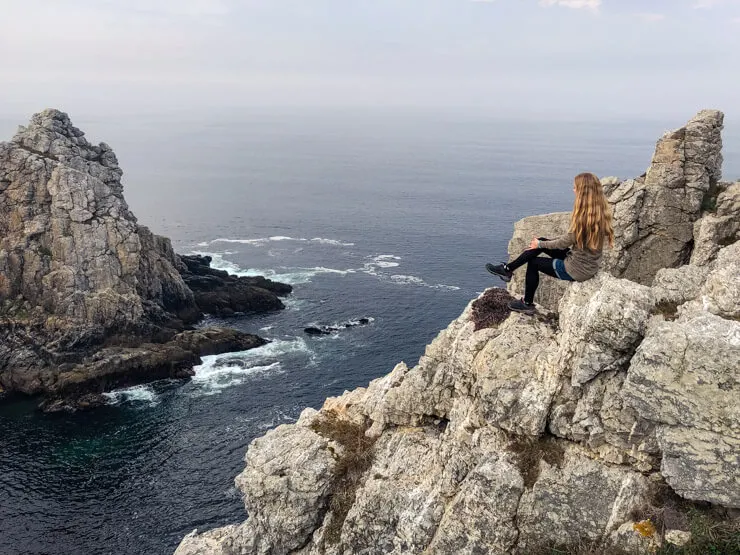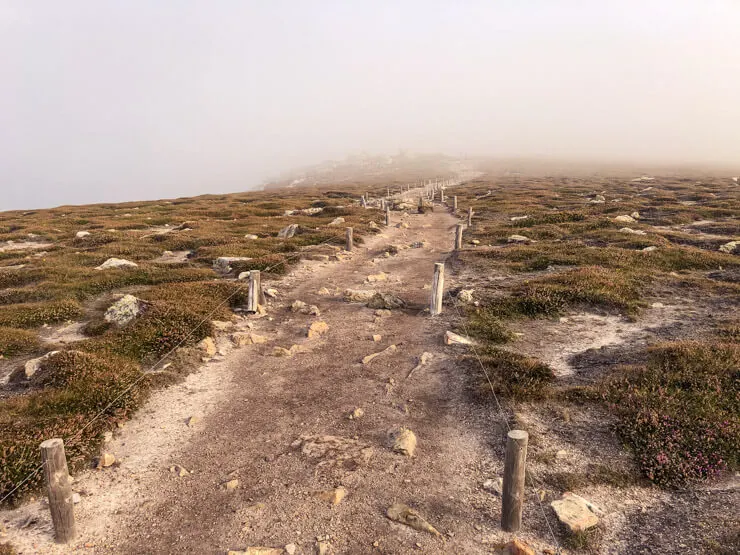 We've moved to one of the westernmost points of continental France – to the department of Finistère. This unique landscape forms a part of Armorica Regional Natural Park (Parc naturel régional d'Armorique).
You would have guessed it – this part of Breton coast also has the Customs Trail GR34 passing through and it's where we'll walk in Crozon too.
Since the tip of Pointe de Pen-Hir sticks out into the ocean, it offers stunning views in all directions. On one side, you can get a good peek at the long beach Plage du Véryach.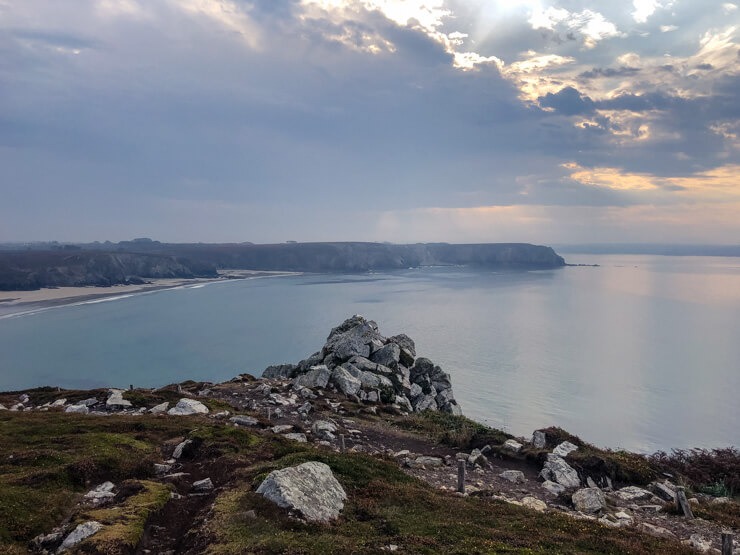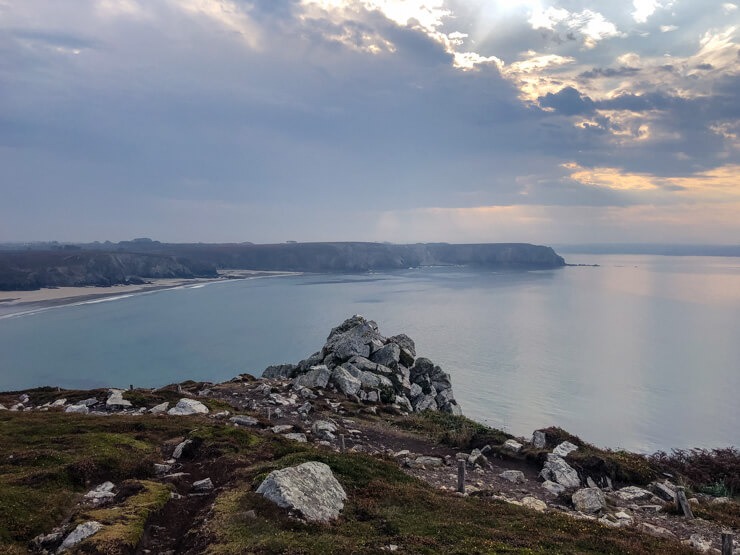 On the other side, though, there are absolutely breathtaking cliffs. Right behind them, out on the sea, you can see funny cone-like islands. Their name is even funnier – Piles of Peas! Les Tas de Pois in French.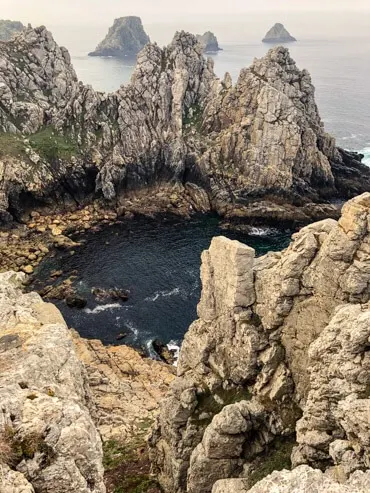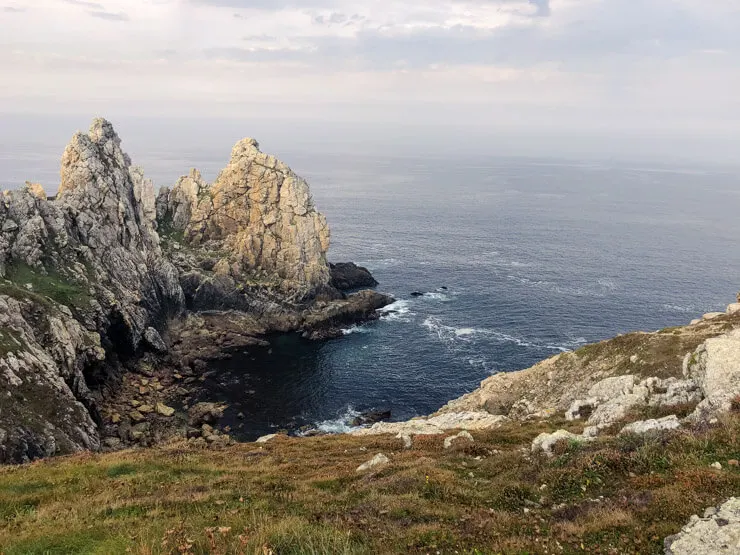 Honestly, I wouldn't mind spending a few hours just sitting there quietly and observing the violent waves crashing in desperation, with seagulls flying low overhead…
If you turn around, you cannot miss the large cross. The Cross of Pen-Hir made of granite stands to commemorate fallen Britons of the Liberation Army. It was built in 1960, on Charles de Gaulle's order.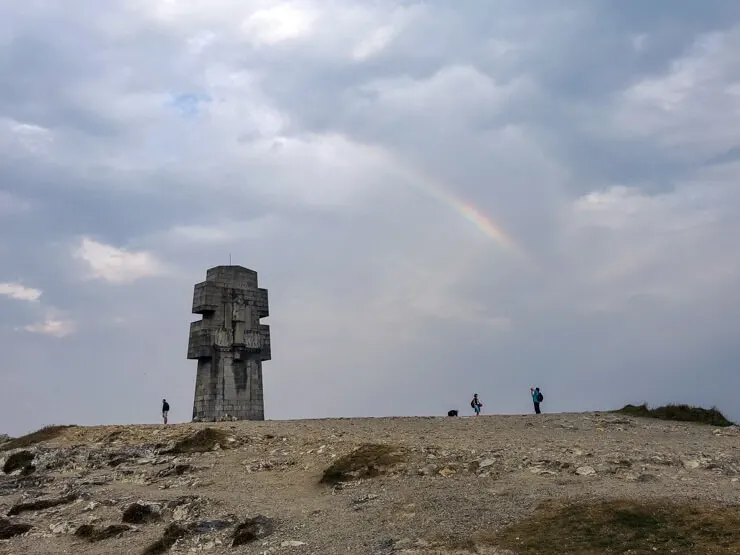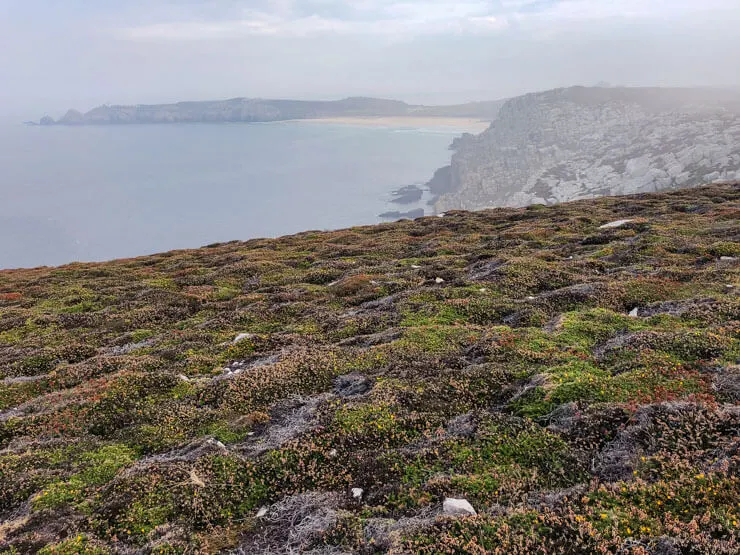 As you walk the marked path, your neck might become stuck, since all the jaw-dropping cliffs lure you to look to the left constantly. They're mostly of white or light grey sandstone and it's amazing to see what forms and structures the rocks can take on.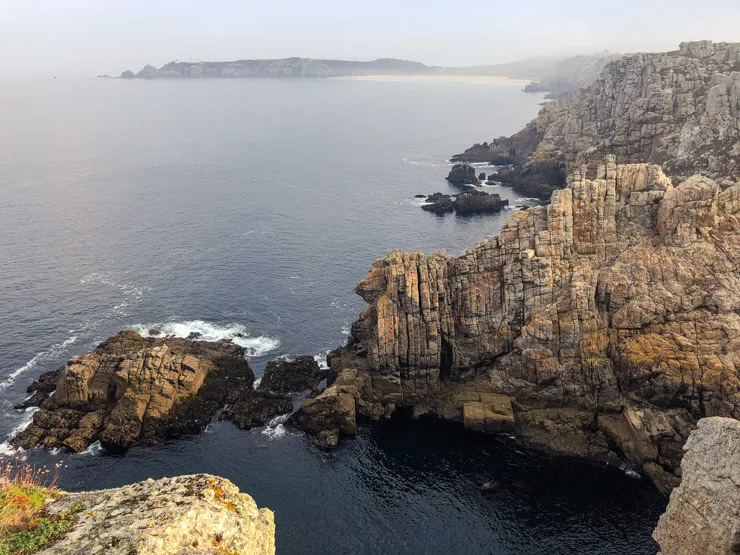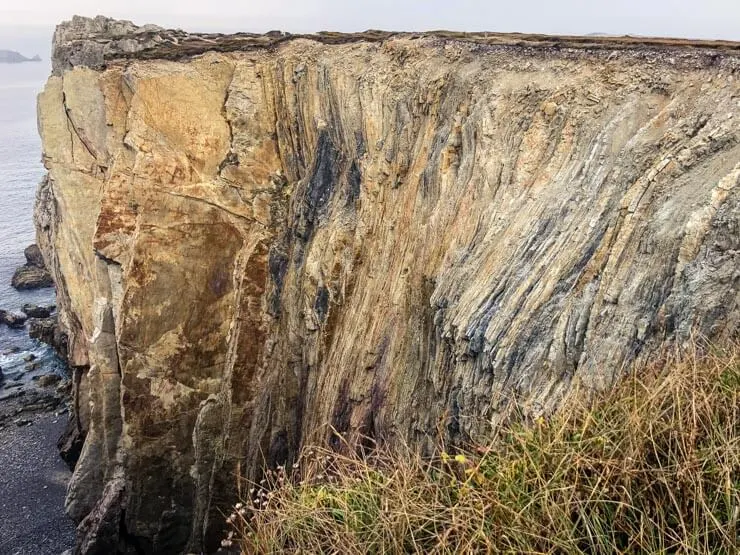 The heather-lined path leads to the Atlantic Battle Memorial Museum with huge boat anchors exhibited outside. They have poems written on them.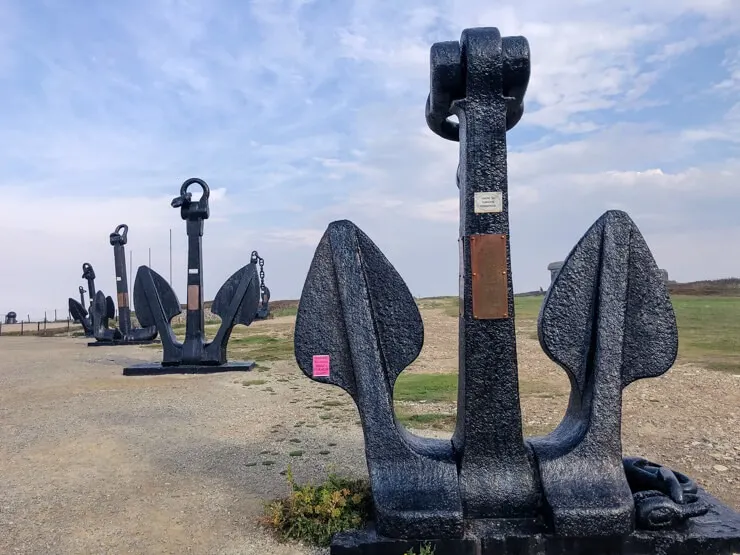 Next to the museum, you can spot several bunkers and remnants of coastal defense – so-called Hitler's Atlantic Wall. You can climb through it and apart from the dark history, don't forget to take in the stunning views of waves rolling in at the beach below.
The beach is called Plage de Pen Hat. You can enjoy walking on the wet sand, but swimming is strictly forbidden due to strong currents. However, we saw several surfers in the water on the day of our visit.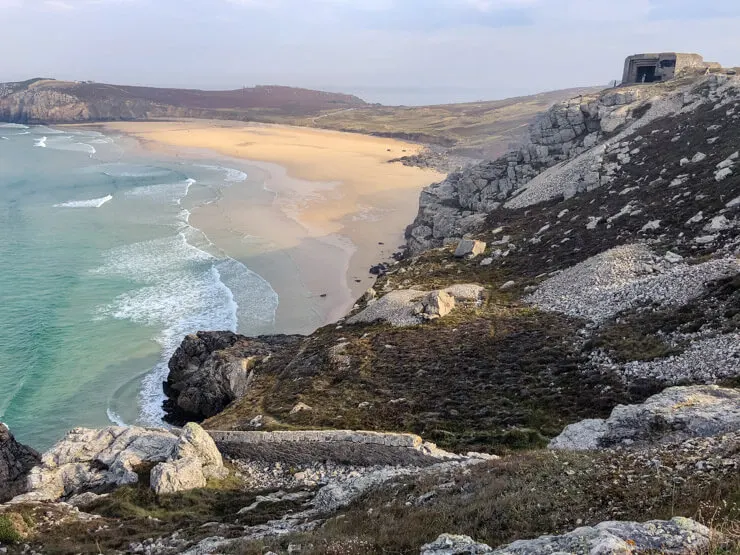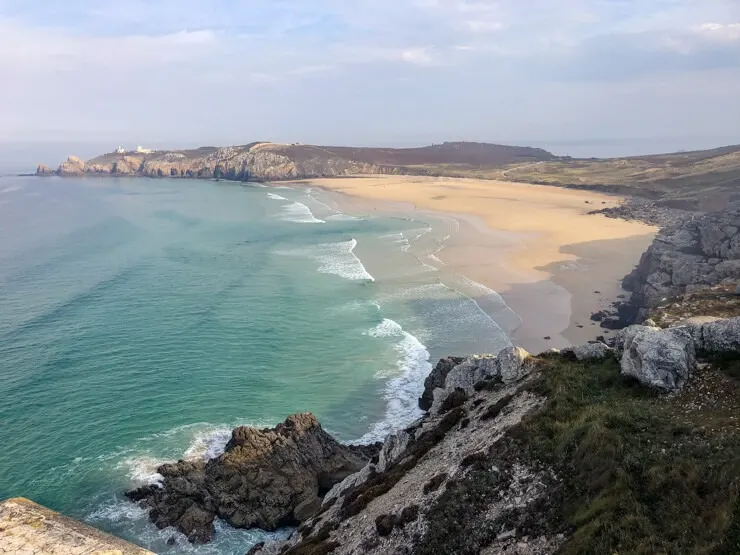 Stroll a little away from the beach to discover the ruins of a mansion that once belonged to a poet Paul-Pierre Roux, now referred to Saint-Pol-Roux. The tragic end of the manor and the poet are well described in this Wikipedia article.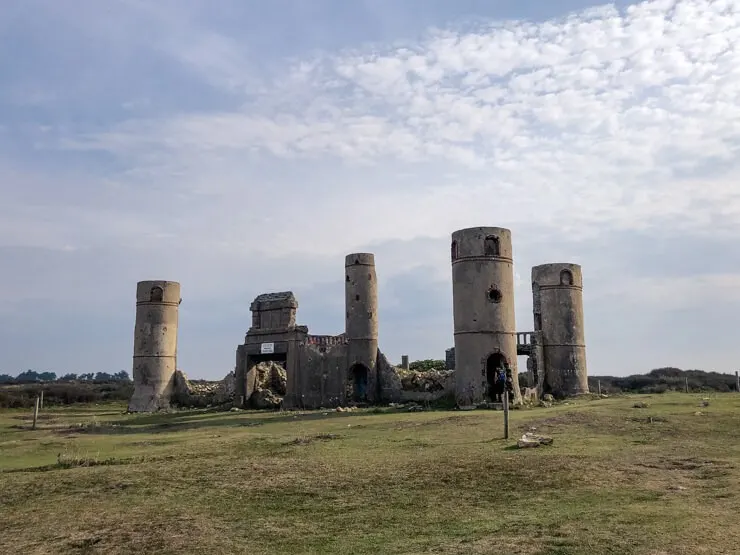 After you reach the northern end of the beach, you can choose to go up towards a tip called Pointe du Toulinguet housing a lighthouse, a fortress, and a battery built by Vauban. However, since this is military land until today, the area is closed off to the public. We turned away just before.
After that, it's just a long walk, with still stunning views, towards the town of Camaret-sur-Mer. Eat all the blackberries you can on the way, they are the best snack. :)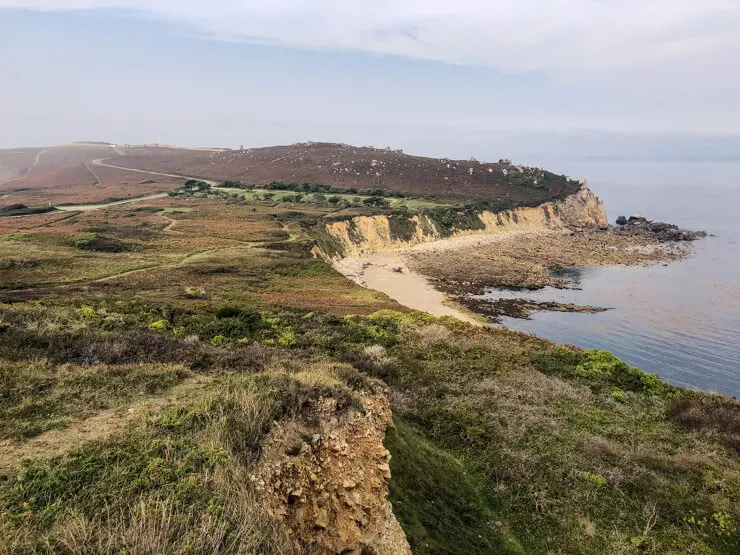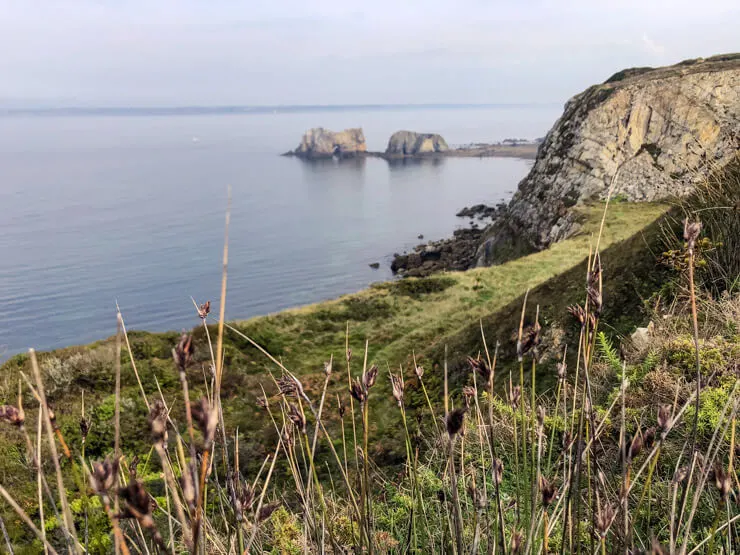 Camaret is a cute port town that stretches along the coast. The main sights of the town are located on a long pier with Vauban's Tour built in the 17th century being the most notable one. It's UNESCO-listed too.
A chapel of Notre-Dame-de-Rocamadour stands nearby and is well worth a visit as well.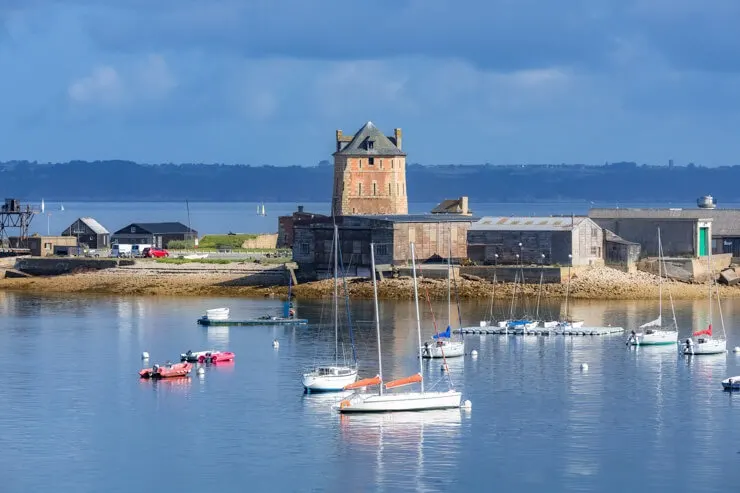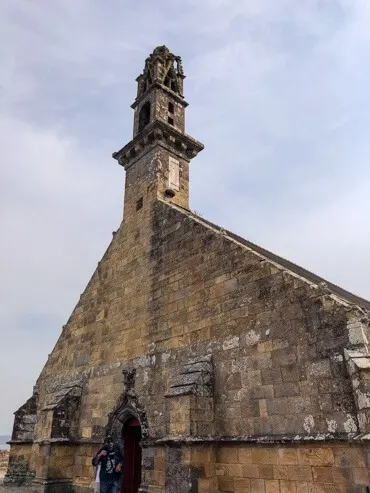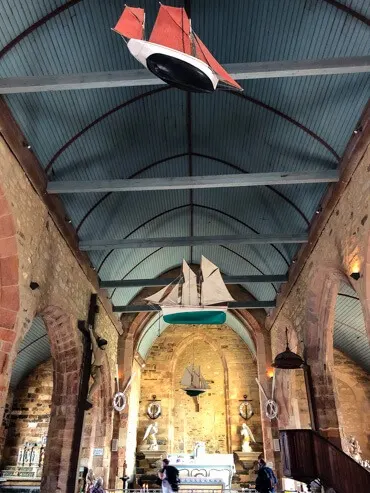 Once you take a nice walk along Camaret's beachfront, you can go check out another unique sight – the megaliths of Lagatjar made up mostly of white quartz stones. As is the case with megaliths not just in Brittany but worldwide, their purpose remains unknown, but many theories exist.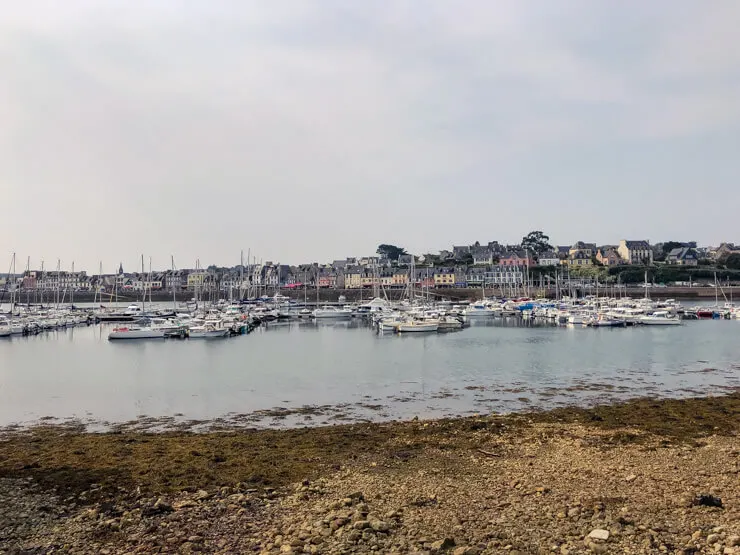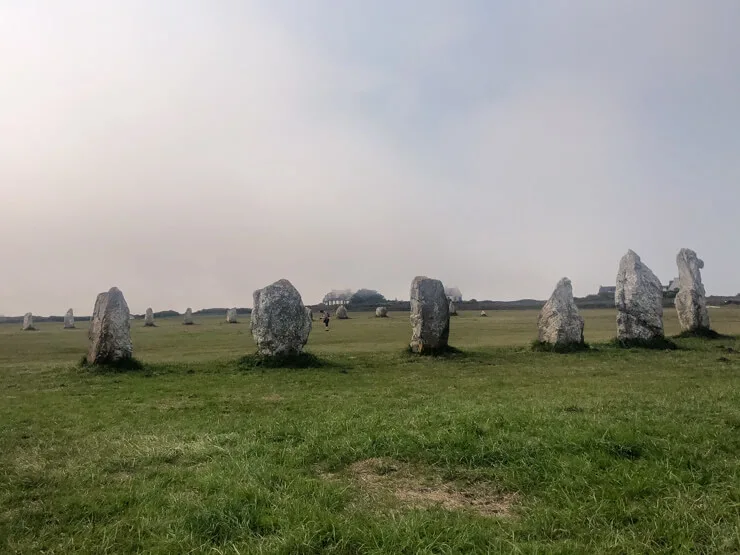 ---
Starting point: Tip of Pointe de Pen Hir
End point: Menhirs de Lagatjar Parking
Distance: 9 km (5.6 miles)
Time needed: 2 hours 45 minutes (one way)
Getting there: You will need a car (search for a car rental) – count with about an hour to get back to the starting point through a shorter route.
Tours: I didn't find any.
Where to eat: Crêperie Cap à L'Ouest in Camaret-sur-Mer – lovely little creperie with outdoor seating and the most delicious crepes – both salty and sweet. Very friendly staff too.
Where to stay nearby: We stayed at a beachside campsite Camping de la Plage de Treguer – again, in comfortable mobile homes. I can highly recommend it, mainly thanks to its position right by the beach. It's nearly an hour-long drive from the campsite to Pointe de Pen Hir / Camaret-sur-Mer.
If you'd like to stay closer, check out a selection of hotels in Camaret.
The map below is just an image. Click it to get to the interactive map, where you can zoom on each of the coastal hikes in Brittany: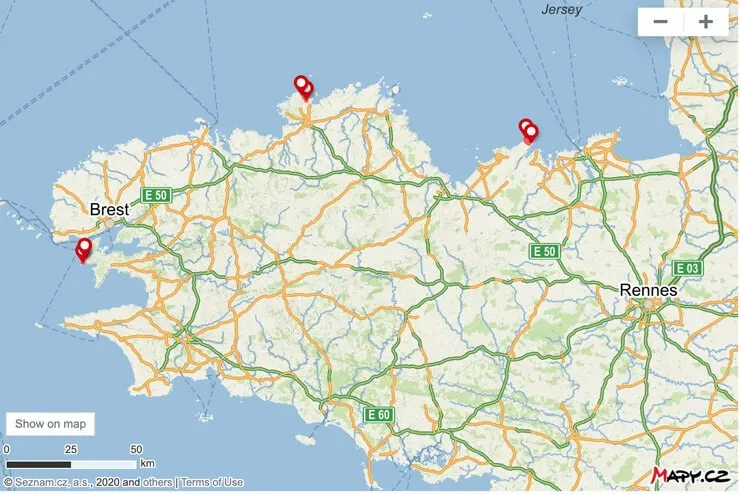 Phew, there you go! I tried to note down all the practical info I could think of.
I visited Brittany on an organized trip with a Czech travel agency. I didn't have to drive and the bus would always pick us up. That was a big plus! But all three of these hikes can be easily done in a loop with just an hour of extra time.
Let me know if you've been to Brittany or if you plan to visit the Breton coast. It's an area I fell in love with and can't wait to visit again one day.
If you'd like to have more inspiration on hiking in the area, check out this list of one-day hikes put together by the Brittany Tourism Board.