Imagine you just finished a long day of travel. You sprawl out on the bed of your accommodation exhausted.
The next morning, you pull out your clothing and see that no amount of flattening with your hands is going to take out the wrinkles in that dress or shirt!
Whether you are off to an important client meeting or just going sight-seeing in a new city, you realize there is no way you can leave looking this way. But then, to your frustration, you see that there is no travel iron available in your room. At least one that works well!!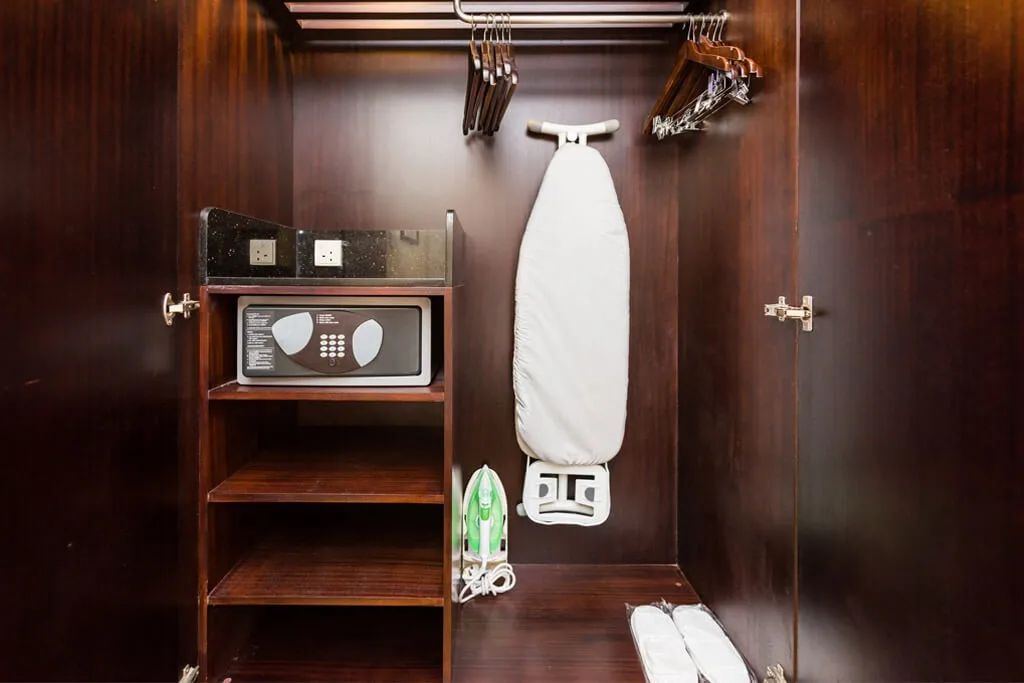 At home or on the road, we still want to look put together and not like we are living out of a suitcase (even if we are!) which is why bringing along a small travel iron or even a travel steamer with you when on the go is really worth it.
Instead of being caught with a wrinkled outfit and wondering where to buy a travel iron in the moment, I've
put together this guide so that you can quickly see the best travel irons on the market today and choose the one that is best for you, your fashion, and your travel style.

The Rowenta Travel Steam Iron is my absolute favorite travel size iron. It is both a steamer and an iron and being dual voltage, it is easy to travel abroad with. Weighing in at just a little over 1 pound and with a handle that folds down, it is actually quite easy to toss in your luggage and bring along.
Click Here for the Best Travel Steamer
My New Hack & The Best Solution for Minor Travel Ironing: Wrinkle Release Spray
While having a portable travel iron on hand is great if you have particularly easy to wrinkle clothes, it actually isn't impossible to have wrinkle free travel outfits without an iron.
When I don't want to bring along a small iron for travelling, due to luggage space or weight, I absolutely love using a wrinkle release spray.
You just simply spray all over the minor wrinkles and flatten out or hang the clothing. Before long, the wrinkles will disappear, just as if you had ironed them! It works best on cotton and natural materials (except linen, that's a tough one).
Click Here to Read Reviews on my Favorite Wrinkle Release Spray
The Best Travel Irons 2022 Comparison Table
Check out the table below for a quick and easy comparison of the different small travel iron options in this guide. For further information about each travel iron, keep reading the reviews below.
What To Consider When Choosing the Best Travel Irons
Size and Weight
When looking for the best travel irons, the size and weight of what you pack can be a big concern, which is why choosing a compact travel iron is really important. But, a small travel iron doesn't need to mean that it doesn't work as well as a full sized one! While yes, it may take a bit more time to iron simply due to the size of the area that the iron can cover, you can still find quality travel irons that due to the job, like the Sunbeam GCSBTR 100 travel iron.
Steam vs Iron… or Both?
One of the things you will want to consider is if you actually want a travel steamer for clothes or just a small electric travel iron. So what's the difference?
An iron is great for pressing. This definitely can get out wrinkles, but also will require an ironing board (or similar surface for best results, like this ironing mat) and actually does have a small learning curve. Ironing can also take a bit longer, especially when using a small, compact iron.
However, you can actually find a travel steam iron, which uses steam to help iron out the wrinkles. It still uses the hotplate but some come with actual steamer features or just uses steam through the holes to help get those harder wrinkles out. You'll see these typically as "dry irons" or "steam irons" (steam irons being ones that use the function of a small amount of added water to have a steam effect).
There are also actual travel clothes steamers. A stand alone clothes steamer is not going to use a hotplate, but instead purely the use of high powered steam to release the wrinkles from your clothing, typically while they are hanging up. This method doesn't require as much time or even "skill" and also doesn't require additional gear. However, some could argue that steaming doesn't work AS well as an iron and definitely won't press anything.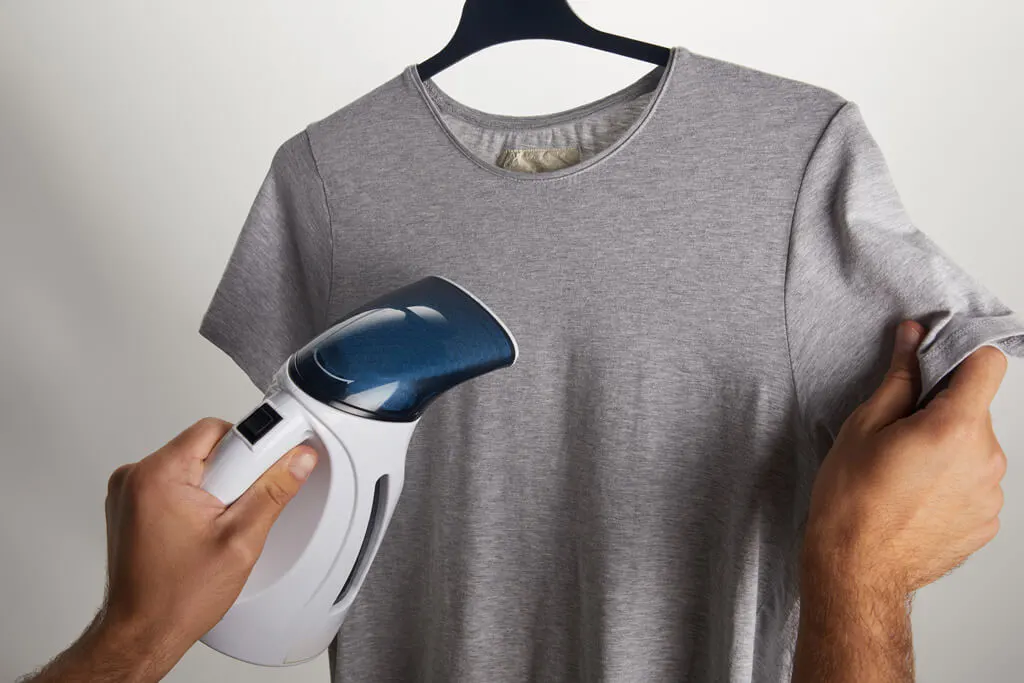 So, which one is best? A Travel Steamer or a Travel Iron
This really depends on what type of clothing you typically wear and how much time you are willing to put into making your clothes look polished and sharp. A steamer is great if you are traveling for leisure and just need the packing wrinkles to get released. An actual steam travel iron (one that uses both steam and the hotplates) is a good option if traveling for work and need presses and pleats.
Wattage
Higher wattage doesn't necessarily always equate to better. However, this is still something to look into when considering what iron to purchase.
If you are buying a steamer, then low wattage could mean longer wait times for it to heat up as well as fewer steam strokes, needing extra heating time during the steaming.
Dual Voltage
If you are a frequent and world-wide traveler, you'll want to make sure that you have a dual voltage travel iron. Just make sure you have the right power converter for your plug and you are good to go. However, not all travel irons are dual voltage! Make sure yours is before doing any international travel.
Heating Time
As stated above, wattage can influence how long it takes for an iron to get hot enough to use. But other internal features can also effect how long it takes. When on the road, you don't want to be delayed with your plans because your iron wasn't heating effectively.
Automatic Shut Off Timer
The last thing you want to be worrying about when traveling is being gone from the hotel room most of the day and fretting over if you unplugged your iron! Having an Auto-Off feature is a great peace of mind to have, especially in a travel iron.
Shape
Have you ever ironed over something only to lift the iron and find even tinier, hard pressed wrinkles!? This is most likely due to a poor shape design. Look for an iron that is well rounded and only has a sharp edge at the top tip.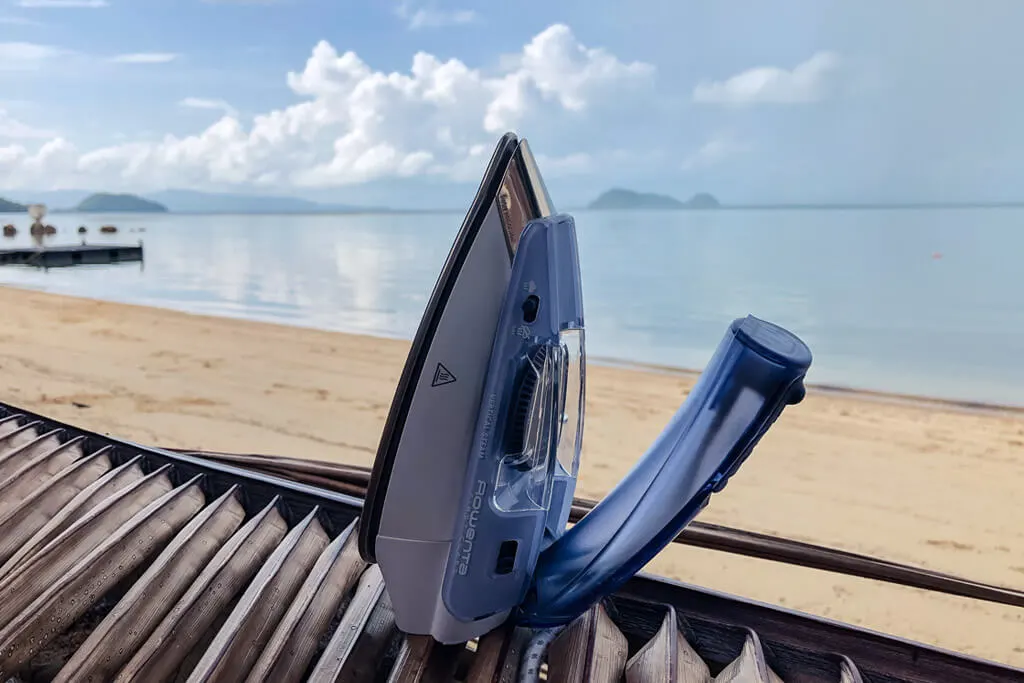 Warranty
It's not an uncommon theme in mini travel items to seem to lose their function quickly. It must be something with travel sized mechanisms, but regardless, it's infuriating to buy a product that works great for several months or usages only to die out within a year.
Check to see if the travel iron has a warranty and if so, make sure you save your documentation so that if you need a replacement, it is not too big of a hassle.
Check out also my other reviews of travel-related products:
Overview Of the Best Travel Irons Reviews
Whether you are looking for the best travel steam iron or just a small travel iron that gets wrinkles out fast and is easy to pack, below you'll find the top picks from all kinds of travel irons, including which ones are best for steaming only, international usage, and more.
If you can't (or just don't want to) bring along an iron for travel, using a wrinkle release spray is the perfect alternative to travel irons. Many people love wrinkle sprays because they are like an "Iron in Spray Form."
The Lewis N. Clark Wrinkle Wiz is great for when "in a pinch" or if you have light wrinkles and don't want to deal with daily ironing when on the go.
It's also perfect for travel when you may need to wear an article of clothing more than one day, as it is great at removing odor.
Pros:
Compact and easy to pack
TSA compliant sizes for carry on
Great at taking out light wrinkles
Lightweight
Also removes odors
Cons:
Won't take out heavy creases (or create them)
May spill in luggage
Click Here to Add the Lewis N. Clark Wrinkle Wiz to Your Cart
The Rowenta travel iron is a fantastic option for travelers needing to look polished and put together. This travel steam iron can be used as both a press iron and as a travel iron steamer, making it have a lot of versatility. The folding travel iron allows for the handle to move up and down, making it easy to pack.
Travelers love that it is dual voltage and weighs 1.6 pounds, just the perfect weight to take just about anywhere.
Pros:
Has a variety of fabric settings
Considered the best dual voltage travel steamer by frequent travelers
Lightweight
Cons:
No Auto-Off Feature
Reviews that the handle can break easily without proper packing
Works fantastic for occasional use but is not meant for frequent or heavy duty usage.
Click Here to Buy the Rowenta Travel Steam Iron
This tiny little 420 watt travel size steamer and iron is great for both domestic and international travel. There is a small handle and a short body, making it incredibly easy to pack. Even though you may find the handle awkward, it is still really easy to grip and maneuver for easy ironing.
The small travel steamer is easy to go from steaming to dry press with a simple button switch. It works for all kinds of materials and takes tap water.
The integrated stand allows you to stand it up without fear of tipping and burning surrounding materials.
Coming in at only 1 pound, it's a great small travel steamer and iron.
Pros:
Ultra compact and lightweight
Long cord great for awkward hotel rooms
Comes with a travel bag
Heats quickly
Cons:
Click Here to Check out the Price and Reviews of Steamfast Travel Iron
The Sunbeam GCSBTR 100 travel iron is a great cheap travel iron without sacrificing quality and important features. In fact, many people rave that this compact little iron packs the punch of a full-sized one.
This dual voltage travel iron is perfect for international travels and weighs only 1.35 pounds.
The "shot of steam" feature is great for getting out more stubborn wrinkles and the non-stick soleplate helps ensure an easy ironing experience.
Pros:
Can use with or without water for steam or dry ironing
Works as well as many full sized irons
Compact and lightweight
Great budget option
Cons:
Lower voltage than some of its competitors (800 watts)
"Shot of steam" feature is good for ironing but should not be considered a full steamer
Empty out water after usage to prevent rusting
No Auto-Off Feature
Click Here to Read More Sunbeam Travel Steam Iron Reviews
The Conair travel iron is a great steam or dry press iron if looking for a budget travel iron. It weighs more than other travel irons but is extremely easy to grip and maneuver. While this iron may not get hot enough to take out the deep wrinkles, it is great for average suitcase wrinkles and on the go ironing.
Pros:
Dual voltage

Comfortable and easy grip

Great budget option
Cons:
Doesn't get extremely hot

May drip if you don't read the instructions and manual carefully
Click Here for the Conair Travel Iron
If you are after a lightweight, small travel iron, you can't get much more compact than 14.1 oz! The removable handle makes it even more compact, perfect for packing in a suitcase.
At first glance, this dual voltage travel iron doesn't look like it has many bells and whistles, but it surprisingly has several important features for travelers, such as an auto-off function and a wide range of temperatures so that you can use on a variety of clothing materials.
Pros:
Dual voltage
Auto-Off feature
Extremely small and lightweight
Cons:
Takes longer than some competitors to heat up all the way
Has a lower wattage so it doesn't heat up as hot as some other travel irons
No steam function
Click Here to Buy This Portable Travel Iron
This little travel fabric steamer and iron is perfect not just for the road but also for sewing and quilting. If that's another hobby of yours, you can kill two birds with one stone!
It heats up quickly and gives a good output of even heat as well. The 2 oz water tank opens fully to allow for easy access.
Pros:
Steam burst function

Comes with a silicone rest pad

3-year warranty
Cons:
A bit awkward to pack due to the 8-foot long cord (but useful for strangely placed power outlets in hotel rooms)

Some reviews mention the soleplate may get too hot
Click Here to Check Out the Oliso Mini Steam Iron
If you are looking solely for a small travel steamer (and not an iron), the Bizond should be considered the best travel steamer. This travel size steamer works just as well as most at-home steamers and has so many great features, like the auto-shut off. It's lightweight at 1.75 pounds and packs into a suitcase incredibly easy.
The water compartment detaches making it easy to fill up and the built in water filter means you can use tap water instead of needing to find or buy distilled.
It heats up incredibly fast in less than 25 seconds and then can be used in any orientation without spilling or dripping making it a great travel garment steamer.
Pros:
No spilling or dripping no matter how you hold it
Heats quickly but is cool on the outside, making it easy to use
Auto-shut off after 5 minutes of not using
Has a 3 year warranty
Small and compact, yet works fantastic
Cons:
Not dual voltage (120v only)
Keep the warranty information in case it stops working
Click Here to Buy the Bizond Travel Clothes Steamer
You Might Also Be Interested In:
This magnetic ironing mat is fantastic to pair with your travel iron! This easily foldable mat packs extremely easy into your suitcase. Simply unfold and lay on any surface turning it into a portable ironing table without the bulk or weight.
If you are in the market to buy a travel iron, there are a lot of really great options on the market. Depending on your travel style, your particular fashion, and your budget, you are sure to find a great travel iron that will fit your needs.
If there's absolutely no way you can pack a small travel iron in your luggage, then you can still try at least partially reduce the wrinkles on your clothing using some creative methods.
Check out some of my other travel product reviews.