The best long travel skirt with pockets should make you feel comfortable, be lightweight and have you arriving at your destination wrinkle-free and in style.
That's just one of the many reasons why I'm a big advocate of travel skirts.
The best travel skirts are usually affordable, won't take up much room in your luggage but look and feel great when worn for long periods.
There is a range of great skirts with pockets on the market; it's just a matter of knowing what to look for and which would be the most suitable for travel.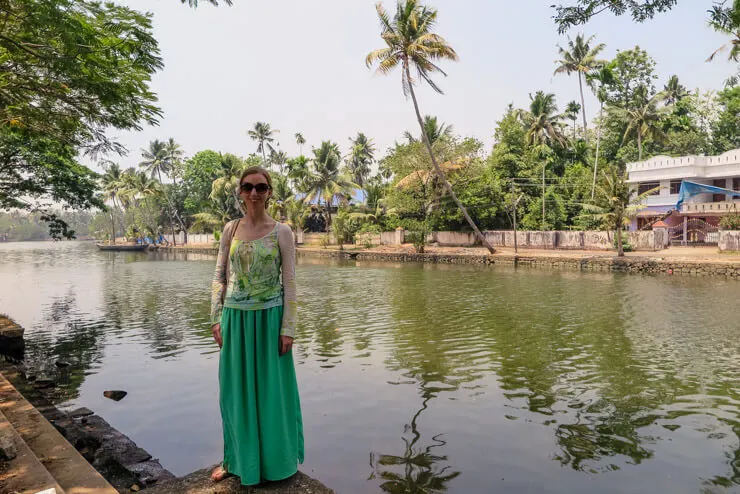 If you're not completely sure what to look for in best women's travel skirts, then you are in the right place, because this is a complete guide to the best travel skirts for women that will have you feeling comfortable on your next adventure.
In this guide, I not only take you through what to consider when shopping for a long skirt with pockets but will also share with you some of the best travel skirts currently on the market.
Why Buy the Best Long Travel Skirt With Pockets?
Firstly, why choose long travel skirts when there are so many other options out there? Why not travel pants or shorts for example?
Well sure, if you don't mind wearing pants the whole trip that could work. However, the best long skirts for travel are great for anyone looking for a bit more versatility.
You can wear them with leggings underneath for cool weather and then remove them on the flight or at your destination if it's too warm.
Not only are travel maxi skirts super versatile, but they are also really comfortable for any type of travel and give great freedom of movement.
And they look awesome with good shoes for travel (not just in Europe), as well as travel jackets for women. You don't have to shy away from combining these skirts with travel hoodies. It works well too!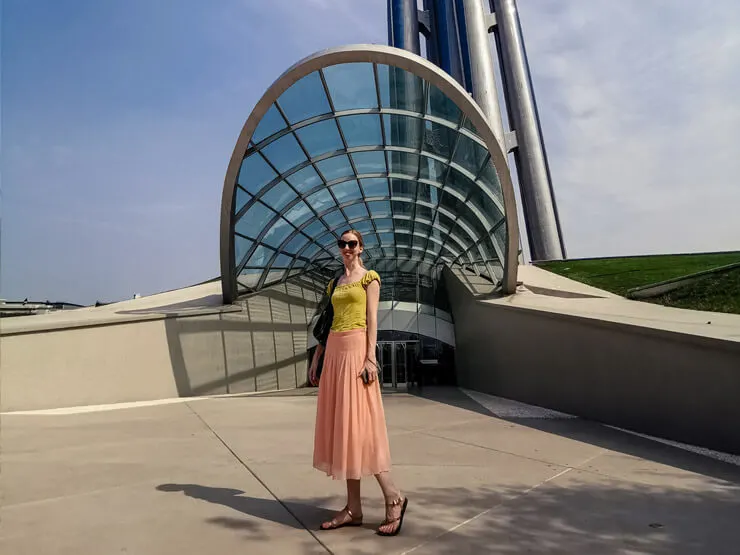 Long travel skirts with pockets are also really handy for keeping essentials that need quick access to.
Long skirts with pockets can be taken on any trip. Even in countries where women need to have their skin covered such as in the Middle East, a good long skirt is recommended.
Check out what I wore in Iran and Morocco, and you'll see a long travel skirt is essential.
Finally, women's travel skirts look great in photos. So, you can arrive at your destination looking picture perfect.
Don't have time to read my entire guide on womens travel skirts with pockets? Well, my pick for the best travel skirt ever is the Trendy United High Waist Skirt.
This is one of the best travel skirts because it's simple, comfortable, and functional.
To learn more read my full review below!
Long Travel Skirts With Pockets Comparison Chart 2023
Below is a brief overview of all the long comfortable travel skirts below the knee reviewed in this guide. With this table, you can quickly compare all the products I love and their features side by side. For more information about each, keep reading for my full reviews below.
What Features Must a Great Womens Travel Skirt Have?
Before rushing out and purchasing any old womens skirts with pockets, there are a few things to consider in order to get the perfect one for your needs.
You might think all travel skirts are the same – but that's not the case, trust me. There are a few subtle differences that can really make a difference when buying.
Be sure to consider the following factors when shopping for the perfect travel skirt:
Material
One of the most vital things to think about is the material. Chances are, you'll be wearing your skirt for long periods of time and an itchy or stuff fabric will drive you crazy.
You also need something with a little bit of stretch and give to it, so you have plenty of freedom to move and stretch. Tight fitted skirts aren't ideal for tucking your legs under yourself in a plane or train seat.
Other great features of the perfect travel skirt material are being crease-resistant, quick-drying and lightweight.
While I generally don't wear polyester, there's a reason why polyester fabric is often used for these functional travel skirts.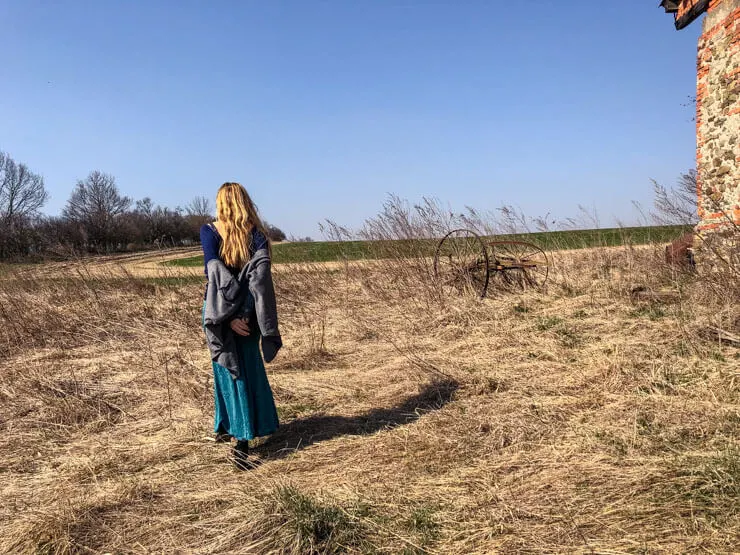 Pockets
Womens long skirts with pockets make traveling life so much easier. Big side pockets are perfect for storing loose change or popping your passport or boarding ticket in between the gate and the plane. No more trying to frantically shove things in your bag while walking so you don't hold up the line.
An even better idea is to look at travel skirts with hidden pockets! You can store important tickets, cards or passports without the fear of losing them.
Comfort
What is the point in having a beautiful travel skirt if it's not even comfortable to wear?
Comfort should be your main consideration when looking through the following lightweight maxi skirts for travel. Think about the waistband and whether there is some stretch. Check the skirt is easy to tighten, loosen or readjust whilst sitting and standing.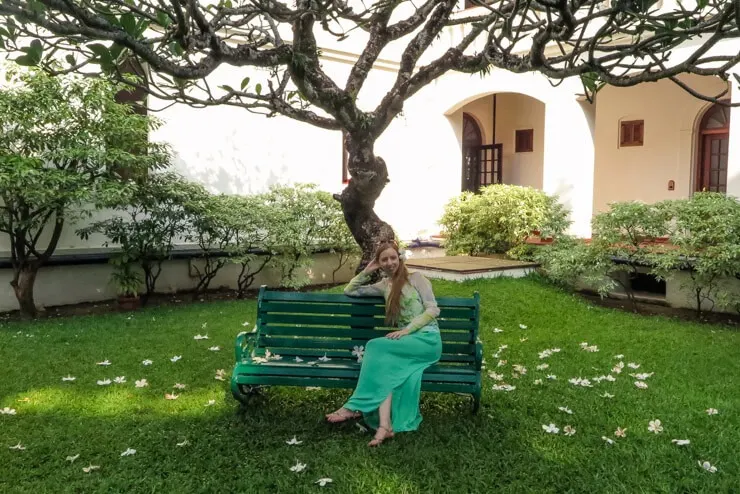 Packability
Long lightweight skirts for travel are perfect to throw in your hand luggage as an extra layer. Something that packs down small and light is vital for saving space.
A wrinkle-resistant material is also important if you know your travel skirt will be squashed in the bottom of your bag.
Care & Washing
Make sure your skirt is easy to wash and dry, especially if you plan on travelling somewhere with limited facilities. A quick dry travel skirt is particularly useful if you're not sure what laundry options will be available.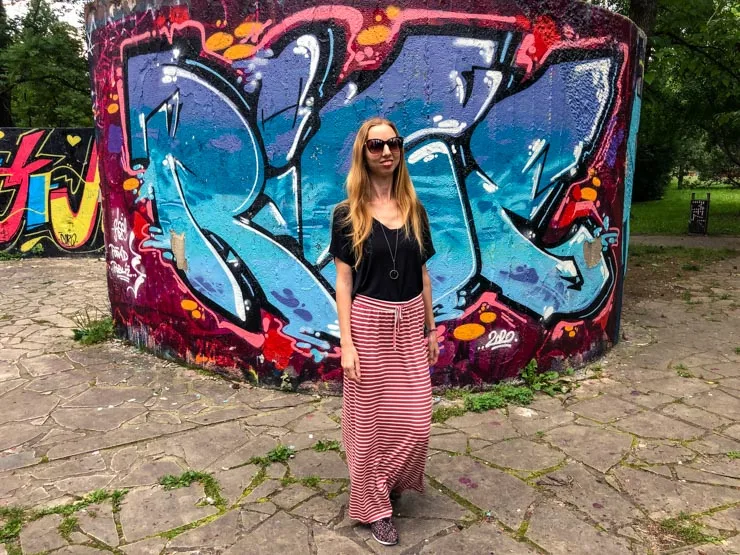 Other Features to Consider
Style: It almost goes without saying that you want something that looks good! There are heaps of cute travel skirts so there's no excuse for settling for something a bit ugly.
Match with your wardrobe: Obviously, you'll want to choose something that matches with your other travel gear.
Multifunctional: Having an awesome travel skirt is great but something you can wear on other occasions is a real bonus.
Check out also my other reviews of travel-related products:
Womens Travel Skirts With Pockets Reviewed
This top-rated travel skirt from Trendy United is lightweight and breezy enough to feel comfortable but quality enough that you don't have to worry about embarrassing see through situations.
As I mentioned already, I consider it to be the best skirt for travel.
The Trendy United skirt is made from a 95% rayon, 5% spandex mix material and is completely opaque. It's stretchy, comfortable and soft against your skin.
This particular travel skirt features large side pockets that are deep enough for phones and passports and comes in a choice of either ankle length or maxi length.
One of the best things about this comfy travel skirt is the huge color range, with a whopping 36 colors to choose from. So if you're looking e.g. for a black travel skirt, you can easily select black color.
The Trendy United maxi skirt for travel is made in the USA!
If you're looking for comfy travel skirts that are super soft, breathable, and yet thick enough not to be too transparent, the HAEOF skirt would be a good choice.
This is so much more than just a casual skirt for travel since it can be easily dressed up or down and worn on many different occasions, even when you're not traveling.
Made from 70% rayon and 30% tencel, the skirt lets the air flow nicely in the summer months and can keep you warm when it gets chilly.
This maxi skirt with pockets has the perfect amount of stretch and is easy to clean.
The drawstring and higher waist make it look elegant no matter what. The A-line shape makes for great photos on the road. It may as well be the best travel skirt for Europe. But – whether you'll take your HAEOF skirt to Venice or New York, you're sure to turn heads.
When picking the right size for yourself, pay attention to the size chart. You may need a bigger size of this maxi travel skirt than usual.
This long skirt for travel great option if you like a bohemian style print and, with heaps of options to choose from, there is sure to be something to suit any taste.
The Milumia is made from a lightweight 95% cotton, 5% spandex mix material that is flattering and flows nicely. It's comfortable and easy to move around and change position in.
These ankle-length skirts come in a huge 20 pattern choices with a range of bright or more muted colors. The skirt has small side pockets that sit towards the front so they don't add bulk to the hips.
It has a comfortable elastic waist with drawstring closure for adjustments and it's fully machine washable.
If a midi travel skirt is more your style, these Afibi skirts have lovely spring-inspired prints and are lightweight and breathable.
This Afibi travel midi skirt is made from a lightweight and surprisingly soft chiffon-like material that's 100% polyester. The skirt is fully lined, midi length (halfway down the calves), has a stretchy comfortable waistband, and features a flattering high waist style.
These would double as a great beach skirt or could even be worn into the evening. The skirt also features side pockets, is machine washable and is really affordable.
This beautiful full skirt with pockets is feminine, flowy, and flattering. It could easily be dressed up or down for multiple looks.
The urbandaizy is made from 95% cotton and 5% spandex, meaning the resulting mix is soft and comfortable. Since the material is quite thin, it may appear sheer in some light situations.
Its A-line shape makes for a perfect boho look. I don't know about you, but I do love a good floor length skirt with pockets. They are great for travel since you can even wear sneakers with them.
The skirt comes in many different patterns and even lengths. Check the size carefully before ordering to make sure you get the right one. It may run a size small.
If you're looking for something a bit more unique, go for this head-turning floral maxi skirt.
These ankle-length skirts are made from a super lightweight material that is 100% rayon and are even machine-washable.
The skirt features a high waist with an elastic closure and a drawstring, albeit a rather decorative one. There's also a pocket on each side to keep your valuables or simply tuck your hands in.
Wear this travel skirt on your next trip and it's sure to be a real show stopper.
Maxi skirts with pockets don't come much more comfortable than the Simlu Maxi Skirt, thanks to its high-quality material and thoughtful design.
The Simlu is made from a 250gsm material, meaning it's lightweight but you don't have to worry about it being see-through. It's a 96% modal, 4% spandex mix so it's comfortable and has a decent amount of stretch.
This skirt is designed with a wide, fold-over waistband that has a slimming effect and adds comfort. It is available in a choice of two lengths, ankle-length or floor length.
This travel skirt also features deep side pockets so your valuables will be safe, it's wrinkle and fade resistant and made in the US.
We're showing the long black travel skirt here because we love the color but it actually comes in a choice of over 12 different colors so you're sure to find a style that suits.
This concludes our list of the best travel skirts with pockets.
I hope you found enough inspiration for a great travel skirt. Do let me know which one is your favorite!
Pin this post: