Oh no, you want us to get food poisoning and experience what Thailand's hospitals are all about?
Not at all! You really don't have to worry about that in Bangkok. I know that even experienced travellers often shy away from eating street food. But in Bangkok, it's safe.
Thai street food is really good and of high quality! I couldn't recommend it enough. Let's dive into why it's so good, what to actually try and where to have it!
Why you should eat on the street in Bangkok
⇒ It's really yummy!
This is the homemade Thai cuisine at its best! It's usually families just cooking on the street, no big restaurant machinery where the customer would never be able to get a glimpse of the cooks in the kitchen.
On the streets, it's the Thai mamas and papas cooking for you as if you were their favorite child. So don't miss the opportunity because you won't find this anywhere else in the world!
⇒ The food is of extremely high quality
Thai people themselves mostly eat street food. And believe me, Thai people are very particular with their cuisine. Only the best stays on the streets, any inferior Thai food wouldn't be tolerated and the person selling it would go out of business very fast.
Thai people are proud. And to be able to come to their vending spot every day and cook great food that won't feed only the passersby but also their own kids, the stakes are way too high to give up on quality. Good for us!
But – if you want to be extra cautious, pack some activated charcoal tablets with you, just in case.
⇒ It's cheap!
It's really cheap to eat out on the street. On our first night in Bangkok, we went a bit too wild and ordered 5 meals for just 2 people, including whole fish. All that, together with a giant bottle of beer, cost us $12. Wow!
You can either sit down with your food, in case your street stall vendor provides a seat for you, or just take it to your hotel. Low cost dining in Bangkok is a good dining. Bangkok street food has better price to value ratio that any 'proper' Bangkok restaurant could provide.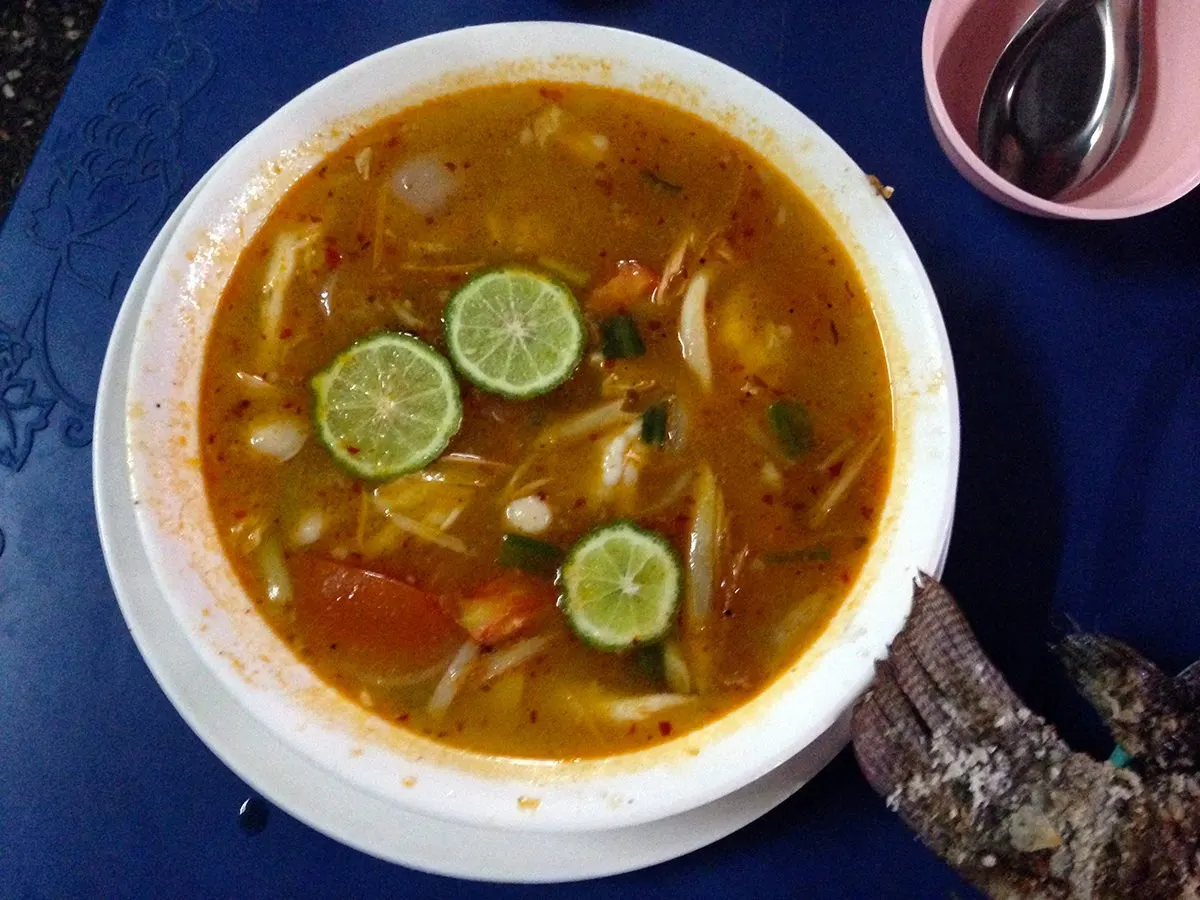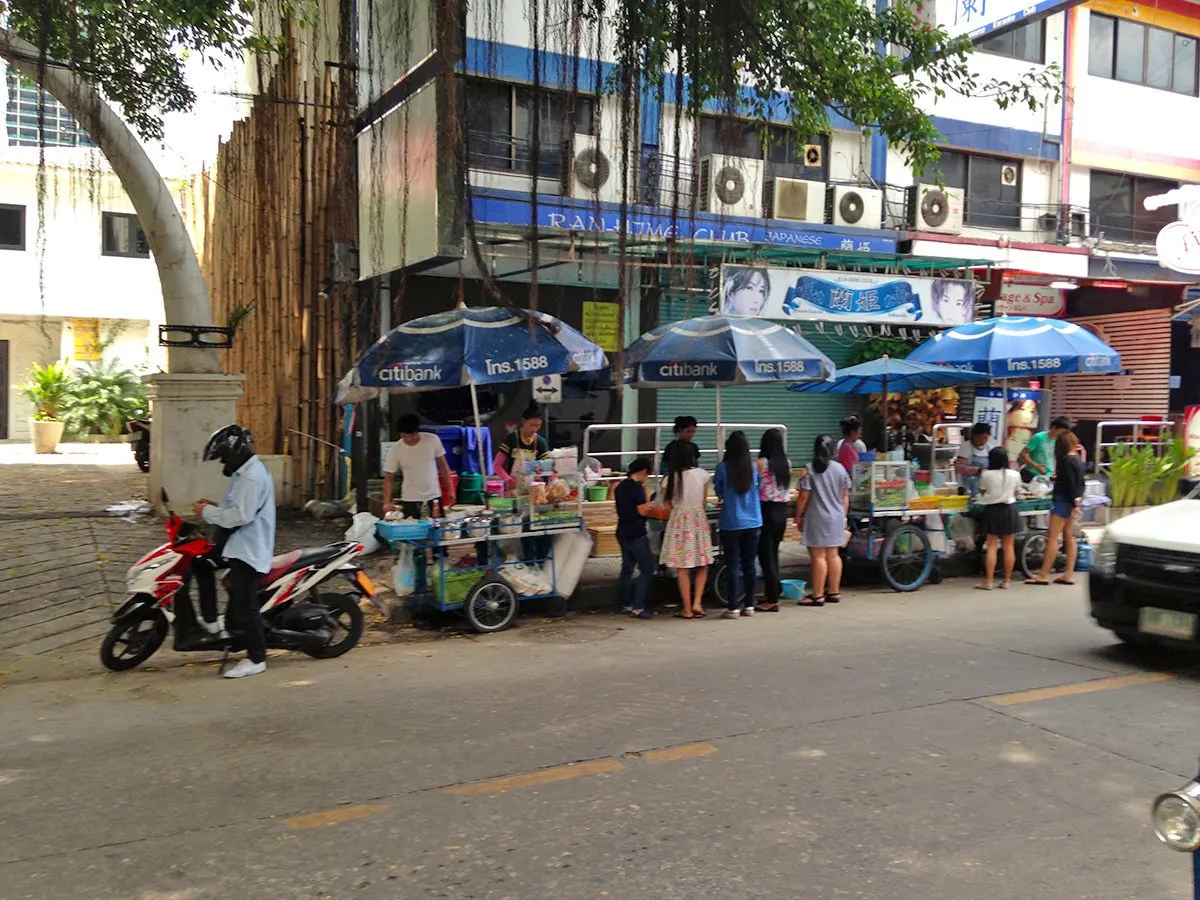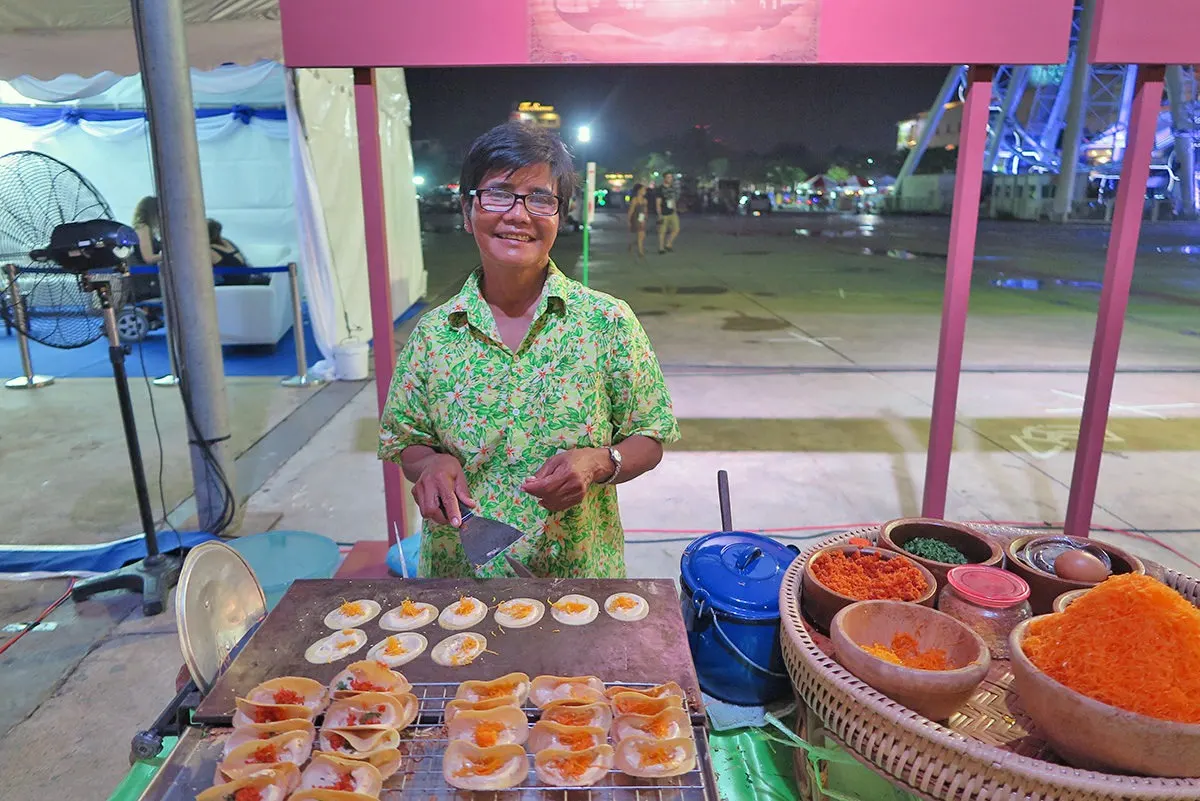 Eating on the street is actually one of the best things to do in Bangkok at night!
Thai dishes to try on the streets of Bangkok
If only I remembered what all the Thai dishes were. Most of the times, we just walked past a row of food stalls, with wonderful mixture of mouthwatering smells in the air, where we saw something pleasing and we just went for it! From soups to noodles to fried little pieces of dough. It's all delicious.
On a side note, if you hate coriander (cilantro) like me, just learn the Thai word for it: pakchee. Saying 'no spicy, no pakchee' got me a perfect meal almost every time! :)
What are the meals of the Thai cuisine that you must try – be it on the street or elsewhere?
Pad Thai – Sure, try it. But just once! :) Don't miss out on all the other incredible food options. Pad Thai is the most famous one, but the cuisine has so many other dimensions!
Chicken with Cashew nuts – Nice mild chicken, usually not spicy. Oh please transport me back. I love this meal!
Green or Red Curry with chicken – A bit spicy, but not too bad (seriously)
Massaman Curry with chicken – Also a really nice curry, of mild spiciness
Papaya Salad – Only for the spicy food aficionados, I'd say
Spring rolls – Yummy quick snack
Tom Yum soup – Delicious spicy soup. Very tasty!
Sticky Rice with Mango – My absolute favorite dessert!
And countless options of soups, meats on sticks, stir-fried noodles and fried rice..! The variety is endless. Would you like to try a fried cockroach, grasshopper or silkworm? You can have those too!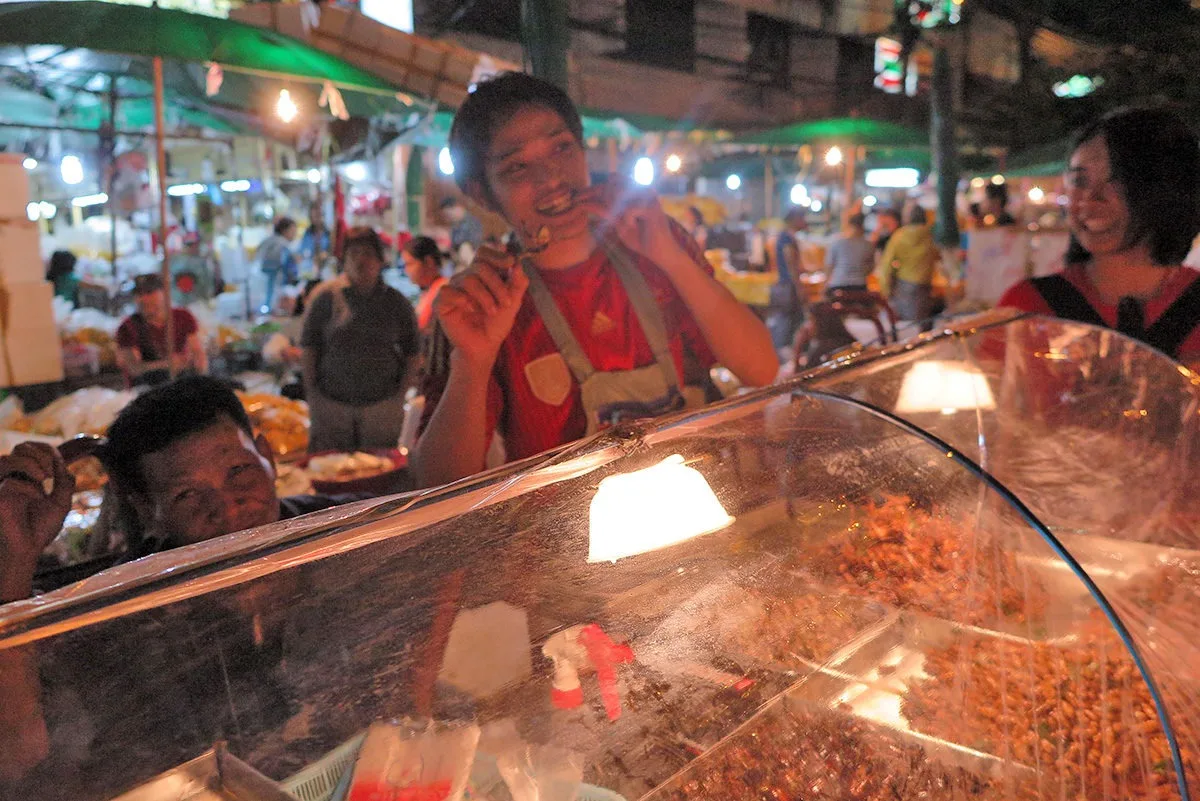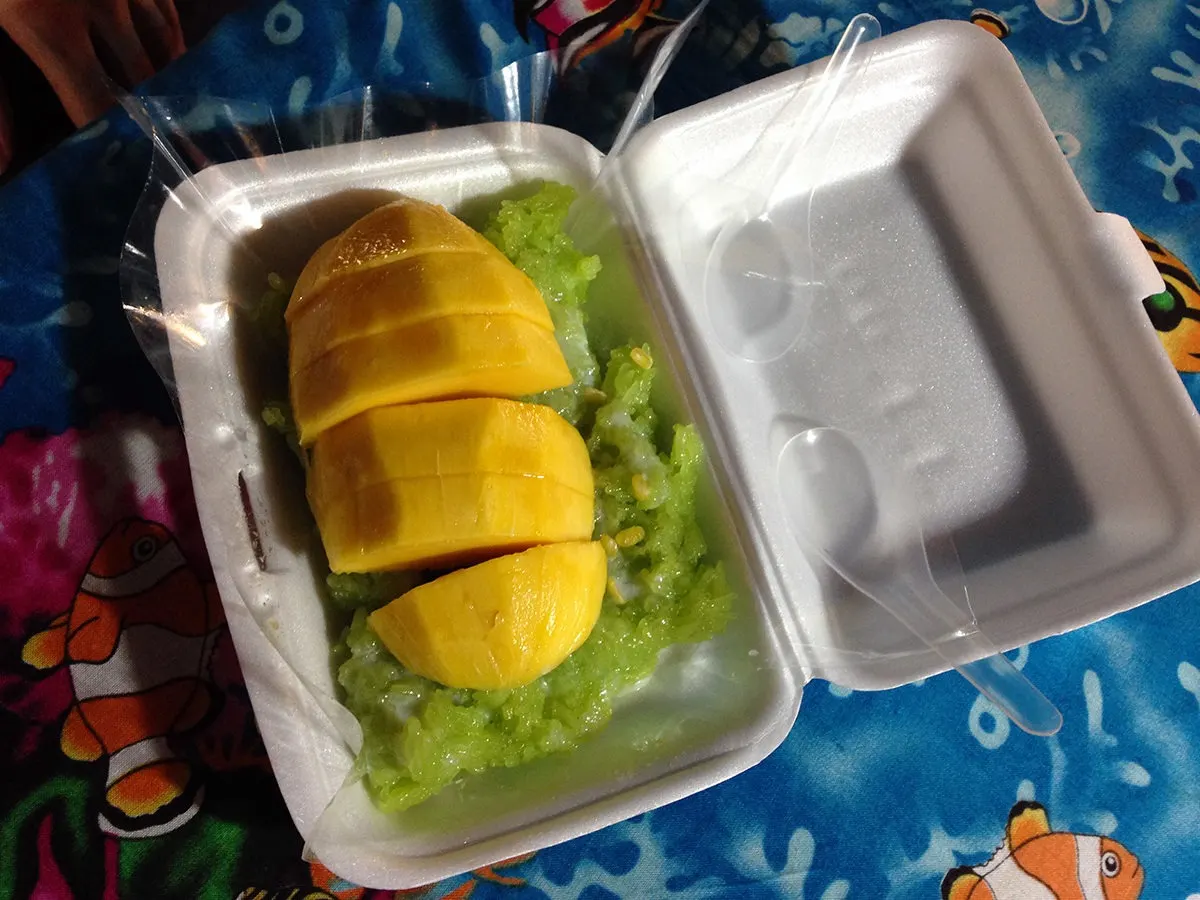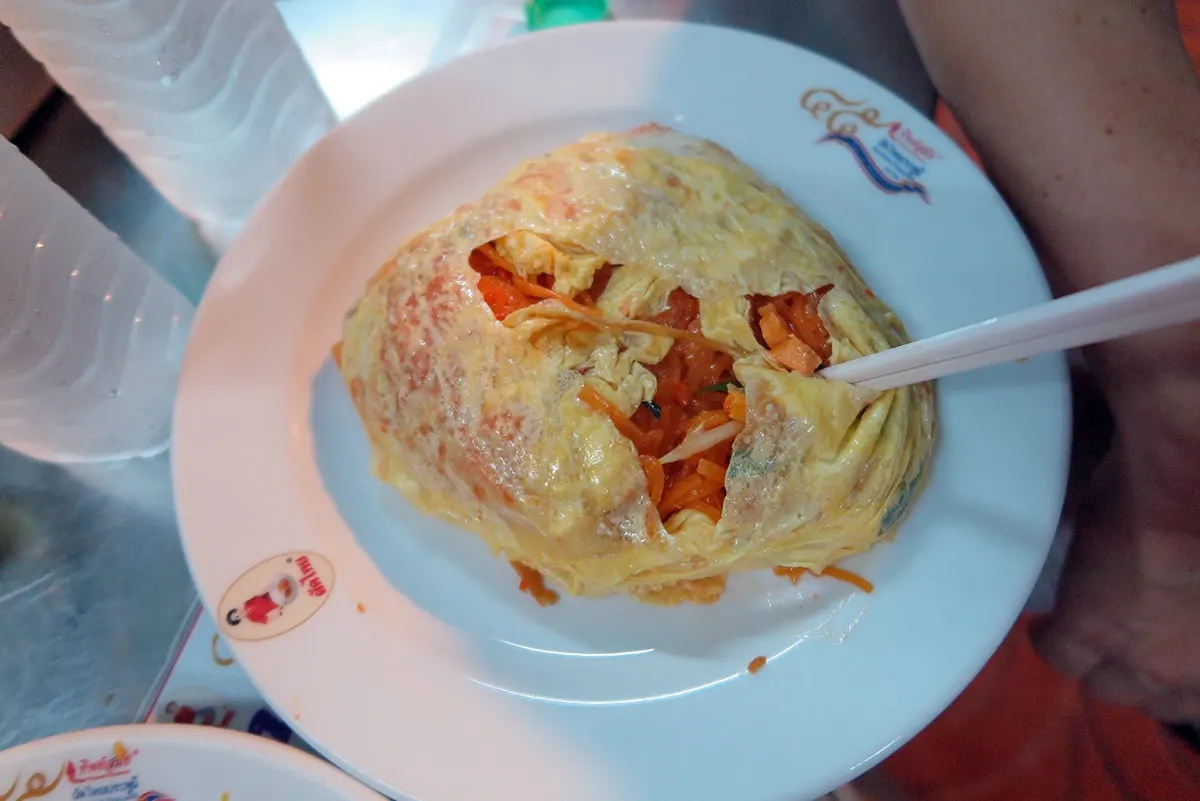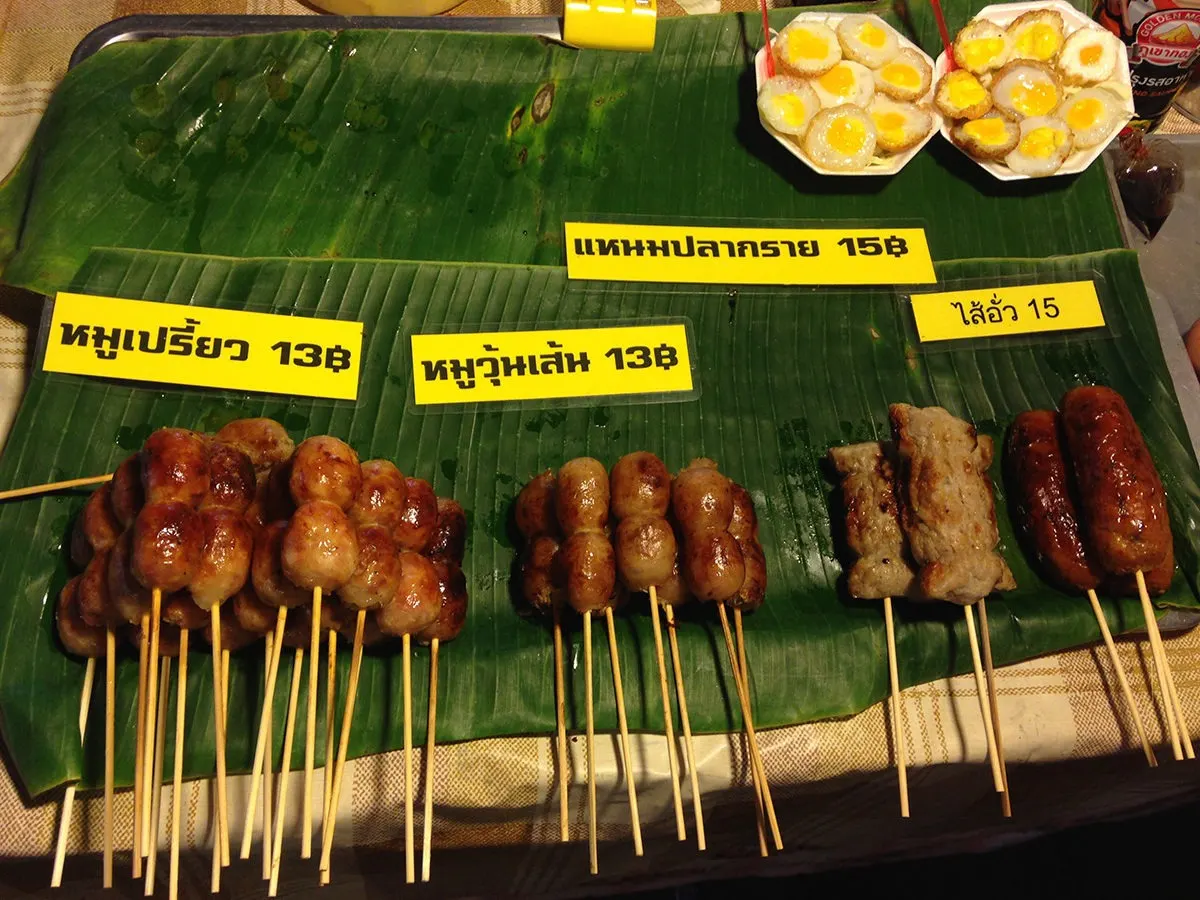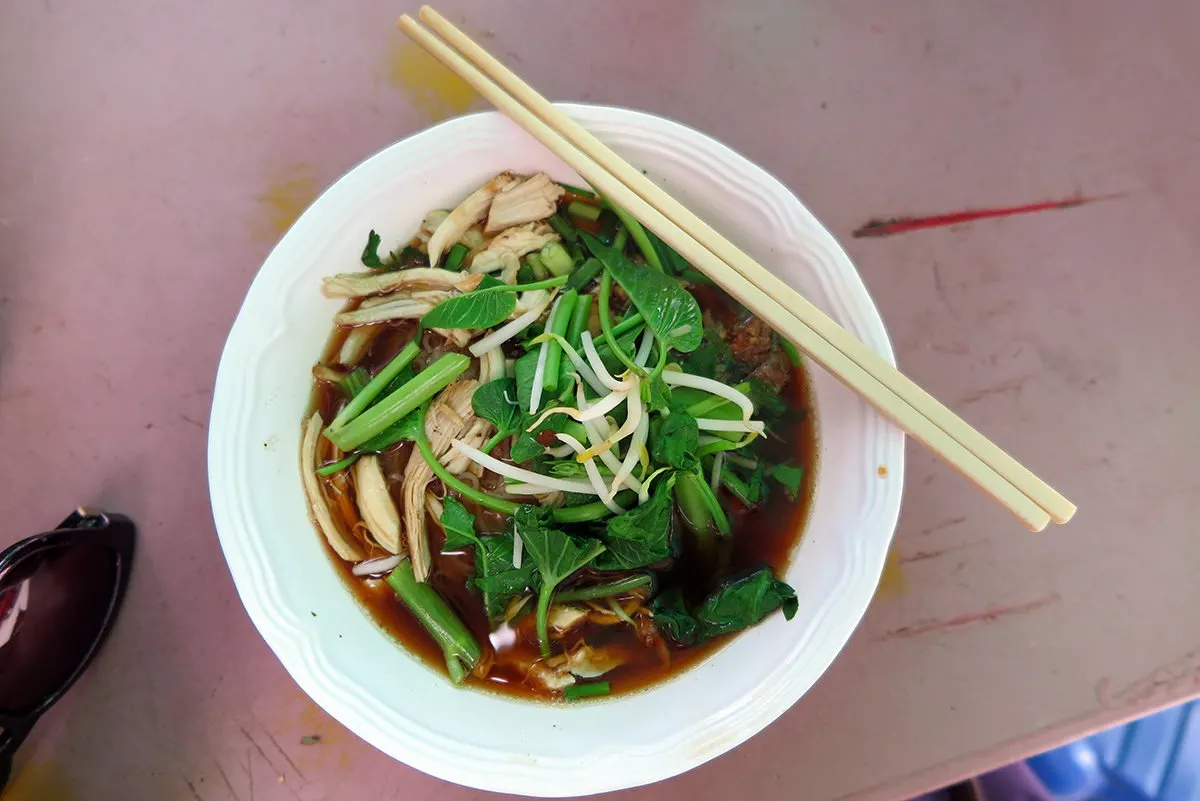 AREAS with high concentration of great food stalls
I haven't managed to map out all of Bangkok, but at least I'll share the areas where we encountered some great food options!
If you know of another really good location, let me know and I'll add it!
You can also make use of one of the street food tours that are available in the city and serve as a great introduction to Thia food. With Bangkok Food Tours, we visited 5 different areas, and had awesome dishes in tiny Thai restaurants with no foreigners in sight but us. It was really fun too, as the transportation for the whole 'Midnight Food Tour' was a tuk tuk! :)
Sukhumvit Road, from around Sukumvit Soi 23 to 39: This road, or, more importantly, its numerous side streets, are a real paradise for the eyes and stomachs! You could find anything there! From eggy breakfast dishes to meat satay to sweet little dumplings.
BTS Chidlom: Otherwise a busy skytrain stop, the location presents quite a few food stalls. There are about 4 rows of food stands cooking up even seafood, all right in front of the shopping mall.
Pratunam Market and its surroundings: We stopped here on a street food tour with Bangkok Food Tours. Even though we ate at an open-door restaurant, the streets around were full of food stalls. Plus, it's by a nice little canal :)
Phlap Phla Chai area – there's a long and dirty-looking street full of stands, famous for a special Thai noodle dish called kuay teow kua gai. This place is a bit tucked away and I can't imagine trying to find it on a first visit to Bangkok. So it really came in handy to stop here with Bangkok Food Tours.
Flower market: Here's where we encountered fried insects to savor! There are probably countless other locations, but the flower market is really special even on its own, so come check it out and eat that bad grasshopper!
Yaowarat in Chinatown: The best street food road in Chinatown, considered by many as the very best in Bangkok. Stroll on the Yaowarat Road or in the countless parallel streets to taste delicious Thai-Chinese fusion type of food. When I visited, there were small snacks all over the place and one could even see a hammering of a peanut desert! Quite an eye candy :)
Train Night Market: This market is relatively new in the town and is therefore full of modern Thai bars and funky food stalls. No wonder mainly the young people of Bangkok frequent it. This place actually deserves a post on its own so stay tuned! The market is conveniently located relatively near the Suvarnabhumi airport.
Here's a map of all these places, so that you have an overview of all the locations:
For a much more comprehensive list of street food options in Bangkok, head to Mark Wiens' blog, he's the real pro when it comes to (Thai) food!
And to get a glimpse what street food is like in Koh Lanta, one of Thailand's best islands, head to my previous article here. It's not only about food, but it's amazing! For another awesome island location, head to Koh Phangan.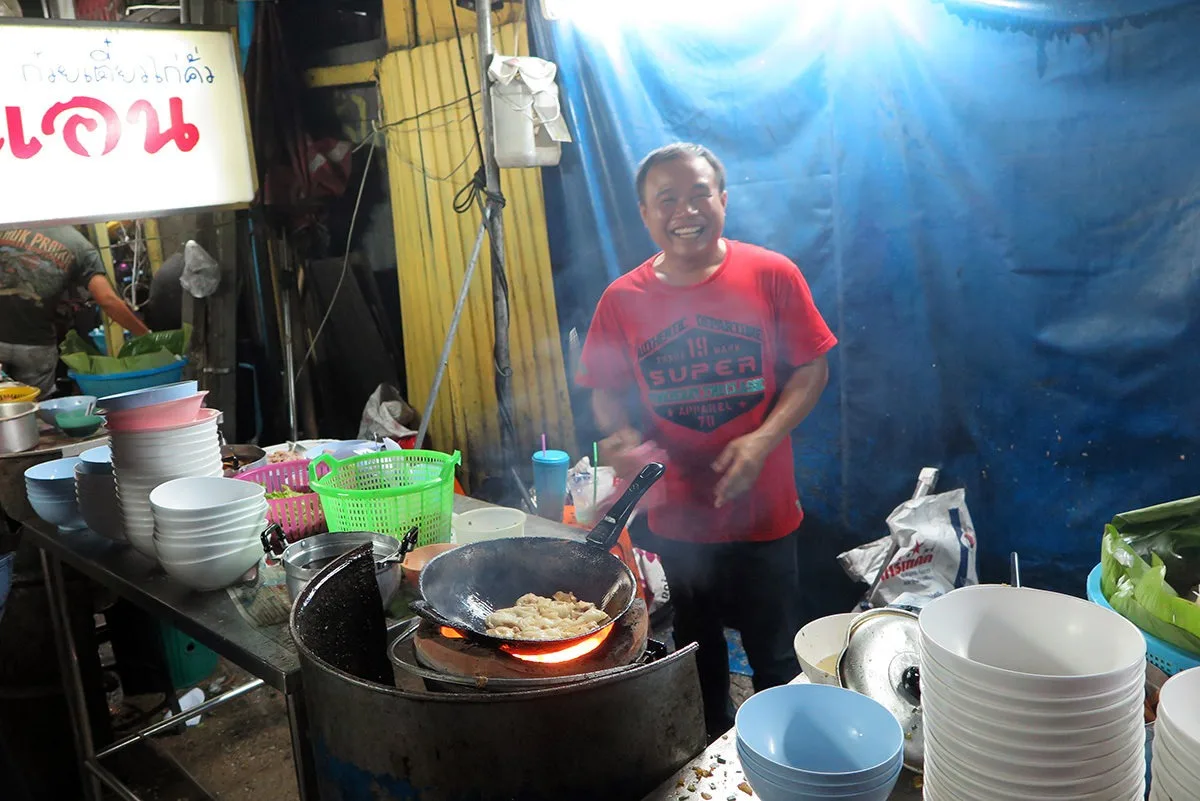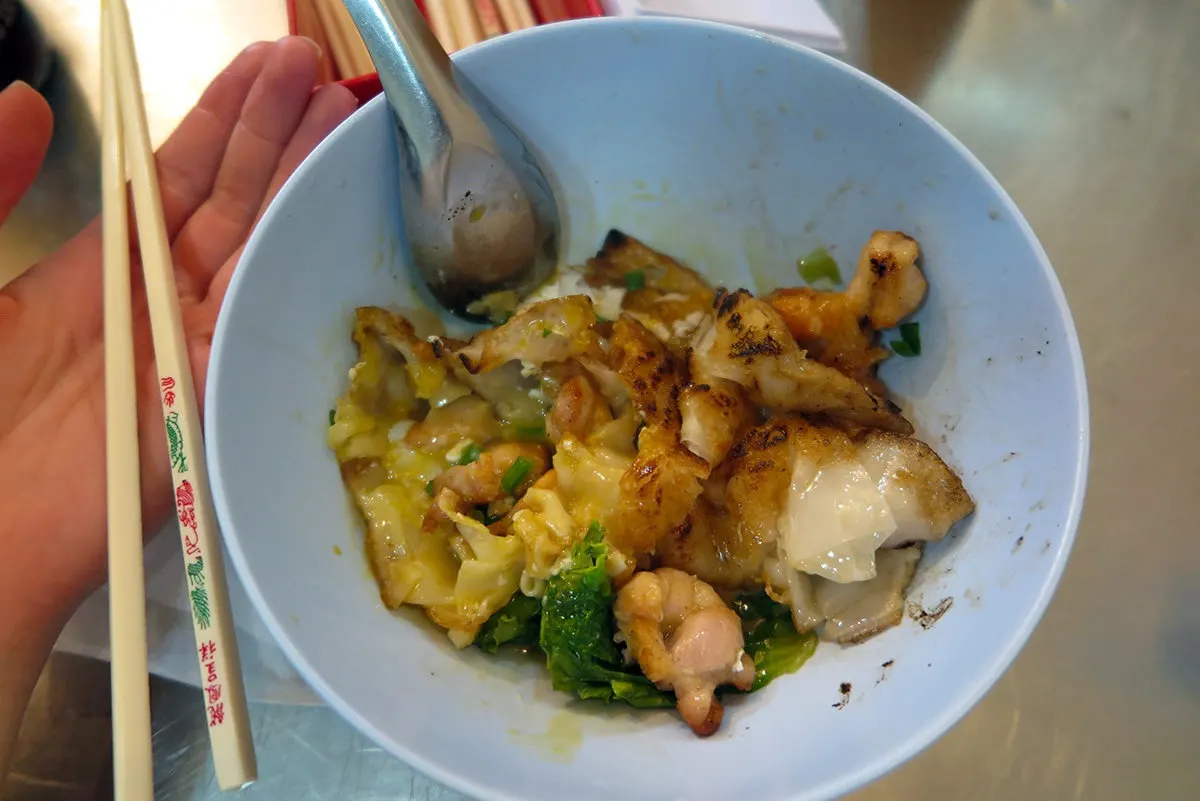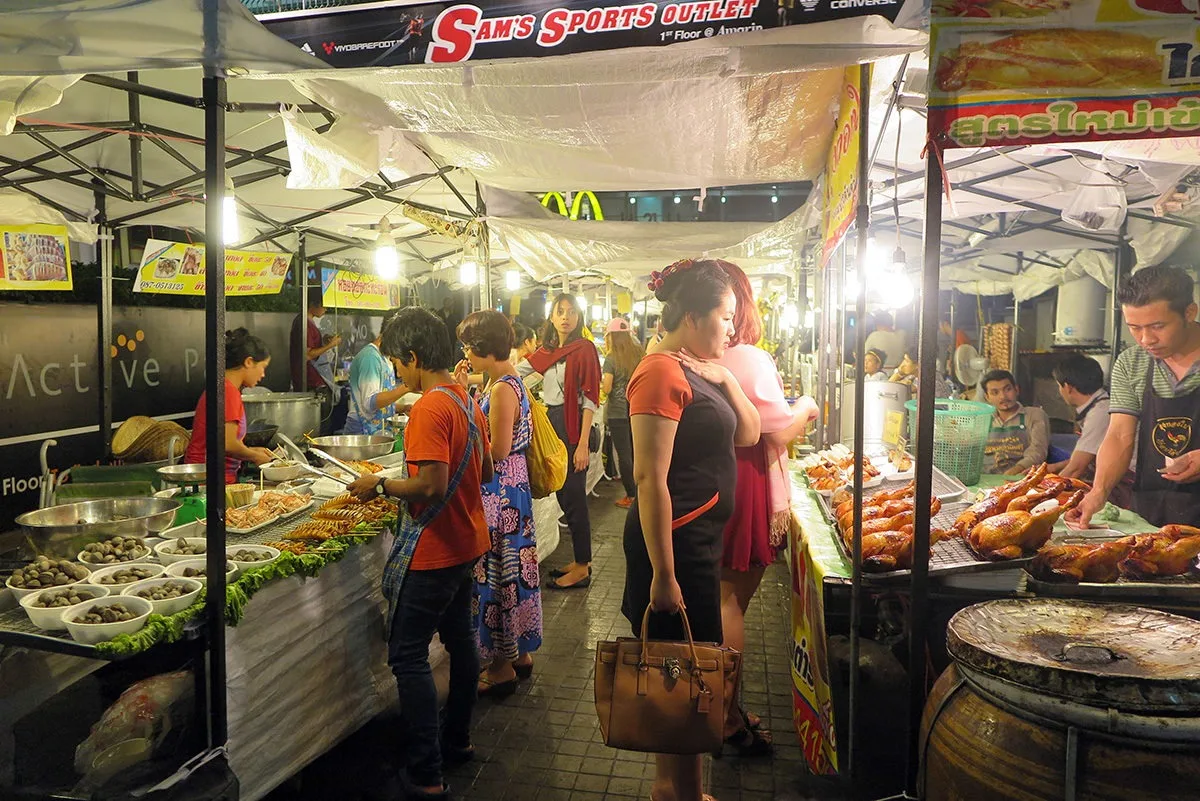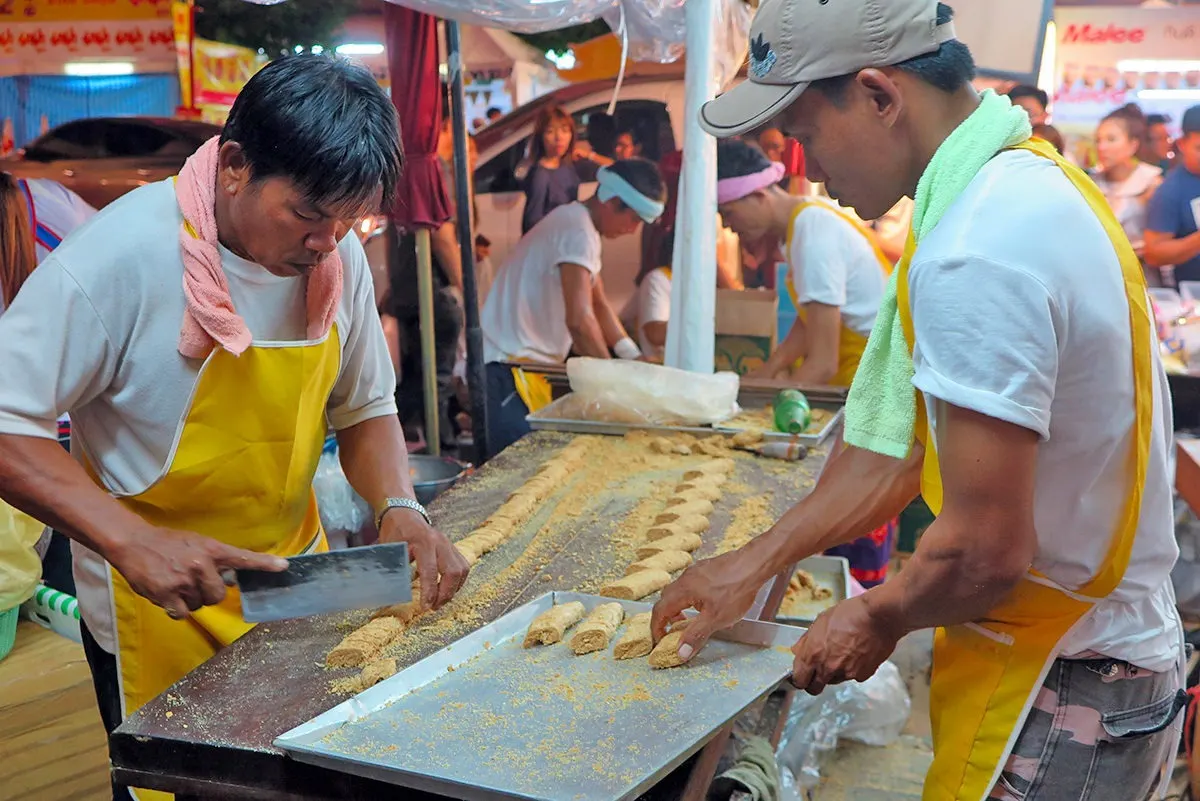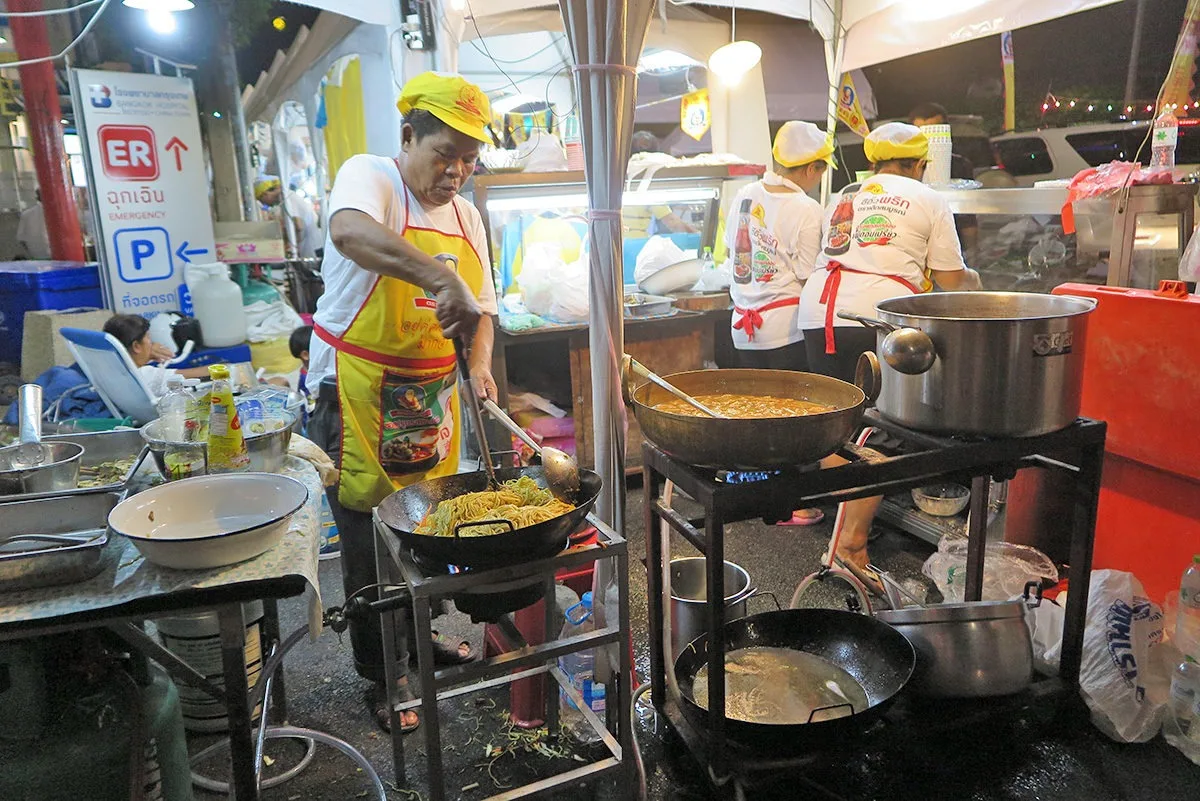 After spending a week in Bangkok, I became a huge advocate of its street food. So easy, fast, delicious and cheap – it really doesn't get better than that. So cast any doubts aside and dive into all the wonderful food options that Bangkok provides. Be sure to make eating your top priority among the things to do in Bangkok. You can thank me later ;)
There's a lot more than just food in Bangkok, though. Check out this 3 week Bangkok itinerary.
Here are also some practical tips on what to pack for Thailand.
What has your experience been with street food, be it in Bangkok or elsewhere? Have you tried the street food when you were in Bangkok? How about the fried insects?
Fellow pinners, here's a pinnable image for you to save for later!