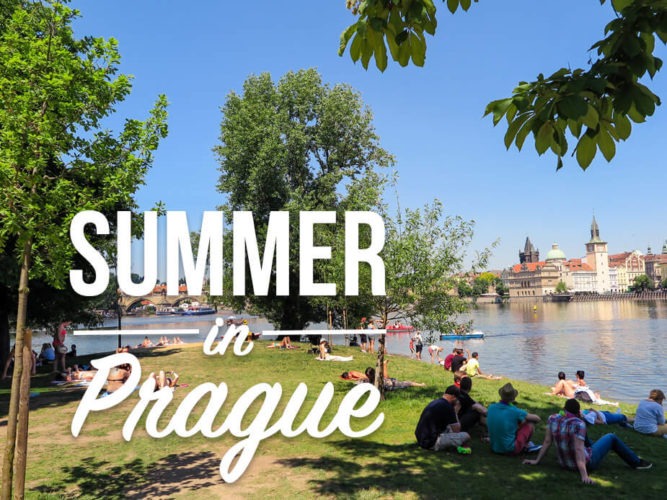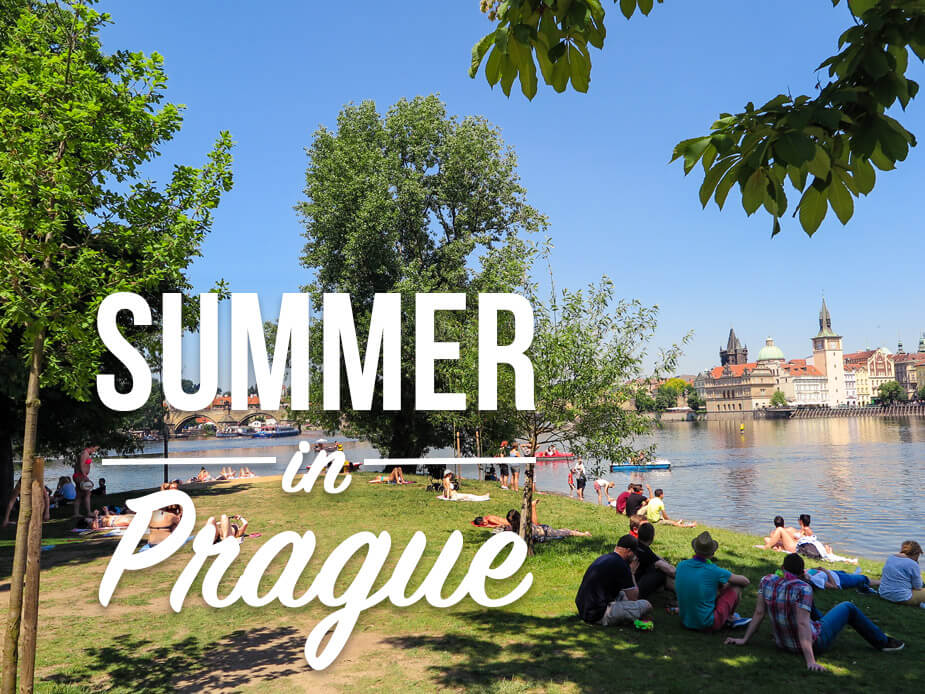 This article may contain affiliate links.
Summer has finally made its way to Prague so I thought that it's about time I explained what to do in Prague in summer and how we locals' actually spend summertime in Prague!
You know, Czech Republic is rather cold for the larger part of the year…it's not necessarily bad, as winter and snow make places look beautiful (see Prague in winter) but if you're like me and love the sun and warmth, you can't wait for the summer months to roll in!
There are MANY better ways to enjoy Prague in the summer than to sweat along with all the tourists up the stairs to the Prague Castle or riding on the trams in peak hour. Here's an overview of what to do and where to hang out in Prague like a local :)
Pedal Boats on Vltava River
With the first sunrays, locals rush to the river to rent pedal boats and pedal the weekend away on the river. It's quite neat as you're in a very different setting. The scenery is beautiful and the water is calming, that is unless you have someone on board who'll try to rock the boat!
The three main boat rental areas are all on the Slovanský ostrov (also called Žofín) island, which is located just off Masarykovo nábřeží (near Národní and the National Theatre).
They are so popular on the weekends that if you come at an unfortunate hour, you might be left with 2 options only: a rowing boat (workout, anyone?) or a crazy long line. So if you don't feel like exercising and impressing your sweetheart with some muscular action, grab a beer and wait in the line for the more easy-going pedal boat.
The pedal boats can get pretty unique too – some are shaped like a beetle car or even a swan :)
Regarding the practicalities of renting your boat, most importantly, make sure to bring your ID!
The prices are similar, so it doesn't make a huge difference which one of the three providers you pick. Rental for an hour costs around 200 CZK ($8 or €7) and when the weather's good, they can run till as late as 9pm! Evening rides are often more pleasant anyway, especially in the biggest heat of summer.
In my opinion, the pedal boats are one of the most typical Prague things to do in summer.
Náplavka
Náplavka is a wide pedestrian area running along the riverbank (Rašínovo nábřeží) where most of the riverside action is. There are markets along the bank every Saturday morning as well as countless events during the weekend and throughout the week too – both day and night. Concerts, screenings, markets, festivals… it all might be just happening on Náplavka!
You should definitely go for a stroll there, get an ice cream or a beer and laze the day away with people-watching and gossiping, just like locals in Prague do!
Náplavka is easily accessible from Palackého náměstí, where the metro stops (stop called Karlovo náměstí, exit Palackého náměstí). The riverside recently got its own website with a program of events, find it here.
Prague islands
Prague has several islands and they all have one thing in common – they are all very green and pleasant on hot summer days!
Střelecký ostrov is the most central of the islands. There's a restaurant and even an occasional party boat anchored there! A small obstacle course for kids provides some entertainment for families.
In the recent years, both Prague locals and foreigners alike like to come here and just relax sitting on the grass. The views from Střelecký ostrov are beautiful – you can see the Charles Bridge, Prague Castle, and even the funny yellow penguins on the neighboring Kampa Island!
There are also many events being held at the Střelecký ostrov. See their overview here.
Biking / Roller blading etc.
Prague is unfortunately not a very bike-friendly city but there are some paths along the river that are quite nice. Sporty locals go there to run, cycle, roller blade and walk with kids and dogs. It's quite fun but you mustn't mind crowds :)
The further you go from the city centre, the more rewarded you'll be with several nice refreshment points and decreasing number of people.
If you make it as far as e.g. Klecany, you can even take a little ferry with your bike to the other side of the river and continue your ride through the forest!
You can start already by the Palackého náměstí and then continue upstream – as far as you want to go. A little leisure bike ride along the bank might suffice for those seeking views and enjoyment over a real workout.
Even the other side of the river (closer to Smíchov) features trails, with much less people. They are, however, more difficult to get to.
Here's an excellent source for cycling maps and all other info on biking in Prague.
Renting a bike in Prague
Getting a bike to ride can be a piece of cake if you use locals' favorite app called Rekola. It's a company run by cycling aficionados who first started out by repurposing old bikes and painting them pink. Rentals differ from one time to a whole season membership. You can see the bikes parked randomly all over the city. Their pink color does stand out so it's easy to spot them :) The app has recently been translated also to English, but if you still can't figure it out, ask among other pink bike riders, the whole community is very helpful.
Or else, simply rent a bike. Check out the current availability of this 3-hour bike rental starting at €8. If you feel a little lazy, go for an e-bike.
You can also cycle with a guide – e.g. to Trója district and its beautiful Chateau. Or even out of Prague, to the Karlštejn Castle, on this tour.
Summer cinema
There are several places where you can watch movies outside, enjoying the atmosphere and chasing away an occasional mosquito (if you didn't apply repellent). We love them (the outdoor cinemas not the mosquitoes) and it's therefore no surprise that an increasing number of summer cinemas keep springing up!
Bear in mind that the movies might not always have English subtitles, so if you care for not only the atmosphere but the actual motion picture too, pick Hollywood blockbusters ;)
Here are those most centrally located:
Český rozhlas Regina
Karlín summer cinema is sponsored by one smaller local radio station and they do a great job. They're perhaps the only ones that have kept organizing the summer cinema regularly over the past years. I went there several times and it was always awesome. Come a little earlier (or as early as 1 hour before screening), seats are limited!
Movies start at 9-10 pm and cost just 60 CZK and the program can be checked here.
Kasárna Karlín
A recently opened space in former barracks, Kasárna Karlín organizes a looooot of different types of events. Every Thursday and Saturday, it's about the movies, though! They feature more 'artsy' movies.
See more info and a program here.
Located further along the riverbank, actually in the quarter of Podolí, sits this amusement complex. You can do sports, eat and have fun. In the summer of 2018 it seems their movie screenings are not to regular. Check out the program here. It costs just 50 CZK to see a movie.
Beer gardens
We Czechs love to spend summer days just sitting around in beer gardens with friends. In summer, the gardens with pleasant shade from trees are of course the most desired ones. If you find a good spot in a beer garden like that, hold on to it for your dear life!
It's hard to say which beer gardens Prague locals consider to be the best but I like the ones in Prague's parks:
Riegrovy Sady – a park located right by Vinohrady and Žižkov
Stromovka in Dejvice is another great park where you'll find an awesome beer garden full of locals.
Letná park – a cool big park featuring a beer garden with a stunning view of Prague
In any case, you can't do wrong by just strolling your way through parks or practically anywhere further from the city center. Just sit down anywhere you'll find it nice. Beer gardens in Prague are plentiful and popular!
Ice cream
We locals love the ice cream so much we even have an ice cream festival! It's usually held in June. So where's the best ice cream in Prague? You'll get only the highest quality if you choose one of these ice cream shops:
Angelato – Creamy ice cream and perfect sorbets just like in Italy; 4 locations around Prague
Puro Gelato – Fresh ice cream every day in 3 locations around Prague
Zmrzlinář – Only one ice cream parlour with just a few flavors but perfectly crafted
Crème de la Crème – Italian like hand-crafted ice cream sold in 2 locations in Prague
Festivals
There's a lot happening in Prague in summer! From food to music to modern circus festivals.. I always have trouble deciding where to go :) There's a handy updated list of upcoming events in Prague here on Prague City Tourism site.
Escaping the heat
Once Prague gets hot, it's time to escape.
Trips to Nature
A little trip to greenery always comes in handy and especially on the weekends it's what many city kids like to do. If you don't feel like organizing it yourself, you can join one of Discovering Prague's events (which I join quite often actually) or have something in and around Prague organized for you privately.
Similarly, you can take a pre-arranged trip such as:
Swimming Pools
There are quite a few places to refresh in Prague during summer too. Here are some pools you can head to, both natural and artificial:
Podolí, Prague 4: The closest outdoor (and indoor too) swimming pool you can get to from the city center loved by locals but always full when the weather's nice and warm.
Petynka, Prague 6: Slightly off the beaten path, it gets quite empty during the workweek. The water quality's great, I heard.
Divoká Šárka, Prague 6: Located in the wilderness of a nature reserve of the same name on the outskirts of Prague, this one is not for the faint hearted. Because of the water temperature! :) But the location is one of the best, I'd say.
There's of course many more swimming pools, this is just my subjective choice of those, which are popular among locals.
Working
I'm sorry to say that, but most locals work! Even in summer :)
If you yourself need to get some work done while in Prague, I have the best recommendation for you: K10 Coworking! Housed in a beautiful villa, which served as a residence to a Danish ambassador, it has its own garden (wifi covered!) and 3 floors of cool-looking offices. Here you can work and not give up on Prague summer vibes.
Let me know if you come to work at K10 Prague based on my recommendation, I'm at the villa often too and it would be fun to meet up! :)
Prague Summer Weather
How is the weather in summer in Prague? In short, every year it varies. But you're more likely to experience some very hot days:
Prague weather in July averages 17.6°C (63.7°F). That's the official number. However, it's quite likely that during the day the temperatures will oscillate between 25°C and 30°C (77 – 86°F). If there's no weather anomaly, you won't need a sweater :)
August official average stands at 17.3°C (63°F), but just like in July, the temperatures might as well hit the thirties.
It might rain or not, you never know. Fortunately, for the rainy days, I put together a comprehensive Prague Rain Guide.
Obviously, Prague is a great destination that won't break the bank and it's very unlikely you'd experience a heat stroke here.
So come on over!
If you need tips on awesome cafes to go to, check out my article on the 5 New Cafés of Prague – some featuring pretty awesome gardens!
There's nothing better on a fine summery morning than a delicious breakfast. Well, get ready for an overload of that – here are my tips on where to have the best breakfast.
Oh no! You're coming in winter?! That's actually quite awesome too, Prague is beautiful during wintertime! See what to do in winter in Prague.
Your turn now! Let me know your thoughts about Prague in summer :)