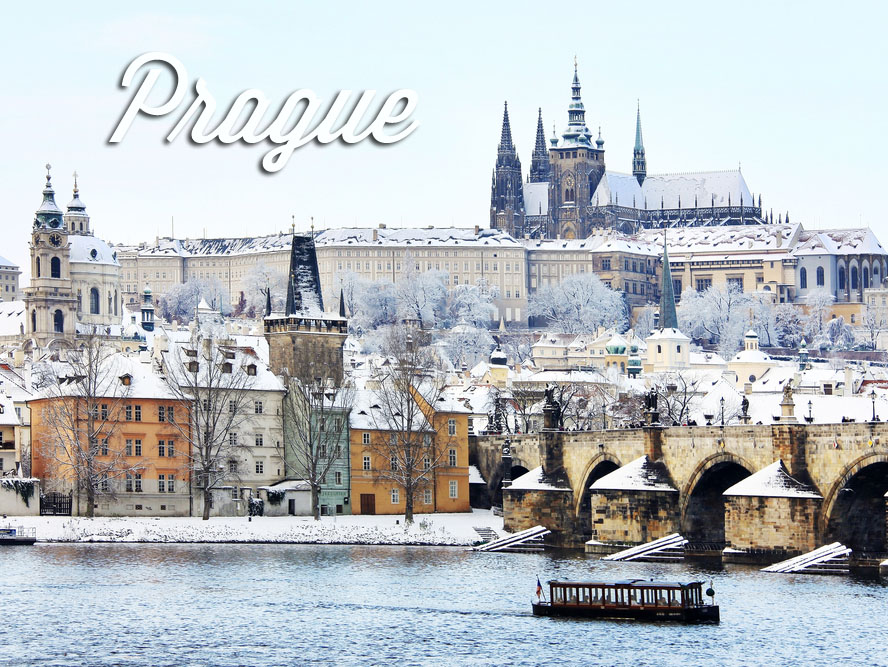 This article may contain affiliate links.
Last updated Aug 17, 2018 @ 9:34 am 
Prague in winter is incredibly beautiful. Even if you're one of those who do mind the cold weather, fortunately there are still many things to do and enjoy. Winter might as well the best time of year to visit Prague.
Franz Kafka loved Prague most during the wintertime, probably because the city feels more magical and mysterious, and even more romantic. Lower number of winter tourists also helps the magical experience.
Christmas markets in Prague
If you're visiting in December or early January (till the 6th to be specific), you should check out the Christmas markets. They are almost everywhere, so you can't escape them anyway! :)
Old Town Square
The best and largest Christmas market is in the Old Town Squ­­are. Get a mulled wine and a pastry roll with cinnamon and sugar named Trdlo (or Trdelník). Trdlo is NOT originally Czech, but it's still yummy. Just marvel at the enormous and majestic Christmas tree and see what performances there are on the stage.
If you want to experience a little light show on the tree, stop by between 5:30 pm and 8:30 pm. Every hour, the tree will be blinking and it'll all be accompanied by festive music :) In 2017, the Christmas tree will be officially placed on its spot in the Old Town Square on Saturday Dec 2.
The food stands covering the square offer a variety of delicious Czech meals and snacks to warm you up.
Prague Castle
A new tradition has developed and that's hosting Christmas markets at the Prague Castle too! It's indeed a special setting, to walk among the stands with the majestic St. Vitus Cathedral looming nearby. The market there closes already at 7 pm on a workday and at 8 pm on a weekend, so make sure you don't show up too late.
Update: Since August 2016, security frames have been introduced by the entrance gates to the Prague Castle. That means, there are now very often long lines forming. If you wish to visit the Castle and the Christmas market, arm yourself with patience or just avoid coming on the weekend or weekday afternoon.
Smaller Christmas Markets in Prague
My personal favorite is the market at Náměstí Míru, easily accessible by the green metro line A. It has a more relaxed feel and the share of locals is considerably higher than at the most touristy markets.
To be fully honest with you, the markets don't differ too much. The good news is that you'll find mulled wine everywhere! It's more about the surroundings and the people. Also, if you have kids with you, you might be more interested in markets with live animals like the one on the Old Town Square or even Náměstí Republiky (yellow metro line B)..
Another good Christmas market is e.g. on Náměstí Jiřího z Poděbrad, also on the green metro line A. There's a Christmas market on the Wenceslas Square too, but it's usually very small and not as interesting.
See a full list of Prague's Christmas markets with their exact dates of operation here.
Ice-skating in Prague
On and off, Prague 1 hosts an outdoor ice-skating rink in the very city centre (at Ovocný trh). For the 2017/2018 winter season, it's going to open on December 5, 2017 and close at the end of January 2018. You can go ice skate there every day from 10am to 10pm. Of course ice skates are available for rental. The location is really convenient as you can stroll to there easily from Wenceslas Square or the Old Town Square.
Also, if you don't mint venturing slightly outside the city centre, an awesome rink is each year set up right under the TV Tower in Žižkov, Prague 3!
Sightseeing during winter
Other than the winter activities, there are amazing sightseeing opportunities that you can do at any time of the year. Prague Castle is opened year-round and so are all the museums and galleries.
Here's a good list of the main traditional museums. For a unique one, especially if you're a fan of all things Apple & Steve Jobs, check out the Apple Museum. We locals also love Dox, the Centre for Contemporary Art. They always have unique exhibitions on display!
Winter definitely brings magic to all the typical sights. The gargoyles on the outside of St. Vitus Cathedral, staring at every passerby, have unique beards of ice when it's below zero. Frost-covered spears and icicles on the roof edges make for a fairy-tale like scenery.
If you'd like to go for a short sightseeing tour with a guide, I found these two fun ones for you: a Ghost Tour (spooky Old Town!) and a Sunrise Photo Tour (4 hours to get those beautiful people-free photos of Prague).
And, my personal favorite Prague winter activity: Riding a tram! Yes, you heard it right. If you're too cold but still want to do some low-cost sightseeing, just hop on a tram and ride till the final stop. Try out e.g. tram no. 22 – it goes through the city centre and even near the Prague Castle.
See all my posts on Prague by clicking here.
Events in Prague in Winter
Unlike in other cities, the life in Prague doesn't come to a stop when the winter rolls in. A lot of exhibitions, concerts and other organized events still take place in the city.
There's usually a good overview of events on Prague.eu's site, always for a month or so ahead.
Don't forget to spend a lot of time inside!
To escape the cold weather, you should stop often at Prague's numerous cafés and restaurants.
Here are 5 great new cafés to choose from, and many more. If you want a personal recommendation, just let me know what areas you'll plan to visit and I'll suggest some awesome cafés for you ;) 
I've also compiled a list of fun indoor activities (all highly rated):
Where to Stay When Visiting Prague in Winter?
The closest to the sights, of course, so that you don't freeze before reaching the Charles Bridge. Or, if your budget is rather constricted, near a stop of a tram/metro. I'd stay away from bus stops, because they tend to have the longest interval. Here's a few options for you, all located neatly in or within a walking distance from the city center.
Luxury Hotels
If luxury is what you're after, you really have a vast array of 5-star hotels to choose from. These are not only top notch, but also within short walking distance from all the main sights in the Old Town.
Four Seasons Hotel
You know what you're getting when you check into Four Seasons – only the best of the best. Four Seasons Hotel in Prague is located right by the river, within a few steps from the Charles Bridge. That becomes handy when temperatures drop below zero!
See how the hotel currently does on TripAdvisor. Check out the current prices on Booking.com and HotelsCombined.
Augustine Hotel
This hotel belongs to the international Luxury Collection of Hotels worldwide, guaranteeing top quality. Augustine Hotel is located in a quiet street in the picturesque Lesser Town, right between the Charles Bridge and the Prague Castle. It's actually built in a 13th century monastery and has a bar with a brewery in place where the monastery brewery used to be.
See what reviews Augustine Hotel has on TripAdvisor. Check out current pricing and availability on Booking.com and HotelsCombined.
Design Hotel Neruda
When a 4-star hotel feels as special as Neruda Hotel, it's more than easy to include it in the top luxury category. Located in a quiet street near the Prague Castle, this boutique hotel is one of the best in Prague in its category. The rooms have been designed by famous Czech designers and are spacious and comfortable.
Check out what others think about Neruda Hotel on TripAdvisor. See what the current prices are on Booking.com and HotelsCombined.
Affordable & Cool Luxury Accommodation
Mosaic House
This uber cool design hotel, all sustainable and green, has numerous levels of rooms fitting your budget and comfort level. From the cheapest shared dorms to absolutely beautiful rooms with a view of the Prague Castle, this is one of the best accommodation options in Prague. Most sights are not too far from the hotel.
Check out the reviews of Mosaic House on TripAdvisor. See current prices on Booking.com and HotelsCombined.
Hostel Accommodation
Travellers Hostel
Located on one of Prague's best party streets in the city center, the Travellers Hostel has nice rooms and, in my opinion, also a cool hostel vibe. There are several dorms and private rooms, so you can decide based on your budget.
See how other travellers rate the hostel on TripAdvisor and what the booking prices currently are on Booking.com and HotelsCombined.
Hostel Downtown
If you'd like to stay in the city center while not spending too much on accommodation, this hostel is one of the best low-cost options. The hostel is not especially charming, but it's clean and decent. Plus the staff is friendly too.
See what other budget travellers say about the Downtown Hostel on TripAdvisor. Check out the most current prices on Booking.com and HotelsCombined.
Airbnb
And of course, there's Airbnb. You can stay comfortable in an apartment to your liking. Just make sure you book long in advance, Prague is popular! (Don't know what Airbnb is? Read this article). Don't forget to read the reviews carefully. There are apparently all kinds of standards in Prague Airbnbs when it comes to cleanliness and maintenance. (Just something I've heard.)
Prague Winter Weather
December
December in Prague could be either not yet that cold or already very cold :) On average, the temperature in Prague in December hovers around -0.5°C (31.3°F) but it can be as warm as 2.1°C (35.8°F) or as cold as -3.2°C (26.2°F).
January
January tends to be the coldest month. The average temperature in January in Prague is -2.0°C (28.4°F). The warmest it could be is 0.8°C (33.4°F) or it might go as low as -4.9°C (23.2°F).
February
In February, Prague starts to get warmer again, albeit by a hardly visible degree. The temperature averages -0.6°C (30.9°F). However, it might feel like spring is in the air with 3.0°C (37.4°F) or, on the opposite, as cold as -3.9°C (25°F).
Weather data taken from yr.no.
And the most pressing question of all:
Does it snow in Prague in winter?
Of course it does! The only question is when. There's a high chance there would be snow in December, January and February. But you never know. There's no such thing as snow season and each winter is different. So don't rely on snow and just take it as a bonus when you come and Prague's all beautifully white.
Check out below my photos from last winter to guess what the winter in Prague in 2017/2018 might be like :)
How many days to spend in Prague in winter?
Another burning question.. While in summer, you could easily spend a week in Prague and still have enough to do, I think in winter you'd be fine with 3 – 5 days. It depends how much cold-resistant you are and whether you enjoy winter. Coming from, say, Scandinavia, you might even feel like the winter in Prague is quite warm. Coming from the Philippines… not so much ;)
Do you need to get some work done while in Prague?
Apart from the many, many cool cafés in Prague with good wifi, I can strongly suggest the beautiful K10 Coworking space in the quiet neighborhood of Prague 2, Vinohrady.
So don't shy away from travelling to Prague during winter. Come and experience Prague from a different perspective, the winter one. Because travelling off season can be much more rewarding!
In case you made plans to come in summer, I still have suggested local activities for you to do. Read the post on summer in Prague.
Have you been to Prague during the wintertime? Or what other city did you find incredibly beautiful when visiting in winter?
For a *very* different winter experience, why don't you check out my article on Winter in the Finnish Lapland?
Hello pinners! Pin the image below to save for later.