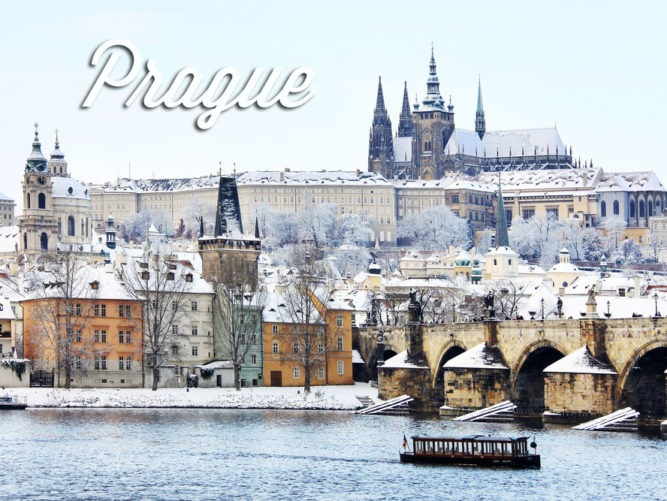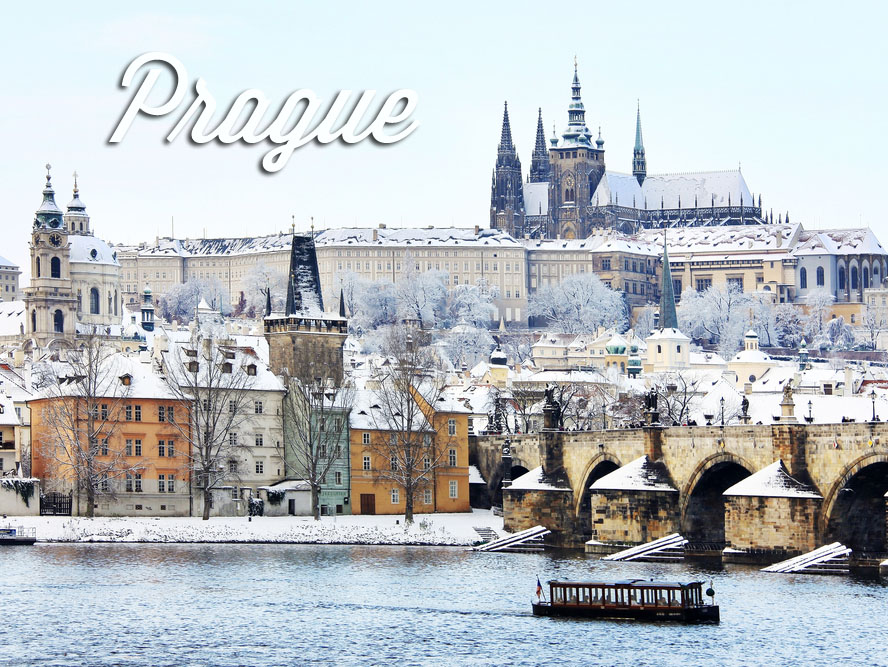 Last updated Jan 26, 2017 @ 9:39 pm 
Prague in winter is incredibly beautiful. Even if you're one of those who do mind the cold weather, fortunately there are still many things to enjoy.
Franz Kafka loved Prague most during the wintertime, probably because the city feels more magical and mysterious. Lower number of winter tourists also helps the magical experience.
Christmas markets in Prague
If you're visiting in December or early January (till the 6th to be specific), you should check out the Christmas markets. They are almost everywhere, so you can't escape them anyway! 🙂
Old Town Square
The best and largest Christmas market is in the Old Town Square. Get a mulled wine and a yummy pastry roll with cinnamon and sugar named Trdlo (or Trdelník). Just marvel at the enormous and majestic Christmas tree and see what performances there are on the stage.
If you want to experience a little light show on the tree, stop by between 5:30 pm and 8:30 pm. Every hour, the tree will be blinking and it'll all be accompanied by festive music 🙂
The food stands covering the square offer a variety of delicious Czech meals and snacks to warm you up.
Prague Castle
A new tradition has developed and that's hosting Christmas markets at the Prague Castle too! It's indeed a special setting, to walk among the stands with the majestic St. Vitus Cathedral looming nearby. The market there closes already at 7 pm on a workday and at 8 pm on a weekend, so make sure you don't show up too late.
Update: Since August 2016, security frames have been introduced by the entrance gates to the Prague Castle. That means, there are now very often long lines forming. If you wish to visit the Castle and the Christmas market, arm yourself with patience or just avoid coming on the weekend or weekday afternoon.
Find all information about this market on Prague.eu site.
Smaller Christmas Markets in Prague
My personal favorite is the market at Náměstí Míru. It has a more relaxed feel and the share of locals is considerably higher than at the most touristy markets.
To be fully honest with you, the markets don't differ too much. The good news is that you'll find mulled wine everywhere! It's more about the surroundings and the people. Also, if you have kids with you, you might be more interested in markets with live animals like the one on the Old Town Square.
See a full list of Prague's Christmas markets here.
Ice-skating in Prague
On and off, Prague 1 hosts an outdoor ice-skating rink in the very city centre (at Ovocný trh). If you're coming in the winter of 2016/2017, consider yourself lucky! The ice-skating rink will open on December 5 and stay open every day from 10 am till 9 pm until the end of January 2017. The location is really convenient as you can stroll to there easily from Wenceslas Square or the Old Town Square.
Also, if you don't mint venturing slightly outside the city centre, an awesome rink is each year set up right under the TV Tower in Žižkov, Prague 3!
Sightseeing during winter
Other than the winter activities, there are amazing sightseeing opportunities that you can do at any time of the year. Prague Castle is opened year-round and so are all the museums and galleries.
Winter definitely brings magic to all the typical sights. The gargoyles on the outside of St. Vitus Cathedral, staring at every passerby, have unique beards of ice when it's below zero! Frost-covered spears and icicles on the roof edges make for a fairy-tale like scenery.
Don't forget to spend a lot of time inside!
To escape the cold weather, you should stop often at Prague's numerous cafés and restaurants.
Here are 5 great new cafés to choose from, and many more. If you want a personal recommendation, just let me know what areas you'll plan to visit and I'll suggest some awesome cafés for you 😉 
So don't shy away from travelling to Prague during winter. Come and experience Prague from a different perspective, the winter one!
In case you made plans to come in summer, I still have suggested local activities for you to do. Read the post on summer in Prague.
Have you been to Prague during the wintertime? Or what other city did you find incredibly beautiful when visiting in winter?
Hello pinners! Pin the image below to save for later.