Prague in winter is incredibly beautiful. Even if you're one of those who do mind the cold weather, fortunately, there are still many Prague winter things to do and enjoy. Winter might as well be the best time of year to visit Prague.
Franz Kafka loved winters in Prague, probably because the city feels more magical and mysterious, and even more romantic. A lower number of winter tourists also helps the magical experience.
I've lived in the beautiful city of Prague for 13 years, and even though I tend to shorten my winters with at least one trip somewhere tropical, I still love when Prague gets all covered with snow.
Where to Stay When Visiting Prague in Winter?
The closest to the sights, of course, so that you don't freeze before reaching the Charles Bridge.
Or, if your budget is rather constricted, near a stop of a tram/metro. I'd stay away from bus stops because they tend to have the longest interval.
Here are a few options for you, all located neatly in or within a walking distance from the city center:
Luxury Hotels
If luxury is what you're after, you really have a vast array of 5-star hotels to choose from. These are not only top-notch, but also within short walking distance from all the main sights in the Old Town.
Four Seasons Hotel
You know what you're getting when you check into Four Seasons – only the best of the best.
Four Seasons Hotel in Prague is located right by the river, within a few steps from the Charles Bridge. That becomes handy when temperatures drop below zero as they often do in Prague in the winter – more on that later. ;)
See how the hotel currently does on TripAdvisor and check out the current prices on Booking.com.
Augustine Hotel
This hotel belongs to the international Luxury Collection of Hotels worldwide, guaranteeing top quality. Augustine Hotel is located on a quiet street in the picturesque Lesser Town, right between the Charles Bridge and Prague Castle.
It's actually built in a 13th century monastery and has a bar with a brewery in a place where the monastery brewery used to be.
See what reviews Augustine Hotel has on TripAdvisor and check out current pricing and availability on Booking.com.
Design Hotel Neruda
When a 4-star hotel feels as special as Neruda Hotel, it's more than easy to include it in the top luxury category. Located on a quiet street near Prague Castle, this boutique hotel is one of the best in Prague in its category.
The rooms have been designed by famous Czech designers and are spacious and comfortable.
Check out what others think about Neruda Hotel on TripAdvisor and see what the current prices are on Booking.com.
Affordable & Cool Accommodation
Mosaic House
This uber cool design hotel, all sustainable and green, has numerous levels of rooms fitting your budget and comfort level.
From the cheapest shared dorms to absolutely beautiful rooms with a view of the winter Prague Castle, this is one of the best accommodation options in Prague. Most sights are not too far from the hotel.
The wonderfully friendly staff will always be at hand to give you advice on what to do in Prague during winter.
Check out the reviews of Mosaic House on TripAdvisor and see current prices on Booking.com.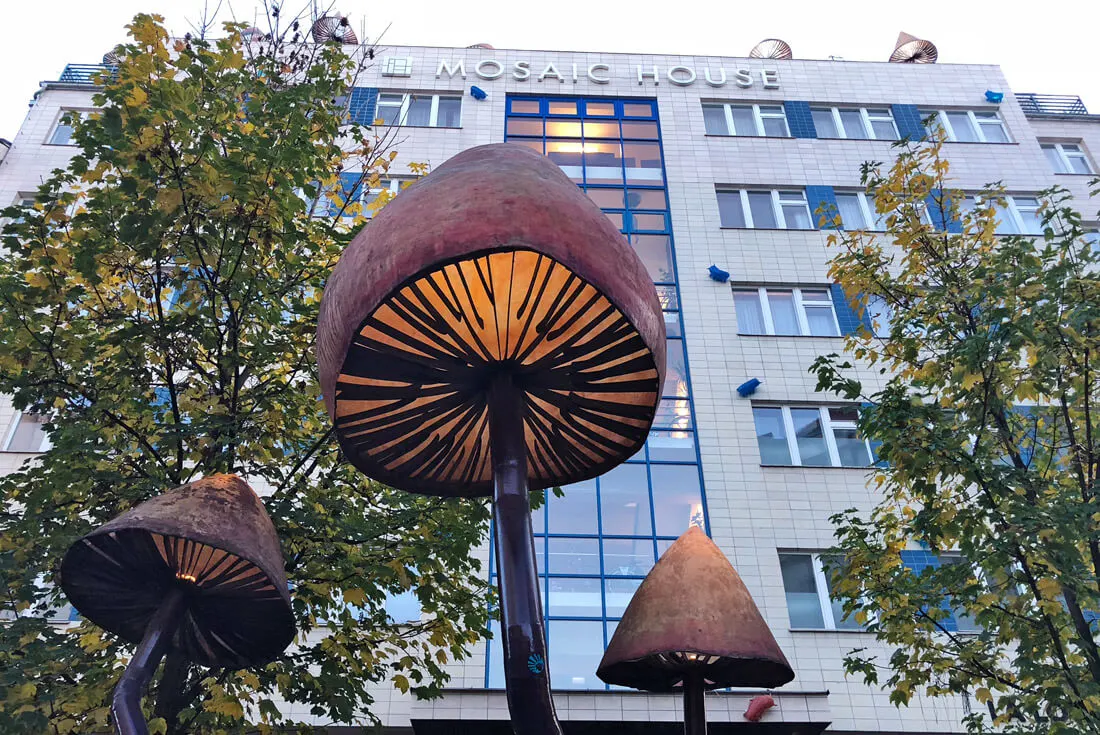 Hostel Accommodation
Hostel Downtown
If you'd like to stay in the city center while not spending too much on accommodation, this hostel is one of the best low-cost options.
The hostel is not especially charming, but it's clean and decent. Plus the staff is friendly too.
See what other budget travellers say about the Downtown Hostel on TripAdvisor and check out the most current prices on Booking.com.
The RoadHouse Prague
This brand new hostel is located on a quiet street close to the Charles Bridge in a lovely area of town.
Despite being new, the hostel has already gotten raving reviews. Its laid-back vibe and extremely friendly staff are among the most touted features.
See how other travelers currently rate the hostel on TripAdvisor and what the booking prices currently are on Booking.com.
Staying at Prague Airport
If you have an early flight in (or out), consider spending the night at Aerorooms Prague. I recently did and wrote a review about it.
Airbnb
And of course, there's Airbnb. You can stay comfortable in an apartment to your liking. Just make sure you book long in advance, Prague is popular!
Don't forget to read the reviews carefully. There are apparently all kinds of standards in Prague Airbnbs when it comes to cleanliness and maintenance. (Just something I've heard.)
Christmas Markets in Prague
If you're visiting Prague in December or early January (till the 6th to be specific), you should check out these top Prague Christmas markets. Actually, that's one of the main things to do in Prague at Christmas time – just strolling through the markets and eat ALL the typical Christmas market foods.
The markets are essentially the reason why many people visit Prague in winter.
Since Prague winter markets are almost everywhere around Christmas time, you can't escape them anyway! :)
I've browsed through the information on Christmas markets in Prague from all the different organizers and below you can read the updated opening hours for the winter of 2023/2024. The main Christmas markets of Prague will be held from December 2nd, 2023, until January 6th, 2024.
If you'd like to check out the markets with a knowledgeable local guide, opt for a Prague Christmas Markets walking tour. This one is highly rated.
Alternatively, you can go on a guided food tour, which specializes in Czech Christmas delicacies. Find more info here.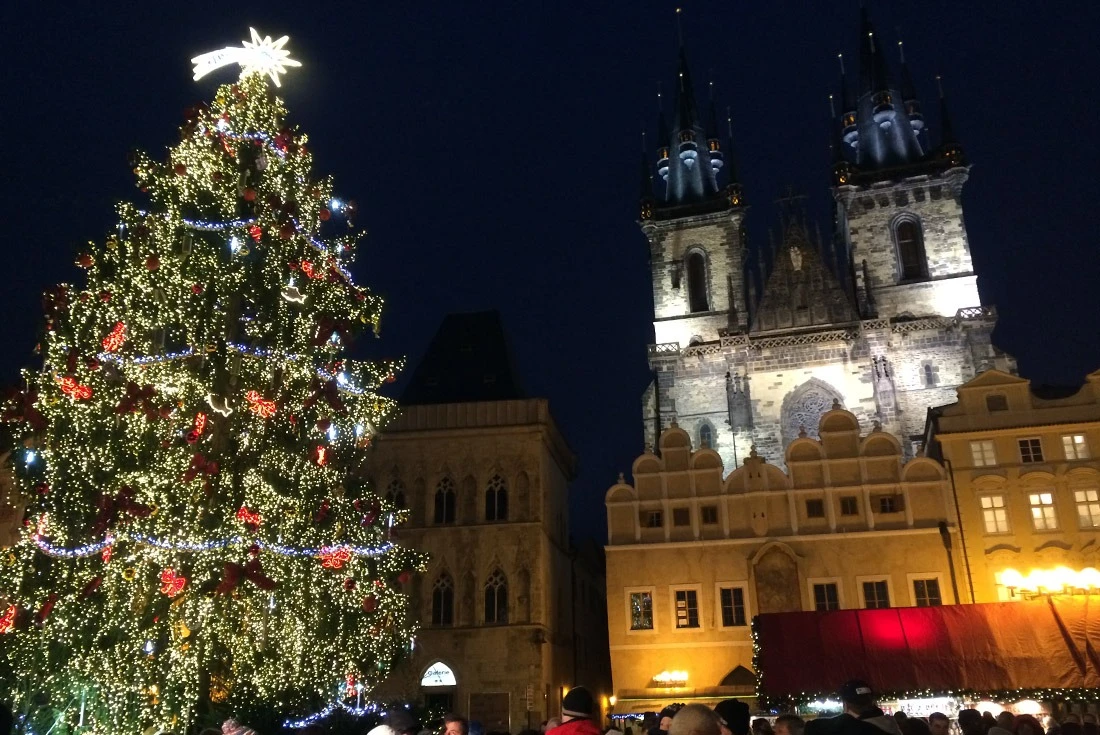 Old Town Square Christmas Market
The best and largest Christmas market is in the Old Town Squ­­are. Get a mulled wine and a pastry roll with cinnamon and sugar named Trdlo (or Trdelník). Trdlo is NOT originally Czech, but it's still yummy. (You can read about its origins here.)
Just marvel at the enormous and majestic Christmas tree and see what performances there are on the stage.
If you want to experience a little light show on the tree, stop by between 5:30 pm and 8:30 pm. Every hour, the tree will be blinking and it'll all be accompanied by festive music. :) The tree is usually lit for the first time on the last day of November.
The big Christmas tree, the cutely decorated stands, all enclosed by Prague's architectural gems such as the Týn Church, make for the ultimate image of Christmas in Prague.
The food stands covering the square offer a variety of delicious Czech meals and snacks to warm you up.
In 2023, Prague Old Town Square Christmas market is going to be held from December 2nd, 2023 until January 6th, 2024. It's going to stay open daily from 10 am to 10 pm. There's a program at the main stage from 4 pm to 7 pm. The Christmas tree is lit up every day at 4 pm and then does a little 'flickering' every hour from 4:30 pm until 9:30 pm.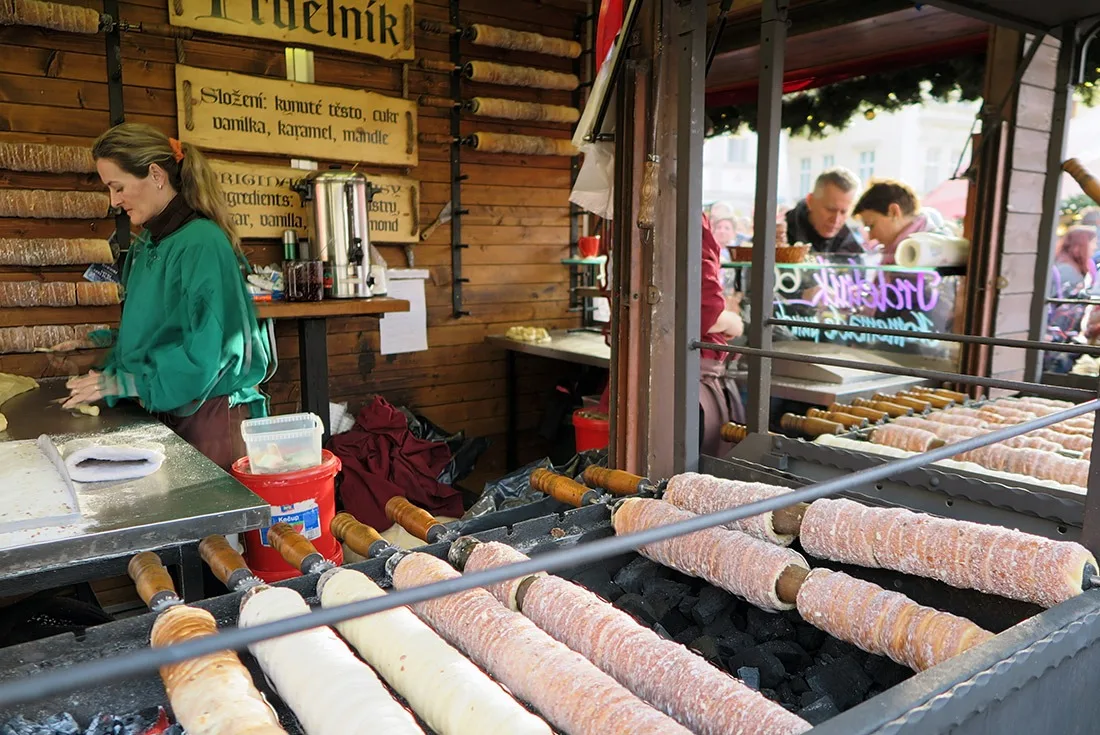 Wenceslas Square Christmas Market
In the middle of Wenceslas Square, another Christmas market has sprung up in the last years. You can get the same things as everywhere else, including food, mulled wine, and wooden toys.
There's always a cone-like Christmas tree and a hoard of tourists.
To be fully honest with you, this Christmas market is not my favorite one.
Prague's Wenceslas Square Christmas Market is going to be open daily from December 2nd, 2023, until January 6th, 2024, from 10 am to 10 pm.
Prague Castle Christmas Market
A new tradition has developed and that's hosting Christmas markets at Prague Castle too! It's indeed a special setting, to walk among the stands with the majestic St. Vitus Cathedral looming nearby.
The market there closes already at 6 pm on a workday and at 7 pm on a weekend, so make sure you don't show up too late.
Update: Since August 2016, security frames have been introduced by the entrance gates to Prague Castle. That means lines form easily.
If you wish to visit the Castle and the Christmas market, arm yourself with patience or just avoid coming on the weekend or weekday afternoon. Just an hour before the closing time is the sweet spot.
In 2023, the Prague Castle Christmas market starts on November 23rd, 2023, and runs until January 6th, 2024.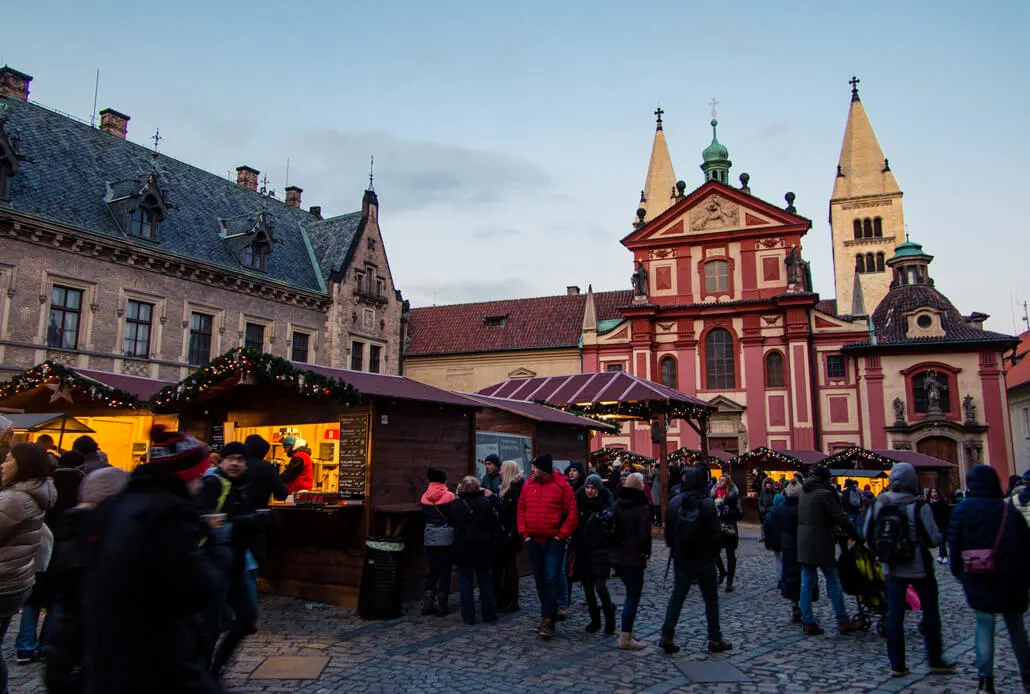 Smaller Christmas Markets in Prague
My personal favorite is the market at Náměstí Míru, easily accessible by the green metro line A. It has a more relaxed feel and the share of locals is considerably higher than at the most touristy markets.
Even we locals consider stopping for a chat with friends accompanied by a cup of mulled wine as one of the best things to do in Prague in winter. Other than staying on the couch. :D
You can visit the Christmas Market at Náměstí Míru market every day from 10 am to 8 pm from November 20th, 2023, until December 24th, 2023. It's one of the few Prague Christmas Markets that end sooner.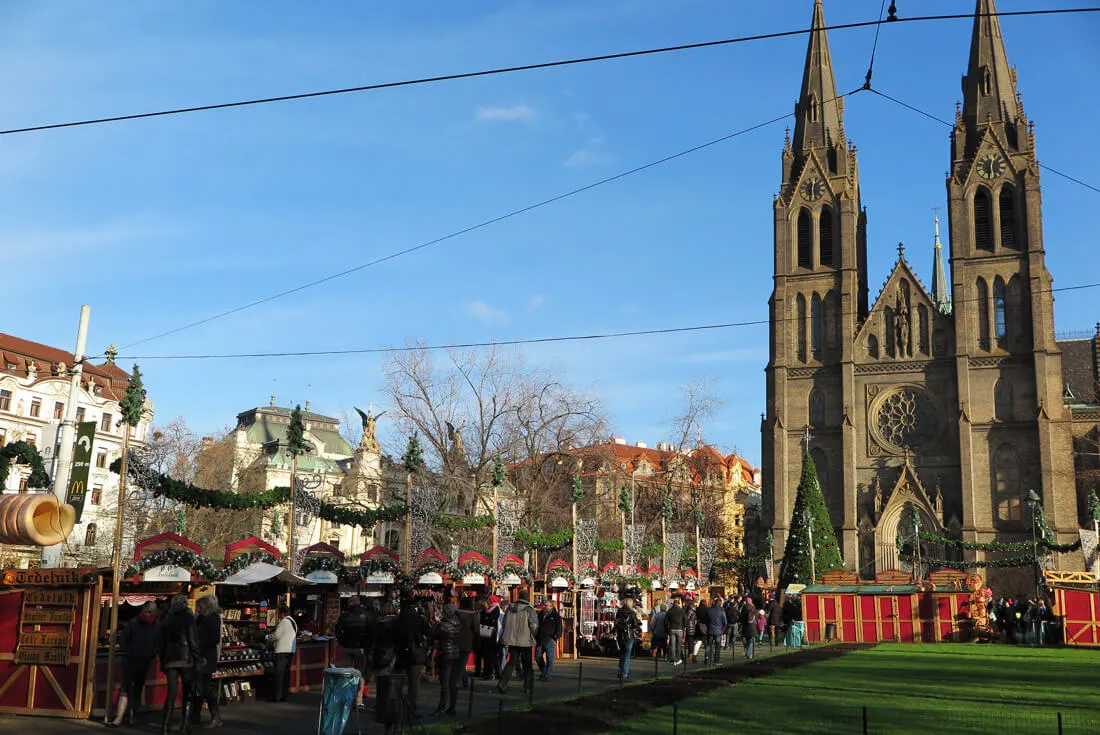 Generally speaking, the markets don't differ too much. The good news is that you'll find mulled wine everywhere! It's more about the surroundings, the people, and Prague Christmas time.
Also, if you have kids with you, you might be more interested in markets with live animals like the one on Old Town Square or even Náměstí Republiky (yellow metro line B).
Another good Christmas market is e.g. on Náměstí Jiřího z Poděbrad, also on the green metro line A.
See a full list of Prague's Christmas markets with their exact dates of operation here.
Ice-skating in Prague
If you're left wondering what to do in Prague winter time, how about an easy sports activity such as ice skating? You'll warm yourself up without the help of mulled wine or hot mead. Prague winter activities are plentiful, but ice skating is the main one that can be done right in the city center.
Each of the Prague ice skating rinks listed below offers a rental of ice skates.
Ice skating in Prague Old Town
On and off, Prague 1 hosts an outdoor ice-skating rink in the very city center (at Ovocný trh). When it comes to sightseeing while ice skating, Prague can hardly be beat.
Normally, it opens on December 5 and stays open from 10 am till 10 pm until the end of January.
The location is really convenient as you can stroll there easily from Wenceslas Square or Old Town Square.
This is easily one of the most special winter activities in Prague.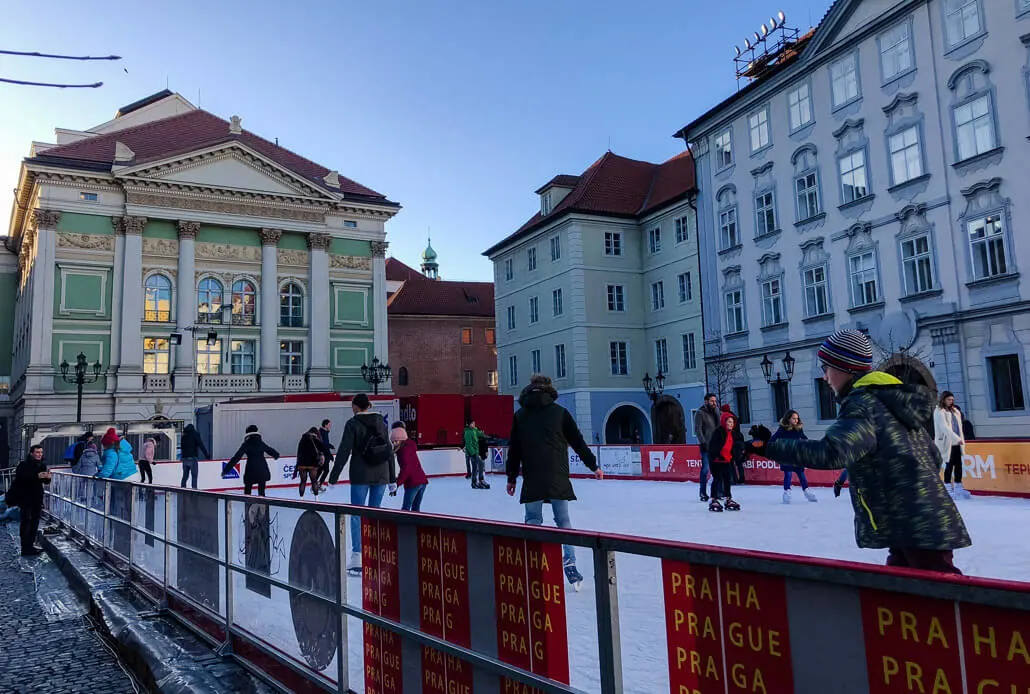 Ice Skating under the TV Tower
Also, if you don't mind venturing slightly outside the city center, an awesome rink is each year (except 2020, of course) set up right under the TV Tower in Žižkov, Prague 3!
The opening times usually follow this daily pattern: from noon to 2 pm, from 3 pm to 5 pm, and from 6 pm to 9 pm.
When considering what to do in Prague at Christmas, ice-skating definitely comes as one of the most fun activities and makes Prague one of the best winter destinations in Europe.
Sightseeing during winter in Prague
Another must do in Prague winter. Sightseeing, of course, should be done at any time of year. For the sights outdoors, it's enough if you just stick to basics. But also – visiting a museum is definitely one of the top things to do in Prague in winter.
Here's a good list of the main traditional museums.
We locals also love Dox, the Centre for Contemporary Art. They always have unique exhibitions on display!
See more museums and other indoor venues for when the weather gets rough on your visit to Prague.
Must see things in Prague, even in winter
Prague Winter Sightseeing tours
I went through the sightseeing tours in Prague and picked for you those that are best for winter. From the shortest to the longest:
1-Hour Orientation tour by bus
This short tour is ideal for when you have an extremely short time for Prague or when you simply want to get a first glimpse of the city from the comfort of a bus with large windows.
For the especially cold among you, this is a great option to see the town and pick your favorite sights to potentially explore later on your own.
Click here to check the 1-Hour Prague Orientation Tour by Bus
2-Hour Guided Tour of Prague Castle and its Surroundings
A quick tour that'll show you the ins and outs of Prague Castle, Prague's no. 1 tourist attraction.
Click here to check the 2-Hour Guided Tour of Prague Castle
3-Hour Guided Tour Covering the Prague Castle
The magnificent Prague Castle can keep you occupied easily for even 3 hours, that is if you have a good guide. This tour is one of the best-rated ones in the city.
Click here to see the 3-Hour Guided Tour of the Prague Castle
3-Hour Guided Tour of Prague's Old Town incl. the Old Town Tower
On this tour you'll explore the Old Town including the Old Town Tower with nice views of the Old Town Square. The tour then continues to the New Town.
Click here to see the 3-Hour Guided Tour of the Old Town & Tower
Private Walking Tour
If you want a tour tailored to your needs and don't mind paying more for an option like that, this tour is for you. It can be 100% customized.
Click here to check the Private Walking Tour in Prague
Check out also my list of best tours in Prague.
Prague Castle
Prague Castle is a must and should stay on top of your list of Prague things to do in winter. As mentioned earlier in the Christmas market section, there are now security frames to go through when you want to enter the castle complex. That shouldn't deter you, though.
Stroll inside and if you feel like it, buy a ticket to enter the St. Vitus Cathedral and the Golden Lane. It's well worth it.
Check out also my standalone article on all there is to know about visiting Prague Castle.
Local tip: The whole Prague Castle complex stays open until 10 pm in winter. You can come here for a late wintery stroll. To visit one of the top sights to see in Prague with zero crowds is unique on its own. Plus, if you come anytime after 4 pm, you'll be able to explore Golden Lane for free!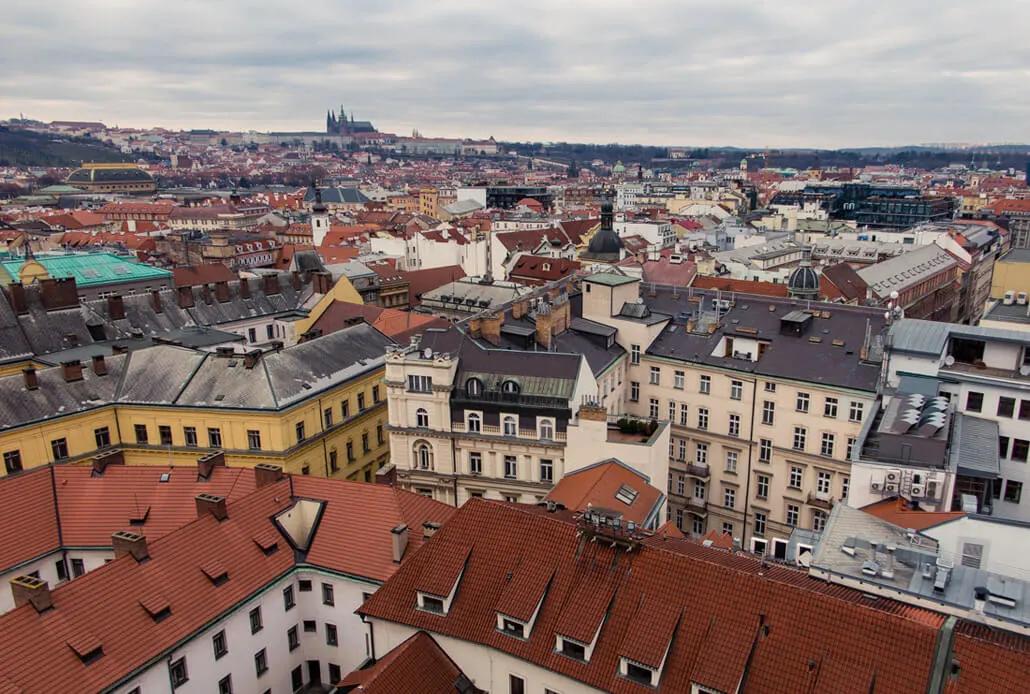 Old Town Square
As with other Prague attractions in winter, Old Town Square with the main draw being the Astronomical Clock can be easily visited any time of year.
It's going to be full of stands during Christmas time, but at least you can keep the supply of mulled wine or hot mead running. :)
For a birds-eye view of the Old Town Square, climb to the top of the Old Town Hall Tower. The views are amazing.
No matter the season or the number of days you have in Prague, there's no excuse to leave out the Old Town Square as it's a must do in Prague.
Strolling through and around the Old Town Square is also what makes Prague one of the best winter city breaks in Europe.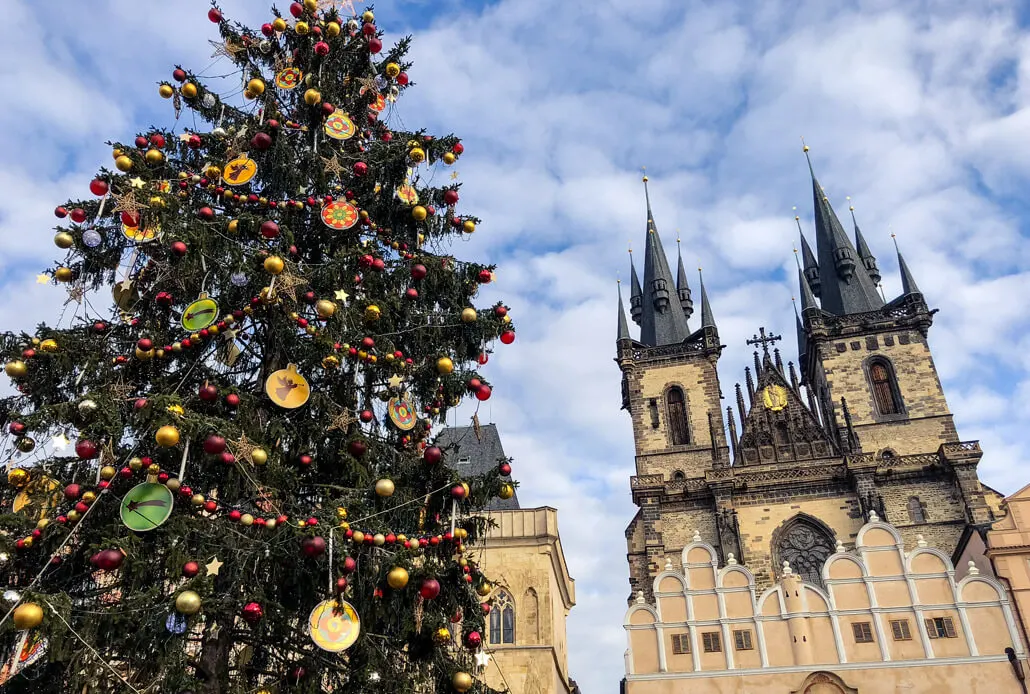 Charles Bridge
Dress especially warm for the bridge! And then stroll along it and enjoy the views of the Vltava River, the Prague Castle, winter vibes all around.
The colder it gets, the higher the chance the bridge will be less crowded. In winter, you don't have to get up as early to have it all to yourself. Even 8 am will do.
The Charles Bridge is simply another of the must sees in Prague. I love observing it from the top too – especially from the Old Town Bridge Tower, which offers views of Prague Castle as well.
The tower opens at 10 am. See more info here.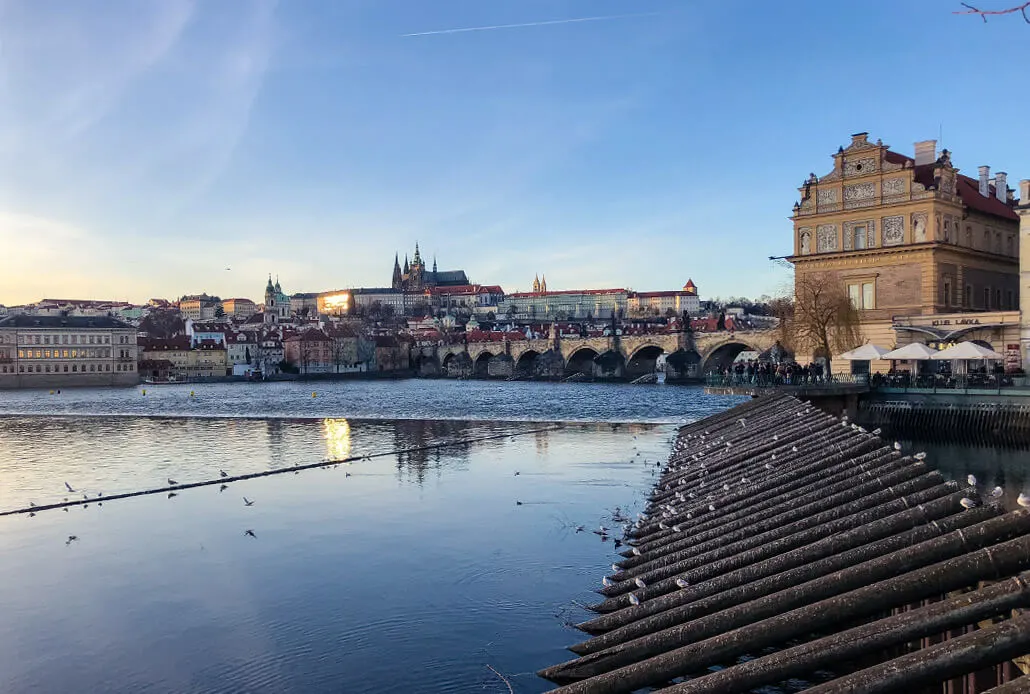 Prague at winter definitely brings magic to all the typical sights. The gargoyles on the outside of St. Vitus Cathedral, staring at every passerby, have unique beards of ice when it's below zero. Frost-covered spears and icicles on the roof edges make for a fairy-tale-like scenery.
And, my personal favorite Prague winter activity: Riding a tram!
Yes, you heard it right. If you're too cold but still want to do some low-cost sightseeing, just hop on a tram and ride till the final stop. Try out e.g. tram no. 22 – it goes through the city center and even near Prague Castle.
See all my posts on Prague by clicking here.
Events in Prague in Winter
Unlike in other cities, life in Prague doesn't come to a stop when the winter rolls in. A lot of exhibitions, concerts, and other organized events still take place in the city.
There's usually a good overview of events on Prague.eu's site, always for a month or so ahead.
Prague at Christmas: Local Traditions
Most of the Christmas traditions are naturally packed into December. The whole advent time (December 1st until December 24th) is a time when people, to varying degrees, follow traditions. In my family, it's lighting up a candle on a wreath each Advent Sunday.
On December 6th it's Saint Nicholas Day in the Czech Republic. St. Nicholas, locally referred to as 'Mikuláš', roams the streets together with his helpers – an angel and a devil. On the evening of December 5th, you might come across groups of people dressed in long white gowns or wearing devil masks.
They visit families, reprimand disobedient kids, and each child gets a little present, usually in the form of a candy package. In Prague, the tradition is followed less rigorously than in the regions, though.
On Christmas Eve, December 24th, we locals celebrate the 'main' Christmas. That's the time we feast on a Christmas dinner and afterwards gather by the Christmas tree to give gifts to each other.
It's when Christmas Prague is at its quietest. People are cozied up at home and it's mostly just tourists strolling through the town.
December 24th, 25th, and 26th marks the official Christmas holiday and many places are closed down. Christmas markets, especially those in Prague, are where the most action's at.
If you're in Prague during Christmas holidays, it's right there where you as a non-local can soak in the most Christmas atmosphere.
Visit Prague in December and you can experience all this!
Checklist of things to do in Prague during Christmas holidays
Visit Christmas markets – the more, the merrier!
Eat your heart out
Enjoy a Christmas concert in a church
Ice skate in the city center
Shop for souvenirs
Watch snowy Prague roofs from your hotel
Take it easy and relax
Other Prague Winter Holiday Events
Following in the timeline, we're getting to New Year's Eve! It's actually quite a crazy time and I usually choose to travel to smaller towns during New Year's.
There are a few places where I wouldn't go around midnight: Charles Bridge, Wenceslas Square, and perhaps also Old Town Square.
Pickpockets are at their prime time and there are drunk people, sometimes with fireworks in their hands.
Here's a local tip, though: Go to a park with a view of the city and watch the fireworks action from there! My favorite one for watching fireworks is the Riegrovy Sady park.
Another local tip: The official Prague city fireworks don't happen at midnight. There's enough madness already. Massive fireworks, which used to be the norm and disturbed birds, gradually give way to a more peaceful light show – videomapping.
Prague's official fireworks usually take place on the evening of January 1st at 6 pm.
But nevertheless, the trend is to move away from massive fireworks and instead bring in more peaceful light shows and video mapping. Last year, there were projections on the building of the National Museum, on top of Wenceslas Square.
January 6th marks the Day of the Three Kings. It's officially the end of Christmas time and on this day it's also when many people take down their Christmas tree.
The three kings, or rather people dressed as them, visit the homes of others, are hosted in a way (candy/alcohol/I don't know) and then they mark K+M+B and the current year on the host's door.
This tradition is not adhered to as strongly as in other Czech regions. In my 10 years+ residence in Prague, I've never been visited by the three kings. :)
Prague January is usually relatively quiet, event-wise.
Prague in February, especially at the end of the month, sees carnivals in the streets. Officially, it's the end of the feast season and pre-Easter fasting lies ahead. If you see people wearing masks in the street, it's this carnival's fault :)
We call it Masopust and the festival is especially strong in villages. In the past, I don't remember it being celebrated in the streets of Prague as much as it has been in recent years.
Generally speaking, visiting Prague in February and January means the least amount of tourists.
Prague Winter Itinerary – 3 days
Day 1
Morning: Charles Bridge, strolling through the whole Old Town, covering the Jewish Quarter too
Afternoon: Old Town Square with the Astronomical Clock & the largest Christmas Market in Prague
Evening: A classical concert
Day 2
Morning: Prague New Town: Wenceslas Square with the Christmas market, check out National Museum
Afternoon: Tram no. 22 to Prague Castle & Christmas Market
Evening: Sauna
Day 3
Morning: a smaller neighborhood, such as Vinohrady, with Christmas market at the Namesti Miru
Afternoon: One more stroll through the Old Town, Ice Skating at the Ovocny trh ice rink
Evening: Revisiting any place you especially loved and enjoyed
Don't forget to spend a lot of time inside!
A lot of what to do in Prague in winter revolves around staying inside. To escape the cold weather, you should stop often at Prague's numerous cafés and restaurants.
Here are 5 great cafés to choose from, and many more. If you want a personal recommendation, just let me know what areas you'll plan to visit and I'll suggest some awesome cafés for you ;)
I've also compiled a list of fun things to do in Prague in winter (all indoors, all highly rated):
And most recently, I put together a huge guide on indoor things to do in Prague, for when it rains or just when you want to stay indoors.
Saunas in Prague
If you've had enough of all this cold around you, why not give yourself a heat boost? Sauna inarguably belongs to the warmest of things to do in Prague winter. You might have an amazing sauna in your hotel, but if that's not the case, here are a few locals' favorites:
Sauna on the River
This small sauna has the most special setting – it's located on a boat on the Vltava River, by the Náplavka riverbank. It's active only in winter, so you may first want to check the up-to-date info on their Facebook page.
Saunia Saunaworld
Saunia has already 4 branches of their awesome saunas, with most of them located in shopping malls. While I haven't been in either yet, I know the guy who's behind the concept so I'd absolutely trust the quality.
Details can be found here (you'll need Google Translate).
Infinit
Back when I used to go to the sauna with friends, we went to Infinit most of the time. It used to be the biggest Prague sauna area.
It's a little further away from the city center, though, and not ideal to reach if you don't have a car. See more here.
Prague Winter Weather
December
December in Prague could be either not yet that cold or already very cold :) On average, the temperature in Prague in December hovers around -0.5°C (31.3°F) but it can be as warm as 2.1°C (35.8°F) or as cold as -3.2°C (26.2°F).
If you're curious about what to wear in Prague in December, see some of my tips in the section below.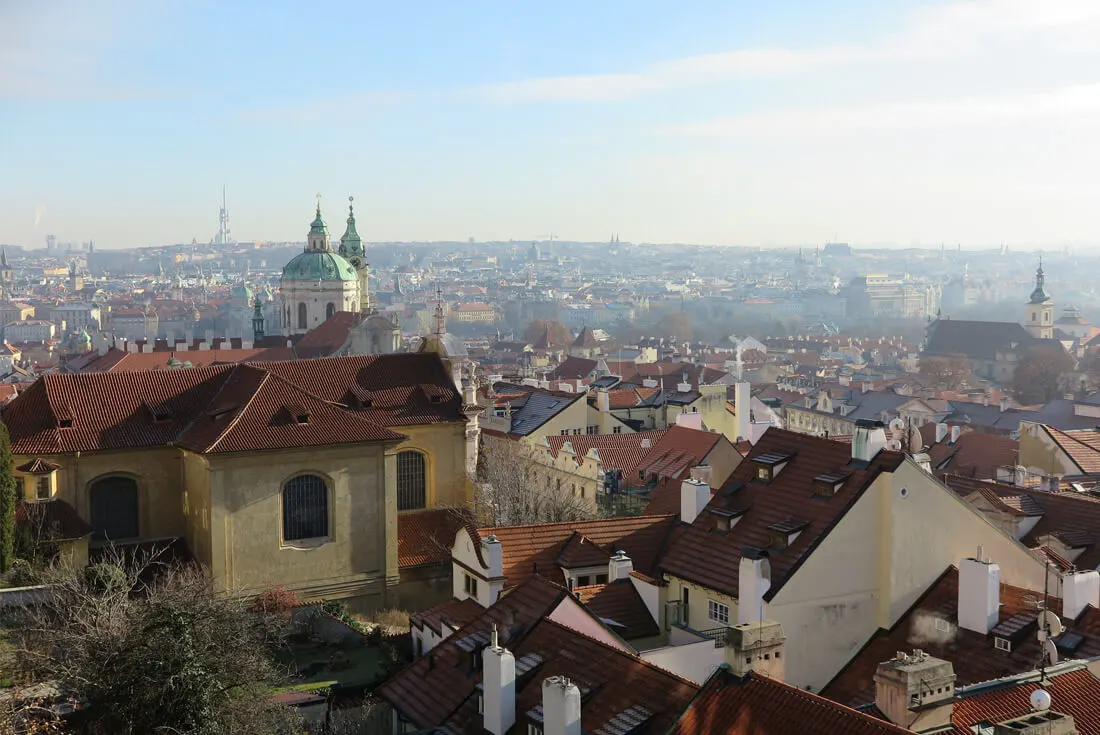 January
January tends to be the coldest month. The average temperature in January in Prague is -2.0°C (28.4°F). The warmest it could be is 0.8°C (33.4°F) or it might go as low as -4.9°C (23.2°F).
The most rewarding part about visiting Prague in January is the lack of crowds.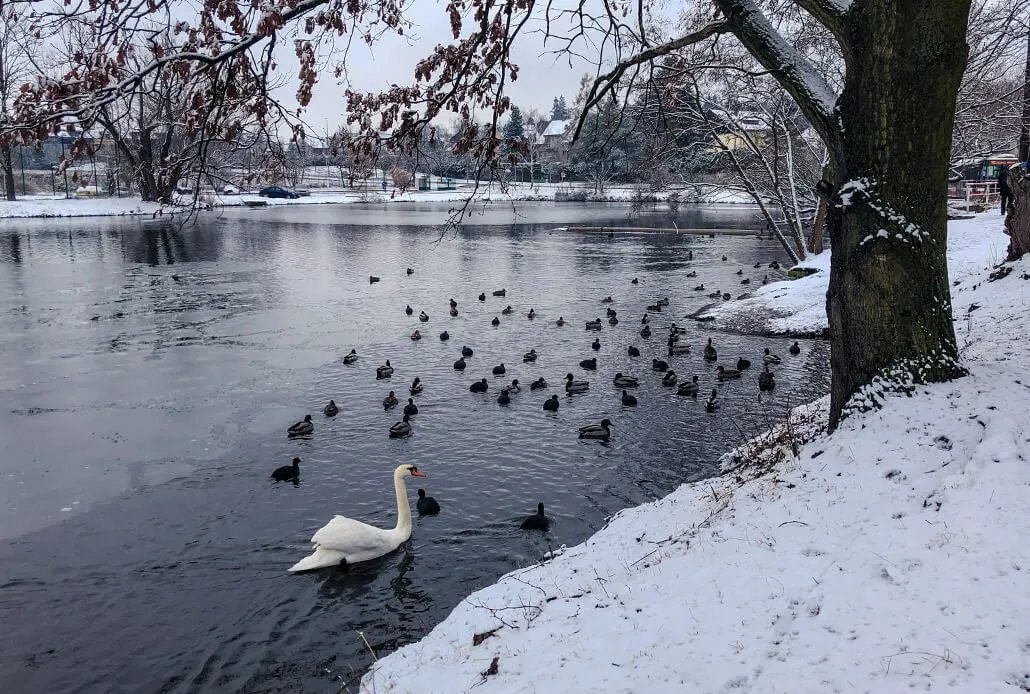 February
In February, Prague starts to get warmer again, albeit by a hardly visible degree. The temperature averages -0.6°C (30.9°F). However, it might feel like spring is in the air with 3.0°C (37.4°F) or, on the opposite, as cold as -3.9°C (25°F).
In recent years, Prague February weather has not been the nicest. The only thing that helps is that the days are finally getting longer again.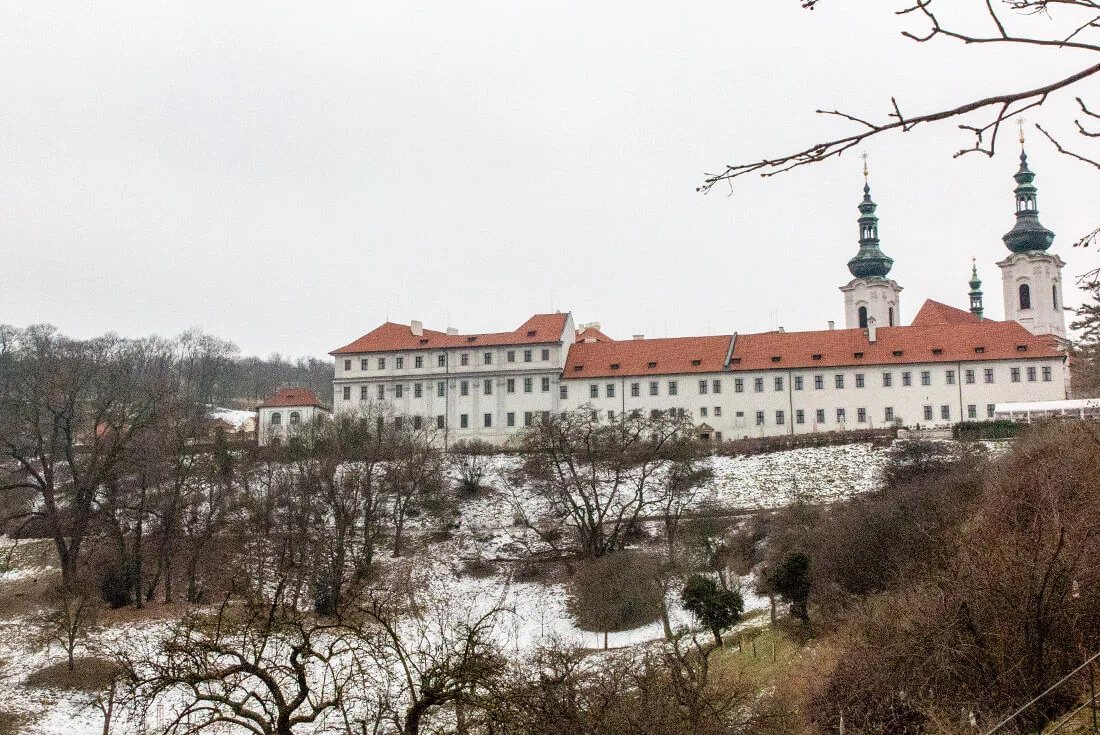 And the most pressing question of all:
Does it snow in Prague in winter?
Of course it does! The only question is when. There's a high chance there would be snow in Prague winter months – December, January, and February.
But you never know. There's no such thing as Prague snow season and each winter is different. So don't rely on snow and just take it as a bonus when you come and Prague's all beautifully white.
As you can see from my Prague in winter pictures, it's hit and miss with the snow. It might snow beautifully one day, and be all gone the next.
The snow might surprise you in early December and then not show up for weeks.
I know you long to see Prague in snow, unfortunately, I can't give any guarantees – it's the weather!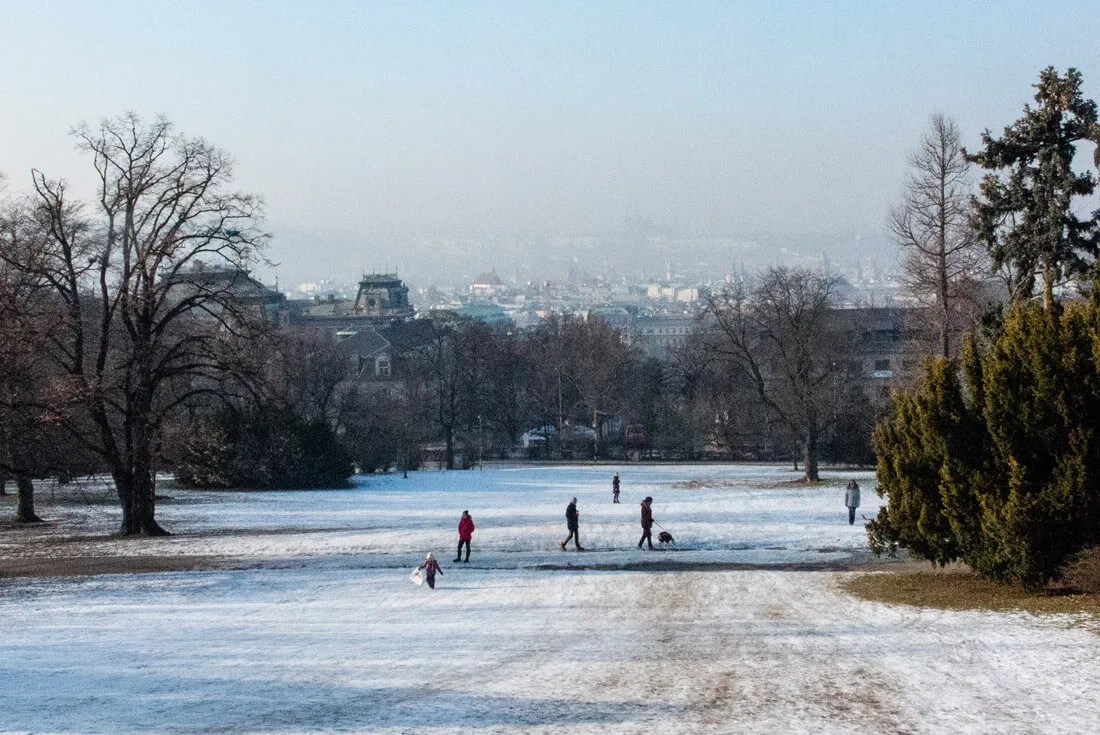 What to wear in Prague in winter?
As you could see above, Prague winter temperatures can vary greatly. Nevertheless, it doesn't hurt to dress especially warmly. No matter what things to do in Prague in the winter you're going to engage in, you should wear warm comfortable clothing to really enjoy your trip.
While the typical Prague winter fashion is usually just dark coats, don't hesitate to bring some color to the streets with some fun Prague winter outfits. :)
The key is layers. To stay out for hours on end, especially if you're not used to cold weather, you need to prepare. Like this:
Wear warm underwear, including tights for ladies or long underwear for men
Wear a hat! They can look stylish too.
Don't forget gloves
Bring a warm jacket
If your walking shoes for Europe are not warm enough, wear several socks
If it snows heavily, use an umbrella.
Prague Winter Public Transport
Traveling around Prague is convenient at any time of year. The metro, the trams, buses – everything is heated. Sometimes a little too much.
The worst part about using public transport in Prague in winter is when you need to transfer and wait at a tram/bus stop.
If you're too sensitive to cold, plan accordingly :) Stay near the main sights, travel by metro, and avoid complicated public transport transfers on Sundays when the wait times are longer.
Use dpp.cz to plan your journey around Prague.
How many days to spend in Prague in winter?
Another burning question… While in summer, you could easily spend a week in Prague and still have enough to do, I think in winter you'd be fine with 3 – 5 days.
It depends on how cold-resistant you are and whether you enjoy winter. Coming from, say, Scandinavia, you might even feel like the winter in Prague is quite warm. Coming from the Philippines… not so much ;)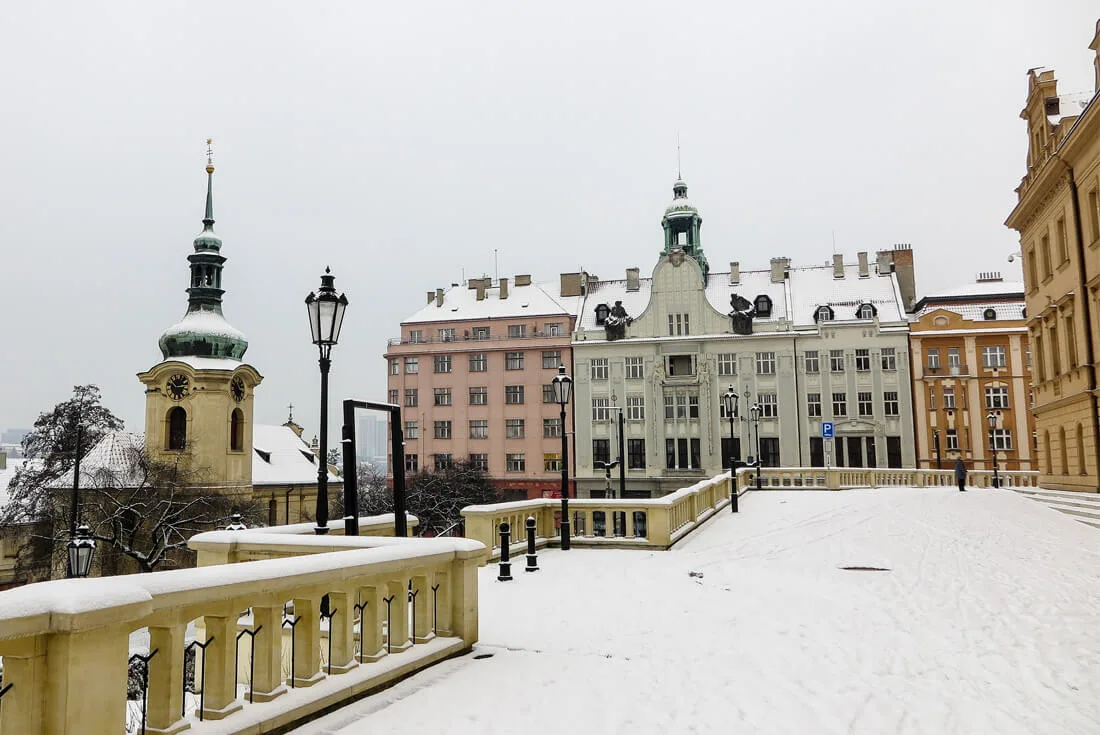 Do you need to get some work done while in Prague?
Apart from the many, many cool cafés in Prague with good wifi, I can strongly suggest the beautiful K10 Coworking space in the quiet neighborhood of Prague 2, Vinohrady.
So don't shy away from traveling to Prague during winter. Come and experience Prague from a different perspective, the winter one. Because traveling off season can be much more rewarding. I've spent many Prague winters in the city but to be honest with you, I always like to travel somewhere warm too.
The best time of year to go to Prague might as well be winter. No need to be hesitant about Prague winter travel – just come on over! Do you dare?
In case you made plans to come in the summer, I still have suggested local activities for you to do. Read the post on summer in Prague.
Have you been to Prague during the wintertime? Or what other city did you find incredibly beautiful when visiting in winter?
For a *very* different winter experience, why don't you check out my article on Winter in the Finnish Lapland?
This post was originally published in 2015 and updated yearly ever since.
Pin the image below to save for later.