Finnish Lapland is an incredibly beautiful place where nature has been kept unspoiled thanks to the rough conditions. Only brave travelers make it up above the Arctic Circle!
Read further to see why you should be one of them.
Winter is actually the best time of year you could come to Lapland. Most of the traditional Lappish activities involve snow, so you'll need to come from December till early April to experience the real thing.
Would anybody in their right mind travel to Finland, and Lapland, in December, January, February? You bet! And you, too, absolutely should. Visiting Lapland is one of the best things to do in Finland in winter. Apart from drinking with Finns :D
For practical info on getting to Lapland and where exactly to go, scroll to the bottom of this post. But first of all:
Where is Lapland in Finland?
Lapland encompasses the top part of Finland and actually stretches to Sweden and Norway too. It's sparsely populated thanks to the tough living conditions and the Second World War.
Today, Lapland in Finland is home to about 3.4 % of the Finnish population. It's also home to the Sami people, who present the only indigenous population of the EU.
Scroll to the bottom of this post to see where Finland Lapland is on a map.
Btw. you could even visit Lapland after enjoying one of the extraordinary Arctic Cruises on offer, giving you the chance to see a variety of breathtaking destinations ahead of arriving in Rovaniemi.
What to do in Lapland: Must-dos
These are the essential things to do in Lapland in winter. Whether you come for a few days or a few weeks, make sure to check these 6 Lapland Finland activities off:
1. Sauna
You can't just come to Finland and leave out the sauna! Even if you don't crave for it, you've got to try it at least once if you find yourself in the motherland of saunas.
Almost each hotel provides a nice sauna, so you'll have plenty of options.
Visiting Lapland in winter provides for perfect cooling opportunities after a heat session. Finns roll around the snow for cooling off after sauna. Will you be that brave too?
2. Northern Lights
The magic Aurora Borealis can be sometimes spotted on the sky even if you're not trying. Given that it's a rare sight and even most Finns have never seen one in their life, you might want to help your luck and get a tour that specializes in chasing Northern Lights.
They usually know the best spots for spotting it where the sky stays clear and can guarantee up to 70% chance!
I recommend more Finnish Lapland tours below when listing the main places to visit in Lapland.
3. Husky safari
This safari was my fave! One of the best Lapland winter activities involves riding through beautiful landscapes, trying to slow the dogs down a bit, as they have an insatiable desire to run at the speed of light.
The silent ride, interrupted only by the dogs' barks and excited shrieks, makes for a great adventure.
Your dogs will pull the sled happily and will occasionally turn around to check who's at the helm. :) Husky riding is one of the most popular winter activities in Lapland Finland.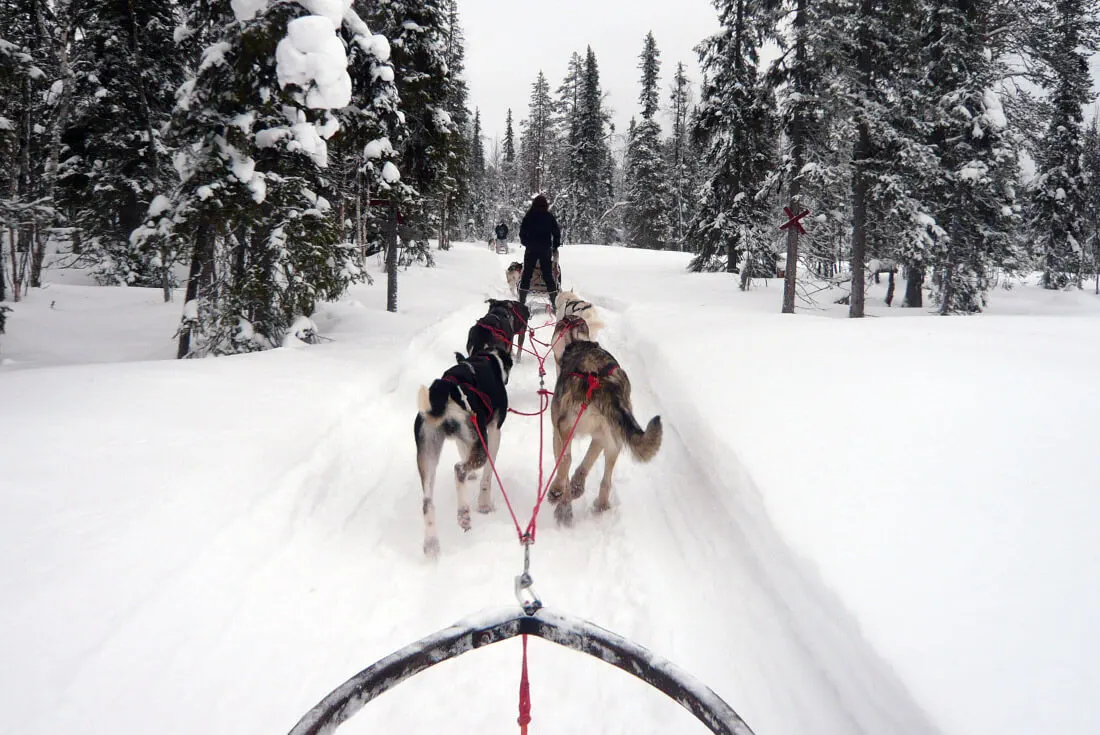 4. Reindeer sleigh ride
One warning: reindeer are rather slow animals. If you take a reindeer sleigh ride after a husky safari, you'll be bored to death. Separately, though, it's incredible fun too!
No wonder that also reindeer safari has become one of the most beloved winter activities in Finland.
You can nicely relax in the sleigh padded with reindeer skin and watch the peaceful scenery around. If you take kids with you, they might fall asleep (isn't that a plus?). As such, Lapland comes highly recommended when considering visiting Europe with kids.
5. Snowmobile driving
Driving a snowmobile will get your adrenaline levels up! Let your engine roar and carry you over snowy hilltops and frozen lakes. You'll need a driver's license, though.
All snowmobile providers wrap you up in a warm overall and do a break with hot beverages in the middle so you won't get too cold. See? This is how even Lapland winter can get warm and cozy.
6. Santa Claus & Arctic Circle
Did you know Santa Claus' official base is in Rovaniemi, a little town on the Arctic Circle? You definitely should stop by if you're on your way further up North.
Santa's main post office looks really special and you can even check out how many letters came in from any country in the world.
There are elves instead of shop assistants and you can meet Santa (for €30), he's available every day!
Don't forget to cross the Arctic Circle a few times, just for the fun of it.
If you're wondering what to do in Rovaniemi, visiting the Santa Claus village is a no brainer.
Obviously, for the most Christmas cheer, you need to be visiting Lapland in December. Already at the end of November, Santa officially declares the Christmas season open.
In 2019, the season's opening is scheduled for Sunday Nov 10 at 4pm.
The Christmas festivities last for a month and on December 23 Santa hops on a reindeer-pulled sleigh and begins the mission to distribute gifts to all the kids in the world. :)
Visiting Santa in Lapland is a must, for travellers of all ages!
See all the info about Santa Claus village on Rovaniemi's official site.If you don't have a car with you, you can either go by bus, or combine a visit to Santa Claus Village with snowmobile riding and a reindeer farm visit on a tour.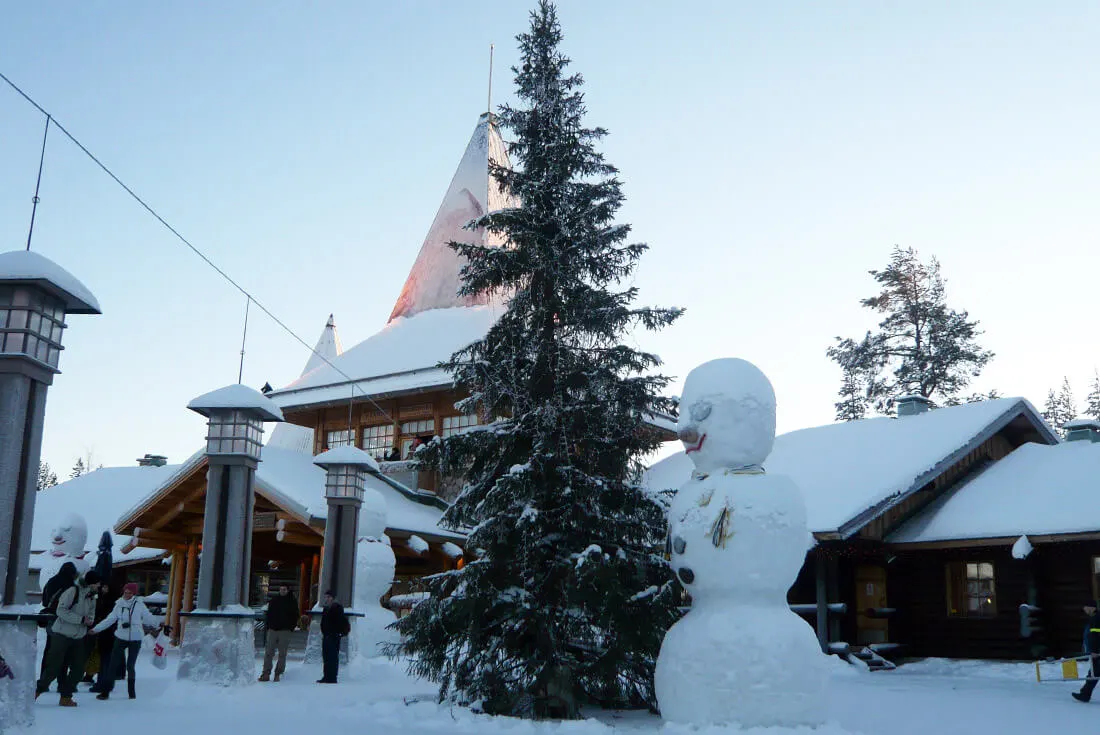 Other fun Lapland Activities
7. Snowshoe hike
Walking in the snow is suddenly much more fun if you've got the snowshoes on! You can often get on nice evening hikes through the forest, where your only source of light is the moon, stars and the pure white Lapland snow.
No flashlights needed!
8. Cross-country skiing
If you're into sports, you'll enjoy the long tracks that are around all major resorts in Lapland. Occasionally, you might spot a reindeer or two! What can beat that? This is the real reason why you'd visit Finland in winter.
9. Skiing & snowboarding
You know, Finland is a flat country. Any bigger hill is unique so to take on some good skiing or snowboarding action cannot be done just about anywhere.
The resorts that have slopes, such as Levi or Ylläs, are all great, with Alps-like level of service. They all provide rentals of equipment too, so you don't need to carry your skis all the way from home.
10. Ice hotel visit
Visit especially if there are no ice hotels where you come from. A hotel made of ice is unique to Finnish Lapland and only a few more Northern spots on the Earth.
Fancy a vodka shot in an ice glass? Head to the ice bar!
A cool hotel is e.g. Arctic Snow Hotel just outside Rovaniemi – they even have igloos you can watch the Northern Lights from! See the ice hotel prices on the links below:
Arctic SnowHotel on HotelsCombined | Arctic Glass Igloos on Booking.com
Btw. I recommend more Lapland Finland hotels below in the section dedicated to the main places in Lapland to visit.
If you don't care to spend a night in an ice hotel, you can just visit it too. Other than driving up to it, you can also take a dedicated tour.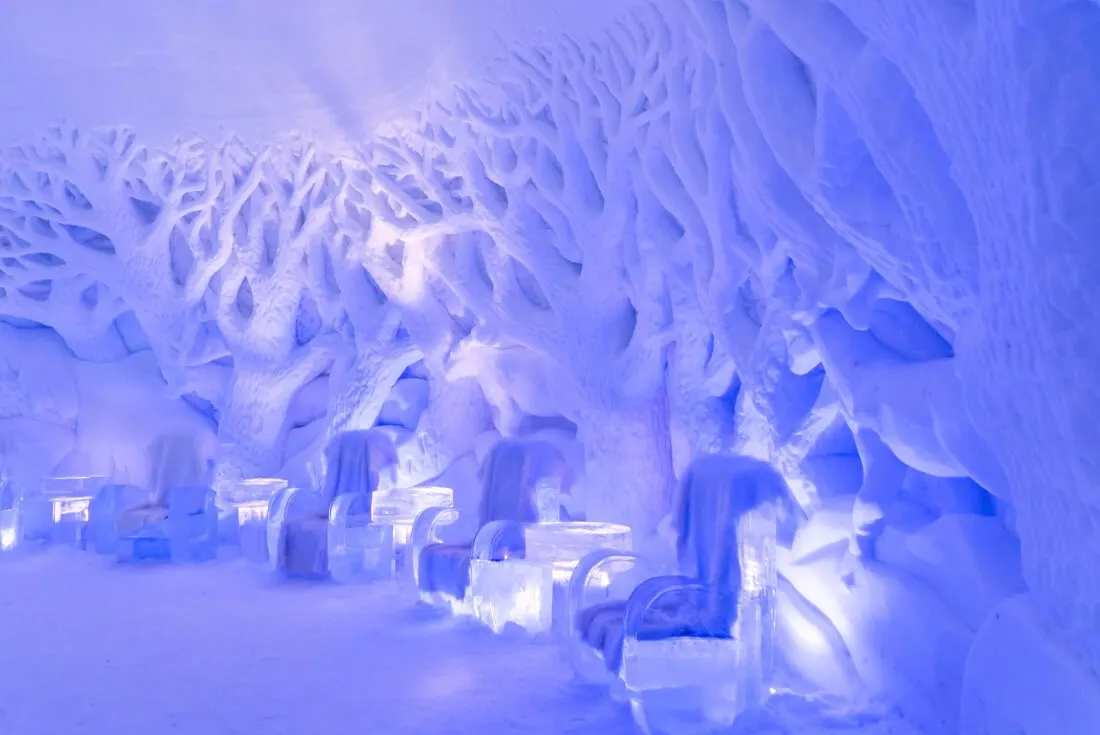 Extreme Winter Activities in Lapland
11. Ice Fishing
Fishermen or not, many people who come to Finland during winter, have the desire to cut a hole in ice covering a lake and catch some meaty fish.
I've never done it, so I'll have to refer you to a report on ice fishing in Lapland.
Lapland Ice Fishing tours usually include a lunch, meaning you'll be able to taste the fish you pulled out through your expertly cut out hole. :) If you catch nothing, your guide will be ready with a back up. ;)
12. Ice Floating
Does the thought of floating on an ice-cold lake in an insulating wetsuit fill you with excitement?
You can experience the unique ice floating on a frozen lake in Lapland.
I personally shiver just at the thought of it, but go for it if you have the guts!
13. Icefall climbing
For the wild climbers among you, get your spikes on and go climb some icefalls, or rather rappel down them! This type of excursion is always led by an experienced professional.
Just around 1,5 h far from Rovaniemi, in Pyhä, is where climbing like that can be done.
How to book winter activities in Lapland
You have several options on how to book an activity when you visit Lapland Finland, be it a husky ride or chasing the Northern lights.
Either book online in advance on the (affiliate) links provided in this article, or simply arrange them through your hotel once you arrive.
Of course, if you'd like to have your spot secured, it's better to book in advance.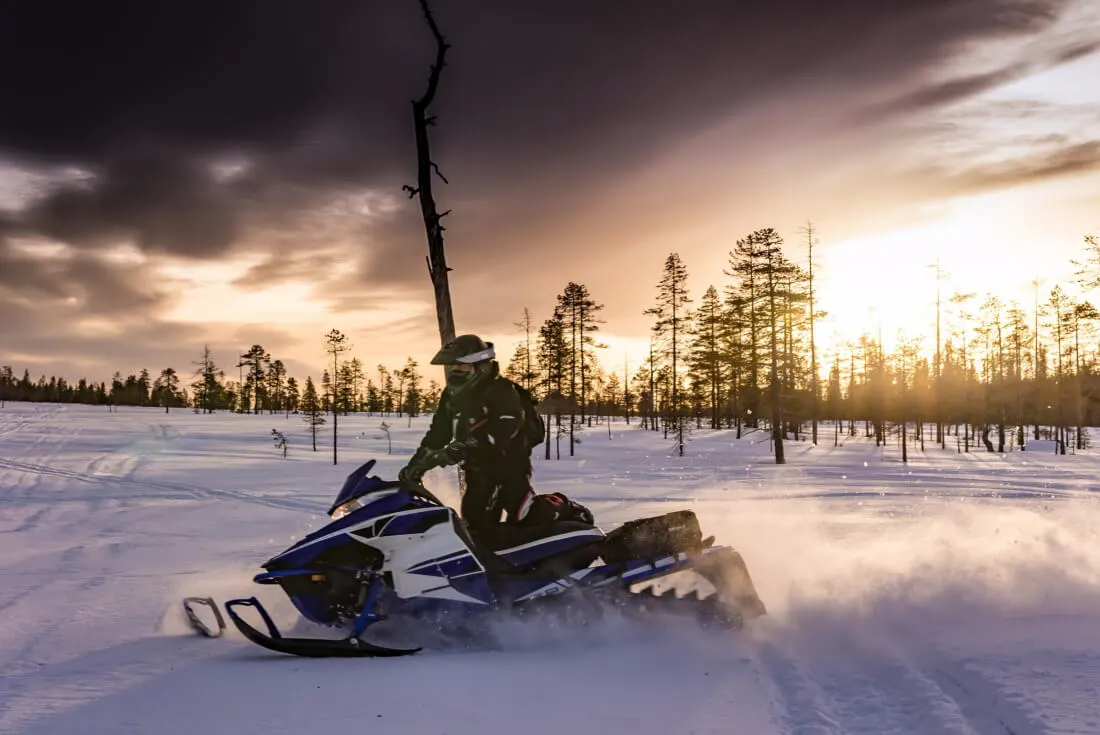 Weather conditions in Lapland in winter: Rovaniemi
How cold does Lapland get in winter? Of course it varies, but you can be sure the temperatures will drop below zero.
Below is a monthly overview of average winter temperatures in Rovaniemi. If you ask me, the best time to visit Rovaniemi for the most exciting winter fun is between late November and early March.
If you venture even further up north, the temperatures will drop significantly lower.
November: Although most of Europe still hasn't waved autumn goodbye, temperatures in Lapland are dropping and winter is knocking loudly on the door. Permanent snow layer builds up. Temperatures drop below 0°C (32°F).
December: December is usually very snowy and very dark, but it's the time of Christmas, when Lapland and Rovaniemi, Santa's home, become especially magical. Visiting Finland (Lapland) in December is a great idea! Temperatures: -15°C to -5°C (5°F – 23°F).
January: Lapland in January means the most snowy and darkest time of year with the thickest buildup of snow. So called Midwinter. Temperatures: -25°C to -15°C (-13°F – 5°F).
February: Winter's definitely not over yet, even though the days are getting slightly longer. It's still the Midwinter and temperatures range from -25°C to -15°C (-13°F – 5°F).
March: Still winter, good time to see the Northern Lights! Temperatures range between -6°C to -3°C (21°F – 27°F).
April: The winter is almost over, and even Lapland gets first glimpses of spring. Temperatures crawl back above 0°C (32°F).
Weather data taken from Visit Rovaniemi's official site.
In case you're wondering – the Finns are usually fine no matter how cold it gets in winter. When I shortly lived in Finland, zero meant 'warm'.
According to this BBC article, Finnish mums let their babies nap outside no matter the temperature.
Snow
No Finnish winter would be complete without snow. Lapland, unlike not too many inhabited places on Earth, is where you have snow guaranteed for the whole winter.
So yes, it will snow when you come in December and yes, it will still be snowy in February. I believe they've always had snow up there in January.
If snow is what you're mainly after, you need to travel to Lapland Finland, as there's no better place to go than that.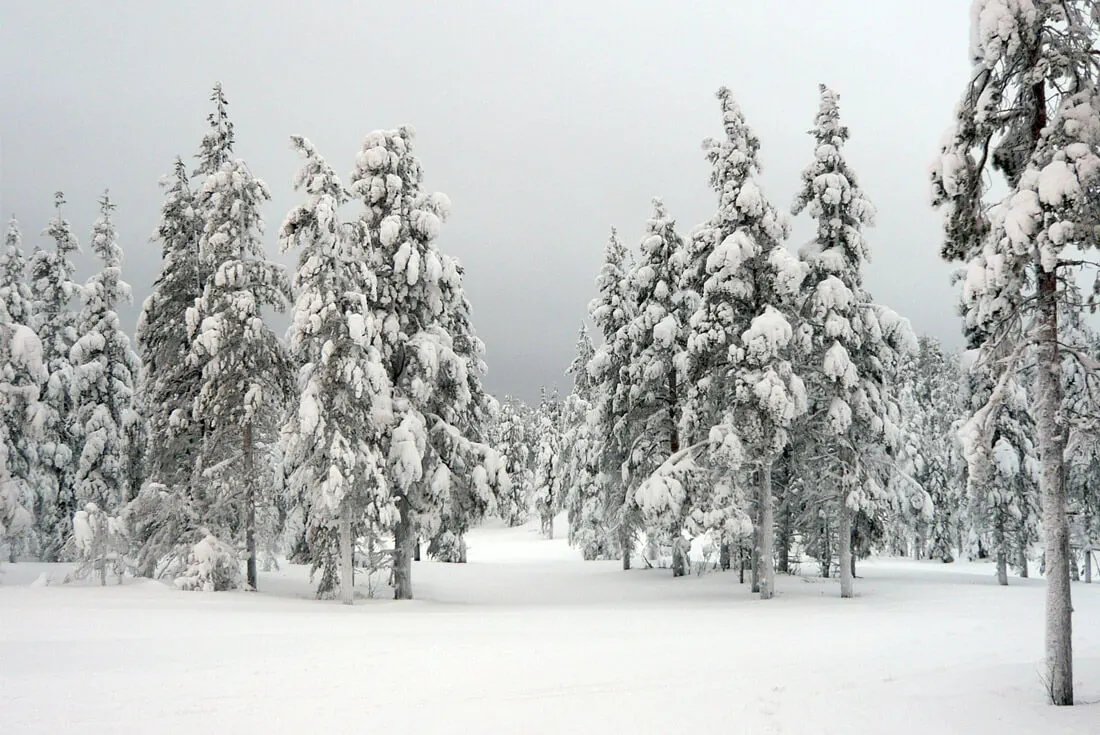 Where to go in Lapland?
Rovaniemi
Visiting the Santa Claus village belongs among the top things to do in Rovaniemi Lapland, along with a husky ride and getting lucky with the Northern lights. :)
Hotels in Rovaniemi
Luxury: Arctic Light Hotel
Arctic Light Hotel is a new luxury hotel in Rovaniemi and definitely one of the most unique ones. It's housed in a former city hall!
Check the current prices on Booking.com.
Mid-range: Arctic City Hotel Rovaniemi
This hotel's main benefit is its central location. It might not wow you, but the quality is great and it's hard to beat for the prices they charge.
The hotel's location makes it easy to reach offices of all possible operators providing activities in Rovaniemi Finland.
See what the deals are now on Booking.com.
Budget: Guesthouse Borealis
For a more low-cost option, choose this family pension. Warm welcome guaranteed!
See their current pricing now on Booking.com.
Recommended restaurant
For the best Lappish specialties, try out Restaurant Kotahovi. It's one of the best places to go in Rovaniemi!
Tours starting in Rovaniemi
You can do all kinds of tours in Rovaniemi. Here's a selection of a few good ones: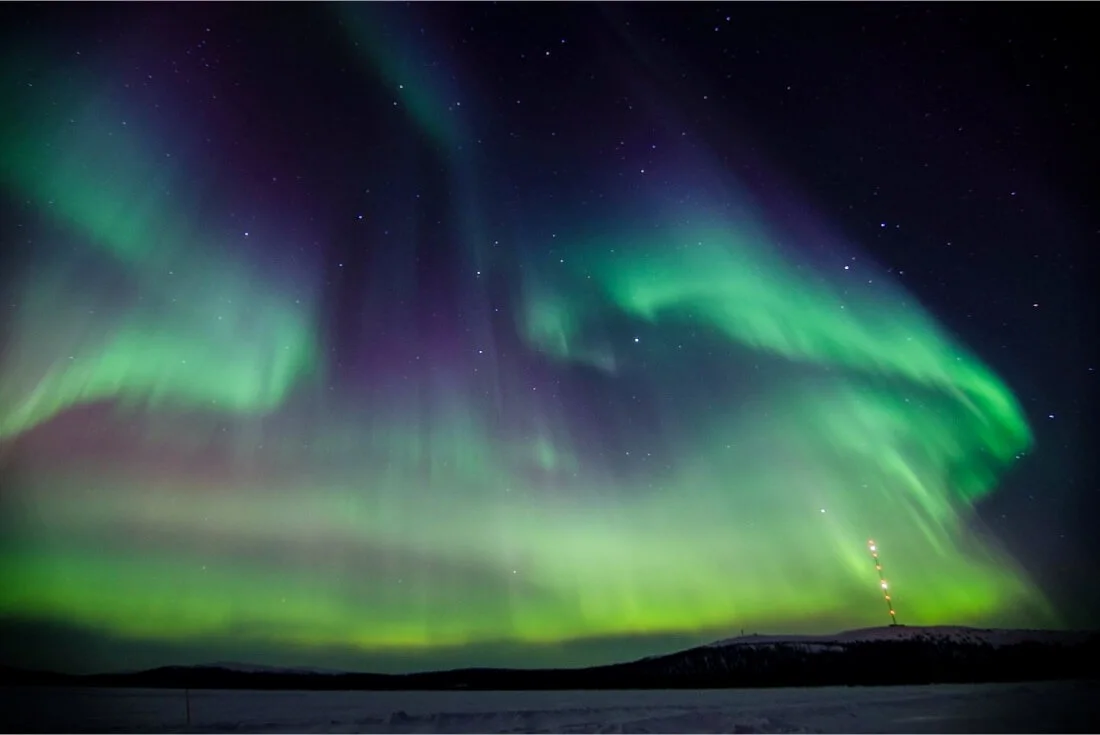 There's actually a lot to do in Rovaniemi!
However, for those of you who want to explore Lapland going even more north, I have two recommendations:
Levi
The northernmost point I'd recommend you to visit in Lapland is Levi. The no. 1 skiing resort in Finland, that's Levi. Levi has quite a few slopes in the otherwise pretty flat Finland. In fact, most of the winter fun I engaged in Lapland was right there in Levi.
Apart from the world-class slopes, there are all the winter activities you can wish for, including husky, snowmobile and other tours. Levi also lies in the Sami territory.
By the way, this place is referred to as Levi, but in fact the village name is Sirkka, and it belongs under Kittilä municipality.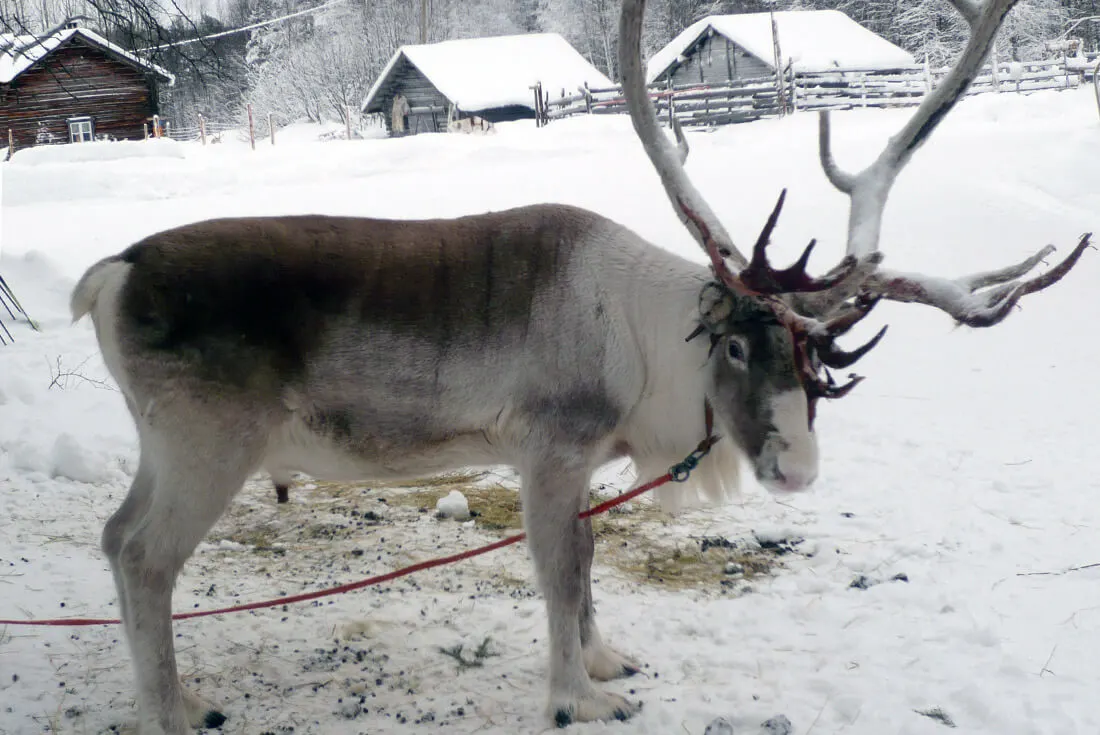 Hotels in Levi
Unique: Golden Crown Levi Igloos
These are the beautiful glass capsules that you can comfortably sleep in and watch the Northern Lights from. It's a once-in-a-lifetime experience!
See how much these currently cost on Booking.com.
Luxury: Break Sokos Hotel Levi
An exquisite hotel right by the slope, that's Break Sokos.
Check what prices rooms are now bookable for on Booking.com.
Mid-range: Hotel Hullu Poro – The Crazy Reindeer
This hotel has a unique, almost magic, feel. It has a great location and is rated highly for its good value for money.
See what the prices are now on Booking.com.
Budget: Levilehto Apartments
To stay at a cheaper place, consider the Levilehto Apartments. They are nice and comfortable, located near the centre of Levi.
Check the current price on Booking.com.
Recommended Restaurant
Don't leave Levi without going to Levin Panimo & Pub. It's a reasonably priced restaurant serving traditional Finnish and Lappish dishes with modern touch.
Tours starting in Levi
As for tours around Levi, you'll need to reach out to your hotel or a local provider on spot.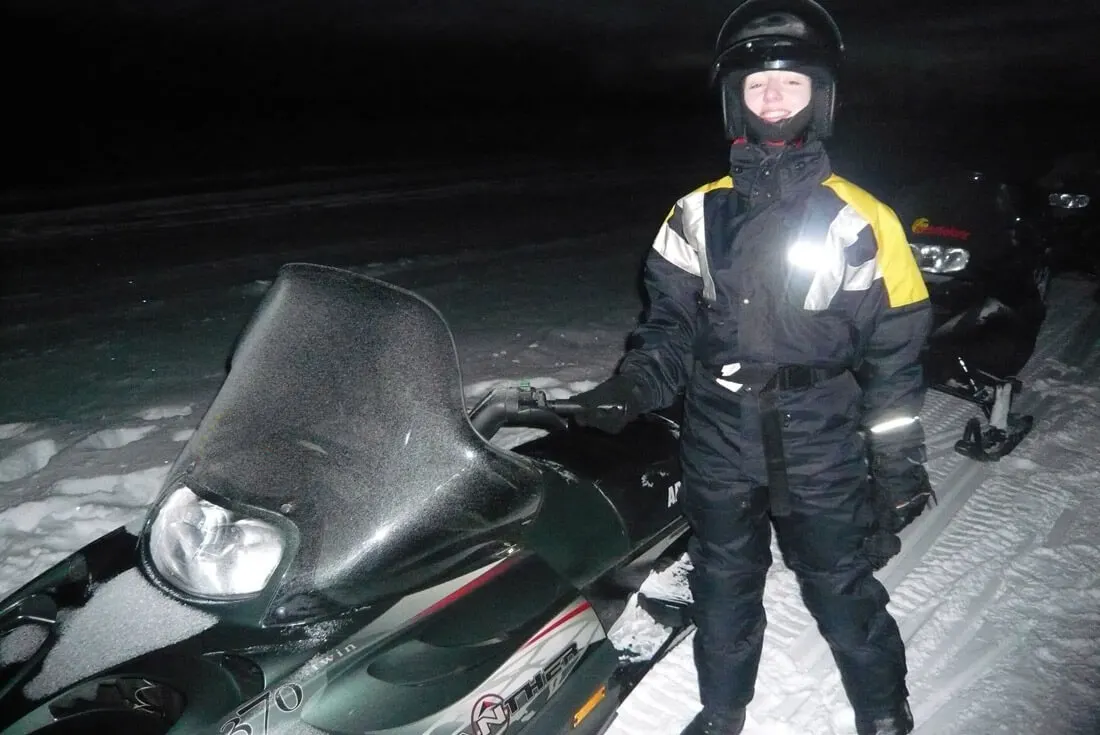 Ylläs
Another centre of all possible winter activities, just a few kilometres south from Levi, also in the Sami territory. Ylläs prides itself in being the second biggest ski resort in Lapland after Levi.
Ylläs encompasses two Lappish villages, Äkäslompolo and Ylläsjärvi, with accommodation spread out in between. Other than that, it's pretty much just arctic wilderness surrounding you.
Hotels in Ylläs
Luxury: Lapland Hotel Saaga
This hotel is the most luxury you can get in Ylläs, other than staying in exquisite apartments.
See how much they currently charge for a room on Booking.com.
Mid-range: Hotel Yllasrinne
Hotel Yllasrinne is still in Ylläsjarvi village, but provides a cheaper option for accommodation. Don't expect anything too fancy, though.
See the prices on Booking.com.
Budget: Kuerkievari KuerHotel
This hostel offers good value for money and it's still very comfortable. It's located in the village of Äkäslompolo.
Check out the current prices on Booking.com.
Recommended Restaurant
If you'd like to have a special meal while in Ylläs, make a reservation at Aurora Estate Restaurant – a bit upscale, but with top quality Scandinavian and European cuisine.
Tours starting in Ylläs
You can enjoy plenty of adventure in Ylläs! You have to book them locally, though. Your Ylläs hotel is the place to ask.
The main things to do in Ylläs include, just like everywhere else in winter Lapland, husky and snowmobile riding, Northern Lights tours, snowshoeing and, of course, skiing!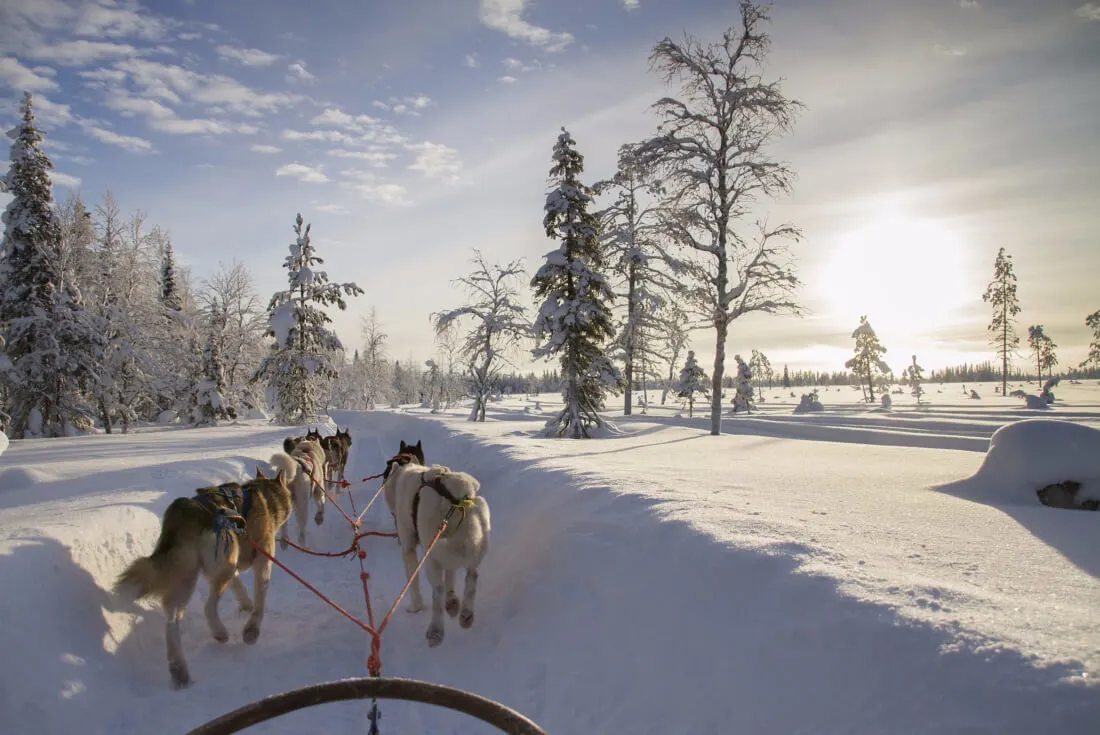 Kemi
Even though Kemi is further south from Rovaniemi, there, too, you can experience all winter fun activities that are so typical for Lapland.
The municipality is located right on the shore, and thus you can opt for some unique water experiences.
Also, every year in January, world' biggest snow fort is built in Kemi! The SnowCastle of Kemi. I haven't seen it myself, but would absolutely love to. You can find more info here.
You can visit Kemi's SnowCastle also on a day trip from Rovaniemi.
Hotels in Kemi
Luxury: SnowHotel
As there are no 'normal' luxury hotels in Kemi, you might want to go experience a luxury SnowHotel. Does it sound like right up your alley?
See how much a room costs on Booking.com.
Mid-range: Scandic Kemi Hotel
This hotel is reasonable, quiet and won't break the bank. The location is convenient too.
See how much the hotel currently charges on Booking.com.
Budget: Hostel Villa Kemi
It's hard to find a budget-friendly option in Kemi, but this hostel is great. It's on the seashore, the staff is nice, it's comfortable..
Check the current prices on Booking.com.
Recommended Restaurant
To eat a little bit like locals, head to Restaurant Merihovi. The food is good, reasonably priced (for Finland) and locals love it here.
Tours starting in Kemi
The best winter things to do in Kemi are no different from other parts in Lapland, except you're right by the sea!
I can't provide you with any links to pre-book your tours from, but there will be plenty on the spot.
Logistics
Getting to Lapland
Rovaniemi has an international airport, and you can find direct flights from many UK cities, Brussels, Dublin, Istanbul, Luxembourg, Paris, and even Tel Aviv. Most often, though, you'll have to transfer in Helsinki. Flights via Helsinki are usually cheaper, too.
Many travellers fly to Helsinki, explore the capital and the Southern part of Finland and then continue to the North in a rental car, by train or by bus. There are two bus companies: Matkahuolto and Onnibus. Tickets can be bought online.
If you plan on seeing more than just Rovaniemi, rent a car. You'll save yourself a lot of trouble. The Arctic Circle and the city of Rovaniemi are about 10 hrs drive from Helsinki.
Getting around Lapland
In case you only plan to go to Rovaniemi and take tours around the city, you can arrange pick ups from your hotel.
On the other hand, driving in Lapland in winter is not much of a hurdle. Roads are well kept, even during wintertime.
However, you should always allow extra time to get where you need, as weather conditions might change abruptly.
Road conditions for the whole Finland are updated constantly here.
See what cars you could rent in Finland.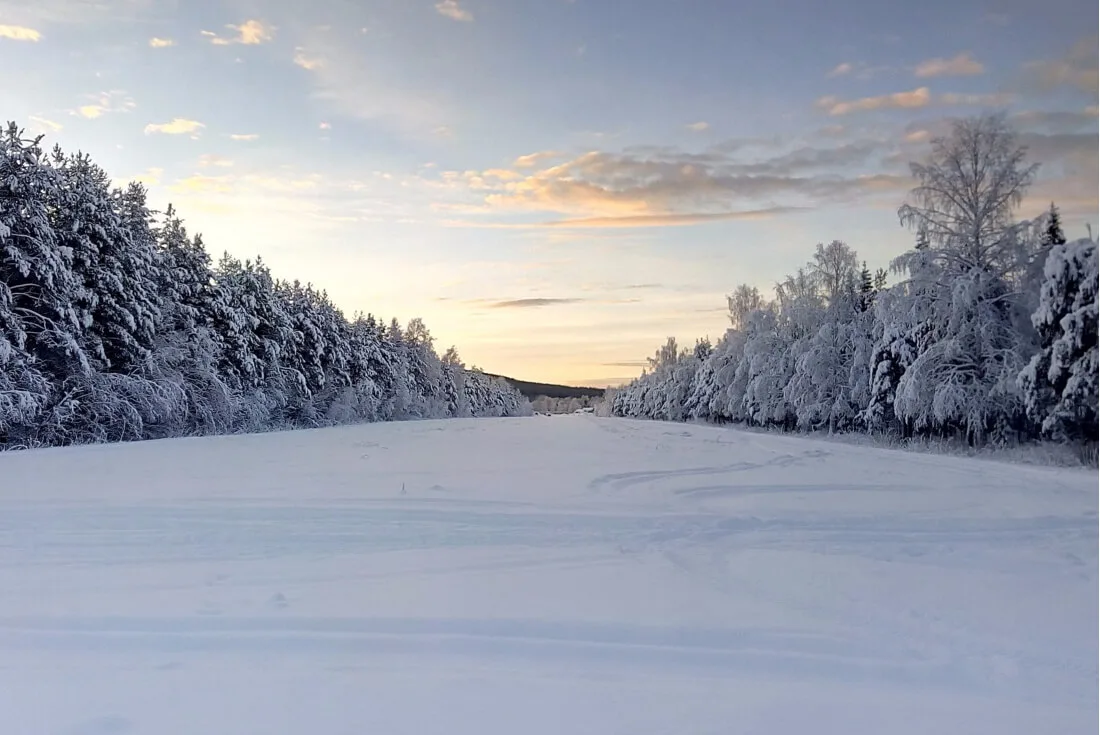 Is Lapland expensive?
I'm sorry to tell you but holidays in Lapland can hardly be cheap. Just like the rest of Finland and pretty much the whole Scandinavia.
If you need to watch your budget, you might want to come at the very beginning or very end of winter, meaning November or March. Accommodation and tour prices are slightly lower during that time.
I've tried to include more budget friendly options in each town/village mentioned in this post.
You can always save more money by not eating in restaurants every day, staying at apartments or chalets and cooking your meals.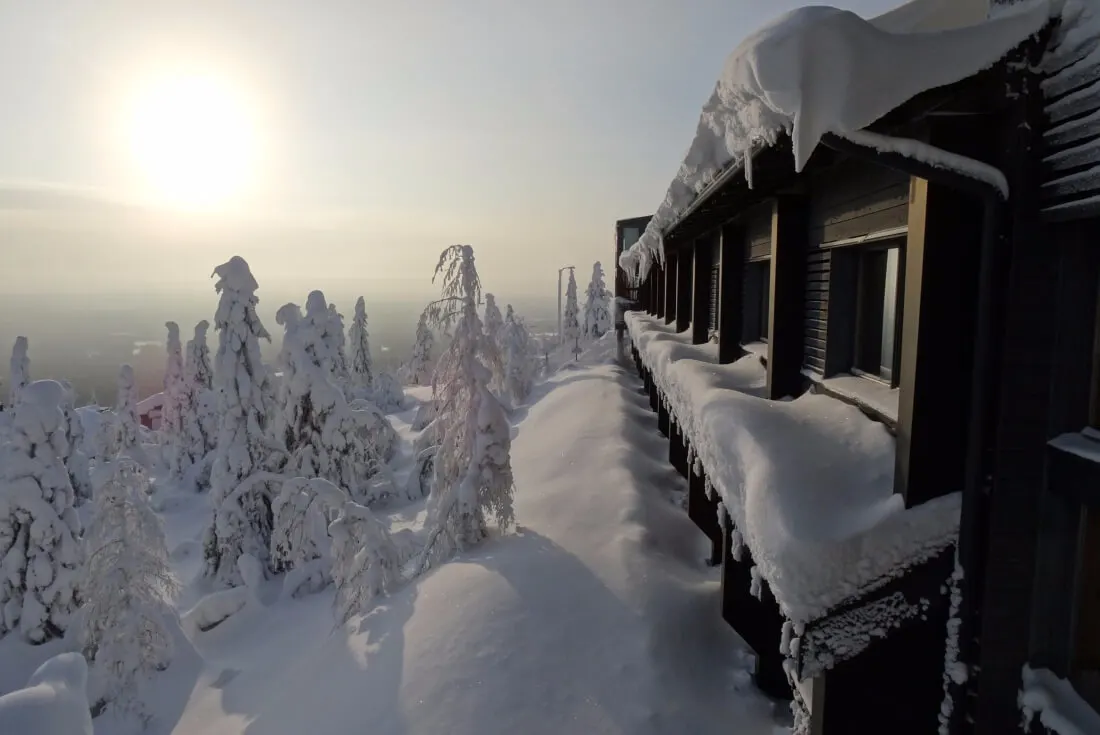 Map of Lapland (Finland)
Here you can see Lapland on a map, including Lapland points of interest and the places mentioned in this article.
For an interactive version of the map on Google Maps, click on the image.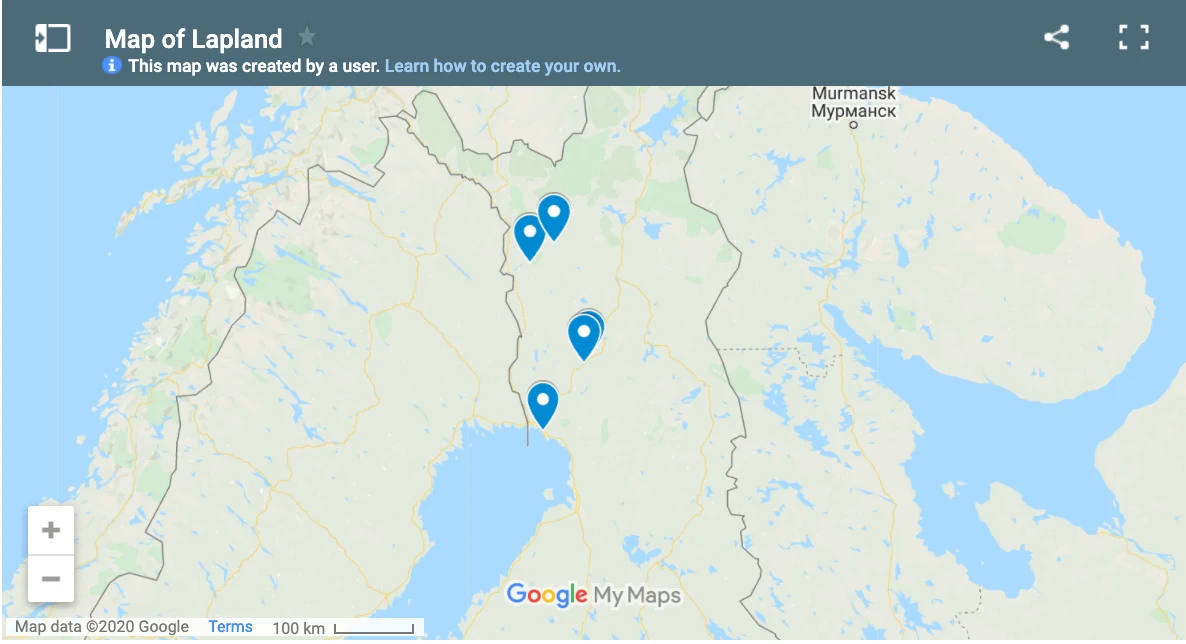 Lapland is, without doubt, one of the best places to visit in Finland in winter. I'd argue it is the no. 1 place for a proper Finland winter travel.
In my opinion, winter is the best time to visit Lapland and actually tops visiting Lapland in summer. Sure, in summer you can experience the long bright nights and the nature is beautiful, but you become mosquitoes' festive meal.
Winter in Lapland Finland, on the other hand, provides only magic and adventurous experiences.
There's no better place to visit in Finland in winter than Lapland. The South is cold too, so you might as well embrace the low temperatures, enjoy the snow and all the winter fun. (See all my posts on Finland here.)
I totally fell in love with Lapland in winter, even though I usually tend to avoid really cold places! You know, if it were up to me, I wouldn't even consider visiting Finland in winter. I'm really glad I was a bit forced into it.
Well, guess what – Lapland has become one of the many reasons I love Finland. I'm confident you'll have no chance of resisting its charm either :)
Are you looking for other winter destinations? Stockholm in Sweden is just a few hour ferry ride away. Prague is great in winter too, even though in a very different way!
Have you been to Lapland? What activities did you do?
For you, fellow Pinterest fans, here are some pins!