Miami is one of the cities where most people often rent a car. While it is a good option if you're with a group, it's unnecessary if you're travelling alone or in a couple. So how to get around Miami without a car? Well, I'm glad you asked because that's what today's post is going to be about!
Miami International Airport → Miami/South Beach
It's easy to get to the city or the beach from the Miami International Airport, and the best and cheapest option is Miami Beach Airport Flyer. It costs only $2.65 and will get you to the beach conveniently. It runs every half an hour.
Metrobus, which is a normal public bus, costs around $2.35 and can be more convenient if you need to get to the city rather than the beach, as the stops intersect with Metrorail and Metromover.
You might also run into a SuperShuttle stop at the airport. It will take you to the same areas and costs around $20. This used to be handy before the Airport Flyer came to existence. As of today I'd see its convenience just when your hotel is far from any stop or you just don't want to look for it. The shuttles are great, on the other hand, for traveling to the airport. Just have your hotel desk call and arrange it for you.
The same applies for taxis. They're convenient, but more expensive than any of the above options. Expect to pay $32 to get to South Beach by taxi.
Miami International Airport Bus and Rail Info
Miami Beach Airport Flyer [clear h=20]
Fort Lauderdale → Miami/South Beach
Fort Lauderdale has worse connections to Miami/South Beach. It's possible to make the trip by a public bus, but you need to change once and it takes around 2 hours in total. It's very cheap, though – less than $5 in total. You can take the bus route #1 from Fort Lauderdale to Aventura Mall and then transfer to a bus that'll take you to South Beach.
There are many shuttle services as well. I haven't tried any, but people seem to recommend Go Shuttle – it costs $25 and leaves once it fills up. As it's a shared service, it might take only a little less time than the lengthy bus service described above, but at least you won't have to transfer.
If you opt for a taxi, it'll cost you around $70. Let your budget decide.
Transportation options from Fort Lauderdale Airport [clear h=20]
From One Beach to Another
The beaches are well connected by the newly launched Miami Beach Trolley. It's a free bus coming every 15 minutes, covering all the beaches!
Miami Beach Trolley [clear h=20]
Miami City and Around
Local buses (Metrobus)
Buses are plentiful in Miami and the surroundings and they run quite often. For me, as a foreigner, it was sometimes difficult to navigate the bus routes and schedules, but the locals and bus drivers were very helpful. The buses are always just a few dollars.
Metrobus [clear h=20]
Metrorail
Metrorail is great especially if you need to travel to the outskirts of Miami, be it Coral Gables or Coconut Grove. It's a nice urban train network and the fastest way to get anywhere. It also connects to the Miami International Airport.
Metrorail [clear h=20]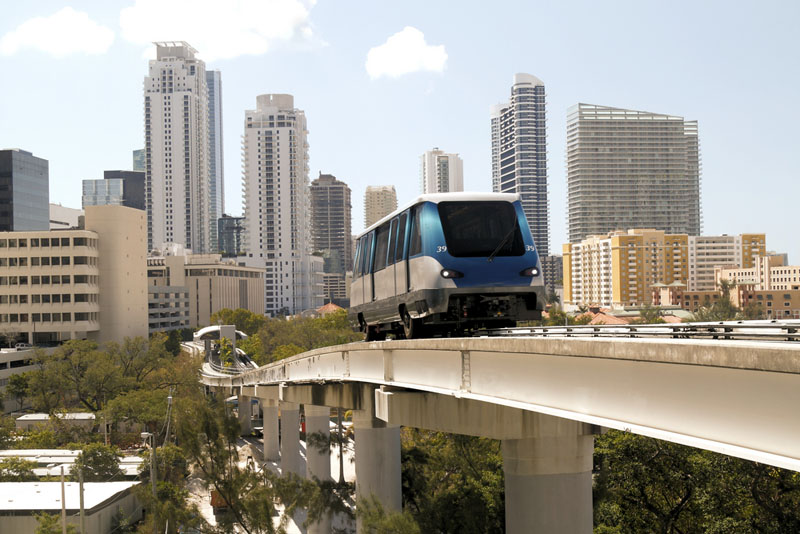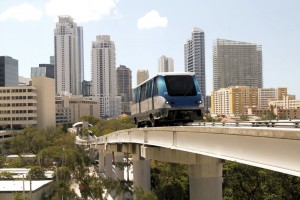 Metromover
My absolute favorite for getting around Miami city is the Metromover! It's an elevated, self-driven train that's free and features wifi access! Plus, it's really cool to ride above the city, through and among buildings. I rode it several times, more for the fun of it rather than reaching any real destination :)
Metromover [clear h=20]
Taxis
Taxis around Miami are pretty good and not too expensive for the US. However, I'd consider using a taxi only if none of the other options is available. Make sure to carry cash, card readers are rather rare in Miami cabs.
Taxis
Miami is full of friendly people and bus drivers can be really nice even if the first impression doesn't suggest that, so don't be afraid to ask! And if you speak Spanish, put it to good use while you're in and around Miami.
If you're still unsure as to whether or not rent a car for a trip outside of Miami (Keywest is a must-see!), just know that it's all manageable without a car as well. There are many tour agents located on Collins and Washington Avenue, so seeing more of Florida is a piece of cake.
There's more to convince you to give the public transportation a chance – the network works well and you'll have some great opportunities for people watching!
What to do in Miami, you ask? Here's a guide from a friend of mine stating all the free things to do in Miami.
What has your experience been with the transport in Miami? Tell us about it!
I know you love pinning as much as we do, so here something for you: