This post is also available in:

Čeština
I'm not saying you should skip Prague! Not at all. But once you take in all of Prague's beauty, despite the crowds of tourists, you might be ready for a town of a comparable charm, yet full of locals rather than tourists.

Welcome to Olomouc, the 6th largest city in the Czech Republic. With Olomouc population currently sitting at 100,000, it'll feel quite empty as opposed to Prague.
I can almost hear you ask: Where is Olomouc Czech Republic? In fact, it lies in Moravia, in the East of the Czech Republic. It's in the center of Moravia and in the heart of Haná region, a flat piece of land with a fun dialect and good people. I come from a city nearby called Přerov and used to visit Olomouc on a regular basis. In the end, I moved there! :)
If you decide to travel to Olomouc, you might find it surprising how this city doesn't receive more attention given its charm and the variety of sights and activities. Olomouc definitely belongs to one of the most underrated cities in Europe. There are many things to do in Olomouc and we'll cover them shortly in this comprehensive Olomouc travel guide.
One last thing to mention before we dive in – the pronunciation! Olomouc should be pronounced Ol-oh-moats. You're welcome :)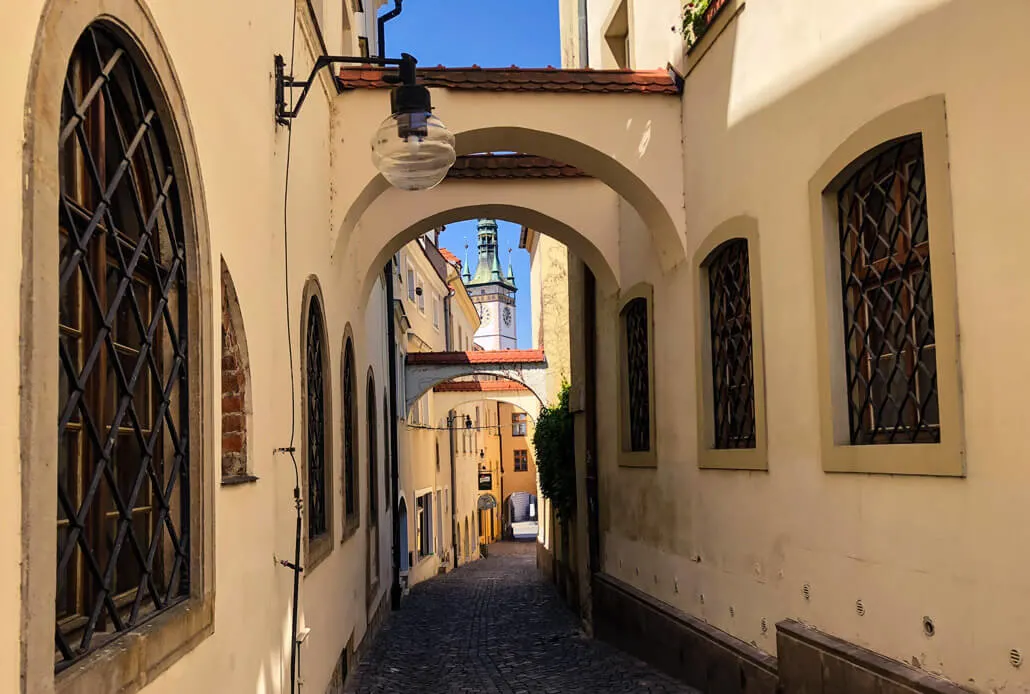 Getting to Olomouc
But first things first. How do you actually get to Olomouc?
There are a few options, but you'll most likely use the train or bus. Or you could even fly:
Train: Olomouc train station is modern and easy to navigate and there are 3 train companies in the Czech Republic that you can use to get there.

The first is the state-owned Czech Railways, the only train company, with which you should be careful when choosing a train. Opt for a Pendolino (marked "SC" as SuperCity) for the smoothest ride. Even James Bond took this one ;)
Regiojet: The trains are old but perfectly renovated. Regiojet offers great service and comfortable seating and it's one of my favorites!
Leo Express: Sleek black trains which provide good comfort and awesome food. I personally take Leo Express at least once a month.

Bus: The Olomouc bus station is located near the railway station. You'll have to take an underpass under a road, but it's less than 5 minutes away. Convenient, right? I would say the bus is much less comfortable, and the less time you spend on the main Czech Highway, D1, the better.
Plane: While there is an "Olomouc Airport", it's not meant for civil flying. You could land there if you have a private jet. Do you? :) Otherwise the nearest airport to Olomouc is in Ostrava, but it's serviced from 80% just from Prague. The nearest full-on international airport is in Vienna, Austria.
Car rental: If you'd like to discover some more remote areas in the Czech Republic, renting a car is a good idea.
Prague to Olomouc
If you don't have much time to explore more of the country, you'll want to take a direct train from Prague to Olomouc. You can travel by either of the three train companies mentioned above, but I recommend Regiojet or Leo Express, or Pendolino (SC) train by Czech Railways. They all provide wifi.
The distance from Prague to Olomouc is 250 km (156 miles). The train Prague Olomouc will arrive in 2.5 hours, while you'd be lucky if you could drive it in less than 3 hours. In comparison with the distance in, say, the US, 250 km is nothing, but here it actually entails going across the whole country. :)
The same applies for the train Olomouc to Prague, of course.
Brno to Olomouc
If you are coming from Brno then I'm so glad to hear you visited the Moravian capital as well! How did you like it? :) The Brno to Olomouc train is shorter, but there the journey is not direct. You'll have to transfer in Břeclav and it'll take about 2 hours.
However, for both Brno to Olomouc and Olomouc to Brno, you can take a bus. In this case, it's much more convenient than the train and can take as little as 1 hour.
Btw. Here's a timetable of all trains and buses in the country. Use it to find your ideal connection and then go book it at the chosen provider's website.
Ok, so you travelled from the biggest Czech cities to Olomouc and now you're looking at where to go next? If you're itching to check out one of the neighboring countries, there are many exciting cities which are very close!
Olomouc to Krakow (Poland)
The Olomouc to Krakow train takes nearly 6 hours (a direct one). If you don't mind taking buses, you can make use of Flixbus, which has direct connections and the trip takes just 4 hours.
Olomouc to Budapest (Hungary)
There is no direct connection between Olomouc and Budapest and your best bet is to take the train and transfer once, usually in Břeclav. The trip takes about 5 hours and you'll have to take a Czech Railways train. That means there might be no wifi. Also, don't expect top luxury :)
Olomouc to Vienna (Austria)
When travelling from Olomouc to Vienna, people usually take the Czech Railways train and transfer in Břeclav. Such a trip takes about 4.5 hours. But recently Leo Express has started running their bus service between the two cities, shortening the travel time to just 3 hours. Currently there's only one bus per day, though.
To travel between Krakow-Budapest-Vienna-Prague, you can also check out this guide on European (night) train trips.
Getting around Olomouc
Olomouc is quite an easy town to navigate. There's no metro, but the tram & bus systems work well.
Tram
The Olomouc tram system connects the main train station with the city center seamlessly. All of the 7 tram lines Olomouc operates, run from the train station. To get to the city center:
Take the tram 2, 3, 4 or 6 to the stop "U Sv. Mořice". When you arrive, just turn left and you'll be in the heart of the town.
Or, take the tram no. 1, 5, or 7 to the stop "Okresní soud". From there, take the right and you'll find yourself on the main square.
The tickets can be bought with coins at a vending machine right by the tram stop, or at any newsstand.
Walk
Or you can walk! It's actually easy to get around just on foot. Even walking from/to the train/bus station is easy. It takes about 15-20 minutes.
Things to do in Olomouc: Sightseeing
For its size, Olomouc prides itself in a number of beautiful architectural masterpieces. Let me show Olomouc attractions to you one by one, so that you can get the Olomouc sightseeing right. :)
The Olomouc city center is charming and walkable. The main Square is called the Upper Square (Horní náměstí), even though it might appear low at the first sight. Many of the sights are centered here. The Upper Square connects towards its top with the Lower Square (Dolní náměstí).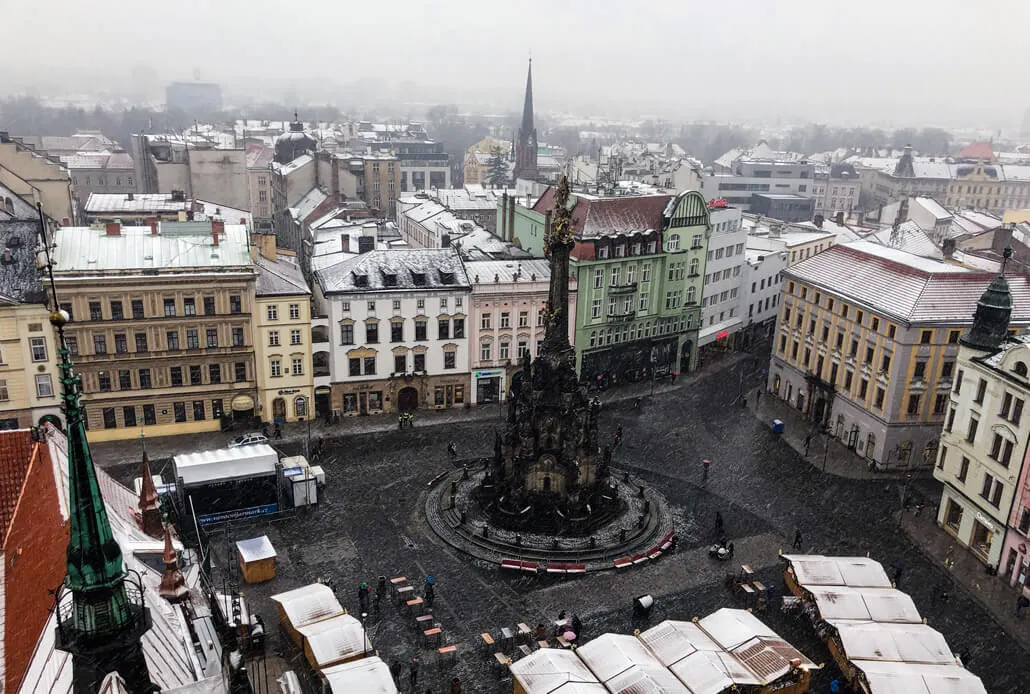 Holy Trinity Column
Sloup nejsvětější trojice
The no. 1 of all things to see in Olomouc, the Holy Trinity Column will strike you as soon as you enter the Upper Square. It's been on the Unesco World Heritage List since 2000. The sheer size of it is unlike any other columns you've seen. It's so big that there's a chapel on the bottom!
The baroque masterpiece features 18 sculptures of saints, 12 light-bearer figures and 12 relief busts of the apostles.
It's not only the looks and the size of the Holy Trinity Column that makes it so unique. Everyone who participated in the construction process between 1716 – 1754, was a citizen of Olomouc. The local patriotism and the joy that a 2-year plague was finally over, strengthened the people's inclination towards the Church and thus inspired a tribute in the form of the Column.
Notice also the golden cannonball in the column – it refers to attacks on Olomouc by the Prussian army in 1758.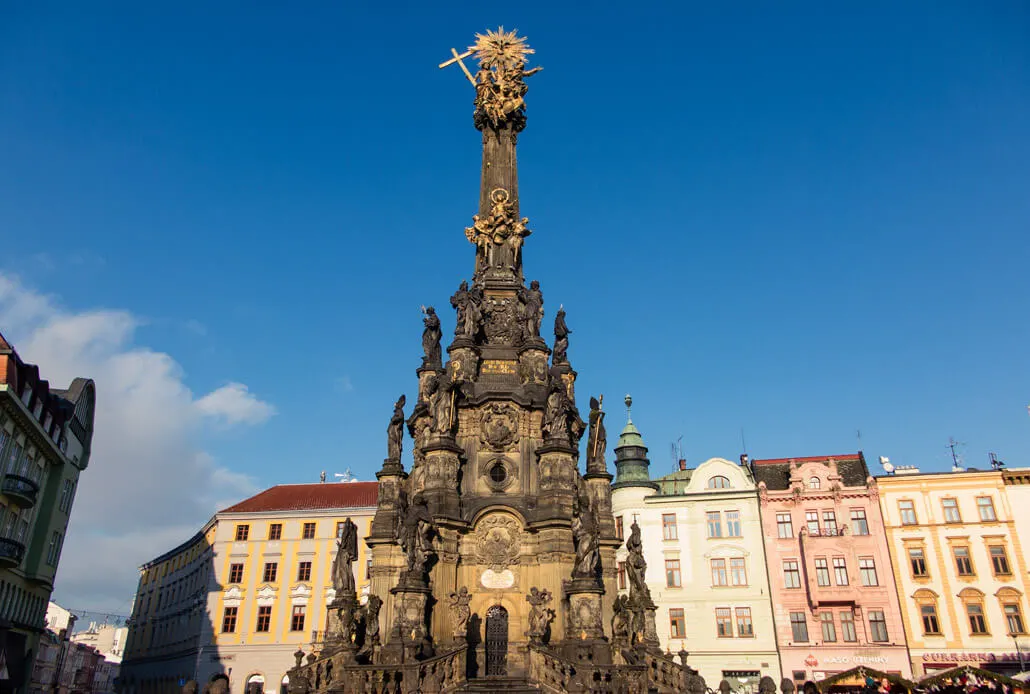 Town Hall
Olomoucká radnice
Olomouc Town Hall, located right in the middle of the Upper Square, cannot be overlooked either. The Gothic building has served its original purpose, i.e. that of a city hall, for over 600 years.
It's a clear testament to the city's importance in the past, when it used to be a capital of Moravia. Olomouc held the status of the capital since the medieval times until the 17th century, when the city 'lost' to Brno, especially due to the damages incurred in the Thirty Years' War.
If you look closely, you can notice a couple of renaissance decorations on the façade, which were added in the 16th and 17th century.
The 75-meter high tower owes its height to a redesign in the 17th century. And yes, you can go up the tower and have an amazing view of Olomouc Old Town. Just head to the Olomouc tourist information center, which is housed in one of the arcades of the town hall. They have guides and the keys. ;)
The building and the tower have undergone a major reconstruction in 2019-2020. The spire has been made anew – I walked around often to watch the process and it was fascinating. The base is from durable wood, which is then covered in copper plates.
It's also here, right in the middle of the Upper Square, where most markets, concerts and other fun Olomouc events take place.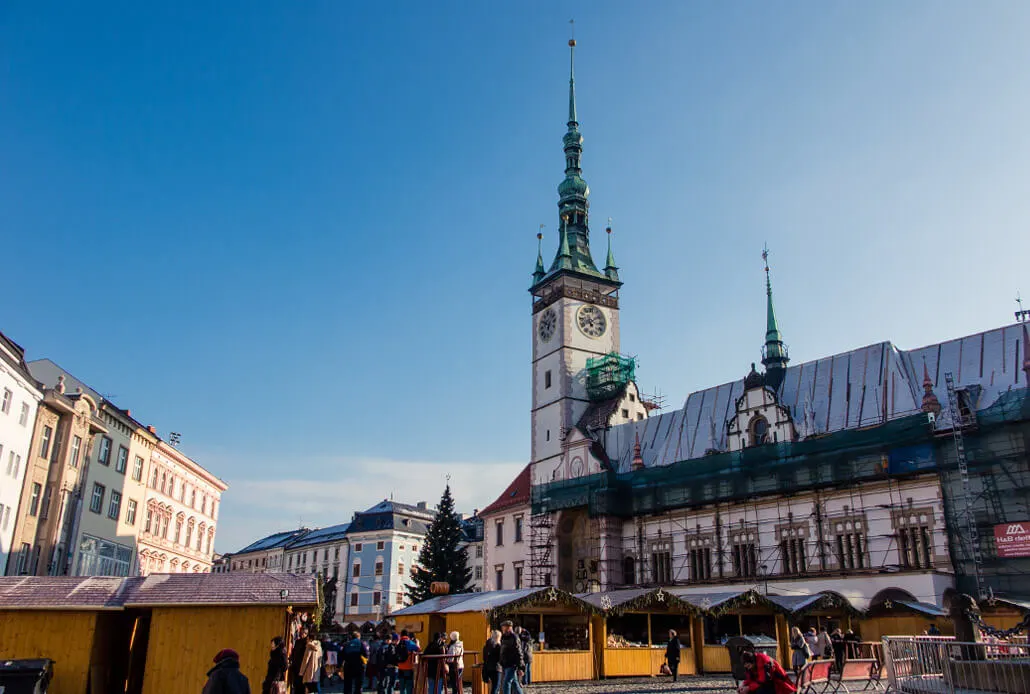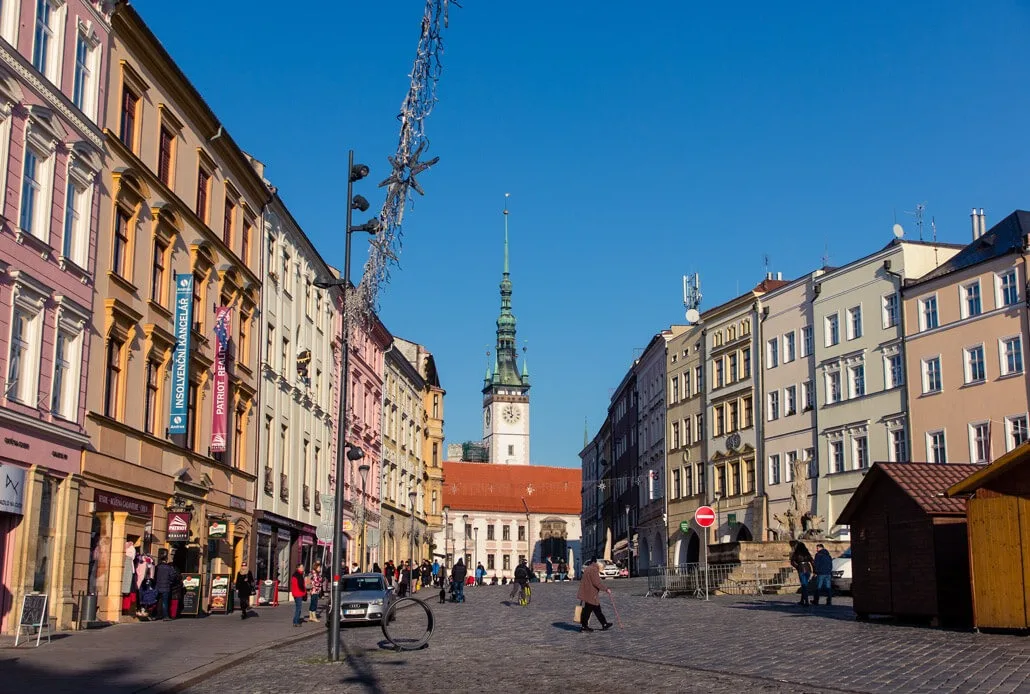 Olomouc Astronomical Clock
Olomoucký orloj
Even Olomouc has its astronomical clock! It looks very different from the Prague one, though. The clock, built into the façade of the Town Hall, was first constructed at the end of the 15th century, but a legend has it might have happened a few decades sooner.
Throughout the ages, it went from having a Gothic appearance to Renaissance and finally to Baroque. The clock got its present looks from a renovation after the Second World War, when it was badly damaged. The renovation reflects the time – the socialist realism gave it a distinct look with a mosaic depicting the Ride of the Kings and working class on the bottom of the motive.
The astronomical clock is still run by a mechanical engine coming from the year 1898. You can hear and watch its 7-minute showcase every day at noon. Instead of figures of the saints appearing in the little windows of the clock (like in Prague), you'll see craftsmen and sportsmen. :)
Understandably, the astronomical clock belongs to one of main Olomouc tourist attractions.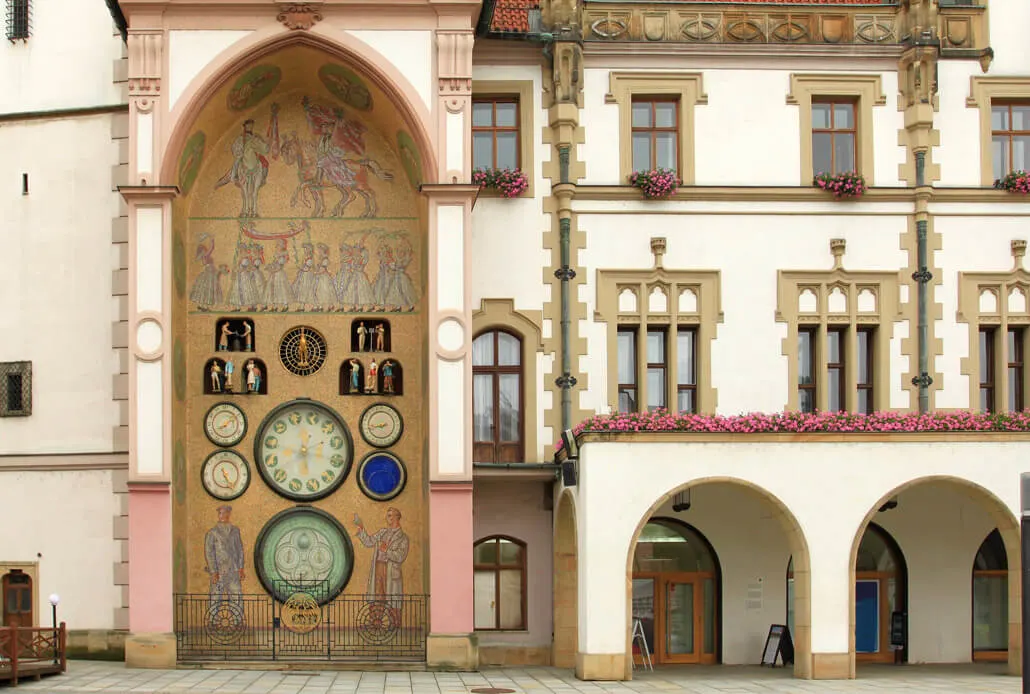 Olomouc Fountains
Another Olomouc must see. The fountains of Olomouc will peek at you from wherever you walk in the Old Town and should definitely be a part of what to see in Olomouc for every traveller. From Baroque to other styles, from old to new, they're all worth checking out.
There are 6 Baroque fountains in Olomouc, all dedicated to figures of antique mythology: Caesar, Mercury, Hercules, Neptune, Jupiter and Tritons. They had more than just a decorative function. Constructed in the 17th and 18th centuries, the fountains were built to provide locals with water.
Caesar's Fountain
Caesarova kašna
The largest of the Olomouc fountains and the most famous one. Standing right next to the Town Hall, the baroque fountain from 1725 represents Gaius Julius Caesar, the legendary founder of the city.
Mercury's Fountain
Merkurova kašna
Made entirely of sandstone, this particular fountain built in 1727 is considered the best of all the Olomouc Baroque Fountains, especially from an artistic and technical perspective. It depicts Mercury, God's messenger.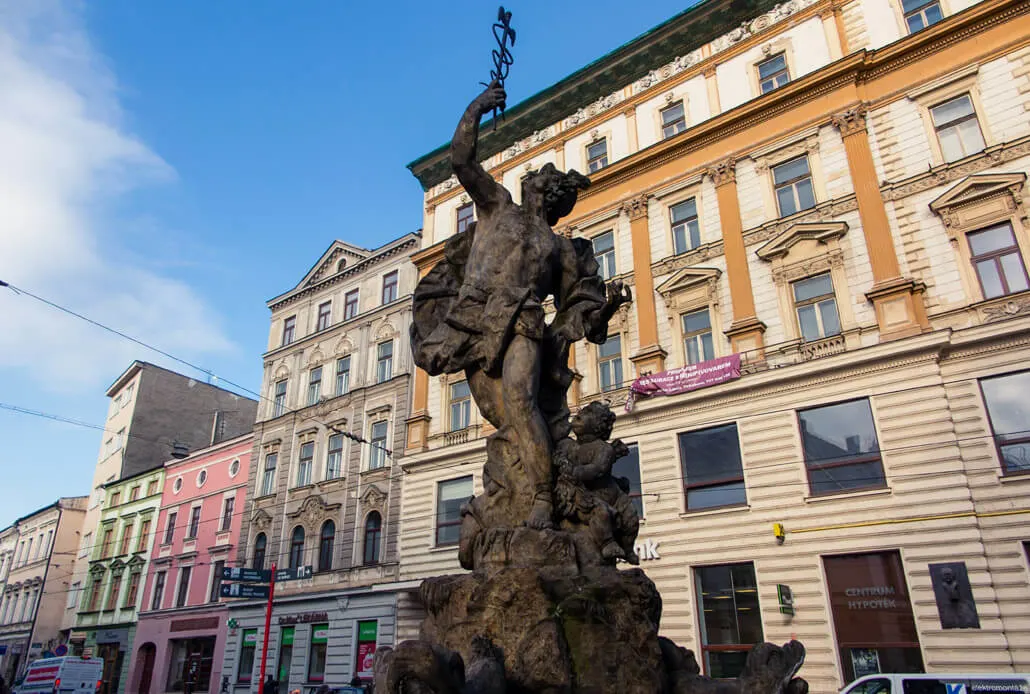 Hercules' Fountain
Herkulova kašna
This fountain was originally built (in 1687) on the spot of the Holy Trinity Column, but was later moved. I'm sure Hercules, the legendary hero, doesn't mind the current position right by the Astronomical Clock.
Neptune's Fountain
Neptunova kašna
The oldest fountain in Olomouc and the first one of the 6 baroque fountains was erected in 1683. You can find it on the Lower Square. See how Neptune is holding his trident so that it faces downwards? That's a sign to protect Olomouc.
Jupiter's Fountain
Jupiterova kašna
The most recently built Olomouc Baroque Fountain from 1735 originally had a statue of St. Florian positioned on top of the pedestal. However, to match the other antique-inspired baroque fountains, the statue of Jupiter later replaced the original. You'll find it also on the Lower Square.
The Tritons' Fountain
Kašna tritónů
A work of art by an unknown sculptor, the Tritons' Fountain is located at the Republic Square (Náměstí Republiky). The detailed composition shows two seamen carrying a seashell with a boy and water dogs. The fountain draws inspiration from the famous fountain "del Tritone" in Rome by Bernini.
Arion's Fountain
Arionova kašna
The last and modern addition to the Baroque fountains in the city, the Arion Fountain Olomouc was constructed only in 2002, but plans for its creation have been around even since the Thirty Years' War.
The fountain features an ancient tale of a Greek poet Arion, who was saved by a dolphin. If you have kids with you, let them climb on a turtle statue next to the fountain.
I feel old when I realize this fountain was built back when I was 16 years old and used to come to Olomouc to shop for clothes. :)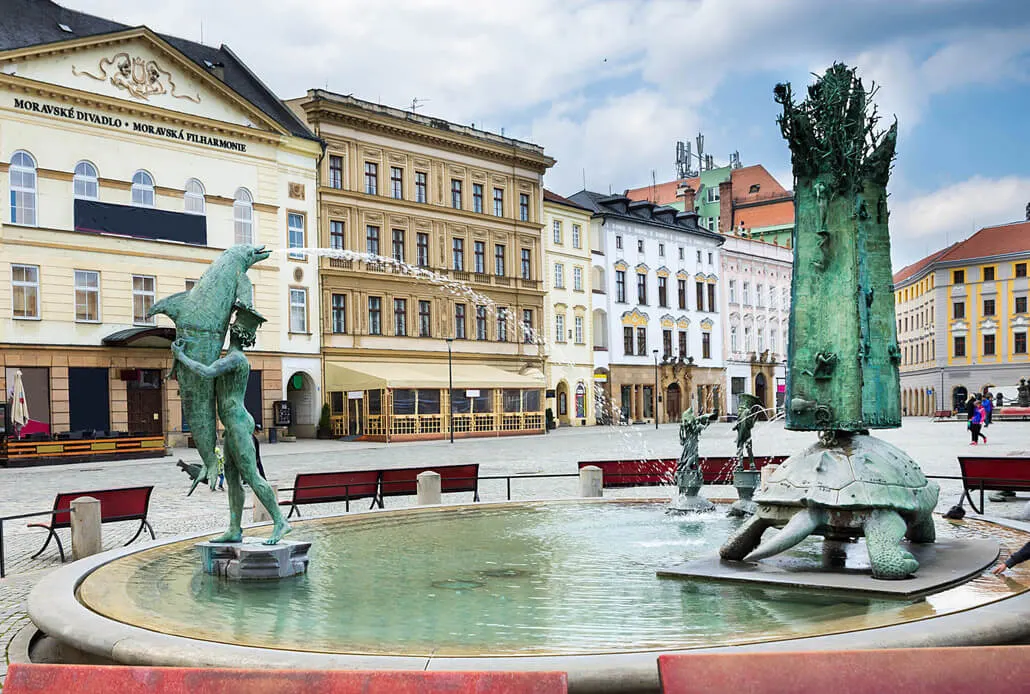 St. Moritz Church Olomouc
Kostel sv. Mořice
Also known as St. Maurice Church, this Gothic masterpiece constructed at the beginning of the 15th century received a Baroque makeover in 1709, after a fire damaged the interior. In 1745 the largest organ in Central Europe was placed there. With over 10,000 pipes, it's currently the 7th or 8th largest in Europe.
The Church of St. Moritz Olomouc participates every September in the International Organ Festival. It must be quite an experience to hear the organ in its full glory!
Come here for a peaceful encounter, admire the organ, and if time, weather and staff permit, go climb the tower. There's supposedly a beautiful view of the Old Town.
Olomouc Castle
Olomoucký hrad
The first mentions of the Olomouc castle date back to 1055. The castle itself, significant especially in the Přemyslid era, formed only a part of the castle site located on Wenceslas Hill.
As of today, only a few remnants of the actual castle remain, most of them visible from the northeast side. Those are parts of the stonewalls and outer walls complete with Romanesque windows and a round tower.
To get the best glimpse of how the castle looked and operated, head to the Archdiocesan Museum on the castle grounds. You'll also find a permanent exhibition showcasing the Olomouc spiritual culture. If you visit on a Wednesday or a Sunday, you won't need to pay for the entrance.
It's here where Wenceslas the III., the last representative of the Přemyslid dynasty, was murdered in 1306. That set off a series of battles to acquire the Czech crown, which was eventually ended by John of Luxembourg who rose to the throne in 1310.
The Olomouc Castle complex was visited by Mozart, who composed his Symphony No. 6 in F major in Olomouc, as well as by e.g. Mother Theresa and Pope John Paul II.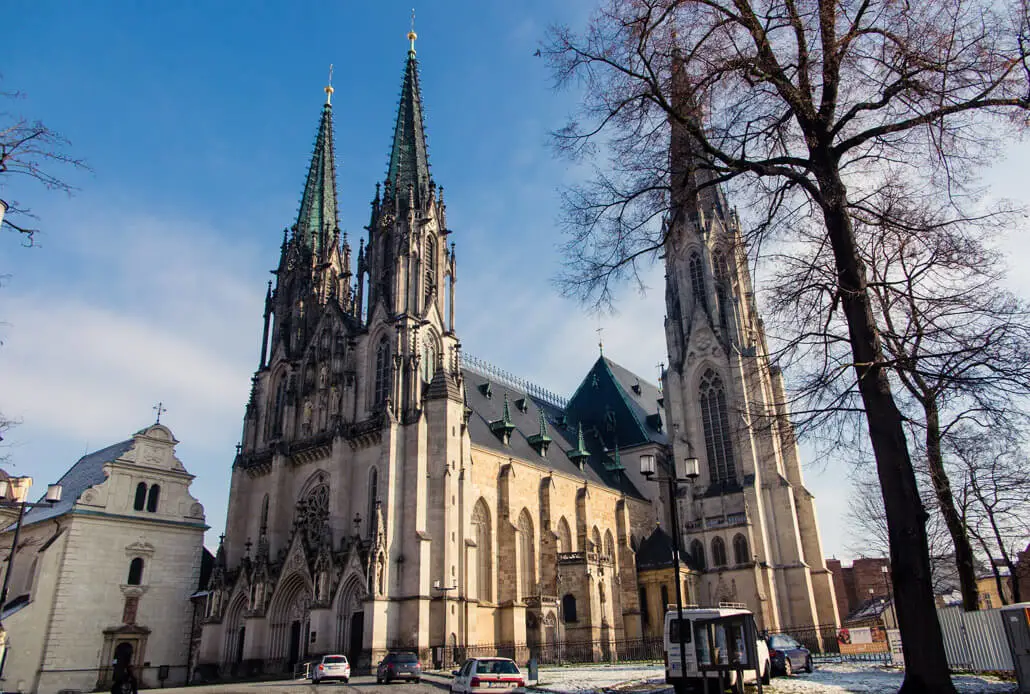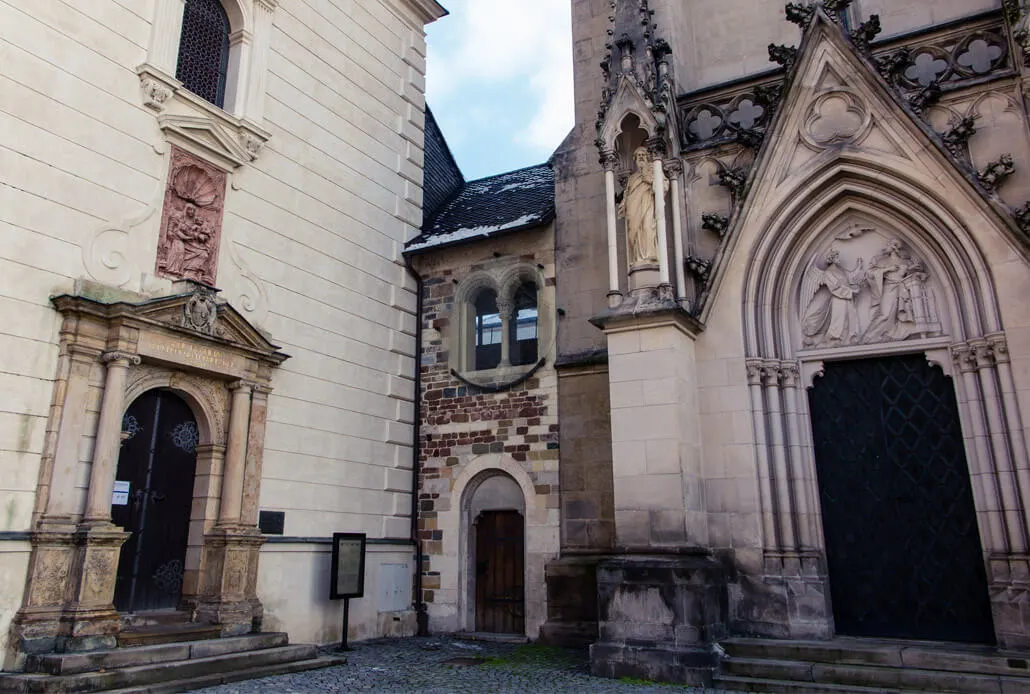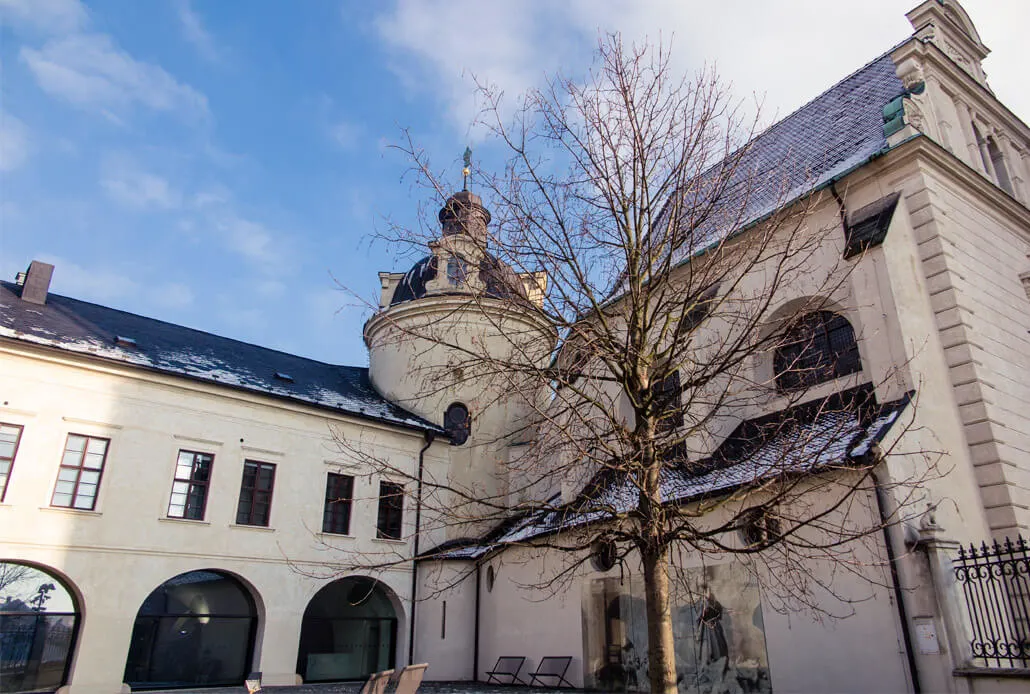 St. Wenceslas' Cathedral
Katedrála svatého Václava
When you arrive at the Wenceslas Hill, this Olomouc Cathedral is what you might mistake for the Olomouc Castle. Indeed, it formed a part of the castle complex and was added here in the early 12th century.
The Saint Wenceslas Cathedral Olomouc is as majestic as Prague's St. Vitus' Cathedral. Two church towers form the front of it and the third one behind is actually the highest in Moravia and second highest in the Czech Republic.
Originally built as a Romanesque basilica in 1141, it underwent several modifications and renovations, especially after a fire in 1265, when the Cathedral got its Gothic coat.
You can go inside, join a guided tour (free in summer) and even listen to the organ. More info can be found here.
This monumental cathedral belongs to the top of Olomouc things to do. Just go see.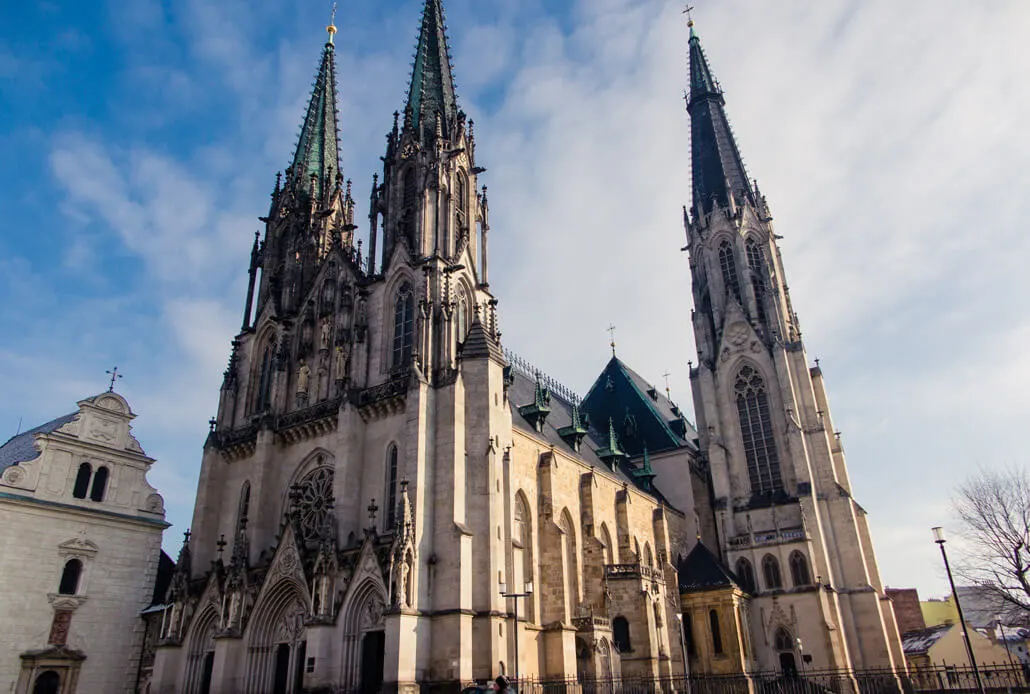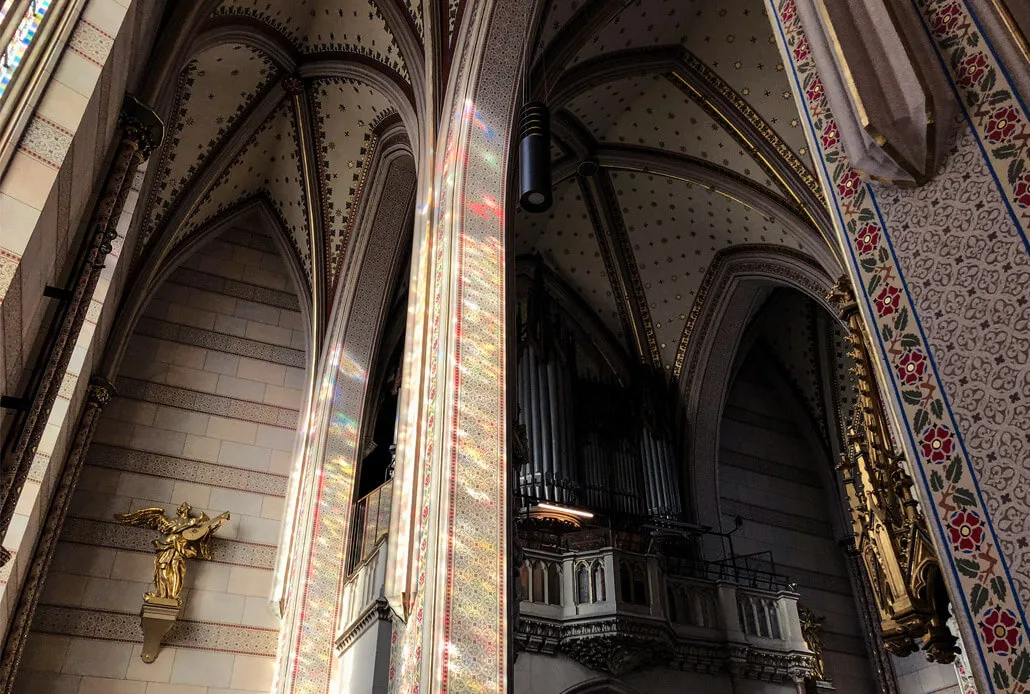 Marian Plague Column
Mariánský sloup
A dominating feature of the Lower Square, the column was built to commemorate the plague that struck Olomouc in 1713-1715 and its victims.
Right by the column on the Lower Square, there's a big ice rink placed there every winter! If you're up for some winter fun, you can't leave Olomouc ice skating out :)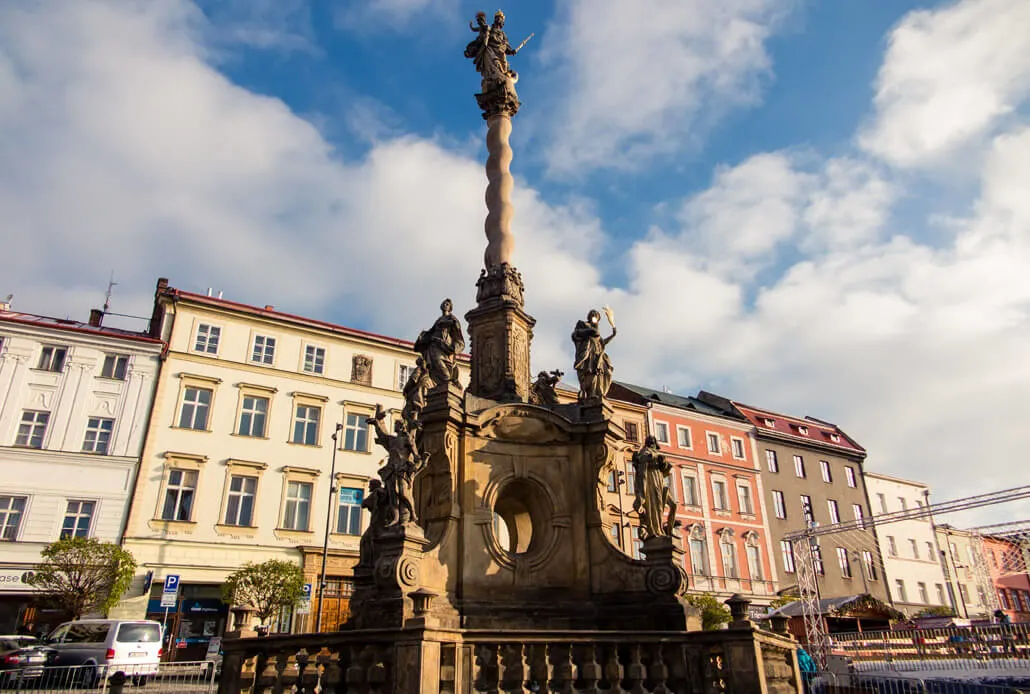 St. Michael's Church
Kostel svatého Michala
This fully Baroque church hides on a small hill above the Lower Square. While not too breathtaking on the outside, you should check out the ornate Baroque interior. It's also possible to climb to the tower, where the church's mighty bells are displayed.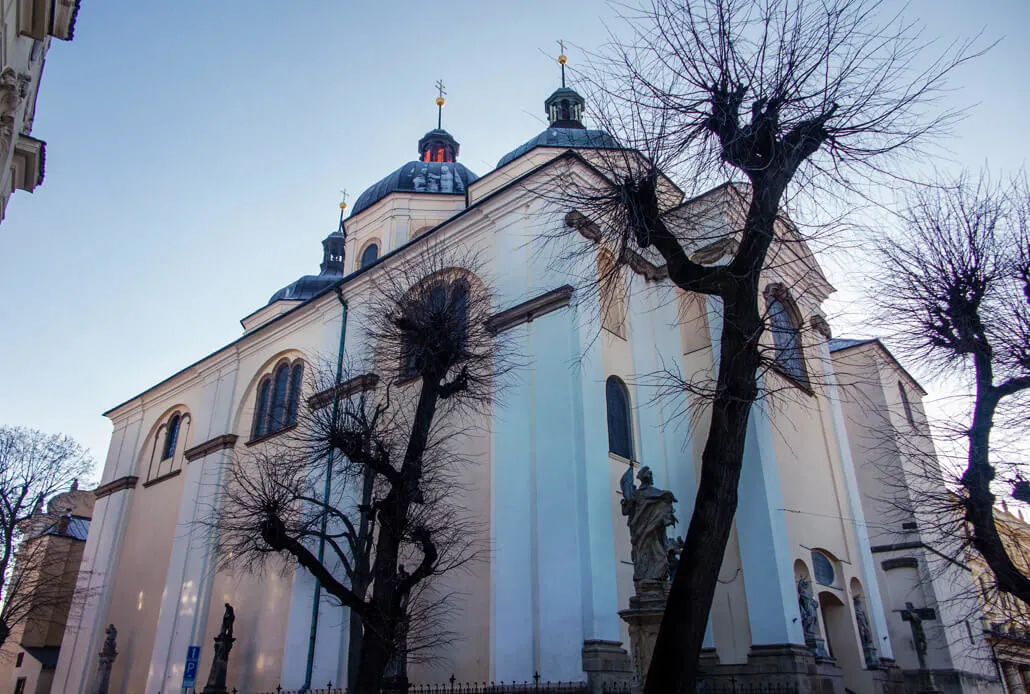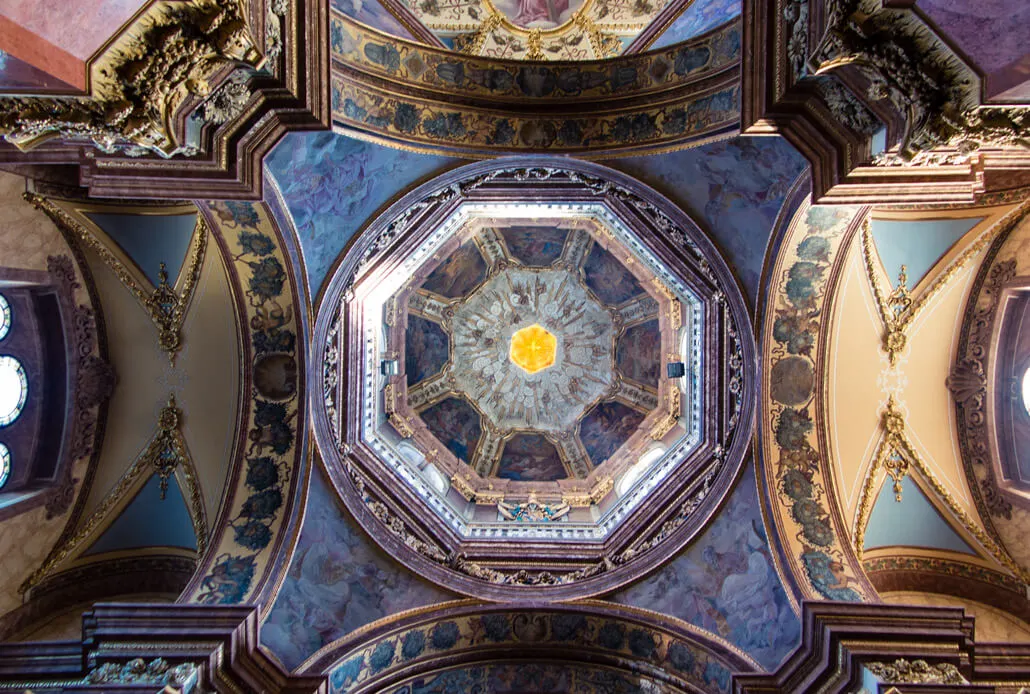 Chapel of St. John Sarkander
Kaple sv. Jana Sarkandra
Just near the St. Michael's Church there's a small chapel dedicated to St John Sarkander. The exact address is Mahlerova 19. John Sarkander was a catholic priest who was tortured to death. The chapel is tiny, but beautiful, and depicts John Sarkander's story.
It's one of my favorite hidden structures in Olomouc. When walking from the Square of the Republic to the Upper Square via Univerzitní and then Mahlerova Street, the sudden sight of the majestic chapel will catch you unprepared. It's absolutely beautiful.
Church of the Virgin Mary of the Snow
Kostel sv. Panny Marie Sněžné
If you're still not fed up with churches, this Baroque gem is worth visiting too. The typical Jesuit style church has quite a detailed interior and a powerful-looking exterior. You'll find it on Denisova street.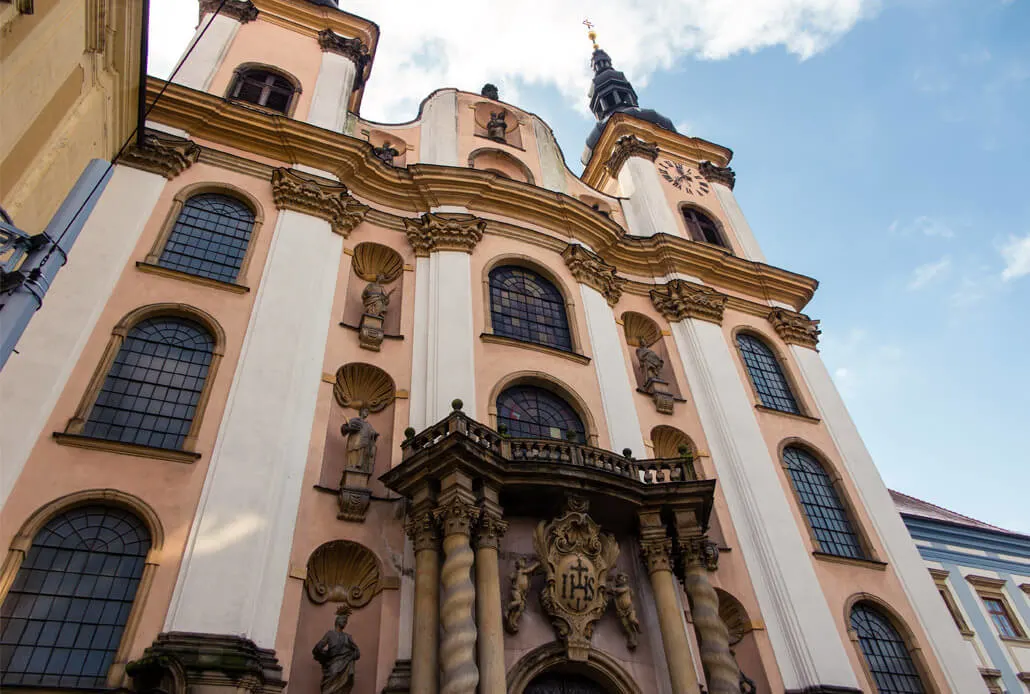 Palacky University Olomouc
Univerzita Palackého v Olomouci
There's no point in denying it: Olomouc is a university town. Some 20% of Olomouc population are students! That's the highest density in the Czech Republic. The main Olomouc University is the one of Palacký and it's particularly strong in the fields of art and humanity studies.
Palacky University is the second oldest University in the Czech Republic (after the Charles University in Prague). It consists of a number of buildings and campuses dispersed around the town. You can see a few of them around the city center too.
Some of the buildings the faculties are housed in, are of a significant architectonic and historical importance. E.g. the Arts Center is located in a former Jesuit Convent. The Baroque building includes a Chapel of Corpus Cristi with one of the most valuable church interiors in Moravia. If you're lucky, you can come across a concert being held in the Jesuit Convent. Find it on the address Univerzitní 3.
Also the central library is definitely not a shabby space. The grand armoury is a beautiful historical building, allowing for the students to absorb knowledge better (it works like that, right?). Find it on Biskupské nám. 1.
Archbishop's Palace
Arcibiskupský palác
If you like checking out impressive palaces, you shouldn't miss out on the Archbishop's Palace in Olomouc. The Palace is a textbook example of Early Baroque in Moravia.
It hasn't only acted as the seat of local bishops and archbishops, but has also witnessed important events in the city's history. It's e.g. right here where Emperor Franz Joseph I took over the throne.
The building can be found on Wurmova 9.
Other notable buildings in the city center
Edelmann's Palace: Two gothic houses were torn down to create space for this Renaissance Palace, which you can find on the Upper Square opposite the Astronomical Clock.
Villa Primavesi: An interesting Art Nouveau Villa built for a local banking family. Also the famous Austrian painter Gustav Klimt participated in the villa's decoration.
Also, don't miss the houses in the Lower Square with symbols on them. There's a black horse and a golden deer that served as identifiers back before the numeric system was introduced. If you keep your eyes focused on the buildings around you, you'll see some real gems.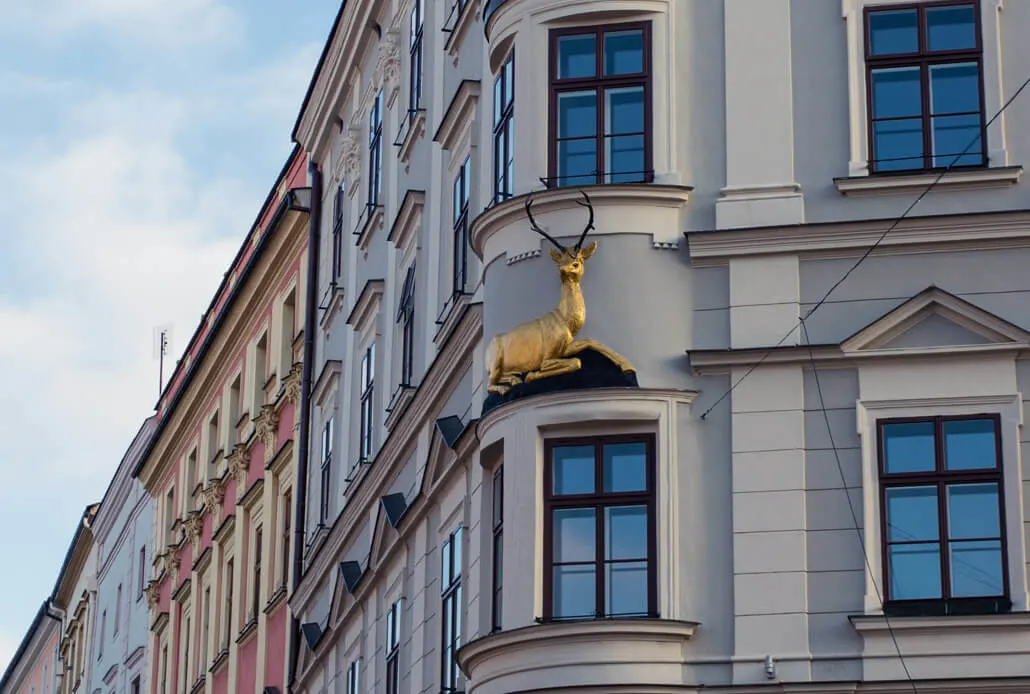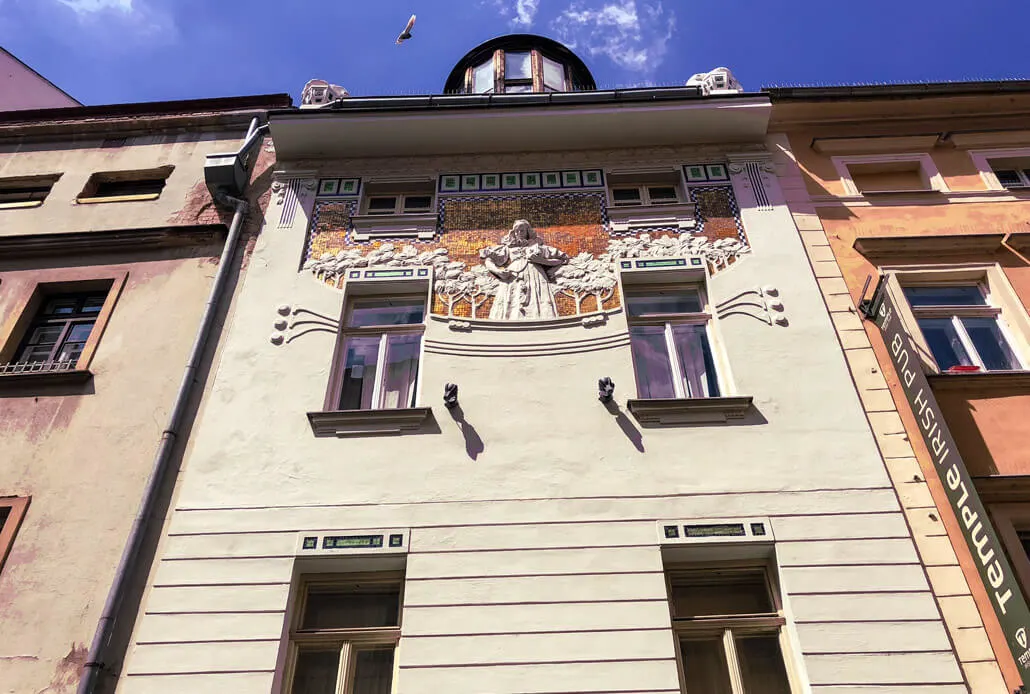 Museums in Olomouc
Apart from the Archdiocesan Museum mentioned above, there are a couple more worth exploring, if museums are your cup of tea. To be honest, I'm not a big museum-goer, so just briefly:
Museum of Modern Art Olomouc: One of the best museums in Olomouc, housing visual art from the Czech Republic and abroad. It's located in a beautiful Art Nouveau house on the Republic Square (the exact address is Denisova 47). Wednesdays and Sundays mean no admission-free at the Olomouc Museum of Art.
Regional Museum Olomouc: To discover more about Olomouc and its surroundings from prehistoric until modern times, head to this museum. You'll find it in a former church on the Republic Square 5.
Each Olomouc museum is opened every day except Monday.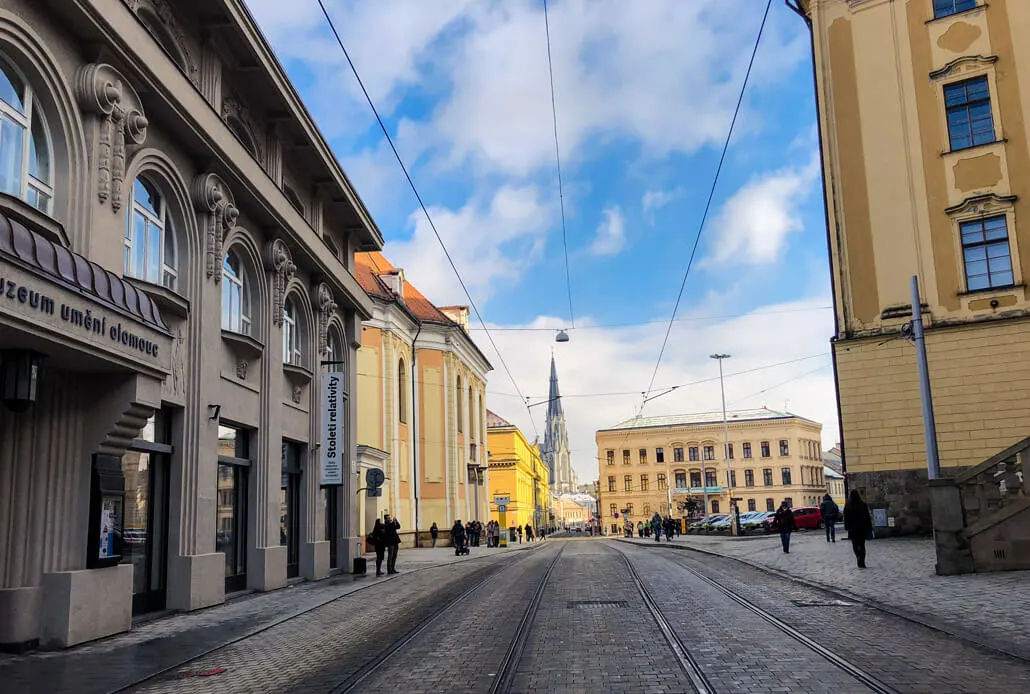 Hradisko Monastery
Klášterní Hradisko
One last architectural gem worth seeing, even though it's not in the old town, is the Hradisko Monastery. Have you ever seen El Escorial, the historical residence of the King of Spain just outside Madrid? Hradisko is often compared to it.
There was a church/monastery on the site already in the 11th century, but it suffered throughout several wars. The monastery compound bears influences of a few different architectonic styles, of which Baroque might be the most recognizable. Hradisko Olomouc is currently used as a hospital complex.
It takes just about 30 minutes to walk to Hradisko from the city center. You can also take a bus – no. 15, 20, or 21.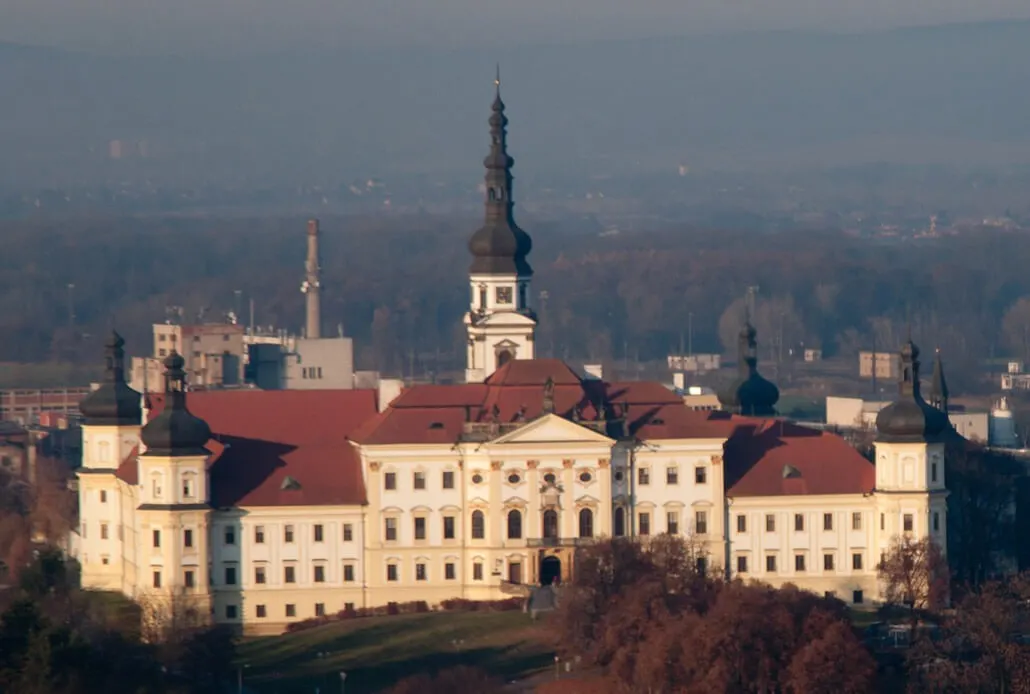 Olomouc Orthodox Church
This church, located near the train station, puzzled me ever since I was a kid! It just looks a bit out of place. Nevertheless, this is Olomouc' main Orthodox Church, named the Church of St. Gorazd. It was built in 1939 and consecrated to St. Gorazd, a bishop who was executed by the Nazis for hiding the paratroopers who assassinated Heydrich, the German Nazi official.
Unique Activities & Experiences in Olomouc
If sightseeing doesn't fulfill you enough, there's a number of fun activities you can engage in and explore the city and its culture more closely! For example:
Olomouc Beer Spa
Even though Olomouc doesn't have its own big-name brewery, there's a lot of microbreweries operating in and around the city. And what's even better – you don't have to just drink it, you can bathe in the golden brew!
The only Beer Spa Olomouc is located right in the city center – the St. Wenceslas Microbrewery. More info can be found here (in Czech only).
Tasting Olomoucké tvarůžky/syrečky, the famous Olomouc cheese
Olomouc, even to other Czechs, is mainly famous for its special smelly cheese called Olomoucké syrečky (or tvarůžky). In reality, it's produced in the village of Loštice outside Olomouc, but somehow it became the symbol of Olomouc. It's so special that it even received its own EU trademark!
Tvarůžky is a sort of a ripened soft cheese. Tvarůžky enthusiasts love the taste. I know a few people who just love putting it on top of a slice of bread with butter. I cannot bear eating it like this, the stench just puts me off. BUT – all over Olomouc restaurants add the tvarůžky to their meals and that tastes delicious. My favorite is garlic soup with tvarůžky – the taste is a lot more subtle!
If you're interested in tvarůžky's history, you can visit a museum about it! You'll find it in Loštice.
Otherwise you can buy a round block of tvarůžky cheese in any supermarket and also in a dedicated store right on the Upper Square.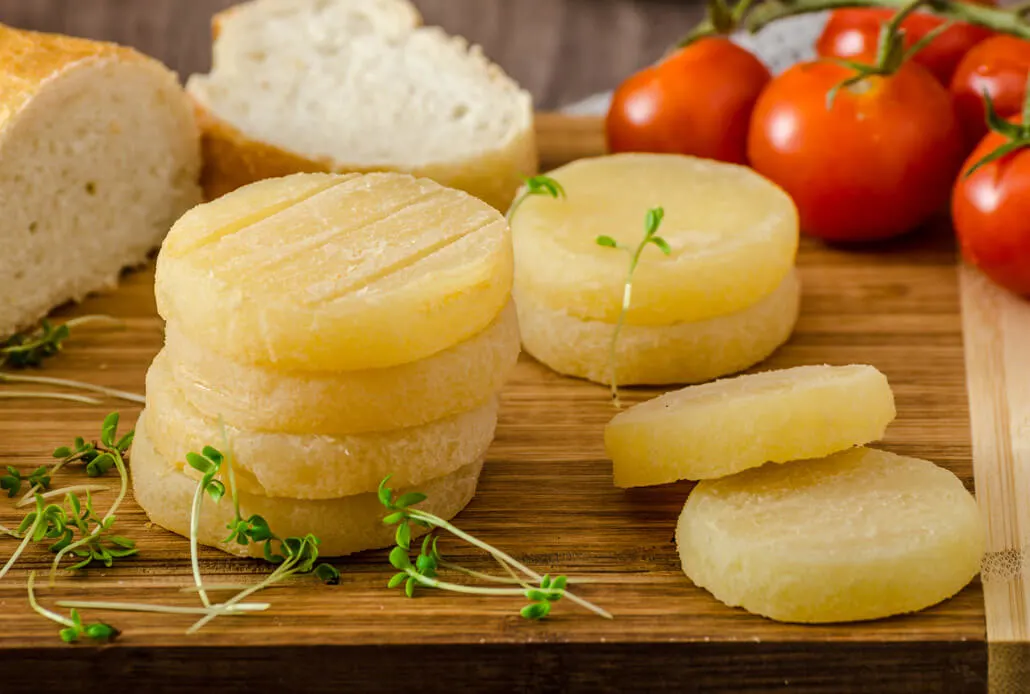 Ololoď & Ološlap
To see Olomouc from a very different perspective and at the same time learn about its history, Ololoď is a great idea. Started by a local enthusiast who loves boats, this offbeat boat ride won't wow you with sights, but it's a perfect addition to seeing the city and learning about it from a local. I can highly recommend it!
We took it once in winter and even though it got dark already, we had our eyes peeled on our guide who warmed us up with a mulled wine and a heater (not enough of the wine though, because the people before us were too 'thirsty'). It's currently the only boat service in Olomouc. Find more info here.
The same guy operates a unique beer bike in Olomouc. But it's different from the ones you're used to seeing in Amsterdam and such places. This bike combines drinking with history and stories, and it can get wild depending on the crowd. In winter, they serve mulled wine (and warm blankets!) instead of beer and it's a great fun! Details can be found here.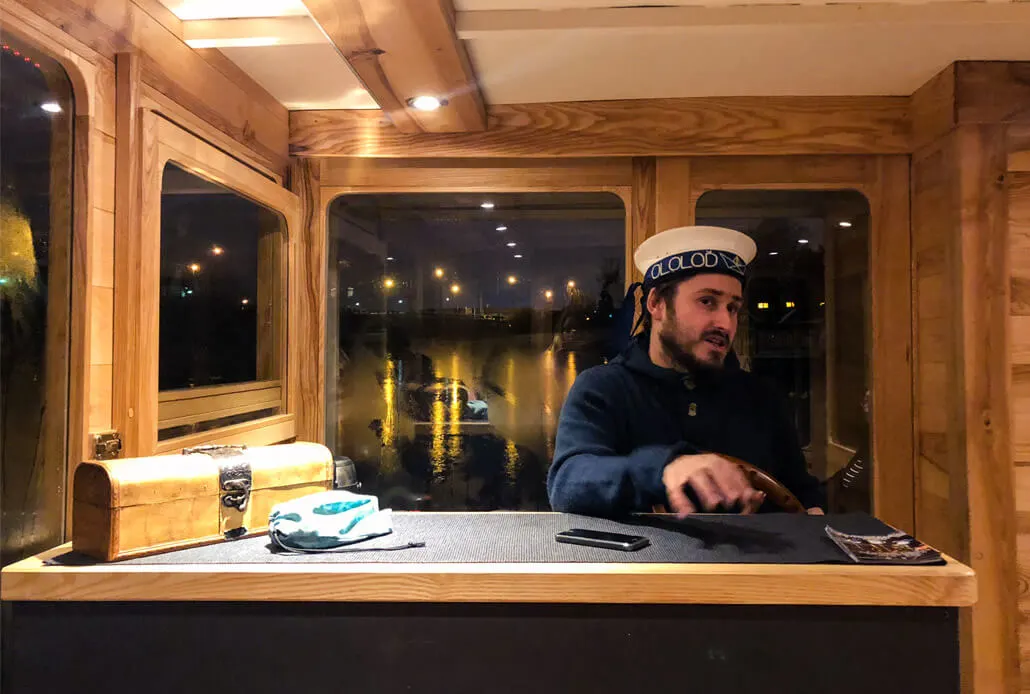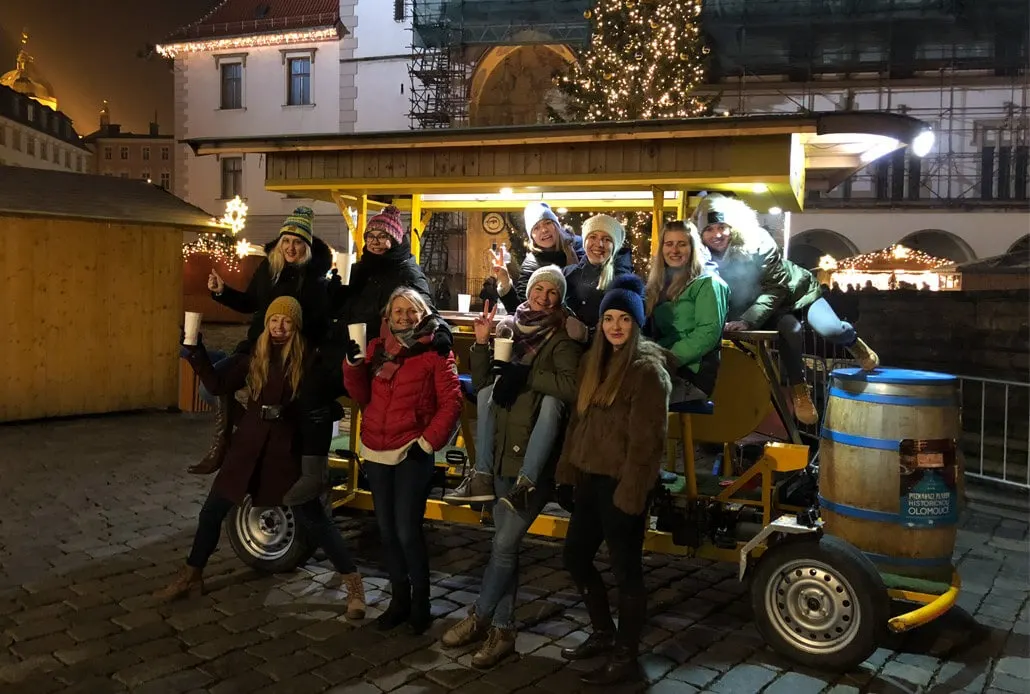 Olomouc Parks
When first visiting Olomouc and strolling beyond the historical city center, you might be surprised how much greenery there is in the city! Just a few steps away from the streets of the Old Town lies the park Bezručovy sady, gently wrapping around the town and following a lovely little creek.
Only a little further away lie the parks called Smetanovy sady and Čechovy sady. At Smetanovy sady, the famous horticulture exhibitions known as Flora Olomouc, take place.
In my opinion, the parks are the best places to visit in Olomouc and shouldn't be left out.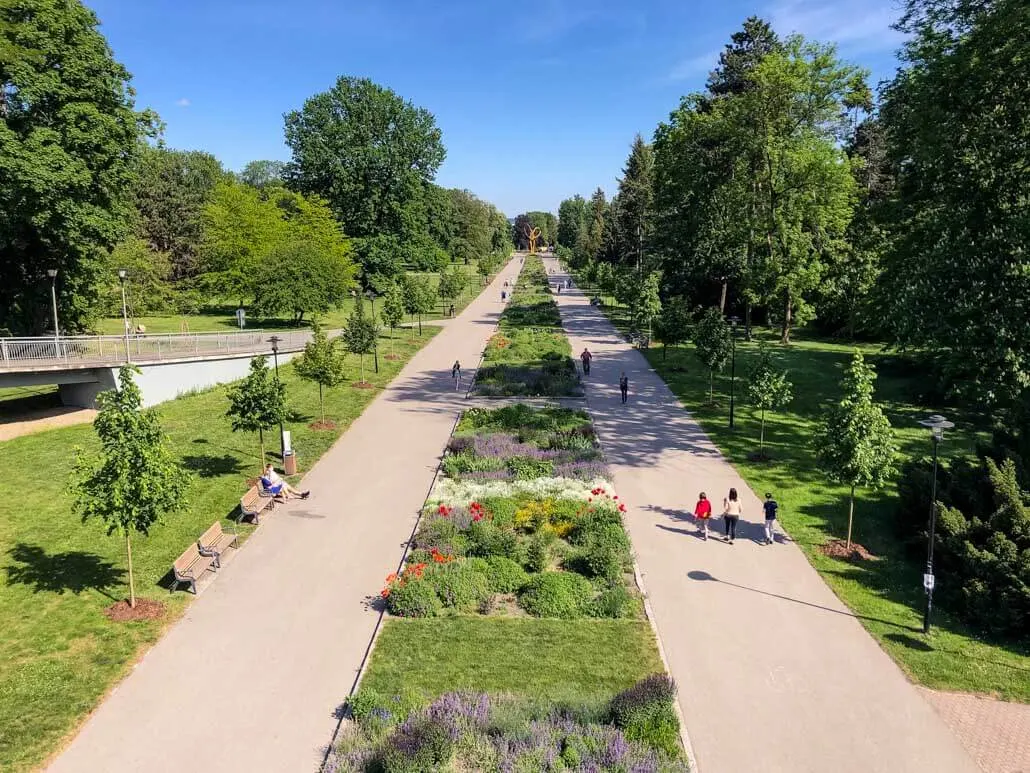 Olomouc Street Art
This is something that surprised me – Olomouc is rich in street art! From full-on murals to uniquely decorated passages and alleyways, you can find quite some graffiti in the city.
There's actually a popular street art festivals held yearly in Olomouc and each time a few new pieces of art get created.
You can see quite a few examples right in the center. For example:
Small passage called 'Lomená Gallery' right across from the Museum of Modern Art currently features masked faces ('Sweet vandalism' artwork by local Dosy Doss), but it's redecorated every few years.
Right next to the Museum of Modern Art, there's a large mural of the king Edward VII of Great Britain, posing with a selfie stick ('Selfie King' by artist Mr. Dhea from Portugal). Right next to him there's Marie Curie holding a container full of glowing liquid (=uranium).
One of the nicest large murals in Olomouc is where Pavelčákova Street meets Třída Svobody – the Power of Silence by an Indonesian artist Wild_Drawing made in 2018 during the Street Art Festival.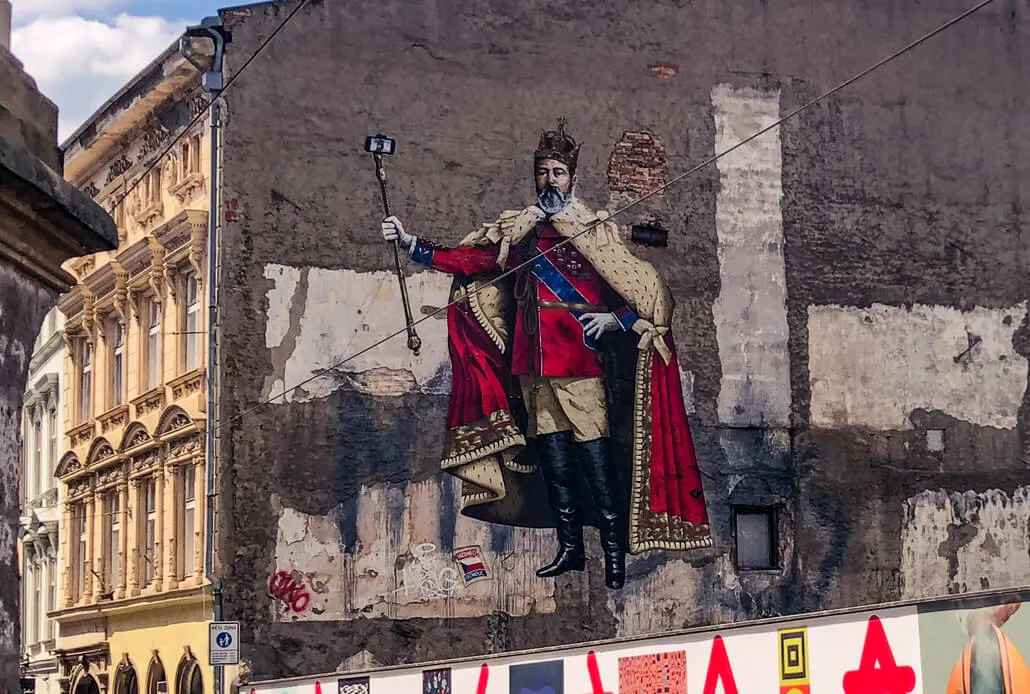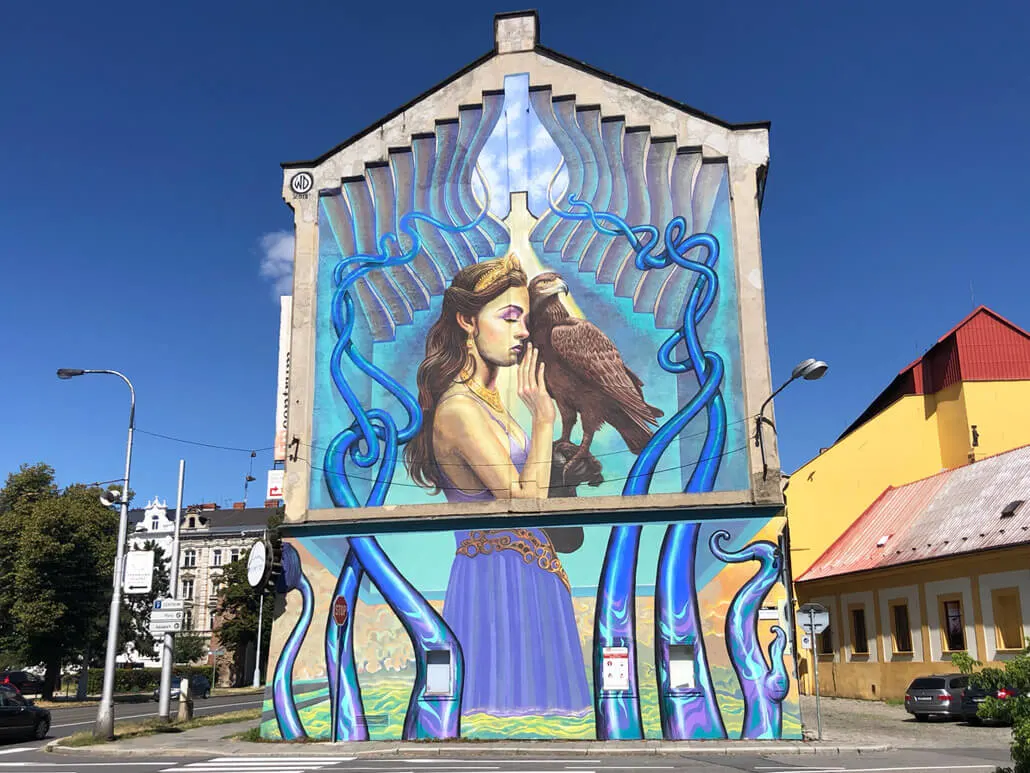 Summer Movie Theater a.k.a. Letňák
If you're done exploring the main sights and long to see what a real local Olomouc is like, head to the summer movie theater.
At the time of your visit, the original wooden columns holding the screen might have been torn down already, but the place still breathes a unique vibe. Apart from regular movie screenings, the area just before the actual movie theater is a popular local hangout and an outdoor café/bar/restaurant in one.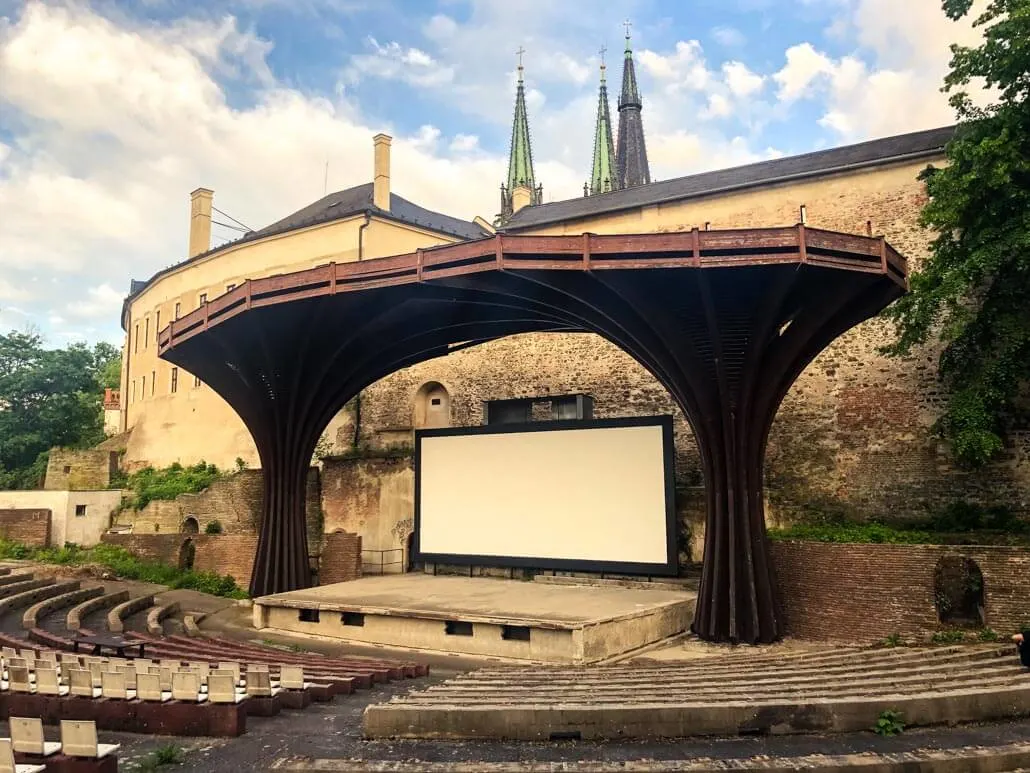 Bike or Scoot around Olomouc
Olomouc bike rental options have recently received a major revamp with city bikes for rent. The most widespread are the pink bikes called Rekola. Download the Rekola app and ride around for just a few crowns.
At the end of 2019, Olomouc shopping mall Šantovka has launched a bike rental service in cooperation with nextbike. The prices are similar to Rekola's. Download the nextbike app to rent a bike of yours.
In 2020, Olomouc streets saw a few electric scooters pop up. They're fun to ride, if you do so carefully. Download Eagle Scoots app for more info.
Olomouc Restaurants & Cafés Worth Trying
In Olomouc you'll mainly encounter Czech food. But times, they are a changing, and there are a few new kids on the block! Eating should be one of the main activities if you're wondering about what to do in Olomouc besides sightseeing. See below:
Czech
Moritz Microbrewery Olomouc
The unique underground restaurant looks both old school and yet old class stylish. They make their own beer and the food is just as it should be. Try some typical Czech meals, e.g. the garlic soup! And what kind of Olomouc food would it be, if they didn't have the tvarůžky. You'll find it in a few meals – I had it just in the garlic soup and it was all yum!
Plan B
A great pub/restaurant to grab a quality lunch for a good price. That's Plan B Olomouc – on a weekday, you'll meet only locals rushing in from their offices.
Morgan's Restaurant
This restaurant says they specialize in old Bohemian food, adding burgers and pizza to their menu. It's a bit of a mish-mash, but locals flock to this place for lunch. The prices are good and the food is decent. However, the service can be slow. My Olomouc friends warned me of double pricing here, but I haven't experienced it myself.
Other typical Czech restaurants with good beer and usually a few burgers, sometimes pizza too are:
Drápal
Hanácká hospoda
Restaurant u Mořice
Šnyt Mikulda
Riegrovka
Potrefená husa
International
Entrée Restaurant
The high-end creative dining concept in Olomouc, Entrée is run by a Czech gastro star Přemek Forejt. The restaurant serves creative meals inspired by nature. Go there for a unique culinary experience.
Faency Fries
A hole in the wall and a Czech take on hipster fries places. I haven't tried but the fries look great! It seems ideal as a late night snack, especially if you've been drinking. Try the cheddar topping – it's the most popular one not just at Faency Fries Olomouc but at any branch of the Czech chain.
Špagetárna
Fresh Italian pasta in Olomouc. If you long for Italian cuisine, there's no better place to go in the city. Špagetárna Olomouc is tiny, better grab your meal and go eat it elsewhere.
Cà Phê District
Another new restaurant on the Olomouc gastro scene, Ca Phe District is hidden in an alley just off the Lower Square but locals found their way. I heard the best Bún bò nam bộ in Olomouc can be found here. We often eat at Ca Phe and love their little garden at the back.
Los Capolitos
Olomouc has finally gotten its own proper Mexican restaurant. It has all you could ask for – burritos, quesadillas or tacos.
The Kathmandu Nepali Restaurant
The name says it all. Authentic Nepali/Indian cuisine, fresh ingredients, great staff. I never felt the urge to have such food when in Olomouc, so no personal experience here.
Bistro NO
This bistro is a mish-mash of foods such as burgers, sandwiches, burritos, and curry.
Café New One
A trendy restaurant/bistro where you don't have to be afraid to order coffee :) The cuisine is predominantly Italian and the interior is highly stylish.
Konvikt Bistro & Bar
A brand-new (2020) café and a bistro in one, Konvikt features an inside space with a unique interior décor paying tribute to the history of a building, as well as a wonderful garden in a courtyard.
If you're looking for vegetarian/vegan options, go for buffet-style Green Bar at the Upper Square, Koza zůstala celá on top of Morgan's Restaurant, and Jak chceš Fresh Bar just a stone's throw away.
Cafés
Kafec ve vile Primavesi
A lovely café of a Moravian chain of cafés coming from Brno in a gorgeous setting of an Art Nouveau villa called Primavesi. It's hidden a bit, so you wouldn't just run into it. In summer, you can sit in a nice spacious garden. You'll find the café in the vicinity of St. Michael's Church.
Kafec is famous for its waffles. And superb coffee.
Kafe jak lusk
One of the most popular cafés in Olomouc. Cool interior with old Czech school chairs. The coffee is absolutely perfect and you can even find an avo toast there. ;)
Sophie's Café
A cozy café on the ground floor of Miss Sophie's Hotel. Old original ceilings and comfy chairs make Miss Sophie's Café Olomouc an ideal hangout spot, no matter the weather.
Café La Fée
A cute and comfortable café with a nice little garden in the back. France-themed.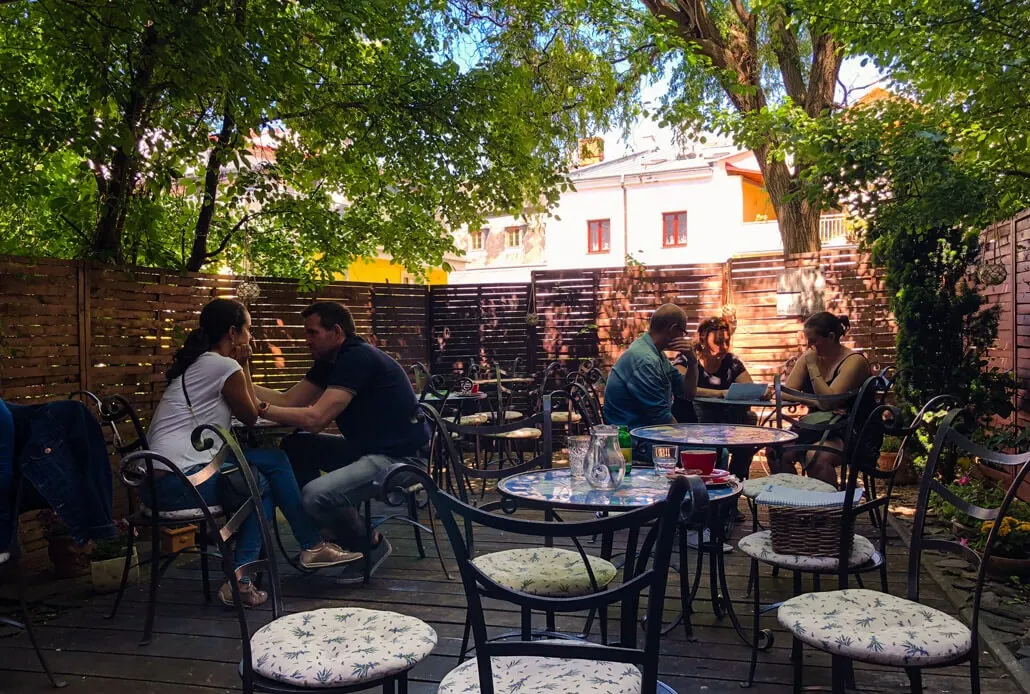 Long Story Short Café
Part of Long Story Short Hostel, this café belongs to the best in Olomouc. Expert baristas, incredibly lovely outside garden with a view to greenery… it's hard to beat.
Naše Café
A popular café with a nice clean interior that won't amaze you, but you'll get your quality coffee fix here. Its summer garden provides a pretty view of the Lower Square.
Café Na cucky
A little café that belongs to a theatre of the same name is positioned conveniently on the Lower Square. Great coffee and laid-back vibe.
Kafe na rohu
A small space of a family café with delicious cakes and pies and, of course, great coffee. The interior is adorned by a beautiful street art mural. They often hold charity events here.
Café Jan
Small but lovely little café around the corner from Drápal restaurant near Smetanovy sady park.
Coffee Library
A nice café within the Palacký University building, this café is popular among students and the public alike, not just for their simple but good lunch menus but also the great coffee.
Owl's cafe
Italian coffee aficionados will find all they need in a lovely setting. You'll be accompanied by a few tastefully placed owl decorations. :)
Café Trieste
Another popular café focused on Italian coffee. You can find it right at Lower Square. Almost yearround there's a small crowd of sitting/standing coffeeholics, debating the day away.
Café 87
A nice looking café, often frequented by students. The coffee is good, but don't expect wonders.
Café V Lese
Ideal for kids. You have to take off your shoes upon entering, but if you have kids with you, there's hardly a better place for them to play and for you to have a proper cuppa.
Of course, this list doesn't cover all the cafés in Olomouc city center. There are a few more, including small espresso bars without any seating – e.g. Pikola.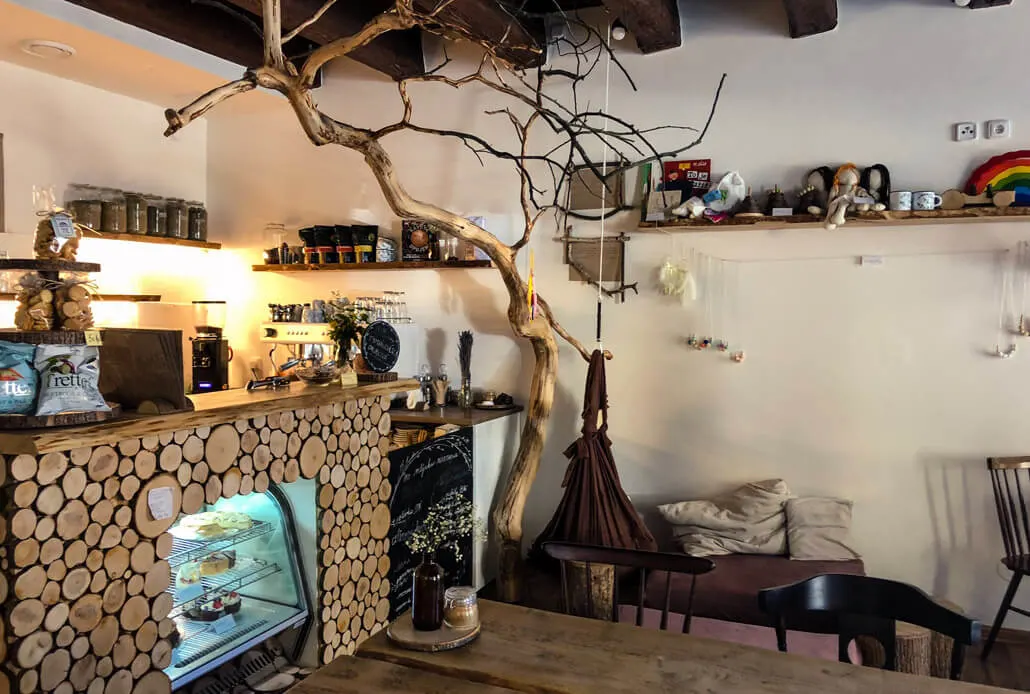 Olomouc Nightlife
Not surprisingly, Olomouc nightlife is run by students. When students are not partying, the town feels dead. That's the harsh truth. But if you embrace it, you're up for a lot of fun!
Beer bar Na stojáka
This pub/bar has 6 beers of local microbreweries on tap and seriously stylish interior. You can also taste some typical Czech snacks to have with beer. Their specialty is blue cheese (niva) balls. It's located on the Upper Square.
Masné krámy
For me personally, the best Olomouc bars with a cool vibe are those located in Masné krámy passage. When visiting with friends at the end of November last year, we'd just walk around, had a beer here and another there, and had fun chatting with a few local students, eventually even playing foosball together :) Masné krámy are located on the Lower Square.
Lower Square Wineries
On top of Lower Square, where the two squares actually meet, you can find two lively wine bars – Na břehu Rhôny and Pod Pálavou. The first one features mostly French wines and is a part of Prague-run chain, while the second one is owned by a Slovak guy who fell in love with wines from Pálava, a region in the South of Moravia. Both are well worth visiting.
Belmondo Club
If you like nightclubs and want to take the dance floor by storm, head over to Belmondo! They have a couple of resident DJs who pump up the beats every Wednesday, Friday and Saturday. You'll find it on Mlýnská Street, still in the city center.
Varna
A legendary disco club that's been around for ages! I'm not sure what kind of quality music you can expect here but if you find yourself in the city at night, Varna is a sure option any day of the week.
Olomouc Shopping
Why do I include a shopping section, you ask? Well, for many people living close to Olomouc, the city is a shopping paradise :D
Galerie Šantovka
The newest Olomouc shopping mall is the closest to the city center. In fact, since parking is free for 4 hours, many people (myself included) just park in this mall and head to the city. Don't tell anyone!
There are 200 shops spread around 3 floors in Galerie Šantovka and it's full of restaurants, cafés with cakes, a movie theater, a bowling hall… you name it, they have it.
Olympia Olomouc
This mall used to be the most popular Olomouc shopping center, but then Galerie Šantovka was built. It's located on the outskirts of Olomouc, right by the highway. It was designed as a reminder of a traditional mill complex. All the shops are thus located on the ground floor. There are frequent buses between the mall and the city center. Charging stations for electric vehicles are also provided.
OC Haná
My parents like going to this Olomouc mall the most J Similar to Olympia, it's located right outside of Olomouc on a highway. There are around 65 shops and a big Tesco supermarket that's open until midnight.
Galerie Moritz
If you're just looking to go to a supermarket (e.g. to buy the above-mentioned tvarůžky) and need a drug store or a pharmacy, this small shopping center located right in the heart of the town is perfect for that. You'll find it on the street 8. května, right by the St. Moritz Church.
Olomouc Hotels
I strongly suggest you spend a few nights in Olomouc, rather than just see it on a day trip. Hotels in Olomouc Czech Republic are plentiful and you're sure to find an establishment to suit your taste.
Luxury Hotels
NH Hotel Olomouc Czech Republic
The NH Hotel in Olomouc Czech Republic is part of an international chain of luxury hotels. The quality is guaranteed and there will be no surprises.
Click here to see the current prices and availability.
Theresian Hotel Olomouc
Already the façade of Theresian will take your breath away. I stayed in the hotel and especially enjoyed the Nespresso machine in my room. The design was modern and stunning, albeit I prefer cozier interior design schemes. The breakfast was heavenly!
See Theresian's current pricing and availability here.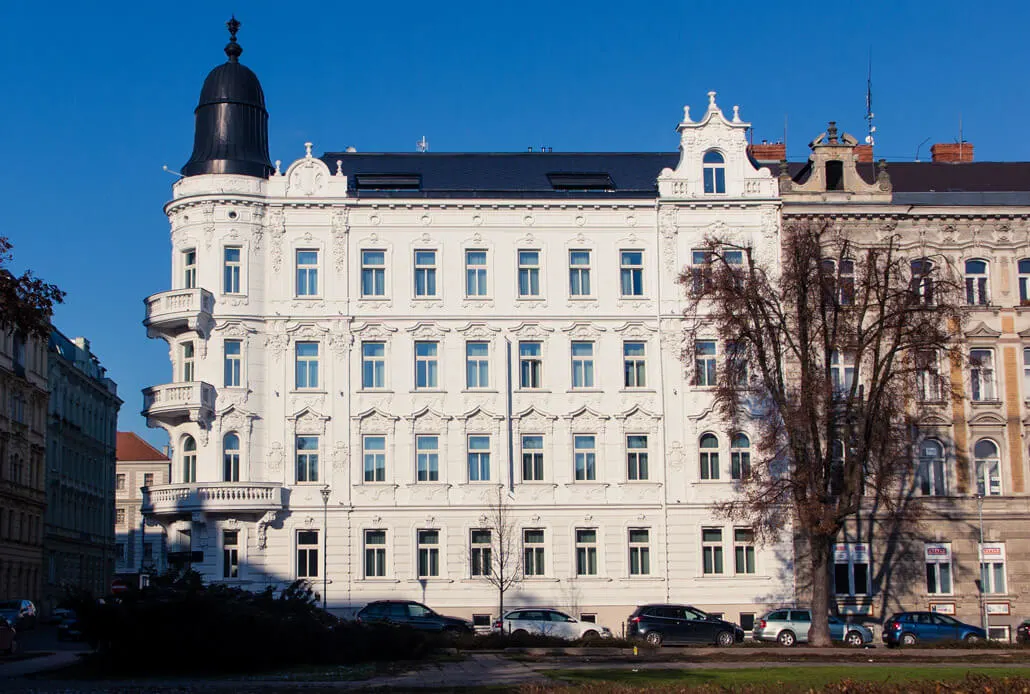 Clarion Congress Hotel
A quality business hotel, rather than a luxury one. Clarion Congress Hotel Olomouc is located right by the train station, which can be an advantage or a bit of a disadvantage (if you're a light sleeper). Parking is available in underground garages.
Check the Clarion's Hotel prices and availability here.
Mid-range Hotels
Hotel Alley Olomouc Czech Republic
Slightly on the higher-end of the mid-range, at least by Olomouc standards, Hotel Alley is popular especially among business travelers. You'll find it right in the city center.
Click here to check current prices and availability of Hotel Alley.
Miss Sophie's Hotel Olomouc
This boutique hotel is my personal favorite, even though I didn't stay there (yet). I had the opportunity to see two rooms and I heard from a blogger friend of mine that it was indeed wonderful to spend a few nights at Sophie's.
The location of Miss Sophie's Olomouc is perfect, the interior design is stunning and the whole building was reconstructed carefully taking into account its historic value. There are only 8 rooms in total with a great café on the ground floor.
See the current prices and availability of rooms at Sophie's here.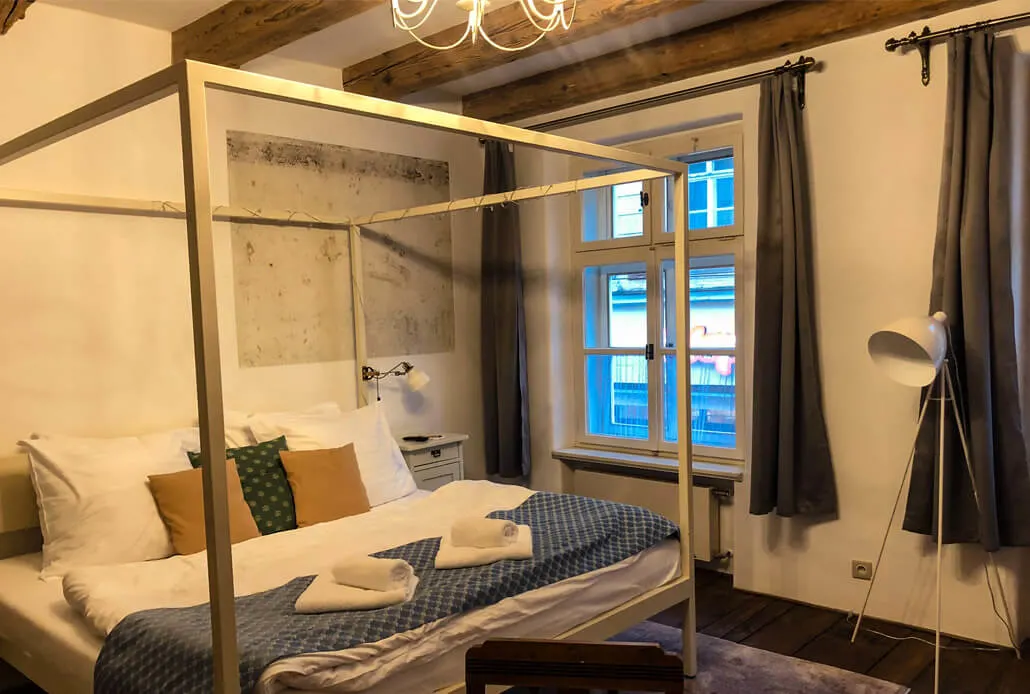 Hotel Trinity Olomouc
While the design of Trinity Hotel was definitely once grand, nowadays it might feel slightly dated. Still, I enjoyed staying in this Olomouc hotel, felt comfortable in the room and the breakfast was decent. Other guests have praised the wellness center.
See current pricing and available rooms at the Trinity Hotel here.
Budget Friendly Hotels & Hostels
There are many cheap hotels in Olomouc. These three, though, still don't compromise on quality:
Long Story Short Hostel Olomouc
One of the newest additions to Olomouc hostel scene – a trendy hostel with a beautiful minimalist design. Choose between a dorm or a private room and make use of the delicious breakfast and a cute café on the ground floor.
Check the current prices and availability at the Long Story Short Hostel.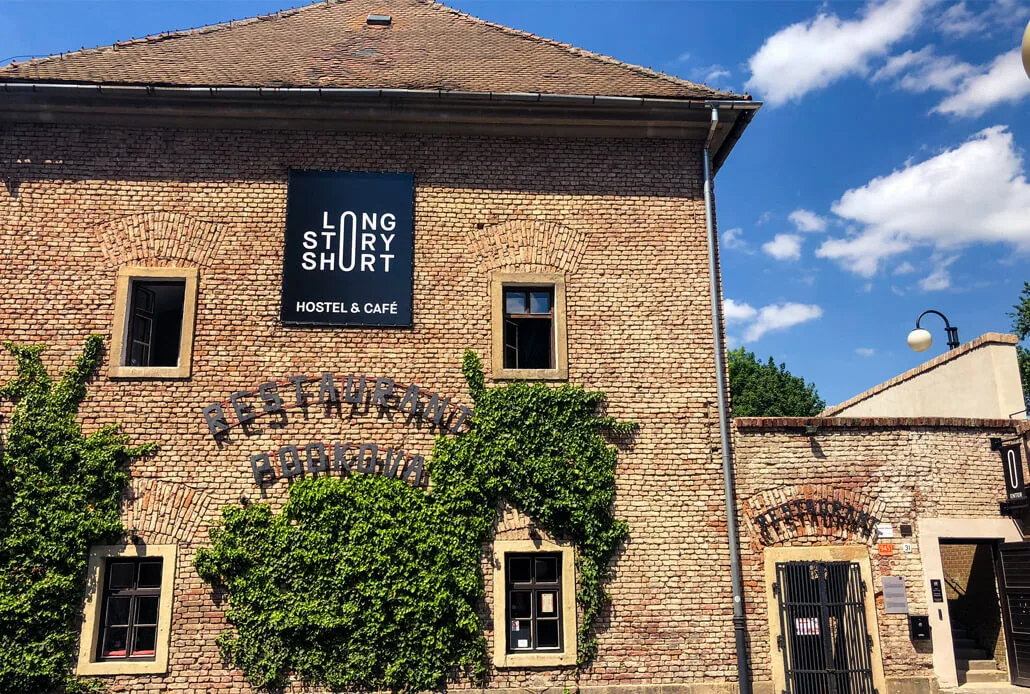 TimeOut MiniHostel Olomouc
This tiny hostel has opened its doors only since May 2018. It's centrally located and its guests have praised above all the cleanliness.
See the current pricing and availability of TimeOut MiniHostel here.
Poets Corner Olomouc
This Olomouc hostel, formerly known under the name Cosy Corner Olomouc, radiates coziness – from the furniture, to the atmosphere, to the staff. You'll just feel good there. You can choose between a dorm and a private room.
Click here to check the up-to-date prices and room availability at Poets Corner.
Olomouc Apartments
Yes, you can stay in an apartment too!
Check the Top 10 Apartments by Booking.com.
See? Olomouc accommodation options are numerous and it's only up to you to choose what would fit your style and budget.
Olomouc Weather
Czech Republic is a small country, so the weather is more or less the same everywhere. With that being said, it's true that Moravia, and especially the Haná region in which Olomouc is located, suffers from heat waves and lack of rain more often than other parts of the country.
There's often snow in winter and the two summer months can turn very hot – over 30°C (86°F) is almost guaranteed. Recently, though, the weather has been less predictable. See temperature averages for Prague winter in my post here.
Check out also this list of things to do in Olomouc from my fellow bloggers.
Day Trips from Olomouc
The area around Olomouc is actually quite abundant in beautiful nature, castles, nice towns and other places worth visiting. Here are the main ones:
Holy Hill: Pilgrimage Site & Basilica Minor
Svatý Kopeček
The Holy Hill, located on the outskirts of Olomouc, has been a pilgrimage site for centuries. Right on the top of the hill stands a monumental Baroque Basilica – the Church of the Visitation of the Virgin Mary. It was built in the 17th century and features an exquisitely decorated interior. In 1995, the Church was consecrated by the Pope to become a Basilica Minor.
If the Basilica is open, go inside, but put your camera and phone away as it's prohibited to take photos, unless you have a special permit. Or unless you come for a wedding, like I did last time when I visited :)
When you visit, be respectful to the surroundings. The area is an important pilgrimage site, and there's also a hospice on one of the streets behind.
A little further up above the Basilica, there's a zoo with some beautiful forests behind it.
You can get to the Holy Hill Olomouc by taking the bus no. 11 from the train station and getting off at the stop named "Svatý Kopeček – bazilika".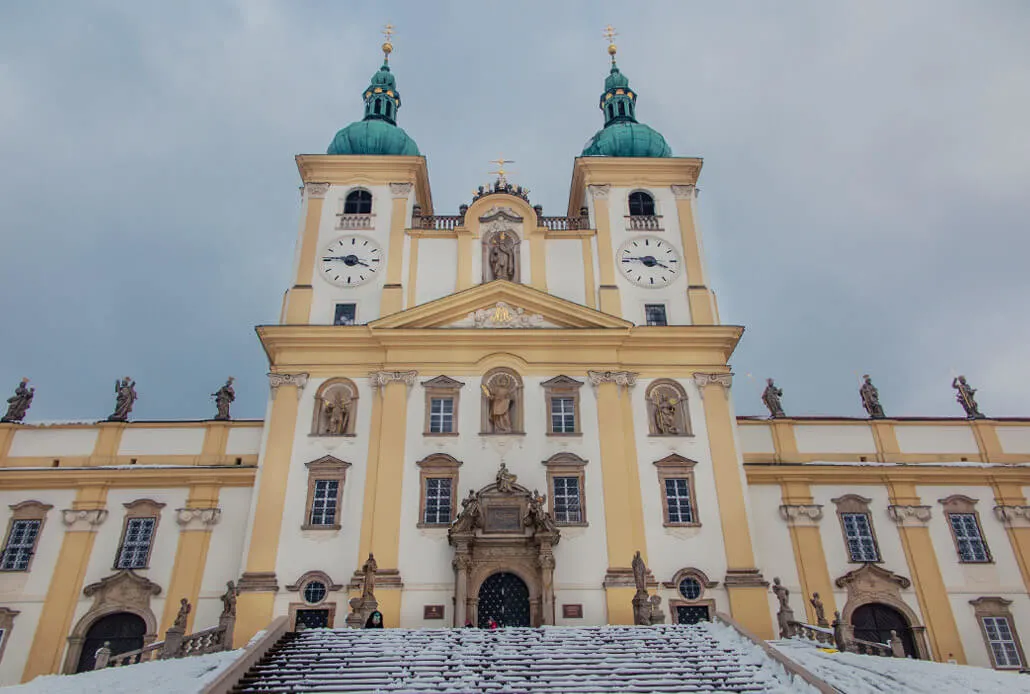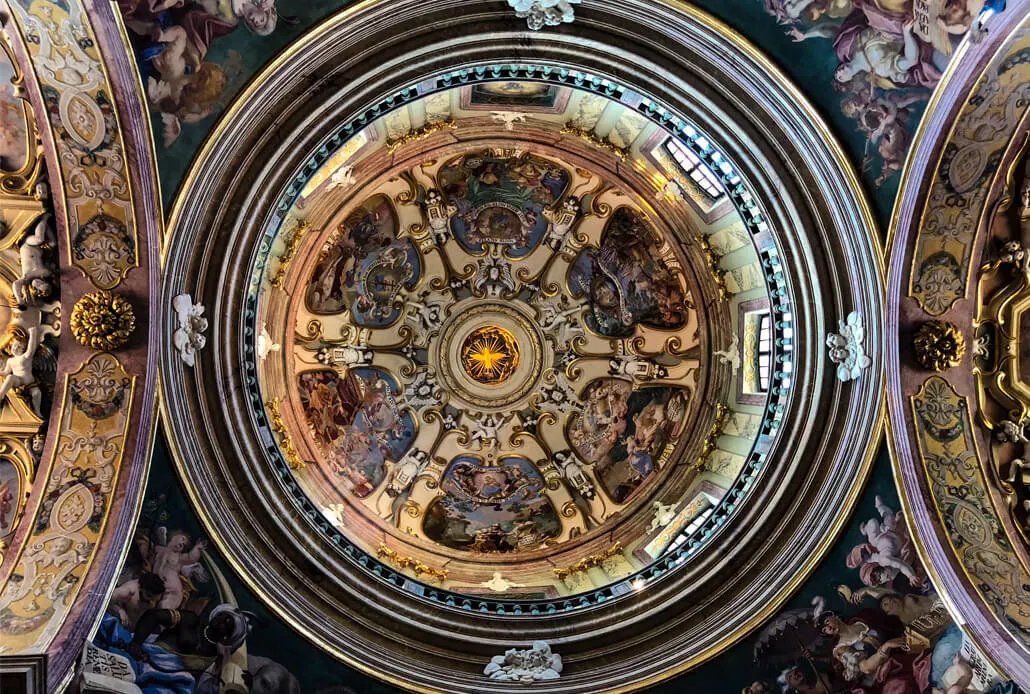 Bouzov Castle Olomouc
Hrad Bouzov
Located 28 km (17 miles) northwest of Olomouc lies the romantic castle of Bouzov. Originally a fortress built in the early 14th century, it was named after its first owners, the aristocratic Bůz family. Currently mostly of Renaissance style, you can also find Gothic features on the castle.
There are several different tour circuits that you can go for when visiting the castle. I would recommend mainly heading up to the tower, if it's open. Apart from the tower, don't forget to check out the two drawbridges and a portcullis (= sliding metal 'gate') – all fully functional to this day.
Travelling from Olomouc, take a bus to Litovel (it's a nice town too, so walk around if you have time), and then another bus to Bouzov. The travel time should be just below 2 hours. A trip by car is much shorter – just 30 to 50 minutes. Here's Bouzov Castle official website.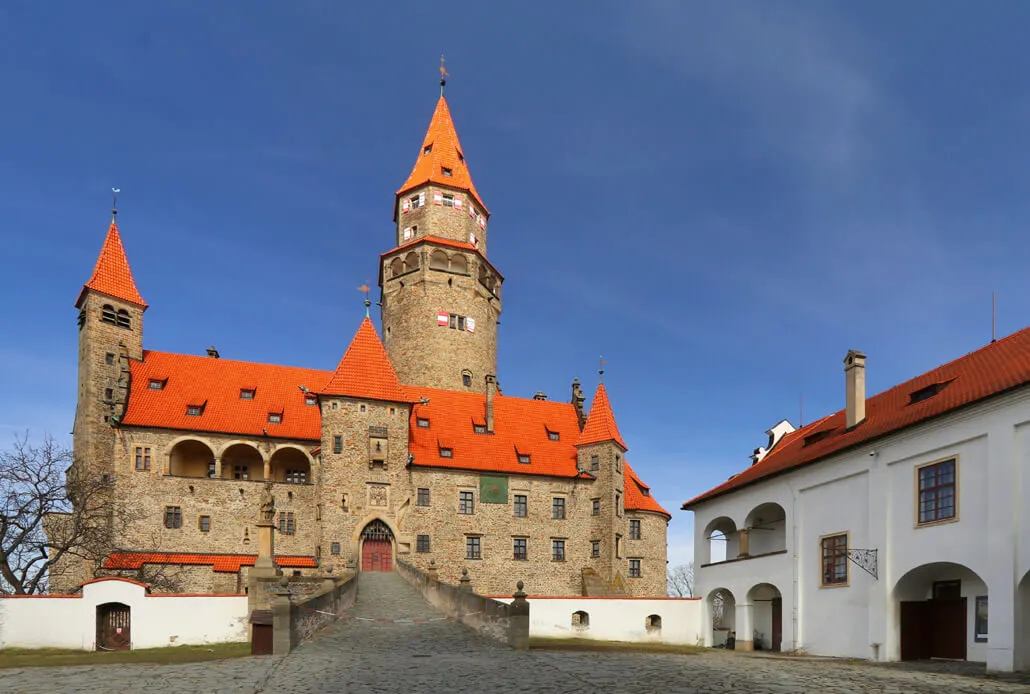 Olomoucké Poděbrady Lake / Natural Swimming Pool Poděbrady
Přírodní koupaliště Olomoucké Poděbrady
Would you like to go to a beach while in Olomouc? If so then you're in luck as there's a lake nearby! This Olomouc lake is located just 5 km (3 miles) from Olomouc and is an ideal swimming pastime for locals and daring travellers.
The whole area is quite lively and there are frequent events organized there. If you don't feel like having a soak then have a meal instead! There's a restaurant right on the shore.
Don't confuse the lake with the city of Poděbrady located in Bohemia! This lake can be found near the village of Horka nad Moravou. It's just a 10 min drive from Olomouc and about 20 minutes by bus from the city (no. 18 or 20 running through the city centre). You can even walk there – in that case you'd follow the stream Mlýnský potok and it should take about an hour.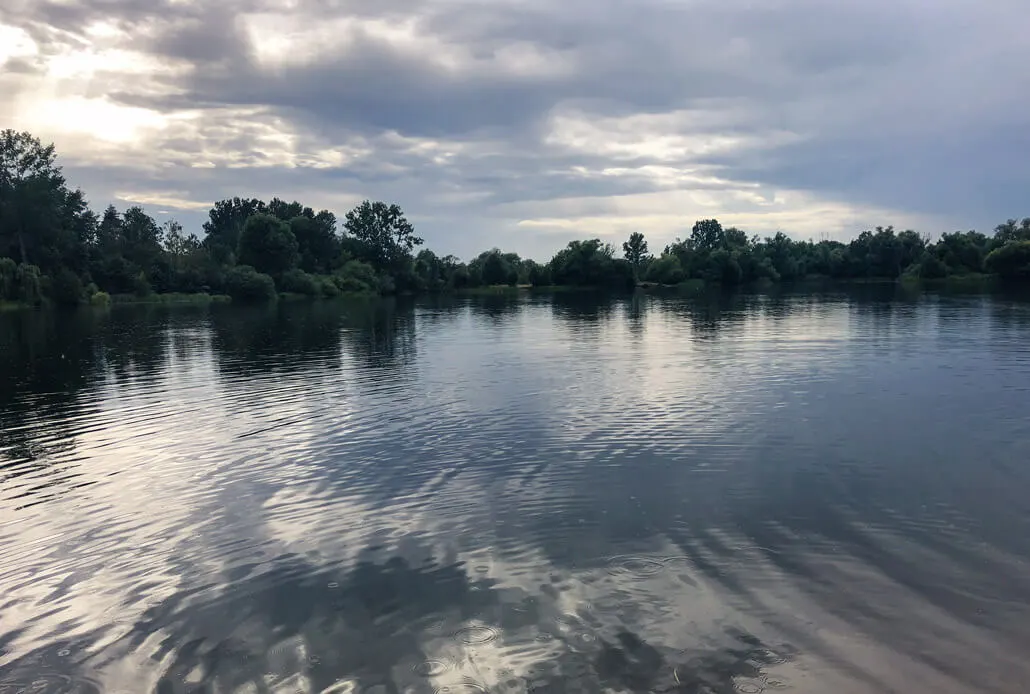 There's actually way more to see around Olomouc. So much that I might write a separate article on it :) Stay tuned!
I hope you've found the information in this Olomouc guide comprehensive and helpful. And if anybody ever asks you Is Olomouc worth visiting? you'll reply a resounding YES!
If you're missing anything in this article, just comment below and I'll be happy to reply. If any of your friends could use the info provided in this article, please share :)
Enjoy Olomouc, one of the most beautiful cities in the Czech Republic. And let me know how you liked it :)
Pin this post for later: