This post is also available in:
Čeština
In case you, like me, have recently had an increased thirst for nature adventures, you've come to the right place.
Welcome to Montenegro, the country of lazy Balkan inhabitants (fun prejudice admitted even by the Montenegrins), big national pride, and incredible achievements considering the country's size and age.
Montenegro has existed as a sovereign state since 2006. There are currently a little more than 600,000 inhabitants.
Almost everyone who visits Montenegro heads to Kotor, the picturesque seaside town with beautiful fortifications and old walls, which sits so conveniently in the Bay of Kotor, making it accessible even for large cruiseships.
Today I'd like to convince you to visit the mountains of Montenegro. Because they are stunningly beautiful, peaceful, mostly empty and well marked.
Ready, set, go!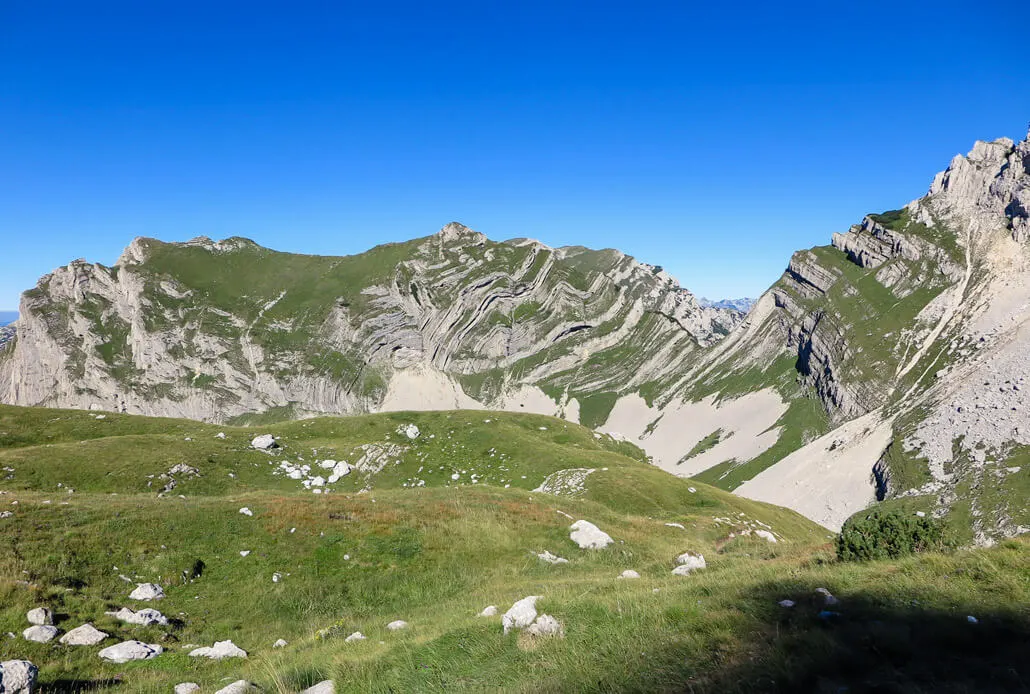 Durmitor National Park
Let's start with the incredible Durmitor National Park, located in the North of the tiny country. A UNESCO World Heritage site since 1980, this National Park is truly one of a kind. It was formed during the Ice Age as a massif as this area was heavily glaciated. You can still spot the remnants of the creation process – things like glacial lakes, canyons and caves.
It's one of the most beautiful mountain ranges in all of the Balkans. As opposed to other National Parks in Europe that are largely discovered, this one is relatively unknown and thus you'll encounter pristine nature without hoards of tourists.
Durmitor is home to 163 bird species, about 50 types of mammals and supposedly the greatest variety of butterflies in Europe. Fun fact: if you put on a fragrant sunscreen, the butterflies will want to hang out on you! :)
There are also bears and wolves, but you'd be extremely lucky to even spot any. You're more likely to see sheep, friendly dogs and other domesticated animals.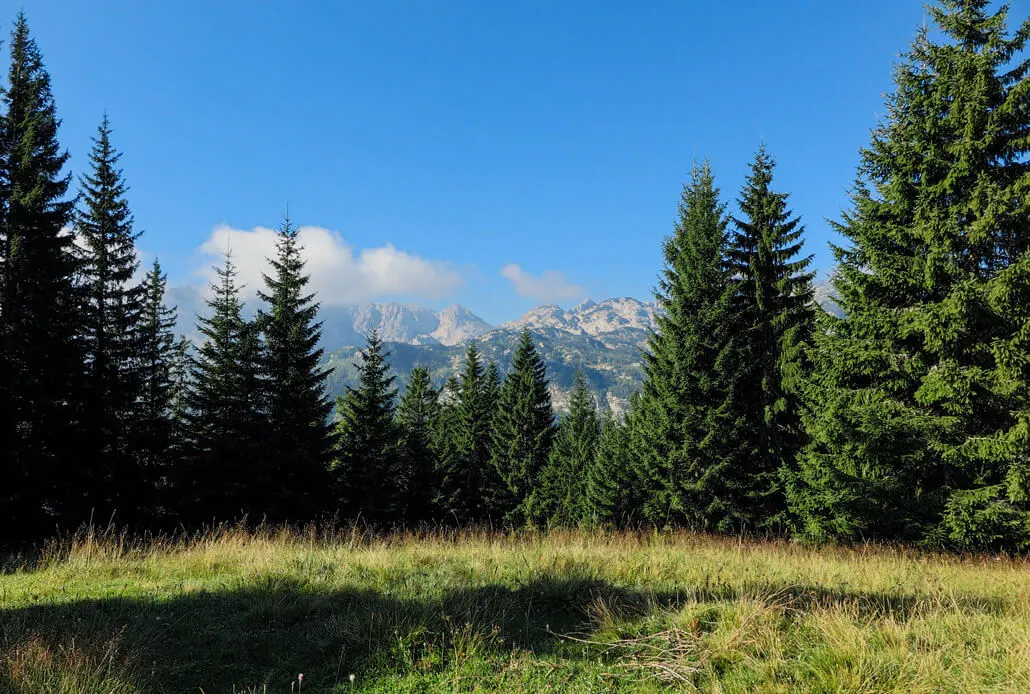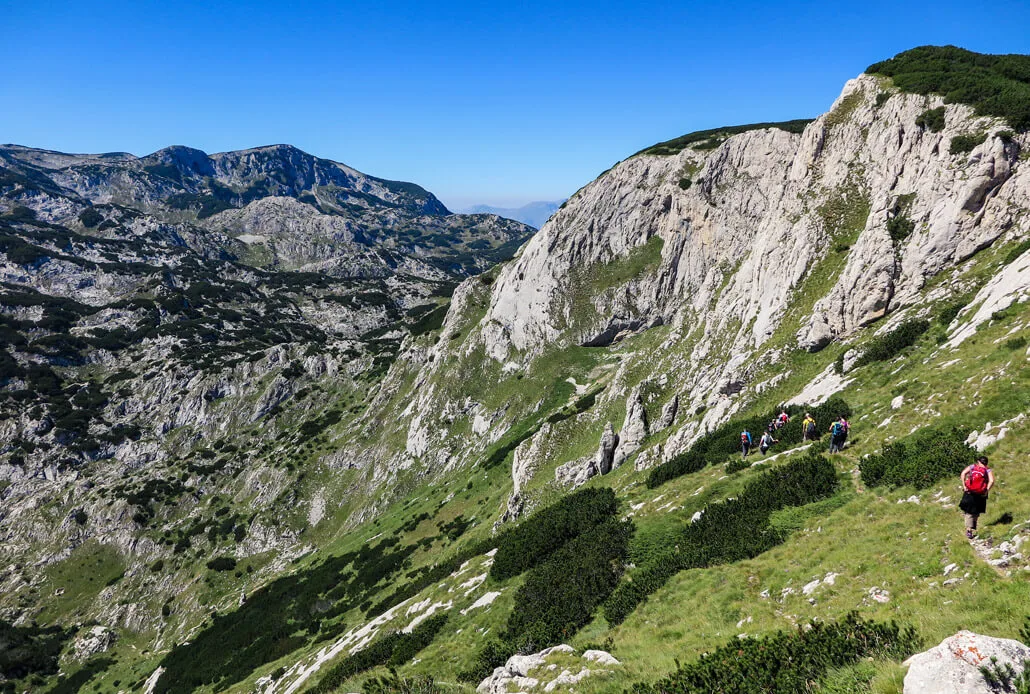 Durmitor Mountain Range has quite a few peaks worth climbing, even for an amateur hiker. I can recommend two of them:
Crvena Greda: 2,164 m
Meaning 'Red beam' in English, this table mountain stands out not only for its natural beauty and the magnificent views it offers, but the amazing diversity of lakes surrounding it. You'll pass by lakes on your way up, down and around and will be stunned by the views from the peak. Tiny lakes glitter and beg to be photographed – what more can one ask for?
You'll pass by Jablan Lake on your way up and you can choose a path that goes by Zminje Lake (meaning 'Snake Lake') on your way down. From the top of Crvena Greda, you'll be able to spot the uniquely shaped Crno Jezero, the 'Black Lake'. But don't be fooled by its name; the water is a beautiful turquoise color!
The way up is strenuous, but it's not too bad. Toward the very top, you'll have to fight your way through small pine trees, but it's more just a visual obstacle.
You can plan a full day hike up to the peak and around the lakes. But if you're pressed on time, the hike up and down Crvena Greda can be managed in half-day too.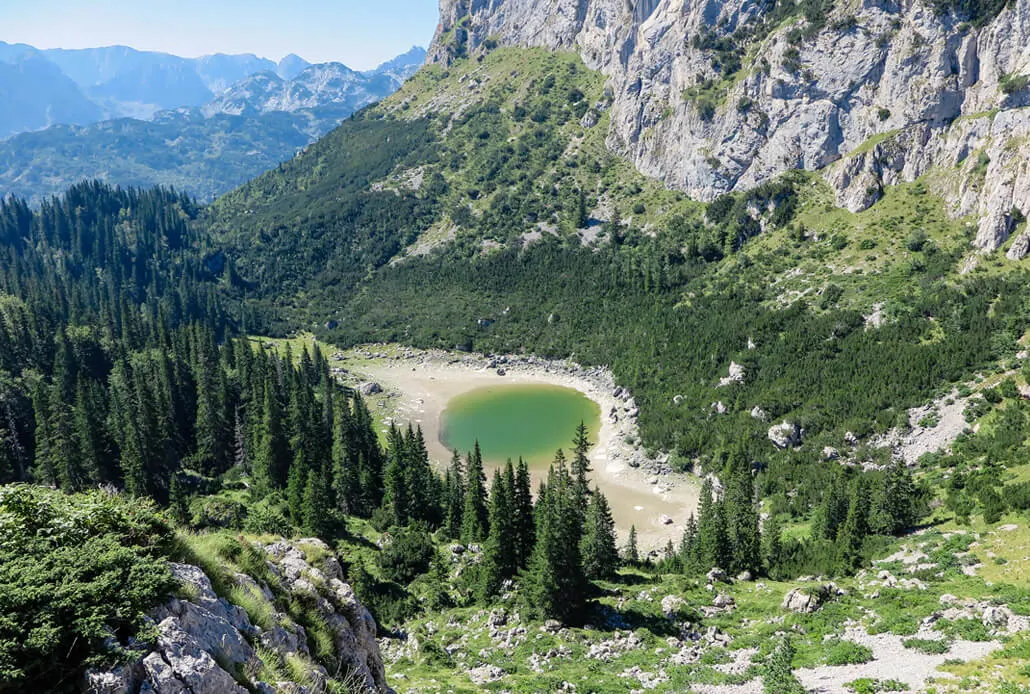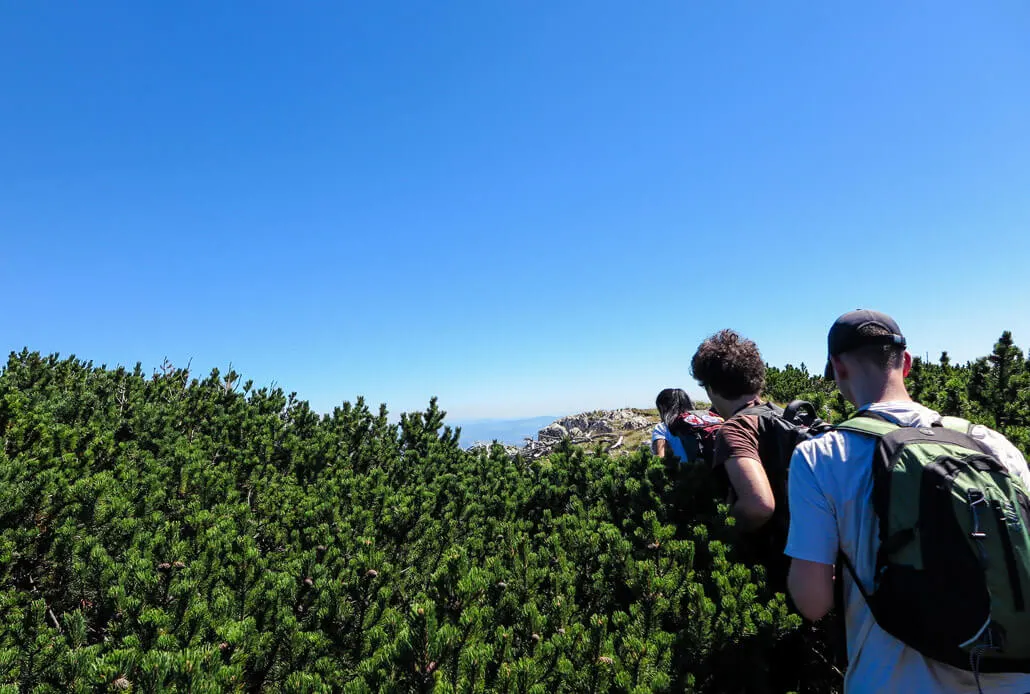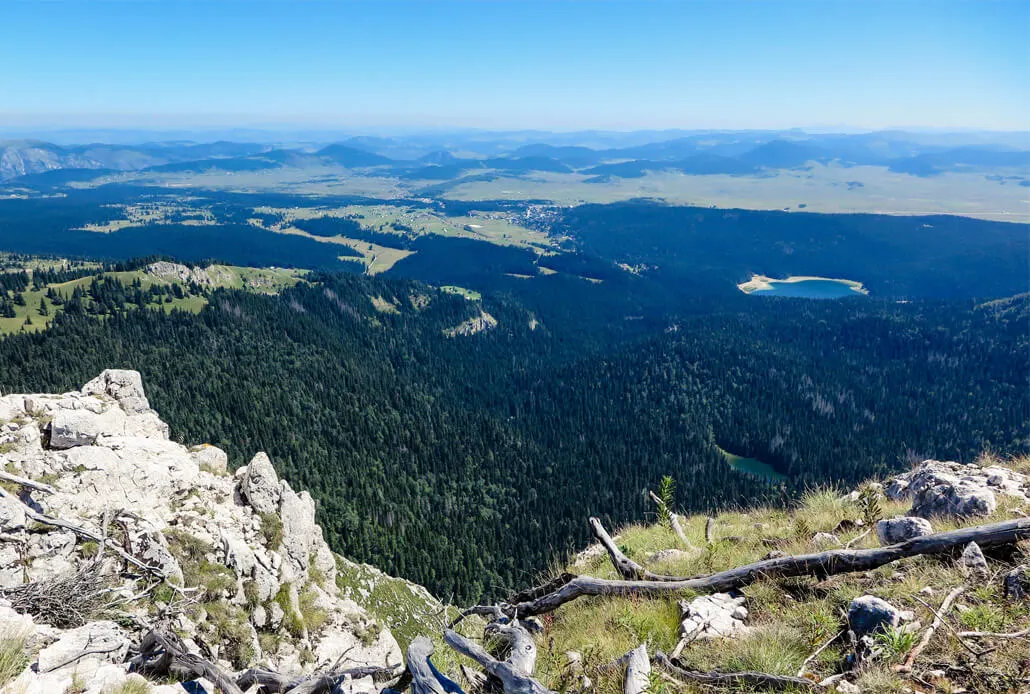 Check out more on hiking Durmitor and other trails in Europe here.
Bobotov Kuk: 2,523 m
Count with a full day for trekking up to the incredible Bobotov Kuk. I found the trek to be quite challenging, but I'm a very amateur hiker. In my opinion, anyone in decent shape could handle the elevation (850 m). Sure, it'll cost a bit of sweat and tears, but the incredible views from the top are well worth it. I only wouldn't recommend climbing the few last meters to people with serious vertigo issues.
We first drove to a saddle, which was already in the height of 1907m, and started the trek from there. You can find the exact spot by googling Sedlo 1907 in Durmitor.
For Bobotov Kuk, you'll need some real mountain boots (like these for women OR these for men). The terrain varies, but you'll encounter parts that are made up of slippery rocks of all sizes. Trekking poles would come in handy too. I didn't have them and my knees were not happy.
If you'd rather join a hike to Bobotov Kuk led by a professional hiker, consider signing up for this new tour.
To be fully honest with you here, I think Bobotov Kuk gave me more 'wow' feeling than Crvena Greda. So if you can manage only one hike in Durmitor, go for this one. Still not convinced? Let the photos speak for themselves: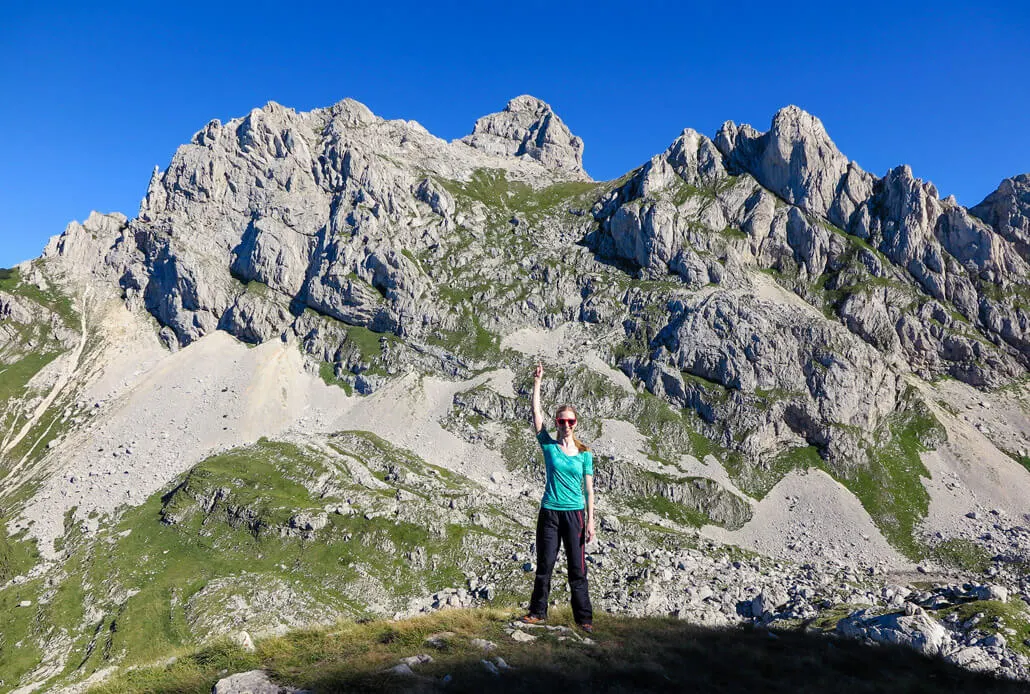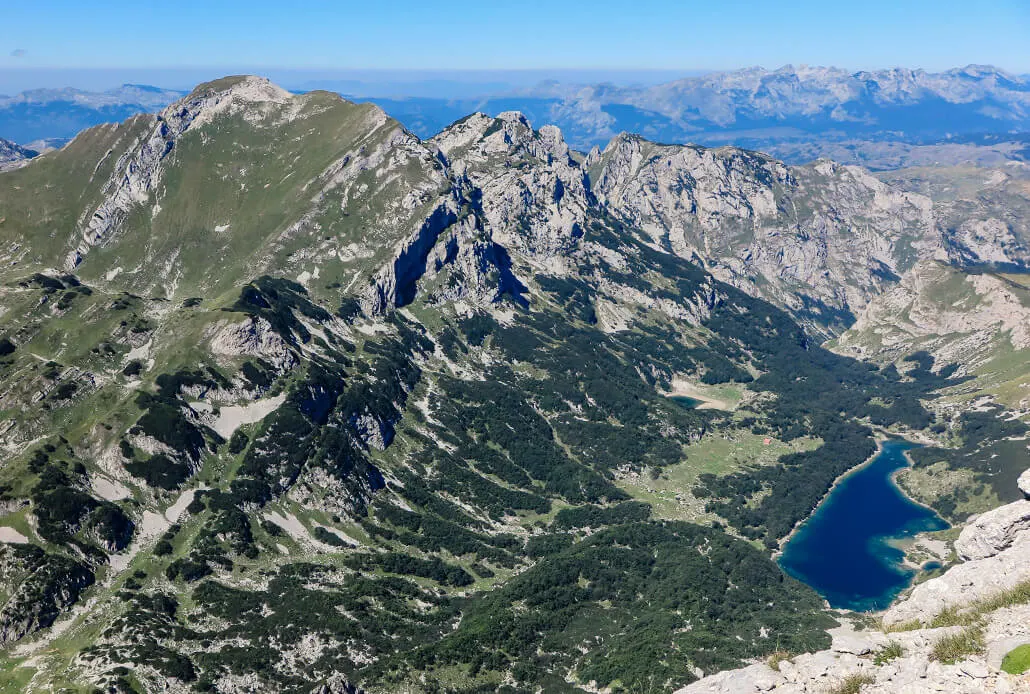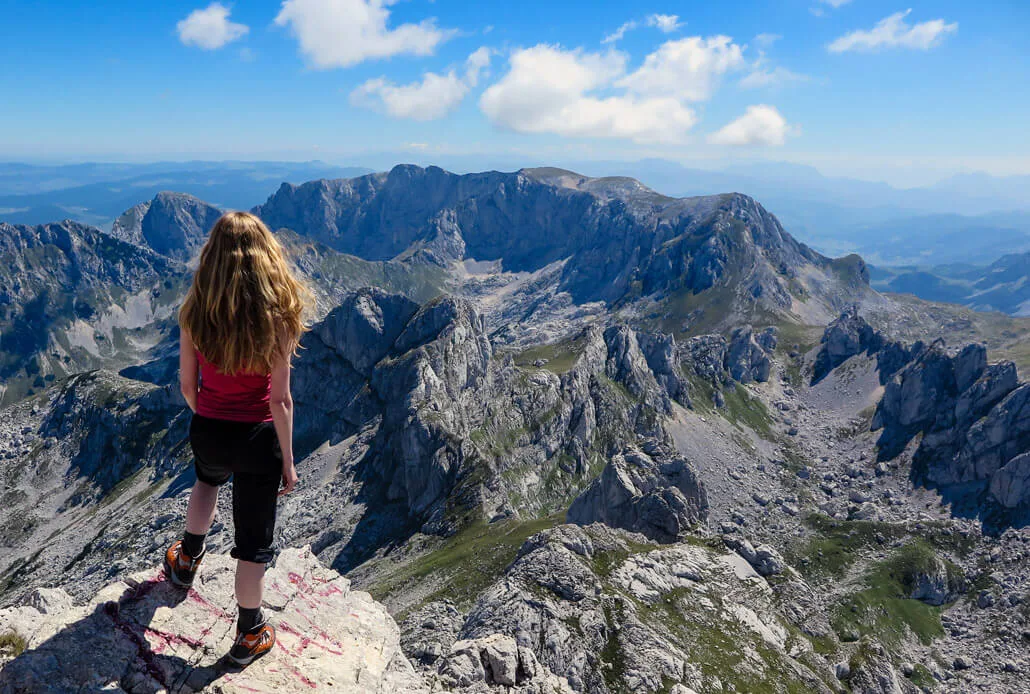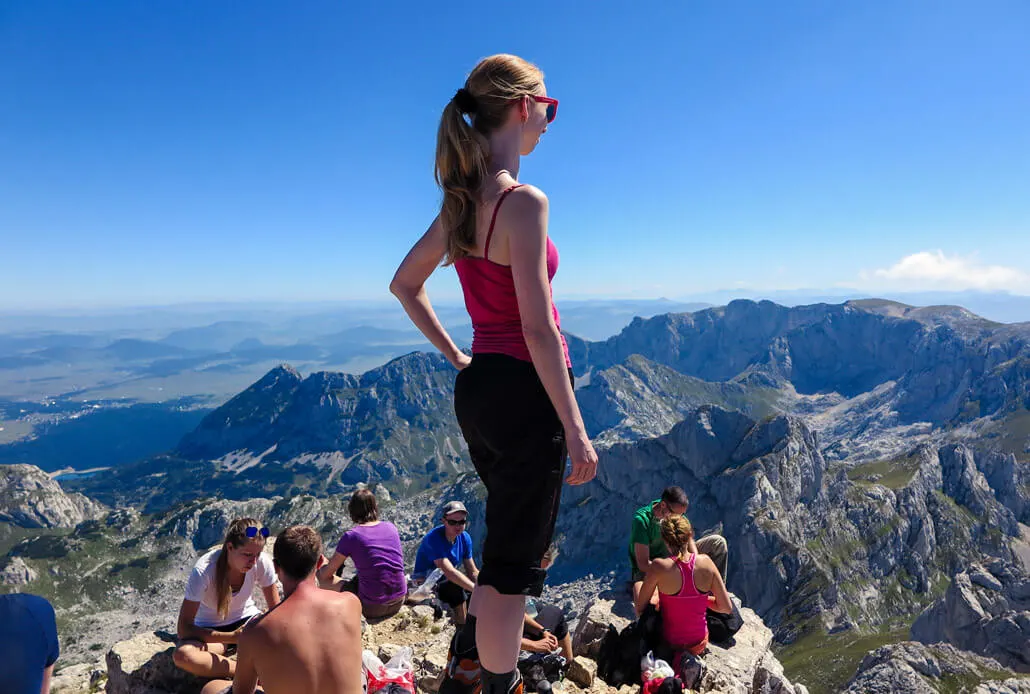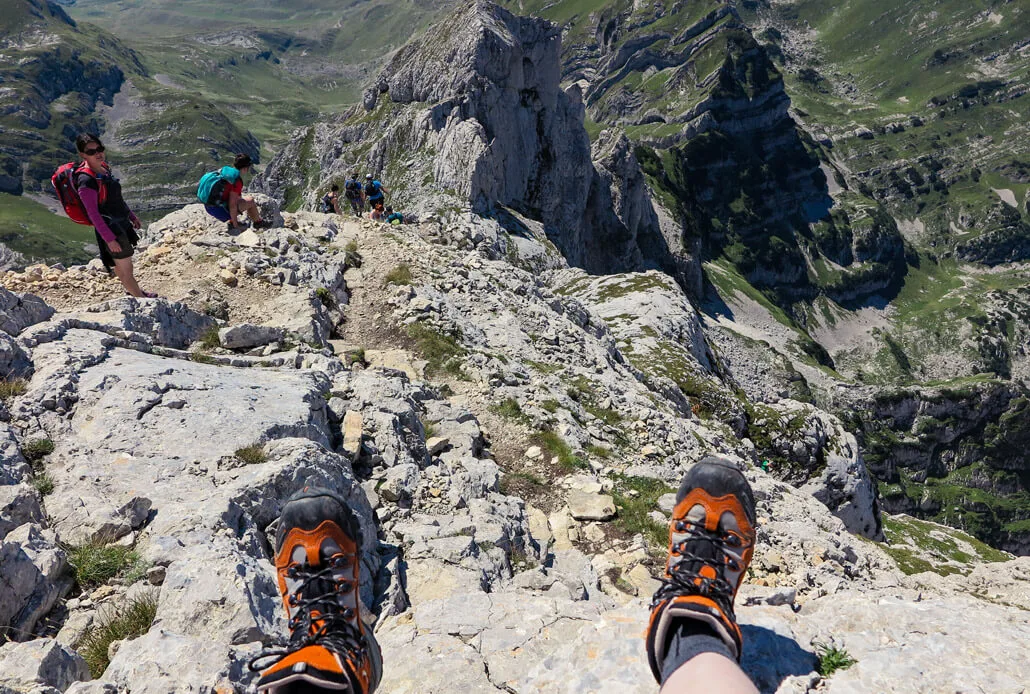 Recommended Travel Insurance
When planning travel, make sure you never forget to set up your travel insurance.
If you're unsure, check out my review of SafetyWing travel insurance. It's great for any trip longer than 5 days!
It can be arranged even if you're already on the road. It's affordable, too – the price starts at $42 for 4 weeks.
Tara River Canyon: -1,300 m
While the amazing peaks of Durmitor are guaranteed to take your breath away, the opposite extreme is similarly stunning. The canyon the local river Tara has created is the deepest in Europe, and actually only the second deepest worldwide, after the American Grand Canyon. On a few spots it's as deep as 1,300 m.
Đurđevića Tara Bridge
You can enjoy the views from the Đurđevića Tara Bridge, a beautiful concrete arch bridge, which is supposed to be among the top 20 bridges in the world. If enjoying the views while just leisurely walking on a bridge is not enough adrenaline for you, you can try a zipline!
There are two zipline providers, one offers a ride for €10, which is by a few seconds shorter and slightly less fancy. I took it and loved it and screamed the whole time. :) The pricier option, costing you €20, is a bit cooler and you sit in a more comfy-looking apparatus rather than just strapped to a pulley.
To experience the thrill of Tara River, try whitewater rafting. There are several providers, all have their shops set up near the Bridge. Typically, a rafting tour ends with a swim in the Crno Jezero, which is cold but beautiful!
There's also the option to book a rafting trip to the Tara River Canyon in advance: either from Žabljak or all the way from Kotor.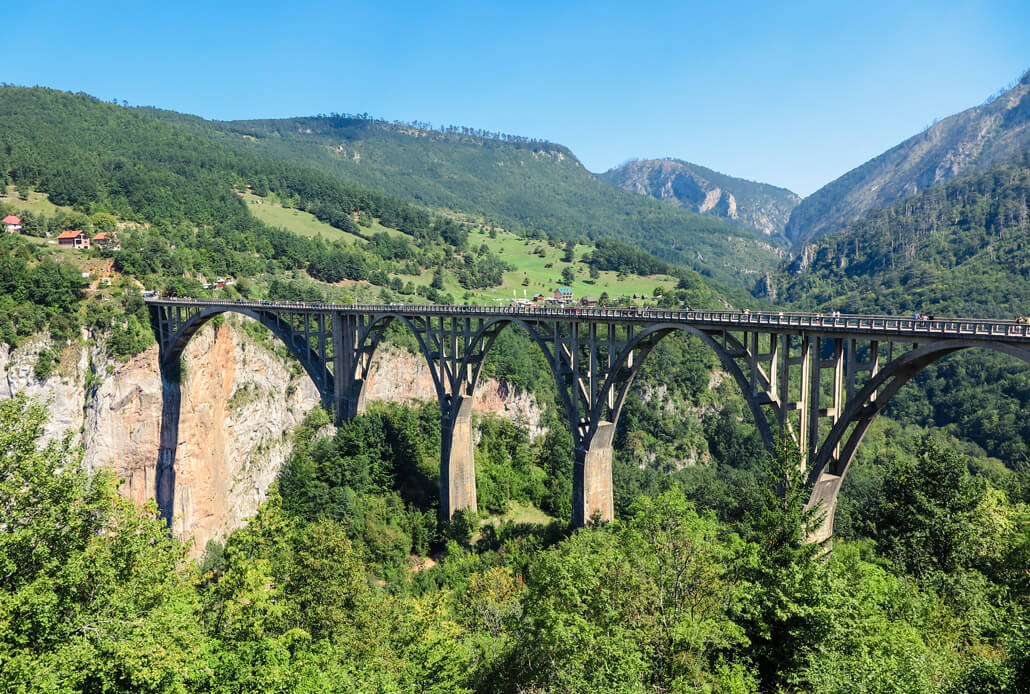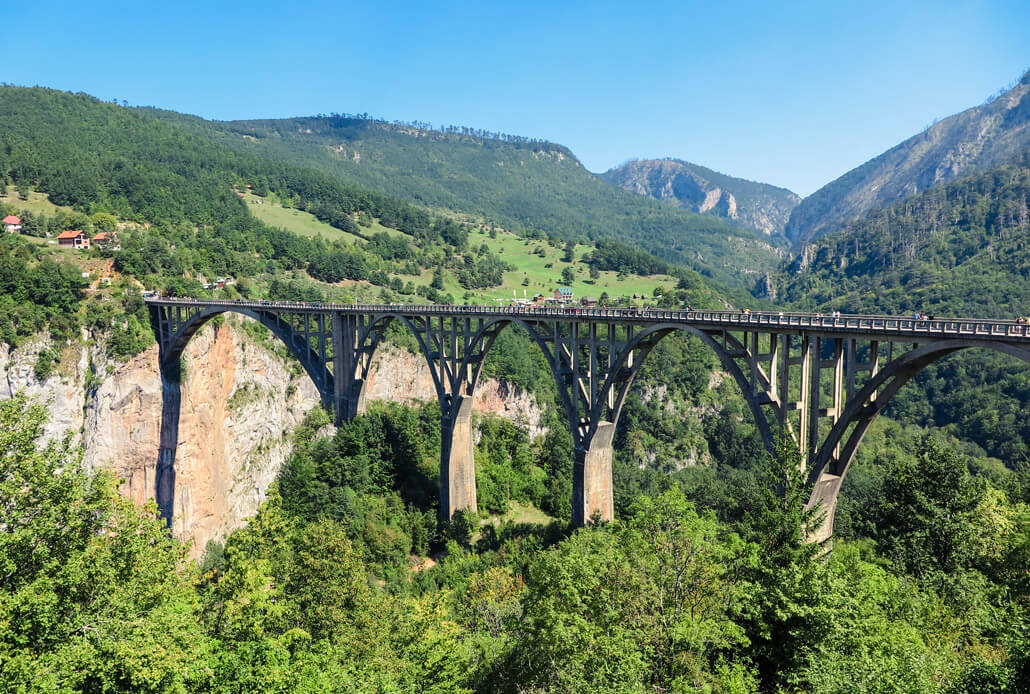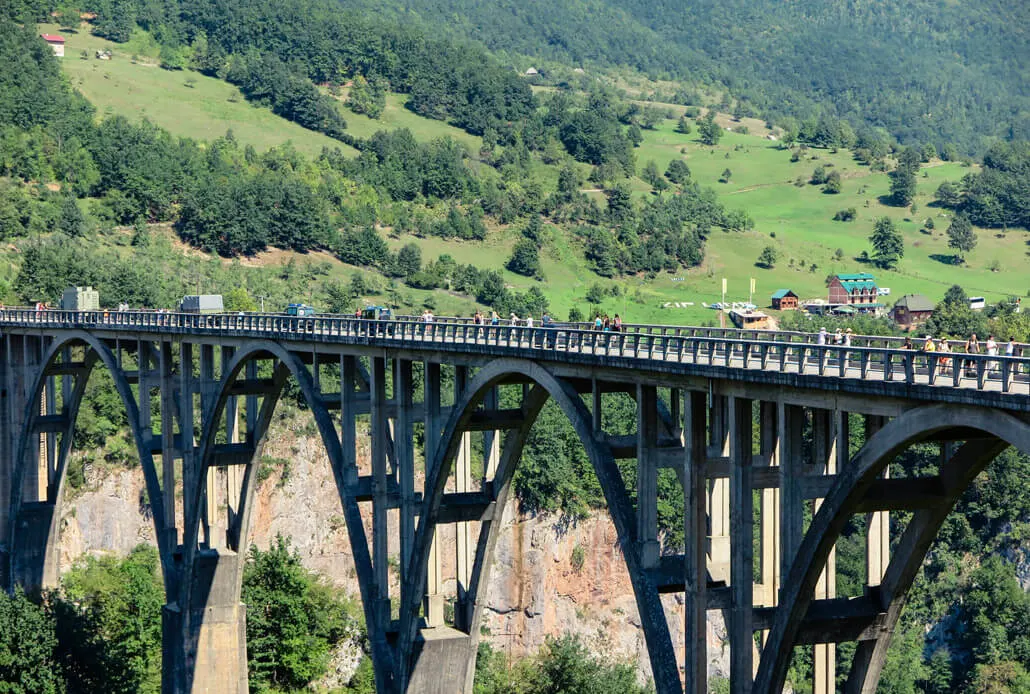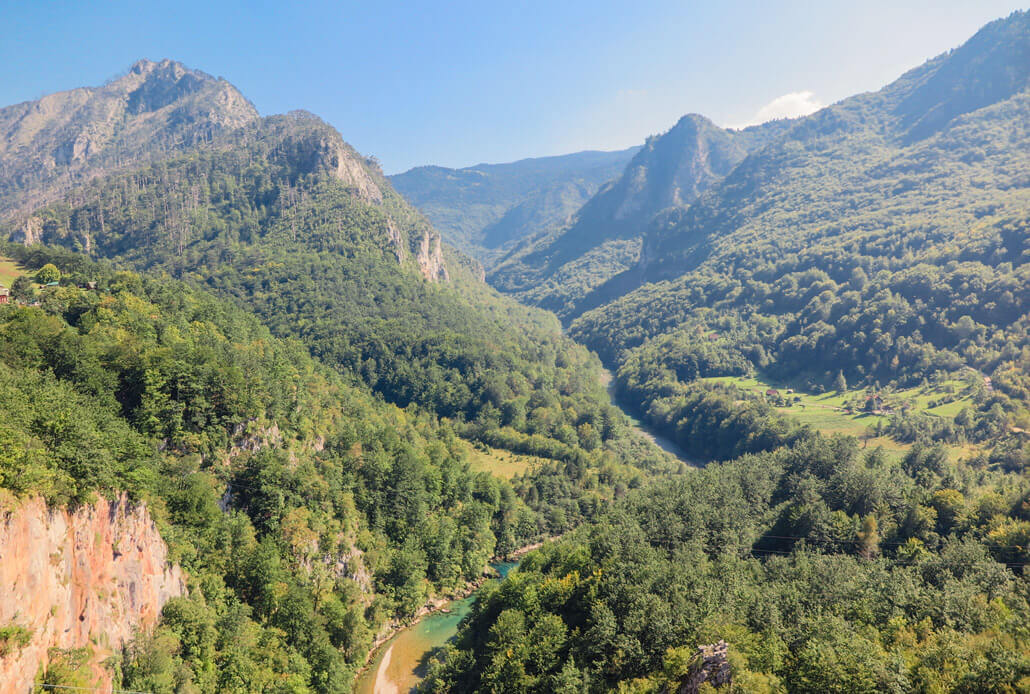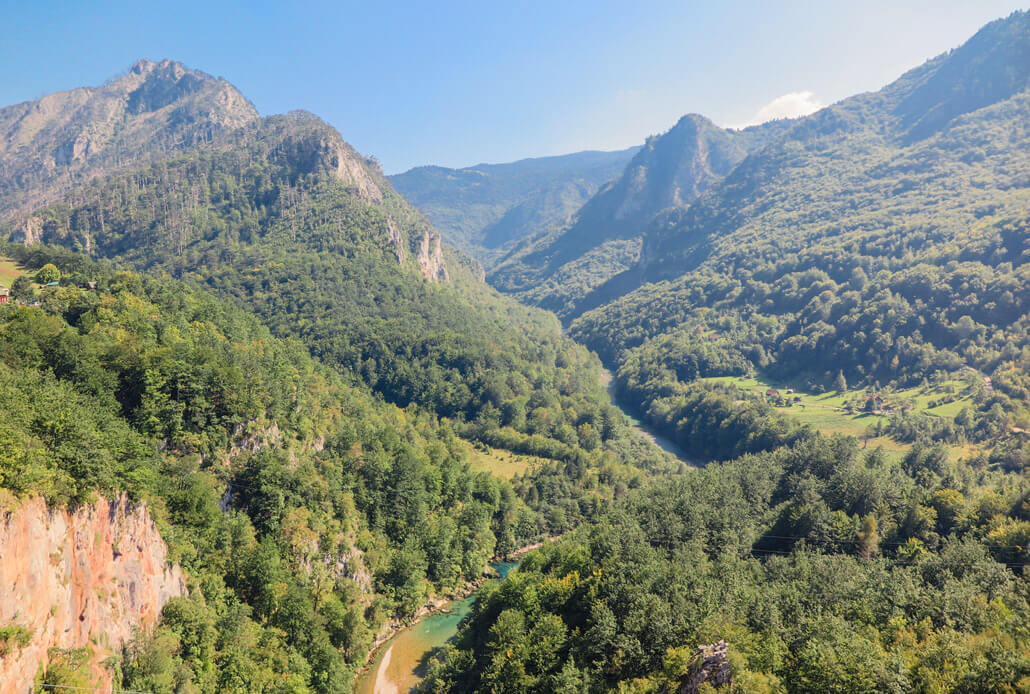 Ćurevac Viewpoint
To have the best view of the deepest part of the Tara River Canyon, climb up to a viewpoint called Ćurevac. It's a short hike up, provided you have a car and can drive to the foot of the hill.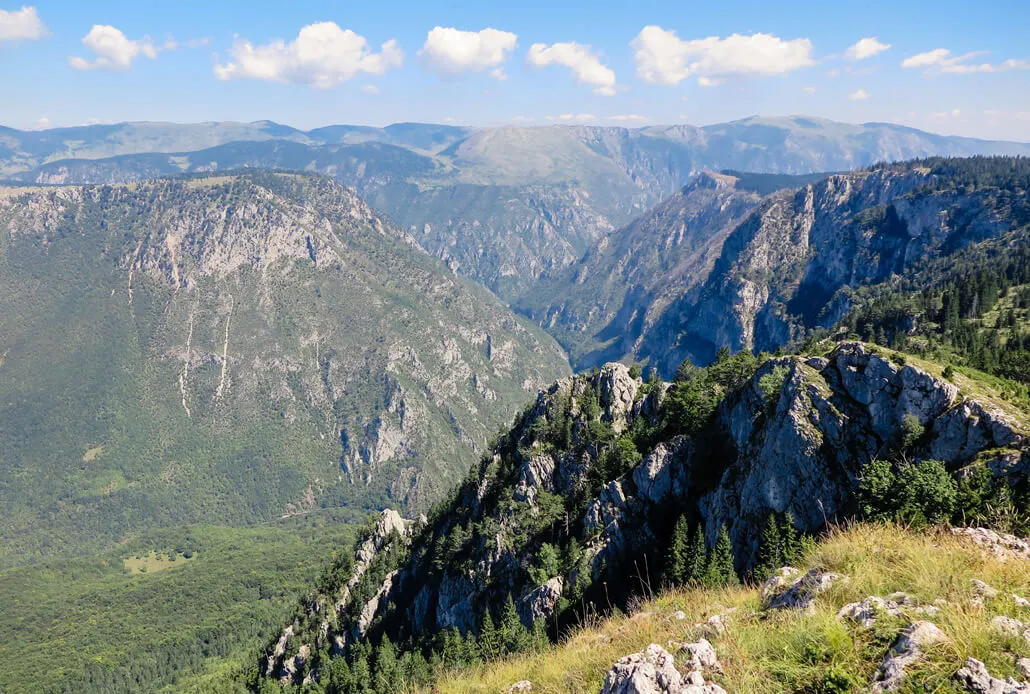 Practicalities: Accommodation
You'll want to stay in the city of Žabljak or in the surrounding area in order to easily reach the trails leading up to the mountains and to the lakes of Durmitor.
We stayed at the Mlinski Potok Campsite, which featured options of staying in your own tent or in small cabins. It was a really nice area, and waking up to see the mountains lit up by the early morning sun was truly special.
If you like the idea but don't have your own tent yet, check out this selection of the best lightweight tents for two.
If you'd prefer something more private and with a higher chance of hot showers, check out other plentiful accommodation options available in the area.
Click here to see more options on BOOKING.COM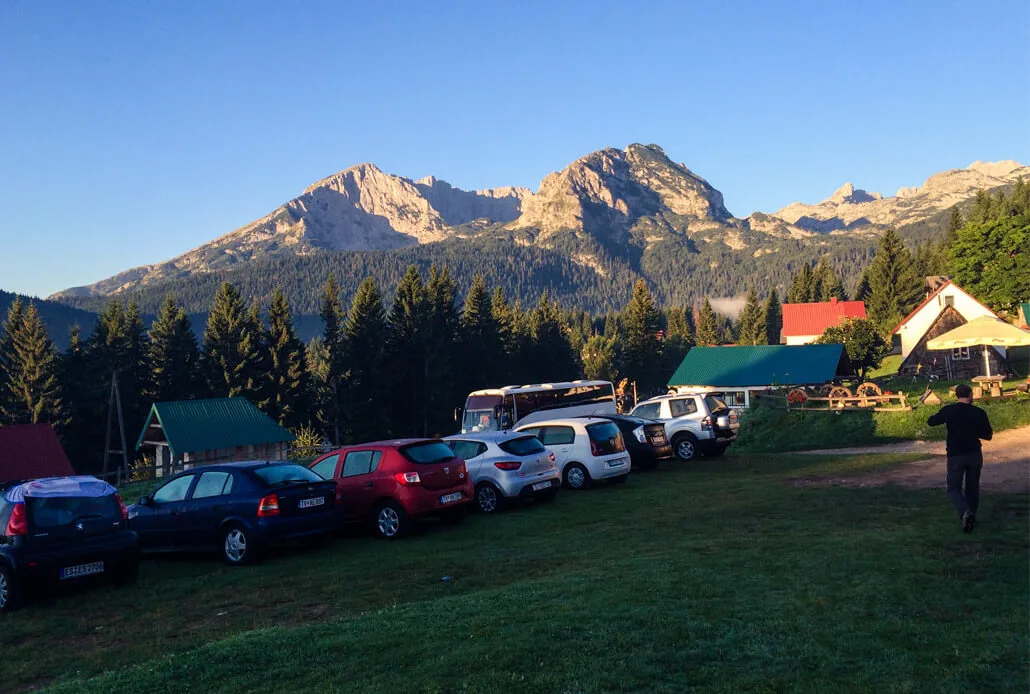 Read more about Durmitor National Park here.
Biogradska Gora National Park & Bjelasica Mountain Range
Biogradsko jezero
The highlight of Biogradska Gora NP lies right at its heart: Biogradsko jezero, or Beograd Lake in English. The Bjelasica Mountain Range – the underlying mountains – is of a volcanic origin. You can find one of the largest virgin forests in Europe there. It's no wonder that this National Park is officially the oldest one in Montenegro, being founded in 1952.
Biogradsko Jezero is one of the many glacial lakes in the area and lies at a height of 1,094 m. This lake in particular is the largest and possibly also the prettiest. You can enjoy the walking path around the lake, which takes approx. 1 hour.
The lake is nice and clean and if you're staying in a tent, you'll need to jump right in it to stay clean. There are no communal showers by the Biogradsko lake.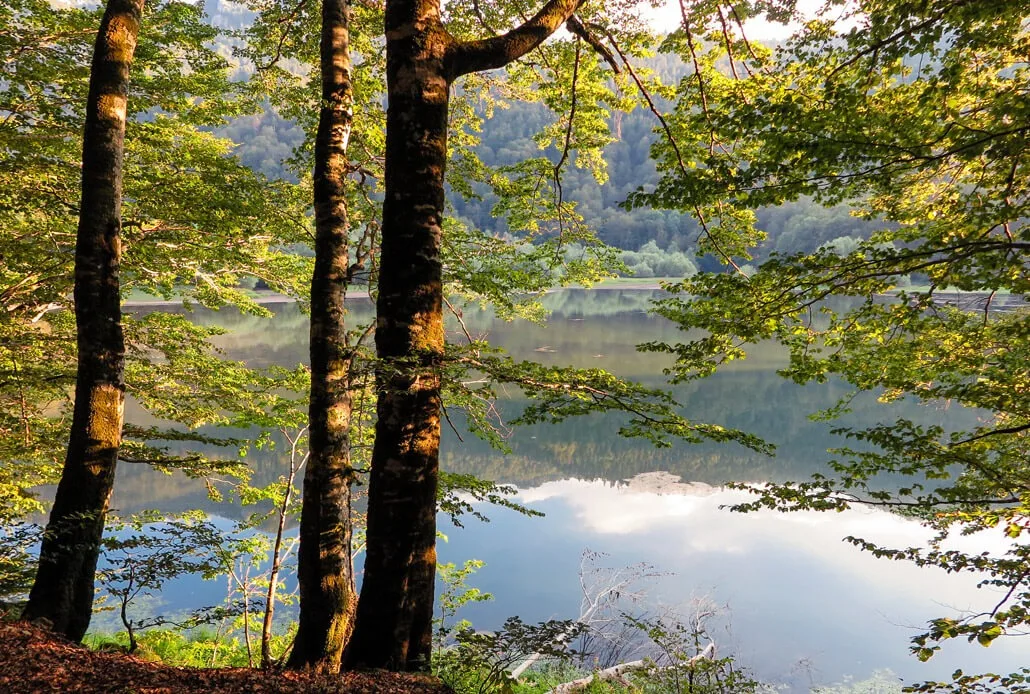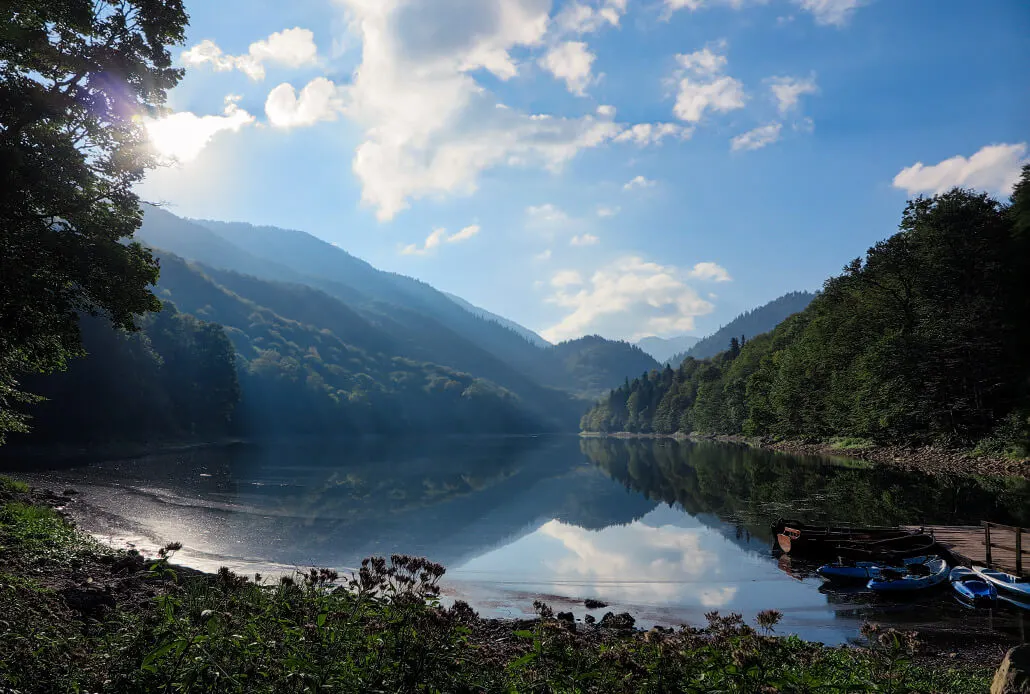 More hiking & cultural immersion
For bigger hikes, though, there's the option to hike the Bjelasica Mountains, in and out of the 'border' of the Biogradska Gora NP.
You should include a visit to one of the traditional shepherds' shelters on the way. They offer accommodation, but homemade meals are the real catch there. You can relax your tired feet with a cold beer in hand, waiting for your amazing (and heavy) Montenegro lunch. It's all part of the experience :)
We stopped at one of the 'katuns', as they're called, on our way to higher peaks and also on our way back. :) We hiked through Dolovi area, where there are these 2 amazing katuns:
There are several viewpoints in the area, like e.g. Bendovac, which is around 2-3 hours hike from Biogradsko Jezero.
Exploring parts of Bjelasica Mountains comes in handy in between more strenuous hikes in the mountains.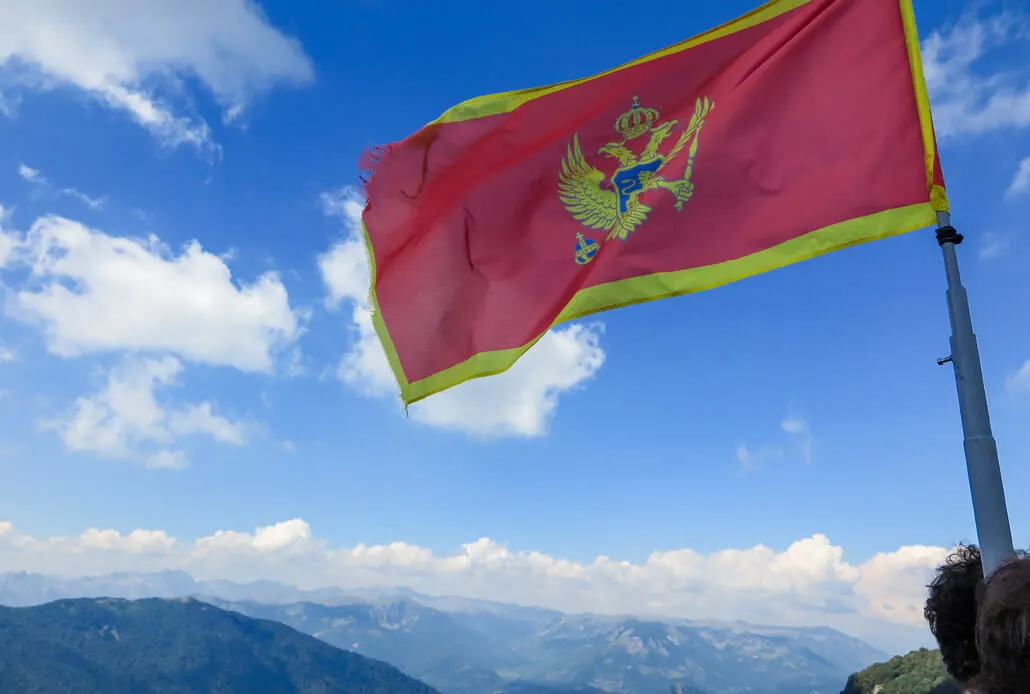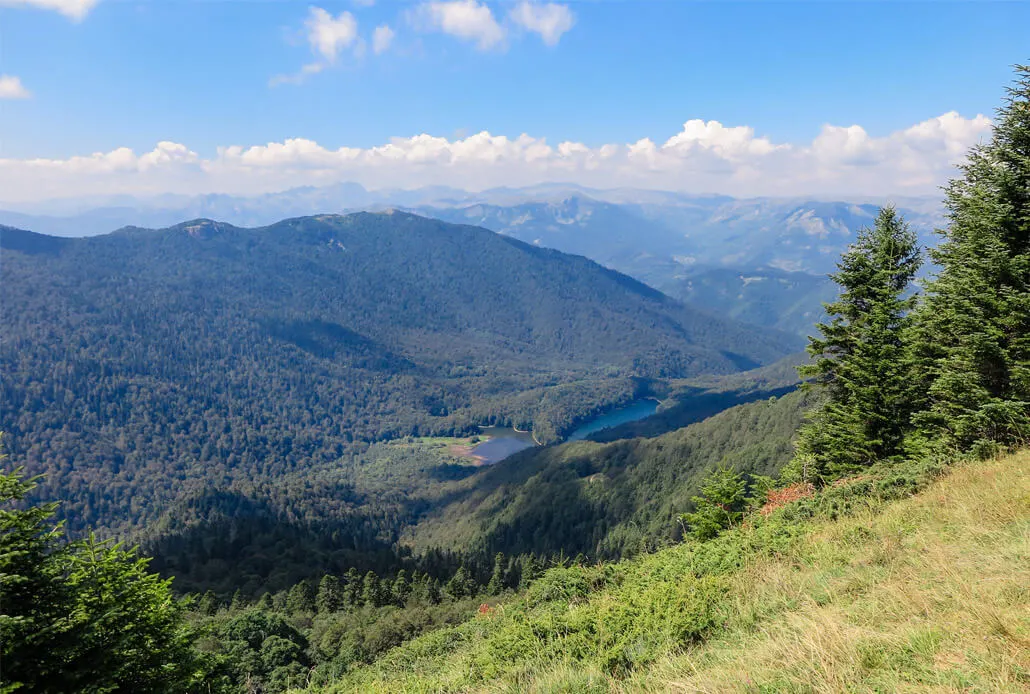 Practicalities: Accommodation
You can stay right by the lake! That is, if you don't mind pitching a tent in a forest. Alternatively, you can stay in a few cabins that are right by the lake too. Check out this overview by Visit Montenegro.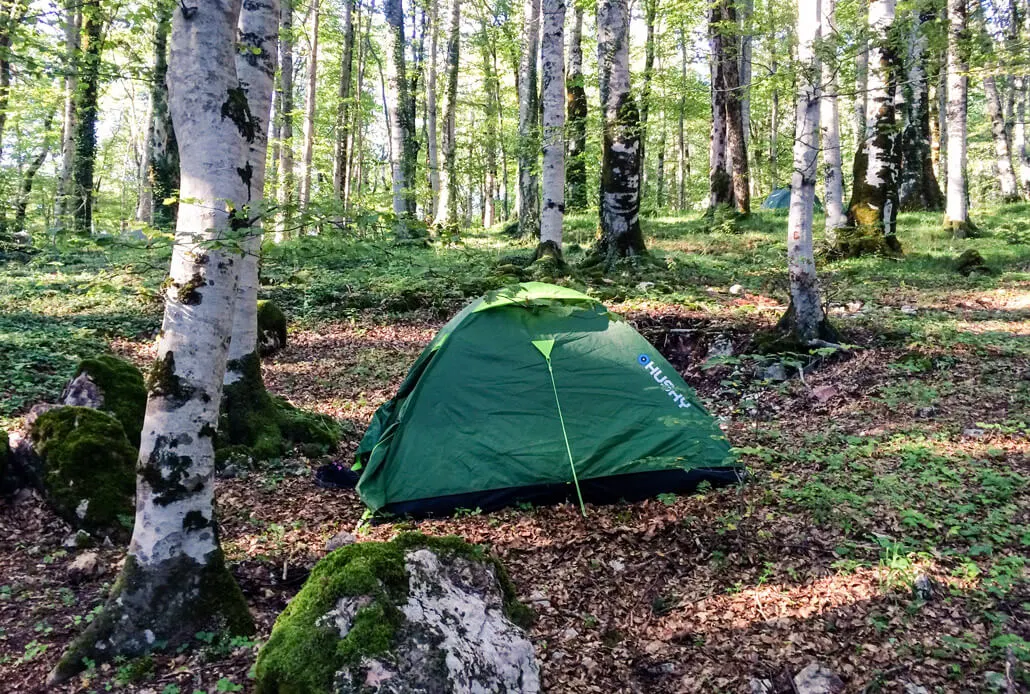 Additionally, there's the option to stay in one of the Katuns:
Another beautiful accommodation option in the area is Eco Village Goles. I haven't actually seen this one, but it looks wonderful on the photos!
Komovi Mountains
Located near the border with Albania, the Komovi Mountain Range features some dramatic and bare peaks. Apart from the one that we hiked, there are 5 more that rise above 2,000m. The two highest are Kucki Kom (2,487m) and Ljevorijecki Kom (2,469m). The third one is:
Kom Vasojevičkij: 2,461 m
Yet another stunning trek up to the top of the world. That's how it felt to me. The Komovi mountain range looks different from Durmitor, although it's hard to describe exactly why. Perhaps there are fewer trees around and the landscape appears more barren.
We hiked through the Stavna Plateau (we stayed just below it) and then further up. Most of the time you'll be climbing sideways along the mountains edges. You'll basically circle it several times till you get to the top. We saw two hikers who tried to go a more direct route (unmarked path) but quickly gave in.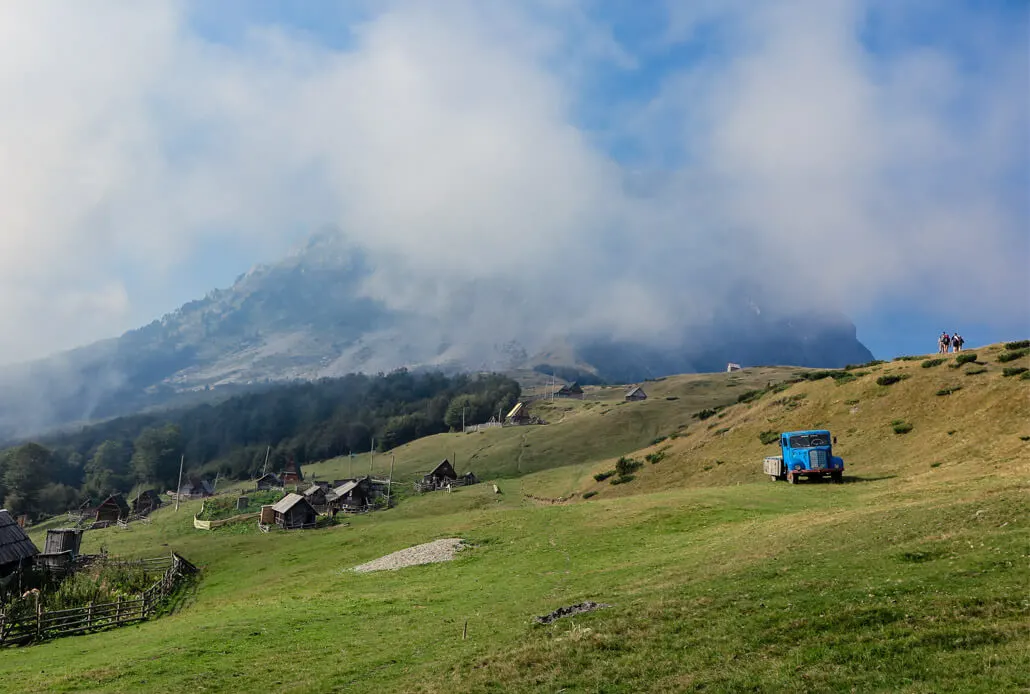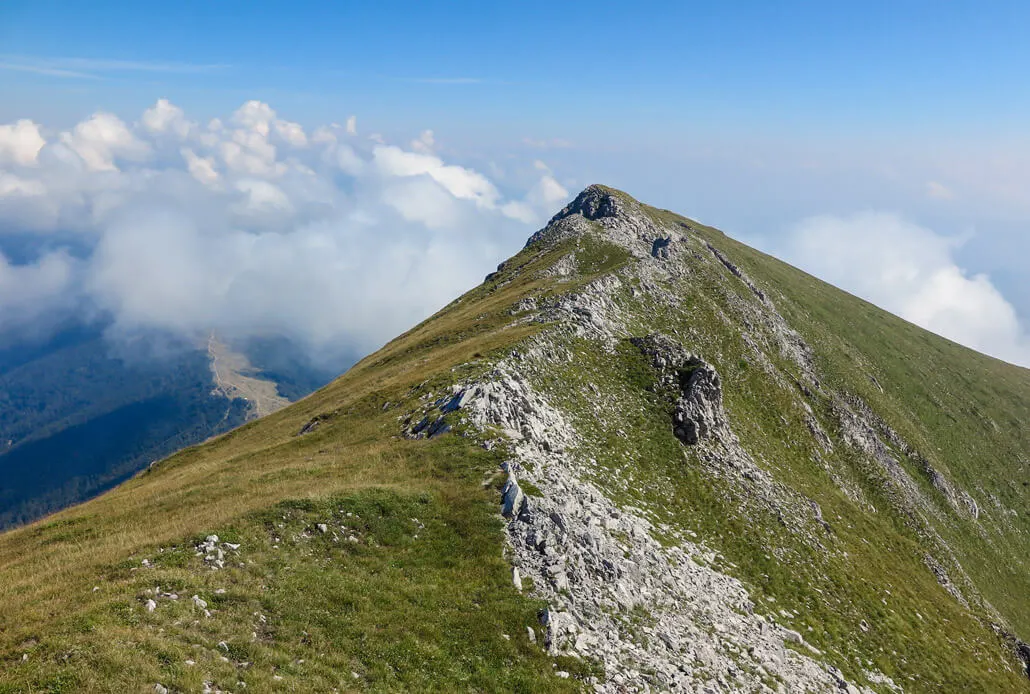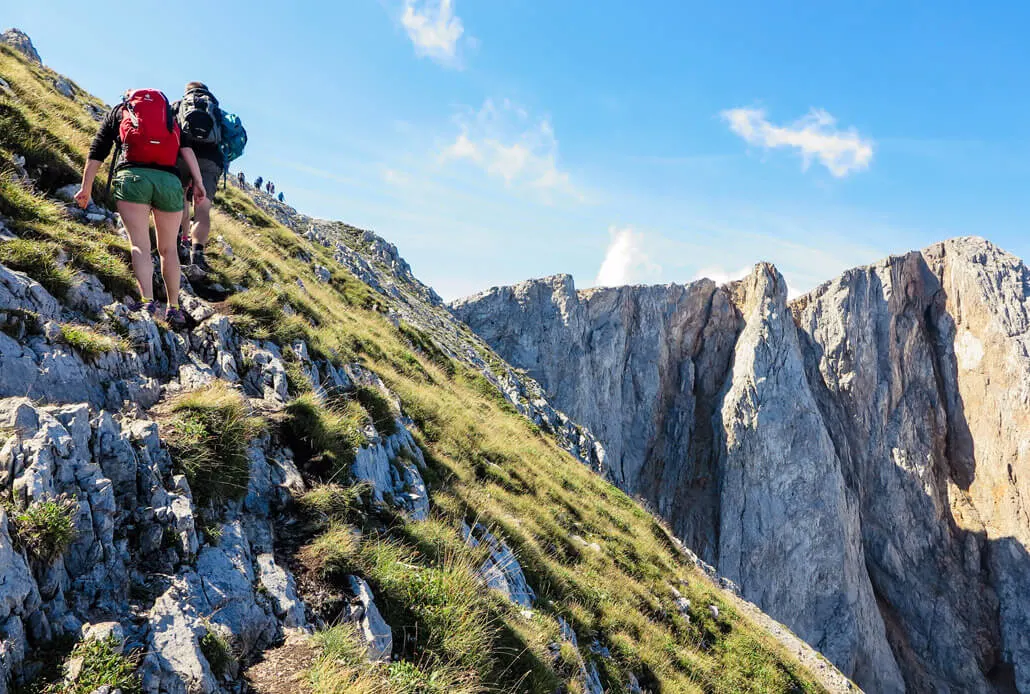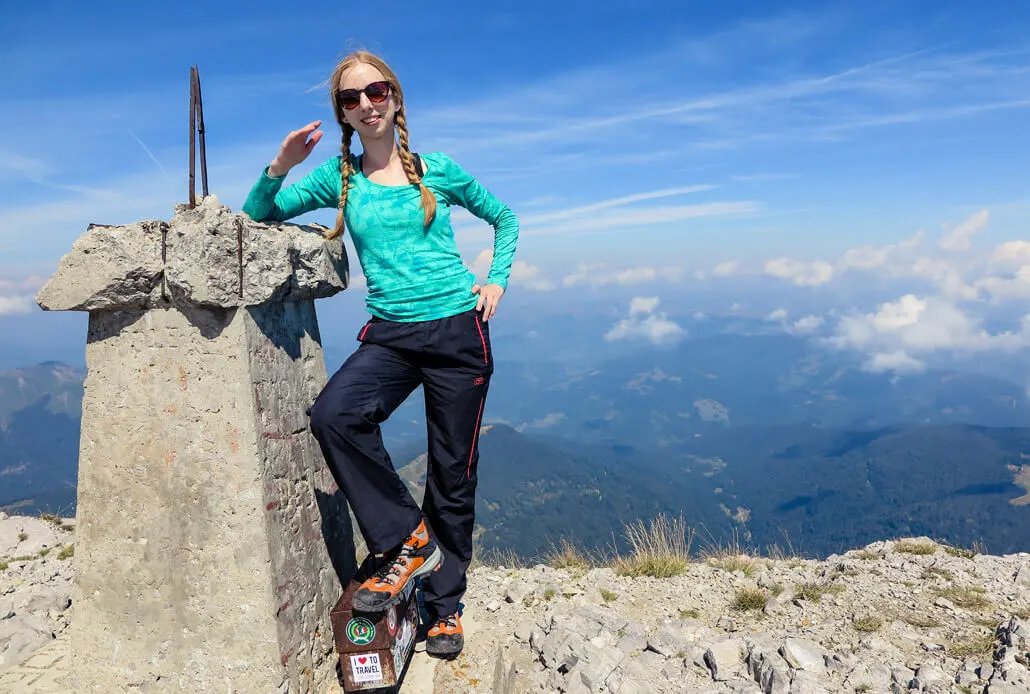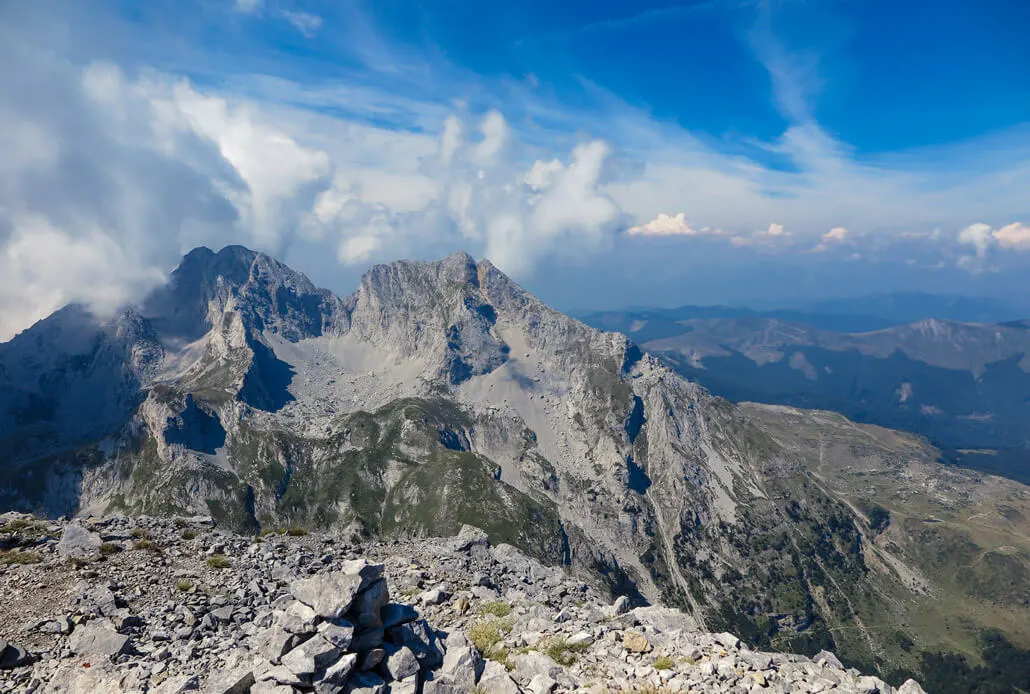 Practicalities: Accommodation
The most convenient way is to stay at a local campsite with little cute cabins, right at the bottom of the Stavna Plateau, with a nice path up:
Stay in one of their little chalets, right at the foot of the mountain. They have all the facilities you might need, including a great restaurant with local delicacies. Not only it's located in nature with beautiful mountains surrounding you, but it's also been built as one of the first ecotourism accommodation options in the area.
Click here to check the current price on BOOKING.COM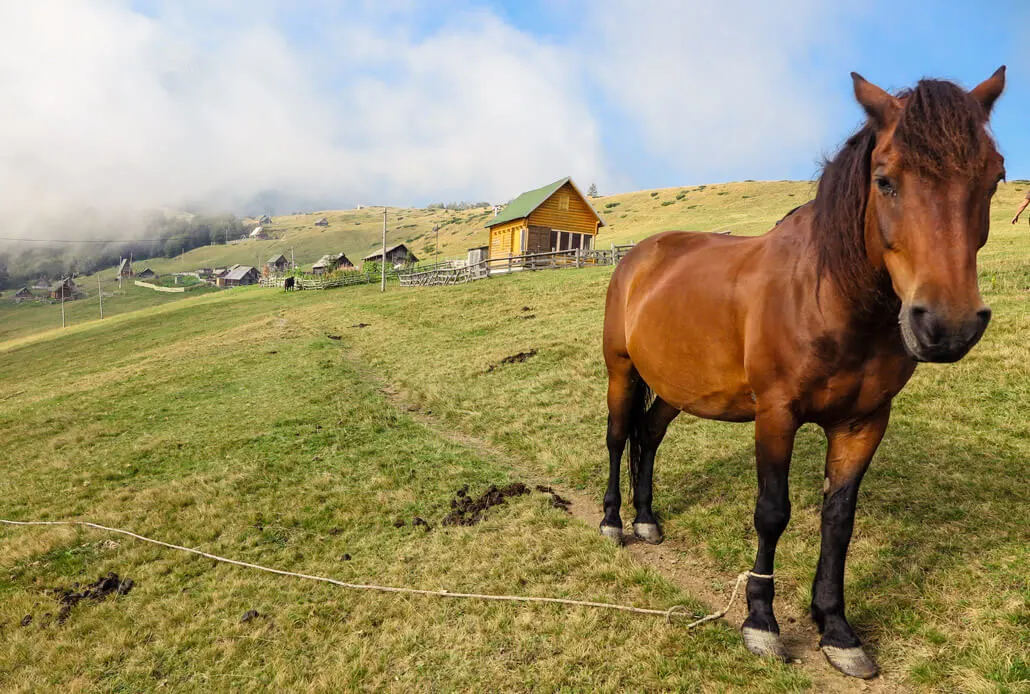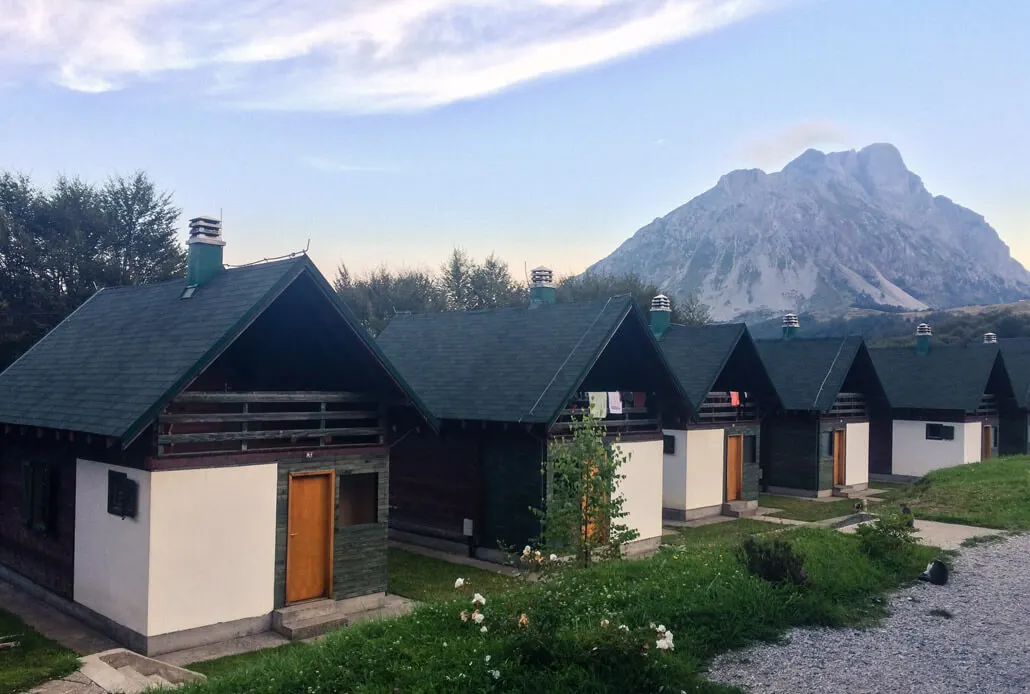 Prokletije Mountain Range
I haven't visited these mountains particularly, but together with Durmitor and Komovi, they form a natural triad of the best mountaineering adventure Montenegro has to offer.
Montenegro shares Prokletije Mountains with Albania. There's one National Park in the Prokletije Range located in Montenegro, and two in Albania. A fourth one might be created in Kosovo.
There are a few individual mountains with good hiking opportunities in Prokletije. Apart from the actual peaks, you should check out Plav Lake and Ali-Pashas Springs.
If you make it to either peak in Prokletije, let me know how it was! I'll gladly add it to this post, so that other adventure travelers can use the information.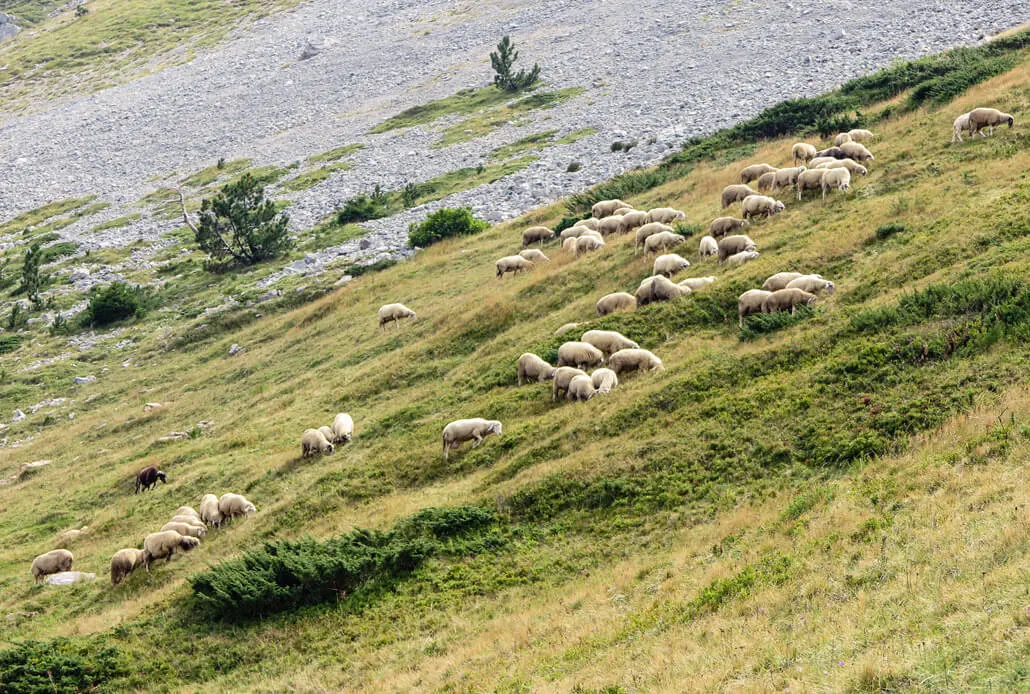 Practicalities of visiting the remote areas of Montenegro
What to Bring with you to Montenegro
Find inspiration also in this hiking gear list.
Transport
On your own
Renting a car in Montenegro can be done, but it's good to plan in advance. Find a good Montenegro rental car deal here. And get familiar with driving in Montenegro.
Public transport
For the especially adventurous among you, there is a network of buses. Navigating them is quite difficult though. Check out this info by Montenegro Tourism Board.
Accommodation
I hope you're willing to sacrifice some comfort because that's the best way how to stay near the most interesting natural sites and at the same time experience some real local hospitality.
Camping is the way to go for most locals and travelers from other countries in Eastern Europe. Nothing beats a lovely evening by the bonfire with local beer/wine and like-minded travelers and locals!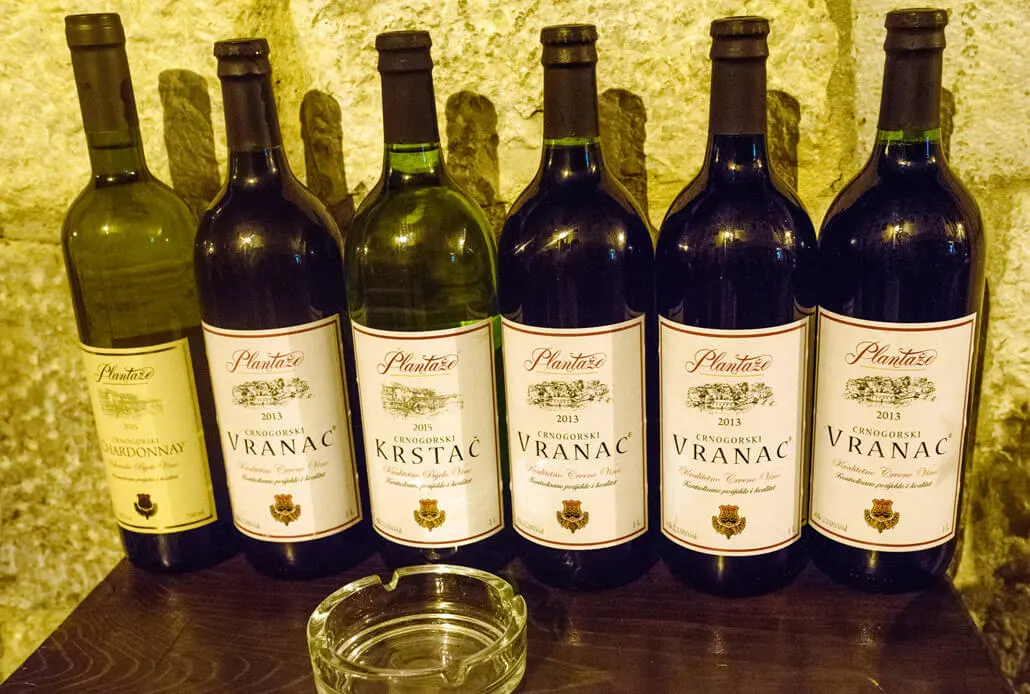 Agencies and such
I visited the mountains of Montenegro with a Czech travel agency specializing in outdoor trips: CK Mundo. The trip was not sponsored. I was very satisfied, though! In case renting a car and figuring out the best routes sounds like too much work to do, you can look for a relevant travel agency for yourself.
Have you been to the mountains recently? Where was that?
Still thirsty for more stunning views? Fly over to the Czech Republic and head to Bohemian Switzerland. I guarantee you won't regret it! :)
In case you plan to drive around and explore more countries in the region, don't leave out Volosko, in Croatia! That is if you are interested in small and beautiful fishing villages by the sea. Read all about Volosko in my previous post.
Save this post for later: