The east coast town of Taormina, Sicily is located on a hilltop just an hour away from Catania. Dramatic cliffs tumble towards the Ionian Sea, creating lovely coves.
Where to stay in Taormina could be dependent on what your preferences are in terms of town or beach proximity.
The smart Sicilian resort that Taormina is features lovely cafes, restaurants, bars and shop, plus all sorts of accommodation.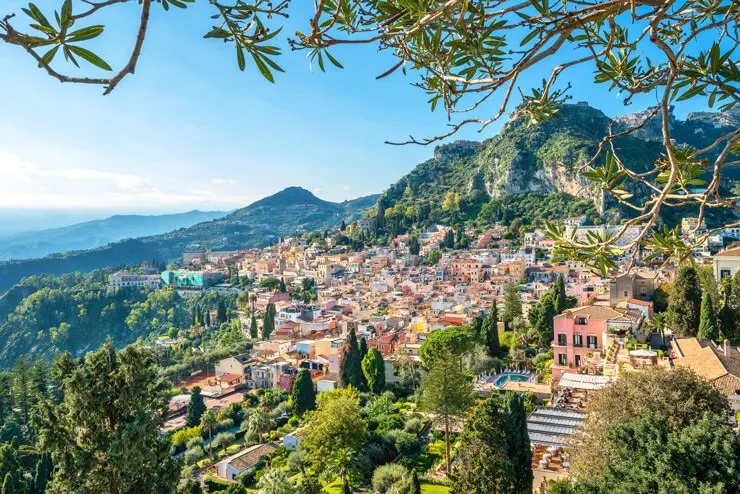 You'll find Airbnbs in Taormina that include Taormina villas and some prime properties. The selection of Taormina rentals also includes holiday apartments and even chalets.
Why Stay Overnight in Taormina?
Even though you can easily visit the town on a day trip from Catania, staying in Taormina is a great idea so you can make the most of this lovely spot.
By evening, day trippers have left the town, leaving those staying at Taormina accommodation in perfect peace. The same applies in the morning, when you'll wake to stunning sea views over the azure Ionian Sea.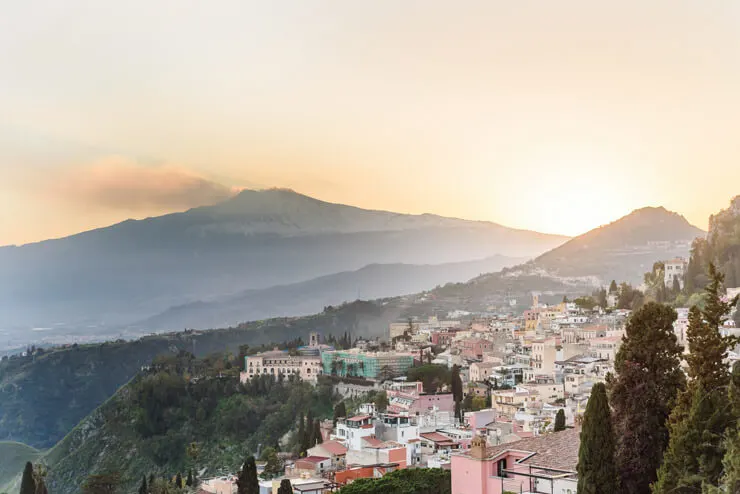 Another good reason to look at Taormina villas for rent is because there's a lot to do in Taormina.
Renting an apartment or Airbnb in Taormina, Italy gives you the chance to enjoy an entire day at the beach or explore the town without rushing around to see the next sight. So why not take your time and savor La Dolce Vita – the Sicilian way?
Taormina has long been beloved by even the greatest of minds – see my post on Quotes about Sicily.
If you just want a quick answer: Francesca's Apartment Taormina
The best place to stay in Taormina is Francesca's Apartment. Taormina town center's Corso Umberto is just a 10 minute walk away, and this superb apartment scores highly on every level.
It is affordably priced and in a peaceful location with stunning sea views. The lovely Francesca is friendly and very helpful, and she is recognized as an Airbnb Superhost.
Why Airbnb?
When you're looking for places to stay in Taormina, why use an Airbnb?
Whether you want a spacious villa or a cosy apartment, booking an Airbnb in Taormina, Italy will give you access to some of the best – and most unique – accommodation in the area.
As with any Airbnb in Sicily, Taormina properties are usually hosted by locals, giving you an exclusive insight into life in this picturesque island town.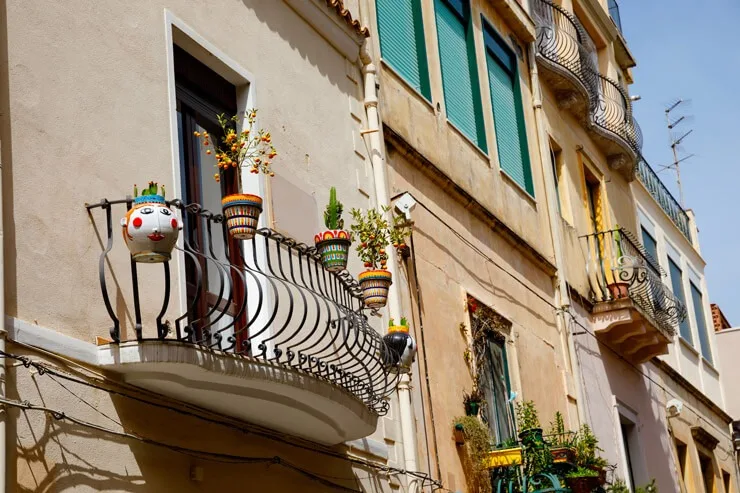 Lastly, my own experience with Airbnb has been great and I've used the platform many, many times. I often choose Airbnb over hotels when travelling. If you're curious, I wrote an overview of Airbnb apartments I stayed at.
If you're not sure what Airbnb is and why it's such a good accommodation option, read my article explaining the basics of Airbnb.
Best Area to Stay in Taormina & What to Look for
When deciding between places to stay in Taormina, Sicily, it's a good idea to look for a place that's within walking distance of the Corso Umberto Boulevard.
Due to Taormina's hillside position, you may also benefit from panoramic sea views if you research Taormina apartments and villas carefully.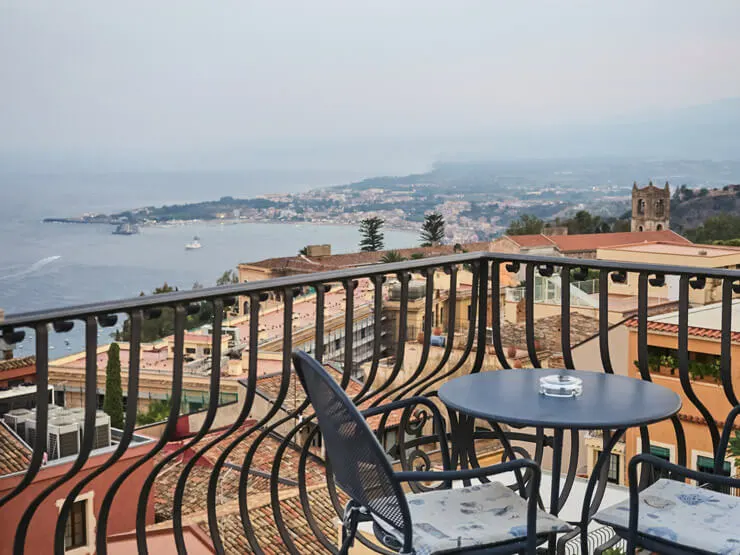 There may be a trade-off between town and beach. If, for example, you are self catering in Taormina, Sicily, you may be a steep climb from the central area's shops when staying by the beach. There is a cable car in operation, however.
Taormina's best accommodation options may offer sweeping views and a swimming pool. Air-conditioned villas and apartments can be located close to the town center, yet be favorably positioned in a quiet location.
Overview of the Best Apartments and Villas in Taormina Italy
Here's my pick of the best of the best accommodation in Sicily's Taormina:
Luxury villa Taormina: Villa Gemmellaro
Villa Gemmellaro is a sea view villa in central Taormina. The views from this Airbnb in Taormina are magnificent: you can see the ancient theater as well as the town's rooftops and the sparkling Ionian Sea. It's ideal for guests seeking a luxury residence in Taormina.
Villa Gemmellaro was built by a local volcanologist in 1892, and still belongs to his family. The property is just few minutes walk from the town center. The path leading to it is lined with citrus and jacaranda trees and fragrant jasmine, while the villa stands in its own expansive grounds.
The villa can sleep six adults, plus one or two children or teenagers if required. There are three elegant bedrooms and two bathrooms. Outside, there is a terrace with barbecue and dining area, and the property also has an outdoor shower.
Villa in Taormina with Pool: Villa Lou Suite
This spacious studio apartment is the perfect size for two. Villa Lou Suite is 10 minutes' walk from the town center, and from beautiful Isola Bella Bay. It's great for those looking for Taormina accommodation with a pool.
The suite has its own sea-facing outdoor terrace, while guests have full use of the swimming pool. The pool is situated in a tropical garden, abundant in palm trees and exotic, colorful plants.
This amazing panoramic apartment is no longer available on Airbnb but you can book it via Booking.com.
The reviews mention how clean and well-equipped this place is – as well as the breathtaking sea views it offers.
Taormina Apartments with Pool: The Dependance
The Dependance is ideal for anyone searching for Taormina holiday apartments. It has one bedroom sleeping two, but can sleep an extra two people if the sofa bed in the living area is used. Light and fresh decor adds to appeal of the interior, and guests have use of the garden and swimming pool.
It is 10 minute walk from the apartment to the center of Taormina, via a road that is unpaved and slopes upwards. There are splendid views over the deep blue sea and the apartment is also close to a leafy green park.
As with all ten properties on this list, this is a rare find among rentals in Taormina Sicily.
Taormina City Center Apartments: Casa Zaffiro
Casa Zaffiro is a fully renovated apartment located on the Corso Umberto in central Taormina.
There are two bedrooms: one with a double bed and one with two singles. Inside, the decor is light and bright, with tiled flooring and colorful artworks. It's easy to see why it's one of the most popular Taormina holiday lettings.
Guests have given this apartment a five-star rating, and love the fact that it is sparkling clean. There are some very useful facilities, including a fully equipped kitchen, washing machine, dryer and iron. Air-conditioning keeps you cool in summer, while in winter you can use the heating to stay warm and cozy.
Panoramic Apartments Taormina: Chalet Vista Mare
Chalet Vista Mare is located within one of the sea view Taormina villas that are dotted around town. A room of 20 square meters contains a kitchen, dining area, sofa bed and shower room.
Outside, there is a sea view terrace, which also has a dining table and chairs as well as two sun loungers. The property is a five-minute uphill walk from the town center. This chalet can be booked with the Annex, also at the property.
Superhost Barbara has included rather amateur photos in her listing, but the raving reviews make it obvious this is one of hidden gems among the holiday villas in Taormina Sicily.
The best Airbnb in Taormina: Francesca's Apartment, Taormina
Francesca's Apartment Taormina is one of the best places to stay in Taormina, Sicily. The accommodation is in an incredibly quiet spot, yet is just 10 minutes' walk from central Taormina.
Inside, the apartment is spacious and flooded with light, while outside there is a generously-sized garden with private terrace.
You can enjoy the best of both worlds when you rent this apartment in Taormina, Sicily. It is convenient for town and the cable car to the beach, yet it is in a peaceful, secluded position.
Isola Bella Apartments Taormina: Sparviero Apartment
Close to Isola Bella beach, Sparviero Apartment is hosted by another former Airbnb Superhost, Mica. Inside, you'll find accommodation for up to four guests, including a double bedroom and sofa bed. I say former because this listing is no longer available on Airbnb.
Air-conditioning, heating, a coffee maker and a jacuzzi are among the facilities offered. The jacuzzi is in use from April to November. Free parking is available and even beach towels are provided.
It is definitely on the pricy side, but apartments within a few steps from the magnificent Isola Bella are hard to come by. This Taormina lux apartment provides the ultimate indulgence and is well worth it.
Check this Isola Bella Apartment on Booking.com.
Panoramic apartments Taormina Mazzaro: Beach Life with Private Jacuzzi
Located right by the pretty Mazzarò beach, this apartment offers a private jacuzzi as well as the chance to sample Sicilian beach life. The one bedroom apartment is ideal for two, and outside there is a vast terrace complete with sun loungers.
Guests who stay at this apartment can relax as they listen to the waves crashing on the shore, cocktail in hand as the sun goes down over another gorgeous day in Taormina.
Host Claudio can point the way to a cafe bar for breakfast, brunch or lunch, as well as to a private beach! Among Taormina apartments for rent, it's pretty rare to have a beach to yourself, so if this Airbnb is available for your selected dates, snap it up quickly.
Cottage on the Beach Taormina: La Prua/The Bow
Close to Mazzarò beach with its fishing boats is La Prua – The Bow. This Taormina holiday home can sleep five, with three bedrooms and two bathrooms.
There is a free-to-use beach, accessed via steps just below the property. The sea-facing terrace is a key feature of this apartment, just 10 meters from the beach. This house is ideally equipped for families with children.
Cheap Accommodation in Taormina: Holiday Central House
If price is paramount in your search for holiday lettings in Taormina, Sicily, then this centrally located apartment might just fit the bill. It is also very convenient, being a couple of minutes' walk from the town center in a sunny, quiet spot.
Superhost Vanessa keeps the property squeaky clean. There is also air-con, flatscreen TV and, of course, WiFi. Close to the cafés, restaurants and shops of central Taormina, this apartment offers great value for money.
Villas near Taormina: Vista Mare Apartments in Giardini Naxos
Do you prefer to reside outside Taormina, yet within a few minutes' ride away? You can choose the lovely seaside village Giardini Naxos. The beach access is even easier there, since the town is comprised just of a main boulevard running along the beach.
This stylish ultra clean apartment is extremely well presented, and flooded with light thanks to the sliding full-length patio doors in the kitchen. Impressive sea views are yours to enjoy from the attached balcony.
The smart, spacious bathroom features a hydromassage shower, and one bedroom provides comfortable accommodation for two people.
I hope these Taormina vacations rentals have tickled your fancy and that you'll have a lovely stay at my favorite Sicilian town.
Get inspired also by my weeklong Sicily itinerary – Taormina is included, of course!