I've heard from many of you that you're having hesitations about renting apartments on Airbnb.
Some have tried Airbnb a few times but didn't have such a great experience so you started paying for hotels again. That's a pity because with Airbnb you can stay in apartments, from shabby to beautiful, often at a fraction of the cost of a hotel.
To help, I've created a list of all the Airbnb apartments I stayed at, for you to refer to and feel more comfortable when booking your next stay with Airbnb.
I've been staying at Airbnb apartments since 2011. In total, I definitely crossed the 40 apartments mark. Below I provide Airbnb reviews of only those, which are still up and available to book.
What? You have no idea what Airbnb is? Well then, this post explains Airbnb basics.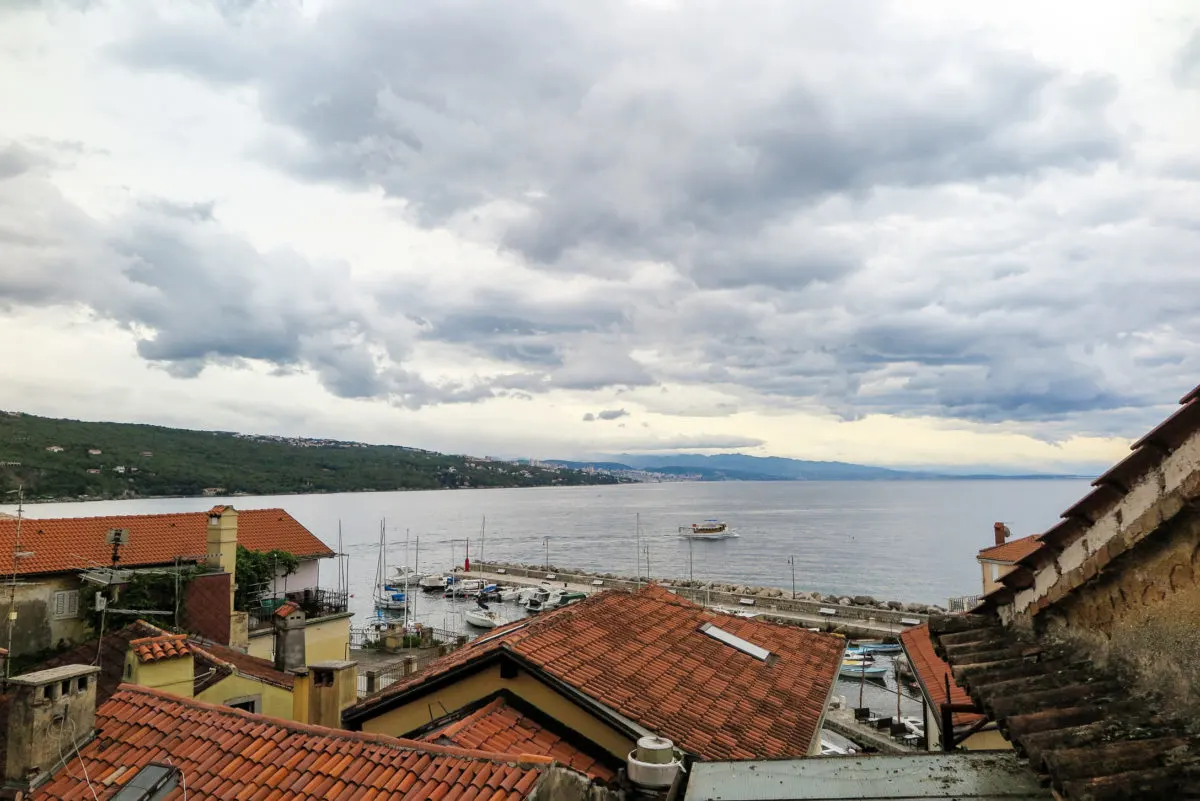 Needless to say, most of the places below are entire Airbnb apartments. My husband and I typically rent entire apartments as opposed to just a single room.
Unless we visit a very expensive country (looking at you, Iceland!). Also, when I travel by myself, I usually consider Airbnb rooms only.
Most of the Airbnb apartment rentals below are comfortable, although sometimes on the basic level. What I consider crucial when staying at an Airbnb apartment – there must be no problem with hot water, heating must be available if needed and wifi has to work!
Ok, let's finally get to the list and see my Airbnb recommendations!
Europe
---
Austria: Weyregg am Attersee
We chose this location because it's a beautiful lakeshore area and still very close to Salzburg and Hallstatt.
Karin's place is just lovely. On the edge of a small village named Gahberg, you'll come across a beautiful house. The ground floor is where Karin's friendly parents live, and the upper floor is rented out via Airbnb.
We had the whole floor to ourselves, complete with a bedroom, a living room, which doubles as a music room (instruments available!) or an atelier, a kitchenette, and the bathroom + toilet. From the balcony, you can see the amazing lake Attersee.
The place is designed superbly; it shows that Karin has a great interest in interior design. I felt like in a classy flat in Berlin.
The bed was basically a mattress on the ground. While still very comfy, one evening a spider casually crawled by near my head and freaked me out majorly. That's what you get when you stay close to nature. 😁
Belgium: Ghent
You know I love Ghent. I fell in love with the city when accidentally visiting it when returning from Bruges back to Brussels. Read here about Bruges and Ghent.
So a few years after that, we came to Ghent for Easter with my husband. Since the accommodation prices were rather high, we opted for this room in a historical house in the city center. And wow, that was the best decision ever!
The house is as authentic as it gets. If you've ever wandered the streets of a picturesque European town and wondered what it must be like to stay in one of the cute houses, here you'll know.
Trui is an energetic lady who helps immigrant children navigate their new life in Belgium through purposeful projects, such as theatre plays. She's very active and doesn't spend too much time at home.
The whole upper floor is rented via Airbnb. It's just one large room, which Trui uses also as storage. It's a comfortable place.
The common area, a.k.a. living room, is lovely, spacious, and full of books you're welcome to flip through.
Croatia: Volosko
We stayed at Andrija's and Jasna's apartments several times. The sister duo has two apartments in the beautiful fishing village of Volosko, near Opatija. You can feel the typical Adriatic style in the apartments and it's really pleasant to stay there. The two apartments they own are on top of each other.
The lower one is cheaper and more down to earth, but still really nice. You get internet (the speed has improved over the years!), an iron and an ironing board, an equipped kitchenette, all sheets and towels…
The apartment on the top is beyond beautiful. Mainly talking about the view here! The balcony has a direct view of the sea. It's gorgeous at any hour and you can stay out all day long, as there's even a retractable awning available.
The only downside to the apartment is that there are some steep stairs up. But we found that to not be a problem at all.
Jasna and her sister Andrija are incredibly nice people, always helpful and willing to go the extra mile. Since we've known each other for years now, we also give little gifts to each other. And when Jasna's baking and we're around, she always makes sure we get to taste a piece of pie :)
It's definitely a place we want to keep returning to for years to come.
Czech Republic: Kolín
I often use Airbnb even in my home country, the Czech Republic. We loved this little studio in Kolín so much that we came twice!
Lenka, the host, would always warmly welcome us and she'd bring her cute dog too. She even left some food for us in the fridge.
The studio apartment has a comfy layout and is spotlessly clean. The main room features a bed and a seating area. Then there's a small, but well-equipped, kitchen featuring even a coffee maker.
It's a short walk to the city center, in a new complex of residential buildings.
Czech Republic: Litoměřice
We took a little weekend trip to Litomerice and absolutely loved this little apartment. It was like staying at relatives'!
The apartment has a nice bedroom, which is separated from the kitchen and the rest of the apartment with a unique wooden counter. The main window looks out into the residential block, so you do feel like a local. :)
It was only a short walk to Litomerice city center.
Zdenka's family lives close and is ready to assist with any need.
Czech Republic: Nový Jimramov
We stayed in the little village of Nový Jimramov as a base to go check out the famous Zelená Hora – a beautiful pilgrimage church on the UNESCO World Heritage Site list.
The small B&B (make your own breakfast from your own groceries) managed by Šárka is incredibly lovely. We had a France-themed room! The whole house looked like a luxury cabin and there were several other guests apart from us.
We hung out in the grassy backyard, we enjoyed the spacious kitchen, and if we were into watching movies, we'd definitely have fun in the big living room with a giant TV!
My husband forgot his passport in the room. Yikes. Šárka promptly contacted us and arranged to send it over to Prague. It's proof she can be absolutely trusted!
England: London
If you'd like to visit London and not insult your wallet, look for cheaper options like this great place.
Sevdal and her husband own this beautiful classic Victorian house. I had a spacious room to myself, together with a kitchenette, a bathroom, and a separate restroom. Even though the room is underground, the heating can do wonders. I slept so well there!
I was really busy when visiting London, so I only talked to Sevdal briefly when I'd get back 'home' each night. She was always extremely friendly and hospitable. I almost felt like their daughter!
Germany: Berlin Kreuzberg
I stayed at Bo's apartment for a weekend during a travel conference in Berlin. It was a great base. The apartment is right by a large trendy market hall called Markthalle Neun. A bus stop is just around the corner, but you can also walk to the closest metro stop – count with about 20 minutes.
The room I rented was beautifully spacious and even featured a historical stove. Large windows kept it nicely bright during the day. A large bed and a comfy seating area are a nice touch. I didn't spend much time in the apartment, though.
There can be some noise from neighbors or a bar located right below, so light sleepers should come equipped with earplugs.
Bo spent his days working but was ready to help when I needed anything.
Germany: Berlin Neukölln
For one of many weekends in Berlin, my husband and I stayed at Gaz' place in Neukölln. We especially loved the interior design – I'd describe it as a modern retro look.
The apartment had a living room with a kitchenette, a bedroom, and a bathroom, equipped with all we could need.
Beautiful old floors are laid throughout the apartment and their white paint only adds to the brightness of the apartment.
The neighborhood is nice and calm and it's an easy walk to the U-Bahn station.
Germany: Leipzig
We went to Leipzig for Easter and rented a room in Matthias' apartment. The light spacious room fitted everything we could possibly need – not just a bed, but also a seating area with two armchairs and a small work desk. There are two bathrooms in the apartment, which is convenient.
The place was perfectly clean. Matthias has two well-behaved sons and he spends a great deal of time with them. Staying at their home was just adorable.
The building is old and thus the original wooden floor in the apartment crooks. It wasn't a problem for us, even though we're quite light sleepers.
It was only 3 tram stops away from the city center. We chose not to walk since we did a lot of walking in the city center. :)
Btw. even though the description is all in German, Matthias speaks English well.
Iceland: Reykjavík
Iceland is expensive! Unless you stay in a tent or a trailer. We opted for the more comfy version, i.e. staying at Airbnb.
The apartment of Olaf and Didi is very cozy and you'll have a nice small room for yourself. It was half underground but we still had enough light through the small window.
We especially enjoyed morning chats with Didi. She even helped us put together a list of Icelandic musicians to listen to. :)
The apartment is well-positioned. However, we always only drove (e.g. to the Snaefellsnes Peninsula for a day trip), so to be honest I have no idea how easy it is to walk to the city center from there.
Italy: Rome
I went to Rome in winter on a little solo adventure and wanted to keep accommodation costs down. That's why I chose Paola's place.
It was exactly as advertised – a small room with a single bed. The room is above the kitchen and you have to climb a few stairs.
I loved my little room. Especially after we got the heating to work (the previous guest turned it off and we didn't notice for a while). Paola was very helpful with that.
It can get a little loud with the traffic on the street and the buzz from the kitchen, but I did fine even without earplugs.
I enjoyed having a chat with Paola over breakfast one day. She treated me to a piece of the typical Italian Panettone. 😊
There's a lovely terrace on top of the apartment. I stayed there for about 20 minutes until the weather turned bad.
The location of the apartment was just the best. I walked everywhere and only took the bus when I went to see the Vatican.
Italy: Verona
We drove our car from Prague to Verona. Actually, parking is an issue there. I bet it's not just for this apartment, though. The lady that came to welcome us didn't speak a word of English. Somehow we managed, though.
I really liked the apartment. It was in a quiet area but within a short walking distance from the center of the city.
Everything worked well, except for the internet. It seemed to be quite moody. But if you're in Verona for vacation, you'll be fine. 😊
Poland: Gdansk
This lovely little apartment is part of a bigger block in a residential area not too far from the city center.
We went there for a weekend and it was pouring the whole time, so we didn't get to enjoy the walks to town and instead used the tram a lot. The tram stop is located just a few minutes away.
The apartment is on the ground floor and very cozy. Because of the weather, we spent a lot of time there. It's clean and has all the facilities one might need. The bed is just a pull-out sofa, but a comfortable one.
I especially appreciated the fast wifi.
Oh, and the apartment looks a lot better in reality than in the photos. Even though the description is in Polish, Jolanta (and her kids) do speak English.
Poland: Krakow
We spent Easter in Krakow and stayed in this nice little studio.
It was comfortable, the internet was fast and the apartment was very conveniently located. We could easily walk to the city center.
There's a hostel in the apartment building, so keys pickup can be arranged at the reception there. Easy peasy!
Spain: Madrid
This was my very first Airbnb booking and it served extremely well for a reunion with friends!
It was a very comfortable little apartment with many beds for a reasonable price. All within a walking distance from Puerta del Sol.
Spain: Peñíscola
Oh my, that view! Just thinking about it transports me mentally back there.
You can nicely relax in a hammock on the terrace and be carried away by the view of the Mediterranean Sea. I just loved the apartment.
It was a bit of a walk to the beach and the town, but we chose the view over convenience.
Eloina, the host is nice and friendly. I think she speaks English just a little since we communicated in Spanish.
Spain: Valencia
This apartment was like a cool Berlin studio! It looked like if it was repurposed from a garage, but in such an awesome way.
The whole noodle shape of the place is very well designed and the space is used to the maximum.
There's even a nice little private garden in the backyard, where you can have your lunches.
Ignacio was patient enough, we were delayed by 30 minutes and he wasn't grumpy about it. 😊
Asia
---
Hong Kong
We never got to meet Jason, but he was very attentive over messages and email.
I loved the position of the apartment – it was located close enough to all the action (Causeway Bay, Times Square), but in a cool back street where locals hang out in authentic restaurants and markets. We had the Bowrington Cooked Food Centre very near!
We were a bit unlucky because there was an ongoing façade reconstruction. So there was noise from the construction site for most of the day. At least it forced us to stay out all day long. 😊
Israel: Jerusalem
With a blogger friend of mine, we stayed nearly a week at this lovely little place in Jerusalem.
Yuval was a truly attentive host. A nice fruit basket welcomed us to the apartment and we kept snacking on it for a few days – the dates were yummy!
Also, since we arrived in Jerusalem too late and couldn't find public transport, Yuval was so kind he even picked us up.
The apartment is perfectly located just a short walk from the Old City and even closer to the best market in Jerusalem. It has everything you might need – a bed, a sofa, and a dining table. We didn't cook in the kitchen, but it was well sufficient.
The Philippines: Manila
I stayed at this small cozy condo with a blogger friend. While we liked the apartment and the building it was in, it was near a very loud railway. Light sleepers would have difficulties staying asleep all night.
Also, the internet worked only at times, only on the phone, and only for certain apps… The owner tried to help us out with that, but it didn't work out.
I'd still recommend this place to stay, in case you don't mind some noise and don't need wifi. 😊
The views of the sunset from the very top of the building are breathtaking!
Thailand: Bangkok (near Don Mueang Airport)
This place is a small local guesthouse. It's simple and offers basic rooms with a bathroom en-suite. The main perk is the proximity to the Don Mueang Airport – the one where most domestic flights depart from.
I spent only one night in this room and in the morning simply walked to the airport. It was about 30 minutes.
Thailand: Bangkok (Ari District)
We chose this apartment because of its location in the hip Ari District of Bangkok with a lot of street food options available.
The apartment is a 10-minute walk from a BTS stop, located in an alley with a café right in front.
We didn't meet the host, but she was communicative and quick to answer any questions we had.
We loved the large bedroom with a work desk and large windows. The small living room with a kitchen doesn't have a window. The TV even had Netflix.
Vietnam: Ho Chi Minh City
My last Airbnb stay as of now. The lovely little studio is located in Ho Chi Minh's Ben Thanh District famous for its street food. It's easy to walk anywhere from there.
The studio features a spacious bright room with a nice bed, a seating area, and even a desk. A large TV (with Netflix included) can be comfortably viewed from the bed. A small kitchenette and a bathroom can be found across the hall.
This is a typical local building and you'll have Vietnamese neighbors above and below. :) I almost felt like a local staying at this place.
The code lock on the door had low batteries and was malfunctioning. Fortunately, our host Thu was quick to fix that.
Africa
---
Mauritius: Flic en Flac
Our stay in Mauritius was extremely special, since we got married there. After spending our wedding days in a resort, we switched to Airbnbs to keep the costs down.
This was the first apartment we stayed at and couldn't have loved it more. It was spacious, clean, and even had a pool. We had all we needed and were glad our rental car could be parked safely on the premises.
The host Ziaad was quick to answer any questions we had and to assist all our needs.
It's just a few minutes' walk to the beach and to where all the buzz is in Flic en Flac.
What's not this Airbnb's fault is the metal gate to the residential complex, which has such a strong back force, that I ended up hurting my big toe and walked with a limp for the rest of our time in Mauritius. 😆
Mauritius: Trou aux Biches
I really wanted to stay at Trou aux Biches and because most of the places were quite expensive, we went for a room at Romina's place.
The hosts were amazing. Romina runs her own travel company and is full of ideas on things to do near and far. She gave us some great tips for our trips around.
The spacious house is nice and airy, which is what you need when it gets hot in Mauritius. But even the private room is not that private, since it's not fully closed off. Light sleepers will absolutely need earplugs.
Morocco: Rabat
We went for the price in Rabat. So we ended up with this apartment, quite nice and decorated in a rather traditional style.
The mom that welcomed us was very helpful and friendly. She even suggested she could cook for us! Needless to say, she spoke no English. I recommend it only to those who have at least a basic knowledge of French.
The apartment is located right by a tram stop, so it's easy to get to the city center.
That's it!
Did you particularly like any of the reviewed Airbnbs?
I'll keep this list updated for you so that you can always come back and review what options you have if you're going to one of the destinations mentioned here.
Except for the Airbnb apartments listed above, I stayed at several more in Berlin, Paris, Hong Kong, Chile… and more places than I can remember. Unfortunately, many listings come and go. All that's part of the game.
Have you stayed at an Airbnb apartment? Or do you plan to book any of the ones above?
Did you find this post useful? How about pinning it for later?