Are you planning a vacation to Nice and want to take full advantage of your trip to explore the surrounding region? Or maybe you're currently there and are looking to take a day trip from Nice.
If you fit into either one of those categories then this is the post for you. Here you'll discover 18 best day trips from Nice, France, and the top things to do and see in each location.
While Nice is an amazing city, the whole region Provence – Alpes – Côte d'Azur, however, features plenty of gems you shouldn't miss.
I suggest that you dedicate 3 days for Nice and use the rest of your time to exploring these amazing places to visit from Nice.
The following Nice day trips are listed in order from closest to the furthest and all of them are highly recommended.
We spent a few months in the area and visited most of the places listed below. We hope to go back and soak up the sun in the French Riviera again. 😍 Perhaps this year!
If you're looking for day tours from Nice that would cover as many places as possible in a day, this is the tour for you.
Transportation on your day trips from Nice?
You'll be driving by the coastline a lot so if you're visiting in warmer months, you might consider renting a scooter instead of a car. The rides are incredibly scenic and you can enjoy the views much better if you're riding on a scooter, like a real French person. 😊
Many of the towns are accessible by public transport. It's possible to get by bus anywhere too, but the bus routes are long and take so much longer than trains. If you're not driving, use the convenient train network.
Scooters
The first best day trips from Nice are all under 50 km / 31 miles so going by scooter is an excellent choice. The French Riviera is very scooter-friendly and local drivers are highly aware and accommodating to scooter riders.
Just make sure you don't get on the highway with it – as we learned the hard and costly (€50 fine) way.
Parking your scooter is almost always free and you can fit it almost anywhere which are both big advantages.
Trains and Buses
All of the listed Nice day trips can be comfortably reached by either train or bus for a minimal fee. Traveling by train or bus to a few of the locations can be a bit tricky as far as getting you directly to the most central areas and being the most time-efficient. Individual travel times for train, bus, and car are listed for each location.
Cars
Traveling by car is always going to be an efficient and comfortable way to go. It's just a bit more expensive considering gas and parking fees, but if your budget allows for it then renting a car is definitely a great choice for any of the day trips from Nice.
And without further ado, let's take a look at the many a wonderful day trip from Nice so you can start choosing, planning, and dreaming about your French adventures.
Villefranche-sur-Mer
🛵 8 min / 🚙 8 min / 🚂 7 min / 🚌 7 min
Nice to Villefranche Villefranche-sur-Mer distance: 8 km / 5 miles
The charming little village of Villefranche neighbors with Nice. The ride is short and many residents of Nice come here for Villefranche's pebble beach, with pebbles much smoother than Nice's rocks.
You can have a delicious lunch at a classy restaurant with a view of the sea, then enjoy walking up and down the charming streets while you digest. There's a 16th-century Citadel with a great lookout point also, and it's usually quite empty.
You'll be able to get grand views of the sea, with frequent cruise ships anchoring in nearby waters.
The distance from Nice is even walkable. If you feel up for it, you should manage the hike in under an hour.
Villefranche is my favorite and I wrote about all the things to do in Villefranche-sur-Mer. Click to read. 🙂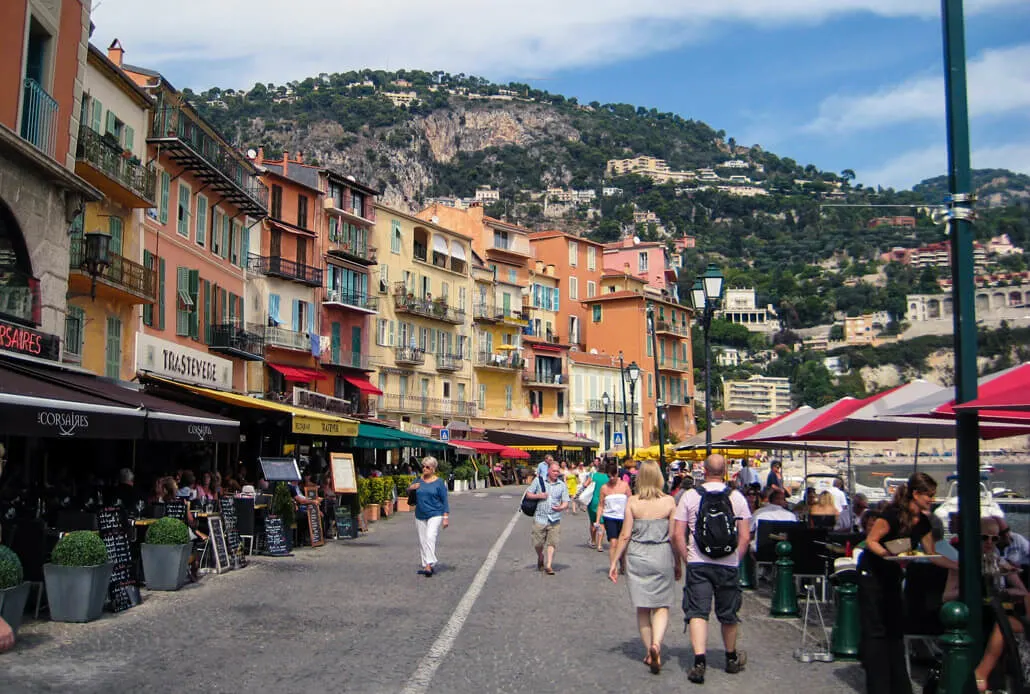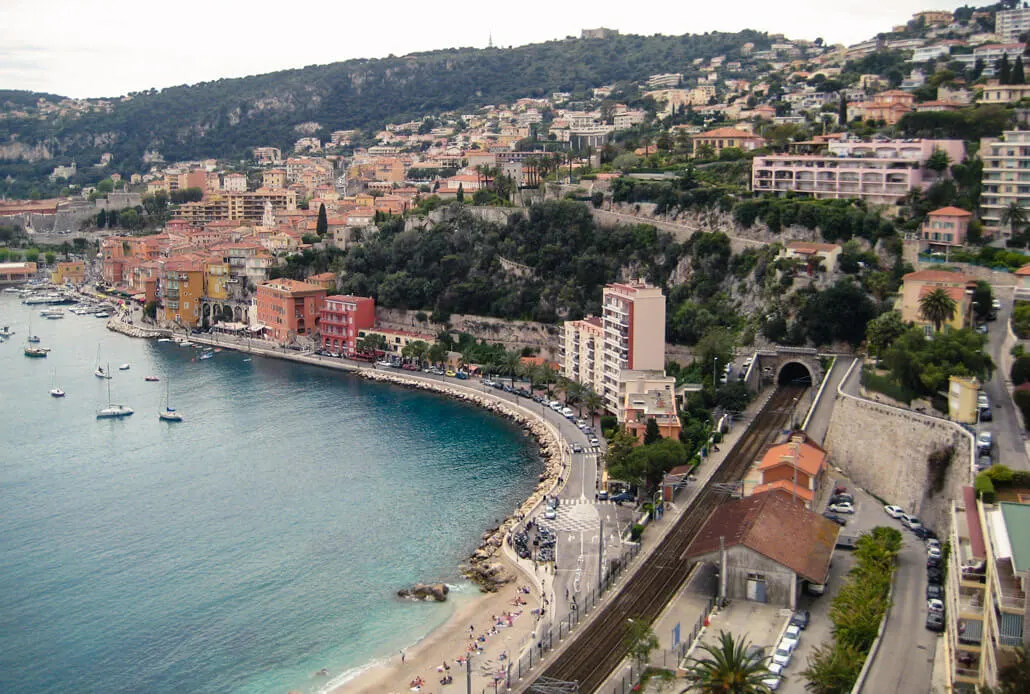 Beaulieu-sur-Mer
🚂 10 min / 🚙 15 min / 🛵 20 min / 🚌 25 min
Nice to Beaulieu-sur-Mer distance: 9 km / 6 miles
Situated only 10 km to the east of Nice, Beaulieu-sur-Mer means "Beautiful place on the Sea''. Lush nature surrounds this gem of a town and coupled with the palm-lined beaches and a pleasant temperature year-round, it belongs to one of the most delightful places in the Côte d'Azur.
Heavily frequented and beloved by royalty and aristocracy, Beaulieu retains its high-class aura in true Mediterranean style. Luxurious properties, beautiful gardens and parks all serve as a potent reminder that you are in the grand heart of the French Riviera.
Top things to do in Beaulieu-sur-Mer
Villa Kérylos
This magnificent seaside villa was constructed on a rocky tip in Beaulieu in the early 1900s for a French archaeologist named Theodor Reinach in the style of Ancient Greek Revival and copied a Greek home from the Cyclades Islands.
The interior is an eclectic mix integrating influences from styles found in Rome, Egypt, and Pompeii. The luxurious property also features many exotic sculptures, paintings, mosaics, and a superb view overlooking the sea.
Here you can find practical information on visiting this must-see architectural gem during your day trip from Nice to Beaulieu.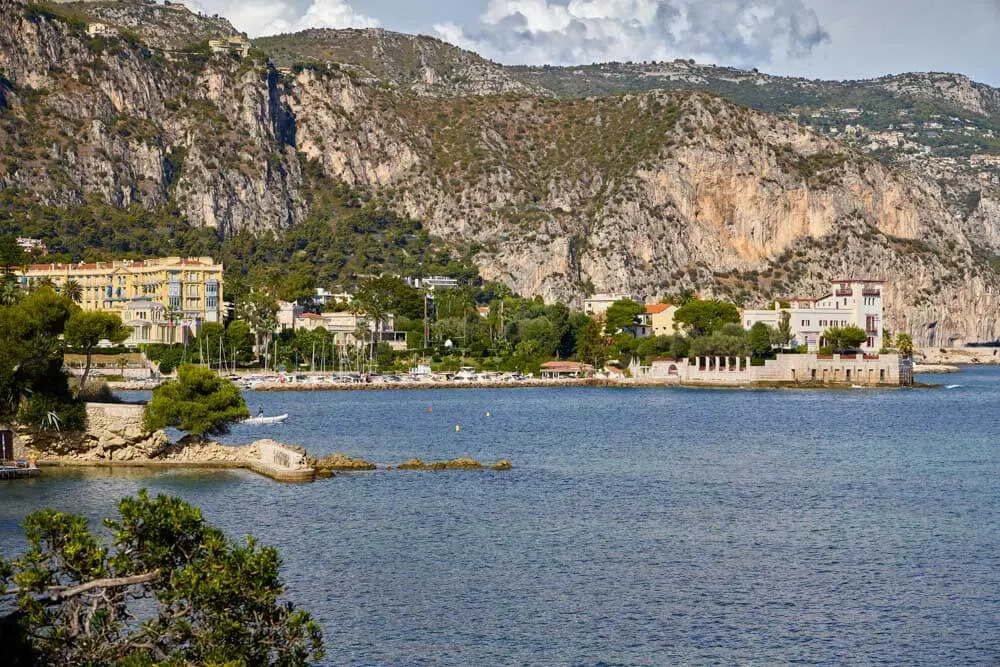 Beaulieu-sur-Mer Beach
Beaulieu offers two beaches, Plage des Fourmis and Plage Petite Afrique, which are both sandy with fine gravel and located close to the town's center. Parking at either one is difficult so it's advised to park in town and walk to the shore from there.
Plage des Fourmis is located on the western side of the port and offers shallow waters with a gradual dropoff making it an excellent family beach. Plage Petite Afrique is located on the eastern side of the port and offers shade provided by lush pine trees.
These are only the highlights of what to see in Beaulieu. There's a lot more to occupy you for half a day. A visit to Beaulieu-sur-Mer can be nicely combined with a trip to Villefranche-sur-Mer and Saint-Jean-Cap-Ferrat. Even in one day.
Saint-Jean-Cap-Ferrat
🚙 20 min / 🛵 25 min / 🚌 35 min / 🚂 50 min
Nice to Saint-Jean-Cap-Ferrat distance: 10 km / 6 miles
This little peninsula screams opulence. You can find the village of Saint-Jean-Cap-Ferrat just next to Beaulieu-sur-Mer, hugging the Villefranche Bay.
You can find the most luxurious hotels there including the famous Four Seasons Saint-Jean-Cap-Ferrat. If you remember the recent Netflix show Emily in Paris, this is where she stays on her vacation to "Saint-Tropez".
Other than the best hotels, Saint-Jean-Cap-Ferrat boasts its fair share of opulent residences and villas – many of them reeking of history.
Best Things to Do in Saint-Jean-Cap-Ferrat
Villa & Jardins Ephrussi de Rothschild
The Villa & Jardins Ephrussi de Rothschild, also known as the Villa Île-de-France is a sumptuous seaside villa. The elegant construction, spanning the years 1907 to 1912 was commissioned by Baroness Béatrice de Rothschild.
Decorated in what has come to be known as the 'Rothschild Style', this breathtaking villa is surrounded by a magnificent range of ornamental gardens set against the backdrop of the sea.
The gardens, which took 7 years and hundreds of gardeners to construct, consist of 9 unique themes: French, Florentine, Provincial, Spanish, Japanese, exotic, stone garden, rose garden, and the garden of Sevres.
This villa is a rare example of a luxury property with access to the public. If you plan to venture out to Saint-Jean-Cap-Ferrat on a day trip from Nice, you shouldn't miss it! Find more info here.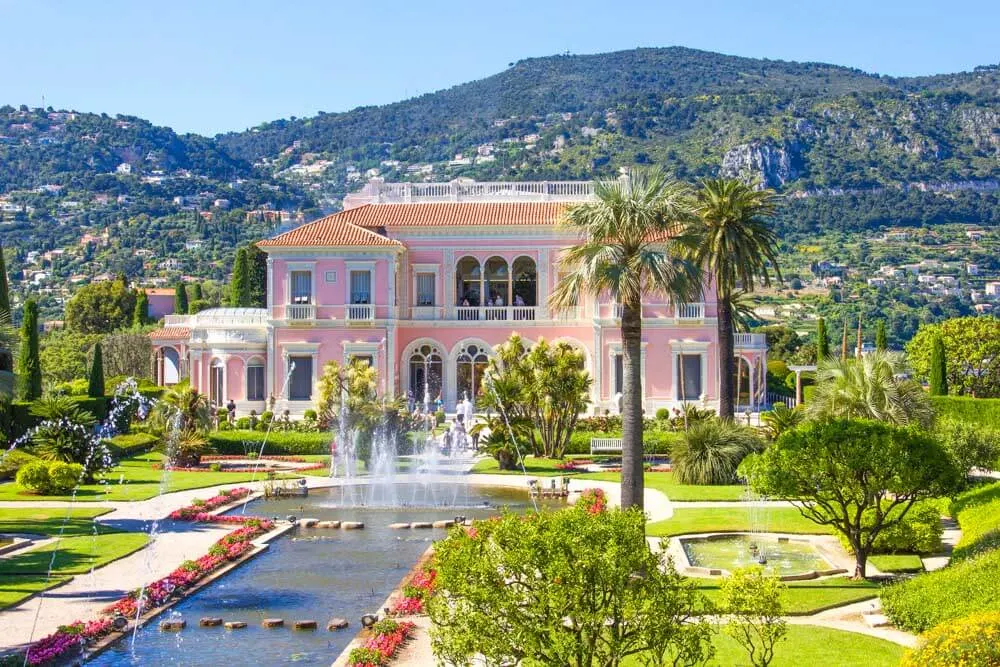 Promenade Maurice Rouvier
Stroll along the Promenade Maurice Rouvier which offers a pleasant seaside walk all the way from Beaulieu. The path is about 2 km and takes about 30 min to complete (one way) and is completely paved with no stairs making it perfect for strollers and anyone with reduced mobility.
If you decide to stay longer in Saint-Jean-Cap-Ferrat, you can also pay a visit to one of its beaches, enjoy an amazing seafood meal, and walk it off to a lighthouse, which can be found at the furthest end of the peninsula.
Cagnes-sur-Mer
🚂 16 min / 🚙 25 min / 🛵 35 min / 🚌 50 min
Cagnes-sur-Mer to Nice distance: 13 km / 8 miles
Cagnes is a cluster of villages roughly halfway between Nice and Antibes and it consists of 3 separate parts – Cagnes-sur-Mer, Haut-de-Cagnes, and Cagnes Ville which is the modern business center.
What to see and do in Cagnes-sur-Mer
Haut-de-Cagnes
Haut-de-Cagnes is a picturesque French village with very few visitors which offers an off-the-beaten-path charm. As you lazily wander narrow cobblestoned streets, the medieval and renaissance houses offer an eye-pleasing adventure along with a number of shops with hidden treasures. The main square also provides charming cafes where you can get a front-row view of the local boules players.
Château Grimaldi
Crowning the medieval village of Haut-de-Cagnes is a castle built in the 14th century by Rainer Grimandi, the lord of Cagnes and part of Monaco's royal family. The castle, constructed from local stones, towers over the town and retains many of its original features.
The chateau now houses a number of art exhibitions including the works of Picasso. And finally, taking in the amazing views from the top of the castle is a must!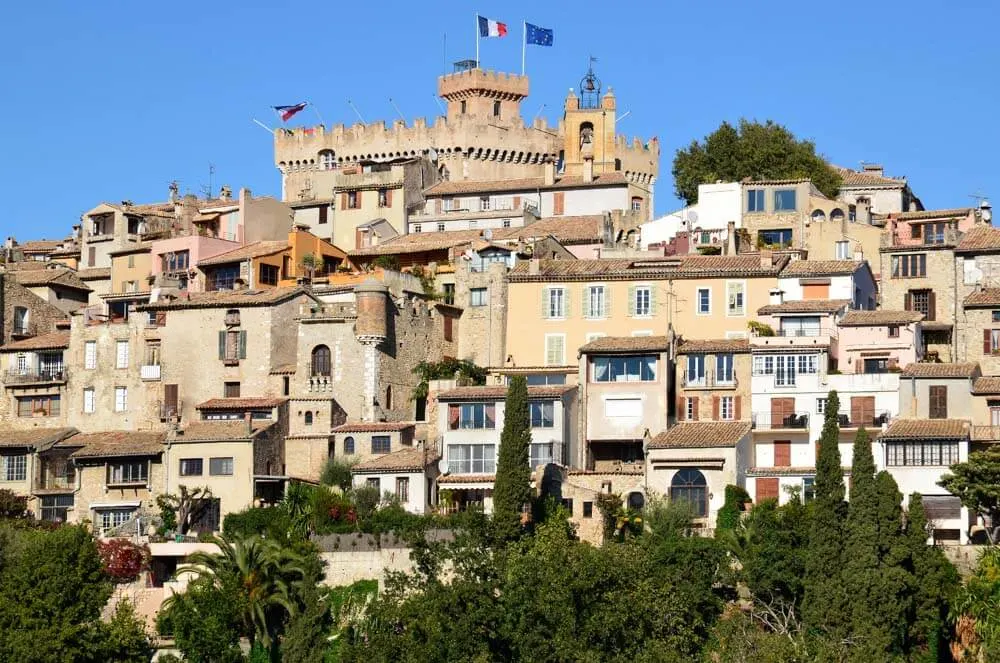 Cagnes-sur-Mer
The seaside of Cagnes is a popular summer destination. The long stretch of pebbly beach is great for a sunny stroll by the sea. Most of the beach is open to the public but if you want a more private spot you can find a paid section that offers lounge chairs and parasols to its exclusive visitors.
Fishing was the main industry of Cagnes in the past, and although its prominence is a thing of the past you'll still find plenty of amazing fresh seafood waiting for you at the local restaurants.
Musée Renoir
Cagnes-sur-Mer was the final residence of the famous French painter, Auguste Renoir, as he chose to spend the last 12 years of his life there until 1919.
A visit to his former home, now converted into the Musée Renoir, is a must for art lovers where you'll have the unique opportunity to see 11 of his original paintings, as well as works by other notable artists. The museum has been restored to its original decor and you can even see how his studio was arranged.
La Turbie
🚙 16 min / 🚂 22 min / 🛵 25 min / 🚌 26 min
La Turbie from Nice distance: 17 km / 10 miles
La Turbie is a picturesque medieval village perched at 450 meters above sea level like a jewel hanging over the Mediterranean. This vantage point overlooks Monaco and Nice as well as further away views of the Italian cities of Ventimiglia and Bordighera. And, on a clear day, you can even see Corsica.
Built 2000 years ago by the Romans under the leadership of Emperor Agustus between the border of Gaul and Italy, La Turbie celebrated the unity and power of the Roman Empire. It was the highest point on the long Roman road into Gaul and served as the gate from Italy into Gaul.
The central part of La Turbie is fully active and offers a generous selection of shops, restaurants, hotels, and cafés for your relaxation pleasure.
The old village rising up the hillside has been well preserved and restored. You can discover defensive walls and arched passageways dating back to the 12th century adorned nicely with plants, fresh flowers, and many historical features.
Narrow streets and tall ancient houses keep La Turbie mostly in shade providing a pleasant retreat and coverage from the strong summer sun.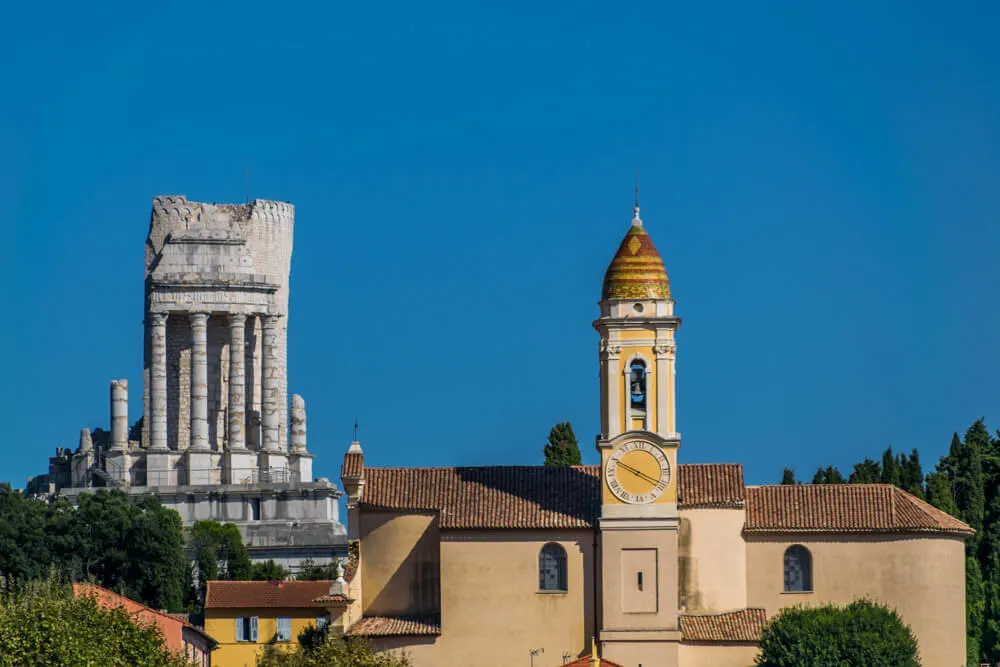 What to see and do in La Turbie
Trophée des Alpes
Built in 6 BC to commemorate the victory of the Romans over the Gauls, the Trophée des Alpes or Trophy of Agustus is the pride of La Turbie. It was built by Octavius, the nephew of Caesar who would later become Emperor Agustus of Rome.
It originally stood at 50 meters high and was topped with a giant statue of the great Emperor Augustus himself. Now at only 35 meters tall and half in ruin, it still stands as an imposing and impressive monument 2,000 years after its creation.
Église Saint-Michel de La Turbie
Standing at the Trophée des Alpes you'll get an excellent view over the Saint-Michael Church with its beautiful pastel exterior and unique belltower covered in colorful glazed tiles.
It was built in 1764 at the site of a small Roman church, using stones from the ruins of the Trophée des Alpes. This magnificent baroque-style church features numerous works of art that decorate the chapels, the nave, and the choir, a majestic marble high altar, and a communion table made from onyx and agate stone.
Via Julia
The Via Julia (currently Rue Droite), is an ancient route that ran from Rome to the mouth of the Rhone river in France. Built after the Romans conquered the Gauls, its development was a big victory for the Romans.
Dante's Famous Quote
The first Literary mention of La Turbie was in The Purgatory, the second part of Dante's Divine Comedy, and it can be found engraved on a wall along the Via Julia, near the post office just before entering the village.
Transcribed into English, the quote reads "The most solitary and deserted road between Lerici and La Turbie is close to this one with large and easily climbed steps" which refers to the difficulty of accessing the Village during Dante's time.
Monaco
20 min / 20 min / 23 min
Nice – Monaco distance: 22 km / 14 miles
The ride to Monaco is beautiful! If you're on a scooter, don't forget to stop often on the way and take photos :)
Monaco definitely cannot be missed. Not only because it's the second smallest country in the world, but also because of the grand casinos and unbelievably luxurious yachts.
You should definitely spend some time at the port just admiring the gorgeous polished yachts and thinking what a burden it would be to own one (kidding!).
If you're an F1 fan, schedule your trip for the time when the Grand Prix takes place in Monaco.
Walking up to the royal castle and strolling around the area is not a bad idea either. This upper part of town is the nicest in the late afternoon when shadows become long.
As lavish as Monaco can sometimes be, there's an option to fly a helicopter to get from Nice to Monaco.
As Monte Carlo is a multi-level city, everybody uses elevators to get up and down the hills, so if you want to experience how locals navigate around their city, this is something you should definitely try out.
On your travel from Nice to Monaco, stop in Eze, another beautiful coastal village. I would definitely suggest visiting Monaco on a Nice day trip rather than staying overnight.
Click here to check the price and availability of a Half Day Trip to Monaco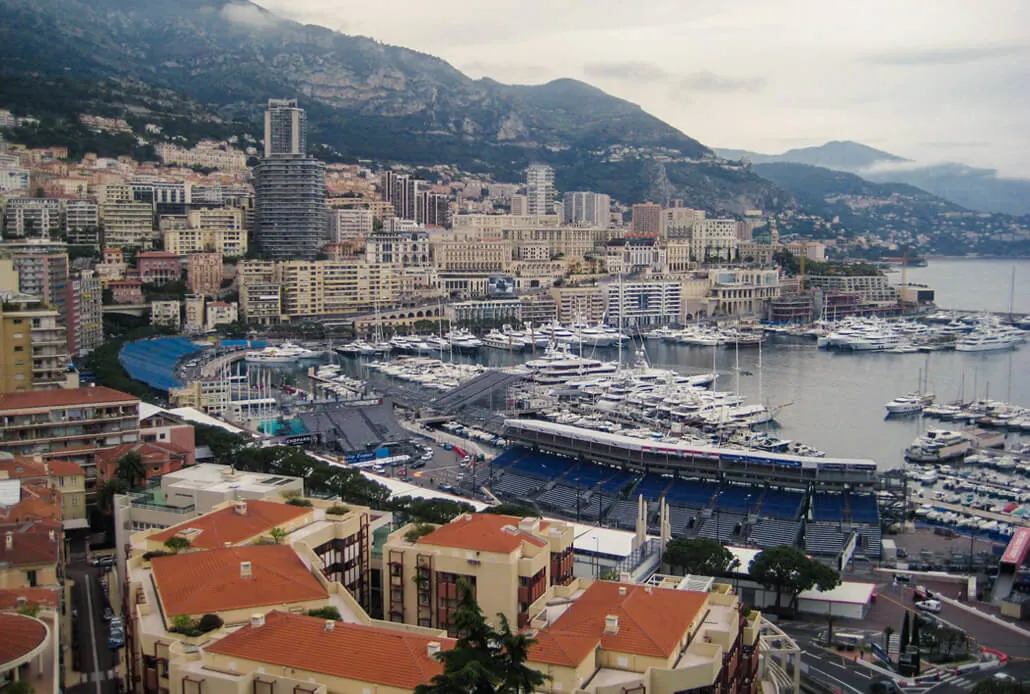 Cannes
28 min / 28 min / 26 min
Nice – Cannes distance: 33 km / 21 miles
Even if you're a hardcore backpacker and hate glamour and flashy style, you should still make a day trip to Cannes from Nice and allow yourself to be seduced by the city of the rich and famous.
Le Suquet, the old town elevated on a hill above the city offers the finest views and the waterfront avenue lined with palm trees is pleasant to stroll. No trip to Cannes would be complete without that.
The city itself is a labyrinth of small winding streets and the overall ambiance is welcoming. Beware of the Film Festival, though! That's when Cannes turns crowded and chaotic.
Nice to Cannes day trip can be easily done on a scooter and I can highly recommend it!
Click here to check out the Half Day Trip from Nice to Cannes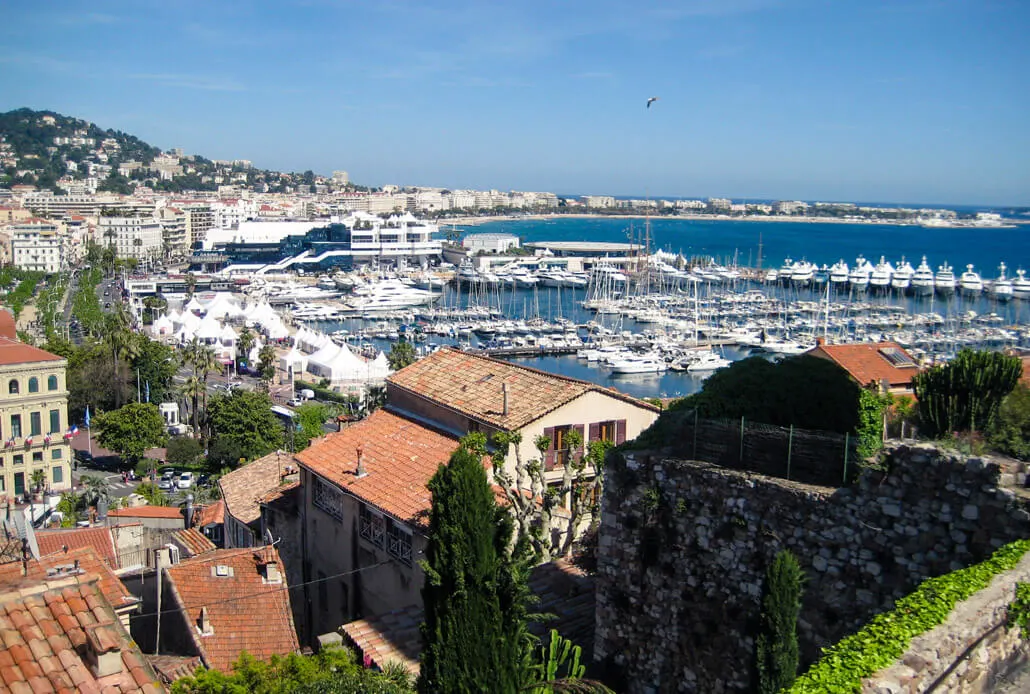 Antibes
24 min / 24 min / 29 min
Nice – Antibes distance: 23 km / 14 miles
Perhaps you'll find Antibes as inspirational as the French writer Guy de Maupassant did!
Even today, this city by the sea is infused with history. The archeological museum housed in a 17th-century fortress and Picasso's museum housing one of his two biggest collections, are the best examples of what art and history has meant for Antibes.
Juan les Pins is a town in the commune of Antibes and the beaches around it will convince everybody to get a soak.
You can use any means of transport you like to get from Nice to Antibes, but I must recommend the scooter again! :)
Click here to check out a Half Day Trip Visiting Antibes from Nice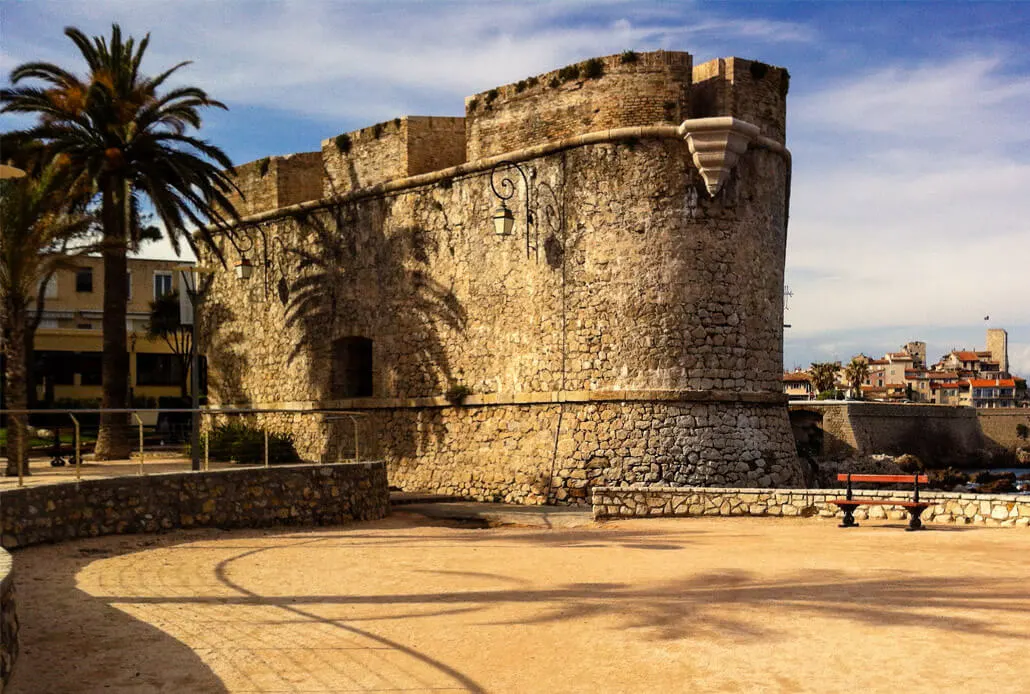 Menton

24 min / 39 min
Nice – Menton distance: 30 km / 19 miles
Menton became famous mainly for its yearly lemon festival, or Fête du Citron. The festival celebrates locally grown lemons, and is indeed a showcase of creativity – you wouldn't believe what giant statues and designs one can make with lemons!
Outside the February festival time, the city is quite relaxed. However, there can still be all kinds of events going on – we witnessed a meet up of old American cars & Harley Davidsons during our visit.
Old French buildings breathe magic like almost every city on the French Riviera. Walk the streets, don't try to resist the numerous candy shops and finish the day off at the little beach, preferably with an ice cream! An impressive Basilica St. Michel towers over the beach and guess what…it offers great views :)
So as not to feel the kilometres in your feet, invest in good walking shoes.
The road from Nice to Menton is mostly highway, that's why I don't recommend using the scooter.
Click here to check out a day trip from Nice featuring Menton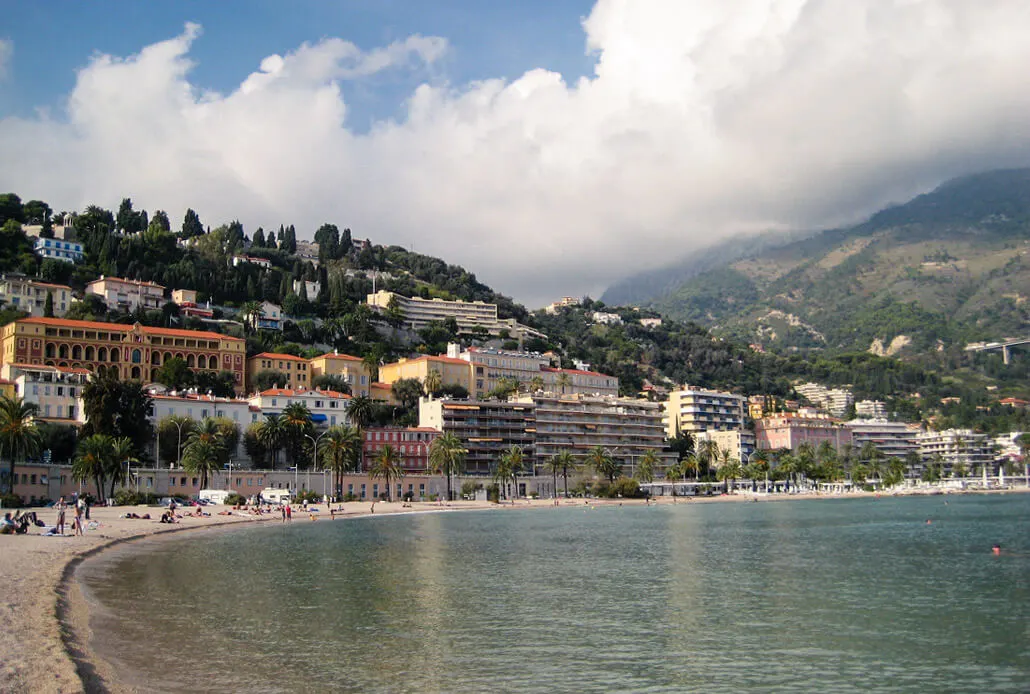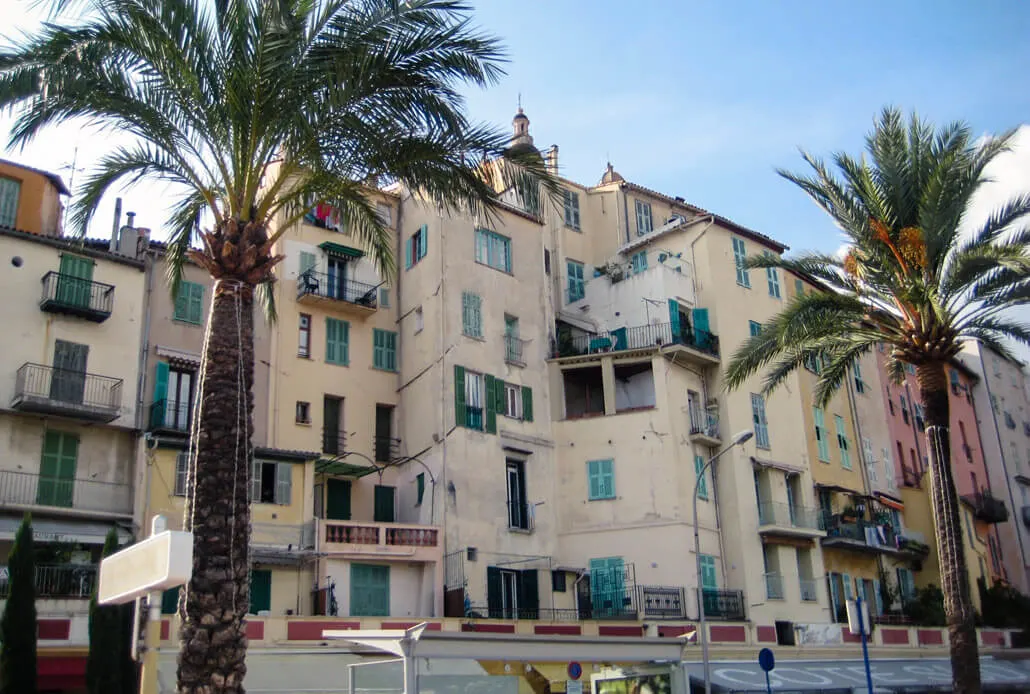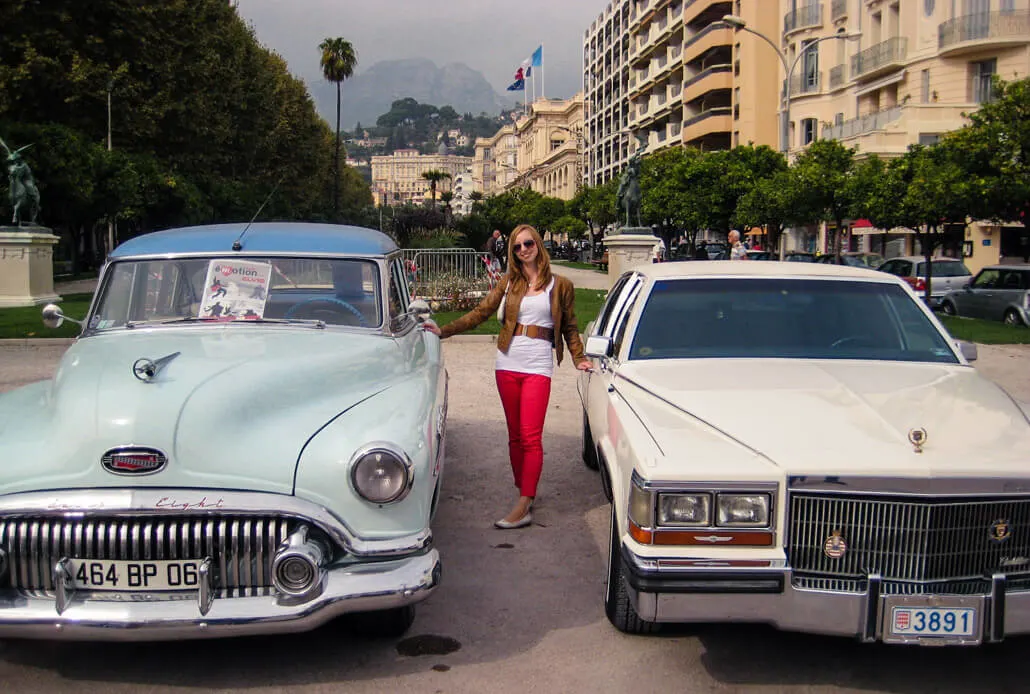 Grasse

40 min / 1h 12 min
Nice – Grasse distance: 44 km / 27 miles
Grasse is a special place thanks to its perfume making tradition. Have you seen the movie Perfume: The Story of a Murderer? The scenes are set here! Even though the actual shooting was done in many other places. I wrote about it here.
The streets are beautifully winding around nice little squares with a large number of galleries and perfume shops. The famous Fragonard perfumery is located here. Pay a visit to this big one or any of the smaller perfumeries – for example Galimard or Molinard.
The art of perfume making is indeed fascinating and they have perfected the craft right there, in Grasse.
Click here to check out a day tour from Nice featuring Grasse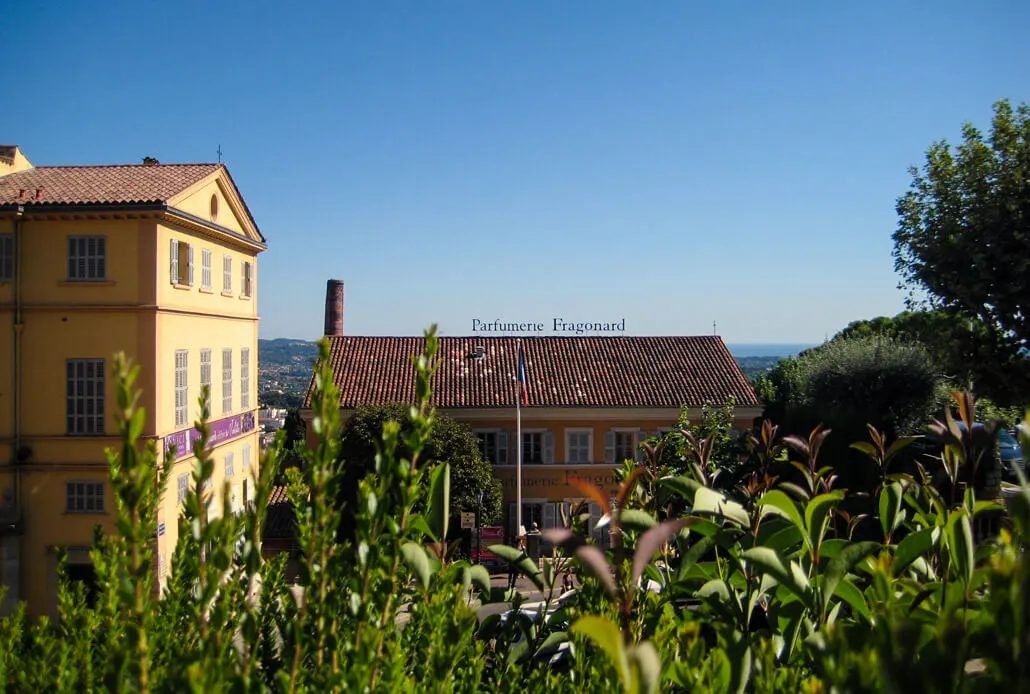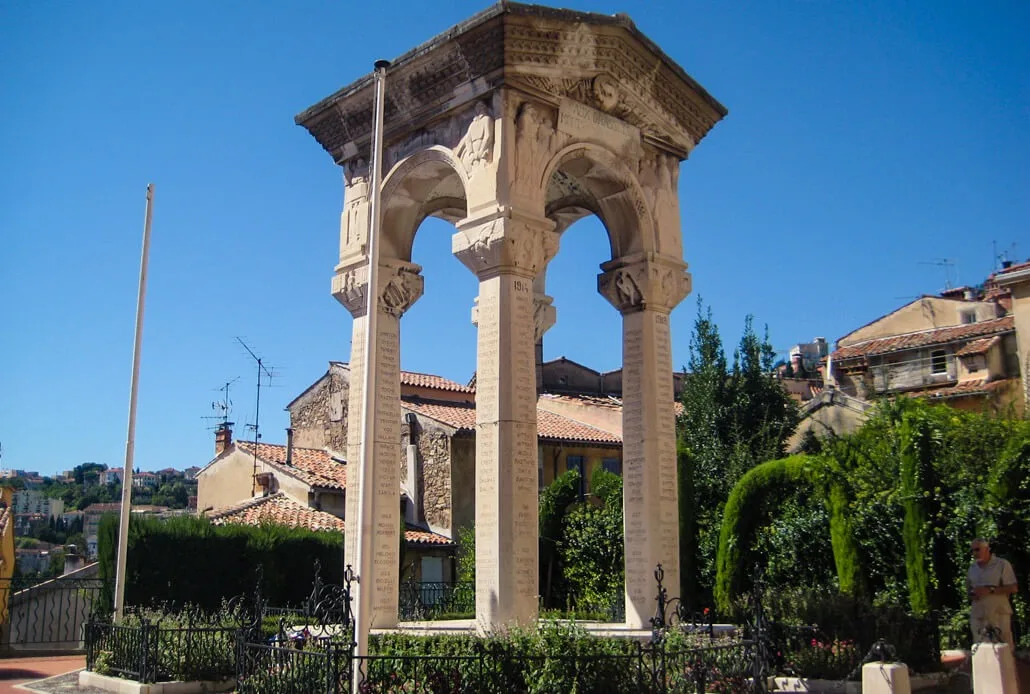 St. Paul de Vence

21 min / 56 min
Nice – St. Paul de Vence distance: 19 km / 12 miles
St. Paul de Vence is a little medieval town sitting on top of a hill. It does look picturesque. It has a lot of smaller art galleries and museums, but I found just strolling with an ice cream cone in hand to be the best pastime there.
Many French artists lived in the area, such as Chagall. Oh, and former Rolling Stones bassist has one of his homes there! That does justify a visit, doesn't it ;)
Click here to check out a Wine Day Tour from Nice featuring St. Paul de Vence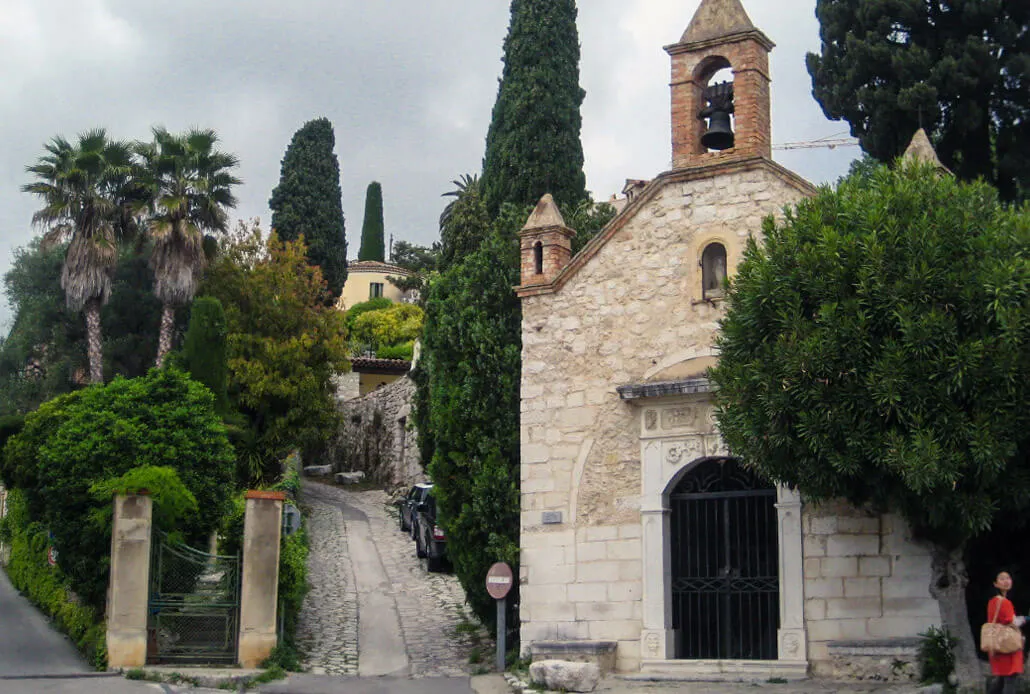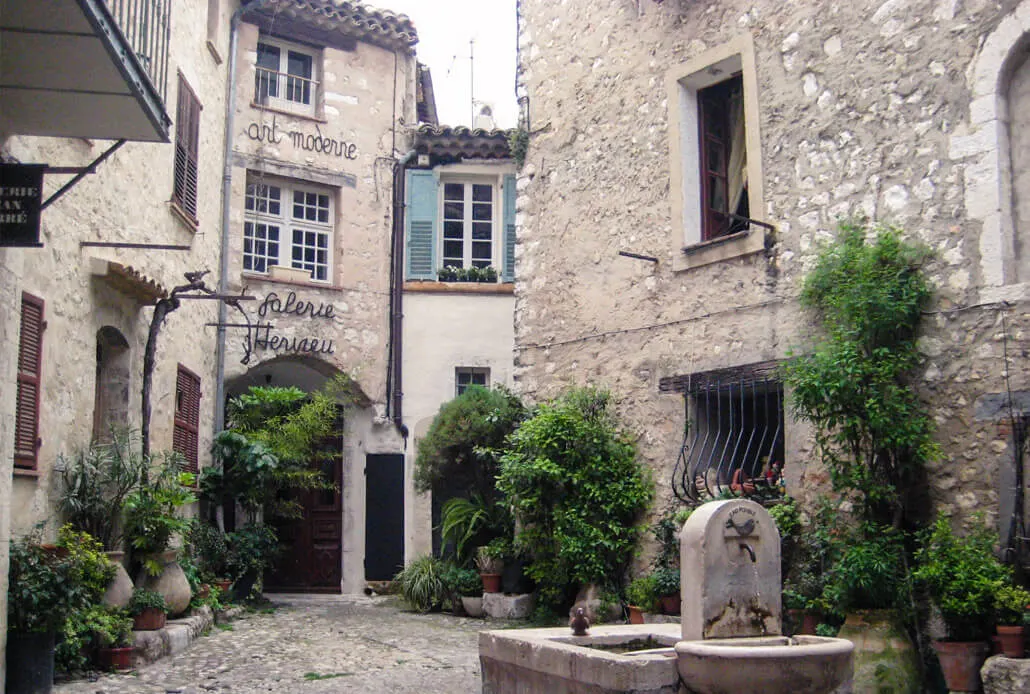 Bonus t(r)ip: Lavender fields
Especially if you don't have plans to hang out for a couple days in Provence, you could use a day trip from Nice to lavender fields. Everyone needs to see those, right? Well, don't judge, but I didn't :D It's actually not so easy near Nice.
The best region for lavender is Provence. See a detailed guide on lavender fields in Provence.
Nevertheless, I've researched lavender fields near Nice. First of all, you should be aware that lavender is not traditionally grown in the Riviera region.
The closest you can get to lavender is North of Grasse. However, most of the lavender grown on Grasse lavender fields is of the wild variety, not the perfectly groomed ones you know from photos.
The safest option is to take a lavender tour from Nice. There are Provence lavender tours from Nice that take 9 hours and during which you'll visit some nice areas of Provence, including Aix en Provence.
Click here to check the price and availability of Provence Lavender Tour from Nice
Lavender blooms from June until the end of July, sometimes possibly even in August. Each year it's a little different, depending on the current climate conditions.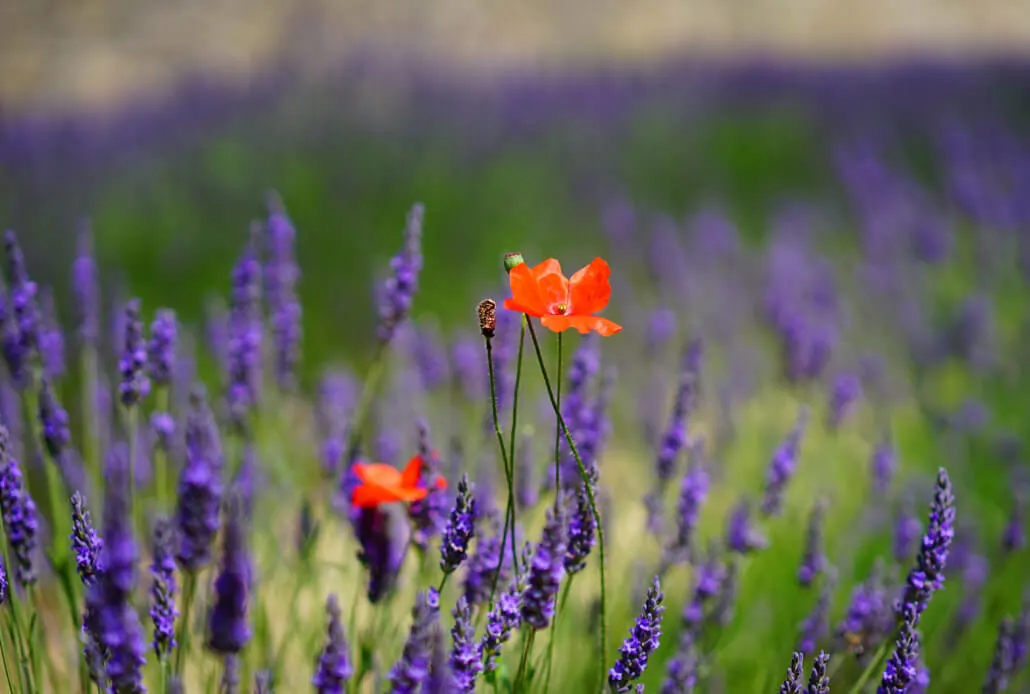 Of course there are many more places you can visit on several day tours from Nice, especially if you decide to drive further away. For example, Saint Tropez, Aix en Provence, Marseille are all worth exploring.
In case you're interested even in taking a day trip to Italy from Nice, the Italian Riviera is not far either and can be easily visited in a day. Like on this tour, in which they'll take you through the picturesque spots. It's a group tour and you'll share a minibus with other people.
Best Day Trips from Nice Map
Here's a map of the area around Nice and 5 selected excursions from Nice covering more than one town, but always departing from Nice. This is just an image, but if you click it, it'll take you to the Google map with all the tours marked. Then you can click on each mark to learn more.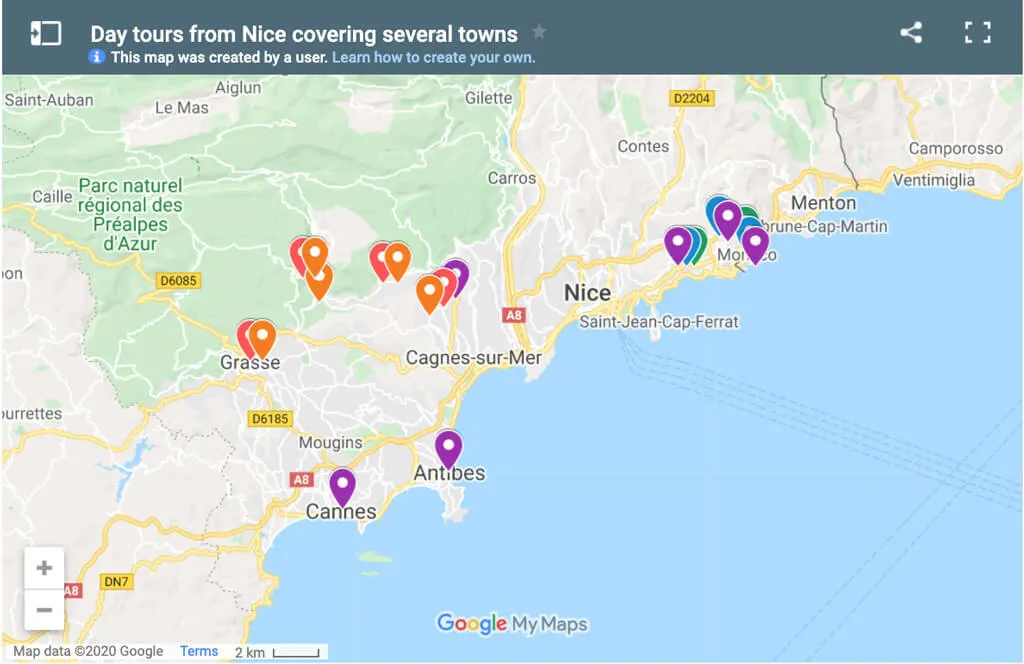 Would you rather indulge in a private tour that could be fully customized to your needs? Here's a high-rated one.
Click here to check the price & availability of the French Riviera Private Tour
And finally, French Riviera and the neighboring Provence are beautiful any time of the year. If you long for photos in purple lavender fields, head there in the summer. Anytime from spring to autumn is going to be ideal. Early summer is my favorite time of year to visit, and it's just perfect for touring on a scooter!
Bon Voyage! (that's "Have a nice trip" in French)
Have you ever visited the South of France? If so, what places did you go to and what was your favourite one?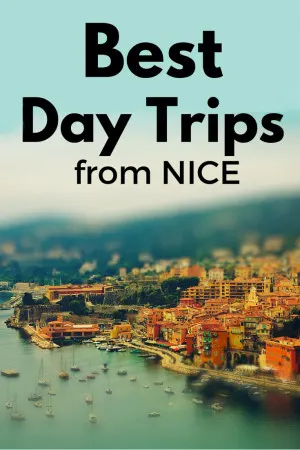 Do you love Pinterest? We do, too!