Chances are you've seen it all on your trip to Miami – the whole downtown and the beaches – and now you're looking at some Miami day trips.
I highly encourage you to venture out of the city on these best day trips from Miami FL, because there's so much more to see in the Sunshine State! And given how well Miami is connected to the rest of Florida, there are many options.
These are the best day trip ideas from Miami under 4 hours drive, as put together by me and other fellow bloggers who've visited the places they write about.
The easiest way to get anywhere in Miami is to drive. But you can get around even without a car in Miami. Where available, I recommend a few tour options below.
Key Biscayne
If you're looking for short trips from Miami, Key Biscayne may be the best, since it can be visited even if you have only a half-day to spare.
Key Biscayne is a small village on a barrier island just south of Miami. It's known for its beautiful white-sand beaches and plenty of water sports options. You can engage in stand-up paddleboarding, kayaking, canoeing, windsurfing, and more.
It's an ideal escape from the hustle and bustle of Miami and its often-crowded beaches. A peaceful calm permeates Key Biscayne. It helps that there are large park areas – Crandon Park in the North and Bill Bags Cape Florida State Park in the South.
Cape Florida Lighthouse from 1825 adorns the southern tip of Key Biscayne, and you can climb to its top for beautiful views. One of the prettiest beaches is located right there. You can enjoy a 1.25 miles long stretch of perfect sand and tranquil water.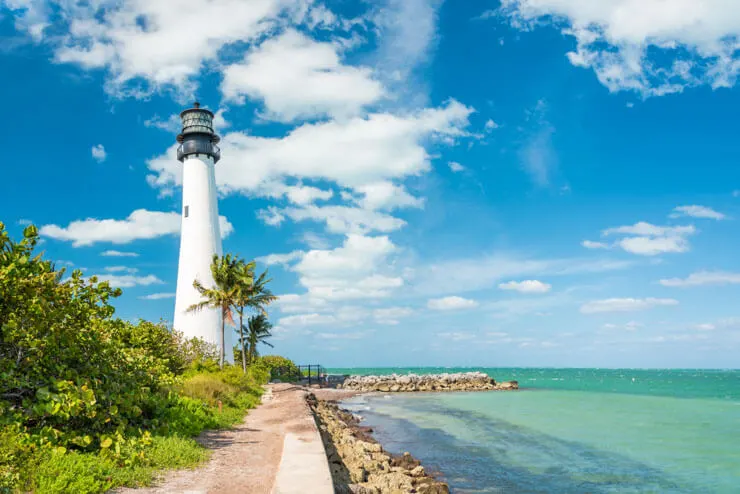 Grabbing a bite to eat can be easily done at the numerous eateries – Key Biscayne has all styles from the most upscale to basic ones. There are even shaded picnic gazebos for those who've brought their own food.
It takes only 15 minutes to drive to Key Biscayne. Alternatively, you can even cycle there on the scenic Rickenbacker Causeway – count with about an hour in that case. It was recommended to me as one of the best day trips from Miami Beach (where I was staying). I cycled there with a few new friends and loved it!
Key Largo
Contributed by Megan of Megan Starr
One of the finest one-day trips from Miami is Key Largo, Florida. While many people often have images in their mind of Key West being the only worthy destination in the Florida Keys, that is far from the case and Key Largo has so much to offer as a destination on its own.
If you're thinking of taking day trips from Miami to Florida Keys, you shouldn't leave Key Largo out.
Key Largo is around 1.5-hour drive (maximum) from Miami depending on where in the city you're leaving from. It is a total of 69 miles from there in distance. It is in what is called the 'Upper Keys' and is the first large Key you hit when you enter the strip of islands.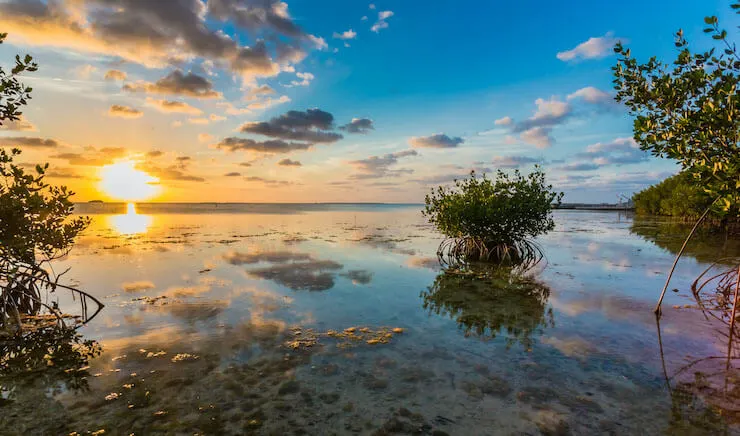 In Key Largo, there is no shortage of things to do. One of the top attractions is John Pennekamp Coral Reef State Park – the first undersea park in the United States that offers many activities for visitors from kayaking to snorkeling to glass-bottom boat tours.
Besides, you can visit Crocodile Lake National Wildlife Refuge, a 6,700-acre refuge where you can find mangroves, salt marshes, crocodiles, and more.
In addition to some fantastic wildlife and nature opportunities in Key Largo, there is also delicious seafood and some fantastic resorts and hotels. And, if you opt for accommodation on the bayside of Key Largo, you will even have a chance to spot manatees! Key Largo is a wonderful stop on a Florida Keys road trip and is definitely a great day trip from Miami.
Marathon, Middle Keys
Contributed by Margie from DQ Family Travel
Visiting the Florida Keys makes for one of the best day trips from Miami Florida. One of my favorite places for a day trip is to the Middle Keys in Marathon.
Marathon, FL is about a 2-hour drive from Miami and is much quieter than Key Largo, Islamorada, or Key West. It is a very easy drive down the Florida Turnpike South until it ends or I-95 South to US1 all the way through to the Florida Keys.
Marathon has plenty to do for everyone! From renting kayaks to snorkeling and scuba adventures as well as fishing charters that will take you out on their boats and even filet your catch.
If you're looking to relax on a beach, then Sombrero Beach is a great local beach. If you're interested in learning about the rescue and rehabilitation of injured sea turtles, then be sure to visit the Turtle Hospital. Another spot for learning about marine life and feeding rays and sharks can be found at the Florida Keys Aquarium Encounters.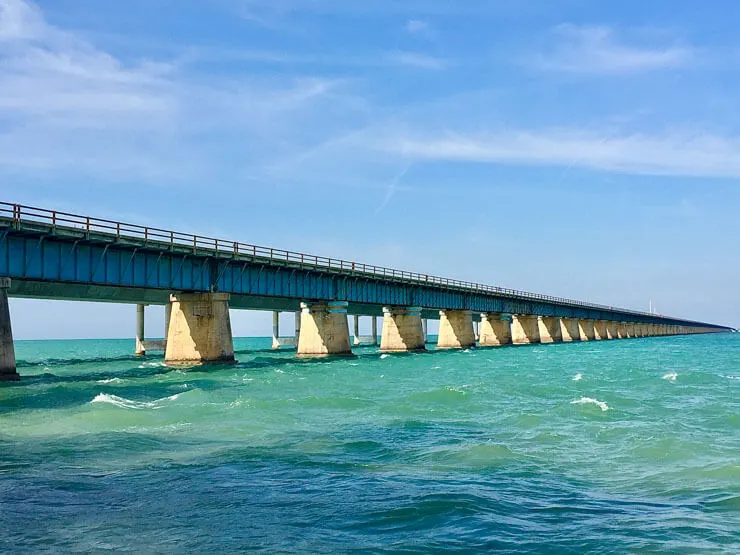 You could walk or bike a short section of the Old Seven Mile Bridge or enjoy the scenic views of the Atlantic Ocean and the Gulf of Mexico on the Seven Mile Bridge. You will definitely have worked up an appetite after exploring this town and the water, so be sure to eat at one of the best restaurants in Marathon, Keys Fisheries, for some fresh local catch.
Marathon is perhaps a bit low-key, but even more rewarding, Florida Keys day trip from Miami.
Key West
The most famous of the Keys and one that belongs to the most popular day trips from Miami Florida. This is the closest you can get to Cuba while still on American land. At the very south of Key West, it's only 90 miles away.
All Key West trips from Miami must include strolling through the picturesque streets of the town lined with pastel houses and taking a photo at the southernmost point.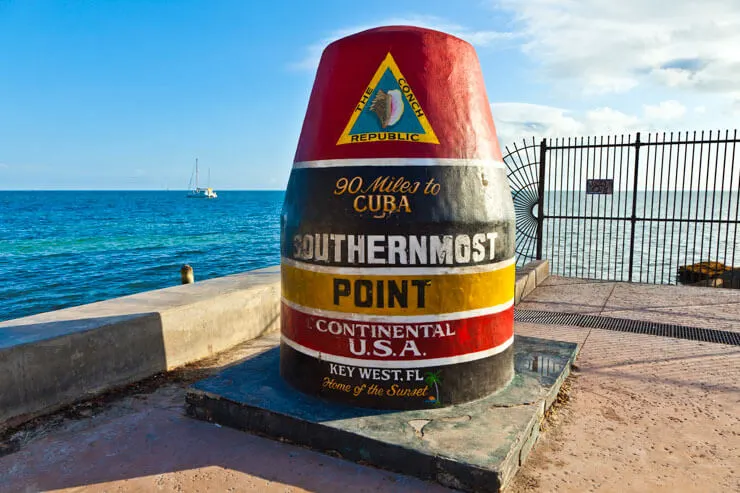 Key West has a bit of a Caribbean vibe, which shows in the laid-back attitude of the locals, as well as the colors on the houses you can come across.
Duval Street is a popular area to drink and dine and you're sure to find plenty of cocktail bars. Perhaps not as ideal on a day trip! Instead of downing a cocktail or two during the day, savor the local sweet staple: Key Lime Pie.
While there are a few beaches at Key West to choose from, they are not the most interesting and often too shallow. The main thing to do in the water is to explore the nearby coral reefs – at least on a snorkeling adventure.
Ernest Hemingway called Key West home for a few years – his former residence nowadays houses the Hemingway Museum.
It takes about 3.5 hours to get to Key West via the US-1 S connecting all Florida Keys. The only other option for day trips from Miami to Key West is on a tour.
Do you have kids with you? Check out this post on visiting Florida Keys with kids.
Everglades National Park
Contributed by Paula from Paula Pins the Planet
The Everglades National Park is an ecosystem and a World Heritage Site, located in the sunny state of Florida, just a 1.5-hour drive from Miami. It makes a great day trip to visit this heaven for lovers of outdoor activities, with loads of nature, many hiking trails to choose from, and water activities like kayaking and the traditional airboat.
If you are planning to visit the Everglades for a few days or choose to stay overnight, the best option for accommodation is Everglades City. In this little charming fishing village, you can find shops, restaurants, accommodations, and places to rent a canoe, kayak, bicycle, and also, you can take boat and airboat tours.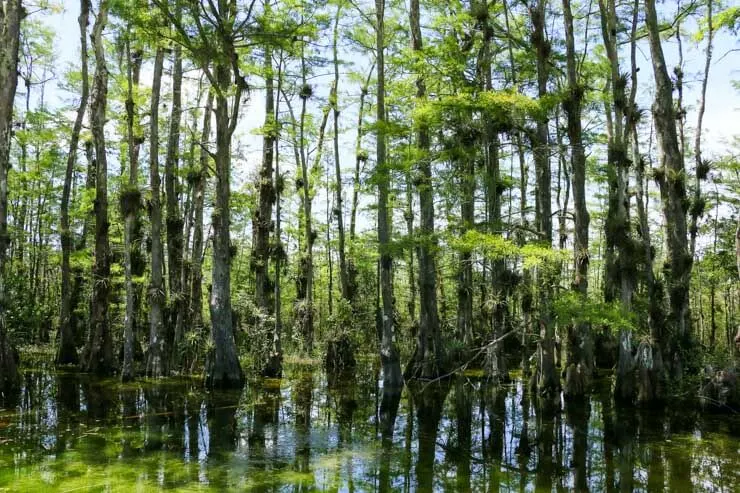 Another must-visit place during your trip to the Everglades is the Ten Thousand Islands Wildlife Refuge, the second largest mangrove forest in the world forming fascinating labyrinths of water and islands with very rich wildlife, including some endangered species.
The best time to visit is between October and May when the weather is cooler and drier – and there are fewer mosquitoes. It is also the best time to see the local wildlife.
This is the time that manatees migrate to the Everglades, also the water levels drop during the dry season and a large number of animals congregate around the water holes, making wildlife viewing an easy endeavor.
If you visit during the summertime, between June and September, book your hikes and outdoor adventures for the morning, to avoid the hottest parts of the day and the frequent summer storms in the afternoon.
To get to the Everglades, drive west from Miami on the U.S. Highway 41. You'll pass through Miami's outer suburbs before entering the largely undeveloped wetlands. Additionally, you can go on day trips from Miami to Everglades – every tour company in town offers these.
Or, if you don't need the transport from Miami, here's the link to the wildlife show & airboat tour.
Marco Island
Contributed by Lori of Travlinmad
If you're looking for a day trip from Miami that's close enough yet a world away, hop off to the opposite coast to Marco Island. Getting there is so easy — it's just an hour and a half away straight across the part of I-75 known as Alligator Alley. Take the first exit for Marco Island and follow Rte. 951 straight across the causeway to this tropical island.
Located in southwest Florida's Ten Thousand Islands, Marco is the largest of these and offers visitors a unique blend of Florida resort vacation with some of the best nature experiences in the country.
There are so many things to do in Marco Island for nature and outdoor lovers like exploring Everglades National Park at your door. A host of other preserves like Big Cypress offer excellent kayaking, boating, hiking, and air boating opportunities as well.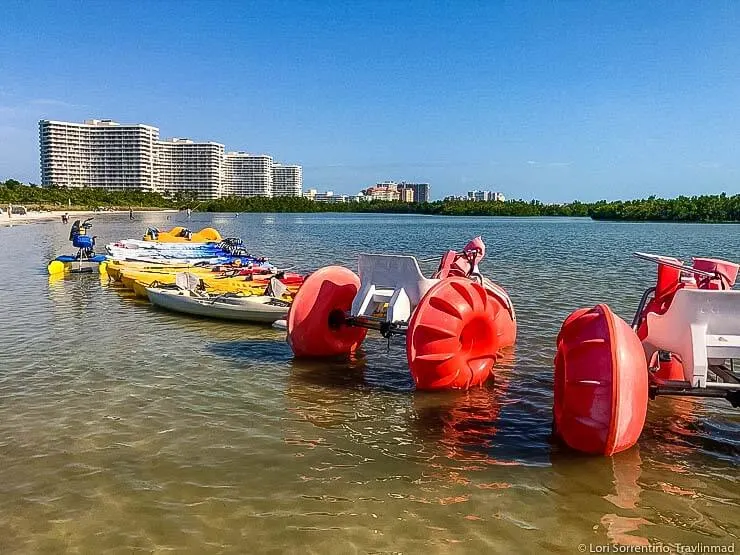 If it's a quiet day at the beach you're looking for, Marco has some of the most beautiful white-sand beaches in the region. Head to Tigertail Beach where you can rent stand-up paddleboards, waverunners, kayaks, and water cycles, or just laze away the afternoon and find some pretty shells on the beach.
End your day trip with a late lunch or dinner in a waterfront restaurant where the seafood is so fresh and the beer is cold, a perfect ending to your day trip in the paradise of Marco Island.
Naples
Contributed by Claire of Stoked to Travel
Naples, located on the Gulf Coast of Florida, is a stunning day trip from Miami. Taking around 1.5 hours from Downtown Miami, through the heart of the incredible Everglades National Park along Route 41, Naples is a charming, small city that is ideal for a one-day visit.
Like Miami, Naples is blessed with warm, year-round sunny weather and is a particular favorite of wealthy Americans from the Northeast who flock here to escape the brutal cold winters.
As such, Naples is a high-end destination, packed with premium stores, art galleries, antique stores, and charming tearooms, especially along its central hub of activity, Third Street South.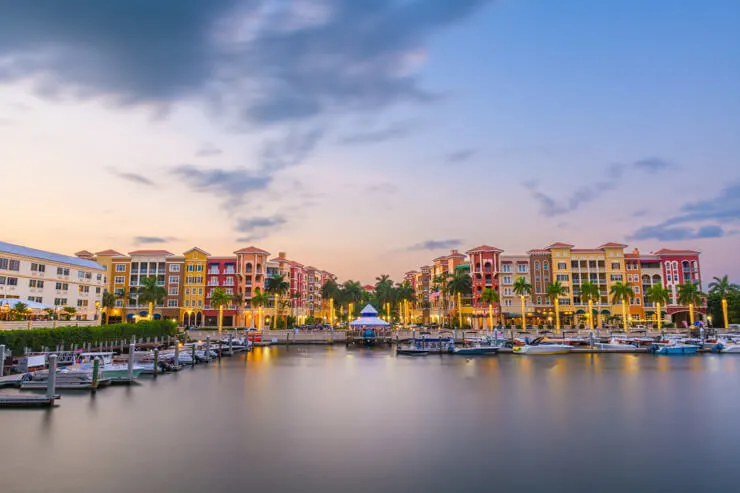 Spending the day at the beach, or teeing off on one of the popular golf courses are two of the most popular activities to do in the area, but there's a burgeoning arts and culture scene emerging in Naples, so it's always worth checking out the local calendar of events to see what's happening.
The town is also seeing a growing number of craft beer breweries pop up each year, so make sure to sample a local beer too.
Naples is home to dozens of excellent restaurants, with pretty terraces decked with twinkling lights and often live musicians performing whilst you sample some of the town's great food.
Make sure to take in a sunset on the Gulf Coast, they're often pretty spectacular and a cocktail from Sunset Beach Bar & Grill before you head back to Miami is the perfect way to sign off a day in Naples.
Fort Myers
Contributed by Ruby of A Journey We Love
Ft Myers is located on the West Coast of Florida, roughly a 2.5-hour drive from Miami through I-75. The best way to get to it is by car, as there are no trains or other public transportation that connects the two cities together.
Fort Myers is a little off the beaten path. One can enjoy the white sand beaches and explore the surrounding areas with nature preserves. It's not a run of the mill Florida city that one goes to. It's also the gateway city to Sanibel and Captiva Island.
Within Fort Myers, one can visit the Edison & Ford Estates, where these two visionaries decided to build their winter houses and lived right next to each other overlooking the water.
Calusa Nature Center and Planetarium is also a great spot to visit with or without children. Close to Calusa is the Six Mile Cypress Slough Preserve, a long nature boardwalk that's perfect to view wildlife – gators anyone? One can even be lucky to see river otters in the pond.
Of course, you also have the beaches of Ft Myers, which are located on its own inlet and within a short drive to another great Florida city called Cape Coral.
Anna Maria Island
Contributed by Jacks from Flashpacking Family
Anna Maria Island is a small barrier island off the west coast of Florida just south of Tampa. Having maintained much of its original, low-level architecture, it has a wonderful, laid back charm and a distinct holiday island vibe.
People talk about an 'Old Florida charm' when describing Anna Maria Island so if you are looking to escape the hustle and bustle of Miami for a day, Anna Maria Island is the place to do it.
The island is just 7 miles (11 km) long and has beaches running almost the whole length of its western coast. The soft, white sand beaches and gently lapping blue waters make it the perfect Florida beach destination for families but it also has a huge array of wildlife and water sports as well as great shops and restaurants.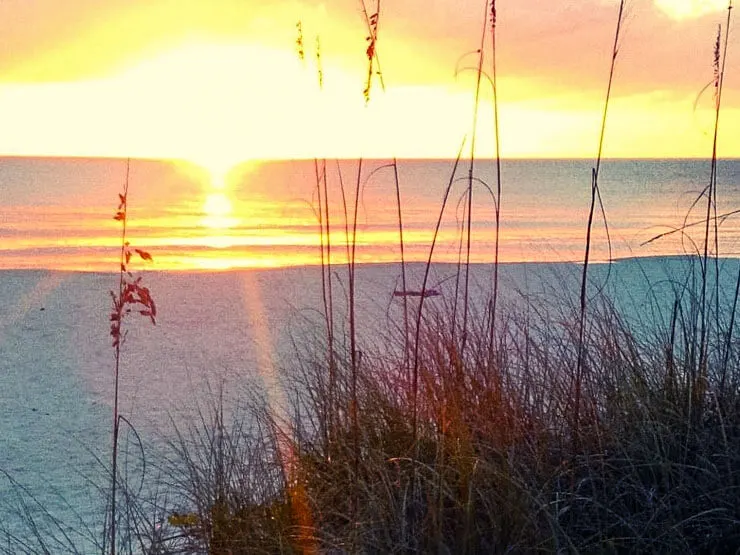 There are several piers on the island, with Bradenton Beach, Rod and Reel, and Anna Maria City Piers being the most famous. Bradenton Pier is a particular hotspot. People come to fish, check out the pelicans, and shop. There are also some great restaurants in the area.
Talking of piers, Rod and Reel Pier is a great spot for a sunset drink but if you want to get away from the crowds to enjoy a sunset, make sure to head to Bean Point in the far north. There is a little walk to get to the beach, but this makes it much less crowded.
To reach Anna Maria Island from Miami, you need to take the I75 across to Naples and then up the west coast to Bradenton. At Bradenton, you take the I64, which will take you, straight across the Anna Maria Island Bridge. The journey will take you a little under four hours.
Crystal River
Contributed by Nick of Wandering Wheatleys
Every winter hundreds of manatees flock to Crystal River, Florida. This part of the state has several warm springs where the water remains at a comfortable 72-degrees all year round. This makes it an ideal resting place for manatees during the cold months and it's estimated that up to 800 of these gentle giants come here each year.
The best time to see manatees in Crystal River is from mid-November to late March though there are a few that remain in the area year-round. While it's easy to see manatees from a kayak or from several viewing platforms around Three Sisters Springs, to dive right in is among the top things to do in Crystal River!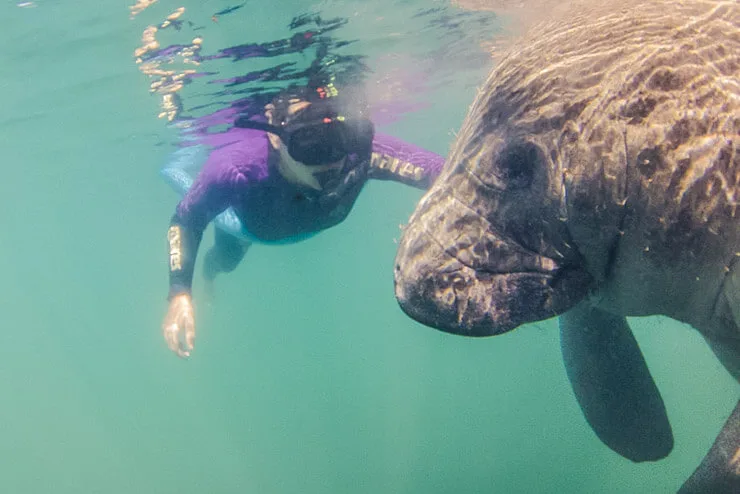 There are several tour operators that offer the chance to swim with the manatees, which is definitely one of the best things to do in Florida. And while you're not allowed to approach them, the manatees in Crystal River are actually quite friendly and will often swim right over to you hoping for a belly rub!
Often referred to as "sea cows", these huge marine mammals can reach up to 1,000 pounds so it can be quite a shock to see one swimming up to you underwater. But don't worry, they are totally harmless.
It's a 4-hour drive to reach Crystal River from Miami by car, but it's certainly worth it if you want a once-in-a-lifetime opportunity to swim with these adorable manatees.
Dania Beach
Contributed by Samantha of Intentional Detours
One of the best Florida day trips from Miami is a drive to Dania Beach, which sits just over the county border in Broward.
Being only a 30-minute drive from downtown Miami, Dania is the perfect day-trip choice if you want to get out of the city but don't want to waste too much time in the car. It's also my personal fave for its relaxed, seaside vibe that I was never quite able to find in the 305.
Unfortunately, there aren't many public transportation options available to reach Dania Beach, but even if you don't have your own car, you can easily grab an Uber or Lyft.
The highlight of Dania Beach is, of course, its beach! Travel photographers will especially love some of the scenes that can be captured there. Unlike Miami beaches, which feel quite commercialized, Dania is far away from the sounds and sights of the city.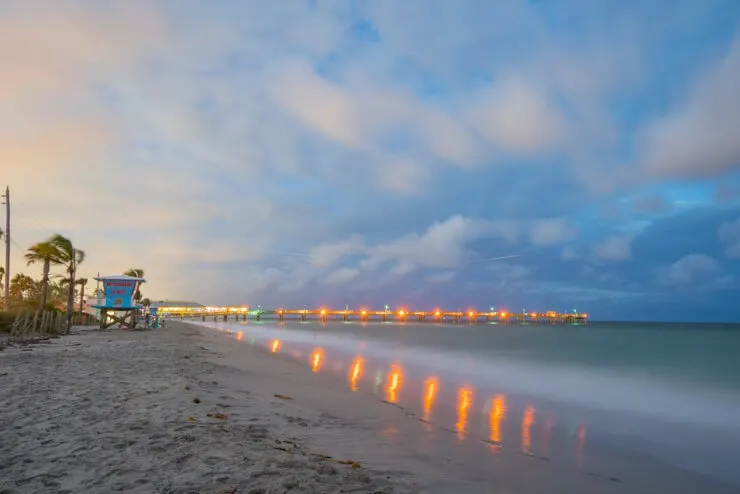 To really feel like you're far away from the masses, walk away from the quintessential (and busy) pier and set up alongside the Von D. Mizel-Eula Johnson State Park. This park and its long strip of the beach are only a short walk from Dania Beach's parking lot and are sure to delight nature lovers.
The best way to finish off this day trip is with some ice cream.
Jaxson's Ice Cream Parlor is an extremely famous, old -fashioned and (very) delicious spot that's known by virtually everyone in the area. The portions are unreal and the entire parlor is filled with neat memorabilia– there's definitely nowhere in Miami that can compare to the small-town feel of this tasty spot!
Fort Lauderdale
Contributed by Derek from Robe Trotting
One of the best trips from Miami is to visit the gorgeous coastal city of Fort Lauderdale. It's full of vibrant beaches, boating canals, high-end hotels and restaurants. LGBT travelers will be pleased to find that gay Fort Lauderdale is a thing and it's actually one the most popular such destinations in the United States.
Fort Lauderdale is about a 30-minute drive from Miami and you can also travel there by train in a similar time. From December to April you can also enjoy a relaxing mini-cruise on the water taxi that connects the two cities. It's about a 2.5-hour journey along the coast and the sights alone make the trip worth the extra travel time.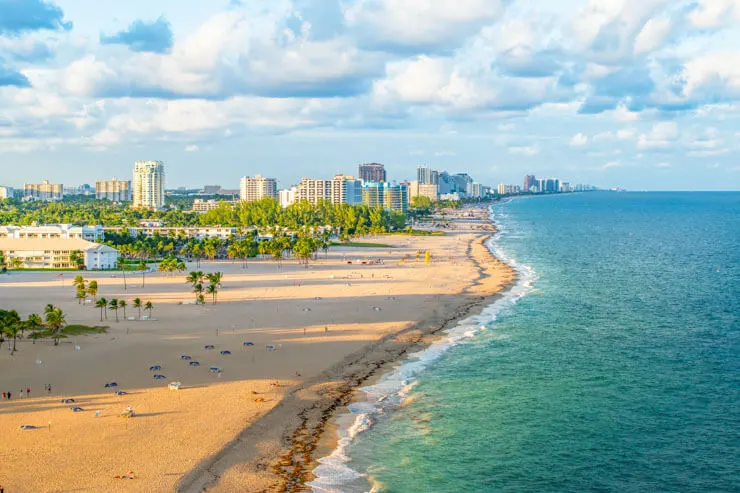 Once in Fort Lauderdale, some of the best activities will keep you on or close to the water. The beaches of Fort Lauderdale are just as lovely as those in Miami but they're often less crowded and more relaxing.
Boating through the canals and the Intercoastal Waterway is another popular Fort Lauderdale activity.
Visitors also enjoy shopping on The Strip, Fort Lauderdale's coastal promenade. It's full of upscale boutiques and ocean view restaurants. As you might imagine, the seafood in Fort Lauderdale is among the best in the country.
A natural oasis in the city of Fort Lauderdale is the lush Hugh Taylor Birch State Park. It's a 180-acre state park that's a short walk from the beach and full of hiking trails and picnic spots.
With so much to do in Fort Lauderdale, it's the perfect day trip from Miami.
Palm Beach
Contributed by Elena from The Carry-On Chronicles
Palm Beach is an opulent barrier island beloved by celebrities and Instagrammers for its luxurious atmosphere. Located just over 90 minutes north of Miami, travelers will enjoy the straightforward drive here up I-95 N. Despite stopping here for a day trip, visitors should swing by the island's iconic Colony Hotel to witness the pastel pink paradise in person.
As Palm Beach caters to the fashionable, there's no shortage of shopping opportunities there. One of the most popular spots is Via Mizner, an upscale plaza of boutiques located off of the equally famous Worth Avenue. Although budget finds will be hard to come by, it's always fun to window shop!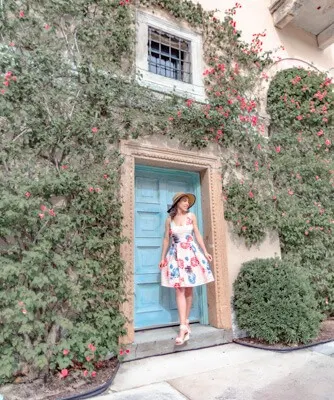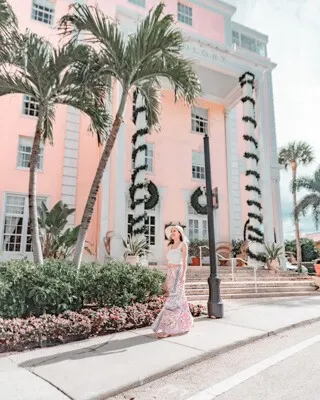 After some retail therapy, take a stroll down Major Alley, an irresistibly sweet area bursting with colorful blooms. On the way, stop for a photograph at the "Insta famous" blue door along Peruvian Avenue.
Visitors will also enjoy unwinding and sunbathing at one of the island's many beaches or waterfront parks.
To top off the day, be sure to take a quick drive over to West Palm Beach to enjoy a delicious ice cream at Sloane's. In addition to offering dozens of unique flavors, this ice cream parlor is a favorite for its funky and photogenic Barbie-pink façade.
Vero Beach
Contributed by Carley from Home to Havana
Just 2.5 hours north of Miami on the Florida Turnpike or I-95, Vero Beach is the small-town Florida that older generations of Floridians may remember, with few high-rises and stretches of public beaches that can still feel quite private.
While Vero Beach is home to some of the wealthiest beach and intercoastal waterway communities in the state, it maintains its small-town, peaceful feel with quaint shops and restaurants dotting the oceanside.
Despite feeling small, there is plenty to do in Vero Beach to keep anyone busy. For those looking to enjoy the beach, head to South Beach or the Tracking Station Beachfront Park.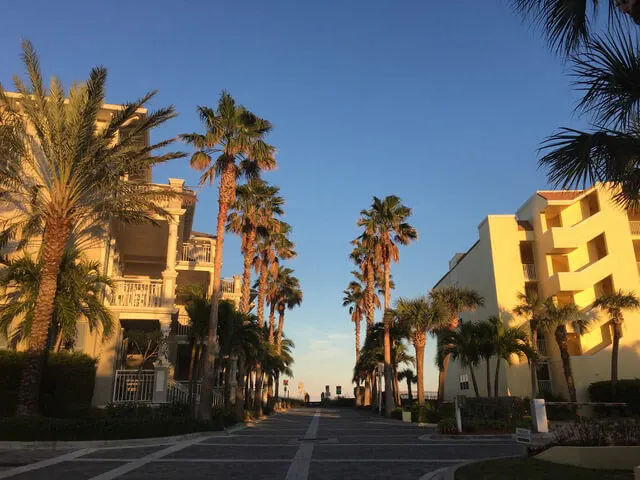 For a more adventurous day in the water, take the quarter-mile swim or paddleboard out to the wreck of the USS Breckinridge, known as the "Boiler Wreck" straight off the coast from Costa d'Este hotel. Located close to shore and in only 15-20 feet of water at its deepest point, this wreck is an easy snorkeling excursion in calm summer waters.
For even more outdoor activities, visit Round Island Riverside Park for paddle boarding or kayaking, known for always having manatees greeting visitors.
Vero Beach's snowbird community has also attracted some world-class dining to the area. Local favorites are the hearty breakfast and brunch specials at the Lemon Tree, a cozy neighborhood restaurant that fills up fast on the weekend.
Another community and regional favorite not to be missed, the Ocean Grill has been serving up fresh seafood dishes for decades from its historic seaside building on the ocean. The bar is cantilevered over the dunes for an incredible view over dinner and drinks.
Melbourne
Contributed by Amy of The Florida Travel Girl
If you want to escape the crowds and traffic of Miami, a day trip to Melbourne, Florida is the perfect getaway. About a 2.5-hour drive north on 95 will take you to the adorable town of Melbourne with its sprawling beaches and quirky downtown.
A beach day is one of the best reasons to make your way up there, as it has some of the most pristine beaches in the state, where hundreds of sea turtles nest every summer.
Surfers also flock here for some of the best waves around, especially during the fall months. And if you like to paddle, consider staying the night and getting a glimpse of bioluminescence from a kayak.
If you have had enough of the sand, there are plenty of other attractions there. The Brevard Zoo is a favorite, where you can immerse in nature while seeing exotic animals, e.g. during a kangaroo walkabout. They also have a ropes course treetop trek for the adventurous!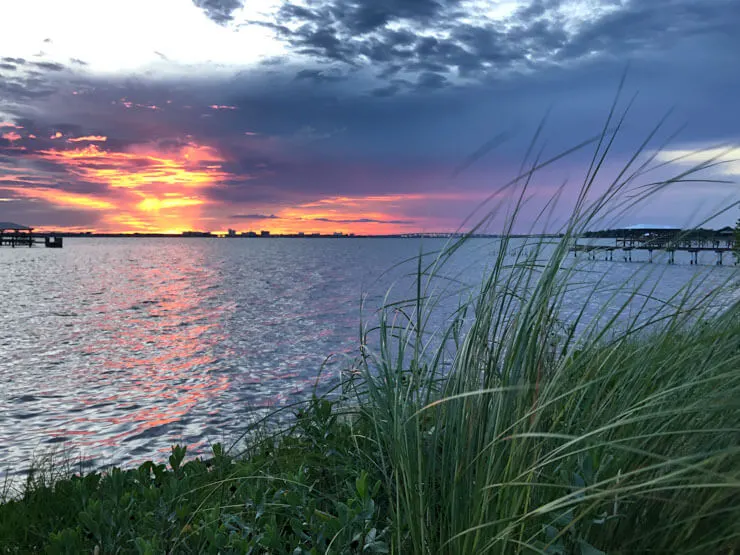 If you prefer more natural wildlife, the Turkey Creek trails and the Viera wetlands are fun for hiking too.
For those less nature inclined, there are lots of shopping and foodie experiences to be had there. I recommend walking downtown or around the Eau Gallie Arts District to check out the local vintage shops.
Afterwards, grab a bite at local hotspots like Crush Eleven and FM Pizza Oven. If you have time before your day trip ends, be sure to check out the breweries of the area too, as Intracoastal Brewing is not to be missed!
No matter what you are looking for, you can find it on a day trip to Melbourne and there is enough to make you consider spending more than a day in this Florida town!
Titusville
Contributed by Vicky of Buddy The Traveling Monkey
For a great day trip from Miami, we recommend visiting the city of Titusville, Florida. It's an easy 3-hour drive, going north along I-95. The whole family will enjoy the trip because there is something to do for everyone.
For those that love space and science, there is Kennedy Space Center (tickets here). You can take a bus tour and see launch pads and assembly buildings that are owned by NASA and other commercial partners.
On the main complex, there are multiple buildings and areas that tell the history of space exploration and pay homage to the many involved in early space programs.
Nature lovers will enjoy Merritt Island National Wildlife Refuge. It is home to over 500 species of wildlife and 1000 species of plants. There is also Canaveral National Seashore, with 24 miles of beautiful and pristine undeveloped beach.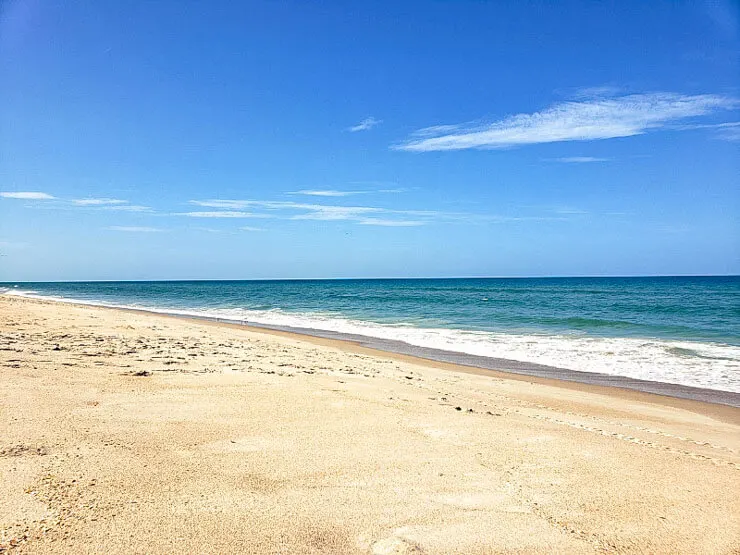 Titusville is also home to great seafood restaurants.
One of our favorites is Pier 220. It is right on the water so it has great views of the Intracoastal Waterway. Besides the great food (we loved the fried shrimp we ordered), we also like that Pier 220 is so eco-friendly. They use corn-based disposable plasticware, sugarcane-based take out containers, and other paper and bamboo products.
Orlando
Titusville mentioned above is essentially a suburb of Orlando. You can visit Orlando on a day trip from Miami too, especially if you're short on time.
Orlando is the ultimate theme park destination. It's even called the Theme Park Capital of the World!
Walt Disney World belongs to the largest theme parks in Orlando. It's actually a resort comprised of 4 theme parks – the Magical Kingdom, Epcot, Disney's Hollywood Studios, and Disney's Animal Kingdom.
If it's your first time at Disney World, the Magical Kingdom cannot be missed. See also Disney World mistakes, not just for first-timers.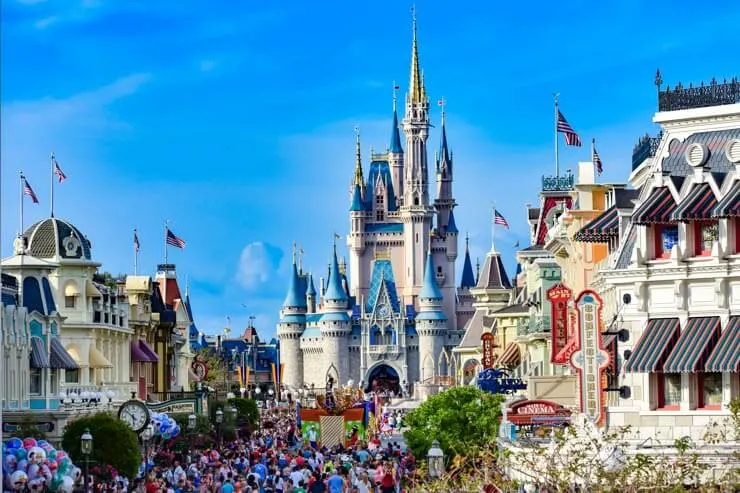 Harry Potter fans will enjoy a visit to the Universal Orlando Resort. Lego aficionados should head to Legoland.
And that's still not all.
Animal-centered parks include SeaWorld and Gatorland. For those whose budget is tight or those who hate crowds, there's a number of smaller theme parks such as Daytona Lagoon (a waterpark), Dinosaur World, WonderWorks Amusement Park, etc.
But there's more to Orlando than just the theme parks. It prides itself on being a high gastronomy destination and also a shopping paradise.
If you like beer, you might enjoy the local organic brewery called 'Orlando Brewing'– the only organic one in Florida since 2006. You can also stroll the famous Barley Row with many beer bars and breweries – you can do so on a tour too.
To get to Orlando, drive on the I-95 all the way to the North. It takes about 3 hours to get there.
Bonus: Bahamas
Contributed by Jagsetter
Believe it or not, it's possible to visit the Bahamas on one day cruise from Miami Florida. The Balearia Bahamas Express transits passengers to/from Ft. Lauderdale and Grand Bahama Island daily.
Grand Bahama Island is about 197 miles off the coast of Florida, and getting there by boat takes about 3 hours each way. When I went on this trip, I left at 8AM—spent 8 hours in the Bahamas—and then took a 7PM boat back to Miami on the same day.
There's a lot to do on Grand Bahama Island. I suggest choosing 1-2 fun activities to participate in during your day trip.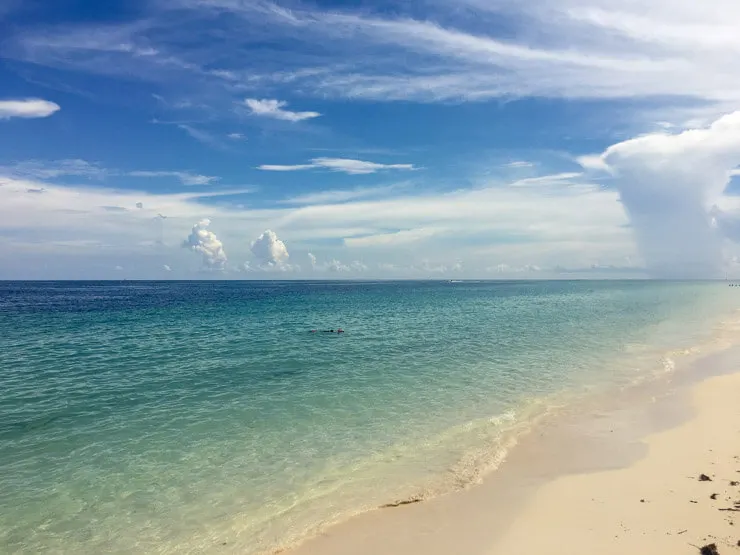 I visited the Lucaya Marketplace—which features rows of local shops that sell hand-made goods; such as jewelry, items made of straw, and rum.
I also went to the Lucayan National Park, which is where parts of Jurassic Park are said to have been filmed.
Other activities that you can throw into the mix during your Bahamas day trip from Miami include: visit Garden of the Groves, go zip-lining, scuba dive, swim with dolphins, or swim with Flamingos (the Island's national bird!).
The food on the Island is also very good and worth trying—the Island features a mix of both Bahamian and International restaurants to choose from.
For the shortest Bahamas day trip from Miami, go for this one to Bahamas' Bimini Island.
If you fall in love with Bahamas, consider staying at the Atlantis Resort on Paradise Island.
Map of Miami Day Trips
See all the above-mentioned day trips on a map.
Btw. the map below is an image only; click it for the full interactive version on Google Maps.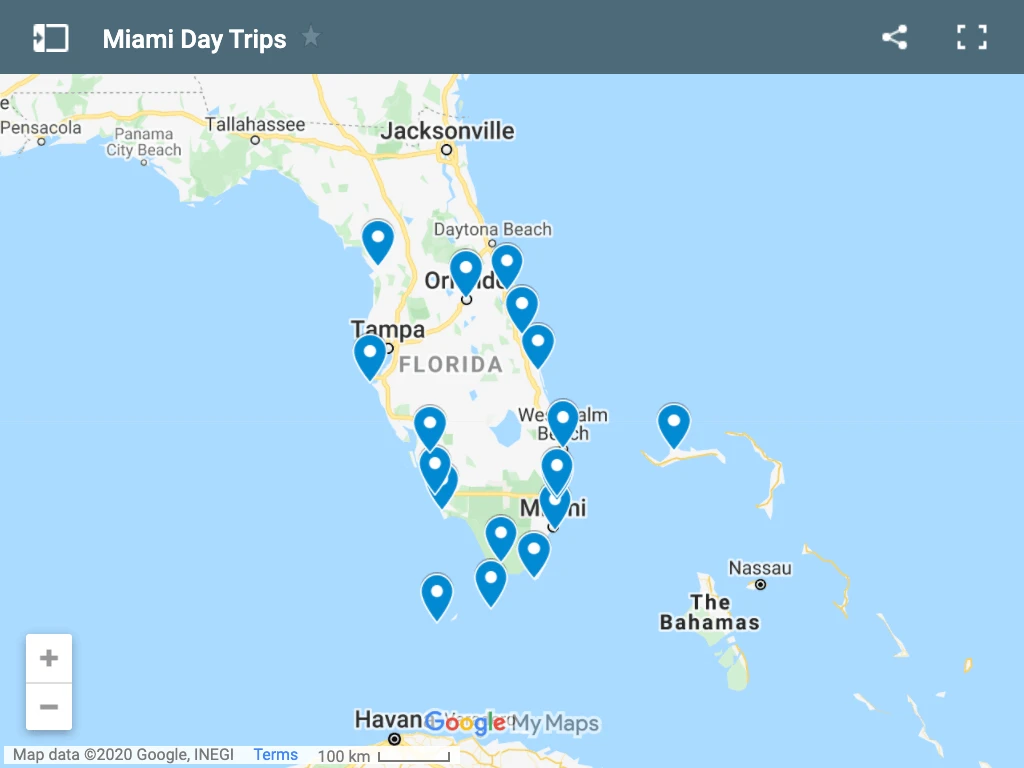 Have you taken any of these day trips from Miami? How was it? Do you know of an amazing place we might have missed? Please let me know in the comments!
And if you'll instantly fall in love with any of these places, consider spending a night or two. I put together this overview of cool Airbnbs in Florida for your inspiration.
Pin this post: