This post is also available in:
Čeština
Let me invite you to the paradise island of Koh Lanta!
Why?
What if I told you this island is perfect for travellers to Thailand who want to stay away from crazy parties?
Ko(h) Lanta is one of Thailand's largest islands. It has resisted rapid tourist development like no other island in the country. Probably because it's not so convenient to get there, as you have to use a ferry.
It's actually an easy hurdle to overcome with the current transport infrastructure. Be aware, though, that new roads and bridges are currently being constructed and they'll make Koh Lanta much easier to access, even for the comfort-loving tourists.
Koh Lanta is laid-back and full of wonderful and welcoming people. Tourists have already discovered it but fortunately the size of the island helps to spread the visitors evenly. When you sit on any Koh Lanta beach, you almost feel alone.
When talking about Koh Lanta Thailand, we'll be covering Koh Lanta Yai. Koh Lanta is formed also by Koh Lanta Noi. However this half-island in the North of Ko Lanta Yai is just used for transport to Koh Lanta Yai and for locals to live in. There are no 'holiday facilities'.
Here's a tip: Why not read a book about Thailand while travelling in Thailand? :) Understand the country better with these book tips for Thailand.
Where to Stay in Koh Lanta
There's a wide selection of places to stay in Koh Lanta. Most of them are just a few steps away from the beach. If you come in the low season, you won't even need to book too long in advance.
Best area to stay in Koh Lanta is the Long Beach, a.k.a. Pra Ae, area.
If you want a quiet and serene place to stay when you visit Koh Lanta that won't break the bank, check out the Escape Cabins. We stayed in one of their Koh Lanta bungalows for 2 weeks and loved it tremendously. The owner is a lovely Japanese lady and the place is managed really well. It's by far my most favorite Koh Lanta hotel.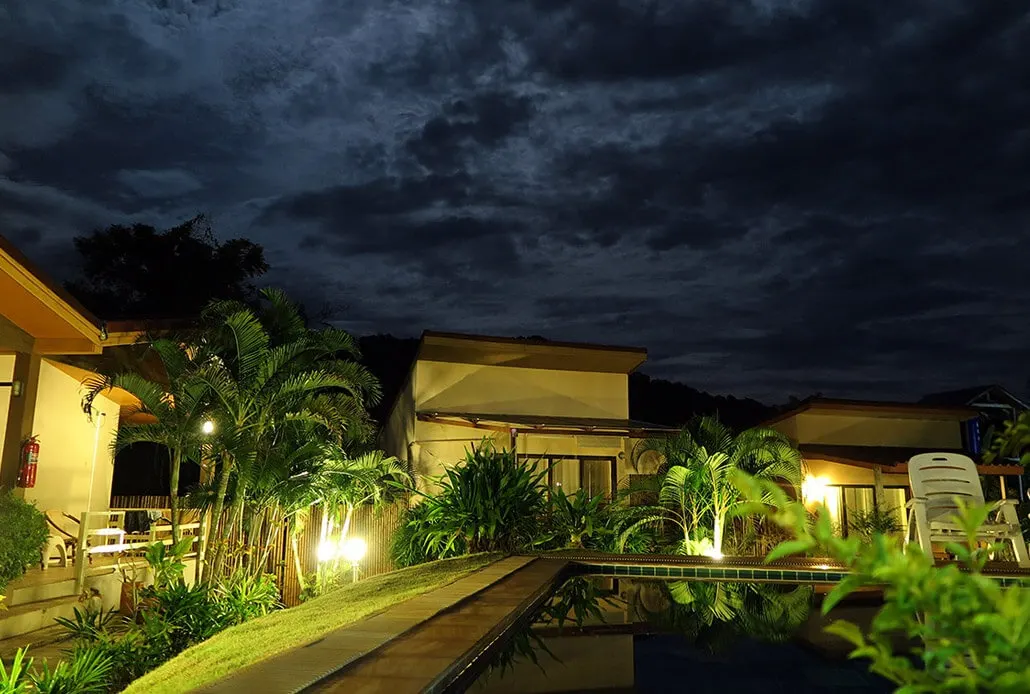 (Disclaimer: I was given a discount to stay at Escape Cabins. Still, I only recommend what I love!)
If the Escape Cabins Koh Lanta is not exactly what you're looking for, below you'll find a carefully researched overview of the best rated Ko Lanta hotels covering all budgets (including cheap Ko Lanta hotels):
BEST HOTELS OF KOH LANTA
Hotel

Location

Category

Stars

Picture
Description
More Details
Layana Resort & Spa

Pra Ae Beach

Luxury

5*

Guests are raving about this little piece of paradise. Everything seems to be perfect about this adult-only resort, from the top notch service to a gorgeous infinity pool to impeccable rooms surrounded by palm trees.
Check prices and availability
Pimalai Resort & Spa

Ba Kan Tiang Bay

Luxury

5*

The ultimate luxury near a wilder, more rugged crescent-shaped beach. The location further South in Koh Lanta makes it a perfect place to stay for travelers who enjoy peace and closeness to nature. Their spa is worth travelling for.
Check prices and availability
Crown Lanta Resort & Spa

Klong Dao Beach

Luxury

4.5*

Perched on a small hill, this resort is ideal for fit adults. You'll be able to enjoy a private beach and a large pool. The location close to Saladan city means you'd have all possible restaurants and amenities at your fingertips. Choose a room in the upper section, not by the pool.
Check prices and availability
Diamond Cliff Beach Resort

Klong Nin Beach

Mid-range

3*

A resort with beautiful views that caters to travellers who don't need utmost luxury. The rooms are spacious, the staff is attentive and you can easily chat to the owners there. The location makes it convenient to get to other parts of the island easily using a tuktuk.
Check prices and availability
Siam Lanta Resort

Klong Tob Beach

Mid-range

3*

A new family-run resort located about 10 minutes walk from a beach near a small forest. Guests appreciate the beautiful rooms, the cleanliness, warm pool and privacy. The owners are more than willing to go the extra mile for their guests.
Check prices and availability
Raven Blue

Phra Ae Beach

Mid-range

2.5*

A lovely guesthouse only 2 minutes from the beach, relatively new and already very popular among travellers to Koh Lanta. The location couldn't be more perfect. Guests love the nice and simple breakfasts and the beach bar.
Check prices and availability
Lanta Baan Nok Resort

Phra Ae Beach

Budget

2*

One of the cheapest options in Koh Lanta, yet with nice and clean rooms, just a few minutes away from the beach (you need to cross the main road). Comfy beds and hammocks for you to hang out in. No breakfast but fresh coffee in the morning.
Check prices and availability
Papillon Bungalows

Phra Ae Beach

Budget

3*

A couple of recently renovated bungalows, a friendly owner (I met him – he's fun!), a pool and a restaurant/hangout area that leaves many guests not eager to explore other eating options around. Need I say more?
Check prices and availability
Lanta Long Beach Hostel

Phra Ae Beach

Budget

2.5*

The cheapest place to stay in Koh Lanta, the hostel might surprise you as it's nice, clean and there's even free breakfast. It's located right near a supermarket and it takes just a few minutes to reach the beach. Choose between dorms and private rooms.
Check prices and availability
Getting to Koh Lanta
Getting there is the hardest part, and in the end is no big deal. Fly into Phuket or Krabi and share a minivan with fellow travellers.
This way, you won't have to worry about getting from the mainland to Koh Lanta. The minivans just take the normal route that includes a ferry ride.
Minivans can be booked at the airport (easy if you arrive before 3 pm) or online in advance.
The safest bet is to have your hotel in Koh Lanta send a private minivan. The ride takes about 2 hours, if you don't have to wait for the ferry too long. We paid 2,500 THB for a ride like that.
If you arrive too late or simply want to spend some time in Krabi too, here's where to stay in Krabi.
Transfers that can be booked online
Krabi Airport to Koh Lanta
If you'd like to book in advance and you can't have the transfer arranged through your hotel, make use of this private transfer from Krabi Airport straight to your hotel in Koh Lanta.
Phuket / Ao Nang / Railay Beach to Koh Lanta
If travelling from a resort in Phuket, Ao Nang or Railay Beach, you can use this shared transfer.
Just bear in mind you'll be dropped off at Saladan port, from which you'll need to take a taxi to get to your hotel in Koh Lanta.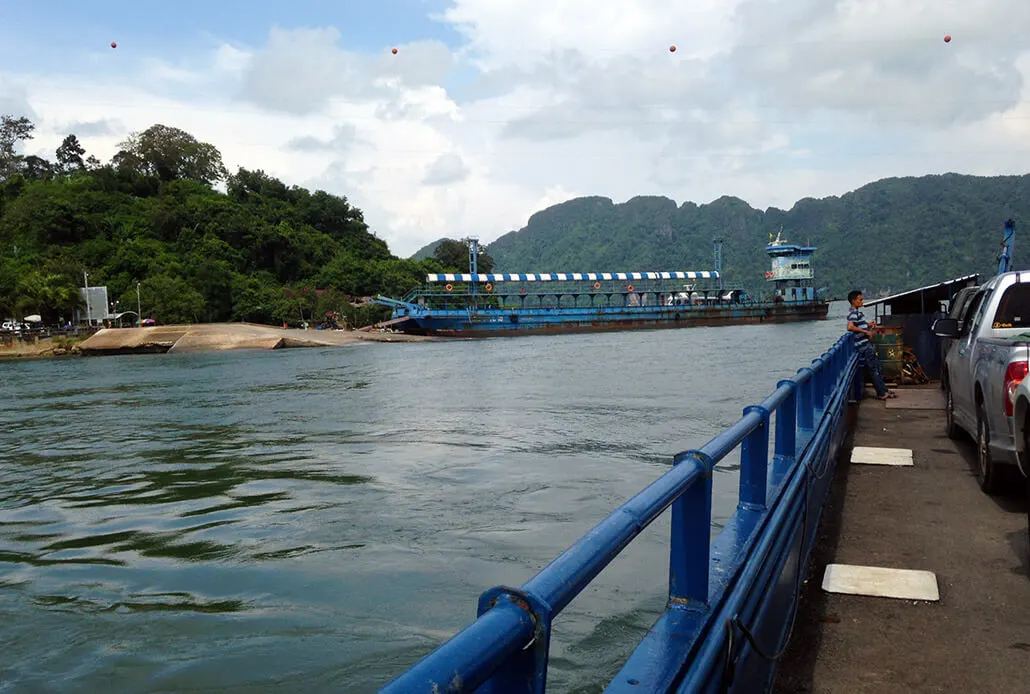 What to do in Koh Lanta
Some people say Koh Lanta is boring. I can't identify with that statement but it's definitely true that the pace is calmer there making it an ideal place for relaxation. It's just one of many reasons why Koh Lanta belongs one of the best places to visit in Thailand.
Still, though, I came up with 20 things to do in Koh Lanta! Yes, twenty!
Let's dive right in:
1. Work
Ok, I know. You don't want to work on vacation. That's totally fine. But if you're a bit nomadic or need a few days to get some work out of the way, there's no better place for it than Koh Lanta's coworking space KoHub.
There are many seating options in KoHub. Either you can stay cool in an air-conditioned room, or you can just sit outside on the porch with fans, which make the heat quite bearable.
For 2 weeks, I sat at a nice desk outside and enjoyed watching monitor lizards and other creatures crawl by.
To be honest, I was never as productive as in KoHub! For me personally, working in KoHub was one of the top things to do in Koh Lanta.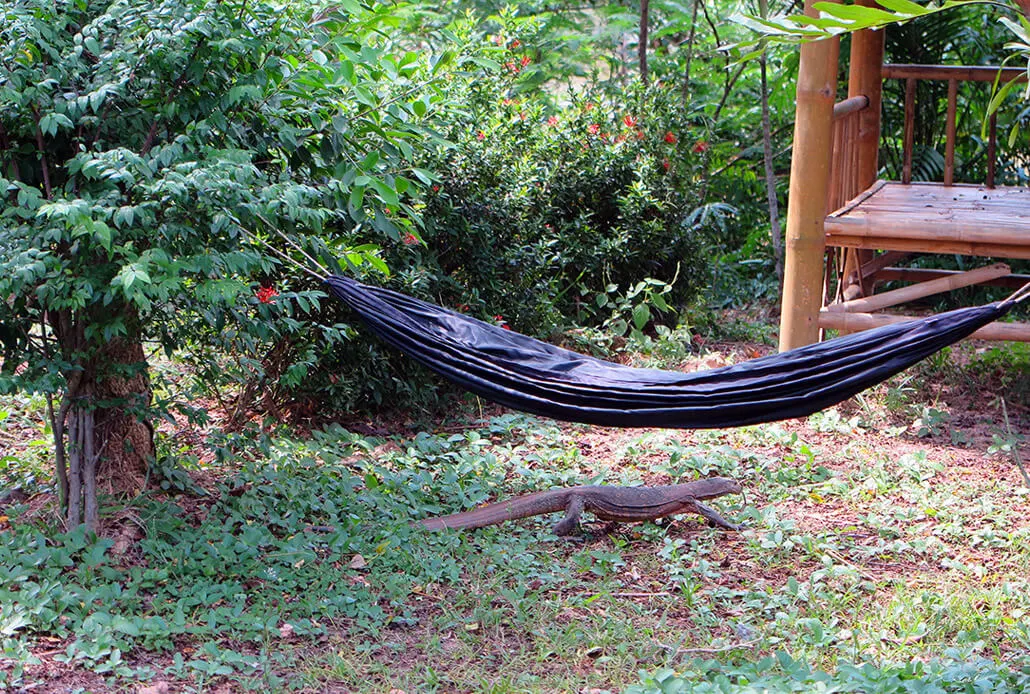 Update 2023: James, who runs KoHub, has just announced the coworking space will be open only in the high season from October 15 to April 15. That's the best time to visit the island anyway!
Recommended Travel Insurance
When planning travel, make sure you never forget to set up your travel insurance.
If you're unsure, check out my review of SafetyWing travel insurance. It's great for any trip longer than 5 days!
It can be arranged even if you're already on the road. It's affordable, too – the price starts at $42 for 4 weeks.
2. Go to the Beach(es)!
If you choose to stay around Long Beach (Phra Ae Beach), you're going to have one loooong beach for yourself! However, the further south you go (on the western side), the more pristine the beaches will be. These are the real Koh Lanta highlights.
So hop on a scooter and ride down! Look below at this paradise location we found for swimming. :)
This was Ao Mai Pai beach. You can just ride and stop whenever you see an enticing beach spot. Go explore and if you love it, stay for a while! It's as easy as that.
There are in total 11 beaches, all along the Western coast. Don't bother searching for beaches on the Eastern coast, though.
For your overview, here are all the Koh Lanta beaches from North to South of the West coast:
Ko lanta Beaches
Klong Dao Beach

: This beach is the closest to Saladan. There are quite a few resorts. If you're not accommodated there, I don't see a reason to travel to this beach. It's quite similar to the Long beach and it lies just next to it.

Long Beach a.k.a. Phra Ae Beach Koh Lanta

: The longest beach! I think this is the best area to stay in, unless you want to be someplace more remote. You'll find plenty of beach bars but at the same time the beach never gets crowded.

Klong Kong Beach

: If you are a party animal, this is where you should stay. Most of the parties of Koh Lanta happen right here. Otherwise Klong Kong is a decent beach with long stretch of sand.

Klong Toab Beach

: A tiny beach by a small town of the same name, this rocky beach can be missed out on, unless you want to eat! The beach restaurant Shanti Shanti is located right here.

Klong Nin Beach

: Another long beach that's great for swimming except for the occasional rocks.

Nui Beach

: A stunning secluded beach with just a small beach bar near its north. You'll often have the place just to yourself.

Klong Hin Beach

: Not the best for swimming because of all the rocks, Klong Hin Beach is nevertheless very pretty and it must be amazing to watch a sunset here.

Ba Kantiang Bay

: Beautiful pristine beach located it one of Koh Lanta's most picturesque bays. There's a big resort right near the beach but it doesn't feel crowded.

Ao Nui Beach (Nui Bay Beach)

: Small and secluded, this beach is not so easy to reach from the road, but that means you'll rarely meet anybody there. Surprisingly, there's a little wooden hut here selling food and drinks.

Klong Jark Beach

: Smaller version of Bamboo Bay beach, without rocks. A bit difficult to find.

Ao Mai Pai Beach (Bamboo Bay)

: The southernmost and, in my humble opinion, the best beach in Koh Lanta. Even though there's a resort located on one side of the beach, it feels absolutely empty (most people hang out by the pool anyway).
There's literally no chance to see them all!
For the best beaches in Koh Lanta, head as much to the South of the island as possible.
Being an awesome little island lined by stunning seashores, the beaches are the main Koh Lanta attractions. :)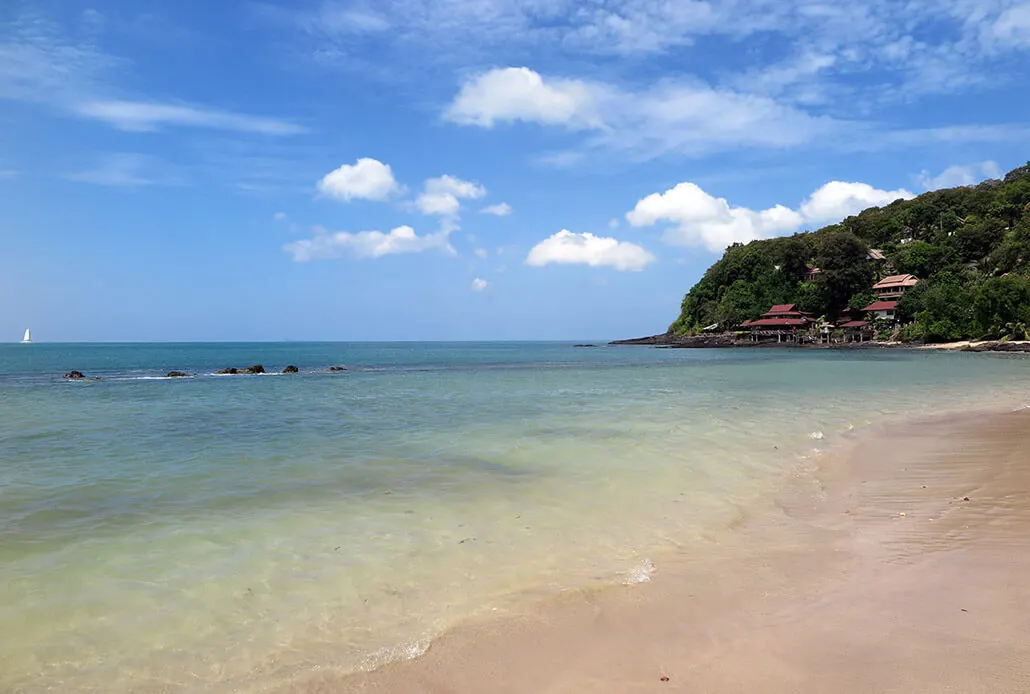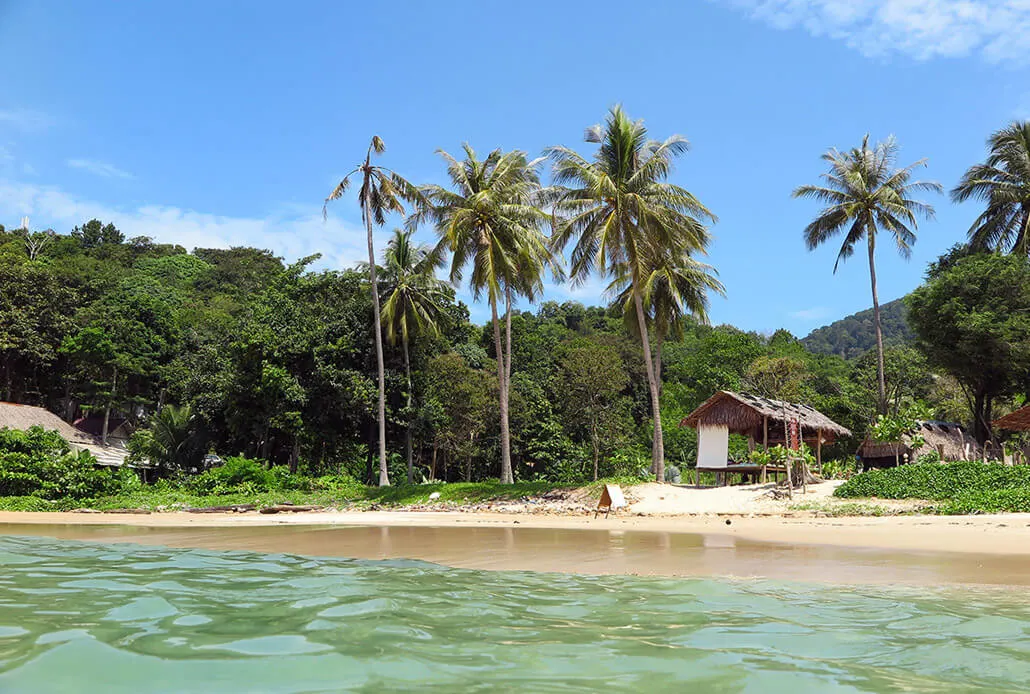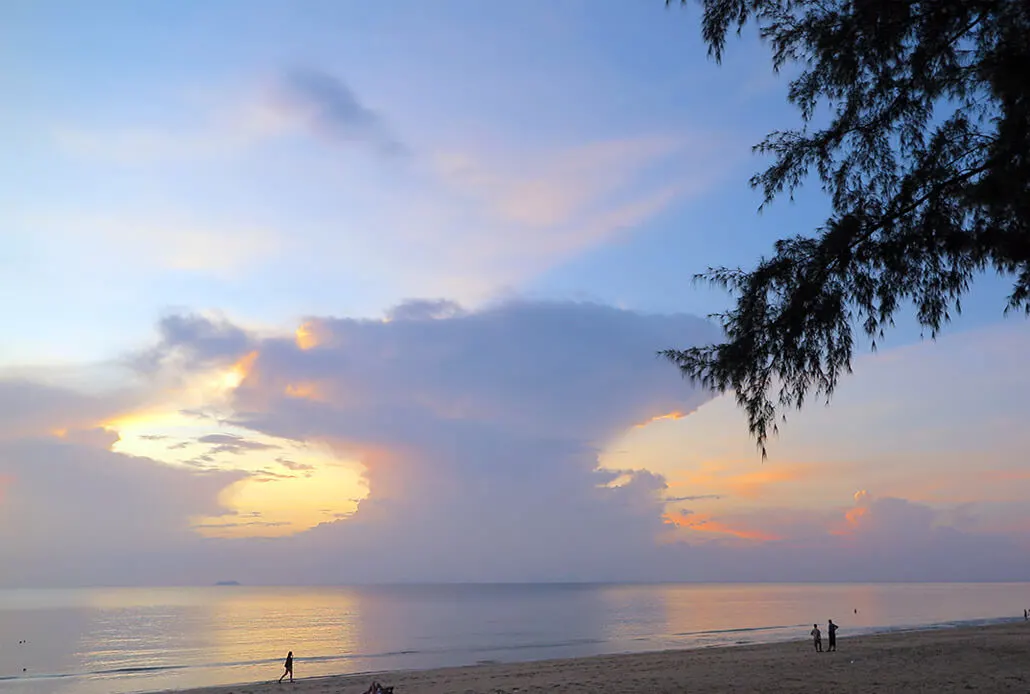 3. Eat Like a King
Oftentimes restaurants in paradise don't have to try hard as they are going to be full anyway. Right? Well, on Koh Lanta, they still try! And it's all delicious.
I had all sorts of great meals like fried rice (served in a pineapple, anyone?), fresh catch, massaman and other curries, plates with chicken… Delicious, mouthwatering, savory food..
Among the restaurants on Long Beach that we tried and liked are e.g.:
iRie

: owned by Germans, but delicious everything! Lots of cocktails and vegetarian options, their mango & sticky rice is out of this world

N and N

: a restaurant right on the Long Beach, wonderful fried rice

Papaya

: great local restaurant, try the spicy papaya salad or basically anything on the small but delicious menu

Sayang resort

: towards the (northernmost) end of Long Beach, this is where fresh catch is served and prepared right in front of you
Or Shanti Shanti right by the road from Khlong Khong to Khlong Nin – for the best fried rice in a pineapple, and delicious fresh fish.
If you absolutely love the food and there are not enough good Thai restaurants for you at home, you can learn to cook proper Thai food while in Koh Lanta.
The courses at Time for Lime feature several options – your partner can even join you after the cooking is done and enjoy your freshly prepared food. This option is called the lazy partner :)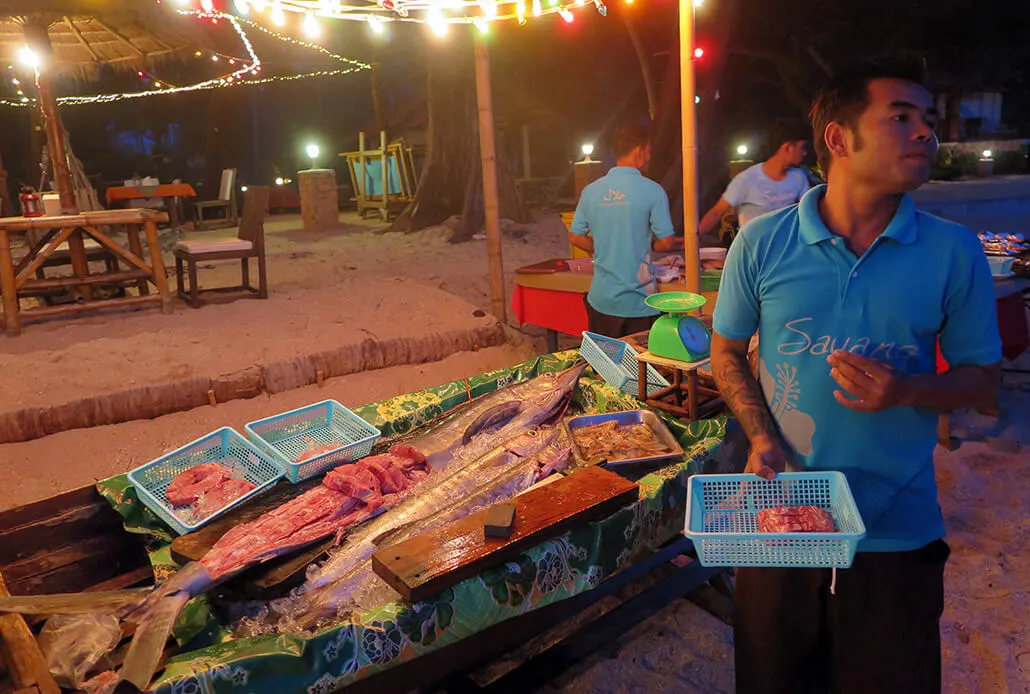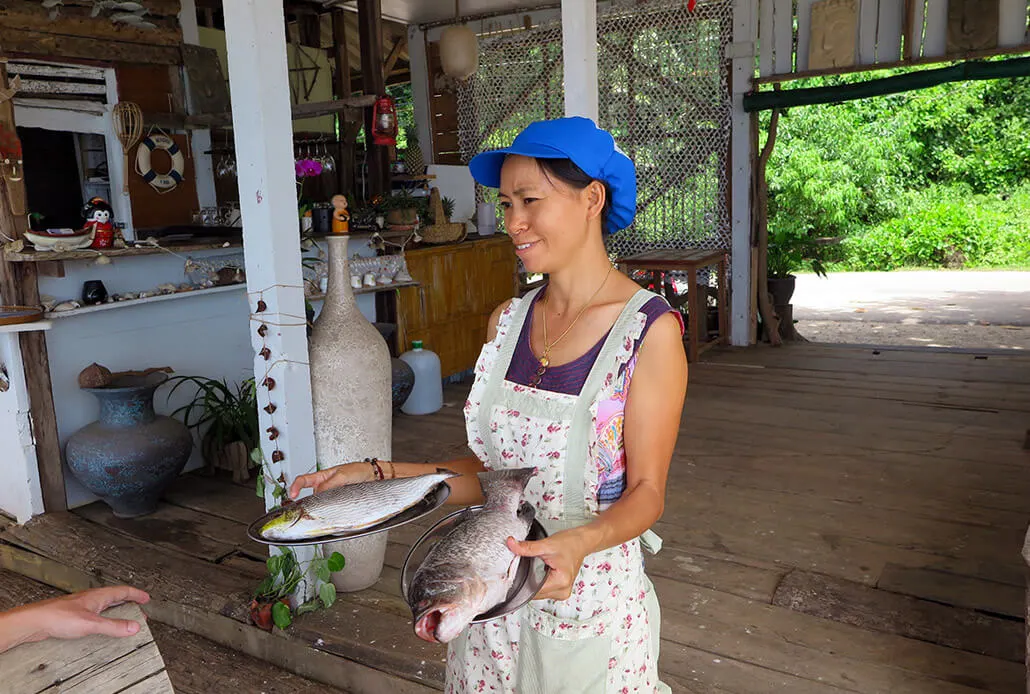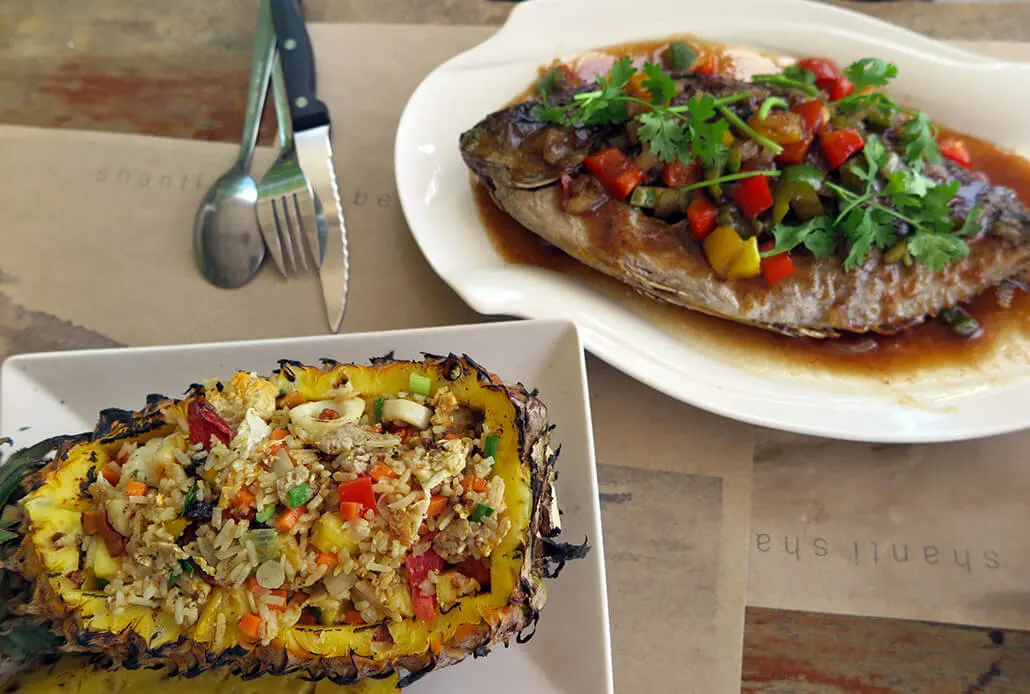 4. Get Addicted to Fresh Coconuts
Cause it's just so easy to! They are available everywhere, in all restaurants and bars. You just can't escape. Don't fight it, though. You'll do yourself good having a fresh coconut every day.
Just watching the often fragile-looking Thai ladies expertly chop with the big chopping knives is quite a sight! Have your camera ready ;)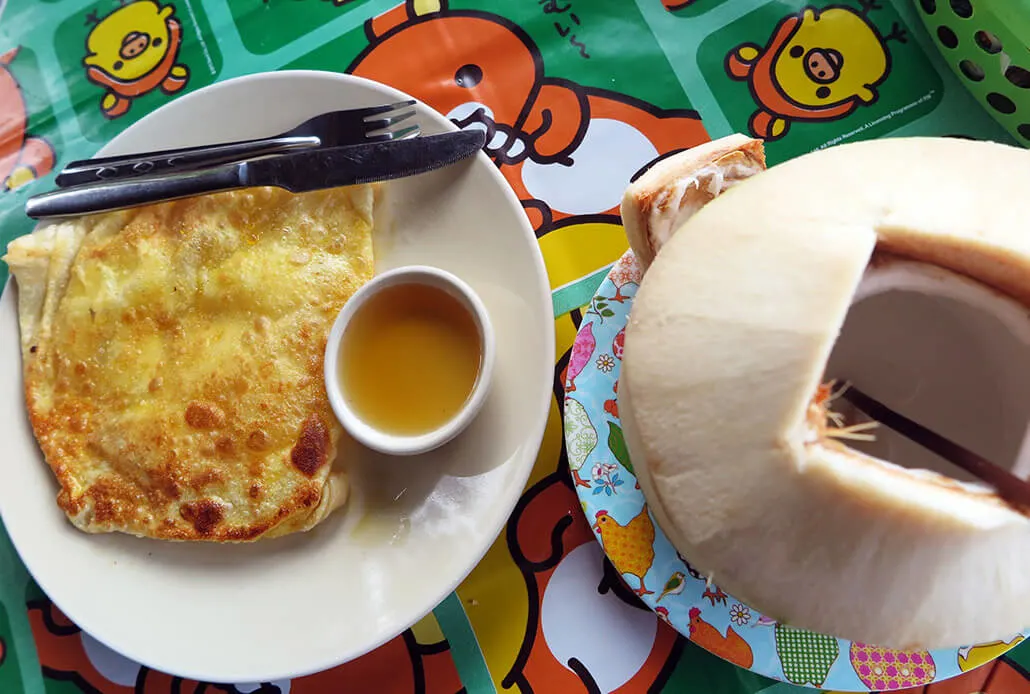 5. Massages
Massages, of course! Isn't that what you came to Thailand for? There are massage salons on literally every corner. Some even feature a sea view!
The price is more or less the same everywhere – expect to pay 300-400 THB. I've heard the best massages are at the Dreamy Spa. Choose between a traditional Thai massage or a common oil massage.
6. Have Some Street Food
If you saw my post on Bangkok street food, you know that I'm a big advocate of street food in Thailand. Guess what – there's some great street food on Koh Lanta as well.
You can either ride up to Ban Saladan Koh Lanta, a city where ferries depart from. You're going to have food stalls lined up all along the main road. This is the "Koh Lanta Walking Street" where it gets lively especially in the evening.
There are also street stalls in front of 7 Eleven store in the northern part of the Long Beach (Pra Ae Beach), and then there are markets just by the road between Khlong Dao and Long Beach.
There are probably a few more spots that we haven't noticed.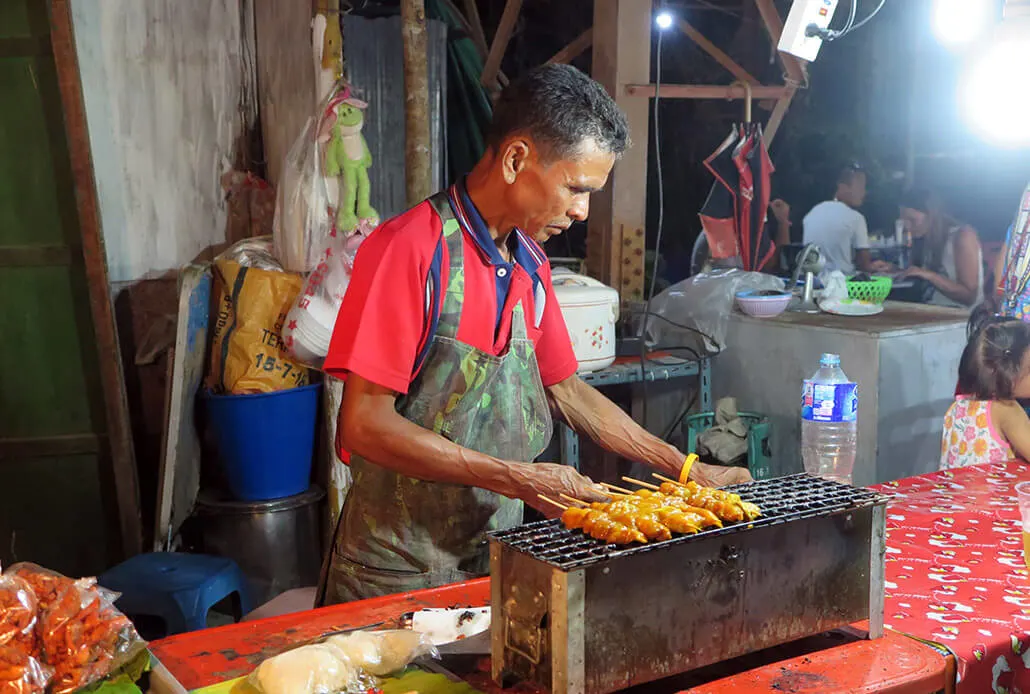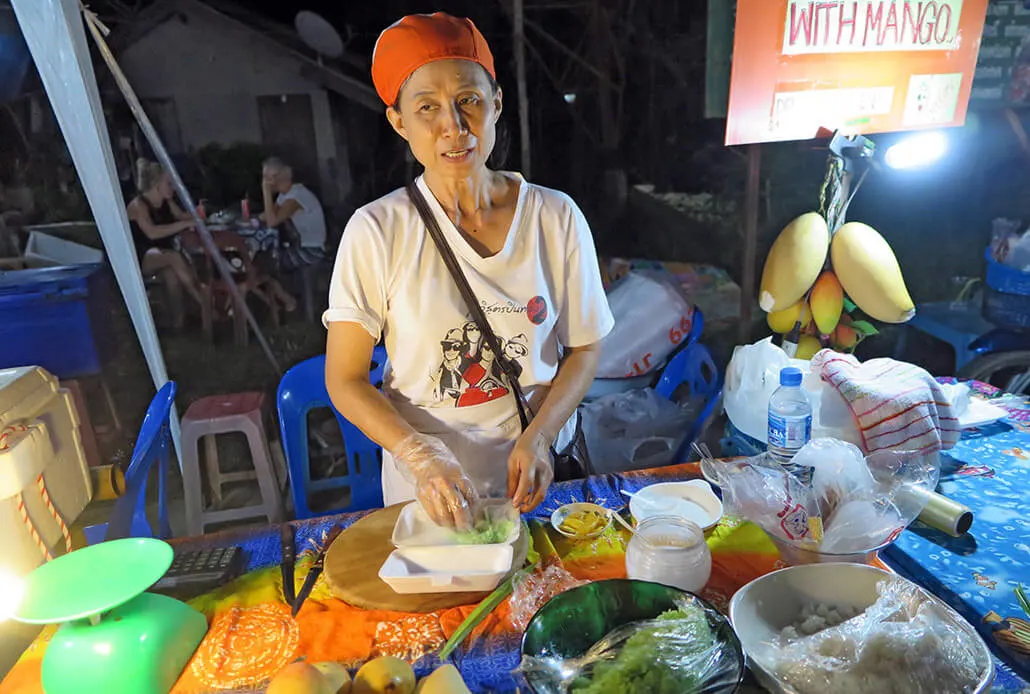 7. Explore Cities
What cities? Yes, true, there is no metropolis waiting for you. Which is good, right? You have two main options:
Visit Ko Lanta's sleepy Old Town or the bustling port city of Ban Saladan.
I liked the Old Town better, a few nice restaurants, shops with souvenirs, and lots of local houses on the outskirts. It was easy to ride around and see how the locals live.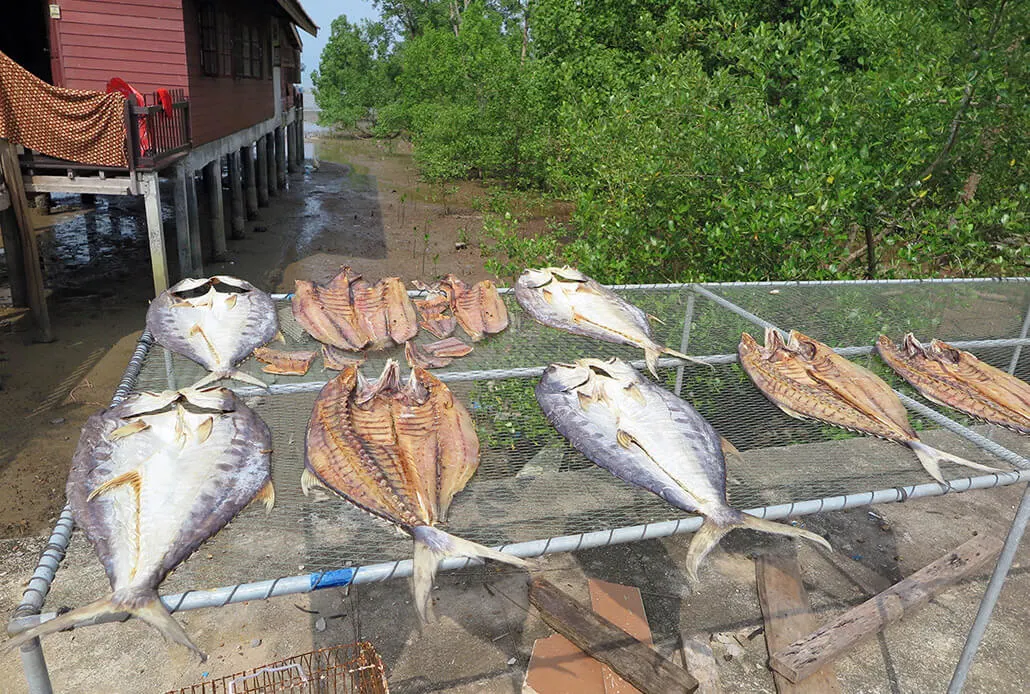 8. Go on Boat Trips from Koh Lanta
Most hotels and hostels on the island have formed partnerships with various tour operators providing Koh Lanta day trips. You can choose from several destinations with 2 Koh Lanta boat trips being the most popular:
4 Island Tour with a visit to the Emerald Cave
Koh Rok tour
What will you do on such tours from Koh Lanta? Expect snorkeling and lunch on a nice little island (white powdery beach seems to be the buzzword there). That's it.
The Emerald Cave on Koh Mook Island is really incredible and well worth it, just the crowds of tourists make it slightly less enjoyable.
When going on such a trip, use a good dry bag and a waterproof smartphone case.
Also, bring your own snorkeling equipment if you don't feel like using the shared ones.
You can choose from 2 types of boats on these Ko Lanta trips: a speedboat or a long-tail boat. Both have several advantages and disadvantages:
Speedboat
+ faster, rather new snorkeling equipment
– more expensive, more people on board
Long-tail boat
+ traditional means of transport in Thailand, cheaper, fewer people on board
– slower, noisier, potentially older snorkeling equipment
The choice is ultimately yours. We took the speedboat to Koh Rok and the long tail boat to the 4 islands tour Koh Lanta.
Be aware that if you take the speedboat trip to the Four islands and the Emerald Cave, you're going to be with a larger group of people. To get into the cave with so many tourists you'll all have to form a 'snake' to get in and out. So just be aware of that when deciding. :)
Koh Lanta Tours to Recommend
If you'd like to book your tour online in advance, here are the best-rated day trips from Koh Lanta that I found:
---
Lanta: 4 Island Tour by Longtail Boat with Emerald Cave
This is the classic 4 Island Tour with a visit to the Emerald Cave. You'll snorkel near tiny karst islets and will visit a white sand beach. You'll be in a small-sized group, which is convenient for the visit to the Emerald Cave.
---
Lanta: 4 Island Adventure Tour by Speedboat with Emerald Cave
This is basically the same type of tour, except it's on a speedboat instead of a long-tail boat.
---
Full-Day Snorkel Tour to Ko Rok by speedboat from Lanta
If you'd rather try a speedboat, this is a great tour to take. You'll snorkel in a beautiful bay and will have plenty of time to enjoy the deserted beaches of one of Thailand's smallest islands. This tour doesn't include the Emerald Cave.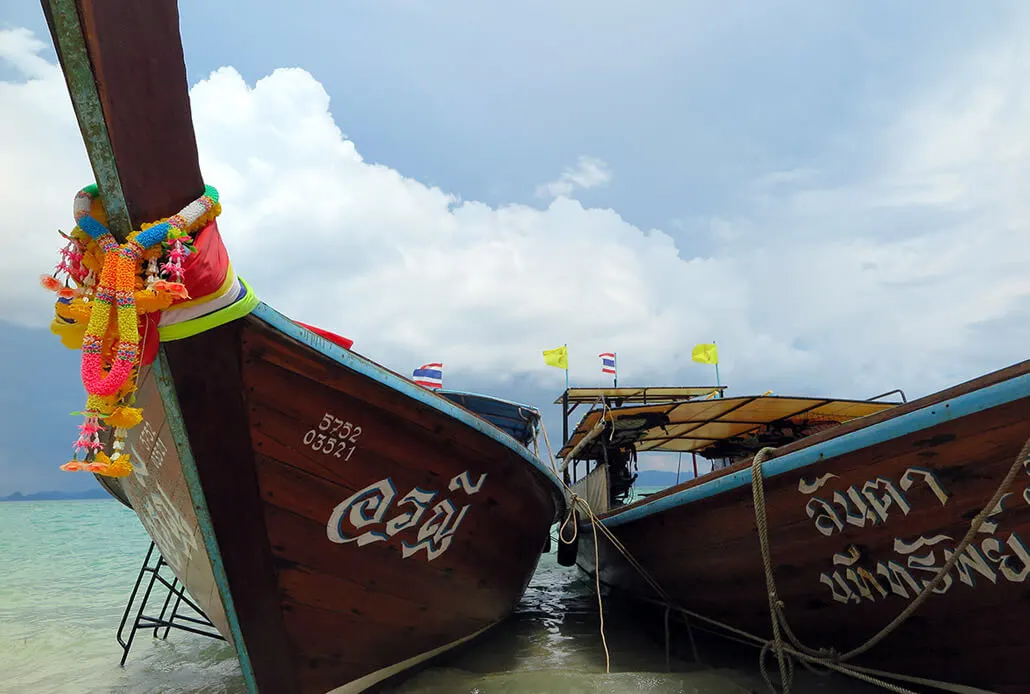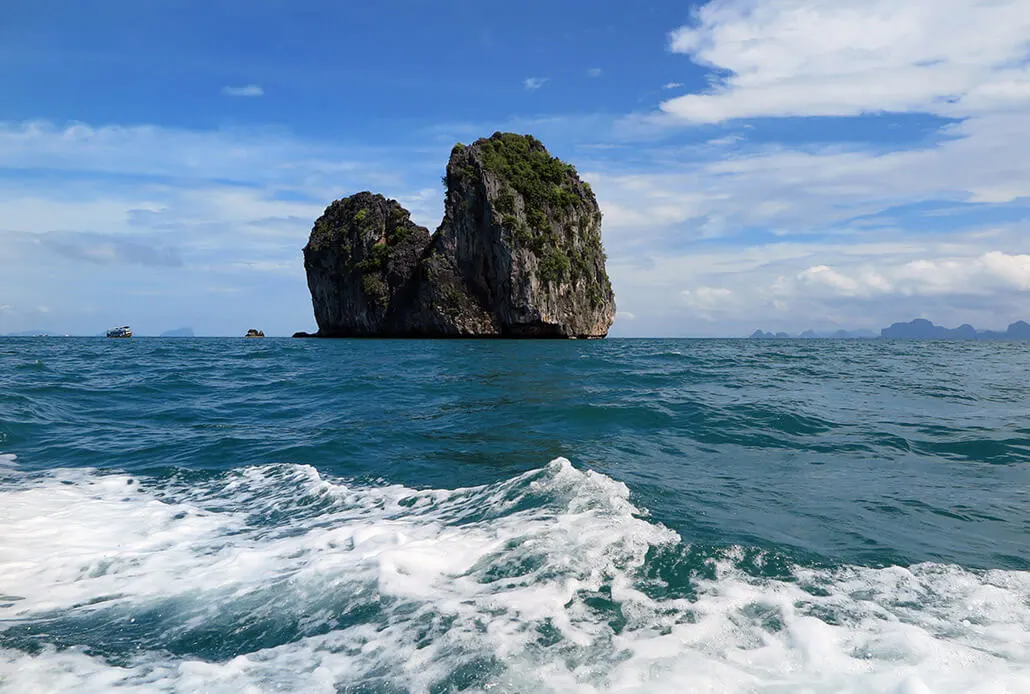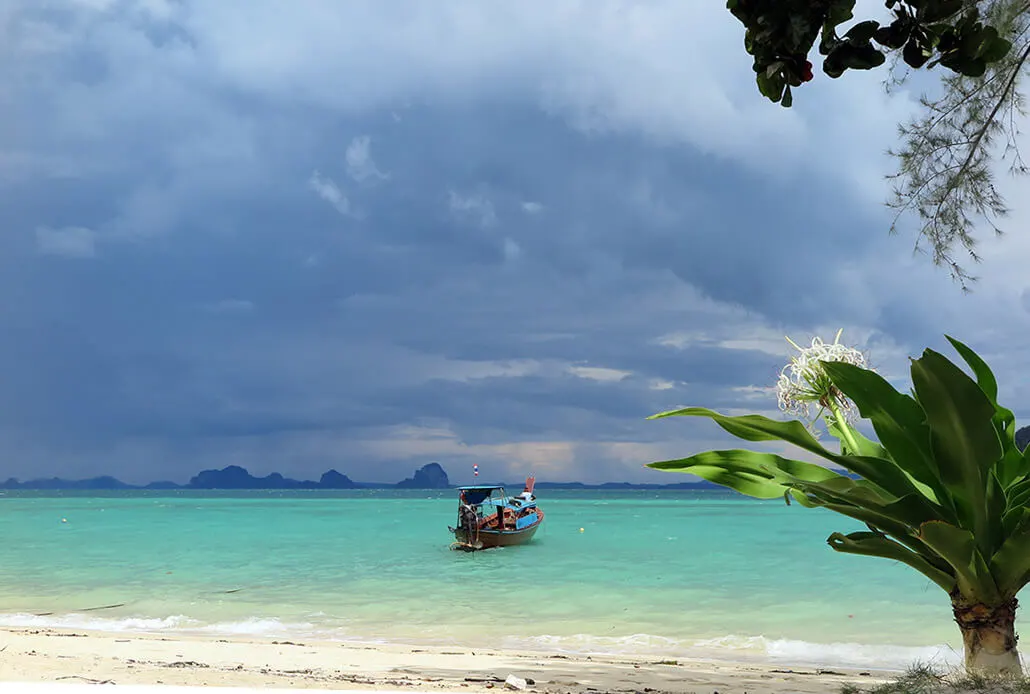 9. Work Out
Being as laid back of an island as Koh Lanta is, there's only one main gym :) But it's a good one!
It comes in handy when e.g. there's smog/haze from fires in Indonesia (true story), you want to work out, but don't want to run outside and breathe in the bad air.
The fitness center charges per visit, weekly or monthly. Yoga, cross fit or Muay Thai classes are also available and charged on a per class basis.
As of 2018, the Koh Lanta gym might have changed its owner. I'm still looking to get new contact info. If you're in Koh Lanta now and know what the gym is called now, let me know! Thanks :)
10. Muay Thai
Do you like to watch Thai fighters? Or perhaps you even want to join in? It's actually easy to take Muay Thai training, and I think there are even visas based on that.
If you just want to go see a Muay Thai performance, you should ask around. There are a few events from time to time but regular performances are on only during the high season.
There are 3 boxing stadiums – in Long Beach area and Khlong Dao. Book a spot via your hotel.
11. See Some Koh Lanta Wildlife
What sort of fauna resides on Ko Lanta Island? All kinds!
Lovely geckos that eat bugs and annoying mosquitoes. Super-slow monitor lizards, which are supposed to be poisonous but you'd have to really provoke them to be bitten.
Cheeky monkeys who you shouldn't try to make friends with – take that photo and run away! I've even heard a story about how somebody got bitten.
You can see a fun comic of the whole story. Monkeys in Koh Lanta, like everywhere, are more than cheeky and don't take no for an answer :)
Apparently, there's also something like a 'monkey school' on Koh Lanta. I cannot report on that, as I haven't visited it. I'm not sure how monkeys are treated there.
Similarly, it's possible to go elephant trekking, but I urge you to be an ethical traveler and avoid this type of activity. Hopefully these practices will soon disappear from Koh Lanta.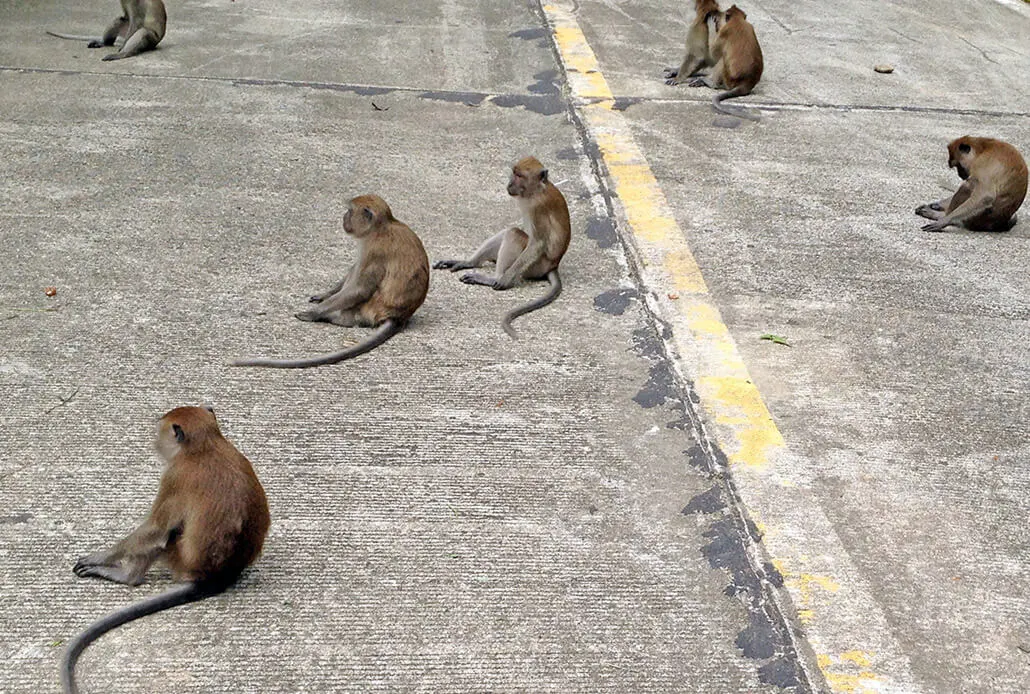 12. Go for a Hike.. in the Forest!
Seeing monkeys and hiking can be even done in one go. You'll need to drive the western coast to the southernmost tip of the island.
There you'll find Koh Lanta's National Park. Once you pay the entrance fee (200 THB per person + 20 THB for parking), you'll ride through a few groups of monkeys. Don't get off the scooter, though!
After you have safely parked on the monkey-less parking lot, you'll be free to enjoy the hike in the forest, which takes about an hour from start to finish. Just one crucial piece of advice – wear a good bug spray!
As the National park area lies on Koh Lanta's southernmost tip, you'll find a lighthouse there. For those needing a soak, a little empty beach is available as well.
While not the longest of trails, the national park is the main area to go hiking in Koh Lanta. So if you want to get some Koh Lanta hiking on, this is the place to go.
Let me know if you find any other spots!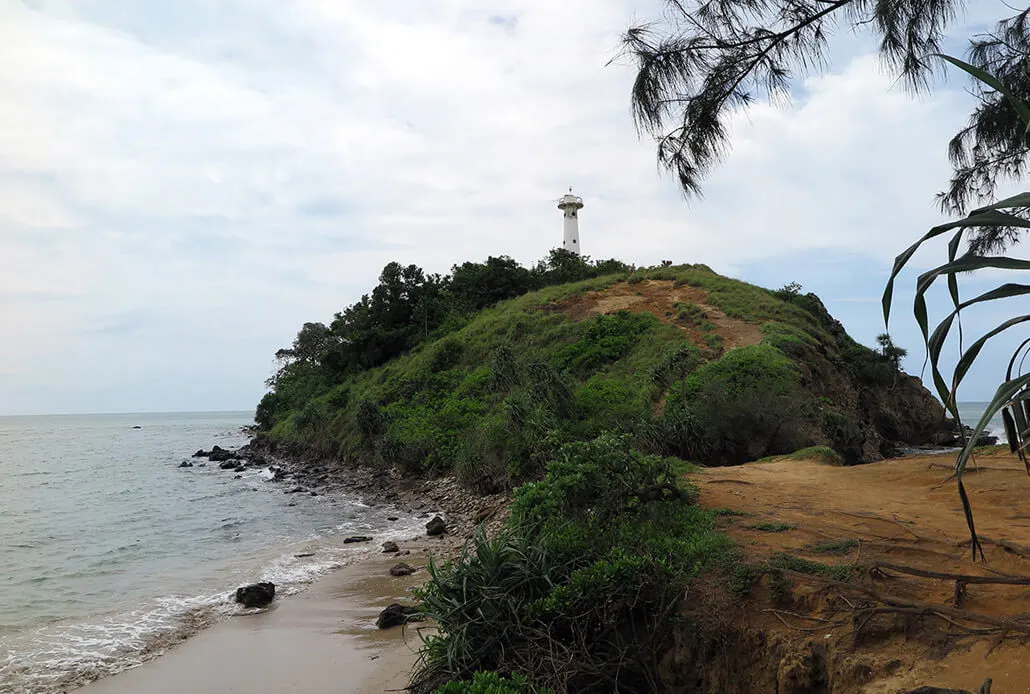 13. Dive
Do we have any serious divers reading this post? Well, take note! Whale sharks can be spotted at times in several locations around Ko Lanta.
There are diving schools on every corner and you can easily do your PADI course here.
14. Hang Out with Locals
If you enjoy Thai hospitality and like going to places where Thai people go, you should have dinner at Mr. Green's. It's an affordable outdoor restaurant near Long Beach usually packed with locals.
I can't guarantee you'll be able to strike up a conversation or two, but you'll be among locals, that's for sure.
15. See Spooky Places
If you come to this resort in the low season, like we did, you're going to encounter an abandoned place of a diverse 'style'.
You'll face caged monkeys, bored 'staff' who can barely serve anything, and a shabby but somehow beautiful pier. Welcome to Lanta Sang Kha Ao Nature Resort & Spa.
I've never seen anything like it. With bungalows in the shape of boats named after world cities to tree and cave houses, statues of dinosaurs, goddesses, deer and others…
Did I mention a live peacock and quails? We felt like the place was haunted. It didn't help that our scooter got a flat tire while trying to get out of there!
But I'll definitely go check it out again when I'm next in Koh Lanta. If you go, let me know what the current status is! I found old TripAdvisor reviews and some people even praised the beauty and tranquility of the place. It's actually quite remote and you'll need at least a scooter to get back to civilization.
Definitely one of the most fascinating and spookiest places to visit in Koh Lanta!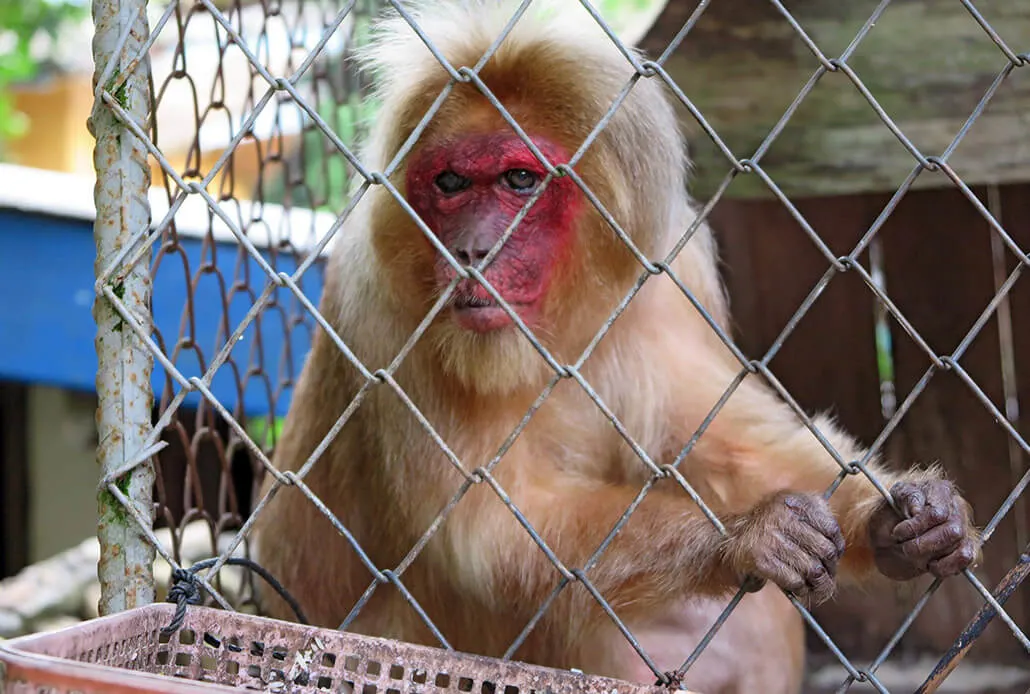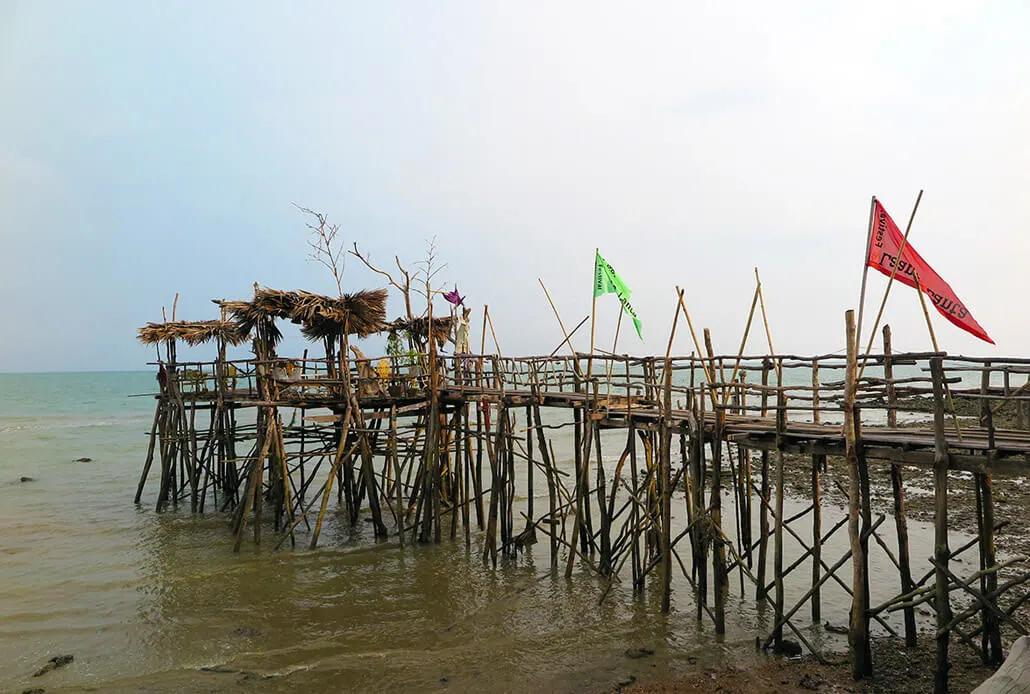 16. Encounter Sea Gypsies
There are a few spots along the eastern shore, where the sea gypsies live. They mostly live in a village in the southeast of Koh Lanta, dubbed 'Sea Gypsy village' or Sang Ga U Koh Lanta.
However, bear in mind they are no tourist attraction. These are people who live off of the sea and lead their harsh lives without any need of meeting tourists.
While being one of the most unique Koh Lanta sights, If you choose to go to their village, keep the camera away and behave in the most respectful manner.
Our scooter happened to get a flat tire when riding away from the spooky resort. Helpful locals navigated us towards the sea village and we spent quite a while there, with a guy who helped us change our tire.
It was an incredible experience to be among the people, and we were extremely lucky because we were invited. Still, we didn't wander around and take any photos as it's a big no-no.
17. Help Animals
If you love animals, you'll be thrilled about all the possibilities of helping them in Koh Lanta. There's an animal shelter near Phra-Ae Beach. It's called Lanta Animal Welfare Center and it's run by a Norwegian guy.
You can help by donating money or your time. Just go there, take a few dogs out for a walk, cuddle some kitties and spend time talking to the volunteers. Or eat at the adjacent restaurant! All profits go straight to the welfare center.
The shelter closes around 5pm every day.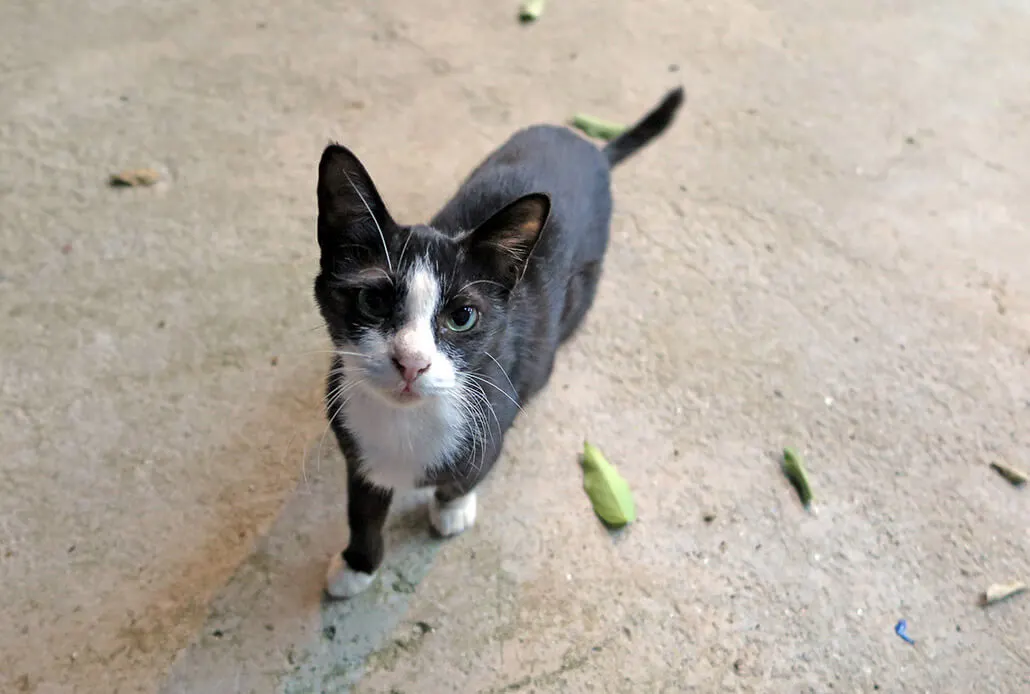 18. Help the Environment
Environment-conscious travellers have many ways how to contribute to keeping the island clean. I'm not really sure how it works, but at almost any time of the day there are people walking on the beach and collecting trash. Just help out and join them!
Koh Lanta has joined an initiative called Trash Hero. You can help by just buying a reusable metal water bottle, which you can refill for free at the many spots your map shows you.
You'll help Koh Lanta reduce mountains of plastic just by doing a simple little deed.
19. Learn Thai
Ok, speaking Thai is perhaps not for everybody, but it's definitely fun! Any Thai heart will melt a little bit more if you master a few sentences.
Plus, if you're staying longer, it might be really handy. There are even 1-year education visas, which I find pretty neat!
20. Fire Shows!
Once you walk on the beach at night, you'll notice all the signs inviting you to fire shows. I encourage you to go check one out to experience the real Koh Lanta show.
They are fun to watch and make for great long exposure photography. Grab a drink in one hand, your camera in the other (on a tripod, preferably), and watch the night away.
It's pretty impressive. For me personally, the fire show was one of the best things to see in Koh Lanta.
Getting around Koh Lanta
Rent a scooter and have some fun riding up and down the winding roads! They get wild especially the more to the South you go.
Of course, don't forget to wear a helmet! Not only for your own safety, but you also don't want to deal with local police..
Renting a scooter can cost you anything from 200 THB up per day. Try to rent at trustworthy places where they'd have all the insurance.
Tuk tuks are plentiful, and they're the funny type where the passengers sit next to the driver instead of behind him (or her).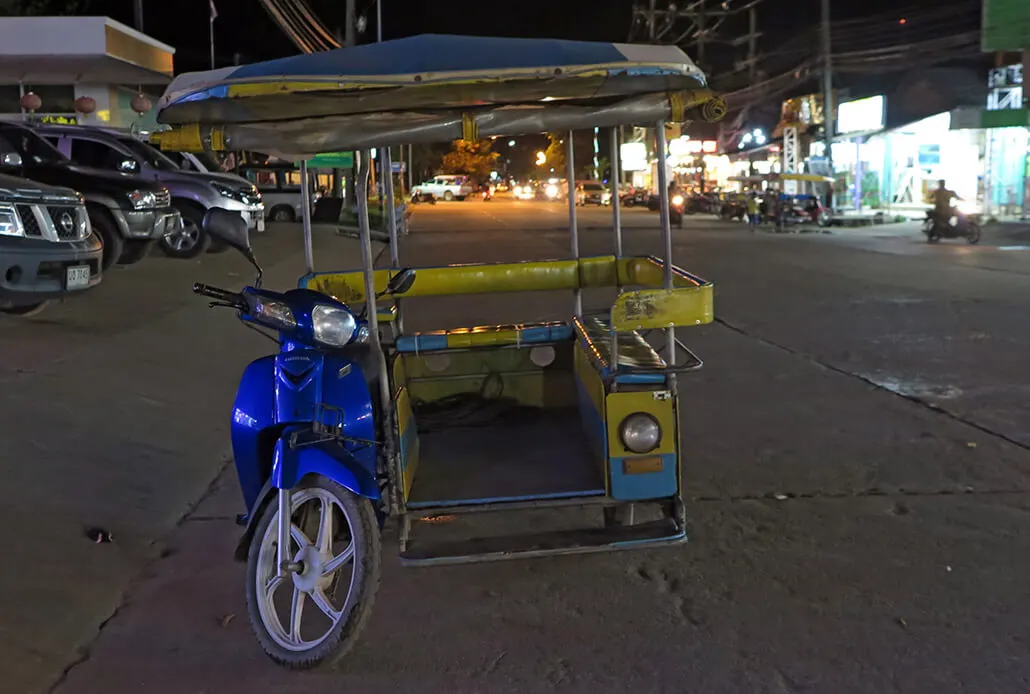 That's all, folks! I hope that's been enough inspiration for Koh Lanta things to do for you and that you'll enjoy Koh Lanta as much as I did. If I can help with any further advice, just let me know.
For an even better island paradise experience, head to Koh Phangan (and where to stay in Koh Phangan). I fell in love head over heels with that island! I know, even more than Koh Lanta. But shush!
If you have a stopover in Bangkok on your way to Koh Lanta, check out this post on where to have the best street food in Bangkok.
Have you been to Koh Lanta? What other Thai island did you fall for?
For you, fellow pinners, here are pinnable images!