La Selva means forest in English and is a region largely ignored by travelers. But, if you're one who cares about authenticity and meeting locals, then La Selva is one of Spain's best regions to visit.
La Selva falls under the province of Girona, which is a part of Catalonia (Catalunya). We won't get into any political talk here, but expect to be surprised by the amount of independence flags on people's windows and balconies.
If history and gastronomy is what you're after, then check out also my first post on La Selva: History and Gastronomy.
So what all can you do in La Selva?
1. Admire the nature
How about admiring the forests? The greenery is really special. The forests enclose highways and busy roads and serve as great insulation. You can enjoy the beauty of nature, while being in a place that is not so remote at all.
What's more, you can learn a lot about nature on the outskirts of a little town called Santa Coloma de Farners. There's a park that you can explore to your heart's content. The best option is, however, to have Evarist of Naturalwalks take you around. He'll tell you about all the plants typical for the region and will share several botanical secrets with you.
You'll enjoy simple pleasures like checking flower petals through his little microscopic magnifier. It's easy to go beyond the obvious with Evarist. Oh, and you can even taste a few things, depending on the season. Evarist can take you to gardens just next to the park where he picks blossoms and spices for nearby high-end restaurants. He's a real pro and you'll have a great time, even if you're not a born botanist!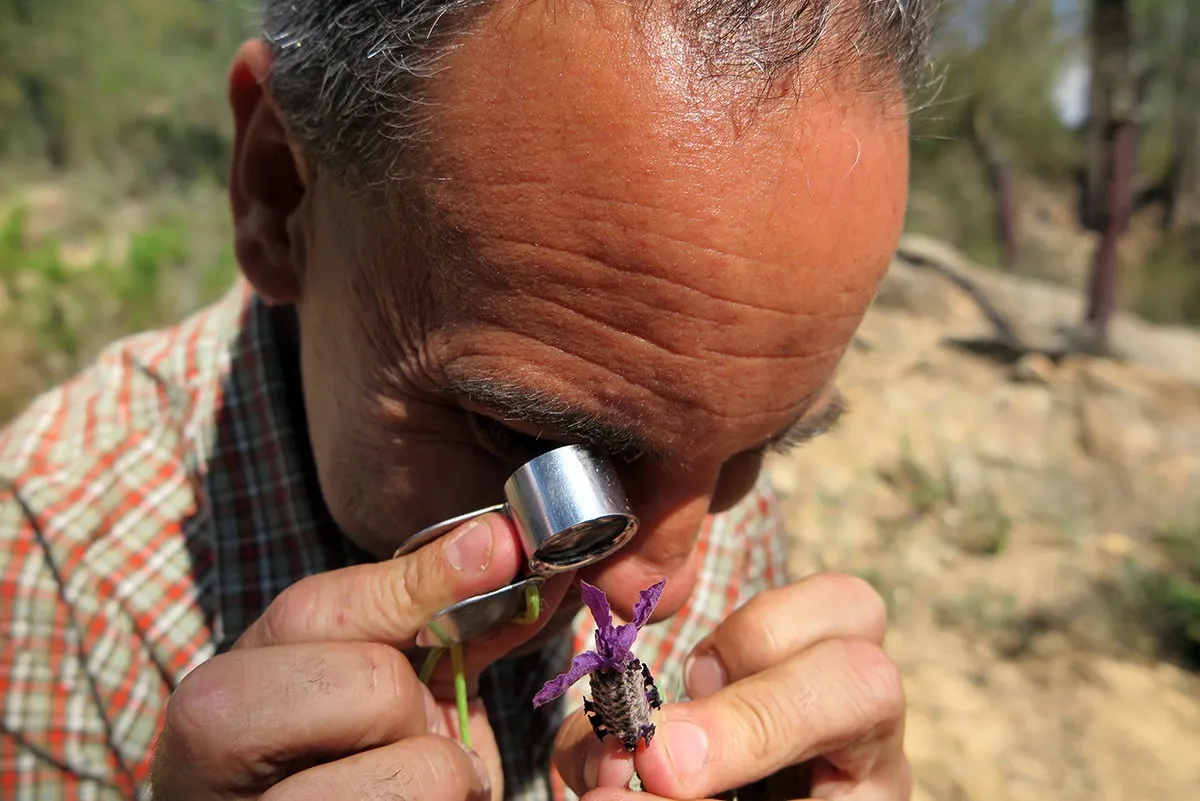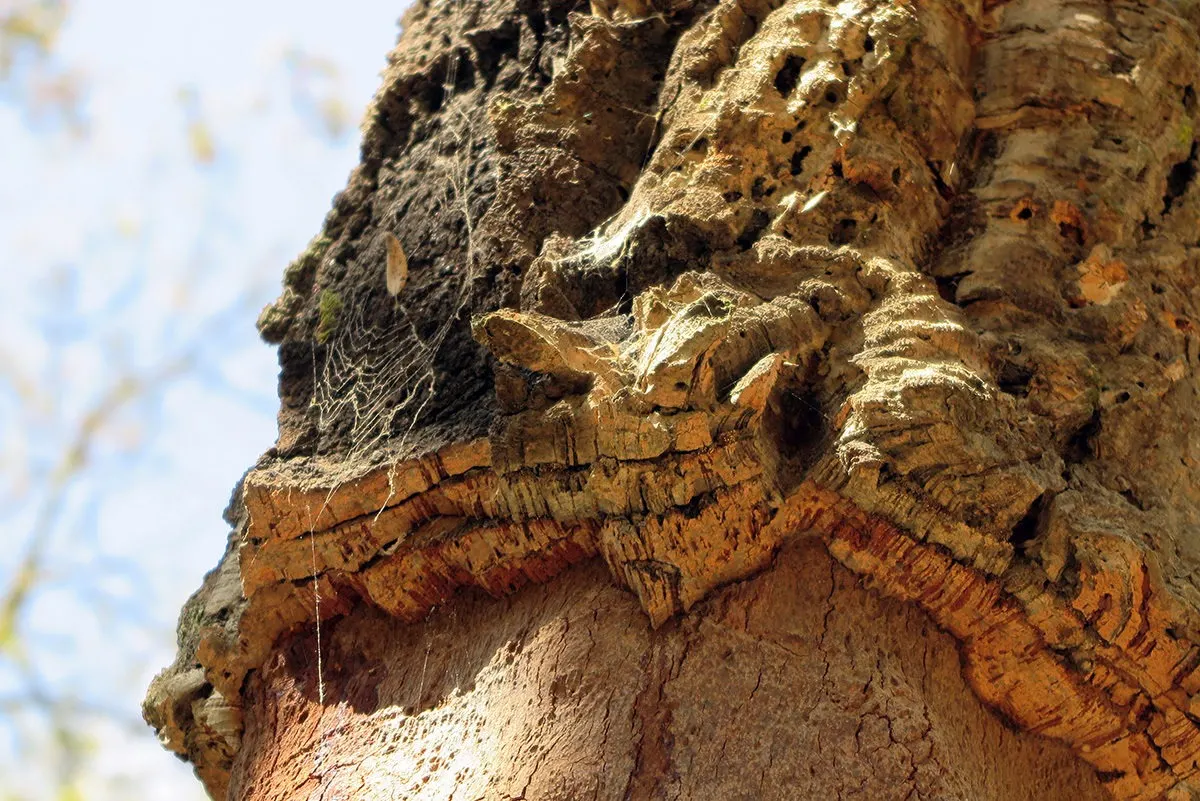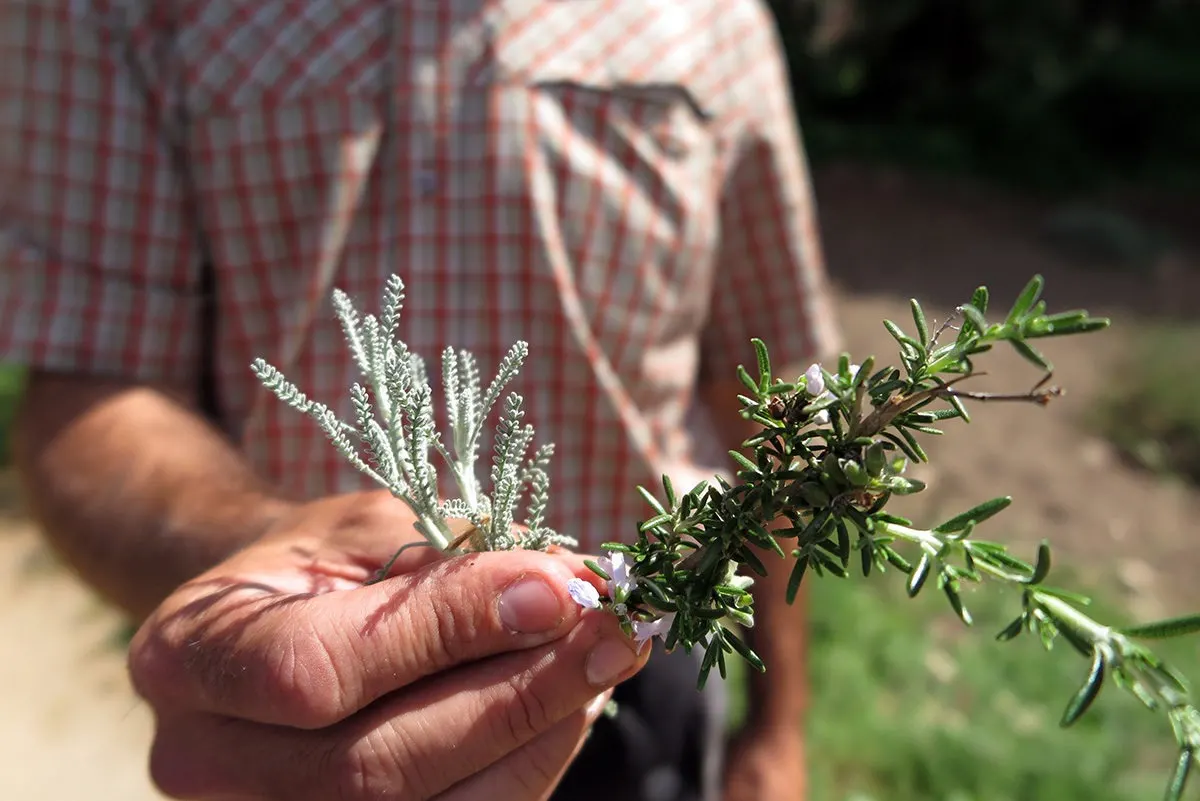 2. Connecting with simple ways of living
La Selva offers opportunities to relax and get much sought-after peace of mind. I know of a great place:
Can Nan Villa is an amazing stone house located in the forests of Arbúcies. The old man who owns it doesn't live in the house any longer and instead rents it out – to travellers and locals alike. The rooms are simple, yet beautiful, and from whatever window you look out, you're greeted by many shades of green. Definitely more than fifty!
A tiny farm located just a short walk away belongs to the estate. Petting chickens, rabbits, a donkey or an ostrich is allowed and included in the price. How I enjoyed that!
There is a little pond by the house, which is full of trout, and you can easily catch one with a provided bamboo fishing rod. I didn't catch any but a friend of mine, Brett from Our Tasty Travels did; the trout really seemed to love the chorizo that was used as bait! A local lady who prepared dinner for us grilled the trout and it tasted incredible.
Can Nan Villa is an ideal place to disconnect from it all. I definitely wish to go there again one day and stay a couple of days at least. I can't imagine a better place for a digital detox.
Update 2017: Can Nan Vila is no longer available for rent :(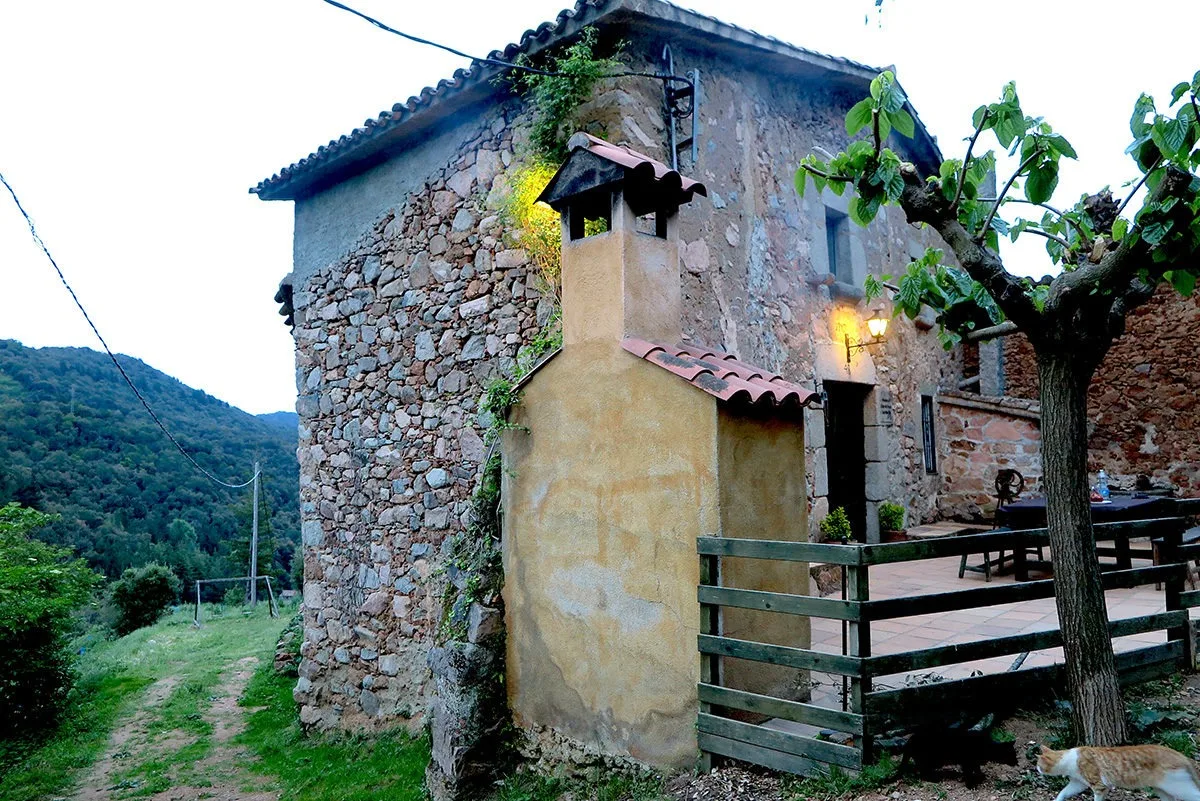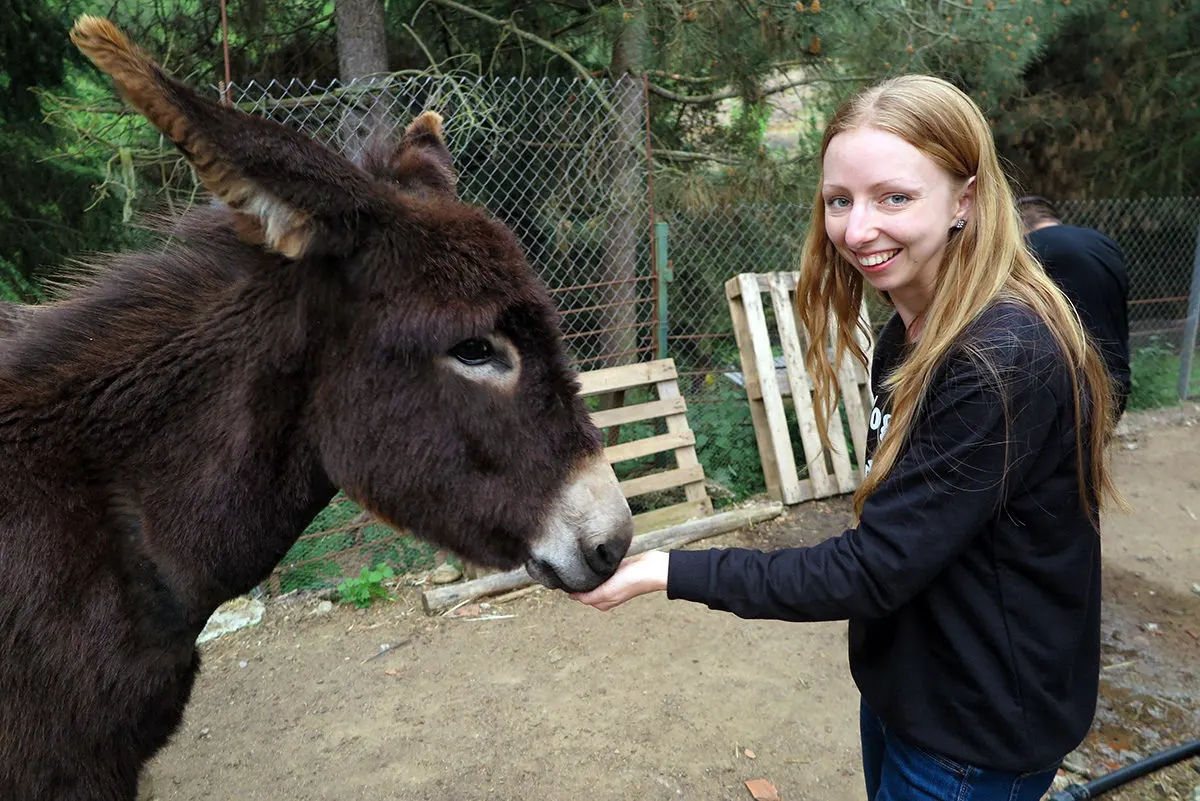 3. Thermal springs and whole cities built around them
There's an especially fun way of exploring springs that are just outside Sant Hilari Sacalm – on rented electric bikes! They are called burricletas and are the type of bikes that can be pedaled normally in flat terrain, but then the motor kicks in when you most need it (=going uphill).
The fun locals Josep and Daniel will take you around and show you the beautiful surroundings. We received fun helmets and went to explore some local springs, and even visited a former well-known spa Font Picant. I loved it!
Update 2017: The burricleta bikes can no longer be booked in Sant Hilari Sacalm :( Here's an overview of where they're currently renting their electric bikes.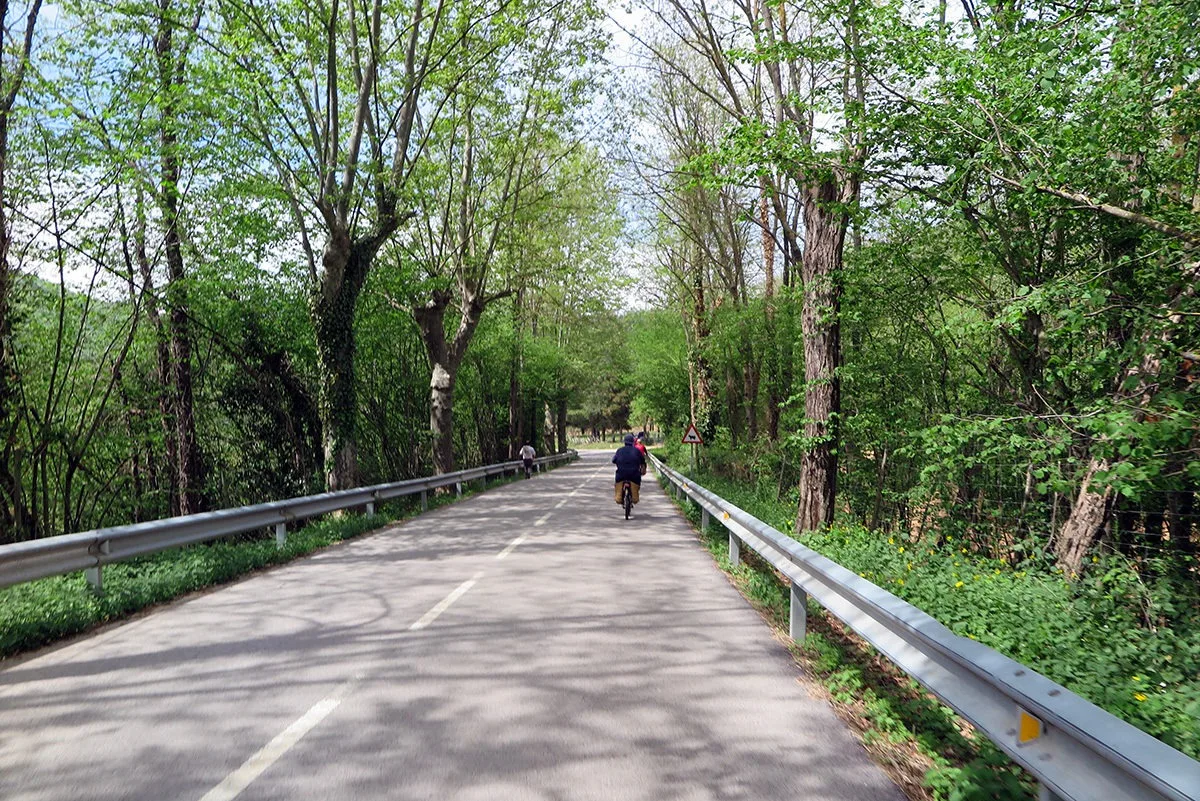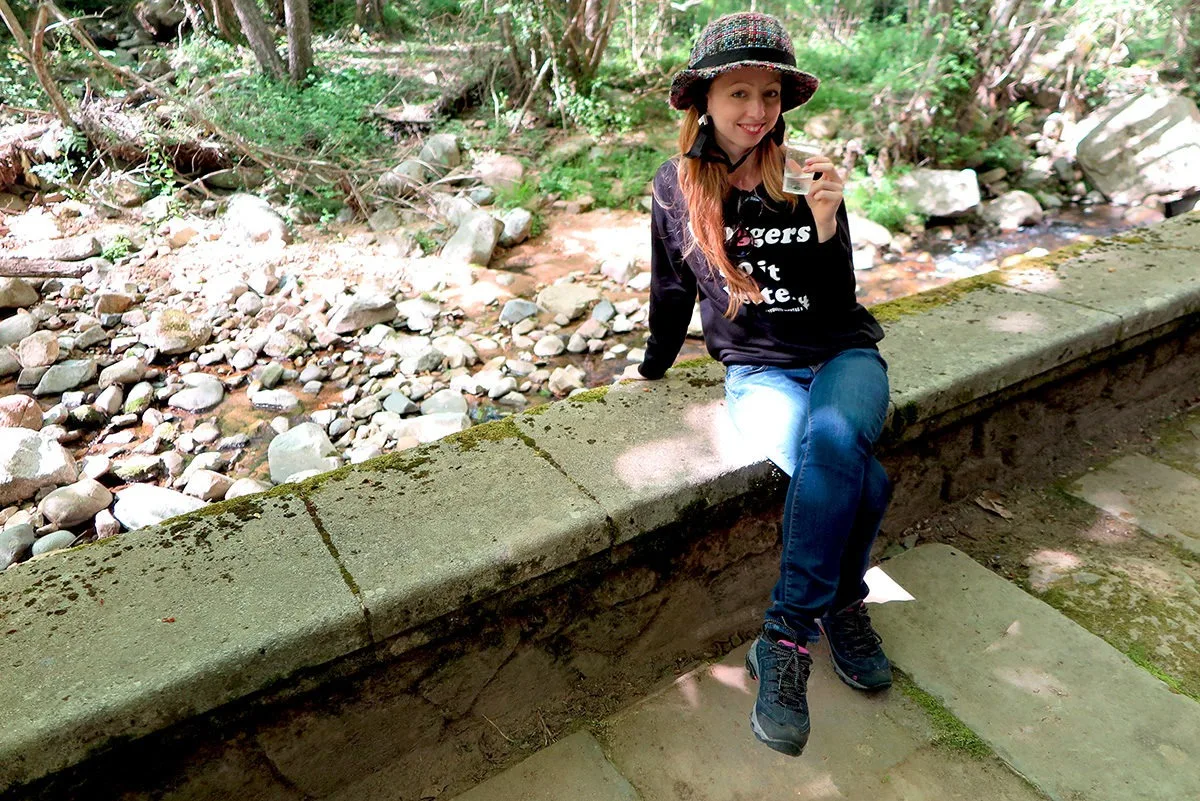 The city of Caldes de Malavella is peppered with hot springs! It's also known for its legend of a 'bad old' (malavella) lady who'd eat young men's hearts to stay young forever.
Just walk around the city with a cup and taste all the springs. But bear in mind that they have a varying degree of minerals and the taste, plus the temperature of it, might make it slightly difficult to drink. :) You might even stay thirsty after gulping a whole cup! But it's healthy, ya know. I recommend carrying a bottle of 'normal' water too, especially if you visit in summer.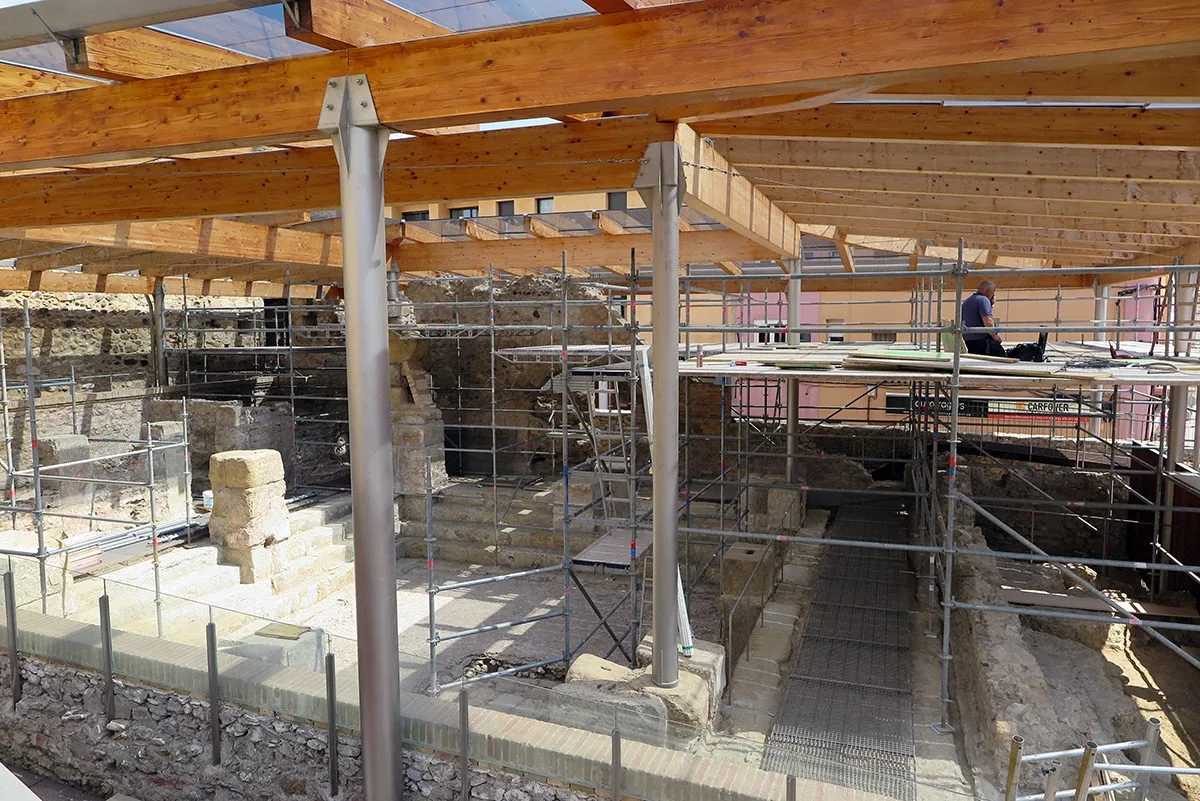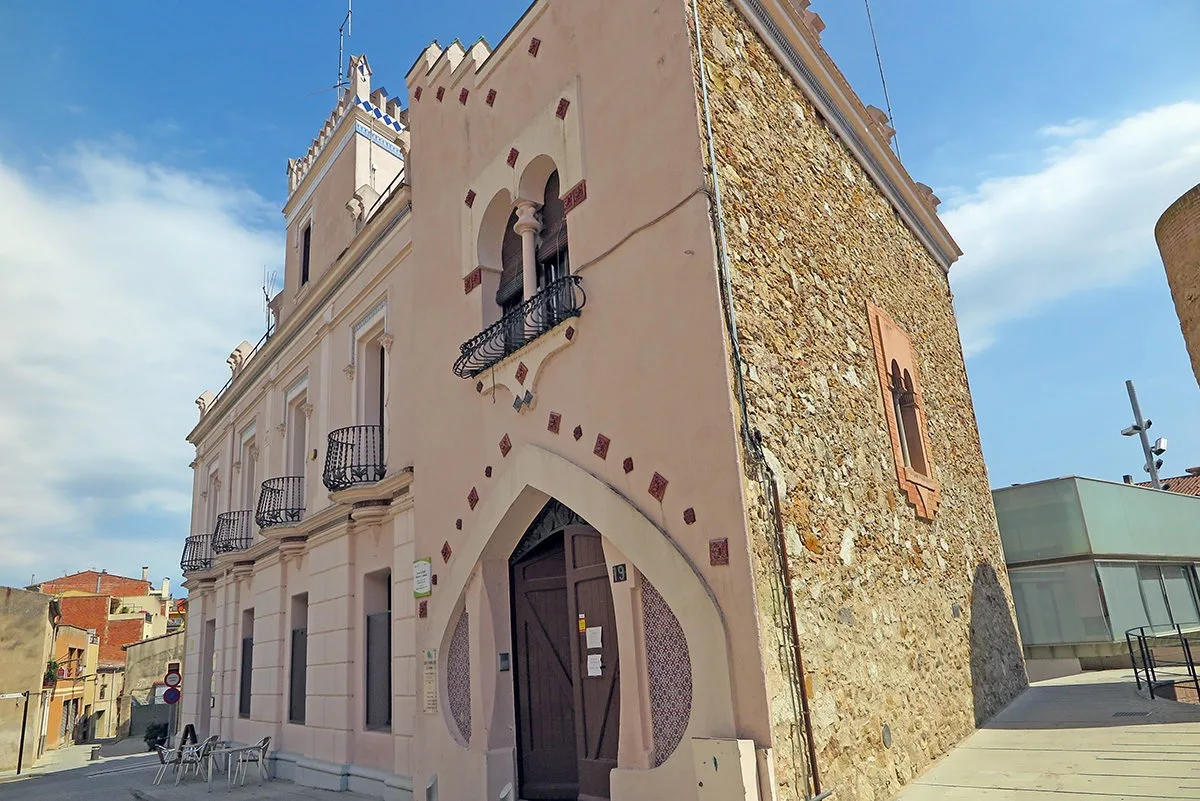 4. Nature adventure
Vilar Rural is an awesome La Selva hotel complex that looks like a little village, and it features some fun outdoor activities. They built a treetop trail consisting of a monkey bridge, net, zip line, Tarzan jump etc. It's so much fun! They even got a special smaller version for little kids.
The trail itself is a peace of cake, unless you suffer from vertigo. I had a bit of a mental block at one point but the guy who oversaw us was very supportive and patient. Combine it with some incredible support from friends (Kerwin of Cruisinaltitude.com, and Erin & Brett of Our Tasty Travels) and there was no obstacle that couldn't be overcome. :)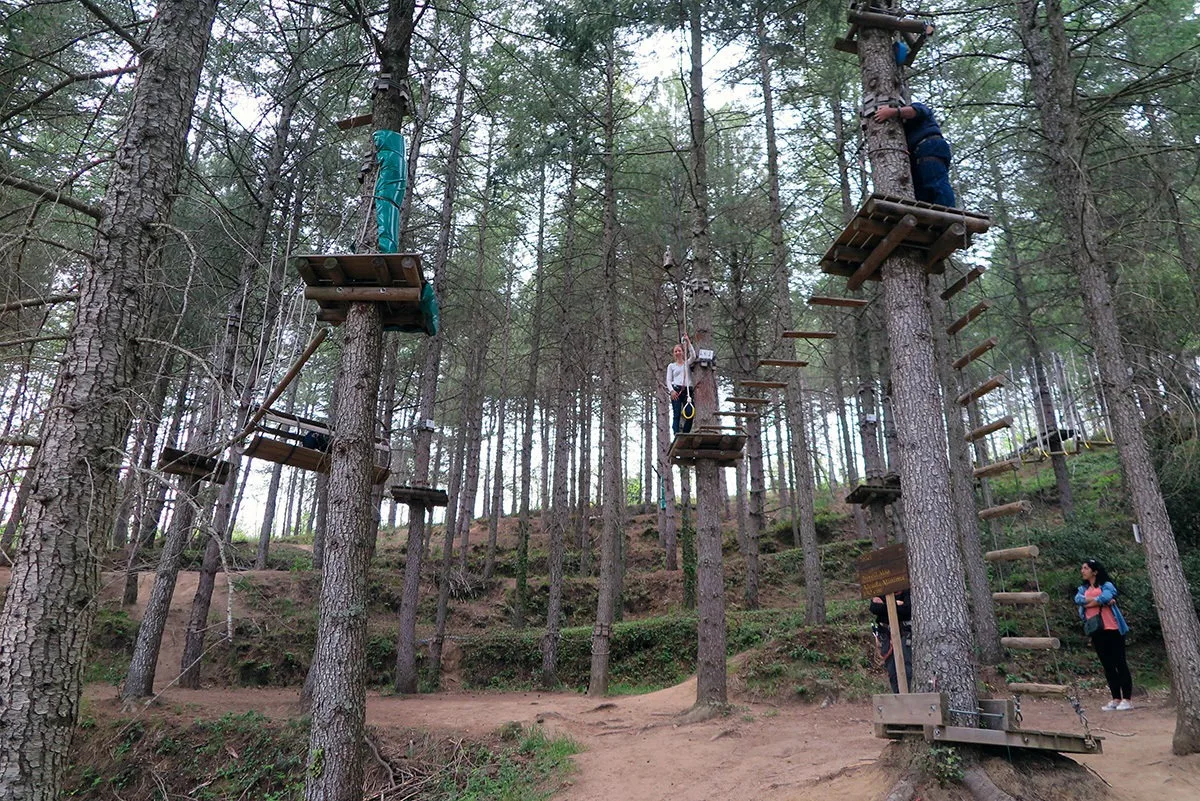 5. Sleepy towns
If you're in the area, don't leave out Hostalric. This little city has a beautiful architecture and charming winding streets. If you visit during a siesta time, you won't meet anybody! During siesta, Hostalric turns into a ghost town :)
The town hall is beautiful and there are a few more things to see. On the main square, you can notice a prize that the town got for winning one year in the 'Giants' contest. (It's a showcase of big costume figures and a total must see if you're visiting during the festive season.)
There's an old tower called 'Frares' (or Monks in English) from the 13th century that currently houses an exhibition and offers great views from the top, which is 33 meters high.
And apart from looking at all the Catalonian flags screaming for independence, notice the marking on houses. In the past, some of those houses were made available for generals and officials so that they could come anytime and spend time there.
The church of Santa Maria is very old too. Visit it on the way to the fortress of Hostalric.
Sant Hilari Sacalm is another great example of a little picturesque town dedicated to following siesta! We met exactly one person when strolling the streets around noon – he was on his way to a gym and seemed quite surprised when stopped by strangers. :)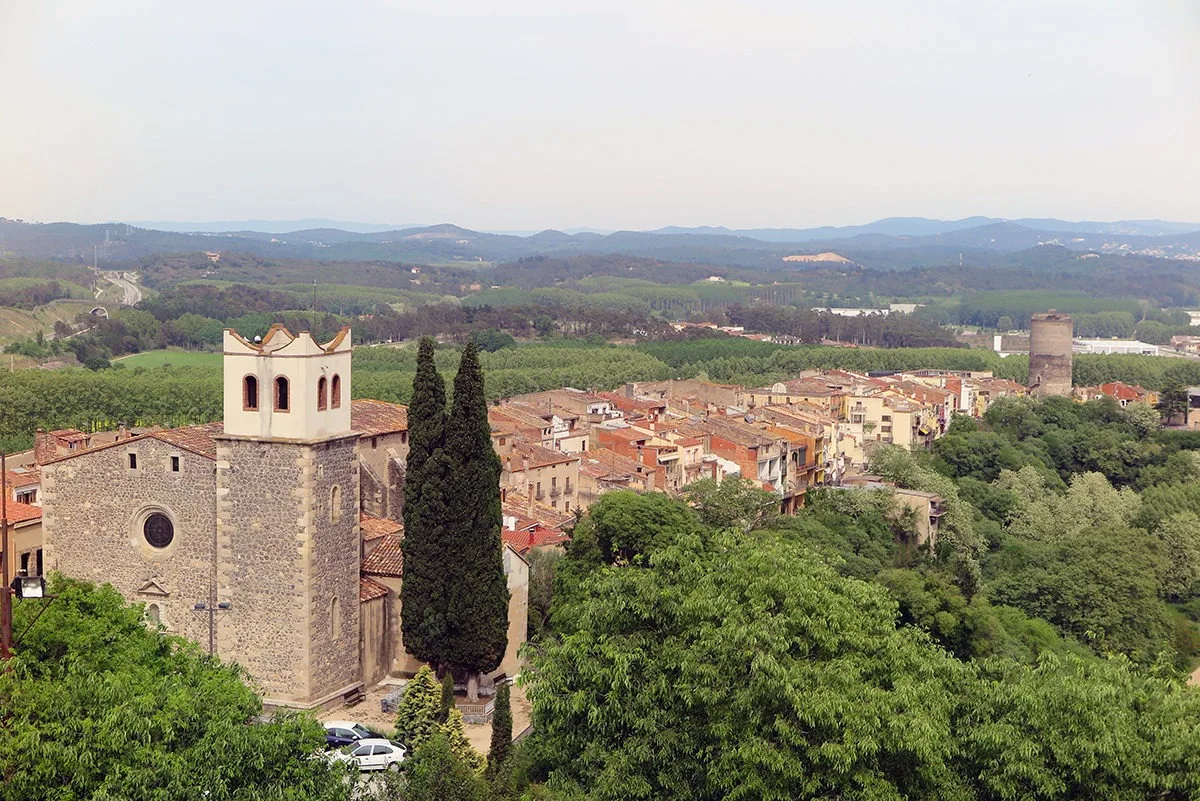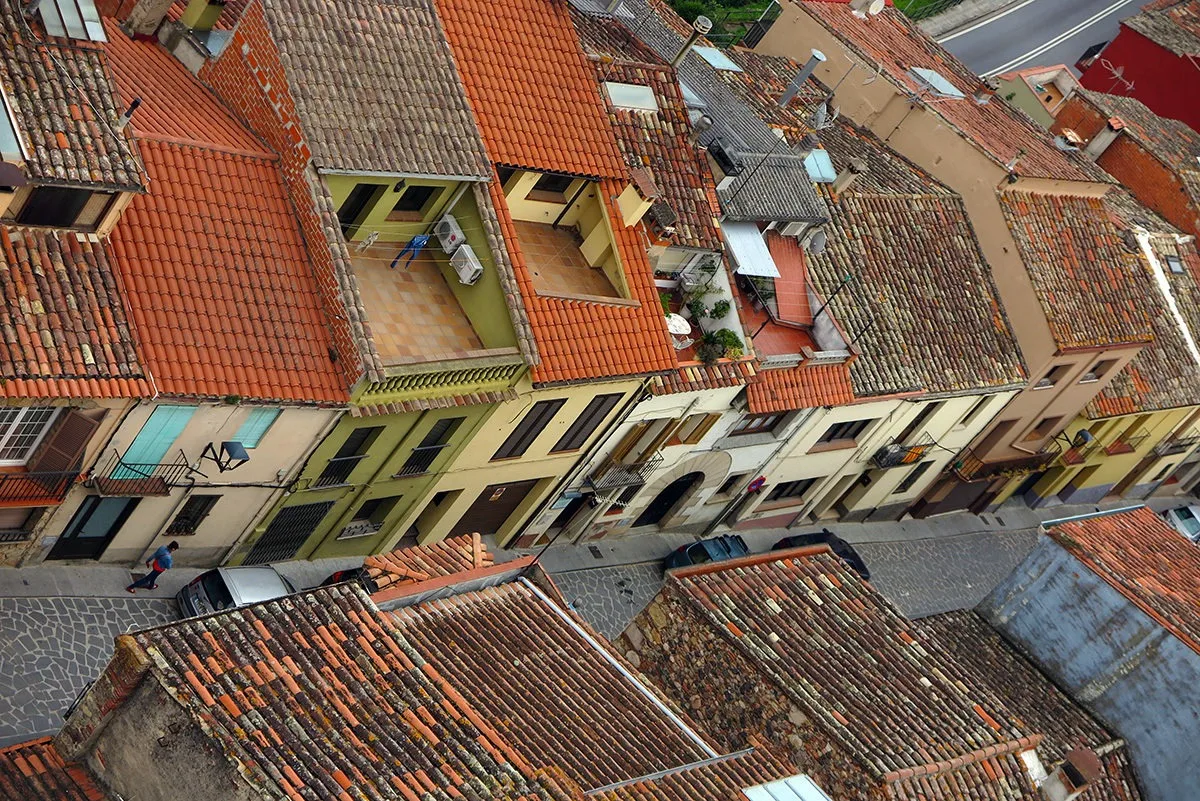 6. Pampering yourself
How about relaxing in a real spa? Balneari Vichy, on the edge of Caldes de Malavella, features a Thermal Circuit. You can try out saunas, hydro massage, and different pools of both cold and hot water. This type of experience is perfect especially if you've been on the road for a while. After all the walking and exploring, it feels incredibly relaxing just to soak into nice hot water and enjoy the water whirling around you.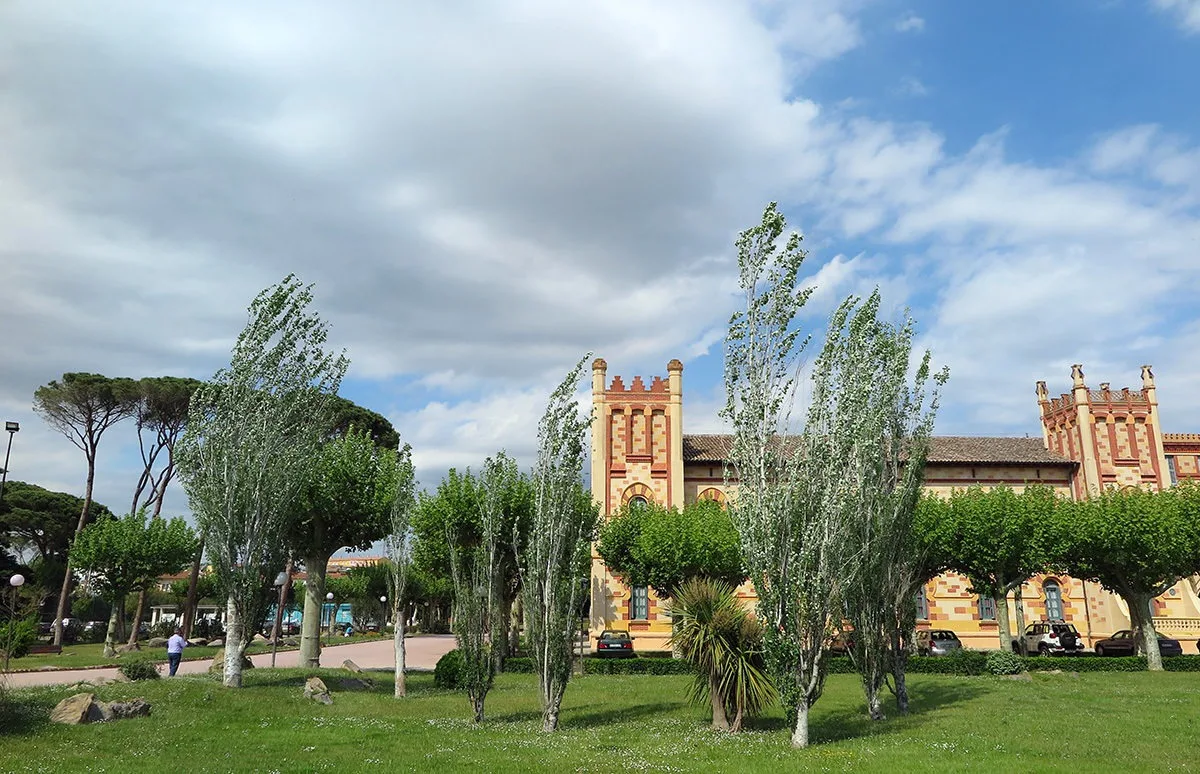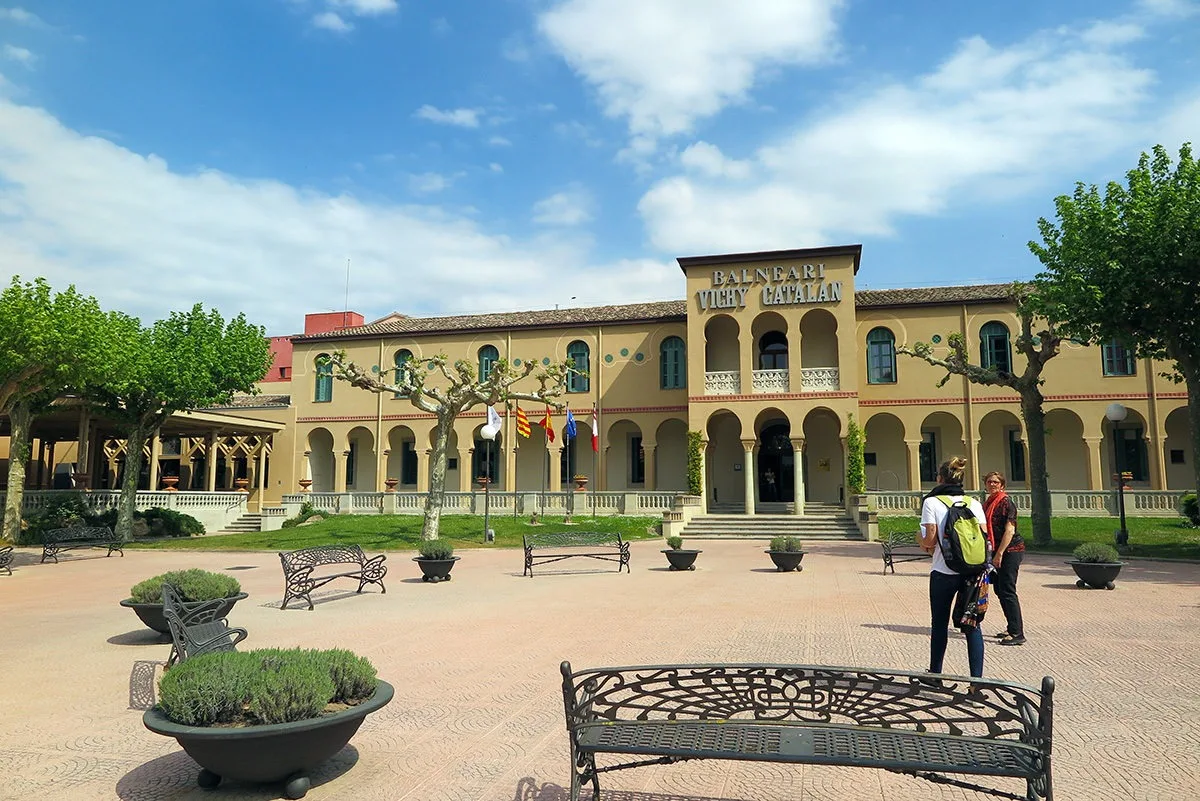 7. Hanging out with family
In hotel Vilar Rural, located just off Sant Hilari Sacalm, they got 2 rooms that families with infants can reserve. Of course their other rooms are children-friendly too, but these particular rooms are unique. Just look at the décor! Giant teddy bear, anyone? :) New families will especially appreciate it, as the rooms come equipped with all the baby-related necessities like changing counter, diapers etc.
By the way, the internet at Vilar Rural was super-fast! I wish I had wifi like that at home. All you digital nomads, what are you waiting for?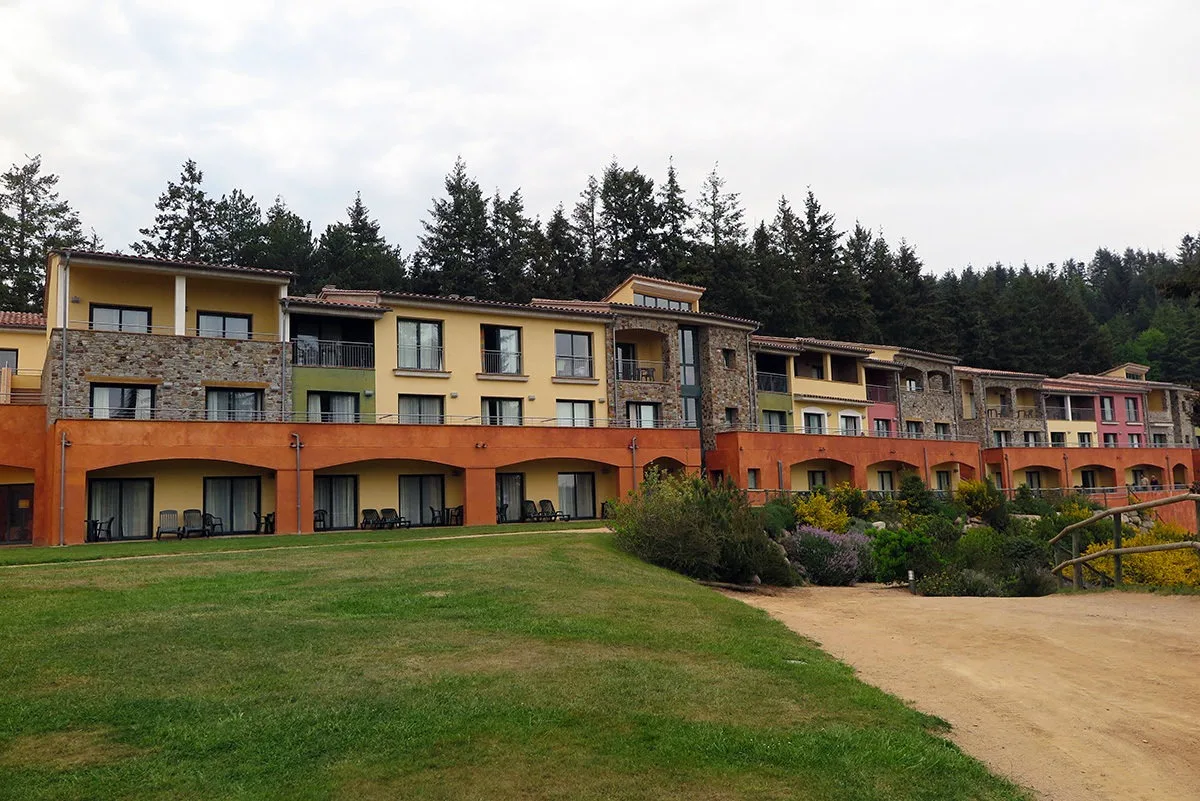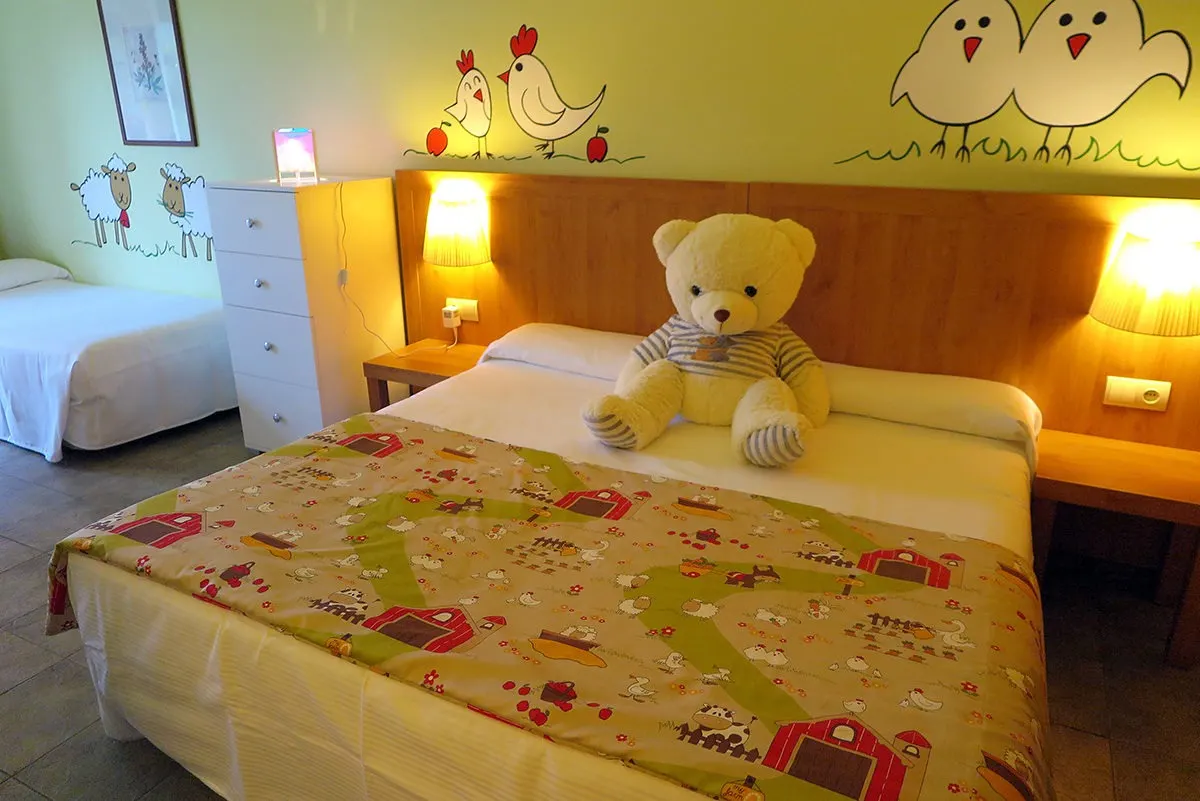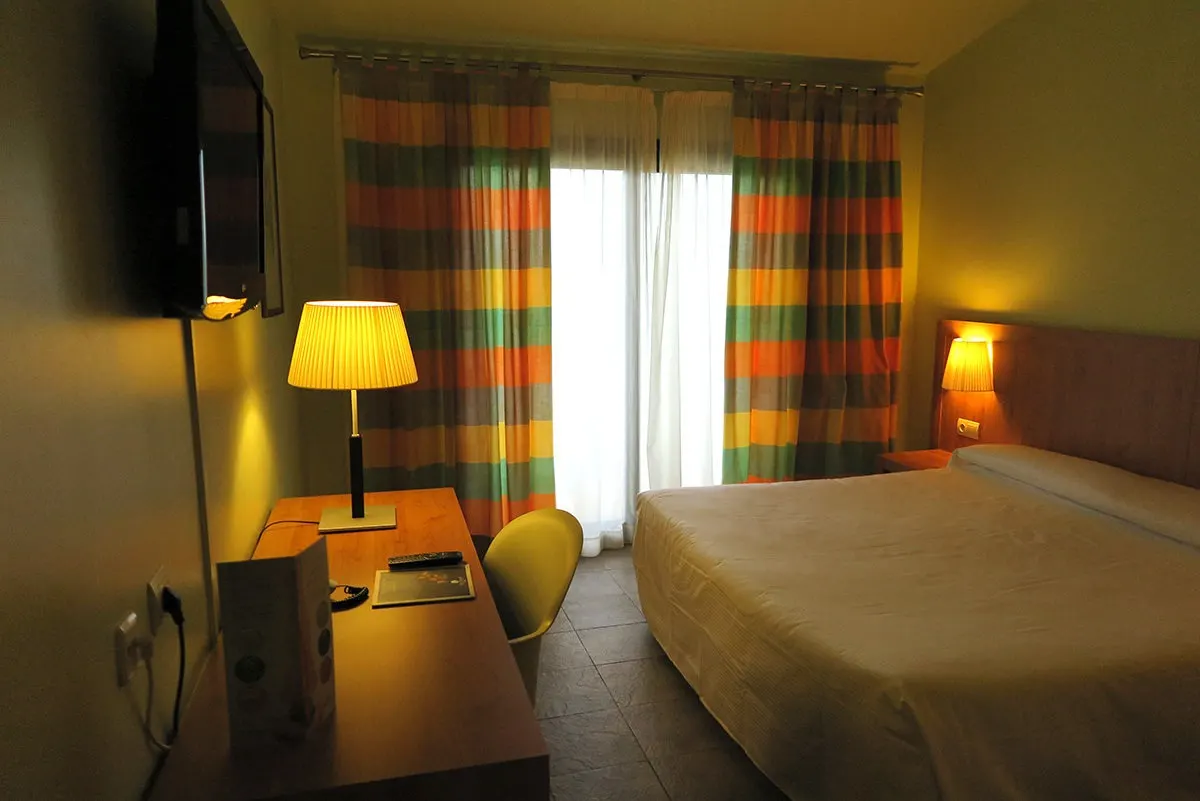 8. Seaside fun
Are you craving a visit to the sea? No problem, you're only a few kilometers away from the coast. For example, driving to Lloret de Mar would take just 30 minutes.
Lloret de Mar is one of the plentiful seaside towns with all sorts of water sports you can do. For example, I enjoyed getting on board of a catamaran, feeling the wind in my hair, and watching the coastline on one side and the beautiful deep blue sea on the other. The ride was truly pleasurable. Check out Catamaran Lloret if you're enticed.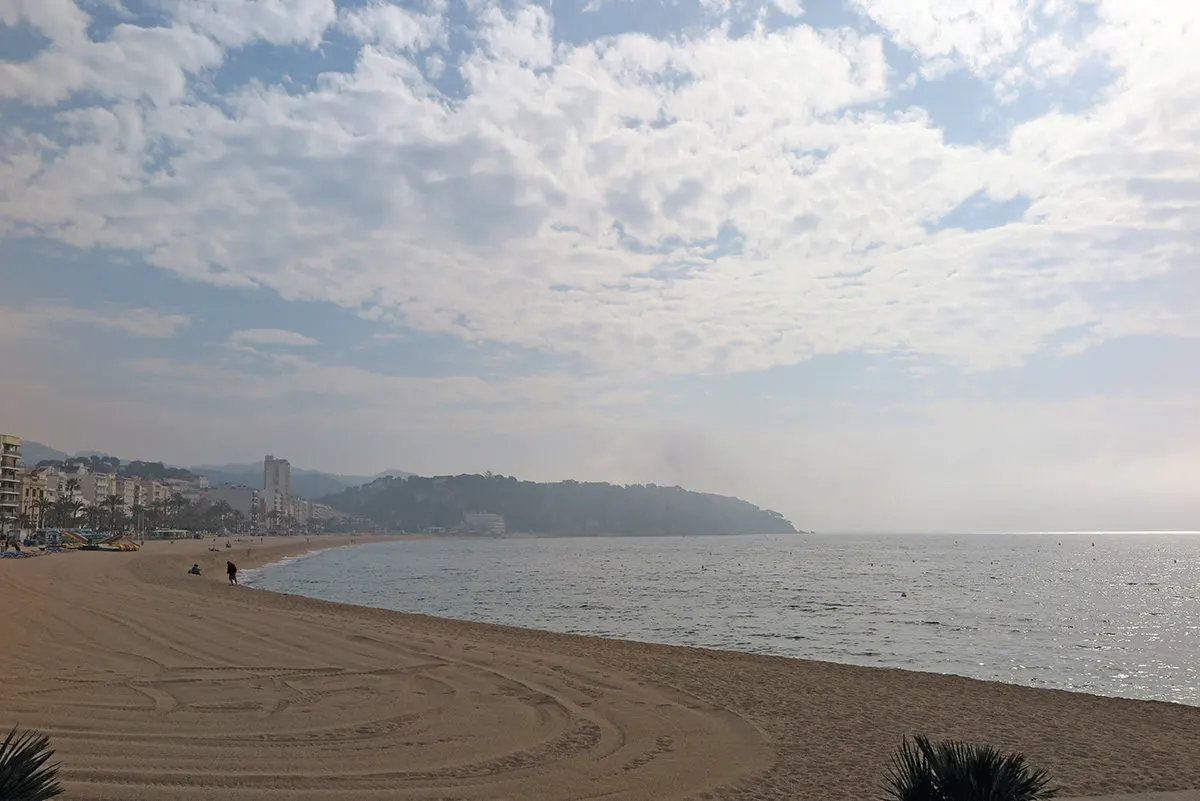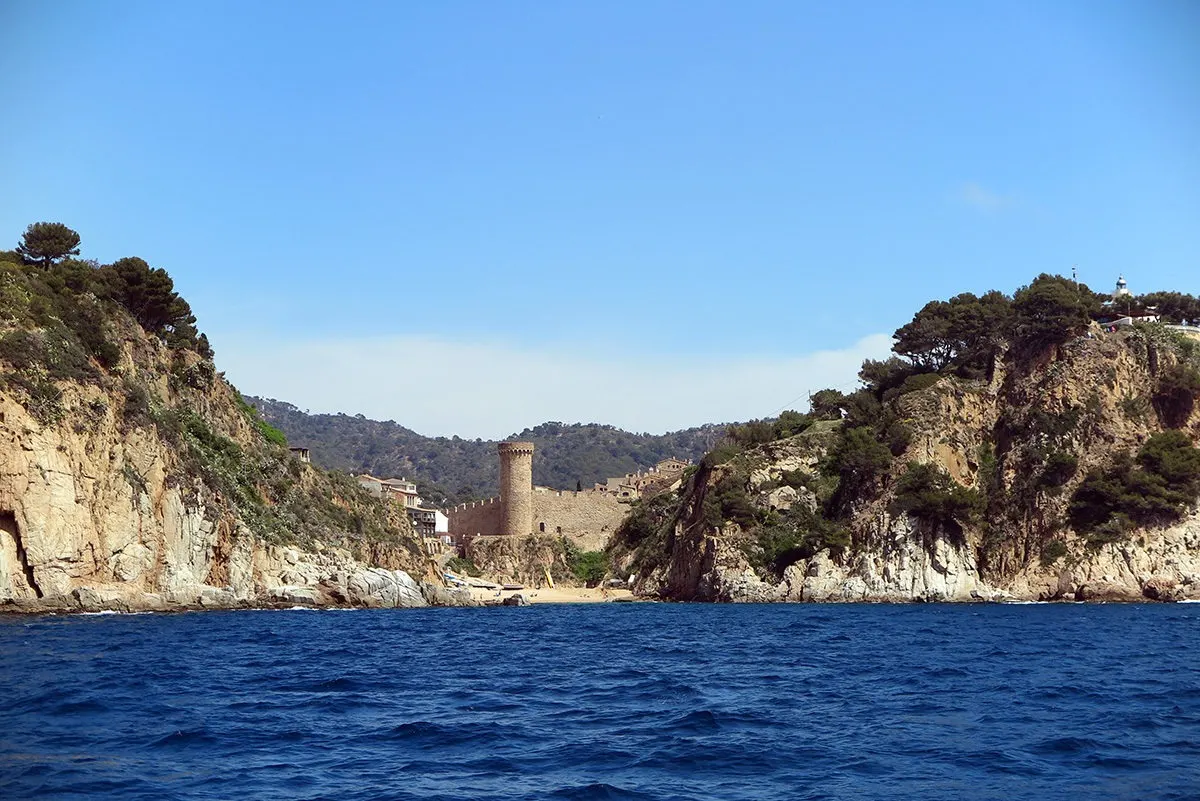 La Selva has definitely become one of my favorite regions in Spain. It's so rich in history, culture, and fun things to do. There's a lot more that I didn't have time to try out, like e.g.: agritourism experiences, paintball, segway off-road tours, paragliding and of course golf. Perhaps next time :)
All the travellers who love getting off the beaten track will enjoy La Selva tremendously. I'm proof of that!
See the La Selva map below, with all the points mentioned, for easier orientation. Everything is within an easy driving distance, but you'll need a car to explore the area comfortably.
Have you visited some part of Spain mainly undiscovered by tourists? Where was that?
Are you into Pinterest? Great, me too! Here's a pinnable image for you: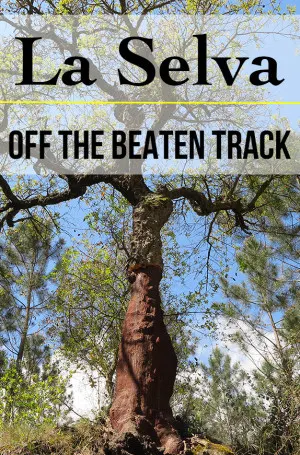 Disclosure: Veronika of TravelGeekery was able to discover La Selva thanks to the awesome organization of Costa Brava – Pirineu de Girona #laselvaturisme. All opinions are Veronika's own and unbiased.