This post is also available in:

Čeština
Transnistria is a noodle-shaped chunk of land wedged between Moldova and Ukraine. Its capital, Tiraspol, is easily accessible from Moldova and is an ideal place if you're into unique travel experiences. This time it's all about seeing a place stuck in time, living still in the 'good old' Soviet times.
Read about why you should visit the bizarre Tiraspol and what there is to do there. You might be surprised!
Step back in time
After crossing the bridge over the river Dniester you'll feel like you stepped back in time. To me, places like that are beyond fascinating. There are big statues of communist leaders, buildings of a very distinct style, and monuments you wouldn't expect in Europe anymore.
Marvel at the Soviet relics of Tiraspol
Think about all the world flags that you can remember. None of them has the hammer and sickle anymore, right? Well, guess what – Transnistria is the only 'country' that does.
The main boulevard is called Gagarin Street – after the famous Soviet cosmonaut who was the first human to travel to the outer space in 1961. Yuri Gagarin apparently visited Tiraspol before his heroic endeavor, in 1952, and that shall be remembered.
You can count 2 Lenin statues in the city center itself, with probably countless more on the outskirts. There are also large monuments honoring war victories. It could be the 60's or current times, you wouldn't know.
See how & where caviar is made
On the very edge of Tiraspol lies a factory, which produces what some people call 'black gold'. The delicacy for the richest: Caviar.
The Aquatir factory focuses on breeding sturgeon fish. We visited the premises, saw the large fish tanks and learned a lot about the whole process. The male fish are those who end up as meat for the market, while the lucky females produce the caviar.
Here, they focus on the Sturgeon, a fish that has caviar every 3-4 years, and the Beluga, which forms caviar after 10 long years. No wonder the Beluga type caviar is the most expensive.
The process of caviar extraction is nothing pretty, but it is the most 'humane' of them all. Meaning the fish survives and is not just cut open. The extractors at Aquatir seem to take the extraction process like a ritual and thus prepare accordingly the night before (I guess a special meal, drinks..?). The fish is then 'massaged' and the caviar gets out. If you care about animals' feelings, you might still find it disturbing, though.
The operations at Aquatir are massive. You see large tanks of fish of all ages, just swimming around in circles and showing their fins to occasional visitors. It's cold, wet, and slippery. You might even come across the workers checking some fish with ultrasound, determining whether it's a meat or caviar 'donor'.
And of course, at the end of the tour, you're more than welcome to buy some caviar. Our group of friends might be weird, but none of us felt like buying anything! But honestly, the prices are good. You can't find a better priced caviar of such a high quality outside the factory.
Taste the real Ukrainian / Russian cuisine
Transnistria is one of the best places to taste the authentic cuisine of the Russian-speaking region! For a unique experience like that, head to the lovely Ukrainian restaurant called Kumanek, or Куманёк in Cyrillic, which has great reviews and is even better in real. Still, though, you probably won't love each and every piece of food they put on your plate.
Personally, I absolutely loved the awesome salad the 5-course meal started with, the delicious borscht soup, the fried chicken fillet with cheese and, above all, the amazing dessert made up of thin crunchy sesame 'disks' glued together with a heavenly cream and berries. I downed it like a cherry despite being extremely stuffed!
I tasted and didn't love lard balls covered in chocolate with a pickle inside. That was an absolute no-no. What a combination! I really couldn't stomach that. Apparently, the 'delicacy' comes from Ukraine and their adoration of all things 'salo' (=pork fat).
Flush it down with some Kvas, an old and good traditional beer.
Taste one of the best cognacs outside of Cognac
Just like with champagne, a cognac not made in the French region of Cognac cannot carry the C name. Therefore, in the famous Kvint factory in Tiraspol, they focus on making brandy. The factory was established in 1897 and the brandy it produces has won world-class awards.
While the whole factory and its museum are quite interesting (showcasing e.g. pre-Communist era design of labels!), if you get the chance you have to do the tasting. We were lead by a joyful guide named Helena who is a fan of the brandy and the wine Kvint makes. She'll show you how to taste the brandy in the right way and even point out some cool hacks such as how the perfect amount to taste is when a cognac glass can be put on its side and nothing gets spilled.
Each of us in the group had different favorites among the many kinds we tasted. Generally, though, the taste could be officially divided into male, female, and surprise! Yes, they call a specific taste 'surprise' after an exclamation Khrushchev made after tasting a special variety of the brandy. Apparently, he was surprised Moldova could make such a high quality cognac! :)
Currency of Transnistria
You might have seen the Ruble before if you travelled to Russia. But here you have something even more special: the Transnistrian Ruble.
There are currency exchange shops on every corner, so exchange some money and use it! If you get lucky, you might receive your change in the form of plastic token-like coins. We didn't have the honor, unfortunately.
As the Transnistrian Ruble is not officially recognized, it cannot be exchanged outside Transnistria. If you end up with some Rubles left, exchange them back to another currency, otherwise by crossing the border they will become pieces of paper with no value.
Scout for signs of modernity
Perhaps some modern things are creeping into Tiraspol as well. Of course the youth has smartphones and it's cool to wear big headphones and branded sweatpants. But there's even more. Take food chains for example:
The Andy's Pizza chain has made its way to Transnistria and so even American travellers craving good old pizza can get their slice. Again, this is something young people find cool to do and a good place to hang out. It's definitely the go-to pizza chain – they have 3 locations just in Tiraspol!
We also ran into a café called Mafia. The interior reminded me of a luxury hotel. But the coffee! Wow, my cappuccino was as perfect as any of my favorite hipster cafés in Prague. However, I have no idea why there were women wearing ankle-long dresses. It's definitely not required attire for the café :)
Feel with local patriots
The only state symbol Transnistria is missing is its own language. The semi-presidential republic has its own constitution, a flag (with the sickle!), an anthem and a coat of arms.
Furthermore, just as any functioning state, there's a functioning government, parliament, military forces (closely tied to Russia), police, currency and even vehicle registration. Did I mention a national football club?
Even though their 'country' has been recognized only by 3 other so called 'countries' and no real countries, Transnistria does have a patriotic feel and the locals feel like they are Transnistrians. It shows not only in the sign 'I love Tiraspol' that you can take a picture with, but by natural curiosity towards visitors who came to see their little piece of land.
I wonder how it's like in Abkhazia, Nagorno-Karabakh and South Ossetia, which hold the same status as Transnistria and are equally unrecognized worldwide (2017 update: Abkhazia and South Ossetia are recognized by some UN member states).
At least it has created a feeling of kinship between the four states and they've even formed a Community for Democracy and Rights of Nations (CIS-2), in order to protect their interests on international level.
---
Practicalities of visiting Transnistria
There are a few ways to travel to Transnistria. If you are on an extremely tight budget, catch a bus from Ukraine or Moldova.
I went to Transnistria on a day trip with JayWay Travel, an American boutique travel company focusing on Central and Eastern Europe. We spent some time in Chisinau and then hopped over to Tiraspol, which was just an easy 90-minute ride.
When entering Transnistria, you'll be given a piece of paper that'll allow you to stay for 10 hours. While I read about some necessary bribing practices in some older blog posts online, we didn't experience any of that. We'd just hand over all our passports (Czech, American, British, Romanian and Moldovan) and we all received the necessary little document after only about 15 minutes of waiting. I found it to be quite hassle-free but in fact we did have a Russian-speaking guide accompanying us.
For more practicalities, see this comprehensive guide on travel to Transnistria.
Why visit Tiraspol and Transnistria?
You should come to Transnistria especially if you're from a country that was never a part of the Soviet Bloc or controlled by it. It'll help you understand what the daily reality was like for millions of people. You'll visit practically almost fully conserved 'museum' of Soviet times. The countries that got out of the Soviet reach leaped forward towards development and often got rid of any reminders of their Soviet past. Here you can see everything just like it used to be all over the region.
See what my friends' take on Tiraspol: Kerwin on Unfamiliar Destinations and Patti on Luggage and Lipstick.
Visit Transnistria with a curious mind, learn about its history and its presence, be amazed at what quality things there are produced there (brandy or caviar, whichever you prefer) and then leave being grateful for not having been born there. Life would probably be much more difficult.
What "stuck in the past" places have you visited? Tell me all about it!
Pin this post for later: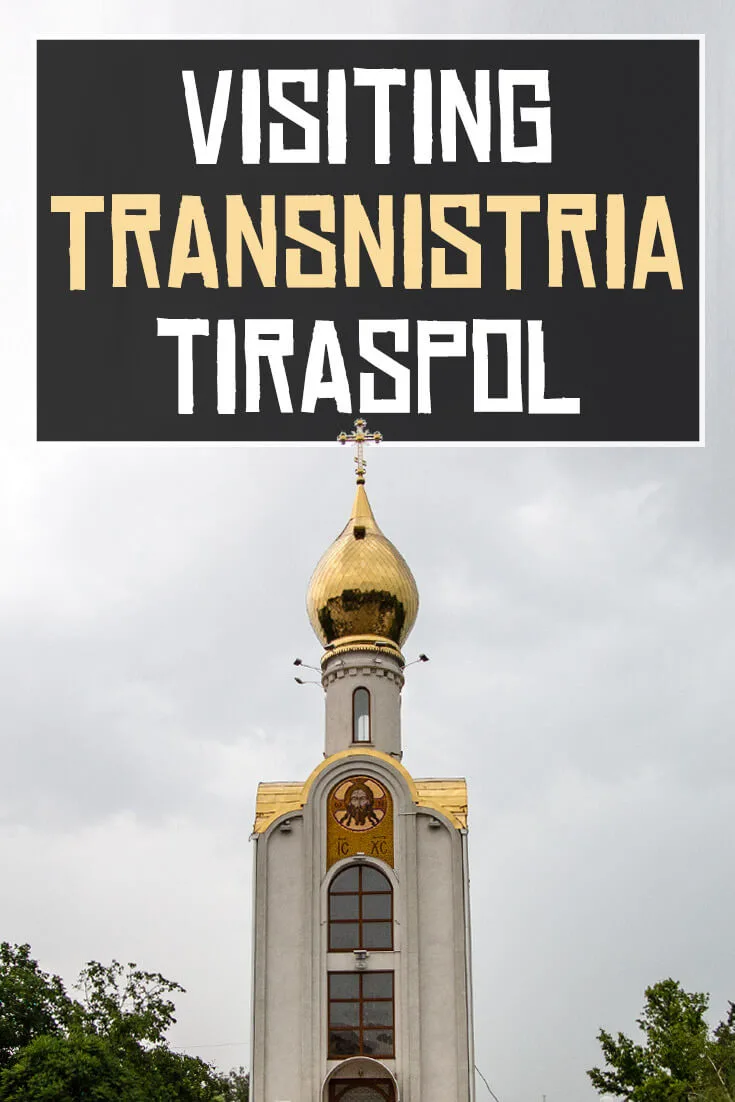 Disclosure: Veronika of TravelGeekery visited Tiraspol with JayWay Travel on a sponsored trip. All opinions are, however, her own and unbiased.