This post is also available in:

Čeština
Have you ever compared apples with oranges? That's how it feels to compare visiting Siena or Florence. Nevertheless, I'll attempt the nearly impossible and advise you on how to decide whether to visit Florence or Siena.
Having been to both of these amazing Tuscan cities, I can tell you about the major differences between the two and which one may be better suited for different types of travelers.
First, I'll cover the main differences between Siena and Florence, as well as their similarities. Next, I'll touch up on their infamous rivalry throughout the ages. I'll point out the specifics of each and then proceed by scoring the cities based on each category of interest. Finally, I'll sum it all up by suggesting which kind of traveler might enjoy each Tuscan town better.
Feel free to scroll to the passage that interests you the most or, ideally, read the entire article to get the best glimpse of what divides and unites Florence and Siena, and whether you should visit one, the other, or both!
Please note – all opinions are my own and may be subjective.
First of all, for practical reasons:
Siena or Florence as a Base?
When considering a visit to the heart of Tuscany, you may wonder whether to stay in Florence or Siena. The choice is ultimately yours, but I can help you make a decision.
Florence, given its size, offers a broader range of accommodation options. However, if you prefer to stay near the historic city center, Siena offers much more affordable hotel prices.
It eventually depends on whether you want to stay in one place or move around. If you'll only be staying in one city and explore only that one city and/or taking trips from there, choose Florence. If you prefer to explore more and switch up accommodations, it's great to stay in both cities.
There isn't one definitive best base for exploring Tuscany. Sure, Florence is well-connected in terms of transportation. At the same time, exploring Tuscany from Florence makes more geographical sense if you also plan to visit places like Pisa or Lucca (to the west of Florence), Bologna or Modena (to the north), or even Cinque Terre (to the northwest). It's quite convenient to stay in Florence and take day trips to these places.
On the other hand, Siena serves as a better base for immersing yourself in the more off-the-beaten-path areas, such as the famous Val d'Orcia valley and other parts of the wine region with typical Tuscan landscapes.
Another rule of thumb is to consider whether you plan to rent a car or use public transport and/or tour companies. Driving and parking in Florence with a rented car can be a hassle, so for that reason, it might be better to stay elsewhere, such as Siena, or at least opt for the outskirts of Florence. Here's how to go about renting a car in Tuscany.
Florence serves as a major transportation hub, and thus there is no shortage of buses and trains going in all directions. Additionally, most tour companies offer day trips from Florence.
If you decide to stay in Florence:
If Florence is your preferred choice for accommodation, then I've got you covered with some research on great accommodation options:
Hotel Bernini Palace is an incredible luxury choice, Porta alla Croce Guest House offers a top mid-range option, and Hotel Fedora is a good, low-cost place to stay.
If you decide to stay in Siena:
Grand Hotel Continental is the best luxury pick for Siena, Il giardino di Pantaneto Residenza D'Epoca serves as a top-rated mid-range accommodation option, while Albergo Bernini works best for the budget traveler.
Siena vs Florence: Main Differences
Siena and Florence have several key differences that you should familiarize yourself with before your trip.
Firstly, Florence is a bustling metropolis with a population of around 360,000, while Siena remains a small, charming town with approximately 54,000 inhabitants. However, despite its smaller size, Siena is no Cinderella and radiates a sense of pride, offering a plethora of remarkable sights.
Due to their unique periods of development and the impact of World War II on Florence, the architectural treasures you'll experience in Siena and Florence are vastly distinct. While both cities have a "Duomo," their similarities largely end there.
Siena prides itself on its Gothic charm, while Florence is renowned as the birthplace of the Renaissance.
In Siena, the medieval atmosphere embraces you from every corner, thanks to its abundance of well-preserved ancient buildings. Its historical center has remained largely untouched by modern development, maintaining a true sense of the past.
Did you know that Florence, or Firenze in Italian, used to be the capital of Italy? Yes! It held that title for a decade before Rome assumed the role in 1871.
The highest status Siena achieved in history was one of a republic – from the 12th to the 16th centuries. Florence actually operated as its own republic in a nearly identical time period. Over time, Siena came under the rule of Florence when it was handed over to the ruling Medici family—more on that later.
Interestingly, the patron saint of Italy, St. Catherine, was born and lived her life in Siena. This is a noteworthy fact in traditionally religious Italy.
Both cities have breathtaking historical centers. Siena features a unique seashell-shaped square with a tower over 100 meters tall. In Florence, you'll find stunning structures at Piazza della Signoria, particularly the Palazzo Vecchio. And let's not forget the iconic Ponte Vecchio.
The Ponte Vecchio is a remarkable 14th-century bridge spanning the Arno River in Florence. It has long been home to local jewelers, with shops tightly stacked on top of it. This architectural gem has survived the test of time, including the destructive bombing of World War II.
While Siena may lack a river, it compensates with an intricate network of underground aqueducts connecting its fountains, wells, and cisterns.
Florence and Siena: Similarities
Both Siena and Florence boast a magnificent Duomo as their central Cathedral. Despite their differing colors, both cathedrals are constructed using marble slabs. The Siena Cathedral of Saint Mary of the Assumption, built in 1264, showcases a combination of white and black marble.
Florence's Cathedral of Santa Maria del Fiore, completed in 1436, features marble in shades of green, pink, and white.
Although Florence is renowned for its association with the Renaissance, its Cathedral follows a Gothic style. Originally begun in Gothic fashion, it received a Gothic revival facade in the 19th century. The Duomo di Siena is a prime example of Romanesque Gothic.
While on the outside, Florence's Duomo trumps the one in Siena, the perception changes the second you step inside. Siena's Duomo presents a breathtaking interior adorned with intricate floor mosaics. Online guides often state that the mosaics are unveiled only a few days of the year, but we discovered from a local guard that they're actually exposed most of the time.
Siena's Duomo was supposed to be expanded, but the plan came to a halt with the arrival of the Black Death plague in 1348 and subsequent financial crises. Although the expansion was never fully realized, some early structures, such as the Panorama del Facciatone, still remain and now serve as a splendid viewpoint.
Both Siena's and Florence's historical centers are recognized as UNESCO World Heritage Sites, with Florence having received its inscription in 1982, followed by Siena in 1995.
On the other hand, Florence found prosperity through the patronage of the Medici family. During the 15th and 16th centuries, the Medicis invested significant resources into the redevelopment of Florence, solidifying its position on the art map of Italy.
The Famous Florence and Siena Rivalry
The distance from Siena to Florence may be only 70 kilometers (43.5 miles) but distance isn't the only factor that divides these two cities.
A famous rivalry between Florence and Siena dates back to the Middle Ages when the Italian Peninsula was divided into city-states. During the division between the Holy Roman Empire and the Papacy in the 12th and 13th centuries, Siena and Florence took opposing paths. Siena aligned with the Roman Empire, while Florence sided with the Pope.
These conflicting allegiances eventually led to the deadliest battle in the Middle Ages, the Battle of Montaperti in 1260. I won't go into the details in this article (you can find more info here), but Siena emerged victorious in the Siena vs Florence war.
However, Siena's triumph did not last long in the annals of history. Although it managed to rival Florence in the arts, its prominence was short-lived.
During the 13th century, Florence experienced rapid growth, while Siena faced economic struggles and internal political turmoil. The devastating impact of the Black Death in 1348 further worsened Siena's situation. Still, the city managed to persevere for another two hundred years.
Continual invasions from Spain and France during the Italian War of 1551–1559 took a major toll on Siena. The conflict with Spain in 1555 became the final blow. After enduring a siege lasting over a year, Siena surrendered. Just two years later, the Spanish king handed over the city to the ruling Medici family of Florence, to whom he owed significant debts.
Now that we've explored the similarities, differences, and the Siena vs Florence history, let's zoom in on the distinctive features of each city and the must-visit attractions that await you there.
Siena Specifics
As you've come to know, Siena is a city where history truly thrives, having been spared from destruction, including during World War II. This is evident in the abundance of Gothic masterpieces that can be found throughout the city.
Top Siena Sights
Il Campo Square (Piazza del Campo) with Palazzo Pubblico (a.k.a. Palazzo Comunale) and Torre del Mangia tower
Duomo di Siena – tickets can be purchased here
San Domenico Church
Florence Specifics
When it comes to Florence, there's one thing you should always remember – it's the birthplace of the Renaissance. The Renaissance marked a significant shift towards a revival of culture and the arts.
This influential movement in Italy had a profound impact on various fields, including painting, architecture, sculpture, literature, music, philosophy, science, technology, and even exploration. In the realm of painting, the development of perspective during the Renaissance led to more realistic depictions.
Florence boasts a long and impressive list of notable individuals who were born or flourished within its walls. Personalities such as Dante Alighieri and numerous artists found support and patronage from the wealthy Medici family. Among them were Leonardo da Vinci, Michelangelo, and Brunelleschi, to name just a few.
For a visitor to Florence, it's all about admiring the cultural and artistic heritage. And let's not forget about the culinary delights that await food enthusiasts.
Furthermore, Florence offers ample opportunities for shopping, making it a paradise for shopaholics.
Top Florence Sights
Duomo (Santa Maria del Fiore) and Baptistry, also Cupola di Brunelleschi and Giotto's Campanile (Bell tower) – Duomo tickets with Cupola access can be purchased here
Ponte Vecchio
Palazzo Vecchio on Piazza della Signoria
Basilica di Santa Croce
Central Market (Mercato Centrale)
Florence vs Siena Score
Let's now rate the two cities based on each category. Please note that these ratings are subjective!
Architecture
When it comes to architecture, Florence offers a greater quantity of architectural marvels. However, for those who have a preference for Gothic architecture over Renaissance or place a higher value on older architectural styles, Siena may come out on top.
Overall, though, I would give a point to Florence in this category.
+1 for Florence
Food
Both cities offer excellent food – after all, you are in Tuscany!
Florence has its signature dish: Bistecca alla Fiorentina, which is a large beef steak. I had it with friends and found it enjoyable, although the quality may vary depending on the restaurant. Meat lovers would definitely appreciate it.
And did you know that the famous Italian gelato is believed to have been invented in Florence?
A famous dish shared by both Florence and Siena is Ribolita soup, originating from the region between the two cities. It is a hearty vegetable soup with beans and soaked stale bread, often considered a traditional "peasant dish."
Siena is known for its dessert called Panforte, a dense cake filled with candied fruits and nuts.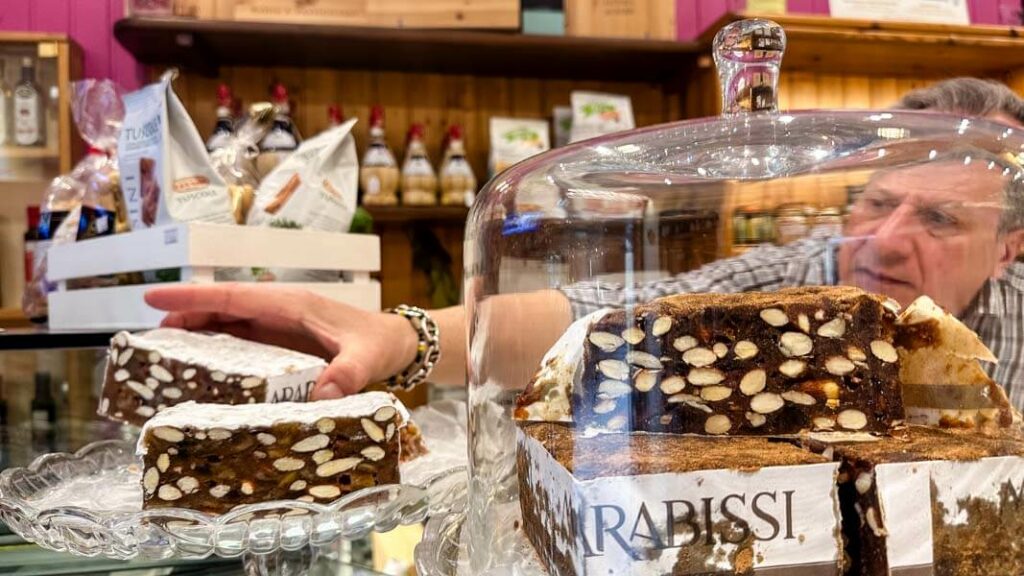 In terms of restaurant variety, Florence offers more options. I would give a point to Florence, mainly because of its impressive central market hall. On the first floor, you can find amazing pasta dishes with truffles and indulge in a delicious Florentine steak.
Check out also my older article on three awesome spots where you'll get served exceptional food, coffee, and local vibes.
+1 for Florence
Art Galleries & Museums
Regarding art galleries and museums, it's hard to deny that Florence takes the lead. The city is renowned for its extraordinary galleries and museums showcasing magnificent artworks. Florence owes this major distinction to the patronage of the influential Medici family, who invested heavily in the city's art and culture.
While Siena has its own artistic treasures, it is evident that the Medici family favored Florence when it came to pouring resources into the development of art.
Apologies, Siena! In terms of art, Florence holds the title of the official Art capital of Europe and therefore takes the win in this category.
+1 for Florence
Shopping
Florence shines brightly as a top-notch hub for all your fancy retail desires and boasts an impressive range of shopping options. Whether you're searching for designer clothing, exquisite jewelry, or luxurious leather gloves, the quality of the items available in Florence is unparalleled.
As you stroll through the streets surrounding the historical center, you'll feel as if Florence was specifically designed with shopping in mind. In fact, the city even hosts museums dedicated to local fashion designers, such as the renowned Ferragamo Shoe Museum.
While Milan takes the crown as the most prominent fashion destination, with its iconic Fashion Week and abundance of luxury boutiques, Florence stands strong as a close second, offering a shopping experience that will satisfy even the most discerning shoppers.
+1 for Florence
Culture & Tradition
Spoiler alert – Siena will finally get a well deserved point in this category!
While Florence hosts numerous cultural events, nothing quite compares to the world-renowned Palio di Siena. This historic horse race has been held twice a year since 1482 and remains a significant part of the Sienese culture.
+1 for Siena (finally!)
Greenery
When it comes to green spaces, Florence wins big again with its large garden called Giardino di Boboli.
In terms of green spaces, Florence's impressive gardens and parks earn it another point in this category.
+1 for Florence
Towers and Viewpoints
For those who appreciate panoramic views from above, both Siena and Florence offer fantastic opportunities to enjoy the cities from a bird's-eye perspective. Let's take a closer look at the main towers and viewpoints available in each city:
In Siena, you can ascend to the top of:
Torre del Mangia for an unparalleled view of the seashell-shaped square below
Siena Cathedral Bell Tower (Campanile) for a beautiful view of the Duomo from above
Panorama del Facciatone for a stunning view of the Duomo including its bell tower
San Domenico Basilica for a distant view of the entire city of Siena
Medici Fortress for an even more distant view of the whole city and some greenery
And in Florence, these elevated views await you:
Cupola di Brunelleschi within the Duomo for a pretty sight of the Duomo and its surroundings
Florence Cathedral Giotto's Bell Tower (Campanile) for an even better view of the Duomo, this time accompanied by the impressive Brunelleschi's Dome!
Palazzo Vecchio's Arnolfo Tower for yet another angle of Florence's historical center
Porta San Niccolò by the River Arno for a unique view of the center on one side and the river on the other (open from June to September)
The top of the hillside garden Giardino delle Rose for a fantastic view of the entire Florence
In this category, I think I'll have to give a point to both Florence and Siena:
+1 for Florence, +1 for Siena
—————————————
So what's the score?
Wait for it…
6 points for Florence and 2 points for Siena.
I didn't plan on having Florence win by this much! :) There's just so much more of everything in Florence given its size.
Florence or Siena by Traveler Type
Let's now compare the two cities depending on what type of traveler you may be:
Solo female traveler
Both cities are great for solo female travelers. In considering safety, personally, I felt a bit safer in Siena. Not that Florence is dangerous, but it can be more crowded and bustling.
Couple on a romantic trip
For a super romantic trip, I'd recommend starting in Siena and then heading to Florence. Ideally, you could experience the historical ambiance of Siena first, which nicely kicks off romance.
Traveler with a passion for fashion
Rush to Florence and look no further! Most of Italy's famous fashion brands, including Gucci, Prada, and Salvatore Ferragamo, are based in Florence. Via de' Tornabuoni is your go-to street for luxury shopping, along with Via Roma and Via dei Calzaiuoli.
Art lover
When it comes to art, Florence offers an abundance of options. Galleries, museums, you name it. Immerse yourself in the abundant world of Florence's galleries, starting with the Uffizi Gallery.
History buff
Siena is definitely more historically inclined compared to Florence. Its medieval days are still apparent today, unlike in Florence. To truly delve into the furthest reaches of history, a visit to Siena is a must.
Off-the-beaten-path traveler
What are you even doing in this part of Italy? :)
Nevertheless, exploring the outskirts is the way to go if you're looking for a less touristy experience. With Florence's size, there's much more to discover in the neighborhoods farther away from the historical center. If you still want to explore the historical center, Siena will be less crowded.
Seeing Both Florence and Siena
In conclusion, I encourage you to visit both Florence and Siena if your trip allows for it. Experience both cities and form your own unique opinion. And remember to let me know how it goes. :)
Lastly, when considering how many days should you dedicate to Siena and Florence I recommend at least a full day in Siena and two days in Florence to fully immerse yourself in their beauty and charm. The more, the better!