When I went to Rome, I took it super easy and forgot for a little bit I were a travel blogger. :) So to give you proper information on visiting Rome, I invited an Italian blogger friend Claudia, who has a lot more insight. Let's see all her practical tips for seeing Rome in a day:
Can you see Rome in a day? The city definitely deserves more than that – in fact, I'd suggest a lifetime. But if one day in Rome is all you have, you may as well try to make the most of it, and then visit again once you have more time.
Needless to say, with just a day in Rome you can merely scratch the surface – visit the most famous landmarks in Rome and little else. But if you follow a well crafted itinerary and take into account a few useful tips, you will still go back home with incredible memories of the Eternal City, ready to book your next trip!
If you don't know where to start planning, don't worry. I know the city by heart and have put together an easy-to-follow one-day-in-Rome itinerary, and a selection of local tips guaranteed to help you while in the city.
Continue reading and start preparing!
Map of Your Rome in a Day Itinerary
To get a better idea of the locations of the places you will be visiting, I have put them on a map which you can see by clicking here. The map will give you walking distances (km and time) from one place to the other, and by enlarging it you'll be able to see other interesting things nearby – attractions, places to stop for a drink or a quick bite. You can definitely adjust it to fit your travel needs and interests too.
What You Must Know About This Rome in a Day Itinerary
For the purpose of this itinerary I will assume that you have 24 hours in Rome (which means at least 12 hours for sightseeing) and that you can start your day very early. I have picked the very best of Rome – selecting the best buildings in Rome, one of the best museums in Rome, and the most iconic squares of the historic center of Rome.
This is a very packed itinerary: you'll have to head out as early as 6:45 – 7:00 am. But don't worry – Italian coffee will keep you going!
Since you will have so little time in the Italian capital, I recommend visiting the Vatican first and leaving the Colosseum as your very last attraction. Indeed, you can get an early entrance to the Vatican and a nighttime tour of the Colosseum. This way, you will be able to fully maximize your day.
You will need to book entries to all the major attractions in advance – so as not to waste any time waiting in line at the ticket counter. Don't worry, I will tell you whenever this is necessary.
Make sure to walk everywhere if you can, and opt to have lunch on the go. Have a massive gelato, or try a local pizza al taglio, maybe with a supplì or two – they are quick, easy to eat while walking, budget friendly and just delicious.
Finally, let's see how to discover the best of Rome in a day:
The Best Itinerary to See Rome in a Day
The Vatican Museums, Sistine Chapel and St. Peter's Basilica
The starting point of this itinerary is the Vatican Museums and Sistine Chapel.
This museums have a whopping 54 chambers and a lot of artwork on display. The Sistine Chapel is where you'll be able to admire Michelangelo's masterpiece – The Last Judgement – which he painted over many years and which is considered one of Renaissance's greatest works of art.
St. Peter's Basilica is the most important church for Catholics. It was built by Renaissance's most prominent artists – Michelangelo, Bernini and Bramante – over what was thought to be the tomb of St. Peter. The church has 11 chapels, 45 altars and a multitude of mosaics. It's where you'll find Michelangelo's Pietà, Bernini's Baldacchino, as well as the Chair of St. Peter.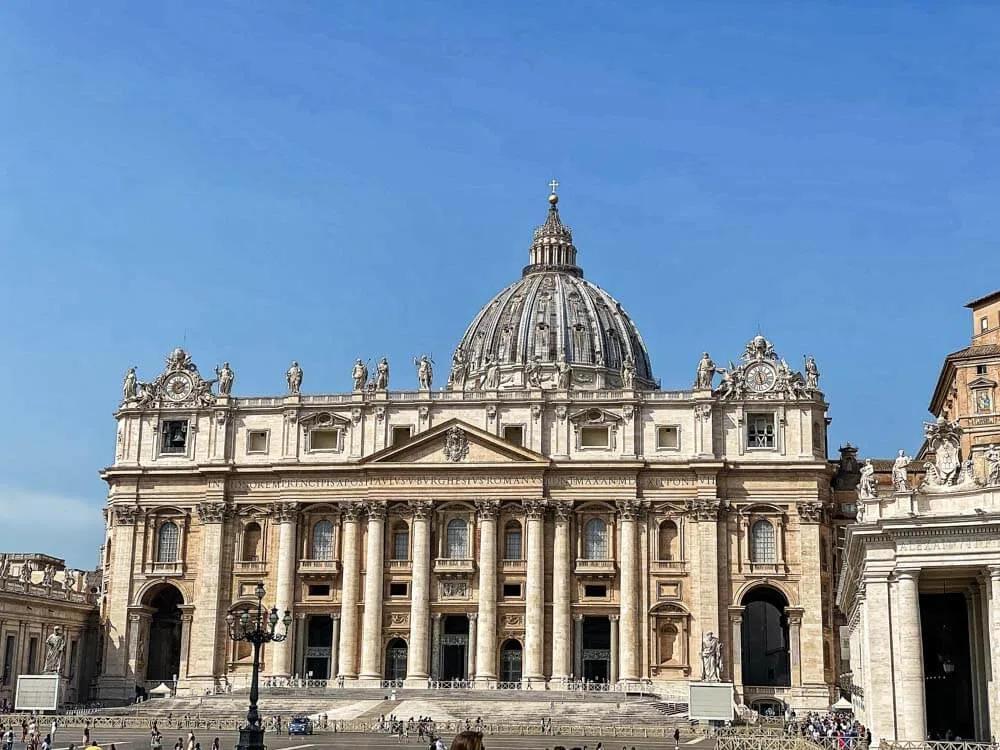 Practical information for visiting the Vatican
The official opening time of the Vatican Museums is 9:00 am, with lines forming to get in as early as 7:30 am. St. Peter's Basilica, on the other hand, opens its gates at 7:00 am. So, why do I recommend visiting the museums first? Because you can actually join an early access Vatican tour which starts as early as 7:00 am and which includes a dedicated entrance to St. Peter's Basilica via an internal passage – something which can't be done the other way around.
This is a major time saver, as you won't have to go out of the Museums and walk all the way around to get to Piazza San Pietro to access the Basilica (it's a 1 km walk).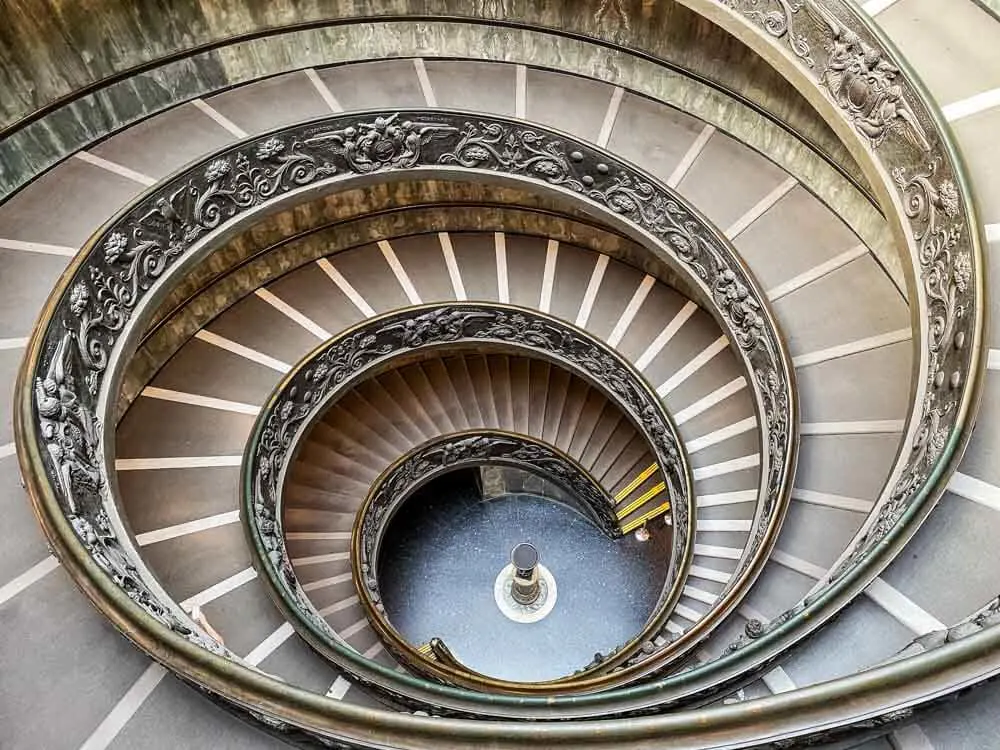 But there's more. The Sistine Chapel and the Vatican Museums are always crowded, but early access tours are for limited amounts of visitors, meaning you'll get to enjoy the place when it's still virtually empty.
Make sure to book your early access Vatican Tour as much in advance as possible. You can do so here.
Don't care for a tour? In this case, head to St. Peter's Basilica by 7:00 am and visit at your own pace. When you are done, walk all the way to the Vatican Museums, for which you'll need to buy tickets in advance. You can do that here.
Modest clothing is required to visit the Vatican: cover your shoulders and wear either long pants or a long skirt or dress. No photography is allowed inside the Sistine Chapel.
Castel Sant'Angelo
You can see Castel Sant'Angelo, one of the most famous attractions in the city, as you make your way to cross the Tiber River and continue to the Spanish Steps from St. Peter's square. Originally built as a mausoleum for the Emperor Hadrian, this was subsequently used for various purposes – including as a prison. It now is a museum.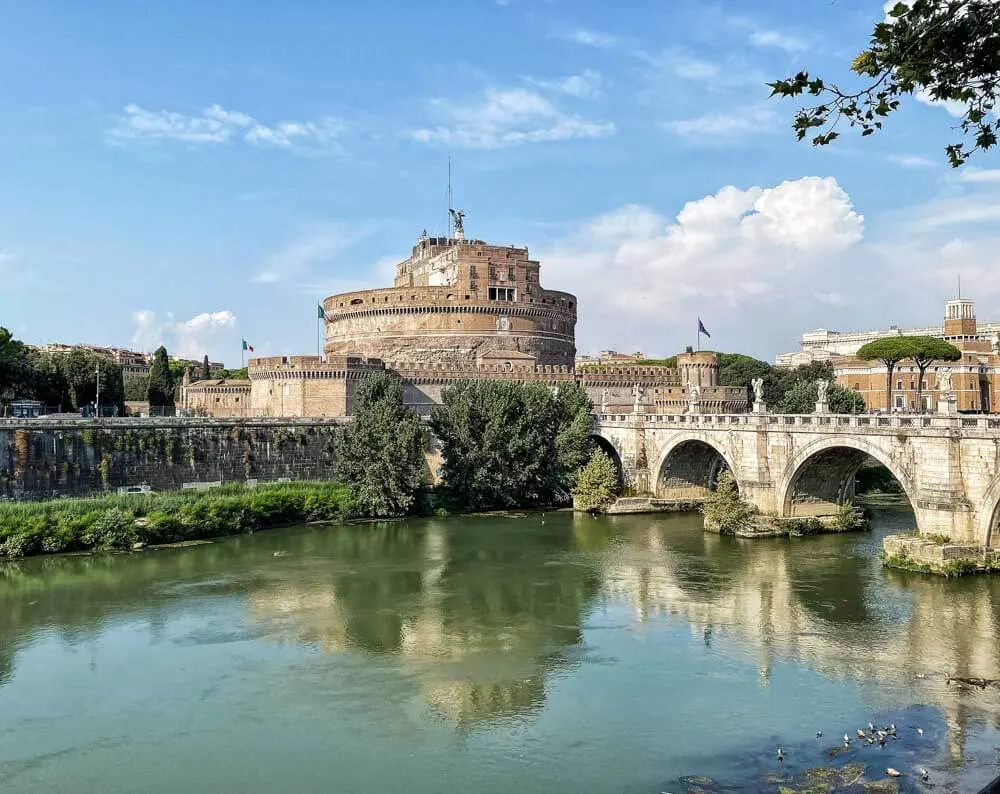 You honestly won't have time to go inside Castel Sant'Angelo as per this itinerary, but make it a point to admire it from the outside. If you feel you have enough time to go in (maybe you are staying in Rome more than 24 hours?), make sure to get tickets in advance.
To get tickets to Castel Sant'Angelo, click here.
The Spanish Steps
Known in Italian as Piazza di Spagna, the Spanish Steps are one of the most iconic places in the city. The 185 Spanish Steps go all the way to the beautiful Trinità dei Monti church. They were built in the 18th century in what now is one of the most beautiful neighborhoods in Rome. The stairs face Via Condotti – shopping paradise, with lots of designer's boutiques.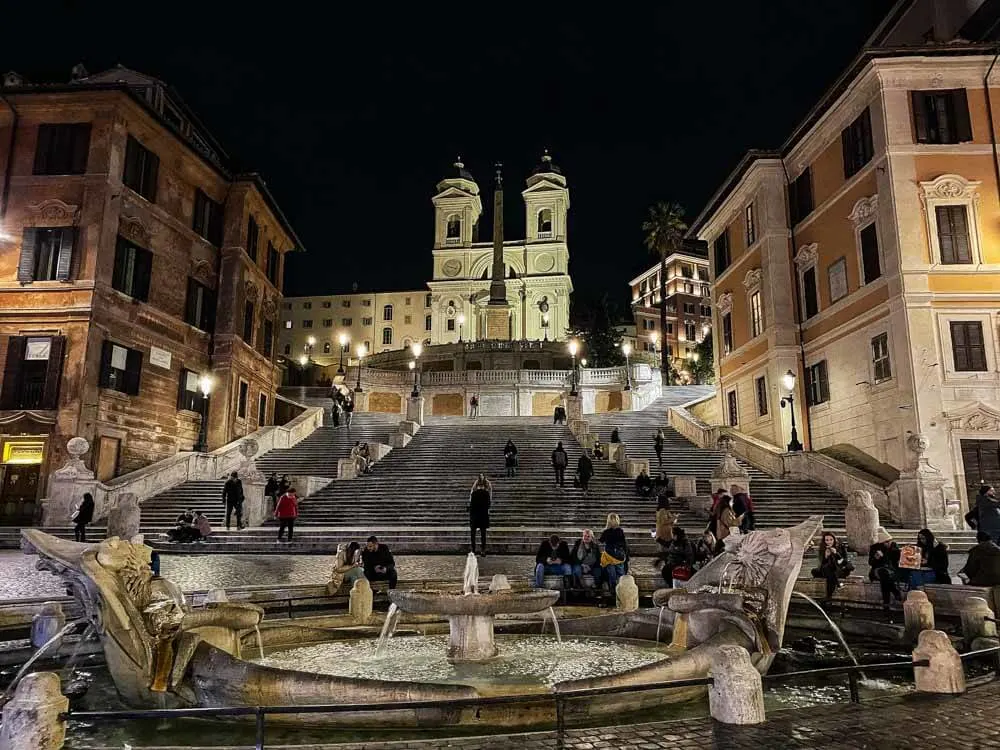 Trevi Fountain
Even if you just spend a day in Rome, you shouldn't skip Trevi Fountain – one of the best-known fountains in Rome. At easy walking distance from the Spanish Steps, Trevi Fountain has recently gone through some major clean up and renovation works to be brought back to its original splendor.
This is a very popular spot in town so don't expect to have it to yourself. But it's still worth seeing!
Remember that while throwing coins in the fountain is a custom, dipping your feet in it – and in any other fountains in the city – is absolutely prohibited!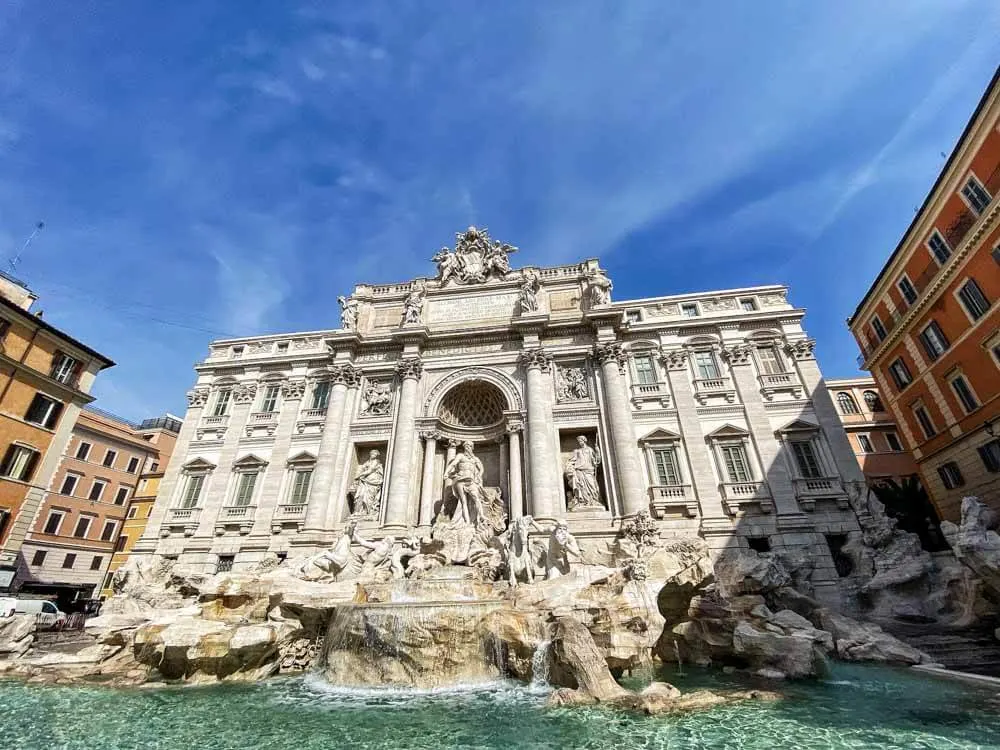 The Pantheon
A mere five minutes from Trevi Fountain, the Pantheon is another place you should not skip. Originally commissioned by Emperor Hadrian and built in the 126 AD, its Dome is thought to be the best preserved building from antiquity. Inside you will be able to see the tombs of famous Italian artist Raphael and of King Victor Emmanuel II.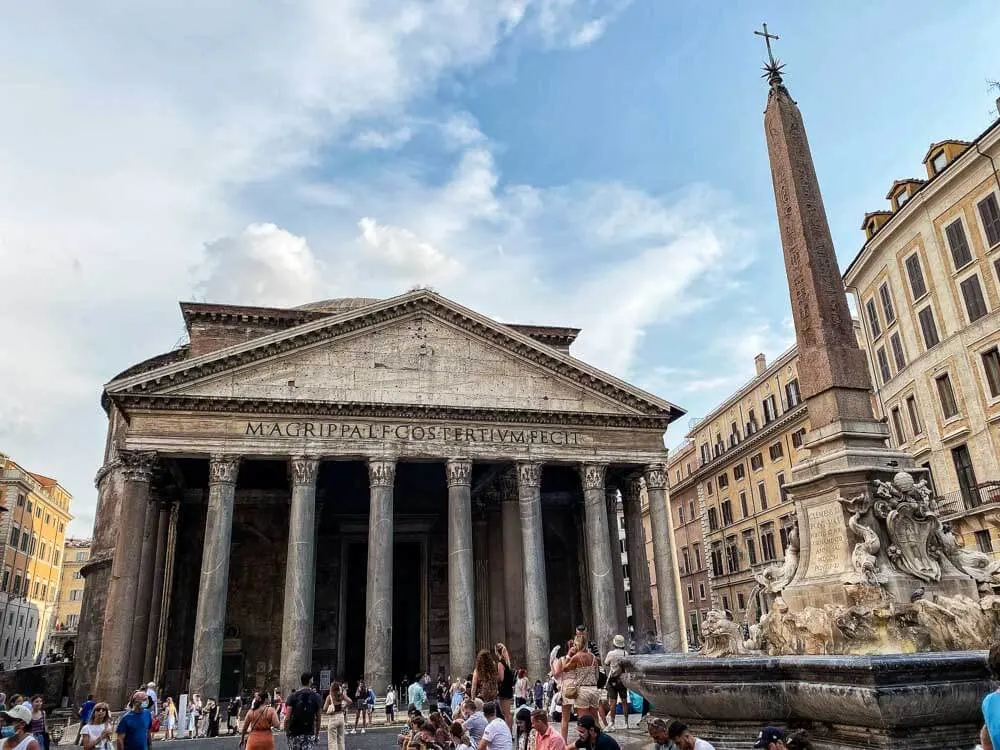 Piazza Navona
Piazza Navona is a very short walk from the Pantheon. The square was paved over the 1st century Stadio di Domiziano in the 15th century, and has been hosting one of the many markets of Rome for around 300 years. There you'll find the beautiful Fountain of the Four Rivers, which was designed in 1651 by Bernini, and the Baroque Sant'Agnese church, built in the 17th century.
Largo di Torre Argentina
If you are as much of a cat lover as I am, visiting Largo di Torre Argentina will likely be the highlight of your day! This is home to Rome's most famous cat sanctuary, and luck has it that it falls perfectly within this itinerary – it's a quick walk from Piazza Navona, on the way to Piazza Venezia.
Legend says that this is the place where Julius Caesar died – although this information is not accurate, as he died on the steps pf the Theater of Pompey, a couple of blocks away.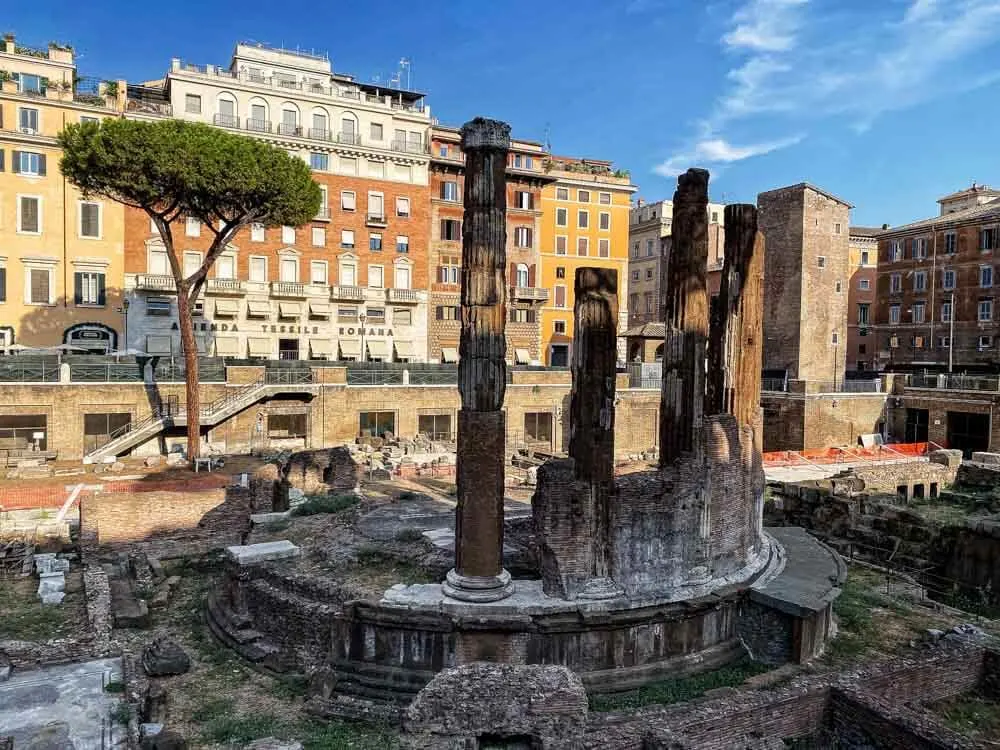 Walk inside for a few minutes to visit the sanctuary, pet the cats and make a donation for their care. If you aren't a fan of cats, feel free to skip a visit and admire the temples as you continue walking to your next stop.
Piazza Venezia
On your way to the Roman Forum from Largo di Torre Argentina, you will walk by Piazza Venezia. This is where you'll see the massive monument to Vittorio Emanuele II, which was built in 1911 to celebrate the first king of unified Italy. As you take Via dei Fori Imperiali to make your way to the Roman Forum, you'll also be able to spot the magnificent Trajan's Column.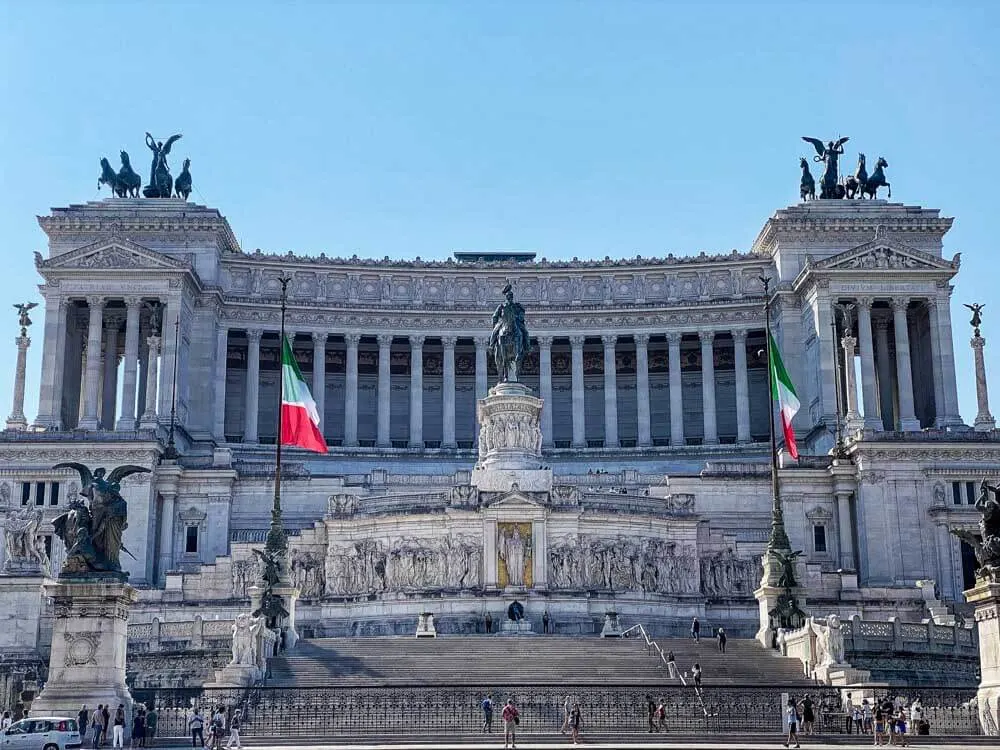 The Roman Forum and the Colosseum
On your way to the Colosseum, you will walk by the Roman Forum. This was the heart of Rome when this was a Republic. It was a very busy place: there was a market with food stalls, temples, brothels, and even the House of the Senate. In later times, the food stalls were substituted and a proper mall was created. At the time of the Roman Empire, the Forum became a ceremonial center.
The Colosseum used to be known as the Flavian Amphitheater. It was built on orders of Emperor Vespasian: construction started in 72, and was completed under Titus in 82. The Colosseum became known as the place where gladiators would engage in fierce fights against wild animals, though also other shows would take place there. It could hold up to 80,000 spectators.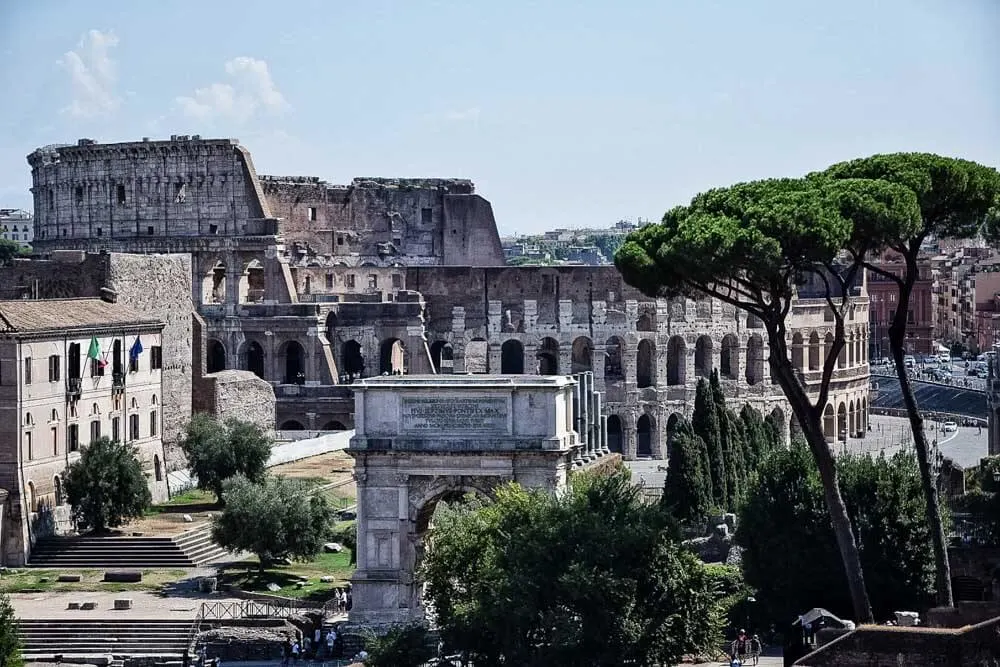 If you follow this itinerary to visit Rome in a day dutifully, you should be at the Roman Forum early enough to visit both the Roman Forum and the Colosseum with no major issues. Both of them close at 7:15 pm (last admission at 6:15 pm).
Tickets to the Colosseum cost €16 and include admission to the Roman Forum – you can visit them in whichever order you want, but you must purchase tickets in advance. You can do that here.
If you'd rather opt for a guided tour, you can book it here.
Night tours of the Colosseum
Night time tours of the Colosseum usually start at 7:30 pm and last around 2 and a half hours. If you are spending the night in Rome, you should definitely consider it – it means having more time to visit other attractions, as well as visiting the site with virtually nobody inside. The only downside is that night tours are expensive – but if you can afford it, definitely go for it!
You can book your night tour of the Colosseum here.
Practical Tips For Your Visit of Rome in a Day
Where to stay in Rome
This itinerary can be done if you arrive in Rome very early in the morning (ie at 6:00 am or so) and leave again late in the evening (ie at 11:00 pm). If you have the possibility of spending one or two nights in Rome, opt to stay close to the Vatican Museums for convenience.
These are some good places to stay near the Vatican:
Polinari Rooms is a great hotel, with spacious comfortable rooms and at just 5 minutes walk from the Vatican Museums.
Town House 57 is a great guest house with impeccably clean, modern furnished rooms, at easy walking distance from the Vatican Museums.
My Bed Vatican Museum is unbeatable in terms of location – it's right across the street from the museum. It features spotless, comfortable rooms.
Tours of Rome in a Day
If you only have 24 hours in Rome, you may want to consider joining a guided tour that takes you to all the main landmarks in town.
You may want to consider this 7-hour Rome in a Day Tour of the Vatican, Colosseum & Ancient Rome It goes to the Colosseum, the Vatican Museums, St. Peter's Basilica, the Pantheon, Piazza Navona and other important city landmarks, with tickets to all the attractions, and a guide. You'll have a lunch break during which you'll get to the second meeting point. Please note the tour doesn't include Trevi Fountain, which you can see on your own after the tour's end.
Using a 24 Hours Roma Pass
There are some 24 hours Rome City Passes that may be convenient, allowing you to visit the attractions mentioned in this post for a slightly discounted price and providing skip the line access. Keep in mind that when you purchase the pass, you still have to make separate reservations for the single attractions.
The Best of Rome: tickets to the Colosseum, St. Peter's Basilica and the Vatican is probably the best option for this itinerary: it includes the Colosseum, the Roman Forum and the Palatine.
How to get to Rome
Rome is served by two airports. Below is how to get to town from each airport.
FROM FIUMICINO INTERNATIONAL AIRPORT – This is where all intercontinental flights and all major airlines land; as well as a few international budget flights. The easiest way to get from Fiumicino Airport to Rome city center is by train.
The express train runs every 15 minutes (or every 30 minutes late at night). You can buy tickets and check the timetable online. Alternatively, you can opt for a shared transfer. You can book it here. Taxis have a €48 flat rate. You can book your private transfer from the airport to the city center or vice versa here.
FROM CIAMPINO INTERNATIONAL AIRPORT – This is a budget airlines hub with flights coming from Italy and Europe. The easiest way to get from Ciampino to Rome city center is by bus – you can pre-book your tickets here. Alternatively, a highly-rated private transfer can be booked here.
How to move around Rome
Albeit with some blips, public transport in Rome is generally efficient and you can count on a good web of buses and metro lines. Rome metro is probably the easiest way of getting around – it avoids road traffic and it is easier to use.
In any case, if you are only spending a day in Rome and want to follow the itinerary I have drafted for you, it's best to walk. And if you pick a hotel close to the Vatican like I have recommended, you won't even need transport to get to the starting point of this itinerary.
Other useful tips
Here are a few final tips to make the most of your time in Rome.
LUGGAGE STORAGE – Should you need to drop your bags somewhere while in transit, you will find storage by most train stations. I recommend dropping your bags at Termini as that's likely where you'll be transiting by. You will have to book your storage in advance. You can do so here.
GET A DATA PLAN – Make sure your smartphone has a data plan so you can navigate the internet while in Rome, and access apps like Google Maps to help you get around. Alternatively, download the offline map!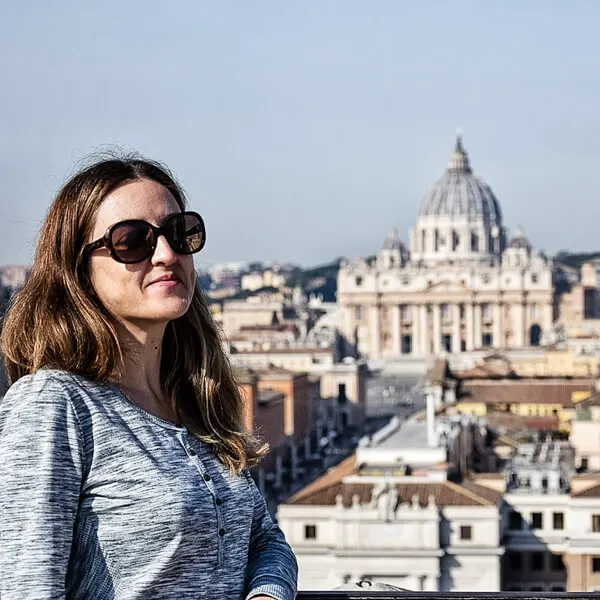 Claudia Tavani is a former human rights lawyer who abandoned her academic career to pursue a life of travel. A lover of nature, hikes, swimming and cats – big and small – she takes pride in her honesty and straightforwardness. Her site, My Adventures Across The World, is an excellent resource for independent travelers.