This post is also available in:
Čeština
When considering visiting Graz in Austria, you may be wondering if it's enough to just drop by for a day trip, do Graz in one day, and move on.
I wish I could package some of the excitement I brought back from my recent trip and send it to you!
Pardon my enthusiasm. It's just that Graz is a truly amazing experience, and I want to emphasize that it's not just another stopover on a European tour but a destination to be savored.
Even though Graz in one day can, technically, be done, you'd barely scratch the surface and would have time to see only the main Graz sights, which would be a shame in a city this special.
I admit I wasn't aware of this fully myself until I recently spent 4 days there experiencing surprise after surprise at how much this charming city has to offer. There are so many things to do in Graz and I'm here to help guide you through your journey of Graz Austria so that you get the most out of it with minimum research.
But don't just take my word for it, Graz has been enshrined in the UNESCO World Heritage List since 1999 and was named the European Culture Capital in 2003.
Graz is an off-the-beaten-track gem where travelers can relax and enjoy the romantic atmosphere of old-world neighborhoods, historic and modern treasures, and sidewalk cafés.
If you end up going in the warmer months, you'll experience block after city block of lively restaurants, cafés, and cocktail bars filled with people enjoying each warm evening. This was probably the most surprising element.
The vibe of community merriment and relaxation that permeates much of the city in the evenings is something I've never experienced in all of my travels, at least not on the scale that I found in Graz. And that comes from a seasoned traveler, who's been to 65 countries!
Graz city center is extremely pedestrian-friendly. It's one of the few European cities where central roads are used by people, not cars. I think this is one of the main reasons why locals love to hang out so much.
Graz also prides itself on being a sustainable city and not just so on paper. There are numerous long-term projects, which I don't have time to get into, but if the topic of sustainable travel is close to your heart, please refer to this sustainable guide by Graz Tourism.
Well – don't you love Graz already, after reading these few paragraphs??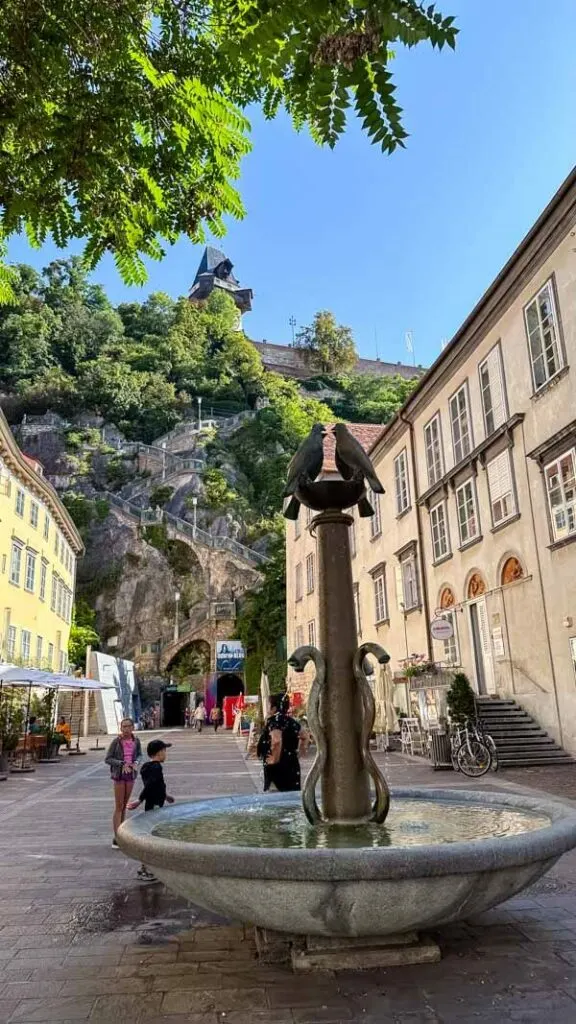 When traveling in Austria, Graz should be one of your main focal points. My recommendation is to spend one or two days in Vienna and several more in Graz, because 1 day in Graz is simply not enough.
Vienna, like the Mona Lisa, is by far the most popular destination in people's minds, but in reality, its size and popularity take away from the charm. In saying that, other lesser-mentioned works of art, such as Graz, leave a way more impressive memory.
So here I come, hoping to show you how special Graz is, and, if you really cannot squeeze in more than one day in Graz on your first trip, you'll plan another one to remedy that.
Lend and Lendplatz
I'd like to start my Graz travel guide by mentioning Lend, a unique up-and-coming quarter of Graz, whose heart, the Lendplatz square, is located only 10 minutes by foot from the historical center. I called it home for four nights and couldn't have been happier about the selection.
The name Lendplatz means Landing Square, on account of it being used for the docking of ships in an area adjacent to a market square. Lend originated as a settlement for craftsmen and later became home to the lowest social classes.
For much of its history, Lendplatz was inhabited by the poorest of the poor and the 'robber gangs' they formed. It was considered to be so dangerous that for most of the Graz inhabitants, it was not advisable to venture into that area, even during the day.
Fortunately, all of that has radically changed, and Lendplatz is now one of the most bustling areas of the city, with a hipster vibe that retains remnants of its edgy past.
During the warmer months, the massive Lend Square is filled with drink and food stalls that get packed in the late afternoon. Everyone's enjoying their glass of wine or another drink of choice and relaxing after a day at work.
Each Wednesday, the square also hosts a full-on salsa party, which brings the whole scene to its peak. The first evening of my trip was on a Wednesday and I was pleasantly surprised at all of the action only a block away from my guest house. It felt like a proper Graz welcome.
Each Monday to Saturday morning, from 6am to 1pm, while the evening crowd is recovering, the square hosts a massive produce market. Only local producers are allowed to sell their products there, so everything is farm-fresh. You'll find a vast array of authentic regional produce being sold by friendly and welcoming farmers from all around the Styrian region.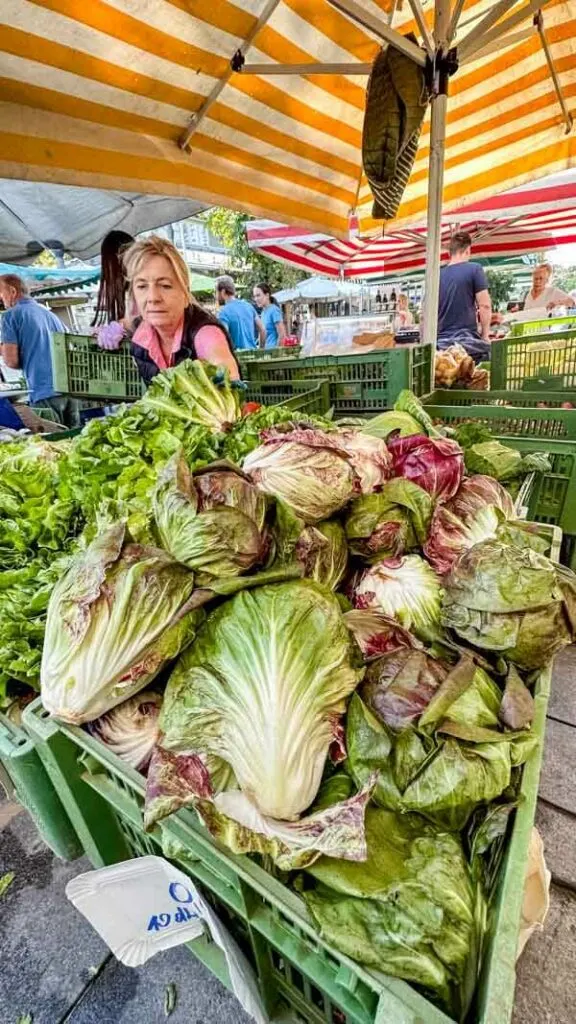 My Graz home was the Gasthof Lend-Platzl, close to the edge of the market, and I loved both the guest house and the location. The Lend-Platzl has a long history, which began in the 17th century. Since then it's been used as an inn, restaurant, and even a postal carriage depot.
In its recent past, it's served as a restaurant, and a popular one at that, but over the past few years the Klug family (Klug fittingly means clever in German) have completely refurbished the guest house into a beautifully new and modern place to stay. It offers a great mixture of traditional style in a fully modern way – with an amazing restaurant serving regional delicacies of Styria.
It's also close to the center, without the higher central prices. I highly recommend checking it out as a possible accommodation option. You can find more info on Lend-Platzl website.
Now that I've given a proper mention to my home base, let's talk about what to do in Graz and explore the rest of the city.
Coffee in Graz
First things first. Before embarking on your first adventurous day filled with Graz attractions, I'm assuming you'll want to begin with an invigorating cup of coffee, so I'll start by covering my favorite cafés in Graz.
If you're not a coffeeholic, feel free to skip this section entirely. :)
Paul & Bohne (Paul and Bean)
Josefigasse 1
If you're starting your day in the Lend district, then Paul & Bohne is the closest choice for premium coffee. A comfortable, modern interior, inhabited by friendly baristas, awaits to help kick-start your day with the best coffee around.
In the warmer months, you'll also find generous sidewalk seating, with a quiet morning atmosphere.
Paul & Bohne roast their own beans which are available along with coffee machines, grinders, and other accessories.
At the time of my visit, they didn't serve food so this option is all about the coffee.
Ducks Coffee Shop
Raubergasse 14
The coffee drinks at Ducks Coffee Shop are also of the highest quality, plus they offer a full menu of food. Ducks, located a few blocks from the main square, has a large rustic yet modern interior with an entertaining duck theme.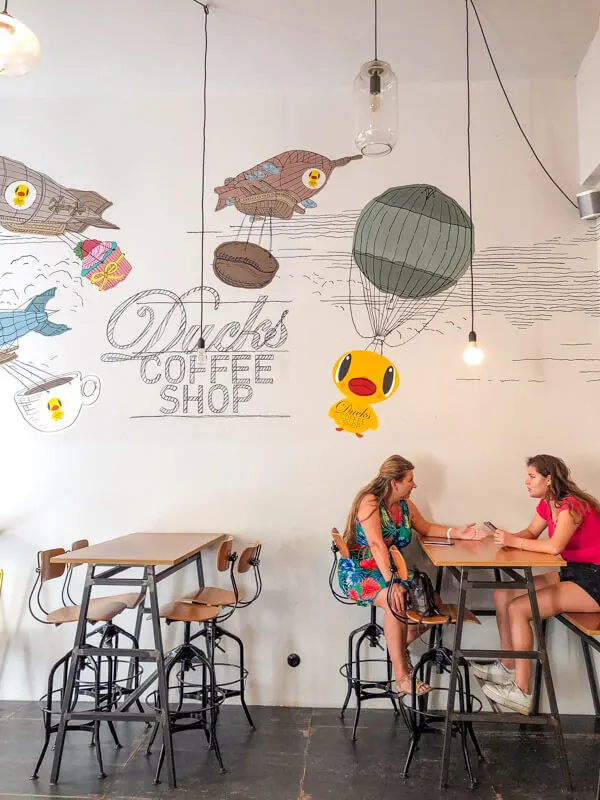 During the warmer part of the year, you'll also be able to enjoy their sidewalk seating area. Like Paul & Bohne, Ducks also roast their own beans, so you can pick up a small bag and enjoy their signature roast after you return home.
BLEND COFFEE Roasters
Joanneumring 3
An equally short walk, south of the Main Square, will bring you to Blend, a modern café on a corner street off of Herrengasse Boulevard. At Blend, you'll find yet another premium coffee that would please the most strict connoisseurs.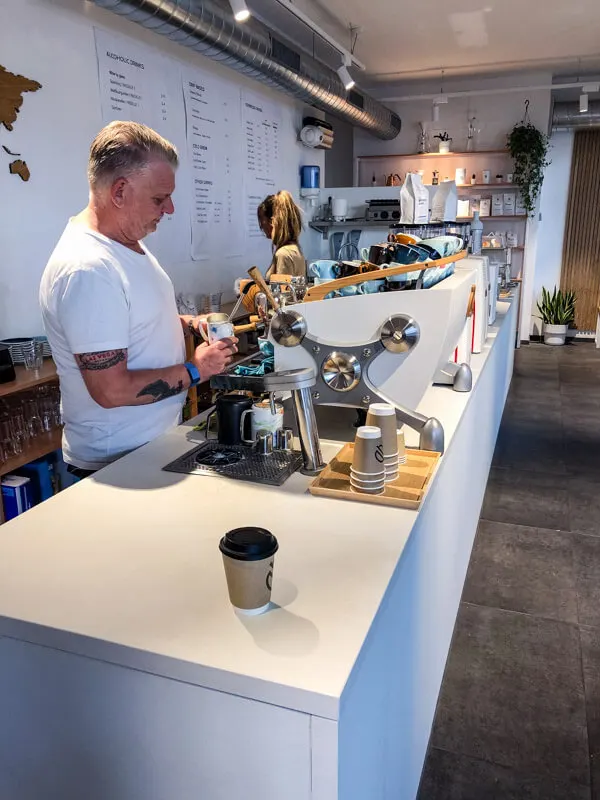 A bright, minimalist interior (resembling a laboratory) is provided for stylish relaxation. They also have a large rooftop seating area so you can enjoy your coffee with an overview of the bustling street scene below.
Blend has a small selection of desserts but serves its coffees in the largest cups – which is a nice bonus.
Kai 36 Cafe and Bar
Kaiser-Franz-Josef-Kai 36
If your first destination for the day is the famous Schlossberg, then I'd recommend stepping into Kai 36 for a fresh cup as it's conveniently located at its foot. This café is closer to the funicular ride entrance than the elevator and staircase, but either way, you're in a good position to get up to Schlossberg.
Kai 36 is a beautiful café, with some of the best coffees in the city – and they also serve delicious desserts and food. Beyond functioning as a café and bar, Kai 36 doubles as a beautiful boutique hotel.
Kunsthauscafe
Südtiroler Platz 2
This one-of-a-kind architectural marvel, which we'll cover later, also houses a full café in Graz including a restaurant with outdoor seating.
In my opinion, the coffee is a small step down from the previously mentioned options, but very satisfying and recommendable nonetheless.
Otherwise, the restaurant serves amazing food for breakfast, lunch, and dinner, and the interior is as stylish and amazing as you'd expect from the Art Museum.
We stopped by at least three times during our four days in Graz, so you can be sure I'm recommending only places we've loved and enjoyed. Their refreshing homemade lemonades are off the hook!
Now that you're properly caffeinated and ready to tackle the day, let's attend to the burning question of what to see in Graz Austria.
Graz Sights
Apart from soaking in the friendly and relaxed vibe of the historical city center and enjoying all of its natural beauty, there are some sights and modern marvels that should be on your Graz itinerary. IMHO, these are the best things to do in Graz and everything in this list is well worth seeing.
The Main Square & Old Town
Your first outing in Graz will probably be a simple stroll to get a feel for the city and find your bearings, which will inevitably lead you to the Main Square (Hauptplatz) within the Old Town (Altstadt) area. It's an ideal first destination for your holiday in Graz.
Graz Old Town offers charming narrow streets that wind through a stunning array of architectural gems including Romanesque, Gothic, Renaissance, Baroque, Neo-Classic, and Art Nouveau. The main square itself dates back to the 10th century when the first buildings were made from wood.
Graz has always been an important trade center and the Hauptplatz has been the hub of it all – even public executions.
In earlier years the Old Town was inhabited by craftsmen and market suppliers of all sorts. By the 15th century, it had become home to nobles and the most respected citizens of Graz, and still remains to be the focal point of life in the Styrian capital.
The beautiful, pedestrian-friendly square is populated by street food stands, and there's often something going on. At the time of our visit, there was a reading area set up right in front of the City Hall, with plenty of books to read provided by a local library.
In order to properly orient yourself, you'll notice that there are two major streets leading from the Main Square – the Sackstrasse, to the north, and Herrengasse Boulevard, to the south, behind the town hall.
Sackstrasse, which is the oldest existing street in Graz, leads north to the Schlossberg. Alternatively, the Herrengasse Boulevard leads south to the Graz Armory. Those two sights are among the first in the list of things to see below.
Additionally, you'll find the visitors' information center next to the Graz Armory, which is also an important place for travelers to step into.
Another tip about the southern Herrengasse direction is that it also leads toward Blend and Ducks Coffee Shop. So be sure to keep those in mind as you're strolling around the area.
Now that we've established a few orientation points, let's focus on the main square itself for a few minutes, then proceed to the most important attractions in Graz.
When you arrive at the main square you'll immediately notice its dominating feature: the Graz Town Hall. Beginning as a modest Town Hall (and prison) in 1550, the building complex has undergone many periods of reconstruction over the following centuries and lost its prison along the way.
The final reconstruction was completed in 1893 and in its grand Historicist-Old Austrian architectural style, the Town Hall remains to be the crowning feature of the Hauptplatz.
Right behind the Town Hall, you'll find the Landhaus, an ornate Renaissance palace built in 1527 with arched windows & a courtyard of arcades. Graz has many stunning courtyards scattered throughout and this one crowns them all.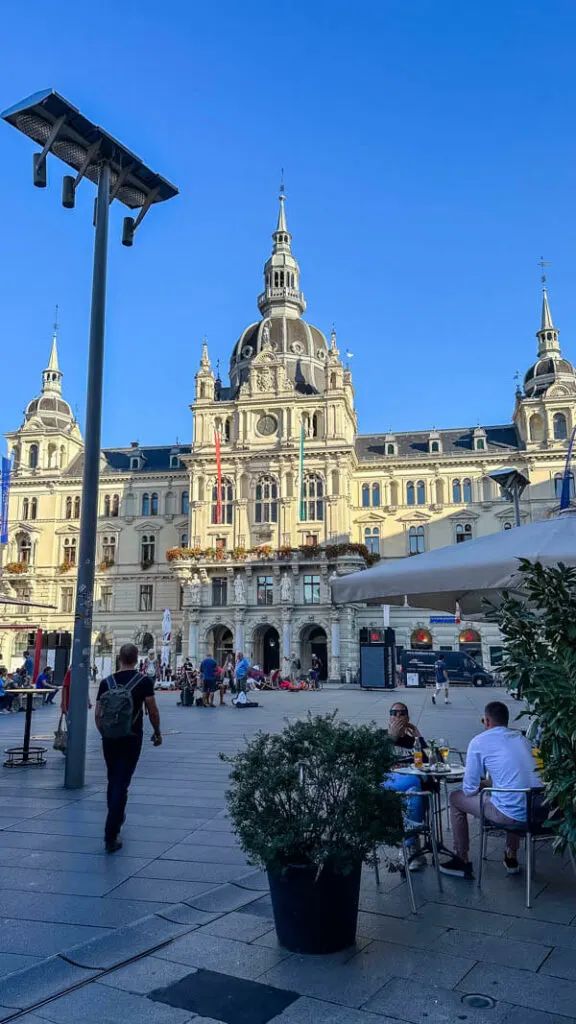 Directly in front of the town hall, you'll come across a statue of Archduke Johann, who contributed to Styrian life in the fields of education, culture, economics, agriculture, and science.
The industrious dedication of Archduke Johann greatly enriched the Styrian region during the early 19th century, and he remains one of the most celebrated and beloved figures in Styrian history.
Everything that has Joanneum in its name, such as the collection of Graz museums or a local university, is named after the Habsburg Archduke Johann of Austria.
Kastner & Öhler
Sackstraße 7–13
In venturing away from the main square, if you head up Sackstraße towards Schlossberg Hill you'll immediately see a large department store (on your left) named Kastner & Öhler.
As amazing as Kastner Öhler Graz is, a department store hardly belongs in the section of must-see sights (especially at the beginning) but it's right next to the square and has a hidden treasure that I wanted to share before moving on to the major sites.
On the top floor of the K&O, you'll find a restaurant with rooftop seating that includes a small lookout point offering great views over the surrounding old town area and the clock tower on top of Schlossberg.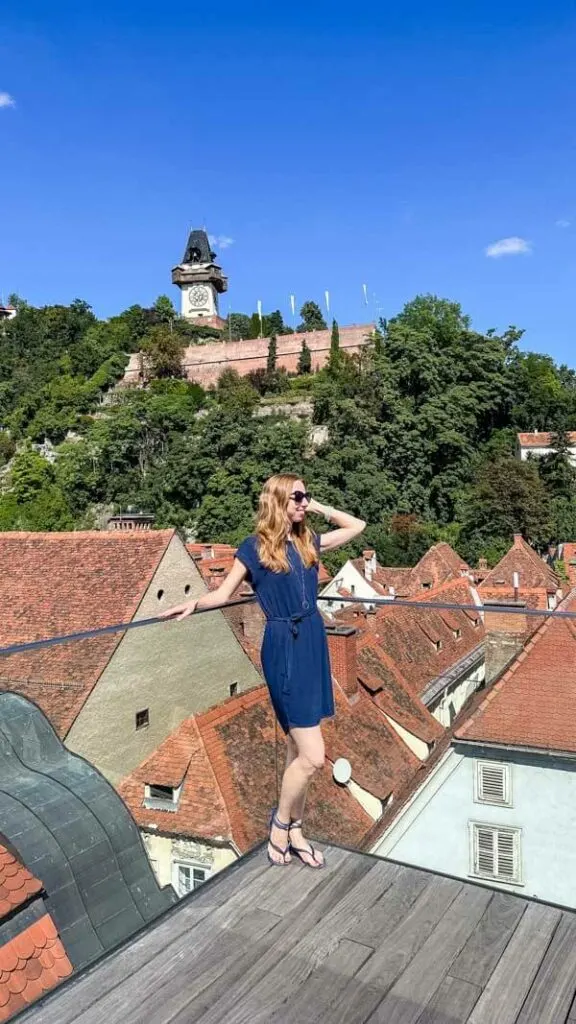 The lookout is free to visit. All you have to do is take the escalators to the top floor, walk outside through the restaurant, and enjoy the spectacular view. I decided to simply take in the view without stopping for food or drinks. Still, the restaurant looked amazing, so you might also opt to press pause and relax there for a while.
Now that you know about that hidden gem, let's move on to the major treasures and important places to see in Graz.
If you continue strolling up Sackstraße, away from the K&O, you'll soon come to the entrance of the Schlossberg, which is undoubtedly the 'largest' attraction Graz has to offer.
Schlossberg
Schlossberg means "castle mountain" and it's the main attraction to visit when you're in Graz.
Situated in the center of the city, Schlossberg is a towering hill, measuring 473 meters (1,552 ft) above sea level. The castle fortress dates back to the 10th century but the castle itself is unfortunately no longer there.
However, in its day, the guardian of the Styrian province served as an impregnable fortress that had never been sieged. A fact that angered Napoleon so much that in the 1809 Treaty of Vienna, between France and Austria, one of the stipulations of peace was that the castle had to be destroyed.
As the command came straight from Vienna, the inhabitants of Graz had no say in the matter, and no other choice but to destroy their castle. So with one explosion after another, the inhabitants had to demolish their beloved castle and carry it all away.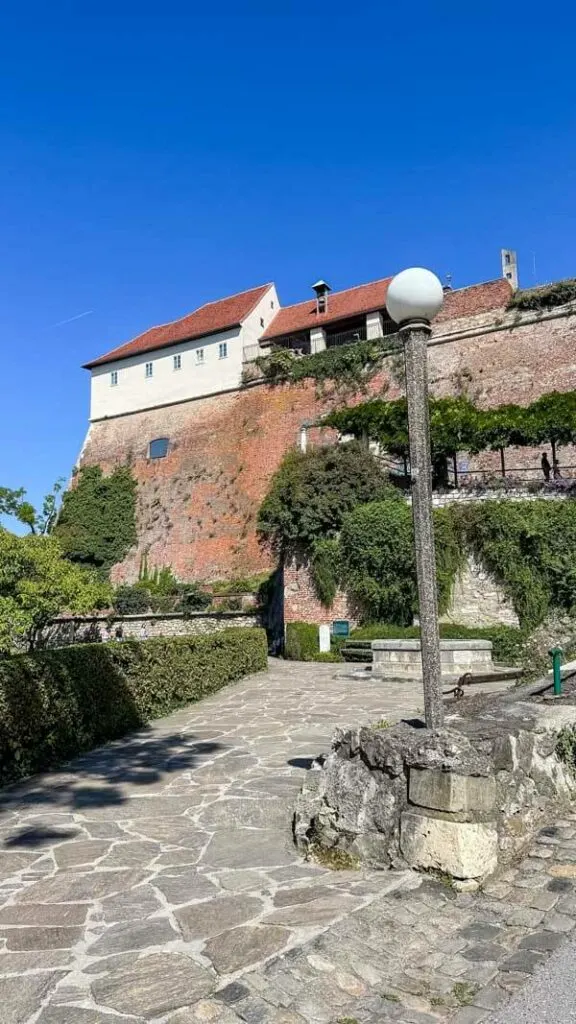 Keeping the castle was non-negotiable, but fortunately, after paying a heavy ransom, the nobles of Graz were allowed to preserve the iconic clock tower (Uhrturm) and bell tower, which also stood within the castle fortress. These landmarks still sit proudly atop the Schlossberg as survivors and reminders of a far more turbulent time.
A small museum on top of the hill will help you imagine the castle and its time with unique expositions.
The Clock tower, or Uhrturm as it's known locally, has been the city's landmark since Medieval times. It may have just 28 metres (92 feet) in height but its position on the edge of the Schlossberg hill guarantees it visibility from nearly anywhere in Graz. Its current look comes from 1560, when it served as a fire watchtower.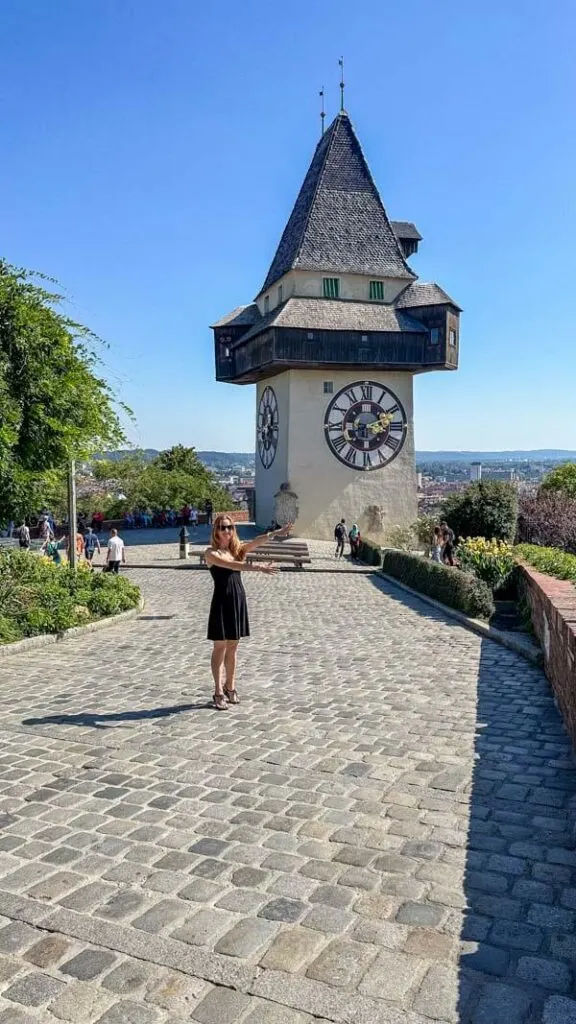 There's another curious thing about it – the hands on the clock are swapped! It's not a mistake, though. The hand for the hour used to be the only one showing the time back in the day so it was as large as possible. A hand to show the minutes was added only later.
In addition to offering unique historical landmarks, the fortress area has been a lush and beautiful park since 1839.
I took a tour of the Schlossberg, which is something I highly recommend. You'll get to go inside the clock tower and the bell tower and you'll learn a ton of interesting facts about the history of Schlossberg.
Also, the tour conveniently ends near a large cafeteria-style restaurant. It sits in the shade of a tree-covered garden that overlooks the city from where the castle once stood. And it's exactly what you want at the top of the hill, a comfortable refreshing oasis with a large menu.
And now, the logistics:
There are 3 ways to get up the Schlossberg and actually 4 ways to get down.
In getting to the top of the hill, you can go the old-school way, which is to climb 260 steps. You can also take an elevator, or ride in a funicular up the side of the hill. While the funicular will take you to the upper part of the hill, near the castle foundation, the museum, and the cafeteria, the stairs or elevator end at the lower part, near the clock tower (Uhrturm).
It seems common to take the elevator or stairs to the lower part of the hill, stroll to the top, and take the funicular down. Of course, you can get down the hill using any of those three methods, but the fourth method is far more memorable and exciting.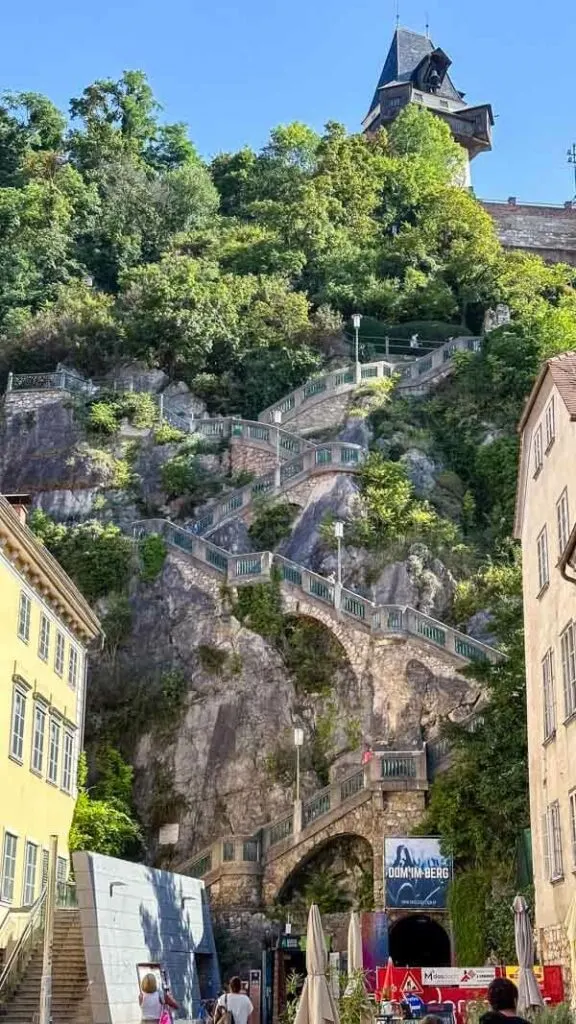 The fourth option is to slide down a metal tube on the Schlossbergrutsche, winding through the mountain, and arrive at the bottom in about 36 seconds. They actually time your ride and show you how fast you went! I was slightly slower at 37.7 seconds. :))
It's just like a waterslide, but in a fully enclosed metal tube where you ascend feet first in a 'bag' that wraps around your feet and extends into a full pad for your back. It was very comfortable and the ride was super fun.
The Slide one of the most thrilling activities in Graz, and in my opinion, it's a must-do experience because, how often do you get to ride down a mountain like that?
Landeszeughaus (Styrian Armory)
Herrengasse 16
With its impregnable castle fortress atop the Schlossberg, Graz has a long history of being the formidable, successful, and proud protector of Austria and Vienna, largely against the French (the ones with Napoleon) and the Ottoman Empire.
Thus, Graz had to excel in creating arms, armor, and everything necessary for a countless number of battles. It was during these periods of war that local gunsmiths and armorers flourished, and in 1642, the armory was built to house the growing arsenal.
Needless to say, the Styrians were experts in the field, and still are. Craftsmen from the current Graz Armory actually still make and maintain ceremonial armor for the Swiss Guard of the Vatican. Of course, those pieces aren't available for viewing, but what is available is a massive collection of medieval armor, the likes of which you can't come across elsewhere.
The Graz Armory, located south of the main square, contains over 30,000 pieces of armor and medieval weaponry, spread out over 5 floors. Every inch is packed with a dizzying array of shiny battle relics from the 15th to the 19th century.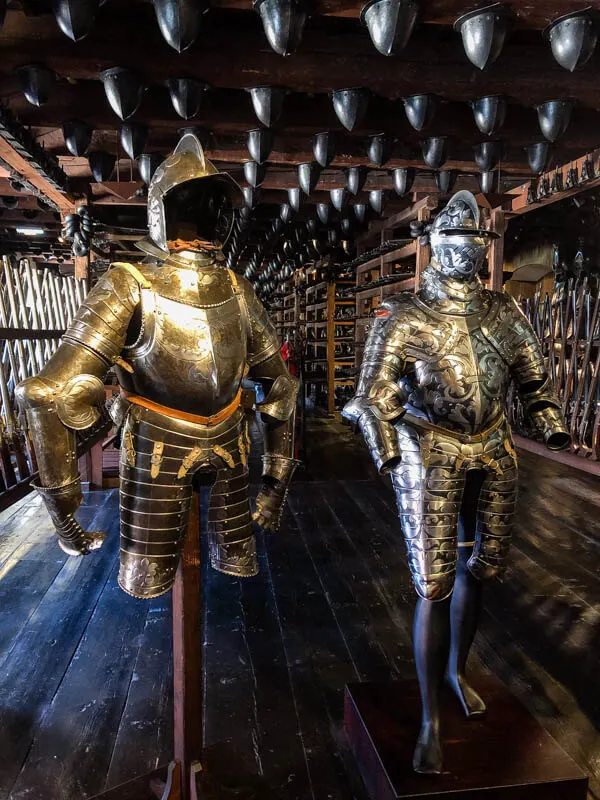 The enormous collection includes over 3,000 pieces of armor, almost 8,000 guns, over 5,000 pole arms (pike weapons), and over 2,000 swords. I think the Armory is one of the best places to visit in Graz and it definitely shouldn't be missed.
While it is possible to see the armory without a guide (from April to October; otherwise only on a guided tour), I strongly recommend you book a guided tour at the Graz information center, conveniently located right next. The admission price is well worth all of the fascinating information you'll be provided with.
Without it, you'd just be walking around a bunch of metal objects without knowing the stories behind them. And that would be a shame!
Kunsthaus Museum
Lendkai 1
The clock tower, atop Schlossberg, is no doubt the most iconic historical feature of Graz. And then there's the Kunsthaus Art Museum – to provide a beautifully stark contrast. In fact, its design is so futuristic that it's been nicknamed the "Friendly Alien."
The Kunsthaus Museum, designed by London-based architects, was unveiled in 2003 when Graz was appointed the European Culture Capital. Situated next to the Mur River, it has an unusual and irregular shape with an exterior consisting of shiny blue acrylic panels.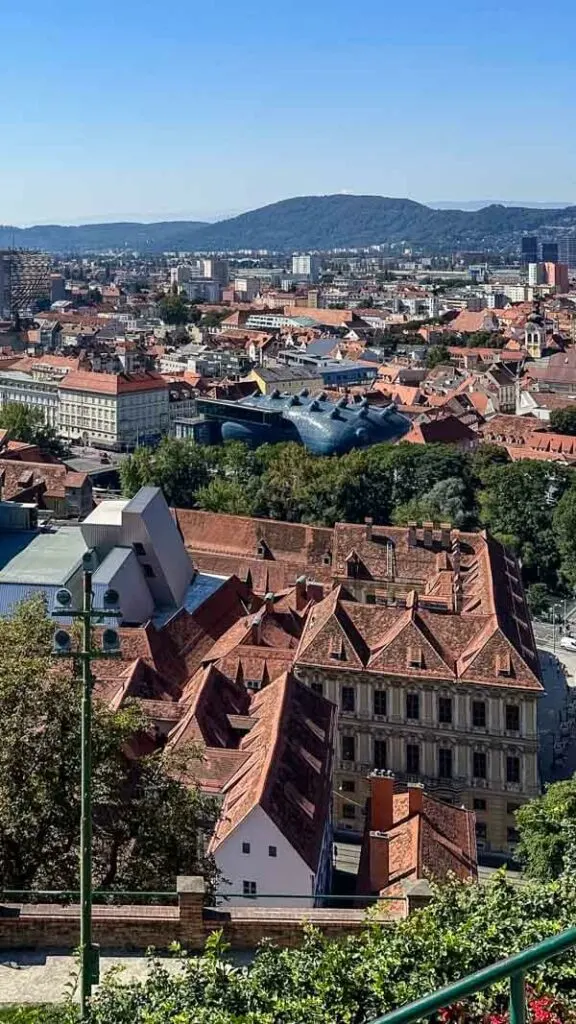 From the museum's roof, tube-like nozzles stick out towards the sky. This strange and colossal work of modern art naturally vividly opposes the surrounding baroque buildings and their classic red-tiled rooftops, like an invading alien.
Its architectural style falls into a category known as Blob Architecture, which is a non-standard style, consisting of free-form curves and biomorphic shapes resembling living amoeba-like things.
The proud otherworldly landmark shines brightly each evening as its outer 'skin' can also change color, and display unique patterns and messages. The museum itself contains 11,100 sqm of space dedicated to contemporary art productions and also houses one of the more popular restaurants in the city on its ground floor.
At the time of my visit, the museum was being prepared for a new production to begin within a few days, so I didn't get to see an exhibition. However, visitors can always take an elevator (or stairs) to the top of the museum and walk through the upper floor, which provides an up-close inspection of its 'skin' and charming views of the city.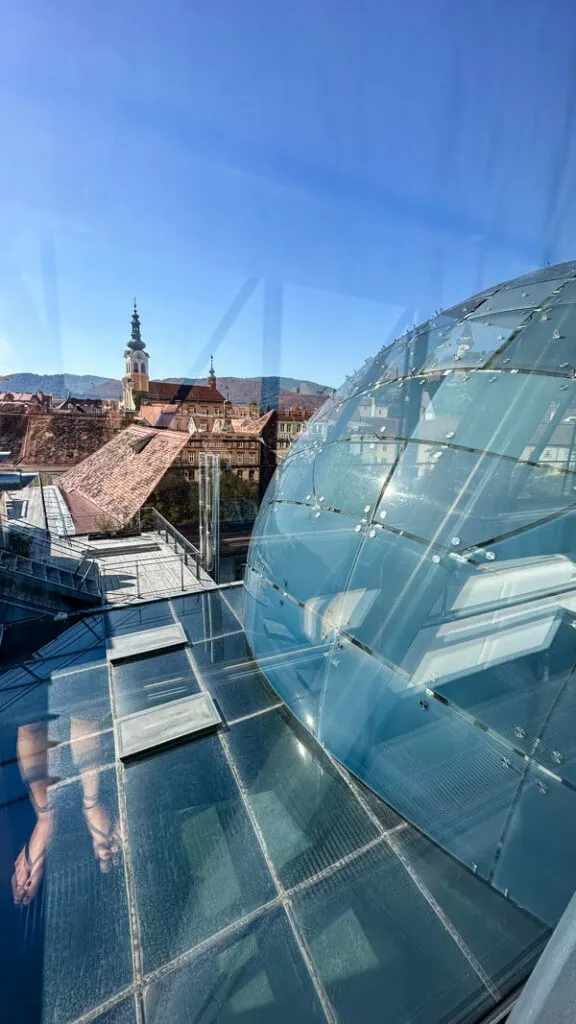 The Kunsthaus Museum acts as a bridge between the past and the future and despite its out-of-place appearance amongst its old-world surroundings, it seems to have been well received and made to feel at home on the bank of the River Mur.
Murinsel (Mur Island)
Lendkai 19
Spoiler alert, the Mur Island Graz is not an actual island but a manmade work of art, created with steel and glass, resting in the middle of the Mur River.
Like the Kunsthaus Museum, the Murinsel was also unveiled in 2003. Designed by an American-Italian artist Vito Acconci, the vision was for the 'island' to resemble a seashell. Therefore, the shape of the island's structure morphs between a dome and a bowl.
The dome covers a futuristic café and the bowl houses an outdoor theatre and seating area.
All areas of the Murinsel are free to the public and the island is connected to both river banks so, at the very least, it's the most interesting river crossing in Graz.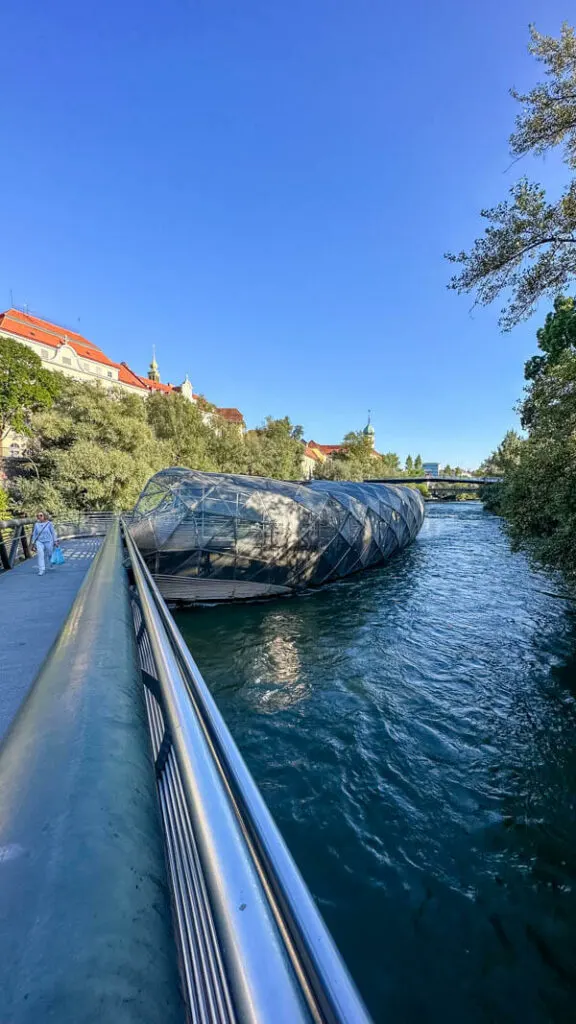 During the evenings the island becomes illuminated with iridescent blue lighting across its shell, providing a beautiful and unique contrast to its daytime look – so make sure to pass by in the evening as well as the daytime.
I stopped into the Murinsel café during an afternoon break and, even though their coffee wasn't the best, I fully enjoyed the uniqueness of the interior. The bathroom was especially interesting with its curved and mirrored space, making one almost dizzy.
The Mur island is an extremely unique work of art and is definitely a must-see while in Graz, even if it's just to get from one side of the river to the other.
Citypeach (City Beach a.k.a. Pop up Bar)
Erzherzog-Johann-Brücke (under the bridge)
If you're visiting Graz during the spring and summer months, you're in for a special treat with a live outdoor music and party space right on the bank of the river. The Citypeach is located under the Erzherzog-Johann-Brücke bridge, which is just two bridges down from the Mur Island or a few minutes walk from the main square.
During my trip in September, there was live music and vibrant crowds every night. Casual onlookers can even enjoy the show from the bridge above. So you can either go down to the river bank, get a drink, and fully enjoy the scene, or just pause for a few minutes and watch the action from above.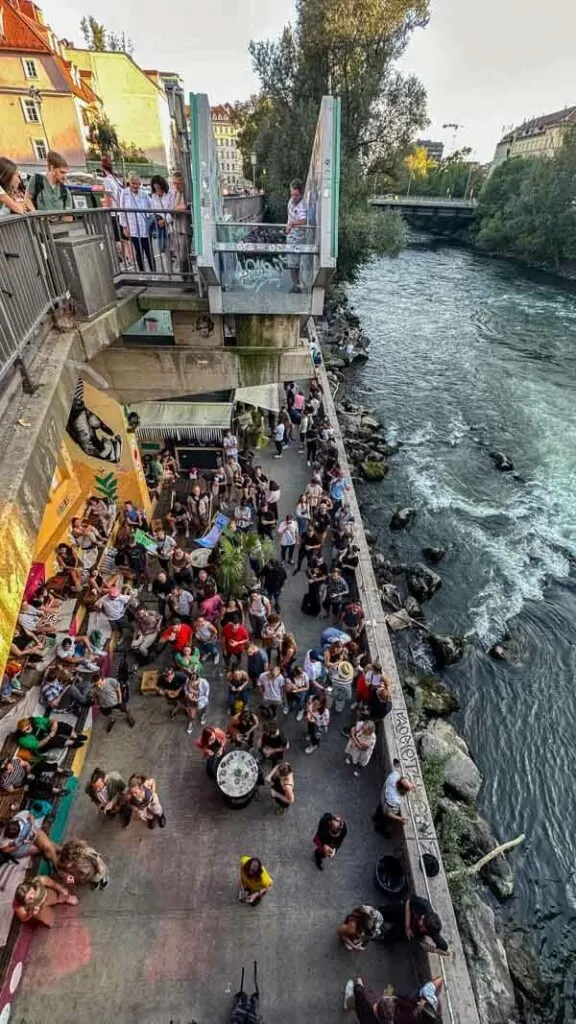 We made sure to walk past the Citypeach each evening to check out the scene, and it was always a happening. If you want to see what kind of events they host, just check their Facebook page.
Glockenspiel (Carillon)
Glockenspielplatz 4
The Glockenspiel (Carillon) is another of Graz's more popular sites that you should include in your old town stroll.
The Glockenspiel is a musical clock that offers passersby a charming show of song and 'dance.'
The performances occur 3 times per day at 11am, 3pm, and 6pm. The show itself consists of 24 bells that chime in the hour while figurines of a man and a woman, in traditional dress, spin around in front of their onlookers.
Once the dancers have finished, the music winds down and a golden rooster, sitting atop the clock, crows his thanks for stopping by to watch the show.
The Glockenspiel Graz has been delighting onlookers since Christmas Eve 1905. The building that houses the clock was owned by an international dealer of wine and spirits named Gottfried Maurer who traveled extensively throughout Germany and Belgium.
During his travels, he became fascinated by the carillons he encountered, so much so that he built his own in Graz. He was especially inspired by a golden rooster that he saw in Munich and added his own as the crowning element to his masterpiece.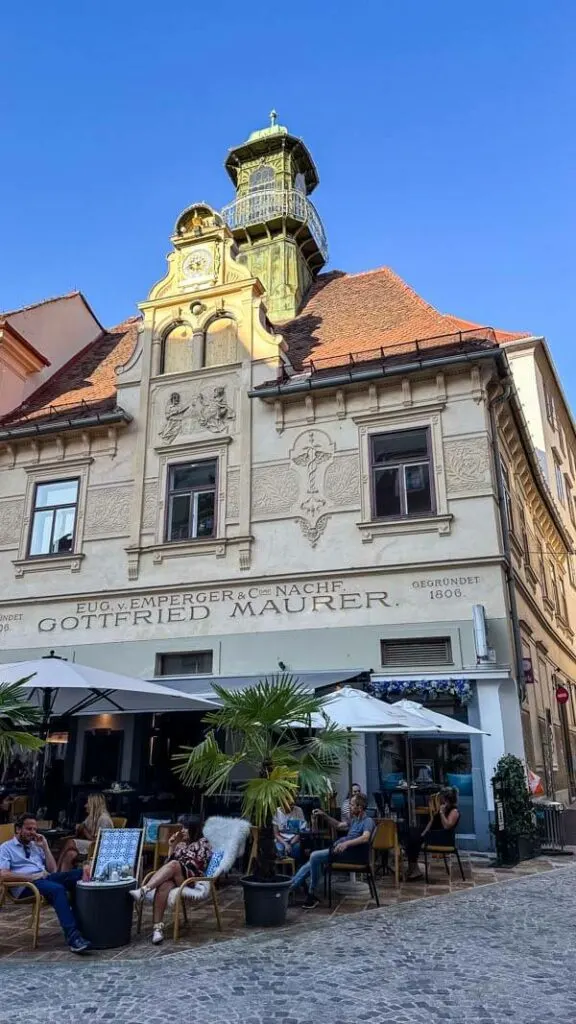 While the dancing figurines and the golden rooster serve as constant features, the bells alternate between a variety of different tunes to keep them fresh.
It's definitely a charming experience that you should catch when you're in the old town area.
Just be aware that the whole performance lasts about 10 minutes and you might not even hear the rooster crow – it's pretty quiet. Remember, this masterpiece is over 100 years old! I suggest you take a seat at the Glöckl Bräu Restaurant, order a glass of beer or a Styrian bite, and watch the show from there. ;)
Double Spiral Staircase, Graz Castle, Cathedral and Mausoleum
A short stroll east from the Glockenspiel will bring you to the Graz Castle and its Cathedral and Mausoleum.
Graz Castle (Grazer Burg)
Hofgasse 15
From the year 1438, the castle served as the seat of the Inner Austrian Archdukes until that post was moved to Vienna in 1619. Afterwards, it fell into disuse and decay. It was finally demolished in 1853, after centuries of attempts to preserve the structure.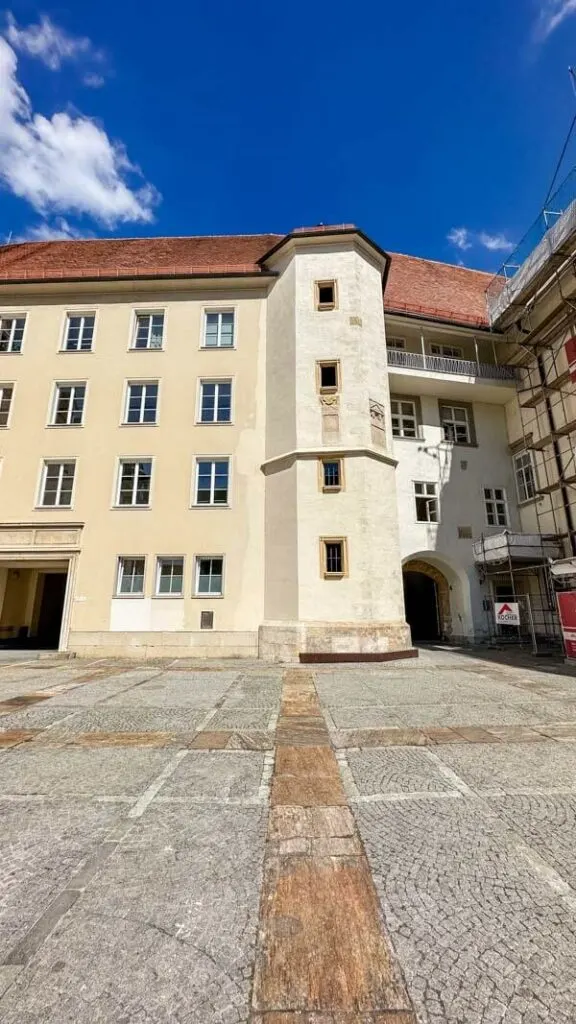 Therefore, the 'castle' as it stands today doesn't look much like a castle. In 1950 a complex of modest buildings were constructed in its place that now serve as government offices. However, a few ancient remnants of the castle were preserved, as well as one of the most popular attractions – the double spiral staircase, built in 1499.
Double Spiral Staircase (Doppelwendeltreppe)
Burggasse 3
This unique staircase is a fun sight to visit that won't disappoint. Also called the "stairway of reconciliation," the construction consists of two staircases that merge together.
They were made with sandstone and offer an immaculate display of craftsmanship that has stood the test of time, just waiting for your visit. The staircase tower is located within the courtyard of the new castle and it's free for visitors to climb and photograph.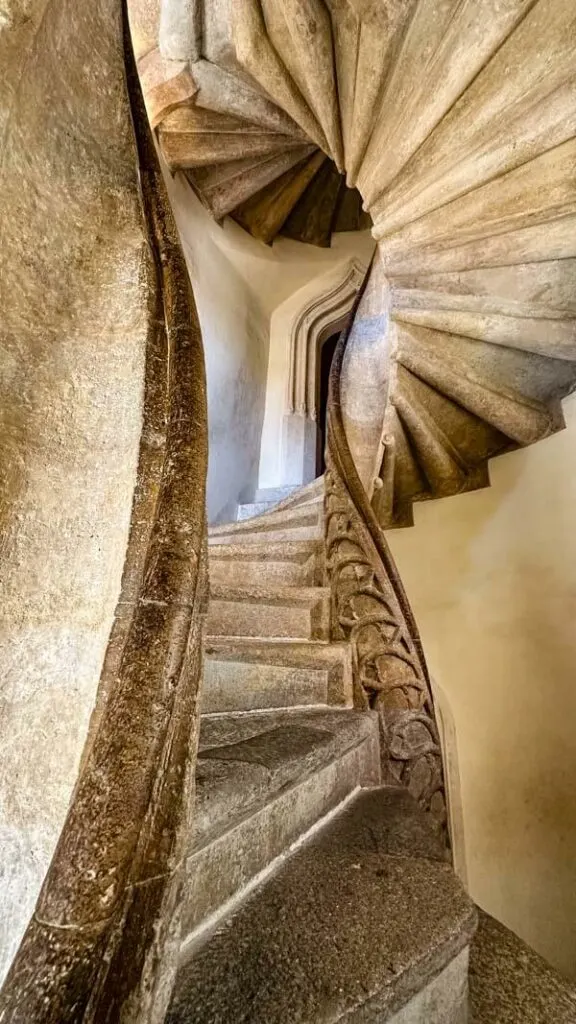 It's said that if you're with your loved one, you should kiss him or her in the tower doorway before you leave. So with the right person by your side, it can also be a romantic adventure. :)
Graz Cathedral (Grazer Dom)
Burggasse 3
Directly across the street from the castle, you'll find the Graz Cathedral, which, unlike the castle, has retained its full architectural grandeur.
The Graz Cathedral, or Grazer Dom, was built more than 500 years ago by Emperor Friedrich III. Inside, you'll find beautiful stained glass windows and a big altar that create a calm and peaceful atmosphere.
At the time of our visit, it was a bit busier due to an ongoing renovation but I'm sure that'll be done by the time you come for a visit. :)
St. Catherine's Church and Mausoleum
Bürgergasse 1
The mausoleum and church located right next offer a beautiful representation of the Italian Renaissance style and were designed to be the final resting place for Emperor Ferdinand II and his family.
The complex was started in the early 17th century and took about 100 years to complete.
Altogether, they represent some of the most important buildings in Austria from that period. The interiors are even more amazing than their exteriors – and definitely shouldn't be missed.
Eggenberg Palace
Eggenberger Allee 90
The Eggenberg Palace is located a short 15-minute ride outside of the city and is accessible by tram line 1, which conveniently runs through the center of Graz.
Now a UNESCO World Heritage site, the palace was built in 1625, also during the rule of Emperor Ferdinand II. It's the most significant palace in the Styrian region, complete with scenic gardens and a surrounding park.
The Baroque construction is uniquely designed around the seasons and time. For example, there are 4 towers for the 4 seasons, 365 windows, 31 rooms on each floor, and 24 staterooms.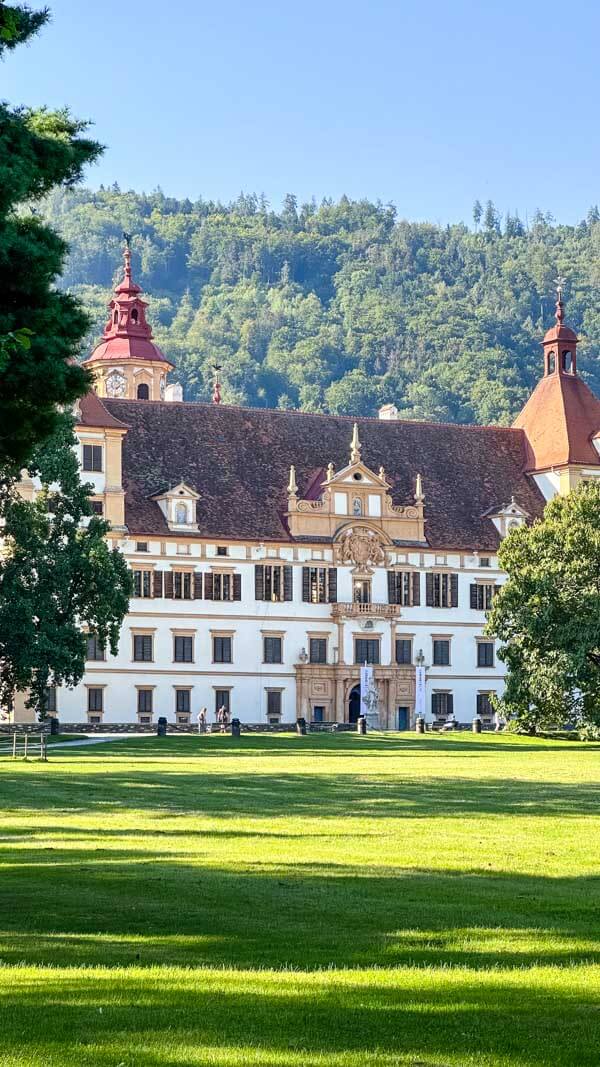 A tour of the staterooms is available so you can experience them as they've been since the 18th century, with their original furniture, tapestries, decorations, and stately adornments. The ceilings are especially valuable, though, as they contain 17th-century paintings.
You can visit Eggenberg's staterooms only on a guided tour, which I highly recommend! You won't be able to take any photos (thus, I have no photos to show you here) but it's worth experiencing the beauty with your own eyes.
Graz Card
Of the sights listed above, the Graz Armory, Kunsthaus Museum, Schlossberg Museum and Eggenberg Palace all require entrance fees and I was prepared for them with the Graz Card, which provided significant savings.
In addition to those important sights, the Graz Card can also be used for riding up the Schlossberg (in both the elevator and the funicular), using public transportation, select museums, and other sights you must see in Graz.
The 24-hour Graz Card is available for 26 €, then there's also a 48-hour card for 34 € and a 72-hour card for 39 €.
I highly recommend the Graz Card for all budget-savvy travelers, who plan to truly explore Graz and get inside its many fascinating buildings and structures.
Dining Out
After an adventurous day of discovery, we have to recharge, talk about the highlights of the day, and plan the next one. All of that is done best over a satisfying dinner in one of the many excellent restaurants in Graz.
With that said, it's time for my top culinary recommendations in Graz, so let's dig right in.
Lend-Platzl Guest House
Lendplatz 11
For my first recommendation, I have to send the love to my home base, the Lend-Platzl Guest House. Long before the Lend-Platzl turned into a hotel it was a restaurant, and a very popular one among locals. Each evening, as I stepped into my room around early dinner time, the garden restaurant was already filling up with groups of families and friends.
Their classic Austrian comfort food made with exceptional Austrian quality, seems to really resonate with the locals. It's also located directly across the street from the market square, with all of the evening merriment, making it a lively spot to relax.
From my list of recommendations, Lend-Platzl offers the most authentic Styrian cuisine in the most authentic atmosphere.
A little tip – make sure to taste something with their homemade pumpkin seed oil!
Dreizehn by Gauster
Franziskanerplatz 13
My 'fine dining' experience in Graz was at Dreizehn (Thirteen). It's located a short walk from the main square and is absolutely flawless.
Each table was provided with delicious and perfectly baked homemade bread along with a bowl of shrimp-flavored chips and several tasty spreads – one with cream cheese and the other with truffle oil. It's a great way to start the meal and whatever you choose to have afterwards will surely be just as delicious.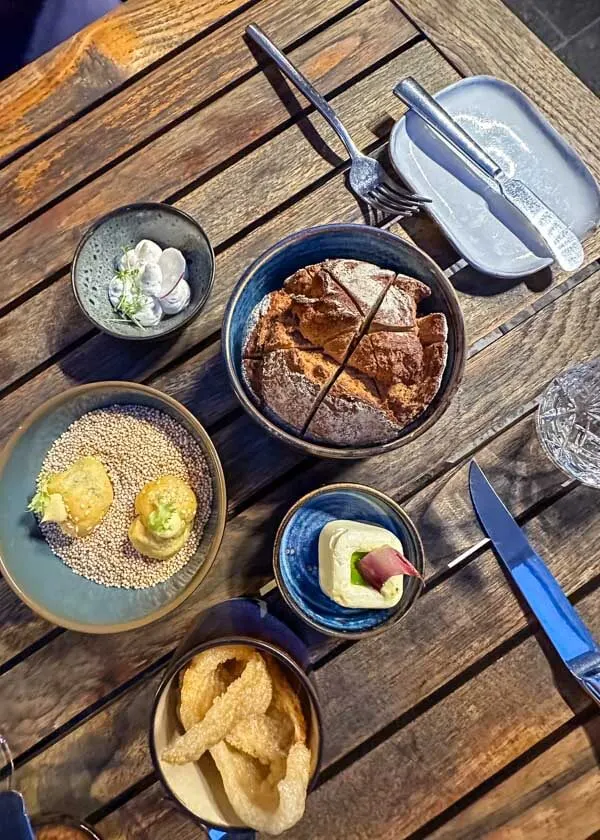 My husband and I opted for the truffle ravioli and the roasted duck and they were both amazing. A dining experience at Thirteen will be one of those meals you remember with fondness long after you return home from your trip.
Glöckl Bräu
Glockenspielplatz 2-3
The Glöckl Bräu is located in the Old Town of Graz, at Glockenspielplatz, next to the previously mentioned Glockenspiel clock. Since the clock provides shows at 11am, 3pm, and 6pm, your visit might align with your lunch, afternoon snack, or dinner schedule.
We went to the 6pm show and afterward, straight to Glöckl Bräu, which is almost directly under the clock.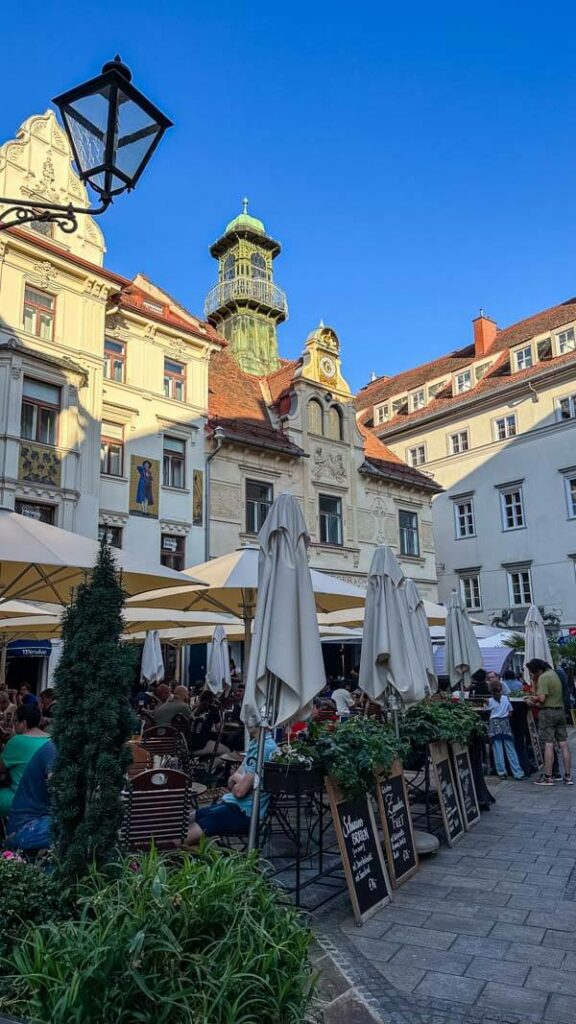 The Glöckl Bräu serves Austrian food with several modern options surrounded by a vibrant city center vibe. The beers were excellent, the service was awesome, and I highly recommend them.
If they're too full at the time of your visit or if you want to explore other options there are many good restaurants in the surrounding areas. The old town is literally crawling with garden restaurants in the warmer months which makes for a fun and lively atmosphere.
Indie Burger
Sporgasse 6
This burger place was so tasty that we (mostly my husband) had to stop by 3 times during our 4-day trip. Once for a meal and twice for light lunch or afternoon snacks.
It's conveniently located right off the main square so that made it even more irresistible.
The Indie Burger is relatively new in the city of Graz. They opened in December 2022, and once we discovered it, it quickly became our favorite stop-in.
The owner is super friendly and took the time to tell us about their offer, which currently includes 2 burgers: a smash burger and a rainbow burger, the latter being a vegan version of the former.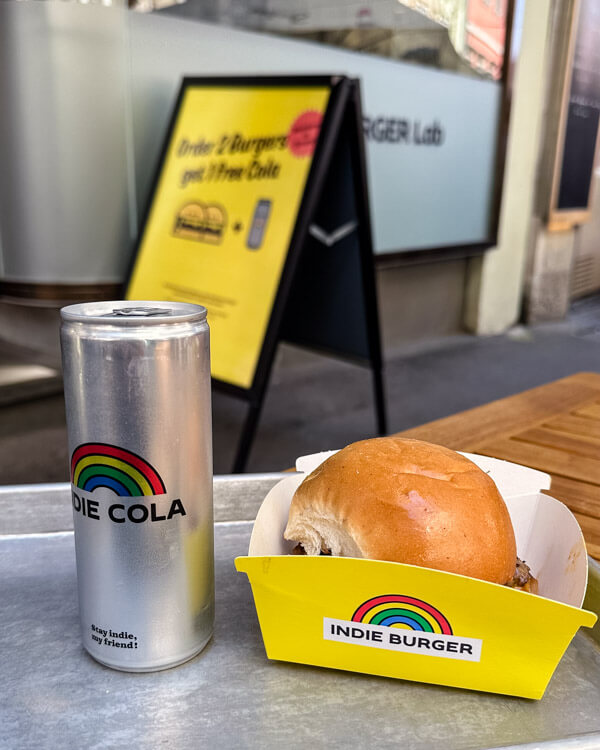 With their easy ordering terminal, you can add extra burger toppings as you like. Otherwise, they have delicious fries and their unique dessert option is a fluffy donut, which comes with a selection of topping choices.
Indie Burger keeps it simple and super high quality. Whether you want a quick bite on the go or a more substantial meal, you won't be disappointed. All that in a beautiful establishment spread on two floors.
Kunsthauscafe
Südtiroler Platz 2
In addition to being one of my recommended coffee spots, the Kunsthaus Museum is also a full-on restaurant destination. I didn't order food during my visits there, but the menu, as well as the dishes that I saw being served, looked very enticing.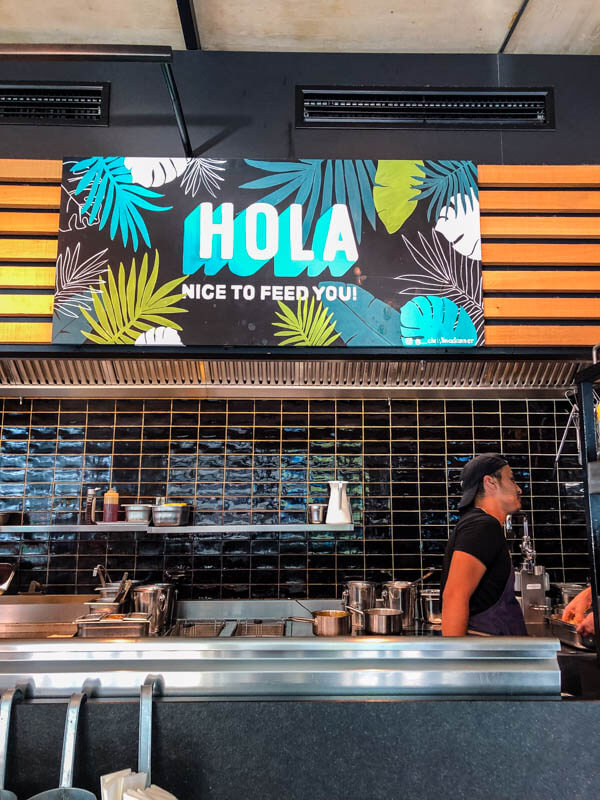 You can only eat so much in one trip, but I've got my eye on Kunsthaus for a meal during my next venture to Graz.
The Hungry Heart
Mariahilfer Str. 23
The Hungry Heart came highly recommended by Su, my local friend in Graz and it's located in my favorite Lendplatz area.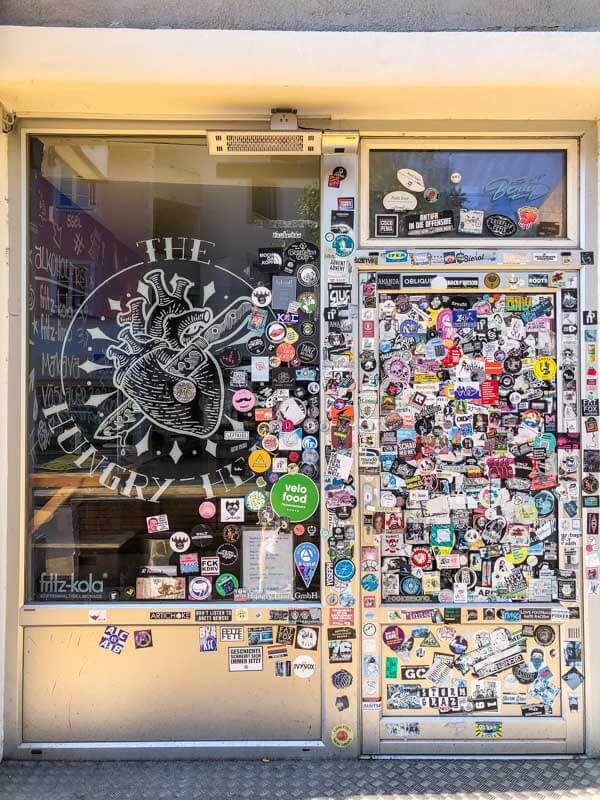 I stopped by to have a look at their menu and took a few photos, but in the end didn't make it back for a meal. It looked like a great place with excellent street food featuring mostly burgers and hotdogs, so I'll pass the recommendation forward, and keep it in mind for my next trip.
Hofbäckerei Edegger-Tax
Hofgasse 6
Lastly, a desire to grab a quick bite to eat anytime during the day, especially in the morning, could lead you to the oldest of bakeries in Graz that has existed in this exact location for over 450 years!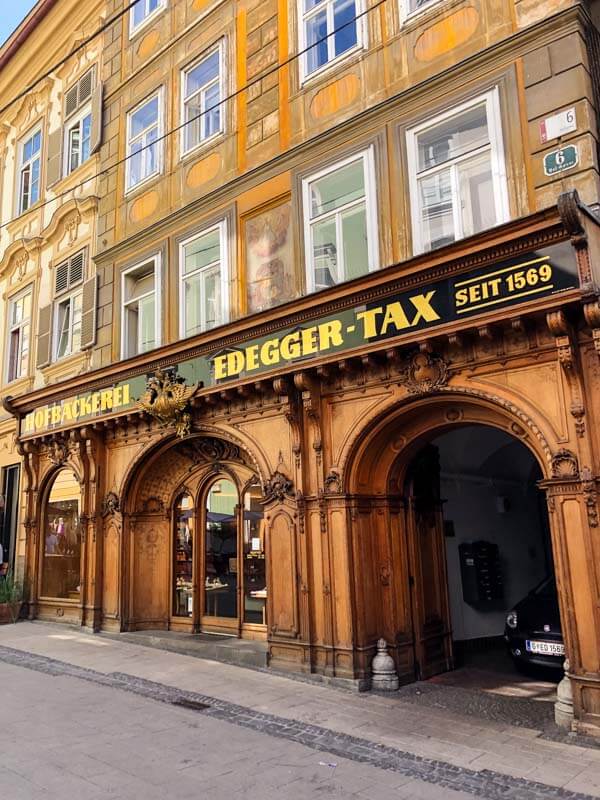 I tasted a sweet pastry called Mandelecke (Almond 'corner') – it was rich and delicious, and oh-so-satisfying. Exactly what my sweet tooth craved.
Getting to & around Graz
Austria's second largest city is actually quite easily reachable. You can fly into Vienna and take a direct train (2.5 hrs).
Except from Vienna, there are also these direct train connections to/from Graz:
Ljubljana, Slovenia – 3 hrs
Zagreb, Croatia – 4 hrs
Salzburg, Austria – 4.5 hrs
Brno, Czech Republic – 5 hrs
Budapest, Hungary – 5 hrs
Innsbruck, Austria – 6 hrs
Prague, Czech Republic – 7 hrs
Zurich, Switzerland – 9.5 hrs
From the train station, you can take a tram or a bus to wherever in town you need. It's also walkable and you can reach the city center on foot in about 30 minutes.
Graz city center is extremely pedestrian-friendly and nearly everything mentioned in this post is nearby. Except Eggenberg Palace, which you can get to on a tram.
I don't recommend exploring Graz by car as you really don't need it there and would have to deal with parking. Central Graz hotels don't have parking facilities and you'd have to leave your car in a parking garage.
This concludes my recommendations for your visit to Graz. You can see there really is a lot, and I haven't covered absolutely everything.
Above all, I want to highly recommend planning for a minimum (!) of 2 days. 4 days was an excellent amount of time for my husband and I to visit Graz.
During that time, I even managed to get out of the city for half a day and explore the green surroundings of Graz. And there's plenty. The Alps start near Graz and you can easily go hiking with magnificent views. Think forests, green pastures, and curious cows. One such pretty area lies in the hills above the village of Übelbach, which is easily accessible by train.
If you really really can't spend several days there and are wondering about what to see in Graz in one day, then I'd suggest starting at the top of the list of Graz sights and going down from there. And planning another trip, of course!
I can't wait to hear about your trip so please leave a comment after your visit and let me know if you loved Graz as much as I did – and why!
Veronika of Travel Geekery was able to explore Graz thanks to a cooperation with Graz Tourism Board. All views are her own and unbiased.