This post is also available in:

Čeština
Renting a car in Oman is by far the best way to get around this gem of a country. And an easy one, too. Driving in Oman is a breeze and quite enjoyable for anyone who likes to be behind the wheel.
I drove nearly 2,000 km in Oman in February 2022, assisted in the rental of three cars in Muscat International Airport, and collected some additional tips from friends who've visited Oman repeatedly.
As I haven't driven abroad much, I was quite anxious and tried to pay attention to every little detail.
I've collected all the theory and practice and created this guide. Let it be your ultimate go-to when it comes to hiring a car and driving in Oman.
And please – do let me know if there's any information missing.
Renting a car in Oman
You need to know ahead that pretty much all car rental companies in Oman require a credit card to rent a car. A debit card is not enough. It seems to be a specific requirement to hire a car in Oman.
If you don't own a credit card, get yourself one specifically for the trip – it will save you a lot of hassle.
I did manage to get a car on a debit card but there was a lot of negotiation and it's not guaranteed you'd end up with a car. The rental car company has the right to refuse the rental.
Booking your car hire in Oman
When booking your car, be clear about where you'll want to go with it. E.g. if you intend to drive to the Hajar Mountains, you'll need a 4×4. On the way to Jebel Akhdar, there's even a police checkpoint to ensure that you have a 4×4.
Similarly, notifying your chosen car rental company of your planned Oman itinerary will allow them to prepare the car properly for you. Ours was modified to have slightly deflated tires because we did quite some off-roading.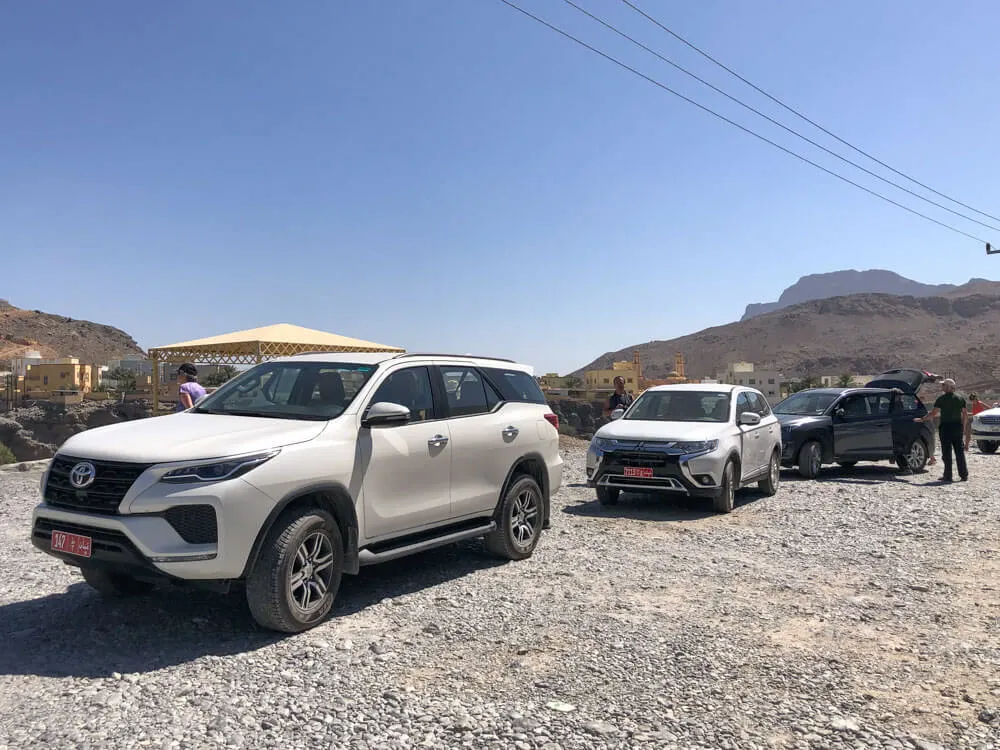 Standard insurance (collision damage) is typically included and each company has its special add-ons – e.g. personal insurance, insurance for off-road usage of the vehicle, or insurance for crossing the border and driving to the neighboring United Arab Emirates.
As always, don't forget to read the small print before you commit.
You should absolutely book your car in advance, sometimes there are long lines at the Muscat International Airport car rental even very early in the morning.
Oman car rental companies typically have a cap on how many kilometers you can drive. Ours had 200 km/per day as the limit.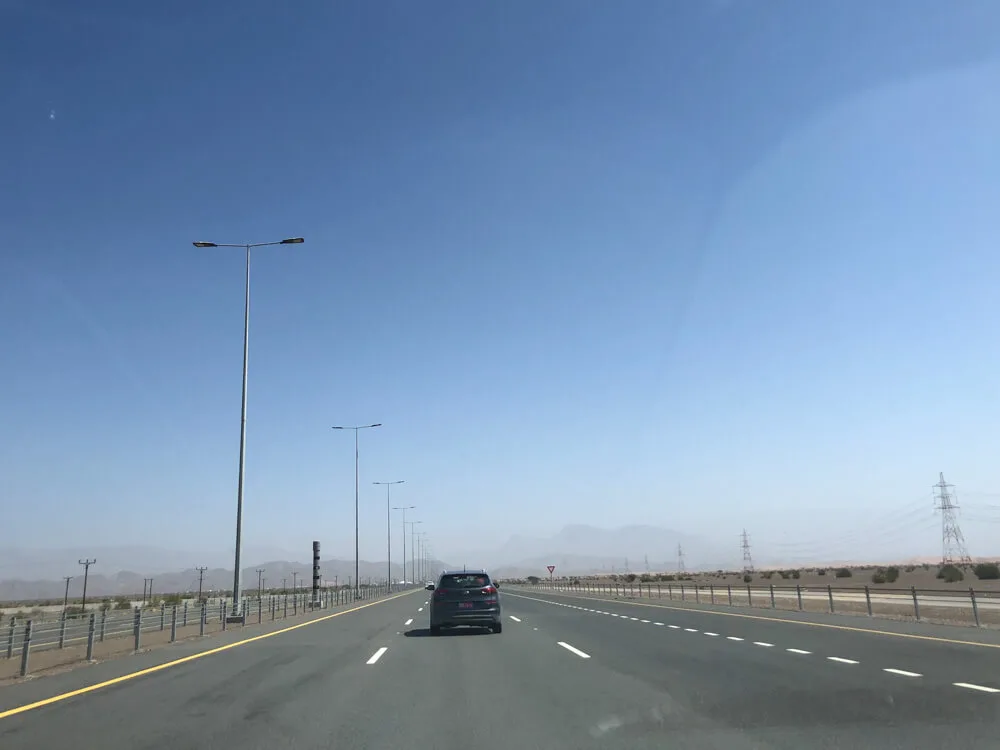 What's the Oman car rental price? That differs majorly, of course. But to give you a ballpark figure, for a 5-seat SUV 4WD, you can expect to pay about 180 rials ($465) for a week. Having a strong car like that not only gives you the peace that you can drive almost anywhere, but also the joy of letting the engine roar like a lion when off-roading.
If renting a small compact car that's not a 4×4, count with about half of that price. If you plan to stick to the main cities, visit the coast, and some wadis, it's sufficient. A friend of mine managed to drive a 2WD even to the starting point of the balcony walk in Wadi Nakhr Canyon (Jebel Shams) – with a few km on an unpaved road. It's risky, though.
Choosing the right car rental in Oman
Generally speaking, you need to anticipate the possibility that no matter what car you book, you may get a different one. Unlike elsewhere, though, here it can go either way – you can even get a smaller/worse car than you ordered.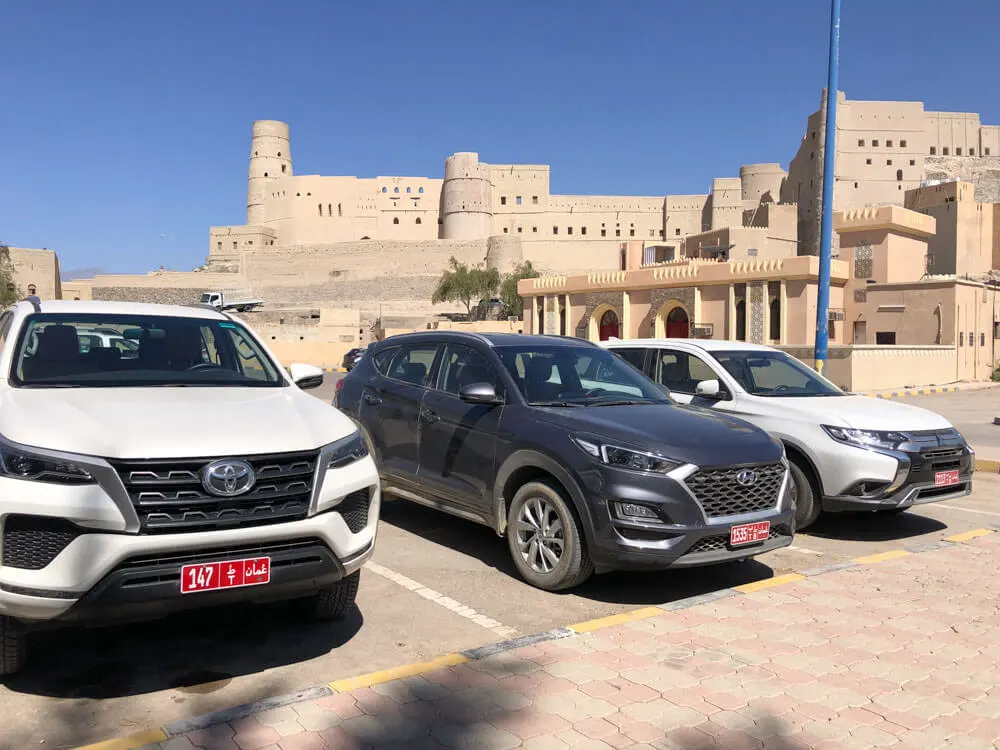 After experiencing some discrepancies between the cars we received and what we reserved, I'd go for a well-known international provider next time. We were a group and needed 3 cars, all rather spacious and all a 4×4.
You can go with Hertz, Sixt, Europcar, Budget, Avis – all have counters at the Muscat International Airport so you can rent your car straight from the get-go. They are there 24/7 – there's no reason not to rent a car in Muscat Airport.
If you're after the best deal, you can also use this car rental search engine for Oman.
Your car rental Muscat will most likely provide you with a vehicle with an automatic transmission.
Pickup of your rented car
You'll come to the counter and hopefully, you'll get what you booked and there will be no surprises.
You'll then be taken to the car park where all the rentals are waiting.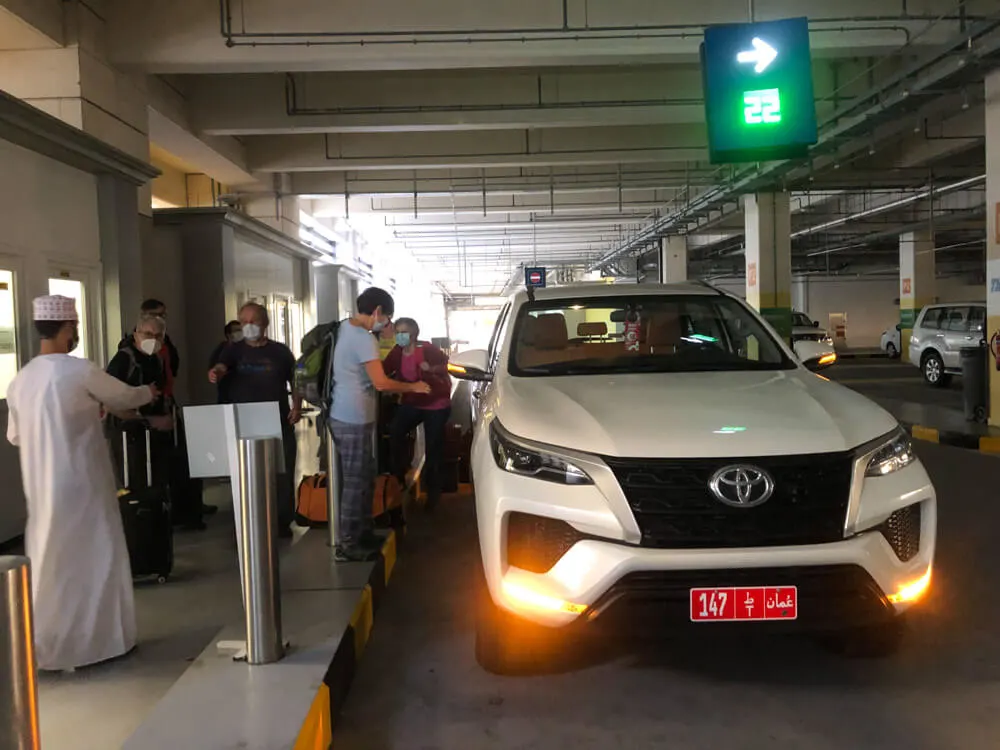 Make sure to take photos of the car before driving it, especially if there are any scratches or other visible damage. Photograph also the fuel levels and the mileage.
Returning your car
You'll need to return the car with the same fuel level as when you got it.
Also, something most tourists are not used to – you're responsible for returning a clean (!) car. Both inside and out.
If you drove on asphalt roads only and didn't go off-road, it might be enough to just use a quick and easy mobile cleaning, which is available at the parking lot of every Lulu Supermarket. It costs only one rial.
However, once the car is covered in dust and the mats inside are dirty, you need to deploy a higher caliber cleaning. :) Have your car cleaned at a gas station with a car wash.
We used a car wash at Omanoil in Muscat near the Muttrah quarter. A group of Bangladeshi workers did a fantastic job getting the car clean in about 20 minutes for only 4 rials.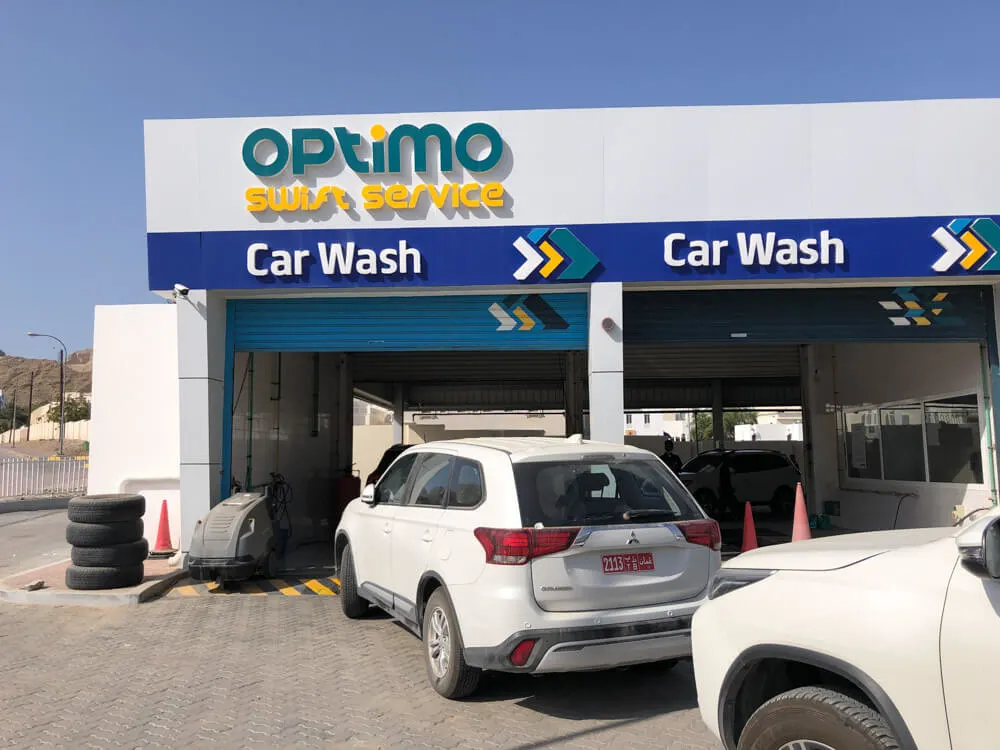 Of course, you should read the small print of your car rental contract.
Take photos again – of the car and the mileage and fuel levels.
Recommended Travel Insurance
When planning travel, make sure you never forget to set up your travel insurance.
If you're unsure, check out my review of SafetyWing travel insurance. It's great for any trip longer than 5 days!
It can be arranged even if you're already on the road. It's affordable, too – the price starts at $42 for 4 weeks.
Driving in Oman
In Oman, the standard driving on the right is the norm. Overtaking takes place on the left. Making a right turn on a red traffic light is prohibited.
The first thing you'll notice when driving Oman is the sheer amount of speed bumps. I've never experienced so many!
The quality of roads in Oman is excellent. Perfect asphalt-covered roads run even through remote areas.
The highways can have up to five lanes with three lanes being the standard.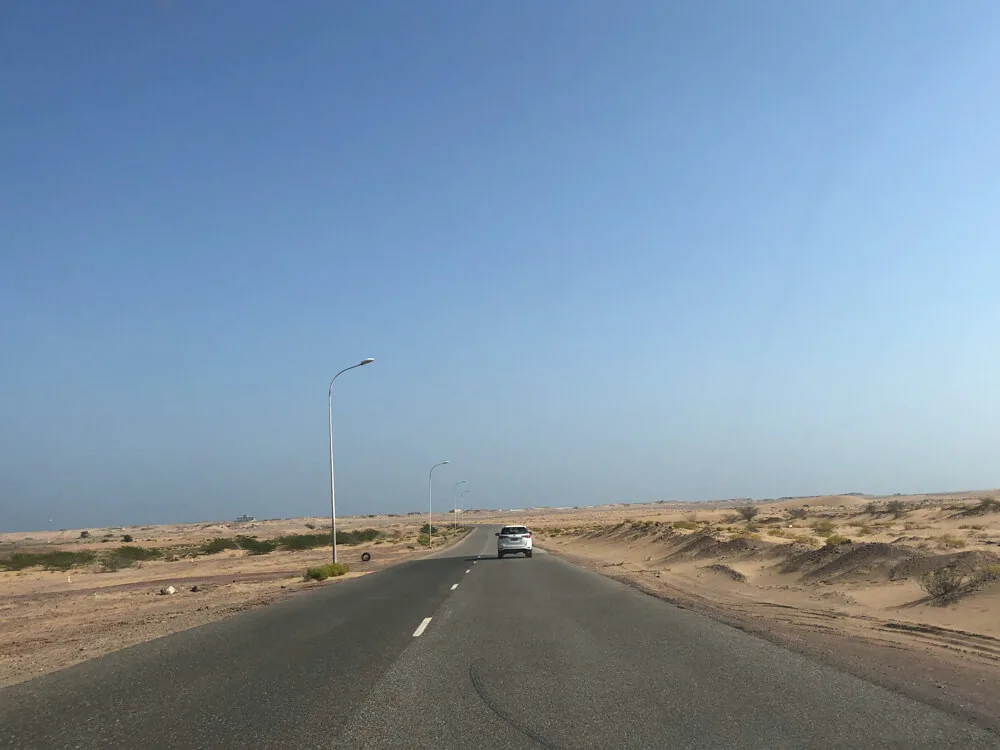 Oman Driving Rules Overview
Oman driving rules follow international standards. When it comes to speed limits, the max. is 120 km/h on the highway. There are signs everywhere, so you'll never be left wondering how fast you can drive.
On the highways, trucks often have 100 km/h as the speed limit. They usually stay in the right lane but expect to do a lot of overpassing around the main cities like Muscat or Nizwa. I love using cruise control but I wasn't able to always do it.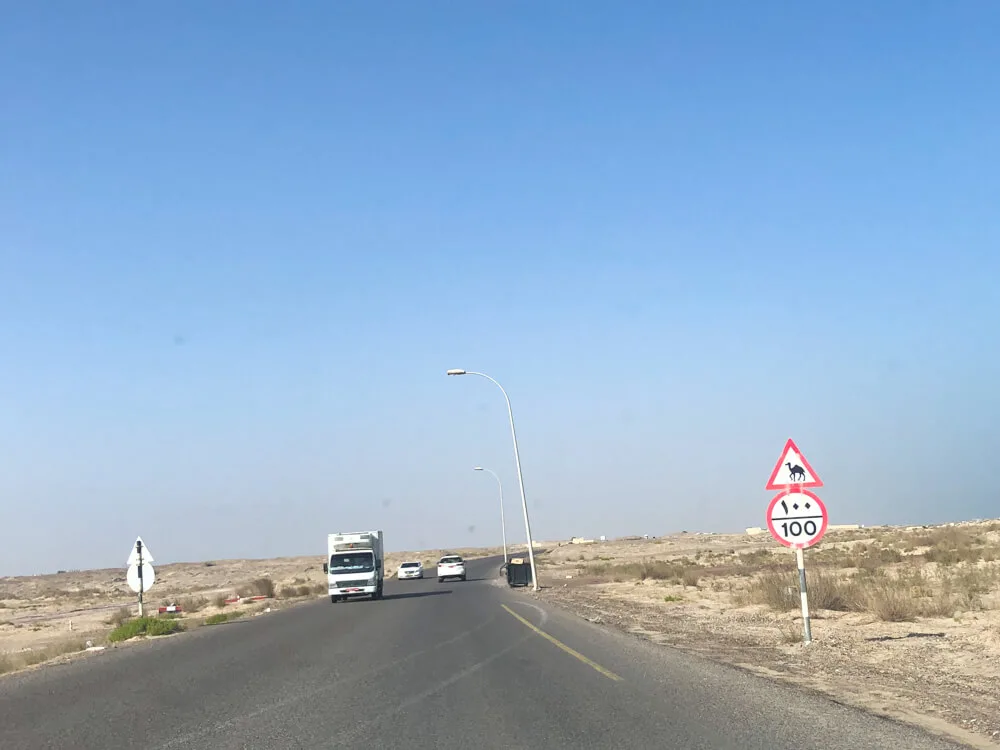 In cities, the limit can be as high as 80 km/h like in Muscat, or as low as 30 km/h, enforced by frequent speed bumps. It depends.
There are frequent radars, especially on the highway. Make sure not to cross the speed limit since fines are high. And, remember, the Oman car rental company has your credit card details! Don't let the trip become too expensive by exceeding the speed limit.
It helps that some rental cars sound an alarm if you cross the 120 km/h speed limit. Two of our three cars had that. Mine only flashed an icon. :)
The radars are easily recognizable. They look like large black columns. On smaller roads, you'll often come across radars looking like mailboxes.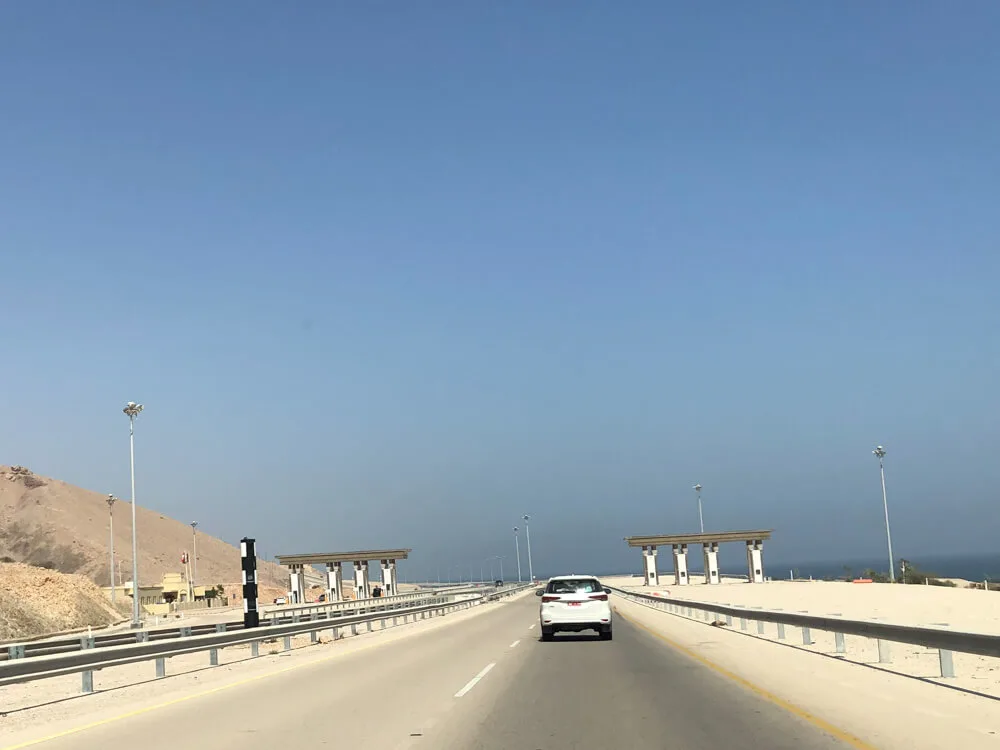 Oh, and you don't need to worry about not being able to read Arabic numbers or letters – all signs in Oman have both the Arabic and the standard numerals as well as the Latin alphabet.
Roundabouts in Oman often have two lanes. Outside of Muscat, they're quite empty, so you can drive in any lane you want.
When in Muscat and experiencing heavier traffic, you're supposed to be in the outer lane when exiting on the first exit, and otherwise in the inner lane. Make sure to use the right turn signal before your exit.
It comes without saying that you're obliged to wear a seatbelt. There's zero alcohol tolerance when driving. And do not use your phone while driving.
Who can drive in Oman & what you need
Can women drive in Oman? Of course! Since 1970.
Anyone with a valid driver's license is eligible to drive in Oman. As a foreigner, your driver's license should have international validity. I possess the EU driver's license and additionally have an official international version of it issued by my country.
Of course, you'll also need to show your passport.
Many car rental companies require the driver to be at least 25 years old. Officially, foreigners who are 21 years or older may rent a car. Also, if your driver's license is too fresh (under a year or so), you may encounter problems.
Info on Fuel & Gas stations
The fuel price is subsidized and doesn't differ across the three gas station chains that operate in Oman, so you can pick either one. At the time of our visit (Feb 2022), a liter cost 0.239 OMR, which is $0.6 or €0.6.
There is Omanoil, Al Maha, and Shell. All function on the same basis: you pull in, let the operator know which fuel you want, let him handle the fuelling, and then simply pay him right on the spot with either card or cash. Don't try to pump the gas yourself, you'll just create chaos. Trust me, I tried!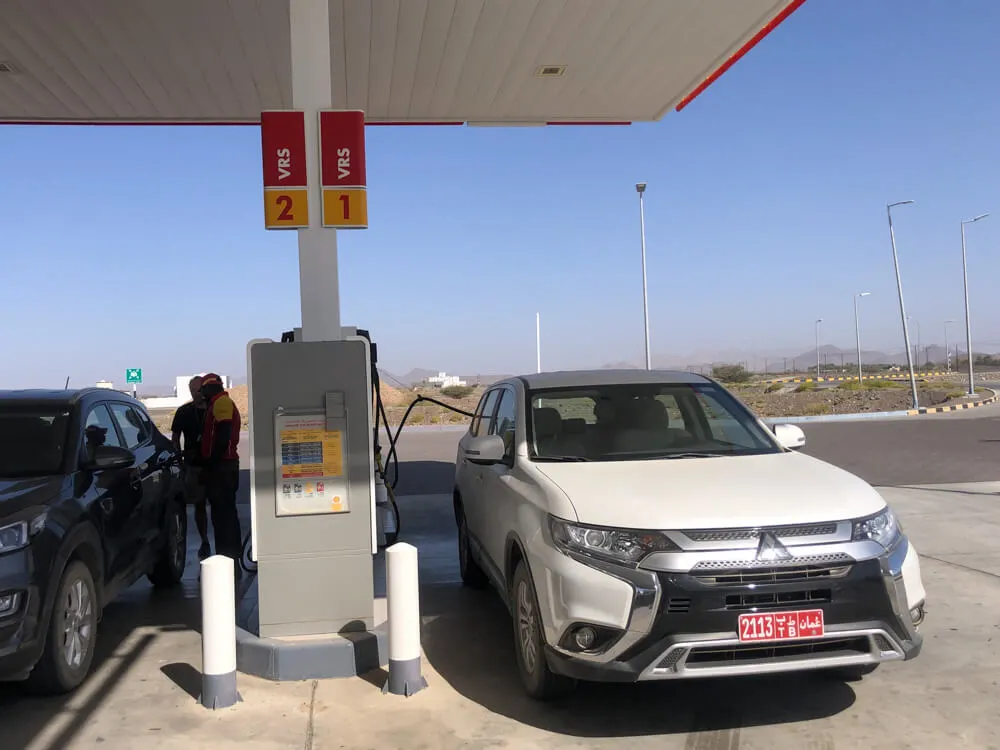 Btw. your rental car is most likely going to be a gasoline one. Diesel is less common. So you'll either tank '91 or '95. The color of the nozzle differs across different gas stations! It almost gave me a heart attack since I'm used to sticking to one particular color in my home country.
Signs and specific symbols
Oman road signs follow the international standard. Concerning the special, Oman-specific signs, you can encounter the following ones:
Animal crossing
Different signs of animals crossing – most often camels. Also goats or a mix of animals.
Flood zone
This is an important sign if you visit during rainy weather. Oman often experiences flash floods and when they catch you on the road, it's advisable to park and wait it out in a higher elevation.
See the flood sign below. There's always one before a flood area starts and then another one marking its end. They are typical for lower parts of a road with a long flat landscape.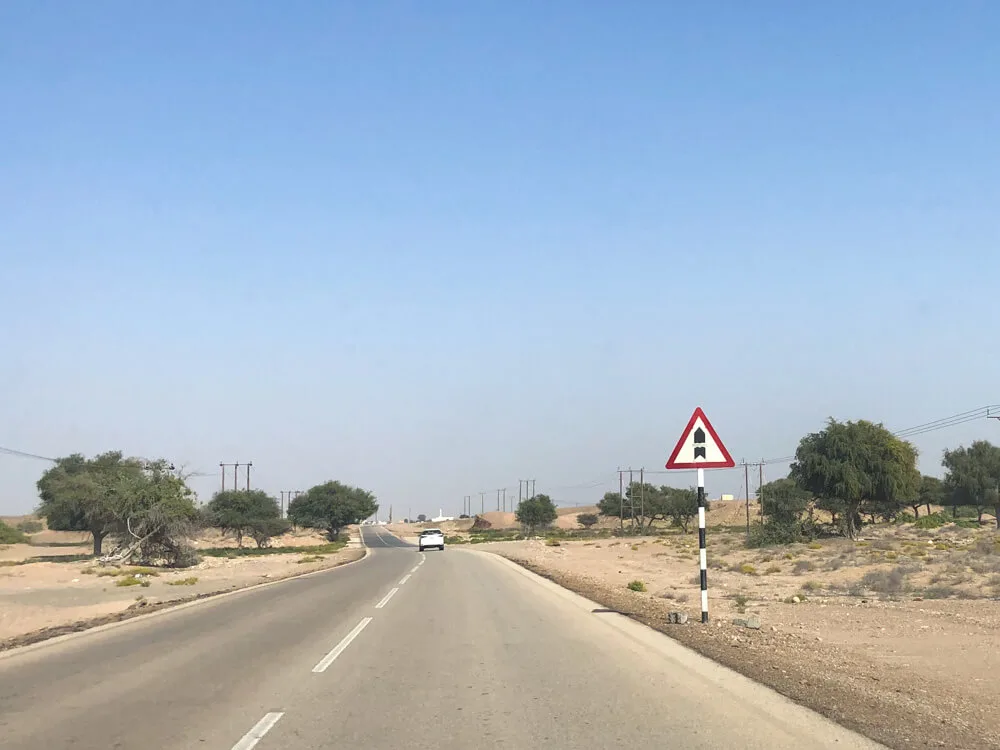 People crossing
Signs marking people crossing are quite straightforward. It's interesting to see that some of them feature a person in the typical gown-like outfit.
Speed bumps
The most frequent of all signs, I reckon. But do watch out – not all speed bumps are signposted. Some are just there. And often the yellow paint on them is worn off. I managed to "fly" over one speed bump only. Can you beat my score and make it zero?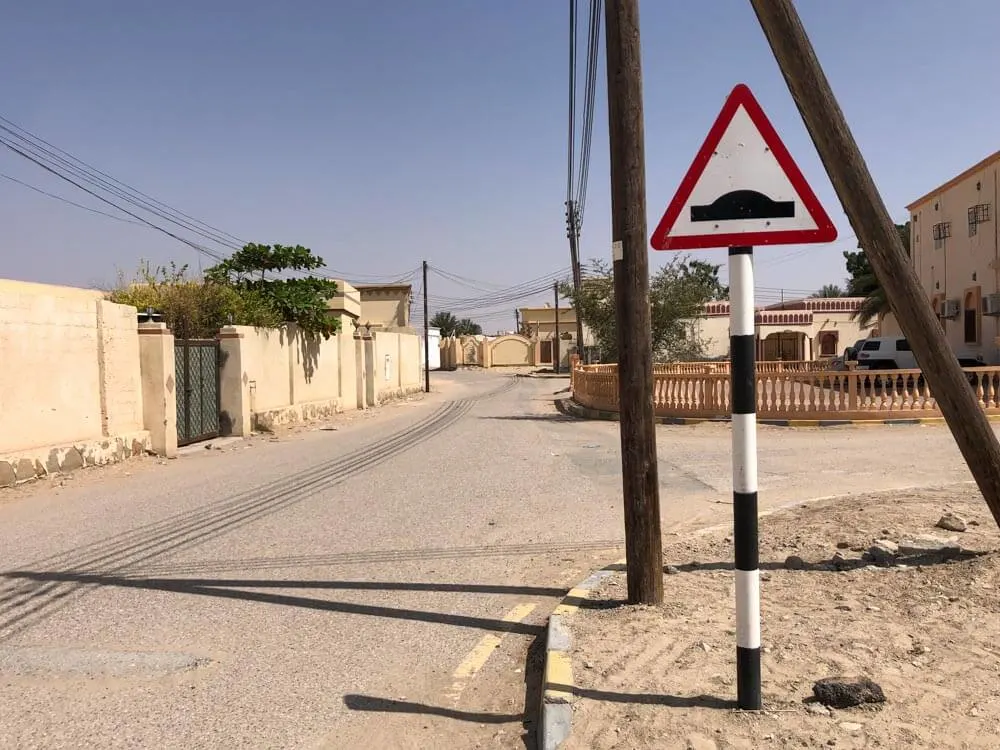 As for license plates, you'll notice there are different colors:
red stands for commercial vehicles, so mostly these are either rental cars, taxis, or company cars.
yellow is for normal local cars for personal use
green license plates belong to government cars
a white license plate means a car is from Dubai.
It helps to know about the colors, e.g. when encountering a slow driver on a mountain road, seeing it's a rental car helps with empathy. ;)
Parking in Oman
Oh, how I loved to park in Oman! There's just so much space everywhere.
The only tight spots we experienced were the mountainous village of Misfat Al Abriyeen and Wadi Shab. Still, even if you experience a full parking lot, you can leave your car on the side of the road.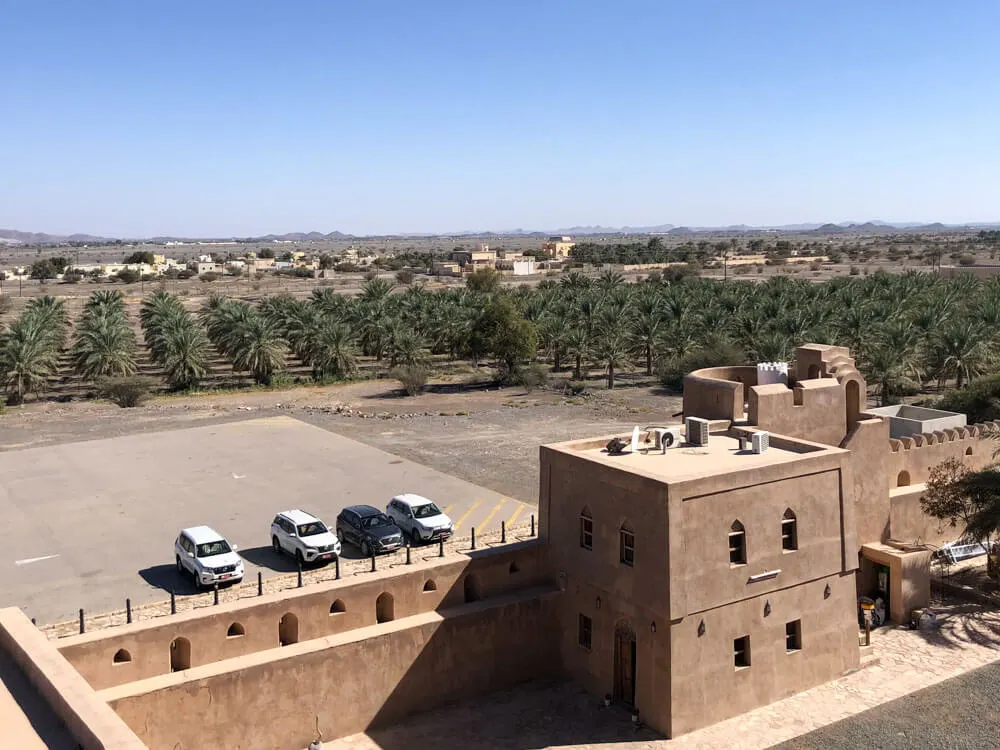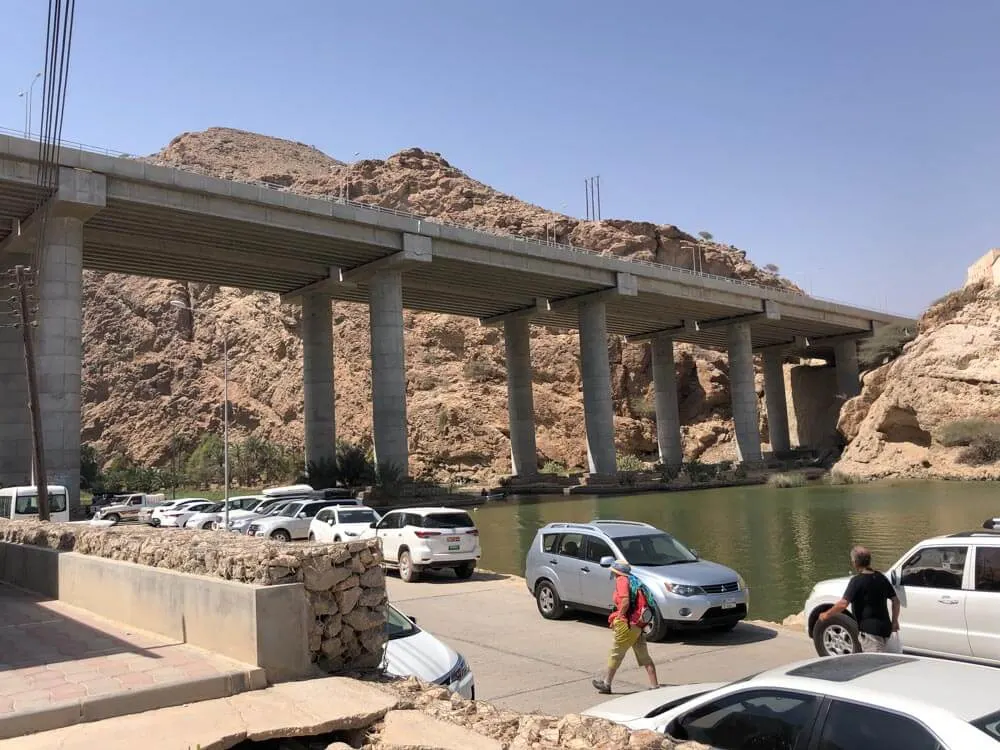 Accidents on the road
It's extremely unlikely to be involved in a traffic accident in Oman. Omani drivers are nice and don't get into conflicts. However, in the unlikely event of an accident, leave the car and call 999, the local police number.
Additional Oman Renting & Driving Tips
Using your mobile GPS is easy. Google Maps work well. I like to use the international version of mapy.cz – they even feature the speed limit. I heard maps.me or Waze are a good option too. Download the offline maps in advance. Similarly, you can easily get a local Omantel sim card at the airport for only 4 rials. Bring a phone car holder for comfort.
Standalone GPS units are not typically on offer when renting a car in Oman, not even for a fee.
Do not run red lights. I read it's punishable by a night in jail as an addition to a standard fine.
Children under the age of four must be seated in a car seat. Don't forget to add it to your Oman car hire in advance.
Driving after dark? Be extra vigilant. Smaller roads especially are not lit up and outside of towns, camels and goats still keep wandering around, only at night they're a lot less visible.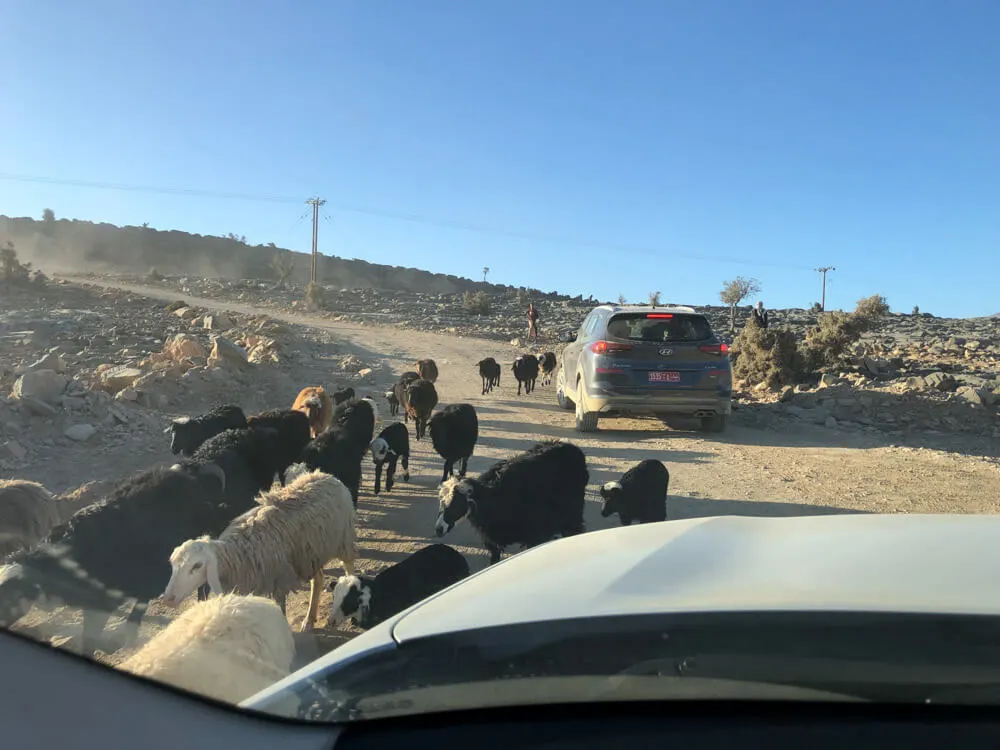 As of March 2022, there are no toll roads in Oman. However, their introduction is planned for the future and the necessary infrastructure has been prepared. (source: Times of Oman). You can never go wrong by asking for an automatic toll reader to be included in your rental.
You may struggle to find a parking spot when visiting Muttrah – be it the Corniche or the Souq. The best way is to use the large free parking lot by the Muttrah Fish Market.
Parking within (or in front of) public buildings is prohibited.
Don't forget to always be stocked up on water (and snacks). Not just in remote areas; there are loooong stretches of highways where you simply won't come across a shop whatsoever.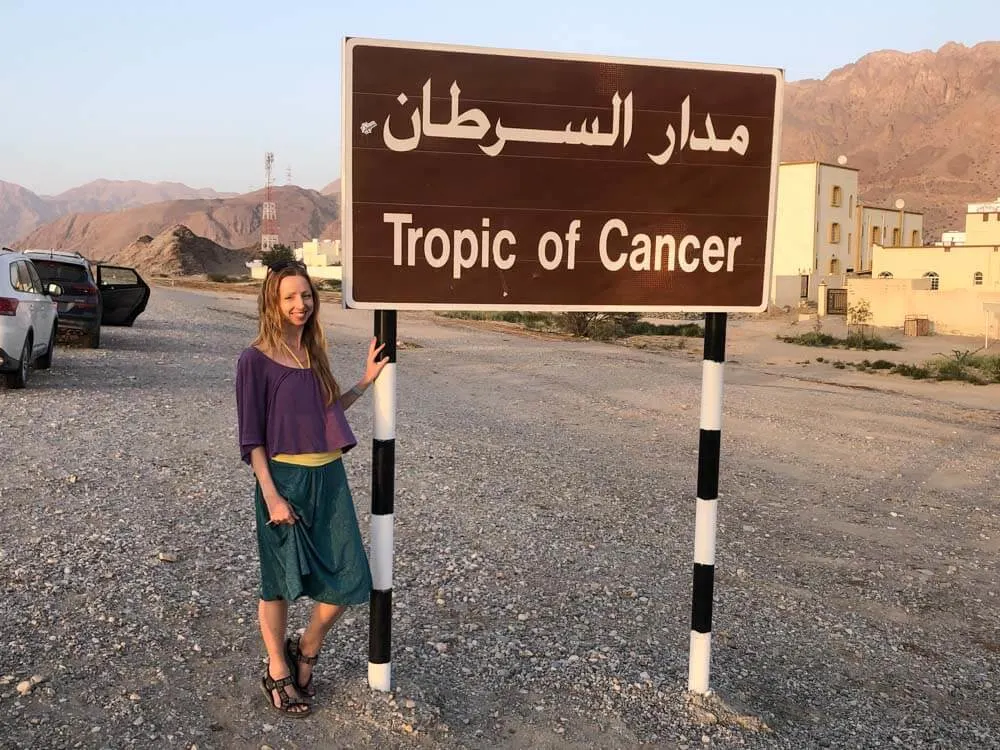 Driving a dirty car can get you a fine of 10 rials. We experienced that happening only to a local driver with an older car. We drove relatively dirty cars for a few days but since the rented cars are rather new, the dirt wasn't as obvious.
If you'll be staying in the historical center of Nizwa, be prepared for some extremely tight streets and traffic in both directions. If you only plan to visit Nizwa, without staying overnight, the large central parking lot just outside the gates of the historical center is the best place to leave your car.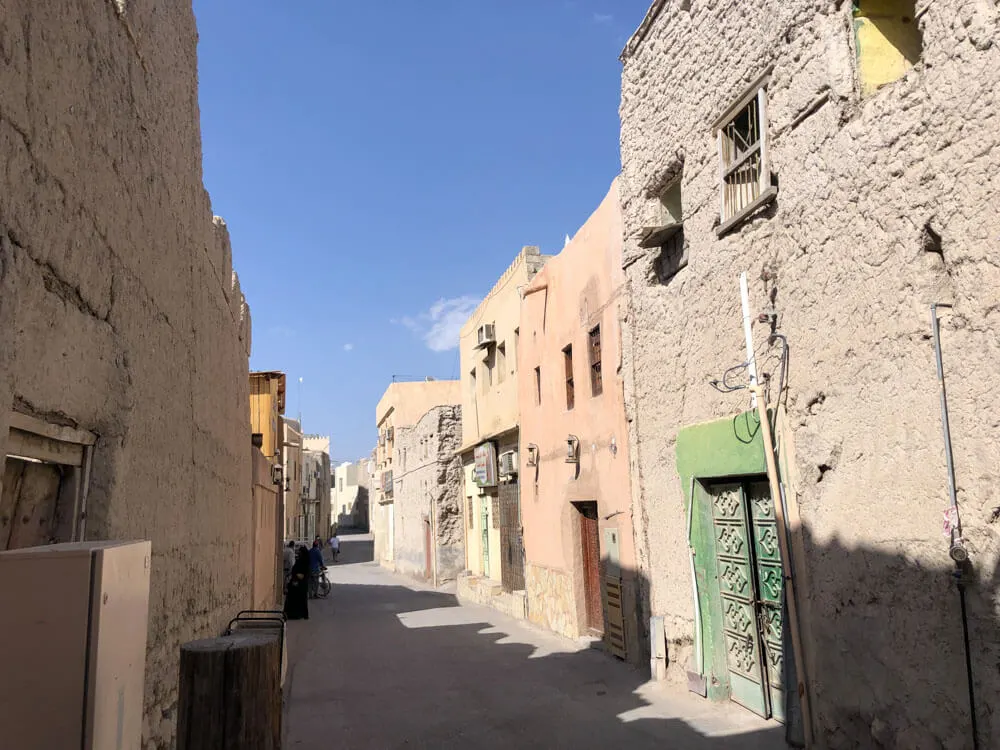 Camping is allowed anywhere in Oman. So if you don't mind sleeping under the stars, or simply in your rented car, you're allowed to do so. If you plan on that, choose a car that'll make your sleep comfortable. Also, especially when the forecast is calling for rain, stay out of the wadis and lower elevations.
If you'd like to experience the desert, rather than driving there for a few hours, I'd recommend you book a stay in a desert camp. It's way better to properly enjoy it. Also, you'll be picked up by the campsite and don't need to drive the car there. It's tricky to drive in the desert, though – your tires have to be deflated even more and it's easy to get lost.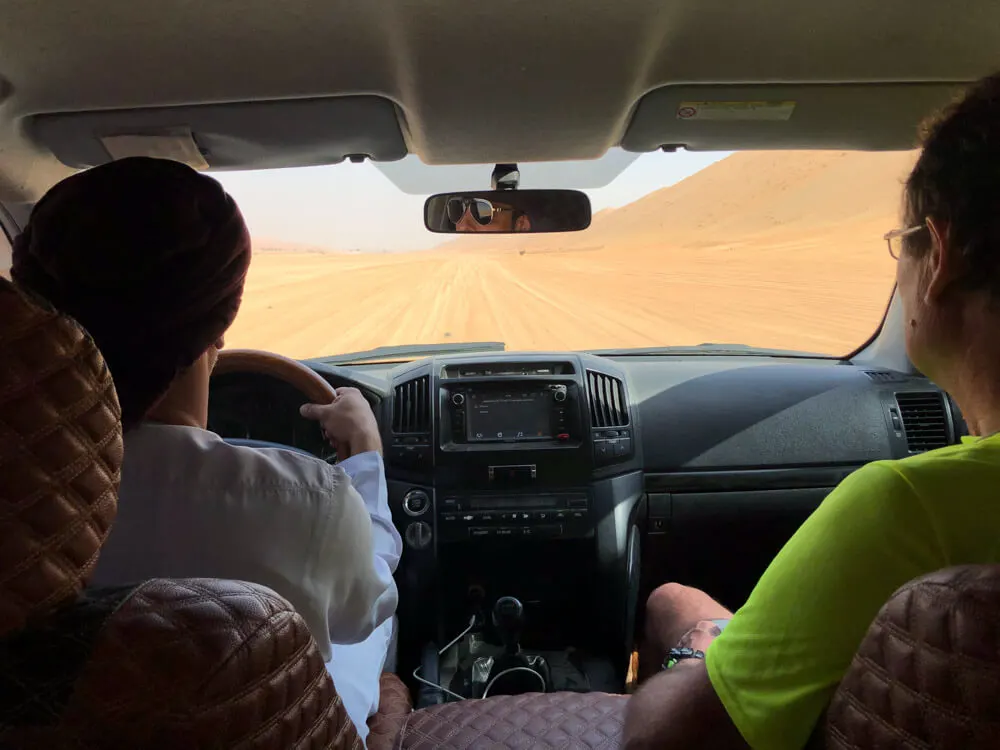 If you don't feel like driving a car in Oman…
It's okay. If you're too stressed, you don't have to drive in Oman. Especially if you're not on a tight budget, you can get around just fine by booking day tours, mostly out of Muscat. It's even possible to book a private 3-day exploratory tour.
Generally speaking, if you like driving, you're going to LOVE driving in Oman. :) I surely did.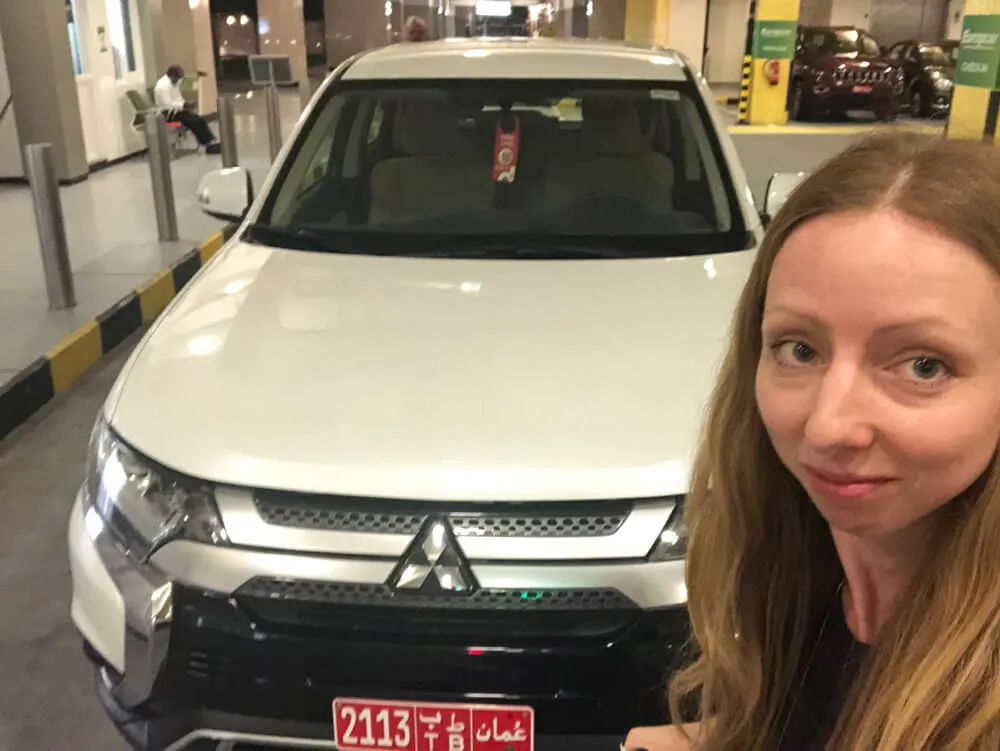 I hope this post has been useful to you. Please do let me know your thoughts below and feel free to ask questions about renting car in Oman if you have any at all.