Perhaps you have heard from other travellers that the Philippines is not exactly a foodie's paradise and, if you're vegetarian or vegan, you might starve before you find proper food.
It's true. The Philippines' eating habits are largely based on meat. But if you dig deeper below the surface, you'll find an amazing variety of choices.
I had the opportunity to uncover all the possible foods that could be eaten in Cebu City, on Mactan Island, in the Cebu province.
Let's start with the most obvious options that every tourist in Cebu can easily find and then move on to more challenging food items.
(If you're only interested in vegan options in the Philippines, check out this guide)
Anything (unhealthy) at Jollibee
The Filipino alternative to McDonald's is a hugely popular fast food chain that locals love. There are all sorts of burgers and meat based items. Most are rather simple featuring just a meat patty in a bun.
Jollibee pasta with slightly sweet tomato sauce and sausage (a very pink one!) topped with cheese is another staple. However, due to the sweetness of the dish, some foreign travellers find it off-putting.
Frankly, there's only one meal that I really liked at Jollibee – the pancake breakfast sandwich! Imagine two pancakes soaked in maple syrup with bacon, cheese and egg inside. It was as delicious as it sounds. Yum!
It's very easy to run into a Jollibee restaurant, as their network is relatively dense. If you're in Cebu, I can highly recommend the Jollibee near Iglesia Ni Cristo church.
The church is especially pretty, so at least you'll do some sightseeing too. Just walk the busy General Maxilom Avenue.
Lechón
Have you heard of the typical roasted pork called Lechón? Cebu is supposedly THE place to try some proper lechón!
The meat is soft and with a crunchy skin, meaning it takes hours to properly roast a pig till it becomes lechón specialty.
However, coming from the Czech Republic, this wasn't so exotic to me. We too have roasted pork on our menus :)
You can order lechón pretty much anywhere, but if you're on your own or with a non-starving friend, you wouldn't get a full pig. In such a case, and also when you just want to have a try only, head to a mall.
We were advised to try Cora's Lechon de Cebu, located on the underground level of Robinsons Mall on Fuente Osmeña Circle (check out the map at the end of this post).
Among the food stands of the mall's food court, there's one featuring a quality roasted lechón. The trick is they sell it in small portions too.
By the way, eating in malls is popular among modern Filipino kids. There are often all sorts of Asian restaurants that sell food of various quality.
Something healthier
After a few days on the typical meaty Filipino diet, even the most carnivorous people will start craving veggies. Fortunately, there are quite a few options to choose from.
You can snack on fruits and vegetables sold conveniently on the streets. They often sell young coconuts too.
A restaurant I fully recommend is called Marjo's Pochero, apparently the best place in Cebu to have pochero, which is a beef stew with bananas.
I ended up there by accident, but couldn't have been happier with the meal. I simply chose what looked pleasing to my eyes and what clearly didn't have meat in it.
The result was a plate of rice with a mix of sautéed vegetables. It was really yummy. Then a banana for desert and I felt like the healthiest kid in the world :)
Only later did I find out this place was praised by the famous Anthony Bourdain!
Street food in Cebu
Here it's where it gets interesting. If you've read my post about Street food in Bangkok, you know I love street food. But I wouldn't really dare to eat much on the street food in the Philippines. Except for balut.
Balut
Balut looks so innocent on the outside. After all, it's just a duck egg. Right? Well, no. This egg was fertilized and left alone for a couple days. That means a duck embryo started forming inside.
(As I'm describing it, I really hope no vegans are reading!).
Where to get balut in Cebu city? There are no balut restaurants. Watch the streets in the evening, especially busy areas such as Fuente Osmeña Circle. Vendors usually pop up out of nowhere with a basket full of homemade balut eggs.
Balut is popular all over the Philippines and many Filipinos consider balut a delicacy. I actually shot a video of my Filipino friend Julia from munching on a balut. Enjoy:
A few years ago, Cebu has opened a modern food market called Sugbo Mercado. Here it's all about including the younger generation too. Read more on visiting Sugbo Mercado, as I didn't get to visit it myself.
Even for traditional street food items, I needed help. That's why we contacted the amazing folks at the Backstreet Academy, to help us guide through the original Cebu delicacies that foreigners rarely try.
Together, we toured the local markets of Colon, Carbon and Pasil and enjoyed local delicacies as well as pure wonder of locals seeing foreigners. All eyes were on us, as this is the last spot tourists come to.
So what did we have?
Fried pork intestine (Ginabot) with corn grits (Mais)
The first food on the tour and they're serving us intestines?! I was a bit nervous.
But surprisingly, these tasted really good! It seems once you deep fry something, any odd consistency goes away. Plus the nice corn grits served as a good comfort food.
Chicken Barbecue, featuring also chicken liver (Atay)
Barbecue sounds nice when you're a bit unsure of what might come next. This one didn't disappoint. Delicious proper barbecue as yummy as at the best barbecue stall anywhere in Asia.
Oh yes, this is Asian barbecue, people. Don't expect the American version.
We had a selection of 'normal' meats that reminded me of satay. For the brave foodies, there was a liver option and, frankly, I wasn't one of the brave ones. I hate liver :D
Fish shoup (Nilarang)
There's only one stand where the best nilarang soup is served. We came around 2pm and it was already closed as the lady has run out of it for the day!
Fortunately, our backup option was as yummy as could be. We enjoyed a flavorful fish soup full of veggies and nice spices.
Sautéd pork brain (Tuslob Buwa) with hanging rice (Puso)
This was definitely the highlight. The worst sounding, but quite tasty. It wasn't my first time trying animal brain and believe me, I was never a fan.
However, this bubbly version, where the brain is mixed with water and soy sauce and then sautéed in a large wok, was surprisingly yummy.
It's typically eaten with hanging rice – a little rice pack wrapped in strips made of leaves. You open the rice pack, dip it in the bubbly brain mixture and take a bite.
Repeat till you run out of rice, then get a new rice pack.
I was mostly amazed when observing a cute local girl, an epitome of innocence, dipping her rice, watching us with her big eyes wide open and eating away just as if it was no big deal to eat brain :)
Those were quite some delicacies, right? It needs to be mentioned that none of us ended up with an upset stomach. In any case, I had some activated charcoal with me, but didn't need to use it.
DesSert time! Caramelized banana
The end of the food tour was both pleasant and easy on the stomach. We got some fried caramelized bananas on sticks and enjoyed the yummy sweet taste.
This was perhaps not as exotic as eating pork brain, but I welcomed it a lot more.
But our food tour wasn't only about food. On the way we'd pass through some poor neighborhoods and saw little kids running around dirty and naked.
We appreciated being able to discuss anything openly with both Ann and Joy of Backstreet Academy. They wouldn't shy away from any topic and were happy to offer us a local look on things. We instantly clicked and felt like just hanging out with friends.
Here's a map for you with the areas where to have the food mentioned in this post:
From my own experience, I can highly recommend Backstreet Academy.
My friends (Stef from Every Steph and Tianna from The Passport Chronicles) and I were more than happy with their friendly attitude and maximum flexibility to accommodate our needs.
They actually took us for the lechón as well, when they heard we hadn't yet had the opportunity to try it.
For as little as $14 per person, it's a great investment if you want some insight into what the real original Cebu food scene is like, without any unpleasant surprises. They know where to find quality food and which places to avoid.
We, foreigners, even though experienced travellers, could never tell. And getting an upset stomach on the road is never fun. Right?
If you're interested not just in the food but also in exploring more, here's an overview of the main Cebu tourist spots.
Have you visited the Philippines? What did you think of the food?
Pin this post for later: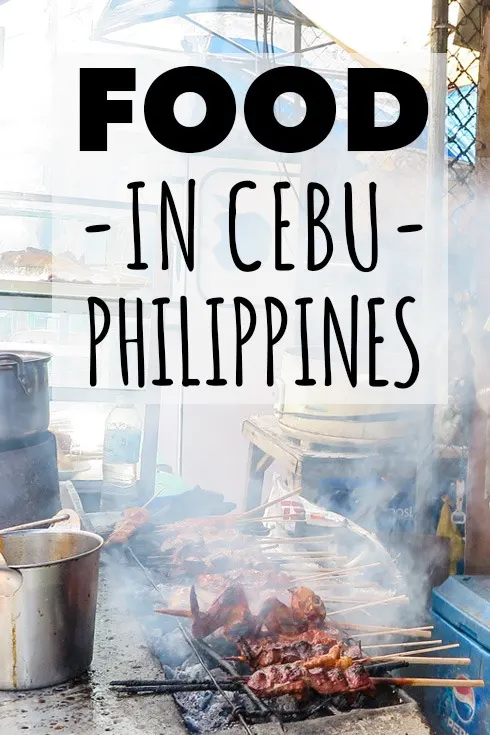 Disclaimer: Veronika of TravelGeekery was hosted on this tour. The opinion presented is, however, Veronika's own and unbiased.