From boutique hotels near Fort Kochin to resorts that are almost their own destination, these are the best hotels in Kerala, India. Whether you want to splurge on luxury and relaxation or prefer something a little more basic (but still clean and comfortable), I've got you covered.
Kerala is a destination that belongs on any India itinerary – but deciding where to stay in Kerala can be tricky. There are just so many options, from backwater houseboats to ultra-luxurious resorts that are a destination on their own. And everything in between!
I'll be honest, when I was planning my trip to Kerala, I had images of basic, dirty hotels with an occasional hostel thrown in where various creatures crawl, like in a biology lab. Guess what – it can't be further from truth!
I stayed in more than 10 hotels during my trip to Kerala and some were nicer than others but they were all fine and I, fortunately, didn't get to meet any local cockroaches or other uninvited visitors.
Below you'll find the top hotels in Kerala that I fully recommend, after staying their myself. And if none of those are exactly what you're looking for, I've also included additional Kerala hotels list with a few properties that come highly recommended. While I didn't get to stay at them on this trip, I would like to in the future.
Let's start with my favorite and in my opinion the best hotel in Kerala:
Brunton Boatyard Kerala
The Brunton Boatyard, Calvetty Road, Near Aspine Wall , Calvetty, Kochi, Kerala 682001, India
www.cghearth.com/brunton-boatyard
Closest airport: Kochi (Cochin)
This hotel in Kerala deserves the first spot on the list. This luxury boutique hotel, conveniently positioned near Fort Cochin, was a real paradise on Earth. The rooms were beautifully decorated in marine style and the high beds conveyed a clear meaning of luxury. Oh, how comfortable my bed was!
The style and decoration of Brunton Boatyard are inspired by the colonial past of Cochin. Expect to see paintings of Vasco de Gama and other explorers and memorabilia from that era.
Even though I'm not too much into hotel pools, I fell for the pool at Brunton Boatyard. The water temperature was very pleasing, and I had a great view of the Arabian Sea from there. It's especially awesome at dusk, unfortunately not just for humans, but mosquitoes too.
Brunton Boatyard includes quite a few activities for their hotel guests – you can even take a 1-hour sunset cruise. Yoga and mediation classes are a must.
This was one of a very few hotels in Kerala where one chooses a breakfast from the menu, rather than just being overwhelmed by buffet choices. I had fried eggs and they were incredible! The French toast didn't impress me that much, but it was edible.
Brunton Boatyard is a bit pricy but once you see it with your own eyes, you'll know that it's worth it! It needs to be noted that the hotel belongs to CGH Earth Experience chain of hotels, which take pride in providing immersive and environment-friendly accommodation.
Brunton Boatyard inarguably belongs to one of the best boutique hotels in Kerala and beyond.
Click here to check the current price on AGODA
Click here to check the current price on BOOKING.COM
Click here to read the reviews on TRIPADVISOR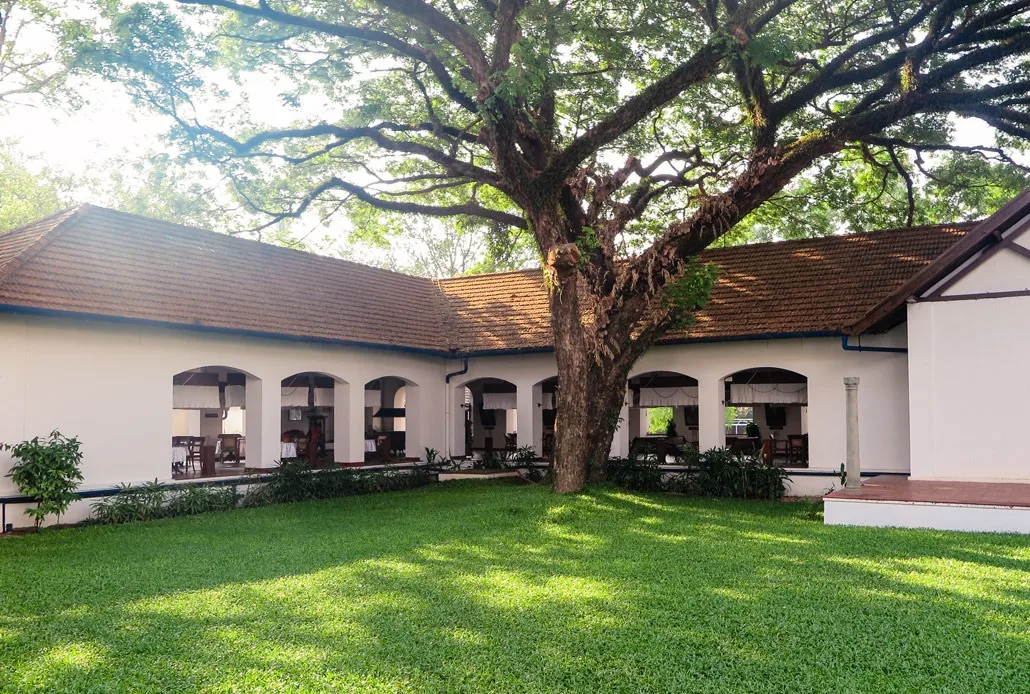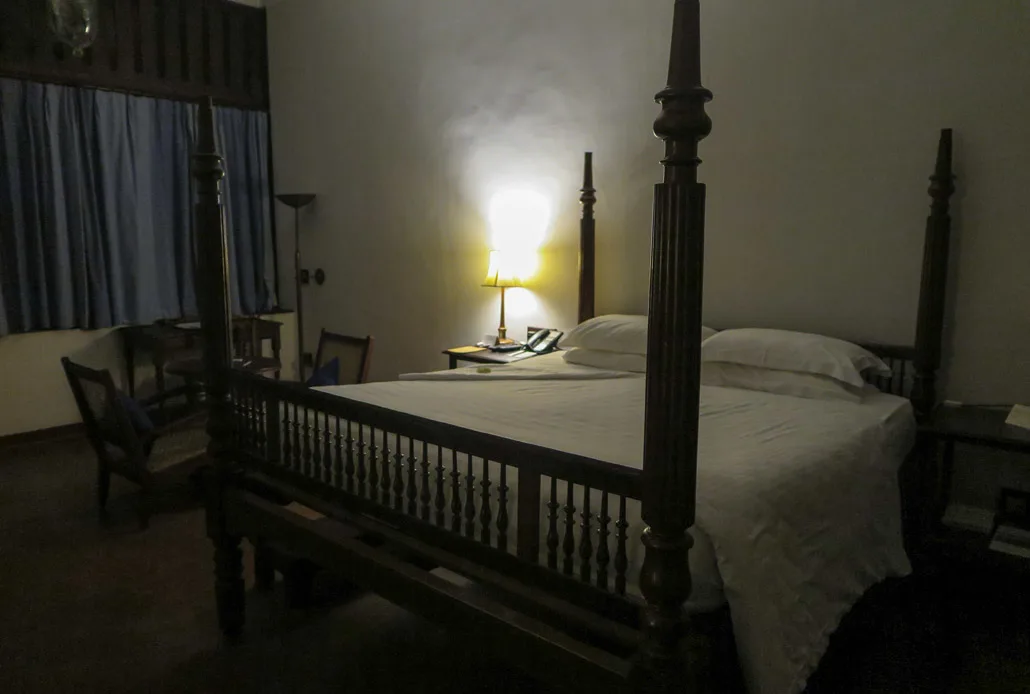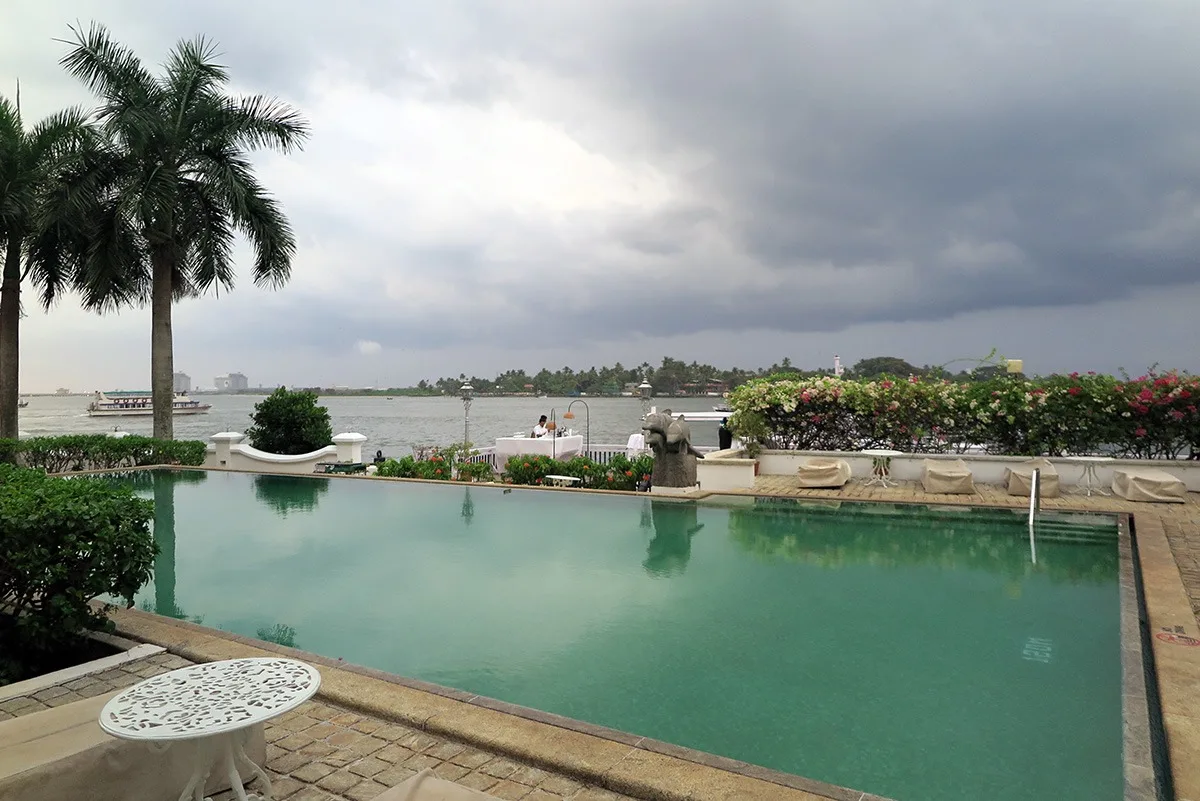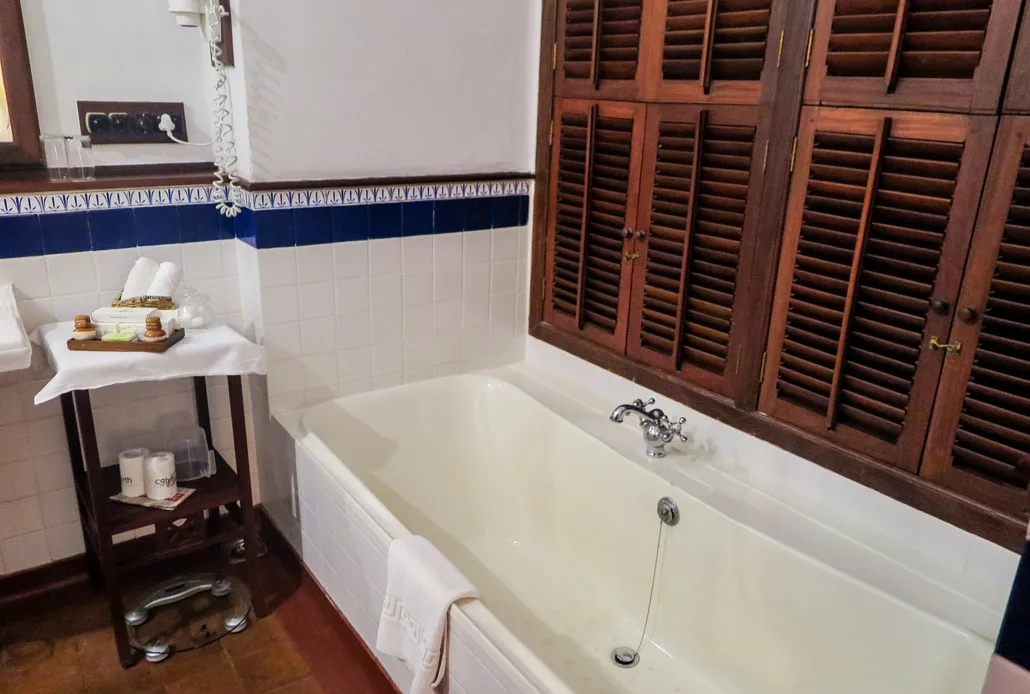 Welcomhotel Raviz
Welcomhotel Raviz Ashtamudi Resort & Ayurveda Spa, Thevally, Mathilil PO, Kollam 691601, Kerala, India
www.itchotels.in/welcomhotelkollam
Closest airport: Thiruvananthapuram (Trivandrum)
Although a little tucked away, the Raviz Kerala is one of the rare hotels worth travelling to. Just wait until you enter the stunning lobby and you'll be convinced right away.
The rooms are beautiful and feature even a work desk, which is very useful if you're a blogger or a freelancer on the road. To relax after some nailing a few work tasks, you can relax in a hydro-massage bathtub!
The lake by Raviz hotel is incredibly beautiful and you can go for a boat trip or even try your hand at canoeing. Sunsets above the lake are breathtaking and so are sunrises if you can manage to get up from their super comfy bed at such an early hour. :)
You might not be thrilled to swim in the lake and that is perfectly fine, as Raviz has an awesome pool.
Unfortunately I didn't get to experience the Ayurveda at Raviz, but the spa rooms looked impressive. Especially the one for couple massages, with scattered rose petals, overlooking the lake. I guess honeymoons here must be pretty special!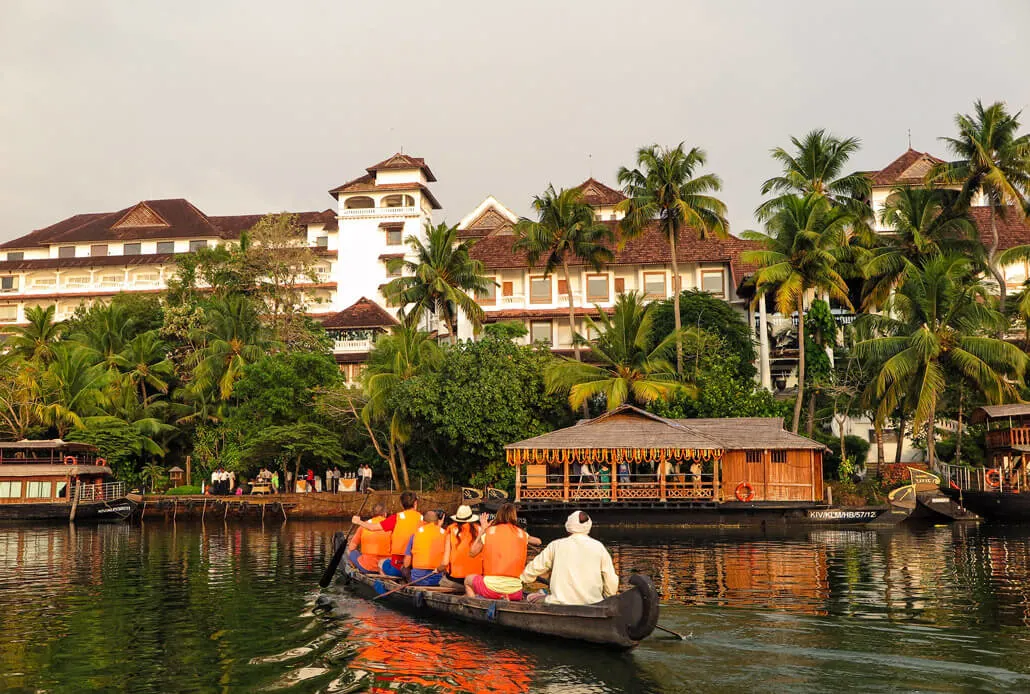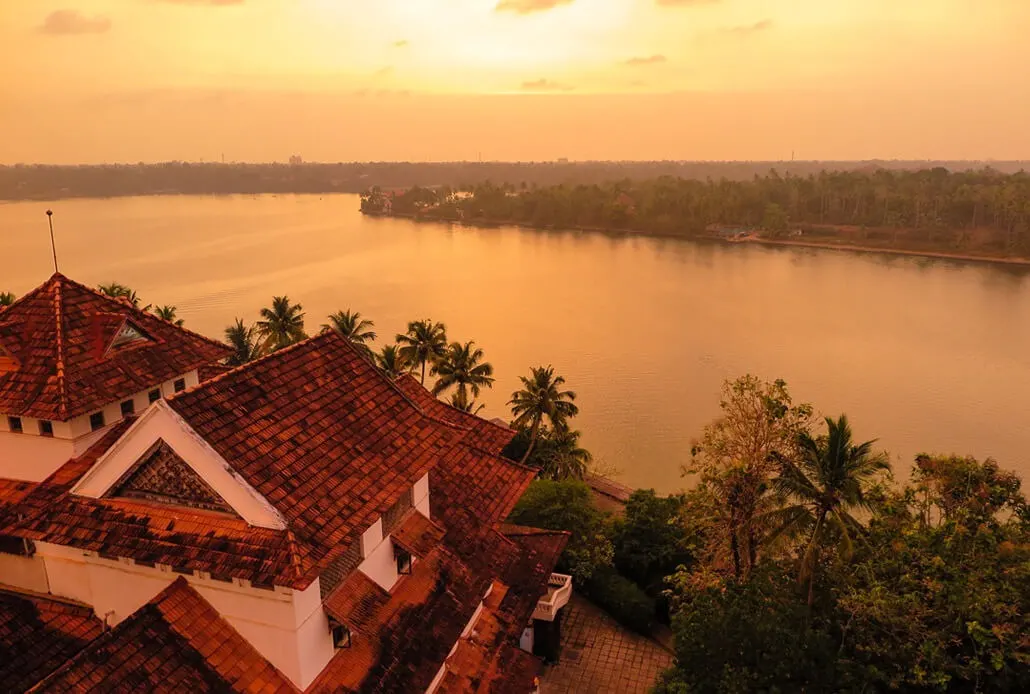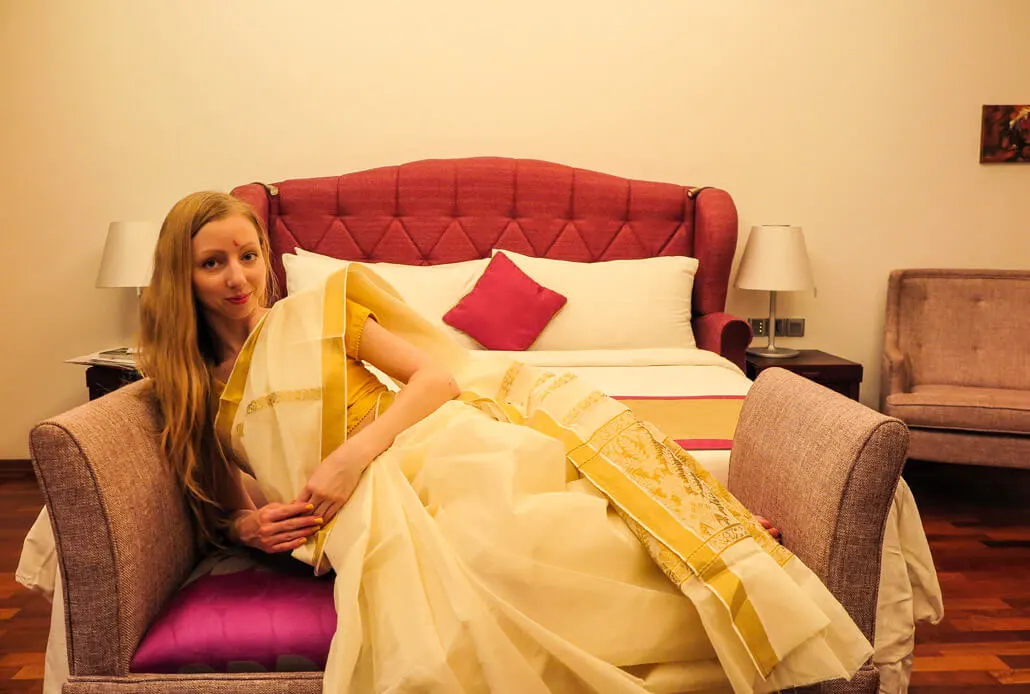 Zuri Kumarakom
The Zuri Kumarakom, Kerala Resort & Spa, V 235 A1 to A54, Karottukayal, Kumarakom, Kottayam, Kerala, 686 563 India
www.thezurihotels.com
Closest airport: Cochin
Zuri apparently means 'far beyond expectations' in Swahili (this hotel had their first resort in Africa) and I must say I was pretty impressed. You've probably already got the feeling that this blog is not about the ultimate in luxury travelling, so I don't often stay in places like the Zuri Hotel Kerala.
The Kerala luxury hotel has a layout that is quite unique – which consisted of little 'cabins' positioned around a big manmade lake in the middle. It must take more than 30 minutes to walk the whole perimeter! Not only the size makes it one of the top luxury resorts in Kerala.
If you have a room far from the reception area or the restaurant, all is not lost, because you can take advantage of electric golf carts. On your way from the entrance, you'll just hop on one that's always ready by the reception. For the opposite direction, you just go ahead and call one from your room.
The rooms were impressive. Mine, belonging to the category 'Zuri Cottage', featured a cute outdoor rain shower, which was completely private. Some of my Kerala Blog Express friends had presidential villas with private pools and jacuzzi! Those were insane in my opinion… utmost luxury!
Zuri's big spa is true relaxation for the body. I had my first ayurvedic massage in Zuri and it was so special that I might write a post about it ;)
The dining options in Lime Tree Restaurant were akin to a top-notch restaurant and had a very creative touch. Combine it with extremely nice waiters and you really do feel like a princess/prince. Just don't walk in there in your pajamas – they wouldn't appreciate that.
Early morning yoga sessions, on a little 'island' on the lake, are a great way to stretch the body and get it ready for exploring the surroundings. Apparently, you can even do paddle boating, rafting or fishing on the lake, but I didn't have time to try all that.
Click here to check the current price on AGODA
Click here to check the current price on BOOKING.COM
Click here to read the reviews on TRIPADVISOR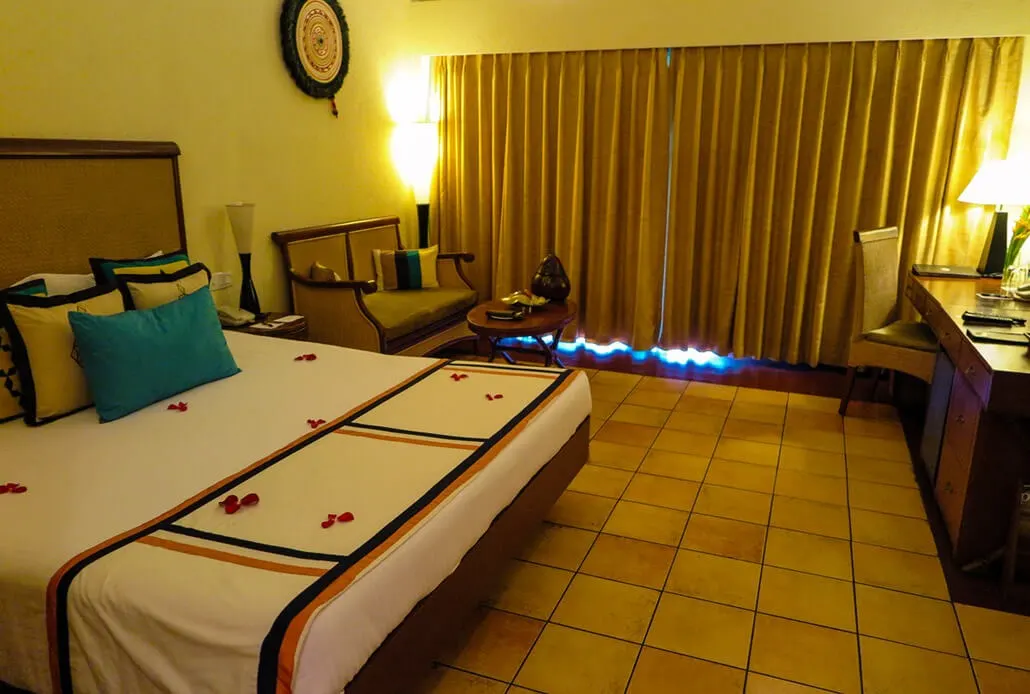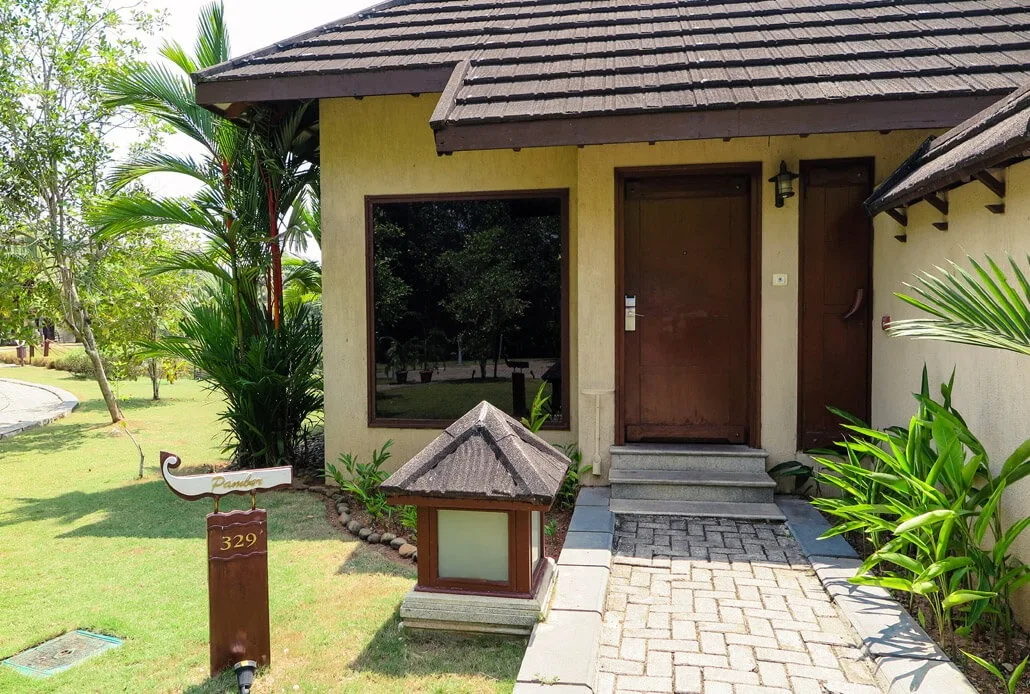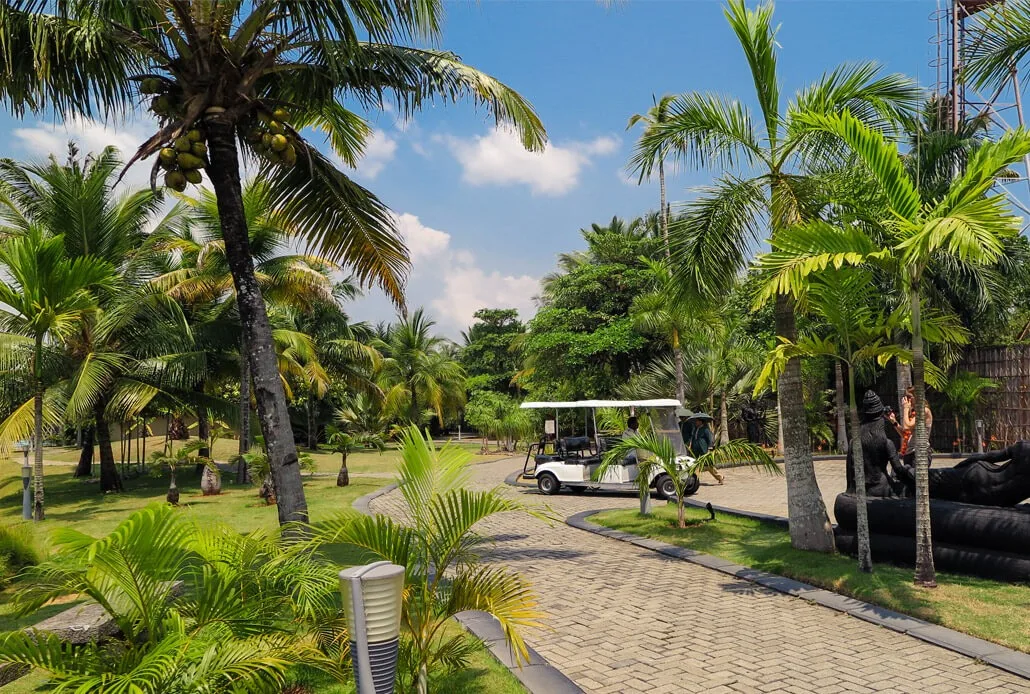 Spice Village
CGH Earth Spice Village, Kumily Road, Thekkady, Kumily, Kerala 685536, India
www.cghearth.com/spice-village
Nearest airport: Madurai
Proudly belonging to the CGH Earth Experience group of hotels, this hotel really does look like a beautiful tribal village! I was stunned at how sustainability permeates everything in Spice Village – from pool filtration, organic garden, dry grass roofs of the standalone rooms, to solar-generated electricity. Oh, and they even wrap little "goodies" in your hotel room in homemade paper! You can go have a look at how paper is made and try it yourself. It makes for great scrapbook material, if you're into that sort of thing ;)
Spice Village is a wide compound full of little houses that are supposed to be modeled after the local tribal way of living. The rooms are simple, yet lack nothing, and are a great choice for anyone who doesn't need outright luxury.
We had a chance to enjoy some local performances, as they often organize music for dinners and there are dancing performances too. They were really good, no fake hotel fluff. :)
The whole village feel of Spice Village is amplified by guinea fowls wandering around. They are fun and might get a little noisy at times, but luckily just in the morning!
If you're looking for a sustainable Kerala accommodation, you can't go wrong with the eco-luxury that the Spice Village offers. You'll get to experience one of the best hotels in Kerala, yet your luxury stay will be as nature-friendly as possible.
Click here to check the current price on AGODA
Click here to check the current price on BOOKING.COM
Click here to read the reviews on TRIPADVISOR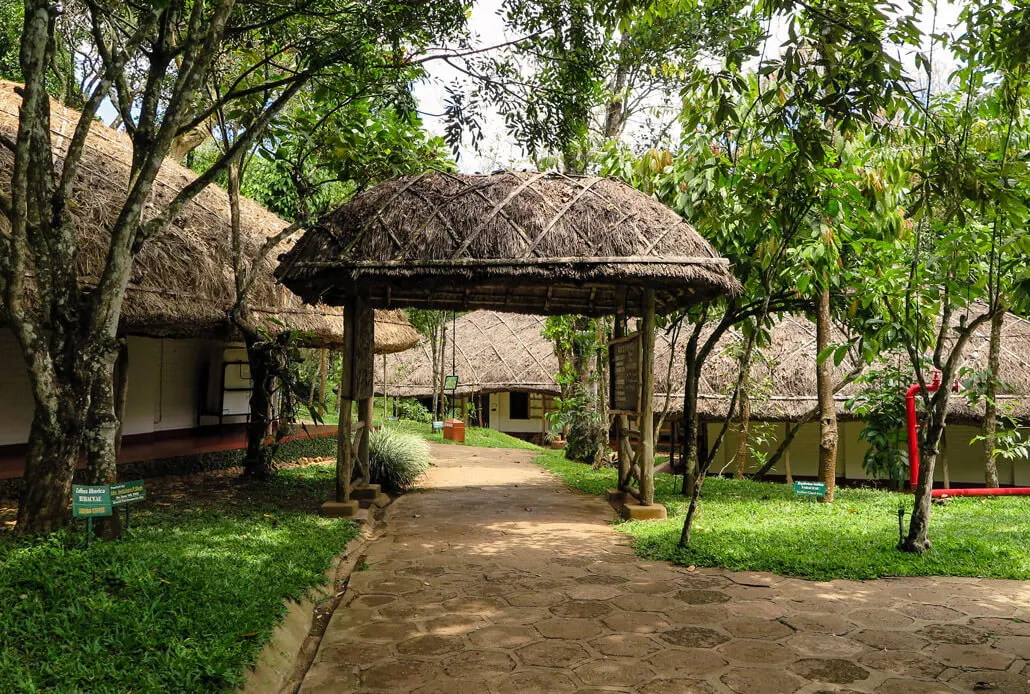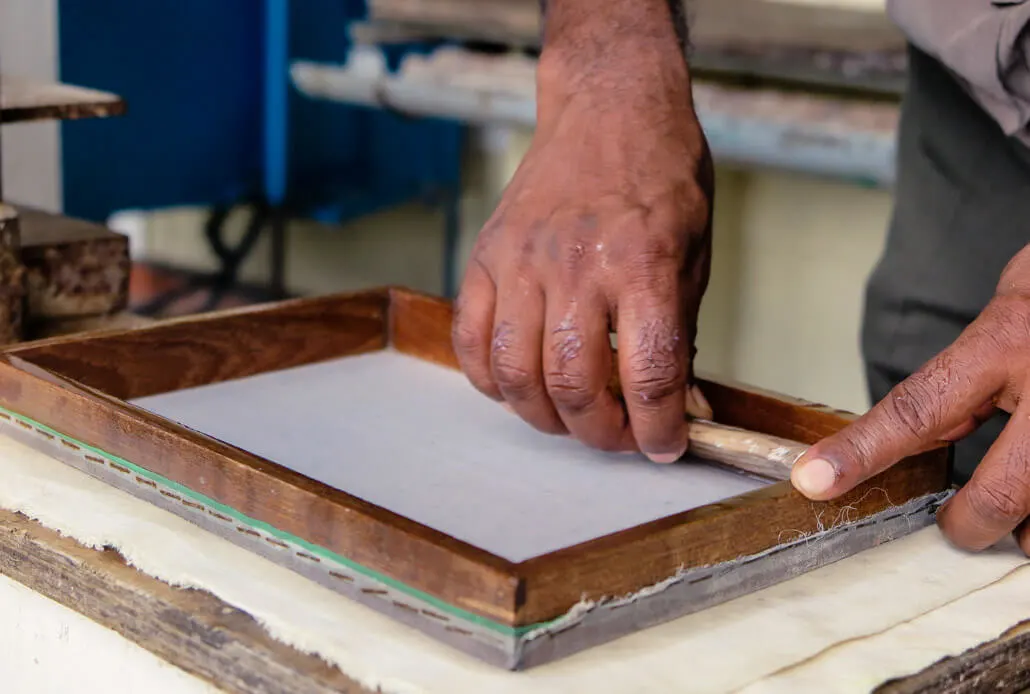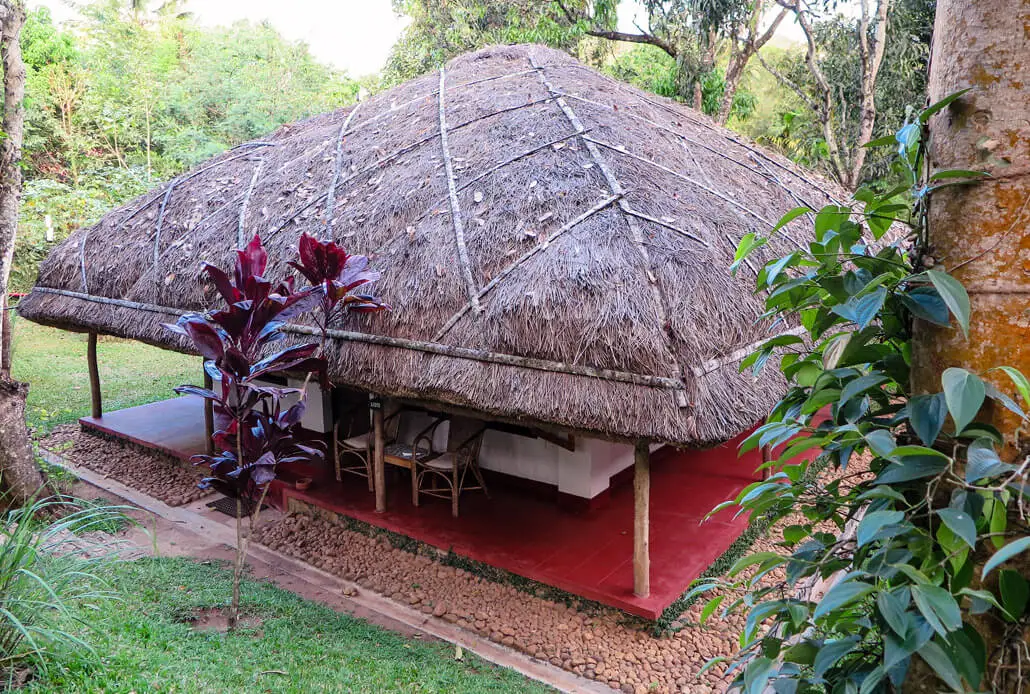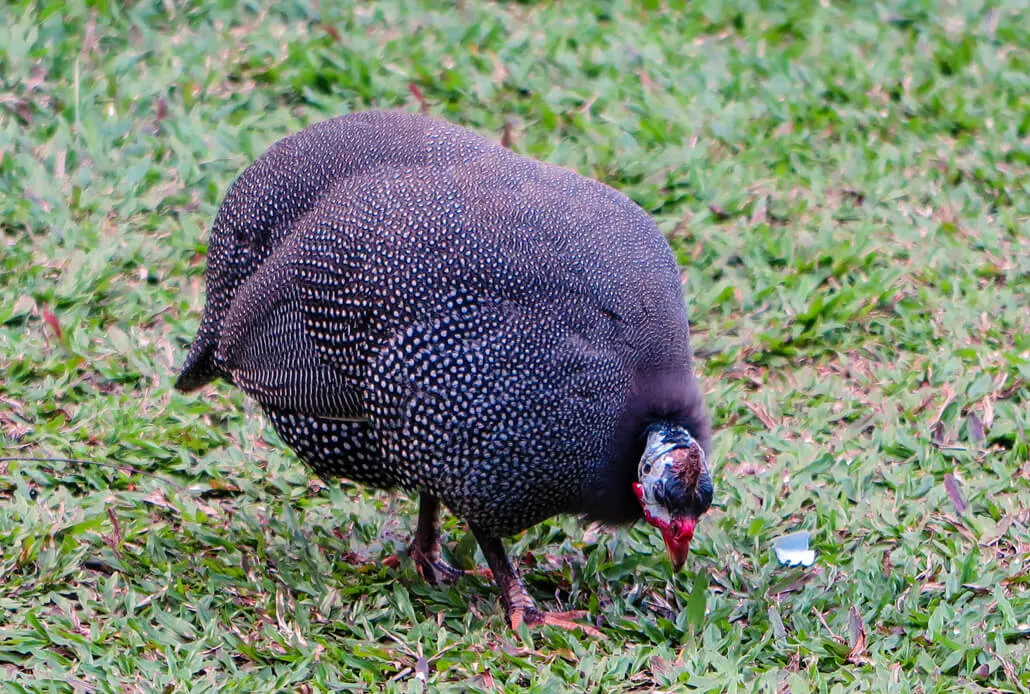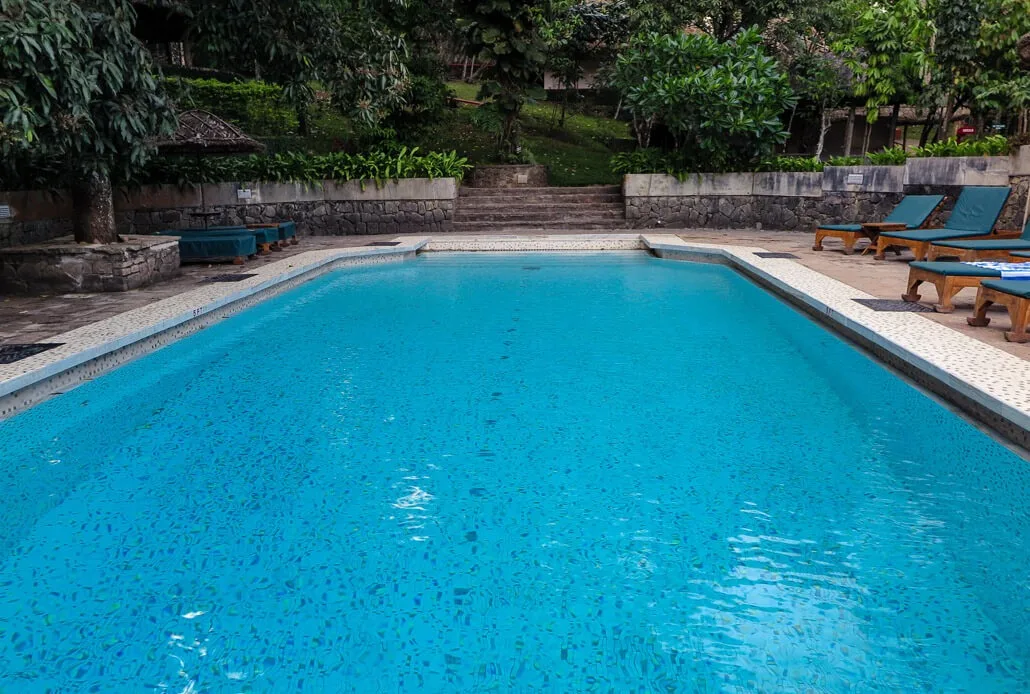 Vythiri Village
Vythiri Village – a luxury Ayurveda spa resort, NH – 212, Vythiri.P.O., Wayanad – 673576, Kerala, India
www.vythirivillage.com
Closest airport: Calicut
Vythiri Village was partially under reconstruction when I spent 3 nights there. However, the whole site was still very charming. It helped that there were cheeky monkeys around!
The rooms were nice and spacious. I struggled with the internet a little, but that could always be solved by hanging out in the reception area.
In fact, I had one of my best Ayurveda massages in Vythiri Village and still can't stop thinking about the experience!
I really wanted to try the zip line they have there, unfortunately on the day when I hoped to, there was a state-wide strike and the zip line workers couldn't make it to work. Everything else was flawless, though.
The whole Village is very green and is full of diverse trees. You can just walk around and check the nametags, if you're interested in botany. One thing that was very unique about the compound is that there's a manmade waterfall there! An impressive chain bridge leads to it. And if you'd like to have a lunch on a houseboat, there's a new one on a small artificial lake. Even though it's nothing like the real Kerala backwaters houseboat.
Once their big swimming pool is fully operational again, you won't even need to get out of the Village to have an awesome vacation. :) This hotel belongs to the best resorts in Vythiri and you can't go wrong with booking a few nights there.
Click here to check the current price on AGODA
Click here to check the current price on BOOKING.COM
Click here to read the reviews on TRIPADVISOR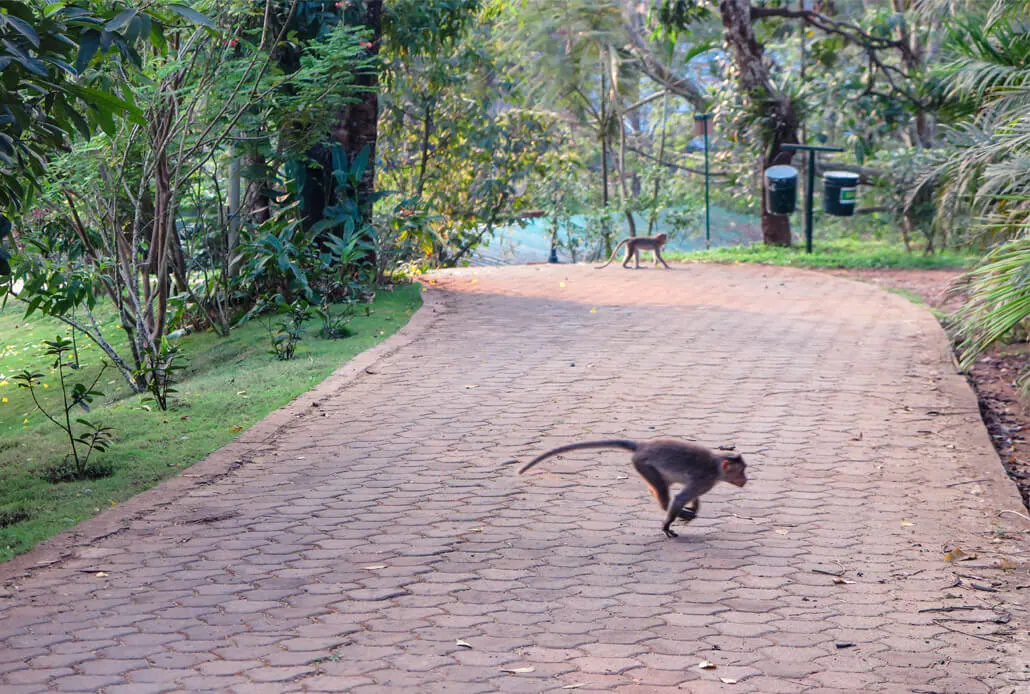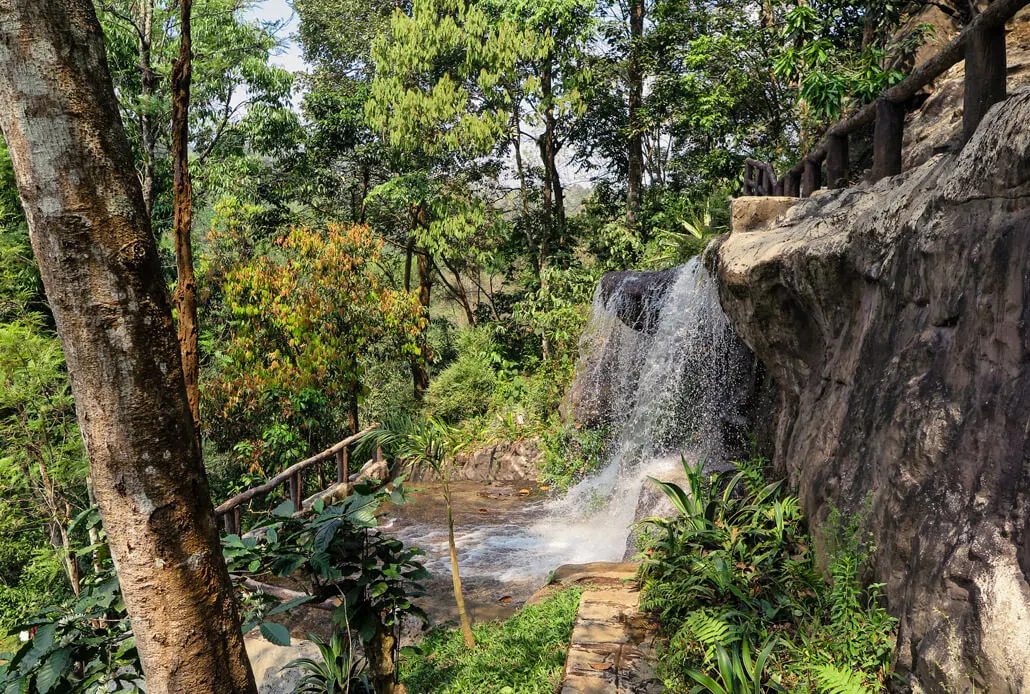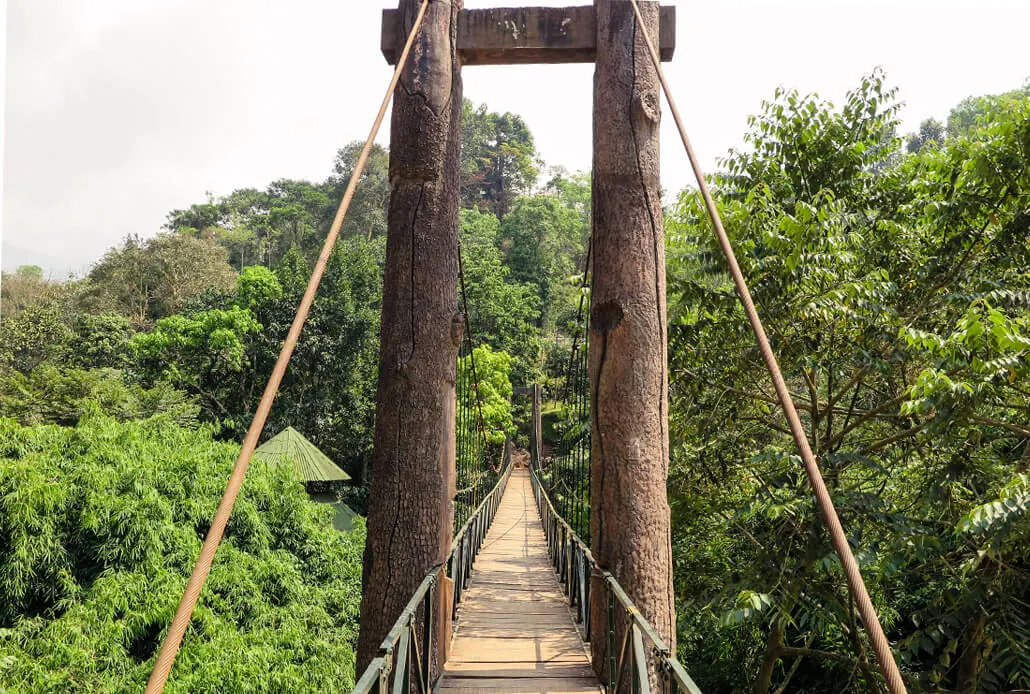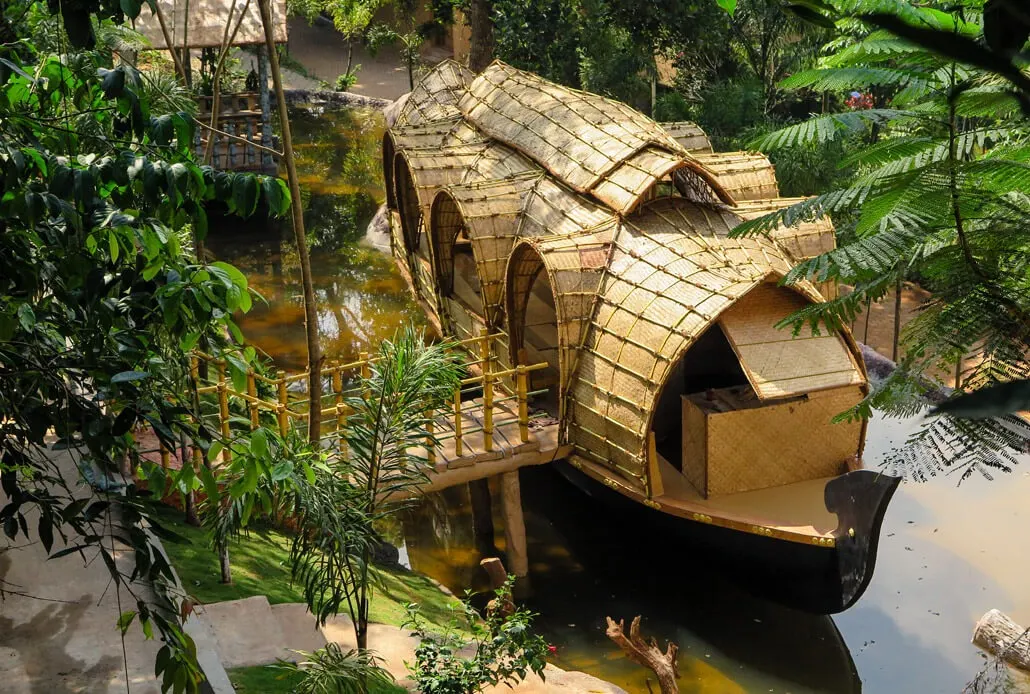 More of the Best Hotels in Kerala:
As noted above, I didn't get to stay in these Kerala hotels and resorts but they are some of the top rated hotels in Kerala. If the five I recommended above aren't what you're looking for, these may be a better fit.
Niraamaya Retreats Surya Samudra Kovalam
Looking for peace, relaxation, and healing? Check out this ayurvedic spa in Kovalam. It's not only one of the best spa resorts in Kerala, but it's also one of the best in India. Not only do most rooms have incredible views of the sea, but they also have a private beach just for hotel guests.
Old Harbour Hotel
Old Harbour Hotel is another boutique hotel in Fort Kochi with some luxurious touches. The 300-year-old property has quite the story, having been owned by the Dutch, Portuguese, and British before more recently being restored and turned into one of the best Kerala hotels. It was even shortlisted for a UNESCO World Heritage Award! Some of the amenities include a spa, swimming pool, and, of course, the famous gardens.
Grand Hyatt Kochi Bolgatty
I'm usually not one to recommend major chain hotels but this isn't your basic Hyatt hotel. Located on Bolgatty Island across from Fort Kochi, the Grand Hyatt Kochi overlooks Vembanad Lake. They even have a few houseboat options, including a conference boat! There are several restaurants on-site, all with incredible food, indoor and outdoor swimming pools. and a fitness centre, among other amenities.
Malabar House
Located in the center of the Fort Kochi heritage zone, Malabar House is another historic building turned hotel. Once used as the British headquarters, it's now a boutique hotel with charm. It's ideal if you plan to explore the sites of Fort Kochi, as it's within easy walking distance to most, and aren't looking for a beach resort or super luxury hotel. It's comfortable and quaint, with a swimming pool and other amenities to ensure a pleasant stay.
So there you go, plenty of inspiration for staying at some really nice accommodations in Kerala, India. While I focused primarily on Kerala luxury hotels, I'm sure there are loads of backpacking options too, especially in the Varkala area. I haven't actually been to Varkala myself, and as a result of being on the Kerala Blog Express trip, I stayed mostly in rather nice Kerala hotels.
Kerala is an incredible state in India and it does deserve attention from us travellers! If you're still not convinced, read my reasons why I totally fell for Kerala.
Have you been to Kerala yet? If not, is this the first time you've heard about it? Did you fall in love with one of the hotels?
If you know of somebody who'd find this post useful, please share!
Are you into pinning? Here's are a few pins of Kerala hotels for you!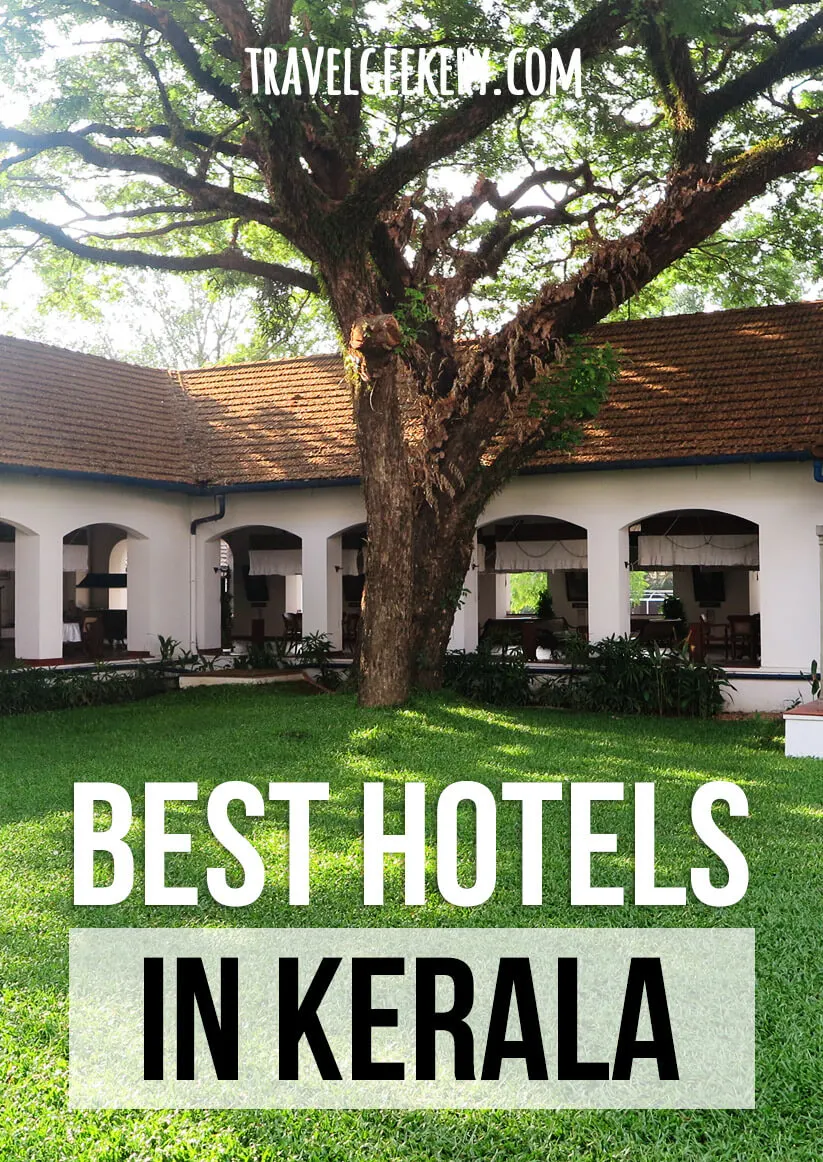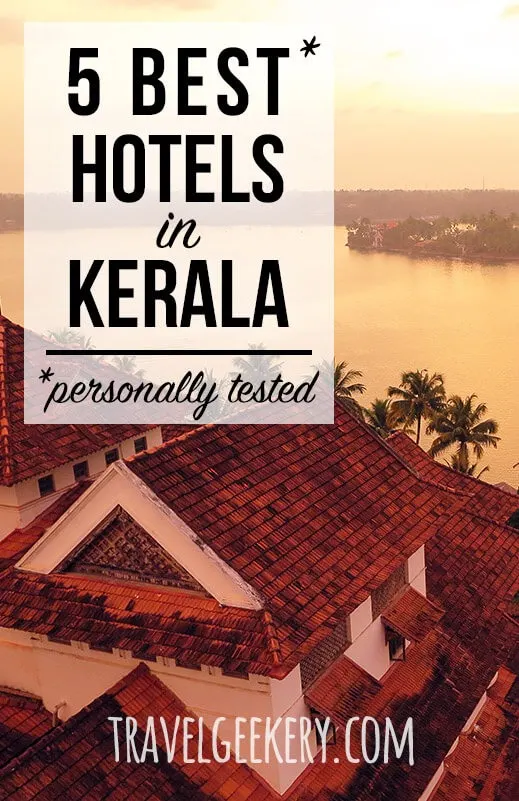 Disclosure: TravelGeekery's Veronika participated in a sponsored trip to Kerala organized by Kerala Tourism. All opinions presented are Veronika's own.
This post was originally written in 2015 and republished in 2023.