I realize this might sound unbelievable. I was skeptical myself. Kerala seemed just like any state in India, and I expected chaos, hygiene standards far from perfect, glorified cows and staring men. But to my surprise, I discovered a state with friendly people, beautiful nature and high-end facilities.
The list of reasons why I love Kerala could easily fill a book. Here you have just 12+ reasons, short and sweet!
Read on why I think Kerala should be a part of any India itinerary.
1. Kerala People
Nowhere else in the world have I experienced friendlier people, and that's no exaggeration. It's pretty rare to encounter locals that are so friendly and willing to pose for pictures without wanting anything in return.
In Kerala, the people wave at you, proudly pose, and have fun. Simply show your photos to them and you'll be flooded with gratitude.
I'll always hold people of Kerala dear to my heart, especially the local friends I've made.
2. Lush Greenery & Stunning Landscapes
Palm trees and coconuts everywhere! No, you're not in the Caribbean, you're in the State of Kerala! Being a native of central Europe, palm trees are quite a big deal for me, I was simply speechless..
One of the most amazing things was the greenery of the tea plantations! The views of the tea-covered hills are stunning and make up for the long and strenuous journey on Kerala's mountain roads, which are surprisingly called highways.
The backwaters of Kerala are a unique feature not only in India, but also globally. Its 44 rivers and canals, alternating with lakes, provide for a viable mode of transport with incredibly beautiful surroundings. I knew I was in love when cruising there on a houseboat.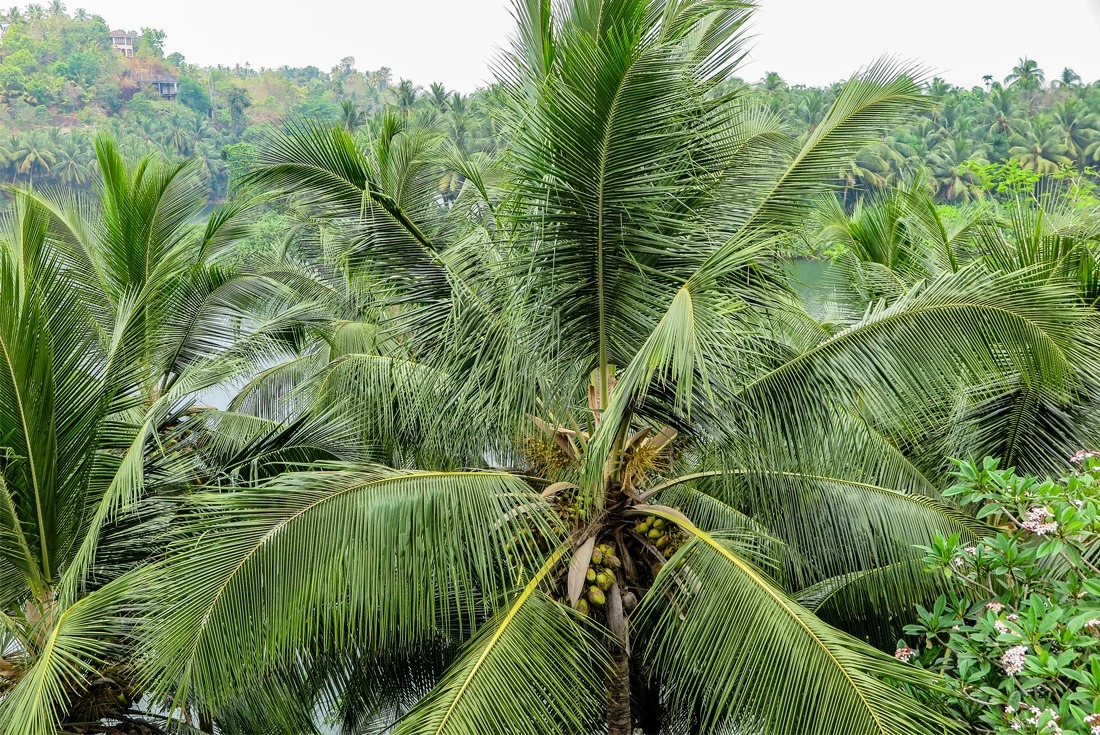 3. Culture
Kerala is incredibly rich in culture. Traditional Kerala forms of art include dances, music performances, martial arts and many more forms.
It's mesmerizing to watch the faces of Kathakali performers – a dance depicting one of the stories from ancient Indian books, with green-painted faces, elaborate costumes and facial expressions so diverse! It takes years to perfect controlling individual facial muscles as these dancers have.
Other famous performances include e.g. Theyyam temple dance and Kalaripayattu martial arts.
Keralian culture translates to beautiful sightings anywhere on the street – I mean all the beautiful women in their sarees. Men wear doti or mundo, which I found quite special too.
4. Religious Tolerance
Imagine a place, where Hindus, Christians, Muslims and Jews live peacefully together. Considering the stories we normally hear in the news it sounds unbelievable, doesn't it? But that's how it is in Kerala!
We visited e.g. the town of Munnar, where a temple, a mosque and a church were all within walking distance from each other. People seemed to be very nice to each other and generally didn't care what religion their neighbors were. That of course changes, when it comes to marriage, but I won't get into that :)
There's also a small Jewish population living in Kerala. The biggest Jewish community, in Cochin, has formed back in the ancient times.
5. Rich History of Muziris
Kerala used to be world-famous, much before the times of Vasco de Gama, who's considered the first to discover the sea route to India.
It is now known that Kerala's ancient port of Muziris was one of world's most famous points on the ancient trade routes, dating as far back as to 3000 BC. Recent archeological artifacts only confirm this theory, as objects clearly influenced by a mixture of cultures (incl. European) are currently being excavated near Cochin.
6. Spices and their Trade
Kerala's convenient climate conditions make for ideal conditions for spice growing. Spices used to play a key role in Kerala's history. With India's 70% share on world spice production, Kerala is among the leading spice-producing states in India.
If you're visiting Kerala, you definitely shouldn't leave out a visit to spice plantations. I was surprised to see spices like black pepper and clove grow! Not to mention that it was my first time seeing coffee plants blossoming. Did you know they have a jasmine scent?
7. Diverse Wildlife
Kerala's wildlife is very diverse and the natural habitat with an abundance of greenery provides for one of today's rare escapes for endangered animal species. The Bengali tiger lives there, and despite the huge tiger population decrease in the past decades, things look more optimistic today.
Wild elephants roam Kerala's forests and currently have a much better life as Indian law prohibits anybody from capturing elephants in the wild. The network of state-supported sanctuaries serves not only for the previously laboring elephants, but also for saving elephant babies who might happen to end up separated from their families and unable to survive on their own.
8. Pleasant Climate
The climate in Kerala seems moderate to me, even though you might consider it very hot :) But there's always the possible escape to the mountains where even in the high season the temperature might drop below 10 degrees Celsius at night.
The hot weather makes it an ideal beach destination, which helps if you have 600 km of coastline like Kerala does!
9. (Spicy) Food
I probably shouldn't write too much about the food, because I'm a picky eater who doesn't handle spicy stuff very well. Yes, I lived in Sichuan, and survived there, but that doesn't mean India would be a piece of cake! So I mainly stuck to non-spicy alternatives and when those were not available, I refrained to delicious naan bread and rice only with just a little local sauce.
The spicy meals seemed to taste awesome too, but I only managed to try and never made it past a few bites. But if you yourself are a spicy food aficionado, you'll have a time of your life :)
Of course, when in India, one might get an upset stomach, and not just once. To be prepared, check out these tips on how to avoid getting sick in India.
10. Things to Do
It's extremely difficult to get bored in Kerala. You can do many nature-related activities like hiking, wildlife tours, boat rides, houseboats and so on and so forth.
And then there are cities with fun events, like the Art Biennale in Cochin every 2 years, and a myriad of temples to admire.
Here are all the places to visit in Kerala.
11. Hotels and Facilities
Kerala has something for everyone. You can spend a few rupees and stay in a slightly dodgy place if you're on a tight budget. But you can also enjoy a full luxury of hotels that provide whatever you can think of. Are you a fan of resorts? No problem, you'll find enough options to choose from.
Here are the best Kerala hotels I stayed at during my 3-week trip.
12. Ayurveda & Yoga
Kerala's got the best of India and Ayurveda is no exception! You can get pampered and enjoy Ayurvedic treatments all over Kerala. Let the masseuses rub the miraculous oil in your skin and give it a nice glow.
For those of you who need to reconnect with yourselves, there are many ashrams in Kerala! You can do Yoga and meditate all day long. This activity is becoming increasingly popular among the overworked people from the West, and it apparently works. It's actually quite cheap to stay in an ashram, but you can't expect much luxury ;)
The Friends
Probably unrelated to Kerala overall, I need to mention this point anyway! My trip to Kerala wouldn't have been this awesome without the great friends I was there with! My local Kerala buddies, as well as the 29 international friends have made the trip really special!
If you visited India already and missed Kerala, I hope I just convinced you to make another trip to India and head straight to Kerala.. As you could see, it's unique and definitely shows a very different side of India.
More info about Kerala, together with a myriad of eye catching photos can be found on Kerala's official website.
If you feel like going, I suggest you get yourself a Lonely Planet guidebook on Kerala (and South India). What I read there always gets me thrilled about an upcoming trip and then helps me understand the historical and cultural background of the locals.
And if you're planning a Kerala trip on your own, refer to this itinerary.
So are you packing your bags yet? :) If you already had the chance to get to know Kerala, what were the highlights of your trip?
Did you enjoy this article? Sharing is caring, as they say! ;)
Disclosure: TravelGeekery participated in a sponsored trip to Kerala organized by Kerala Tourism. All opinions presented are Veronika's own.
Lovely pinners! Here are some pins for you :)