Contrary to what its name suggests, Oktoberfest doesn't only happen in October. In 2023, it starts on September 16th and runs until October 3rd.
It is the world's no. 1 festival of beer drinking. But even those who don't like beer still flock to Munich during Oktoberfest to just enjoy the fun atmosphere (you can get wine there too!).
First, decide whether you're going to Munich just for Oktoberfest making it your principle reason for visiting, or whether you're going to visit Munich and you're curious to see what Oktoberfest is like. Making this clear will help you determine how to go about arranging things.
If Oktoberfest is your one and only interest
Book well in advance – that applies to accommodation as well as reservations in the beer tents, especially if you're a bigger group. Allow for a few days, but even if you're a confirmed beer enthusiast, you will hardly have fun drinking several days in row. The recommended option for hearty drinkers is to drink for 2 days, take a break, then repeat.
If Oktoberfest is just an add-on of your trip to Bavaria
If possible, book your ho(s)tel well in advance. You won't need to book a table in a tent, though, especially if you're going on a weekday. Groups under 3 will have it much easier than bigger ones. Just wander around and try to enter any tent that's accepting people. If a tent gets too full, they close it and put a sign by the entrance along with a security guy. Once people leave, and more space is created, then the closed tents will start letting new people in again.
In any case, if you're visiting the Bavarian capital in autumn, Oktoberfest is one of the top things to do in Munich.
The Venue
Oktoberfest happens in an area called Theresenwiese, with a metro stop of the same name. There are several entrances to the venue. You won't need to pay an entrance fee to access the area. The easiest way to get there is to follow the crowds, which you should be able to easily recognize :D
The Wiese looks like a theme park and it even has several rides. If you like roller coasters, I'd suggest going before starting to drink too much :)
Some of the tents are massive and some might look like big pubs with both in- and outdoor seating.
The Experience
You'd buy your 1-litre beer and just enjoy the atmosphere. It's easy to approach locals and foreigners alike. Last year I attended with some Chinese friends and we were quite in the centre of attention. We cheered together with the party and had loads of fun.
If you'd like to attend in style, you need to wear the real Bavarian outfits! Guys wear shirts with leather shorts (Lederhosen), while girls wear traditional dresses (Dirndls). Oktoberfest can also be a great opportunity for a romance! The girls tie a bow on their dress to identify whether they're single or not: a bow on the left means she's single (see a complete Oktoberfest dressing guide).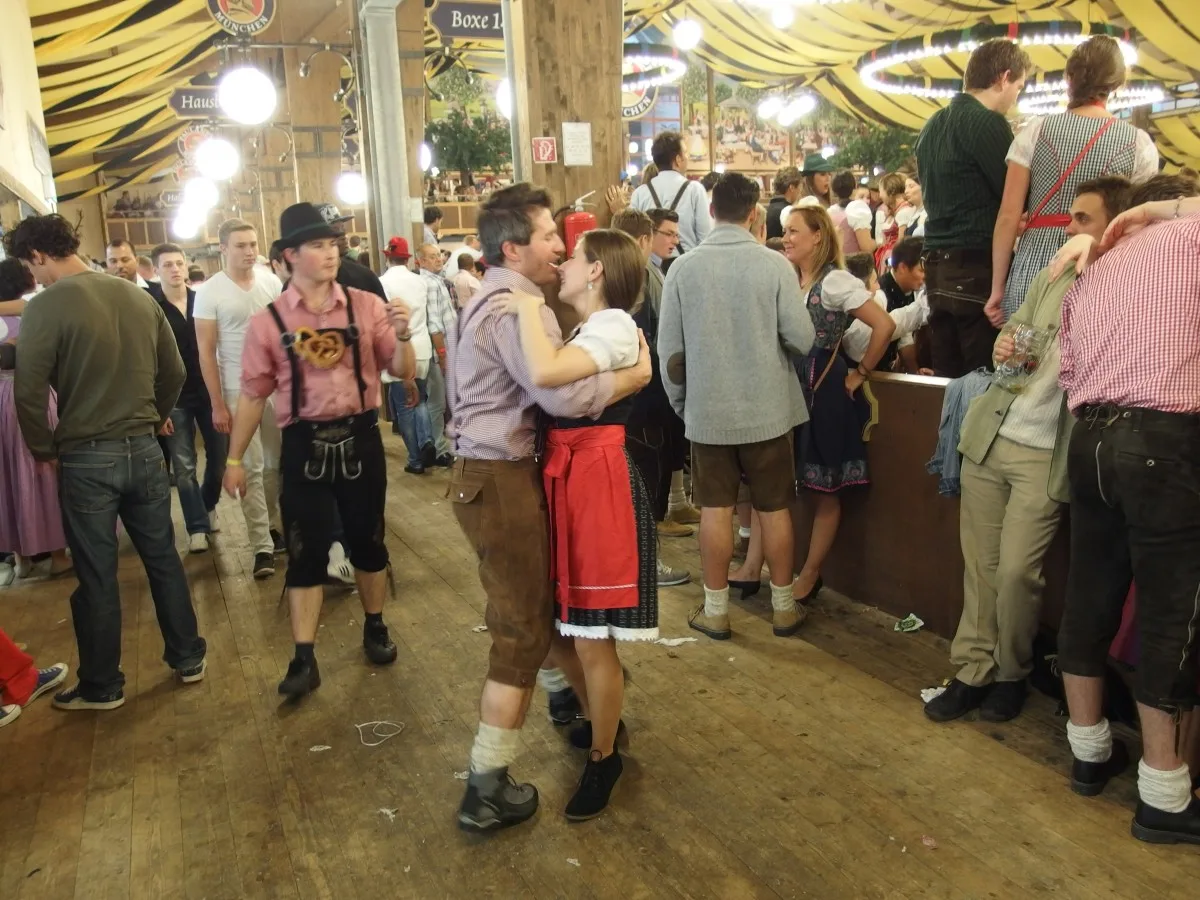 And don't forget to eat while you're there! The best (and significantly cheaper) food is served outside the tents, in the numerous vending stalls. Get a real German sausage, nice grilled chicken or go for sweets with hart-shaped gingerbread as the most popular choice.
Most of the tents close before 11pm, and you have to order your last beer before 10:30.
Oktoberfest can be enjoyed all over Germany and even abroad! During the official Oktoberfest time, there are many similar festivals happening in German cities and faraway countries like e.g. China. Beer drinkers of the whole world like to share the Oktoberfest spirit and it's no wonder why!
Still not sure if you could survive it? Check out Megan's survival guide.
For ultimate insider info about Oktoberfest, head to this great site: www.oktoberfest-insider.com
Have you been to Oktoberfest or is it still on your go-to list?