Featured image credit: Botond Horvath / Shutterstock.com
Today's post is not going to be a travel tip per se and contrary to the title, there are no animals involved, only humans.
The circus members that I'm talking about are the members of the European Parliament, their assistants, interpreters and many many files which are transported each month from their offices in Brussels to Strasbourg.
I'd like to share with you the story behind so that you're fully informed for your upcoming trip to Strasbourg..!
As you probably know, the primary seat of the EU Parliament is in Brussels, Belgium, where most of the EU institutions are.
Each month, the parliamentary documents are loaded onto 5 trucks. In addition, 2 trains are chartered to transport around 1,000 members of the European parliament and several thousands more get there via other means of transport. They all arrive to Strasbourg, attend a plenary session lasting 4 days, only to immediately return to Brussels, again with all their files and staff.
Why is this done?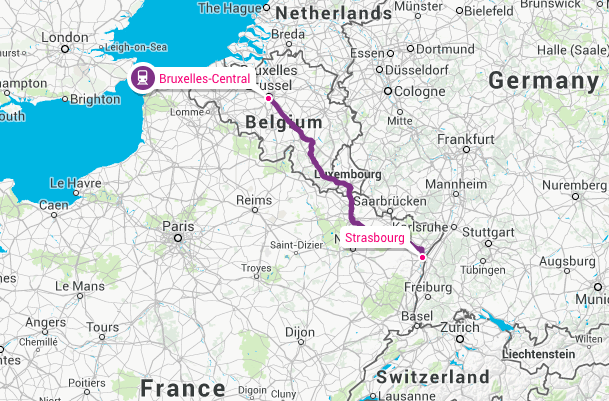 The plenary sessions (=voting) are done in Strasbourg, while only committee meetings are organized in Brussels – that's how the system has been embedded in the European treaties. Strasbourg has been the official seat of the Parliament since 1951. It's a French city close to the German border that was chosen for its political significance. And France is not going to give up on that easily, which is understandable.
There's actually a third seat as well – the administrative offices of the European Parliament are in Luxembourg. However, the annual cost of maintaining the Luxembourg offices, which is around 14 million EUR, is far lower than maintaining the Strasbourg seat that amounts to well above 100 million EUR per year.
The cost of transporting the staff and files between Strasbourg and Brussels is approximately 114 million EUR per year. Although the parliament building in Strasbourg is occupied by the members of parliament for only 48 days per year it must maintain a staff of 100 full time employees to keep it running.
The area of Strasbourg changes significantly during those 4 days each month. It's not only the politicians and their assistants who come to Strasbourg – lobbyists must be around as well, which means that Strasbourg's population increases by 5,500 during those 4 days that the parliament meets. That's why it's referred to as a circus!
Members of Parliament themselves voted last year to abandon this practice of monthly meetups. However, it's not expected that the change would occur anytime soon.
So on your next trip to Strasbourg, don't spend all your time in the old town admiring the Petit France – take a tram to the EU Parliament and see the large, beautiful and mostly empty building that has become a symbol of excessive spending of the EU.
Just make sure you don't come during the parliamentary meetings because hotel rates are insane during that period! [clear h=15]
If you're interested in the details of the EP travelling circus (incl. info on carbon emissions), check this valuable article by The Telegraph UK: http://www.telegraph.co.uk/news/worldnews/europe/10565686/The-farce-of-the-EU-travelling-circus.html
Other sources used:
http://www.euractiv.com/sections/future-eu/auditors-put-price-tag-eu-parliament-travelling-circus-303846
http://www.europarl.europa.eu/document/activities/cont/201310/20131025ATT73477/20131025ATT73477EN.pdf
http://www.thelocal.fr/20131121/why-the-eu-parliament-must-remain-in-strasbourg
If you've been to Strasbourg, what was your impression of the EU Parliament building?