Congratulations on deciding to explore the Eastern part of Sicily! Basing yourself in Catania and exploring the rest on one day trips from Catania is a great idea.
If you're looking for a quick recommendation of the best day tour from Catania, check out this one to Taormina and Mount Etna.
There are many things to do in Catania. But, to be fully honest with you, I didn't love the city. It was too busy and I found more charm in the smaller towns we visited on our little day trips from Catania region, since we stayed in a small village an hour away.
(Check out also my one week in Sicily itinerary.)
The following are day trips from Catania by car. However, if there's an easy public transport option, it's always mentioned. The same goes with day tours from Catania, which may come in handy if you cannot or don't want to rent a car and are still eager to explore a bit around.
As for accommodation tips, check out this overview of best Airbnb apartments in Catania.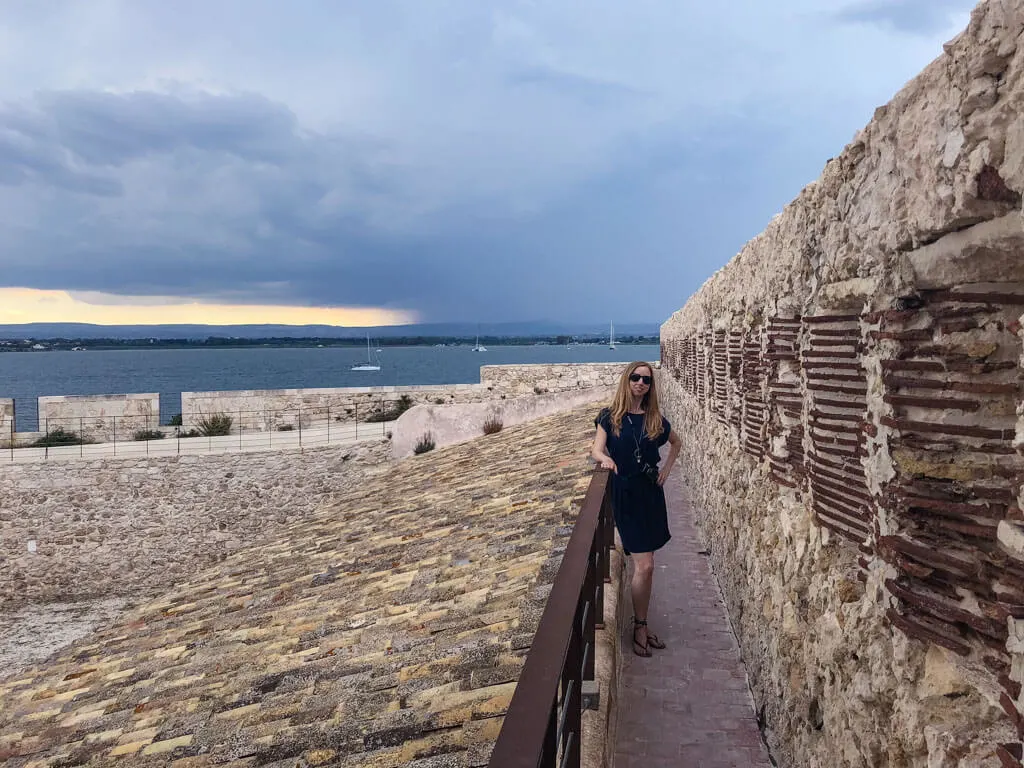 I invited a few fellow travel bloggers to share their tips on best day trips from Catania, since I didn't cover them all myself. All in the spirit of writing only about visited places, as the mission of this blog is. :)
What are these day trips outside Catania (Italy) going to be about? You can count on plenty of UNESCO World Heritage Sites, enchanting historical towns, nature adventure and some beach time.
Without a further ado, let's get to the remarkable day trips from Catania Sicily:
Taormina
This is my most favorite town in Sicily, since there are so many diverse things to do in Taormina!
Taormina is built into the side of a hill, which means you can count on amazing views. Your first steps will lead to the Ancient Greek Theatre, originally built by the Greeks and later renovated by the Romans.
Not only is this site historically important, you can also admire mind-blowing views over the ocean from there.
Strolling the main boulevard Corso Umberto between its two main gates is another recommended thing to do. It's lined with historical churches, leads past galleries and charming restaurants, as well as general luxury shops.
Towards the end, it opens on the Square Piazza IX Aprile. Stop there, peak into at least one of the two churches and admire more of Taormina's seaside views.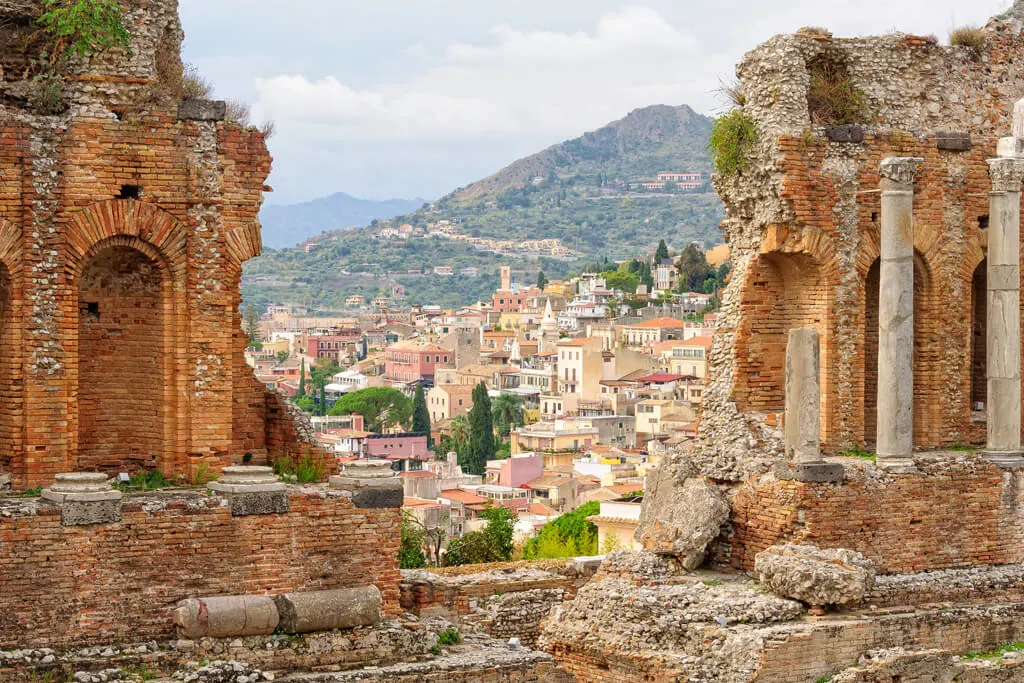 After that, it'll be time to hit the beach. Your best option to reach Taormina's beaches is with a cable car. A short ride will take you to Mazarro Beach, but while it is a good one, the best awaits if you're willing to walk a little further.
A much longer beach called the Isola Bella is a lot more pleasant beach to hang out at. You're also welcome to walk over to the tiny islet of the same name. For a small entrance fee, you can learn about the history of the charming island as well as the family who owned a house there.
If going from Catania to Taormina by car (preferred way!), don't forget to leave the car at the official parking lot (called Lumbi) well outside the city, otherwise you might get yourself into trouble.
Wondering about other options how to get from Catania to Taormina? Fortunately, there are also direct bus and train connections. No matter what means of transport you choose, the trip will take about one hour.
Taormina is so beautiful that it's appeared in quite a few Sicilian quotes by the likes of Guy de Maupassant, Oscar Wilde or D. H. Lawrence.
If you fall in love with Taormina and decide to stay overnight, here's a list of the best Taormina villas and Airbnbs.
---
If you don't want to rent a car, you can also visit Taormina on one of these tours from Catania Italy:
Syracuse / Ortygia
Syracuse, or Siracusa in Italian, is another wonderful town to visit on a day trip from Catania. While the newer part of Syracuse is interesting enough on its own, it's mainly the Old Town located on an island, which draws tourists from near and far.
The Old Town of Syracuse is called Ortygia (Ortigia in Italian). The heart of Ortigia is made up of the Piazza Duomo dominated by the Syracuse Cathedral (Siracusa Duomo). It's a great place to stop for a while, do some people watching, and even peek into the Cathedral if it's open.
The church of Santa Lucia right next is beautiful both in and outside. You can even explore a network of ancient tunnels underneath called the Hypogeum with its entrance right at Piazza Duomo.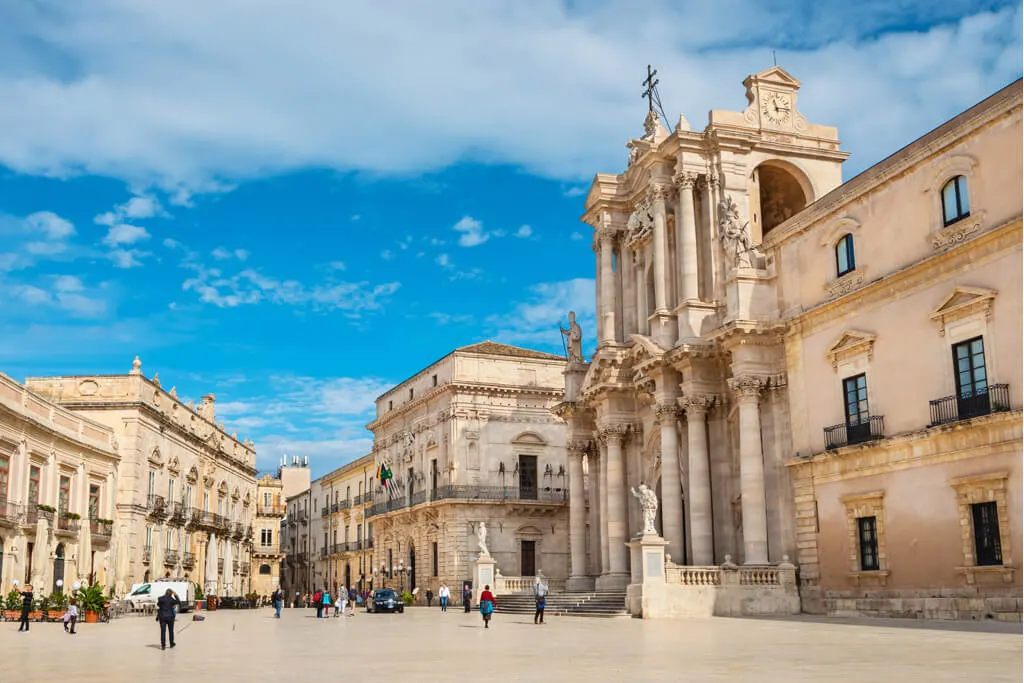 A castle and a citadel in one called Castello Maniace occupies the southernmost tip of Ortigia. It comes from the 13th century and is a less visited tourist site. I can highly recommend it, though. The citadel is easy to explore on your own (for a small fee) and you'll be able to enjoy beautiful seaside views.
If you choose driving for travel from Catania to Syracuse, make sure to leave your car in Syracuse itself, since it's not possible to drive all the way to Ortygia. We left our car in a side street and didn't have to pay any fee.
Siracusa also has direct train and bus connections from Catania. While driving and taking a train takes about an hour, with a bus you can expect to spend an hour and half on the road.
---
You can also visit Siracusa (incl. Ortigia) on this day tour from Catania:
Mount Etna
You cannot come to this part of Sicily and miss out on visiting the mighty Etna. Did you know that Mount Etna is the highest active volcano in Europe, if not counting Caucasus? Its significance has been marked by its 2013 addition to the UNESCO World Heritage Sites list.
A day trip to Mt Etna from Catania can take as little as 3 hours or a full day, depending on how long you want to spend exploring.
During its 500,000 years of existence, Etna has erupted many times and you'll be able to see a sea of resulting craters. Quite a few of them are easily accessible from the parking lot.
You're free to roam the crater tops, walk down into the small canyons… The volcano gravel can get slippery, though, so watch your step.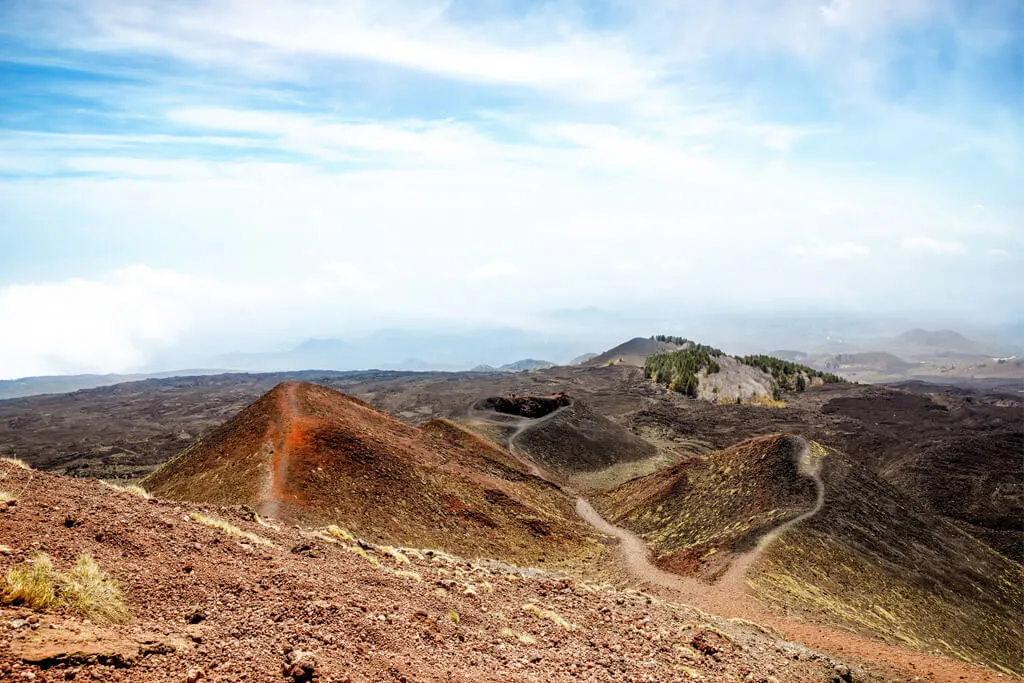 Your Etna trip from Catania can continue a lot higher up than just to the parking lot and around. On clear days, it's highly recommended to take the cable car up and go as high to the top as possible.
Etna releases smoke a lot, which then forms into clouds, so it can be at times challenging to get a clear view. I suggest you decide on the spot whether you want to spend the extra 30 EUR and get higher up.
Etna's moonscape like surface is a sight on its own. The rocks come in brown and black colors and you can even take a few home as a free souvenir. Flowers and plants occasionally grow on the hostile-looking landscape and create a beautiful contrast.
If going to Mount Etna from Catania by car (recommended), follow the signs to Rifugio Sapienza. The parking lot is large and there's no fee to pay. The drive takes about an hour.
Practically your only other option to get there is to join a tour. Fortunately, there are many Etna tours from Catania to choose from.
---
You also have an option to see Etna on a day tour. Choose from these options:
Zafferana Etnea
You won't find Zafferana Etnea in many guidebooks. This low-key town lies in a close proximity to the Etna volcano. To me, it offers an authentic local experience of a lively town, which doesn't depend on tourism.
Zafferana features a large church with a staircase built out of volcanic rock. Just below it a down-sloping long rectangular square opens up, all lined with interesting buildings and cute cafés that double as snack shops and small restaurants.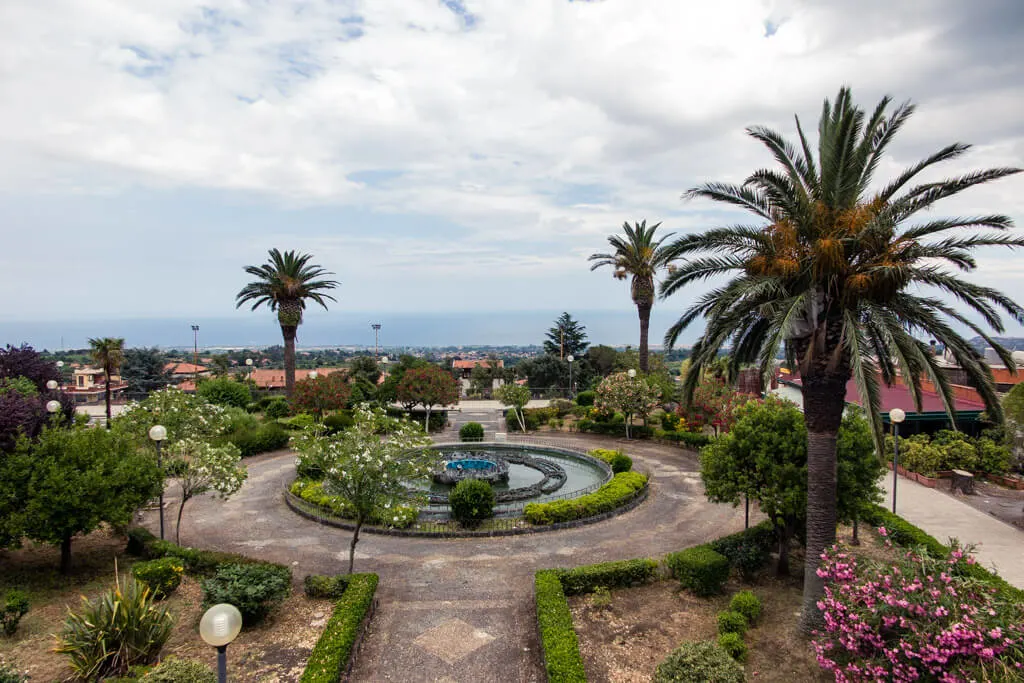 The square ends with a railing and from there you'll have a nice view over city gardens below and the Mediterranean Sea in the distance.
People watching is one of the best things to do in Zafferana Etnea. Observing the energetic Sicilians going on about their day, stopping their quick strides when they encounter a friend – that's the real life in Sicily.
For a nice bite to eat, e.g. Pizza Siciliana or Arancini, you can try the uber-local Le Gioie del Grano on the main boulevard Via Roma. Make sure to also stroll this boulevard in both directions to see some cute houses and unique examples of local architecture.
It takes about an hour to get to Zafferana from Catania by car. You can also connect seeing Zafferana with a trip to Etna.
Do you need to rent a car for visiting places near Catania?
In short – yes. While bus and/or train connections between many of the day trip destinations listed here do exist, the train network focuses just on the major cities and bus service can be spotty.
Renting a car for getting around Sicily is the best way to go, in my opinion. I recommend going with an international car rental.
I read many bad stories online about renting from smaller local providers. While I'd generally prefer to support local businesses, there's no way for you as a tourist to know if a company is reputable, unless you have a recommendation from someone you trust. We ended up renting our car via Sixt and didn't regret it.
If your budget allows, go for the highest coverage. And at the same time for the smallest car. You'll thank me later!
If you don't feel like driving the often-crazy Sicilian roads, opt for a few day tours to get out of Catania.
Check out available car rentals and choose carefully!
Noto
Noto, a town in the Southeast of Sicily, is known as THE place to go if you want to admire Baroque architecture.
Anywhere you find yourself in Noto, you're always just a few steps away from an amazing cathedral or a church built from limestone. The same light rock was used to tile the streets of the Old Town too and it is beautiful.
Built out mostly in the 18th century after an extremely devastating earthquake in 1693, Noto's original location was a few kilometres away, in a site called Noto Antica.
Noto forms part of the historical region of Val di Noto, which was inscribed on the UNESCO World Heritage List in 2002 for its Baroque features. Other cities in the listing include also Catania, Modica or Ragusa.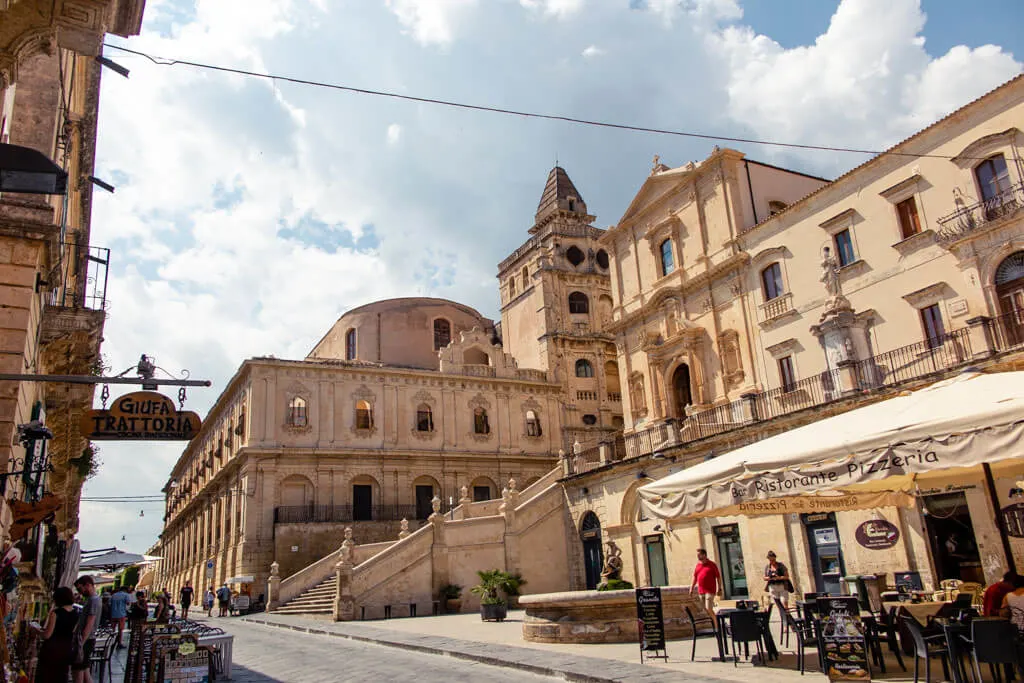 Noto Cathedral is the no. 1 sight in the town of Noto. The vast structure suffered in another earthquake in 1996, when its dome collapsed. It took 11 years to properly reconstruct it! The interior of the Cathedral is rather modest, or so I've heard.
Apart from the Cathedral, Noto is especially rich in churches. On the Corso Vittorio Emanuele Road, you can count 3 large churches!
But the stunning architecture shouldn't be the only reason for you to take a day trip to Noto. Come here to explore also one of the best granitas in all of Sicily. The typical Sicilian sorbet like dessert can be tasted at the world-famous Café Sicilia, which even appeared in a show on Netflix. The family that owns Café Sicilia had a major part in reviving Sicily's almond industry and you can even taste the love in their almond granita!
Noto is an hour away from Catania by car. If you choose to take a bus, count on 1.5 hours.
---
To visit Noto on a day tour from Catania, you can do so with these highly-rated ones:
Giardini Naxos
Giardini Naxos is one of the most beautiful beachside towns near Catania. It's just on the outskirts of Taormina, so you can connect a trip to Giardini with a day trip to Taormina.
You can easily spend a day hanging out on Giardini Naxos' main beach. The nice pebble beach is spacious enough and you can choose from different 'lidos'.
Each lido has a couple of sunbeds with attached parasols and a refreshment point, which can either be a café, a bar, a restaurant or a combination of all three.
But Giardini Naxos is not interesting solely for its beaches. The town itself can keep you entertained for hours. The beach road is lined with unique Art Deco buildings well worth admiring.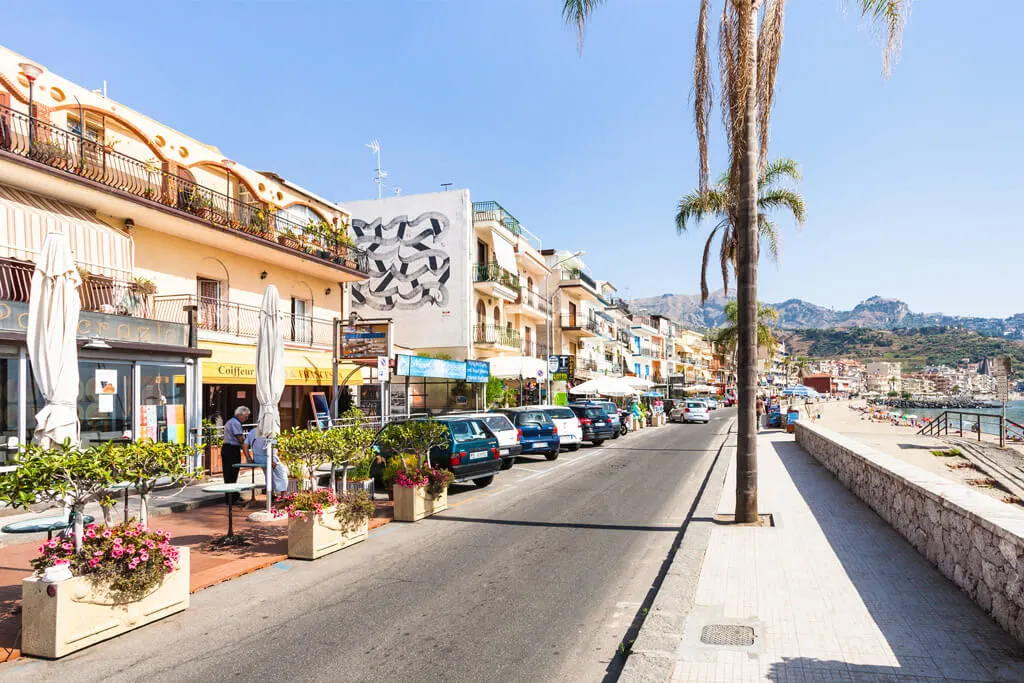 You can also enjoy tracing down all the statues of Greek gods, which are sprinkled around the town. I specifically remember the one of Silenus, the God of wild nature, who was always drunk. :)
A unique cone-shaped church forms a beachside city center and it's always full of locals. The area around is thus great for people watching.
Ultimately, I'd suggest you pick one of the beachfront restaurants and treat yourself to a good meal or a fancy drink.
Giardini Naxos can be reached by car from Catania in only 30 minutes. There are bus connections too with the trip taking 40 minutes. Trains take about an hour – make sure to get off at a stop called Taormina-Giardini.
---
Since Giardini Naxos and Taormina are located close to each other, it makes sense to combine them, just like on this day tour from Catania:
Módica
Contributed by Whitney of the travel blog Designs For Travel
For another fun day trip from Catania, visit Módica. Located in Southeast Italy, Modica is a UNESCO World Heritage Site known for its Baroque style buildings.
It is easiest to get to Modica by car from Catania with the drive being about an hour and half long. There are two ways to get there, traveling south through the hills, or along the sea.
I recommend traveling there in the morning through the hills, with a stop at Ragusa on the way. Travel back to Catania along the sea with a stop at Noto or a beautiful beach like Fontaine Bianche.
While in the "Centro Storico" (Historical Center) of Modica, visit the Renaissance style Chiesa di San Giorgio, a 16th-century Benedictine church. Other historical churches worth visiting are Chiesa di San Pietro and Santa Maria del Gesu.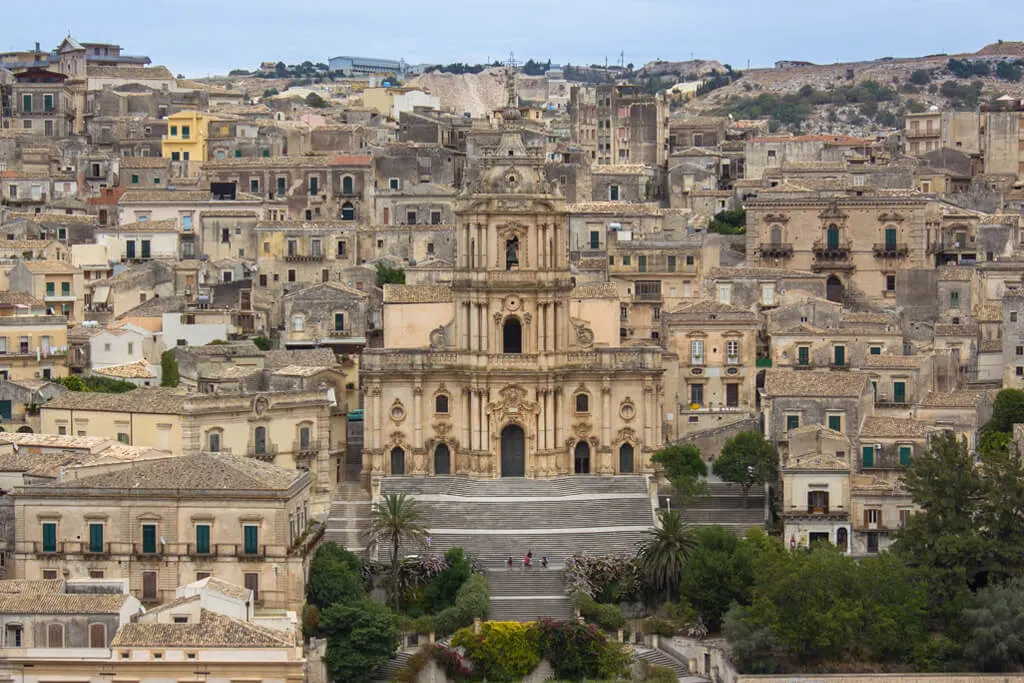 For amazing views, and a workout, walk to the top of this hill town to Belvedere. Now you are ready to indulge in Modica's famous chocolate.
You can visit the oldest chocolate factory to explore the city's history of chocolate making, and then walk around the charming town enjoying samples from the various makers.
Drive 9 km east of town to visit the Cava d'Ispica. This is a 13km gorge, and from the Bronze Age to 17th century, many have called it home.
---
To visit Módica on a day tour from Catania, make use of this one:
Ragusa
Contributed by Ivan from Mind the Travel
The hilltop city of Ragusa is another Sicily's Baroque gem well worth exploring on a day trip from Catania, Italy. Listed as a UNESCO Site, it remains off the beaten tourist track, since tourism is still relatively rare here, and foreign travelers do stand out.
Nowadays there are two parts of the town: Ibla (or Ragusa Ibla), the older side on a hilltop, and Ragusa Superiore, the more modern upper town, filled with newer houses.
Of course, both deserve your attention, but it's Ragusa Ibla that draws the largest crowds. The plethora of character-filled lanes, architecturally stunning churches, gardens, and excellent restaurants are the magnets for visitors. Higgledy-piggledy houses may not look polished and manicured, but are nevertheless beautiful and authentic.
Much like neighboring town Noto, Ragusa was rebuilt in the Baroque style after the terrible earthquake that hit most of Eastern Sicily in 1693.
A highlight of any trip here is the Duomo di San Giorgio with its ornate railings, ringing bells, and intricate façade. Next to the church, there is the tiny Museo del Duomo. It has historical and ecclesiastical exhibits from the original pre-earthquake San Giorgio set in a series of small rooms over two floors.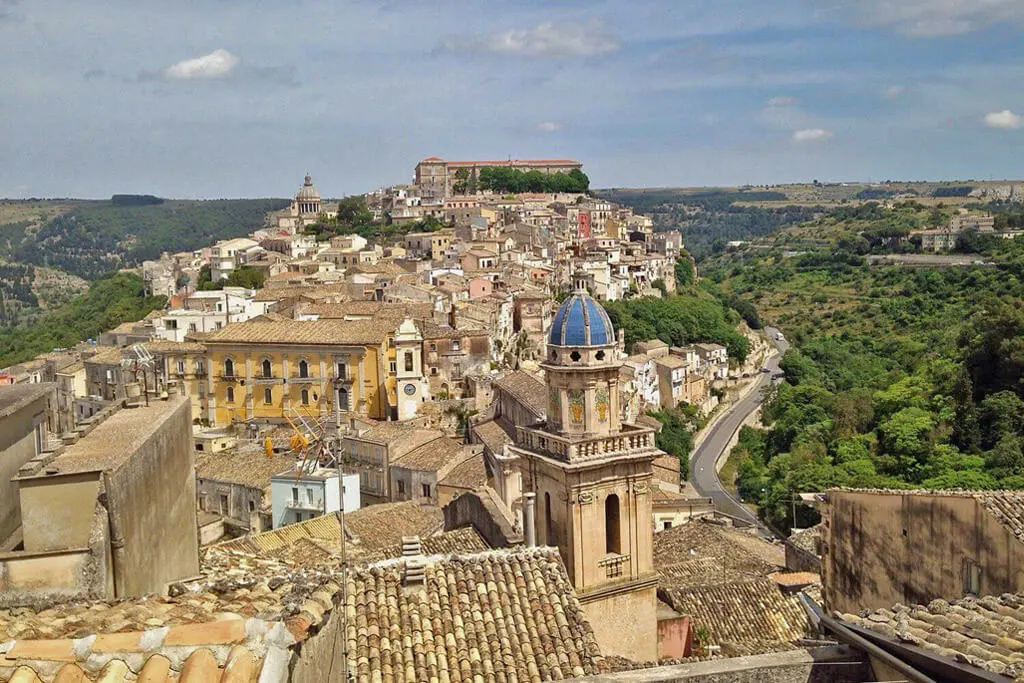 There is no shortage of amazing places in Ragusa Ibla. From elaborate balconies to leafy gardens to views over the surrounding valleys, the Old Town has it all. If you have time, it's a good idea to explore some hidden corners. There is also a mini sightseeing 'train' that you can catch from Piazza Duomo.
No trip to the city is complete without seeing Ragusa Superiore. This is more than just the 'modern' upper town. It also boasts elegant lanes and has its own Duomo, the Cattedrale di San Giovanni Battista.
Salita Commendatore, a staircase that leads to the Old Town of Ragusa Ibla is lined with charming buildings.
It takes about 1 hour and 45 minutes to drive here from Catania. Alternatively, you can hop on a regular bus to get to Ragusa from Catania.
---
Also Ragusa can be visited on a Baroque day tour from Catania:
Villa Romana Del Casale in Piazza Armerina
Contributed by Annabel of Smudged Postcards
Approximately 100 kilometres west of Catania lie the impressive Roman mosaics at Villa Romana del Casale. The Villa, located just outside the town of Piazza Armerina, is a UNESCO World Heritage Site.
Villa Romana del Casale is believed to be a Roman hunting lodge, dating back to the 4th century AD. The mosaics are particularly well preserved as a landslide covered them in the 12th century. They lay forgotten for hundreds of years until a gradual restoration process began in the 19th century and continued into the 21st century.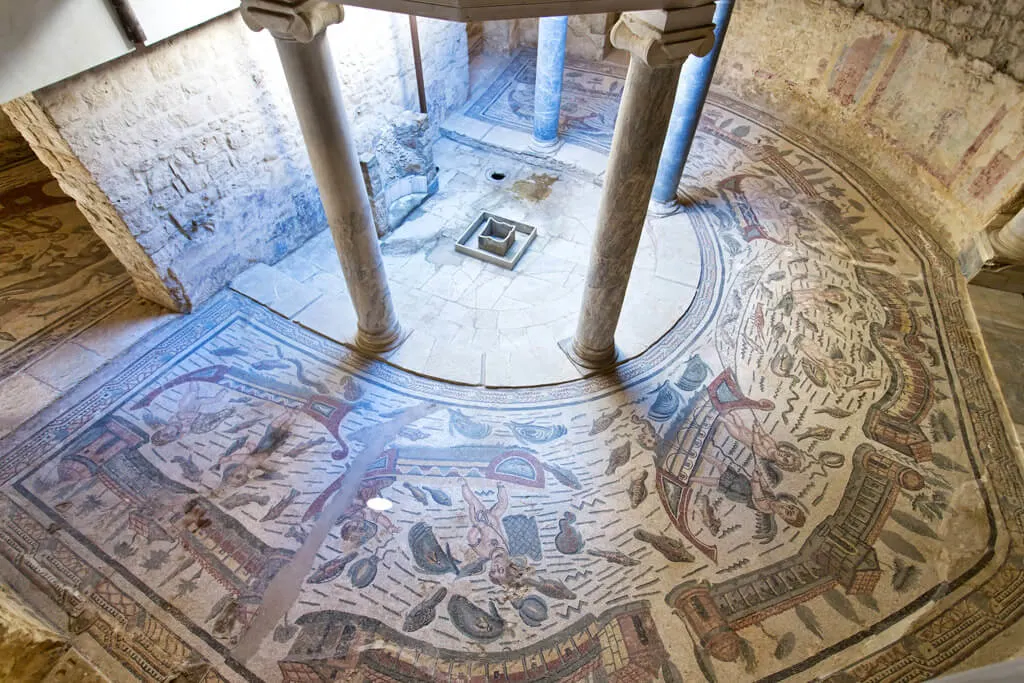 The scenes depicted in the mosaics are fascinating and incredibly detailed. Some show people hunting: on land with dogs or fishing at sea. Other frescoes show women in 'bikinis' doing various sports such as ball games and discus throwing. Elsewhere there are mythical scenes of beasts and magical creatures.
The best way to reach Villa Romana from Catania is by car as this allows for a stop at some of the other interesting places in eastern Sicily such as Enna or Caltigirone. The journey time is approximately an hour and a half. It is also possible to reach the Villa by train or bus via Enna with a short taxi ride at the end.
---
Fortunately, if you don't want to rent a car, you can see Villa Romana Del Casale on this day tour from Catania:
Valley of the Temples – Agrigento
Contributed by Katy of Untold Italy
If you love ancient history head to the Valley of the Temples in Agrigento, just two hours from Catania by car.
Here you will find one of the most interesting and spectacular UNESCO World Heritage Sites in Europe. Built on the site of the former Ancient Greek city of Akragas, the Valle dei Templi (Valley of the Temples) is a series of Ancient Greek temples and buildings that are over two thousand years old.
Akragas was once a thriving city with a population of half a million people that stood for almost 1,000 years. The city was abandoned when the Greeks were defeated in Sicily in 406AD and forgotten for centuries. In the 19th century the site was rediscovered and it has undergone research and restoration ever since.
Don't expect a valley when you reach the two and a half kilometer long site. It is actually found on a ridge, with stunning views over the Mediterranean. The best way to explore this area is to walk the length of the site along a well-marked trail, past former dwellings, city temples and even the city's bathhouse.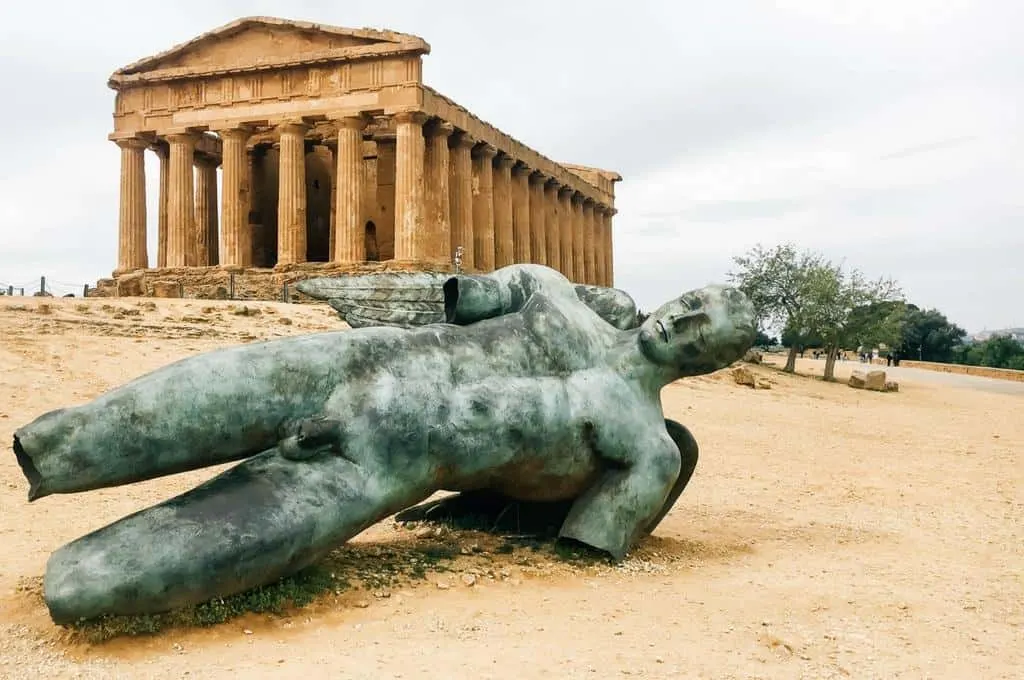 Standing almost 17 meters high, the imposing Temple of Concordia is the most impressive structure you'll see. Built around 440BC, it features 78 Doric columns decorated with flutes and ridges. Other major points of interest are the necropolis and ancient burial grounds.
Count with spending several hours at the Valley of the Temples. There are information boards along the main trail but if you're interested in history you will learn much more if you join a guided tour with an archaeologist.
In summer make sure to bring plenty of water and sunscreen, and in winter a good travel jacket, as the site is exposed to the elements.
When you've finished exploring, take the shuttle bus costing a few Euros to your original starting point. You could then continue on to the town of Agrigento where you can enjoy a delicious lunch overlooking the temples followed by a stroll along tempting cake shops. Nearby you'll also find the Scala dei Turchei, impressive limestone cliffs overlooking the sea.
The drive from Catania to Agrigento takes about 2 hours. All other means of transport take significantly longer – a bus (direct) takes 3 hours to complete the journey, while you'd have to count with at least 4 hours in case of a train ride.
---
See the Valey of the Temples on a day tour:
Cefalù
Contributed by Taylor of Brown Eyed Flower Child
Cefalù is a stunning coastal city and an ancient fishing port located in the northern part of Sicily. It makes for the perfect day trip from Catania since it is around two hours away by car (more or less). This is the easiest option to get there, since taking a train/bus would take around four to six hours to get from Catania to Cefalù.
The beach city of Cefalù is absolutely beautiful as it offers a European coastal atmosphere with dreamy cobblestone streets, mountain views and friendly locals.
Unlike other popular coastal areas in Italy like Cinque Terre and Amalfi Coast, Cefalù does not attract as many tourists and it is the best city to get a taste of true Sicilian culture.
There will be locals playing accordions with passion down a quiet alleyway; the staff at local trattorias will welcome you with delicious local wines and fresh seafood and the beach offers scenic views along with inviting blue waters of the Mediterranean.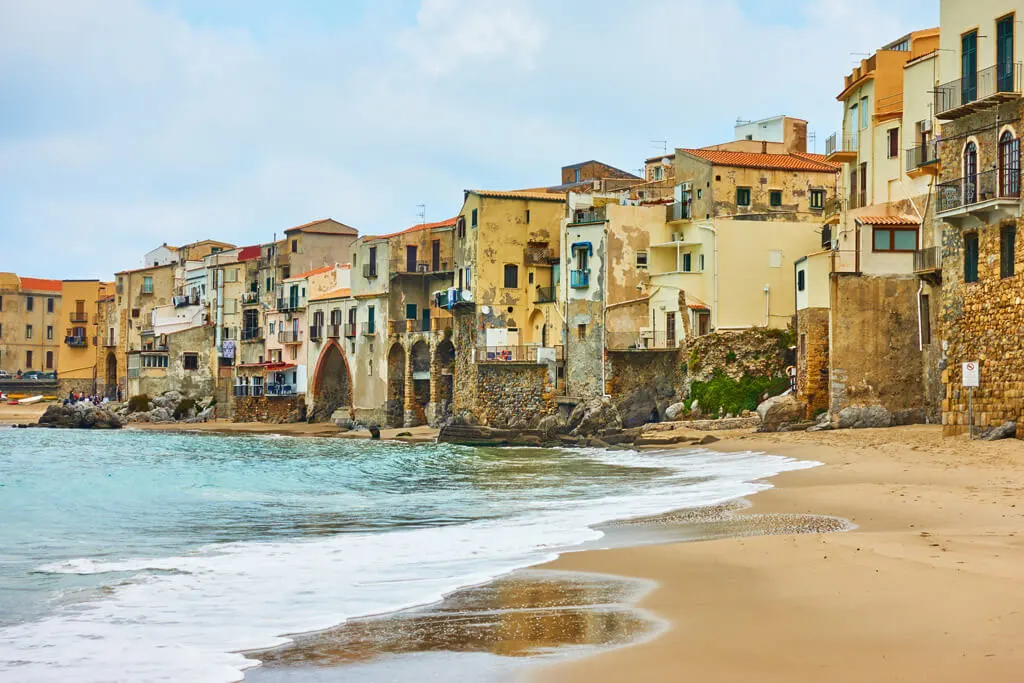 One of best things to do in Cefalù is go to the beach! A stunning and quiet spot to enjoy sun and sand is at Le Salinelle, which isn't too far from the downtown area.
Hiking up La Rocca is another great activity to do during your day trip to Cefalù. (Please note that there is a 4€ entry fee.) This short hike is fairly easy, but could be tough during a Sicilian heat wave. When you eventually reach the top, you could enjoy the stunning views and also visit the former site of a Norman castle.
Whether you are relaxing at the beach or going on a hike, gelato is always a MUST! Cefalù offers numerous gelato stands with some delicious flavors. Try e.g. brioche con gelato, which is an ice cream sandwich on fresh brioche bread. It is absolutely delicious!
In addition, grabbing an aperitivo is always a treat when you are in Italy. Cefalù has a plethora of welcoming bars and cafés in Piazza Garibaldi where you could enjoy an Italian happy hour drink like an Aperol spritz along with antipasto.
Lastly, you cannot go to Cefalù and miss out on a sunset! It is recommended to find a comfortable spot by the sea and watch the sky turn orange, pink, and red. A trip to Sicily is not complete without visiting Cefalù!
Best day trips from Catania on a map
Which day trips from Catania are YOU going to take?
I hope you've found enough inspiration for your stay in Eastern Sicily and that you'll love all the day trips we've suggested.
Let me know below in the comments!